While my focus will still be on lesser known Omega's, watches that represent great value, and watches that are just plain weird and quirky, I will always be a Speedmaster fan and will write about them from time to time moving forward.
I Actually Am A Mad Speedmaster Enthusiast
I bought my first Speedmaster very early on in my collecting journey, a 145.012-67 Calibre 321 Moonwatch and while it wasn't perfect, I was lucky to have owned it. I went on to own many more over the years, close to 30 in total including both Speedy Tuesdays, the Gemini 4, over a dozen Cal 321s, and my favorite, the Apollo 8 Dark Side. I'm a prolific hoarder of project watches too, many of my 321s and 861s are watches missing parts, or are badly abused pieces which I will one day (I tell myself) restore and wear.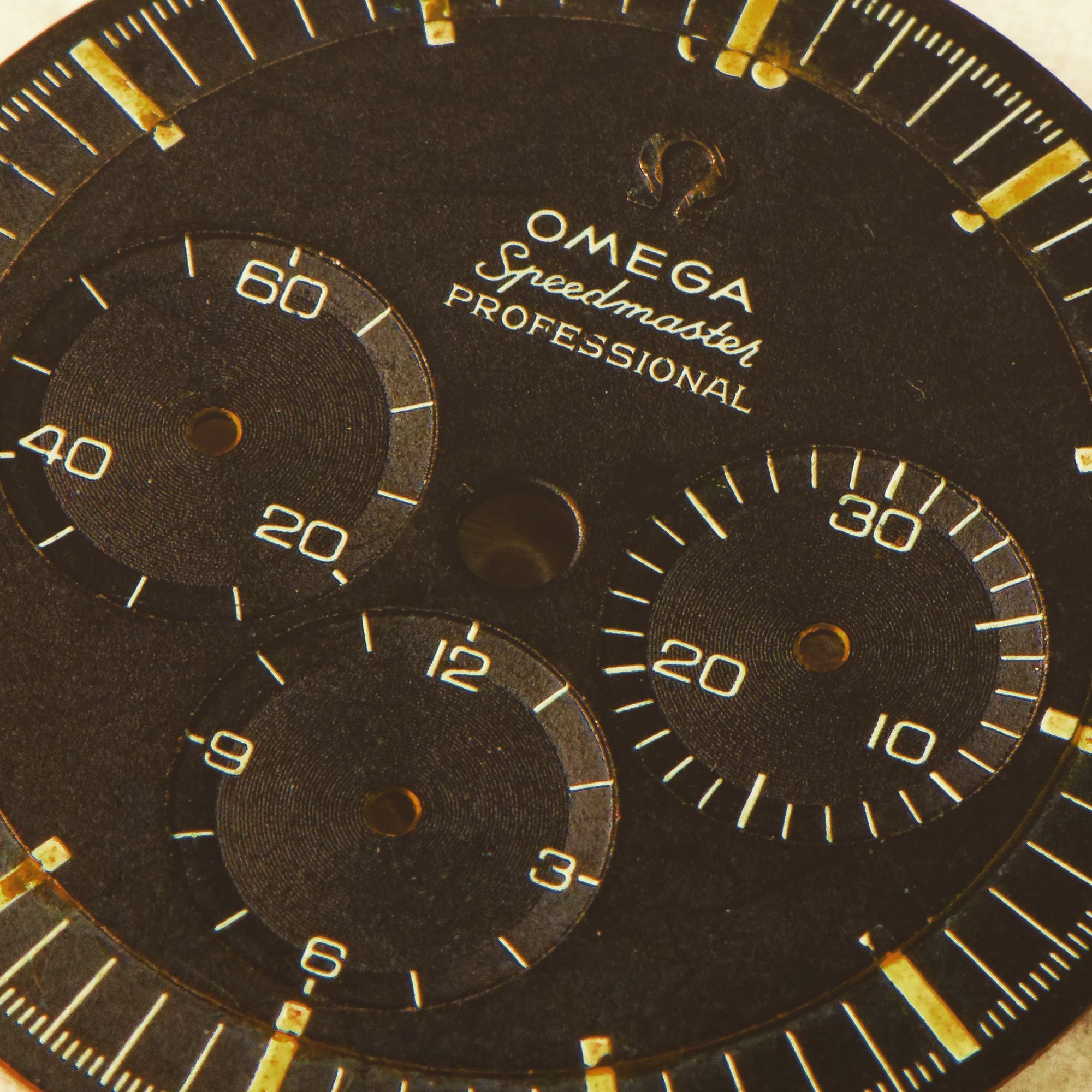 Speedmasters are incredibly addictive and while my girlfriend struggled to appreciate why I bought both a 105.012-66CB and a 105.012-66HF just to appreciate the difference in the lugs, collectors will completely understand.
When starting out in the 2000's I spent endless hours pouring over Chuck Maddox's site, http://www.chronomaddox.com as well as his personal blog at http://chuckmaddoxwatch.blogspot.com . Chuck's site first led me to Fratellowatches and RJ's articles about the Speedmaster line, and in fact his story of purchasing his 145.012 after selling his Peugeot 205 GTI encouraged many of my own early rash financial decisions. To this day, I often ponder the fact that if that Peugeot had earned RJ's love over the Moonwatch, Speedy Tuesday and all of the events spawned from it may never have happened.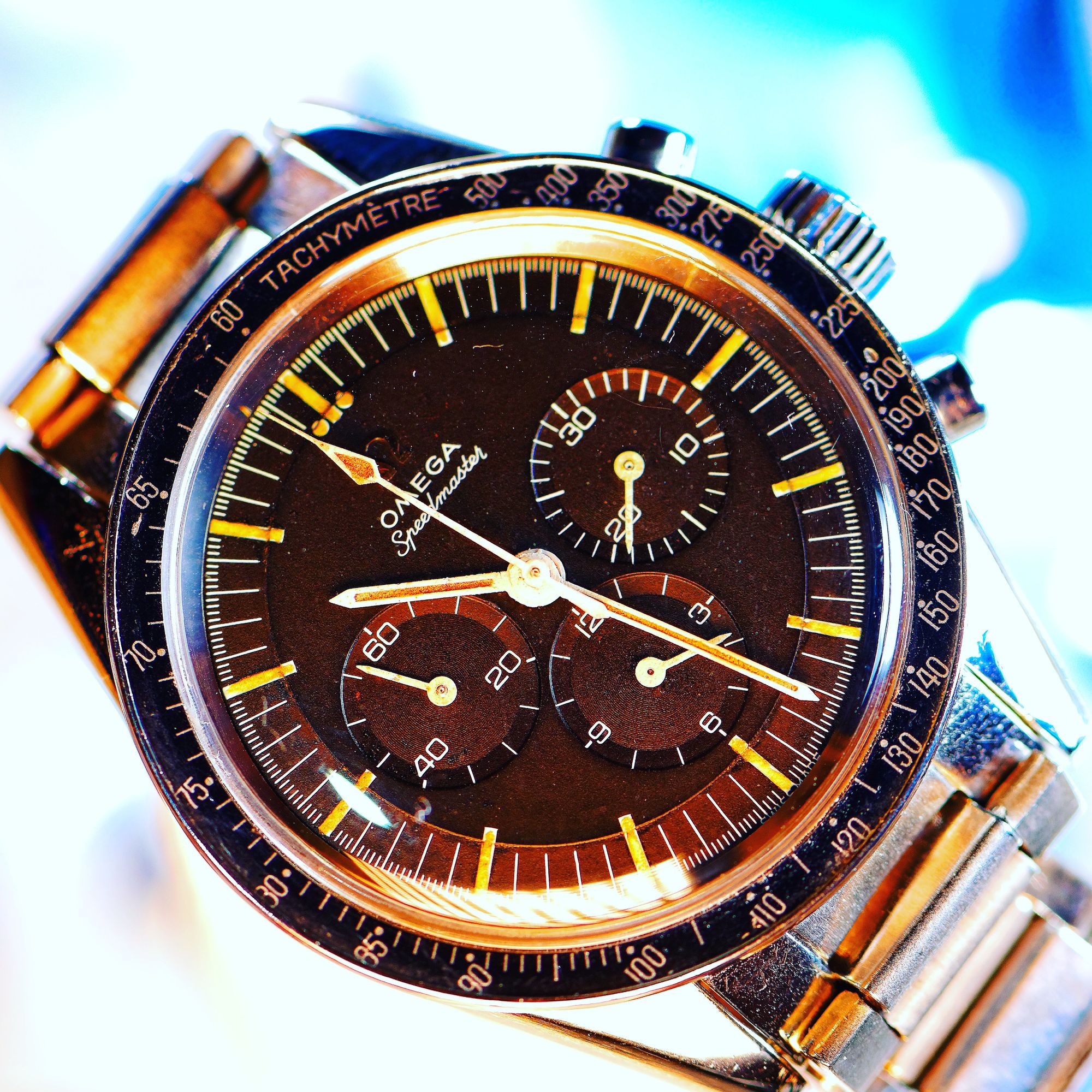 In the early days, it was a lot of fun and very cheap to be a Speedmaster fan. Several of my Cal 321 Speedmasters were bought under $2,000, amazing limited editions like the Gemini IV could be found in display cases at a discount, and scalpers were not a part of the market. The Speedmaster Pro was brilliant, plentiful and chronically under-appreciated. A reversal of fortune for this famous model line wasn't just expected, it was far overdue.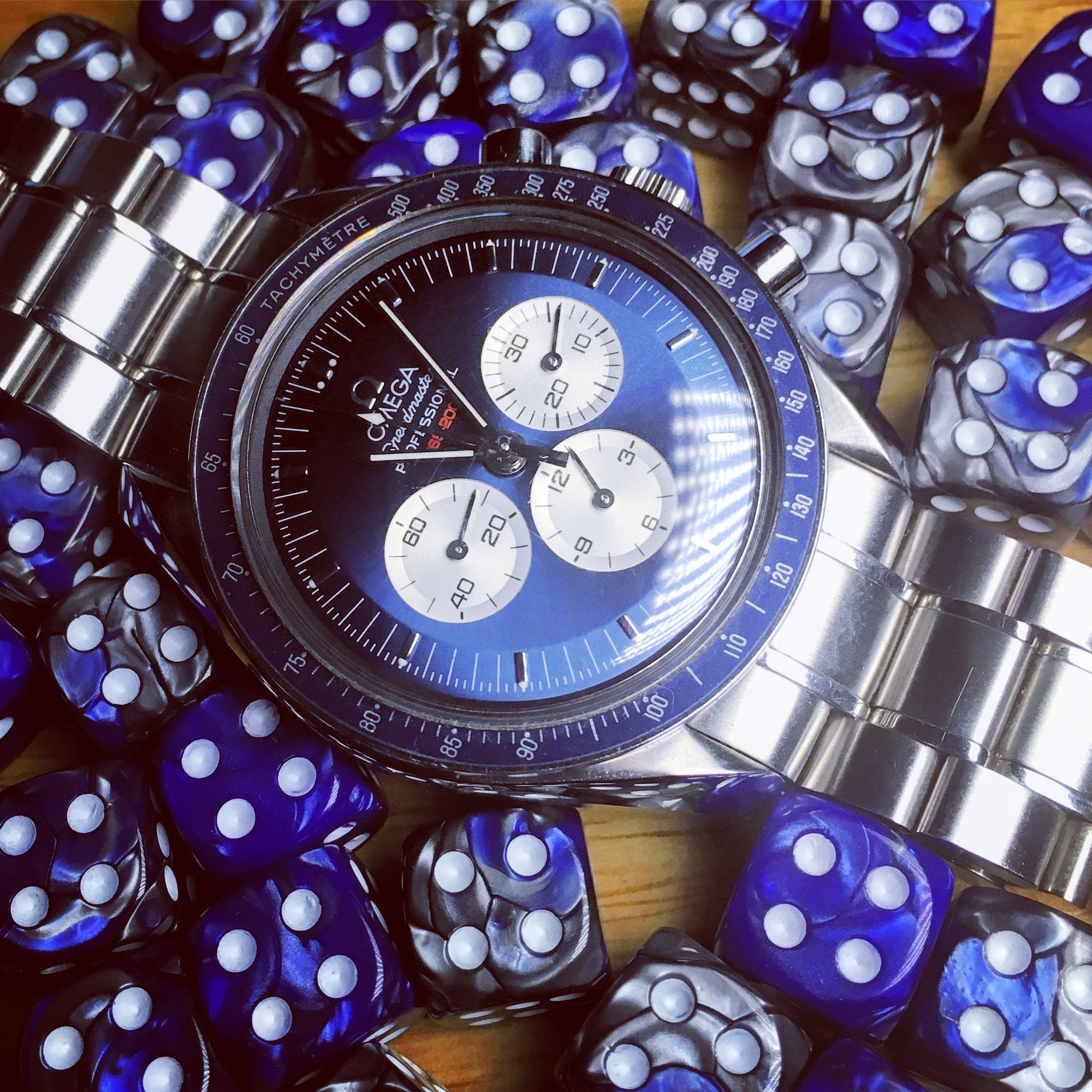 Speedmasters Sell Themselves
I can just about pinpoint when the Speedmaster became scarce. It was in 2009 that the Planet Ocean Liquid Metal LE of 1948 units came out that I first had trouble finding a new Omega, but the 40th Anniversary Apollo 11 Moonwatch LE of that same year was made in large numbers and more than met demand. Even the 2008 Alaska Project, a watch now carrying a huge premium didn't sell out when new and could be found for several years still in ADs.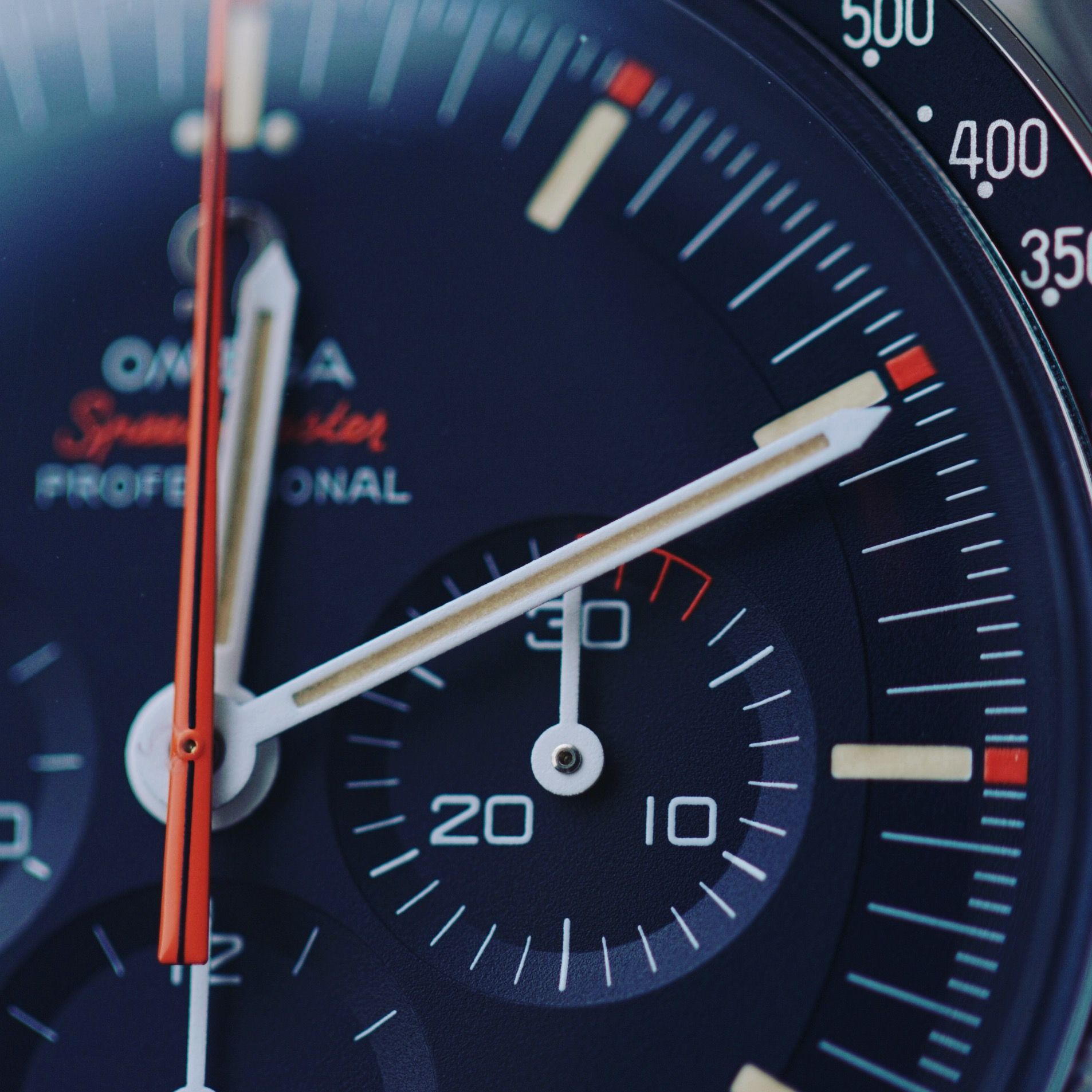 The 2010 Apollo-Soyuz Limited Edition Ref 311.30.42.30.99.001 was that first Speedmaster hardly anyone could find in a case. This watch was superb, with a brilliantly finished reverse-panda meteorite dial and rhodium plated hour markers and hands. The Apollo-Soyuz drew from design elements that collectors loved about the Gemini 4 and Apollo 11 35th anniversary and took them to new heights. I tried to get one from two AD's who knew me well and would normally help me out but they just didn't have one to sell me.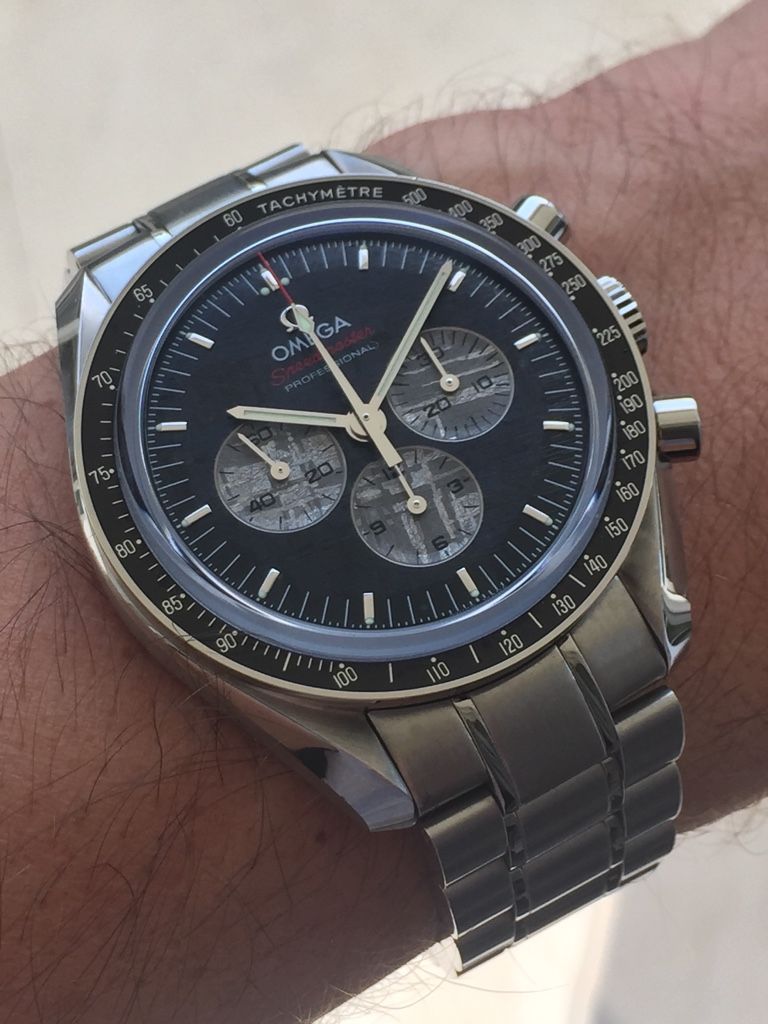 While not all Moonwatch variants flew off shelves (The Apollo 17 silver dial being a notable example), the majority of Speedmaster LEs around the 2,000 unit mark following 2010 would sell out rapidly. This included the 2014 Apollo 11 45th, the 2015 Silver Snoopy, and several others, reaching a crescendo with the Speedy Tuesday 1 which sold out in 4 hours. On one hand this was extremely exciting, especially as I was one of those lucky ST1 buyers, but it also meant that so many passionate fans missed out and I know that feeling too.
It marked the beginning of the end for limited editions, and in recent years we've seen popular models like the Ed White & Snoopy sold primarily through boutiques to customers as production allows over time. It's a welcome change and I hope it will allow more enthusiastic collectors to get their hands on a special Moonwatch without having to pay a scalper for the privilege.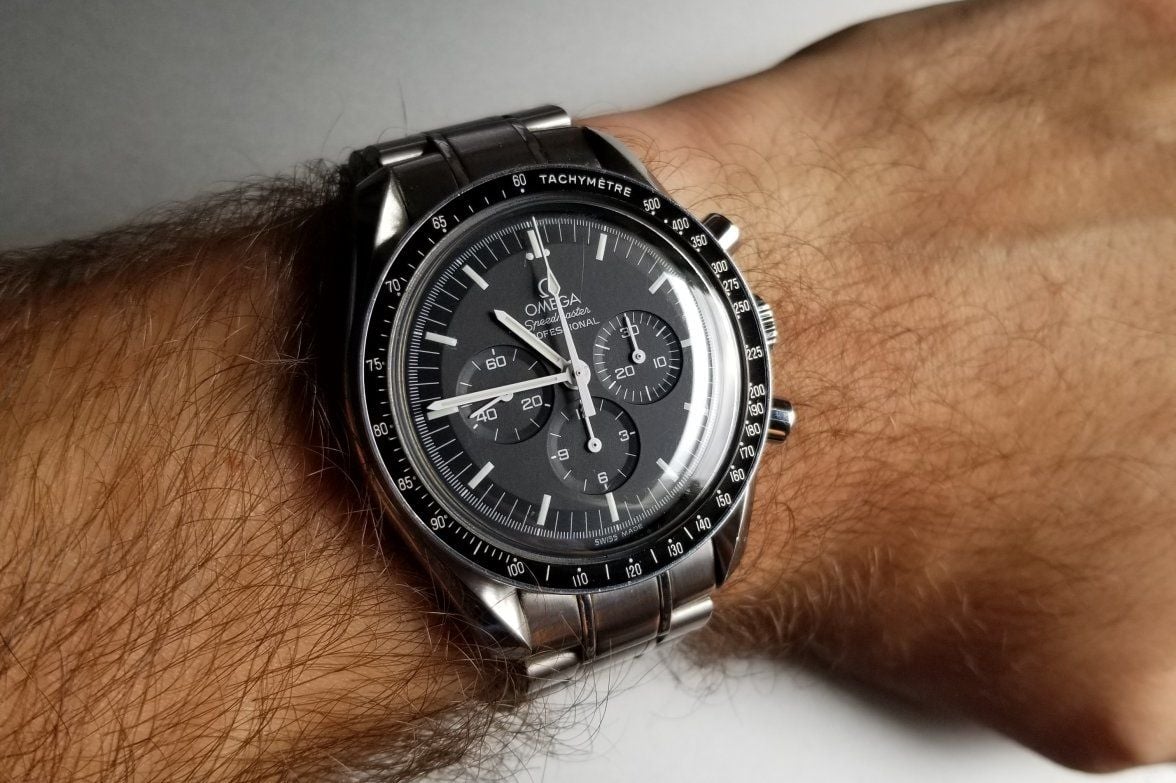 While the weekly #Speedytuesday articles have helped make some watches incredibly hot in the market, it has also sought to bring attention to the plethora of under-appreciated and great value Speedmasters in the range. Models like Speedmaster Date, MK40, X-33's, and Racing models are still very accessible, as are previous generation classics like the 3570.50 with entry level pieces still offering great quality at reasonable prices. They are however quite well covered for the most part with plenty of great information available for them already.
The Audience I Aim To Write For
Effectively I try to write for me, when I was younger.
I try to write for everyone of course, but in particular, young professionals in their late teens to late 20's, people who love watches, the history and the quality behind them and especially Omega. I know that collectors will evolve in their taste and preference as well as price range over time, which is why I try to cover both high end niche pieces, as well as great quality entry-level models that start at a couple of hundred dollars.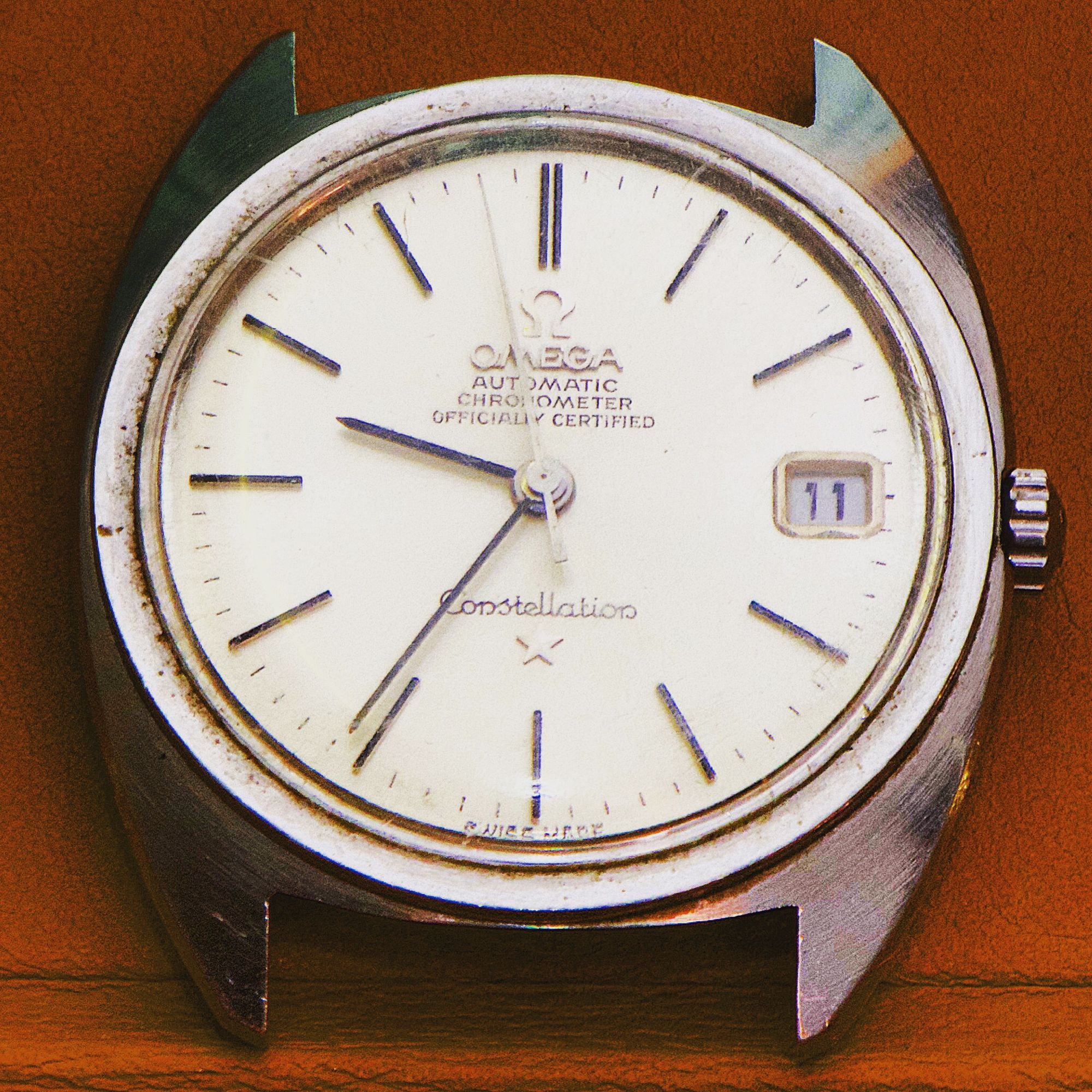 In particular, I try to focus on watches that represent excellent quality and value for money due to being overlooked, poorly understood or rarely seen online as this is where knowledge can help the buyer make some excellent purchases.
Of all the various Swiss watch brands, it would be fair to say Omega has one of the largest varieties of models, lines, movements and types of product of any brand still in existence. Even seasoned collectors could open a random page of the Omega tome A Journey Through Time, and likely not recognise several of the watches or clocks shown, such is the incredible breadth of options.
Within that incredible broad church there's something for everybody if you take the time to learn about and absorb all that the community has to offer. Between books, forums, and articles there is more information available now at any point in history and this is only growing by the day.
Buy What Speaks To You Personally
One of the downsides to social media in the watch world, especially things like Instagram is how much it focuses attention on the latest hype watch, to the exclusion of all else. Often these watches do deserve a lot of love and attention but you really don't need to have one just because everyone else does.
The reality is that taste and quality matter more than anything. I would be genuinely impressed by a young person wearing a $300 Omega Calibre 601 Geneve, or a $600 Seamaster De Ville 166.020 even if the cost is in line with an Apple Watch. The reason is that both of these watches feature exceptional quality Omega in-house movements, highly regarded when new as well as today.
Whether you're wearing one of these entry-level pieces, or a highly coveted Ed White Cal 321 re-edition, you are a member of the community of equal value. Over time as you grow in life and in your career you may find yourself pursuing more impressive pieces, or you might stick to the one watch you have and love. The most important thing is that you buy and wear what speaks to and fits with your own personality within your means.
No decent watch enthusiast would ever put down another's choice simply based on price or popularity. Similarly nobody should be telling you what to buy, but rather educating you about the options, the good, the bad, the pitfalls and the alternatives.
Patience & Learning
Patience is a virtue I cannot stress enough to watch collectors, especially when new. We all know what it feels like to have money burning a hole in our pocket, to think we know what we want and to jump the gun.
Countless new members to the forum post photos of a refinished black dial Constellation pie-pan in gold-cap, asking if the $3,000 the seller wants is fair or not, only to be told to calm down and put their money away. Sometimes this is done in ruder terms than I would personally like, but at least with good intentions.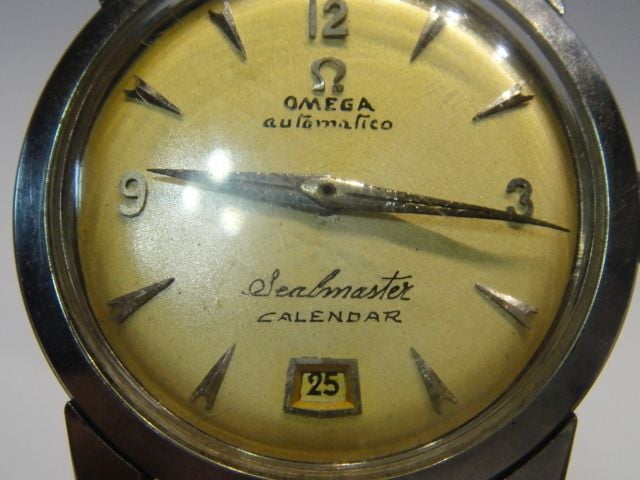 It's such a frequent occurrence because after some browsing on Insta they've decided a vintage Constellation is for them, that the pie-pan is the one you have to get, and that since black dials are the rarest, that's the one to chase. The fact that there are hardly any of them in circulation with most legitimate examples being in large collections is completely missed.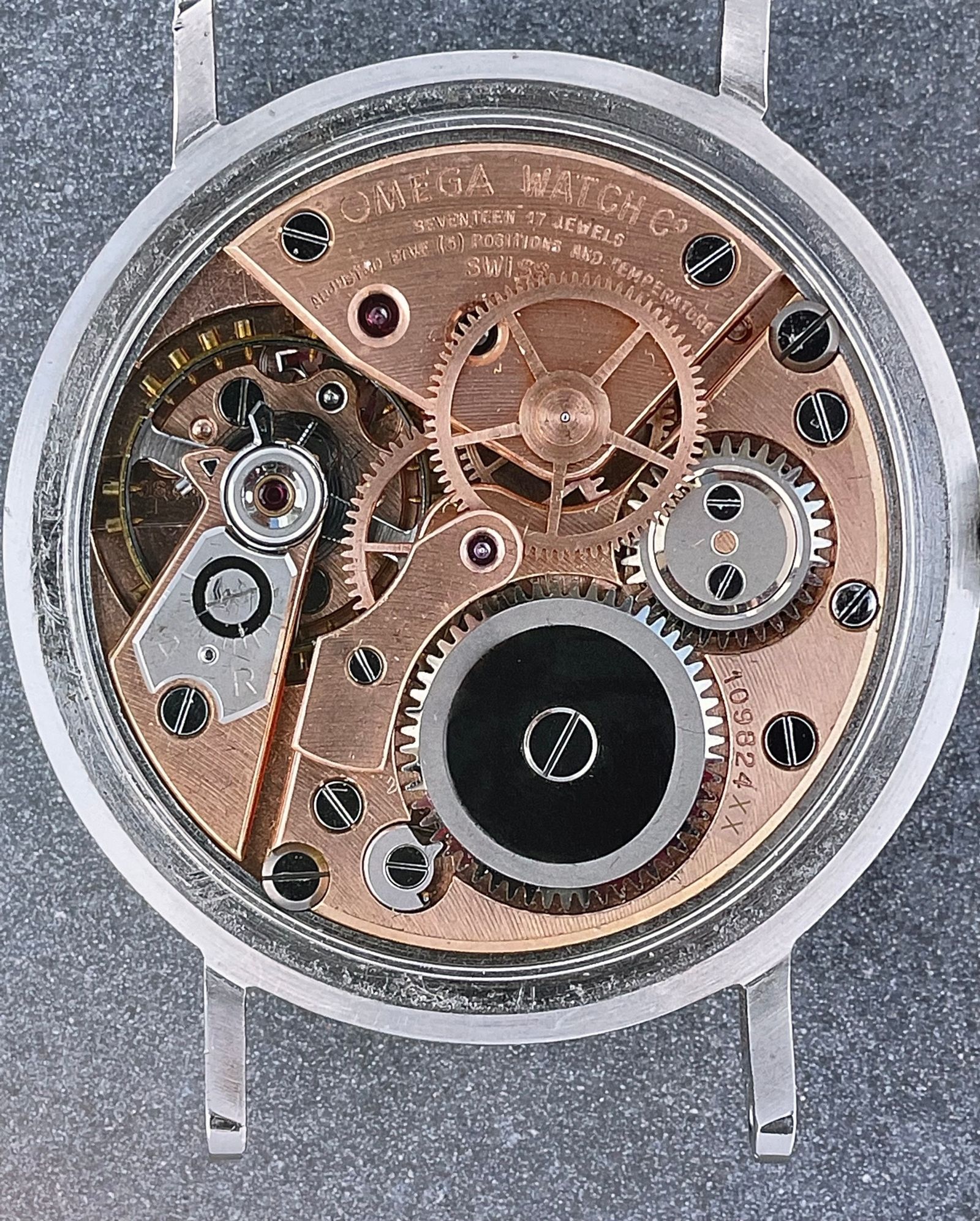 All of us had to start somewhere, and that somewhere is typically reading. It's taking the time to figure out what kind of watch suits your needs, whether a vintage watch with lesser water resistance is compatible with your lifestyle or just a liability. Its learning the difference between three watches separated by a lot of money in price that otherwise look relatively identical. It's also about seeing what is out there that doesn't appear in your instagram feed, and maybe being the collector who makes that watch cool.
Whether within the world of Omega watches or in another brand you can find the perfect watch for you at the right price if you take your time, educate yourself and jump on the right piece in the right condition at the right time.