Some Constellations are odd for one reason or another, the 166.0219 is odd in just about every aspect, an octagonal peg, in an observatory shaped hole.
Constellation by Name - Not by Chronometer Rating
This reference is somewhat unusual in that it only housed the non-chronometer Calibre 1022 movement and never the chronometer rated Calibre 1021.  
The name Constellation comes from the Observatory Chronometer trials which Omega participated in against industry titans such as Zenith and Patek Philippe to great success in the early 20th century.  From the very first examples powered by bumper automatic movements, Constellations were expected to all be chronometers, representing the best of Omega's time-only watches on offer.
By the 1970s, the quartz crisis had started to bite and Omega was no longer in the dominant position it had enjoyed in previous decades.  This period would see several Omegas powered by Calibre 1002, 1012 and 1022 movements without chronometer certification fitted to models carrying the Constellation name and observatory medallion.
Many do view these non-chronometer Constellations as being less desirable or even not a true Constellation as a result of their movements, but it is worth noting that all of them are powered by movements that are capable of chronometer specifications.  They are not inherently bad watches in that sense, any more than a Seamaster is, and as several of them were blessed with unique and attractive case and dial designs, these Constellations are still very worthy watches.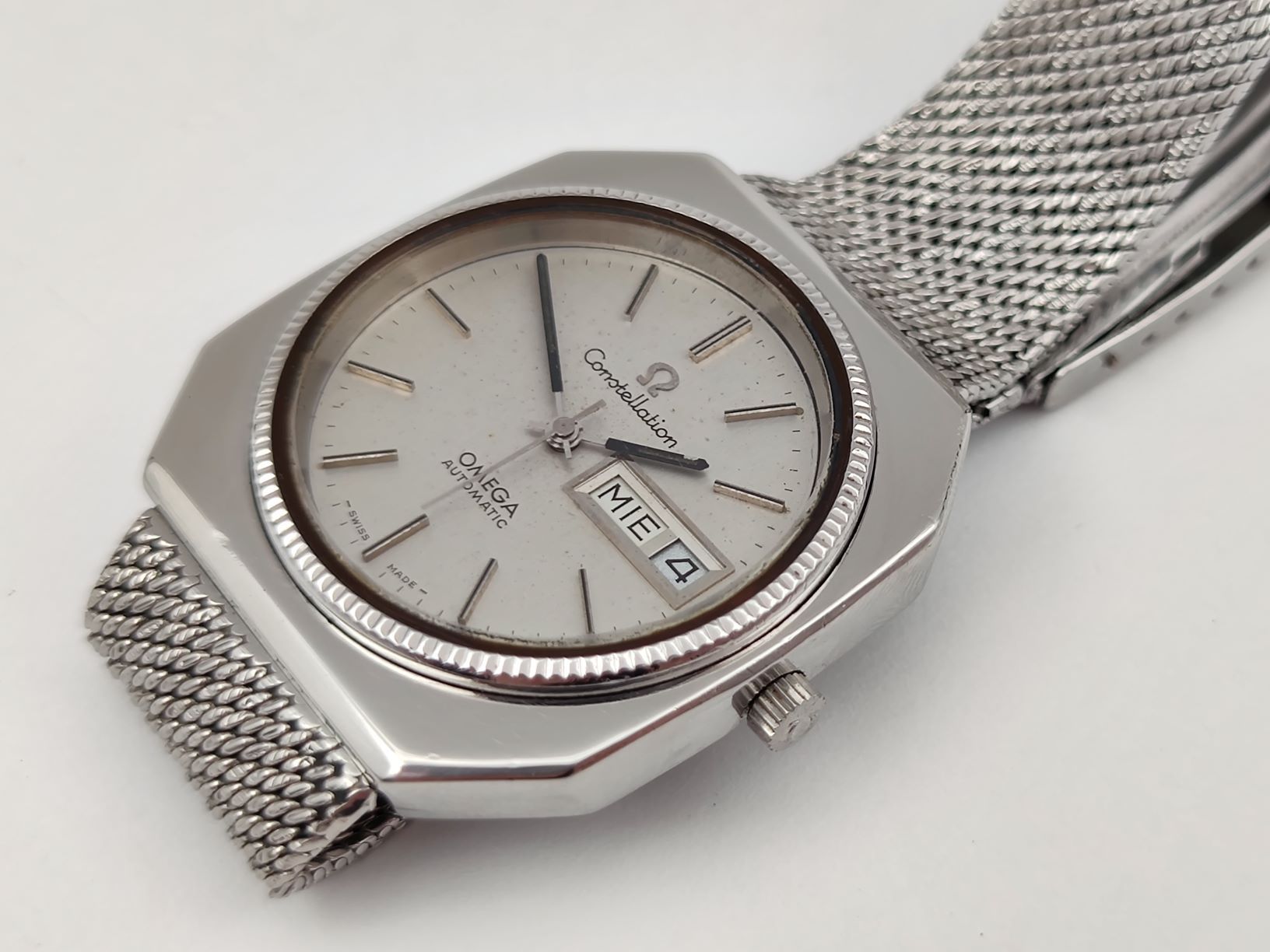 It should be noted that these watches are sometimes referred to by the reference 166.0219 and almost equally referred to as 166.219.  The leading zero after the dot makes no real difference, this is the same watch just numbered differently.  As a result of this, any research or shopping really needs to include both in order to be comprehensive.
Case & Bracelet
The case of the 166.0219 Constellation is by far the most significant feature.  This case is very large and octagonal with a diameter of 38 mm.  While 38 mm is big, the fact that the shape pulls inward for the diagonal actually means these watches wear much bigger than even that 38 mm would suggest.
The case design has a lot of facets and edges and is remarkably complex for the era, going against the grain of simplification and austerity the 1970's was known for.  There are two material options, gold-plate, and stainless steel.  The stainless steel watches tend to hold up relatively well but the gold-plated models tend to be either perfect and unworn, or completely ruined.  The plating is thin, and the angular, stealth-fighter like case design is extremely unforgiving when it comes to polishing.  Because these watches are relatively cheap, the gold-plated cases with severe wear-through are effectively an instant economic write-off and only good for spares (mainly movements).
If you can find one that is clean and sharp, these are genuinely stunning watches that have an extremely significant presence on the wrist well worth the hunt.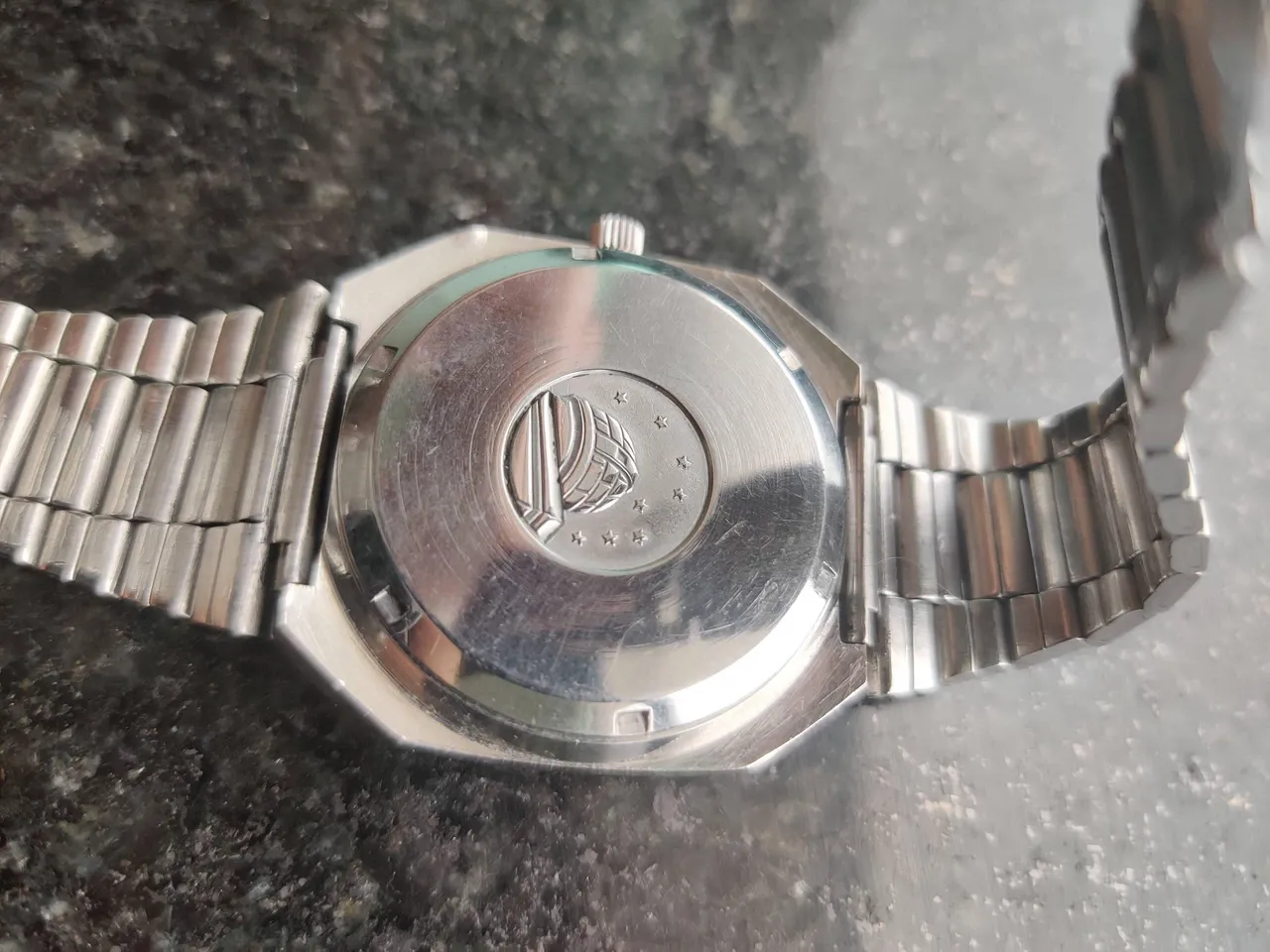 The cases have a standard screw-in case-back in steel on both metal types with an engraved steel observatory logo on the steel cases and a gold applied medallion on gold-plated models.  The knurled crown is a semi-hidden design, more readily accessible from behind where a cut-out exposes it.  
While the case itself is octagonal, the dial is round and surrounding it is an in-set fluted bezel similar in design to C-Case Constellations.  These bezels too are quite prone to softening from polishing, so it is best to try to find one that it still sharp.
The lugs on the 166.0219 case design are hidden underneath the case and can accept either a leather strap or a bracelet.  The way this is achieved leads to a remarkably clean look especially on strap with the appearance of a fully integrated design.  Yet the watch still uses standard 18 mm wide spring-bars and will take any normal strap for this size.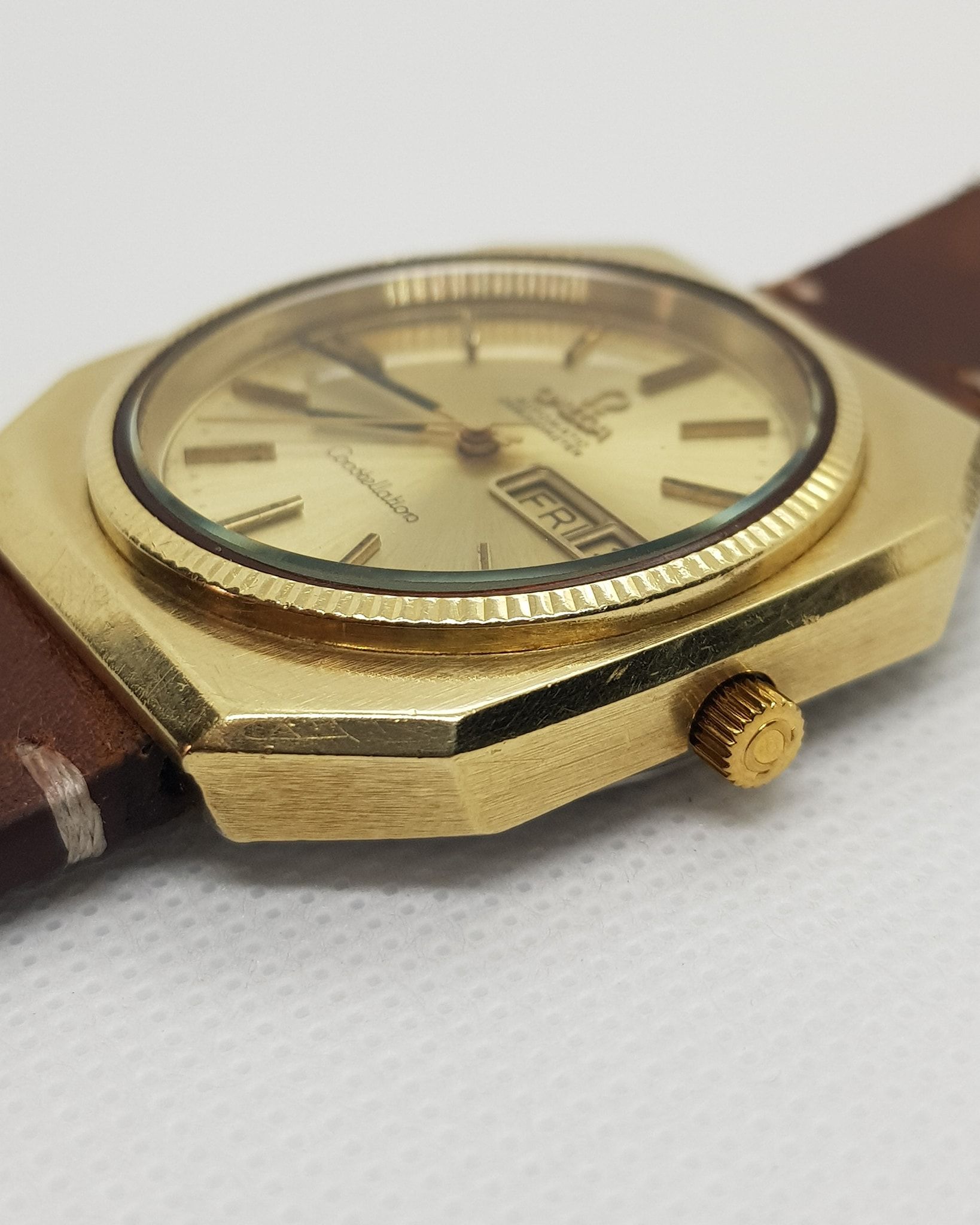 The two most commonly seen bracelets are a flat-link design and Milanese mesh, but the majority of watches, and nearly all in gold-plate are found on strap.
Movement
Powering this Constellation is the Omega Calibre 1022 day-date non-chronometer movement.  This movement oscillates at 28,800 vph, features hacking, quick-set date, a day window, and is the non-chronometer version of the Calibre 1022 with the same 23 jewels.
As mentioned in previous articles, the general fear and misunderstanding about "The Calibre 1000 series" haunts these watches and turns people off them when the Calibre 1022 and its family is fundamentally different from the early Calibre 1000, 1001 & 1002.  These movements are the result of a major redesign of the early 1000 series, and contain mostly new parts to correct the problems of its predecessor.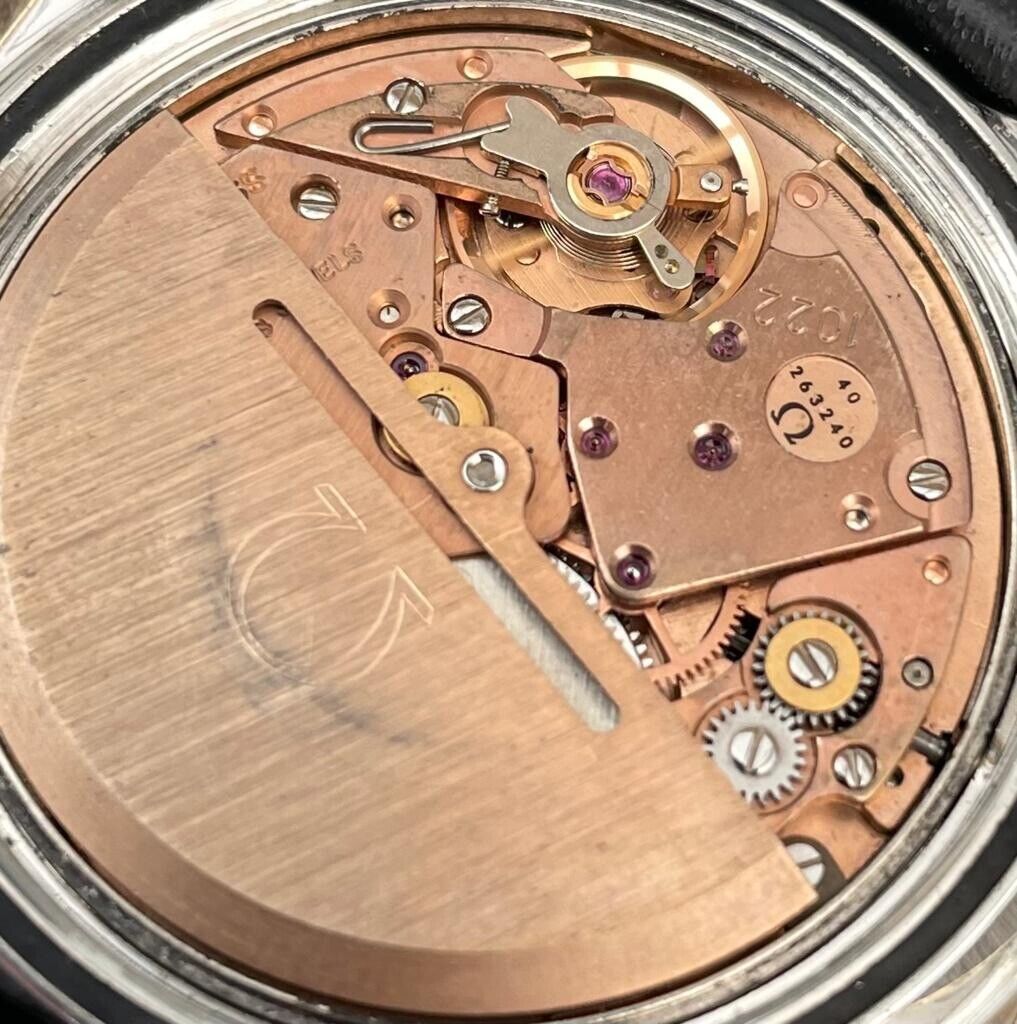 If serviced by a qualified watchmaker with an Omega parts account, you can expect very good accuracy, reliability, and durability long into the future from your Calibre 1022 Constellation.
It is also worth mentioning worth again that although these are not chronometers, a properly serviced and well adjusted Calibre 1022 movement will perform very well for a vintage watch and serve you with great accuracy.
Variants
The gold-plated and steel versions of these watches come each with a specific dial option.  The gold-plated models come with a gold toned starburst pattern dial, while the stainless steel comes in a silver vertically brushed dial.  Both of these come in both luminous and non-luminous variants as well.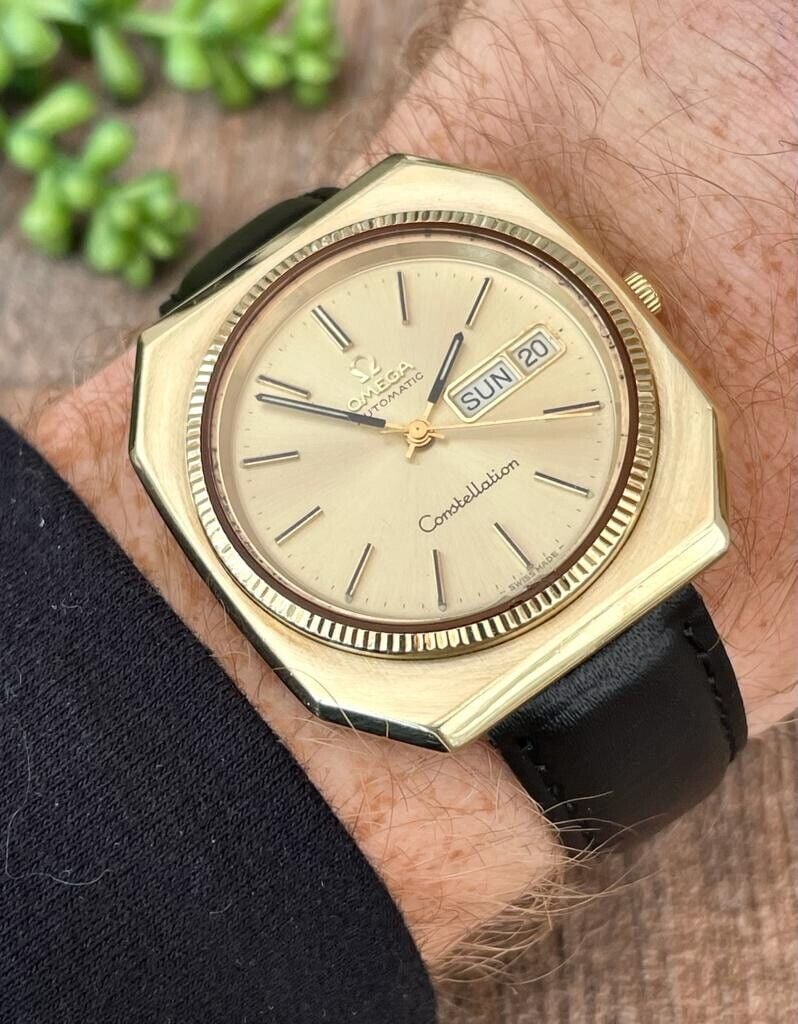 Several features are common among the various versions.  All feature applied dial furniture in metal matching the case with black inserts on top, and black hands which may be luminous or non-luminous to match the dial.  There is an applied Omega logo and day-date window surround, also in a metal matching the case and the words Constellation and Automatic on the dial in black.  There is no mention of the watch being a chronometer due to the Calibre 1022 movement.
Stainless Steel
The stainless version features an applied Omega symbol but omits the word Omega, with Constellation written at the top, and OMEGA and Automatic written at the bottom of the dial.  The vertical brushing is very subtle and catches the light in a way that lets it change from a dark grey to a very bright silver depending on the angle.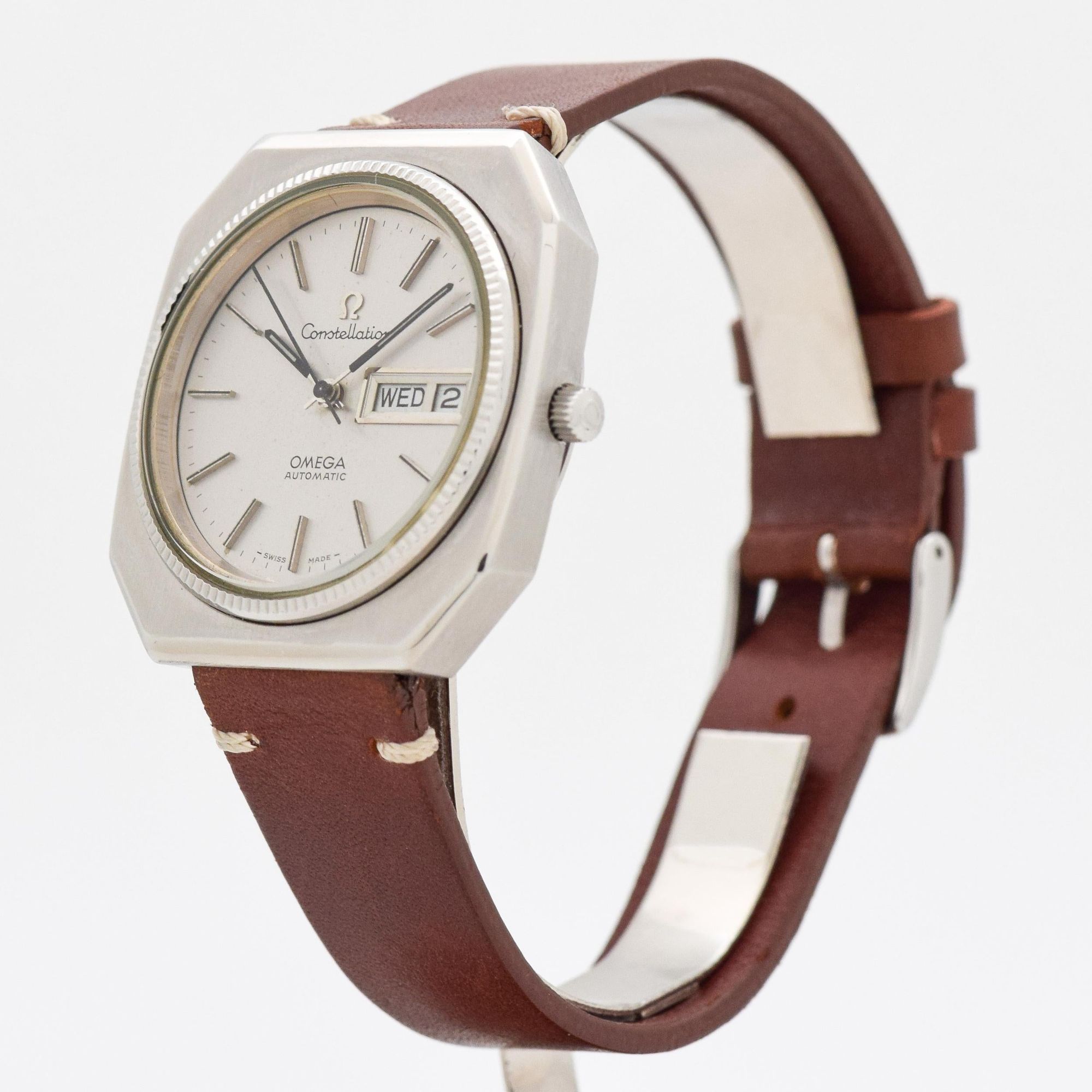 Gold Plated
The gold-plated version features an applied Omega logo and applied Omega lettering at the top, along with the word automatic written at the top and Constellation on its own at the bottom.
As you can see in the images below, the luminous and non-luminous versions are very similar, even with a nearly identical hand design.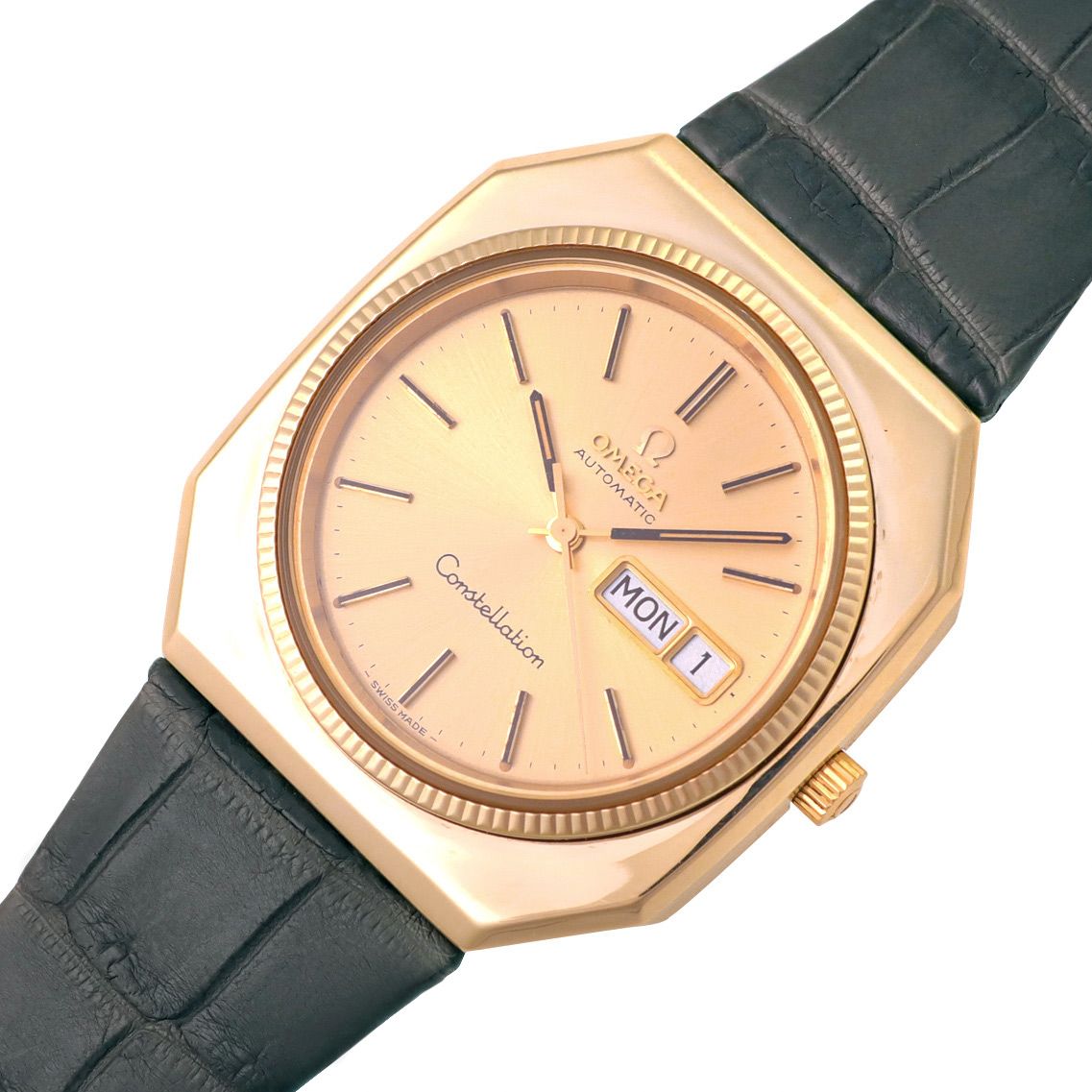 Buying
Buying these watches is actually more difficult than most would expect for a relatively unloved reference of Constellation like this.  The two major issues which jointly conspire to make acquiring one hard are scarcity and condition.
These watches were just not very popular and not produced in particularly great numbers.  At any given point in time there are rarely more than 2-3 available for sale worldwide, at time of writing there are two on eBay and one in Japan for sale.  The one in Japan is rough, one of the eBay watches is mediocre and the second eBay watch is worthlessly bad.
The condition issue means you will likely wait quite some time to find a nice example and it will most likely need to be steel as nice gold-plated examples are extremely few and far between.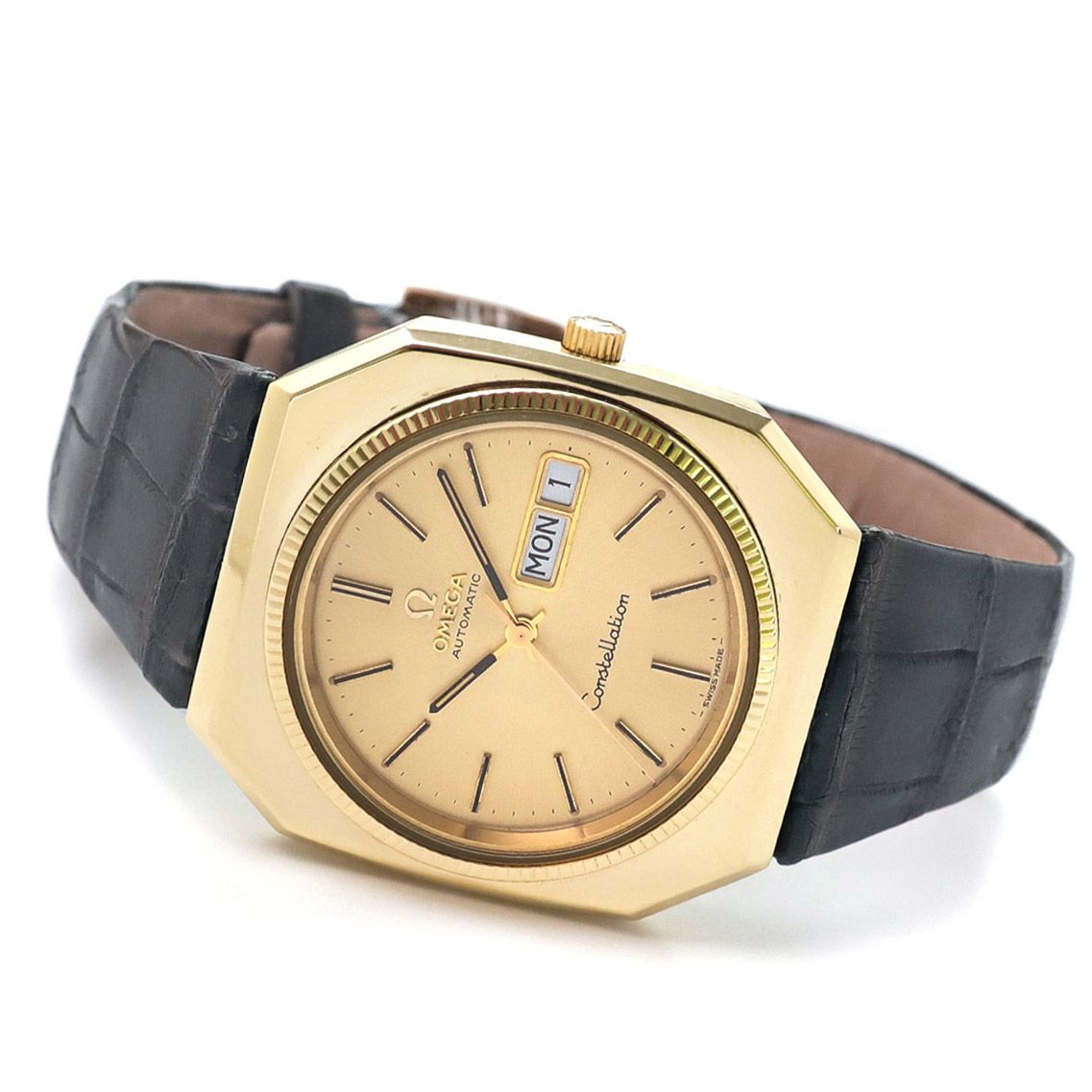 Due to the relatively rarity and the fact that most Constellations are worth a lot of money, sellers will often set quite unreasonable prices as well, with asking prices of $900-2,200 not being uncommon.  This just isn't what these are going for, decent examples when sold no reserve or between collectors are closer to the $400-600 mark and it really isn't worth overpaying when there are so many better Omegas available when you go north of this price.
It should also be noted that the Calibre 1022 movement will need to have a service performed by a qualified watchmaker, which will add a bit to the overall purchase price as well, unless there is a receipt from a reputable watchmaker included.
If you do well and find the right watch, these Constellations are a really great option for the money, even though they're not chronometers.  They're different, unique, and something that will stop most Omega fans from scrolling when they see a wrist-shot of it on Instagram.  It's not a watch I would overpay for, but it's interesting and special enough to definitely be worth owning if the price is right.
Discussion thread on Omegaforums can be found here: