They certainly are unusual and unlike anything else in the vintage Seamaster model range but these odd Seamasters represent some of the best of Omega's features and technology of the era in a compellingly priced package.
So What Even Is It?
Firstly, while we used the reference 166.067 more frequently through this article there are actually two references.  The 166.067 is the date version, which came out in 1969 and is powered by the Calibre 565 movement, while the 165.067 is the non-date version of the same watch, released a year later in 1970, and powered by Calibre 552.  Of the two, there are far more 166.067 date versions than 165.067 non-date versions but the two are frequently confused and often mis-labelled.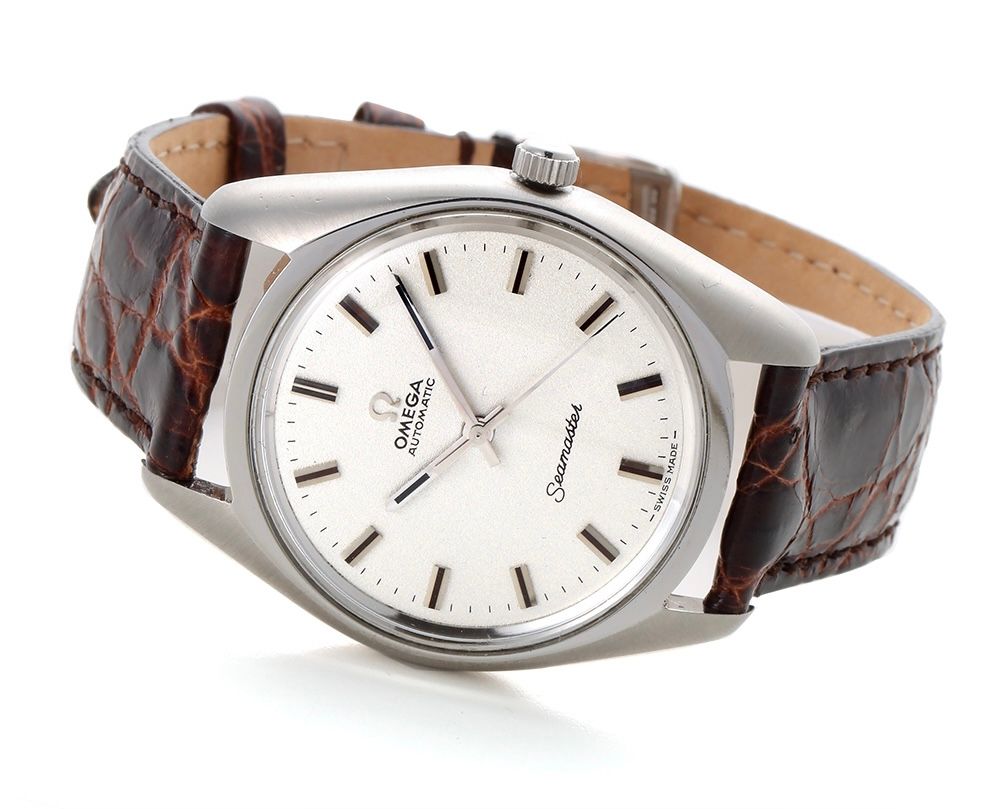 It's hard to really classify this case design, but I always imagine that the 166.067 is the result of taking a Seamaster "Sparkle" 168.022 case and melting it in a furnace until surface tension in the metal makes it look like a rounded blob of a watch.  
There certainly are some other Omega references that can end up looking disturbingly similar to the 166.067 after an extreme amount of ham-fisted polishing on a grinding wheel, but this definitely is the natural state of this monkfish-like Seamaster.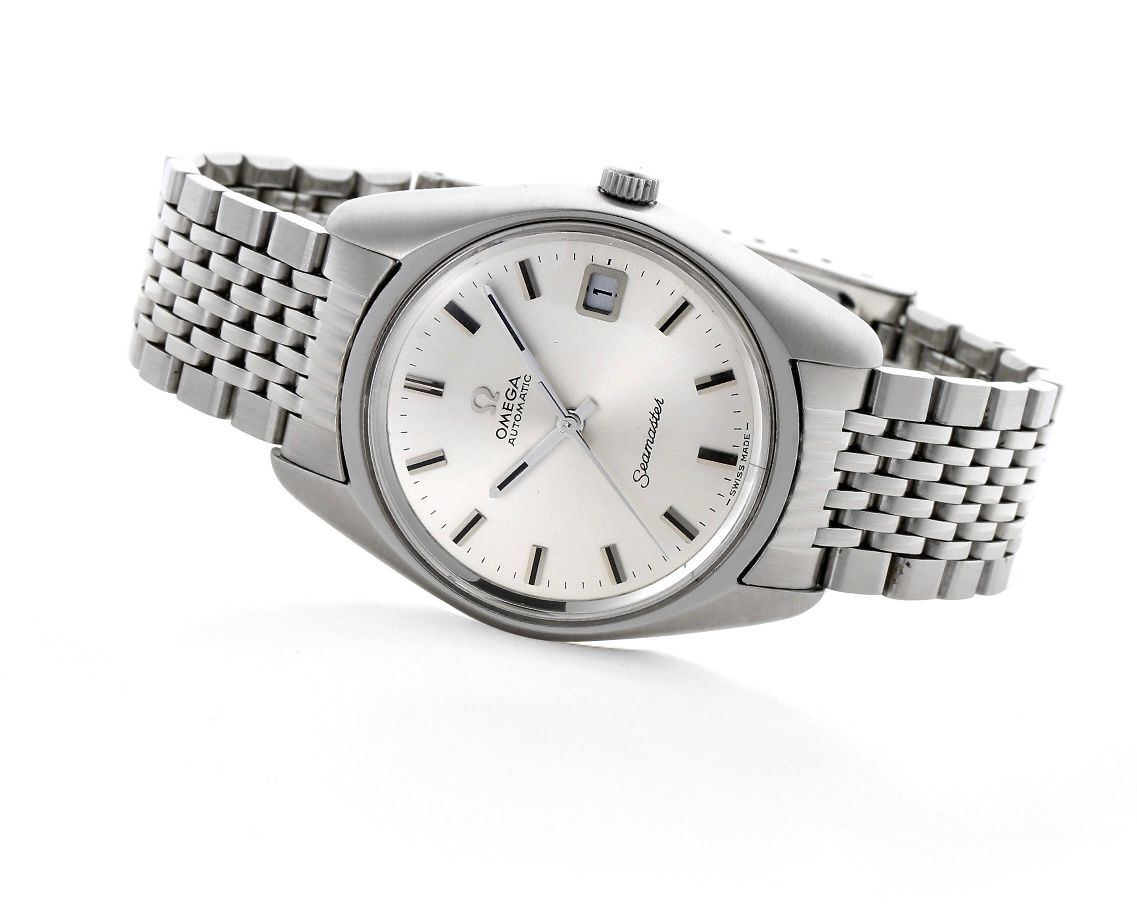 The question of whether this is a desirable watch or not really lies in the eye of the beholder.  There's a lot to like, a terrific movement, great water resistance, plenty of metal to work with if ever in need of refinishing, and some highly attractive dial options.  None of this has ever really translated into high prices though and even for a watch not produced in large numbers, it certainly seems to be a buyer's market for the 166.067.
The cool factor that makes a watch like a dogleg Constellation sell for a couple of thousand while these go for $500 is sometimes difficult to understand, and lack of awareness can be an issue as can lack of presentation.  When cleaned up, with the correct case finishing and especially paired with the right bracelet, the 166.067 can really make a statement, and stand out in a crowd of otherwise similar contemporaries.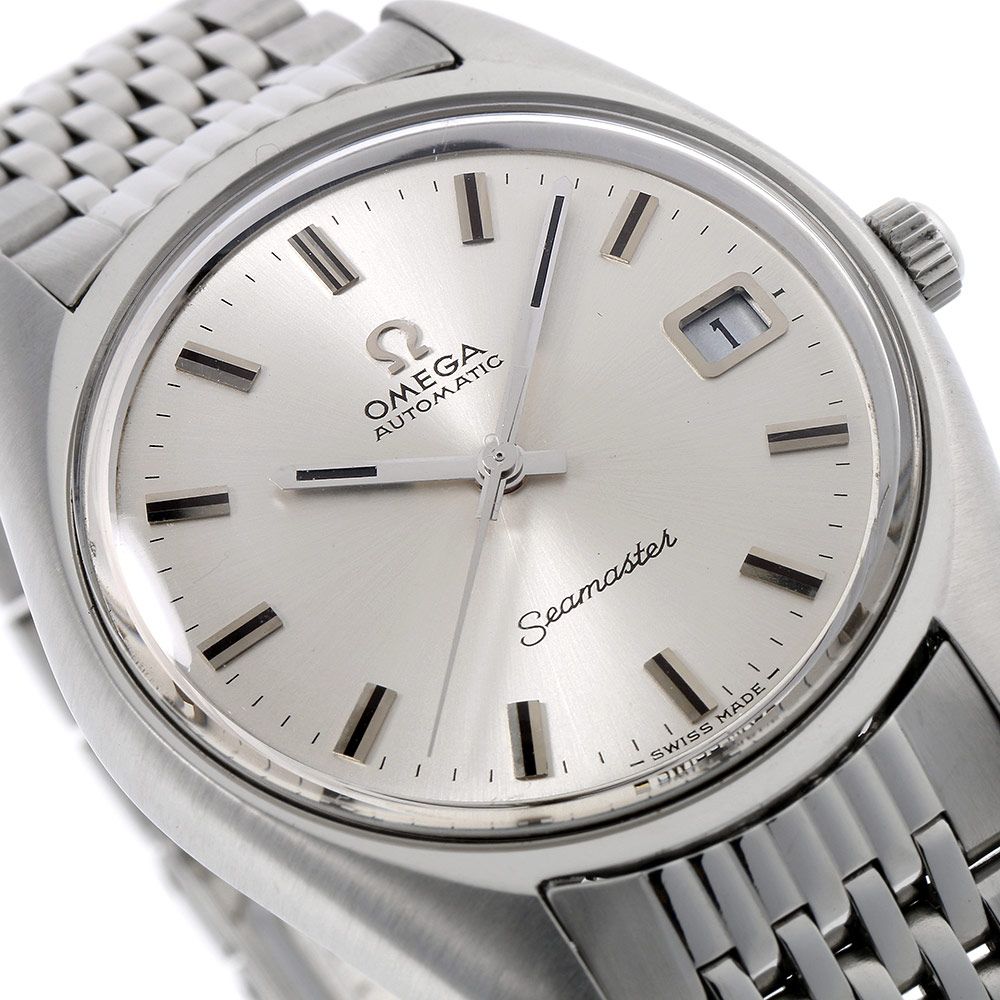 Case & Bracelet
So, the case is what these watches are all about, and it stirs a great deal of debate especially regarding the finishing, some think it should be polished, some think it should be brushed.
Firstly, the 166.067 / 165.067 is available in two metals, stainless steel and gold-cap.  There is no 18K solid gold version nor is there a gold plated or filled version.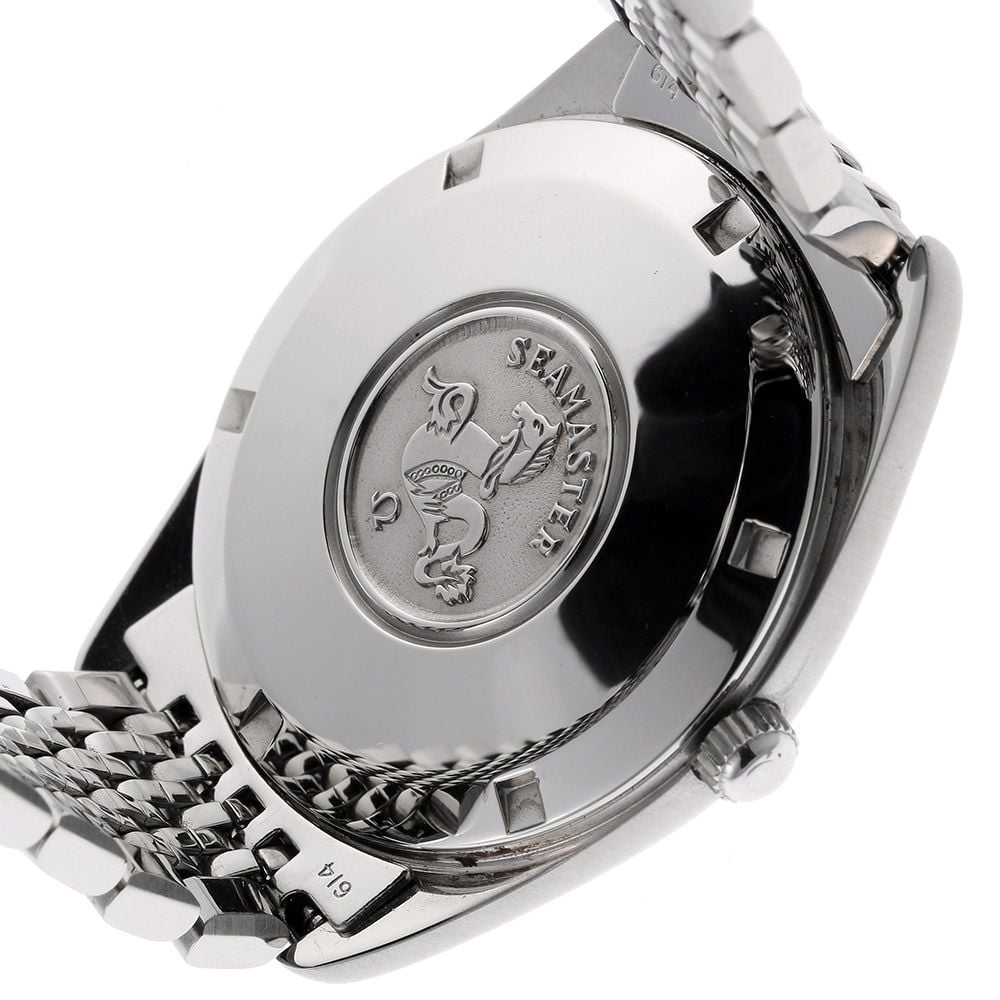 The case is a screw-back design, with a traditional Seamaster hippocampus relief in the center and standard keying around the edges.  While they share the same case, the 166.067 and 165.067 do have separately stamped case-backs rather than a dual stamping.  
Being produced towards the end of the 1960's, water resistance had been improving in leaps and bounds by the time these watches were produced, and according to Omega, these Seamasters actually are rated to 60 meters which is very impressive for the era.  Of course, seals must be changed and pressure tests completed before any vintage watch can be considered water resistant again.
The case itself is a single piece design with no separate bezel.  The entire side of the case including the lugs on both sides should have a stain brushed finish with a very subtle grain that is hard to notice but goes from the front of the watch to the case-back.  The bezel is a front facing section which looks like it has been hammered flat in contrast to the rounded remainder of the case.  This ring-shaped bezel should be polished but not to a mirror finish.  On a good watch you should see the distinct contrast between the polished bezel on the front and statin finished remainder of the case.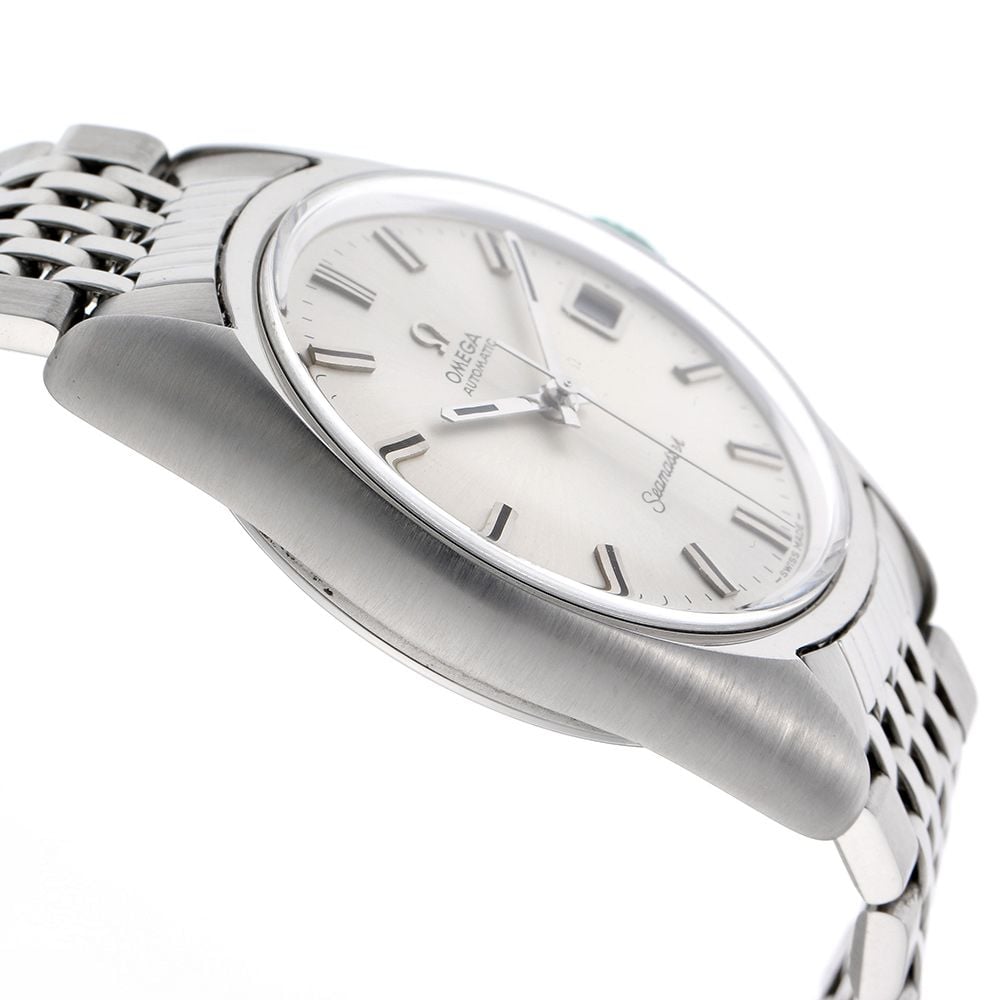 The case is symmetrical with no crown-guards, leaving the knurled crown sitting proud of the case where it can be easily gripped and operated, making this quite an easy watch to live with.  
The size of this watch is more substantial than regular Seamasters at just over 35 mm, however the chunky lugs make it wear even larger.  The simplicity of the overall case design makes it a fairly easy candidate for refinishing in the hands of a skilled watchmaker however many of these have been refinished poorly or incorrectly.  You will want to find one that has had the least amount of polishing possible, especially on gold-cap which is less forgiving.  The actual surface being a mirror finish or having swirls is much less important as this can be easily corrected but dents, dings, and over-polishing are a problem and must be avoided.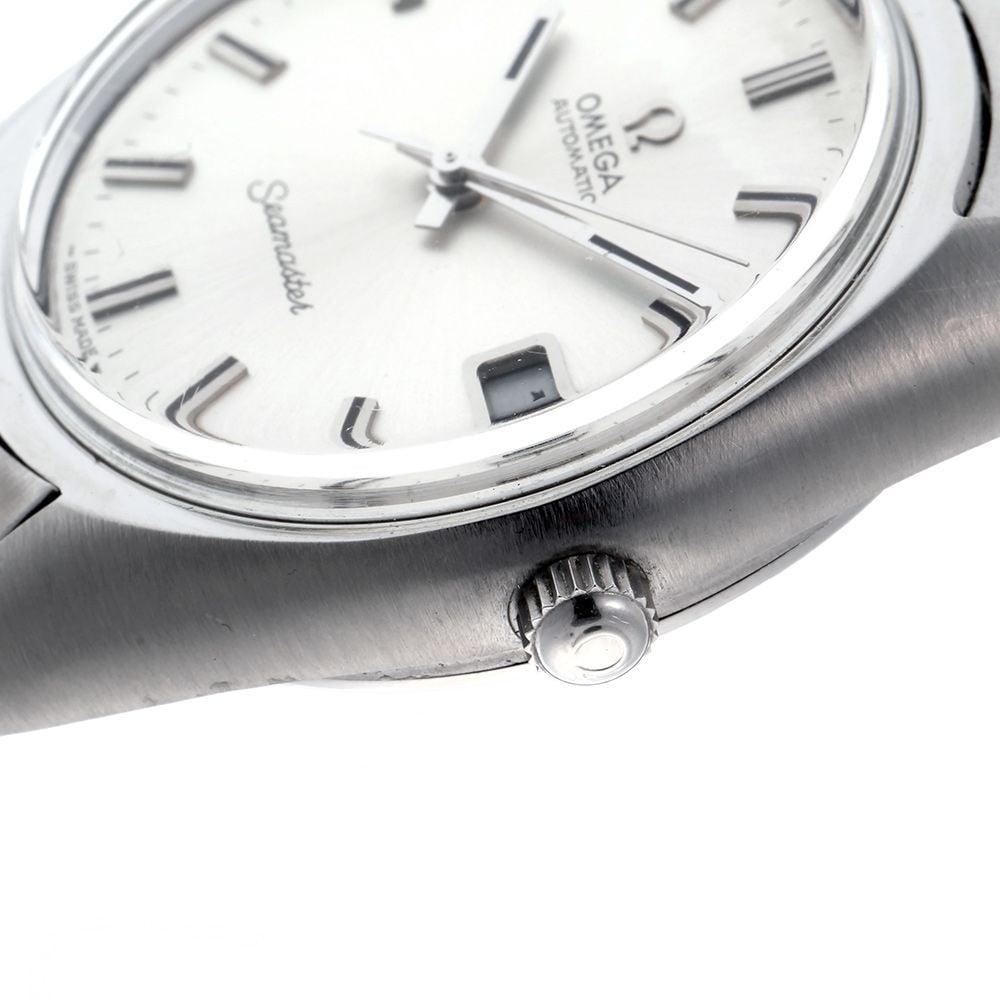 These watches are typically found on two bracelets with very different personalities although straps can often be found as well on these 18 mm lug watches.  The first bracelet harks back to old school Seamasters of the 60s and is the 7-row beads of rice bracelet reference 1037 with 614 end-links.  The second bracelet option has far more of a tool watch feel than the dressy beads of rice, this one carries the reference 1098 with 067 end-links and is more commonly a Speedmaster bracelet than one fitted to Seamasters but paired with the spartan case design, also works very well.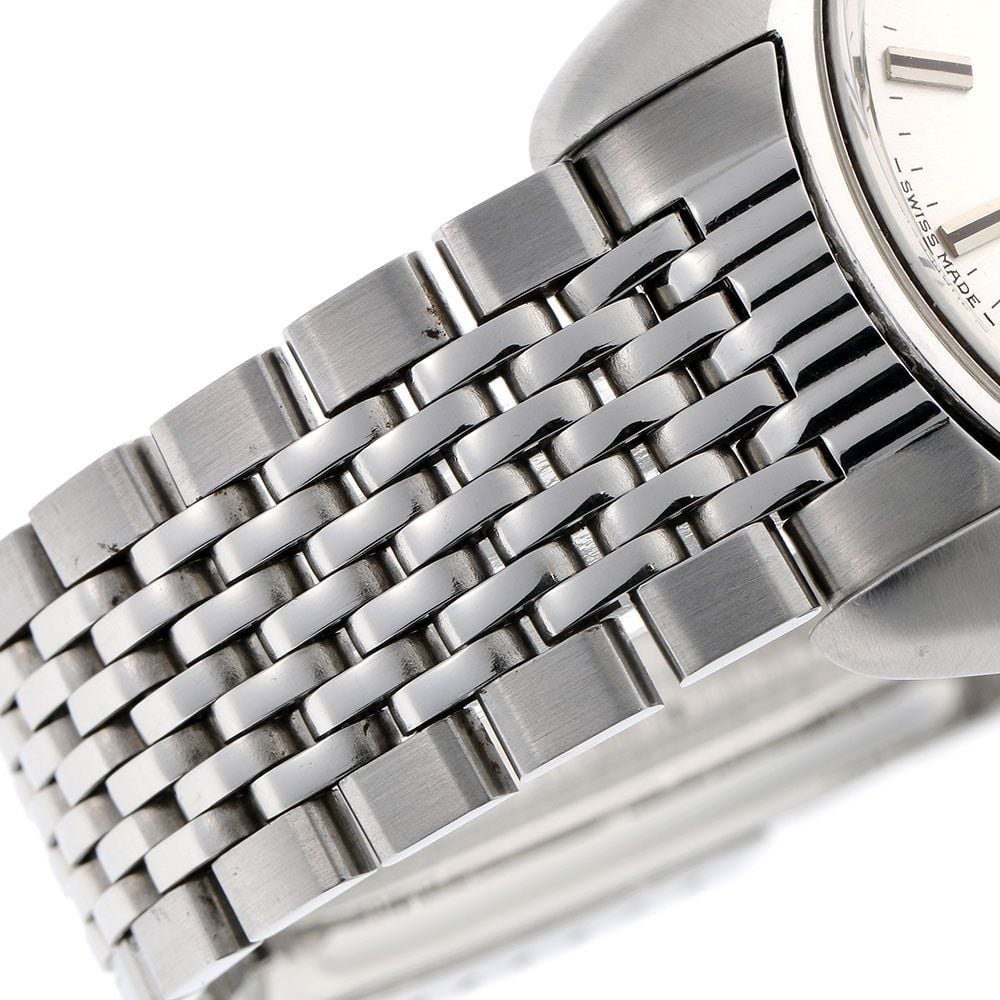 Movement
The two movements which appear in the Ref 166.067 and 165.067 are the Omega Calibre 565 and Calibre 552 respectively, which is great news as these calibres are at the apex of Omega's highly regarded 500 series.
These movements oscillate at 19,800 vph, have a 50-hour power reserve and feature a quickset mechanism for the date on the Calibre 565, operated by pulling the crown out repeatedly.  They are sturdy, robust and although not chronometer rated like the Calibre 564 or Calibre 551, these movements are still capable of excellent accuracy.
At 5.05 mm thick, the larger Calibre 565 allows for relatively thin and compact case designs with good water resistance.  Due to their position as the final evolutionary step in the most highly regarded family of vintage Omega movements these calibres and the watches they appear in are very popular among collectors.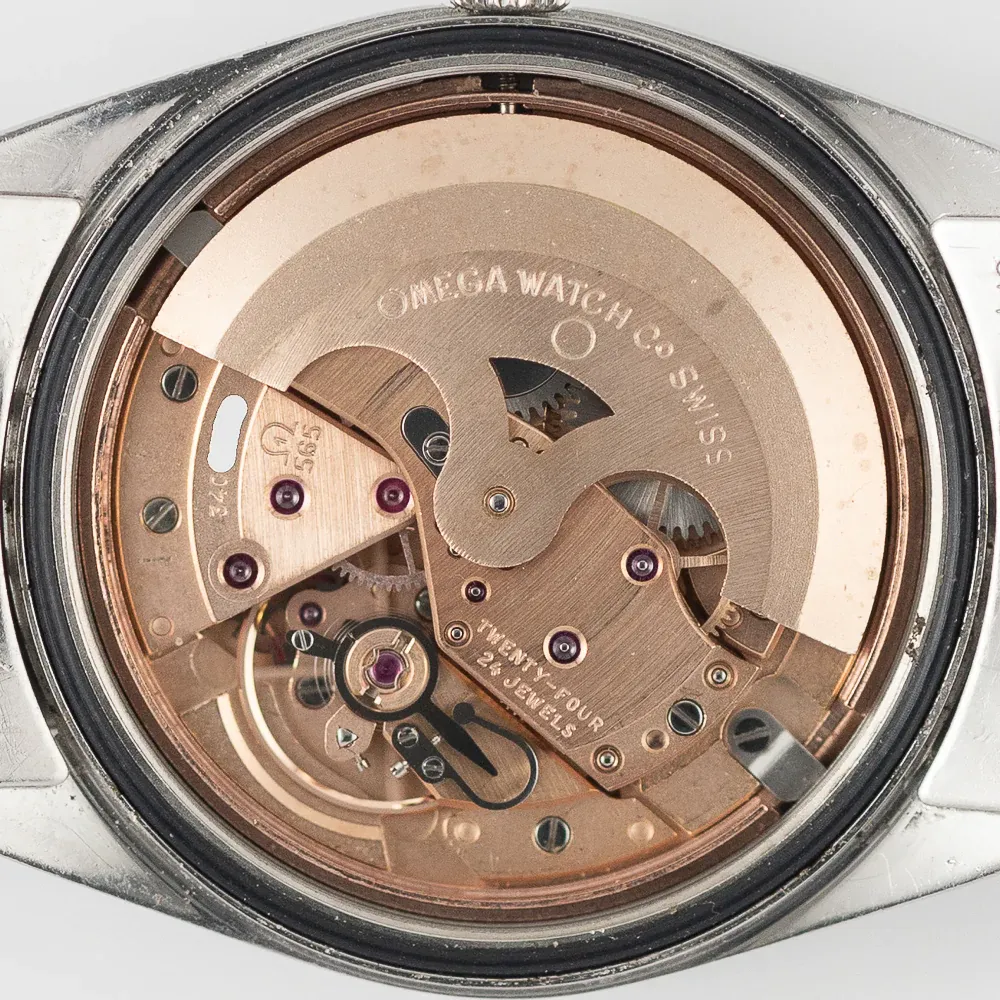 The inherent ability for these movements to keep running well in spite of decades of neglect leads to many people just buying them and wearing them as-is, however it is important to be aware that doing so will result in metal-on-metal wear and damage to parts.  For this reason, it is a far better idea to preserve the movement by servicing before use, even if it appears to be running well and keeping time when you receive it.
These movements can be serviced by any qualified watchmaker with access to an Omega parts account.
Due to the fairly durable and water resistant case these Seamasters have, movements should be free of any corrosion or damage and any example with a movement in poor, corroded or abused condition should be avoided.
Dial Variants
The same dial patterns are available both with and without luminous material on both the 166.067 and 165.067 and in both gold-cap and stainless steel.  For non-luminous models, stick hands with single black inserts are used while for luminous dials, similar stick hands with a black insert, and a luminous tip are used.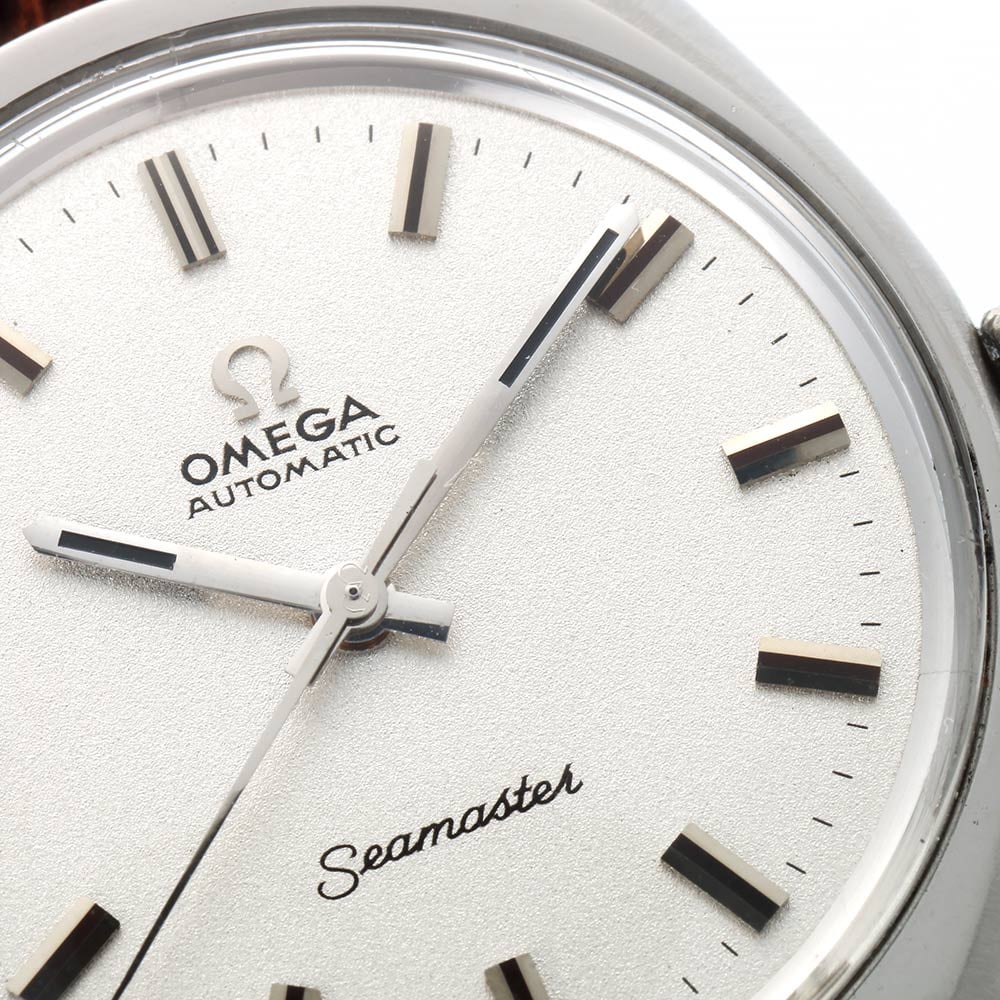 All dials feature the same dial furniture, with applied indices at all hour makers, doubled at the 12 o'clock marker, an applied Omega logo, and an applied date window, with black text.
Date Models 166.067 / 166.0067
The most common model by far is the stainless steel 166.067 which is available in three different dial textures.  The frosted silver "sparkle" dial is similar to the Seamaster 168.022 "sparkle" dial in texture and is relatively common.  The starburst silver dial is probably the most common and gives a more traditional look.  Finally, the concentric dial features circular brushing and is the least common dial option.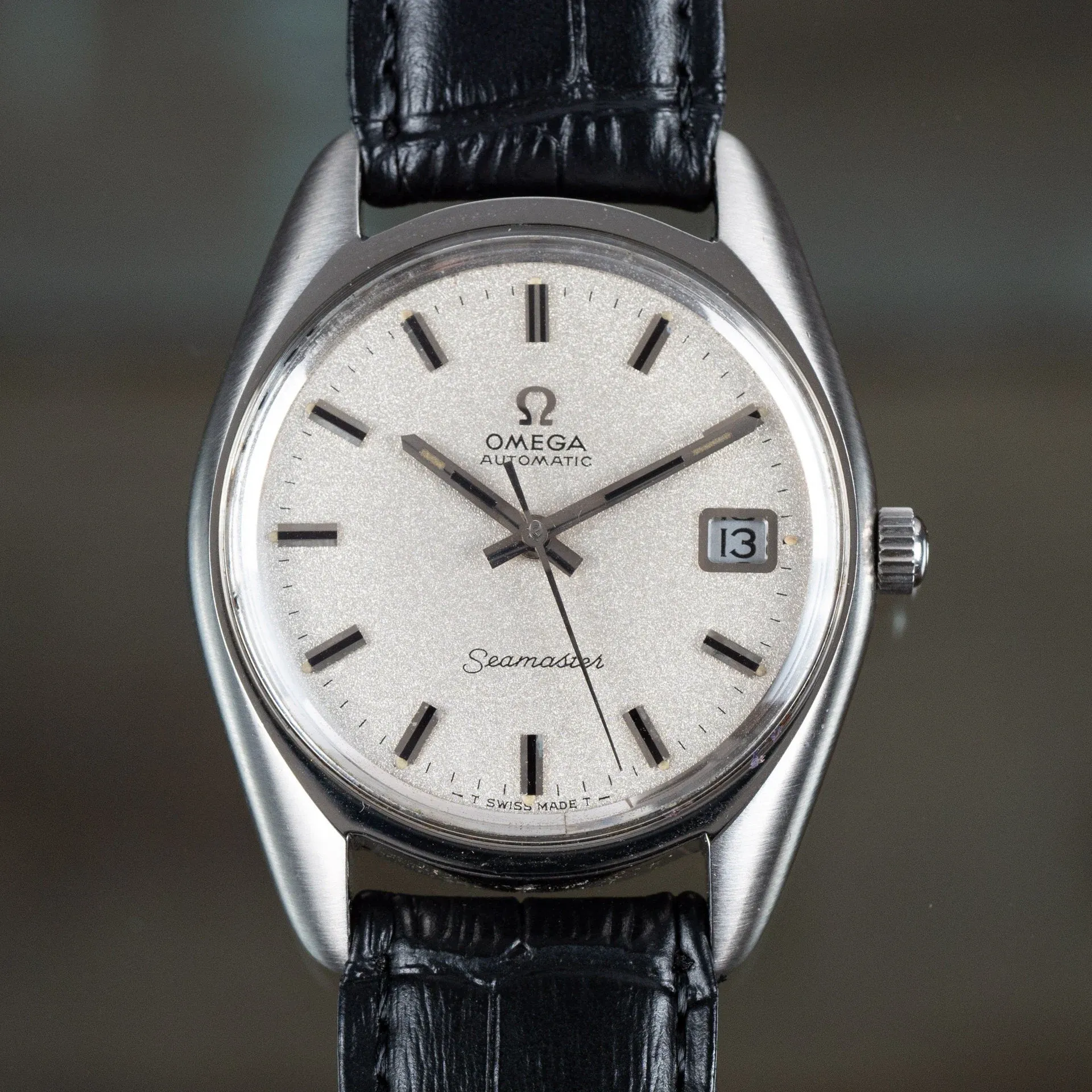 The gold-cap 166.067 models are available with silver dials featuring gold hands and gold dial furniture in both a frosted dial with an identical texture to the steel version and also a starburst version, with the starburst being the more common option.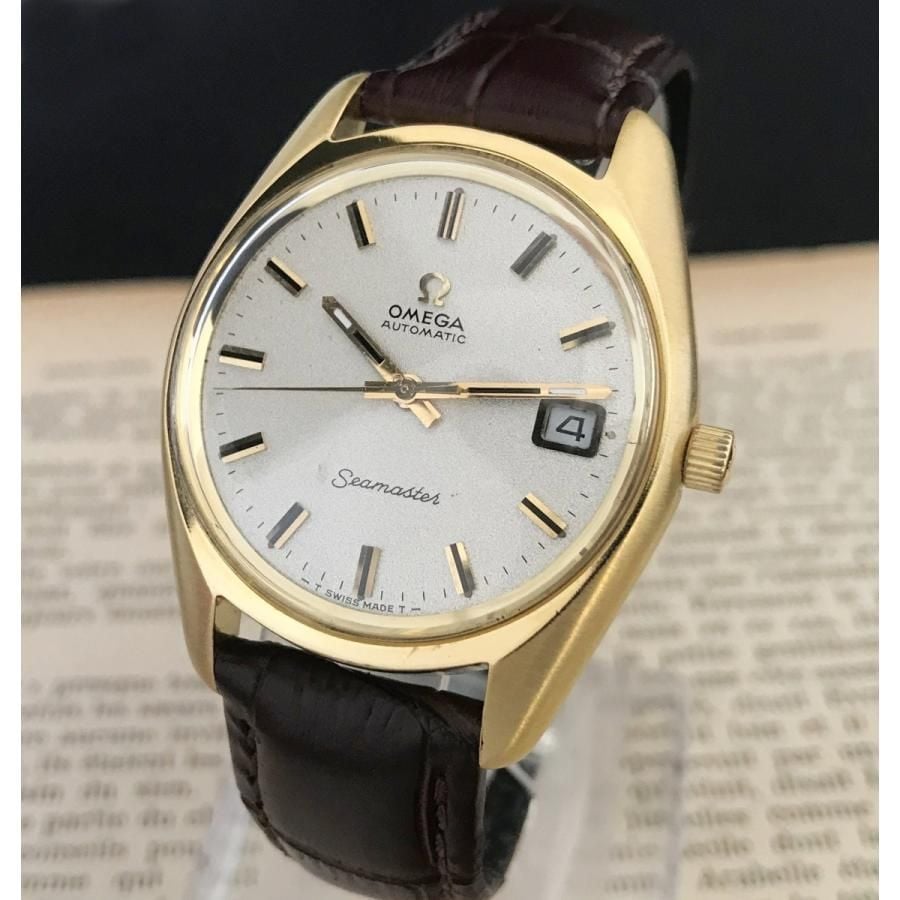 The gold-cap models are also available with gold toned dials in the same patterns.  these are otherwise identical to the gold-cap silver dials in texture and only differ by color.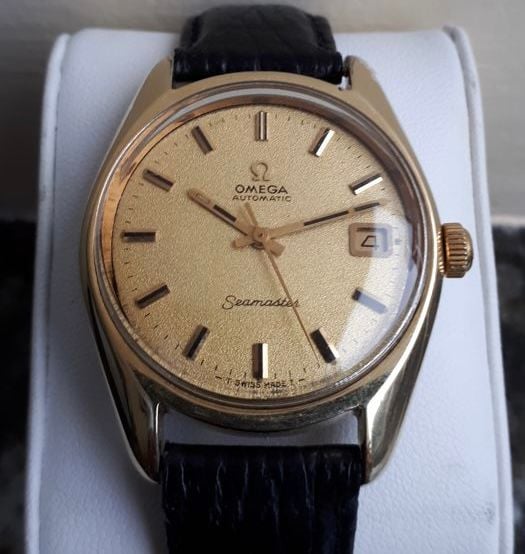 Non-Date Models 165.067 / 165.0067
The non-date reference 165.067 was produced for a shorter period of time and in much fewer numbers than the 166.067.  As a result of this, there is a lot less variety in the dials that can be found, all of which are derived from the date variants.
The stainless steel models can be found in both frosted "sparkle" dials and in starburst versions but so far no concentric dials have been found.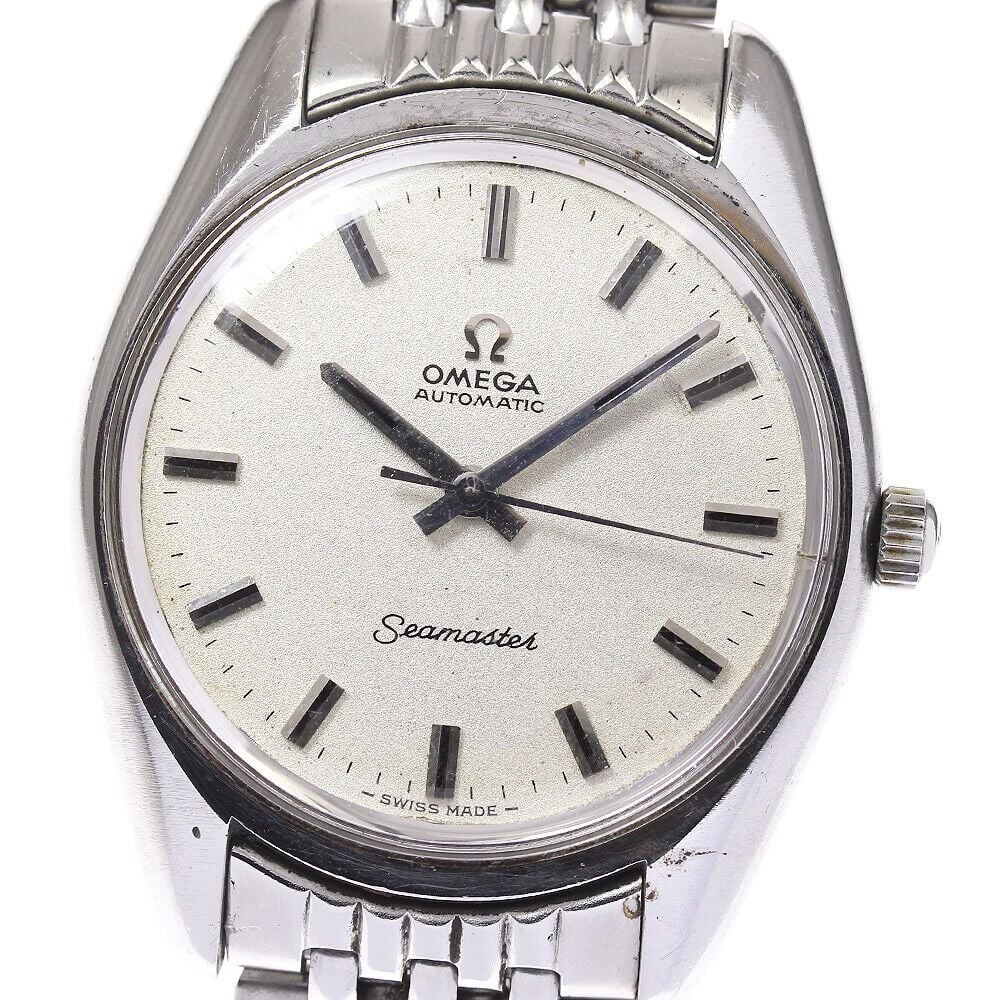 The gold-cap version of the 165.067 is even more limited than the stainless steel with only a single variant being available, the gold-toned frosted "sparkle" dial.
Buying
These watches are cheap, plentiful and more often than not in at least decent condition.  If you find yourself drawn to the reference and suited to the styling of the case you really are in luck too as there are no drawbacks on this model, it is simply an excellent watch with a polarising look.
These Seamasters can be found on forums, eBay, Chrono24 and online dealers but the best bet is likely to be eBay for these as the market is absolutely saturated, with 40 or more commonly listed for buy it now or auction at a time.  The overabundance and lack of buyers makes for very low prices, typically under $1,000 when they sell and sometimes quite nice examples can be had for around the $500-750 mark.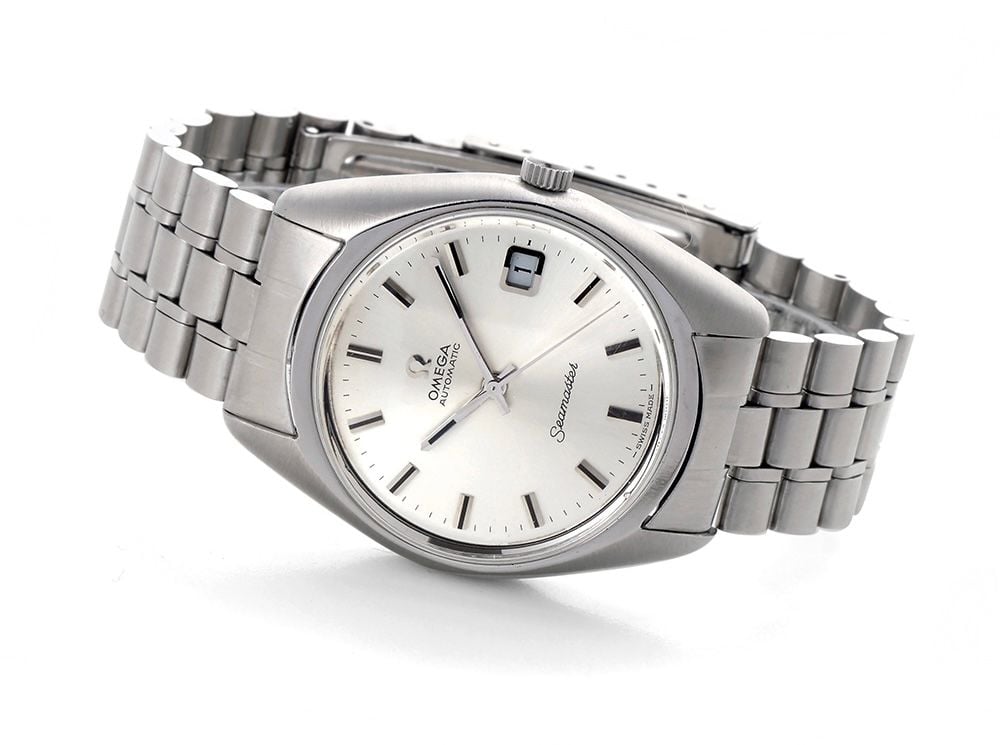 It should be kept in mind that a bracelet will add around $200 value to the watch if included and in good condition, and given the abundance of choice, there really is no reason to settle for a poor quality example.  The most desirable models overall will be the stainless steel in non-luminous dial variants, just as they have fewer potential issues in the long term thanks to the lack of tritium.  
Re-dials do happen and due to how cheap and plentiful these watches are there are some fanciful colored re-dials in shades like "Tiffany blue" which are entirely bogus and should be avoided at all costs.  The original dials in these are interesting and varied enough without the need for embellishment.  There are however also some double signed dials by Meister among others floating around which are authentic.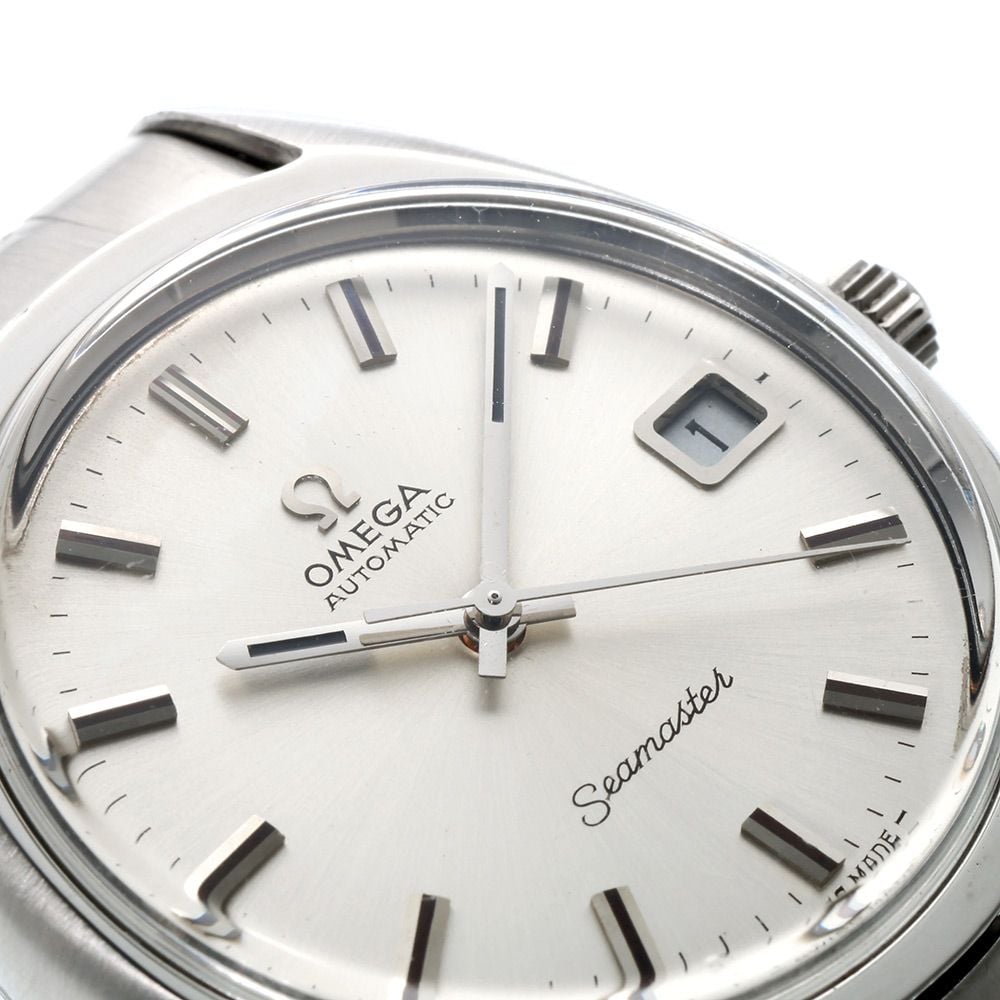 While these watches were sold internationally, a very large proportion of them, especially the non-luminous versions were sold in Japan, and these are often among the best condition wise as well.  Japanese sellers are bringing them to western markets including eBay but you can find even better deals on Japanese auction sites as with many watches that were popular there.
These Seamasters make for an excellent starter piece, a perfect daily wearer once serviced, and will last you a lifetime if taken care of, all for about the same money as an Apple Watch.
Discussion thread on Omegaforums can be found here: