There are many references of vintage Omega that you never have to worry about "outing" on Omegaforums or among other collectors.  Speedmaster 321s, Seamaster 300s, anything with a pie-pan dial at all, they're all being stalked so heavily that one doesn't appear without the world knowing.
Then there are others that go for obscenely low prices in spite of being very good watches just because nobody knows what they are or to even bother searching for them.  The two DeVilles we're talking about here both fall into this category.  Unknown, unloved, unappreciated, undervalued and poorly understood.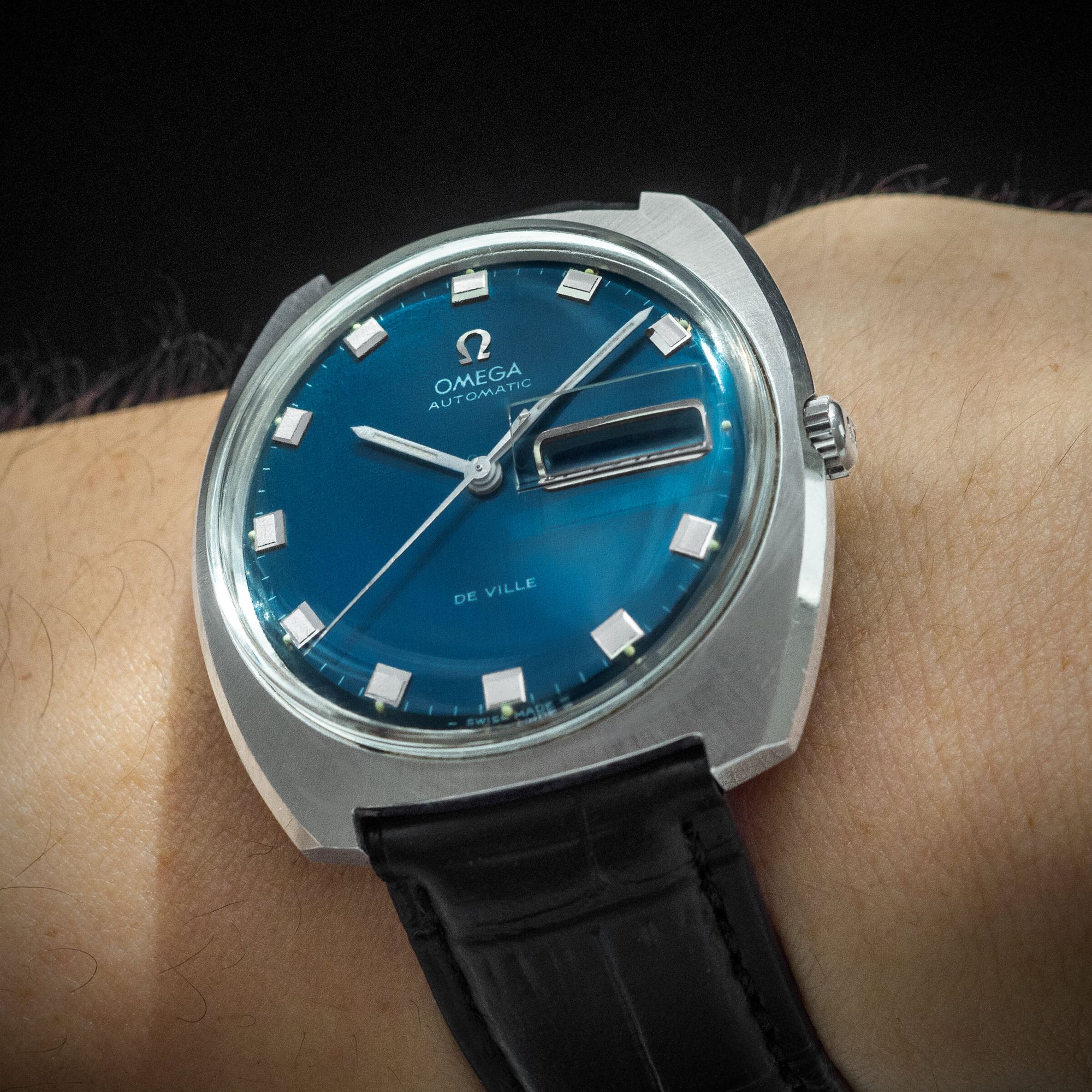 Omega Quality, MoonSwatch Price Tag
The Calibre 752 movement is very good.  As the day-date version of the Calibre 55x series, it represents the most complicated and final evolution of Omega's extremely highly regarded movement family of the 1950s and 1960s.  As a loose movement, these can go for $150-250 in good condition, as they do appear in many desirable models such as the Calibre 752 Seamaster "Sparkle" Day-Date.  
Yet this week in August 2022, an Omega DeVille Calibre 752 reference 166.053 sold for the rather paltry sum of $202 US dollars.  This is an in-house, high quality automatic Omega vintage watch from the brand's "golden era", for $58 LESS than a Swatch MoonSwatch.  I'm talking about the MoonSwatch MSRP too, not the scalper price which is still in the $350-$450 range.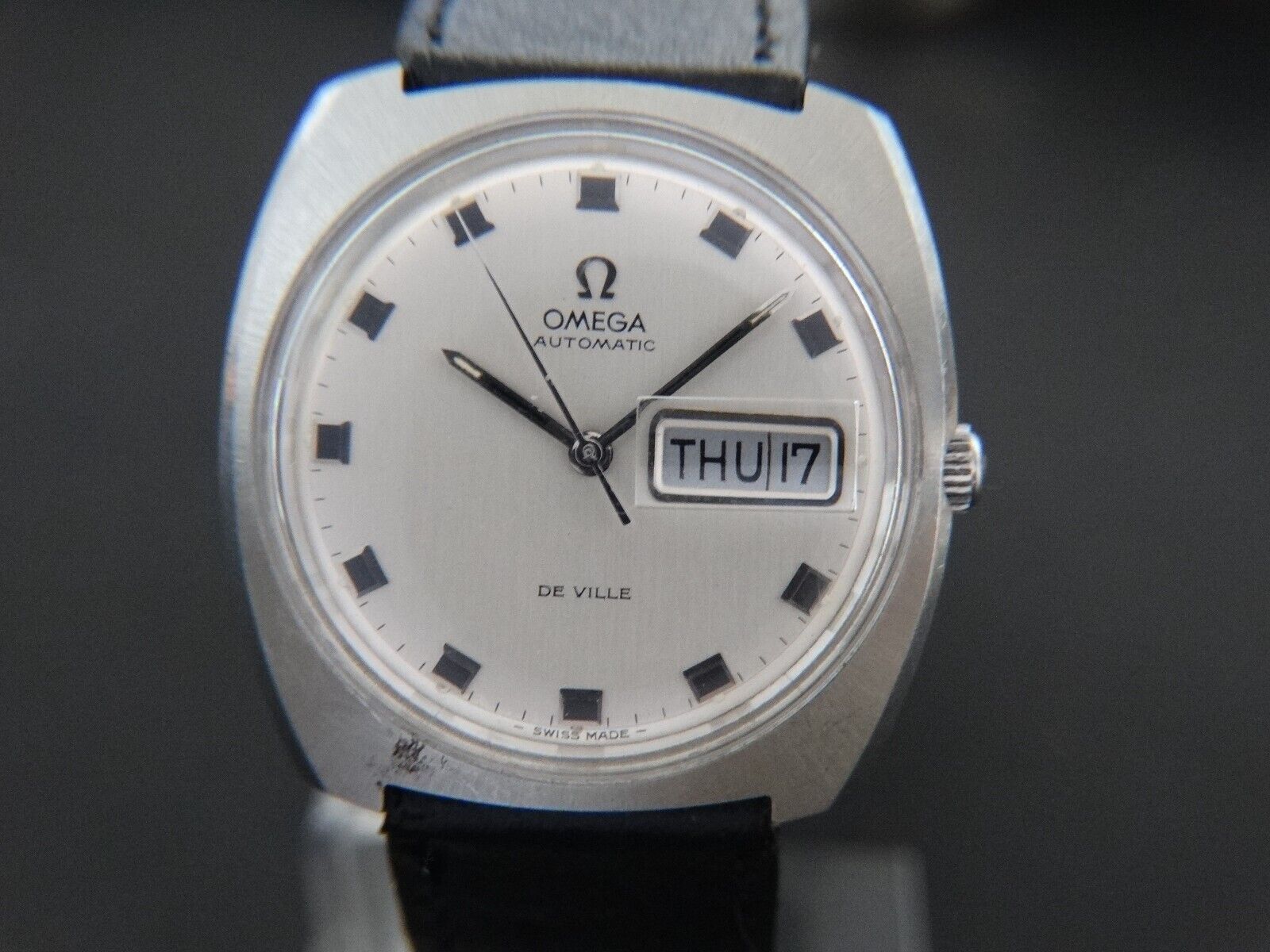 Now, there were two things that this watch had against it, being in Peru some buyers are hesitant to buy from South America, and there is a scratch on the lower left of the case.  One handy feature of these cases though is the ease with which watchmakers can clean them up due to the simple, chunky case design with radial brushing.  This would make for quite a nice piece when cleaned up indeed.
The DeVille 166.053
The cheaper and slightly less elegant of these two is the 166.053.  This watch bears a lot of similarity to Seamaster Jumbo Chronometer Reference 168.034 which typically carries a much higher price tag and has a lot of fans.  It has a 36.5mm case, larger than most vintage Omega dress watches, vaguely C-Case shaped lugs, and even features somewhat similar dial furniture and hands albeit with a little more austerity.  
The 166.053 was released in 1969, at the end of the "Golden Era" and was among the early models to be solely branded as DeVille only with no mention of Seamaster.  A fact that causes it to slip past many search terms and collector's eyes.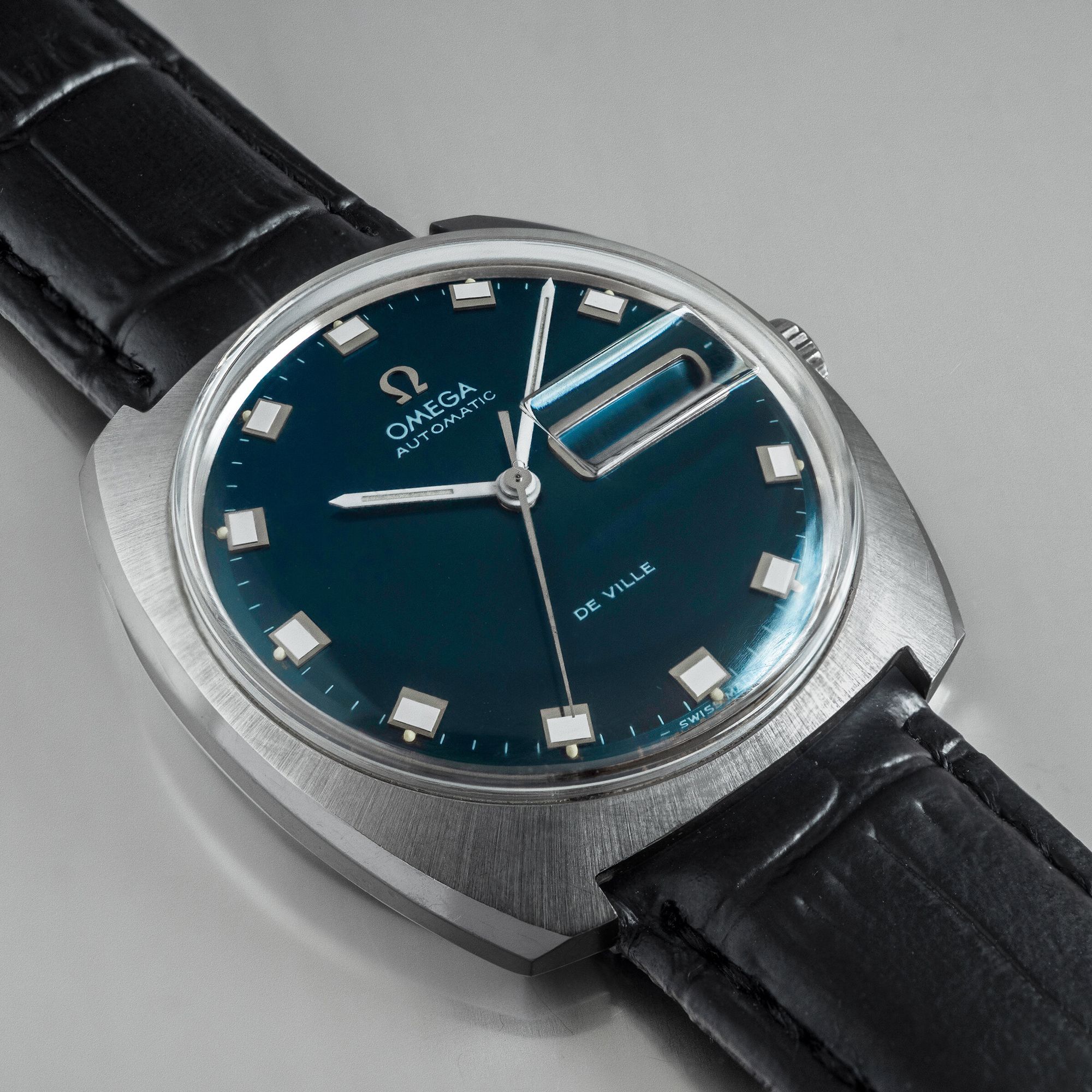 Due to its larger case, it has 19mm lugs and shares its bracelet options with the C-Case Constellation.  The two most commonly fitted, and best looking bracelets are the reference 3011 and 1040, both of which float around on eBay and watch sales sections fairly regularly.  Both of these bracelet options really do make a significant difference, making the DeVille look like a far more attractive, cleaner and more modern watch.
In terms of dial options, the steel variant of the 166.053 comes primarily with either a light silver toned dial, or with a rather attractive mid-blue color dial, both featuring vertical brushing to give a metallic effect under the light.  The mid-blue dials, it should be noted do often seem to have some discoloration around the luminous dots on the outside of the hour markers.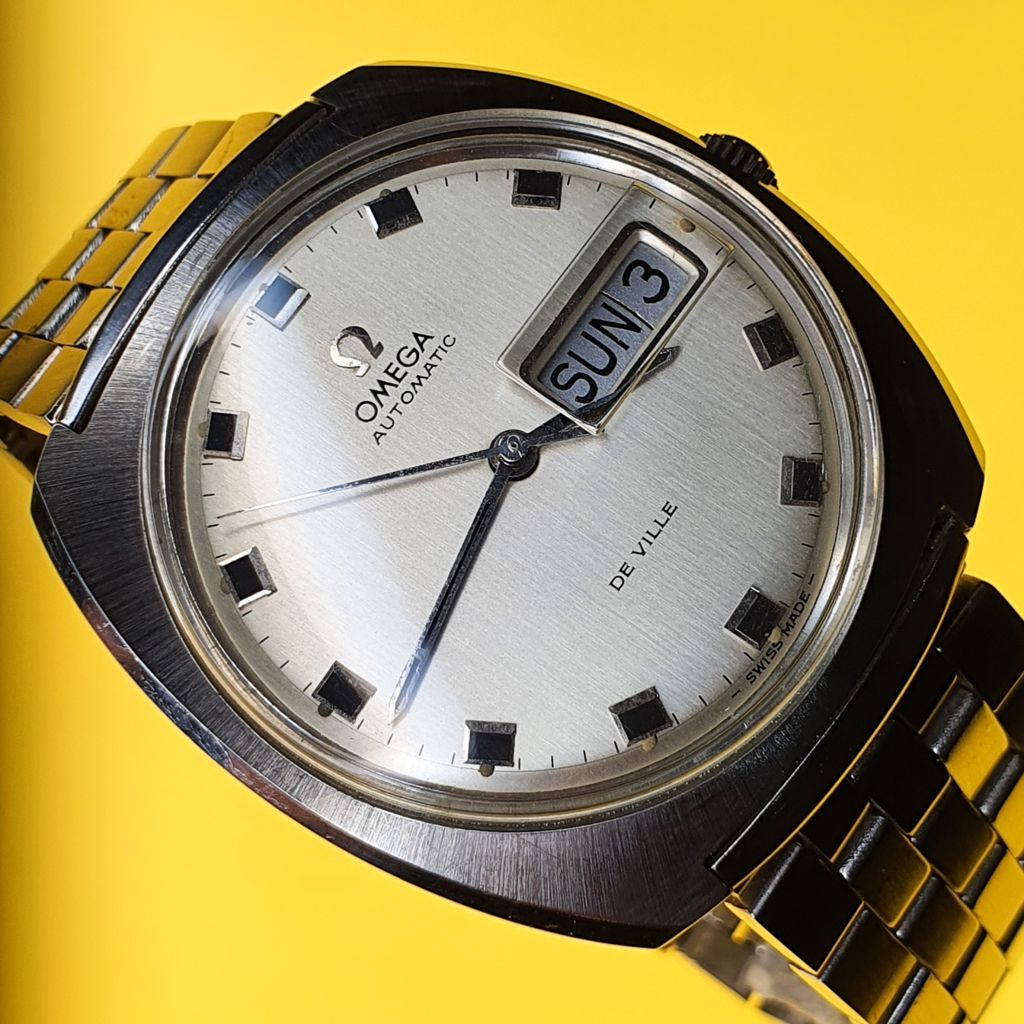 As with many other late 60s and early 70s Omegas, the 166.053 is a monocoque case, or "front-loader", opened with tool 106 through the crystal, which aids in the water resistance of this reference and has led to a high survival rate of dials and hands.
There also exists a gold-plated version of 166.053, and an 18K solid gold version, the later of which should be considered very uncommon, although like all examples of this reference there still is not great demand.  The solid and plated gold versions have either a silver toned, or a gold toned dial, both with gold dial furniture and hands, of the same style as the steel versions.  It should be noted that the gold plated version is only 20 microns thick and many are worn through in places.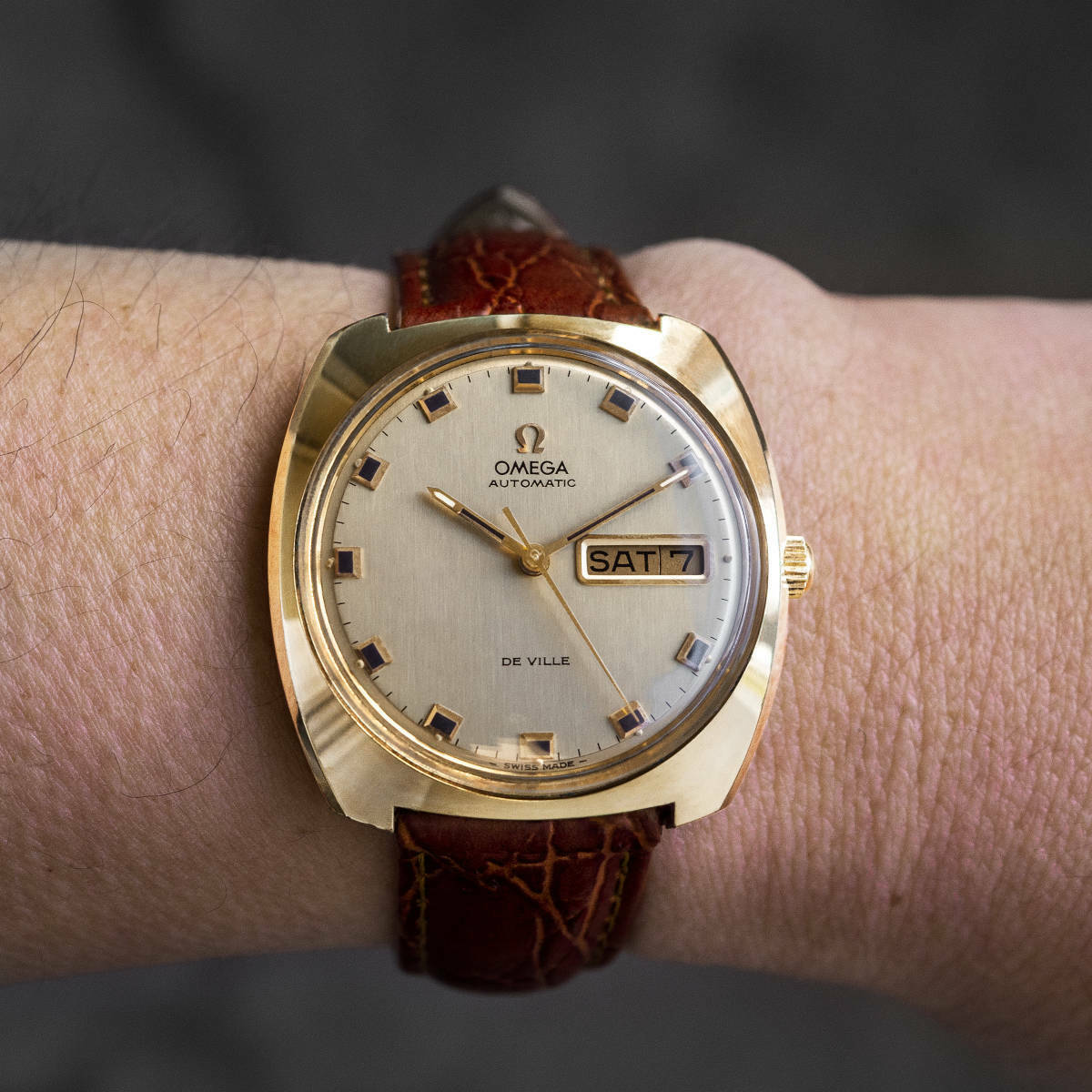 The DeVille 166.095
The 166.095 in many ways feels like a big brother of the 166.053.  It shares a lot of the same styling, the same dials & hands, the same movement, and even the same radial brushed finishing.  It came out slightly later than the 166.053, and features sharper, harder edges, with more straight lines instead of curves.  The underside has more complicated facets to it which are hard to capture but stand out when held in hand.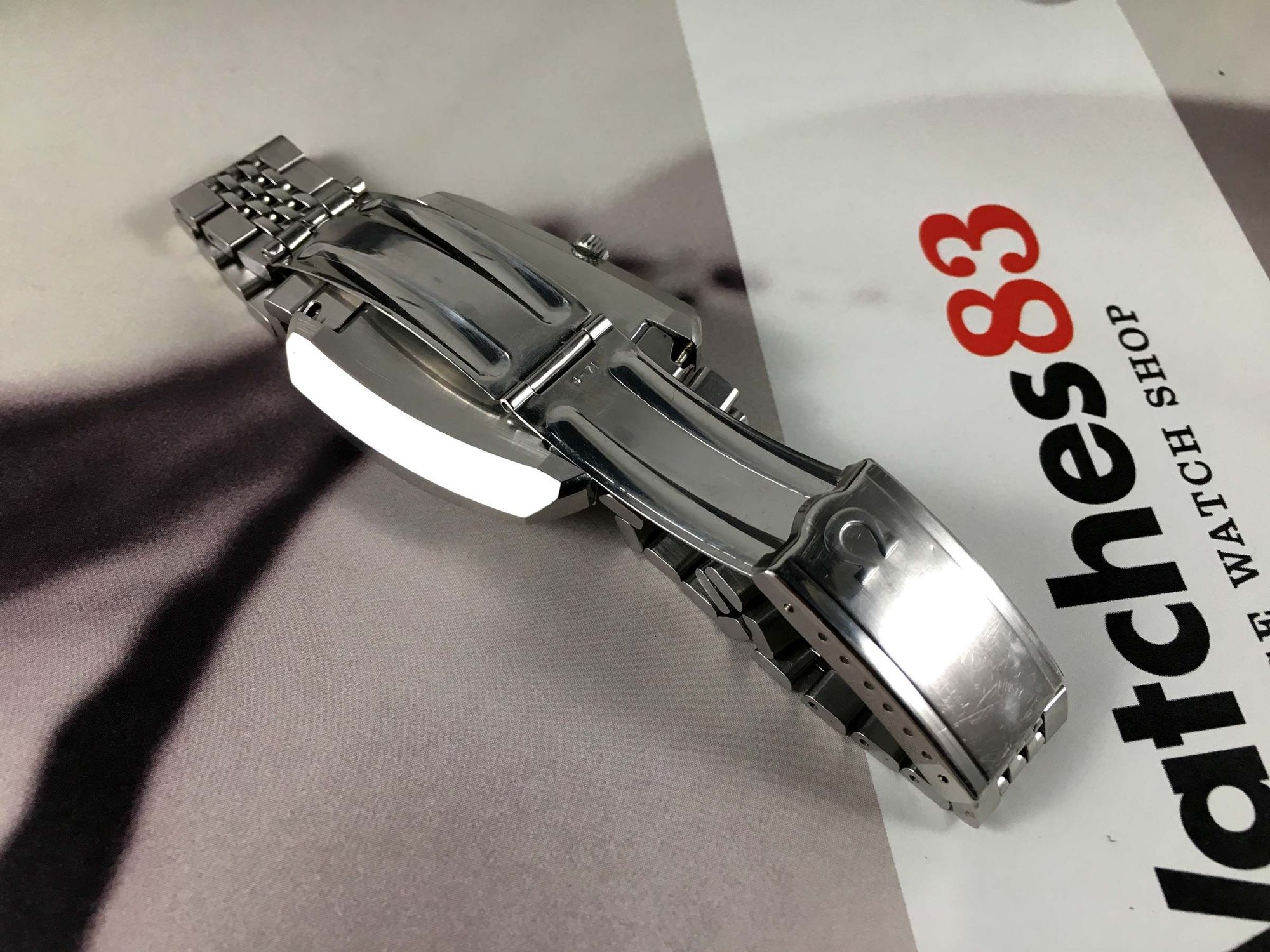 The 166.095 has a similar width to the 166.053 at about 36.5mm without crown, but due to the sides of the case staying straight rather than curving inwards, this watch has noticeably more metal, mass and wrist presence.  It wears genuinely large for a dress watch of its era and looks modern even today.  The case features the same monocoque, "front-loading" construction as its sibling, giving it the same decent water resistance, but lug width increases again from 19mm on the 166.053 to 20mm on the 166.095.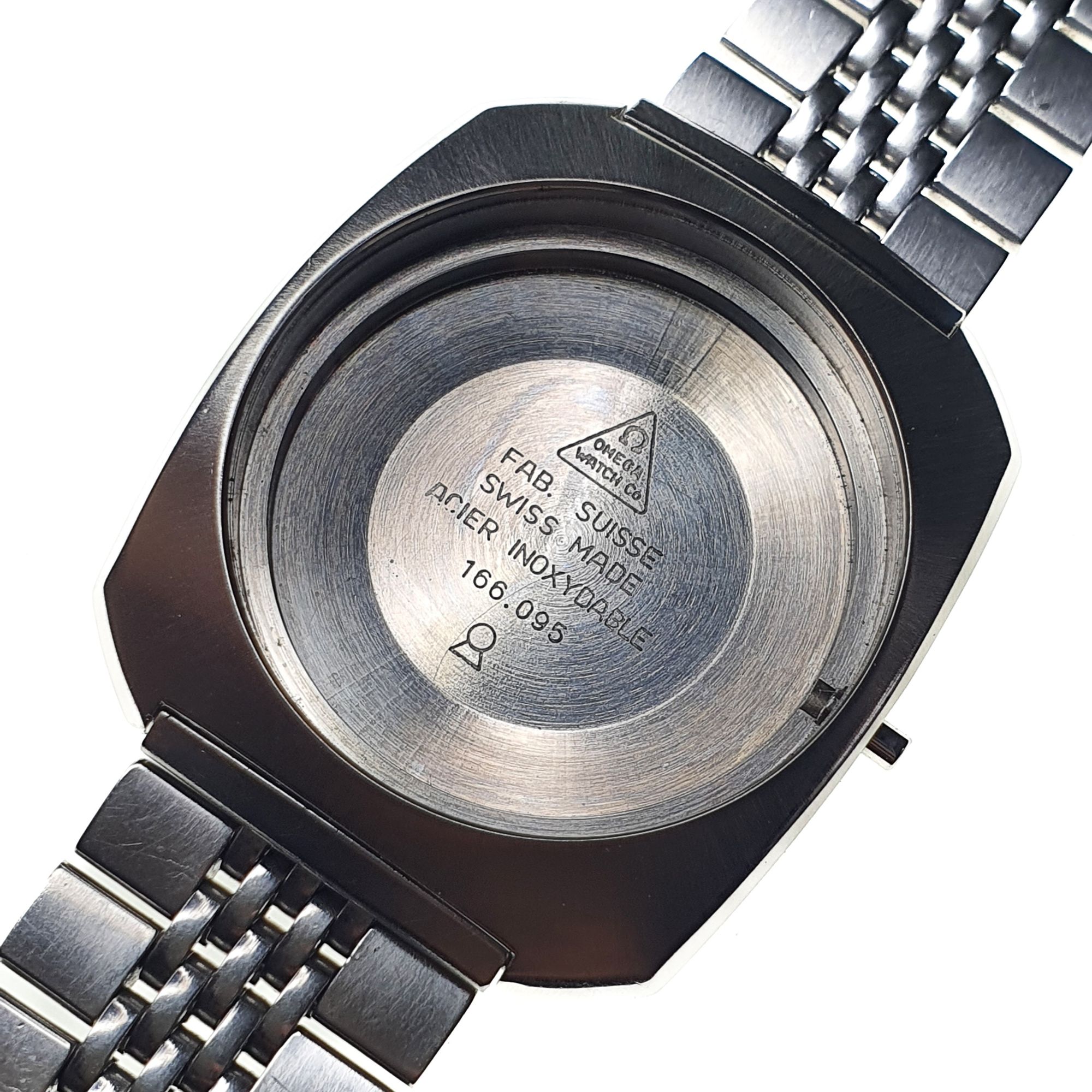 The steel versions feature the same pair of dials with a vertical brushed silver and blue, both of which capture and play with the light due to their metallic finish.  This can see the silver looking anything from white to dark grey depending on lightning conditions, while the blue can be anything from a vibrant mid-blue to a dark black.  There are at least a small number of 40 micron gold plated versions with similar silver and gold dials to the 166.053 but they really are quite few and far between.  There may be an 18K gold version as well but none seem to have surfaced for sale or in photos thus far.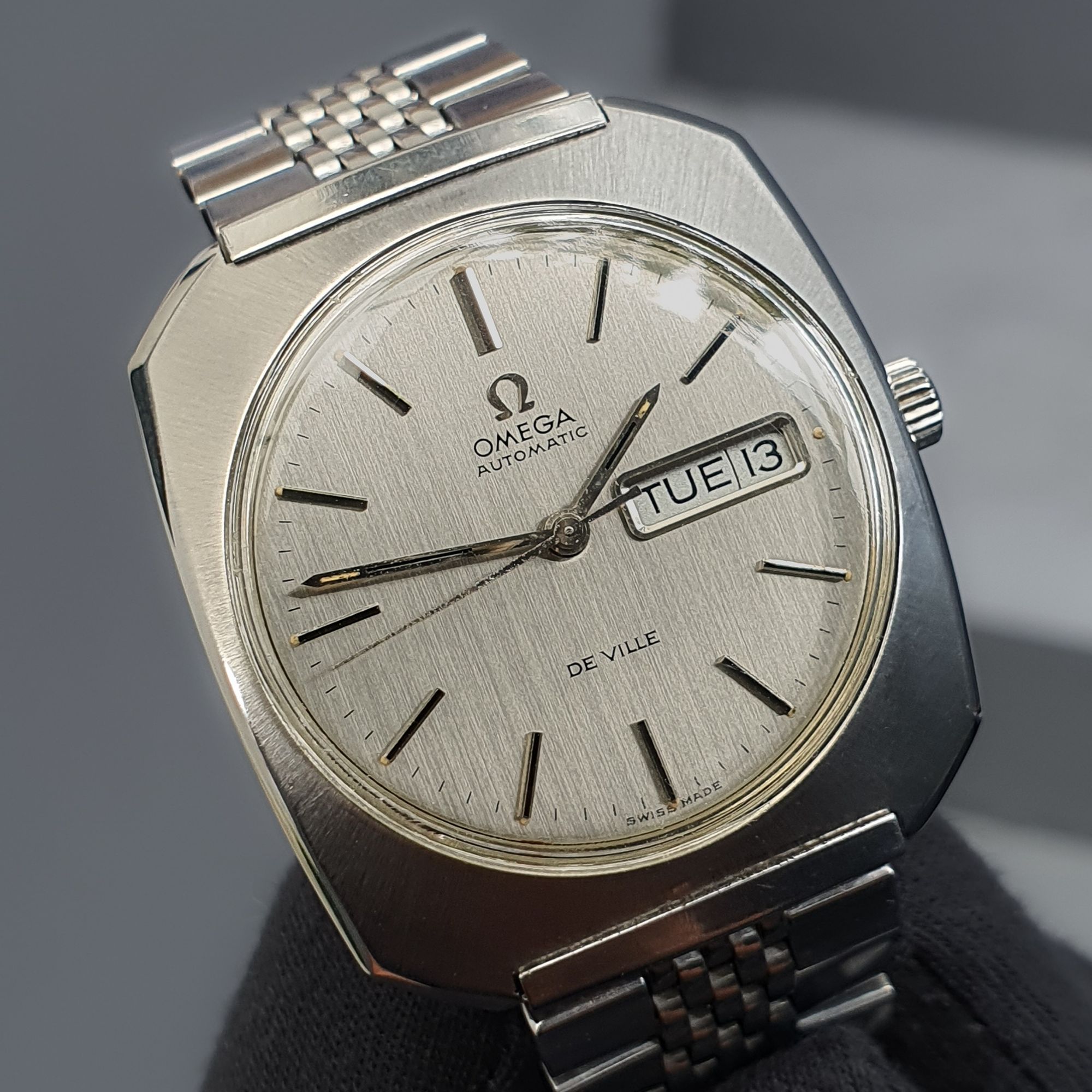 With the 20mm lug width comes a different option in terms of bracelet, and this is one of the most defining features of this watch.  The standard watch on strap is a perfectly attractive, large, wearable watch but isn't necessarily a standout.  This changes entirely when the DeVille is fitted with its signature bracelet.
The 1173 bracelet with 646 is like a larger, more modern, 20mm wide version of the early Omega beads of rice bracelets.  The 646 end-links fit perfectly to the curve of the case between the lugs, flush with the lower edge of the lugs, making it fit seamlessly.  It really is transformative on this watch. There are certain watches that are just made by their bracelet and this is undoubtably one of them.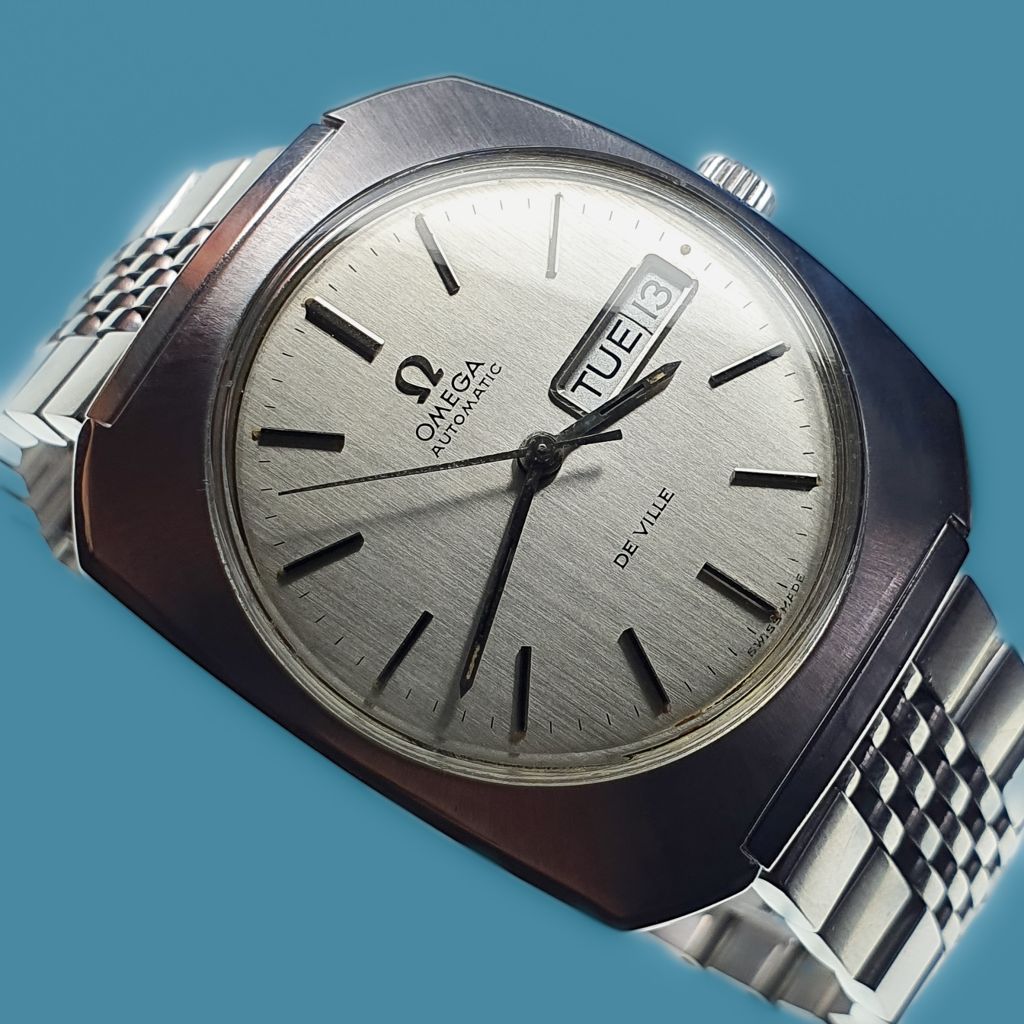 Even though they do appear less than the 166.053, the 166.095s do continue to fall through the cracks similarly cheaply, with very few takers.  Just this month in August 2022 a very nice unpolished example with the highly desirable 1173 bracelet sold for 480 GBP, or $567 US, even in the very hot UK watch market.  Factoring in the condition, the quality of watch, and the full original bracelet, it's a tremendous amount of watch for the money and whoever bought this will be very happy with the watch they receive.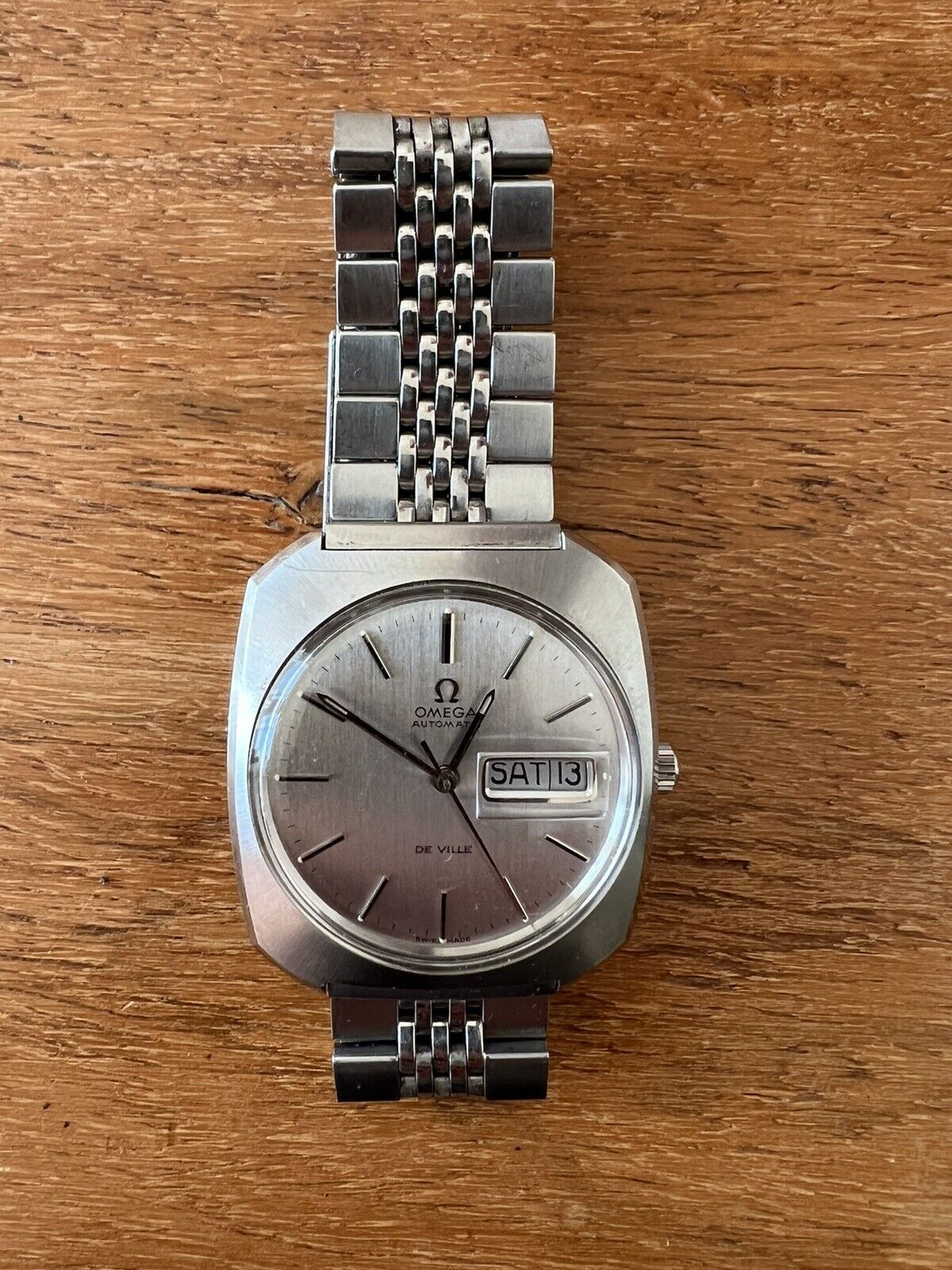 When eBay gives you lemons, make lemonade
Buyers really do concentrate on "hype" watches, the ones that everyone knows the reference number of and see on Instagram being worn by influential collectors.  The trouble is the competition really is high, not just from collectors but from dealers looking to snag any going under the radar.  I've often said that Omega is an extremely broad church, with a remarkably variety of models on offer, and that really presents some tremendous value propositions if one is willing to step off the beaten path a little and try something very good but slightly different.  
The late 1960s and even early 1970s is an area really worth focusing on in particular as Omega experimented with new models, cases, designs and lines, while still maintaining the use of many of their greatly regarded movements.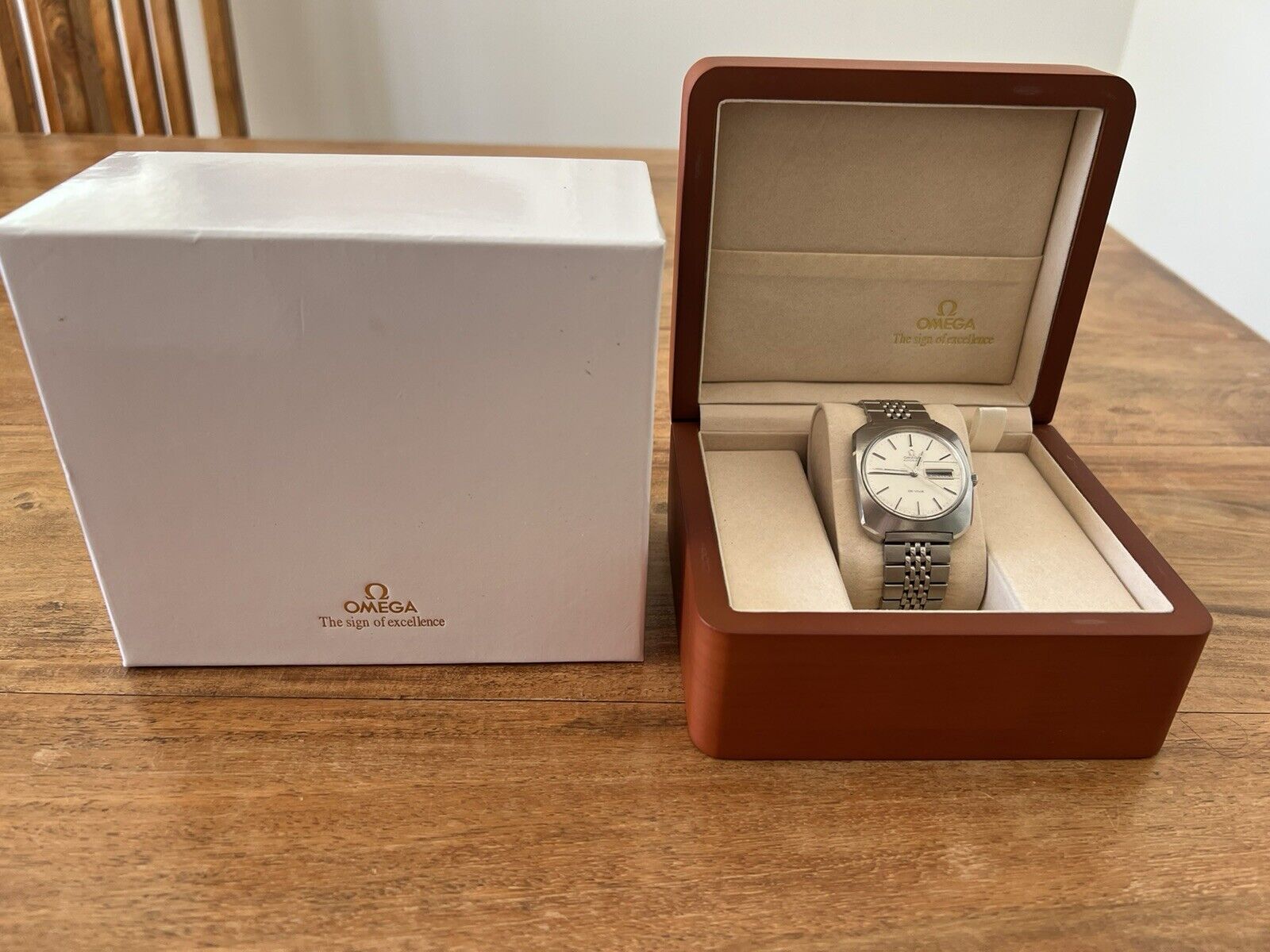 It's important to note that the cheap prices seen for these models on eBay, in private sales and on the wholesale market do not translate to cheap sales in a retail setting.  Many of the same watches you see selling for a few hundred dollars with bad photos end up with a four figure price tag on them once they're behind a pane of glass.  You really do have to just invest the time in learning, finding what you like and what looks good on you, and then be willing to pull on some gloves and do the dumpster diving yourself.  
With time, learning and patience, you really won't believe some of the great deals you will find.
Discussion thread on Omegaforums can be found here: