There aren't many giant Constellations that can be worn as a statement piece with a colorful custom strap but here with the 168.041 we have a vintage Omega quite unlike most of its contemporaries.
A Very Cool Brick
The Ref 168.041 is a very different sort of Constellation, a quite massive and chunky watch with a tonneau case and large hidden lugs.  While many Constellations like this have an integrated or paired bracelet that really makes it, this watch is for the strap people.  Even more so than a Panerai, the 168.041 presents an opportunity to really express yourself in vintage style with a unique custom strap spanning the full width of this very wide case wide.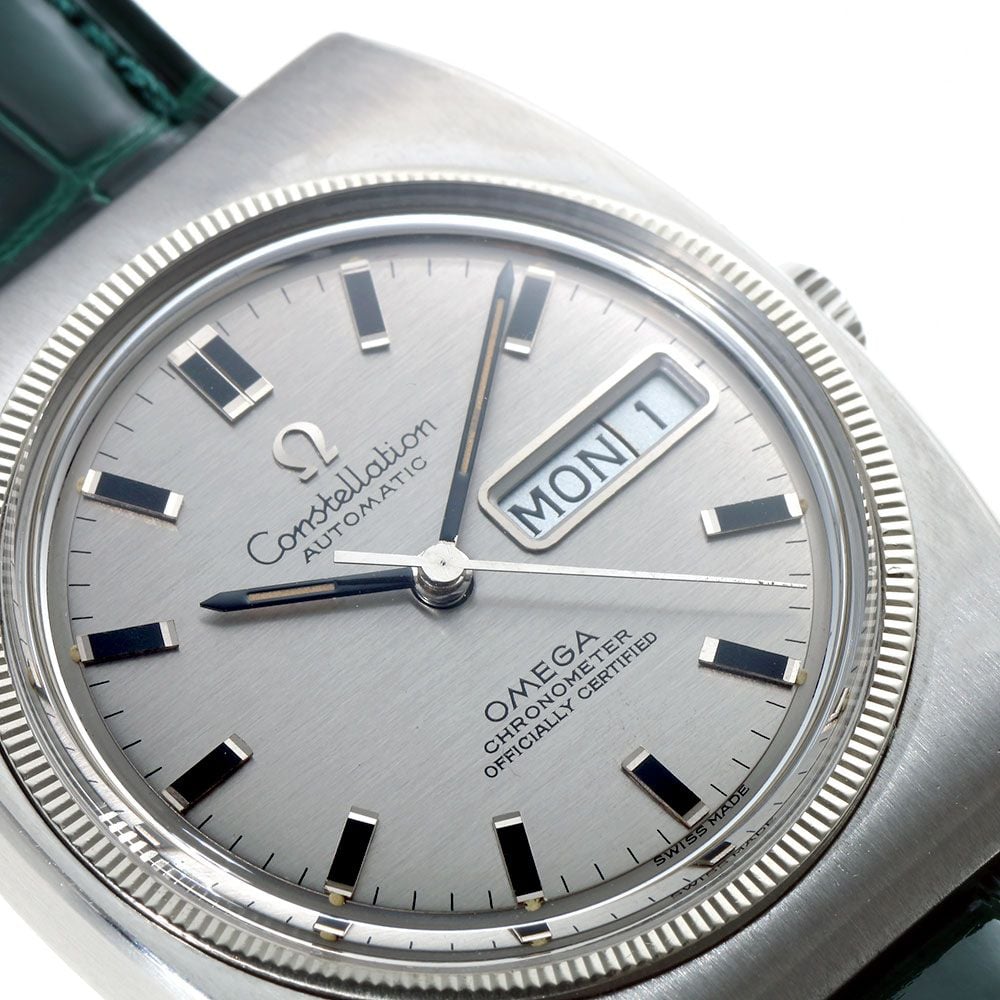 These Constellations share a great deal with the Japanese special models and there is a very great concentration of them in Japan, Singapore and South-East Asia, yet they were indeed sold all around the world as well.
It is a reference with very little real variation or options, coming only in steel with a white gold fluted bezel, with a horizontally brushed silver dial and with modern looking black "surface mount resistor" style dial furniture.
It's far from a subtle design, being a large and moderately thick tombstone on the wrist with a strong 1970's vibe but I actually quite like it.  A lot of others do too among the Omegaforums collectors.
What This Watch Isn't - Reference Confusion
Compared to most vintage Omega's, the 168.041 is quite uncommon, and enough so that most have not seen one.  It gets confused on two fronts, visually with the very similar integrated bracelet Ref 168.045 and also in reference terms with several other models including a Geneve.
The 168.045 is effectively the same general watch design to the point of looking almost identical to the 168.041, but the key difference is the integrated bracelet.  The 168.045 has two openings in the front of the case for the bracelet to connect and is not designed for use on strap or any other bracelet option.  By contrast the 168.041 can take a bracelet on the hidden lugs which looks very similar but has a flush metal finish at each end and can take straps.
The Geneve reference confusion comes from the 166.041 Geneve Calibre 565, which has a case-back stamping where the 6 can look so incredibly close to an 8 that people will often mis-read it as that.  I don't blame them at all, the image below shows how confusing and difficult the stamping is.
It is worth just being aware of these two prior to digging into this reference to ensure you're not getting confused by mis-labeled or incorrectly described watches as these things often happen by complete accident.
Case & Bracelet
This watch is a big boy for a vintage dress watch at 40 mm in diameter and 36 mm wide across the lugs.  That makes for a very significant and chunky watch, but it actually wears a lot better than most would expect for two reasons.  
Firstly, the case thickness is actually quite modest at only 10.5 mm from front to back thanks to the relatively thin Calibre 751 powering this watch and a well designed case and case-back.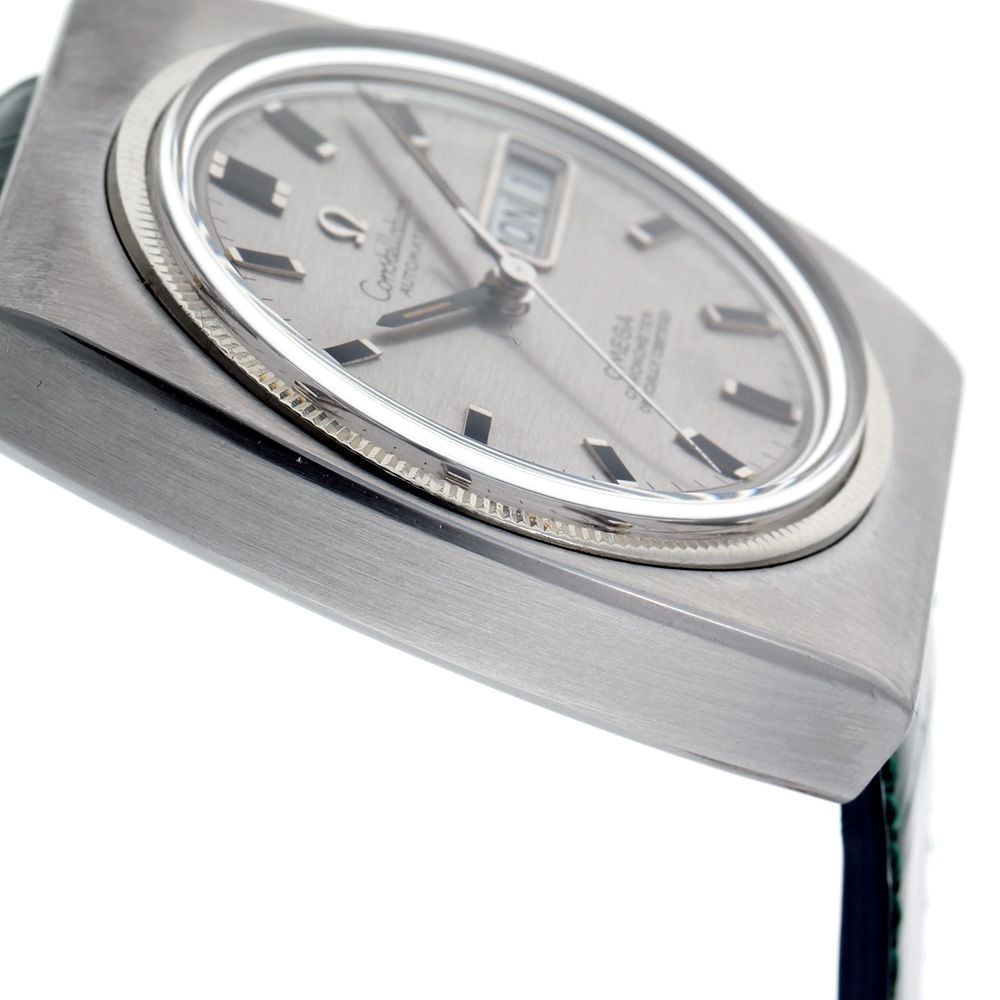 Secondly, the hidden lugs being mounted underneath the watch and fairly far out from the center allow a strap or bracelet to remain quite tight against your wrist without a significant overhang.
As mentioned, the case has a roughly tombstone like shape to it, with a flat, satin finished front face surrounding the bezel, rounding off towards the lugs slightly at the ends.  The sides are fairly straight, with a polished bevel separating them from the front face of the case and providing some contrast.
These cases are only produced in stainless steel and feature a case design with a   keyed, screw-in case-back.  Thanks to the better engineering of the late 1960's, the 30 meters water resistance offered by this watch holds up quite well and moisture intrusion in these cases is very rare as long as seals are fresh.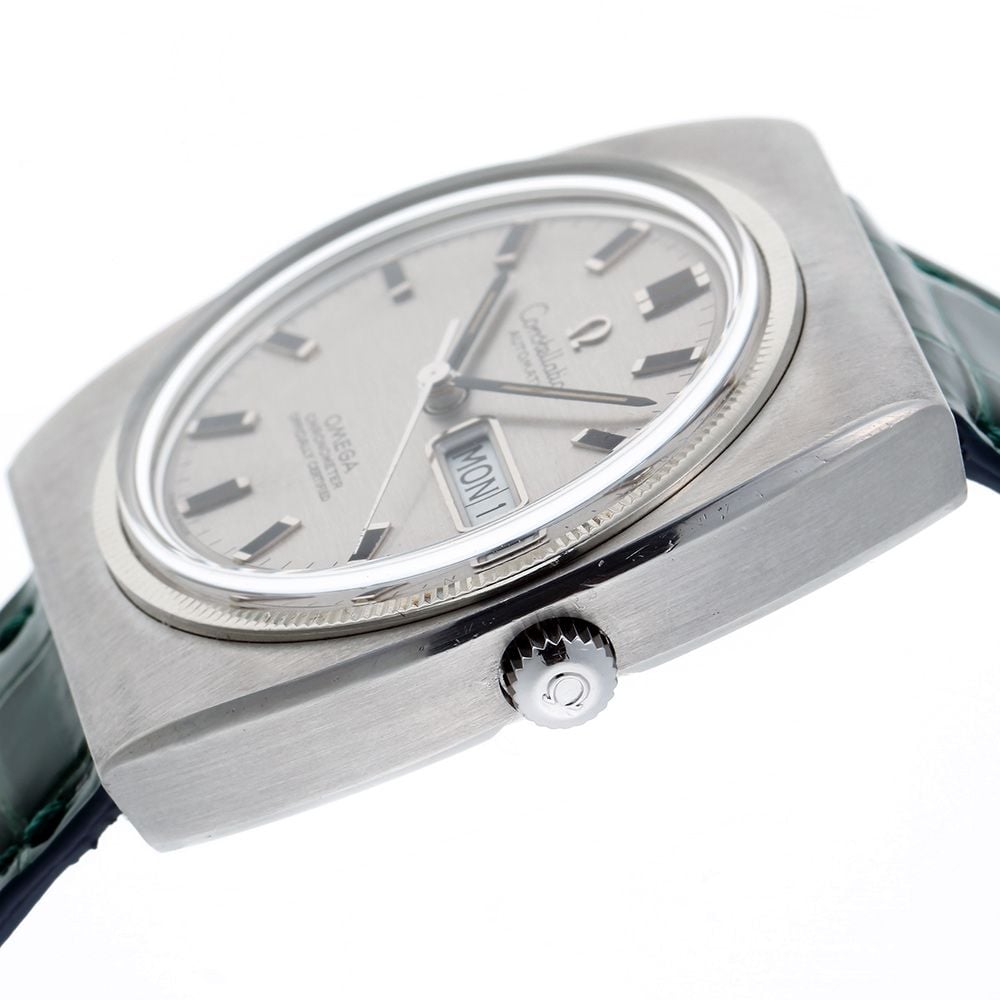 The knurled crown is semi-hidden from the front but exposed from the rear to allow more convenient access.
A particularly notable feature of this case design is the 14K gold bezel which is fluted and can both lose the sharpness it should have from new, and the white gold variant can lose the white color given by rhodium plating and appear more yellow if polished.  These bezels can also be missing and are not really able to be sourced separately.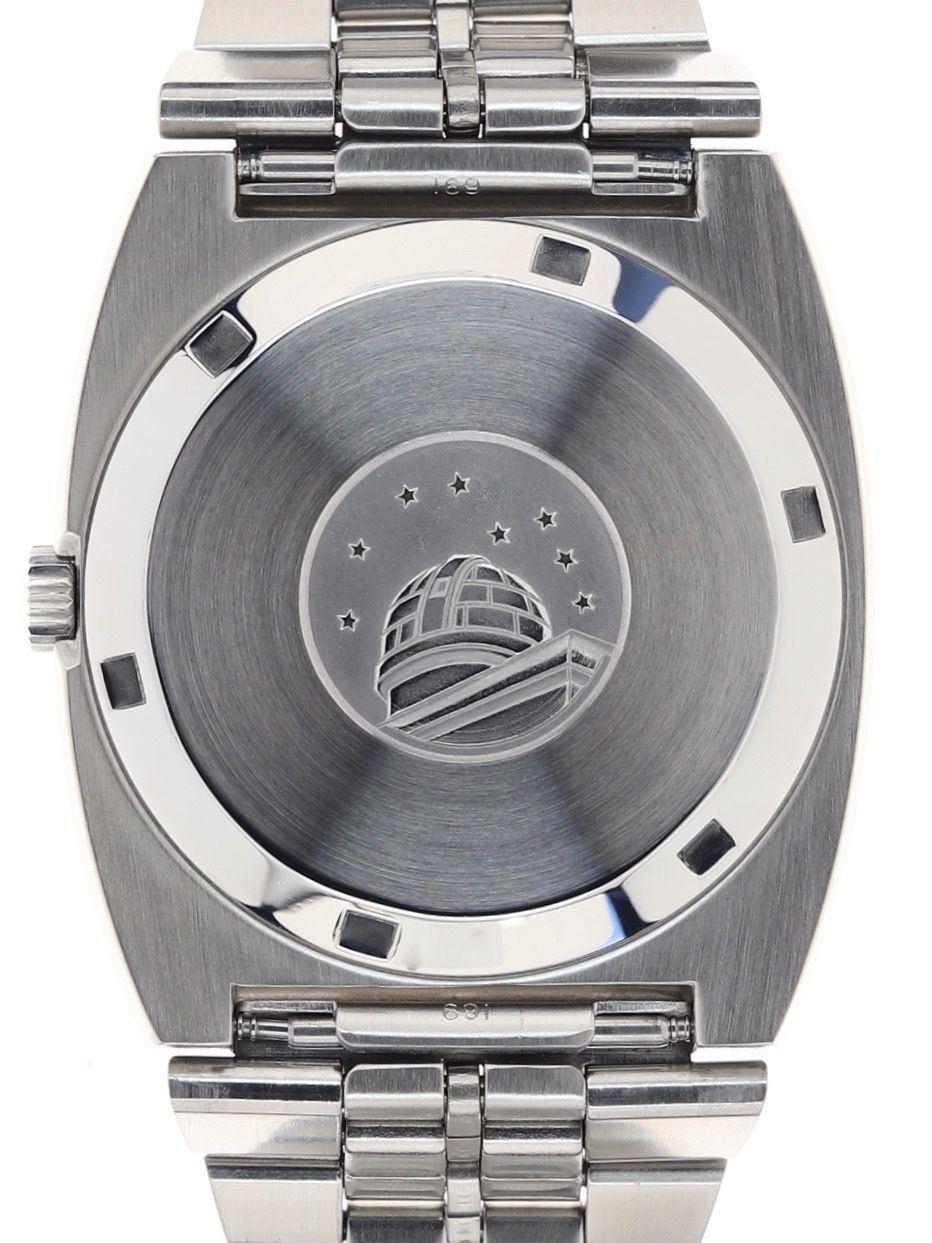 It should be mentioned that while the name of legendary designer Gerald Genta is often brought up in sales listings for these watches, after quite some research there is no substantial evidence that this is a watch designed directly or indirectly by Genta.  Some influence from his earlier models like the C-Case Constellation no doubt remains here but claims of his involvement happen too frequently without merit due to the status associated with his name.  Even if not penned by Genta, it remains an excellent design in its own right.
The bracelet fitted to these watches if found on bracelet is the reference 1163 with 20 mm ends to specifically fit this hidden-lug design.  This bracelet is relatively uncommon and is very similar in design to the integrated bracelet found on the 168.045.  In general terms what I would suggest is that if you are after this watch on bracelet, you go for the integrated 168.045 as it is a better design, and if you want to wear on a statement strap, go with this watch, the 168.041.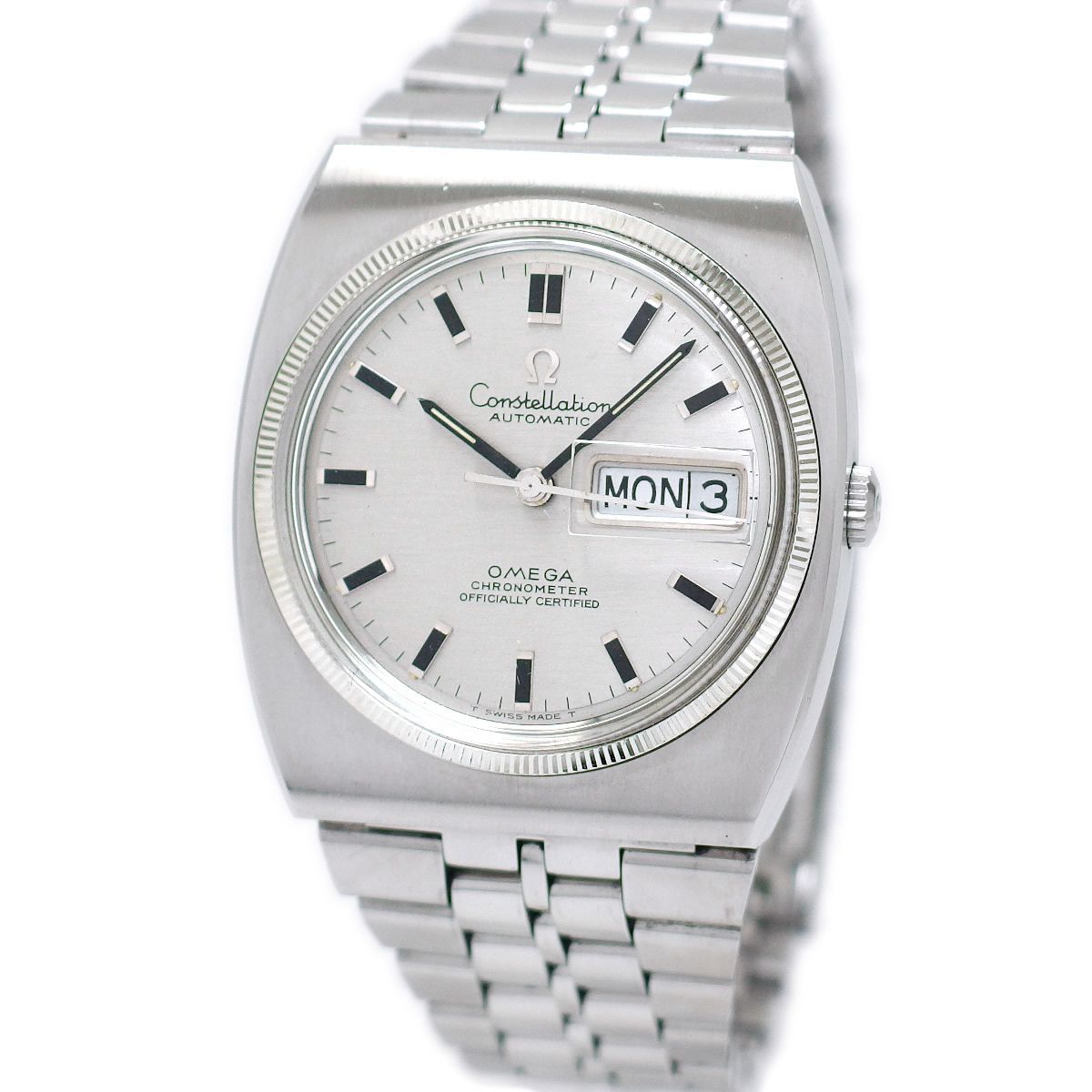 Special Strap Options
Straps are the fun part of this watch.  There are a couple of different ways to go, one is to keep it simple and just buy or order 20 mm straps, which will fit the hidden lugs just fine and will accentuate the width and size of the watch case.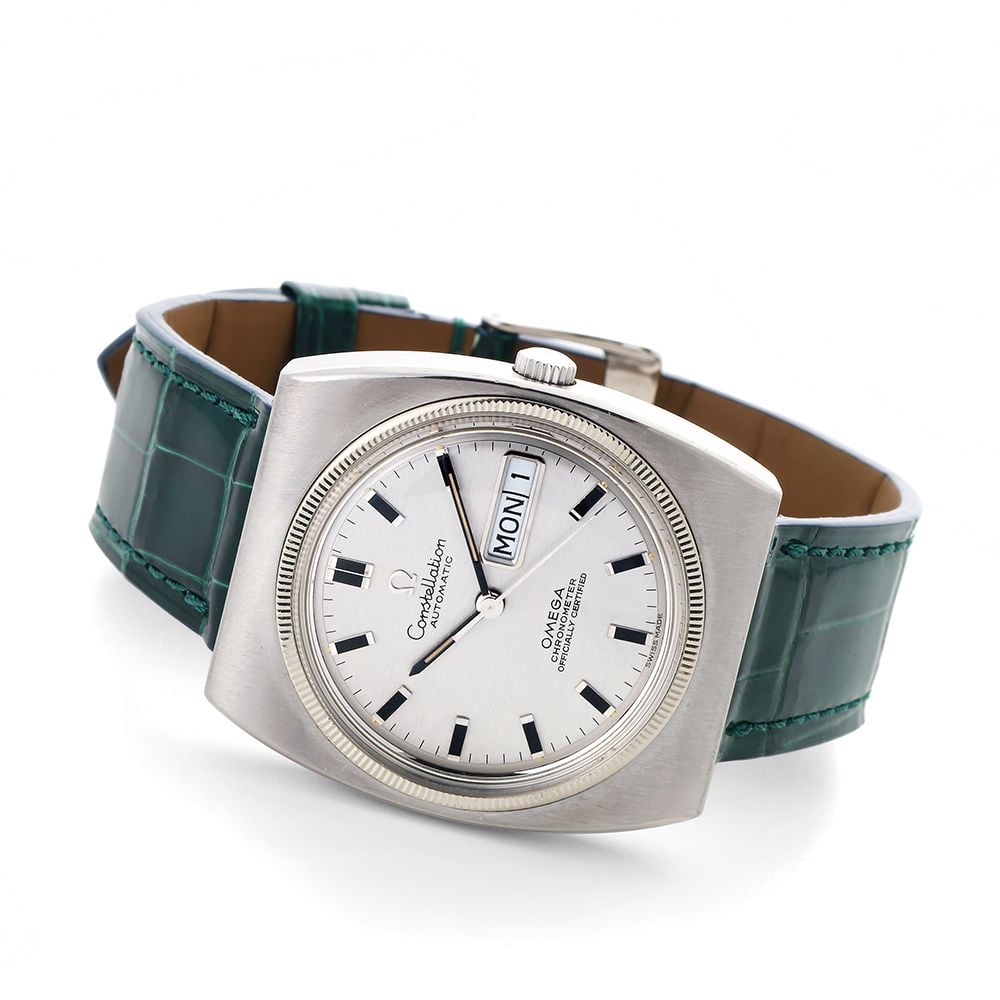 This is definitely the cheaper and easier way to go if you're not wanting to go the custom route, but if you are willing to go custom these watches look absolutely spectacular.
The strap choice that Omega initially offered for these watches themselves, and which can be recreated by independent strap makers today is 20 mm as it fits the lugs, and a wider 36 mm after the lugs to fill the full width of the case.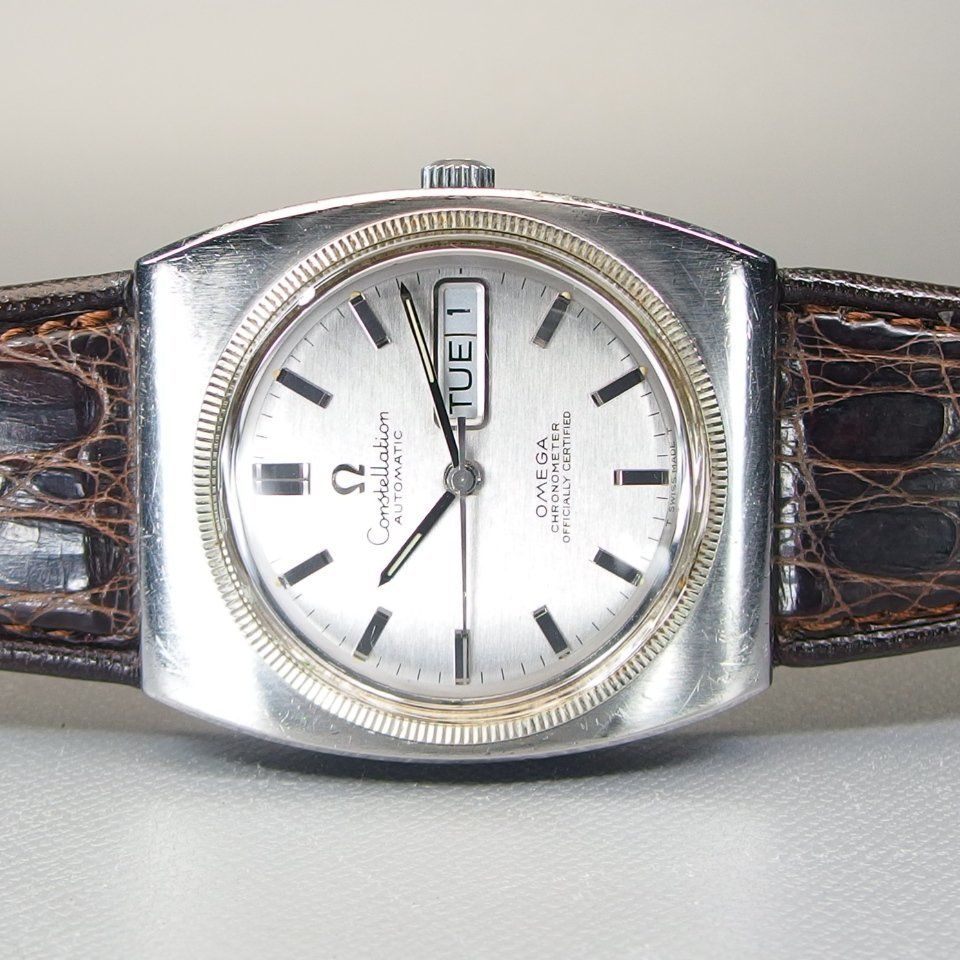 This strap option gives the watch a much more modern, chunky look and suits anyone with moderate to large arms who want to pull off this look.  It is definitely very unique and different for a watch of this era and while it won't suit everyone, I personally love the look and think it makes this watch well wort owning.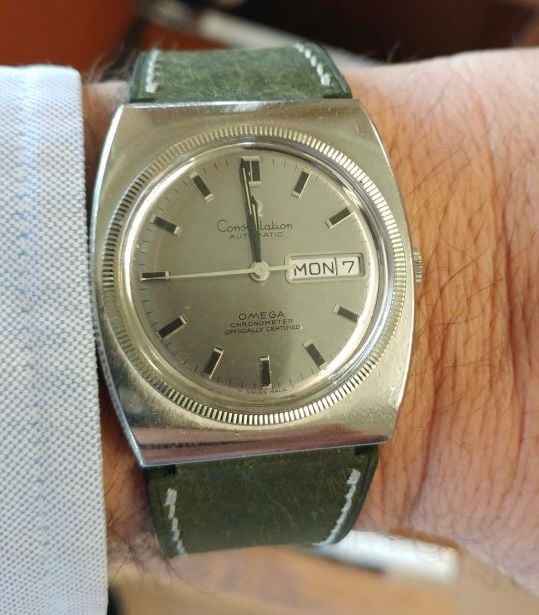 Movement
The Ref 168.041 is powered exclusively by the Calibre 751 Day-Date Chronometer movement, which is an absolutely superb piece of vintage Omega engineering.  
The Cal 751 is the based on the very highly regarded second generation Calibre 5xx series of Omega movements.  This movement oscillates at 19,800 vph, features a day wheel along with quick-set date operated by repeatedly pulling the crown out, is chronometer rated and has a 50-hour power reserve, all in a package only 5.5 mm thick.
These movements can be serviced by any qualified independent watchmaker with access to an Omega parts account for significantly less than the cost of a factory service.  It should be noted when buying these that unless a recent service with proof has been provided, you are risking metal-on-metal wear by running these movements without servicing them first.  This can cause a significant increase in your parts bill, especially relating to the automatic winding system.
If properly serviced, these watches perform superbly well, and will easily outlive their owners while delivering excellent accuracy and performance, even compared to modern watches.
Variants
The 168.041 only comes in the one case metal of stainless steel but there is however a two-tone variant with 14K yellow gold bezel and gold dial furniture that exists in addition to the steel with 14K white gold bezel.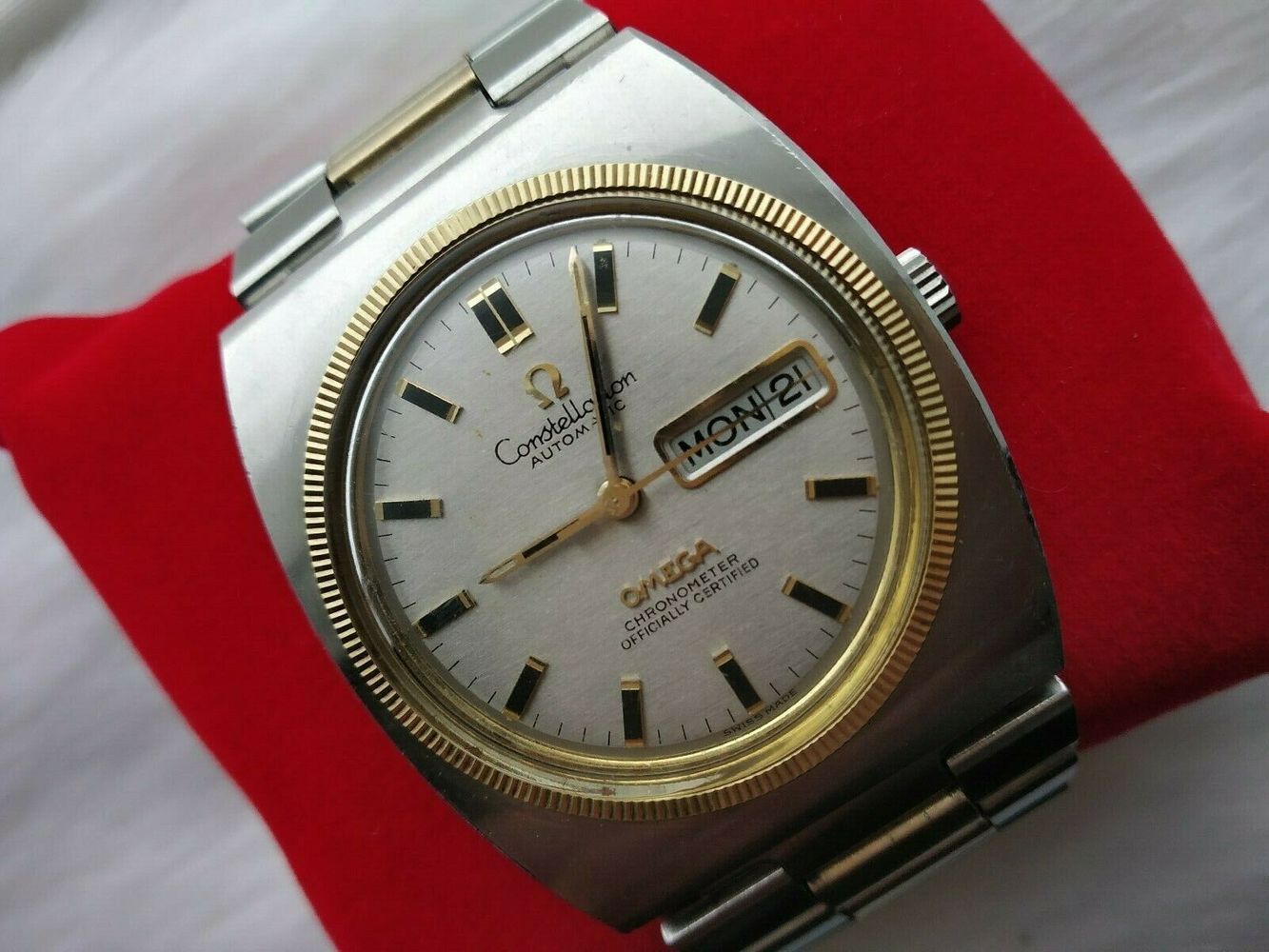 It should be noted that the two-tone yellow gold and steel version is quite uncommon compared to the steel variant so if you're after this one in particular, it may take some time to locate a good example.  While the dial on this variant is the same horizontally brushed pattern as the steel and white gold models, there are notable differences in the dial.
Firstly, the tips of the hour markers are yellow gold instead of white gold, as is the Omega logo, Omega text, day / date window frame and hands.  This matches the yellow gold fluted bezel, and the two-tone bracelet if fitted.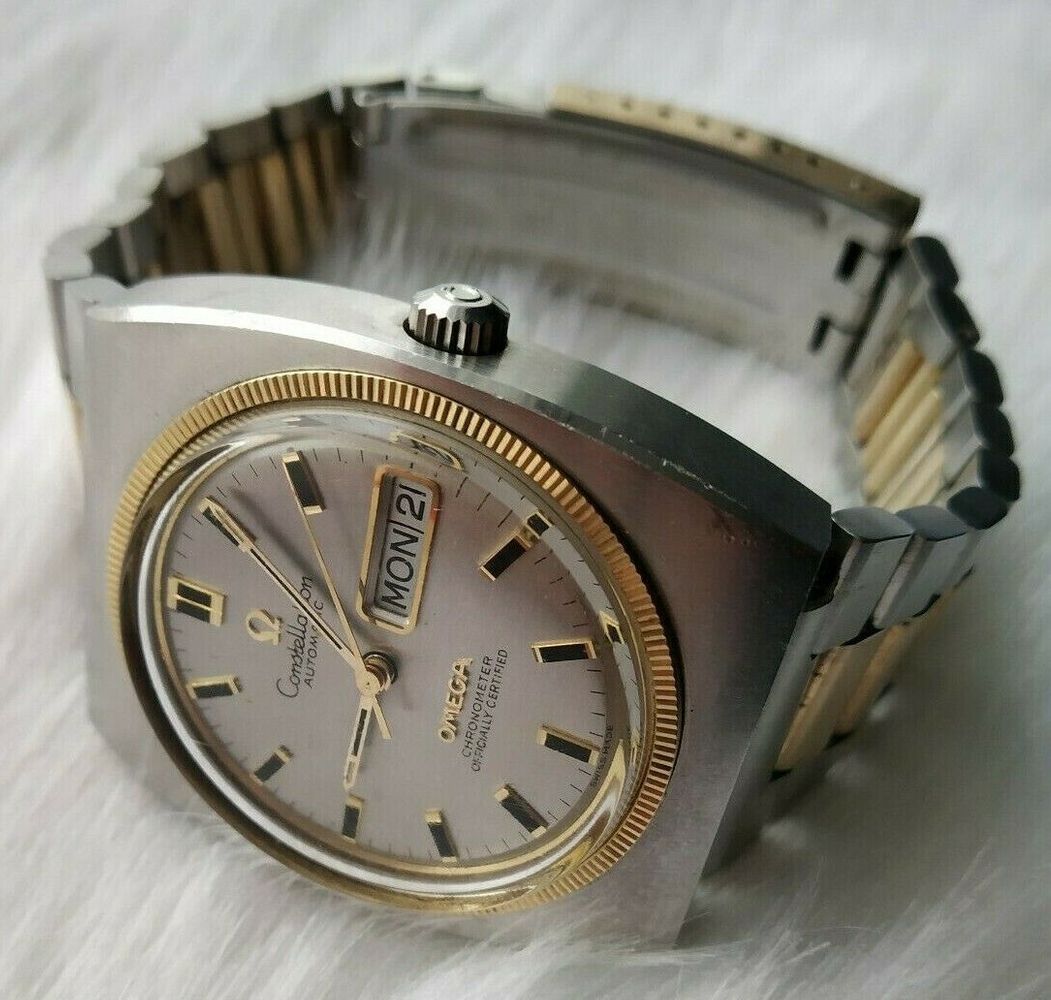 The two-tone variant also has a different hand design, which has an onyx insert as well as a luminous tip rather than the solid black or luminous black hands fitted to regular models.  
The regular models, while very similar come in both luminous and non-luminous form, with the luminous variant adding small tritium dots behind hour markers and a long luminous insert in the black hands.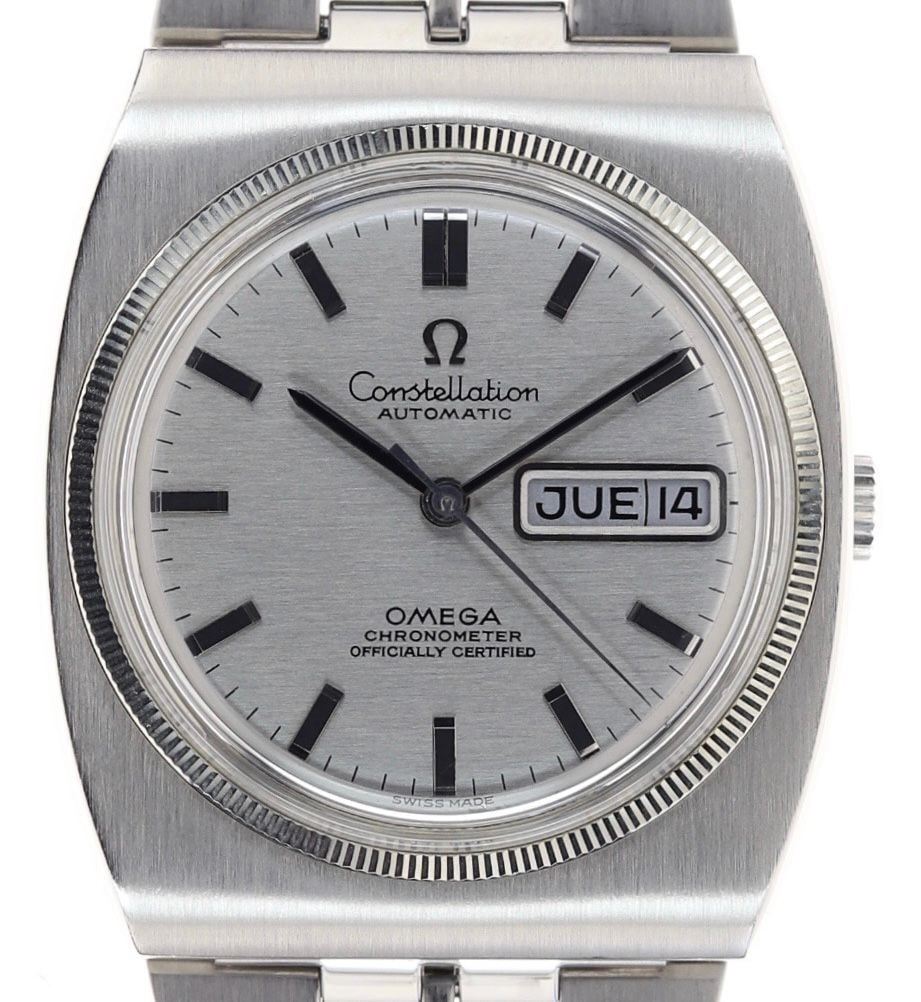 Buying
Buying a Constellation 168.041 is a fairly straight-forward affair in terms of decision making but can take some time and patience to find the right watch at the right price.  
The best condition and deals tend to be found on forums, but they are few and far between which means you have to consider eBay and Chrono24 as well.  There is a very good supply of these watches in Japan which tend to be in better than average condition and available at reasonable prices.  This ideally would involve getting a friend or contact in Japan to help you purchase from Yahoo Auctions or a dealer over there but if you don't have anyone, google translate and freight forwarders can work as well.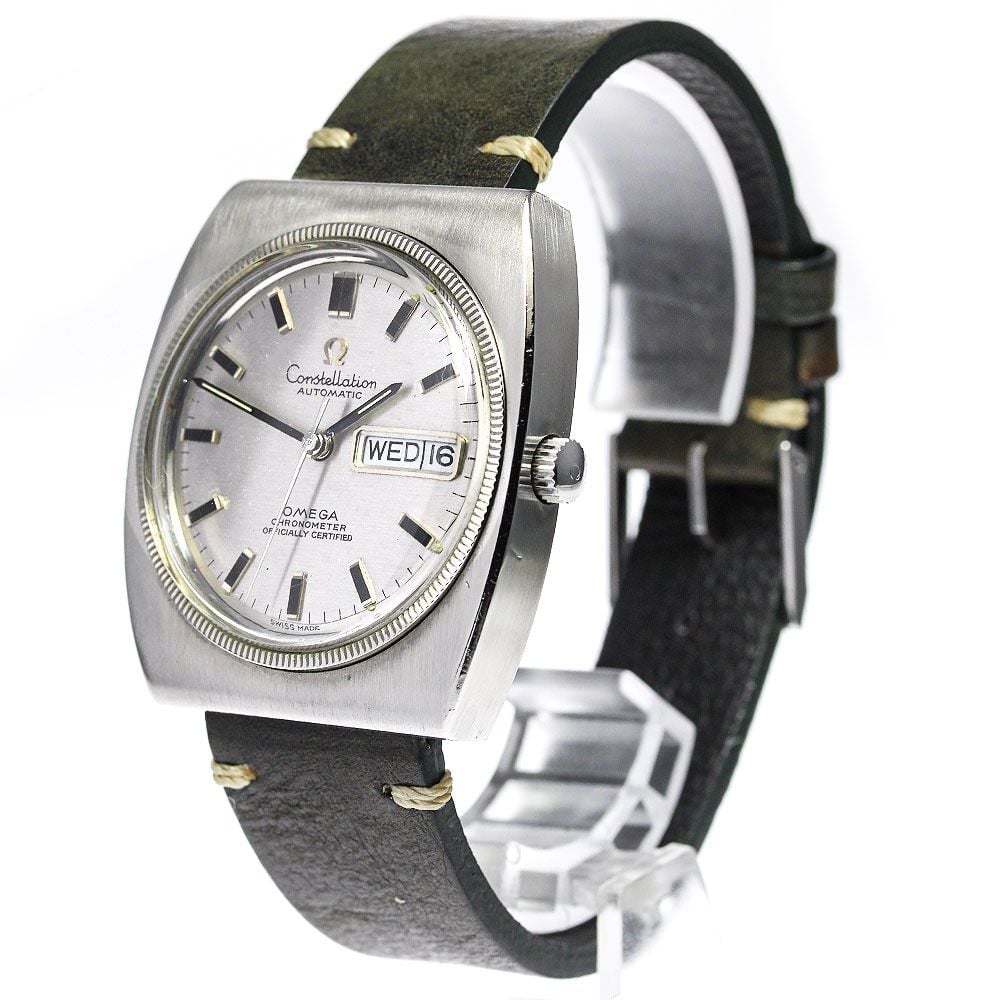 Price wise, these watches used to be very cheap but have started to go up more recently as people have widened their appreciation of vintage Constellations.  There are still many good watches available around the $450-800 range in very nice condition, so the value is certainly there to be had.  This rather excellent example recently sold out of Japan for $610.09 on bracelet.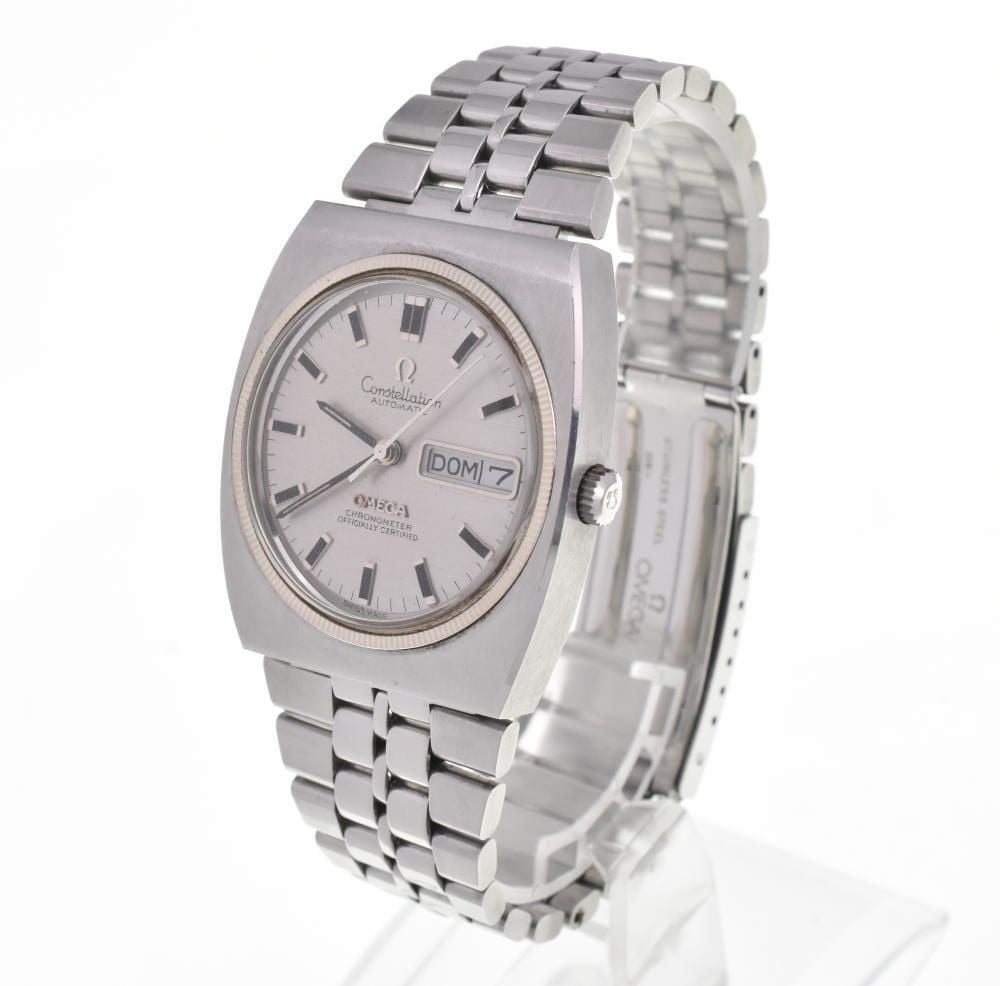 The only major choice is two-tone yellow gold and steel or white gold and steel.  If the yellow gold is what you're after, that is quite a rare watch and it will take a long time for any example to come along let alone one in good condition.  Finding a white gold and steel is definitely a much simpler process.  Even though they are rare, the yellow gold does not carry a price premium at all so don't pay over the odds for one.
In white gold models there is just the matter of luminous vs non-luminous, which tends to be less important than overall condition.
In most watches I mention how key the bracelet is if it doesn't come with one, but as mentioned previously, the real selling point of these watches is how they look on cool straps.  If you're after a bracelet strongly consider the integrated 168.045 prior to looking for a 168.041 with 1163 bracelet.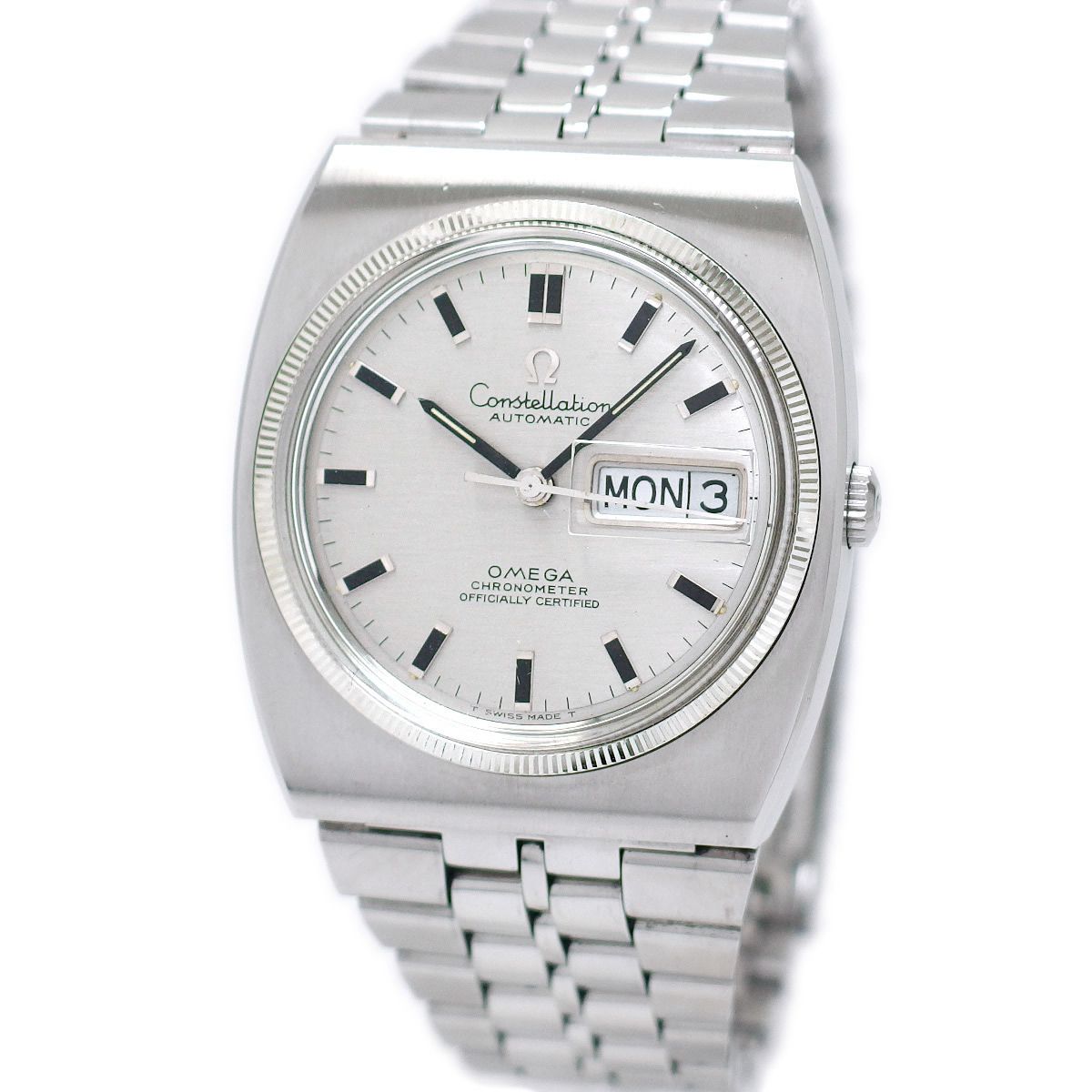 In terms of condition, the dial should be clean as should the movement and the case should have sharp bevels on the edges and not be over-polished.  The gold bezel should similarly be sharp and not have lost any rhodium plating if white gold.  This condition aspect should really be the priority over any other considerations.
When budgeting for one of these Constellations, factor in the cost of a service for the Calibre 751 as if you take care of it, that movement will serve you very well.  Also factor in the cost of either a nice 20 mm strap, or better yet, a custom full width strap from a good independent maker.  Be creative and make something interesting and unique!
Discussion thread on Omegaforums can be found here: