Around the edges, the Constellation line has some extremely unusual outliers that served as experiments in design, materials science and engineering. The Constellation 2000 Ultra-thin 355.0814 / 155.0021 is one such watch, a 70's design powered by a great movement with an entirely unique look.
60's Movements, 70's Styling, In An 80's Prequel
I always enjoy writing about Omega's Calibre 71x powered ultra-thin watches as these slim calibres offer such an incredible flexibility and variety in case design, appearing in so many watches that look nothing even remotely alike.  It's also something that sets this calibre and era apart from the watches of today as the 3 mm thick automatic chronometer movement remains significantly thinner than the 4.5 mm of Omega's modern Calibre 8800.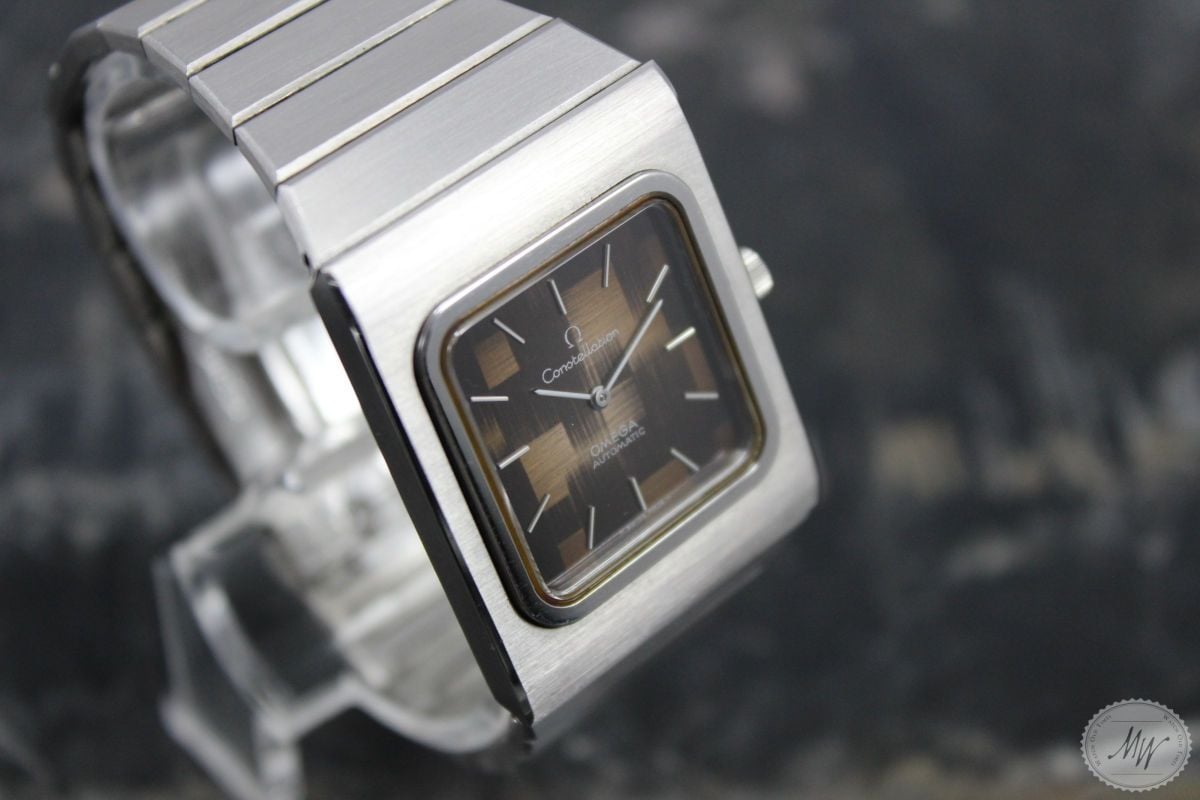 The Constellation 355.0814 / 155.0021 was still positioned as a high-end offering, but with a few unusual quirks.  Firstly, this was a watch powered by Calibre 711, rather than 712 and so is a non-chronometer despite featuring the observatory medallion on its case-back.  Secondly, this is a full-rotor automatic in a case that looks meant for a quartz movement.  
Style wise this watch strikes a new path with an integrated bracelet design and a case that bears little resemblance to early Constellations, while laying the foundations for later ones.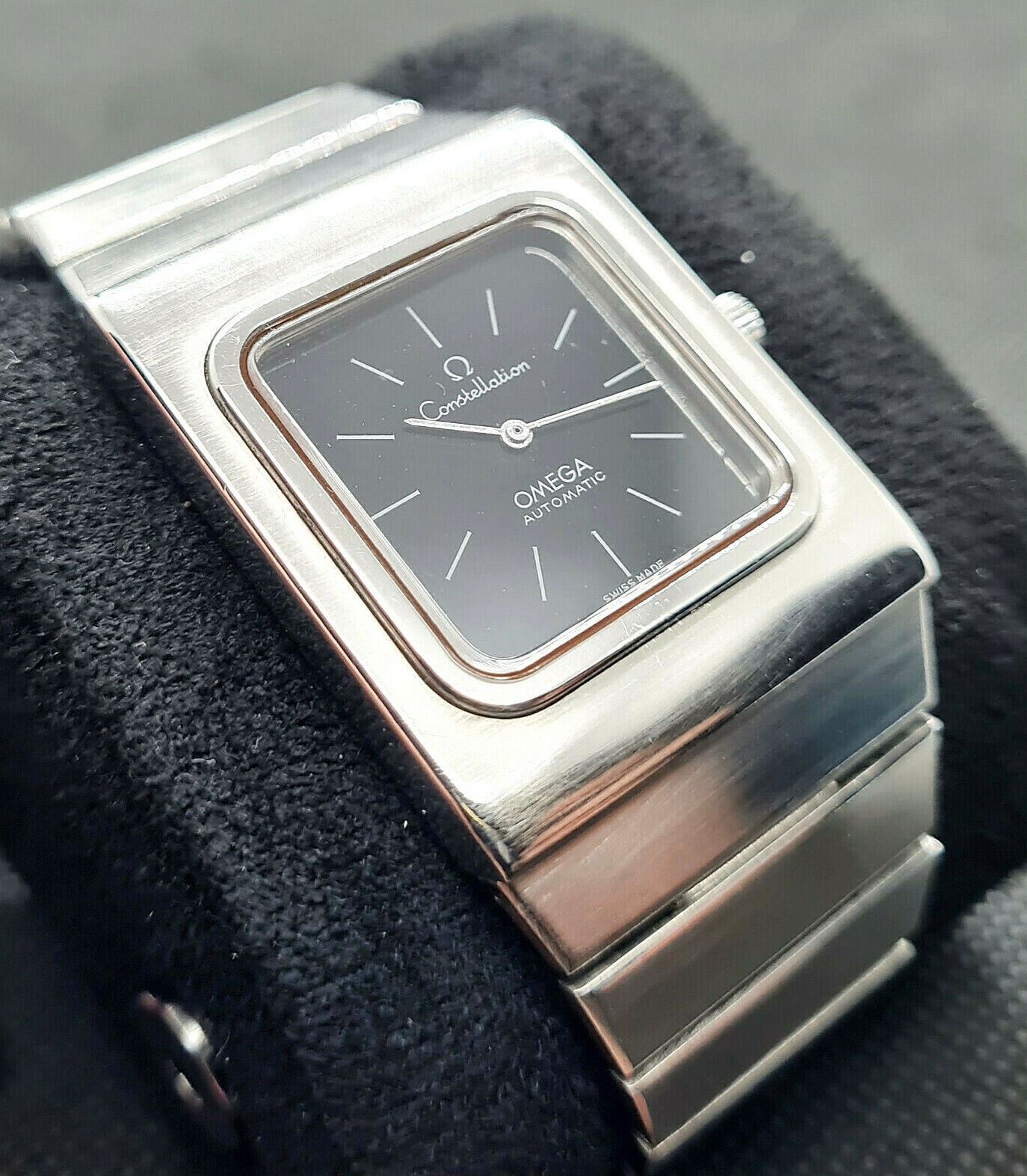 This was an era where the Constellation was searching for a direction, having left behind the designs of the "golden era".  The model line experimented with materials, manufacturing methods, design language and packaging, and while the 355.0814 itself was never a massive seller, its influence would be seen in the Constellation's 1985 revival.
Other features of this watch, such as the gold sections inlayed into the stainless steel of the case would reappear in the Seamaster Titane family where gold was instead inlayed into titanium.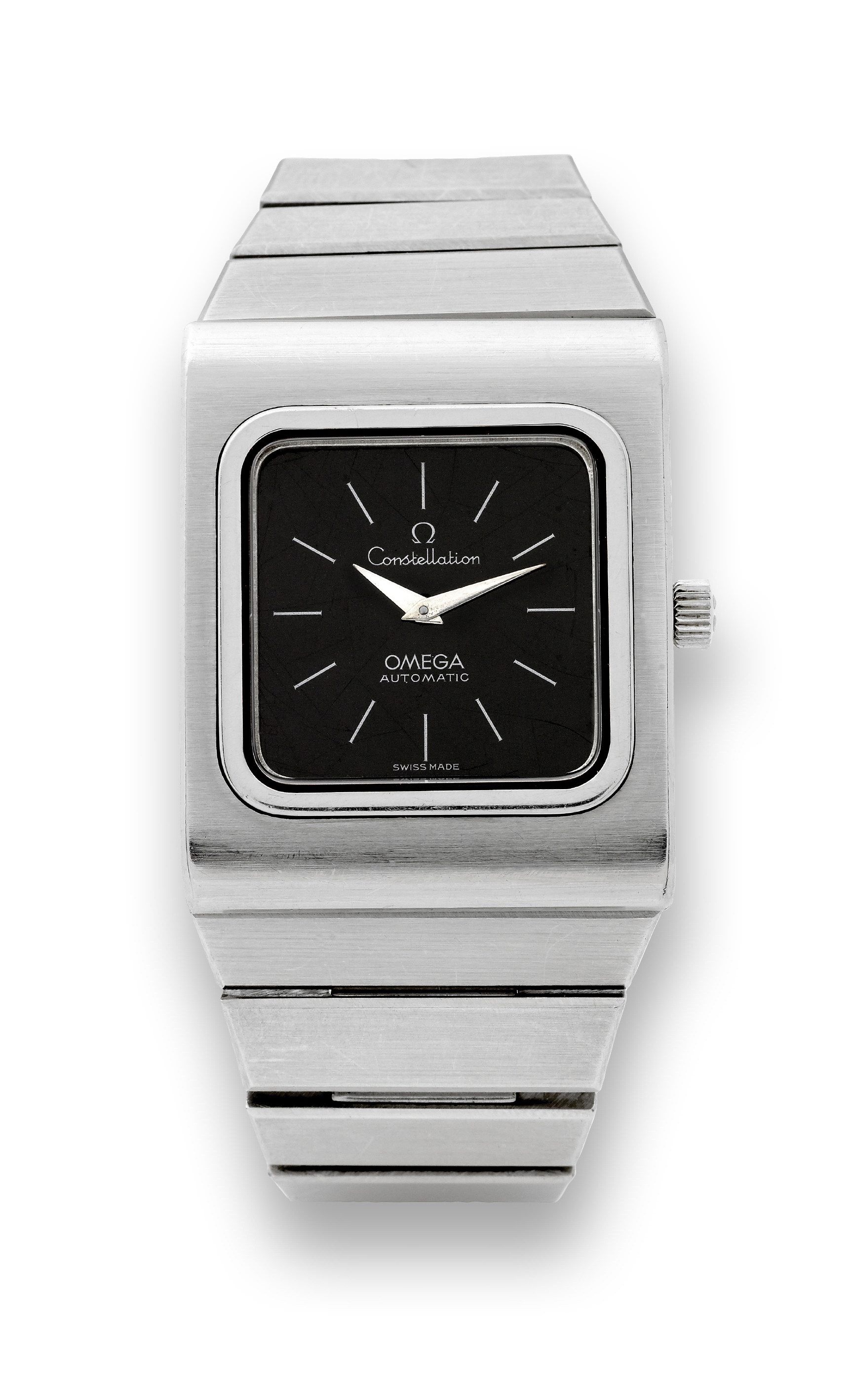 This was a watch that field tested new manufacturing techniques and in hindsight had a great deal of influence over the Omega lineup of the 1980's, yet in its own right, it remains a great wearable Constellation.  Quality is high inside and out, as is technology for the era and comfort, thanks to an exceptionally well-designed bracelet.  
While these tanks won't appeal to all collectors, the cool factor is definitely there if chunky tank dress watches of this era are in your wheelhouse, and a lack of awareness of the reference has left prices very low.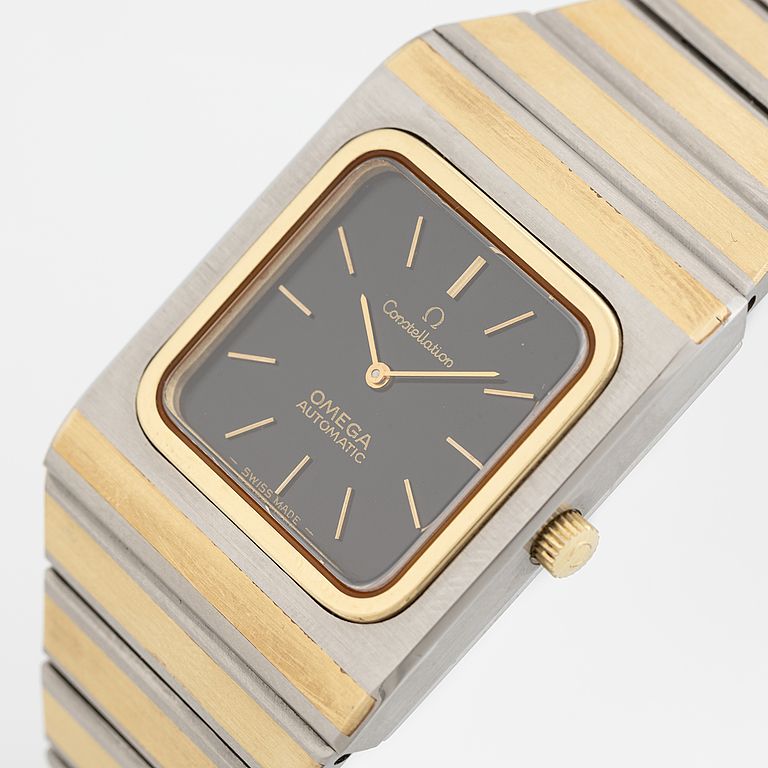 Case & Bracelet
The case of the 355.0814 / 155.0021 Constellation is really the key feature of this watch, along with the matching integrated bracelet.  
It should be noted that this is not a small watch by any means.  It can sound that way from the 31.5 mm width, but this is actual width from left to right, not diameter, and coupled with the height of 37 mm, this is a decent sized tank watch for a man's wrist.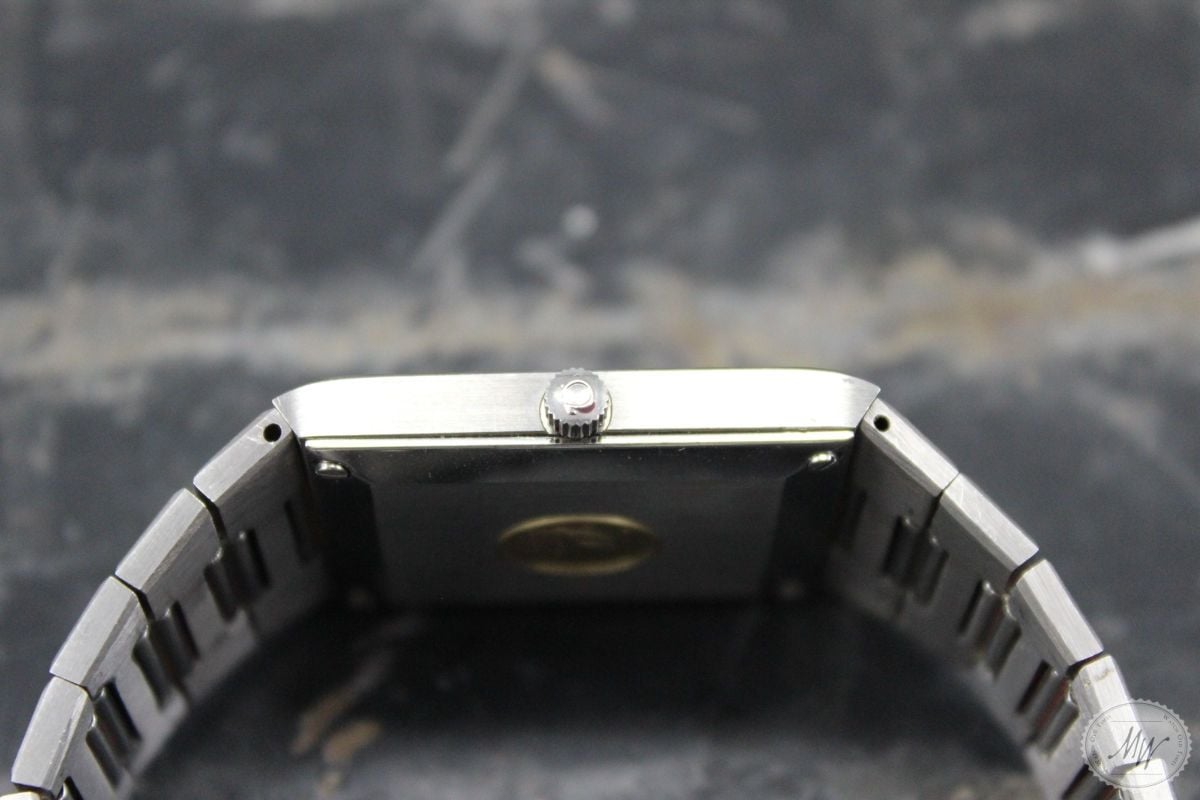 Thanks to the ultra-thin movement, this watch sits very close to the wrist at only 8 mm thick, allowing the head of the watch to feel more like an extension of the bracelet.  This is the type of thinness usually reserved for quartz watches, so to have an automatic in this package is particularly impressive.
The case-back is a square shape with beveled edges, secured by four screws in the corners.  The case-back features a gold medallion set into the center, which can fall off and become lost, so in the event that it is missing this is the reason why.  There is a rounded-edged square rubber seal that ensures water-resistance, which is meant to be 30 meters.  Based on real world evidence, that water resistance tends to be somewhat fragile, depending on seal condition so keeping these watches dry would be highly advisable.  The square case has a simple, knurled crown which is exposed without any crown-guards.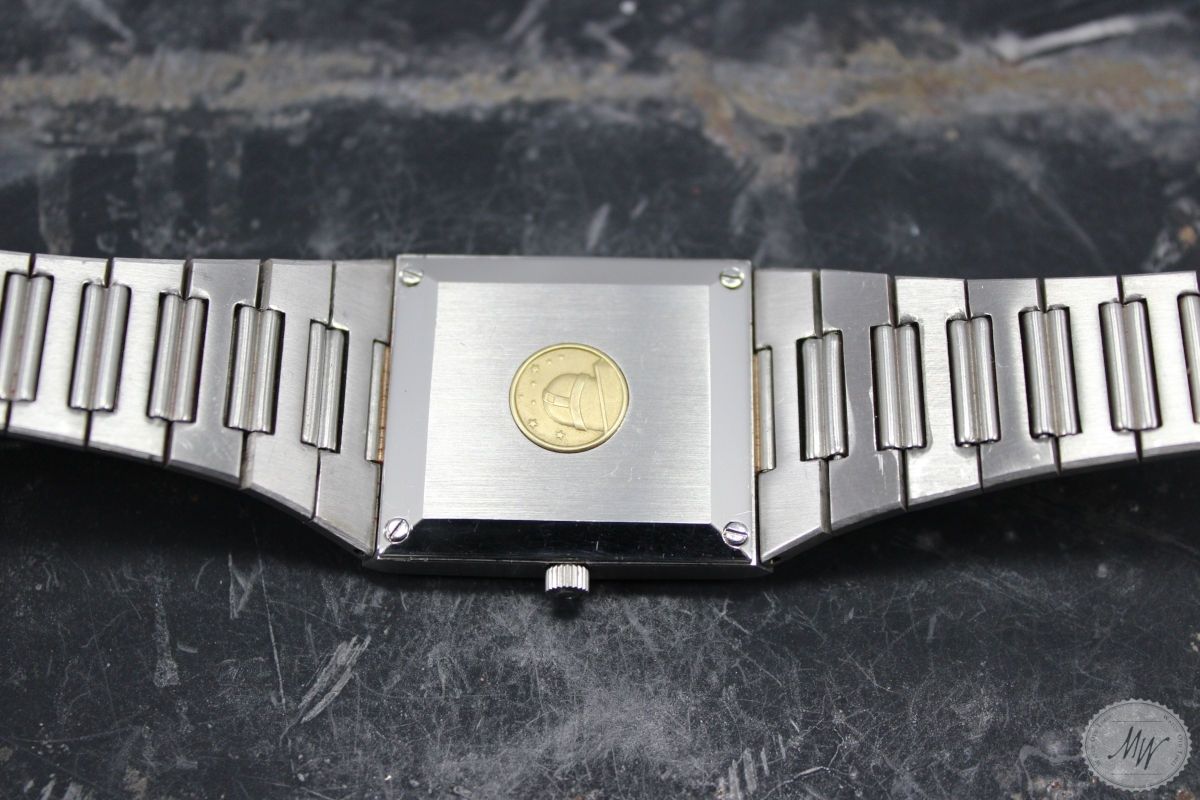 The case itself has a flat front face, tapering downwards towards the lugs as it blends into the first link of the bracelet.  The sides of the case are beveled from the front and both front and side have a brushed finish in different directions, while the bevel itself is polished for contrast.
The bezel, either in steel or 14K gold, sits proud of the front face of the case by a small amount, providing protection for the flat mineral crystal which sits flush with the bezel.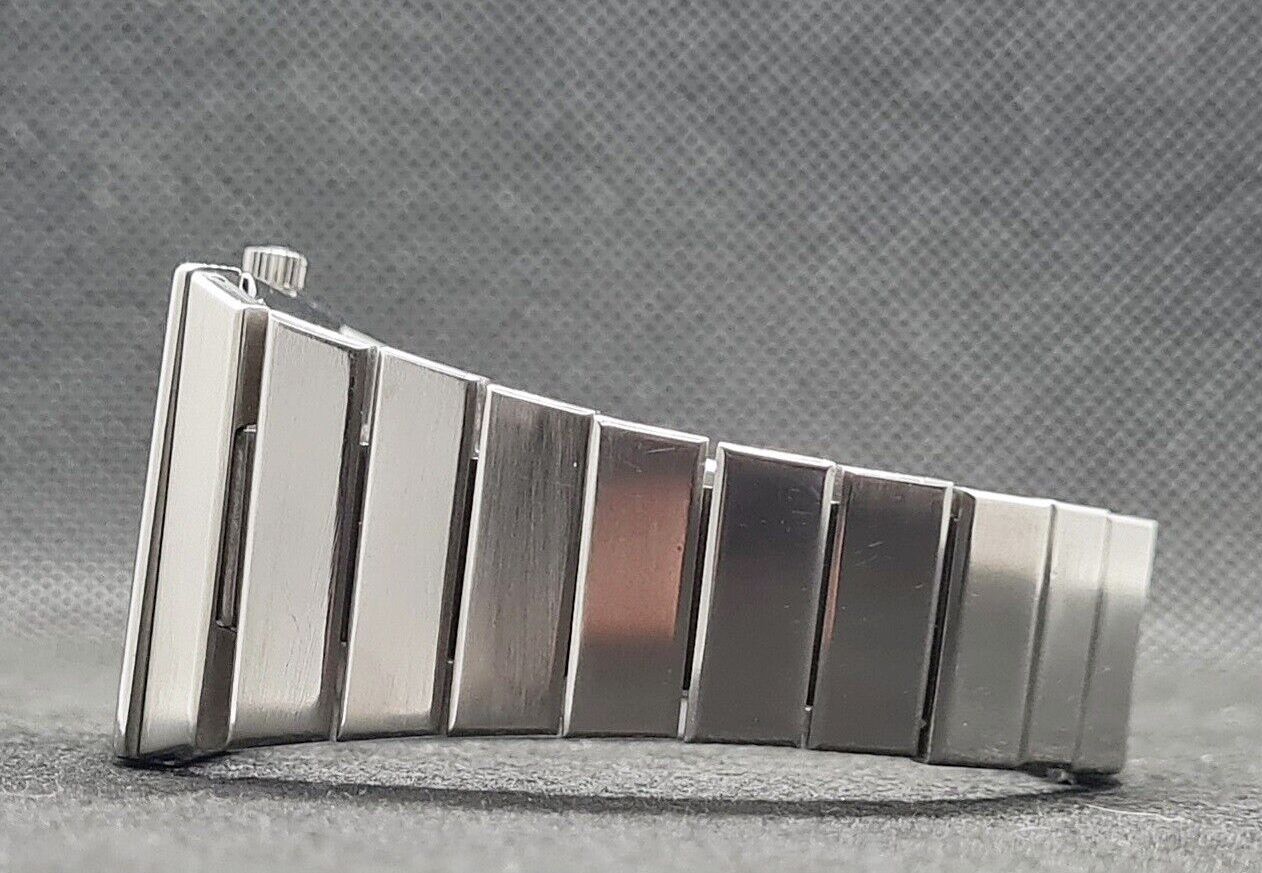 The bracelet on this watch, the 1255/212 is what makes this watch.  The bracelet tapers from the full 31.5 mm width of the case at the first end-link, smoothly down to a very comfortable and convenient 16 mm at the clasp, with a single-fold hidden deployant clasp.  The look and feel of this bracelet, along with the clasp is very similar to the Constellation Manhattan which would be released around a decade later and makes quite the statement on the wrist.  There is another Omega logo gold medallion set into the clasp cover, and this piece can also fall out and be lost, similar to the case-back medallion.
It should be noted that while this watch has the case reference 155.0021, it has a second reference of 355.0814 which refers to the watch when equipped with the bracelet.  As this watch only ever came with the bracelet, they should all be referred to as 355.0814.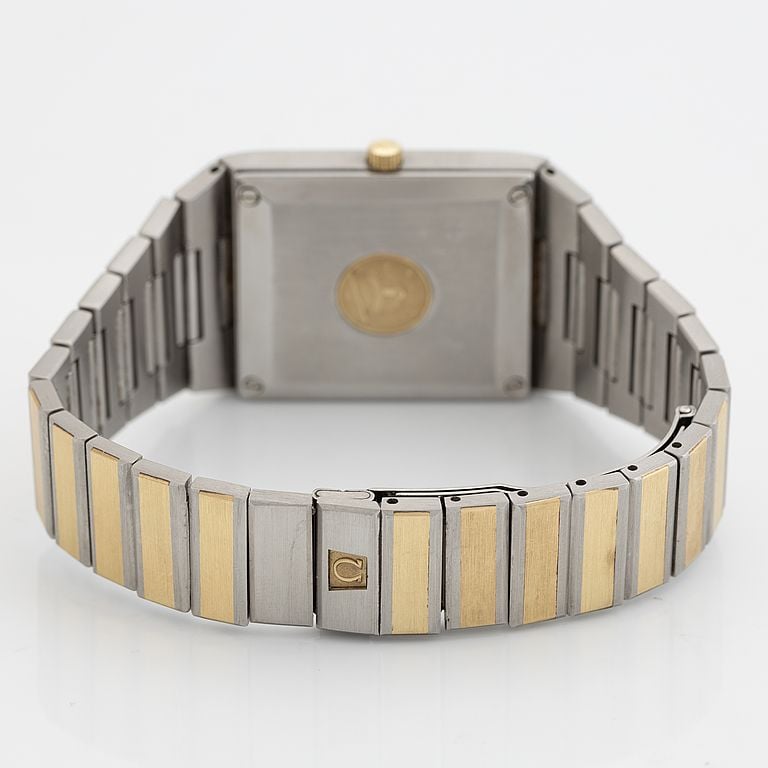 Movement
The ultra-thin Calibre 711 is the non-Chronometer version of the Calibre 712, and is a very special movement for Omega.
The headline figure is the thickness which is only 3 mm.  This compares to 3.6 mm in the much newer Calibre 1120 chronometer which is considered to be a very thin movement, and the 4.5 mm thick Calibre 551 which was Omega's flagship chronometer at the time.  Even the famous Jaeger LeCoultre Calibre 920 is only slightly thinner at 2.45 mm.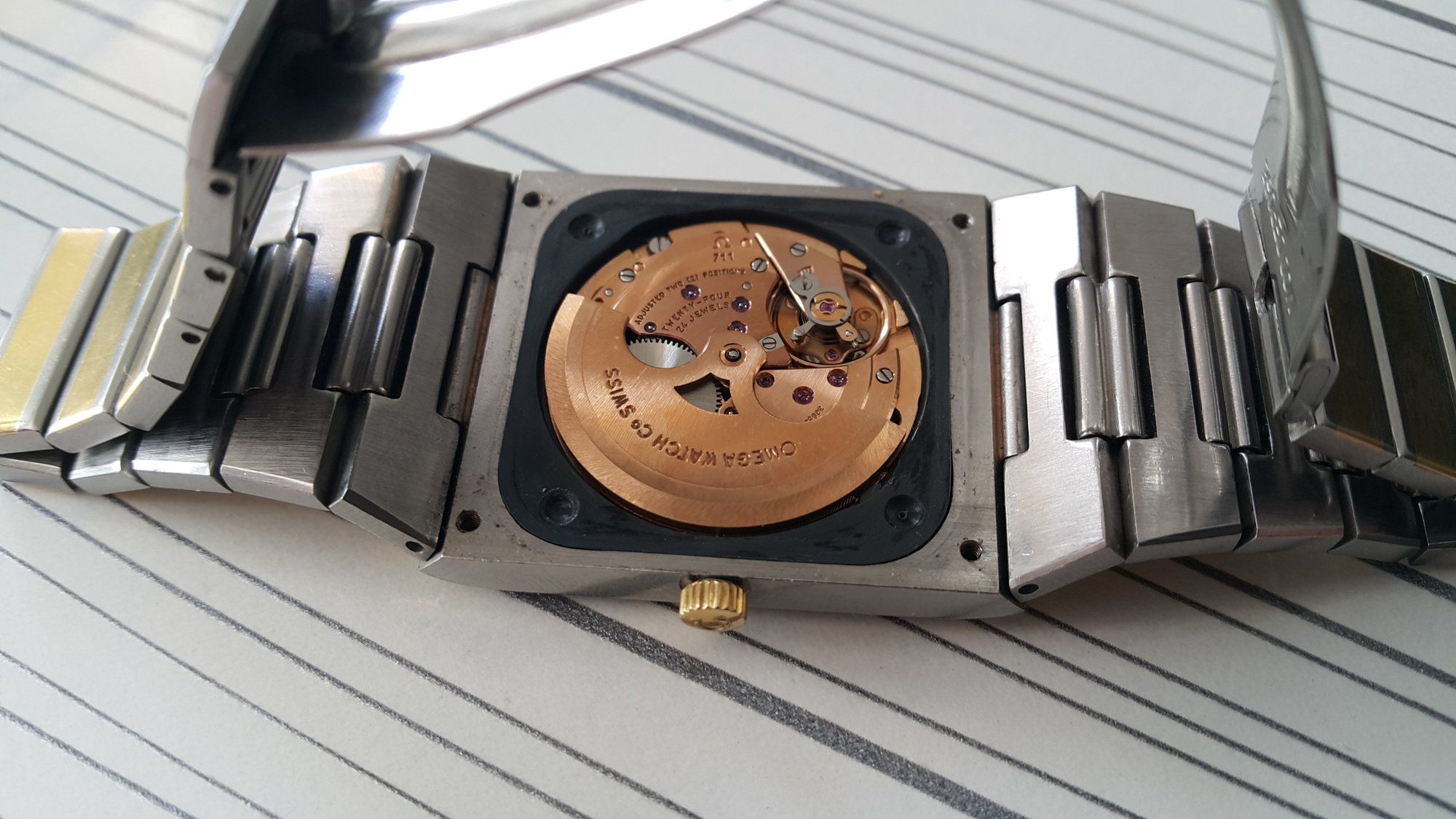 The Calibre 711 oscillates at 19,800 vph, has no date, no hacking, the option of a sweep seconds hand, and a bi-directional automatic winding system with a power reserve of 42 hours.
While the watch is quite basic in its specifications on the surface, the accuracy, slim packaging, and robustness of this design led to it being used in various forms over almost three decades.  From the original release in 1966 Omega kept using this movement in new and different watches, eventually resurrecting it to form the basis of piggy-back perpetual calendar and dual time models of the Louis Brandt line in the mid-1980's.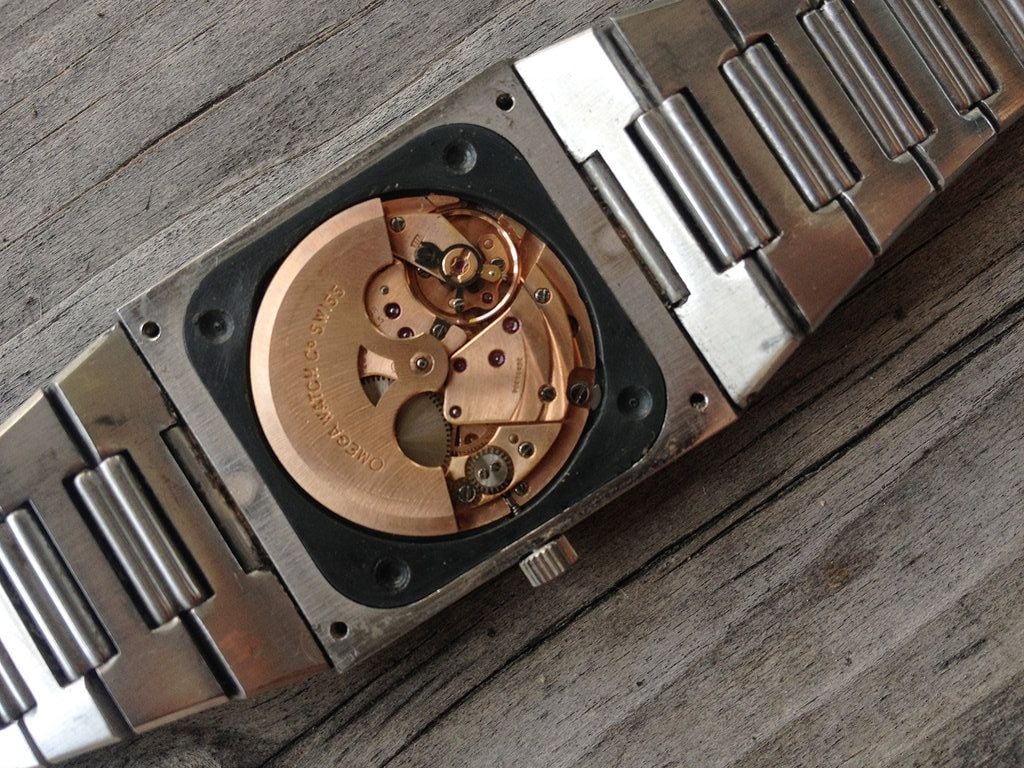 On the surface, the Cal 711 looks very similar to other Omega movements of the era due to the same color of plating and the shape of the rotor.  Despite this, there is no relationship between this movement and the Calibre 5xx family of regular Omega time-only calibres.  Instead, these movements were designed and produced by SSIH group stablemates Edward Piguet/Rayville SA-Montres Blancpain for exclusive use by Omega.  This is a similar arrangement to the Calibre 321 Speedmaster movement and its successors which were designed and produced by Lemania for Omega, and while not in-house specifically these movements are no less important or special.
These watches should be serviced before wearing in order to prevent any metal-on-metal wear on potentially expensive vintage parts.  Servicing can be handled by any Omega certified watchmaker with a parts account.  After servicing these watches should be able to reach chronometer specifications again and provide many years of accurate and dependable service.
Variants
The dial options for the 355.0814 / 155.0021 are quite limited in general, with black dials amounting to the vast majority.  Like many dials on Calibre 71x models, these dial feature minimal applied furniture, with only the Roman numeral variant featuring applied numerals and hour markers.  The Omega and Constellation logos are both painted, as are the hour markers on the black dial.  Both dauphine and stick hands are present on these dials, with no date nor a sweep second hand.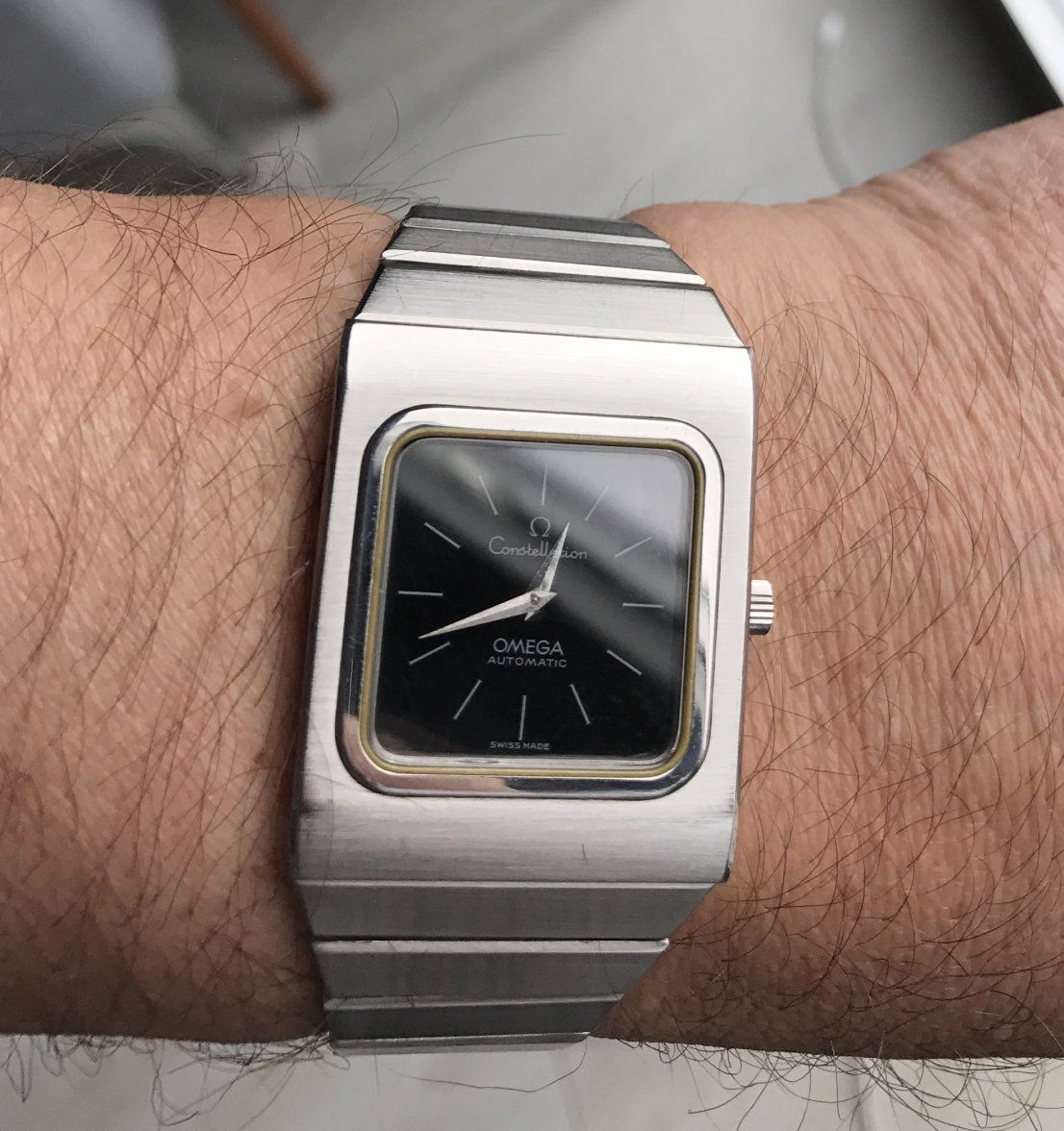 The less common dials are the champagne and chocolate brown applied Roman dials which also feature an applied stick marker at 3 & 9 in addition to the numerals at 12 & 6.  These dials are quite uncommon, only appear on two-tone models, and only with stick hands.
The final variant is the chocolate geometric color-change dial which is quite unique and hard to describe, looking almost like a digital camo pattern that shifts with the light.  These dials are the least common, and while only seen in brown so far, could exist in others.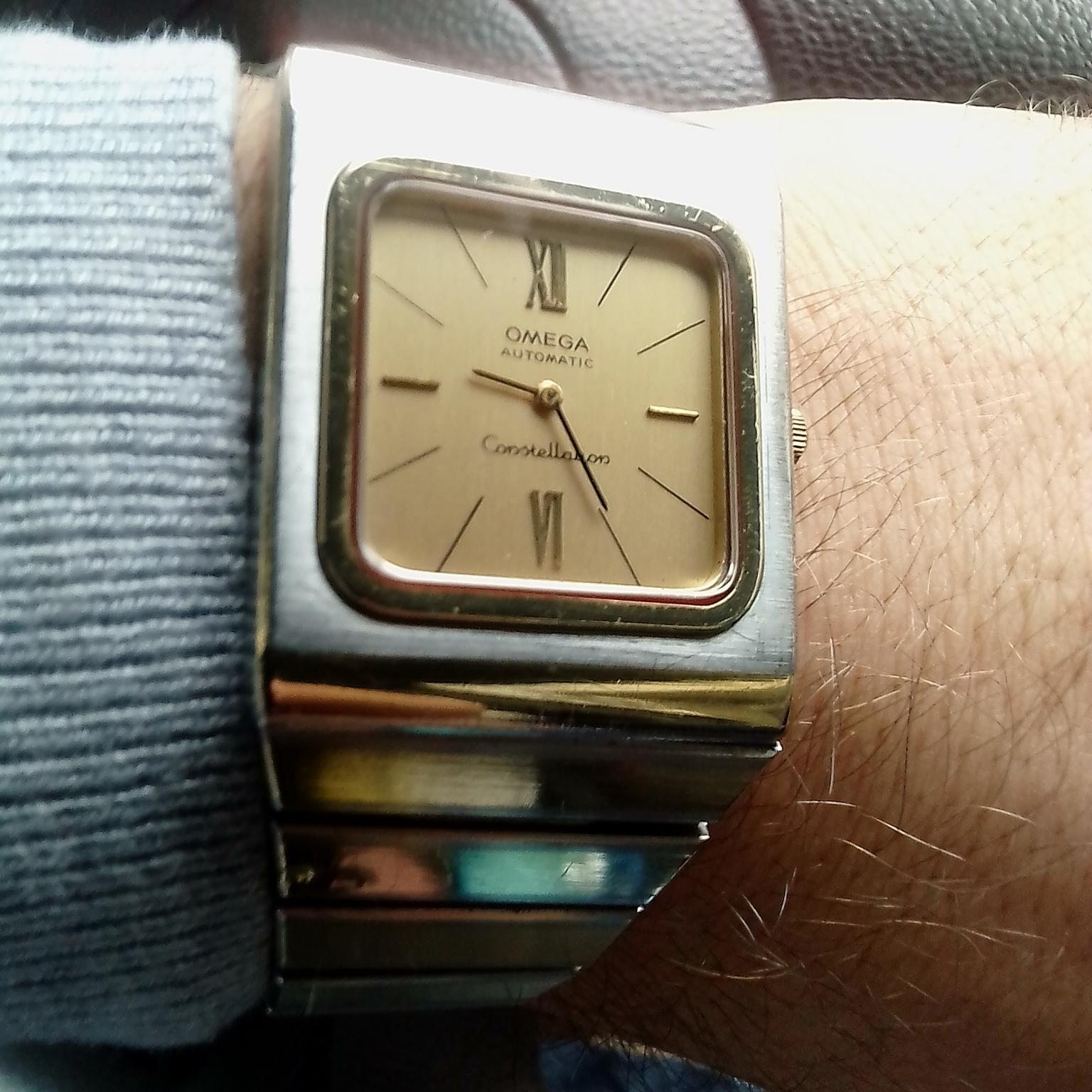 It is worth mentioning that these dials do suffer from significant patination at times, with cracking or spidering of the black dials being very common.  There is also degradation of black or brown dials to grey or even bronze as a result of water intrusion, which is not uncommon due to the less-than-ideal way in which these cases seal.  There could also be other variants not described above, and if you do find more authentic dials please get in touch.  Do keep in mind there is a very similar reference which is smaller, the Ref 555.0012, which has a greater variety of dials and is easy to confuse for the larger version.
Stainless Steel ST 355.0814 / ST 155.0021
The stainless steel version of these Constellation 2000 models has minimal gold in the design, with a gold medallion in the case-back and clasp being the only two.  It is the more common of the two to find, and stands up to wear and polishing quite well.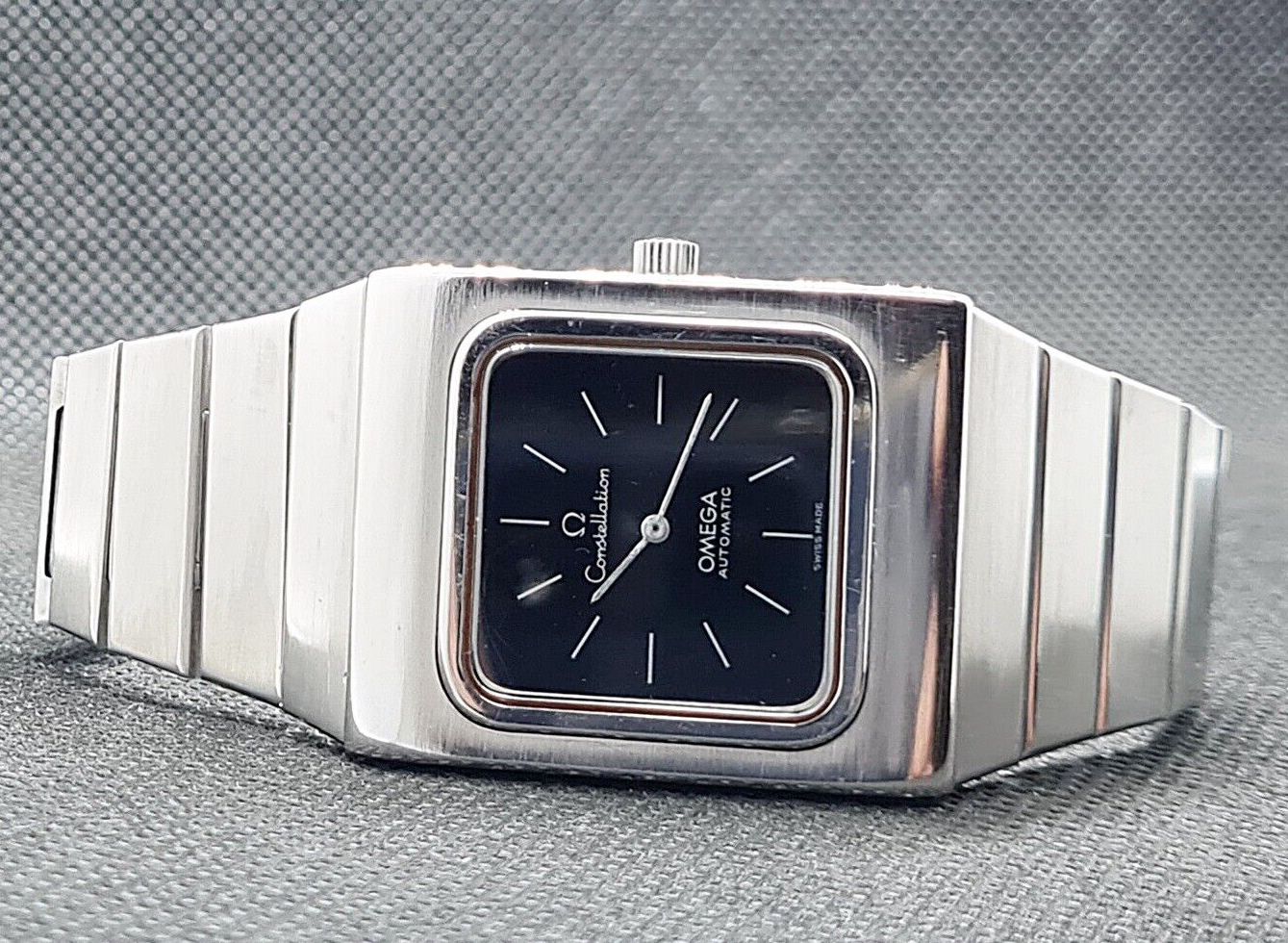 Two-Tone Steel & 14K Gold DD 355.0814 / DD 155.0021
The two-tone variant of these Constellations is certainly extremely unique.  The gold includes inserts in the case and bracelet links, a gold bezel, and matching gold dial furniture and hands.  There is a good supply of them, however condition is a significant issue with these as the gold links are susceptible to damage from both rough use and from polishing.  If you find an excellent condition example, it is very much worth owning just for the fact that it looks like nothing else but be wary of rough examples.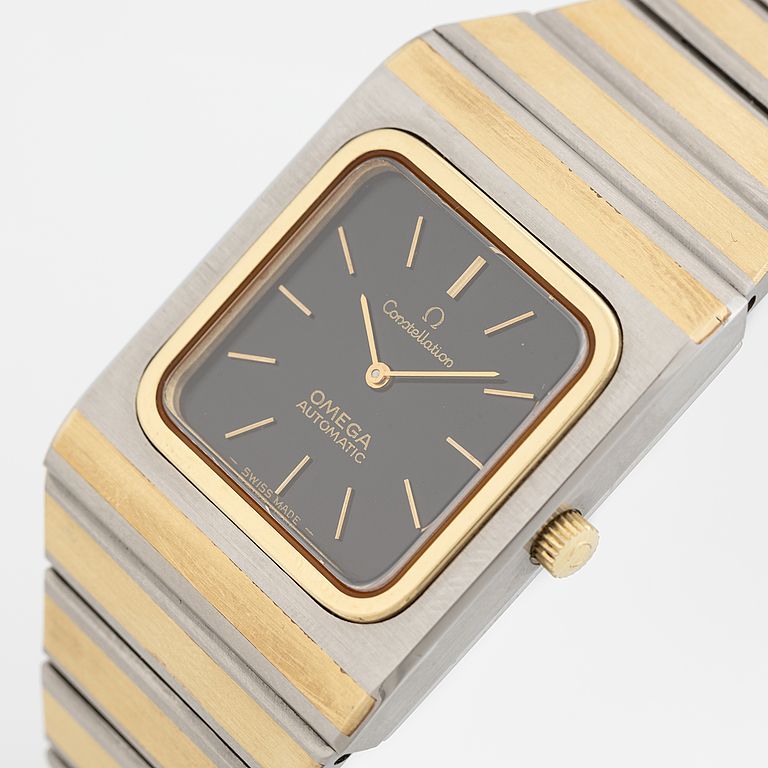 Buccaneer Engraved Variants
The Buccaneer variants are available in both steel and two-tone, however are quite rare and rather annoying.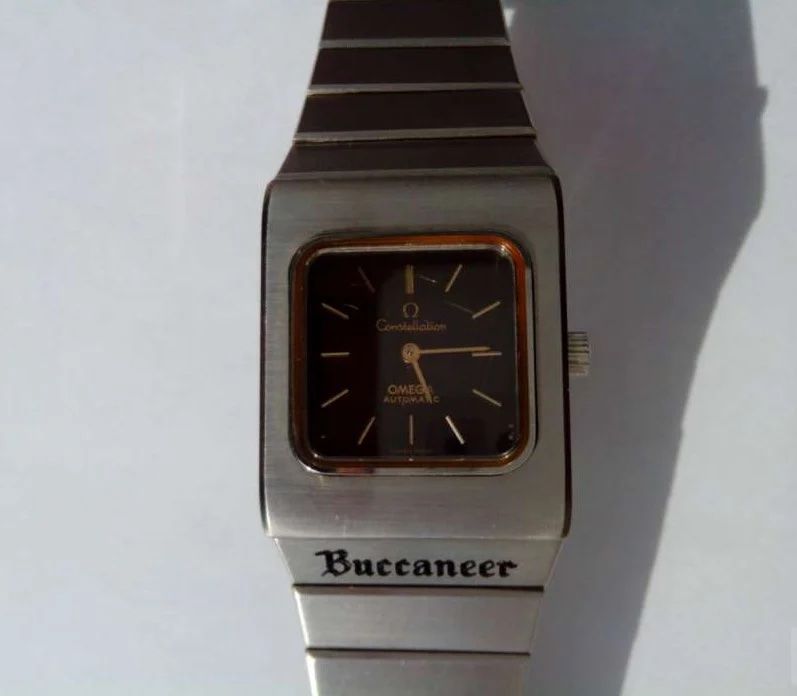 Annoying because we still don't know exactly what the Buccaneer logo even refers to.  What we do know from Omega is that it is nothing to do with them, Buccaneer presumably was some client of Omega who ordered a bunch of watches all with this engraving on the bottom end-link.  
The closest guess we have is that it might be related to Buccaneer beer, which had a similar logo in the 1950's, as found by @abrod520.  If anyone has more information, please get in touch at ashley@omegaforums.net.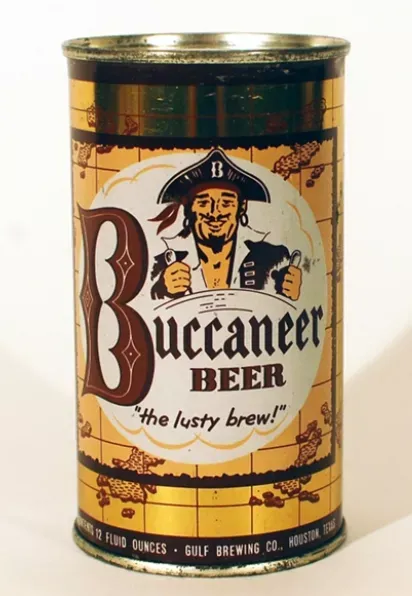 Buying
Deciding what to buy is a fairly easy process with the 355.0814 / 155.0021.  The major decision is to go with a steel case or a two-tone.  If steel, there are very few dial options and all on the market can be compared for condition and price.  If going for the two-tone there are far fewer options, more dial varieties, and some significant condition issues.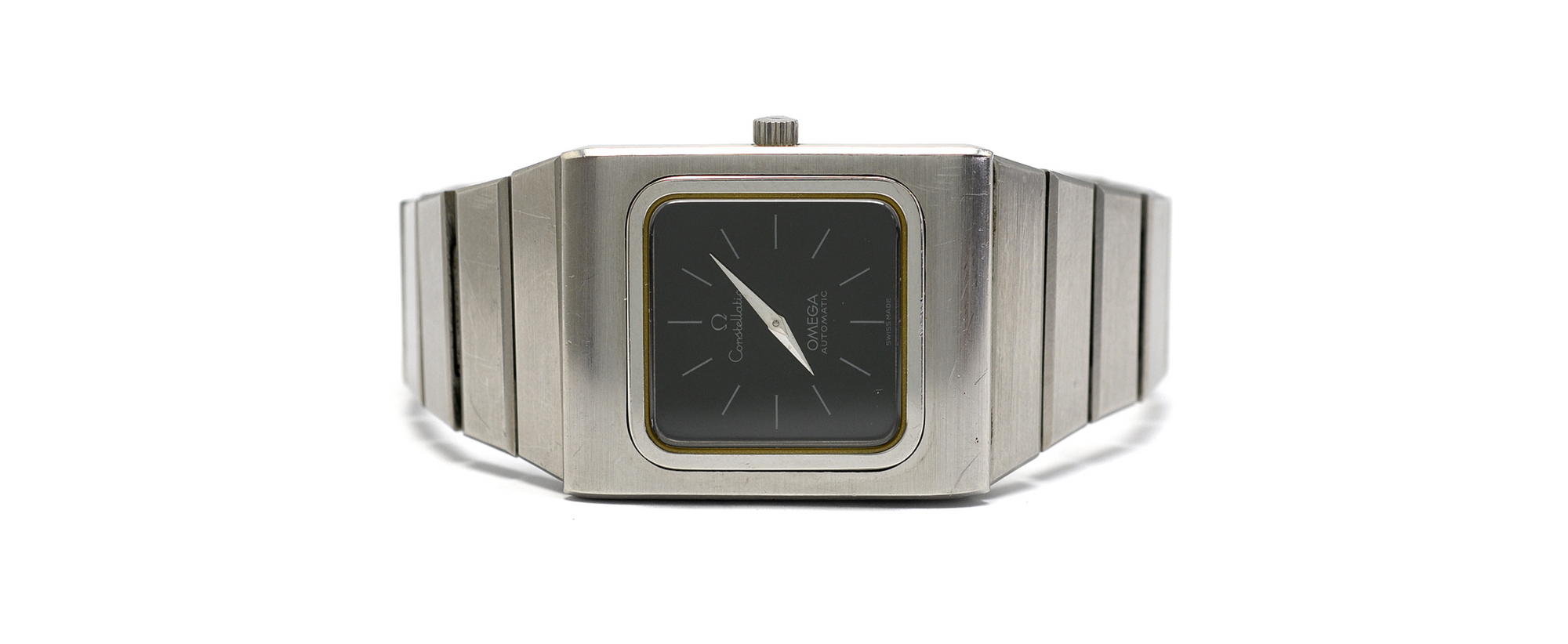 The 555.0012, which is a smaller version of the 355.0814 powered by a thicker ladies' calibre is VERY often mislabeled as its larger brother, so make sure that the watch you are looking at definitely has a Calibre 711 movement before considering it at all.
Condition wise, the first step is making sure the dial and hands don't show significant signs of damage.  There are some collectors who do like patina, or even spidering of the dial, but I would warn that just because a dial looks an attractive way now, does not mean it will not continue to degrade and get worse.  Signs of moisture intrusion in the dial also mean the movement has been exposed to moisture which could mean big money in repairs.  Spidering can also be an issue on these dials as any raised surface on this ultra-thin watch can snag on the hands causing problems.
The second step is to ensure both the case-back medallion and the gold insert in the clasp cover are not missing as they're very hard to replace.  After this, condition of the case and bracelet is paramount.  There should be minimal stretch between the bracelet links, minimal polishing and minimal scratches and dings.  The two-tone version needs to be looked at very carefully to ensure the gold sections are not damaged especially where they join with the steel.  The front face of the watch and bracelet should all be satin finished, so any polished surfaces other than the bezel are a polishing mistake.
Finally, the movement in these should be treated with respect and serviced before use in order to prevent metal-on-metal wear of potentially expensive parts.  It isn't worth taking shortcuts with these, and an Omega certified watchmaker should carry out the service to ensure it is back to original spec before use.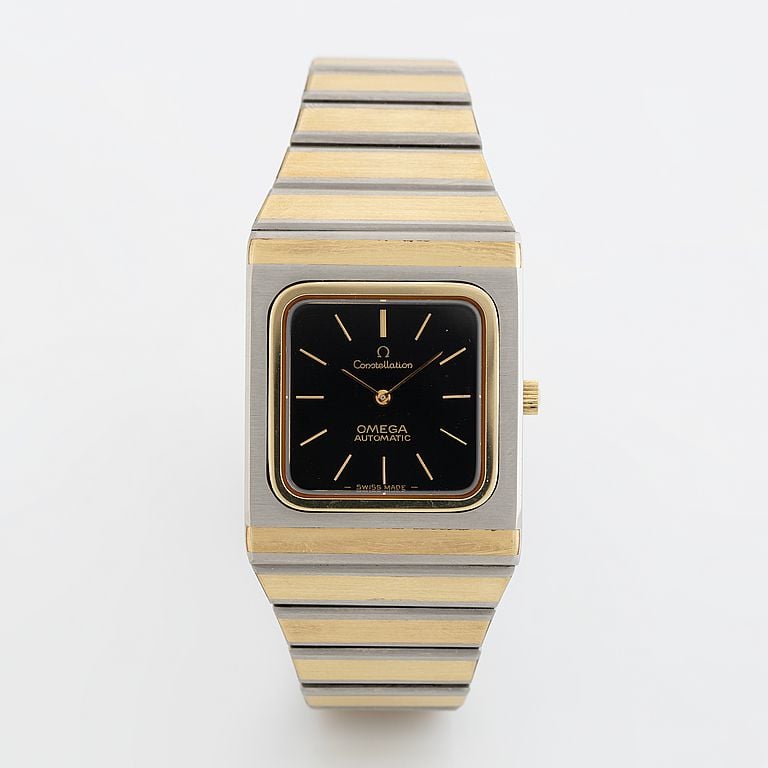 These watches were sold all around the world and can be found anywhere from eBay to Chrono24 to forums, with some of the best deals coming up when they sell at auction with no reserve due to the few people searching for these.
These Constellation 2000's are extremely atypical watches for their model line, yet the uniqueness, the blend of new technologies with high quality ultra-thin movements, and the bold design language says a lot about this watch.  It says that someone put a lot of effort into it and had extremely high hopes for it when it was released.  The name, Constellation 2000 tells you that Omega saw this as a watch representing the future, as that year 2000 felt so long away in the 1970's.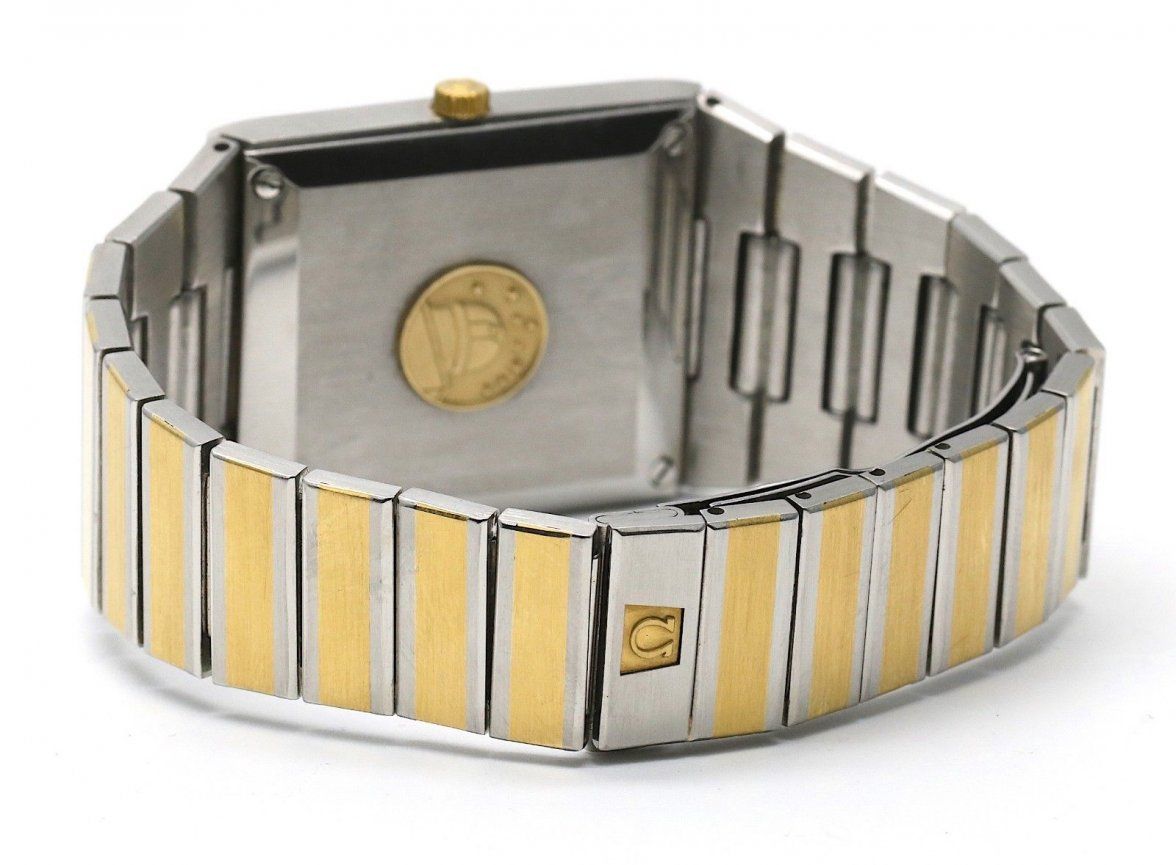 Like the original Star Wars, it was a vision of what might be from 50 years ago, and while it may look odd and out of place in 2023, that too is part of its charm.
Discussion thread on Omegaforums can be found here: