The Japanese market has produced a great many special watches that don't see much recognition. These over-sized, non-luminous Constellations have been great value for many years and make a terrific daily wear vintage watch if you know what to look for.
Origins
The Reference 168.001 shares a lot of features with other Japanese market Constellations, such as a non-luminous dial, minimal options in terms of dials, materials, and an enlarged size.  It was however sold more widely than that, in several countries in the South-East Asian region, as well as in small numbers around the world.
At 37 mm in diameter, and featuring that classical Constellation shape with elegant, curved lugs and a pronounced bezel, this watch takes the best of 1950's Omega case design and managed to improve upon it.  In spite of this, these watches don't carry excessive price tags and aren't fought over by collectors nearly as much as many other references.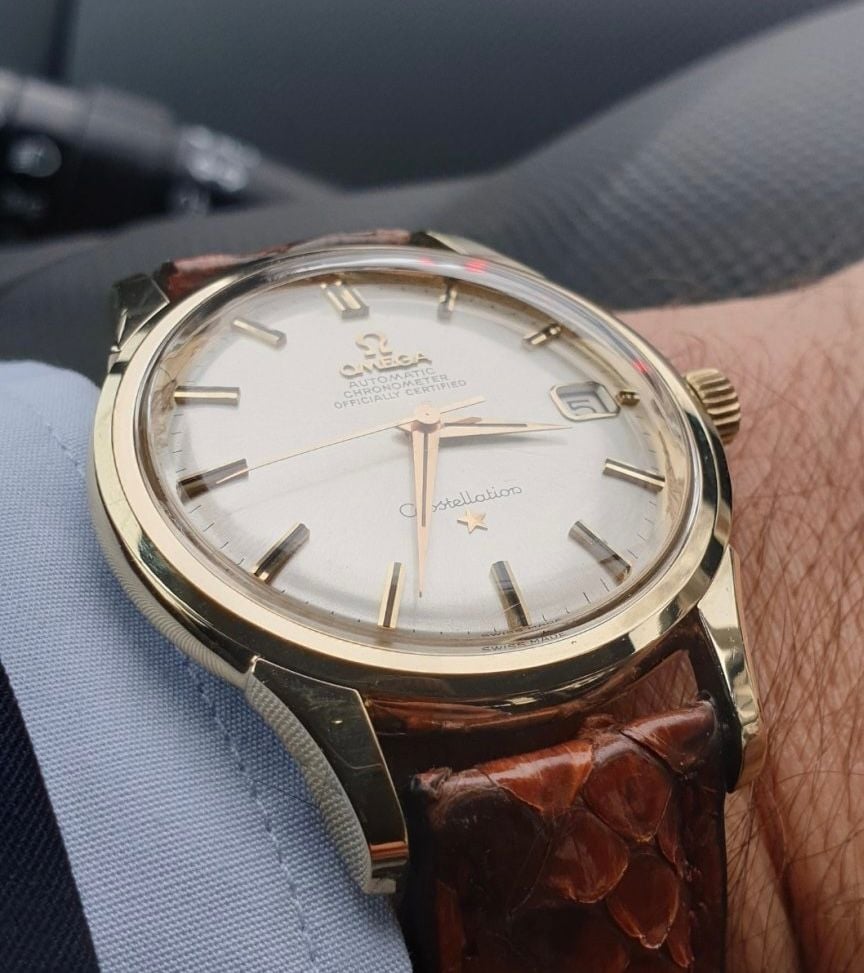 The main reason for the lack of popularity is the lack of a pie-pan dial.  The phrase "Constellation pie-pan" is used so frequently that many people who get into collecting vintage Omegas overlook the fact that flat dials not only exist, but are remarkably beautiful in their own right.  The dials on the 168.001, especially the vertical brushed versions contain depth, detail, and capture the light in a very special and unique way.  Pictures don't quite do them justice, but I'll try to present several to illustrate this point.
Once you get past the geometrically uncomplicated dial options, you're left with a great watch with many positives.  An excellent movement, a timeless design that looks both vintage and modern depending on how you wear it, better water resistance than many earlier Constellation models, and an affordable price point in a larger than average case size.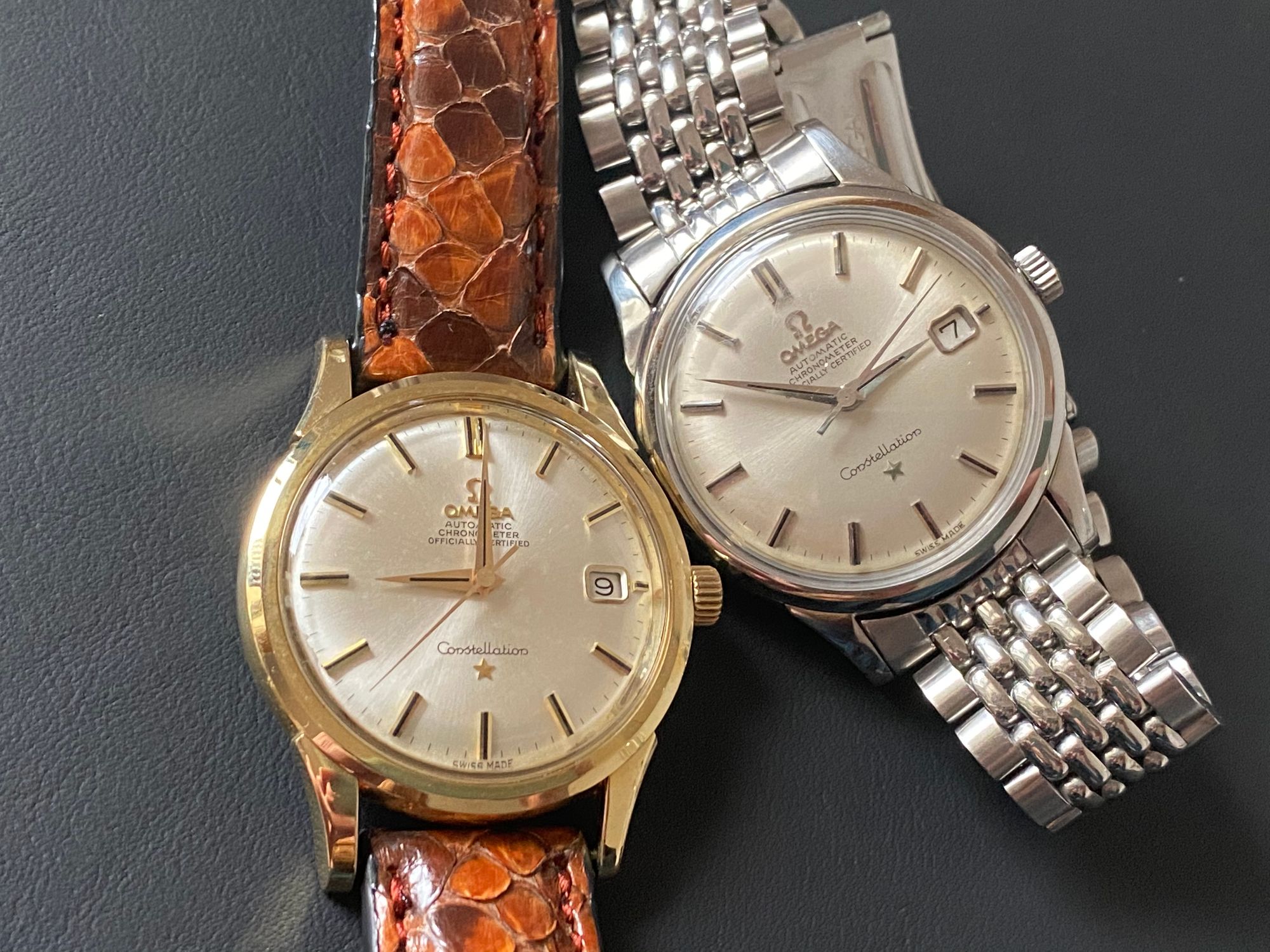 Case & Bracelet
The case of the 168.001 is the obvious main feature of this watch.  The design retains the overall look and feel of 1950's era Constellations like the Ref 2852, but is most closely matched by the Ref 14393, also powered by Calibre 561.  
The watch is enlarged in all directions, including the lugs which are widened to 19 mm, necessitating a larger size of strap or bracelet end-link.
The case materials are limited to stainless steel, or gold-cap, with no solid gold options being available at all.  Both the stainless steel and gold-cap models feature a stainless steel case-back with an in-set gold medallion.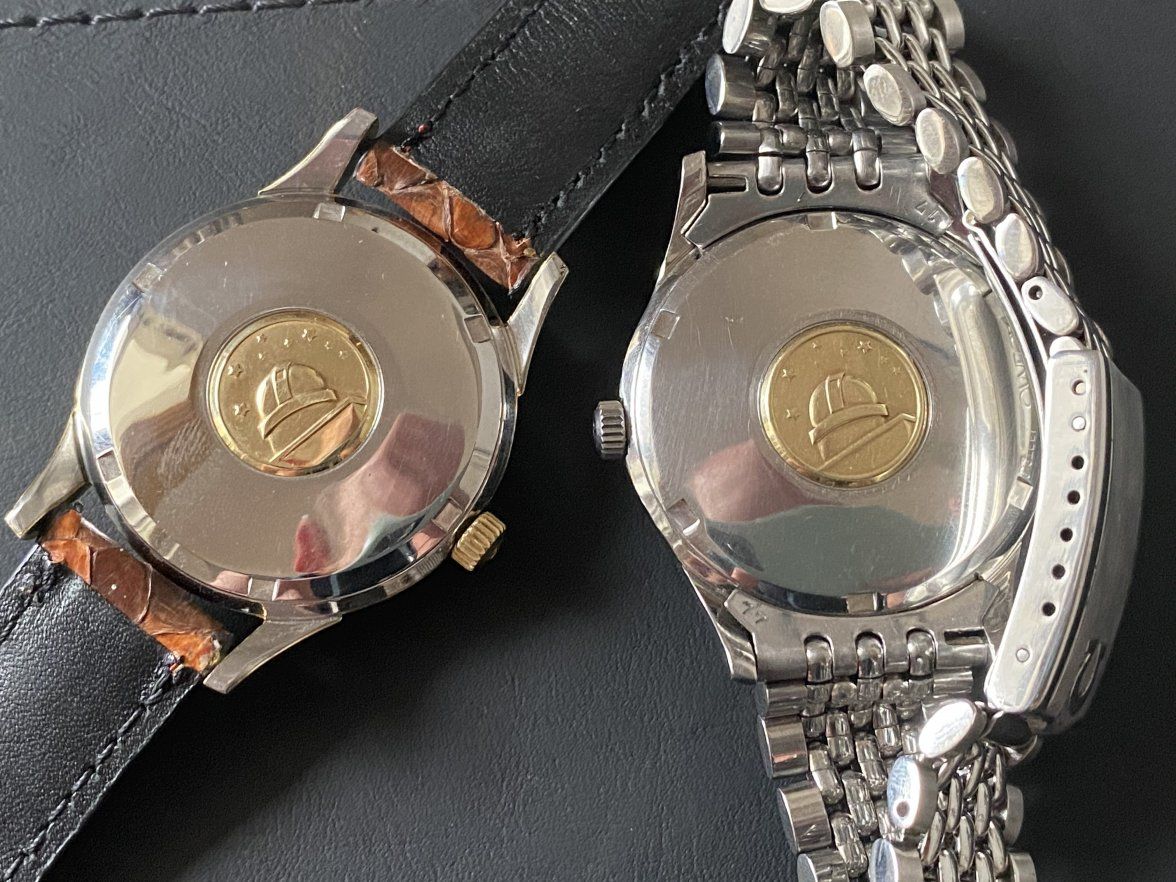 The cases originally were fitted with the traditional 10-sided dodecagonal Constellation crown or the slim, coarsely knurled Constellation crown but may have been replaced over time with other designs, mostly knurled.  Personally, I would not be incredibly bothered by this if you intend to wear the watch, as the 10-sided crowns are among the least practical to wind, grip and use ever made by Omega.  
The case features a very prominent bezel with a sharp edge to it which is key to the overall look of the watch and easily lost through polishing, especially on gold-cap models.  This is really the most critical condition issue on cases as a soft bezel can never really be returned to its former glory.
The traditional rounded lugs should similarly be sharp and can lose their shape, becoming rounded off from over-polishing.
The water resistance on these watches is a bit of a mixed bag.  Desmond Guilfoyle wrote about this reference and commented that the fact that they were primarily sold in Japan and Asia is the reason why so many have been redialed.  There's a lot of sense in that as the rain and humidity in South-East Asia, as in the tropical Australian climate I live in can be quite unforgiving to watches.  That said, there are several Japan special Omegas from the 1960's and early 1970's that have remarkably low redial rates, so I have to wonder if the 1950's style 1950's crowns or the case design may have been a major factor as well.
In any case, I would be careful in getting these watches wet and try to ensure it is fitted with new seals including a new crown if needed and a new crystal in order to get it as water resistant as possible for daily wear.
The bracelets fitted to these watches are typically the traditional Omega beads of rice 5-row design, Ref 1502 with 19 mm end-links stamped with either 17, or nothing.   As an alternative, the 7-row beads of rice Ref 1037 with 527 end-links also will fit perfectly.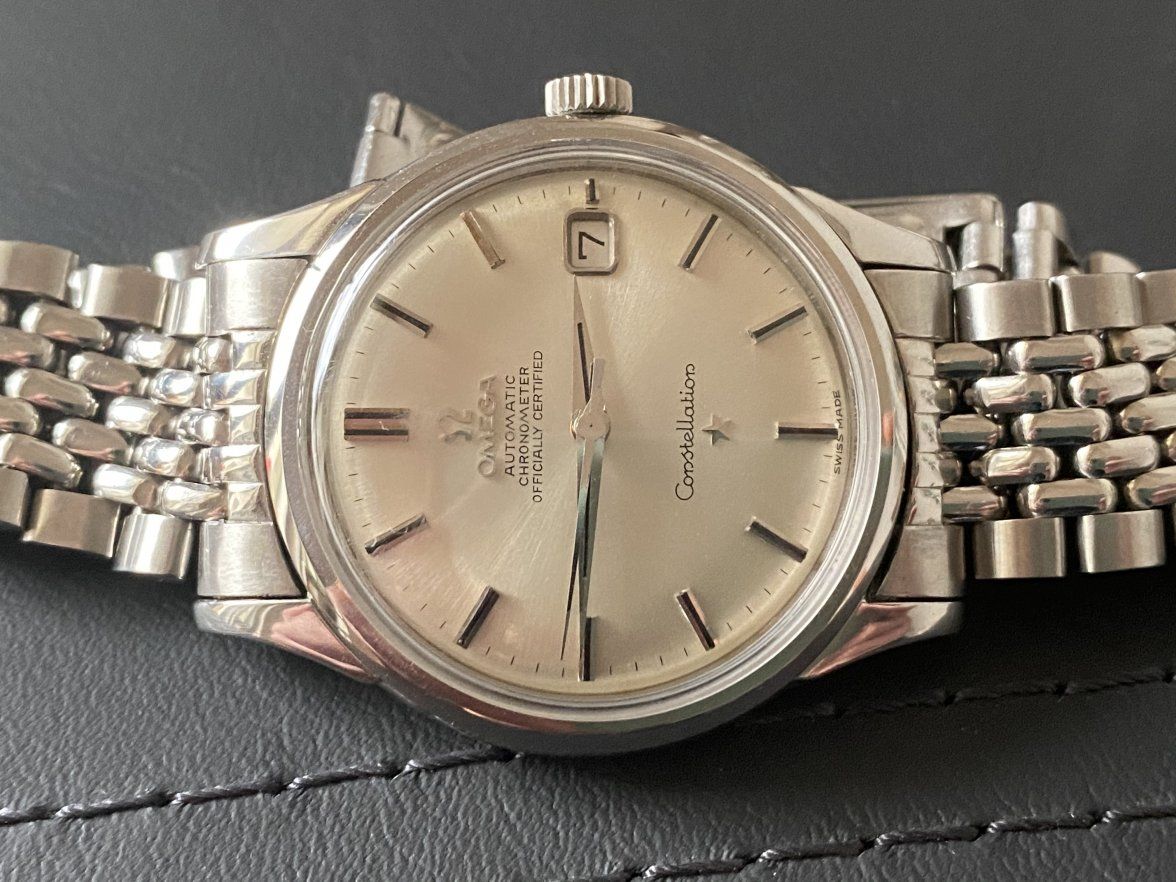 If money is no object and for a sportier style, the final option is the Omega flat-link bracelet used on Speedmasters, Ref 1035 or 1039 which will fit with 6 or lightly modified 617 end-links.
Movement
The movement powering these watches is the Calibre 561 Chronometer movement, which is an excellent, highly accurate and reliable movement to own.  
The Calibre 561 is the calendar version of the Calibre 551 and part of the second generation of the 5xx series with several improvements over their 1950s counterparts, especially in the automatic winding mechanism.  In addition to those changes, Omega was also able to shrink the thickness of the movement from 6.4 mm in the Calibre 504, to 5.0 mm in the Calibre 561.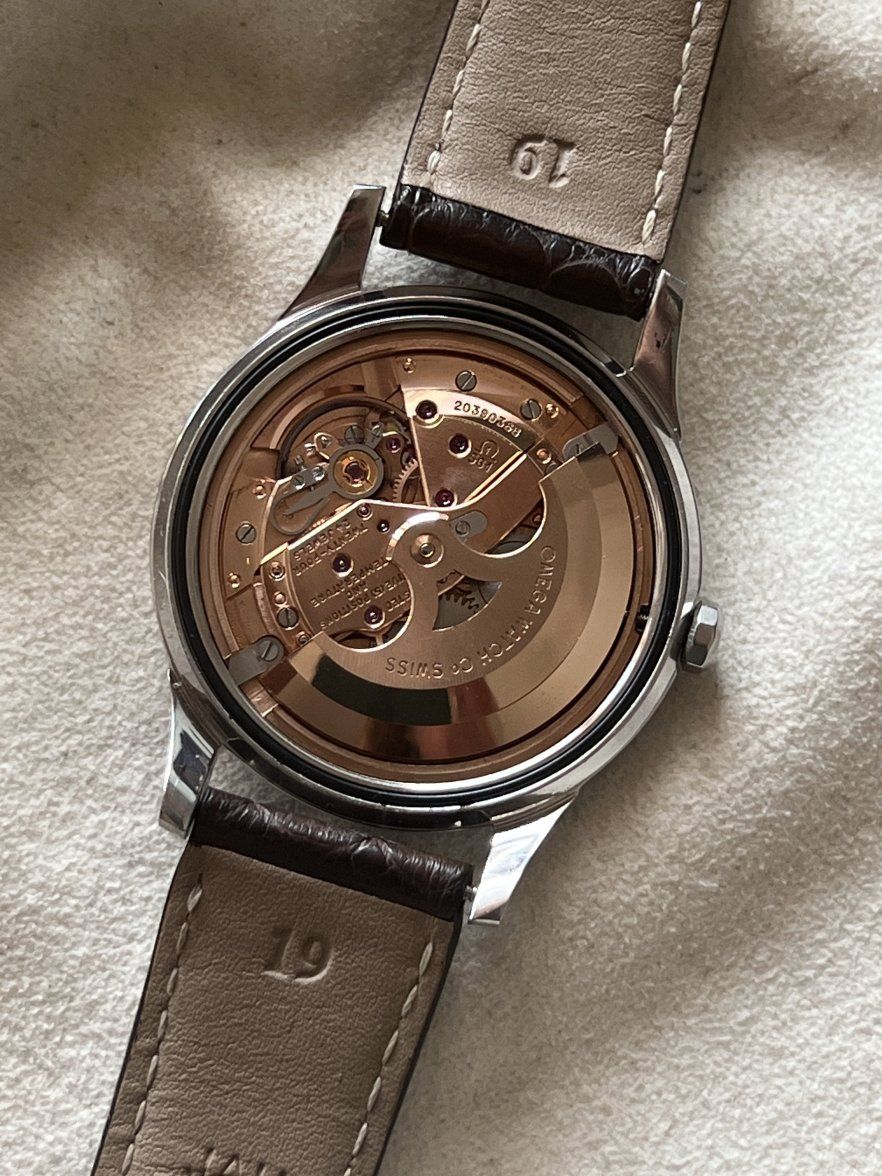 These movements oscillate at 19,800 vph, feature a semi-quickset date mechanism operated by repeatedly moving the hour hand past midnight from a few hours either side, are non-hacking and are chronometer rated.  There was a successor to the Cal 561 in the form of the Cal 564 which was released later but the primary difference was the addition of a full quickset date-mechanism on the later version.
The Calibre 561 can be serviced by any qualified watchmaker with access to an Omega parts account and should perform very well afterwards, keeping excellent time.  It should be noted that due to the cost involved in replacing parts, particularly relating to the automatic winding system, it is well worth having these watches serviced prior to wearing even if they run.  Wearing them without having been recently serviced will result in metal-on-metal wear and could lead to a significant parts bill.
Dial Variants
Firstly, as mentioned earlier, there are no pie-pan dials in this reference, however there are a significant number of redials floating around.  This reference seems to be impacted my moisture intrusion to a greater extent than most other Japan special watch models.  As a result of this, patina in the form of spotting or discoloration is more common than in other references, and many have been refinished due to this degradation becoming too severe.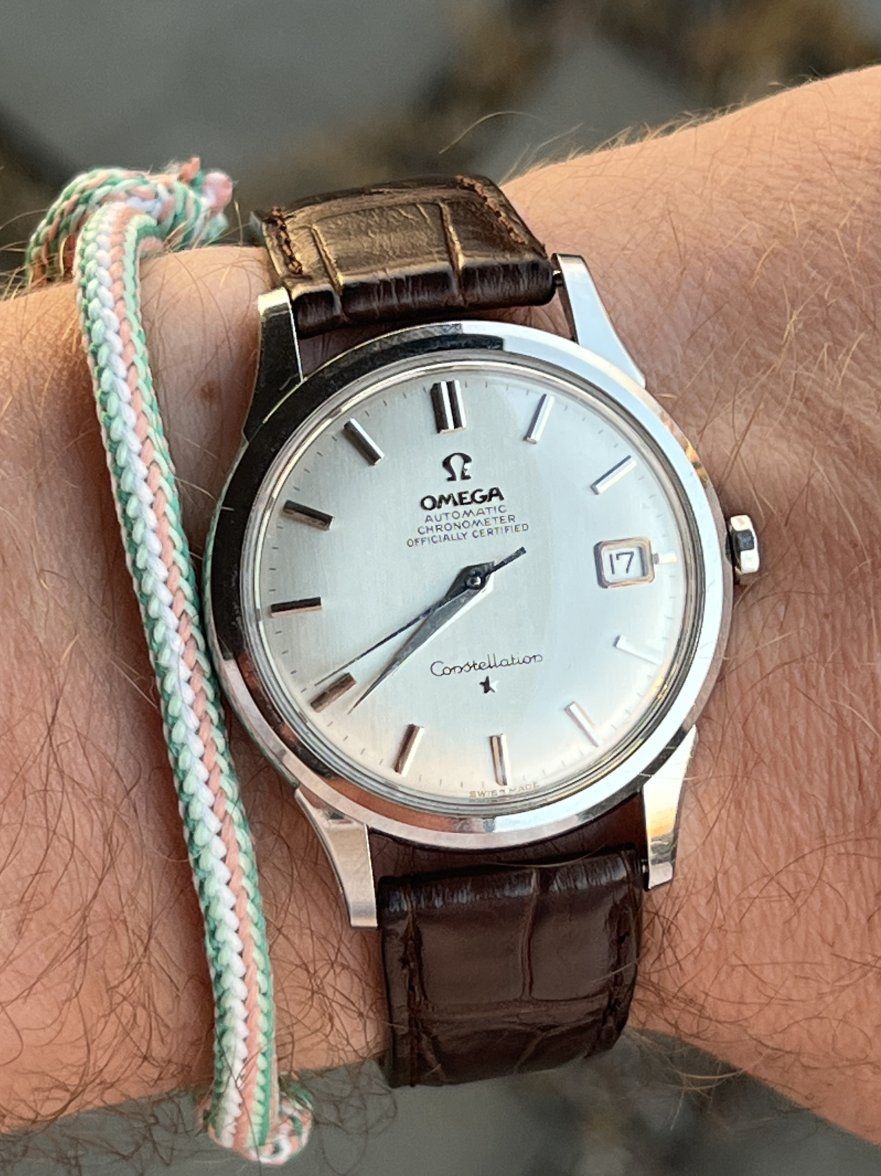 All dials are a slightly domed shape and feature an applied Omega logo as well as an applied date window with an outer track of minute hashes around the edge.  As with other Japanese special models, there is no luminous material on any dial variant.  All dials are a silver-white tone and there are no solid gold dials or any other colors available.
Vertical Brushed Dial
The vertical brushed dials are in my view the most attractive and special dial option for the 168.001.  The grain of the brushing is extremely fine and as a result of this texture, it catches the light and changes color in a very unique way from a bright blue-ish hue to a darker grey color depending on the angle.  
The vertical brushed dial comes in both all metal dial furniture with solid hands, and in dial furniture with onyx inserts with onyx insert hands, and comes in both steel and gold-cap models.  The dial furniture on these is the same size at all hour markers, and doubled at 12 o'clock.
It should be noted that the brushed dial is quite rare, and I don't use that term lightly.  The vast majority of 168.001 have starburst dials and only a small number of these Constellations have brushed dials.  They don't appear to carry a premium due to that rarity yet, so if you find one in nice condition, go for it.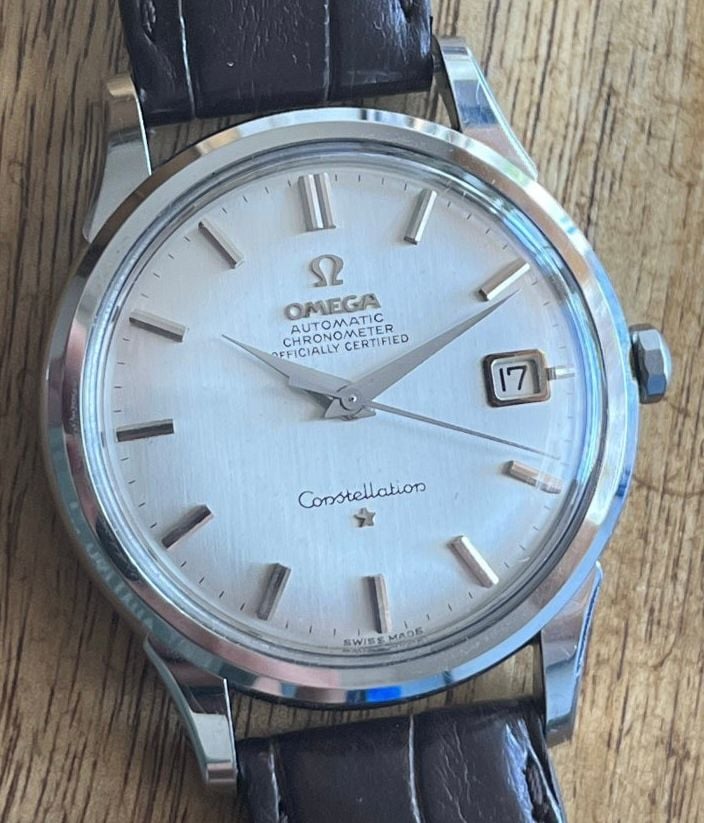 Starburst Dial
The starburst dials make up the bulk of 168.001 models.  The starburst pattern has quite a few subtle variations including crosshairs and the omission of the phrase "Officially Certified" on some.
The majority of these dials feature the same symmetrical dial furniture, doubled at 12 o'clock as is used on the brushed dial with the onyx inserts.  These are found in both stainless steel and in gold-cap.
The second and somewhat less common dial furniture seen on the starburst dials is an asymmetrical style which has an enlarged 12, 9, and 6 o'clock marker and no doubling at 12 o'clock.  These too are found in both stainless steel and gold-cap.
Onyx inserts are once again seen in all hour markers and in hands.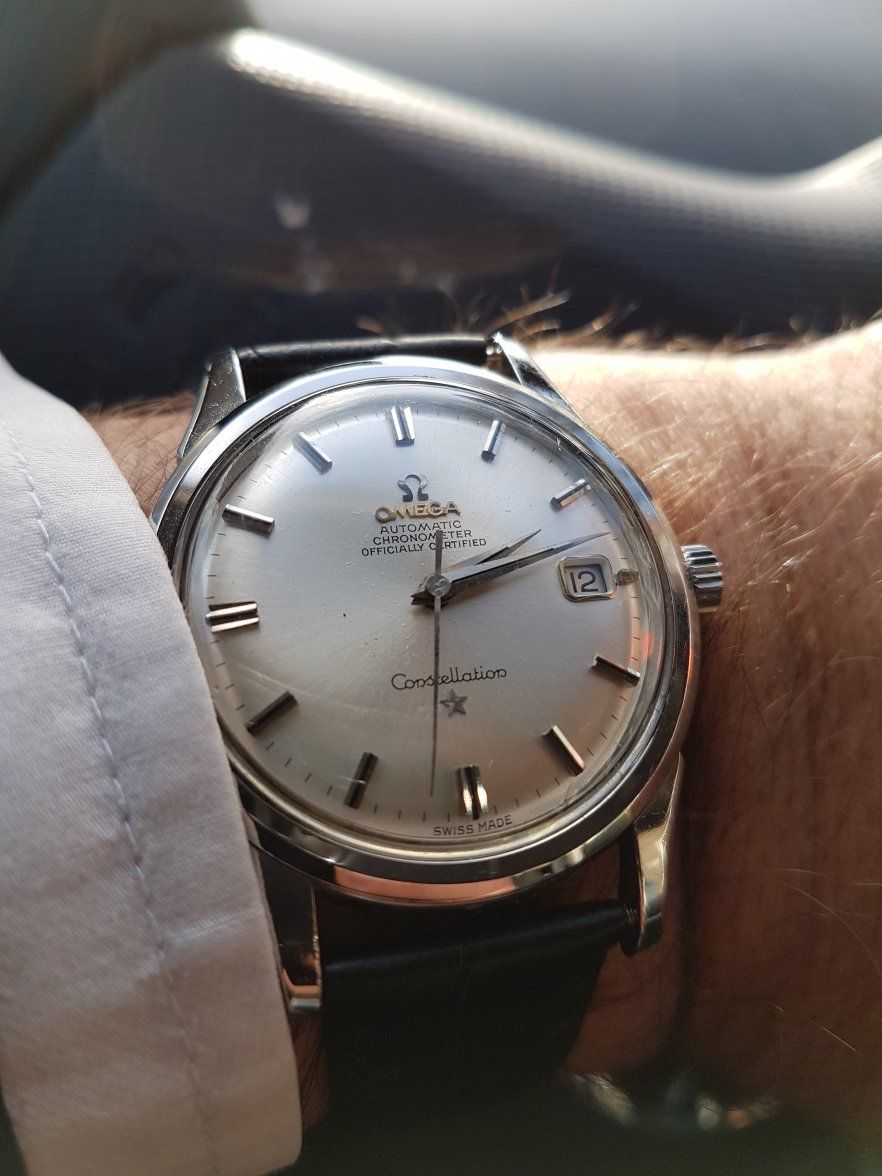 Buying
The primary market for these watches was originally Japan, and to a lesser extent other South-East Asian markets, although there is evidence of at least a very small number being sold in Switzerland and elsewhere in Europe.
Because of how many were sold in Japan, that is always going to be the best place to hunt for them to find good deals on good condition examples.  Japanese dealers and auction sites like Yahoo Auctions Japan are a safe bet, but you really need to be willing to put the work in with google translate or using some Japanese or enlist a friend in Japan to help.  It should be noted that having someone on the ground there to forward on to you is a lot safer than using a freight-forwarding service as your buyer protections and ability to return may be lost through a freight-forwarding company.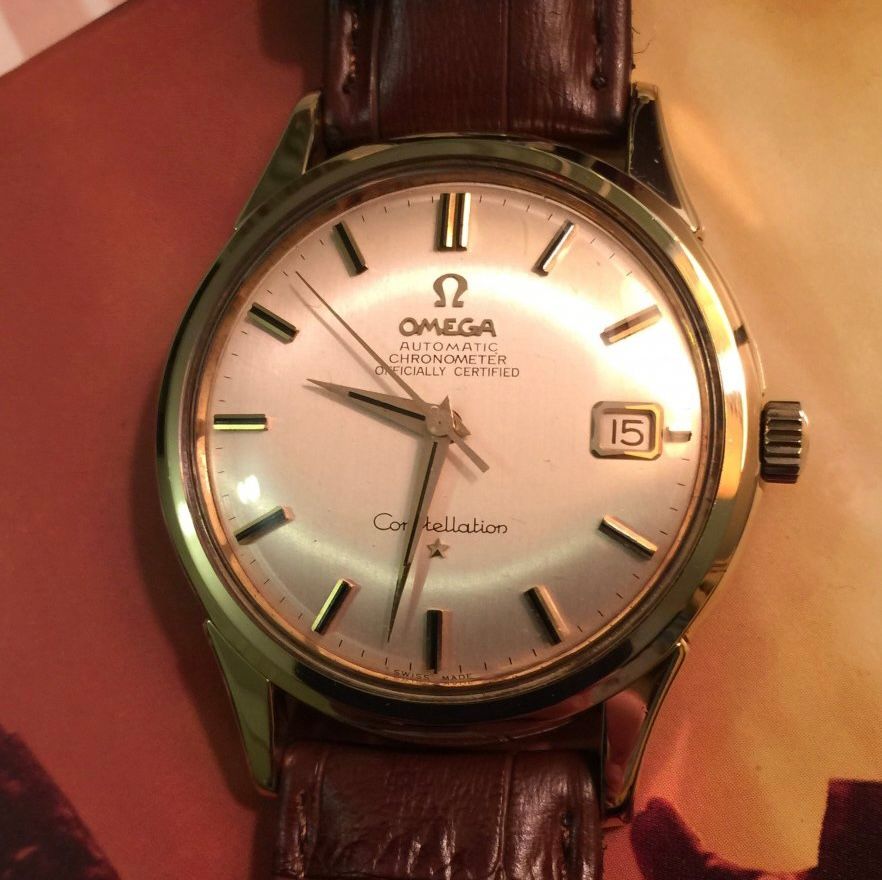 Many of these have not proliferated outside of Japan and there is always a small supply on eBay and Chrono24, but forums will be your best bet for finding quality examples at decent prices.  Many have been sold recently through the Omegaforums classifieds section for quite reasonable money considering how clean they are.
The highest priority is always going to be the dial and while none are perfect, redials should be avoided at all costs as should severely degraded dials.  If you look at any of these dials under a loupe, or in magnified photographs you will see some bubbling or discoloration even on very nice dials.  The key is to find a dial that will look clean on the wrist, not under a microscope, so be fastidious but not pedantic as the images below of the same watch demonstrate.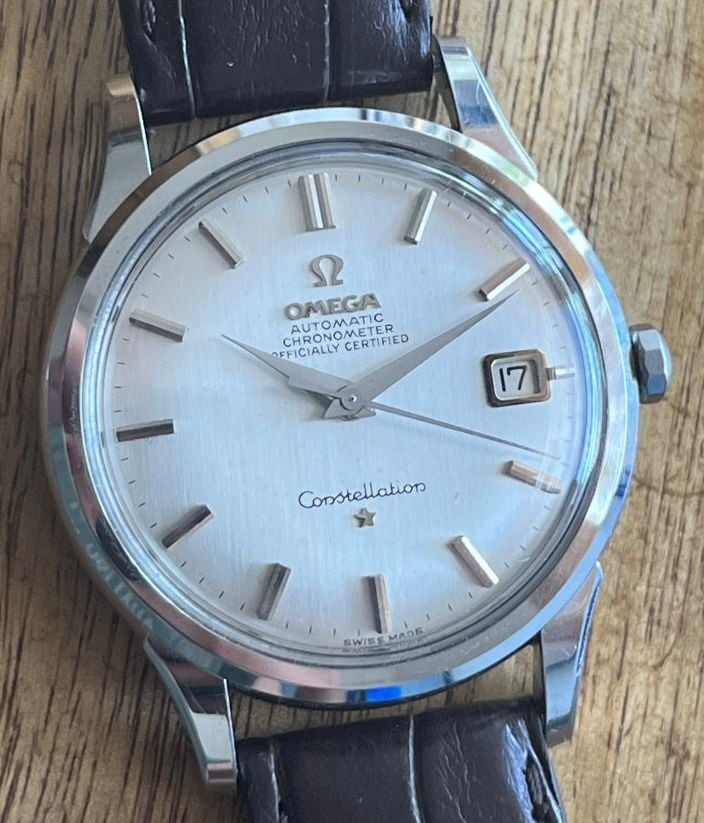 If you find a nice original dial, the second priority is case condition, you want a sharp bezel and lugs if possible as these are difficult to get back if polished.  
The bracelet is nice if included and worth a couple of hundred dollars, but beads of rice bracelets and end-links are not that difficult to come by so prioritise condition over the package you're getting.
Crown and crystal I would consider the lowest priority and given the importance of preserving the dial, I would strongly consider replacing both with new, genuine Omega parts to maximise water resistance.  This may be controversial advice to some who value original crowns in particular but it's hard to disagree that the dial and its protection matters more.
The most recent examples of the 168.001 in very good condition have sold around the $1700 mark on Omegaforums as of late 2022, which for a vintage Constellation this attractive in a modern 37 mm size is quite a deal.  
Discussion thread on Omegaforums can be found here: