Monocoque Constellations are a special part of the Constellation family, an experiment in design and engineering that only existed for 5 years at the end of Omega's "Golden Era".
A Unique Idea From the Late 1960's
The Constellation Monocoque case family were first introduced by Omega in 1966 and were in production in various forms until around 1970.  
These watches contained a great deal of Omega's best ideas, movements, designs and learnings into a product that only existed relatively briefly before being replaced by the more austere 1970s Constellations.  That brevity of production belies just how successfully this watch achieved its goals.  
The front-loading case coupled with some of Omega's best movements proved to be a water resistant, durable and accurate combination, while the creative dial options gave buyers a wealth of choice found on few other models.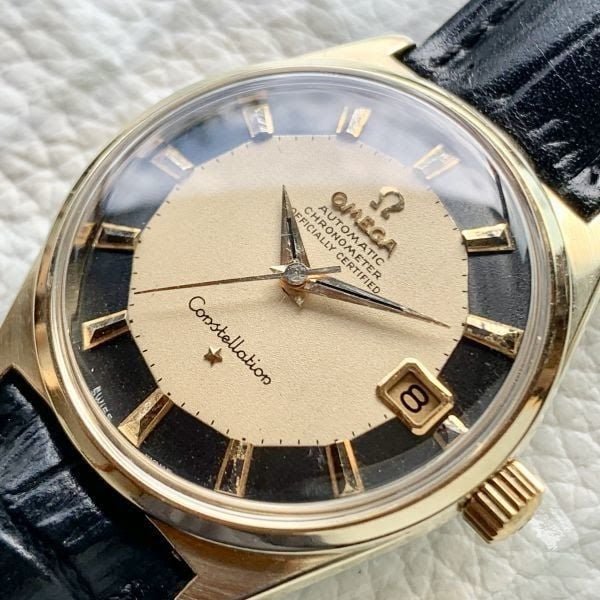 50 years later, these Constellations are still among the least understood models in the product line yet continue to turn heads on the wrist and receive a great deal of love whenever posted online.  While the monocoque may have been an evolutionary dead end for the Constellation, it remains a beautiful, charming and elegant watch, well worth owning.
Case & Bracelet
Monocoque cases were used by Omega on a lot of different product lines throughout the 1960s but only appeared in the Constellation line for this quartet of special references, 168.015, 168.025, 167.015 & 167.025.
The monocoque, or front-loading case design has a couple of things going for it.  The most significant is that by deleting the case-back as a separate and removable part, you have eliminated one point of potential water ingress and one seal.  This has an added incidental benefit of making the watch case more resistant to amateur interference and makeshift tool-marks on the case-back.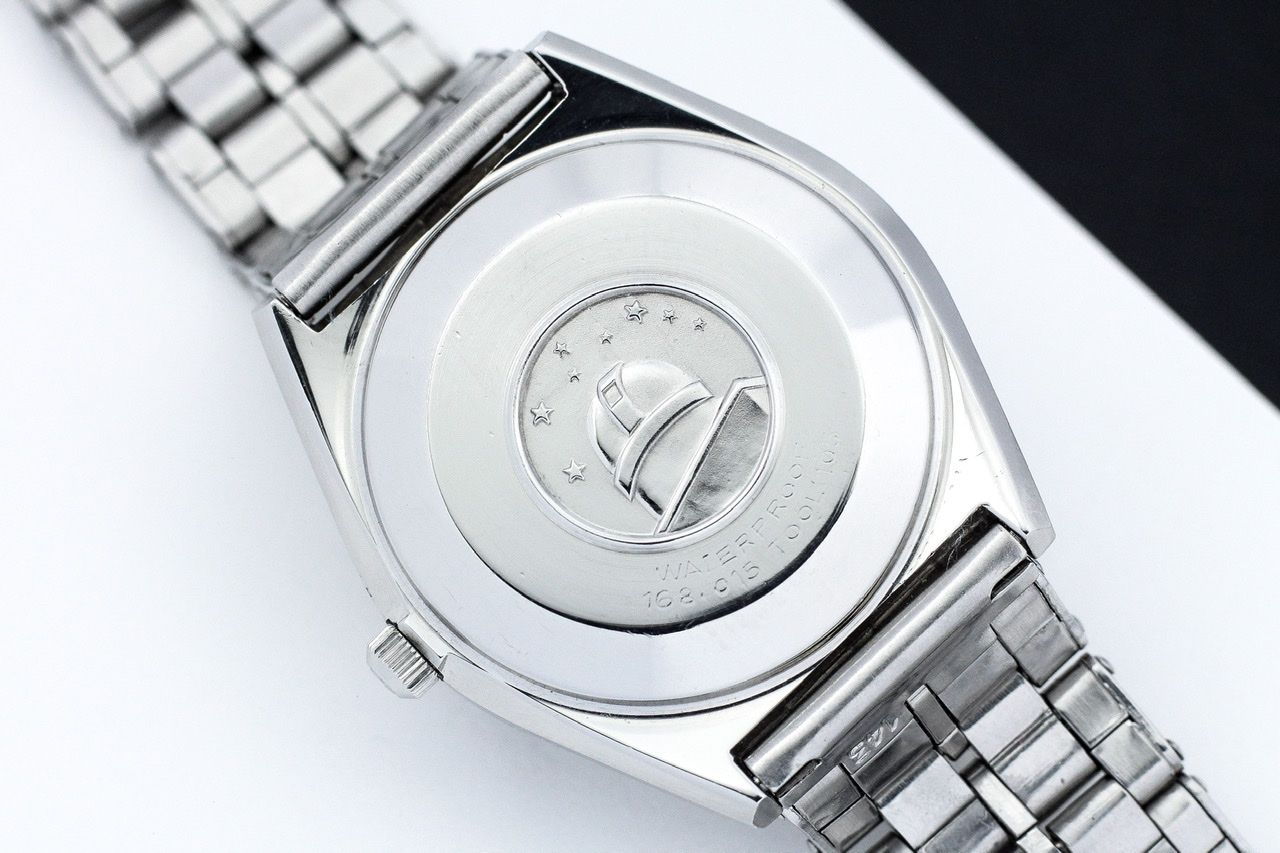 The case-back of these watches varies quite a lot depending on metal type.  The stainless steel versions have a seamless observatory medallion impression in the case-back as do the 18K gold versions.  The gold-cap versions have a steel back with a gold medallion in the center, echoing earlier Constellations of the 1950s.
This case design is identical in shape and construction across all four references at 34.5mm diameter and with 18mm wide lugs.  It features almost a truncated C-case layout, with a flat edge between the lugs allowing the strap or end-link to butt up closely to the case.  The crown is a simple and convenient knurled design across all models, making it easy to operate even when operating the quick-set system on the date versions.
By virtue of the monocoque case and thin movements in use, this Constellation is quite thin at only 11 mm and sits very flat on the wrist even compared to other similar Constellations like the C-Case.
The design of this case is not forgiving when it comes to polishing, with a relatively thin polished bezel, a satin finished front face extending out to the lugs and subtle bevels on the edges as they transition to the case sides.  A clean example should look distinctly sharp on all edges and any watch with soft or rounded curves is best passed on.
In terms of bracelets and straps, this case design is rather unusual in that by pressing the spring-bar so close to the flat edge between the lugs, it gives a nearly integrated look when fitted with a leather strap.   The downside however is that it reduces bracelet options significantly.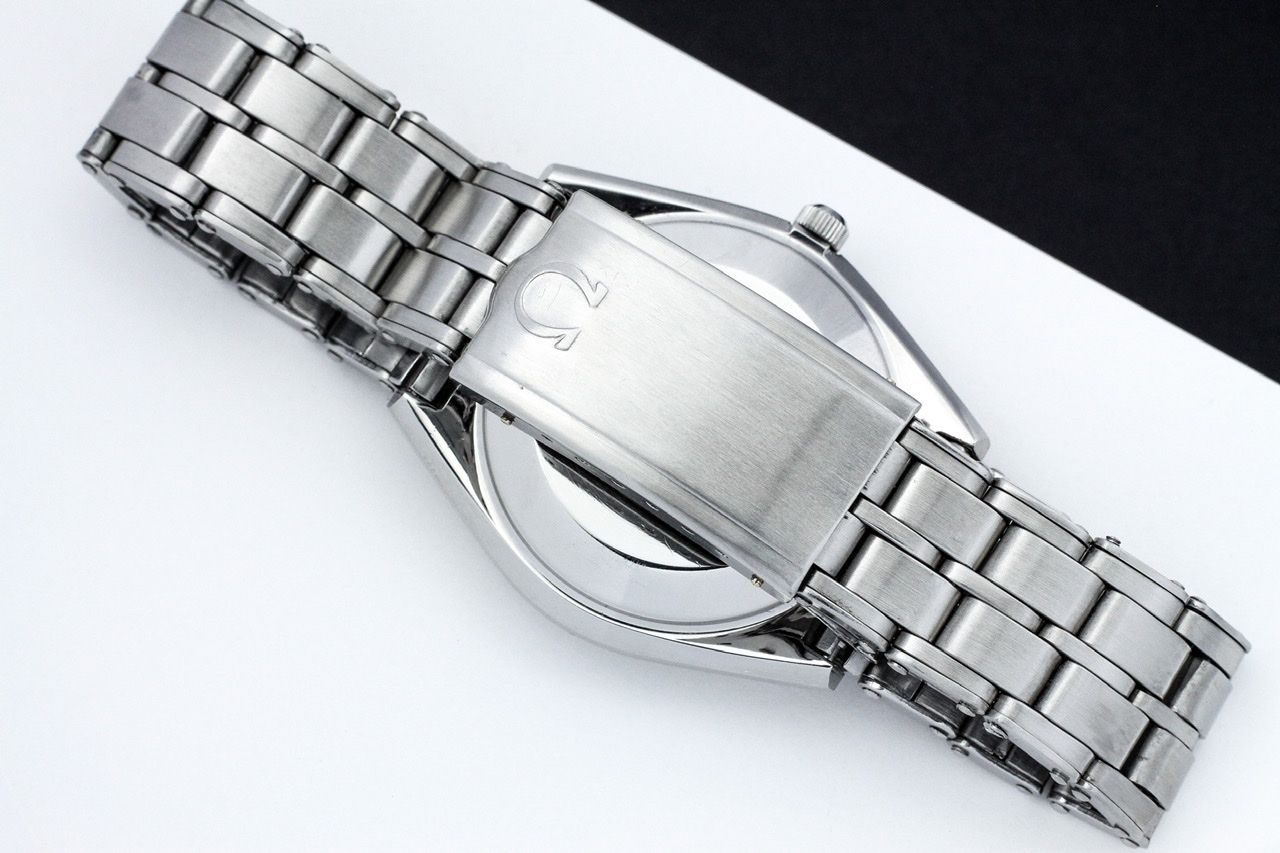 The most common bracelet found on these cases is the Ref 1119 with 143, and while it fits as intended, aesthetically the bracelet can be seen as a tad too sporty and inelegant for a dress watch like the Constellation.  A Milanese mesh bracelet may be a decent alternative as well, but the best choice for this watch is typically a high quality 18 mm leather strap.
Movements
The two movements used in these watches are the exceptionally well regarded Calibre 551 & 564 automatic chronometer movements.  The 168.015 & 168.025 references will carry the calendar version Cal 564, while the 167.015 & 167.025 non-date versions will carry Cal 551.  Any other movement found in these watches is incorrect and should be avoided.
Both movements are almost identical, beating at 19,800 vph, with an ample 50-hour power reserve, no hacking, and are chronometer rated.  The Cal 564 has the addition of a date wheel with quick-set operated by pulling the crown out repeatedly and this adds a small amount to the height making the Cal 564 5.05 mm up from the 4.5 mm of the Cal 551.  Because all of these references share the same case design, the minor movement height difference is largely irrelevant and is accounted for in the design thickness.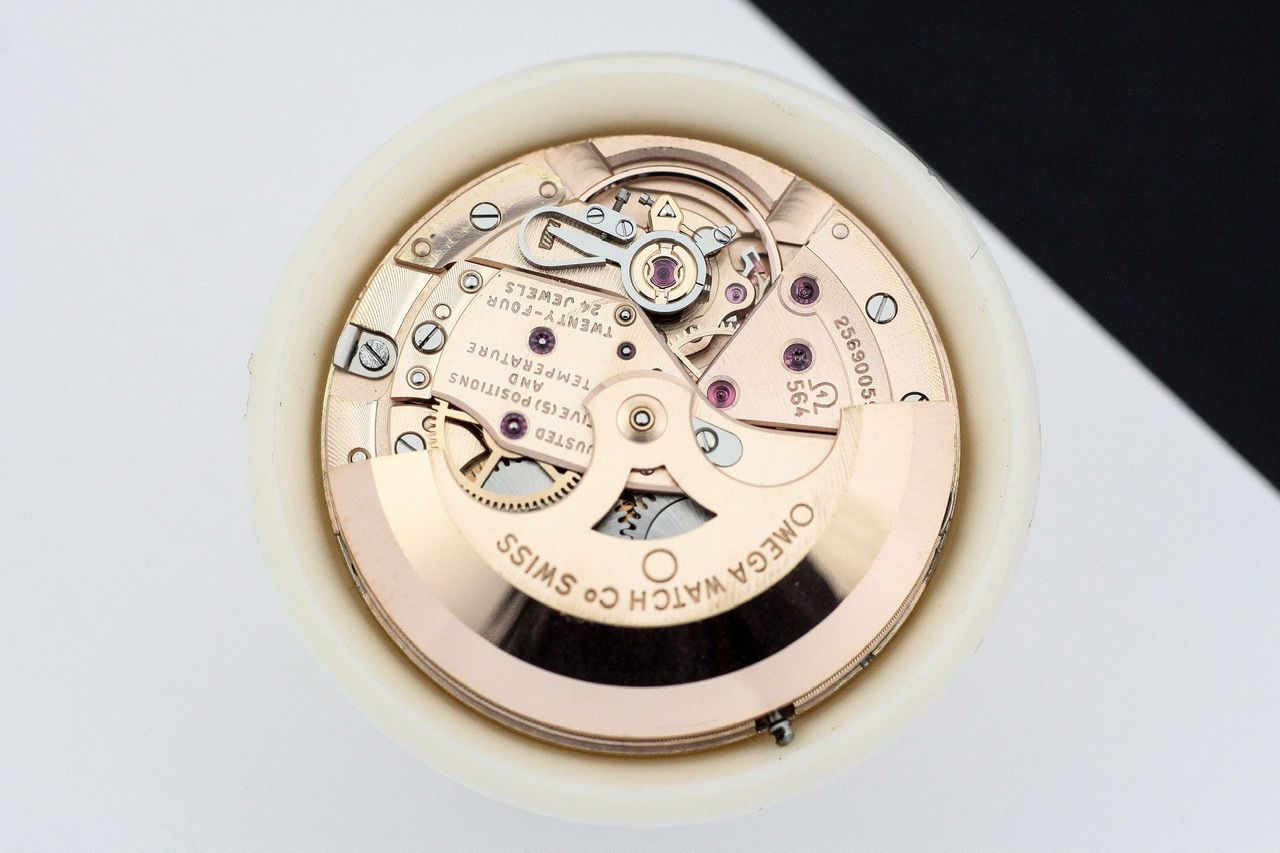 These movements are considered by many collectors to be the most desirable of the entire 1950's & 1960's "Golden Era" of Omega thanks to their exceptional long term durability and resilience.  That said, they should still absolutely be serviced before use in order to prevent metal-on-metal wearing of parts as you will want to preserve these excellent calibres for the future.
If serviced by a qualified watchmaker with access to an Omega parts account these movements will provide you with a lifetime of accuracy and dependability.
It should be noted that due to the quite water-resistant case design for its era, these movements should be in quite good shape, and any example that looks clearly worn out or abused should be avoided as should any watch with incorrect parts.
Variants
All variants of these monocoque Constellations have a few features in common.  They all use applied metal dial furniture, riveted into place.  They also feature applied metal Omega logos including both the symbol and word at the top of the dial and an applied metal Constellation star at the bottom of the dial.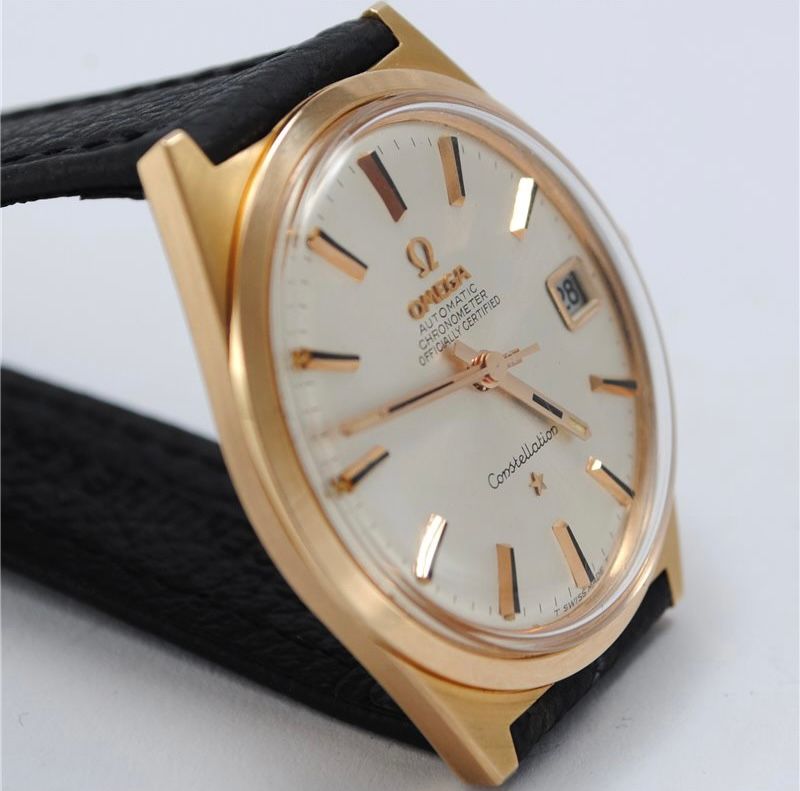 The date versions have an applied metal date window, and all versions have the ability to come in a variety of metal types including stainless steel, gold-cap, 14K gold and 18K gold, and in a variety of different gold colors including yellow, rose and white gold.  While yellow and even rose gold versions are by no means hard to find, the white gold versions are genuinely rare and remarkably difficult to come by.
168.015 Domed Dial Calendar
The reference 168.015, also sometimes written as 168.0015 is the first version we'll look at and arguably the most obtainable as a result of being relatively common and not being as sought after as the pie-pan versions.  Having said that they are still very attractive watches, available in several different styles and metals.  All variants are calendar watches powered by Calibre 564.
Luminous versions of the 168.015 have T SWISS MADE T at the bottom of the dial,  dots of tritium luminous material on the dial, and stick hands with luminous material in the tips.  
The majority of these dials will be a starburst pattern with slightly wedge-shaped hour markers at the hour markers which are sloped on the inner edge and finish flat at the outer edge.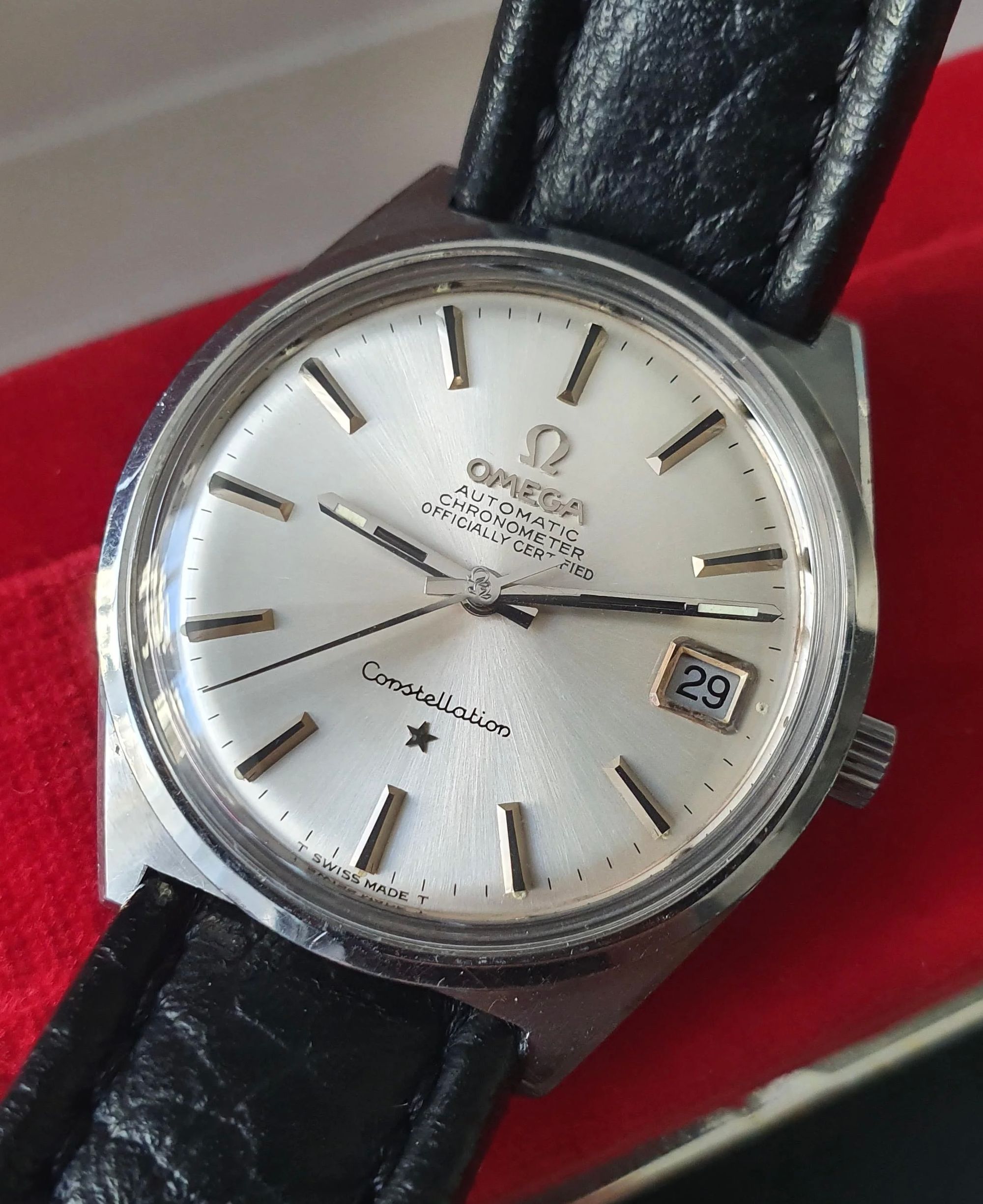 Non-Luminous dials are far more common in the 168.015 and are immediately differentiated by the use of dauphine hands rather than stick hands with black inserts.
These dials will always have either SWISS MADE, or if the dial is solid gold, OM SWISS MADE OM at the bottom of the dial and there will be no luminous dots outside the hour markers.
Once again, the most common dials are standard star-bust pattern in either silver or gold tone with the same wedge-shaped dial furniture as the non-luminous dials.  There are additionally vertical brushed and even linen dials with this same furniture but they are somewhat less common.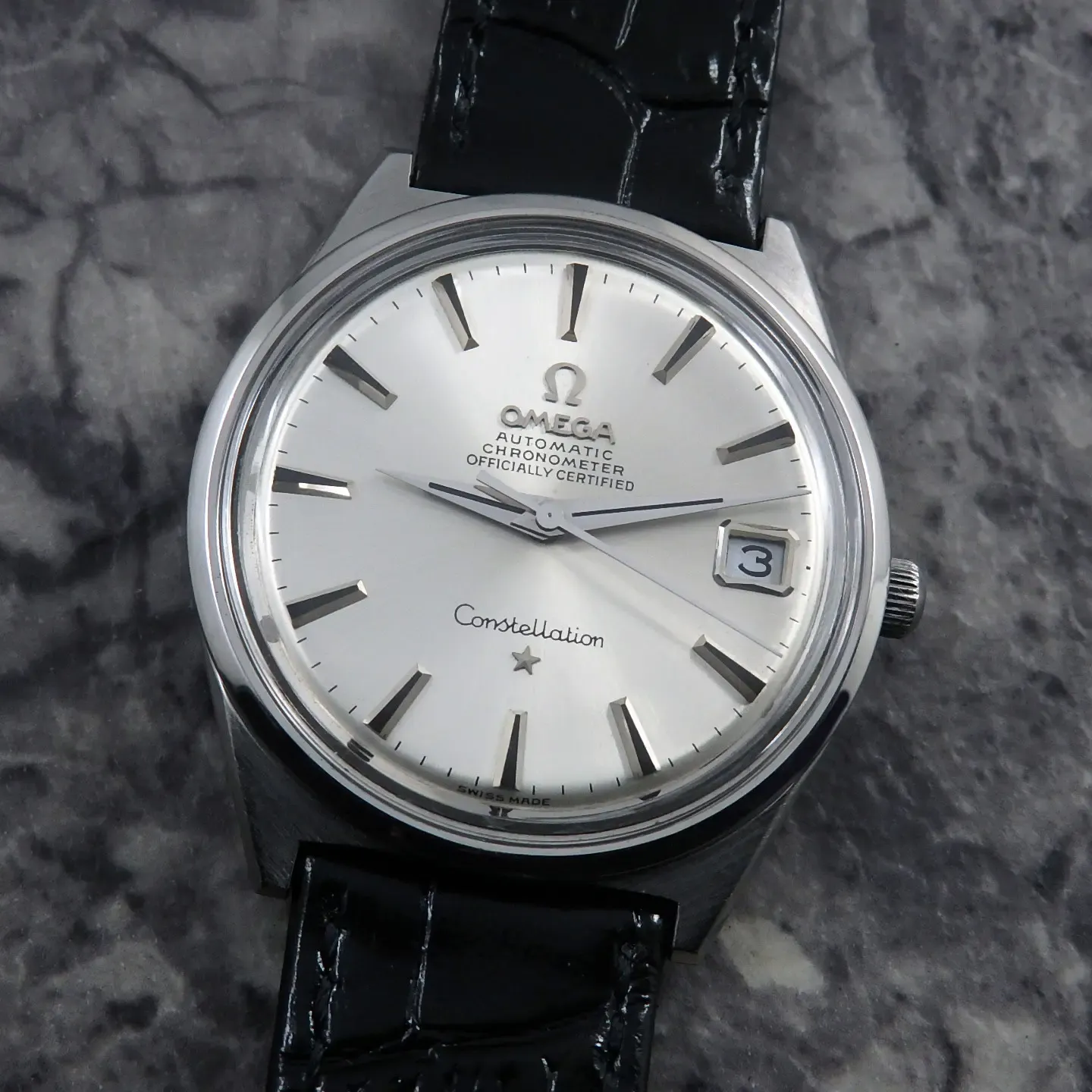 Additionally, there are solid gold dials and an alternative dial furniture with a more rectangular brick shape, painted black for most of the length, with the metal showing only at the end.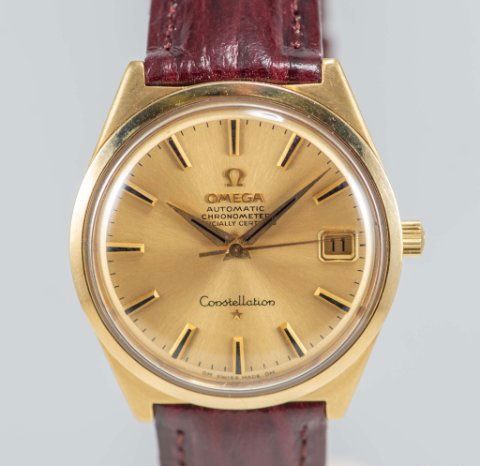 167.015 Flat Dial No-Date
The 167.015, also sometimes written as 167.0015 is effectively just the non-date version of the previous 168.015.  It is still relatively common and obtainable, although there are fewer around than the date version and the fact that it isn't a pie-pan dial keeps the prices at a reasonable level.
These watches are all powered by the Calibre 551 chronometer movement and come in steel, gold-cap and solid gold.
As with the date version, there are luminous versions with T SWISS MADE T at the bottom of the dial with tritium stick hands and luminous dots on the dial.
The majority of these dials will be a starburst pattern with slightly wedge-shaped hour markers at the hour markers which are sloped on the inner edge and finish flat at the outer edge.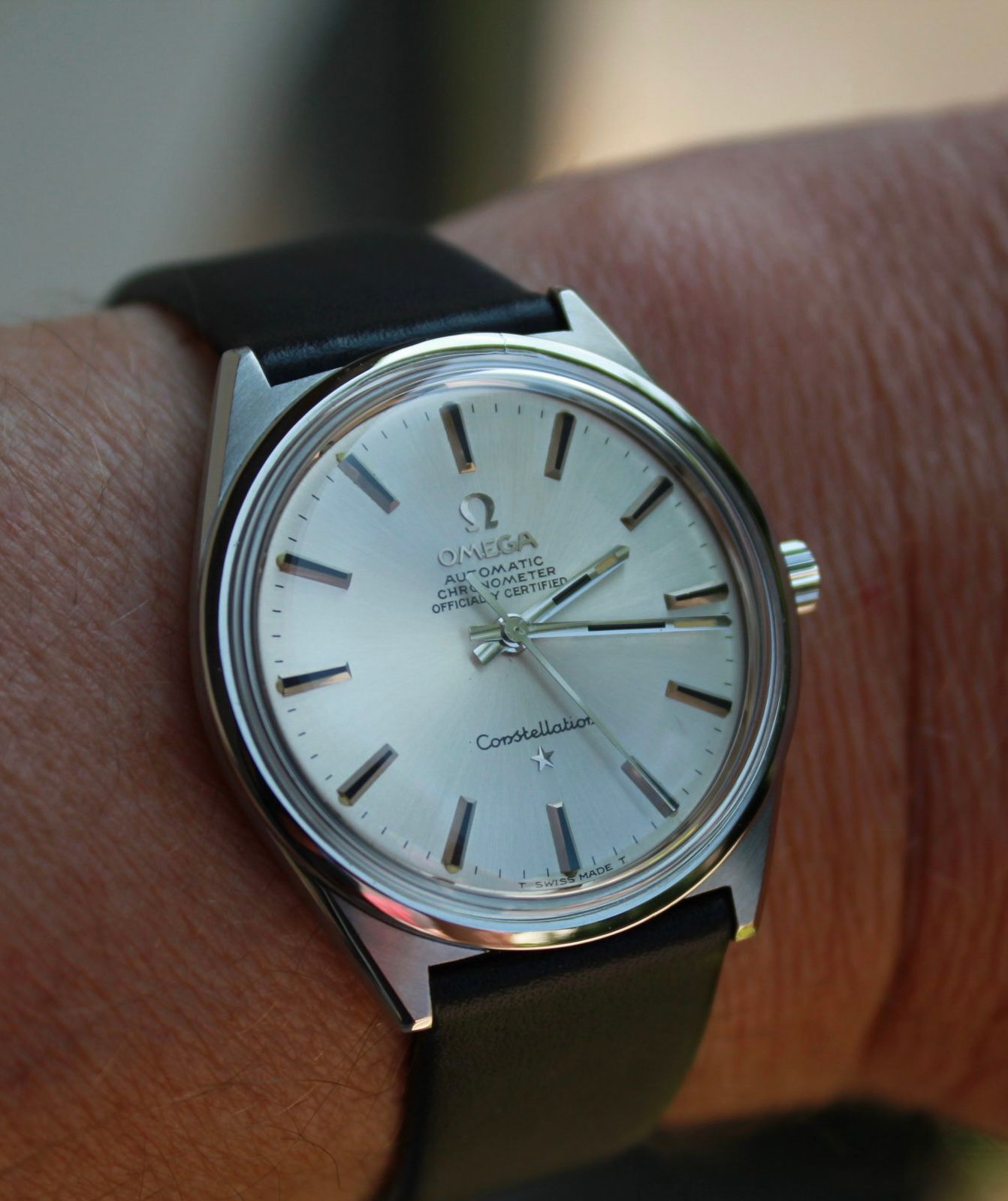 The non-luminous versions of the 167.015 offer a bit less choice than the date version with their being no equivalent of the rectangular furniture dial or linen dial, however there are still both vertical brushed and starburst dials available.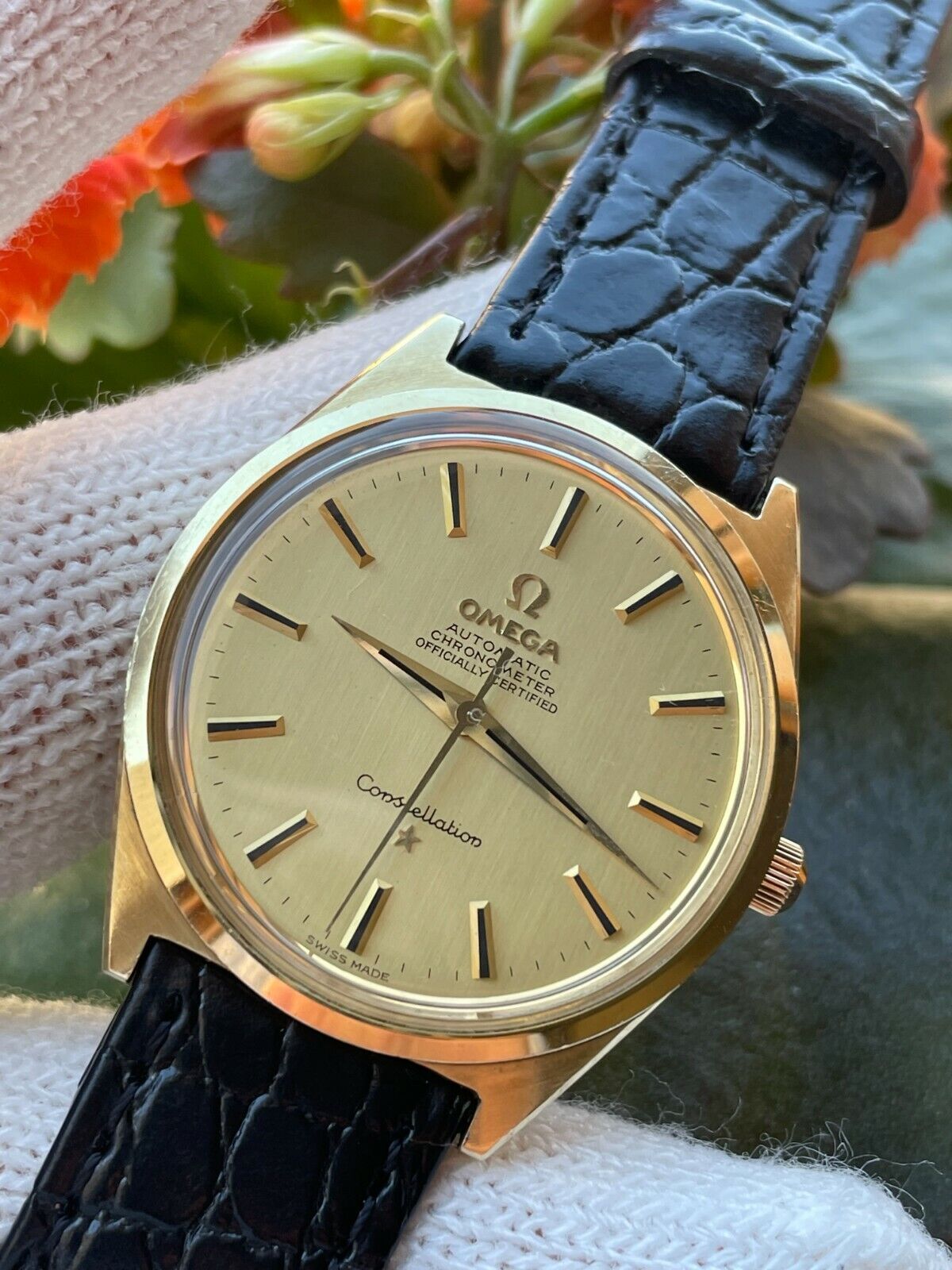 168.025 Pie-pan Calendar
The 168.025, also known as the 168.0025 is the calendar version of the monocoque Constellation that only uses pie-pan dials.  There are a decent number of these watches around, however there is also a lot of demand for them and the more exotic dials in particular can be expensive and hard to find.  Having said that, no other Constellation model has Pie-pan dials as unusual as the 168.025 and they are well worth owning.
There are two different styles of luminous pie-pan dials for the reference 168.025, the first has more traditional applied hour markers, an enlarged hour marker at 12 o'clock, and a vertical brushed texture to the center of the dial with tritium dots on the inside edge of the dial furniture.  The second version has rectangular dial furniture resembling a surface mount resistor at all hour markers, a starburst texture to the center of the dial, and luminous dots on the outside of the dial furniture, with radial second hashes painted onto the pie-pan facets.
Both dial variants are fitted with luminous dauphine hands, and feature T SWISS MADE T at the bottom of the dial.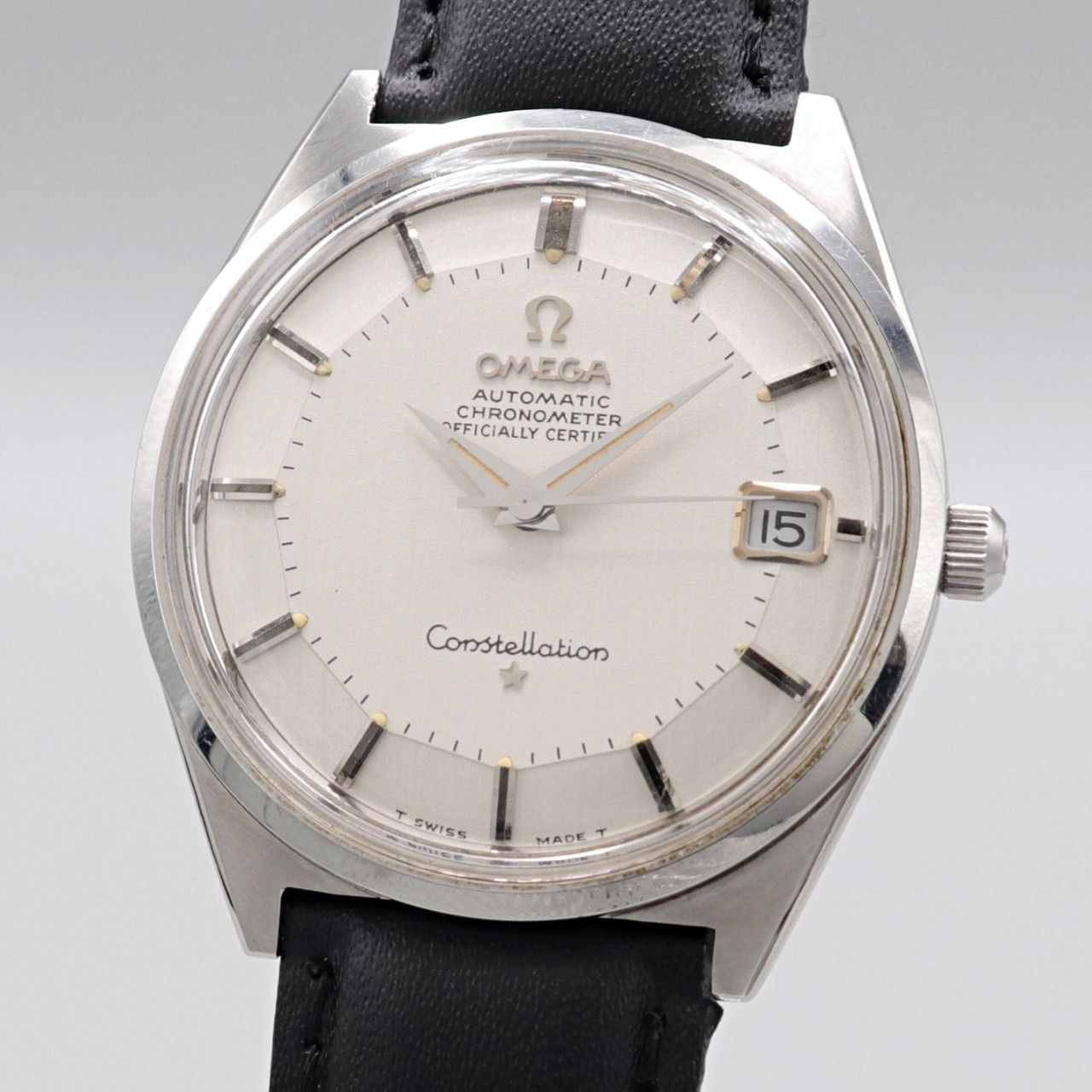 The non-luminous dials are definitely more plentiful than the luminous ones.  The traditional design with 12 hour markers, and a larger one at 12 o'clock carries over from the luminous section roughly unchanged, but an additional dial furniture option is added.  This version has equal sized, large hour markers at all 12 hours, with the same brushed center section of the dial as the traditional version.  Additionally, there are 18K solid gold dials available, with OM SWISS MADE OM at the bottom instead of the SWISS MADE of non-gold dials.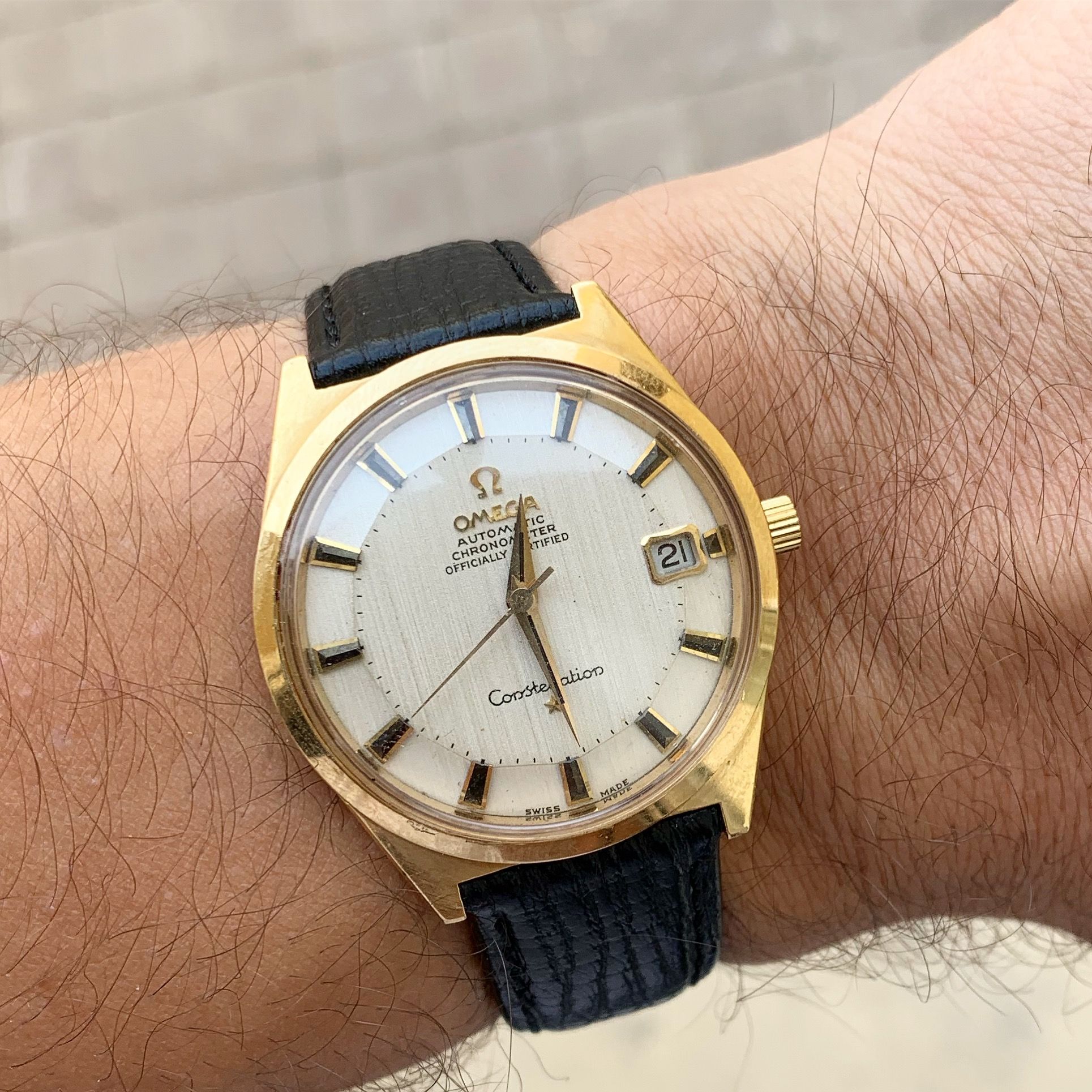 Finally, we get to the really unusual dials, which are the least common as well as the most desirable as luck would have it.  These dials are astonishingly beautiful, creative, and unique among Constellations for their colors and patterns.  
Commonly referred to as tuxedo dials, these spectacular dials come in both stainless steel and gold, and feature either a vertical brushed dark grey center with white dial text and contrasting pie-pan facets, or the inverse.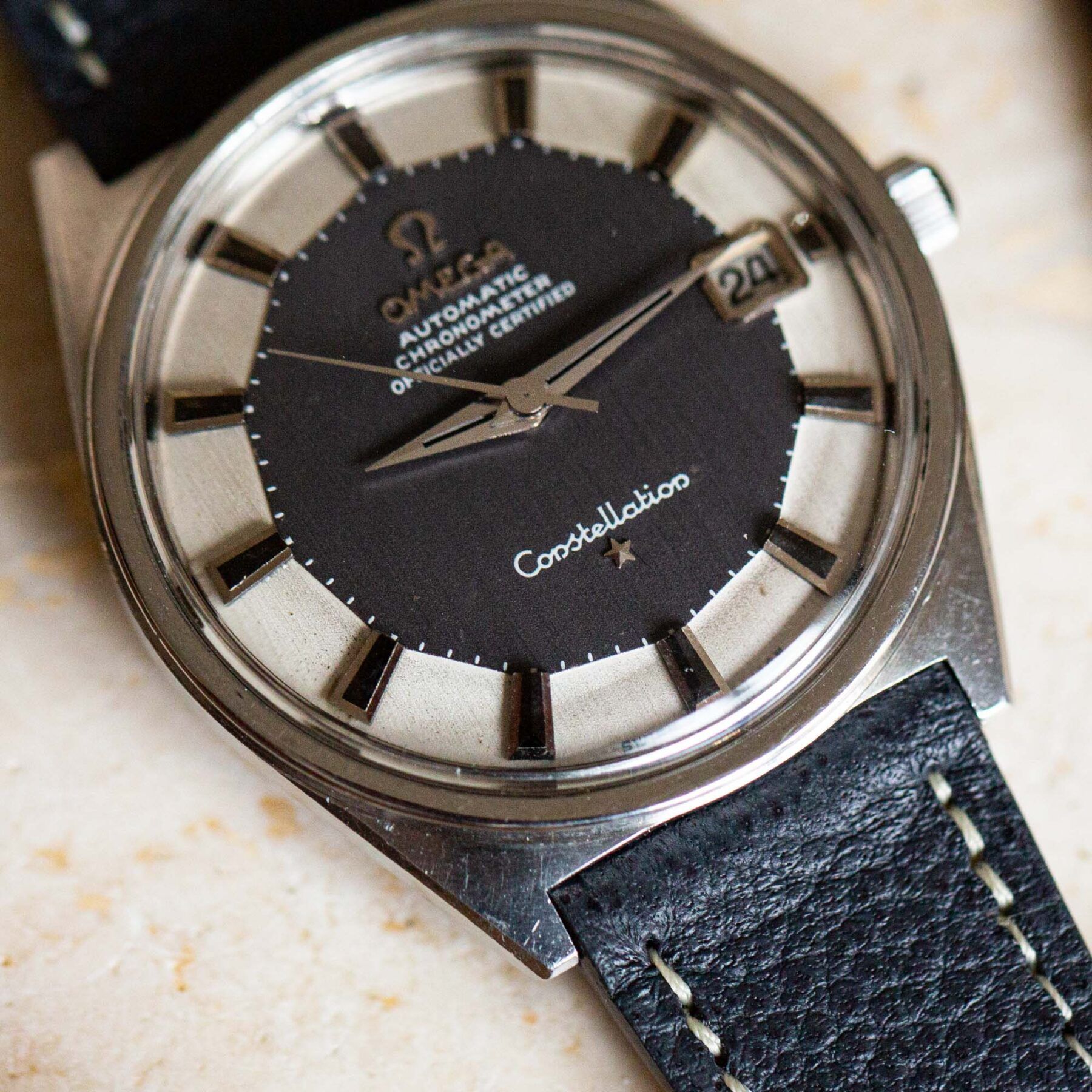 167.025 Phantom Pie-pan No-Date
This watch is the hardest to find of all, so hard in fact that nobody on Omegaforums or anywhere else on the internet even has a photo of an example.  We know from Omega records and from Desmond's writing many years ago that such a thing does exist, powered by a Calibre 551 movement and a pie-pan dial but even he commented many times that it may be one of the rarest pie-pans of all.
If anyone can find a photo, or better yet lands themself an example of one of these elusive phantom pie-pans, please reach out to ashley@omegaforums.net and let me know so that this section may be updated.  
Buying
Of the four variants there are almost always some of the first three available between eBay, forums and Chrono24.  The pick of the bunch from a value perspective is the 168.015 and to the lesser extent 167.015 as the lack of a pie-pan premium allows you to pick up a great quality watch for a fairly decent price.
In terms of condition, the dials should always be very clean as these cases have fairly good water resistance.  Anything that has been refinished or stained should be avoided.  The most significant condition issue with these watches, especially on gold or gold-capped models is the sharpness of the case edges, and a sharp case is definitely worth a significant premium while a soft or polished case should be avoided.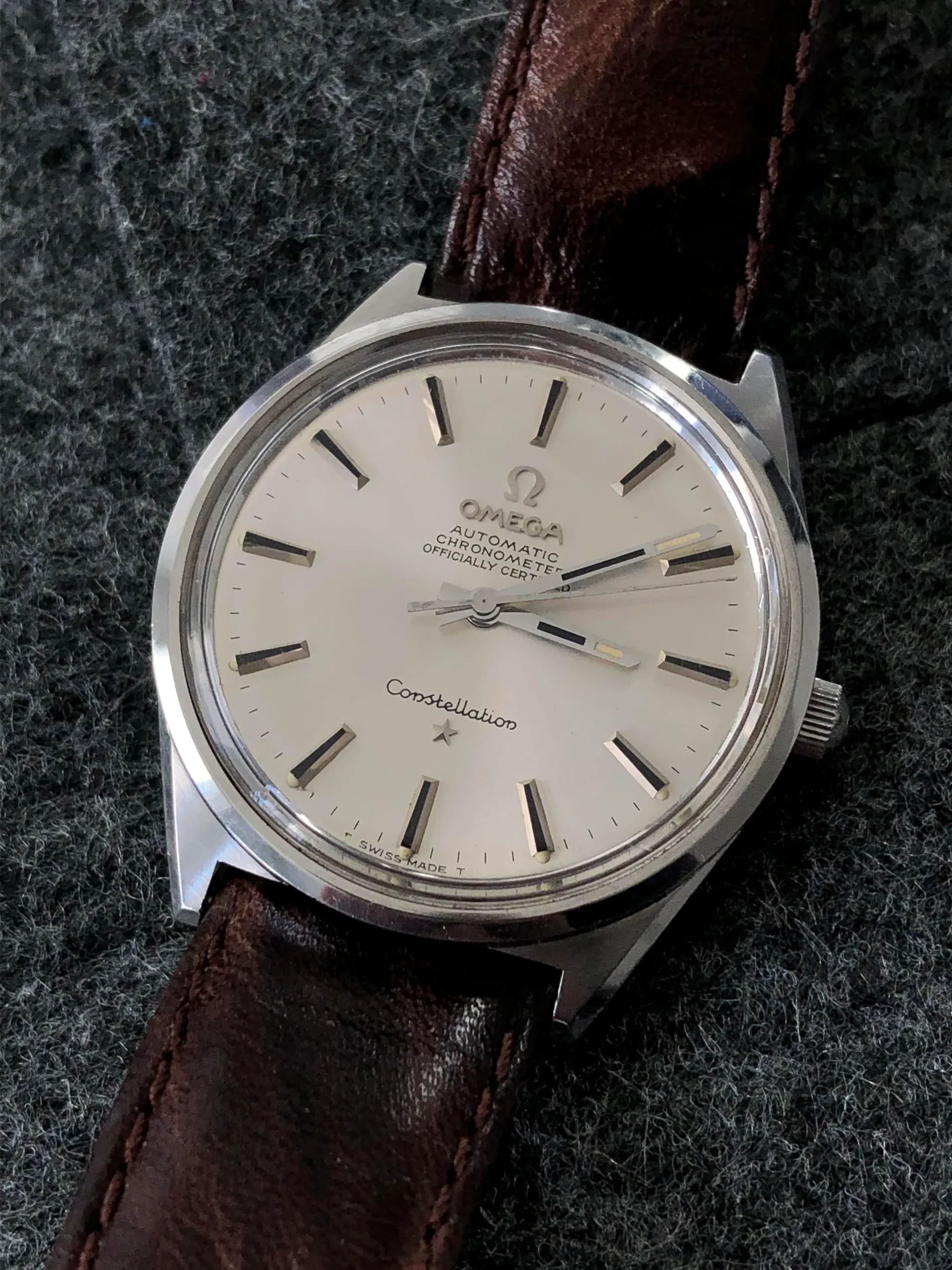 The bracelet is a personal preference matter, it really doesn't feel necessary on this watch and while it is nice to have, a leather strap is just as good.  The bracelet is only worth about $150-200 and is used on many other models.
These non-piepan references typically go under or around $1,000 in nice condition on eBay and even on Chrono24 they can often be found under the $1,000 mark.
While these watches were definitely sold internationally, there is a substantial supply of them in Japan and some of the best deals across all platforms can be found from Japanese dealers.  If you're chasing some really good deals on these watches, having a friend in Japan to help you shop on Yahoo Auctions and among Japanese dealers could be a huge advantage as prices can be several hundred lower there.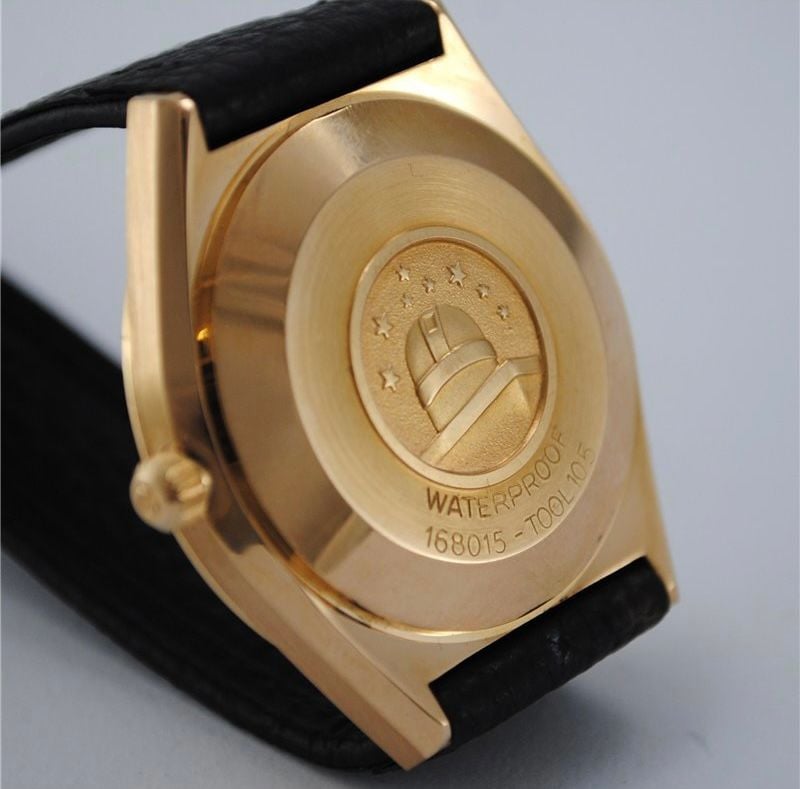 The Pie-pan references, 168.025 and 167.025 (if you can find one of them) are going to carry a significantly higher price tag.  This will mean a starting point around $2,000 going upwards from there for a nicer example.  The tuxedo pie-pans are a bit unusual in that while they are very desirable and quite uncommon, they don't carry a significant premium over other pie-pans.  This is probably due to people not being aware of them for the most part and others suspecting them of being re-dials due to the unusual design, but they are in fact very much the real deal.
The 14K & 18K gold versions of these watches will carry a significant premium, even above the pie-pans irrespective of the dial version but that will only increase further with a pie-pan dial in a solid gold case.  It's worth keeping in mind that all of the most desirable dials, including the tuxedo variants are available on the much cheaper gold-capped cases so if you can find a nice example of these, they look terrific on the wrist at a reasonable price.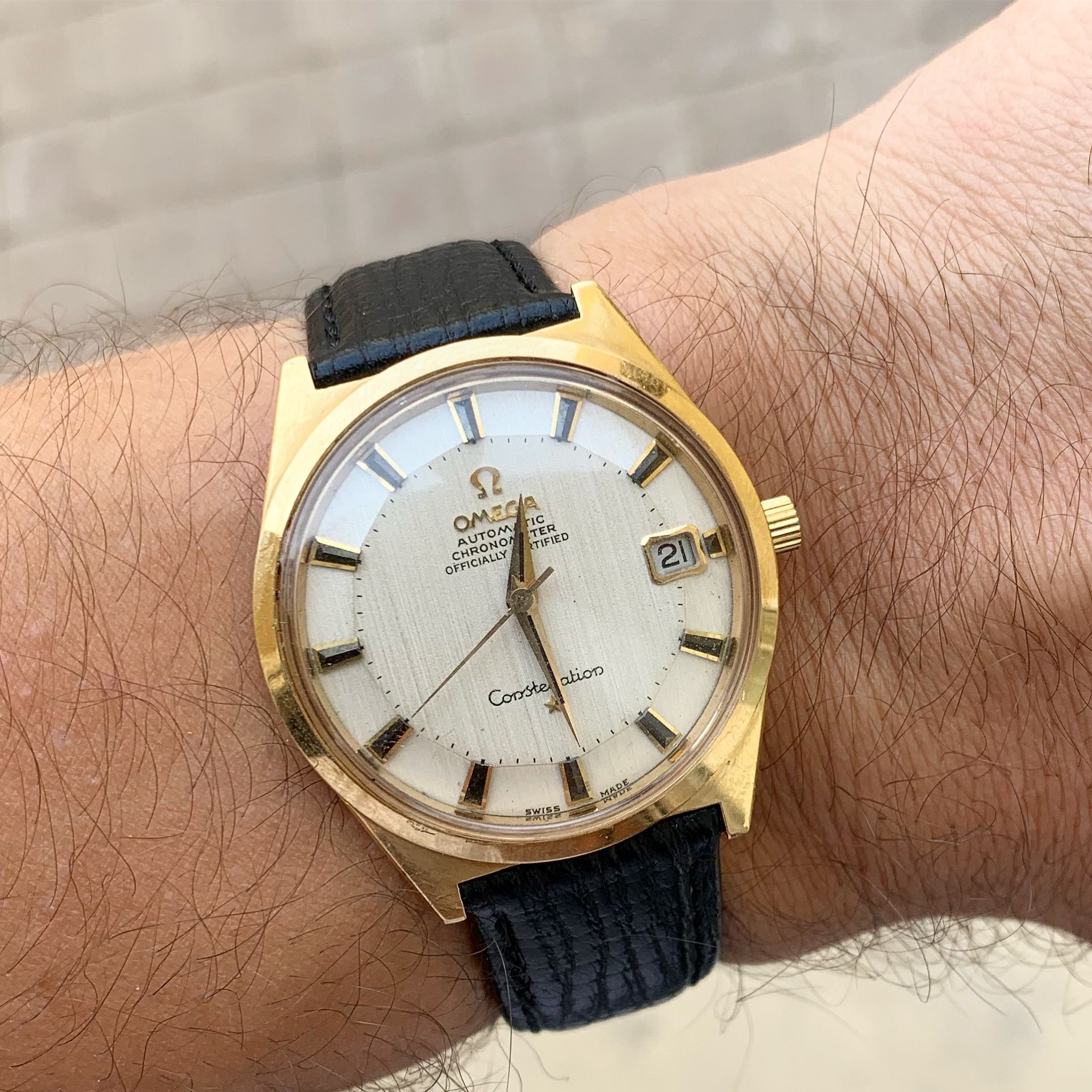 Noted vintage Constellation collector Desmond Guilfoyle said many years ago that he believed these were among the best value Constellation models to pursue, both in pie-pan dial and regular form.  14 years later, prices are still relatively low on these under-appreciated monocoque references.  For how stunning they look on the wrist, they remain an excellent entry-point into vintage Omega.
Discussion thread on Omegaforums can be found here: