The 151.0051 Omega De Ville is one of the unknown ultra-thin references powered by Calibre 711 from the 1970s. Featuring a large 36 x 36.5 mm case & styling that has aged beautifully it makes for a superb dress watch at around $500.
Quirky 70's Design In An Ultra-thin Package
The 151.0051 is a 1970's era De Ville that falls firmly within the "experimental" category in terms of design and construction.  It is a watch with many diverse influences, from the Gerald Genta penned Constellation C-Case, to the Geneve Dynamic square cases, to jumbo Seamasters like the Ref 168.034.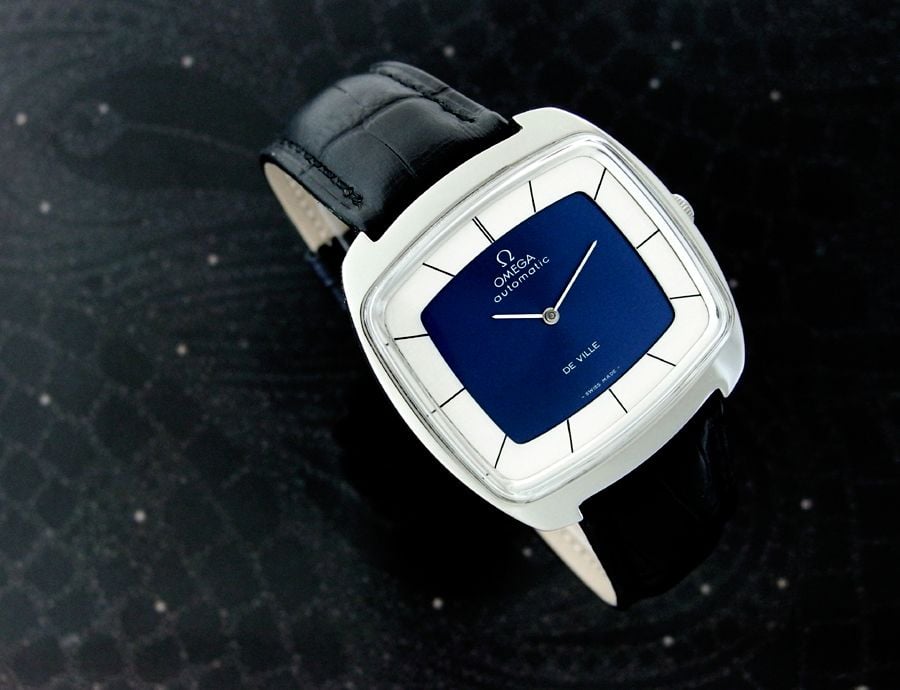 The result is a watch that is actually quite elegant and attractive, with restrained yet distinctive features and quite excellent legibility for an ultra-thin dress watch.  One pitfall that many watches from the 70's suffer from is that they can look very much stuck in that era and resemble a piece of retro-futurism as a result of the designer missing the mark in predicting what future watches would look like.
The 151.0051 manages to avoid this and look quite modern, helped by the fact that tonneau and even C-case watches have made a bit of a return in recent years, becoming quite a popular design.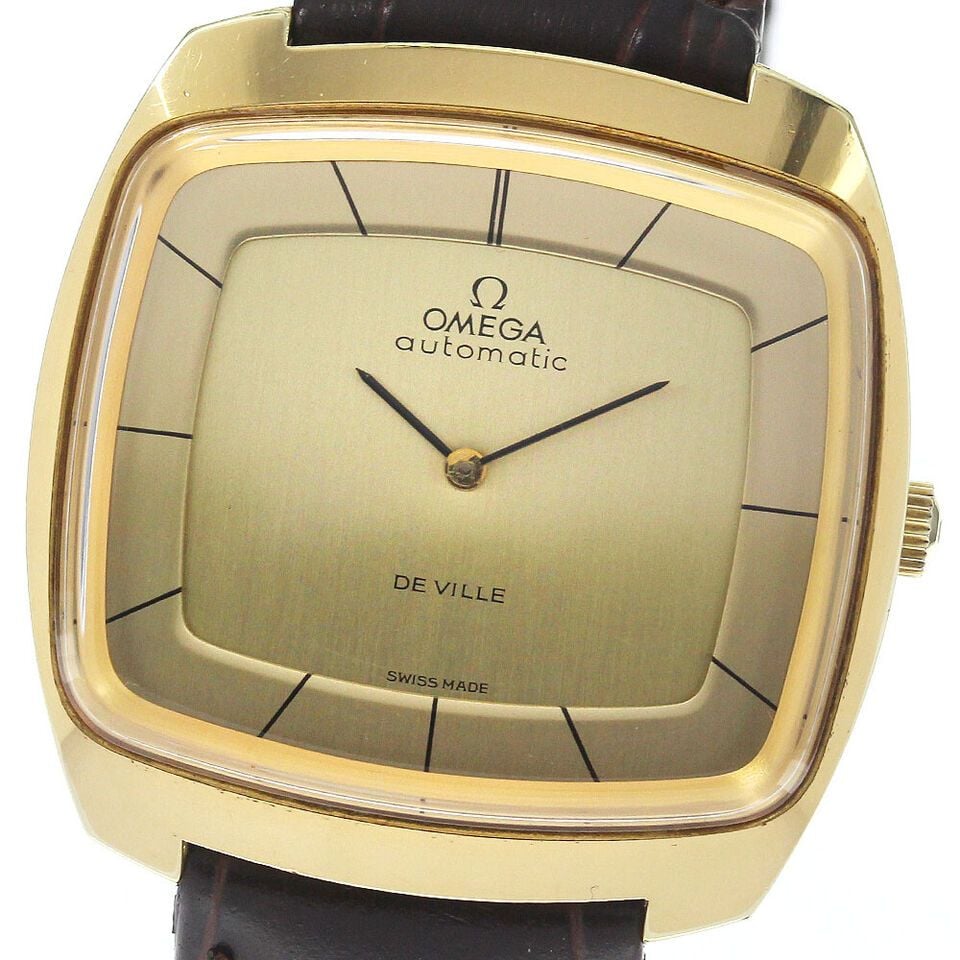 The dial patterns and colors similarly avoid the "old man" trope, especially the blue dial which is very attractive and sporty, with the inner bezel creating a very attractive two-tone pattern across the range.  
They're a watch that you could absolutely daily wear with a suit, and the terrific Calibre 711 ultra-thin movement and the very slim case this permits make these De Ville's that much more practical when slipping under a dress shirt cuff.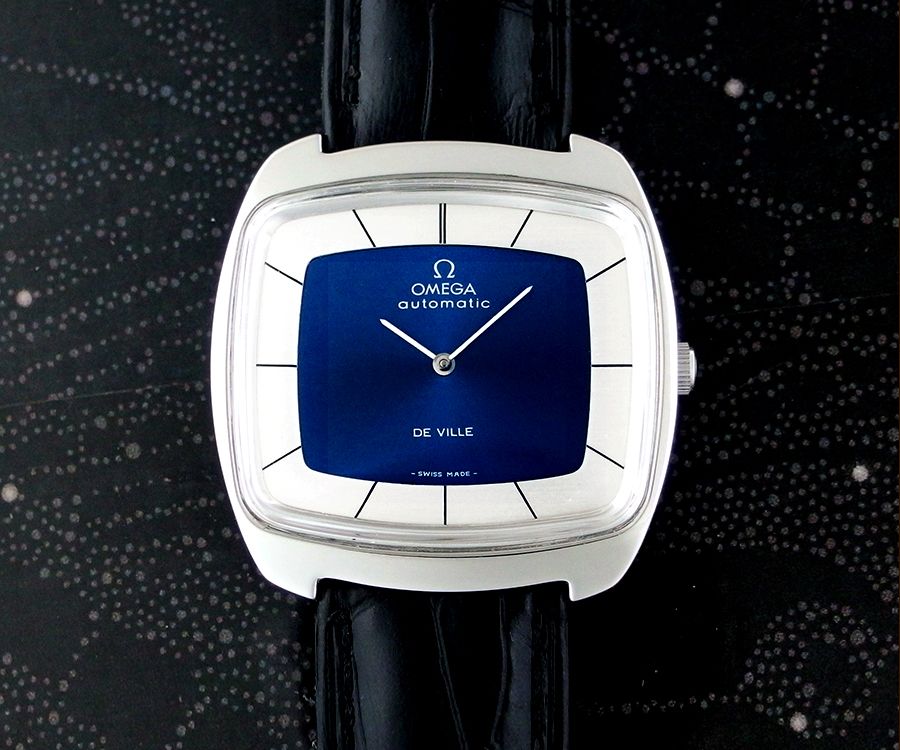 When admiring these, and others in the Cal 71x ultra-thin family, it becomes clear just how much creativity can be unleashed when a manufacturer has a high quality and tightly packaged movement like this.  I wonder if Omega produced a modern version based on the co-axial calibre 8800 just what kind of amazing pieces we might get to see.
Case & Bracelets
The case design of the De Ville 151.0051 does fit into the tv-dial style, with a hint of C-case, yet it feels a lot more modern than most tv-dial Omega models of the era.  There's a bit of Glashutte Original Seventies series or Cartier Santos in the design, and the lack of an integrated bracelet or squared off case prevents it from looking dated like many of its contemporaries.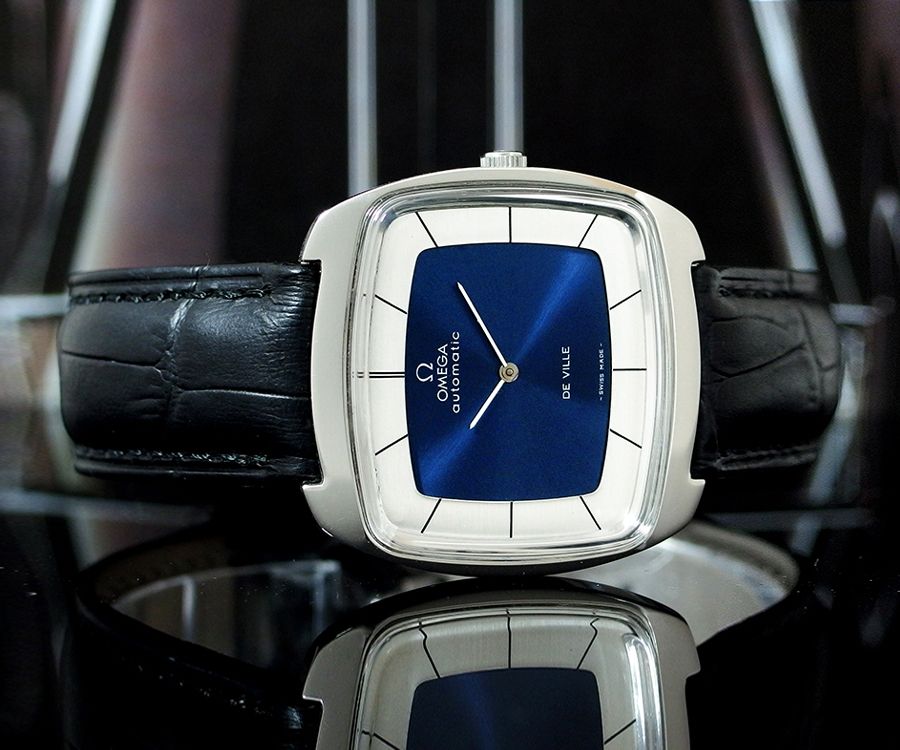 The case of this De Ville is very substantial at 36 mm wide, and 36.5 mm from lug to lug, giving it a great deal of wrist presence and room for the full rotor automatic within.  That full rotor automatic being an ultra-thin calibre allows for an impressively thin case design of only 8.9 mm, including both the relatively thick plexiglass crystal and case-back.
One shortcoming of this design is the water resistance, which is effectively nil as the case-back is marked as "Dust-Proof" indicating there is no actual water resistance.  This is somewhat to be expected given an ultra-thin De Ville is well and truly intended to be a dress piece, but needs to be factored into modern use requirements.  The case-back itself is a screw-in variety with the traditional keying, featuring a De Ville "long stem" logo in the center.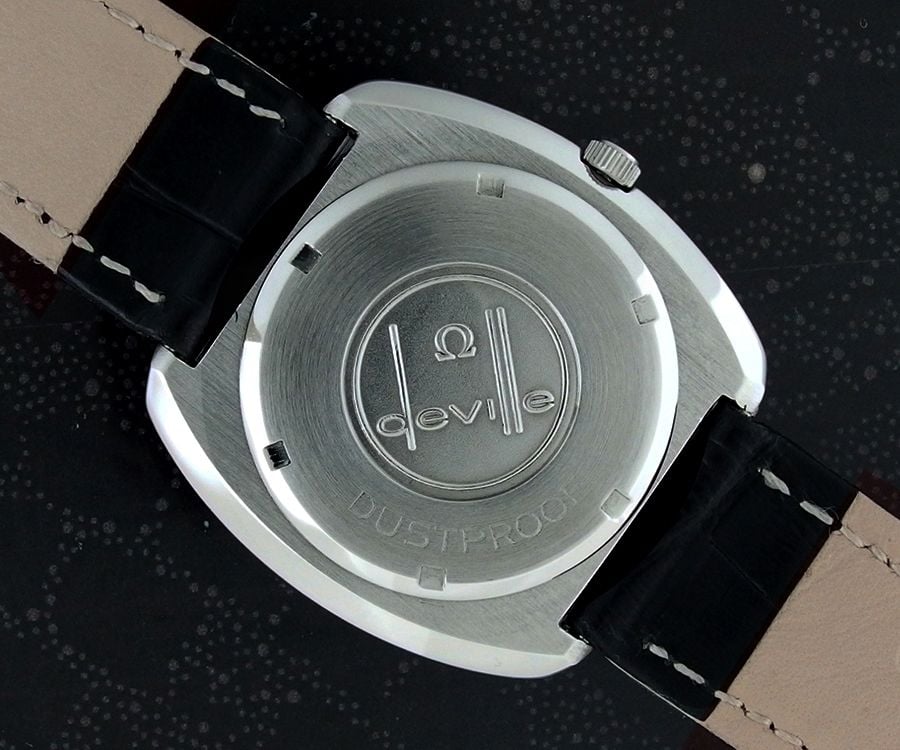 It is worth noting that there is a second reference listed inside these case-backs, 155.003, however in every case-back where this number appears, there is a second stamping of a line struck through the 155.003, and the stamping of 151.0051 below.  The reason for this would be that Omega re-designated these watches before production was completed from a 155 reference, indicating men's, self-winding and water resistant, to 151, which is the same, but not water resistant.  Evidently Omega must have initially expected that these watches would meet 30 meters or so water resistance given the screw-in case-back, and they must not have met that.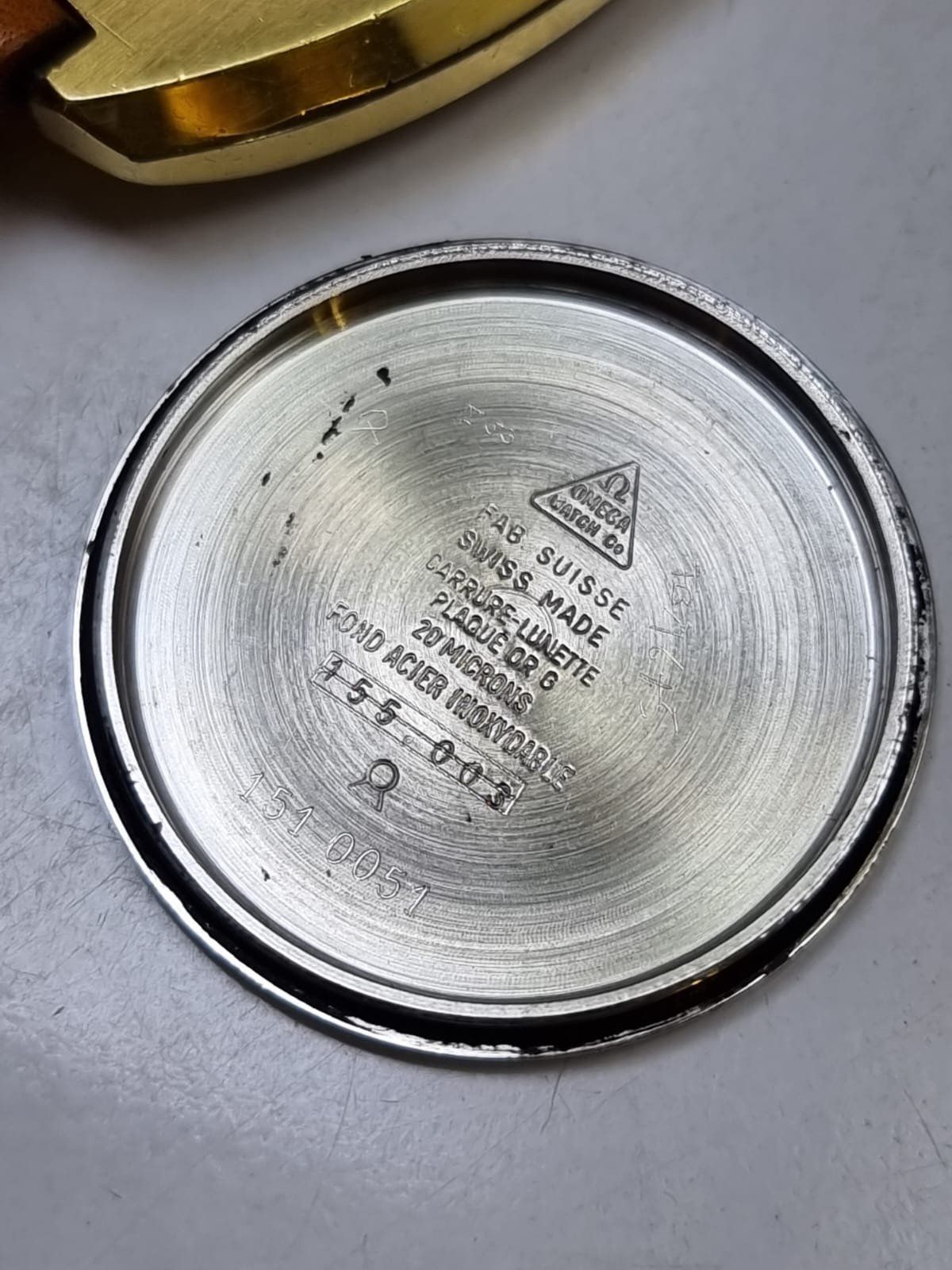 The crown is a simple knurled design, semi-hidden from the front face of the watch, but exposed from behind to allow for easy setting and winding.  
The lug-width on this case is 19 mm, slightly above the usual 18 mm of vintage Omega dress pieces.  There is no standard bracelet intended to fit the lugs, and the vast majority of these watches are found on either a strap or an aftermarket bracelet of some sort with straight ends.
Movement
The ultra-thin Calibre 711 powering the De Ville 155.0051 is the non-Chronometer version of the Calibre 712, and is a very special movement for Omega.
The headline figure is the thickness which is only 3 mm.  This compares to 3.6 mm in the much newer Calibre 1120 chronometer which is considered to be a very thin movement, and the 4.5 mm thick Calibre 551 which was Omega's flagship chronometer at the time.  Even the famous Jaeger LeCoultre Calibre 920 is only slightly thinner at 2.45 mm.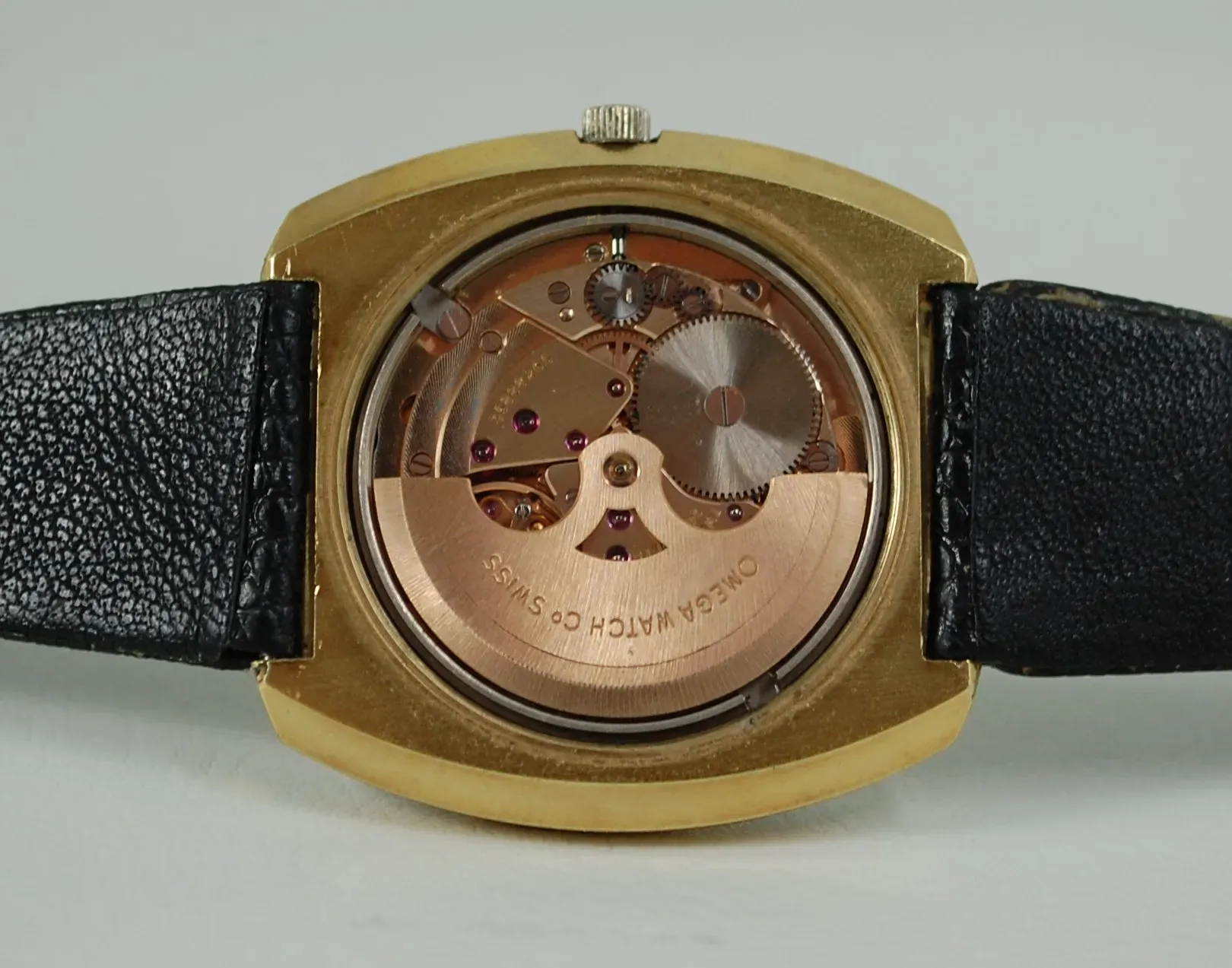 The Calibre 711 oscillates at 19,800 vph, has no date, no hacking, the option of a sweep seconds hand, and a bi-directional automatic winding system with a power reserve of 42 hours.
While the watch is quite basic in its specifications on the surface, the accuracy, slim packaging, and robustness of this design led to it being used in various forms over almost three decades.  From the original release in 1966 Omega kept using this movement in new and different watches, eventually resurrecting it to form the basis of piggy-back perpetual calendar and dual time models of the Louis Brandt line in the mid-1980's.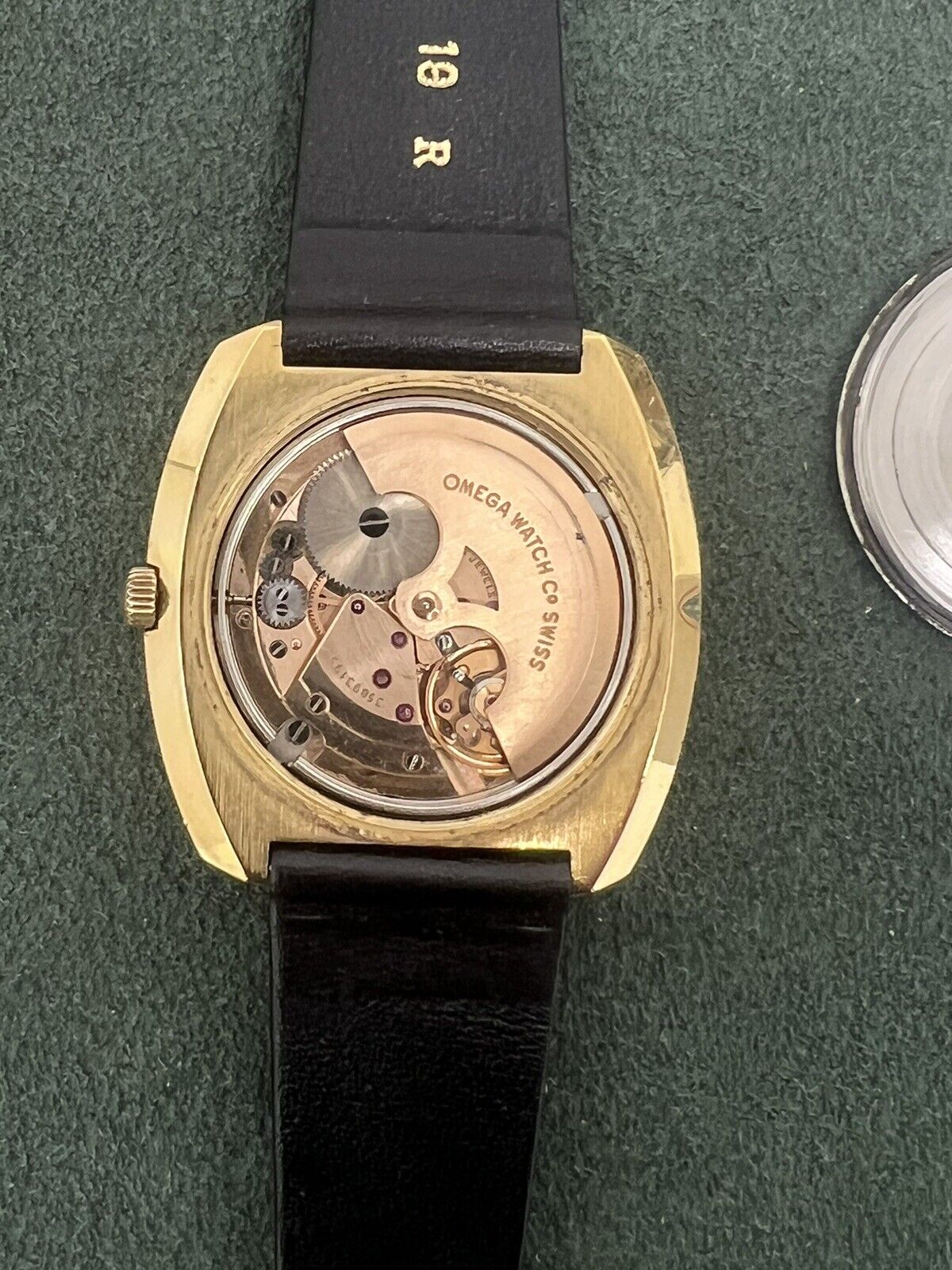 On the surface, the Cal 711 looks very similar to other Omega movements of the era due to the same color of plating and the shape of the rotor.  Despite this, there is no relationship between this movement and the Calibre 5xx family of regular Omega time-only calibres.  Instead, these movements were designed and produced by SSIH group stablemates Edward Piguet/Rayville SA-Montres Blancpain for exclusive use by Omega.  This is a similar arrangement to the Calibre 321 Speedmaster movement and its successors which were designed and produced by Lemania for Omega, and while not in-house specifically these movements are no less important or special.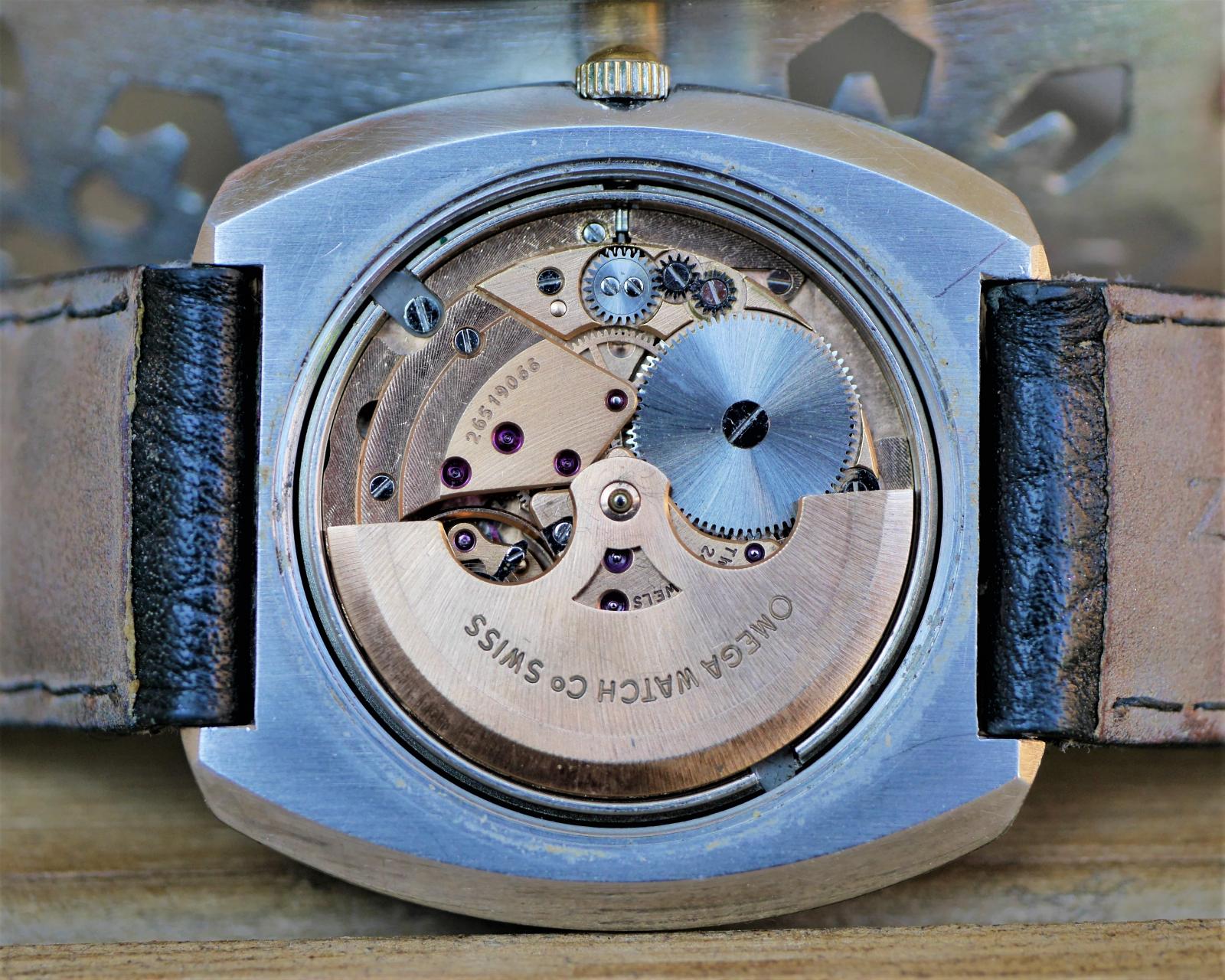 These watches should be serviced before wearing in order to prevent any metal-on-metal wear on potentially expensive vintage parts.  Servicing can be handled by any Omega certified watchmaker with a parts account.  After servicing these watches should be able to reach chronometer specifications again and provide many years of accurate and dependable service.
Dial & Variants
The 151.0051 has a very unique dial arrangement, especially for an ultra-thin.  The dial itself is only the center portion, featuring a single color with contrasting dial text for the Omega logo, and the words automatic and De Ville.  There is no applied dial furniture and no hour markers.
The flat dial is a requirement of the ultra-thin calibre, which has very limited clearance between the hour hand and dial surface, so the lack of dial furniture is not uncommon, but how this watch compensates for that is rather unusual.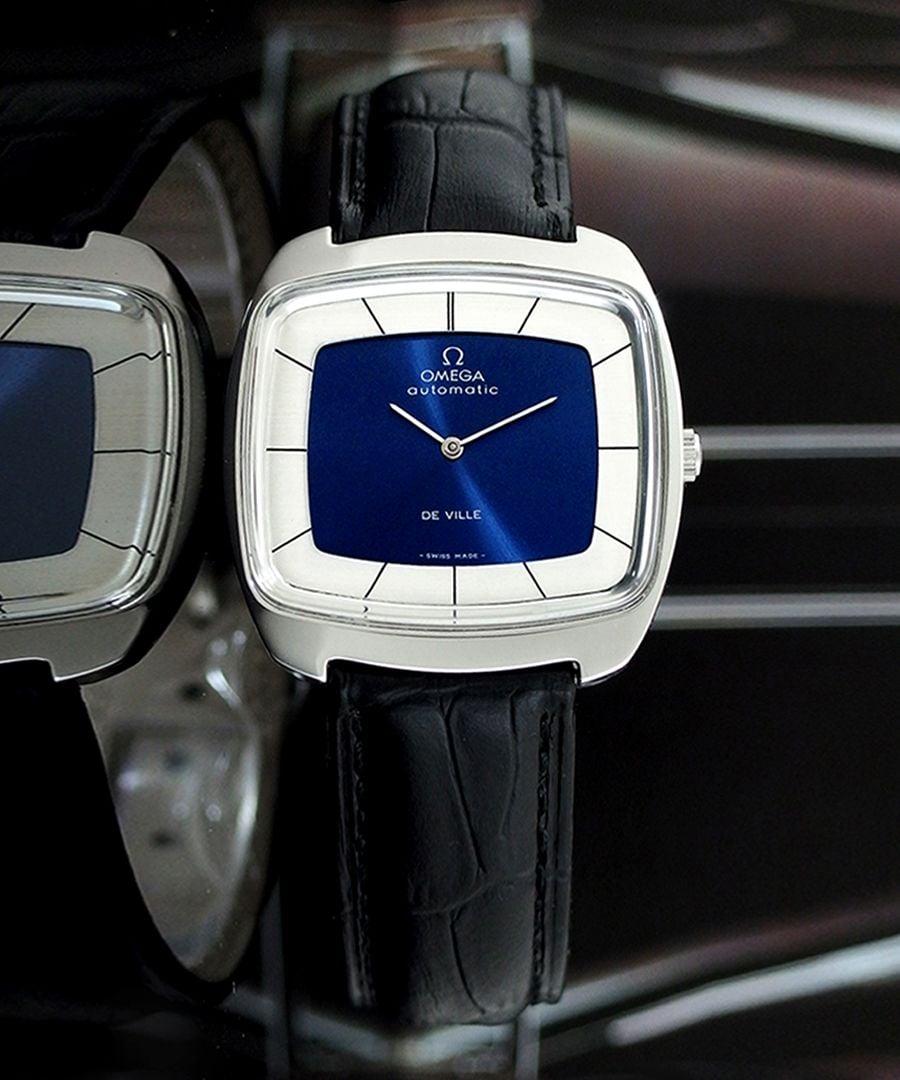 Situated outside of the dial and overlapping it slightly, is an outer bezel which sits under the plexiglass crystal and is silver-white on steel models and a light champagne color on gold-plated models.  This bezel is where the painted hour markers are, marked by a single marked line, doubled at 12 o'clock.
The hands used are simple stick hands, painted in the same color as the dial text.  None of the 151.0051 De Villes are luminous.
Stainless Steel
The stainless steel dials are available in anthracite grey, silver, and blue, all with a metallic finish that varies with the light.  The grey and blue feature white text and hands, while the silver features black text and hands.
It should be noted that as these watches are only dust-proof, water intrusion is not uncommon and refinished dials in fanciful colors are quite a common occurrence.  While there may be more than the three demonstrated here that were made, these are the three that I feel confident about.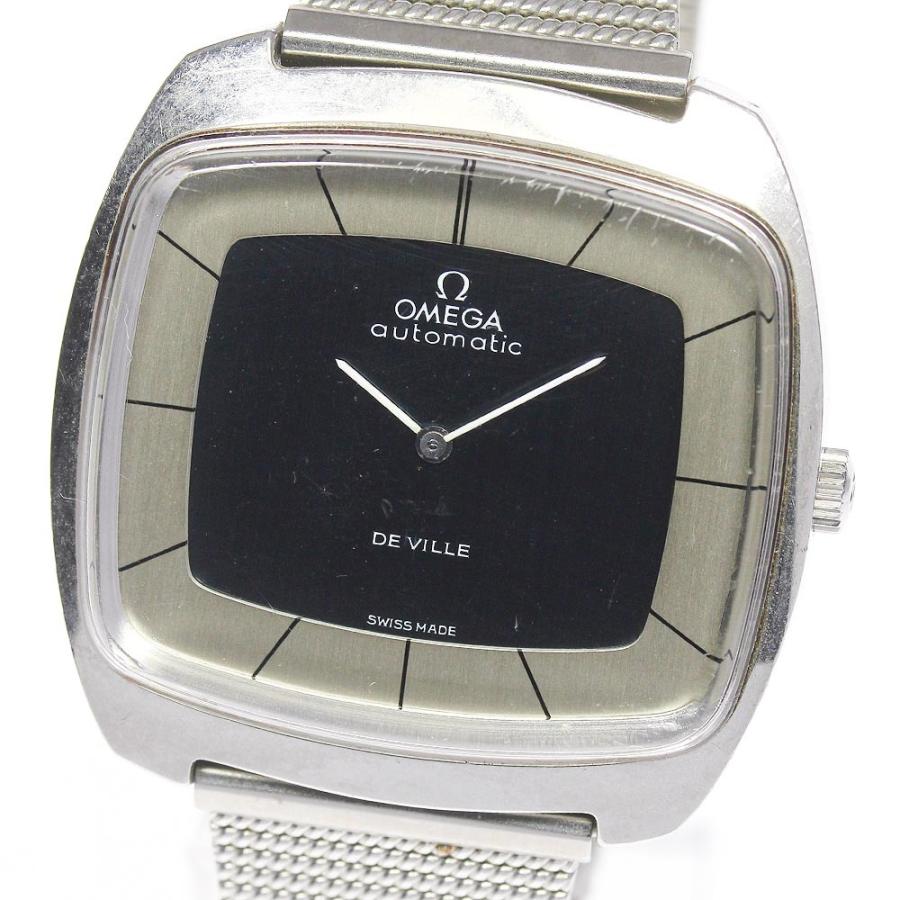 Gold Plated
The gold-plated version of the 151.0051 is available only with a champagne colored vertically brushed dial featuring black dial text and black painted hands.
Because there is only one version, it is easier to find good examples of these than one would expect, and the case is not excessively prone to wear-through.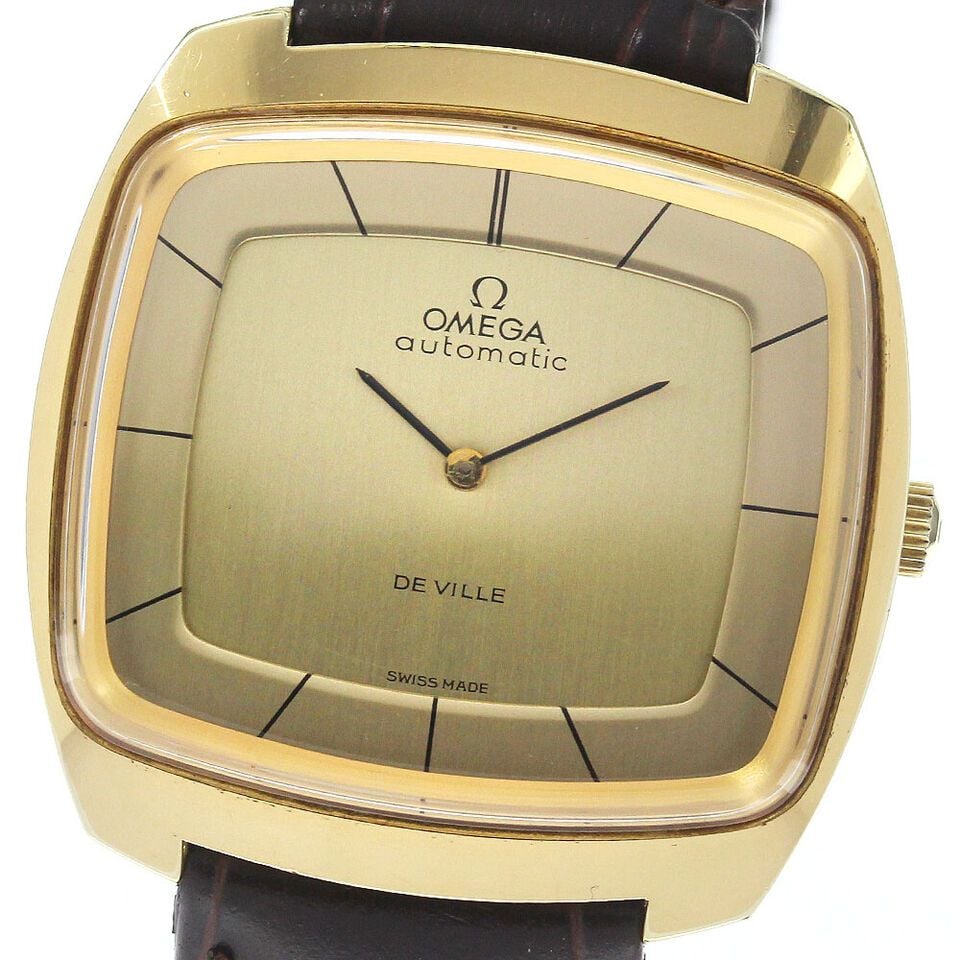 Buying
There isn't that much variety in the 151.0051 line, but there are no real bad options either, even the gold-plated examples tend to hold up fairly well and look attractive on the wrist.
These watches are not exclusive to Japan, but the majority of the examples in circulation do tend to be in or from Japan.  This has resulted in the reference being extremely poorly known in the English speaking world, so much so that as of mid-2023 there is only one single thread about this reference on Omegaforums.
Due to this, prices on eBay and forums in particular tend to be very low, even for nice quality examples.  To illustrate how low, this example below of a steel silver dial in nice condition sold for $475 in May 2023, quite a steal for an uncommon ultra-thin steel Omega dress watch.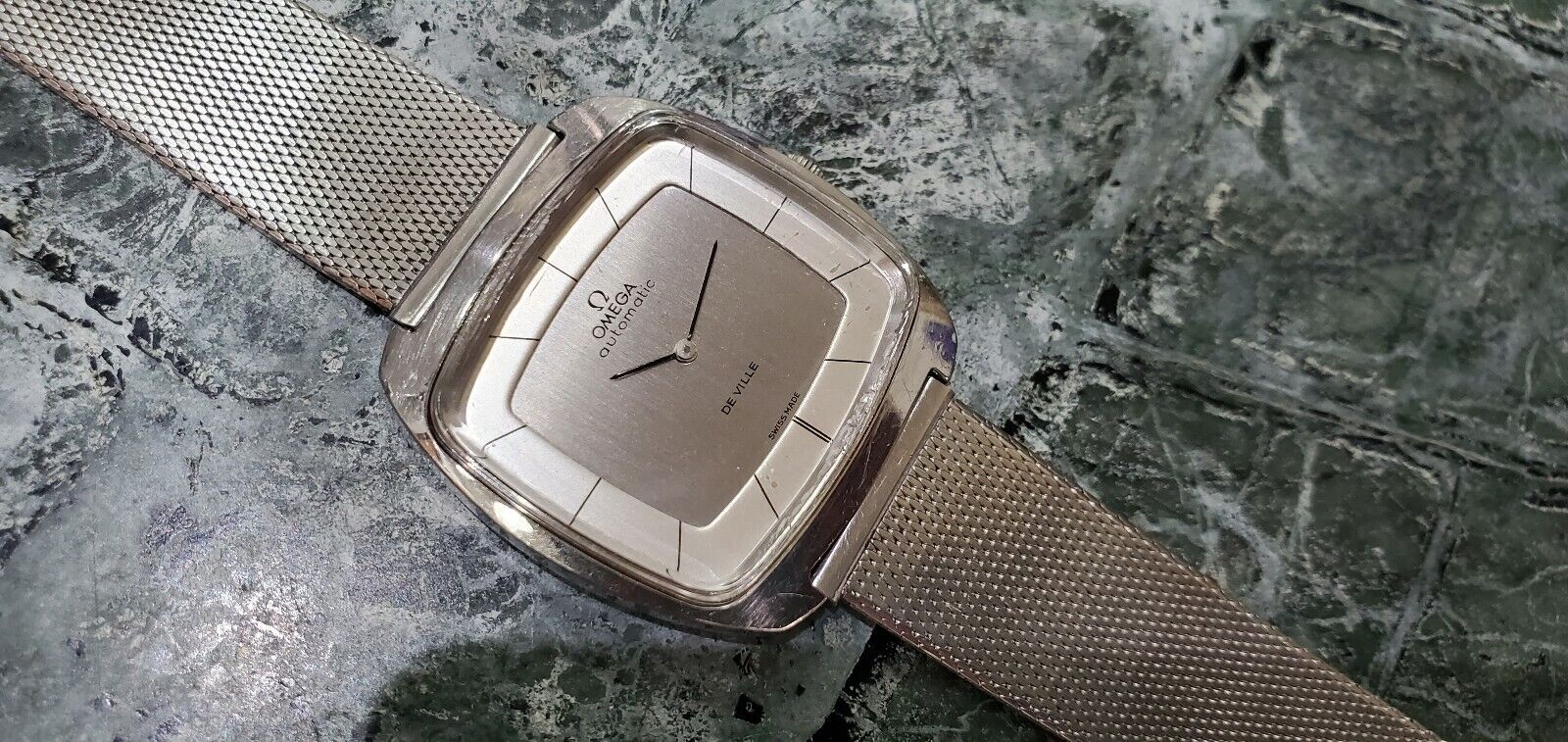 These deals come along quite frequently when these De Villes are listed no reserve on eBay, but similar deals can also be had in Japan, though buying from there does require some effort.  Marketplaces like Yahoo! Markets and independent dealers in Japan will sell you watches, but you may need to use a freight forwarding service and google translate unless you have a friend in Japan to assist you in the process.
Prices from western dealers and on Chrono24 can tend to be a lot higher than eBay or forum prices so it is worth being patient and waiting for the right example to come along at the right price.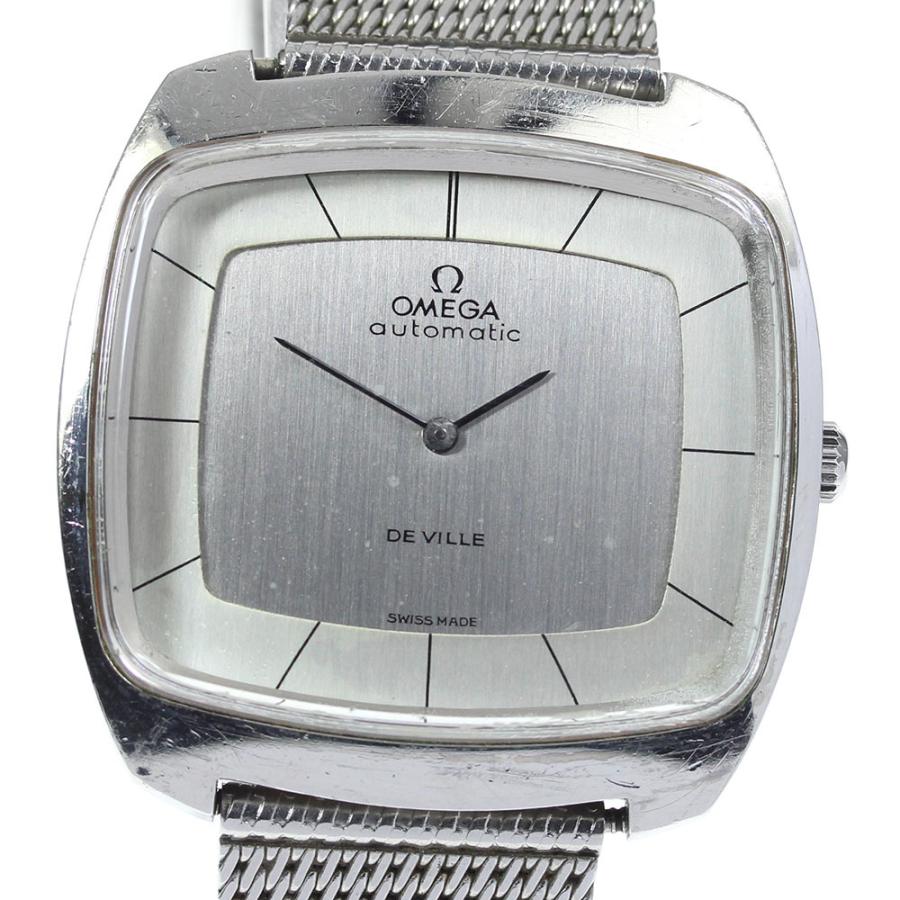 Condition wise, the biggest issue with these watches is always going to be the water resistance.  Dials and bezels should be inspected carefully for signs of moisture intrusion, staining or corrosion, as should movements.  The second priority is the case, which should have no wear-through if gold-plated and should not be excessively polished if stainless steel.  The Calibre 711 movements are going to need servicing, ideally before the watch is worn to ensure no potentially costly parts are damaged from metal-on-metal wear.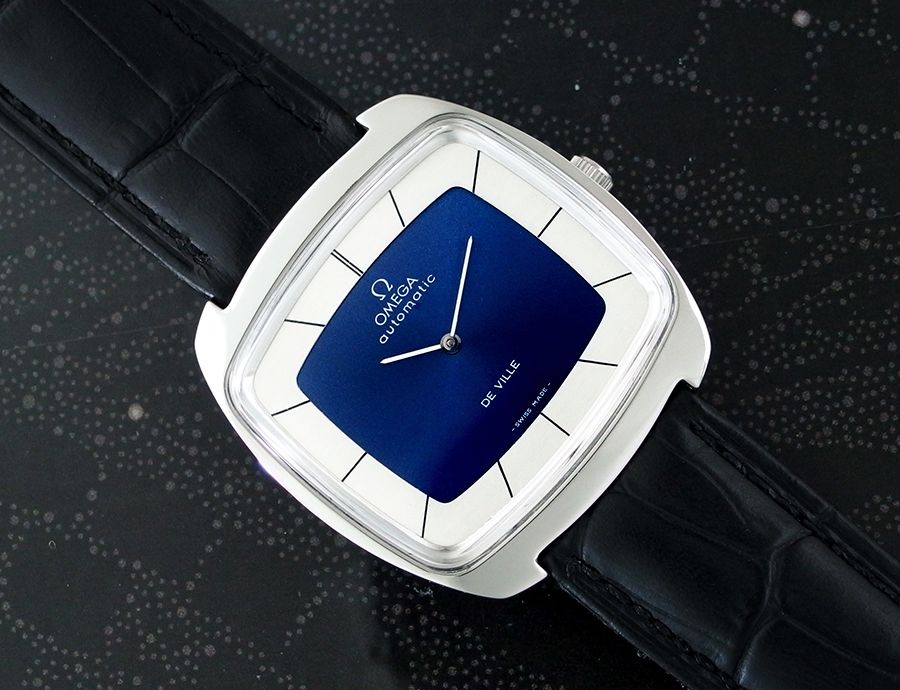 The De Ville 151.0051 will never be one of the most popular vintage Omegas, but at their price point, a 36 mm wide ultra-thin dress watch with modern styling and attractive dials makes for a very compelling package.  It is a design that has not dated, and likely never will, looking as appropriate under a dress shirt cuff today as it did in the 1970's.
Discussion thread on Omegaforums can be found here: