A Journey Through Time, often referred to as AJTT, is a massive book released in 2007 by the then-curator of the Omega Museum, Marco Richon.  The book is nothing short of enormous, at 831 pages and being so heavy that it is downright cumbersome, it probably would have been better to split it into multiple volumes.
Omega has produced an extremely broad range of models over its long history, likely broader and with more models and model lines than any other Swiss watch brand.  In an effort to cover as many of these branches as possible, A Journey Through Time pays lip service to almost everything, from pocket watches, to Speedmasters to Constellations to Tourbillons, but no subject is fleshed out or explored in any depth.  Detail on any topic really is noticeably lacking, as is detail in the images which are often quite small and a product of outdated camera equipment and printing methods.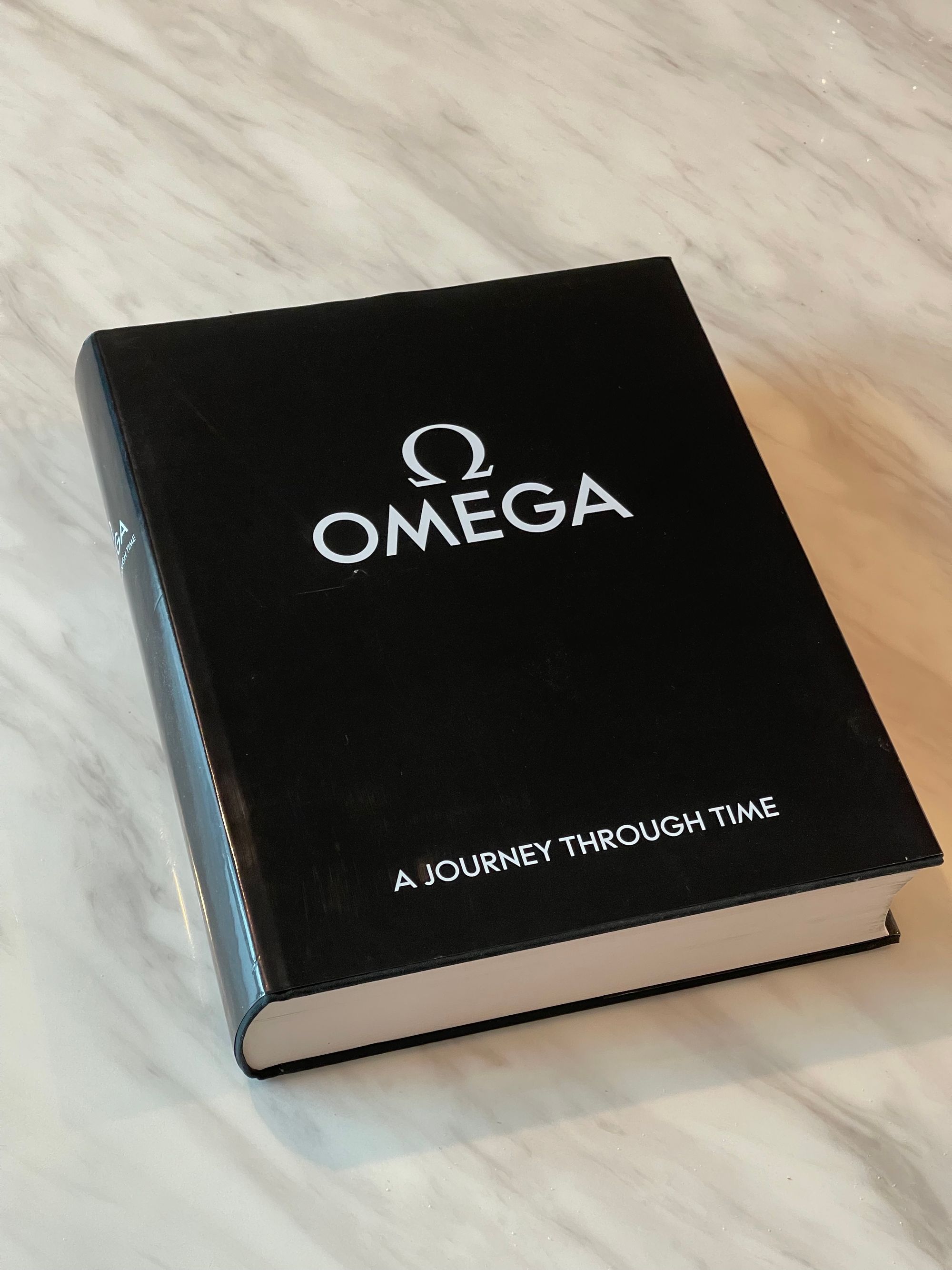 Desmond from the Constellation Collector Blog wrote an excellent review worth reading many years ago, and I bought the book at retail price in spite of this, however Desmond's assessment proved very correct.  A Journey Through Time really should be looked at as an extended catalogue for the Omega Museum collection, or as a brochure covering the whole history or the brand.  The key purpose for the book is sitting in an Omega boutique for customers to peruse over a coffee table while waiting, or to aid boutique staff in espousing the history of the brand or individual model lines to prospective buyers.  At best, it is a marketing tool, not an authoritative reference book for collectors.
Printing & Quality
So the book I have is old, from about 2011, and I have spent a lot of time going through it, but it's somewhat disappointing to note that the binding is beginning to fail on some pages where I've had it open.  By contrast my copy of Moonwatch Only has has far more use in far less time and has no such issues.  A big part of this is likely just the weight and size, this book is large enough that the book and its relatively weak binding suffers under its own size and weight.  The problem is bad enough that I have a foam book-pillow specifically for this book and no other, while another Omegaforums member has turned taken to using an antique bible stand on his.  Not a convenient situation.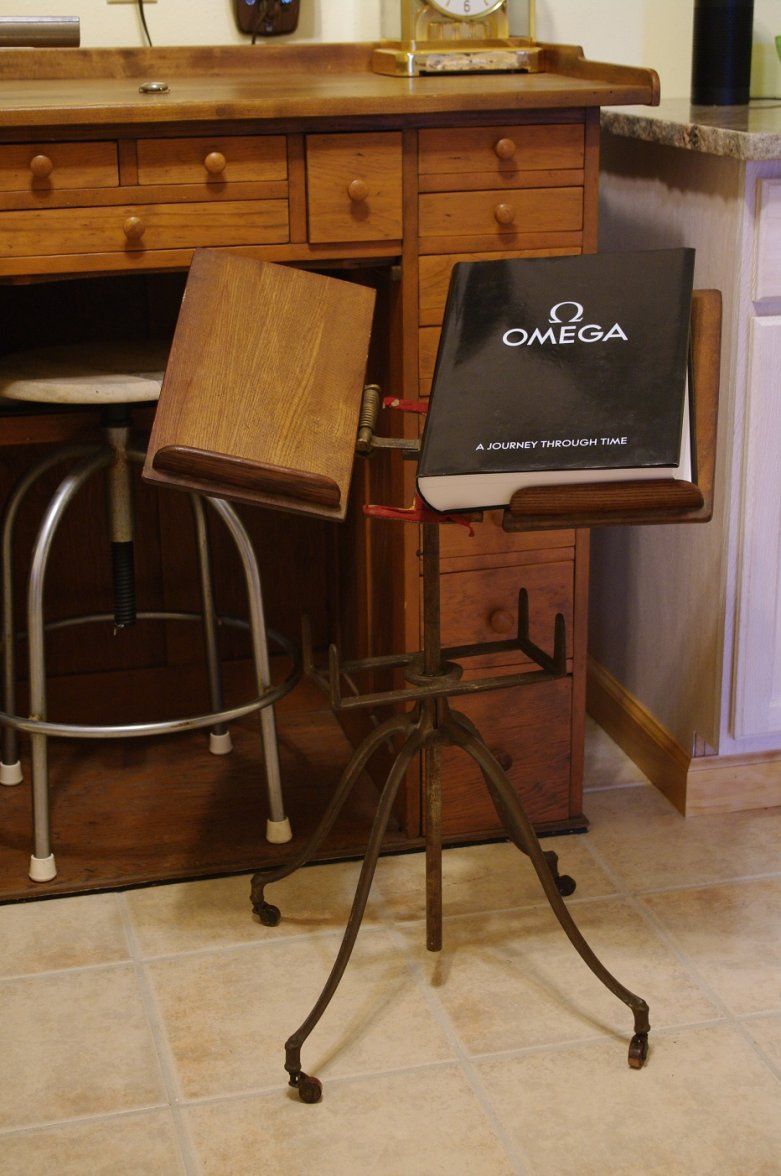 Ideally I would hope in the future a replacement for it would be split into several smaller volumes corresponding to model lines in order to make it less unwieldy.  This might also allow buyers the choice to opt out of pocket watches, cuckoo clocks, travel clocks or any of the advertising material if they find it not useful which would certainly be a benefit.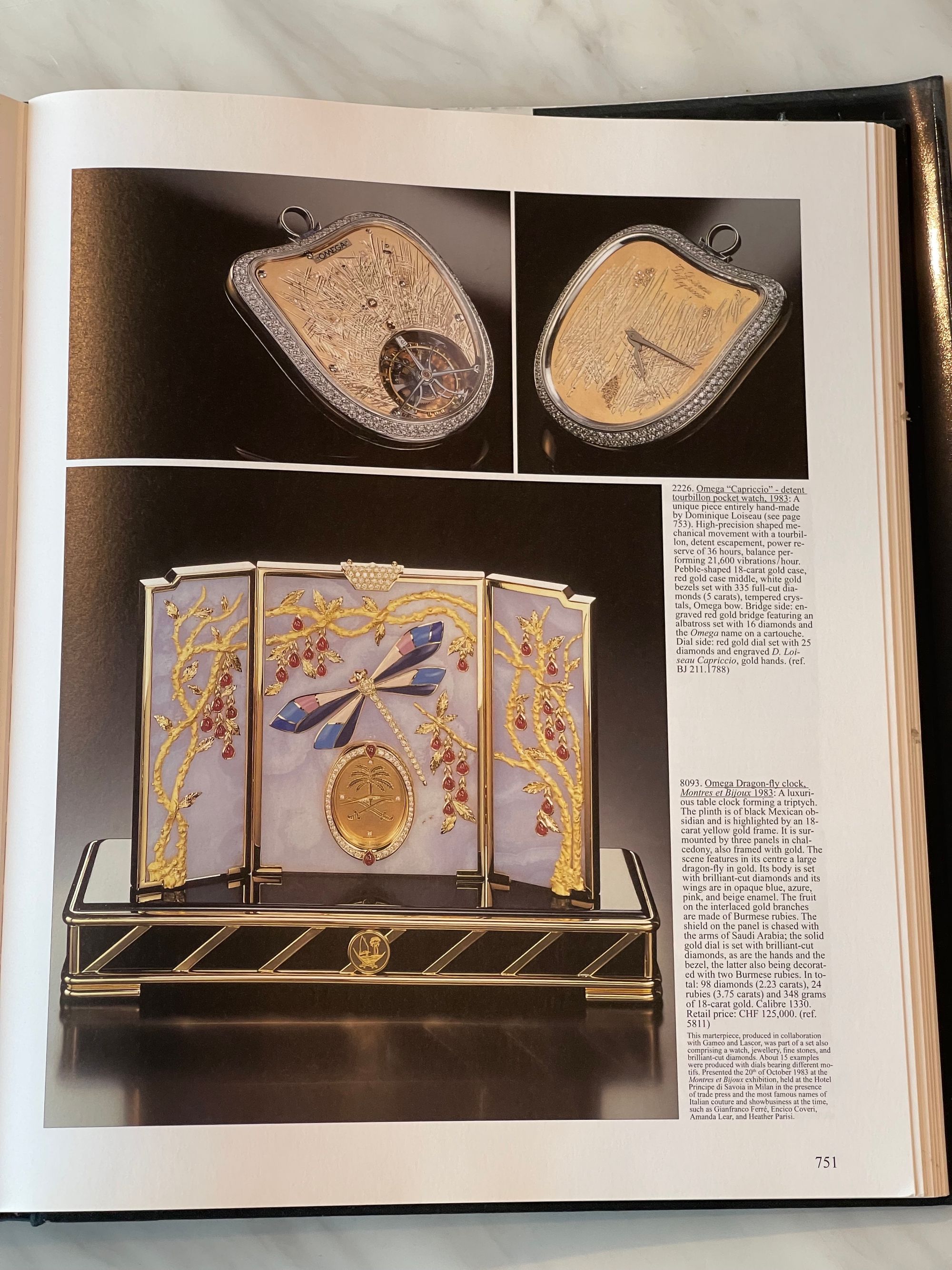 The print quality is perfectly fine for text but for images, it feels a step behind with detail being missing under magnification and not much better than typical magazine quality in many cases.  It's also worth pointing out that as this book was published in 2007, many of the photos were likely taken in the early 2000s, when DSLRs were very poor quality, as were scanners compared to where they are now, and this shows in some of the photography.  Once again this isn't a knock on the authors, but rather a point about how much technology and quality has marched on in the decade and a half since publishing.
It must be remembered though, that this book was a product of the time it was created in.  Back in the early 2000s there was a very small online community, Fratellowatches only began in 2004, Omegaforums didn't exist, not did #SpeedyTuesday or social media.  The online Omega universe was basically Chuck Maddox, Bill Sohne, and a few of their contemporaries, so Marco Richon created this without any of the advantages we have today.   In that context, he did an amazing job, so much so that in the early days of Omegaforums, A Journey Through Time was really the only book we could recommend to people and its existence created a foundation for many books to come.  
Content
AJTT is broad, it's a catalog spanning Omega's history, it's a marketing piece, it's a coffee table book for boutiques, but a reference book it is not.  There is a fairly even mixture of advertisements on one hand, and photographs of watches on the other.  The ads are actually quite interesting, some of the early ones have a really cool Art Deco feel that I almost wish they brought back today and are really cool to see.  A lot of it though and much more can also be found online with a little looking and the quality and size of these ads can be a little lacking.
The most significant and notorious issue with the content in A Journey Through Time is that the accuracy, originality and condition of many pieces is lacking.  Just two that spring to mind are the Seamaster Pie-Pan with replacement hands and incorrect Constellation crown, and the reference 137.001 Geneve Chronometer with a suspect dial.  For this reason, you cannot assess watches reliably against AJTT, and the images and information it contains should be taken with a very large grain of salt.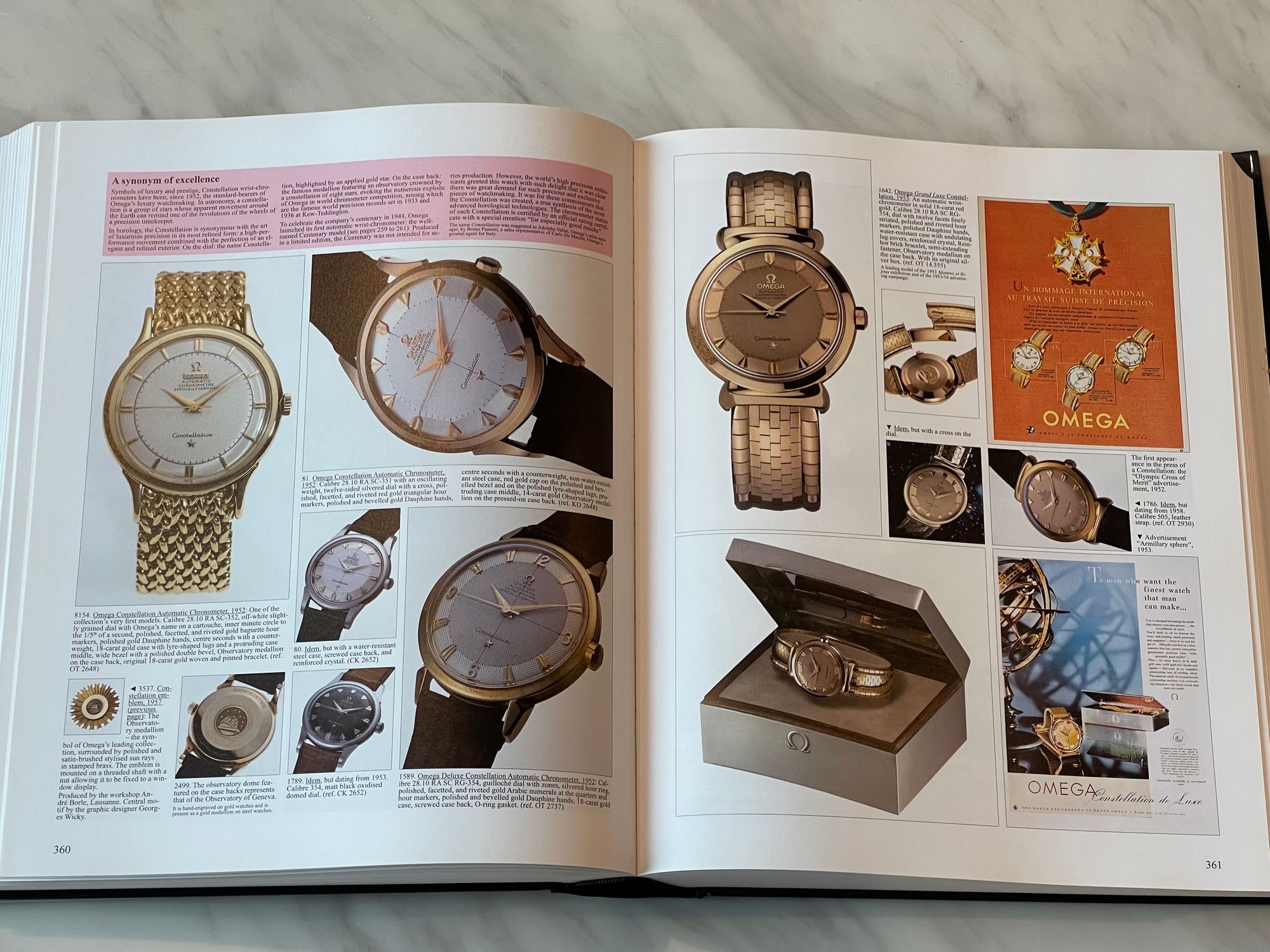 The sections for headline watches that people are most interested in can seem disappointingly small compared to the overall size of the book.  On the other hand there are sections dedicated to pocket watches, to 1970s cocktail watches, electronic DeVilles from the 80s, and frankly a lot of watches that are overlooked not due to rarity, but due to them being rubbish, or genuine low points in Omega's history.  In this sense it can be likened to a long, 2-CD deluxe album with 2-3 good songs and a mountain of filler.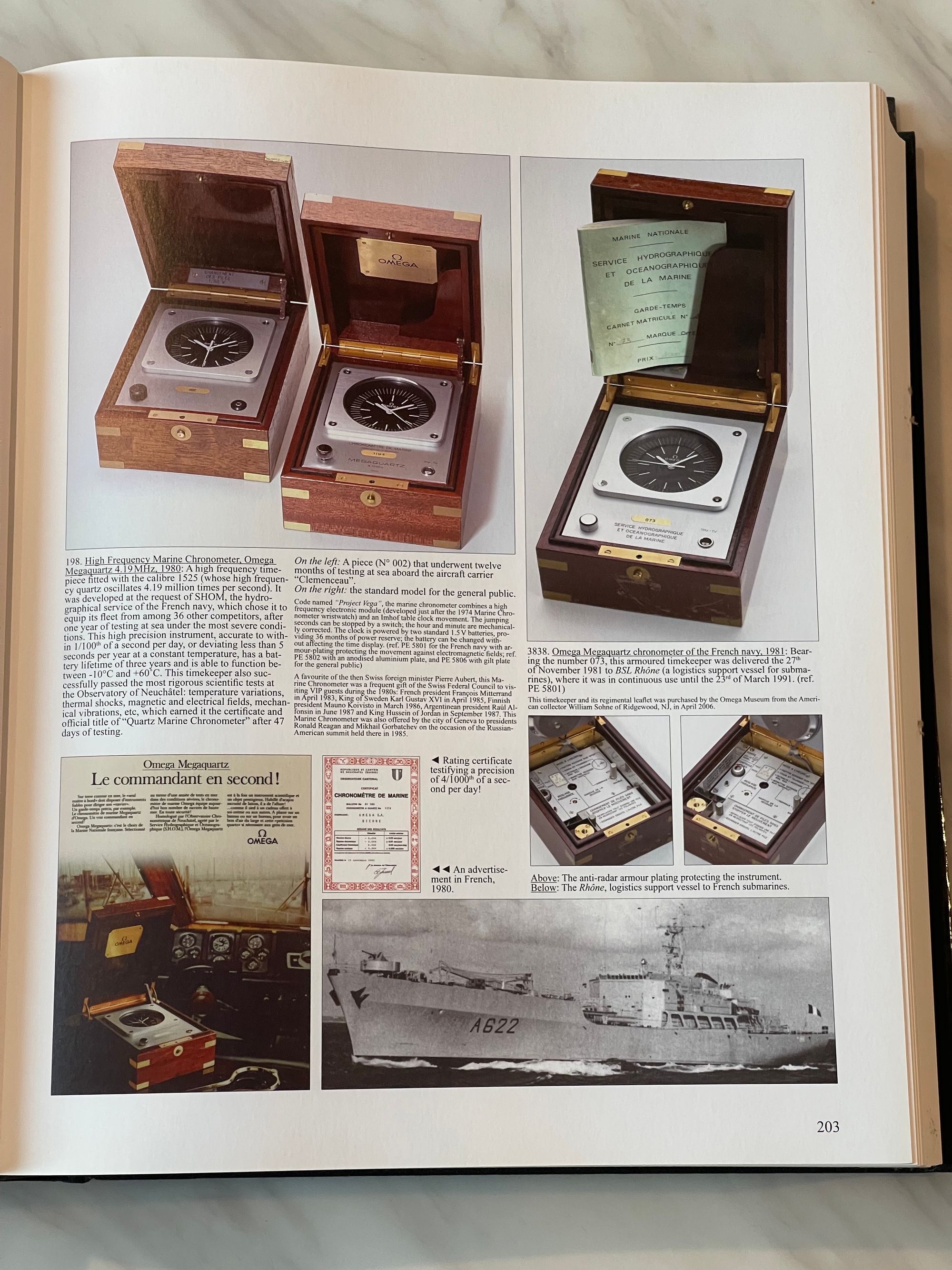 Given how enormous Omega's history is, and given that no serious Omega reference books existed at the time, I think Richon really did do the right thing by trying to encompass absolutely everything with A Journey Through Time.  As more and more books and online materials appear, it will be superseded, and exceeded frequently, but it serves as a fallback when those fail you, giving a small bit of information and likely a photo or two of oddities and rare birds that don't fit anywhere else or slip through the cracks.  This is the reason I have it, because a few times every year something odd will come along and it holds an answer nothing else does.  
Buying
A journey Through Time has been out of print for a long time now, and it will most likely not be returning to print.  As a result of this, combined with the great size and cost of this book when it was new, prices on the secondary market are now sky high.  On eBay, chrono24 and elsewhere there are listings anywhere from 600-800 USD, and the cheapest to change hands recently was snapped up quickly on Omegaforums for $440 USD.  
There really is no justifiable reason to buy this book for the price it now changes hands at.  The only purpose would be for a completionist who must have it on their shelf.  It does not have sufficient depth in any one area to be useful to collectors, it has inaccuracies with in it so frequently that wrong conclusions can be drawn.
For the same price as this you can buy yourself a copy of Moonwatch Only, and a copy of Omega 30mm Chronometers, both of which are much better investments and significantly more practically useful for collectors interested in those models.
It should also be mentioned that it has long been rumoured that Omega's heritage team have been working on a new book to replace A Journey Through Time for years now.  This obviously will not be a quick process, but given that Petros and his team have the advantage of a vastly expanded online community and a world of resources and knowledge not available to Marco, this would be what I would wait for.
Discussion thread on Omegaforums can be found here: