I received this book many years ago as a gift from someone who knew I had just bought my first Omega and it was the first watch book in fact that I ever owned.  While it didn't become a regularly opened reference, it was something I quite enjoyed as my first book and as such still holds a place in my bookcase.
The exterior of the book is actually quite nice, it feels well made and has a soft touch hard cover.  There's a nice mirrored foil on the word Omega on the spine of the book which makes it look really nice on the shelf, and the edge of the pages is similarly finished in reflective silver foil, which looks pretty cool.  Almost like the librarian equivalent of a glitter finish on a bass boat.  Mine is starting to peel off a bit from age, and being pressed up against other books on the shelf, and the mess the silver foil leaves behind is a bit difficult to remove.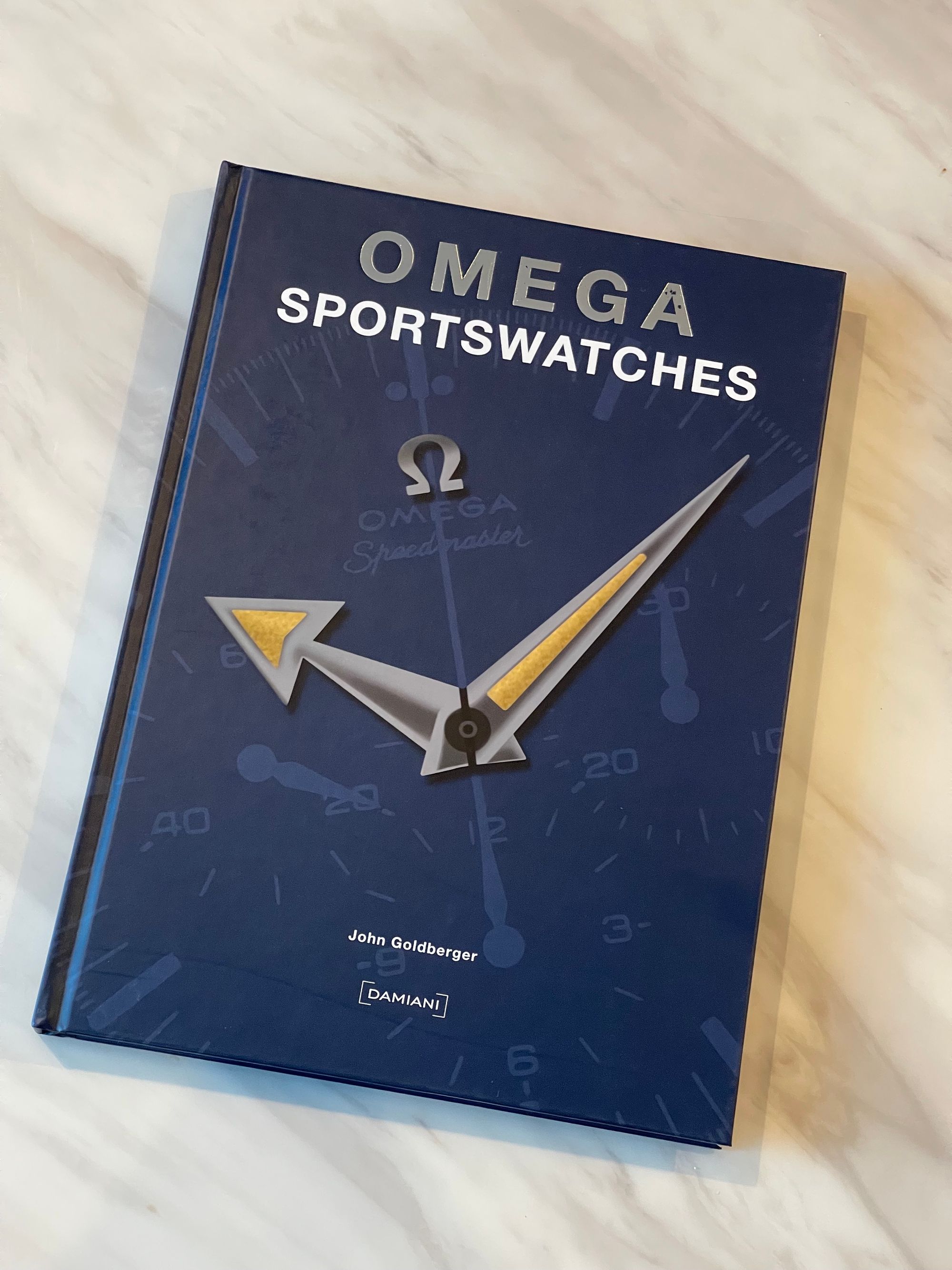 The cover is a quite interesting stylised image of a CK2915 Speedmaster, which hints at what is inside but doesn't tell the whole story.  This definitely isn't a Speedmaster book, nor is it a book that focuses on the Omega "trinity" of Railmaster, Speedmaster and Seamaster.  It's actually far more broad than that and I have to admit, I initially found myself a little confused as to much of this book, in fact the first half in particular necessarily falls into the category of sports watches in the modern sense of the word.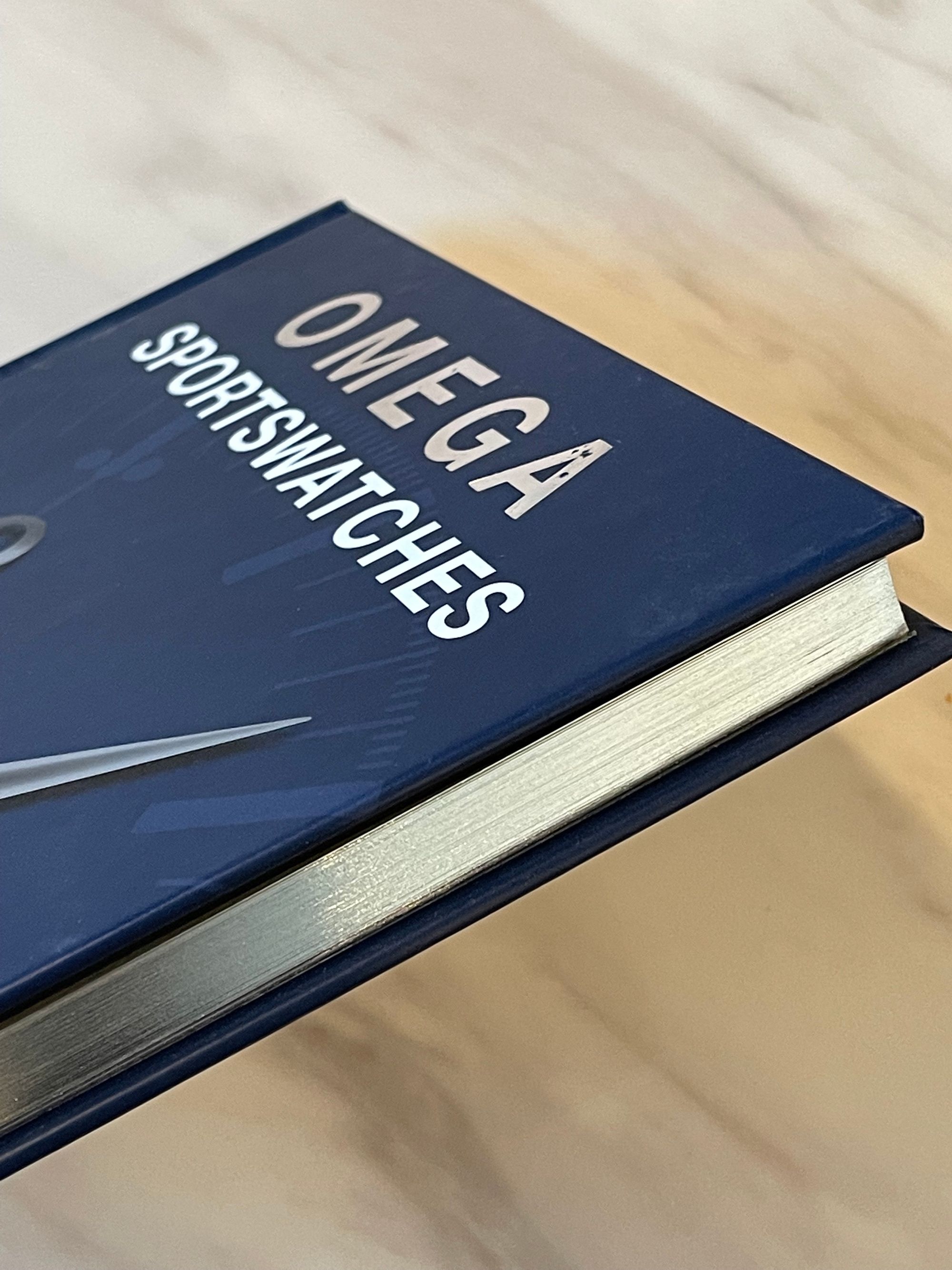 Content
Omega Sports Watches is interesting in that when I first opened the book upon receiving it, I was a bit confused as to what I was even looking at.  I instinctively thought of the 1957 trilogy watches, and the divers and chronographs that came after them in those respective lines as sports watches.  I didn't really consider any 30mm powered models, Calibre 33.3 Chronographs or 26.5SOB models much less pocket watches to be classified as sports watches, and the first half of this book really does feature nothing but pre-trilogy models.  I'm glad it did though as it changed my perspective on many of these references and opened my eyes to some models I previously hadn't seen or appreciated.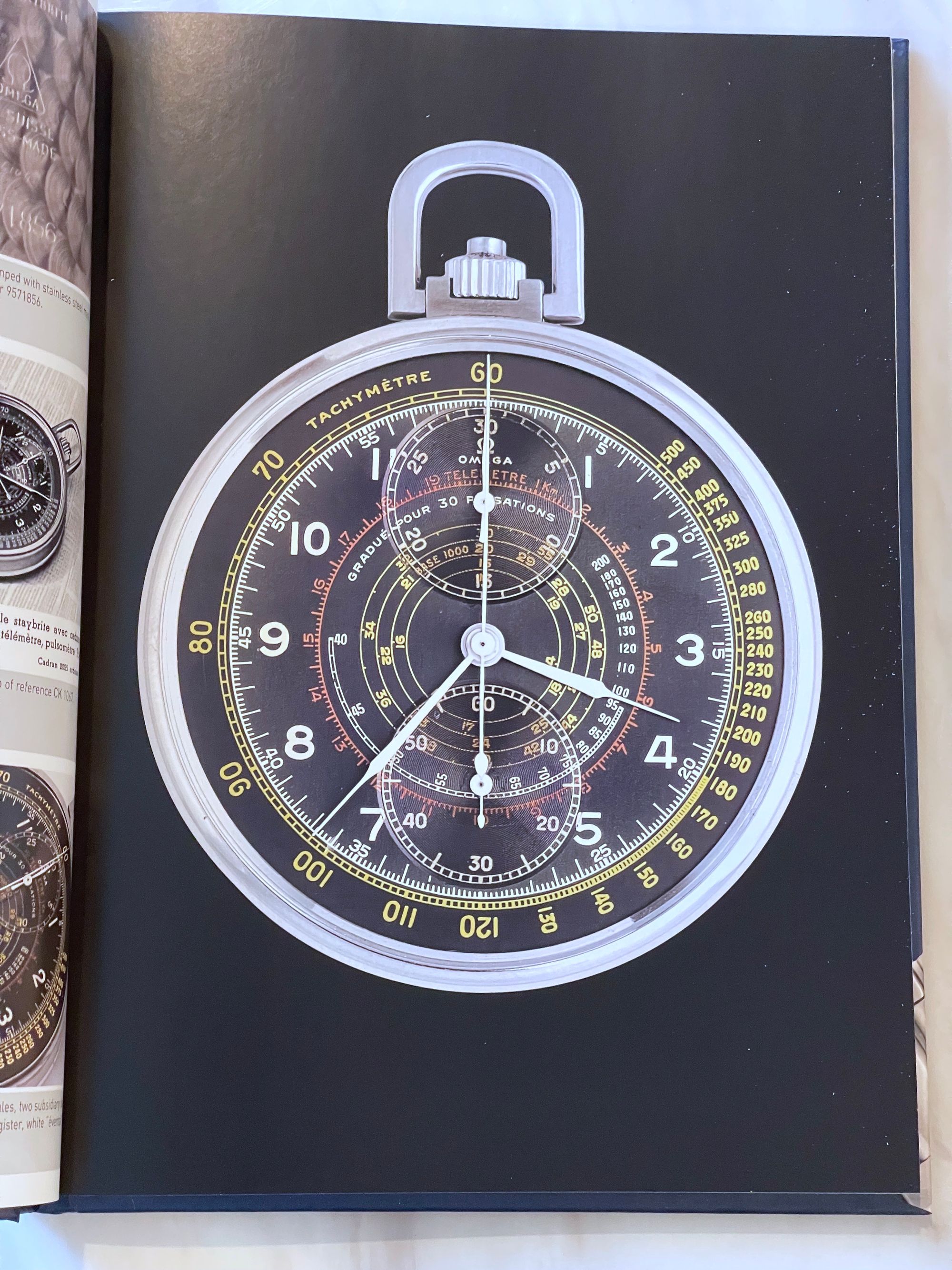 At the time of receiving it, the only Omega I owned was a modern reference 2225.80 Seamaster Pro Chronograph and my knowledge of Omega was very limited, so to see watches from such an early time period with early rotating bezels, racing oriented chronographs, and even pocket watches with tachymeter bezels was quite interesting.  There is also a bit of written background in the early part of each section of the book explaining the history behind the various models and model lines although it does tend to be relatively brief given the book's limited size.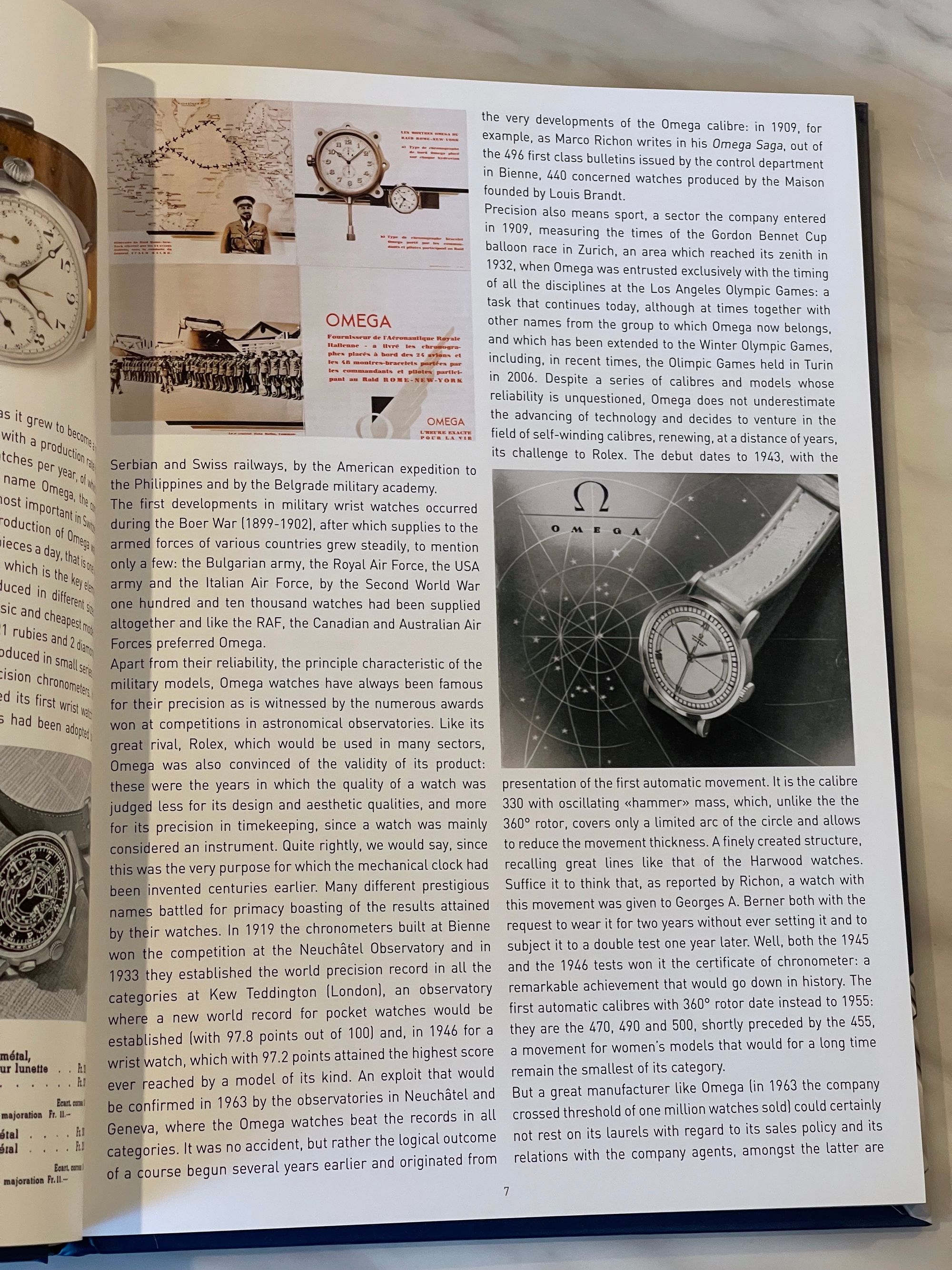 The bulk of the book follows a standardised format of one page on the left showing a breakdown of a given watch and its dial, movement, case and other components of the watch, while the right page features a full page glamor shot of the specific watch fully assembled in quite a good amount of detail.  It's a format that works well, and covers most of the basics such as reference, bracelet, dimensions and calibre without really going into any significant detail.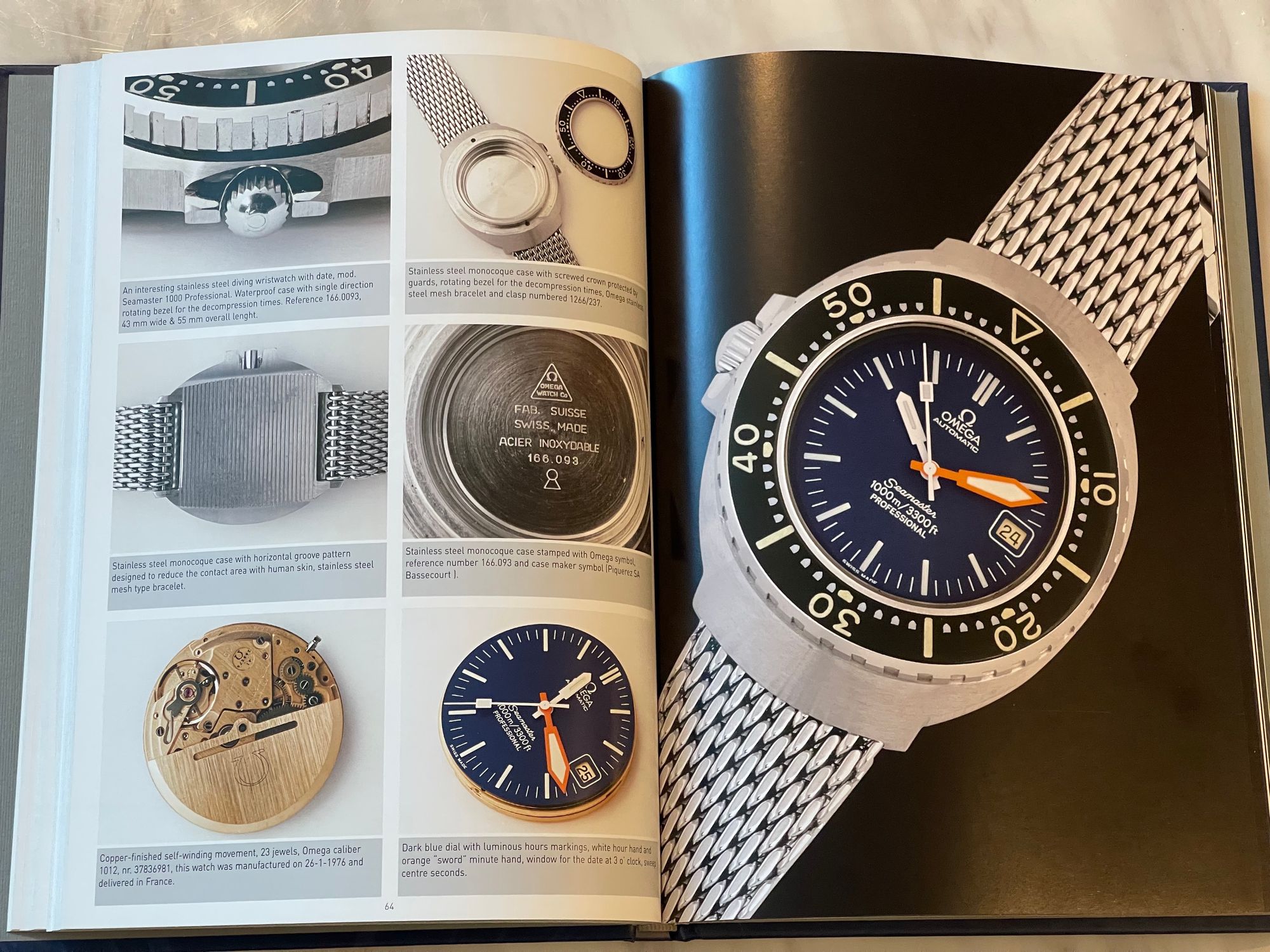 The sections covered include early models, Seamasters, Speedmasters, Railmasters and a few other unusual orphans in Omega's back catalog, but it is by no means comprehensive, and does not attempt to be a reference book.  It also isn't exclusive to vintage models, it covers modern pieces up to around the publishing date in the mid-2000s, some of which are interesting and some of which are a bit forgotten at this point.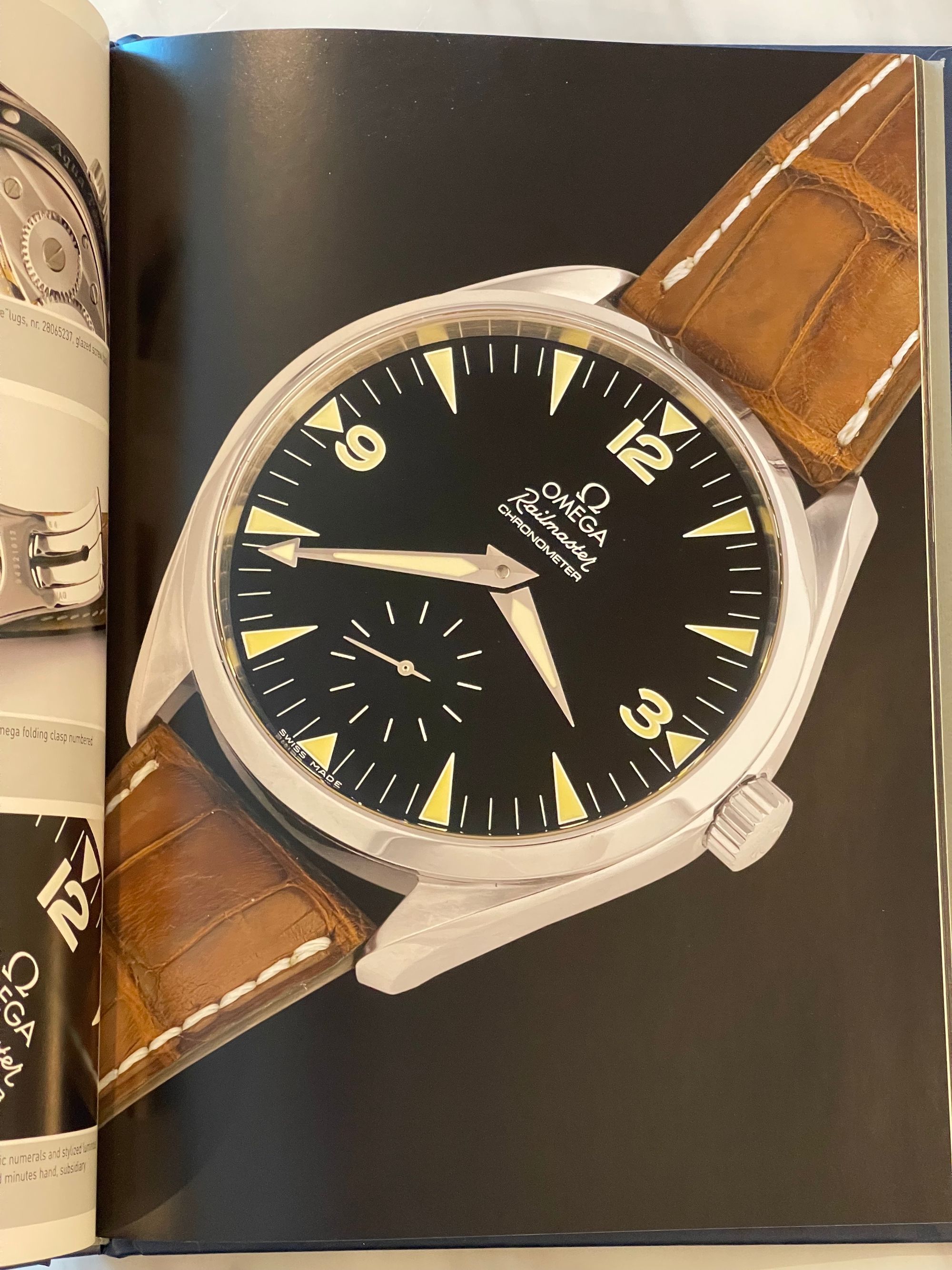 The content definitely is aimed at the Omega owner with some passion and enthusiasm for the brand who wants to learn some more without being too confused by terminology and minutiae.  Like a chocolate sampler, it offers a taste of everything within Omega's sports watch lines both past and present without focusing too hard on any one topic, and it really achieves what it sets out to do, especially considering the very reasonable original MSRP.    
Printing
As mentioned, the hard cover is quite nicely done and very attractive with reflective silver foil highlights and silver edges pages which make it stand out on the shelf.  There is no dust-jacket on this book which is a positive given how much effort was put into its external presentation.  
The binding is a bit of a weakness in this book.  Due to how thin it is, with only 144 pages, the spine does not have much room to flex and it is quite limited in how far it can be opened without damage.  This also tends to mean you cannot have it flat on a table without it closing on its own.  The central pages of my own copy are coming loose from the binding being stretched after reading through it only a handful of times.  As a coffee table book it probably isn't the best choice for this reason and needs to be treated with a bit of care to preserve the binding.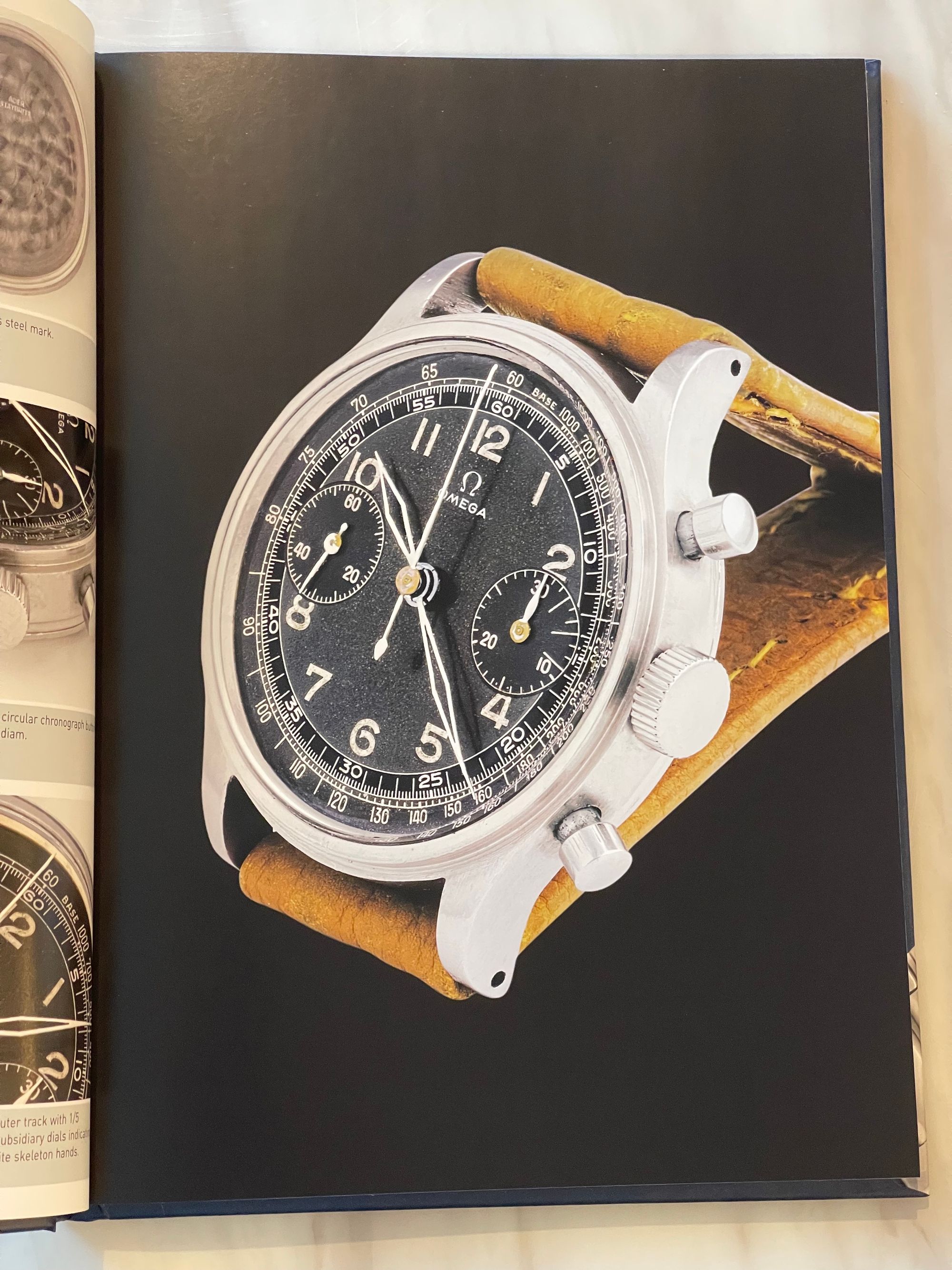 The size of the book in terms of outer dimensions is quite a bit smaller than most coffee table books about watches.  This is undoubtably a cost control measure intended to keep the price reasonable but it does limit the appreciation of some of the very nice photography inside to some extent.  It should also be noted that due to the limited angle the book can be opened, there are no two-page spread images in the book which is understandable given they would be hard to see without pulling the pages too far apart.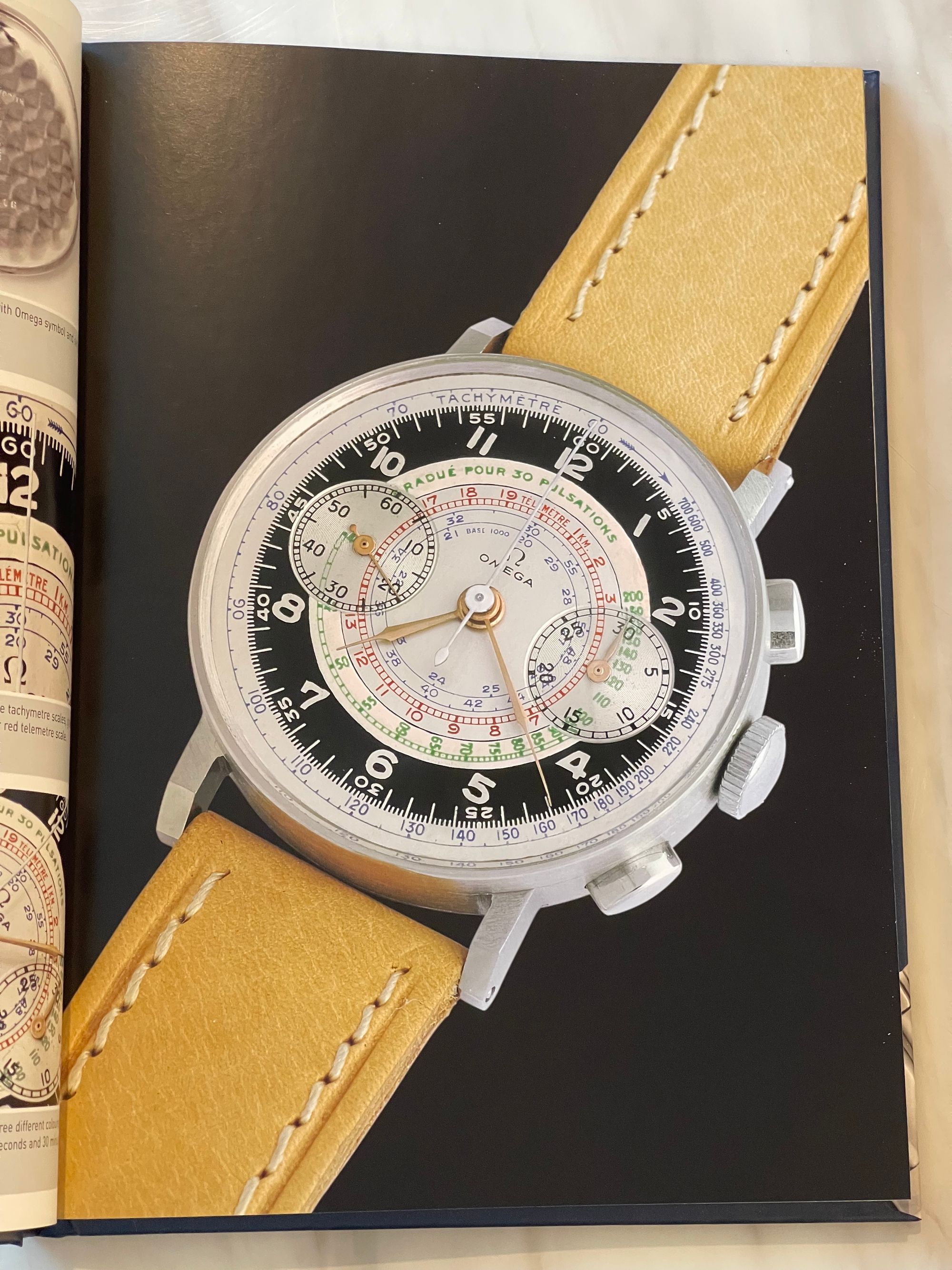 Print quality is good, especially considering the price though not quite up to the highest standards found in some higher priced coffee table books like Magister.  The quality of the photography is definitely very high and the presentation against a muted black background on a single page for each featured watch is very well done.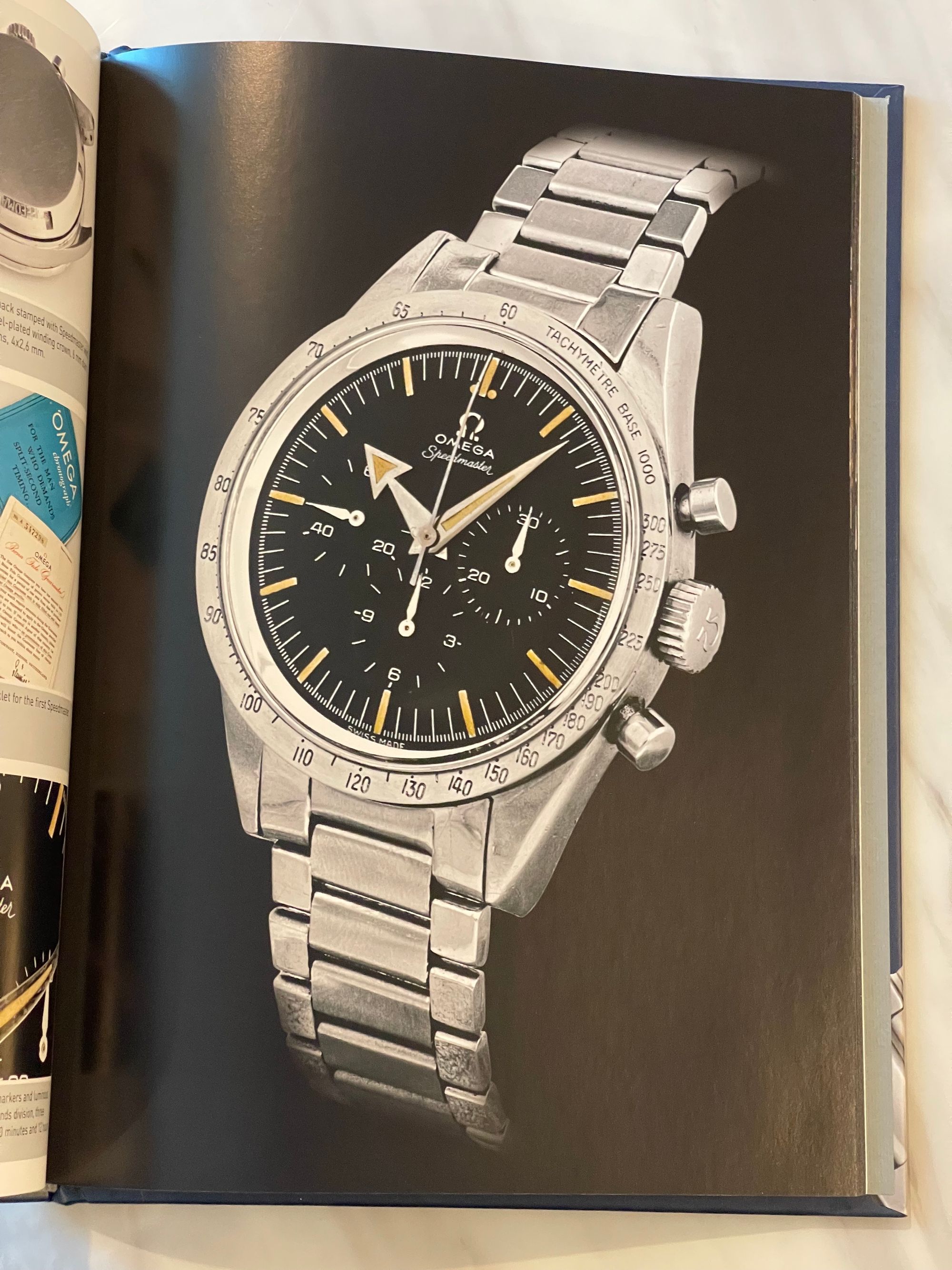 Buying
Originally Omega Sports Watches was quite a well priced book at under $100 for a hardcover volume.  It certainly was targeted more to the casual fan or the gift buyer and there's nothing wrong with that at a $79.95 MSRP.  The book has however been out of print for a long time, which leads to prices skyrocketing as a result of scalpers and algorithmic pricing scripts.
The current asking price on eBay, Amazon and other places for a used copy is trending around $650-$700.  That isn't a typo, it genuinely is selling for around 10 times its original MSRP, over 20 times what my ex paid for mine, and at nearly $10 per page of content.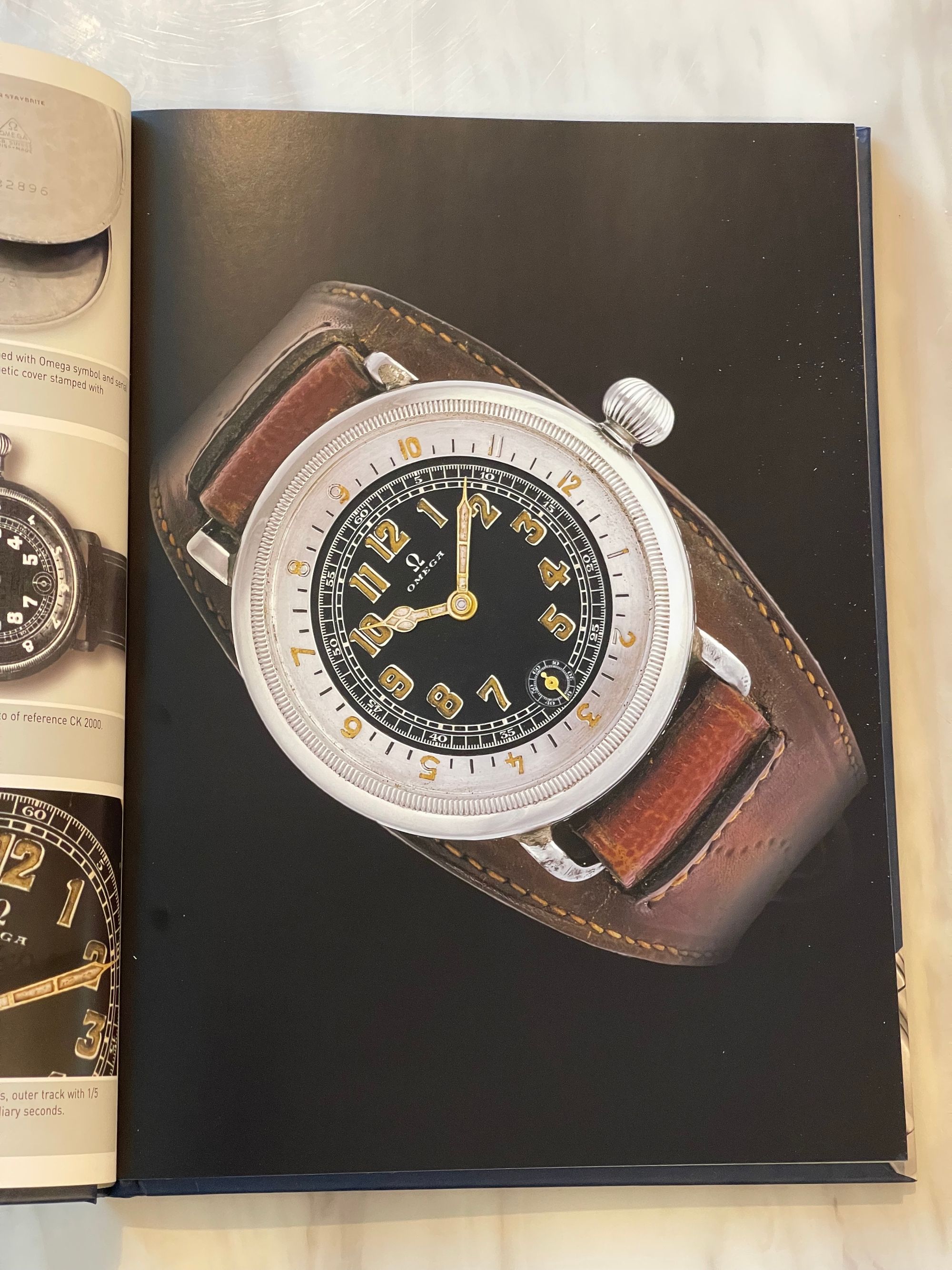 Omega Sports Watches is not a reference book of great use, it is broad and not at all comprehensive, and does not have the print and binding quality of a high end coffee table book.  Once again this doesn't mean it is a bad book, for its intended market, it was quite good but it just isn't in any way justifiable at $700, and if you spend that much, you will be very disappointed by what you receive.
I do hope at some point that John Goldberger does put this book back into print and return it to availably cheaply as it did make a nice entry point in its day. A good book for the casual collector, a great gift for a friend, and a nice broader snapshot of Omega's sports watch history.
Seeing scalpers in the watch world lose their money always brings a smile too.  
Discussion thread on Omegaforums can be found here: