Omega's Bond Limited Edition models have always sold well and been popular with fans of the brand and the movies. The Spectre Limited Edition however, was something very different, marking the first time a Seamaster caused a feeding frenzy previously only seen in the Speedmaster world.
As Men, We Are Sentimental Creatures
We form emotional attachments to special kinds of machines like watches and cars, marvelling at their achievements and significance in history.
More than specifications, or finishing, or even quality, the driving force behind our love and appreciation of watches is an irrational and emotional one.  This especially applies to vintage watch designs and watches that have carried out iconic roles in history.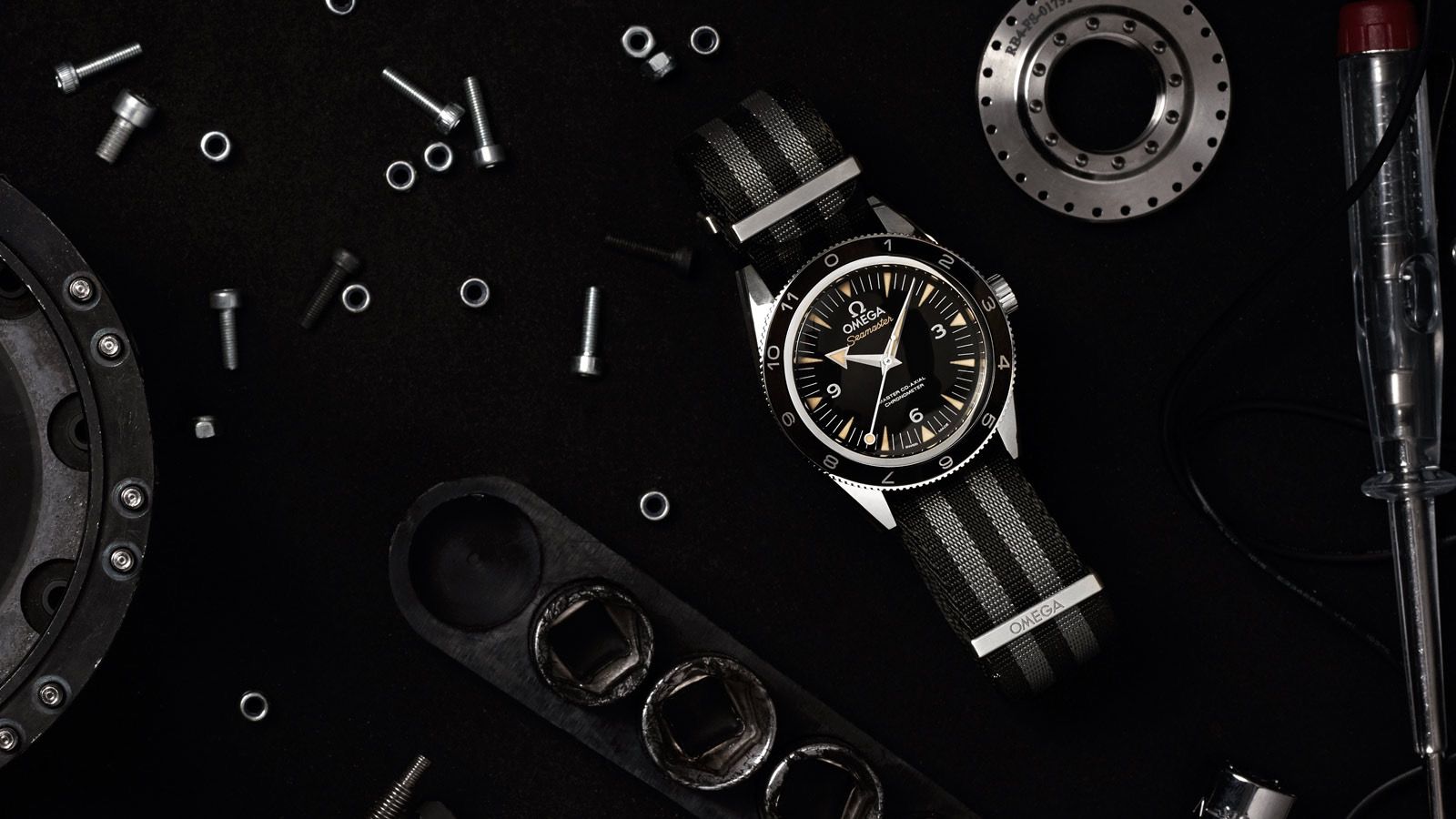 The Spectre Limited Edition, Ref 233.32.41.21.01.001 is a perfect example of this, and the heavy dose of history, nostalgia and sentimentality in the design led to this watch produced in 7,007 units being genuinely hard to find even when new.    
That number of 7,007 is very high for a limited edition, most Speedmaster Limited Editions that sold out during this period were around 2,000-3,000.  While Bond watches are typically made in larger numbers to maximise value from the licensing fee, this was a watch that felt like a hard-to-get Speedmaster right from the drop in 2015.  The initial MSRP of $7,500 was a substantial jump over the regular Seamaster 300 Master Co-Axial on bracelet, yet prices on the secondary market instantly carried a premium as demand outstripped supply.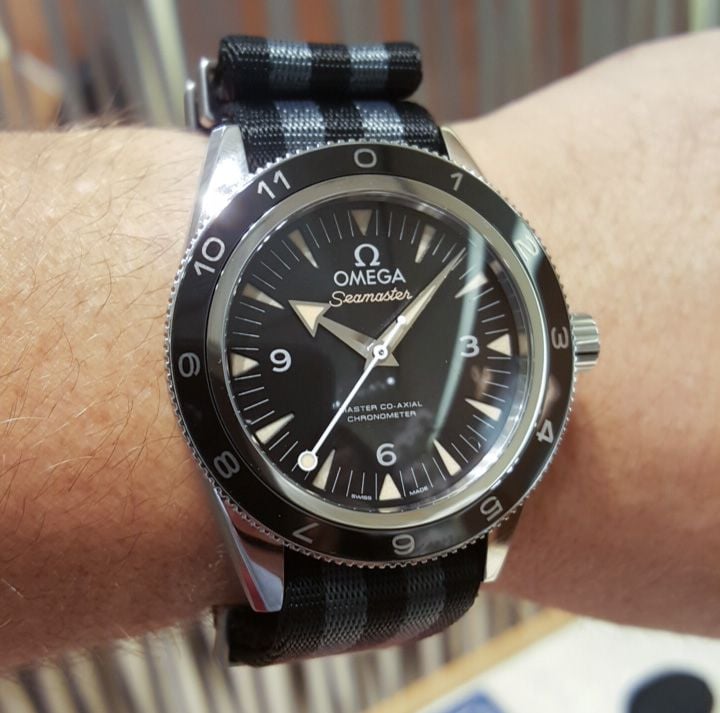 The formula that made this Bond watch so popular seems obvious in hindsight and has been repeated with the recent No Time To Die Seamaster.  Back in 2015 though, it was somewhat of a departure from prior Bond watches.  
The starting point was a very attractive watch to begin with in the Seamaster 300.  Being a no-date was an added bonus here as collectors do tend to prefer that for simple setting when wearing watches in rotation.
Omega then delved into their own history, to make this watch unique in its own right as a Seamaster 300.  The lollypop second hand, a feature present on later -6 and -7 variants of the CK2913 Seamaster 300 was added, a feature that appealed greatly to vintage Omega enthusiasts.  Coupled to that was a 12-hour countdown bezel, a feature not seen on the CK2913, but that served to differentiate the watch further from the standard model.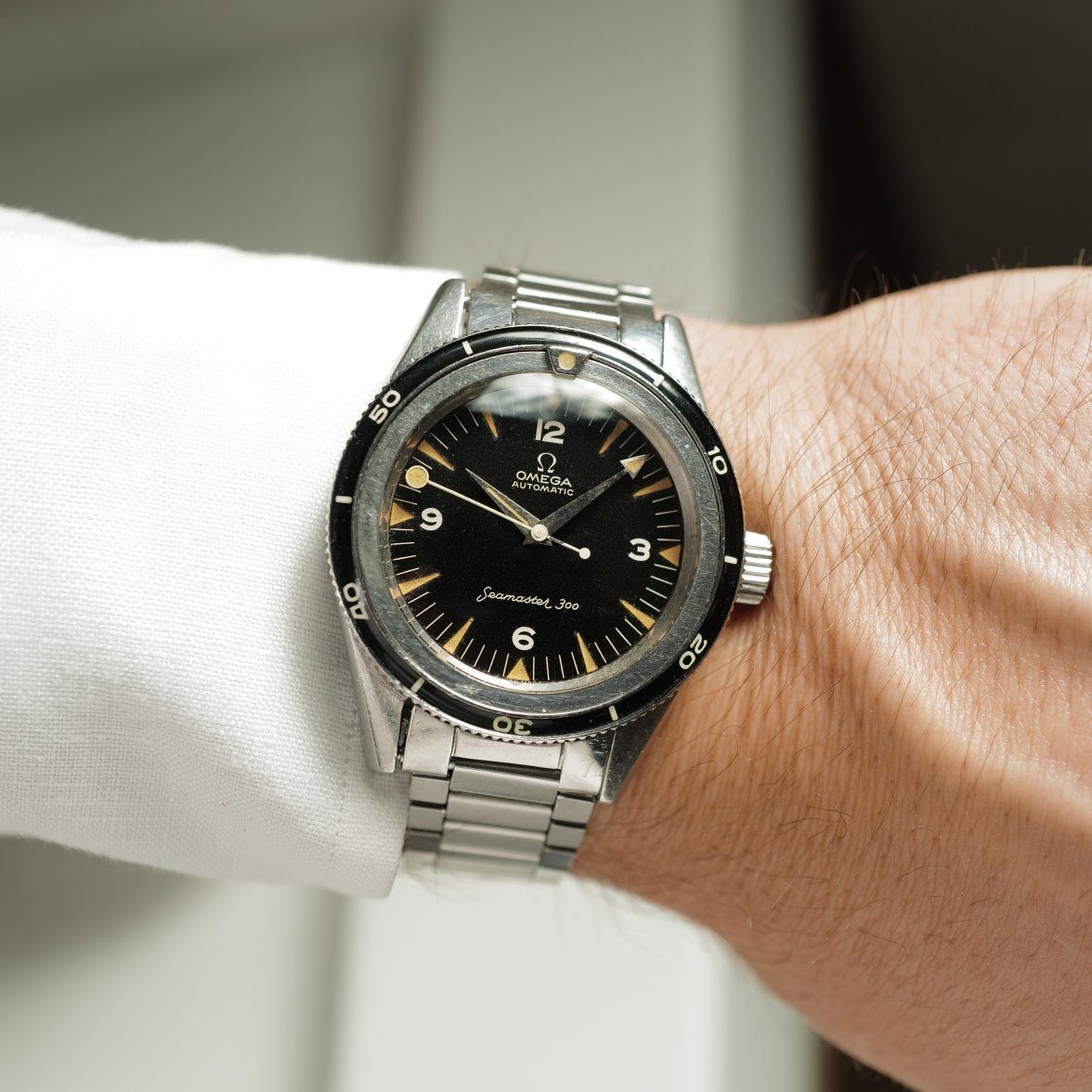 On the Bond front, Omega were conspicuous in their restraint.  Prior Bond Limited Editions have often featured the 007 logo on the dial, as the second-hand counterweight, and have used gun-barrel motifs to illustrate the connection.  The Spectre LE, has a front side devoid of any mention, just like the watch worn by Daniel Craig in the film, as double-0 agents don't advertise.
There is some very important James Bond history here though in the striped regimental NATO strap.  This harks back to the Rolex Submariner worn by Sean Connery in the original Dr. No.  While the watch may have been a different brand back then, the strap was put on it by Bond producer Albert "Cubby" Broccoli and is a part of Bond lore I'm glad they brought back for Spectre.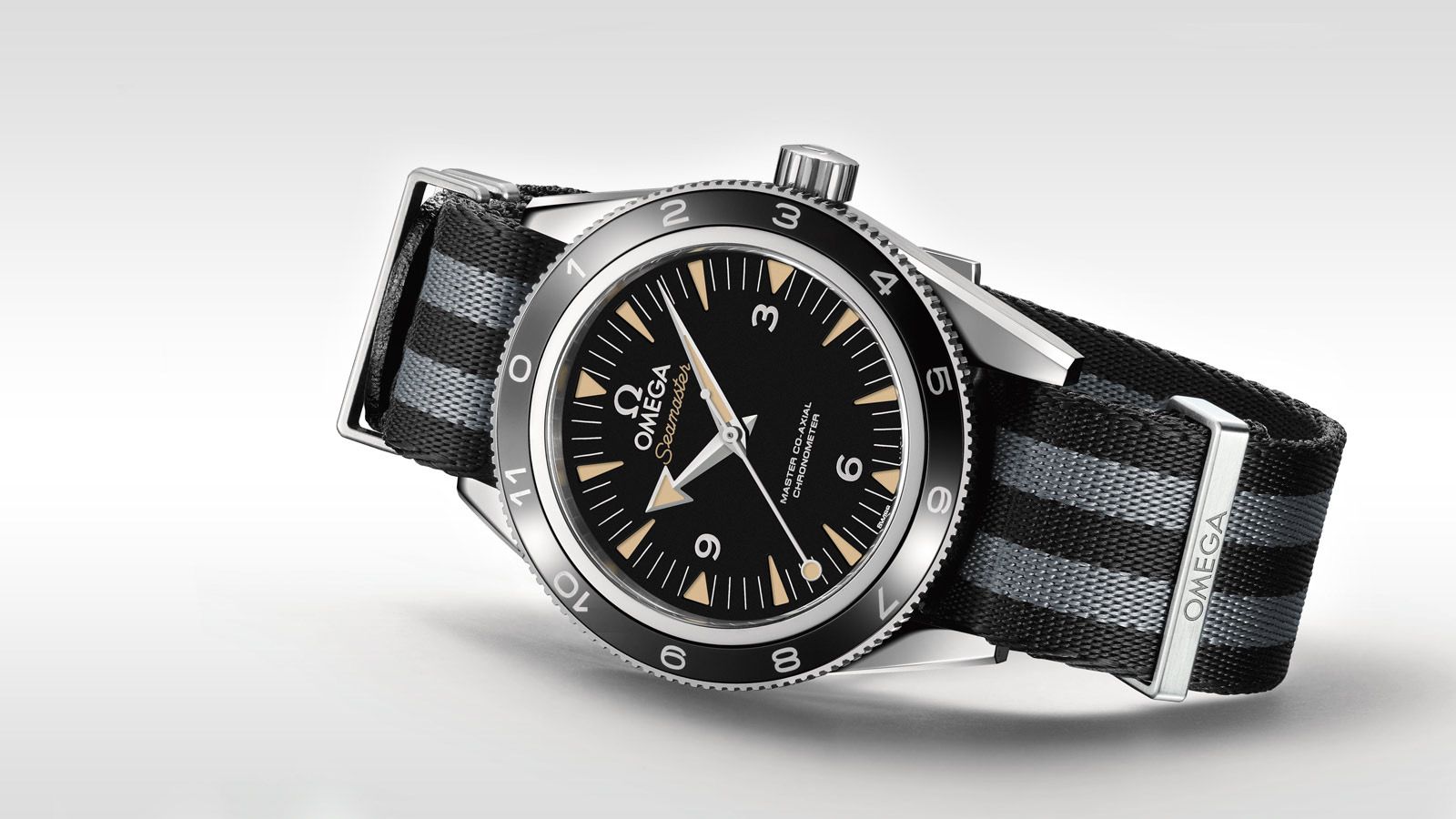 By taking the approach they did, Omega made the Ref 233.32.41.21.01.001 a much more accessible and special watch.  Both Bond & Omega history are there along with a fresh new twist, but the watch can be appreciated on its own merit even without the 007 connection as well.
The Apex of the Daniel Craig Era
It's hard to remember the controversy when Daniel Craig was initially announced as the new James Bond prior to Casino Royale.
Editorials complained of him being too young, too blonde, and the backlash even extended to protest websites.  How wrong they turned out to be, as Craig has taken the role and made it his own, consistently ranking as one of the top 2 actors to have played 007 along with Sean Connery.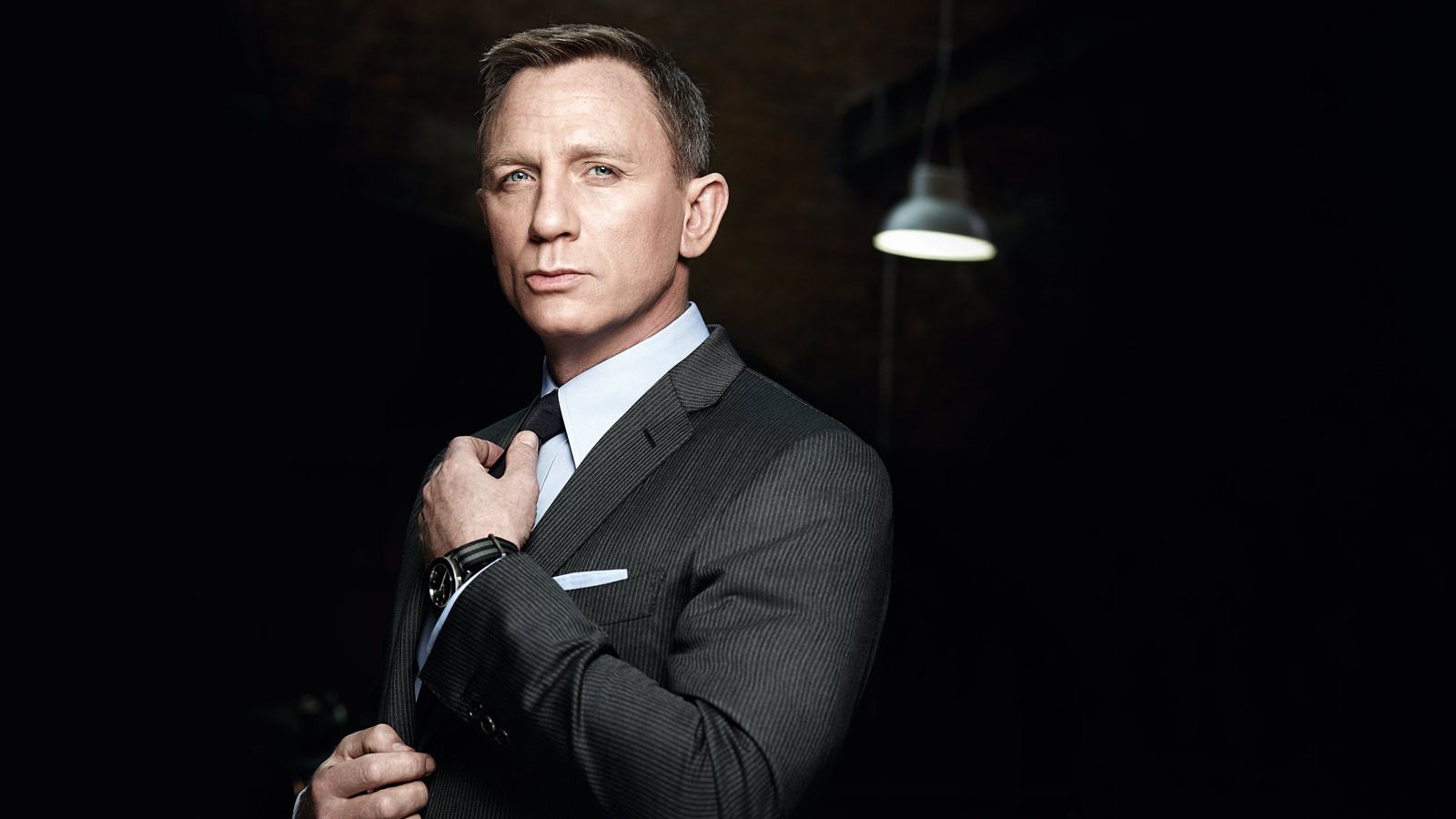 Beyond being 007, Daniel Craig himself is also an Omega ambassador, wearing the brand's watches in public and in his non-Bond films like Knives Out, and the sequel, Glass Onion.  I genuinely hope that Daniel Craig does remain an Omega ambassador in the long term, as he is exactly the sort of Omega man that I and many of my generation would aspire to be.  
Now that his tenure as Bond has come to an end, the Spectre Limited Edition is in my view the peak of the Craig era Bond watches, followed closely by the No Time To Die Seamaster.  It isn't as though the others were boring either.  The Craig era gave us a lot more variety than the Brosnan years with Seamaster Pro 300M divers, Seamaster 300s, Planet Oceans, and even Aqua Terras all adding to the growing Bond watch family.  Yet among all of those models, the market too has spoken, and these two remain the most searched for and fastest appreciating of all Craig era models.
Case, Strap & Bracelet Options
The Spectre Limited Edition, Ref 233.32.41.21.01.001 is based on the case and design of the standard Seamaster 300 Diver Ref 233.30.41.21.01.001.  
This base watch is a modern interpretation of the highly sought-after vintage CK2913 Seamaster 300 released as part of the "Trilogy" of Omega sports watches in 1957.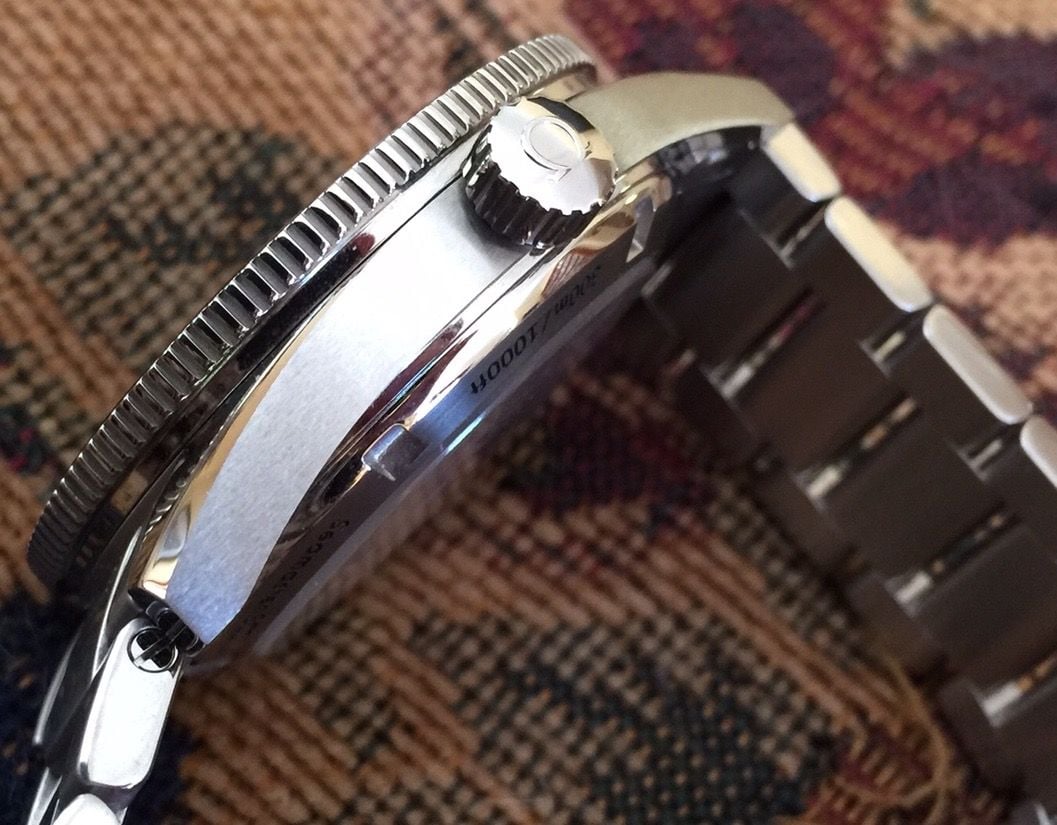 It is a sleek, classically styled and very elegant case design, with simple lines and straight lugs similar to the First Omega in Space Speedmaster.  At 41 mm, without any crown-guards the case is decently sized but in no way excessive.  
The case design benefits from the various technological advancements made in other Omega lines such as the ceramic bezel with LiquidMetal insert.  The top surface of the bezel sits very flat, with the sapphire crystal sitting only slightly proud of it and almost flat itself.  This gives a very different look from the domed crystal designs used in most of Omega's diver range.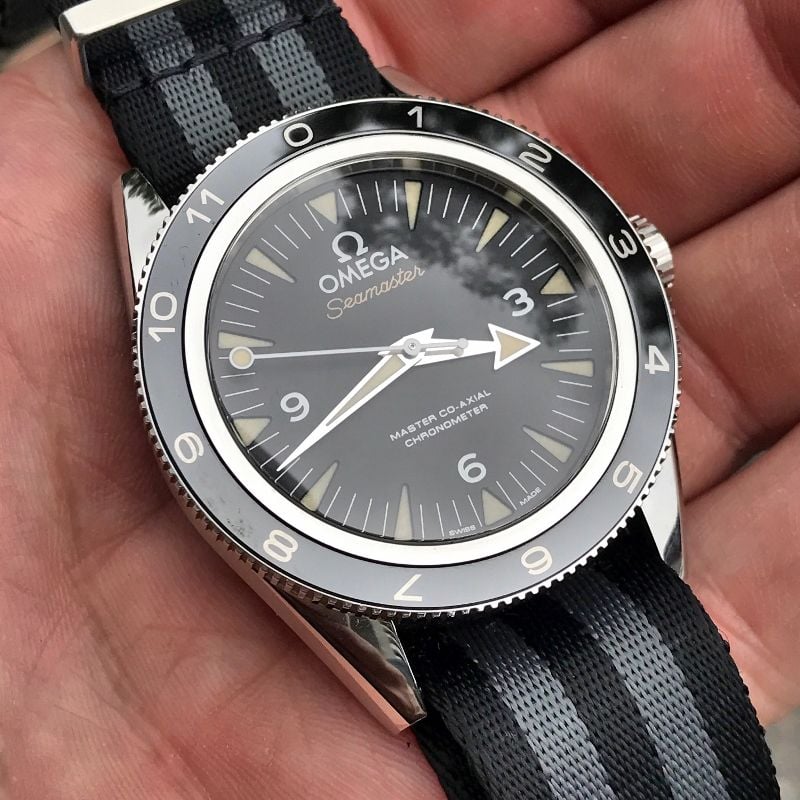 A sapphire display-back exposes the quite photogenic Cal 8400 movement housed within yet doesn't add much to the thickness of the watch which remains at a reasonable 14.7 mm.
The Spectre Limited Edition comes with both the standard steel bracelet, stamped with the 007 logo on the clasp, as well as the 007 style striped NATO strap and provides the tools to change them in the set.  It is worth noting that the lugs on the Seamaster 300 case design are 21 mm, not 20 mm like most Omega divers in this size range so any aftermarket straps must take this into account.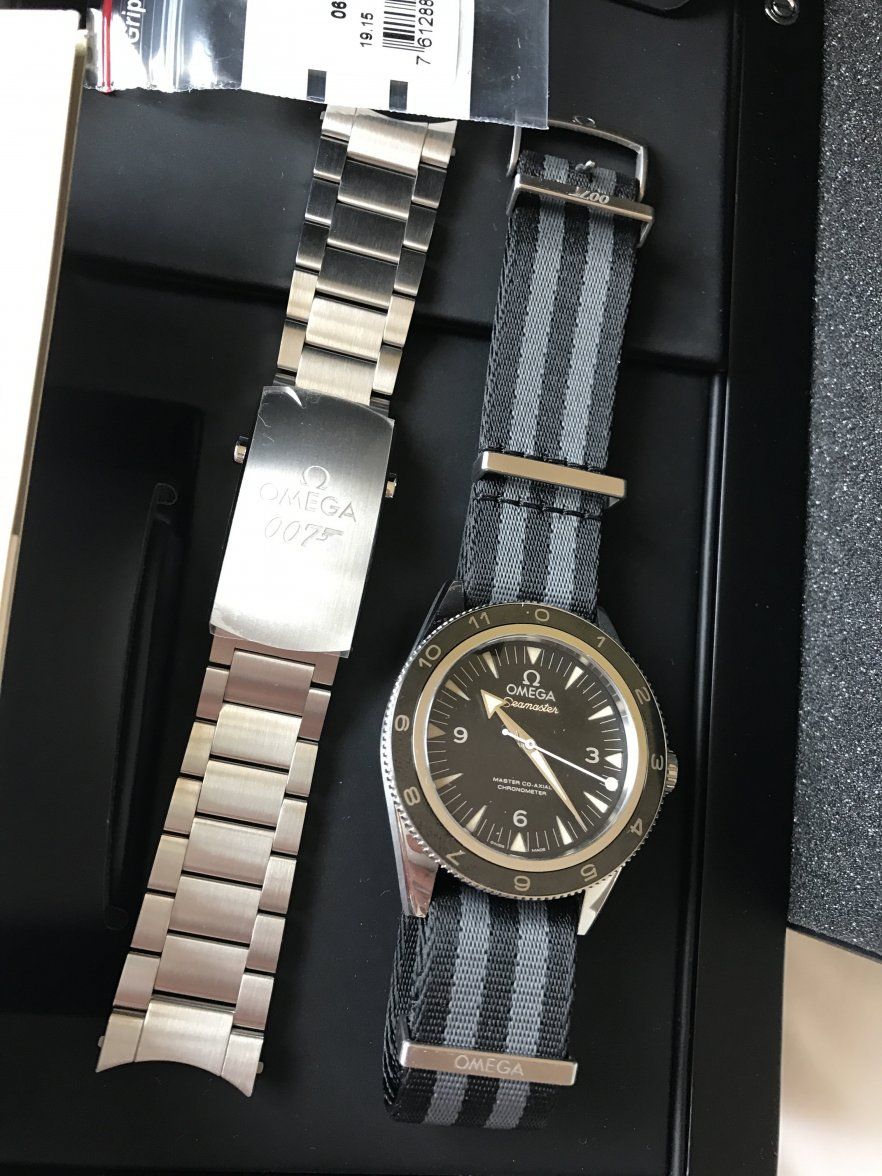 Movement
The Omega Seamaster 300 Spectre Limited Edition 233.32.41.21.01.001 is powered by the Master Co-Axial Calibre 8400 movement.
The Cal 8400 is a no-date, second generation version of the in-house Calibre 8500 and offers many improvements over the 8500.  The most significant change is that the Calibre 8400 is anti-magnetic and rated to withstand magnetic fields of up to 15,000 gauss.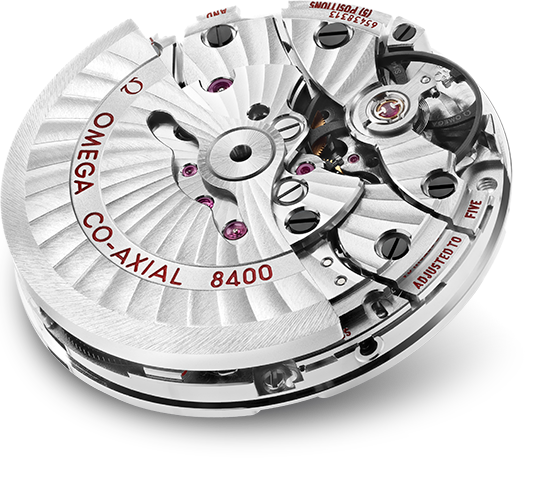 The movement oscillates at 25,200 vph, and features a 3-level Co-Axial escapement, hacking, is chronometer rating, and has a 60-hour power reserve.
The Calibre 8400 is known to be a highly accurate, reliable and dependable movement with a reputation for trouble-free operation.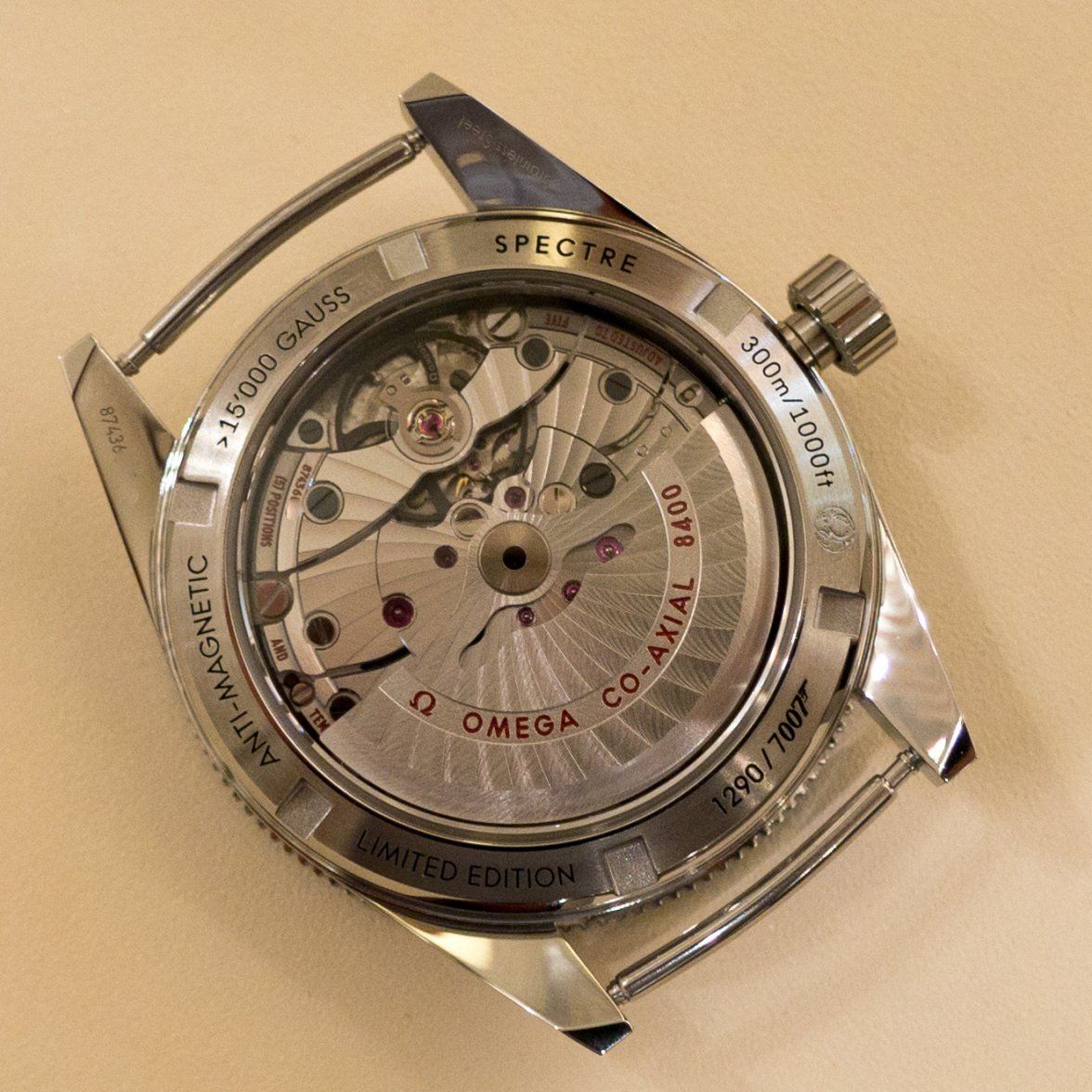 Many of these movements, including the Spectre Limited Edition models are now about due for service, and this can be conducted by any Omega certified independent watchmaker for a reasonable price.  
The Budget Alternative
Not everyone will be prepared to pay the current asking price on a Spectre Limited Edition as they have climbed quite a bit since their initial $7,500 MSRP.  There is a very reasonably priced alternative available, however if you can do without the James Bond connection.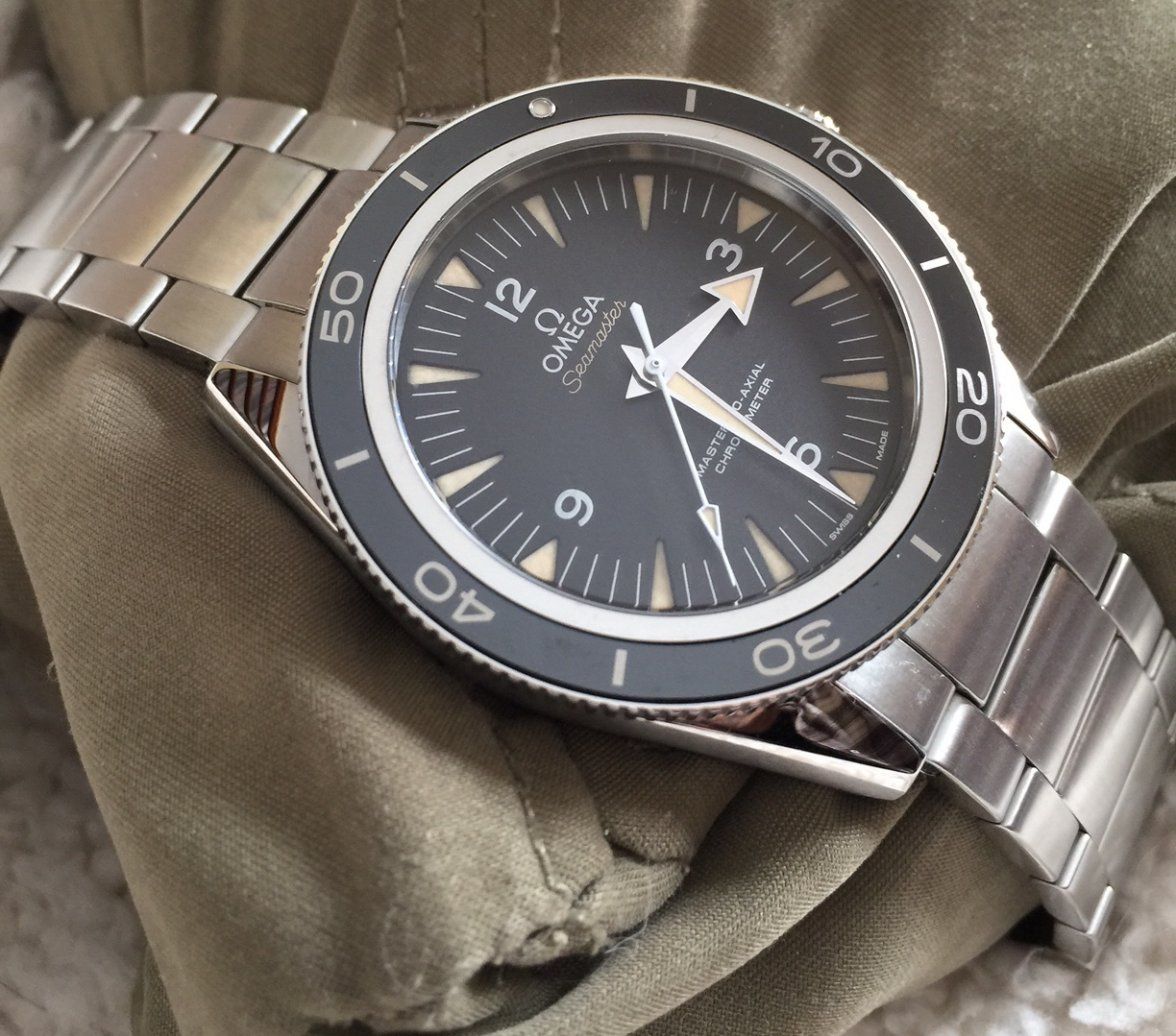 The watch to buy is the Seamaster 300 Calibre 8400 Master Co-Axial Ref 233.30.41.21.01.001 which is the exact model the Spectre is based on.  This watch comes with a bracelet as standard (sans 007 engraving on the clasp).  
The 233.30.41.21.01.001 does also miss out on the countdown bezel with 0-11 markings, having a standard 60-minute dive bezel with luminous dot instead and gets a standard second hand instead of the lollipop hand.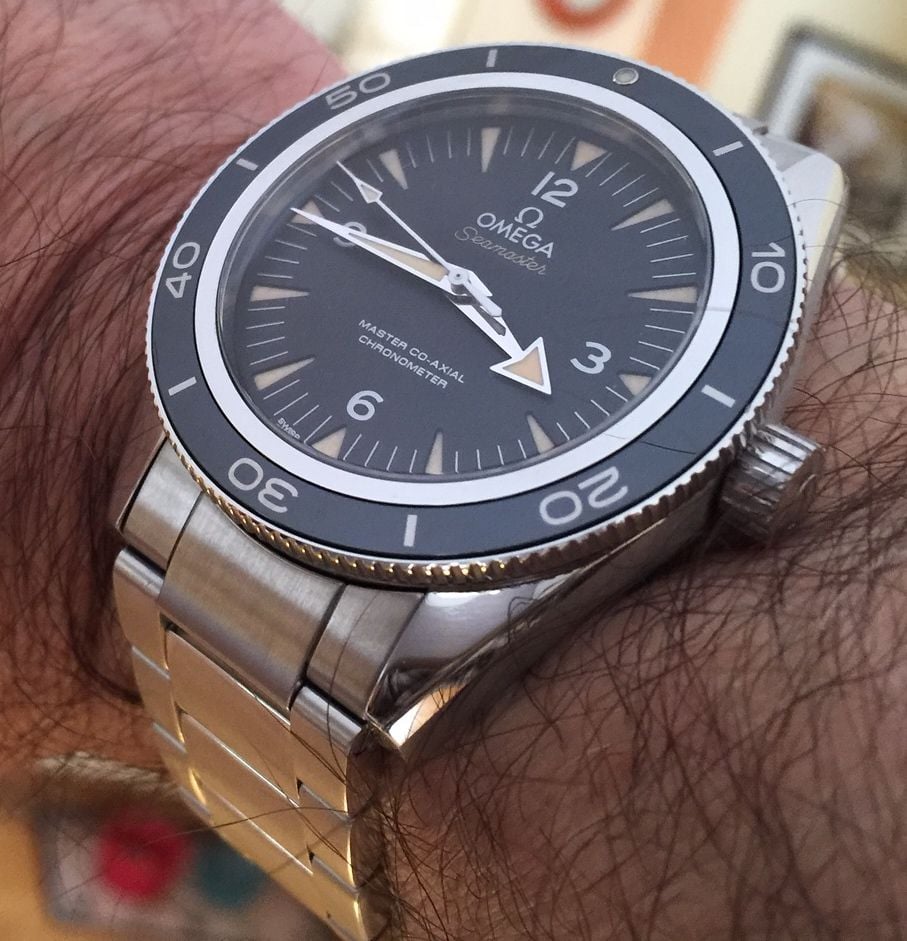 Omega will sell you the exact same striped NATO that the Spectre Limited Edition uses for a few hundred dollars, with the No Time To Die NATO also available to anyone.
Even with the rather pricey OEM Omega NATO strap, this combination is around a third of the price of a Spectre LE, with prices on the watch hovering around $3,000-3,700 depending on condition and a couple of hundred for the NATO.
Buying
I was around at the time of the initial release in 2015 when this watch retailed at $7,500 USD.  That was a considerable price hike over the standard Seamaster 300 and as a result there was some hesitation from the online Omega collector community at the time.
That hesitation was definitely not seen in sales.  I tried hard to secure one for a good friend who desperately wanted one and came up short at the time, leading him to have to buy one at a premium on the secondary market.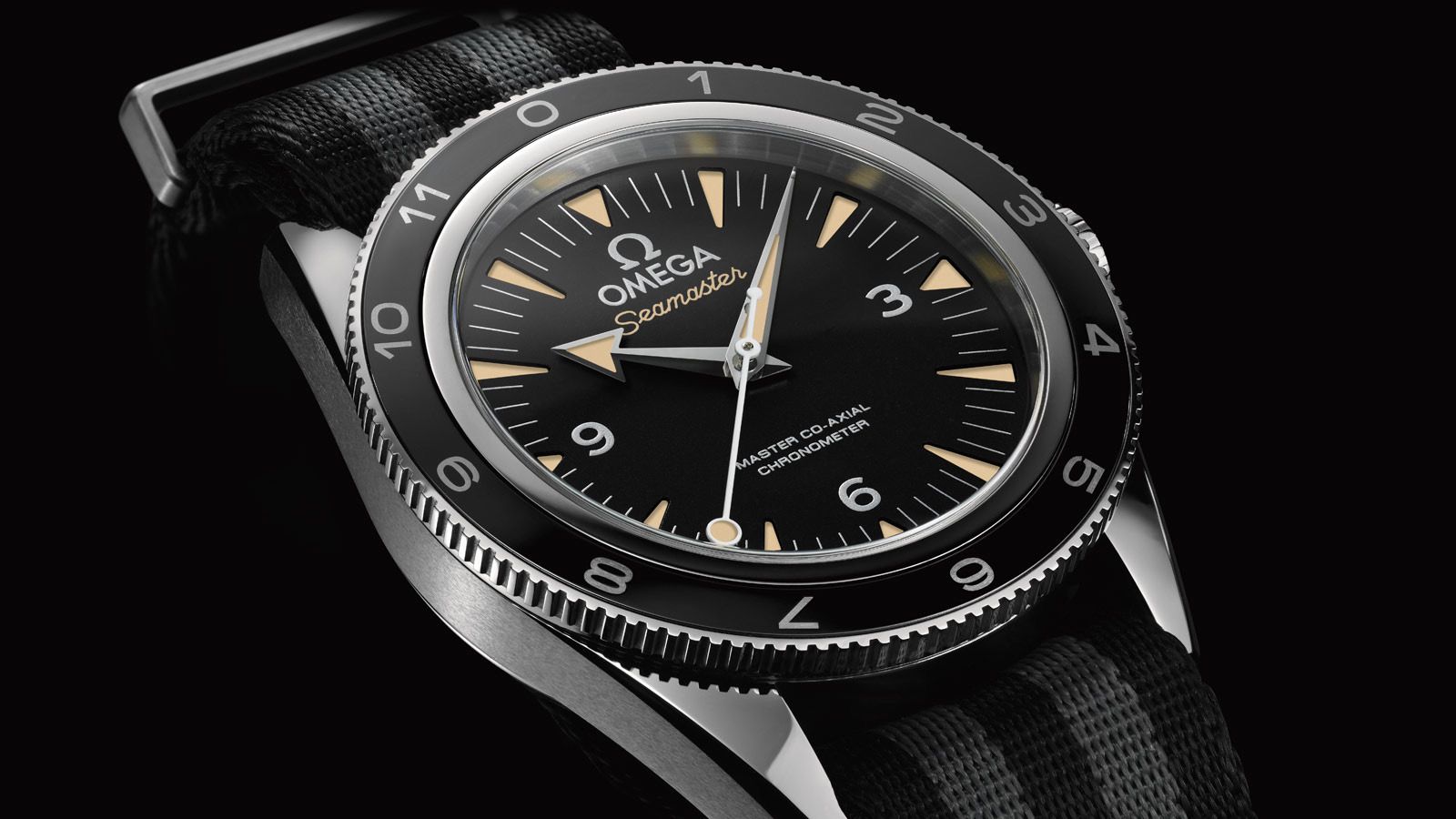 This was one of the first times we saw a Seamaster being scalped, and it almost felt strange at the time as this was something we had only seen in Speedmaster prior to this watch release.
In the 8 years since the Spectre was released, prices have continued to go up with time and as of early 2023, used examples are selling around $10,000-12,000 while unopened full sets are selling for as high as $15,000.  That's an enormous premium for a watch made in 7,007 units but such is the demand and appreciation for the Spectre.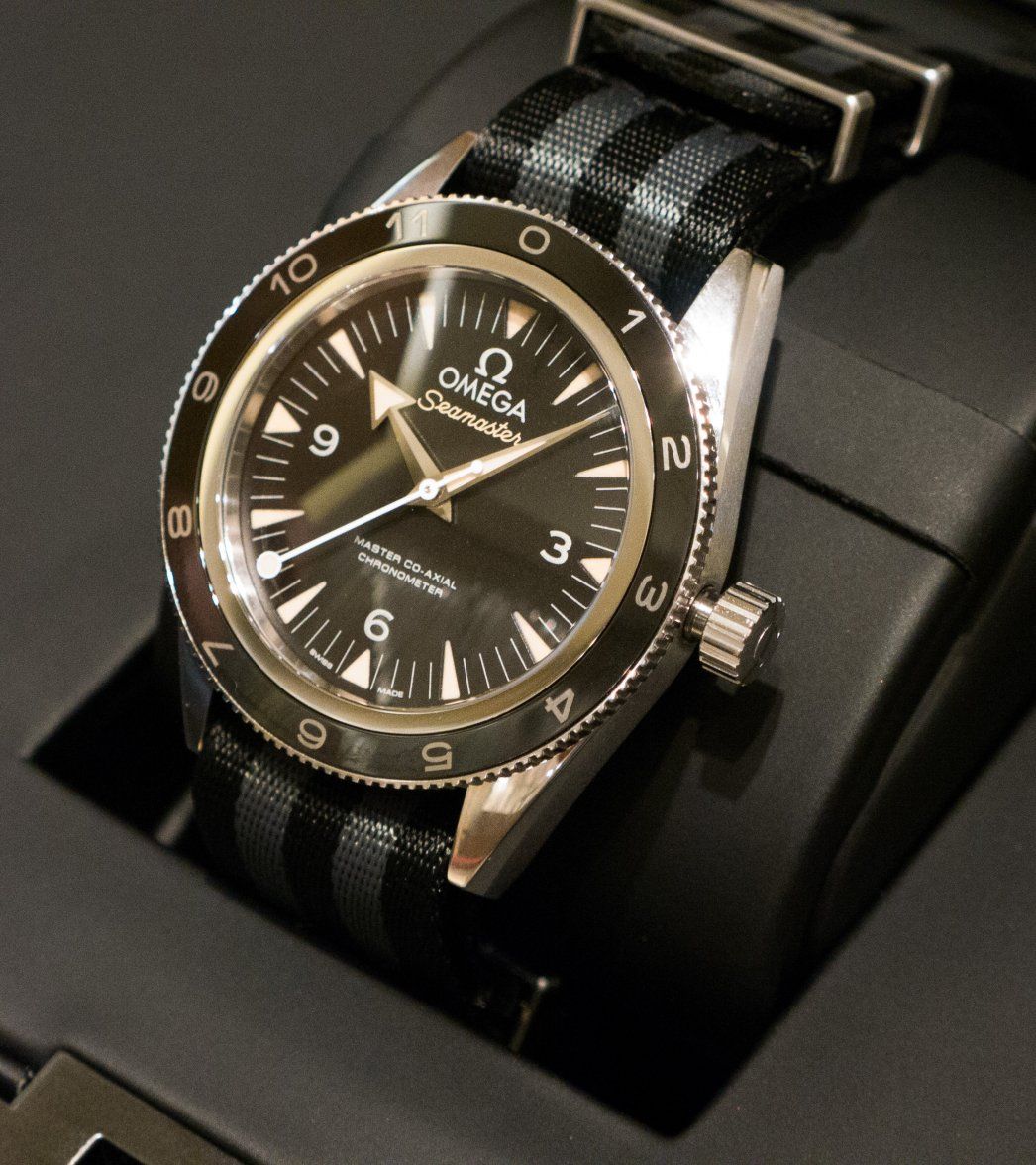 With how watch prices in general at Omega over recent years have been on an upward trajectory, the Spectre pricing at present actually seems quite fair given how many people are in the market for one.  With Daniel Craig stepping down it could well be a watch that goes up in the future as well, especially if the next Bond isn't as well received as Craig.
For those who don't want to spend that much but still like the look, by all means buy the standard Seamaster 300, it is absolutely superb.  The only things you're going to miss are the minimal Bond markings, the bezel, and the lollipop hand.  You'll also miss 2/3rds of the price tag and be able to buy a Moonwatch to go with it.
Condition wise these watches hold up extremely well.  The ceramic and LiquidMetal bezel insert are extremely resistant to scratches and damage as is the sapphire crystal.  The inner steel part of the bezel can attract scratches as can the rest of the case, but this is typically rectified easily at the next service.  Any obvious loss of shape or edge from polishing or deep scratches or dings are difficult to remove.
Because of how durable these watches are there isn't much else to look for but ensure the set is complete as it contains a lot of pieces, paperwork and accessories that can get easily lost.  A watch missing some or most of the set will carry a significantly lower price point.
The Spectre is a highpoint for both Bond watches and Omega, a timeless, wearable, and highly durable diver with a great deal of class and elegance.  While it is impossible to call it cheap, I still consider it to be a good deal today, and see these watches being very sought-after in years to come.
Disucussion thread on Omegaforums can be found here: