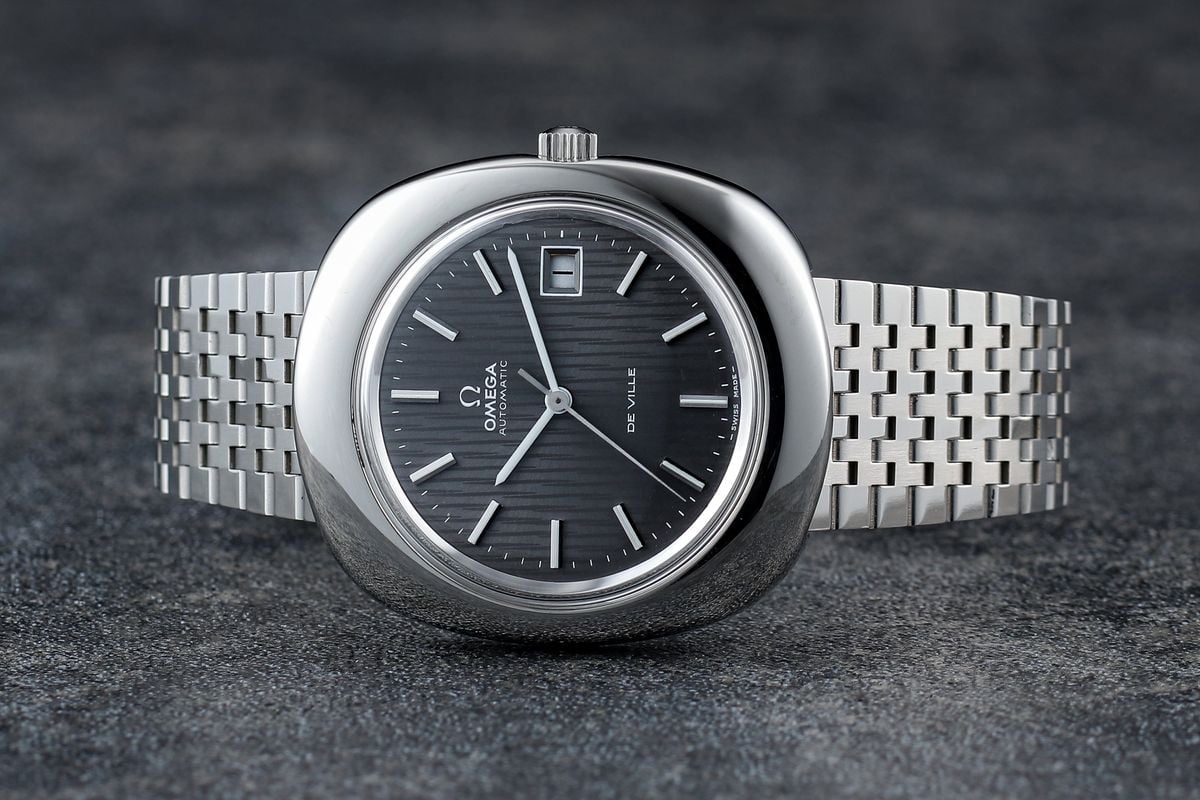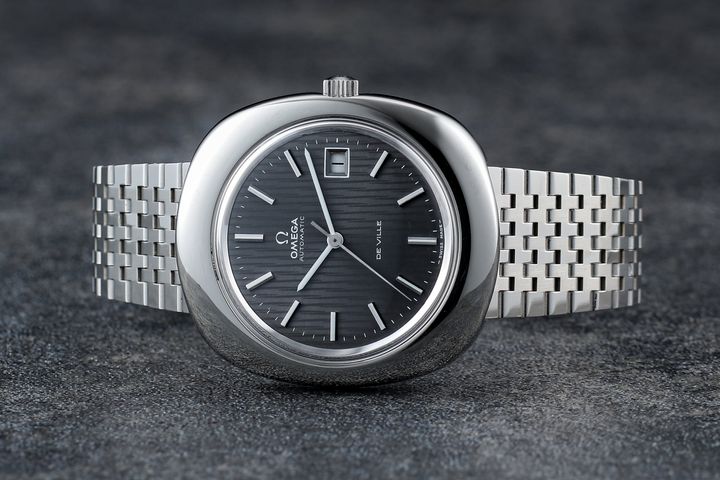 Deep Dives
Hunting UFO's in Japan, the Rare 38mm De Ville 166.155
A UFO From Japan
The Omega De Ville Reference 166.155 is another Omega originally sold as a Japanese special edition and carries many of the tell-tale hallmarks we've come to know and appreciate from a Japanese market design.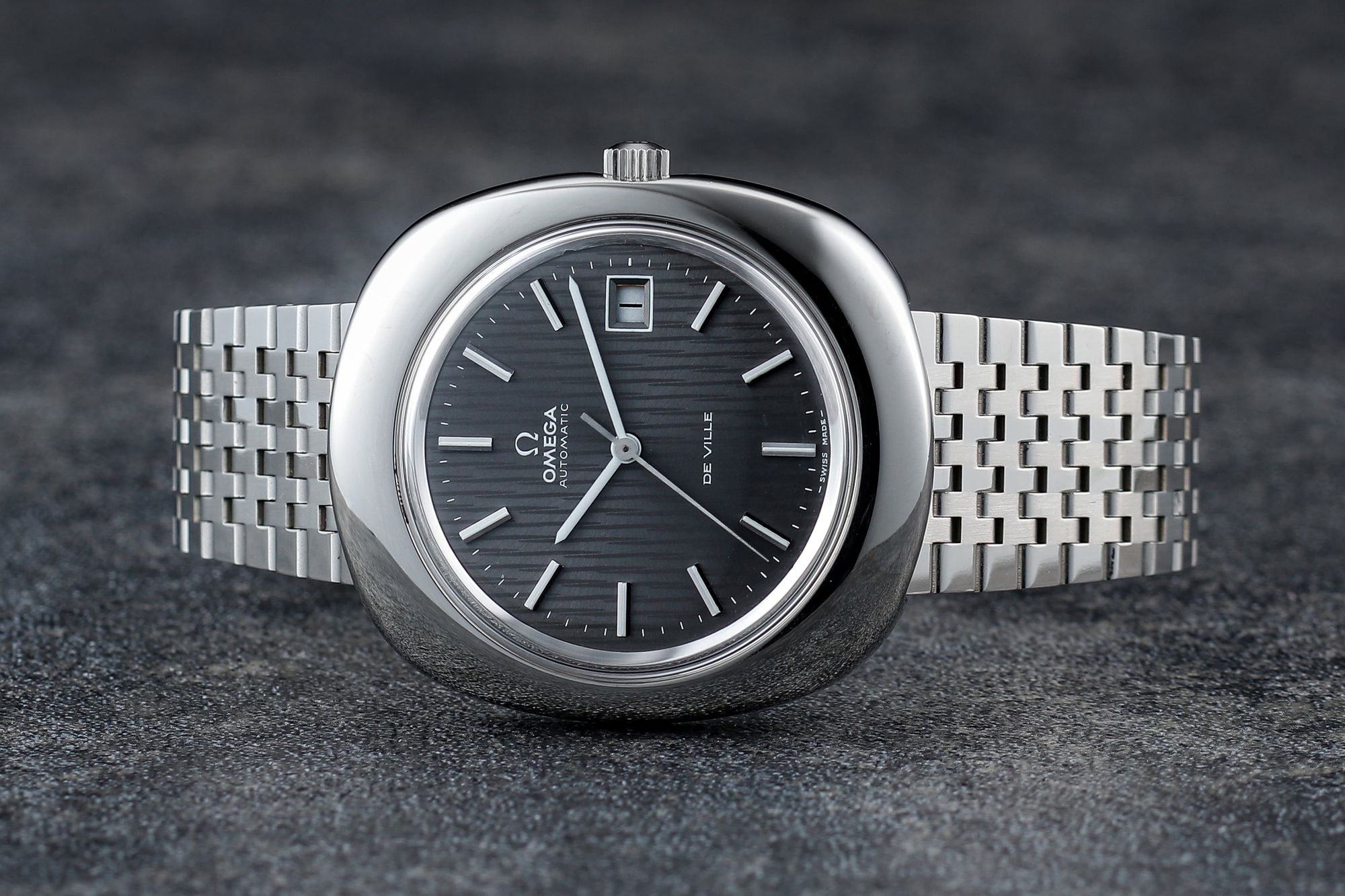 As with past Japan only models, these watches were non-luminous, came on bracelets, featured enlarged case designs, and had uniquely beautiful dials.  I say this often but whoever the distributor was for Omega in Japan, they certainly had excellent taste in watches.
Unlike many of the other Japanese Omegas, the 166.155 definitely hasn't propagated out of its home market much at all, with very little information on this reference existing outside of Japanese websites.  The Omega vintage database carries no entry for the 166.155, and examples on the usual sites are few and far between.
Even more surprisingly, until I posted a silver dial example in the Omegaforums recommended vintage watches thread, there had been no mention ever of this reference in the history of the forum.
It's possible that the somewhat unloved movement led to so few being owned beyond Japan, or production may have been less than for other Japanese models but this UFO-shaped De Ville is well worth the effort of both learning about and hunting.
Case & Bracelet
The case of the 166.155 De Ville immediately draws attention.  It is genuinely large at 38mm, with a smooth, rounded profile pointed ever so slightly in the four corners.  The case seamlessly transitions from bezel to the sides of the case and front of the lugs.  This front face of the case is polished in appearance, although not to a mirror finish.  The Reference 166.155 is only available in stainless steel, there are no precious metal or plated versions.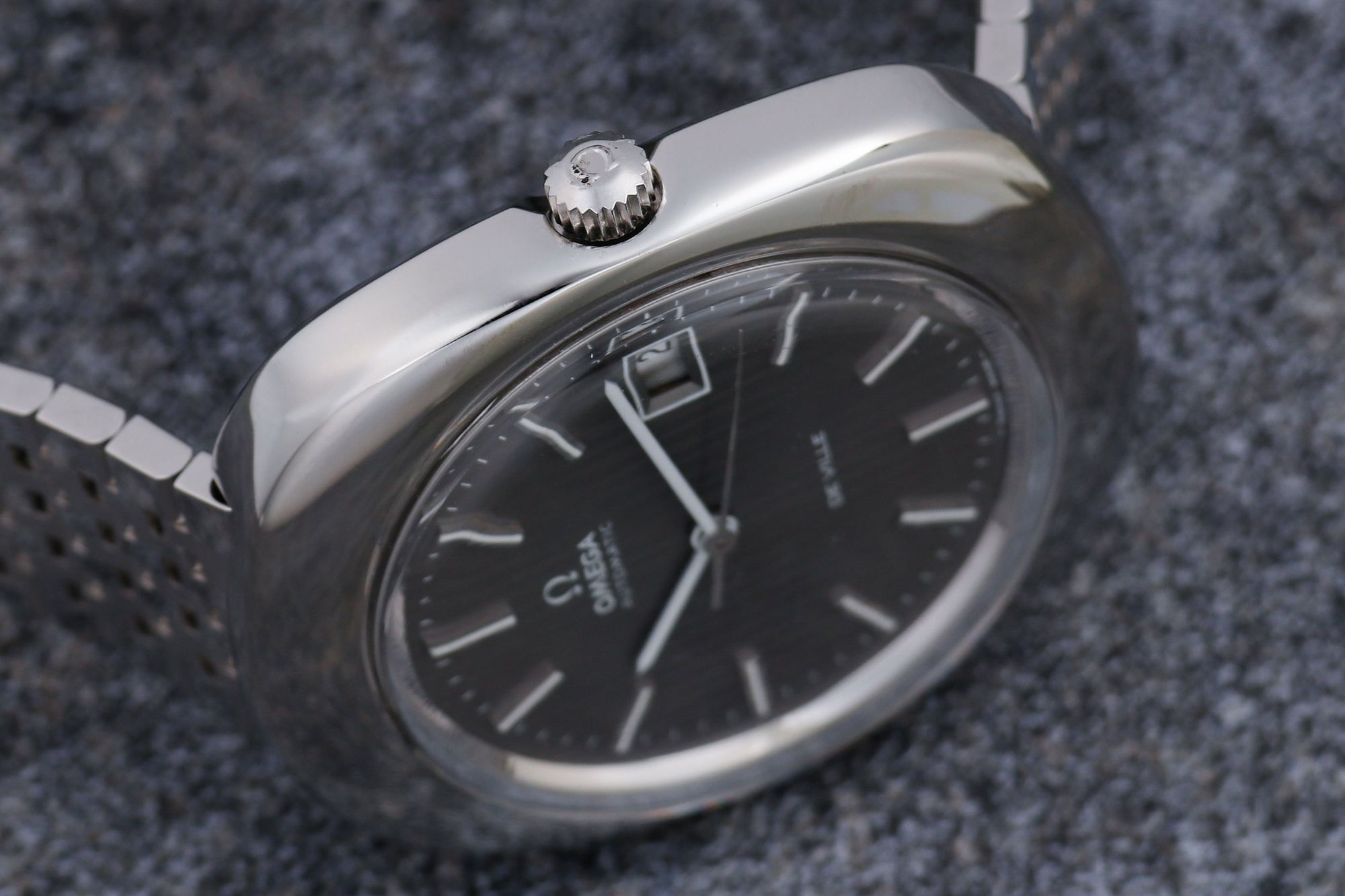 The case-back is a screw-in type, with the stylised De Ville text logo, with standard tool keying.  The watch has a decently large, knurled crown, and while the crown is slightly recessed into the case from the front, there is a substantial cut-away in the back of the case to allow for convenient access to pulling it out.
The lug width on this case is larger than most watches of this era at 20mm, and the front of the case effectively acts as a hood for the lugs, covering the end of any strap or bracelet to make it look like an integral part of the case.
These watches were sold on two specific bracelets that fit the unusual case design quite well.  The first is a single-link design, not unlike that seen on several other Omega models such as the Geneve 166.0168, 166.0169 & 136.0102, however these links are both thinner and wider.  The second is a rather unique design that roughly resembles a bamboo curtain with solid bars making up the links, joined by rings at the outer edge.  Both bracelets are fitted with a stamped Omega clasp.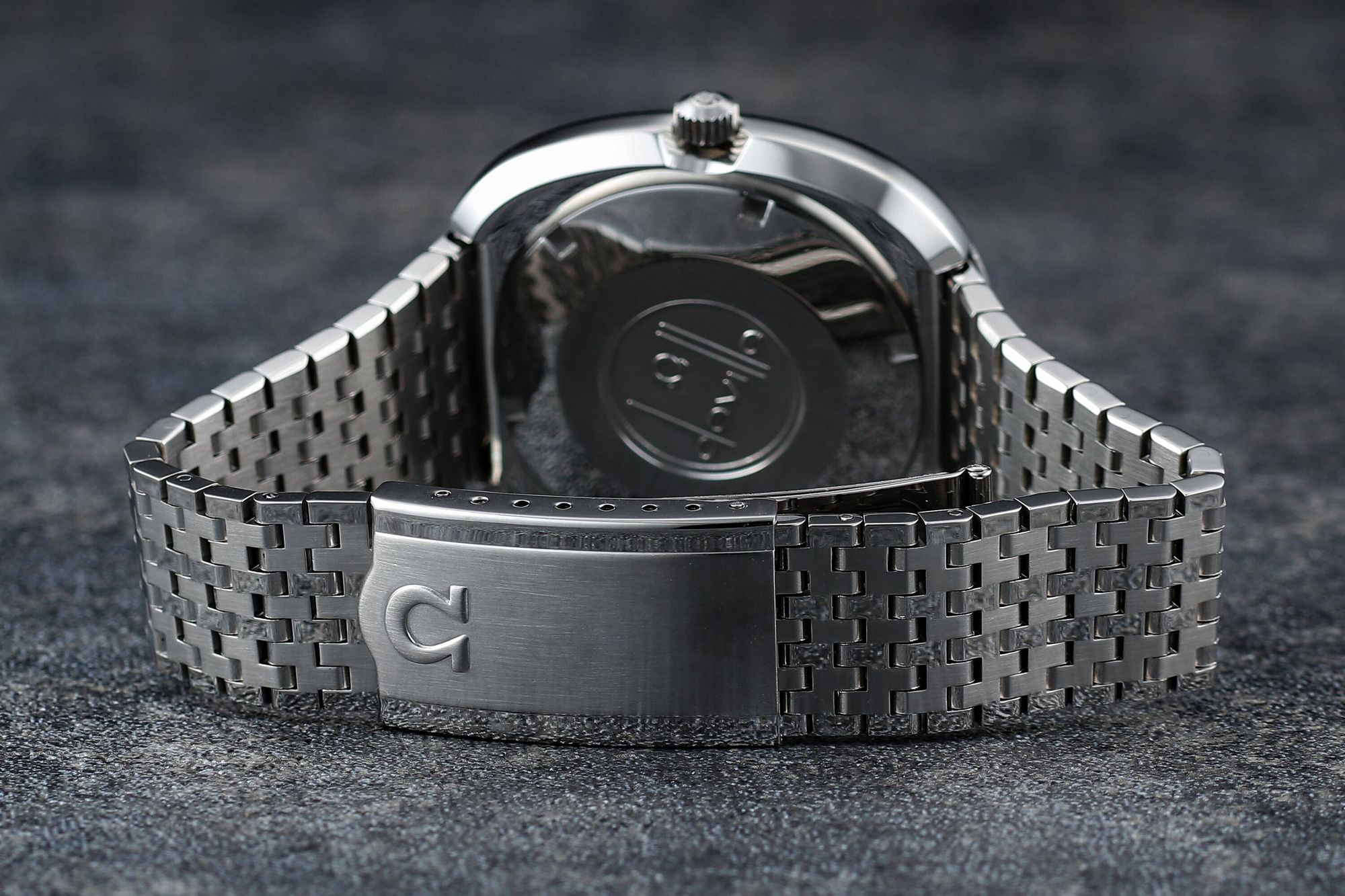 Movement
These watches are all powered by the Omega Calibre 1481 automatic movement.  This movement was shared from Omega's stable-mate in SSIH, Tissot and found use in many of the more entry level Omegas of the 1970s.
Omega did also have the Calibre 101x series of movements, designed and produced in-house at this point in time, however that movement was a high performance, very thin at 4.25mm, fast beating 28,800 vph movement with hacking and came at a higher price point.  
If the Calibre 1011 was a high-performance, highly-strung thoroughbred,  the Calibre 1481 was a stout, compliant mule, doing its job endlessly without complaint.  It may not be fancy, but it keeps ticking and does its job well.
The Calibre 1481 is a non-hacking movement, with a quick-set date mechanism operated by pressing the crown inwards.  It beats at 21,600 vph, has a power reserve of 42 hours, and sits at a somewhat thick 5.35mm, larger than Omega's previous generation Calibre 565 at 5.05mm.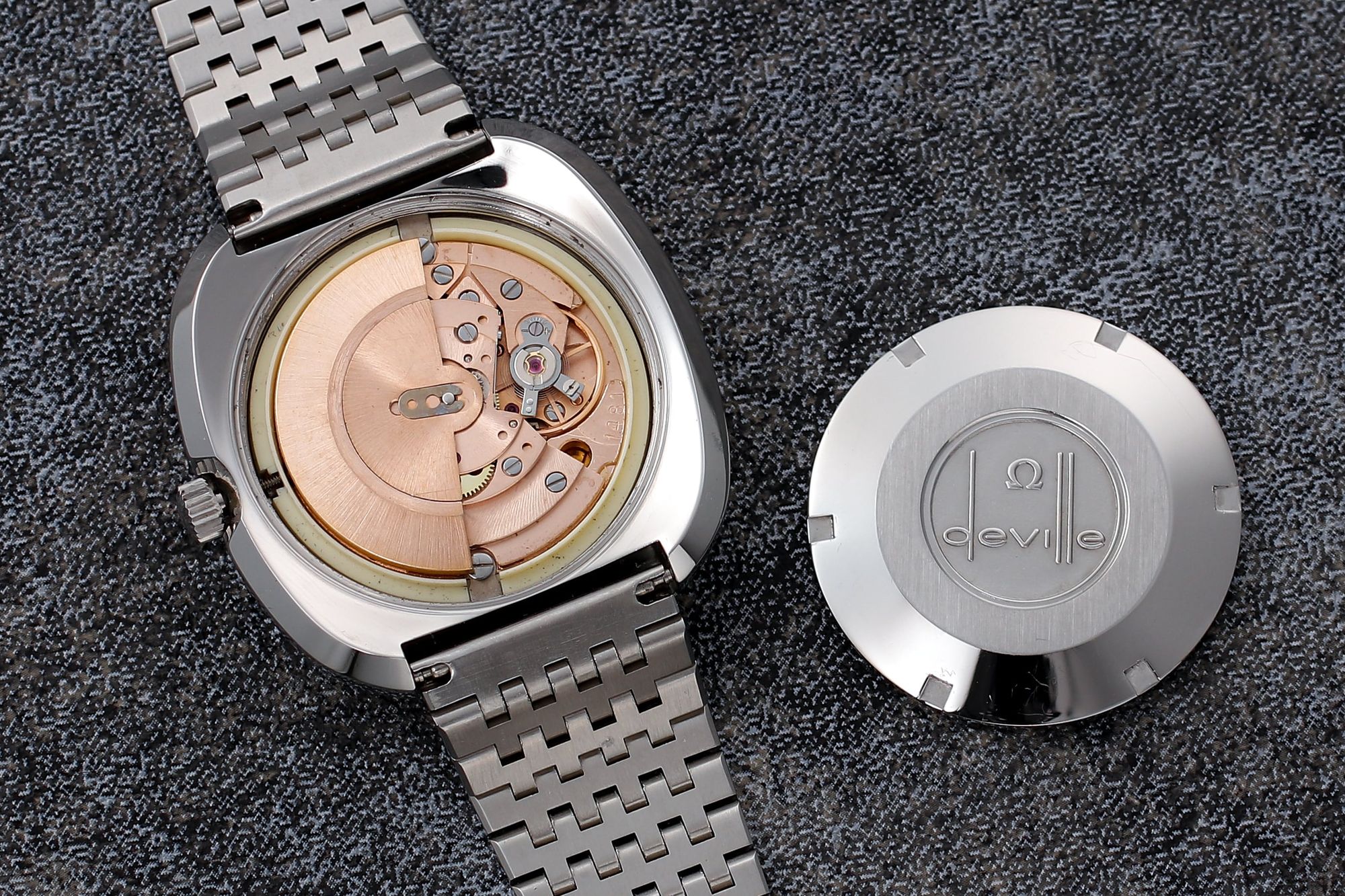 Parts availability for the Calibre 1481 is perfectly fine, any watchmaker with an Omega parts account can easily get them.  They do however rarely make it to a watchmaker's bench purely because of the fact that many are in cheaper Omegas that are often not serviced for economic reasons.  This however doesn't apply to the rather attractive and desirable 166.155, nor to some of the other nice references like the Stingray that feature the Cal 1481 as they are well worth spending the money on.
Many owners of these movements simply buy them, see that they're running, and figure on wearing them until they fail or no longer keep time at all.  Because of how stubbornly they want to keep running, its actually rather surprising how hard it is to wear them out even with no lubrication and metal painfully wearing against metal.
In the event that a Calibre 1481 is too far gone, or needs extensive parts, there are large numbers of them available in cheap watches as donors, so costs always tend to be controllable.
Dial Variants
There are three known dial designs for the reference 166.155, all sharing a few common parameters.  Firstly, all dials and hands are non-luminous, which is a positive given it makes for one less thing to worry about.  Secondly, all dials feature applied hour markers with contrasting colored inserts, and matching painted dial logo and text.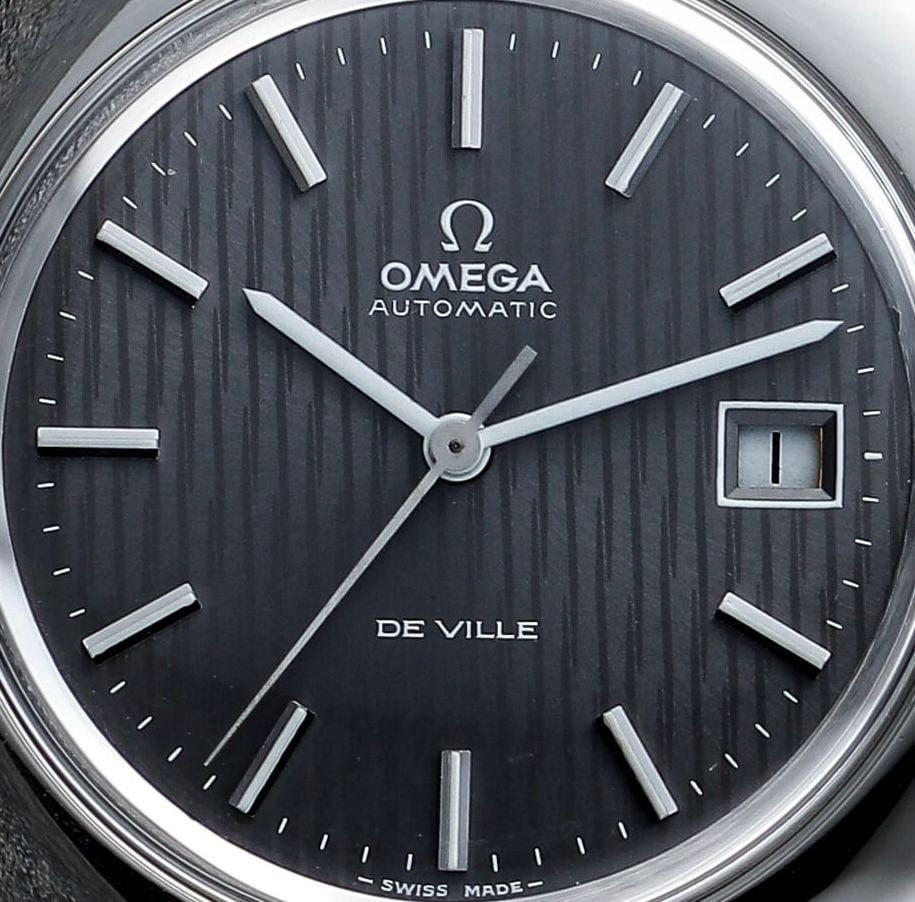 Due to these watches having quite decent water resistance, and no tritium, the majority of these dials are in good condition unless poorly handled.  Unfortunately, due to how cheap the watches are, some have been subjected to some less-than professional watchmaking and refinishing, which should of course be avoided.
Silver Dial
The silver dial variant stands out from the other two models with a vertically brushed texture that catches the light quite brilliantly and can look anything from near white to almost a dark grey.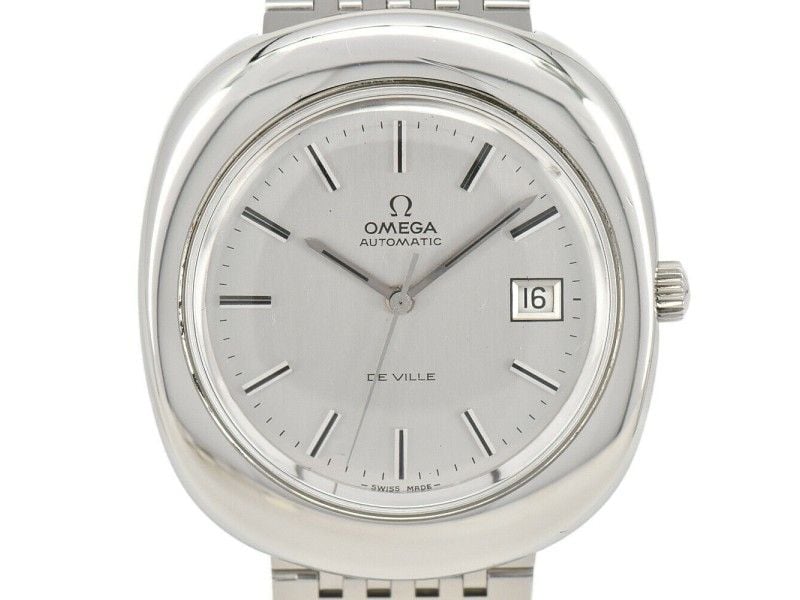 This dial features black text the Omega logo and De Ville marking on the dial, and has black inserts in steel hands where the lume would typically be, with matching black-topped applied hour markers.  This dial is fairly easy to come by as far as 166.155 models go, but lacks some of the cool factor of the other variants.
Metallic Blue Bamboo Dial
The metallic blue bamboo textured dial is arguably the most elegant and beautiful of dial options, and certainly not something you see every day.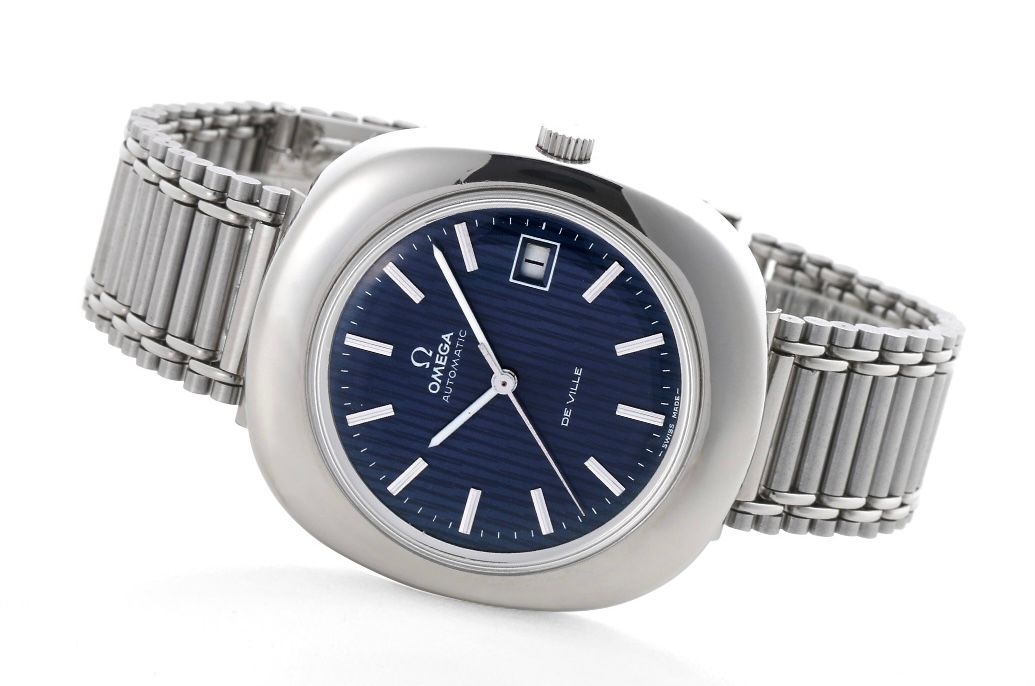 This dial features a very intricate combination of dark blue, diagonally broken lines, against a background of metallic starburst blue, giving a look very similar to the Omega Aqua Terra Skyfall Edition of the 2010s.  
To give better contrast, this dial features white hands, and white-topped applied hour markers, while dial text is also white.
This blue dial is seemingly the least common, but if you can find a nice example it is certainly very much worth owning as there are few things like it.
Metallic Black Bamboo Dial
The metallic black bamboo dial, which is almost more of an anthracite grey in color, is identical to the metallic blue version except for the color.
As with the blue dial, it also has the white hands and white-topped applied hour markers, giving excellent contrast and legibility to the dial.
While the blue appears to be the least common, the good news is that the black dial is probably the most common and seems to be the easiest to find in nice condition within Japan.
Buying
Some Japan specials can be found on eBay, Chrono24 and forums relatively easily, but this reference is not one of them.  At time of writing, there are precisely two for sale anywhere in the English-speaking world, and one that went about a week ago in mid-October 2022 quite cheaply.
How cheaply?  Well, very.  320 GBP, even in the quite hot UK watch market.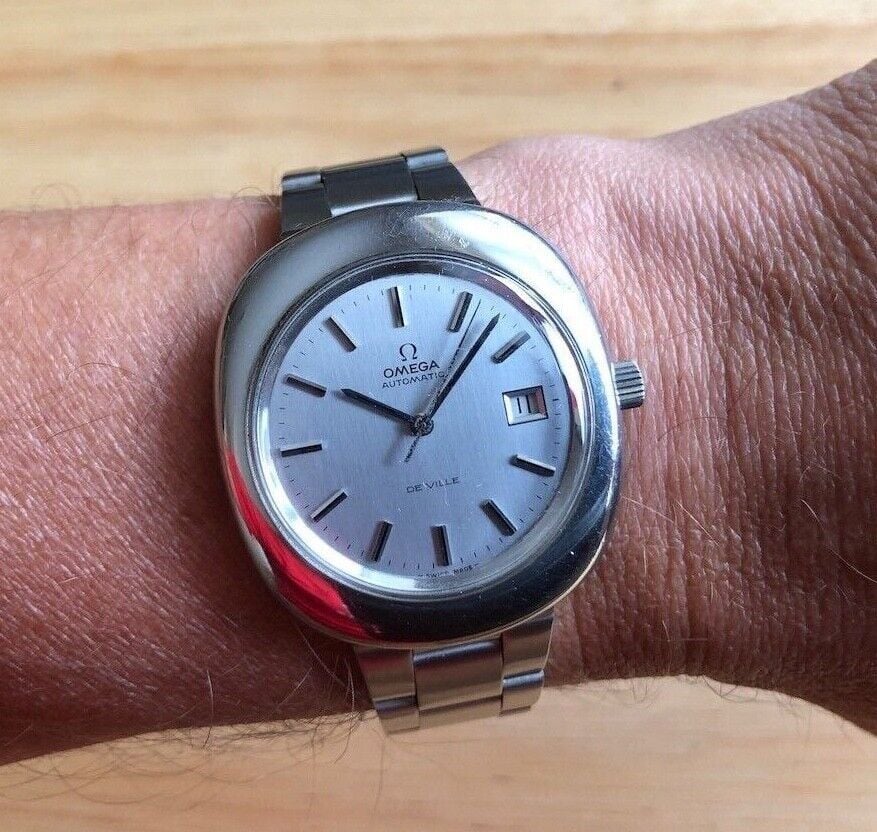 It was a nice example too with a clean dial, hands, case and movement.  
Realistically if you do desire one of these, the best way to acquire an excellent example for a reasonable price is to purchase it out of Japan.  Once again this is best achieved by having a friend or contact over there who can facilitate the purchase for you.  If you don't have a contact in Japan, there are freight forwarding services and sellers that will be willing to ship internationally.  
The majority of these watches will be found on Yahoo! Auctions Japan, other similar marketplaces and auction sites inside Japan, and from independent dealers there.  
The good news is price wise, the majority of watches are available under $1,000, even for nice condition examples that are very attractive an on bracelet.  Even the header image watch with black dial on bracelet, which is exceptional and also featured below, is currently for sale at time of writing for only $721 USD.  Remarkable value for a 38mm vintage Omega this attractive.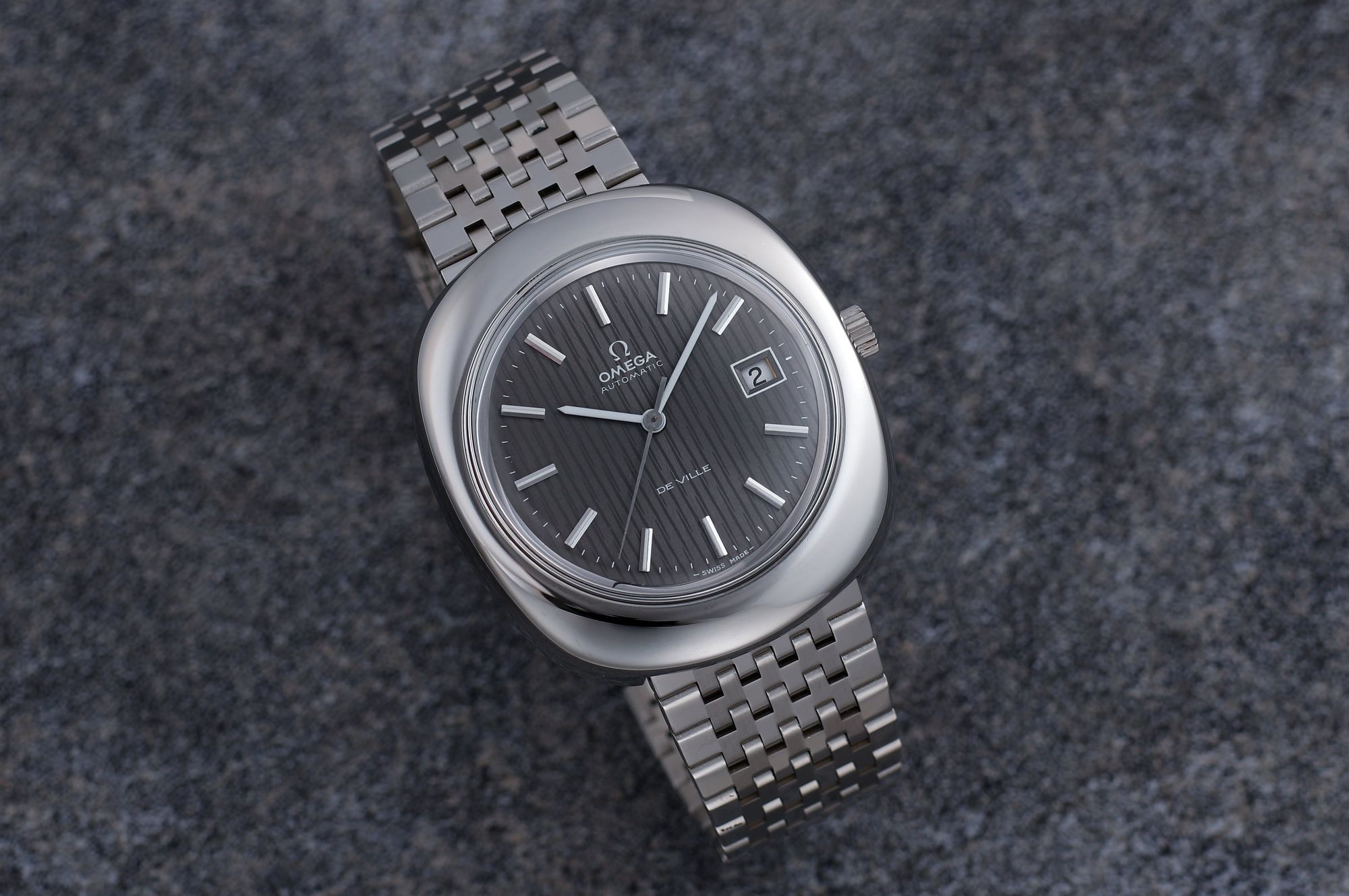 When considering how unique and special this watch design is, a model virtually unknown in a sea of familiar vintage Omegas everyone chases, the current pricing is an absolute steal.  Look past the un-loved movement, and beyond your borders, and enjoy one of the coolest Japanese special models of the 1970s.
Discussion thread on Omegaforums can be found here: