The Seamaster 566.016 is a high-quality, durable and bespoke ladies' watch design produced during Omega's golden era for the Japanese market. While simple and far sportier than its Constellation cousins, this is a 24.5 mm Seamaster very much worth owning.
A Unique Ladies' Design
Most ladies' models of Omega produced during the golden era tend to be smaller and, in many ways less impressive versions of men's models that we see a lot of.  In some cases, this works out really well, like with the ladies' C-Case Constellation, and in other instances like the 515.027 UFO case it can feel like the ladies' version is a bit of a downgrade.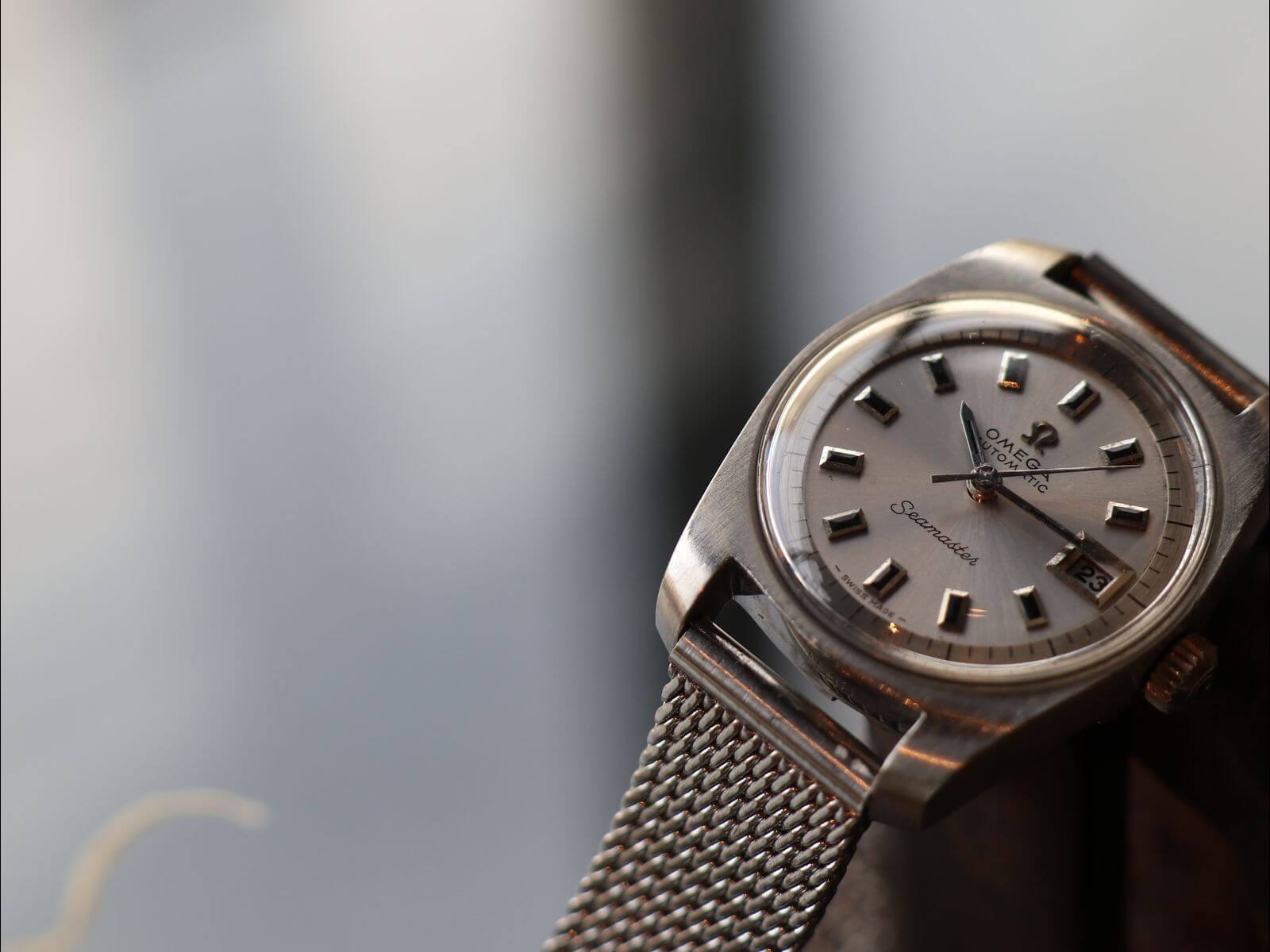 Thankfully, there are some really great watch designs that buck the trend and were designed specifically as a ladies' watch with no larger version available.  The Seamaster 566.016 is a great example of this, a sporty watch with beefy lugs and a style never replicated in a larger form.
It isn't surprising that this once again is a great, attractive watch native to the Japanese market and featuring all the typical hallmarks we have come to expect from a Japan special.  Most examples have non-luminous dials and hands with elegant, applied hour markers, an impressively finished unique case design, and a rather stunning dial design overall, though these watches do not appear to have come with a particular bracelet.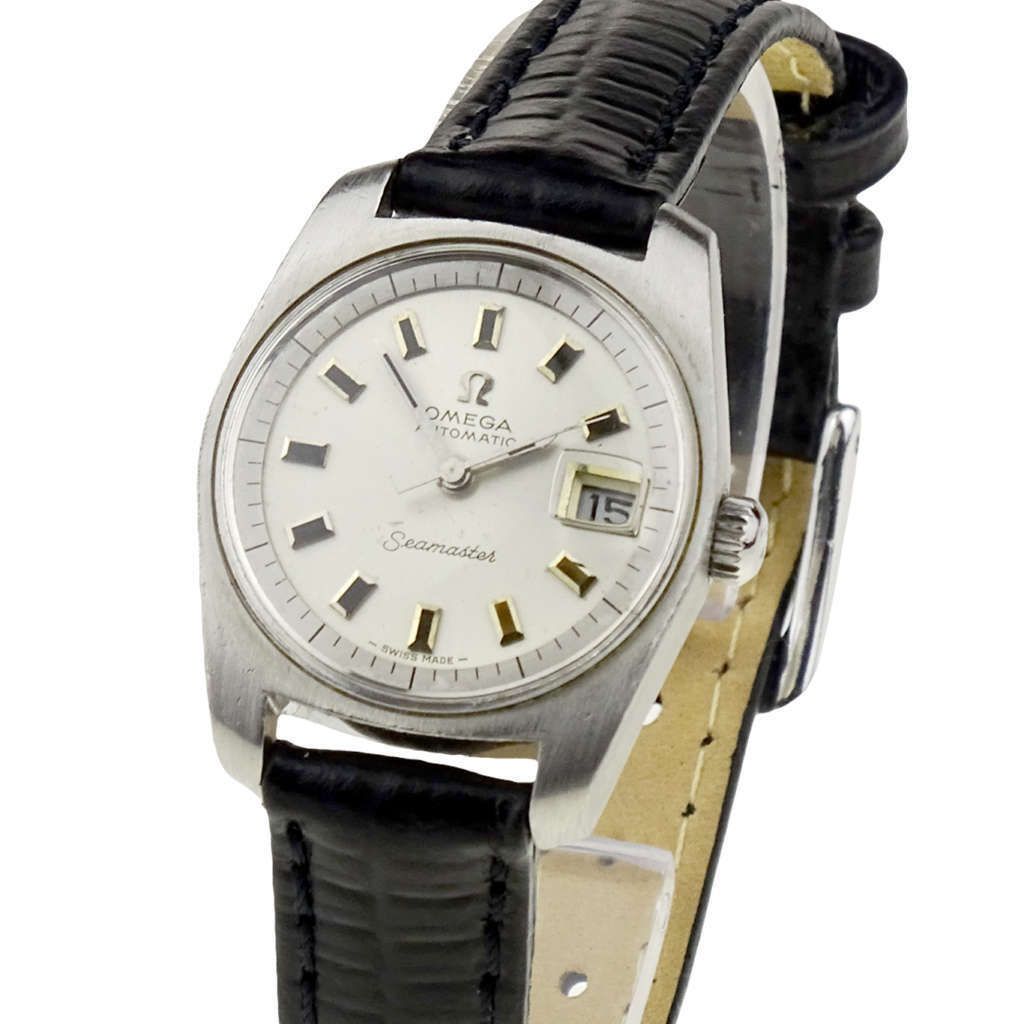 Very few of these have appeared in the English-speaking world with only one thread mentioning this reference on Omegaforums and a handful of Japanese sellers listing internationally on eBay.  There is no nickname for this distinctive shape, but thankfully it is quite easy to recognise once you're familiar with it.
Case & Strap
The case of the Seamaster 566.016 is a particularly impressive one with very broad, chunky lugs featuring smooth compound curves and having a wrist presence far greater than the 24.5 mm diameter would suggest.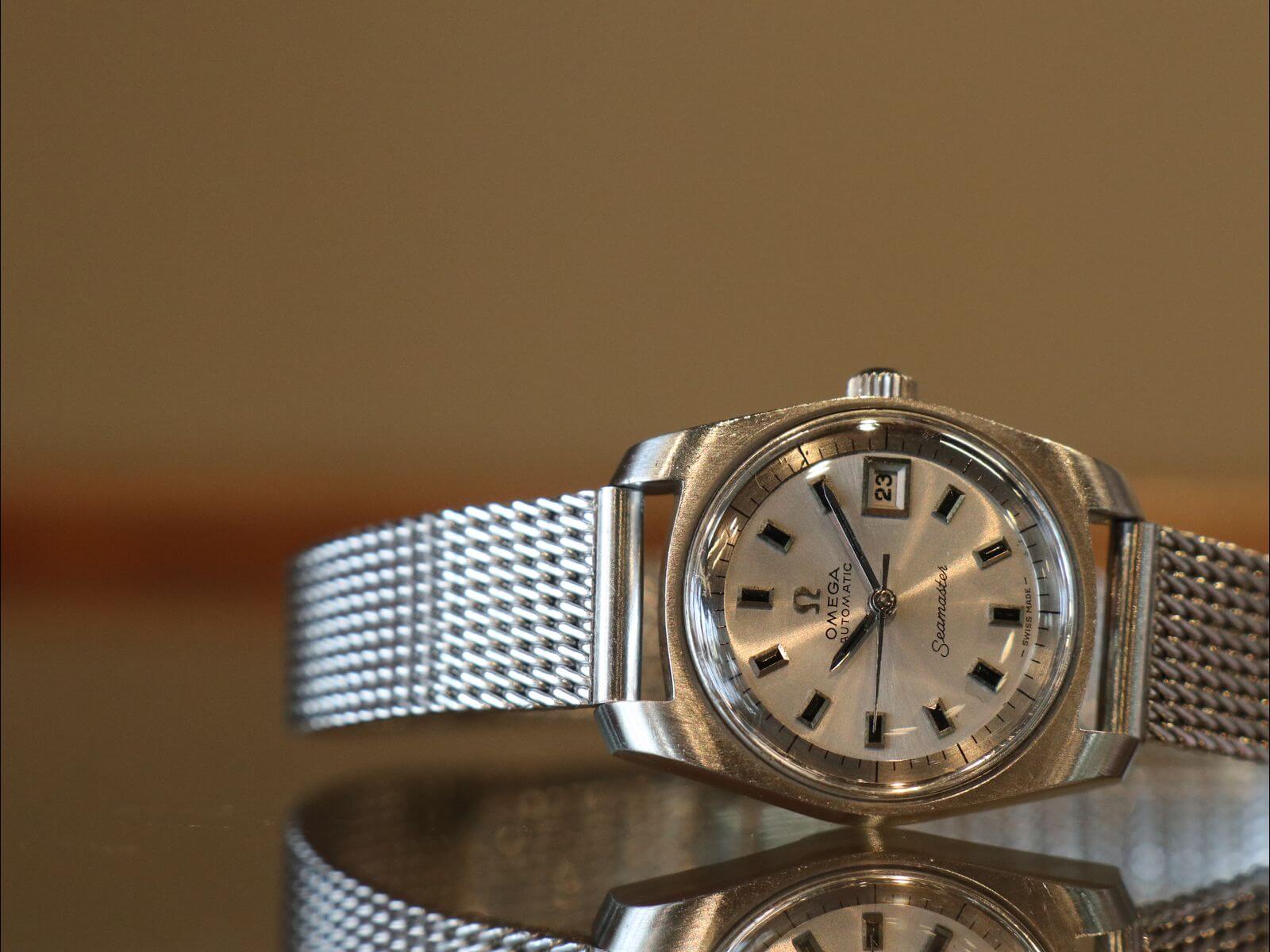 Being a product of the late 1960's, when water resistance was improving drastically and bearing the Seamaster line on the dial, this watch does not disappoint in practical terms.  The case-back proudly bears an engraving stating "Waterproof Tested 60 M" beneath the famous Seamaster Hippocampus relief, and while that 60-meter rating only applies if the watch has had any worn seals, crown or crystal replaced, that figure can still be reached today.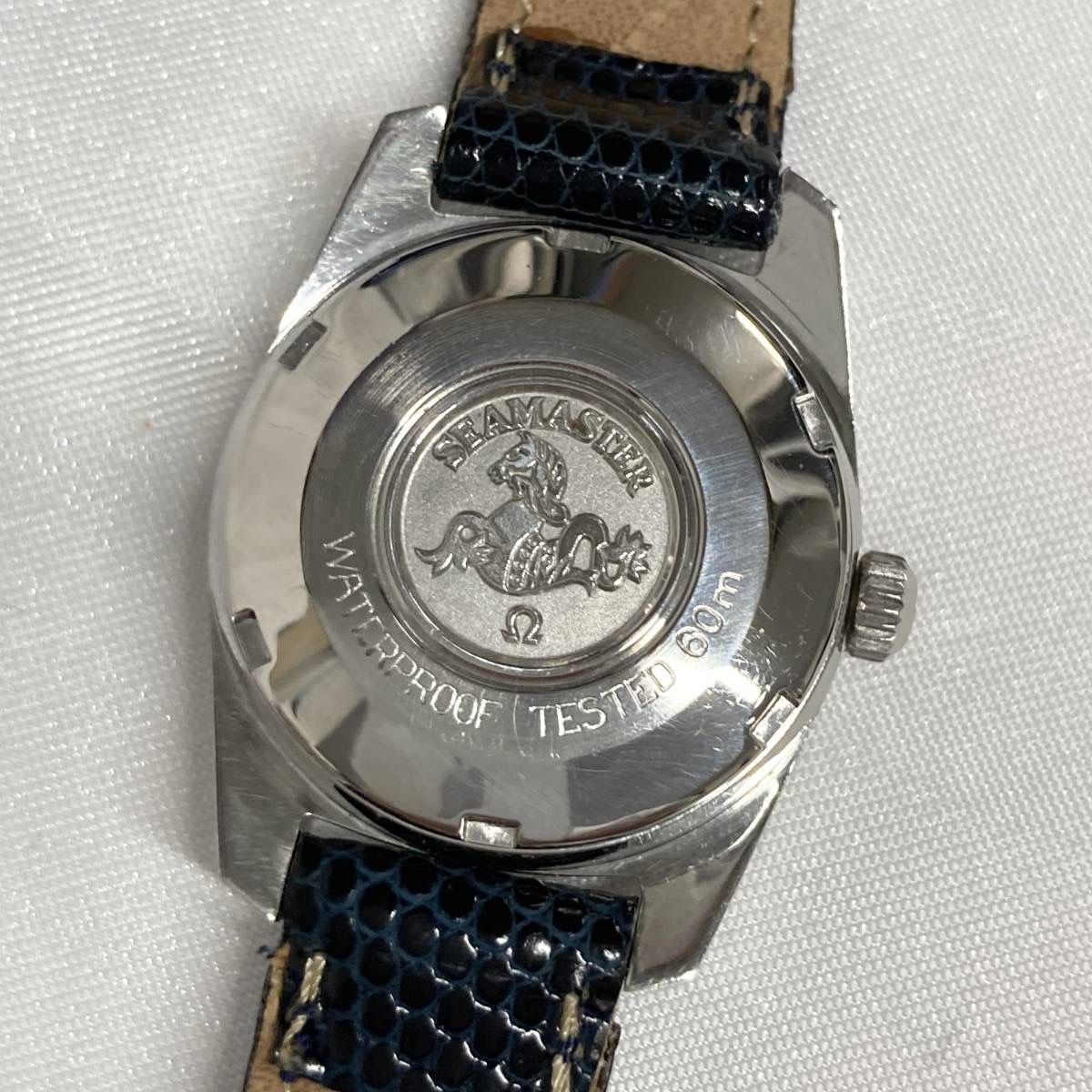 The case-back is of a keyed screw-back design and is as substantial as the case it attaches to.  While it may lack the chronometer rating of a Constellation like the superb 568.016, this watch was about rugged durability and practicality, and it delivered this in an era when few ladies' watches had such capability.
The large, coarsely knurled crown is easy to access on the side of this symmetrical case with no crown-guards obstructing access.  By virtue of being an automatic with a full rotor, the movement adds a bit of thickness to the case in the form of a protruding case-back under the case, yet thickness is still quite reasonable at 8 mm thick.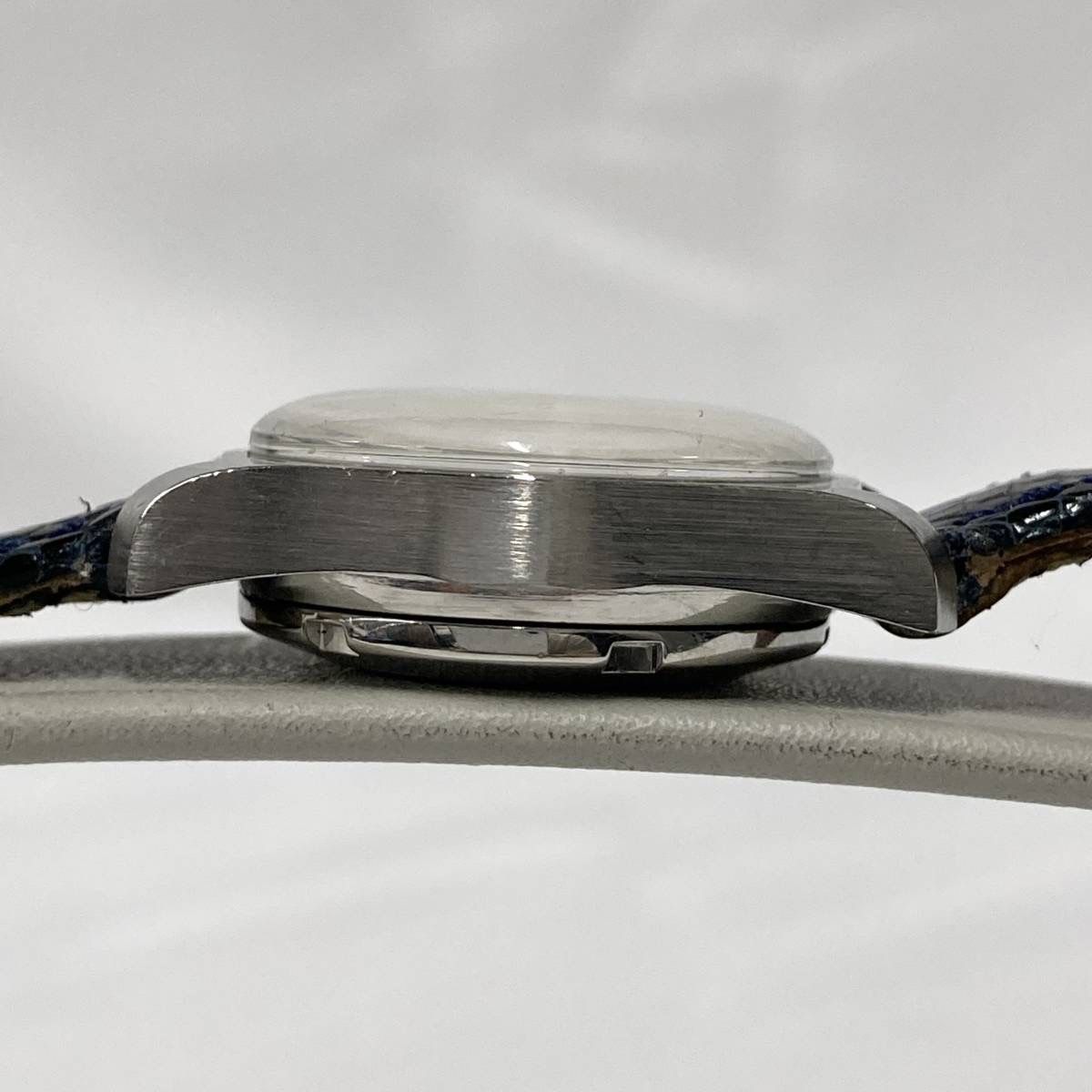 As with other ladies' models in this size category, the lug width is a standard 12 mm.  These watches do not appear to have come with a single standard bracelet but are compatible with a wide variety including the 3-row Omega "beads of rice" bracelet and Milanese mesh.  More frequently, these watches tend to appear on leather strap, and given the bulky look of the case, pairing it with lighter and more playful colors can make for a really nice casual look.
Movement
The movement powering the Seamaster 566.016 is the Omega Calibre 680 / 681 automatic movement with date.  These two movements are virtually the same with the only difference being that the Calibre 680 has 17 jewels while Calibre 681 has 24 jewels.  Typically, the lower jewel count versions of Omega movements are found in markets like the US where higher jewel counts attract greater tax but for whatever reason both Cal 680 & 681 are commonly found powering these Seamasters in Japan.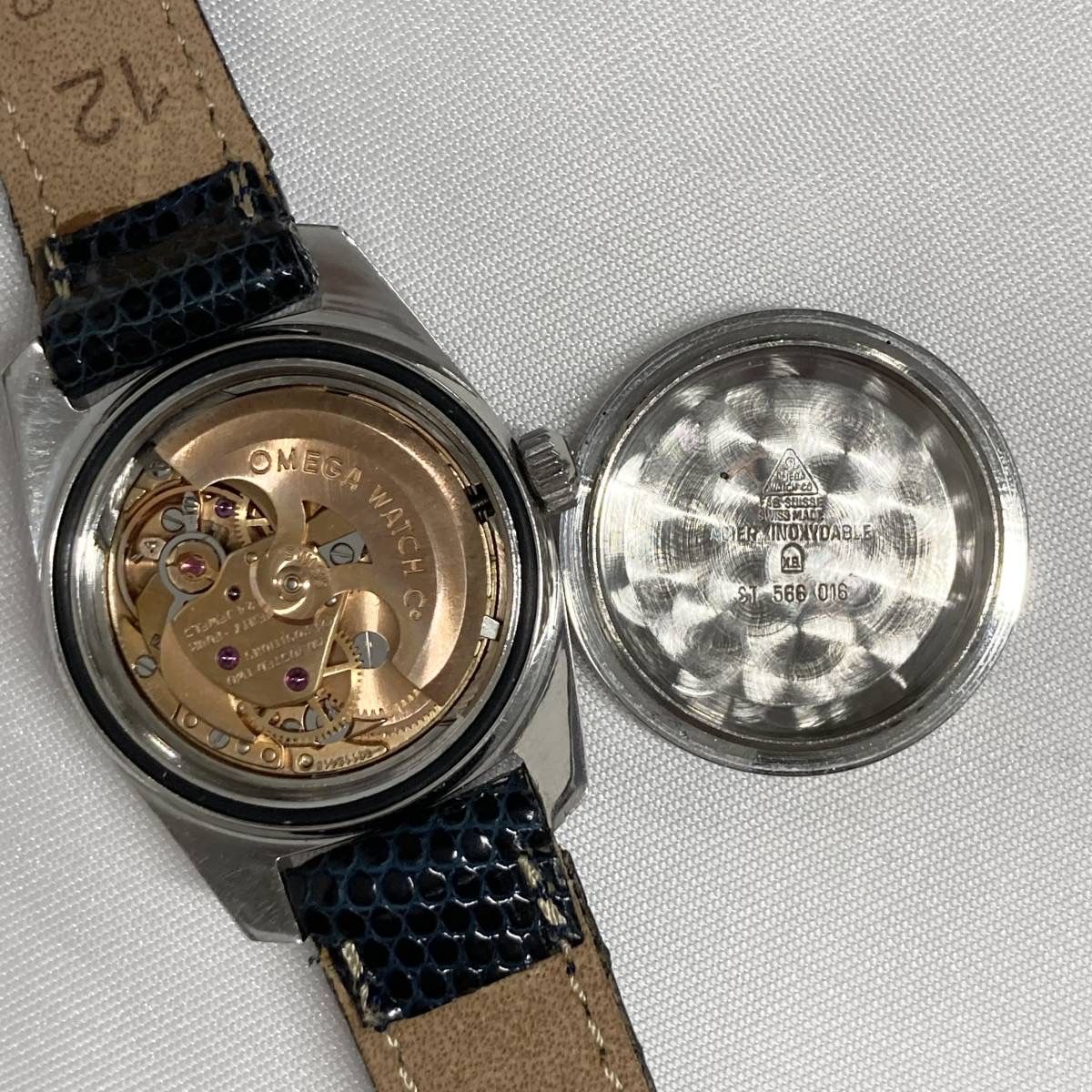 The Calibre 68x series of movements share many parts with the manual-wind Calibre 620 & 625 movements of the early 1960's and while production continued well into the 1970's, these movements were built to the high standards of Omega's golden era.  Just by looking at this movement you can see from the finishing, the rotor shape, and the layout how similar it is to the highly regarded 1960's calibres more so than anything that followed in the 1970's.
The calibre 680 / 681 beats at 19,800 vph, has a sweep second hand, and has the same semi-quickset date mechanism as the calibre 561 men's watches.  All of this is achieved in a movement with a much smaller outer diameter of 18mm compared to the 28.4mm of the calibre 561, and only adds 0.3 mm to thickness.  The only sacrifice made for packaging is the power reserve of 40 hours, 10 shorter than the calibre 561, but still more than adequate for daily use.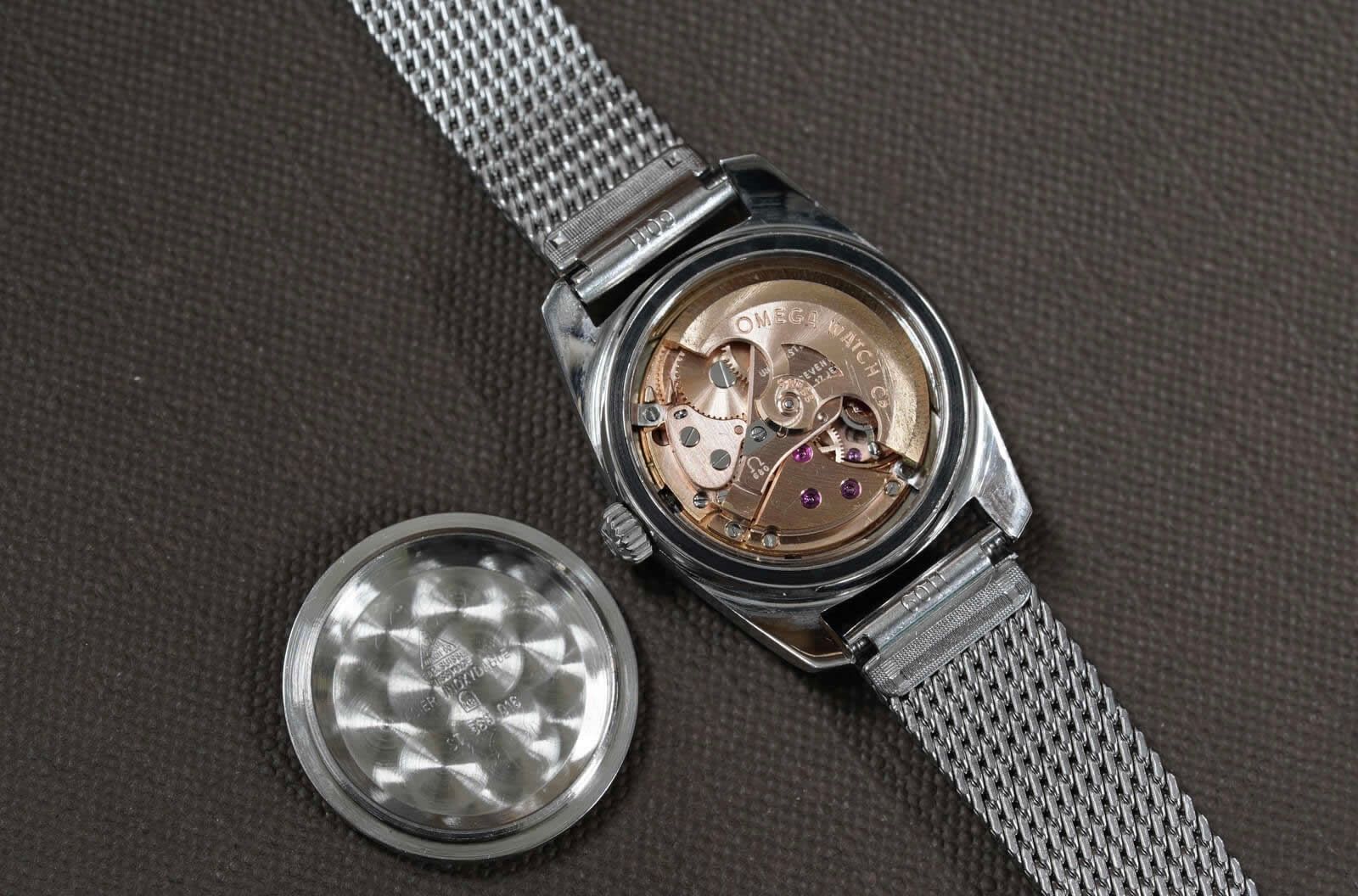 The calibre 680 / 681 is compatible with a large number of related movements in the 62x, 67x & 68x family which can be a bit of a double-edged sword.  On one hand it means there is an exceptionally large pool of donor parts from less desirable models featuring the same movements, keeping parts costs under control for decades to come.  On the other hand, you can also find watches that have patchwork movements or incorrect replacements, so it is important to be somewhat vigilant in this respect.
If properly maintained there is no reason why a calibre 680 / 681 cannot continue to meet or exceed its original chronometer specifications.  They were a well-designed, durable and high-quality movement which can be cared for by any watchmaker with an Omega parts account.
Variants
There really isn't a whole lot of variety on the Seamaster 566.016, but that's not a bad thing as the one dial design on offer is very well designed and finished.  There is the choice of a gold-capped model, the CD 566.016, or the stainless steel ST 566.016, but there is no solid gold option on offer.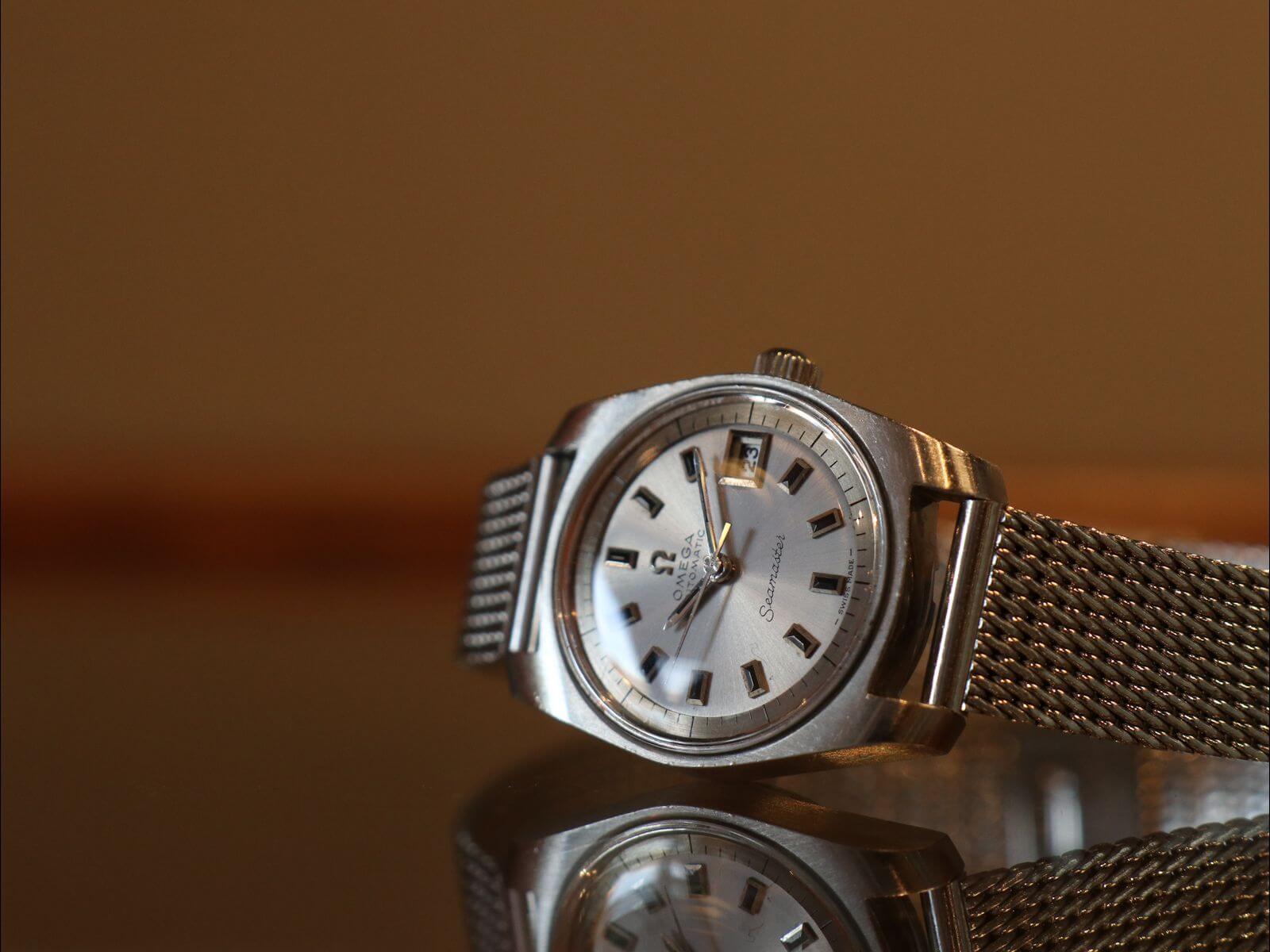 All versions of this Seamaster feature an inner bezel under the crystal featuring a minute track against a concentric brushed metal finish and will always be in a metal color matching the case material.
While I mentioned at the start that nearly all are non-luminous, there is indeed a luminous version with tritium-tipped hands and lume dots outside of the applied hour markers.  These are definitely uncommon, but they do appear in Japan as well.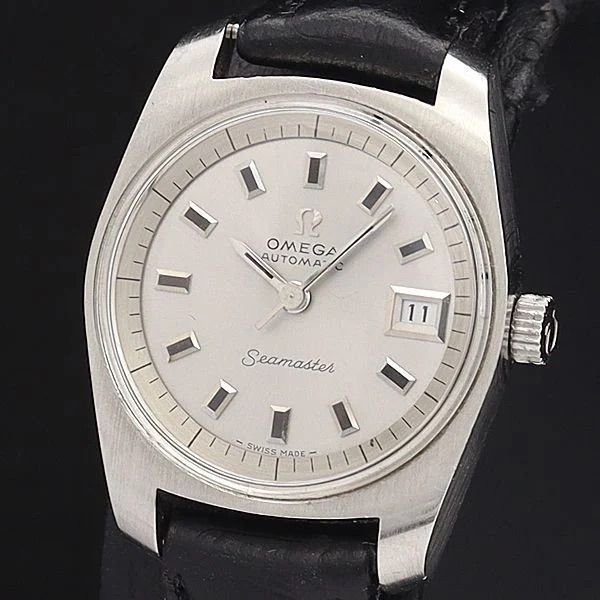 The gold-capped version, Ref CD 566.016 comes in two dial variants, a gold dial with gold inner bezel and a starburst white dial with gold inner bezel.  Though the gold-capping is quite thick on these models and can take a polish, some of these can be in quite rough condition and should be approached with caution.
Buying
Buying these watches doesn't involve a great deal of decision making.  The rarity and relative insignificance of the luminous dial variants means the only real choice is between gold-cap and stainless steel and in most cases the steel version is the way to go.  This is just because steel models tend to have held up in better condition overall and are much more common.
Condition wise, these watches should be avoided if there is any sign of moisture intrusion, dial damage or refinishing.  With 60 meters water resistance back in the day, these are among the best sealed timepieces of their generation and there is no reason to settle for an example that has leaked and been damaged.  The most important issue for most watches is the case condition.  Lugs should be sharp and clean, without excessive polishing or shape lost, dents and deep scratches should be avoided, and in general you just want to find the nicest case you can.  Crystals and crowns can be easily replaced and should be if damaged, and every effort should be made to replace seals and have the watch pass a pressure test.
Servicing should be fairly cheap at an independent watchmaker; these watches are not complicated and donors or spares are plentiful if needed.  In the price category these watches change hands for, there's no reason to pay for a factory service as the watch is worth far less than that.
In terms of purchasing price, as of April 2023 they are available in the $200-450 range depending on condition out of Japan.  A few examples have made it overseas into Europe and the US and these tend to be marketed for much higher prices, sometimes 3-6 times as much with the tag "rare" added because the watch was not sold there originally.  It really is best to search and find a good example yourself from Japanese websites like Yahoo Auctions and others or from Japanese dealers even if that means using a freight forwarding service or getting help from a friend in Japan.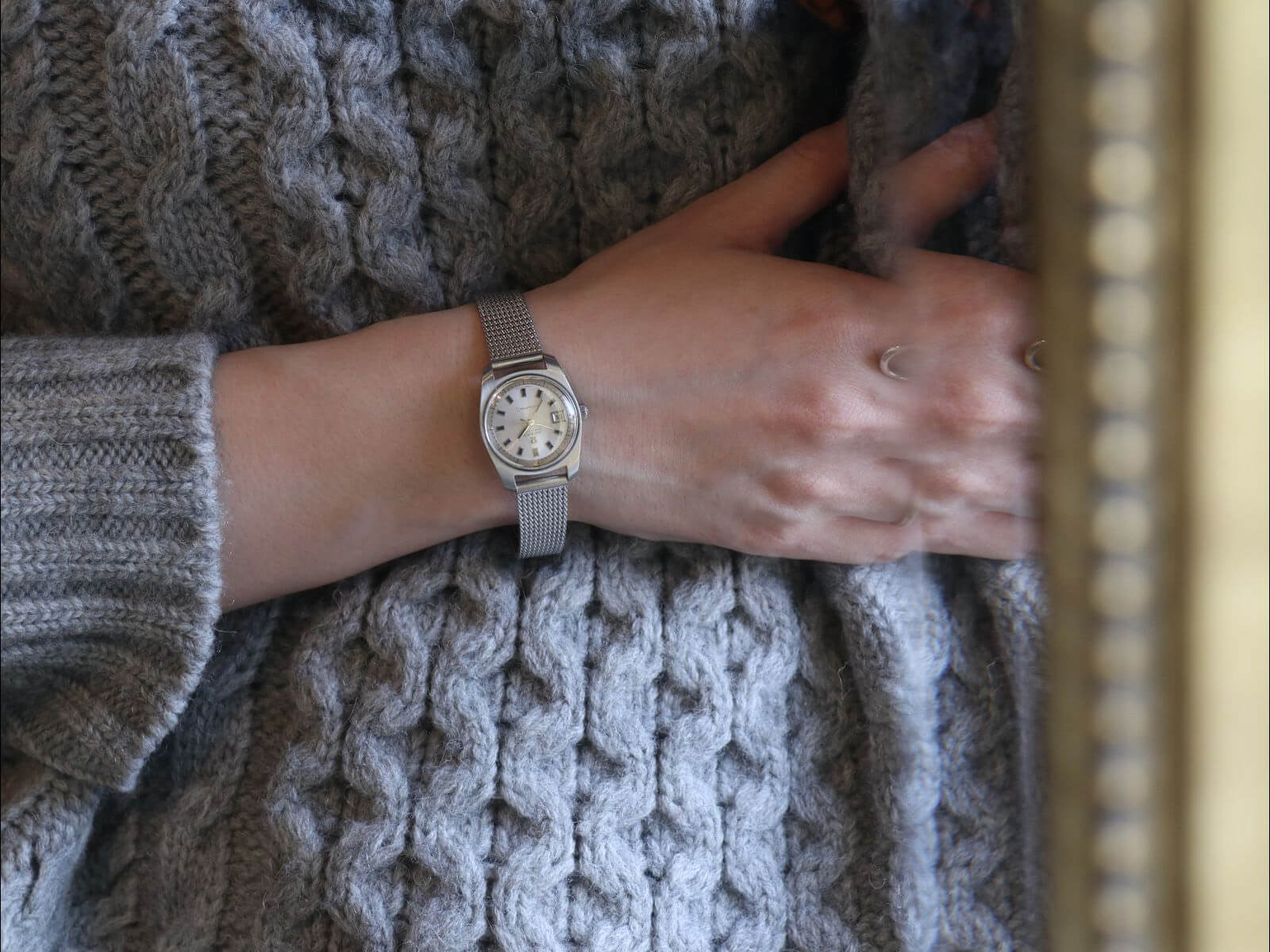 For a high-quality and unusual ladies' sports watch with a great automatic movement and substantial water-resistance, the Seamaster 566.016 makes an excellent choice in its current price segment.  It may take some hunting and effort to secure one, but a nice example will be a reward well worth the effort.
Discussion thread on Omegaforums can be found here: