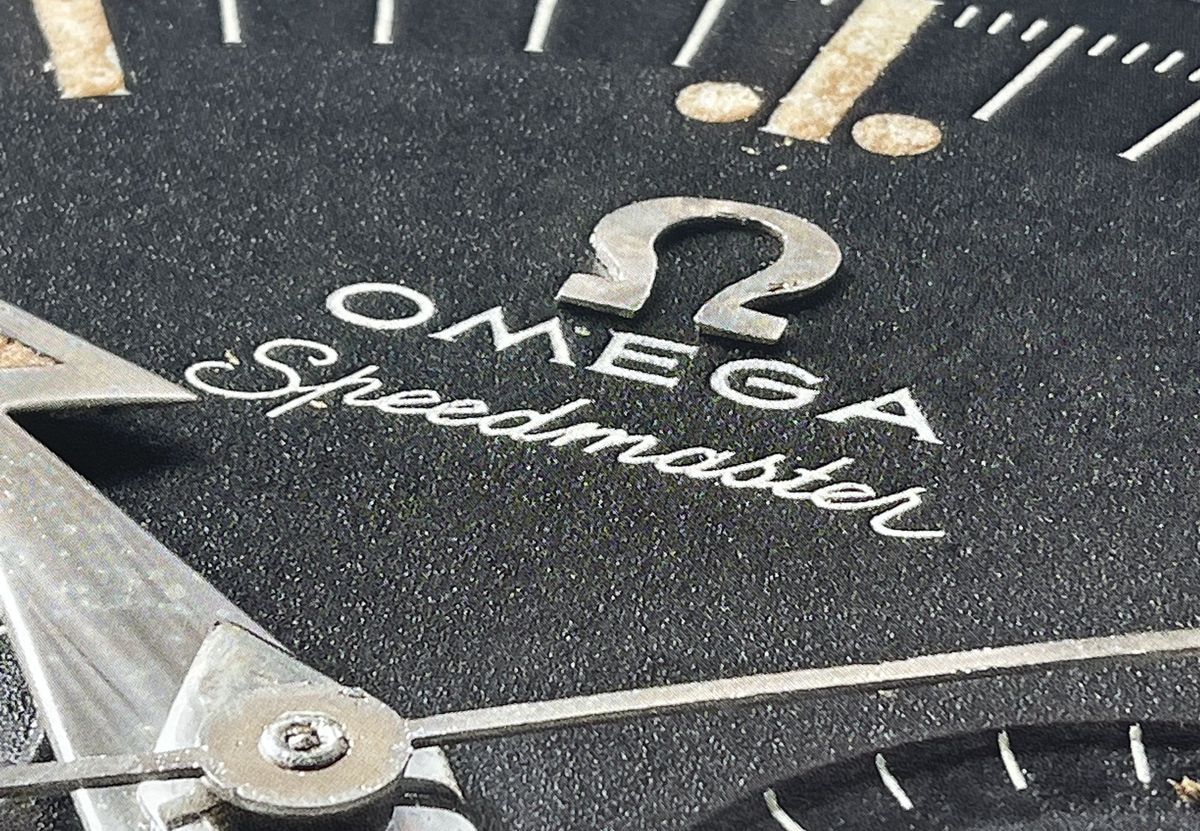 Book Reviews
Magister - A Speedmaster Reference by Andrea Foffi
Andrea Foffi is a collector I had always associated more with Rolex, I began following him on Instagram many years ago after seeing his blue sodalite Daytona with sapphire bezels and since then I had been consistently surprised by the depth of his Omega collection as well, especially Speedmasters.  While Instagram gives you a great window into someone's collection, I was genuinely shocked when I saw the previews of Andrea's book, Magister as both the quantity of special Omegas he has, and the quality of them is something that takes a lifetime to acquire.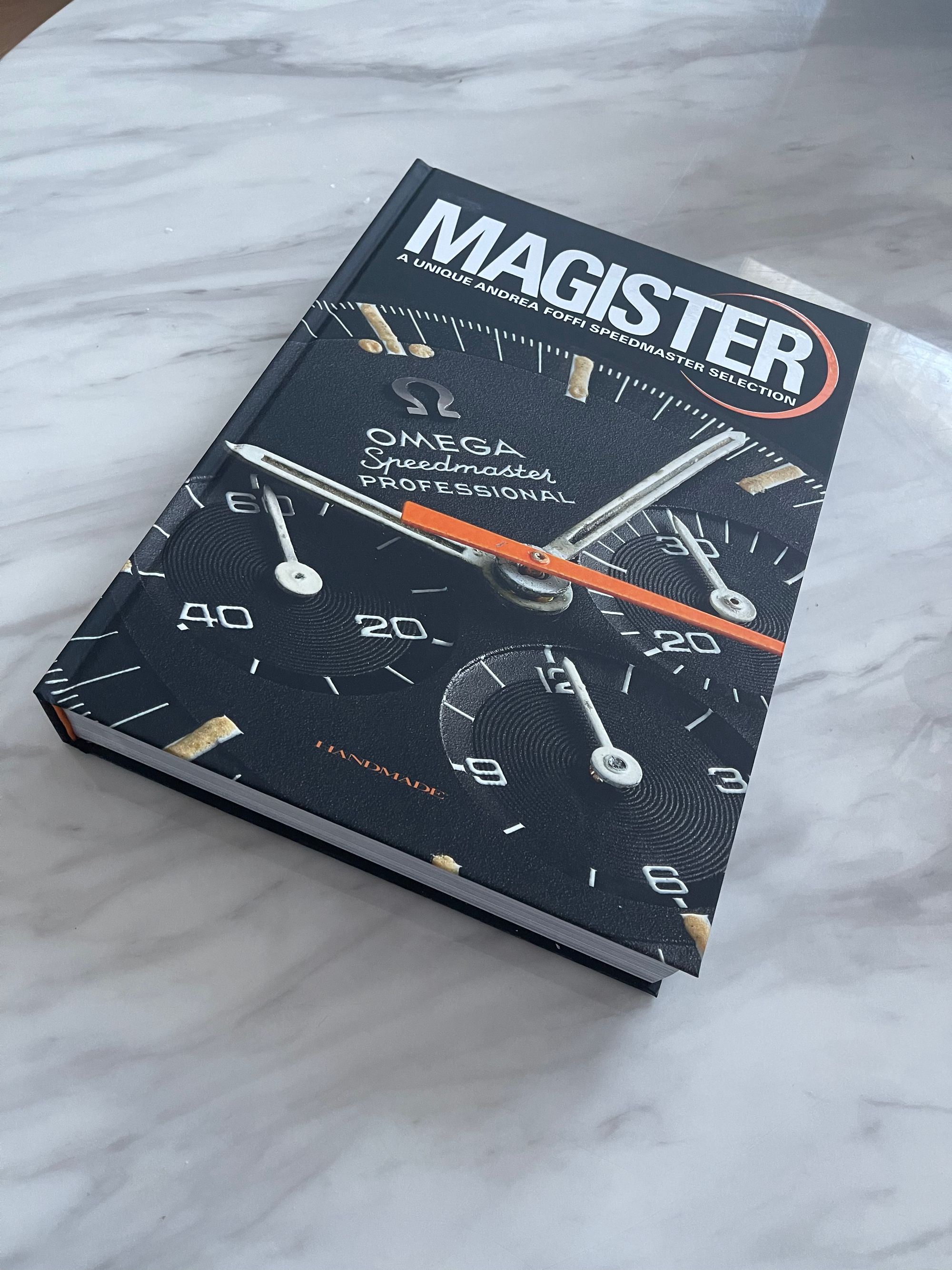 Working together with author Paolo Gobbi and featuring the exceptional photography of Fabio Santinelli, and with contributions by Petros Protopapas - Heritage Manager of Omega, Aurel Bacs - Senior Consultant Phillips in Association with Bacs & Russo, and Robert-Jan Broer - Founder of Fratello Watches, Magister is a terrific addition to any Omega reference library and more than that, a beautiful coffee table book for even Watch neophytes to enjoy browsing.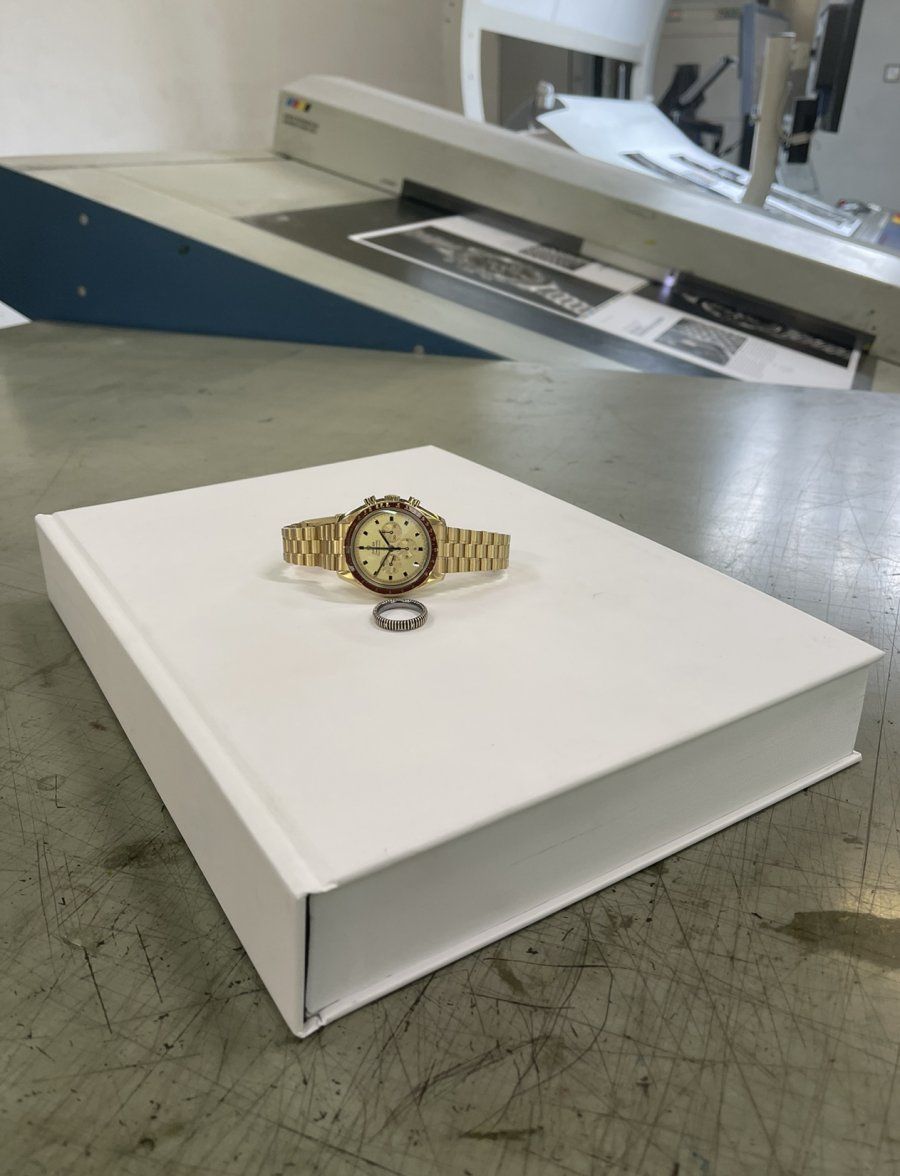 Packaging & Presentation
Andrea being the owner of a copious number of watch books himself is no doubt aware of one of the greatest frustrations when ordering a valuable and special watchbook, damage incurred in shipping.  A very signfiicant amount of effort has gone into ensuring that each copy of Magister arrives in perfect conditon.  The book's grey and orange protective box itself arrived well packed and in excellent condition inside a significantly larger foam lined outer box, and after taking it out, I was surprised by the additional thick layer of polystyrene foam in blocks inside the grey packaging with the plastic shrink wrap sealed book lying within it.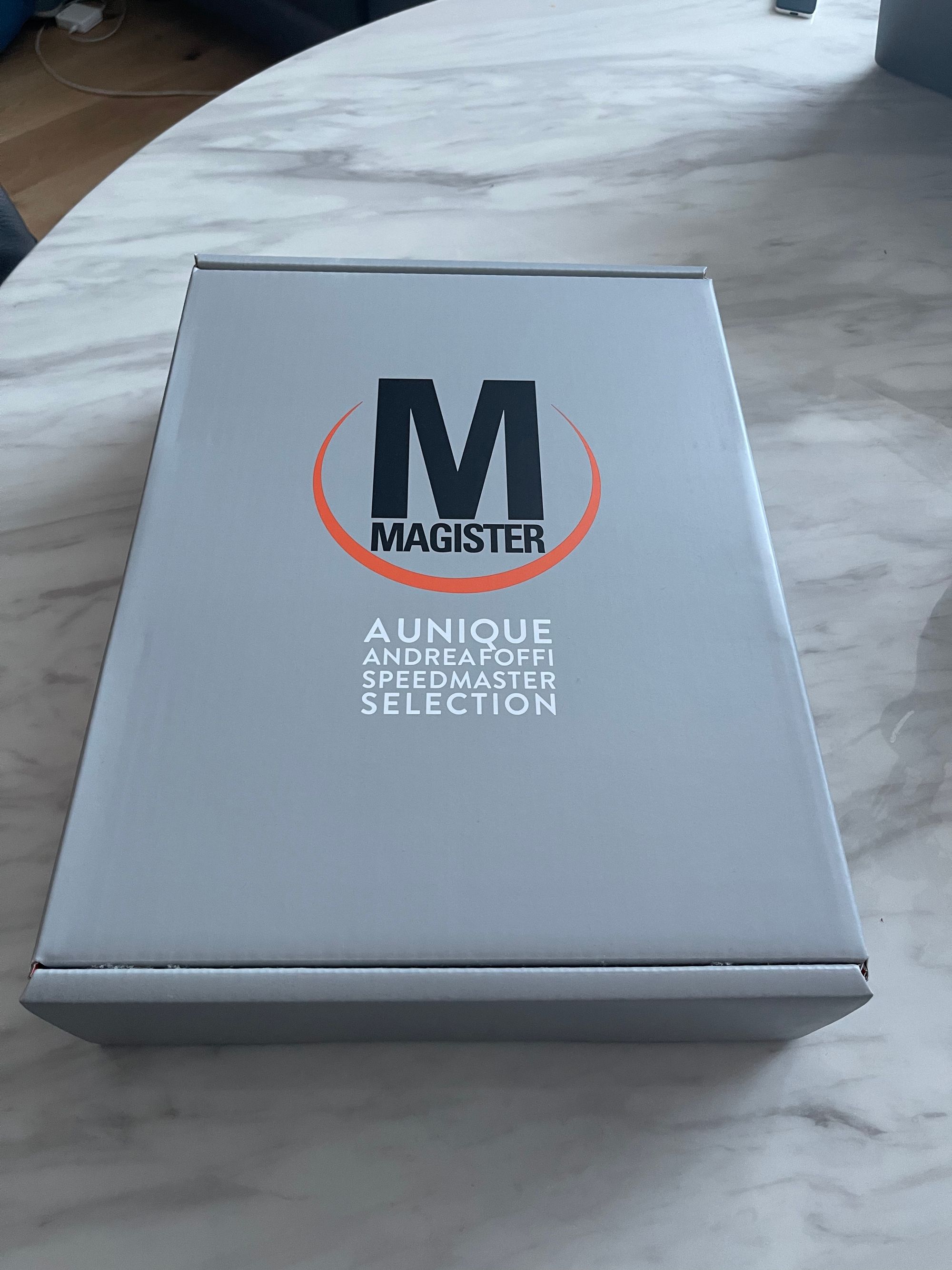 As a result of all of this attention to detail, the book was perfect when I unwrapped it, and would have survived even the most unforgiving of mailmen.  Magister features a thick, soft-touch, matte hard-cover with no dust jacket, which tends to be a bit impractical for books of this size and weight.  The binding is strong and of very high quality, even when pages are stretched wide open, with flawless printing and high gloss pages.
Content
Foffi goes in a different direction from MoonWatch Only in that rather than focusing on coverage of every single sub-reference of Speedmaster,  Magister focuses exclusively on the high notes.  The rarest, the most visually fascinating, exotic, and special models along with watches where multiple unusual features converge are shown in exceptional detail over 370 pages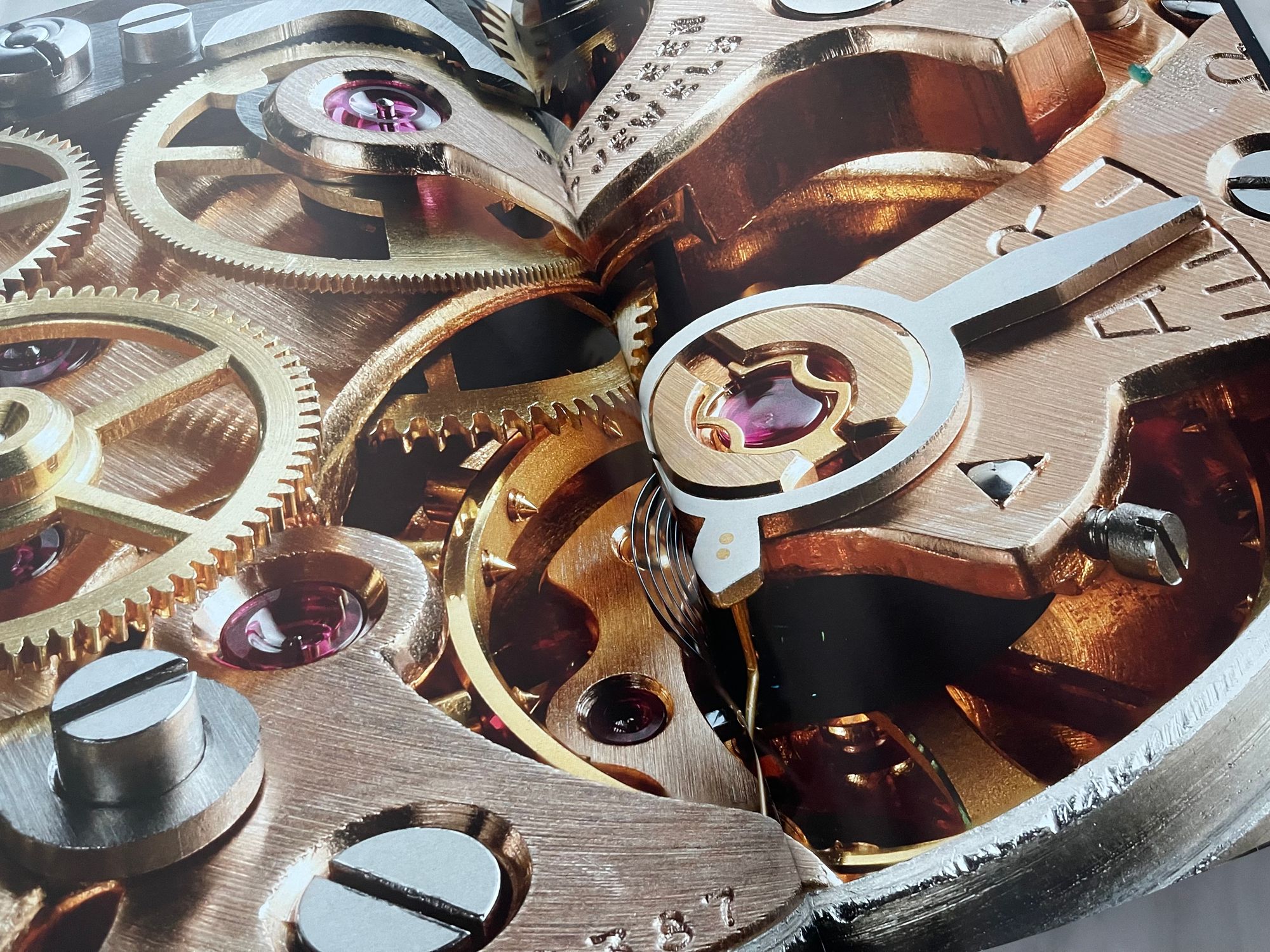 One of my personal favorites is the diamond encrusted, skeletonized, Armin Strom designed, platinum Speedmaster Calibre 867 Reference 3098.30 on bracelet which is just spectacular to begin with, but its fascinating to see how the individual baguette diamonds are set into the bracelet center links and bezel up close.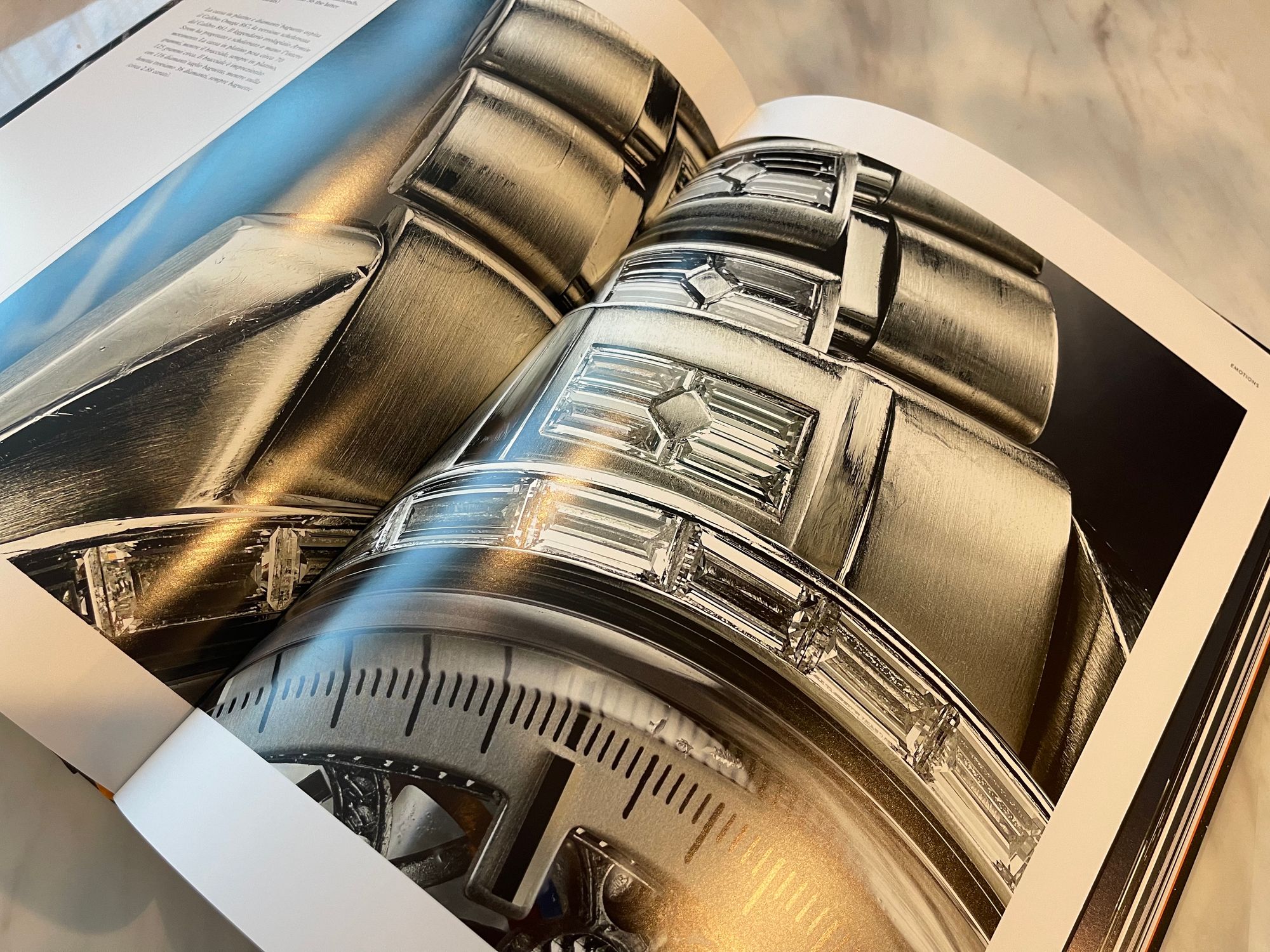 There's also an amazing Speedmaster Pro racing dial, which in and of itself is an incredibly rare and special thing that rarely trades hands, but this example also features Meister co-branding on the dial, which in itself is very uncommon and indicates it came from a particular high end Swiss store in the 1960s.  That example on page 148/149 is one of my favorite kinds of special watch where multiple long odds combine in the one example.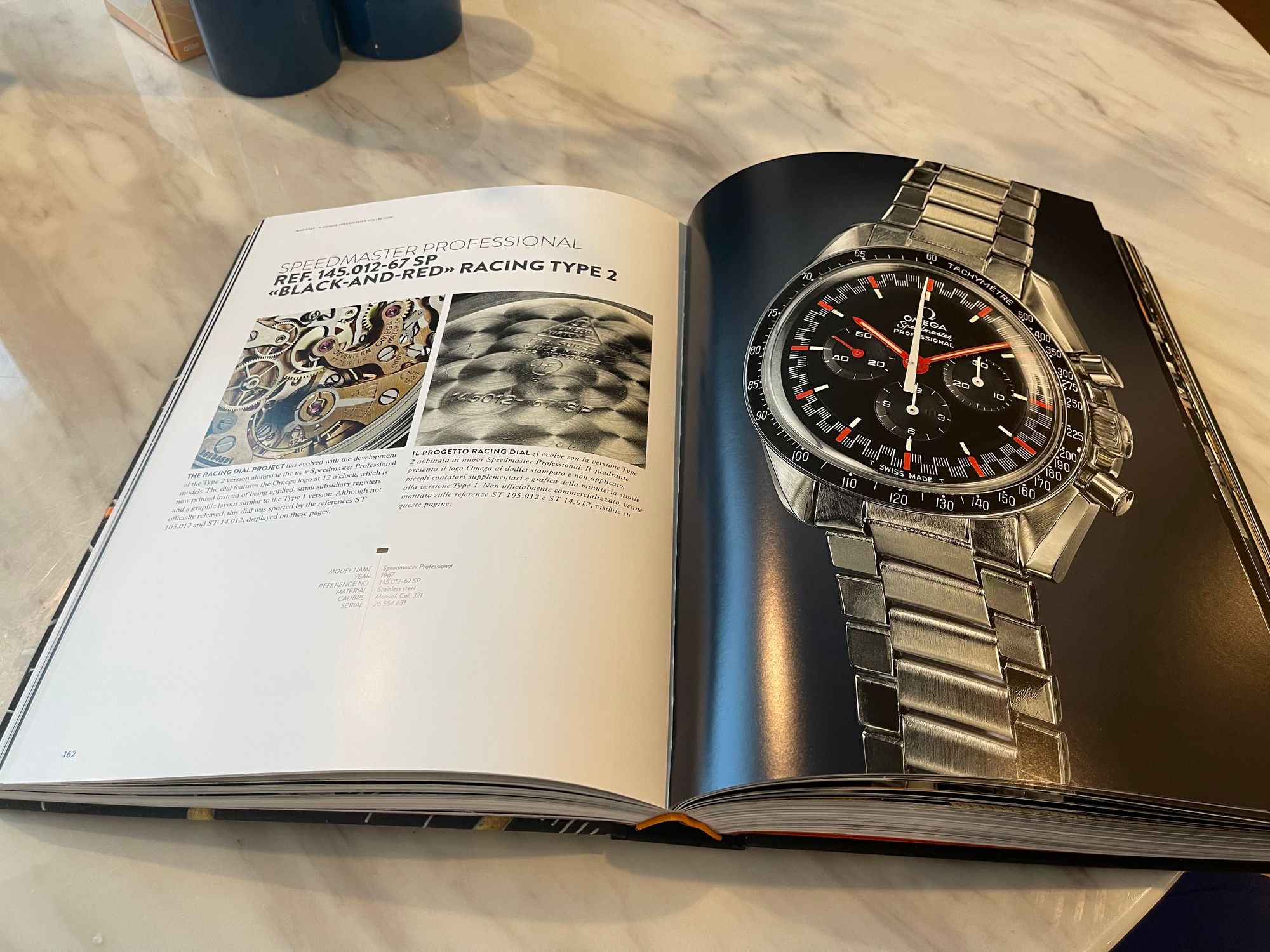 It's also worth noting that many of these watches have been legitimately worn and lived a life which is really fascinating, just knowing that some lucky person actually did wear the diamond encrusted Armin Strom platinum Speedmaster and acquired a few minor marks and scratches on it while enjoying it as intended is great to see.  The unpolished rainbow colored tarnish on the surface of the 18K yellow gold skeleton Speedmaster (page 237) was also really interesting to see as so often we only see renderings or examples cleaned up and polished for sale of these rare birds, which makes authentic photography like this quite refreshing.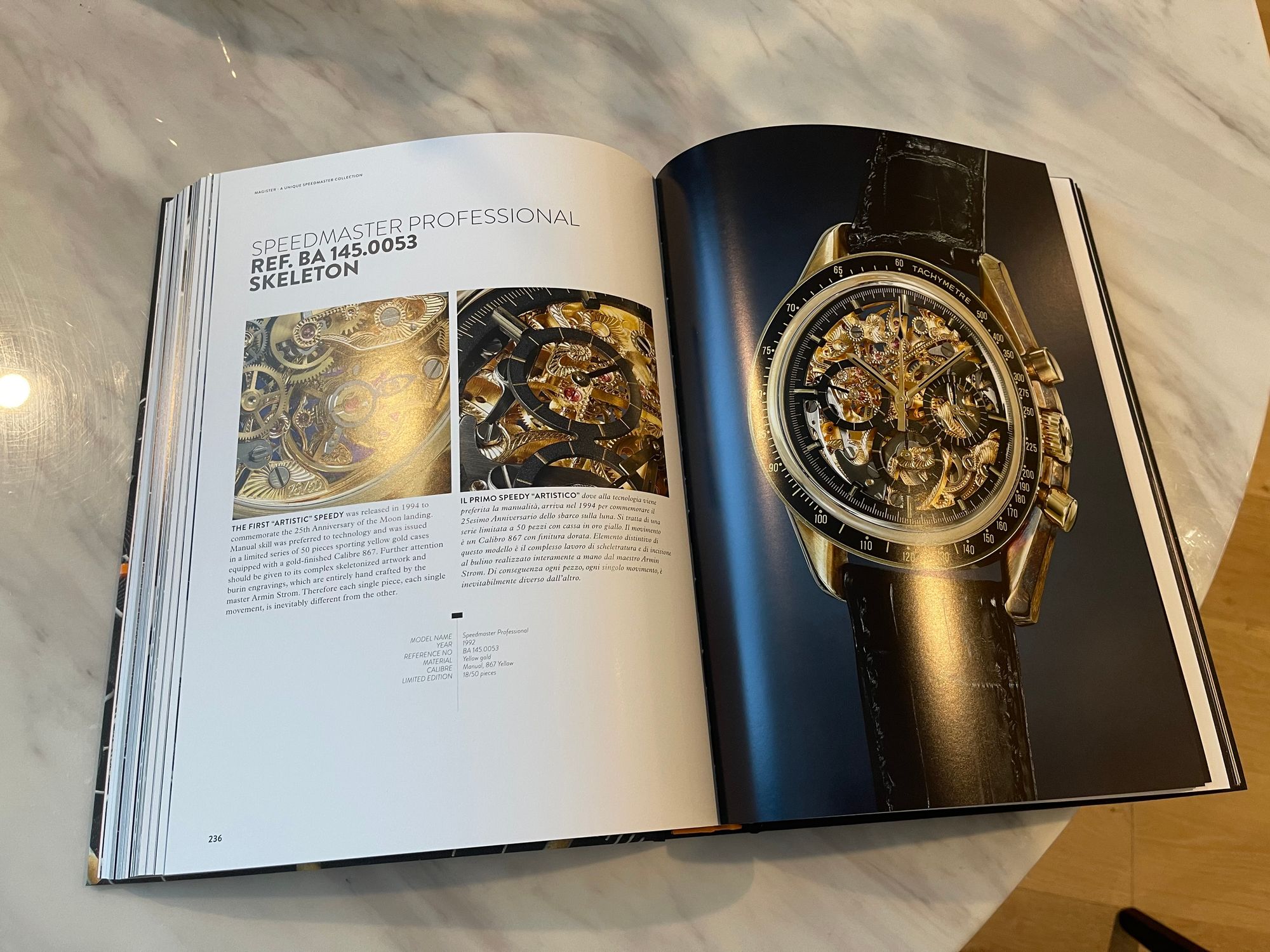 Printing
The printing quality really is quite exceptional in terms of resolution, color accuracy and size.  When examining details in images even under magnification, the print quality stands up exceptionally well, showing the surface texture of dials and subdials and subtle imperfection of tritium luminous material.   As a reference material it really is quite superb in this respect, and anyone who has an interest of the rarest of the rare Speedmasters will appreciate Magister as the closest one can get to holding an example of these references.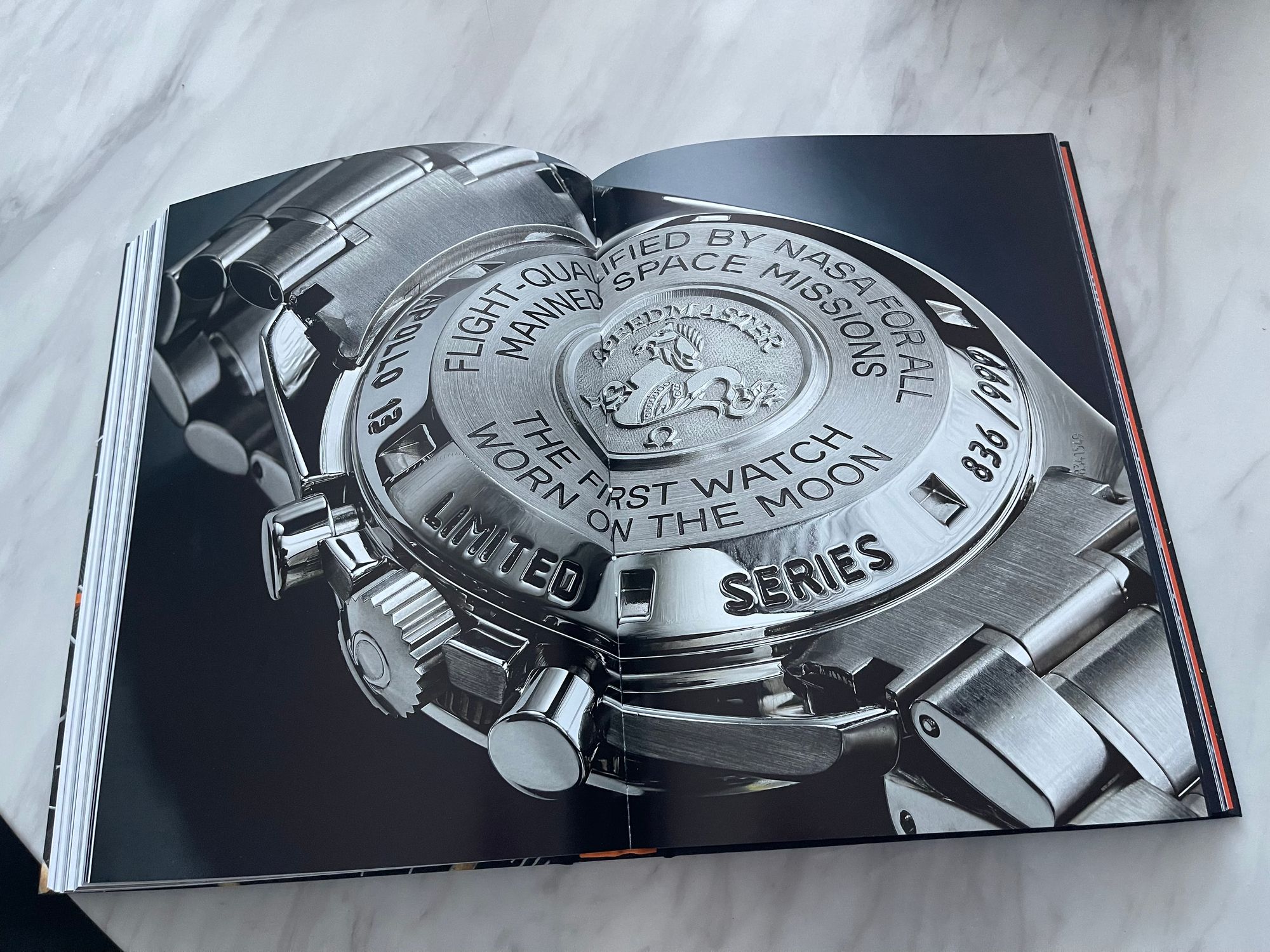 The pages were produced with a 6 color  UV-LED printer, which goes beyond the typical CYMK (Cyan, Yellow, Magenta, Black) by adding orange, and green to the color mix.  This advanced process allows for more photo-realistic color with noticeably less banding and graininess, while offering superior detail in subtle textures such as metal surfaces and shadows, which is used to great effect given the subject matter.
The result is quite exceptional, brilliant full-page margin-less photos with sublime detail that holds up even under magnification, showing the grain of the brushed finish in steel bracelets and cases, the texture differences of a subdial, and every subtle imperfection in 60 year old radium lume.  Magister does a terrific job of conveying the sense of wonder and attention to detail that draws collectors to these amazing watches and would be the first book I would show a novice to explain the passion we all share.
Where to buy
Due to how niche books such as this are, there really is no money at all to be made by the authors, its an enormously time and effort intensive labor of love and we've been incredibly lucky as Omega collectors to have the benefit of several excellent reference books on the brand in recent years.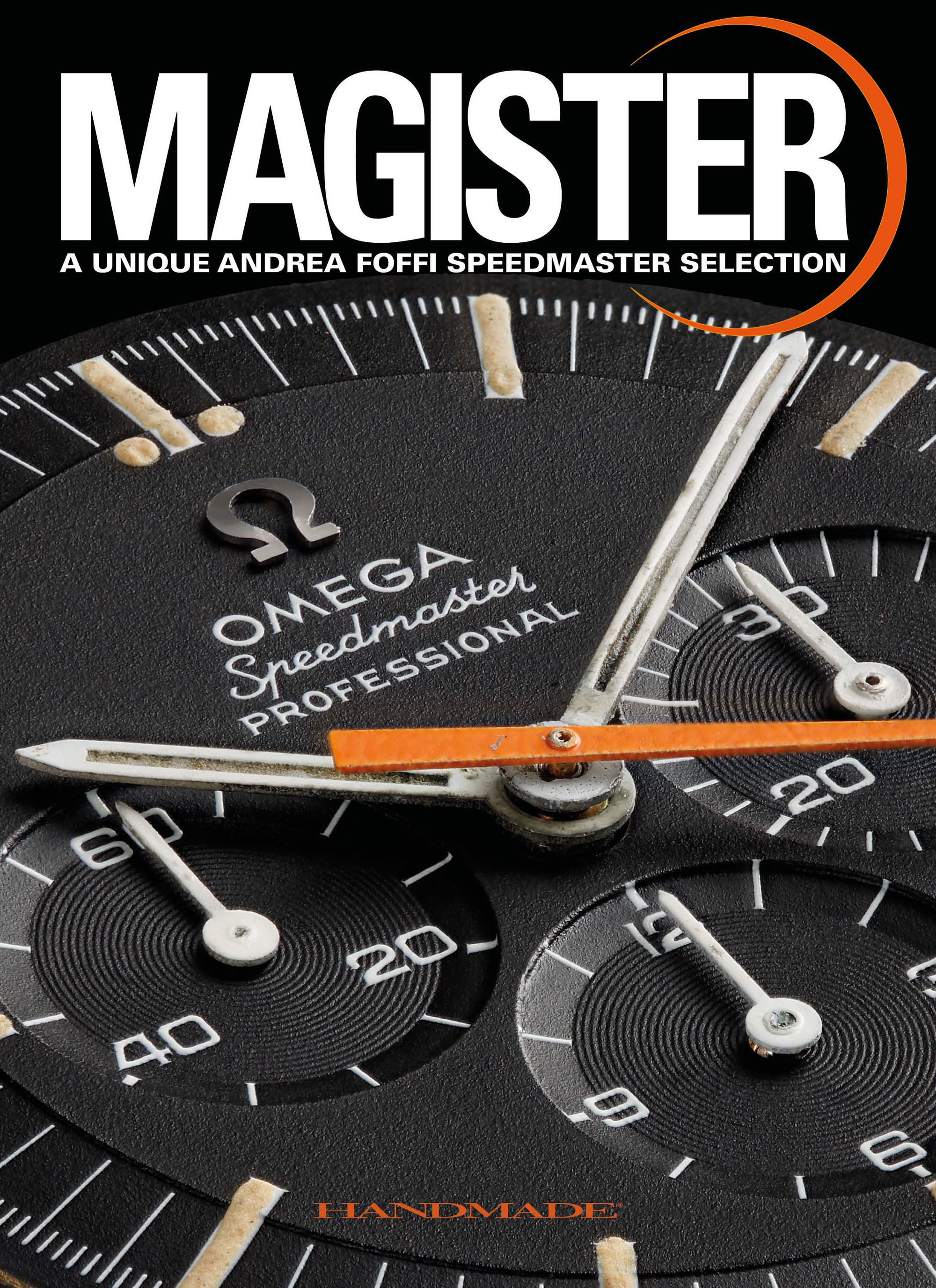 Magister can be ordered online for 399 Euros at the online store below:

Discussion thread on Omegaforums can be found here: