The 2017 Railmaster, introduced alongside the trilogy limited edition was Omega's second attempt in modern times to reboot the Railmaster. Like the 2000's version, these modern Railmasters have struggled against competition from Omega's other product lines to earn itself a place in the collection.
A Railmaster Without a Cause
In the 1950's & 1960's there was a lot of built-in differentiation in the Omega line-up.  
If you wanted the most accurate watch, with a chronometer rating, you would go with the Constellation line with its history in observatory competition.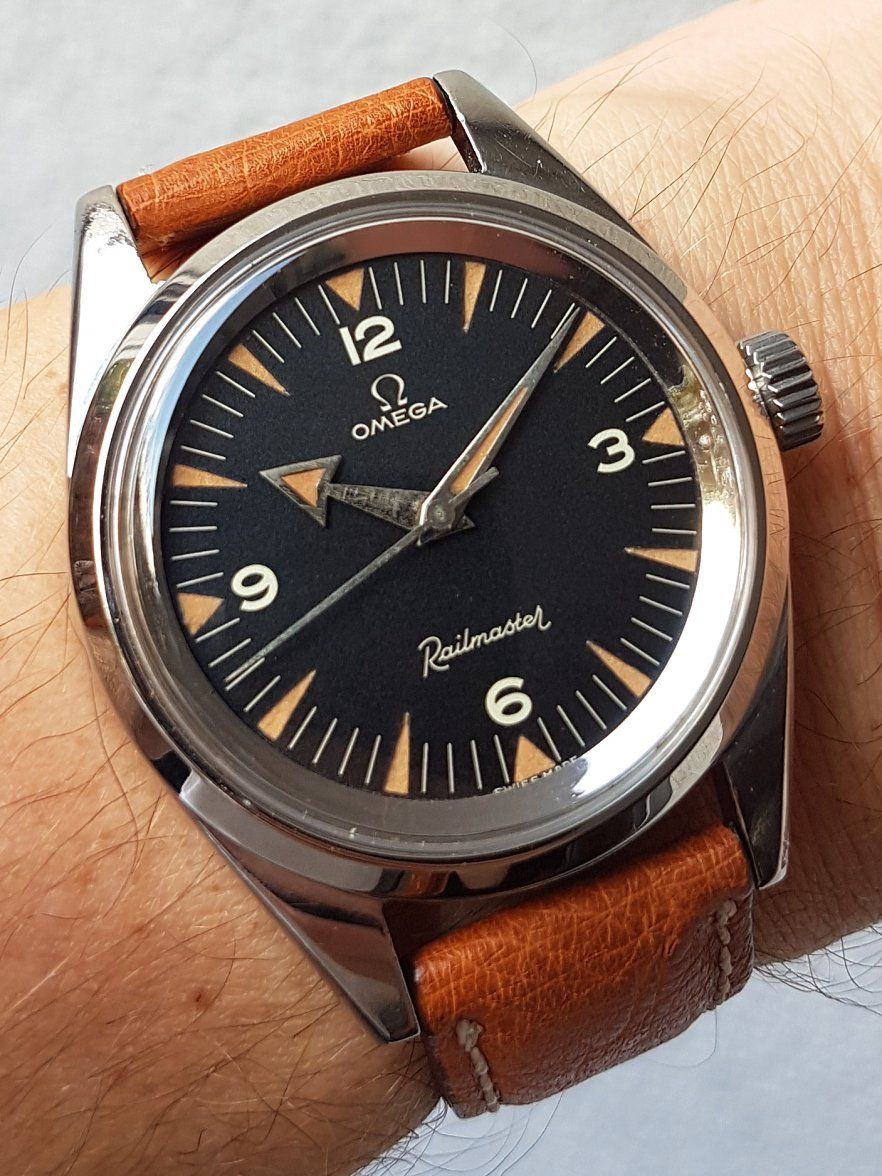 If you were working in or around magnets or large electric currents and needed protection against that, you would buy a Railmaster, as it offered excellent magnetic shielding.  
If you wanted a watch with really good water resistance, to go swimming diving with, the Seamaster was for you.
Today almost every watch in Omega's line-up offers you all of the above.  Even the new Speedmaster Pro Moonwatch with Calibre 3861 offers 50 meters water resistance, 15,000 gauss magnetic resistance, and a master chronometer rating which eclipses standard COSC specifications.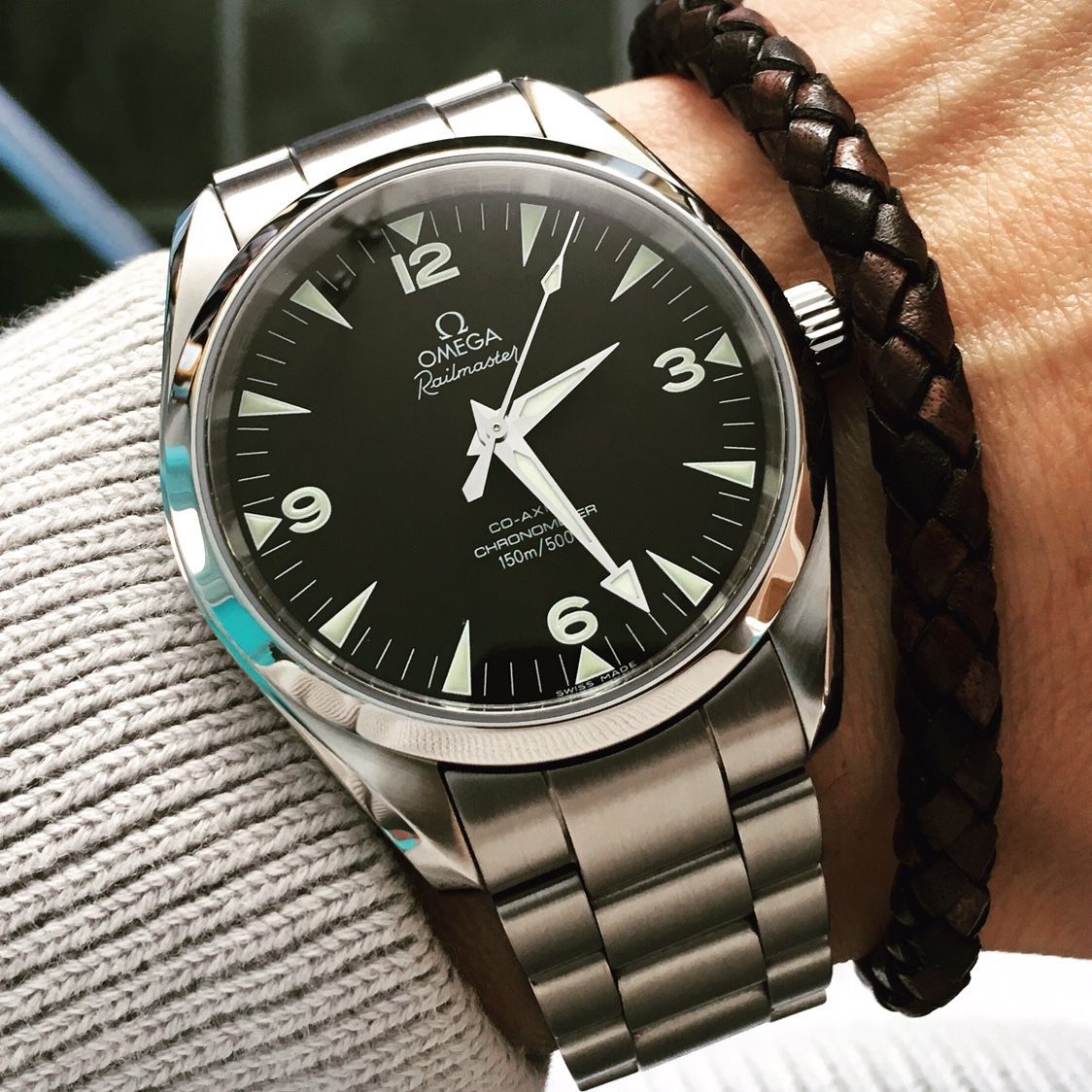 The Railmaster of the 2000's suffered greatly from a lack of real purpose.  It was not a bad watch by any means but being effectively a cut-down Seamaster Aqua-Terra, it did nothing to differentiate itself or stand out in a display case.
After being absent for many years, Omega released the well loved and beautifully designed CK2914 Trilogy re-edition.  This re-edition was the most faithful recreation of the first Railmaster produced to date and remains popular to this day.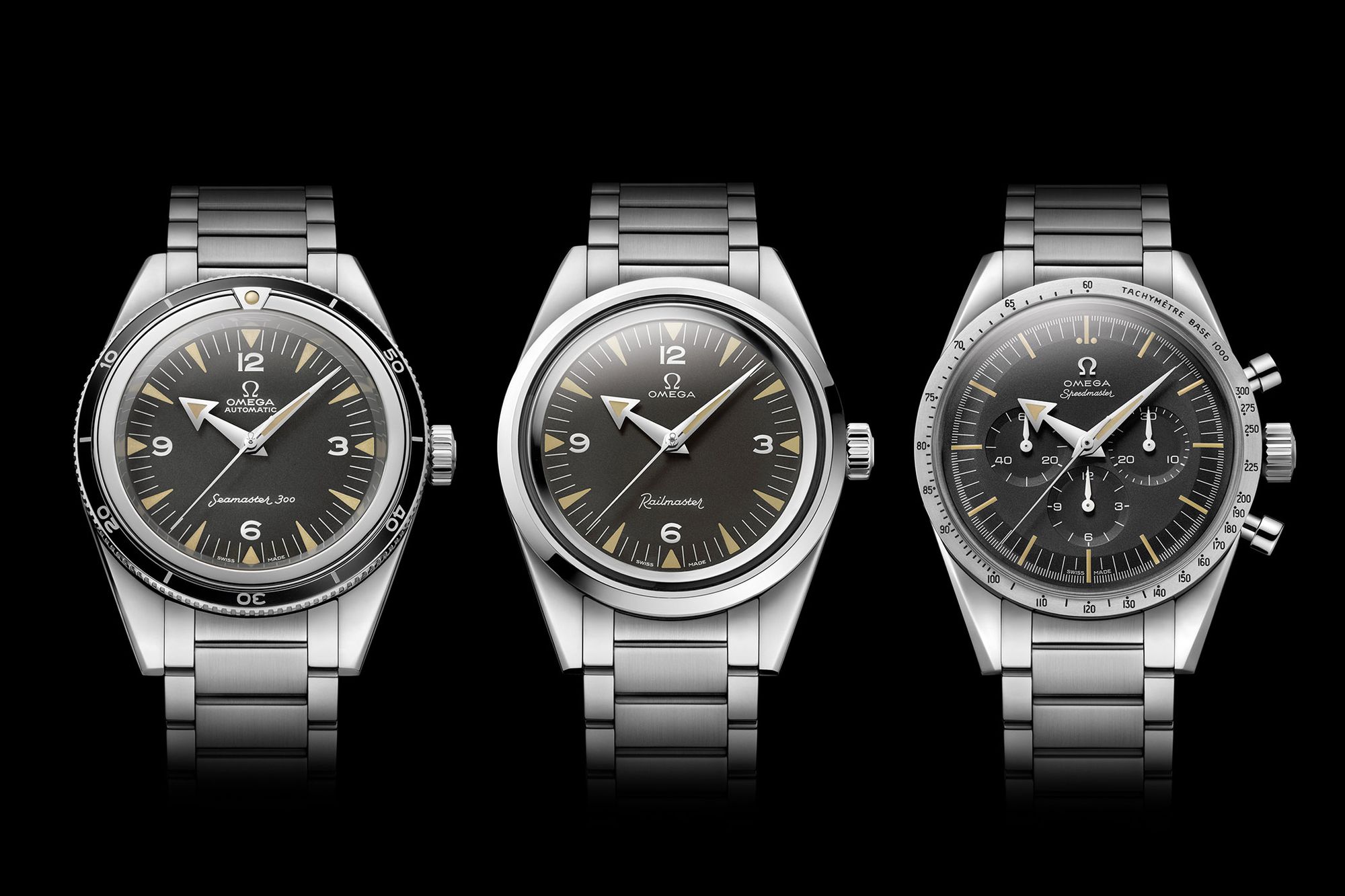 Alongside the Trilogy model, Omega also released a new kind of Railmaster with an entirely new design language.  
This watch deviates a lot from Railmasters of old, but in a sense, it really had no choice but to do so.  The Railmaster needs a personality of its own now that its purpose has been usurped.  That personality was definitely different and separated it from other Omega models, but half a decade later it's hard to spot this new Railmaster on anyone's wrist.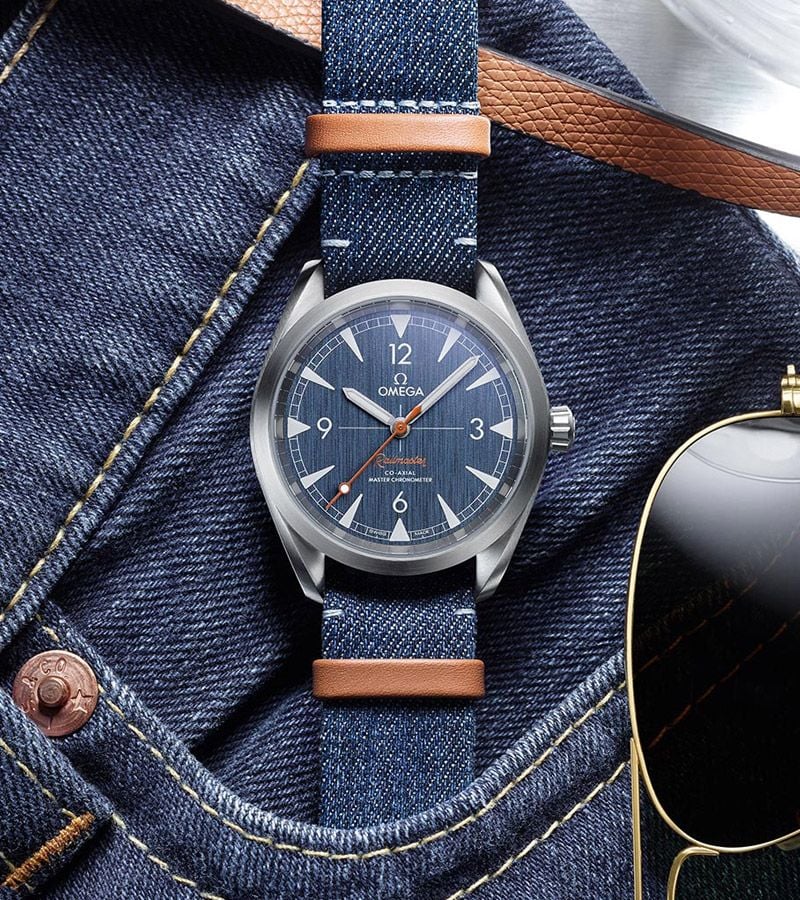 The blue dial on denim NATO strap I think offers the best insight into the target demographic for these Railmasters.  The Omega website mentions that the denim blue dial and denim strap evokes the workwear worn by railway workers back in the day.  
It's a bit hipster, a bit James Dean, a bit country, and a bit Levi's 501's.  Intended for the type of person that wants that working class minimalist look of a man who spends his day on the tools, even if they work in tech and don't ever get dirt under their nails.
The problem is I just don't know that man, and even out of the 75,000 members on Omegaforums, I don't see many of them at all.  Its not a bad watch and I would never criticise anyone for owning and enjoying one, as objectively it does everything exceptionally well as it is an Omega after all.  It just doesn't make a compelling case for itself over the Seamaster Pro 300M, or the Aqua Terra which are both better watches.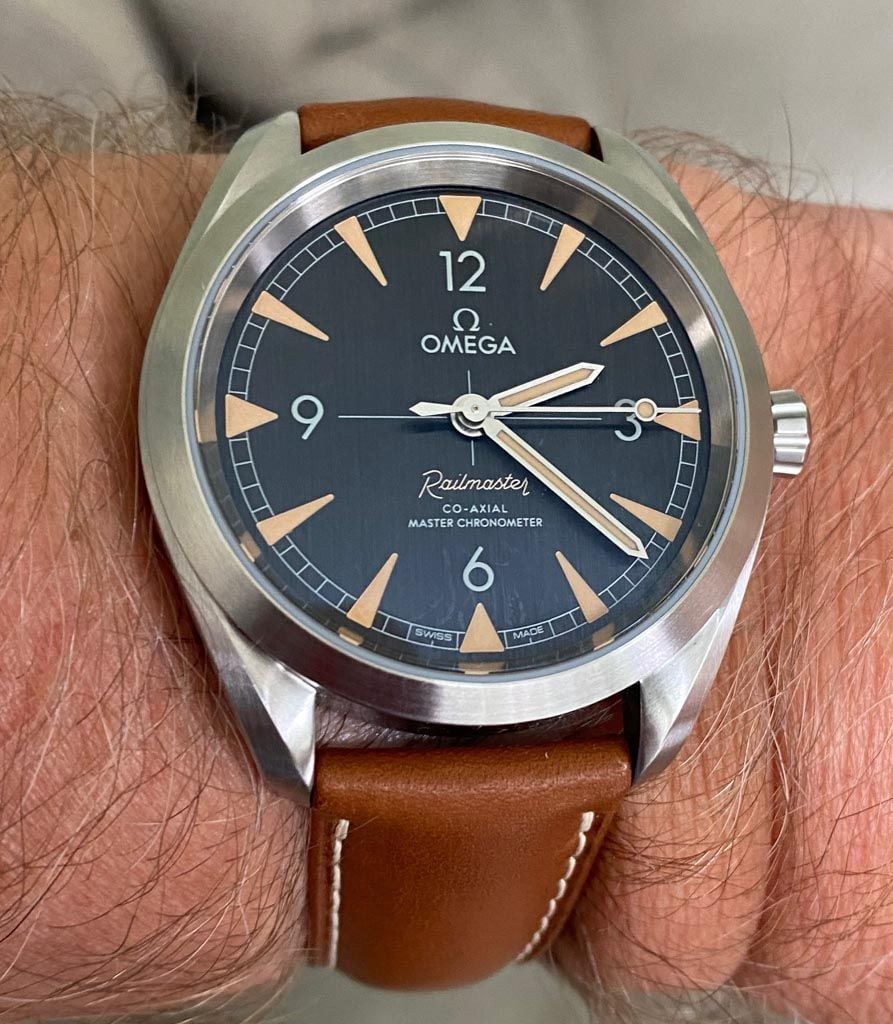 Over two decades after the modern Railmaster was re-introduced, its still hard to answer what a modern Railmaster should be.
Case & Bracelet
The case for this modern Railmaster follows the same formula as that of the 2000's model by using the Aqua Terra case design as a template.  
This isn't a bad thing by any means, the Aqua Terra design is rather excellent with Omega's twisted lugs paired with a subtly designed symmetrical case with no crown-guards and a prominent angled bezel.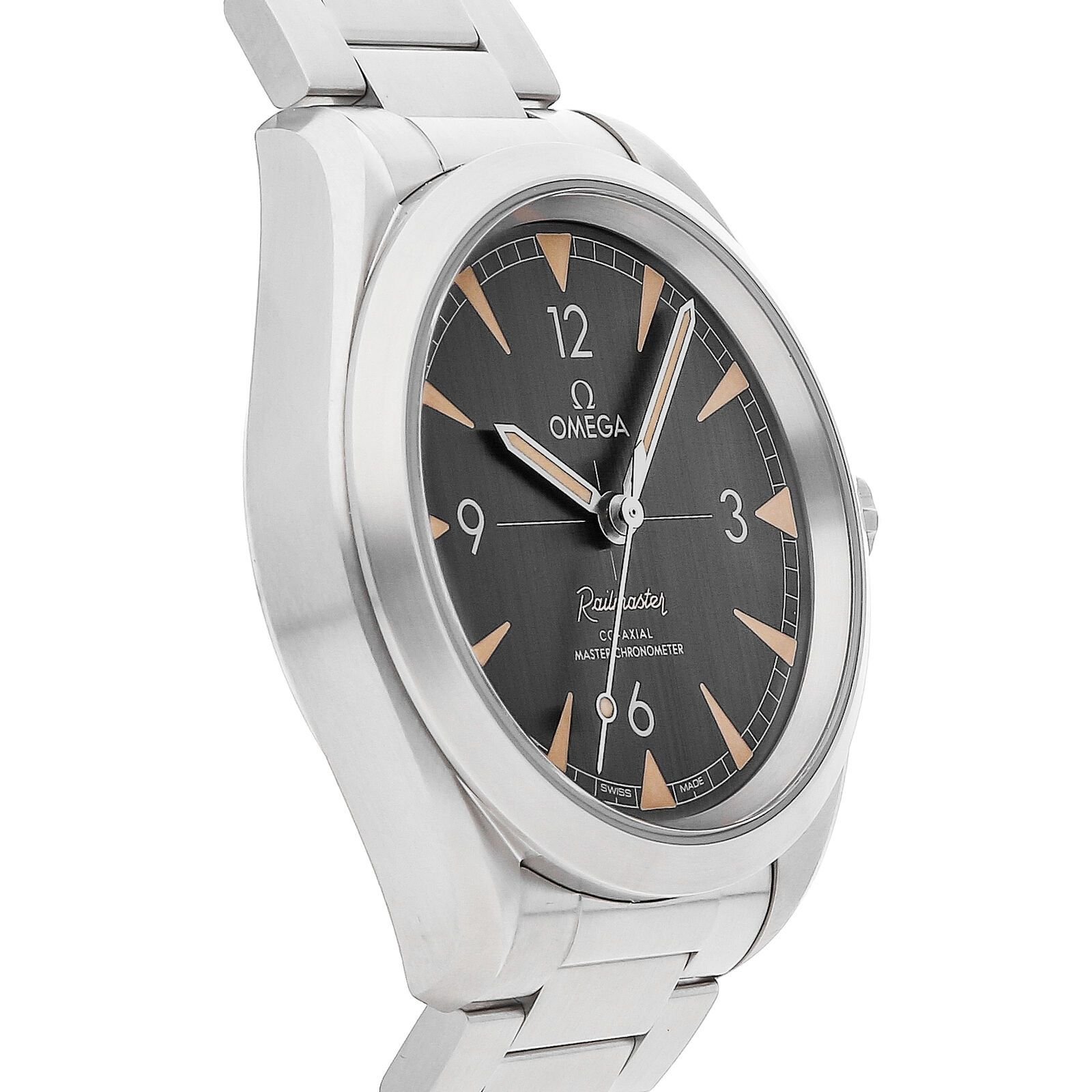 To set it apart from the Aqua Terra, the entire case is bead blasted to a satin finish not unlike the Speedy Tuesday 1.  In many ways the matte case and simple dial brings back memories of the Dynamic III which similarly played a role as Omega's entry level offering in its time.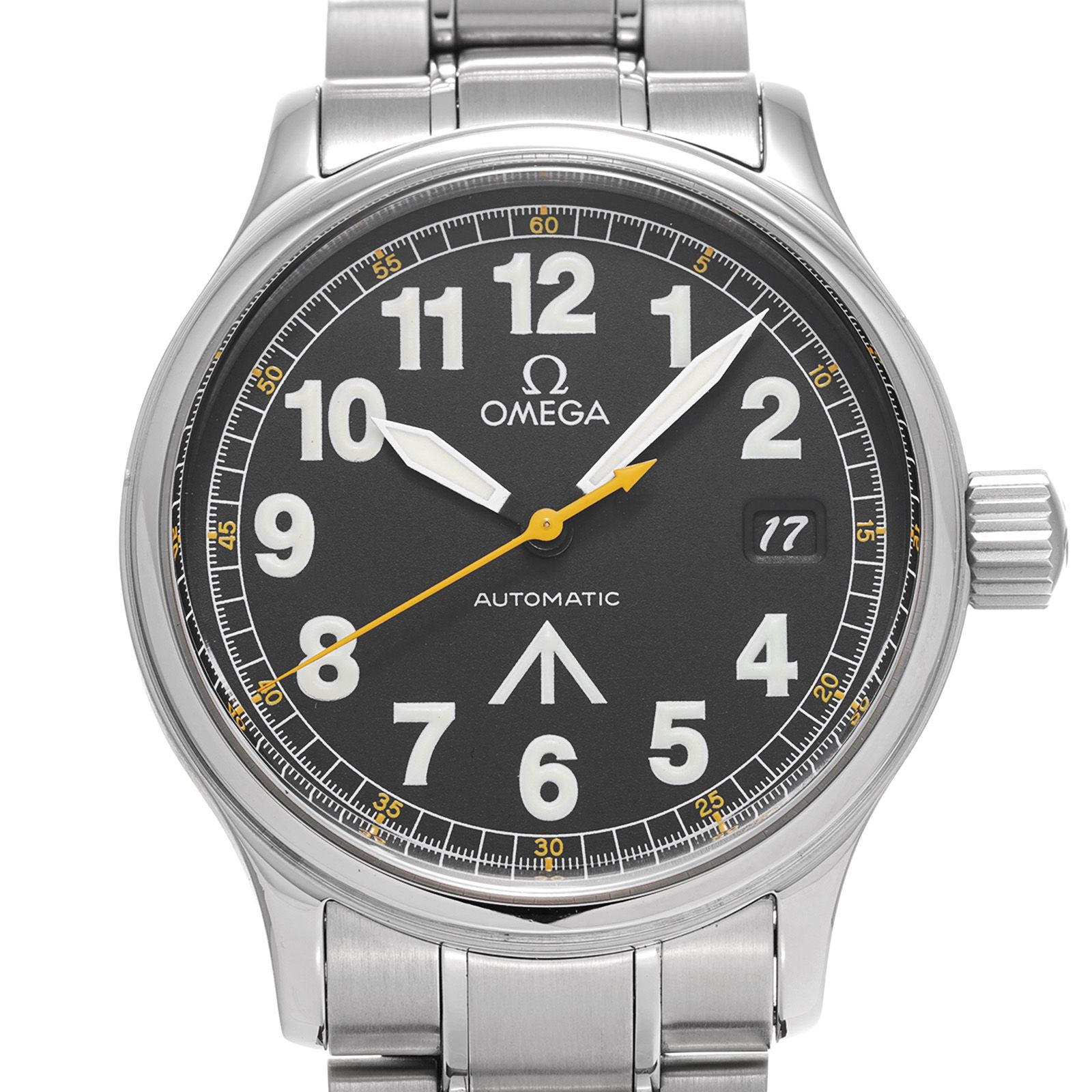 The lack of crown-guards makes the large, knurled crown easy to access and operate.  The wave-pattern steel case-back coupled with Omega's more recent slimmer movements help keep the overall thickness of the Railmaster to an impressive 12.7 mm.  This makes it one of the thinnest automatic watches Omega has produced since moving to in-house movements with the Calibre 8500.
Being an Aqua Terra based design, the Railmaster shares the very ample 150-meter water resistance.  While the case has none of the soft-iron core or faraday cage design of the original Railmaster, it doesn't need it thanks to Omega's movements being rated up to 15,000 gauss as standard.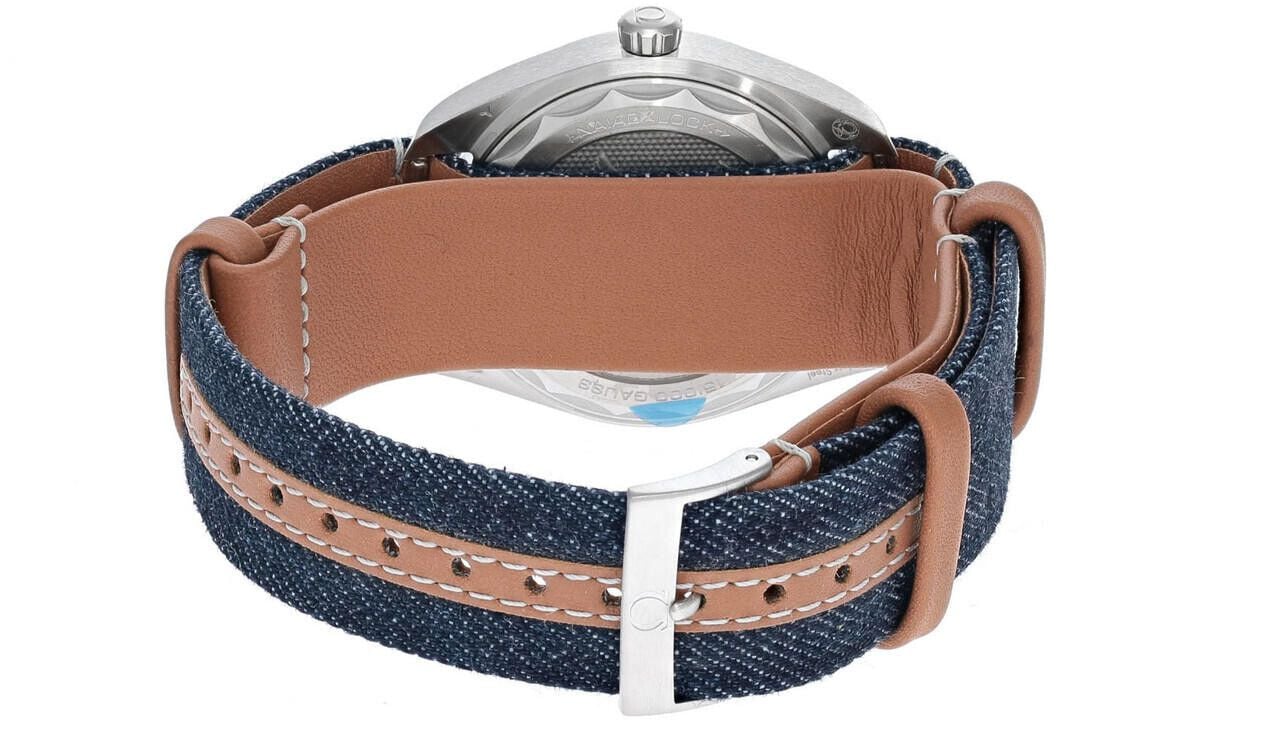 The straps available vary quite a bit, with a brown leather NATO being available on the brushed silver dial, Ref 220.12.40.20.06.001, a two-tone black & grey textile  strap with tang buckle available on the brushed black/grey dial, Ref 220.12.40.20.01.001, and the very unusual blue denim with brown leather keepers available on the brushed denim blue dial, Ref 220.12.40.20.03.001.
Omega has these straps, along with a very large array of other options available for purchase, so for most people it would make most sense to opt for the bracelet version and buy straps separately.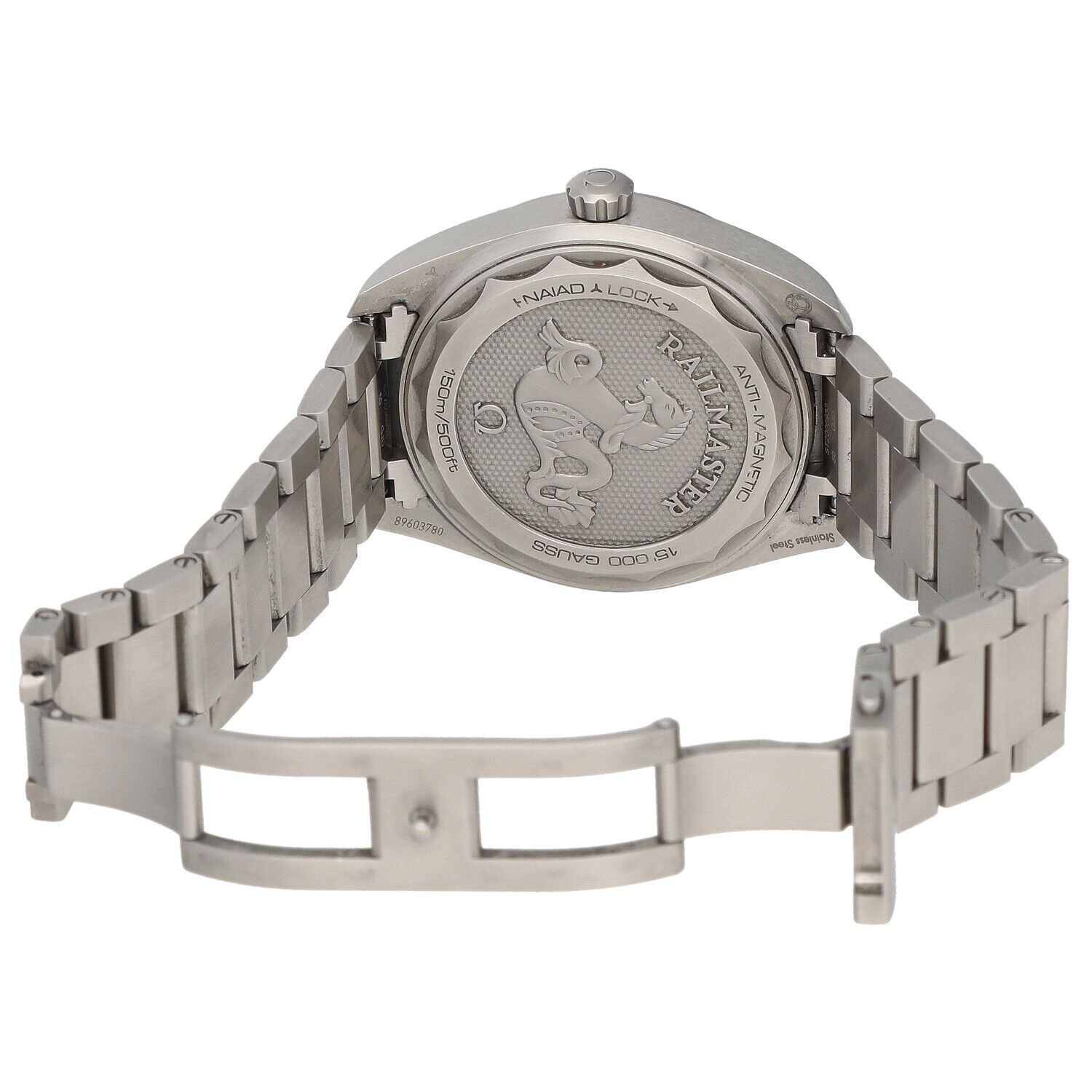 The bracelet available for these Railmasters is also Aqua Terra based, with the only difference being the satin finish rather than polished center links.  The bracelet is very comfortable, low maintenance and highly durable as one would expect.
Movements
The movement at the heart of the modern Railmaster is the Omega Calibre 8806.
The Calibre 8806 is the no-date version of the Calibre 8800.  This movement represents the thinnest automatic version to date of the family which began in 2007 with the Calibre 8500.  
This movement oscillates at 25,200 vph and features hacking, a traditional quick-set date mechanism, >15,000 gauss magnetic resistance, METAS Master Chronometer certification, and a 55-hour power reserve from a bi-directional winding system.  All of this comes from a package only 4.90 mm thick, even with a 3-level Co-Axial escapement.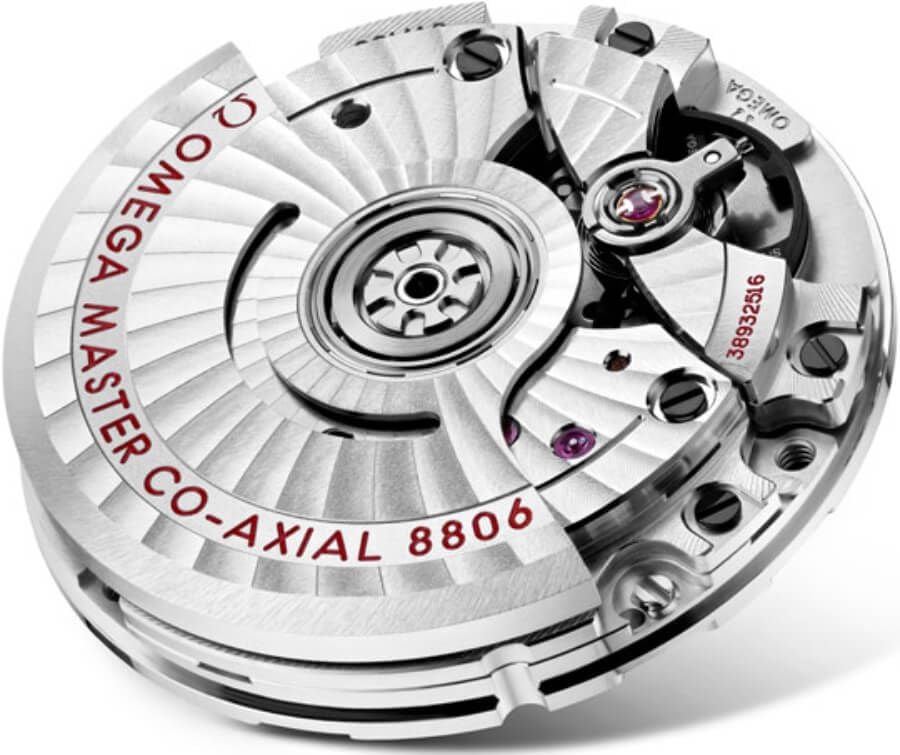 These movements are a result of Omega's slow and steady program of continuously improving their entire movement range with each technological step or advancement.  As a result, the early teething issues of the Calibre 8500 are now long gone, and these Master Chronometer movements have earned a reputation for accuracy and dependability.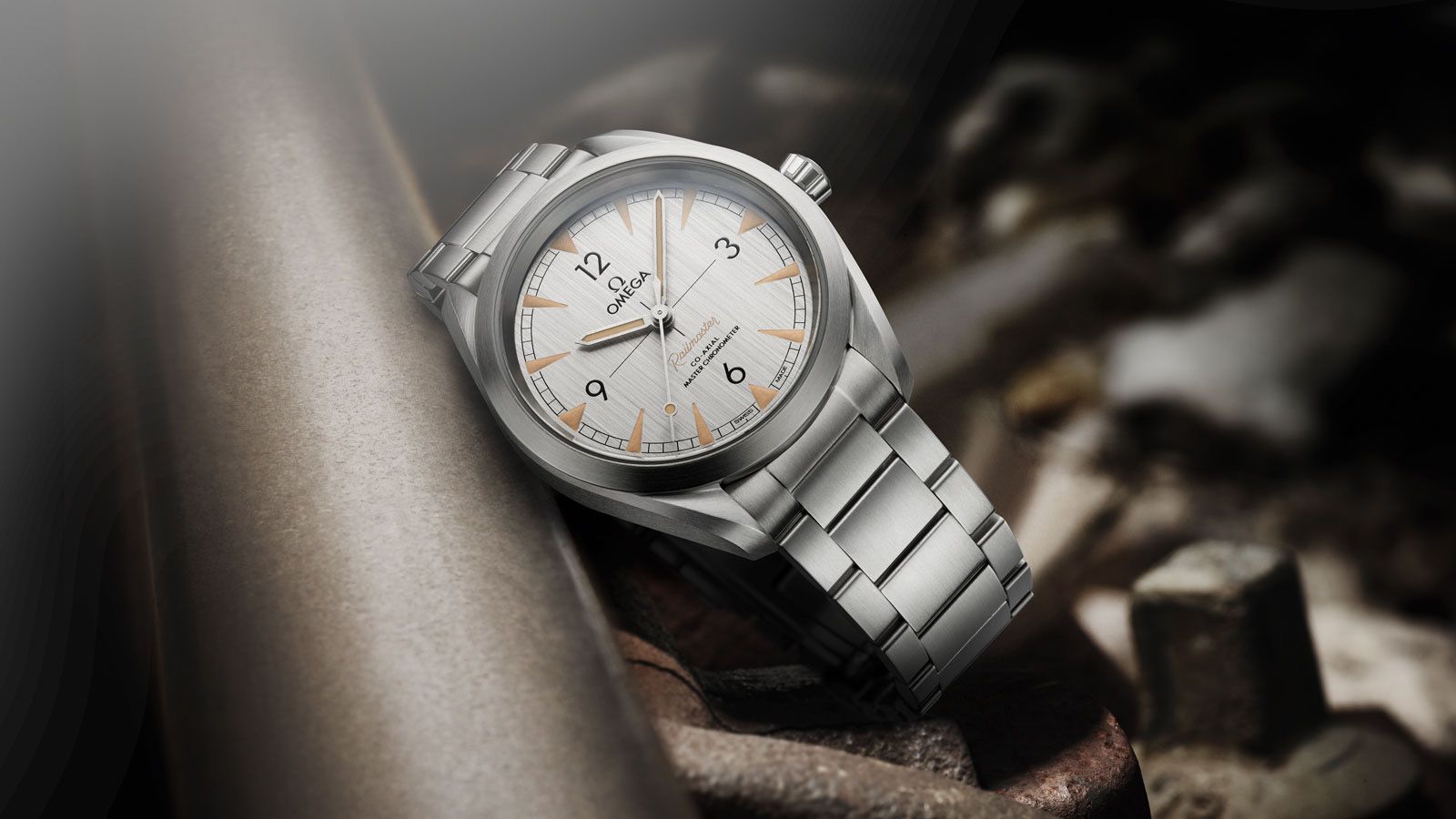 Given that these watches were only released in 2017, most are not yet due for service even on the secondary market.  When the time does come, they can be handled easily by any Omega certified independent watchmaker at a reasonable price.
Variants
The design of the 2017 Railmaster follows its predecessor in being relatively austere and minimalist in terms of finishing but adds a lot more detail over the very spartan 2000's version.
All versions feature an all-painted dial with no applied dial furniture, hour markers, or logos.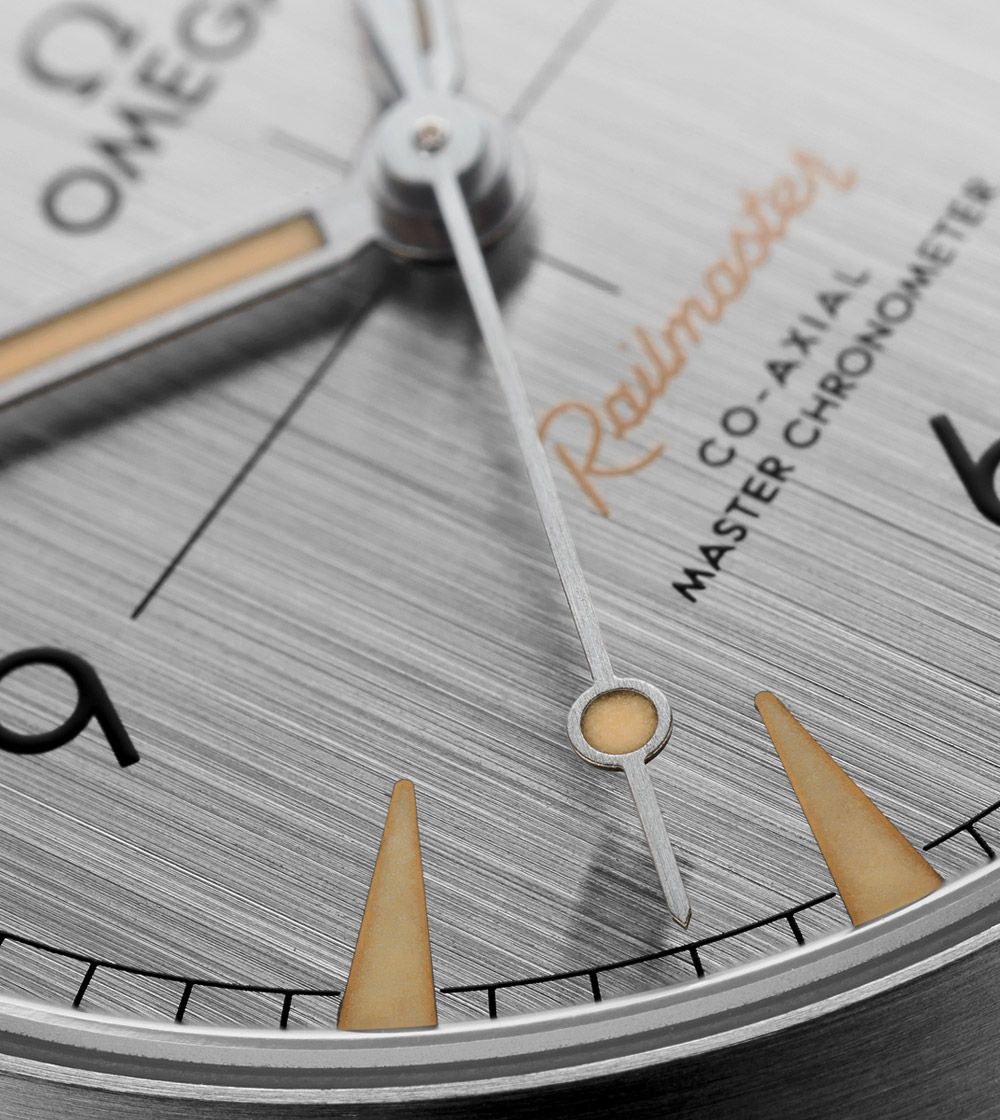 A crosshair, which is truncated in the middle of the dial is used, an element which does not appear on any other Railmaster of the past.  Many vintage Omega models did use crosshair dials, with truncated crosshairs appearing on some entry level Cosmic and Geneve models but its a slightly unusual choice on the Railmaster with so much else going on.
The Arabic 12, 3, 6 & 9 markers are inset from the luminous triangular hour markers and are positioned more towards the center than on previous Railmaster models.  
An outer minute track is used, quite different from any other Railmaster of old and once again more reminiscent of the Dynamic III of the 1990's once again.  
Denim Blue Dial
The denim blue dial is unique from the other models in that it is the only dial which uses white luminova rather than vintage style egg-shell colored lume.  The light color does work well with the blue dial and the blue denim vertical brushed tone is really quite attractive, probably the nicest of the entire collection.  
The orange-red second hand and Railmaster script adds some more contrast and personality to the dial, and it really is quite a nice look overall.
The optional denim strap is very unique and different.  Its an idea you don't see on other watches and I'm glad that Omega tried it and were brave enough to make something like that.  It isn't for everyone, but it will definitely please some and the double-denim look when paired with this blue dial certainly grabs some attention.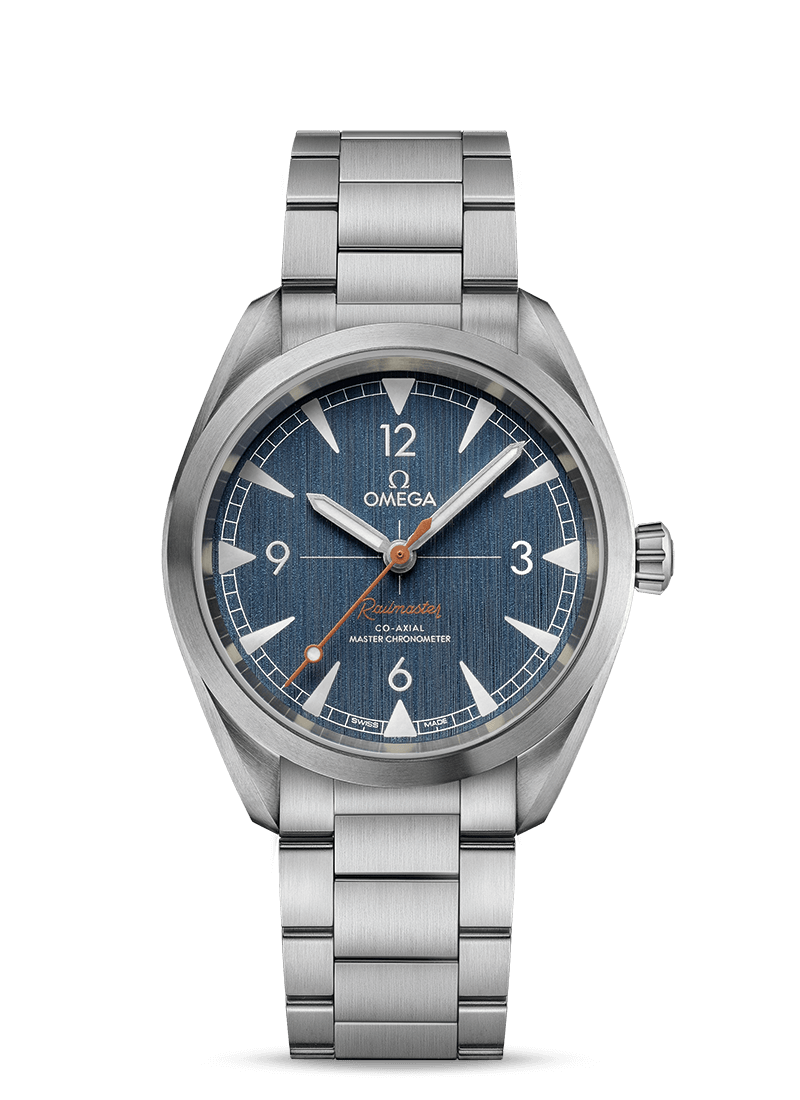 Brushed Grey Dial
The grey dial is smart and elegant, with the vertical brushed texture giving it a great deal more personality and depth than a plain black dial.
The vintage style luminova looks terrific with that dial too, Omega do it very well and it looks the part on a vintage inspired watch like this.  The use of brushed metal hands with an unpainted second hand and subtle beige Railmaster script look entirely appropriate on this piece.
It's definitely the more subtle choice than the blue, less attention grabbing and more elegant, but it does it well.  The textile strap, which looks both somewhat unusual but also rather fitting with the dial isn't bad but probably doesn't suit the watch as well as the excellent brushed bracelet.
Brushed Silver Dial
The silver dial is probably the least immediately lovable of the available options.  
The vertical brushed silver doesn't look particularly bad, it's quite attractive in and of itself.  The issue is that it looks too similar to the brushed silver of the case, and bracelet, and that when this is combined with the difficult-to-read black and beige text, there is a severe lack of contrast.
The vintage lume doesn't necessarily look bad against the silver, nor does it look overly good either.  Something once again that contrasted with the silver would have simply been better, whether applied or painted in a different color.
The hands too tend to get a little lost in the dial with the beige not standing out enough against the silver texture.
The leather NATO strap actually looks quite nice and brings some of that much needed contrast to break up the seal of silver-grey.  This is a strap that would work well on a broad range of Omega models and might be the best part of this watch.
Buying
It's hard to know exactly what is happening with these watches right now.
The Australian Omega website has removed them entirely, with only the CK2914 re-edition being visible on the Railmaster section now.  The United States Omega website still has them, but they seem to be rarely on display in boutiques at this point.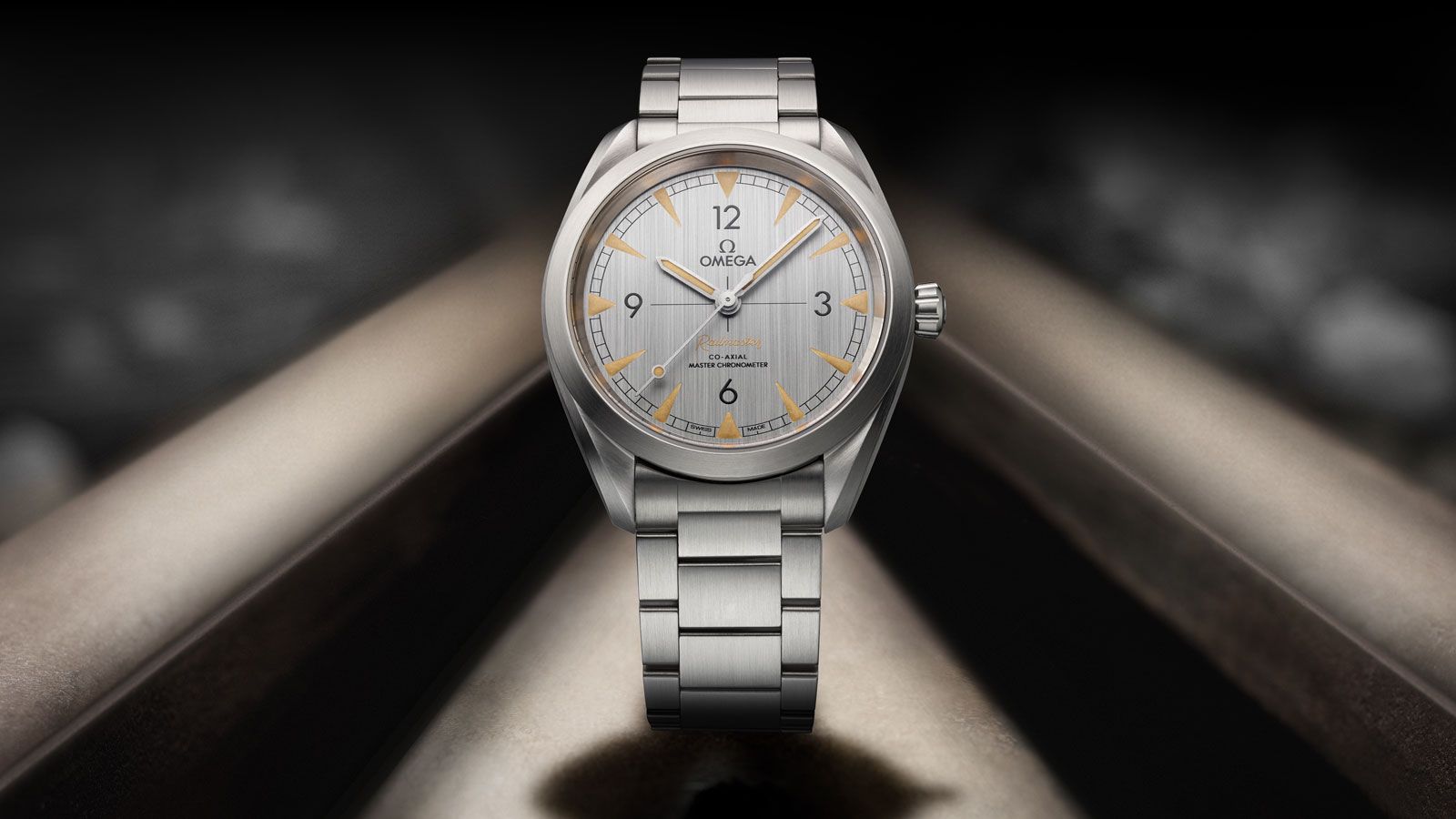 While modern Omega watches are holding their value better than ever today, these Railmasters can be found for sale brand new in box for $3,200-$3,500, which is a very substantial discount over MSRP.  Second hand, they're not fairing particularly well, especially at auction when selling no reserve.
There just aren't that many buyers for the watches currently in circulation, and they likely have a ways more to fall on the secondary market yet in coming years.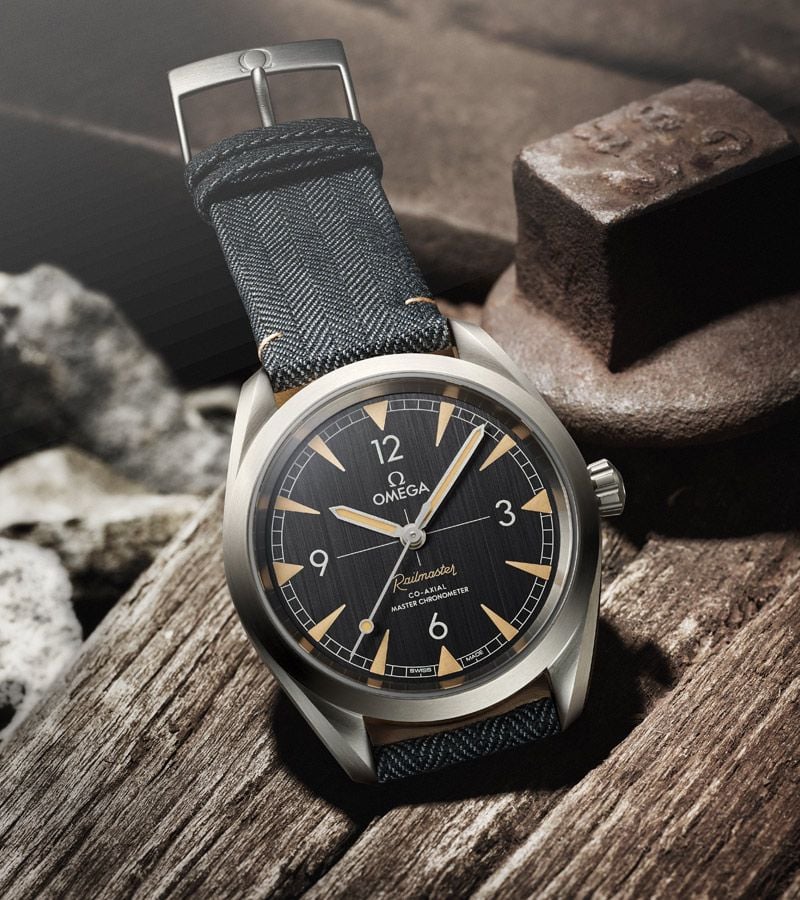 When they do bottom out though, these watches will likely become a very good modern entry point into an Omega with a terrific movement in the Calibre 8806.
The more I think about these watches, the more I think they could have been so much better if Omega had dropped the Railmaster branding, and produced it as a Dynamic IV, with all the freedom that comes with that.  The dials, the price point, the finishing and the case all fit so well with a Dynamic III that I feel it would have been embraced far more warmly by the community.
As far as the Railmaster, I still love the CK2914 re-edition, and while it may be a limited edition, I'm happy for it to be the last new Railmaster for quite some time.
Discussion thread on Omegaforums can be found here: