The Museum Collection 1938 Pilot's Watch was a simple idea for a single watch, which over a decade almost spawned a model line of its own with more variants than all of the other Museum models combined.
The 1938 Pilot's Watch
This first Museum Edition came out as a modern recreation of a very unusual piece from the 1930s, the CK 2042 pilot's watch.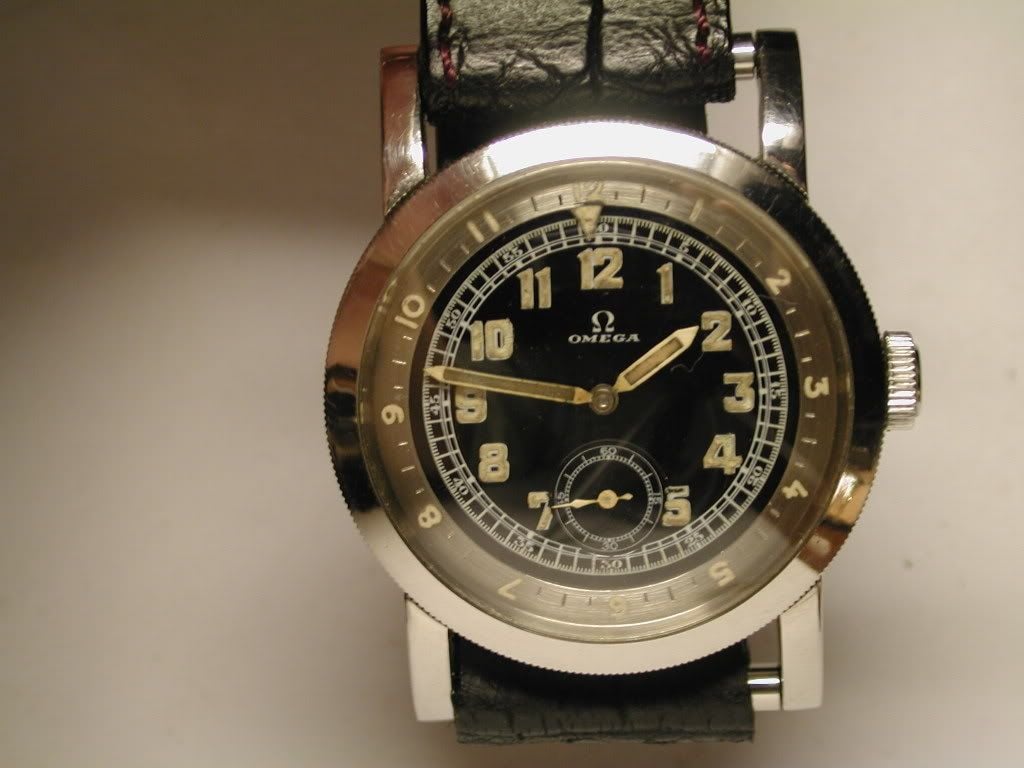 The original is a very highly valued vintage collector watch easily costing 5-figures regularly at auctions in recent years.  Powered by the Calibre 26.5 SOBT2 manual wind movement and featuring an oversized 40 mm case with rotating bezel, this watch has amazing presence combined with stunning art-deco styling but was rare enough to be out of reach to most collectors.
The Museum Edition No.1 1938 Pilot's watch, Reference 5700.50.07 Omega's first Museum piece.  A faithful and very lovingly reinterpreted modernization of the CK 2042, this watch maintained the original's size, dimensions, bezel and layout, with an accurately re-imaged dial and hands.  To that Omega added an excellent, reliable and accurate chronometer rated automatic movement in place of the original, a decent water resistance of 50 meters, and modern Super-Luminova in the same style that the original radium would have been.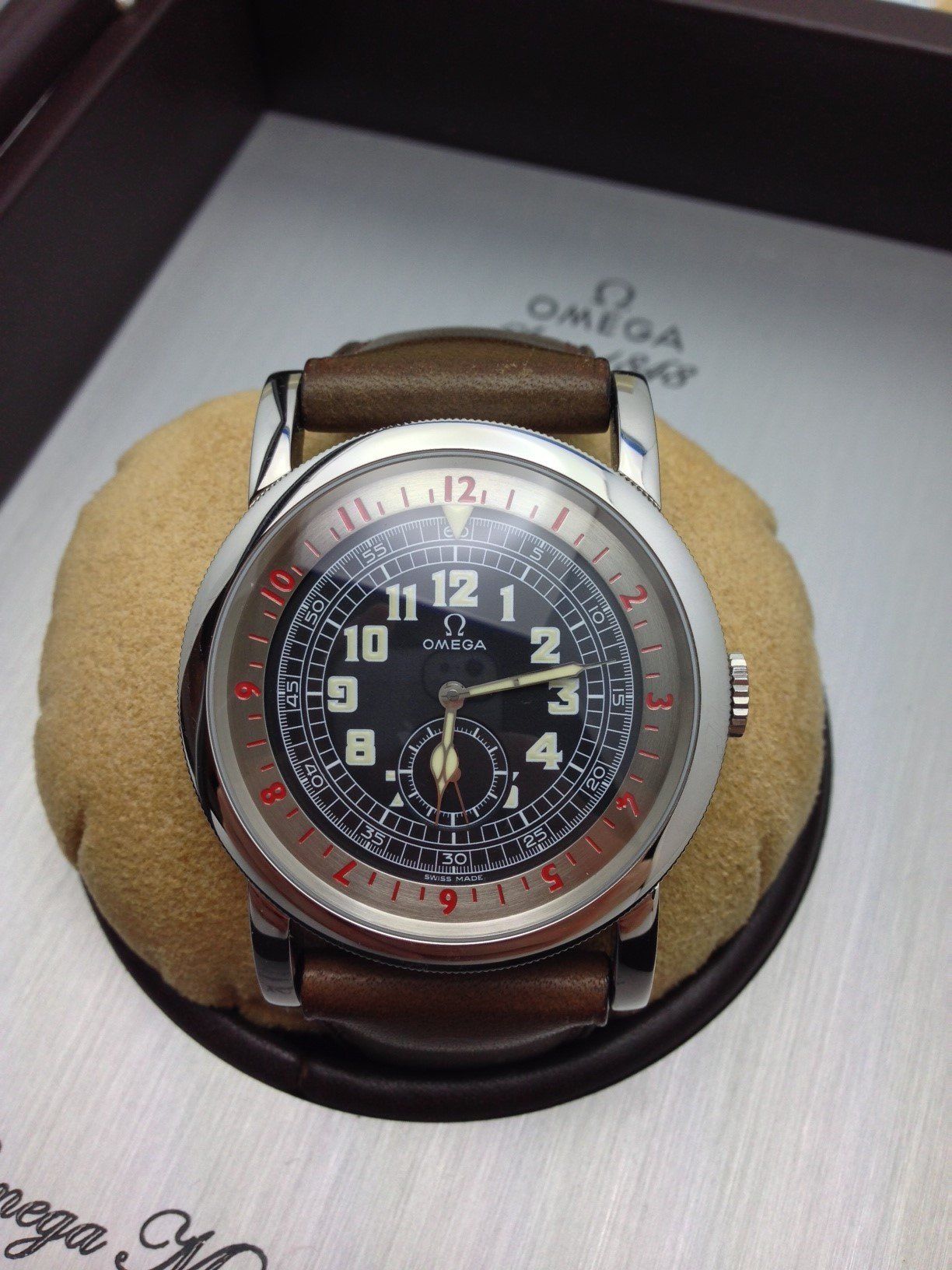 In doing all of this Omega managed to keep the price of these modern pilot's watches very reasonable and accessible to collectors, with prices 20 years on still being very reasonable.
Better still, Omega made a lot of these watches, 4,938 in fact.  And then they made some more.  And some more again.  And then they made another 11 variants with diamonds.  
Aquarella
The 11 variants with diamonds I mentioned above?  Those would be the Aquarella series.  
The Aquarella shares the same steel case and movement as the regular 1938 Pilot's watch re-edition but pivots it towards being a ladies' watch, though Liberace would equally appreciate these pieces as well.  
All Aquarella models share the same overall design, featuring diamonds set into each lug, and an outer diamond bezel featuring 80 diamonds set into a channel.  The black dial of the original Pilot's watch is replaced by a more elegant mother of pearl dial in white with luminous hour markers.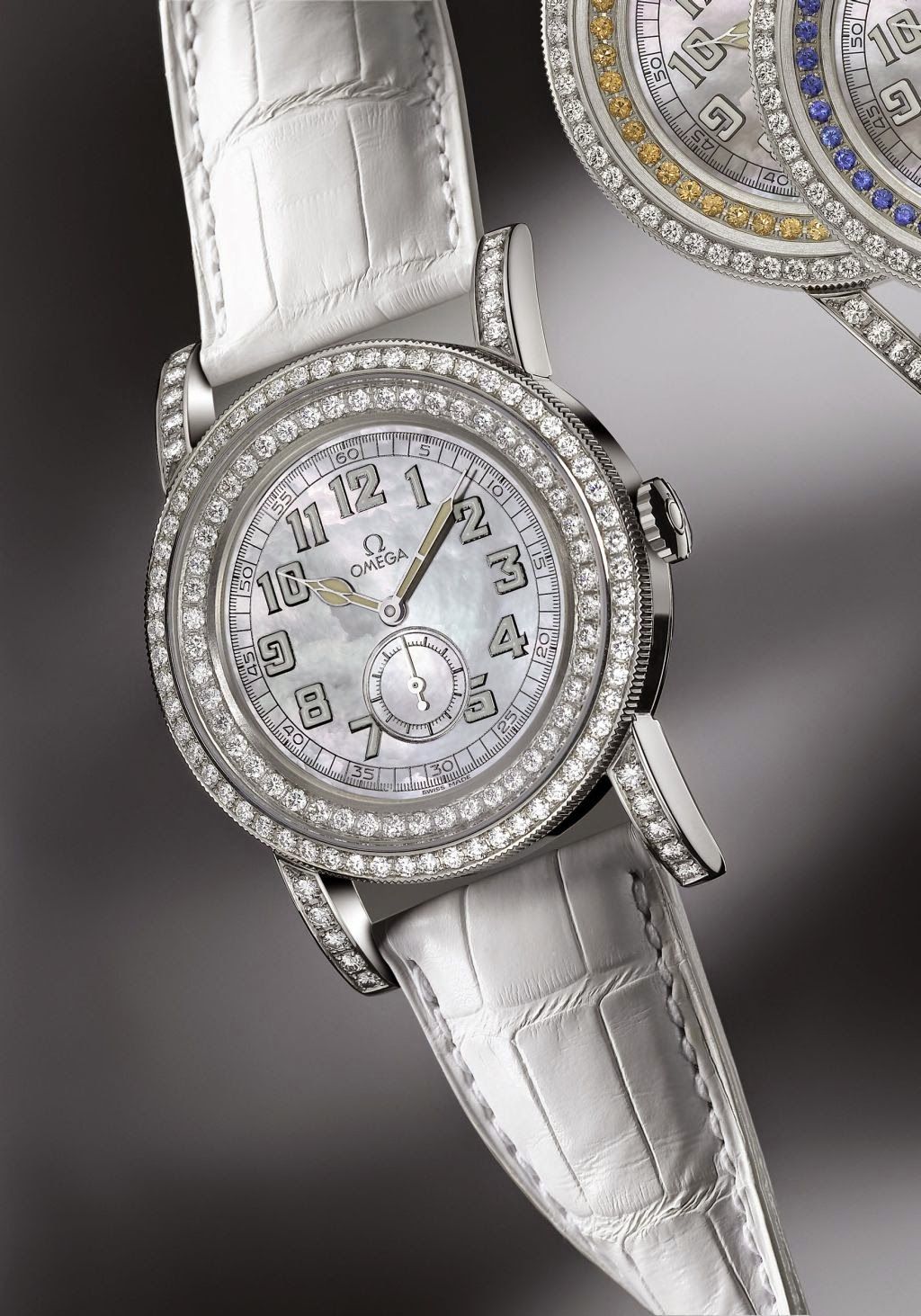 The differentiator between the 11 different variants is the inner bezel, which comes in 10 different colors, each represented by a different stone, 48 of which are set into the inner bezel on each Aquarella.  The stone options are white diamond, blue sapphire, amethyst, black diamond, tsavorite, mandarin garnet, aquamarine, pink sapphire, yellow sapphire & ruby.
Now that's 10 different stones, the 11th variation is the white diamond option coming in two different strap colors while all others only have one.
The Aquarella bezel does away with any useful markings, as well as the hanging pointer indicating where it is stopped but this is not uncommon among similar diamond encrusted models.  When you wear a piece this special, the party no doubt waits for you.
The Aquarella line were sold internationally and can be found all over the world in extremely small numbers as not many were produced.  The largest concentration of them however is in Japan and China, where the model did see some degree of traction and can still be found on the secondary market.
Case & Strap
The case of the 1938 Pilot's watch is substantial, with the thick elongated lugs leading to a watch that wears larger than the 40 mm diameter would suggest.  It is only available in stainless steel, and polished over the majority of the watch with the exception of the case-back.  There is no complex finishing, no bevelling or compound curves, this is a tribute to a watch produced in a simpler age as a tool for navigation not as a fashion accessory.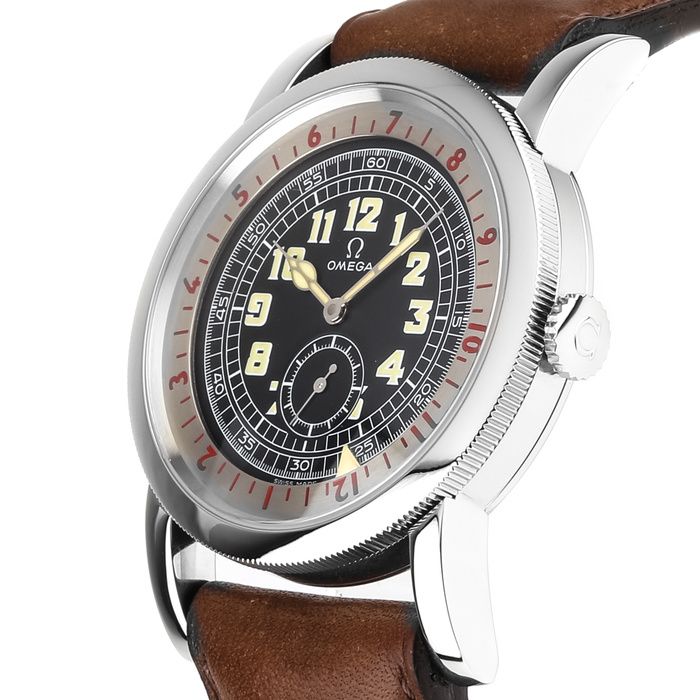 The bezel is quite unusual by modern standards.  The outer ring has a coin edge to aid in gripping and turning, and the bezel is bi-directional and without detents.  the inner ring of the bezel with hour markings up to 12 moves with the outer bezel, as does the triangle shaped pointer inside of it which is coated in a generous amount of luminous material.  As mentioned previously the Aquarella maintains this system but replaces the hour markers with 48 colored stones and omits the triangular pointer on the pilot's version.
The crown is a very thin knurled crown that is easy to grip and operate thanks to the lack of crown guards and near identical to the original found on the CK 2044.  The case-back is a press-fit design featuring the limited edition number as well as a large amount of engraved writing related to the Museum re-edition.  In spite of the press-fit case-back, the watch still maintains 50 meters of water resistance, which makes it more than able to be used daily without worry unlike the original.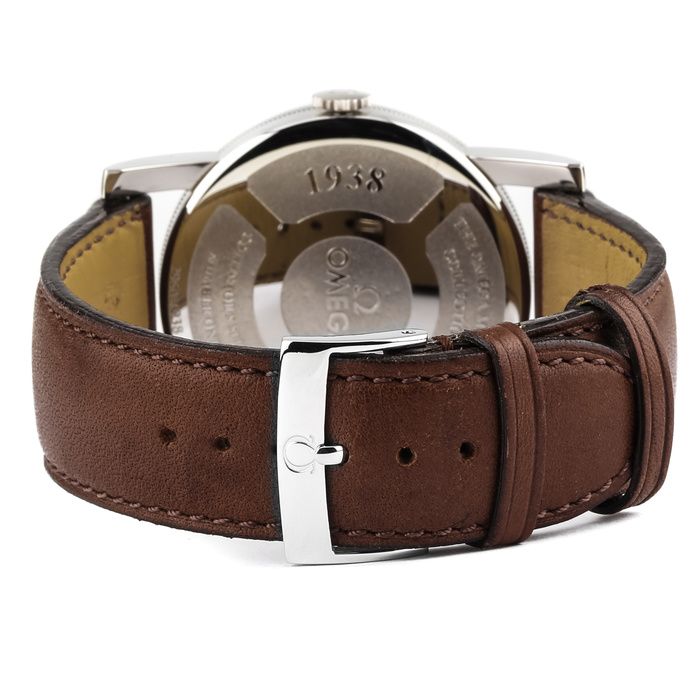 The long lugs are 24 mm in width and do not have any factory Omega bracelet option.  These watches were sold exclusively with leather straps and tang buckles for the black dial pilot's model and alligator straps also with tang buckles for the mother of pearl dial models.  It's worth keeping in mind that 24 mm lugs are very common in the Panerai world, and there is a truly enormous variety of amazing straps in that size available for those watches, all of which would perfectly fit this Omega.  
Movement
The movement powering all models and variants of this watch is the Omega Calibre 2200, which is based on the ETA Calibre 2895-2, which, in-turn is based on the excellent ETA Calibre 2892-A2 only with sub-seconds instead of central seconds.  
This is great news because the Cal 2200 is exceptionally reliable, accurate, chronometer rated, and durable with easy servicing and a bottomless supply of spare parts.  This movement beats at 28,800 vph, has a 44-hour power reserve, bi-directional winding, hacking, and no date.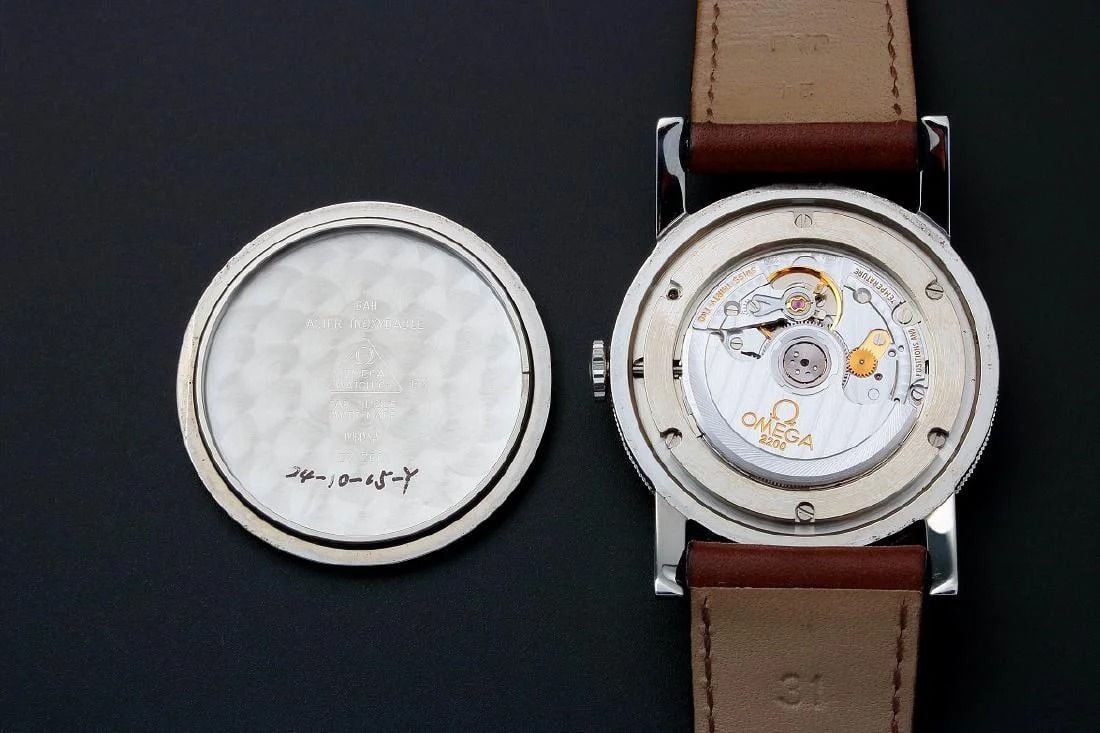 The Cal 2200 uses a traditional Swiss lever-escapement, not a Co-Axial escapement which may confuse some people given most 2000 series calibres are Co-Axial but this one is an exception.
While other Omega's have used a sub-seconds layout before and after the Calibre 2200, this movement was only ever used in these pilot's watches and one other Museum edition, the tonneau shaped "Petrograd" limited edition.
This movement can be serviced by any independent watchmaker with access to an Omega parts account and will give a lifetime of very trouble-free low-maintenance service.  
Dial Variants
The Original
The first, and original Museum Edition No. 1 limited edition watch, is the black dial reference 5700.50.07 pilot's watch.  This watch came out in the year 2000, was delivered on a brown leather strap, and is the most accurate re-creation of the original CK 2044.  Omega produced 4,938 of these in total over several years in the early 2000's.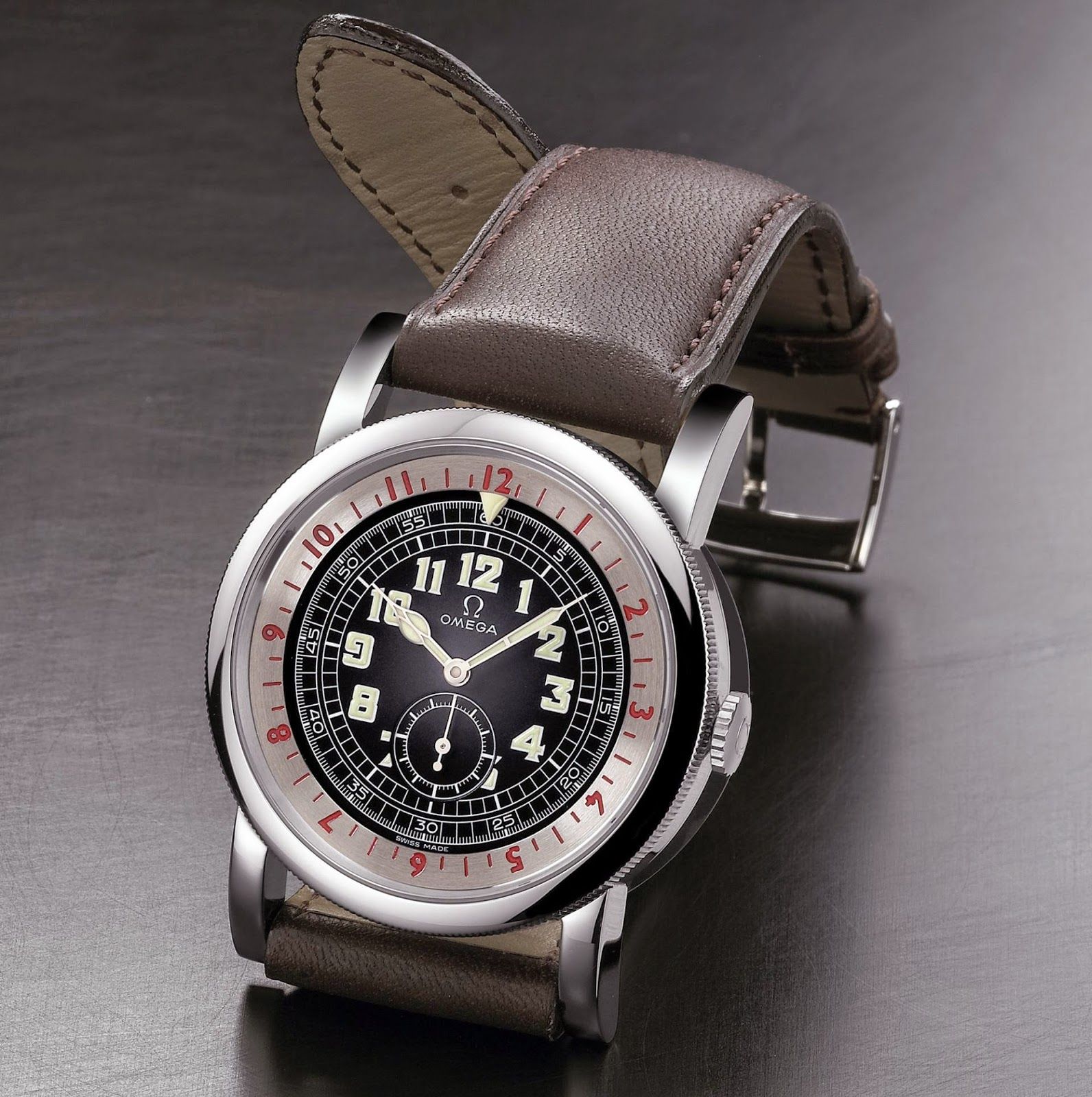 The inner rotating bezel has 12-hour markers in red paint along with quarter hour markers and a luminous triangular pointer below 12 o'clock.  On the outer edge of the black dial is a seconds scale with sub-second hashmarks for precision timing.  Inside of that is a minute track, and then large luminous Arabic hour markers further inside that.
The dial is very clean with only the Omega logo at the top, while the sub-seconds sub-dial is at the 6 o'clock position.  Like the original CK 2044, Omega has used luminous cathedral hands for authenticity.
There is no obvious indication that this is not a vintage watch beyond the Super-Luminova, fonts are quite accurate, the style even down to the strap is very accurate and the vintage Omega logo is used to complete the look.
Mother Of Pearl Arabic Dials
The mother of pearl editions, released several years later in 2004, were not part of the original limited set of 4,938 units and are not individually numbered.  
These watches use the same case and bezel as the original model and feature a dial with many differences over the original. The first and most obvious is that the black dial is replaced by a white mother of pearl dial, quite elegant and uniquely different on each watch.  This dial is slightly less cluttered than the original in that it retains the seconds track around the outer edge but deletes the minutes track inside of that, in order to move the hour markers outward, creating more room in the center of the dial.  
Instead of the vintage Omega logo used on the original version, a modern Omega logo in black is used in its place.  To give contrast against the white dial, there is an outline around the Arabic hour markers on both mother of pearl models and this represents the only difference between them.  The variant with a bright red outline around the hour markers carries the reference 5770.73.03, while the variant with a black outline around the hour markers carries the reference 5770.71.01.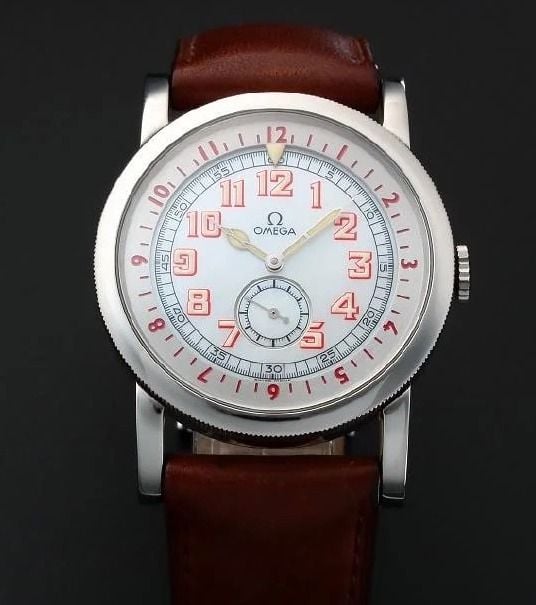 The Roman Dials
The Roman dials came after the mother of pearl dials, towards the late 2000's and were a special release for the Japanese market.  They were not numbered and appear to have been made in quite decent numbers given how many are available at any given point in time, especially in Japan.  
The Japanese models are quite different again from the previous mother of pearl duo.  Firstly, the outer seconds track with sub-seconds is gone, replaced with a simple minutes track without numbering.  Inside of that, the largest change is the Arabic hour markers being replaced with painted roman markers.  
The Omega logo is modern rather than vintage, similar to the Arabic Mother of Pearl pair, however the Omega logo has had its position moved up closer to the top to create more balance with the sub-dial below.
The Roman dials come in a black dial with white painted markers, reference 516.13.41.10.01.001, a silver dial with vertical brushed texture and black painted markers, reference 516.13.41.10.02.001, and lastly a mother of pearl dial with black painted markers, reference 516.13.41.10.05.001.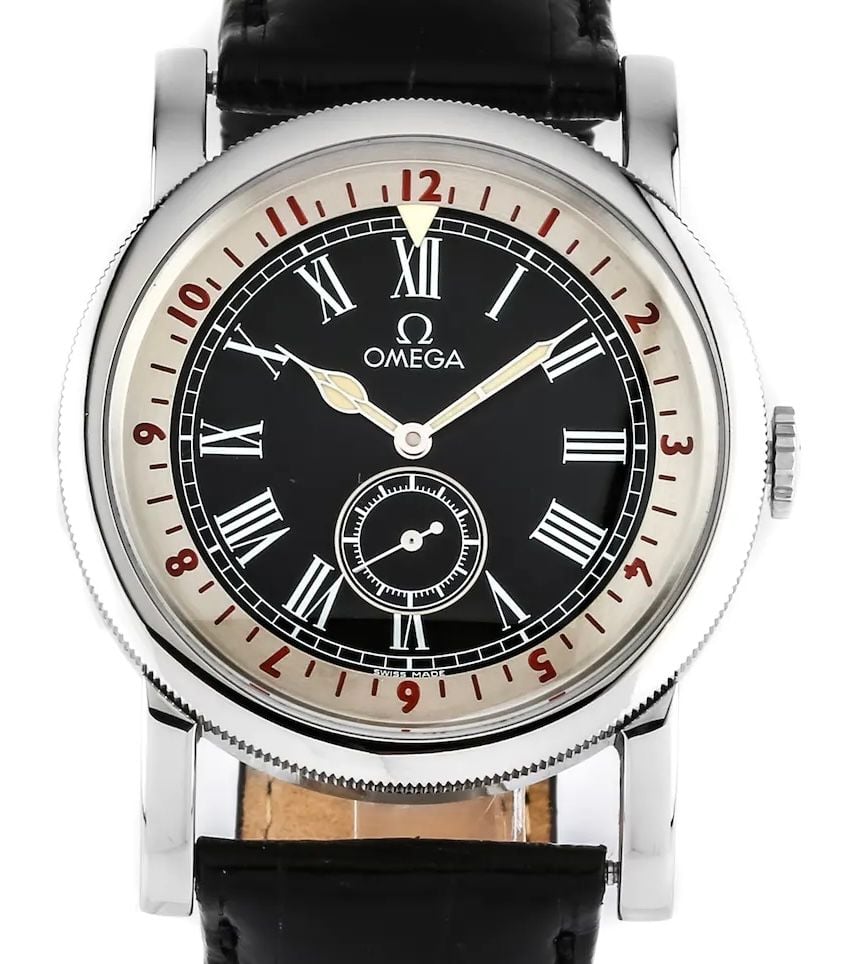 The Aquarella
The Aquarella models are effectively identical in dial design to the mother of pearl series of 2004 model with black outlines around the hour markers.  They feature a sub-seconds track around the outer edge, with hour markers moved slightly outwards and a modern Omega logo.  
The key difference is just the diamonds and inner stones, which are stunning, and change the look and feel of this watch entirely from a military pilot's watch to an art-deco statement piece.
The first set are the diamond models, the White Diamond Aquarella on white strap, Ref 5775.71.56, the White Diamond Aquarella on brown strap, Ref 5775.71.02, and the Black Diamond Aquarella, Ref 5773.71.56.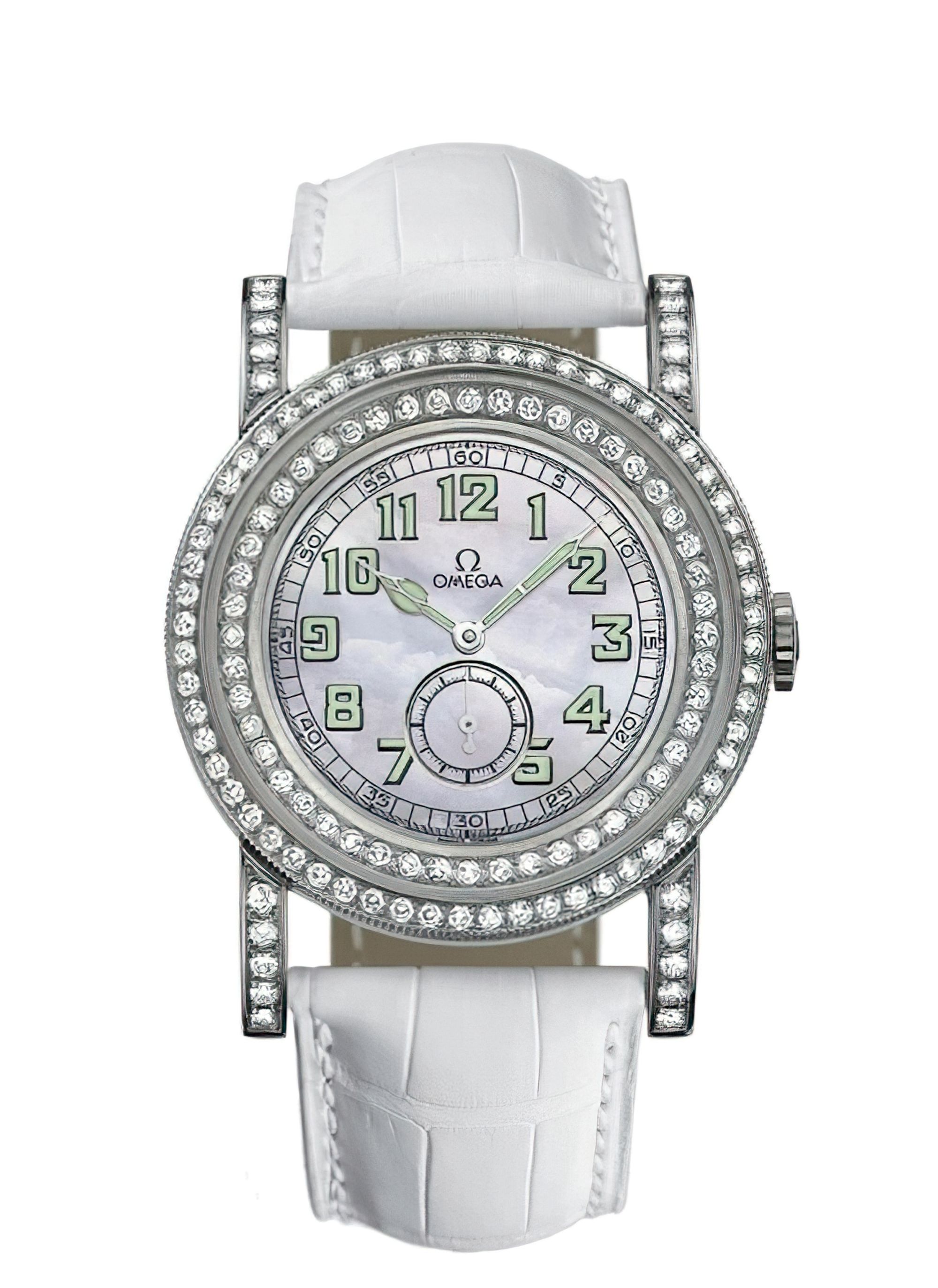 The next set are the sapphire models, the Blue Sapphire Aquarella, Ref 5772.71.56, the Yellow Sapphire Aquarella, Ref 5779.71.56, and the Pink Sapphire Aquarella, 5778.71.56.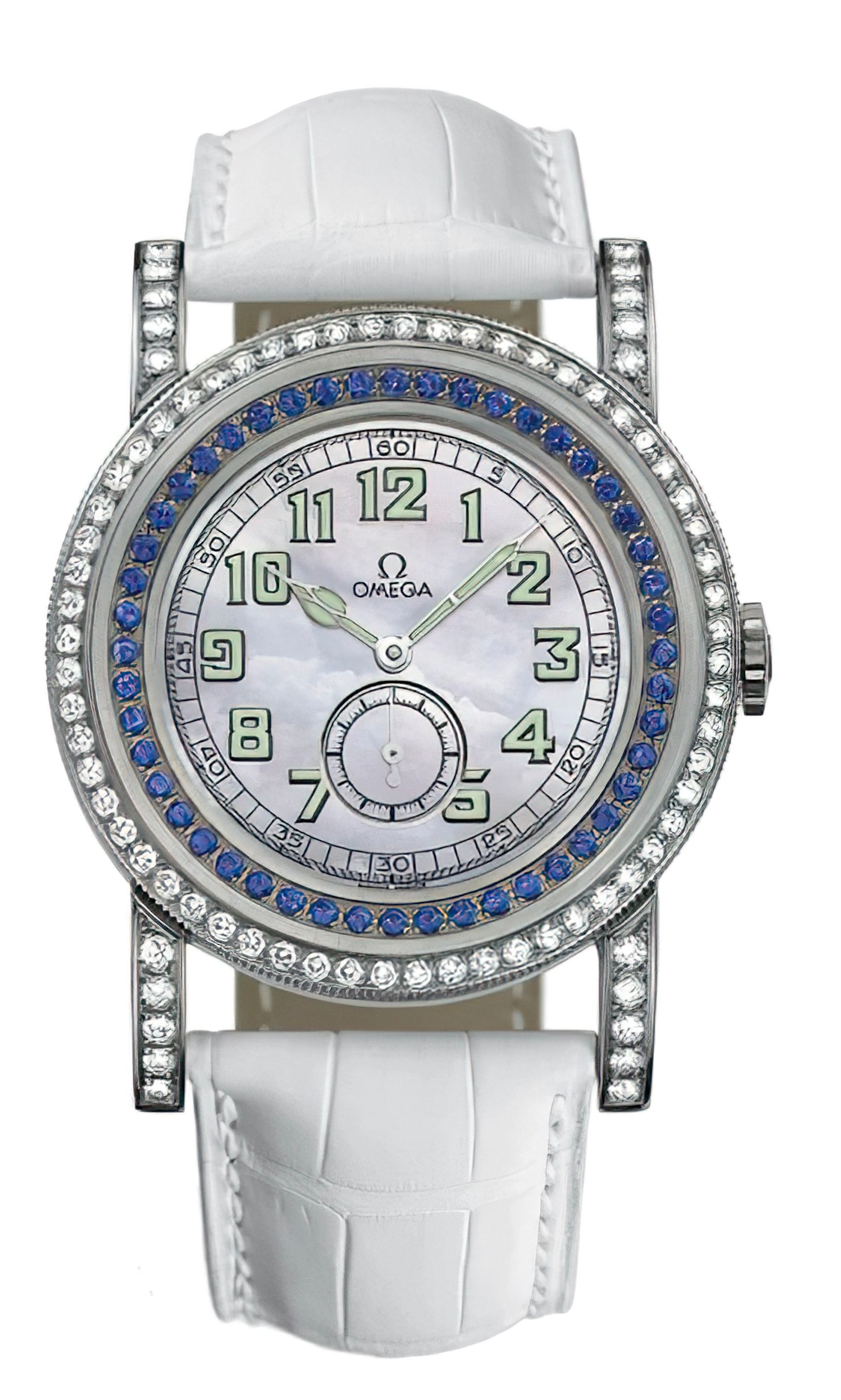 Then come the garnets, the Mandarin Garnet Aquarella, Ref 5776.71.56, and the Tsavorite Aquarella, Ref 5774.71.56.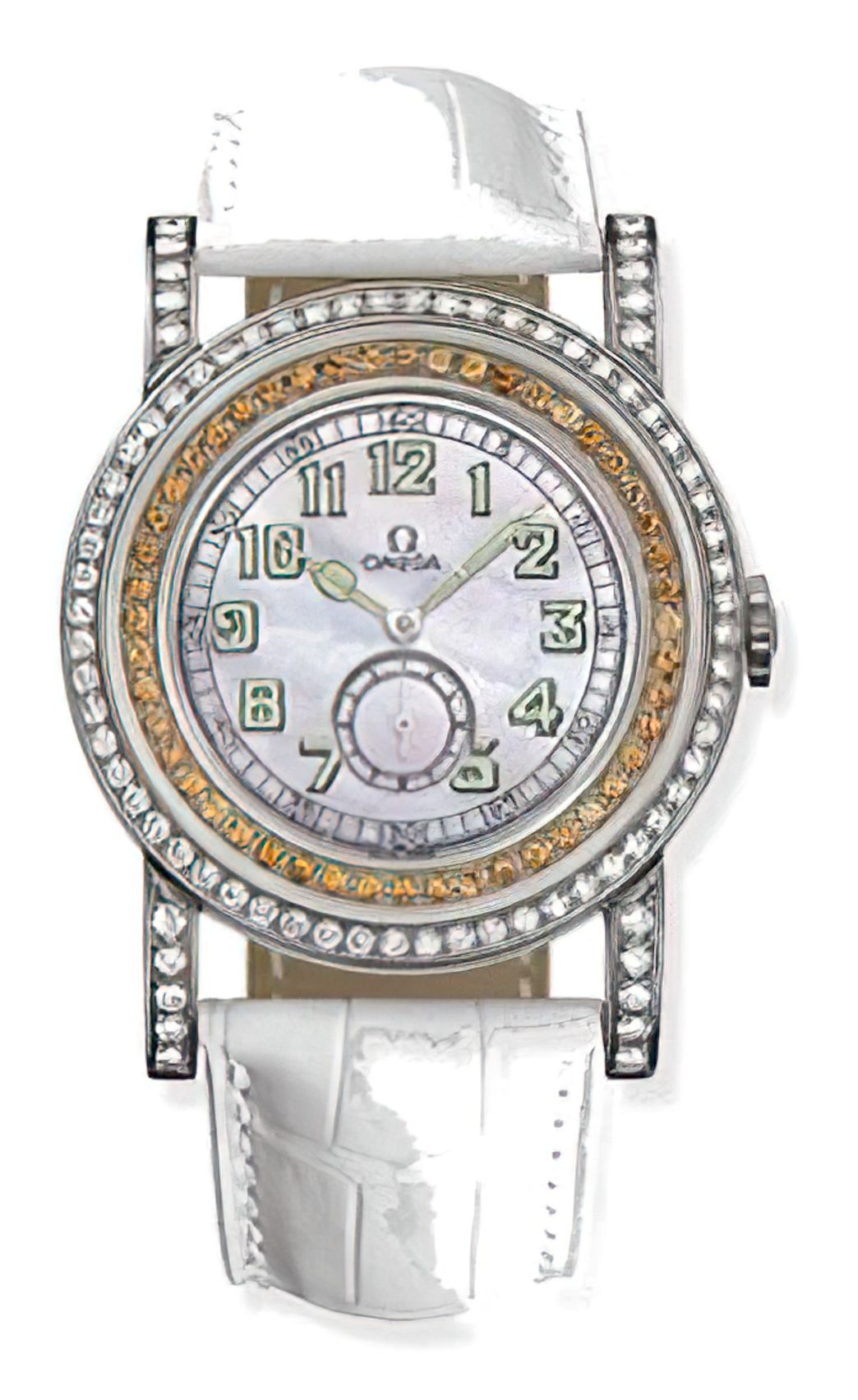 Then finally the remainder, the Amethyst Aquarella, Ref 5771.71.56, the Aquamarine Aquarella, Ref 5777.71.56 and the Ruby Aquarella, Ref 5780.71.56.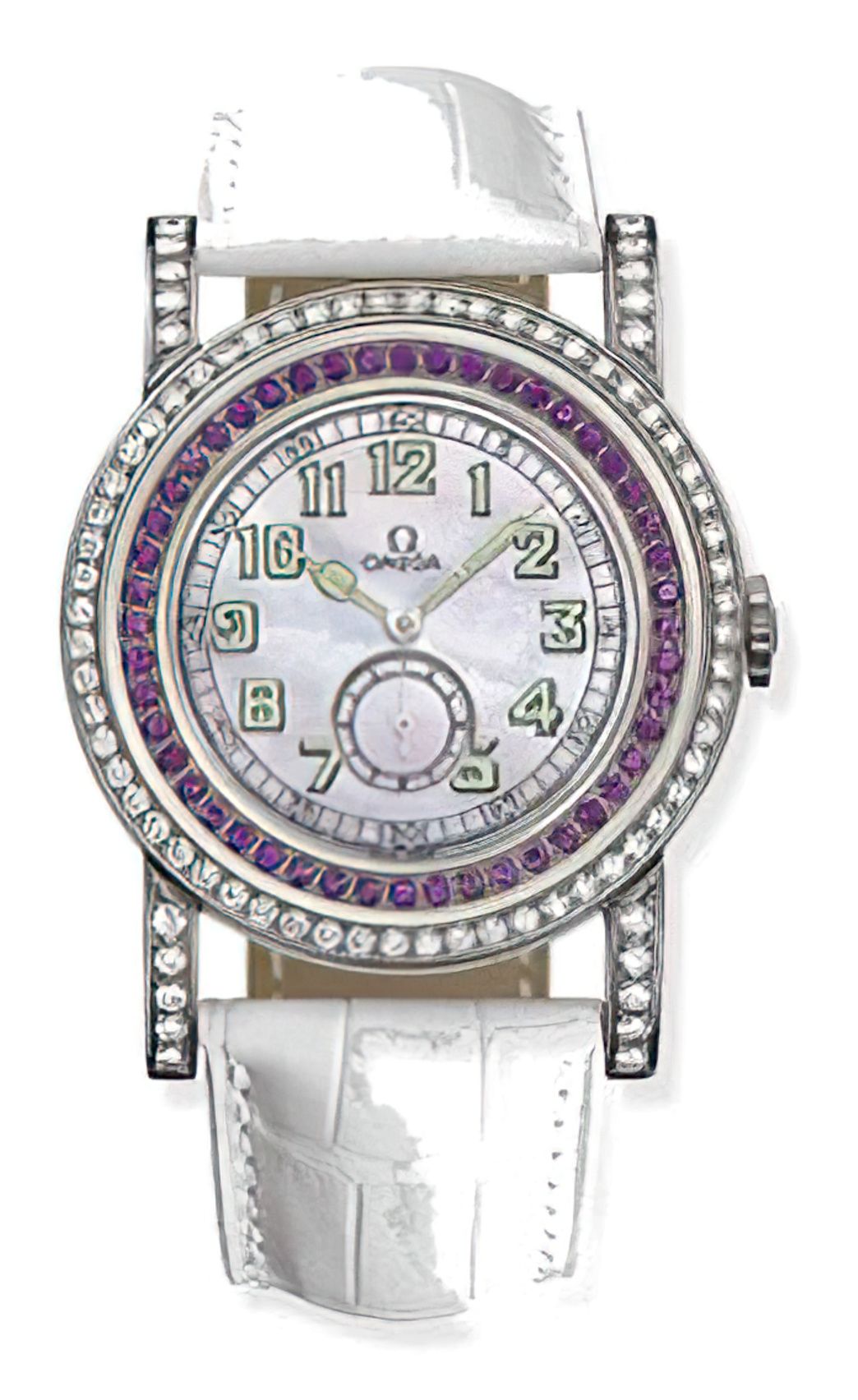 All of these references are quite uncommon and hard to come by, with most stock being in Japan and China, so it is hard to say which models are the most common or rarest, as often only a handful of colors are available at a given time.
Buying
These watches are far cheaper than they have any business being, and its almost confusing as to why they go so low.  
On one hand, Omega did produce a lot of them, nearly 4,938 of the original and at least thousands of the other variants so there is a lot of supply around which, coupled with the lack of awareness around the Museum Collection, could just mean far more sellers than buyers.  It is also possible that the Calibre 2200 movement confuses some people as they don't really know what it is, how good or reliable it is and whether it is related to problematic early Calibre 2500 movements, but this movement is quite superb.
In any case it makes for an excellent buy, and in particular the Japanese market versions with Roman dials sell particularly low of late, in some cases even under $2,000.  This one went on eBay recently with missing box and papers and an aftermarket strap for $1,777.15 which is frankly a steal.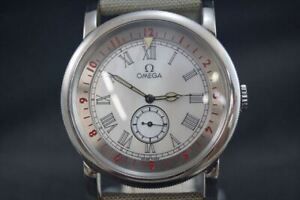 Getting the original strap for these is a bonus but ultimately, a 20-year-old leather strap can be a bit nasty and aftermarket options are excellent so don't pass up a good deal over it.  A full set can increase the value of a perfect condition example but makes minimal difference for a used and worn watch.  While Omega may have intended these to be collector pieces, they're great to wear and it's a waste to not enjoy it.
Supplies on forums, eBay and Chrono24 are always substantial so pinpoint which version or versions you want first and then carefully compare case condition and price until you find the right example.  
As these watches are all over a decade old, servicing costs should be factored into your purchase, but these are simple movements and your local independent can take care of it with ease at far less cost than a factory service.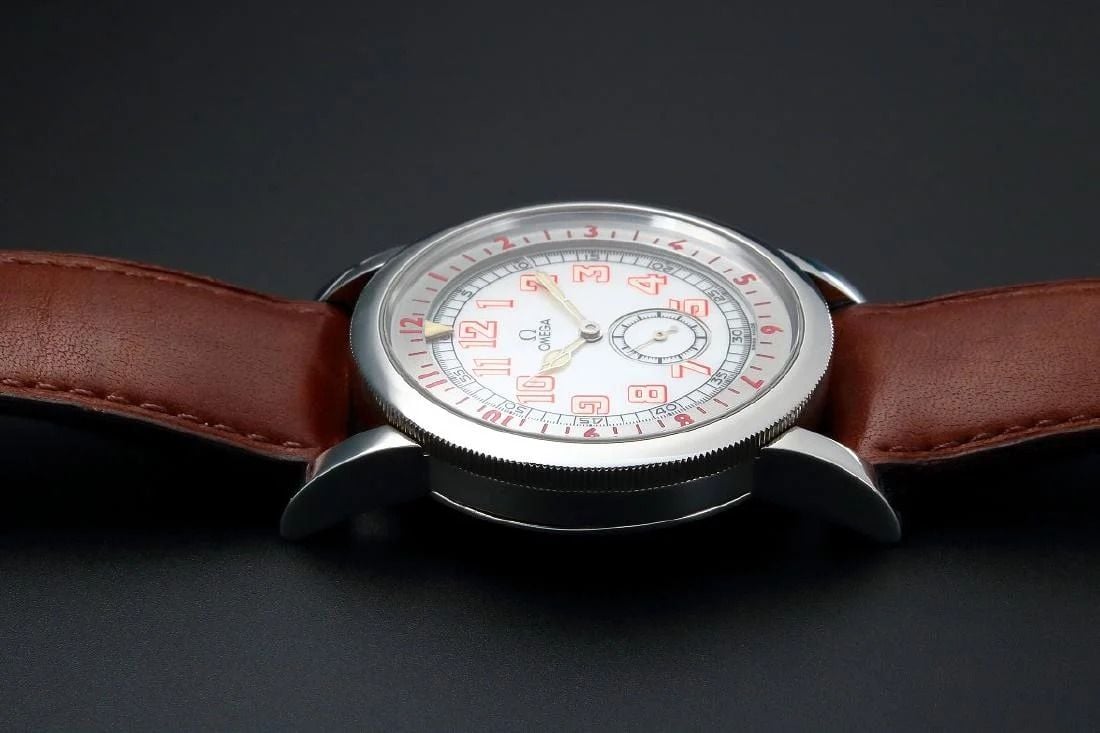 Aquarella's can be found at auction houses, as well as occasionally on chrono24 and at dealers, they were very expensive watches when new that have depreciated a great deal and can now be found around $10,000 or less at times.  For the best variety you may need to look to Japanese or Chinese sources as these markets were where they sold the best and are still circulating.
The 1938 is something very different in Omega's back catalog.  The size, style, lugs and dial are not repeated in modern product lines and the pricing makes them an absolute steal for the quality of watch they represent.
Discussion thread on Omegaforums can be found here: