The Omega world is a remarkably broad church with some extremely knowledgeable and devoted specialist collectors following each line, model or even movement.  One of the most noteworthy has always been Erich Lexer, often referred to on forums as "the black hole of Europe" since watches heading his way never escape again.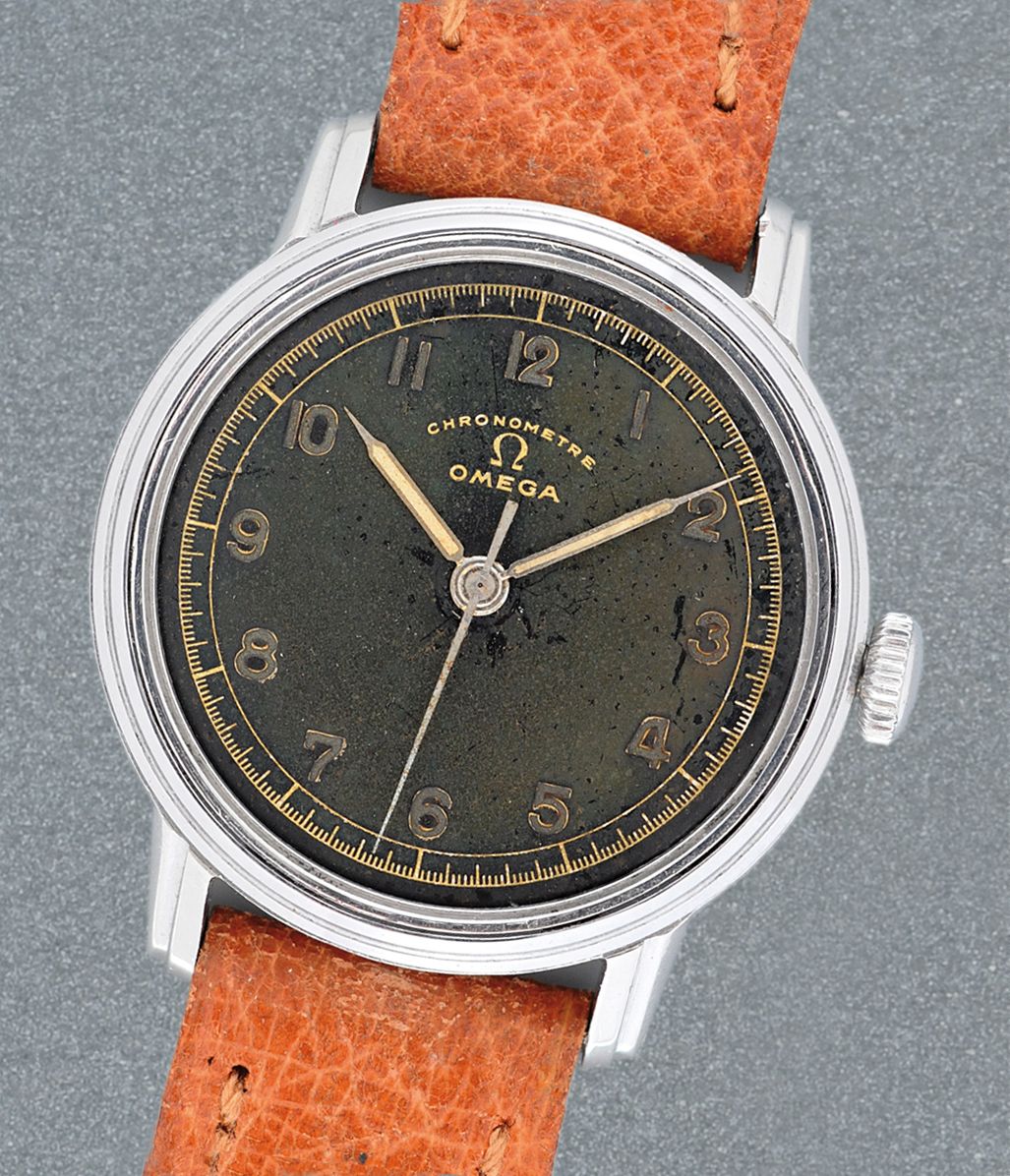 Every time a new member signed up to Omegaforums with a rough or redialed 30mm Calibre watch of some variety asking if it were original or not, Erich was the man who was able to give them the right advice and information, and then post a picture of his own excellent condition example of the poster's watch with original dial finishing to illustrate what it was meant to be.  Up until the release of this book, that was perhaps our greatest window into Erich's incredibly detailed collection and knowledge but now we're able to see just how deep the black hole goes.
Speedmaster owners have been really quite spoiled over the years by the excellent resources available, from Chuck Maddox' pioneering work at Chronomaddox, to Robert-Jan's #SpeedyTuesday on Fratellowatches, To Moonwatch Only and more, but 30mm models have only been lightly covered in the past by more generalist books.  There is a deeply passionate community behind 30mm Chronometers, people who collect vintage advertisements, share well written articles, and collect them in large numbers and it's great to see them get this attention.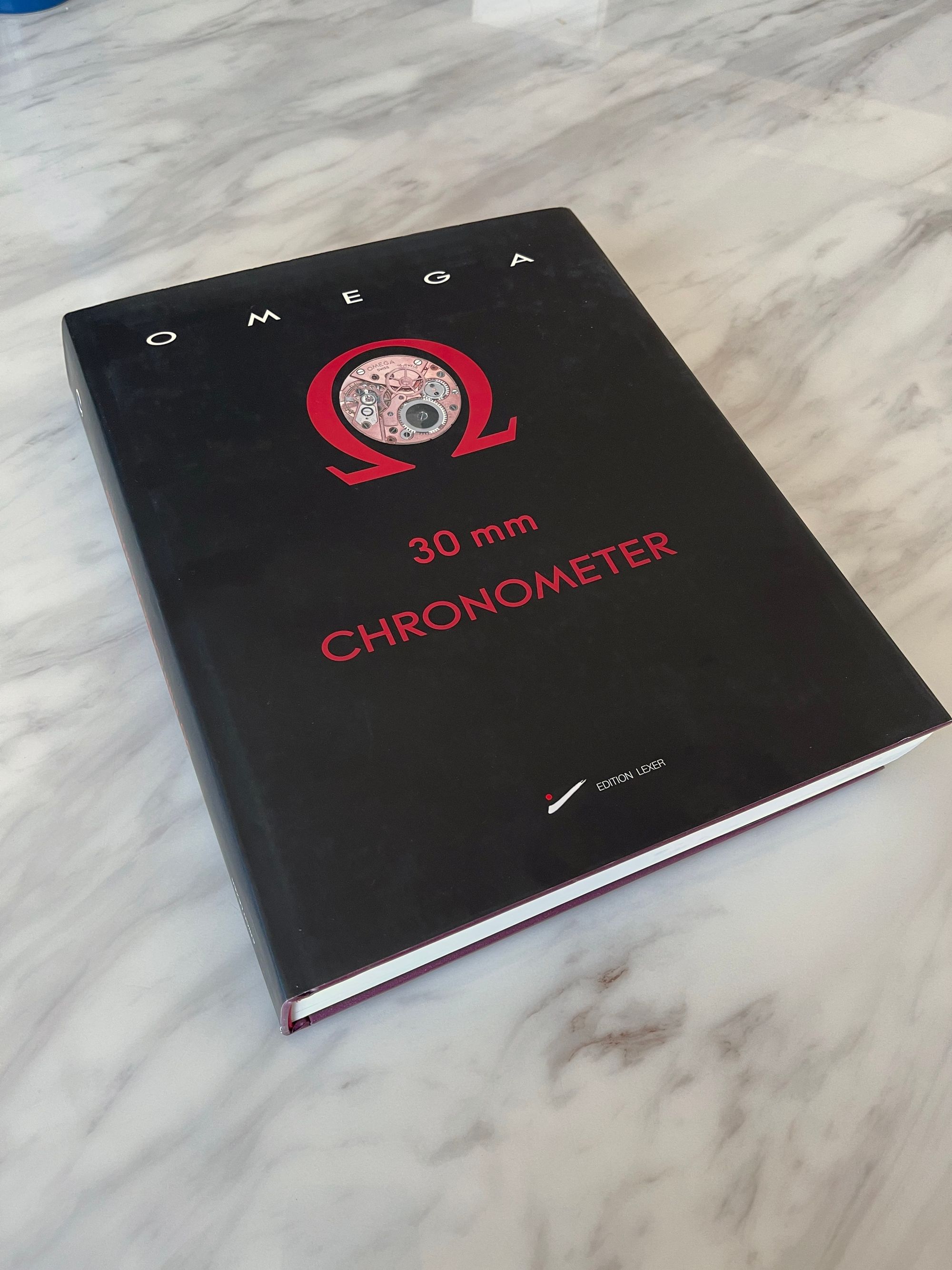 Content
Erich starts the book with a detailed history lesson, explaining the origins of the Calibre 30 and why this simple hand wound movement means so much to Omega and the broader watch world.  While the Speedmaster went to the moon and the Ploprof plunged to great depths, the Calibre 30 series was the weapon Omega used to fight for supremacy in chronometer competitions against the likes of Zenith & Patek Philippe.  A reliable, exceptionally well designed, and quite simple platform that became the basis for some of Omega's greatest innovations from the legendary Calibre 30GP observatory Chronometer, to the world's first wristwatch tourbillon.
Detailed visual depictions of the original Calibre 30 movement, inside and out, along with the changes made to the movement as it evolved into the later chronometer versions through the years with different materials, components, levels of finishing and regulators give an insight into how much work Omega put into this calibre over its life and serve as an invaluable reference for identification.
While the calibre 321 only has a limited number of movement changes over its life, mainly relating to the coupling yoke and reset springs, the calibre 30 line features incredible variety right down to the individual component finishing level, and Erich goes to great lengths to cover this in full depth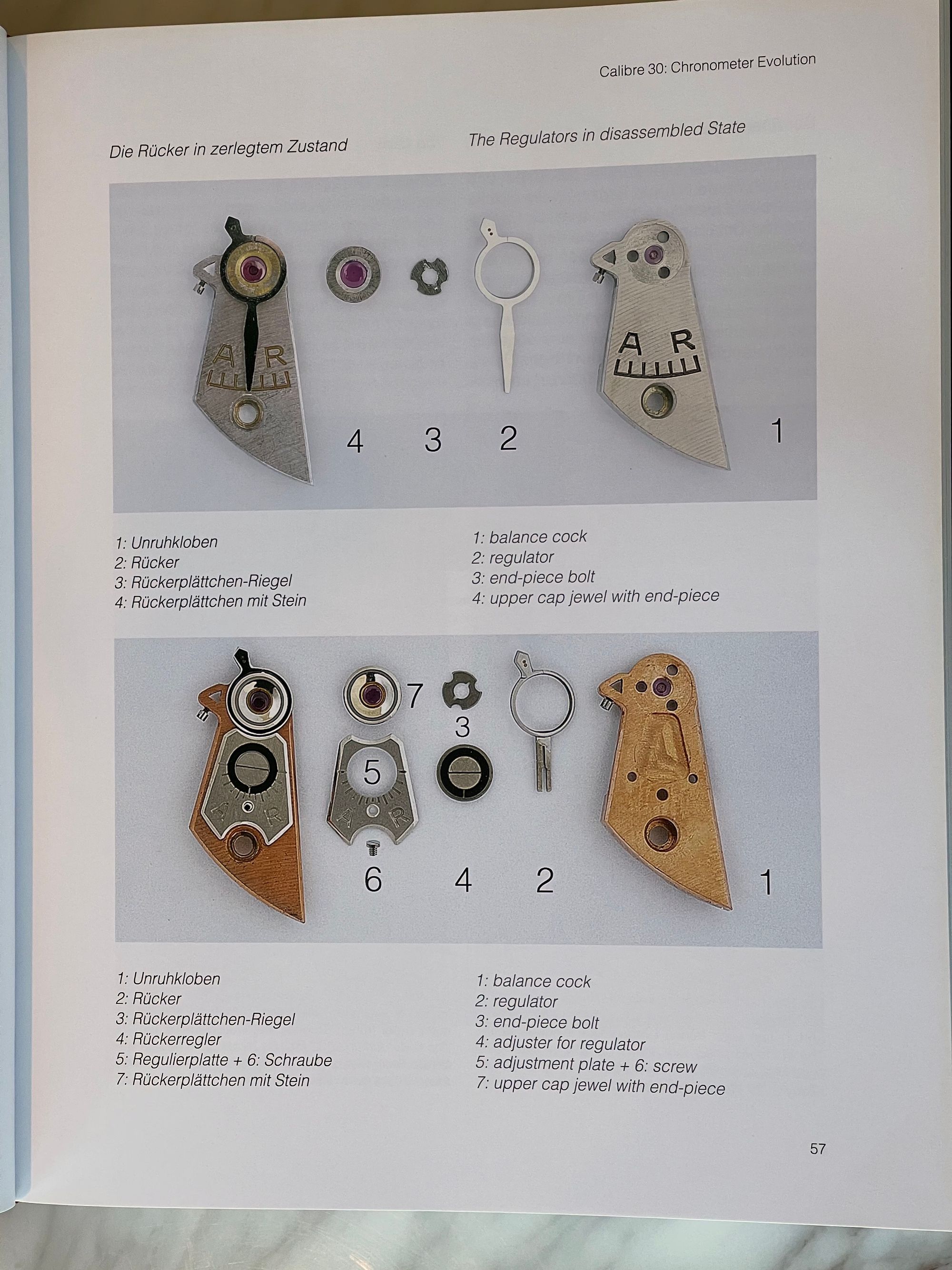 This incredible journey through the movement's, history lasts no less than 70 pages and is so comprehensive that even foreign domestic market variants are included.
Coverage of dials is no less compressive and this is one of the most valuable parts of this reference as the difficulty in acquiring an original finish dial on a 30mm chronometer is remarkably high.  The high frequency of refinished or damaged dials is unfortunately a by-product of the era, being slightly before water resistance was really perfected by Omega.  There are some original examples around though and having this book as a guide would be extremely beneficial to anyone in the market, wishing to be aware of exactly what they're purchasing.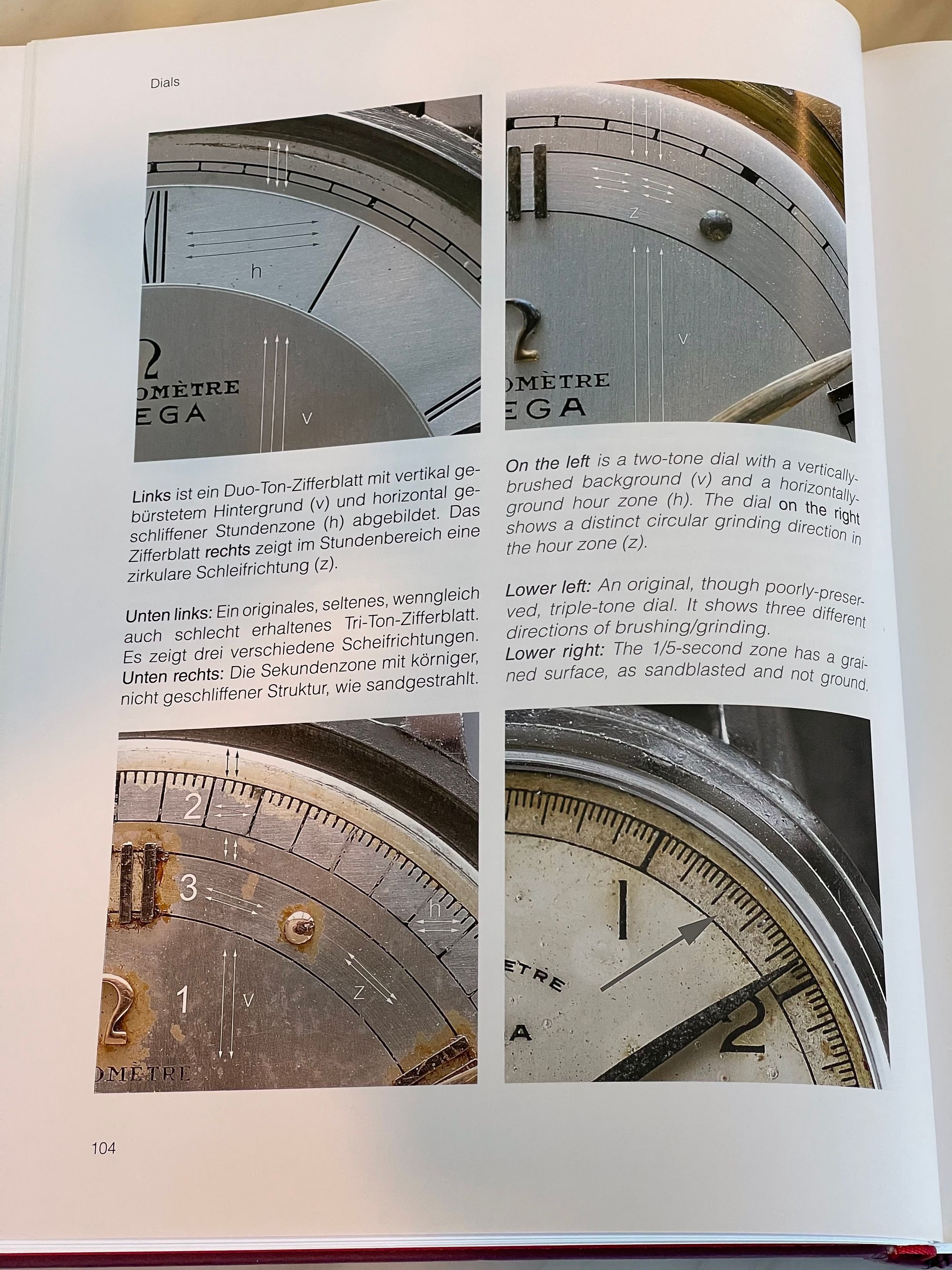 Erich further breaks down the variations of hands, and goes into some depth depicting original crowns which also vary quite broadly before getting into the bulk of the tome, a breakdown of individual references.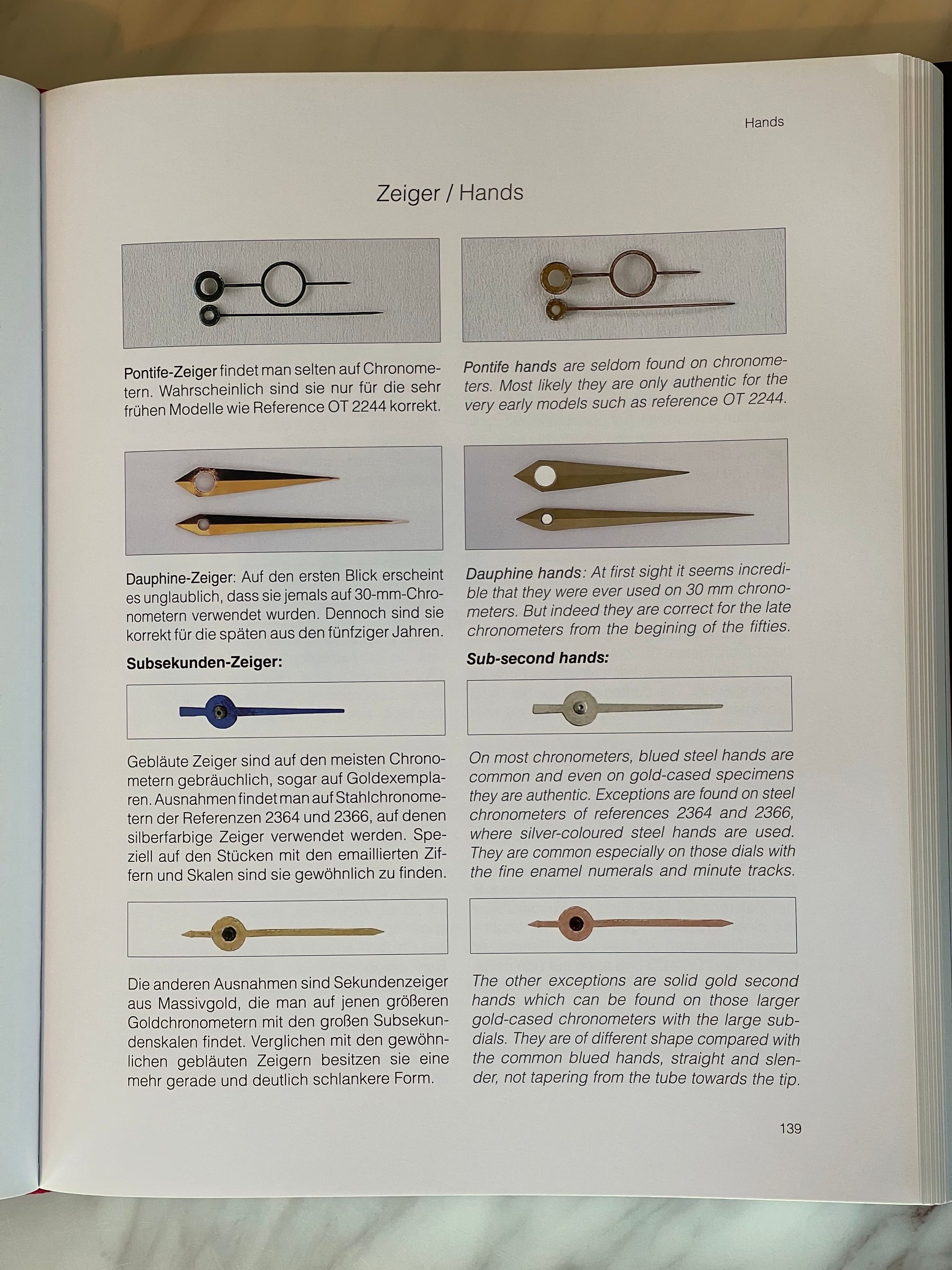 The reference library is incredibly comprehensive but there are three that are simply breathtaking among them, the diamond set platinum reference PT14161 on Milanese mesh bracelet on page 319 looks amazing, and even being a restored dial it's hard to look past it without being impressed.  The emerald set good example on page 322 of the same reference is if anything even more attractive and the original finish platinum reference PT14163 on page 328 shows just how well done the refinished example was by comparison.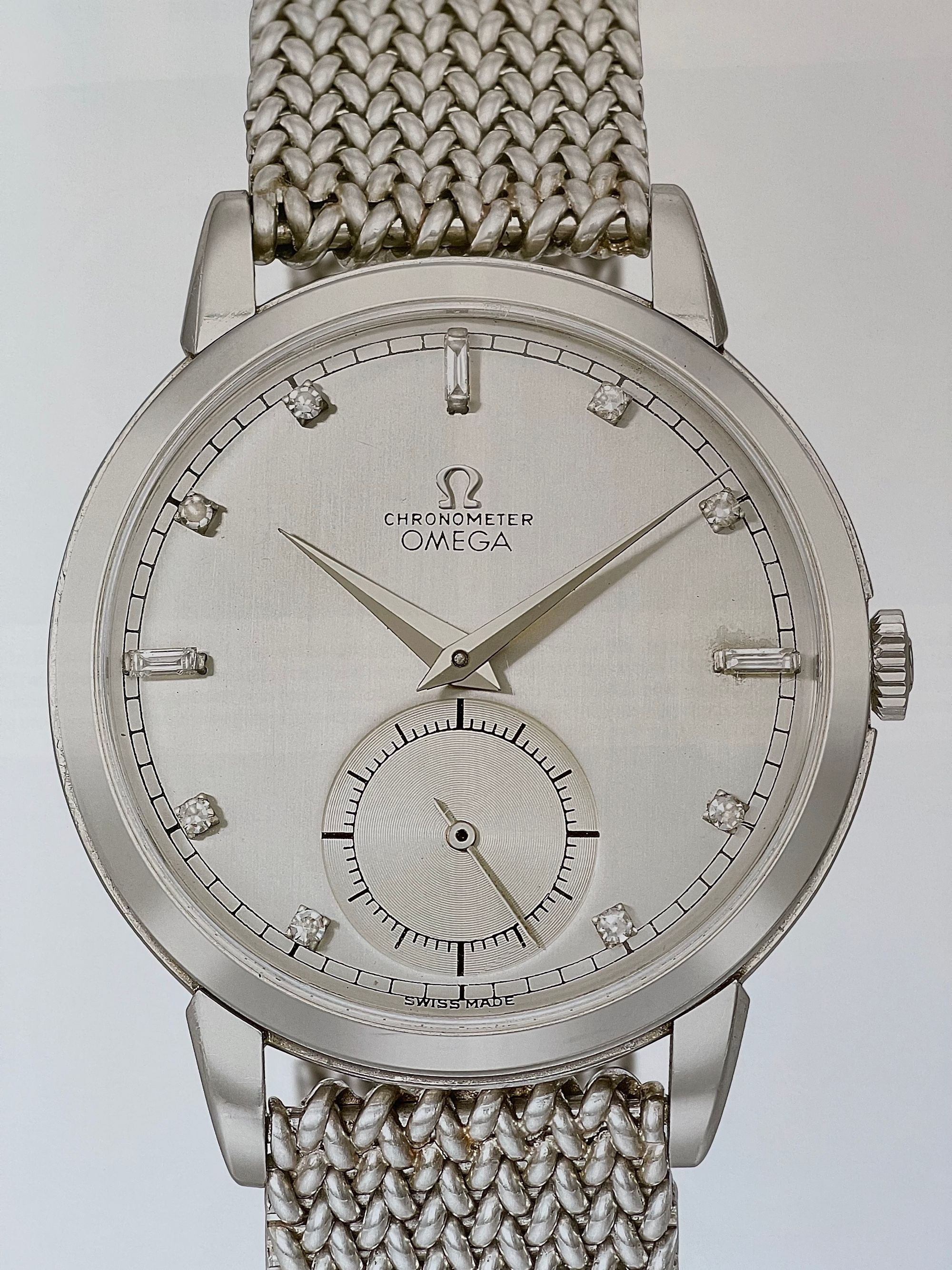 The fancy ribbon shaped lugs on the reference OT 2370 pair on page 299 are also an absolutely standout, especially the example with a full set of 12 Arabic indices which is very uncommon in any vintage Omega.  The Art Deco styling of these more elaborate cases perfectly matches the elegant style of the dials and at 35.5mm they're perfectly sized for a modern dress watch even today.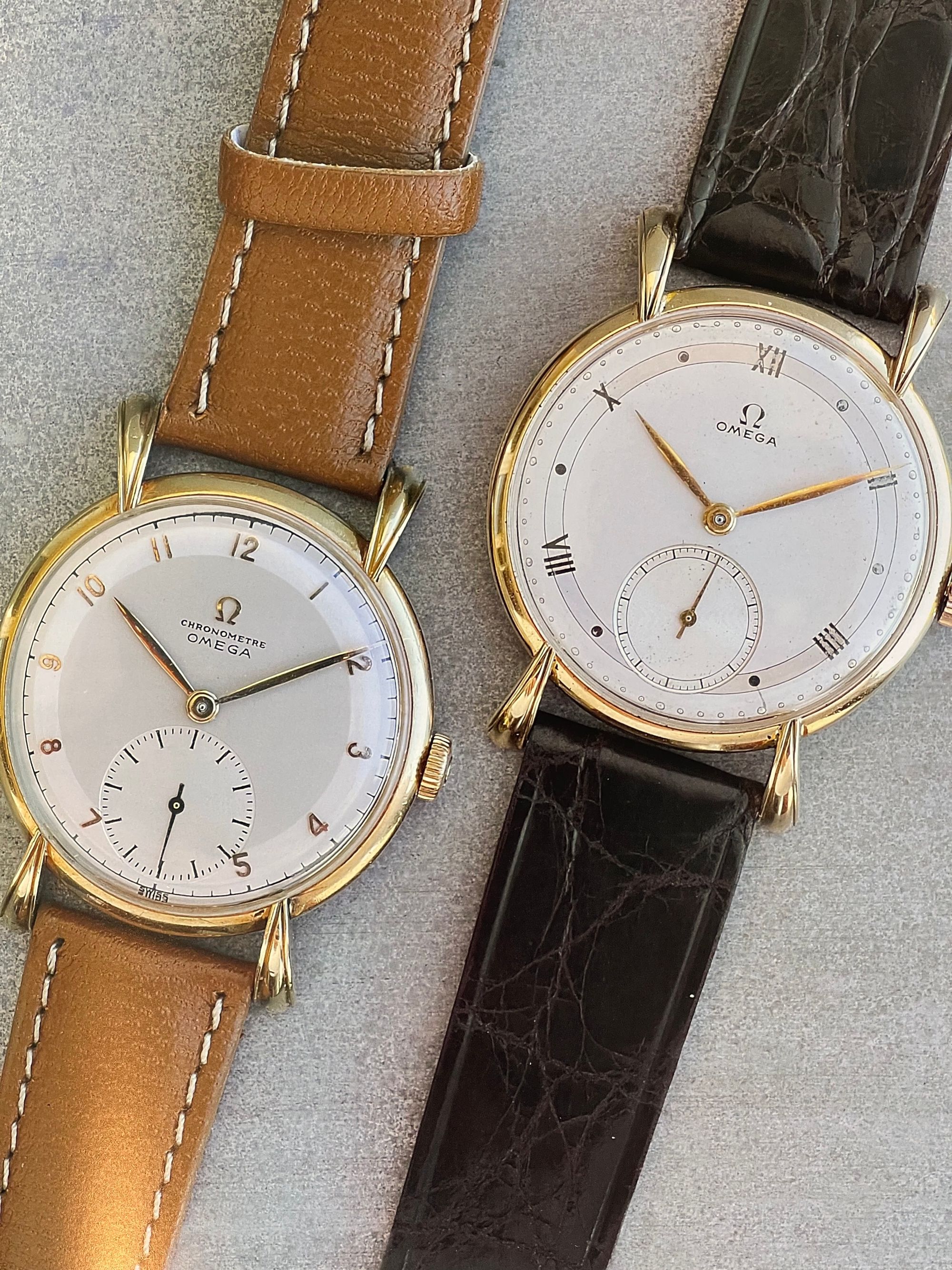 The eye candy section of the book offers a good number of high quality, full page, stylised glamour shots of the best watches Erich and Omega have access to.  It's great to see some of these trophy watches but it's a relatively small side show to the true purpose of the book which is education and serving as a comprehensive reference which it really does excel at.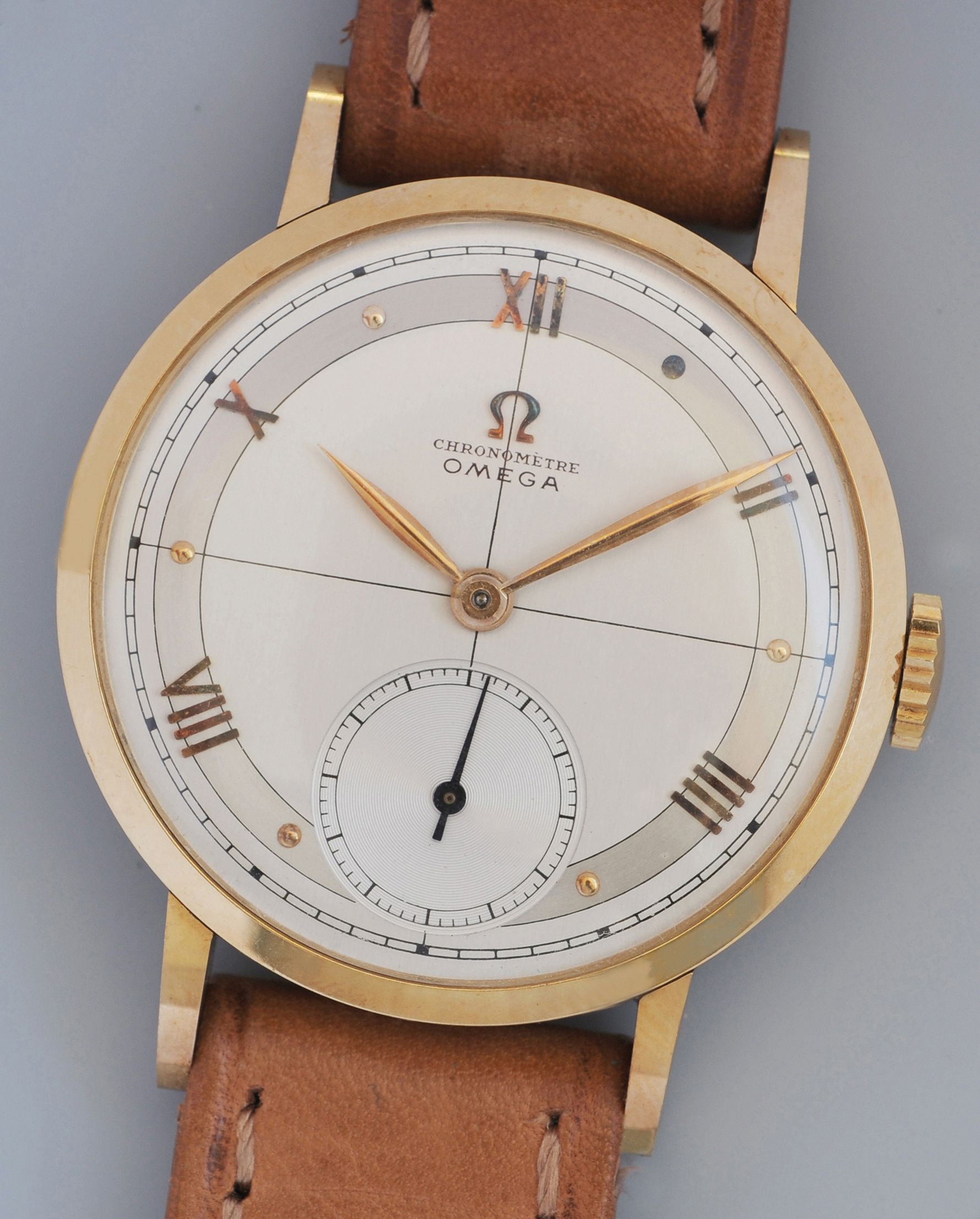 Erich includes a detailed breakdown of accessories, boxes, buckles, and the associated flotsam and jetsam that inevitably gets separated from watches over time which should greatly assist collectors in completing their sets, understanding what they have laying around, and ascertaining whether a watch listed for sale as a full set came that way or was assembled after the fact.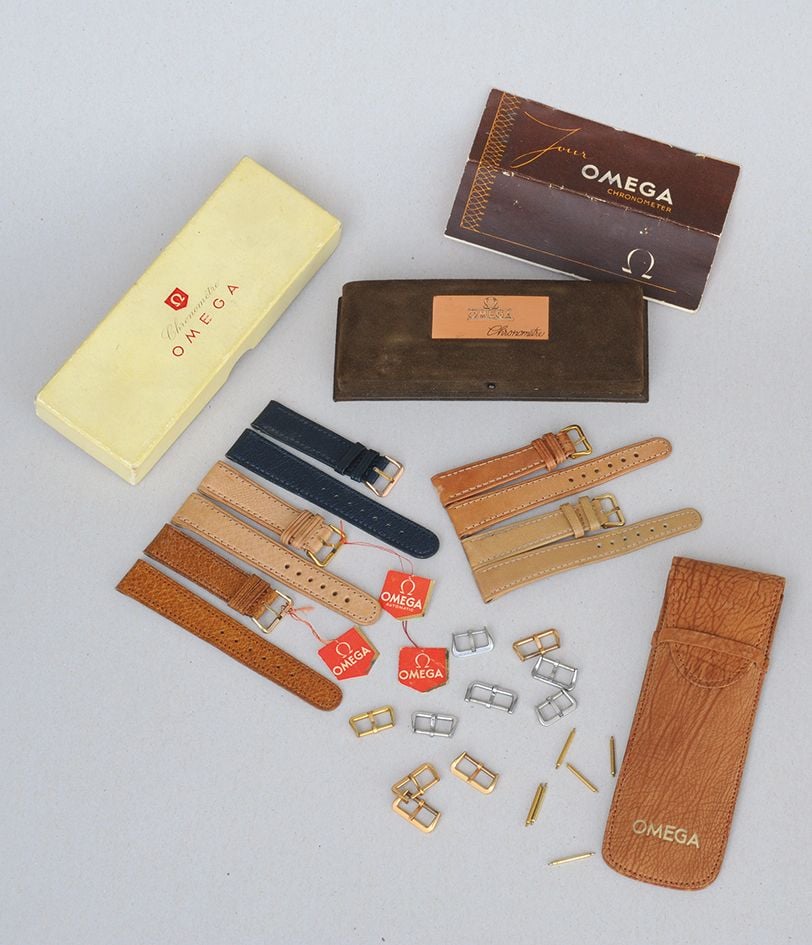 The final section of the book is dedicated to the really unusual stuff, prototypes, observatory chronometers and even tourbillons, as well as some special Omega skunkworks projects based on the Calibre 30 that have never before seen the light of day.  There are some amazing pieces in here that I've been hoping to stumble upon myself one day like the calibre 372 synchro-beat "dead seconds" chronometer, an idiosyncratic complication that became rather superfluous in the quartz era yet remains incredibly cool to this day.  There are also great examples of legendary competition movements complete with aluminium test stand, which Erich occasionally straps to his wrist and wears in a questionable example of Austrian fashion.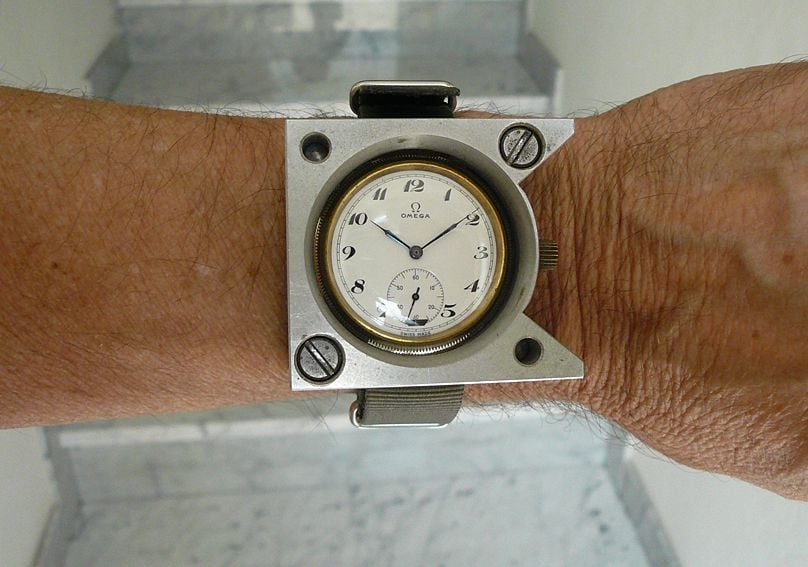 There is also a dedicated chapter to military 30mm chronometer references including several prototypes and early examples including the incredible white dial steel Railmaster pictured below.  In terms of completeness and attention to detail, 30mm Chronometers is a book in a very similar form to Moonwatch Only for Speedmaster fans.  This labor of love most certainly won't disappoint anyone with an interest in the subject matter and is a great addition to any Omega lover's book collection.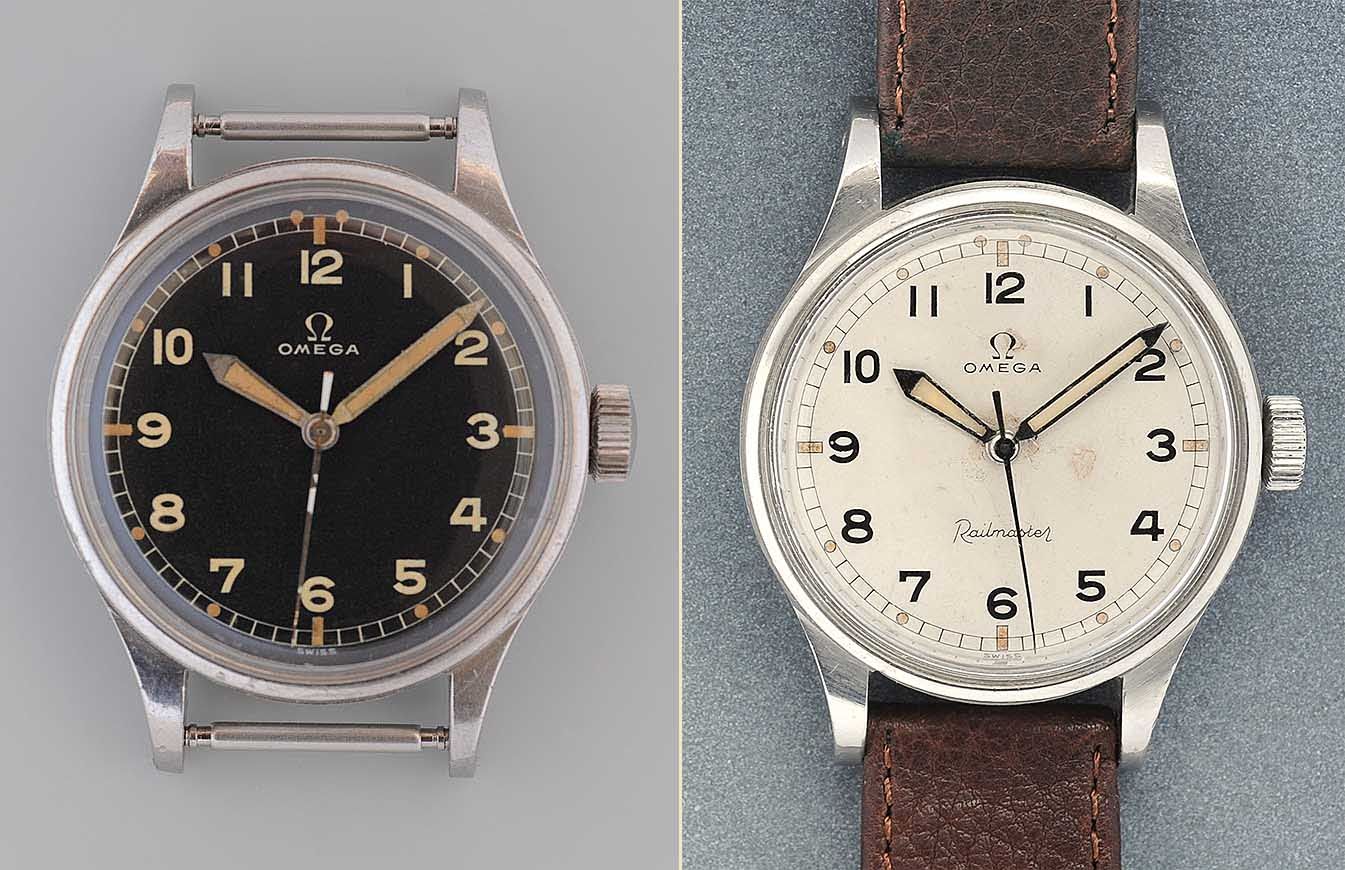 Printing
30mm Chronometers is an immense, and very heavy book containing 3.5kg of knowledge with over 560 pages and more than 1000 images.  It isn't a traditional coffee table book filled with glamor shots but seeks more to educate with a focus on minute detail and serving as an excellent buyer's guide.  The book is dual text in German and English, with this applying to both diagrams and long form text which is quite legible and follows and easy to read layout.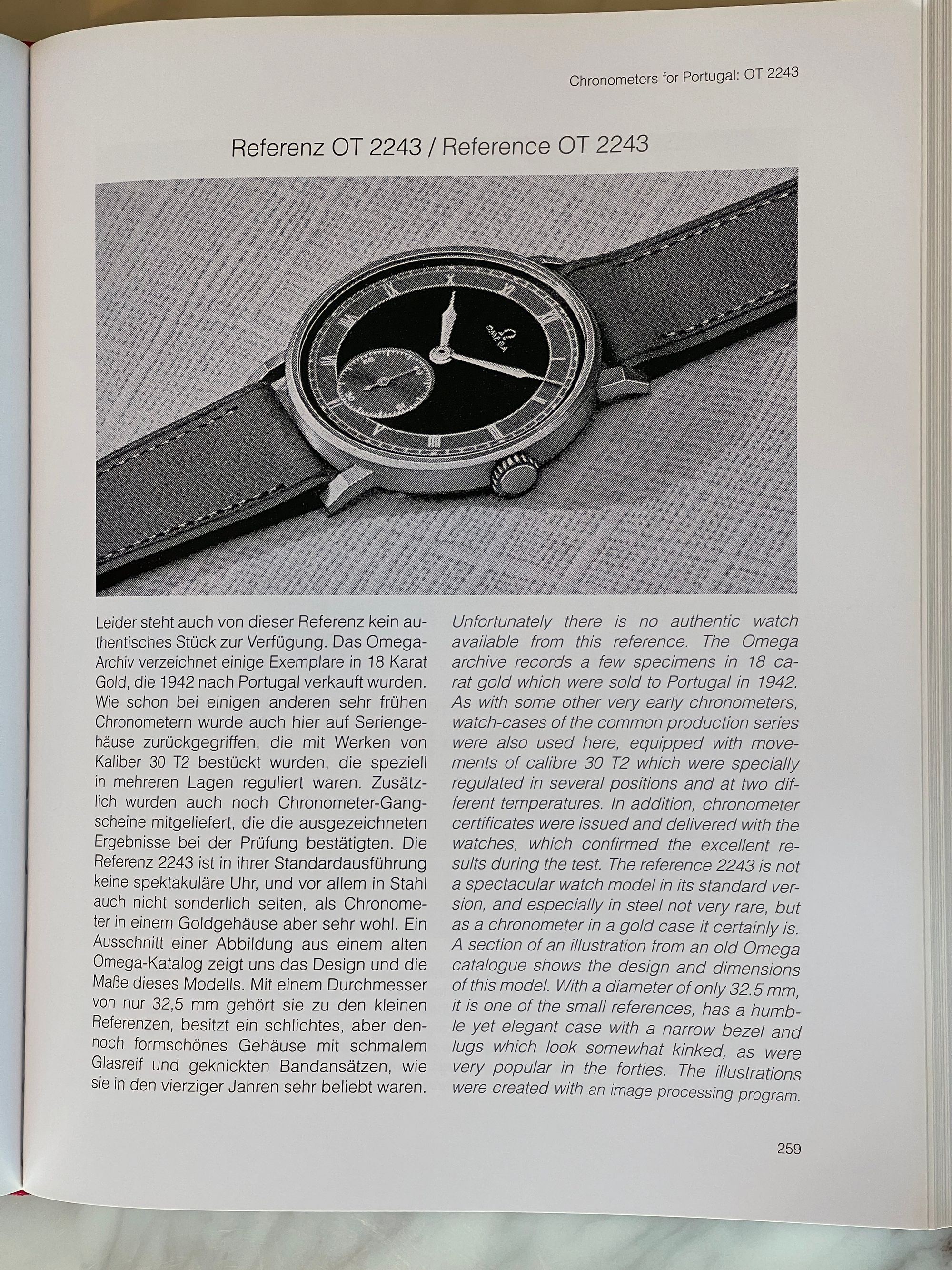 The binding is very strong, and it really does need to be at that given the mass contained within this volume.  The binding does give a lot of flexibility and it isn't difficult to spread the pages open either in the middle or at either the start or end of the book.  There's a dust jacket that is best removed when the book is being read as it can be creased or damage under the weight of the book fairly easily.
Where to buy
Omega 30mm Chronometer is not handled by any publisher or distributor, but rather by Erich himself.  I often say that writing a watch book, especially on a topic requiring such a devoted undertaking, and with such a limited audience as a specialty watch book is like undertaking a vow of poverty as there is no chance you will ever break even much less turn a profit but I'm immensely grateful that we have people as madly passionate as Erich in the Omega community.
As a buyer's guide, a comprehensive reference, an educational textbook about a crucially important part of Omega's history and identity, and as a tremendous addition to any Omega collector's library, I cannot recommend 30mm Chronometers enough.  It sets a lofty goal for itself covering an extremely broad and complicated topic, and exceeds expectations in every way.
To purchase this reference, contact Erich directly through Omegaforums private message system, his listing for the book and shipping information is contained in this thread:
Discussion thread on Omegaforums can be found here: