The Damier is a watch most will never see in a lifetime. A high end jewelry piece from 1960, utilising high end materials, a rare ultra-thin calibre and unusually a faceted sapphire crystal, it is a pure oddity but one of the most beautiful Omega models ever made.
A Haute Joaillerie Masterpiece Of The 60's
The Reference 14741 ladies' ultra-thin is one of the absolute most special, significant and technically impressive watches of the 1960's.
I refer to this watch as a ladies' model, even though in 1960 it was presented as a unisex or men's watch.  At 31 mm with 15 mm lugs, this watch simply doesn't work for men anymore, being too small to even be considered mid-size.  It is however a perfect size for ladies and should be considered that as of 2023 as a matter of common sense.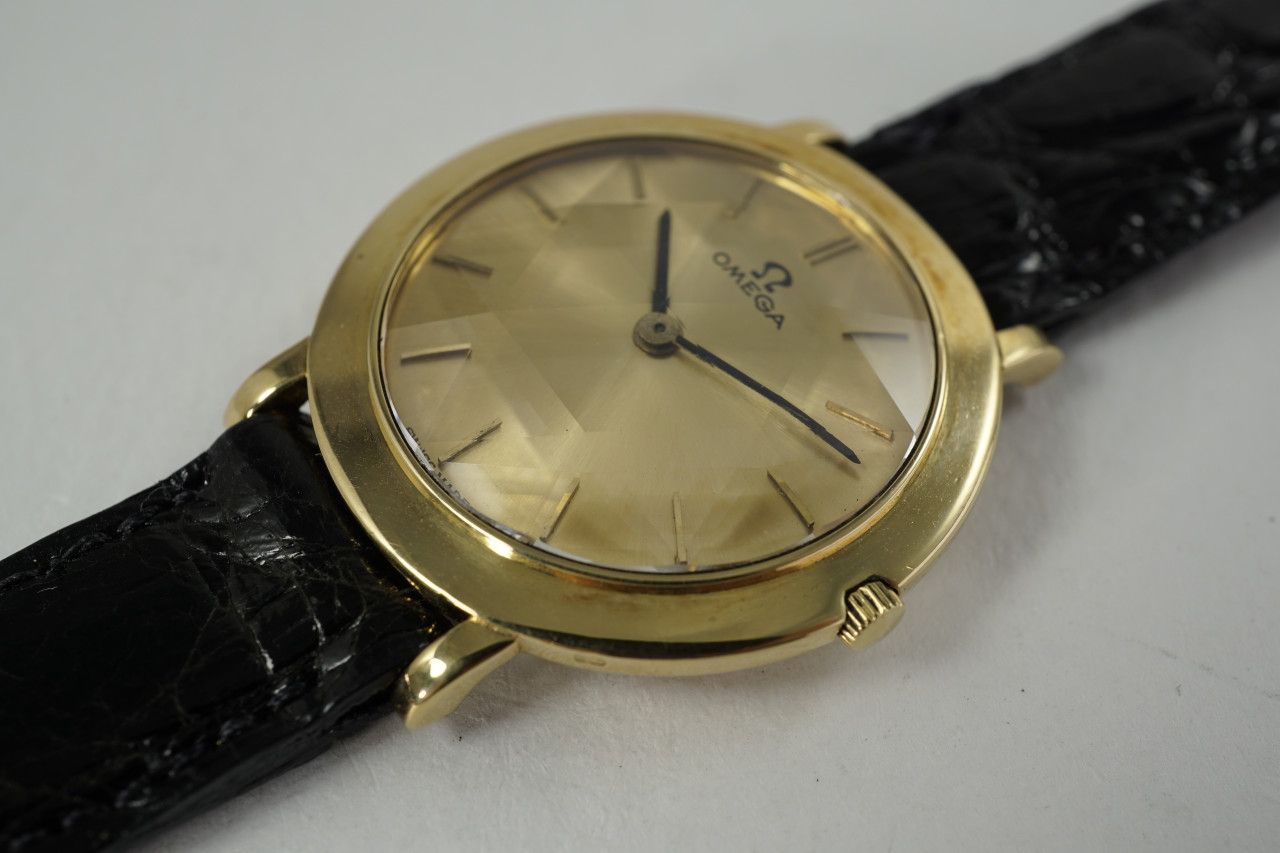 This is an expensive watch, it was when new, and it still is today all of these years later.  The Damier is powered by a remarkable 2 mm thick movement, available exclusively in 18K yellow or white gold, and features a stunning sapphire crystal which is cut into a three-dimensional diamond pattern.  It is an example of Omega at its absolute best.
While many vintage jewelry pieces can look dated or of their time period, especially ladies' models, the Ref 14741 is a classic design that looks as appropriate today as it did in 1960 when new.  The design is remarkably simple at a glance, minimalist and almost basic until you catch sight of the spectacular crystal, yet the level of engineering and cutting-edge materials science that went into the watch is undeniable.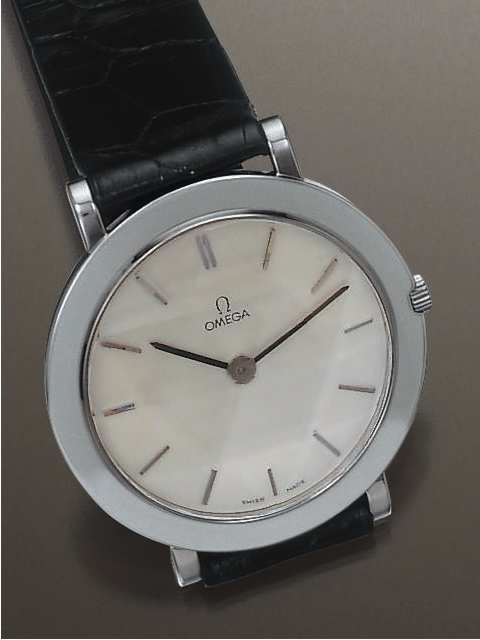 There is a cost to all of this, one cannot simply order a replacement crystal if it becomes damaged, and the thoroughbred movement enabling this ultra-thin design has no parts available even to Omega certified specialists.  This is one of the few watches that simply must be serviced by Omega's headquarters in Bienne, and the cost will likely be significant if any rare parts need replacing.
That said, this is one of the best vintage ladies' Omegas ever produced, and one you are very unlikely to see on another wrist.  If a Calibre 321 Speedmaster is worth the expense of maintaining, the solid gold 14741 absolutely must be also.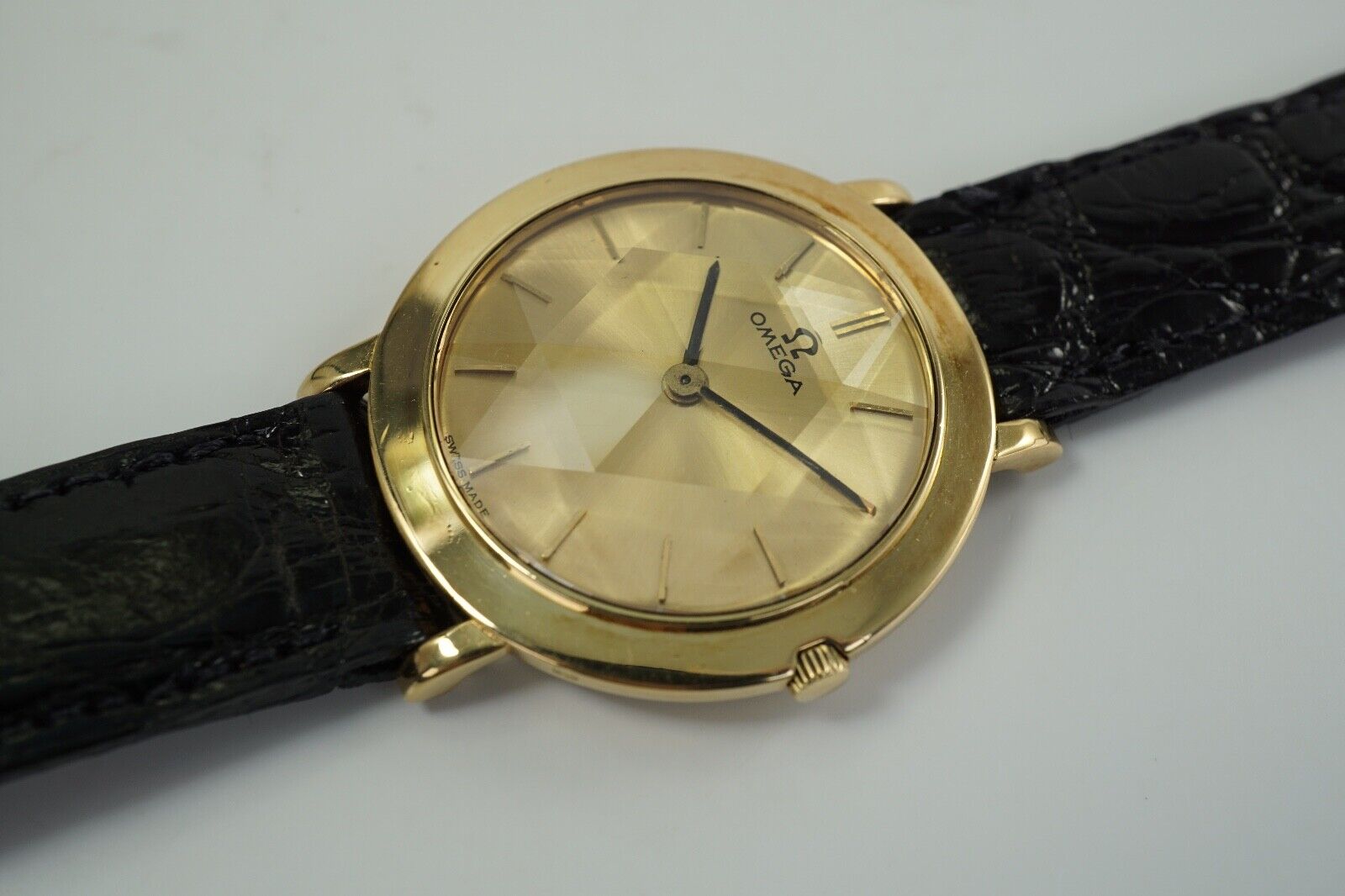 Case & Strap Options
The case and crystal are the two elements of this watch which truly set it apart and make such an impressive statement.  The case itself is 31 mm in diameter, a size which could have been considered unisex in 1960, but is a very reasonable ladies' size by modern standards.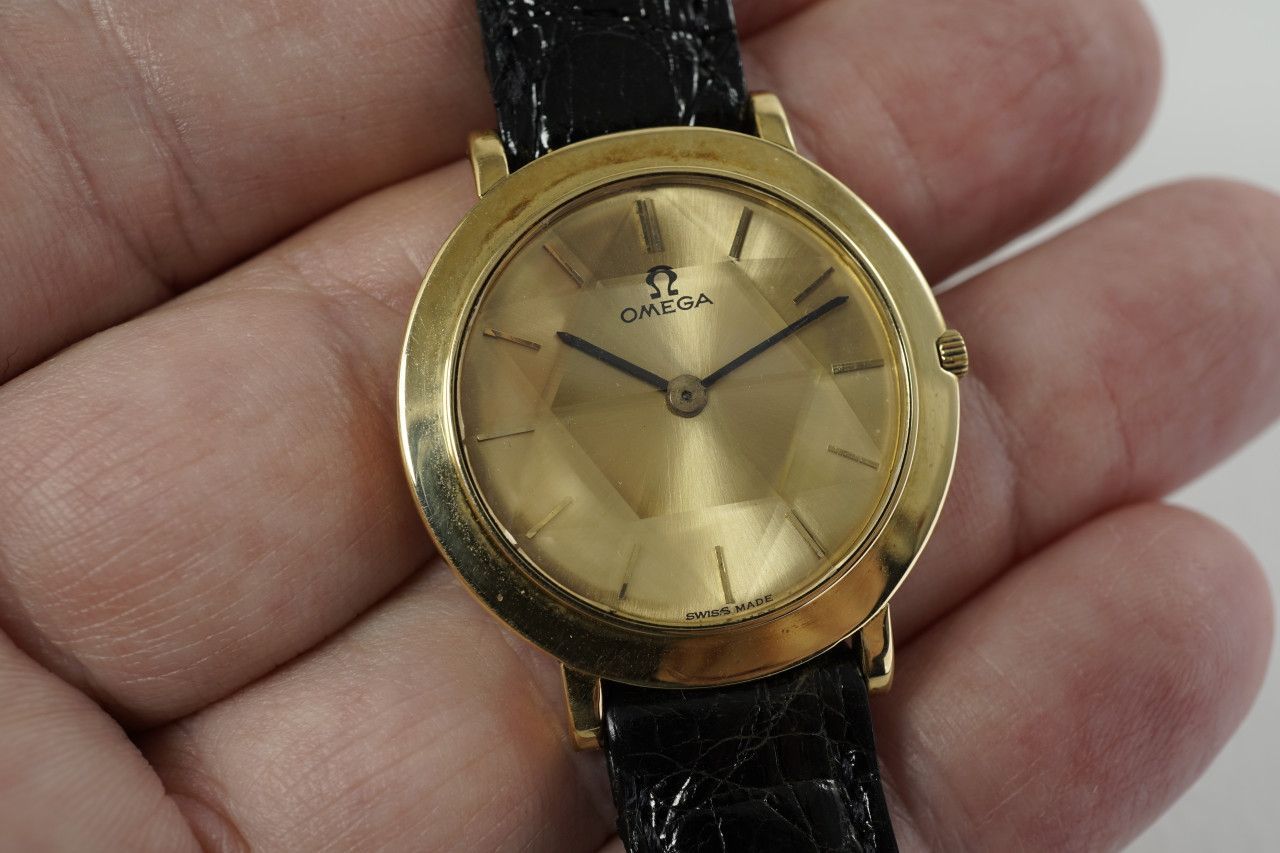 Impressively the thickness of this mechanical watch is a mere 7 mm from front to back including the sapphire crystal, which is simply exceptional.  This incredibly slim packaging is made possible by the 2 mm thick Calibre 540 ultra-thin movement, and by the high strength sapphire crystal, a revolutionary choice for the era.
The sapphire crystal not only offers a reduced profile and greatly improved durability over a plexiglass crystal, but the diamond-like faceting cut into the surface of the sapphire is the star of the show, giving the watch its personality.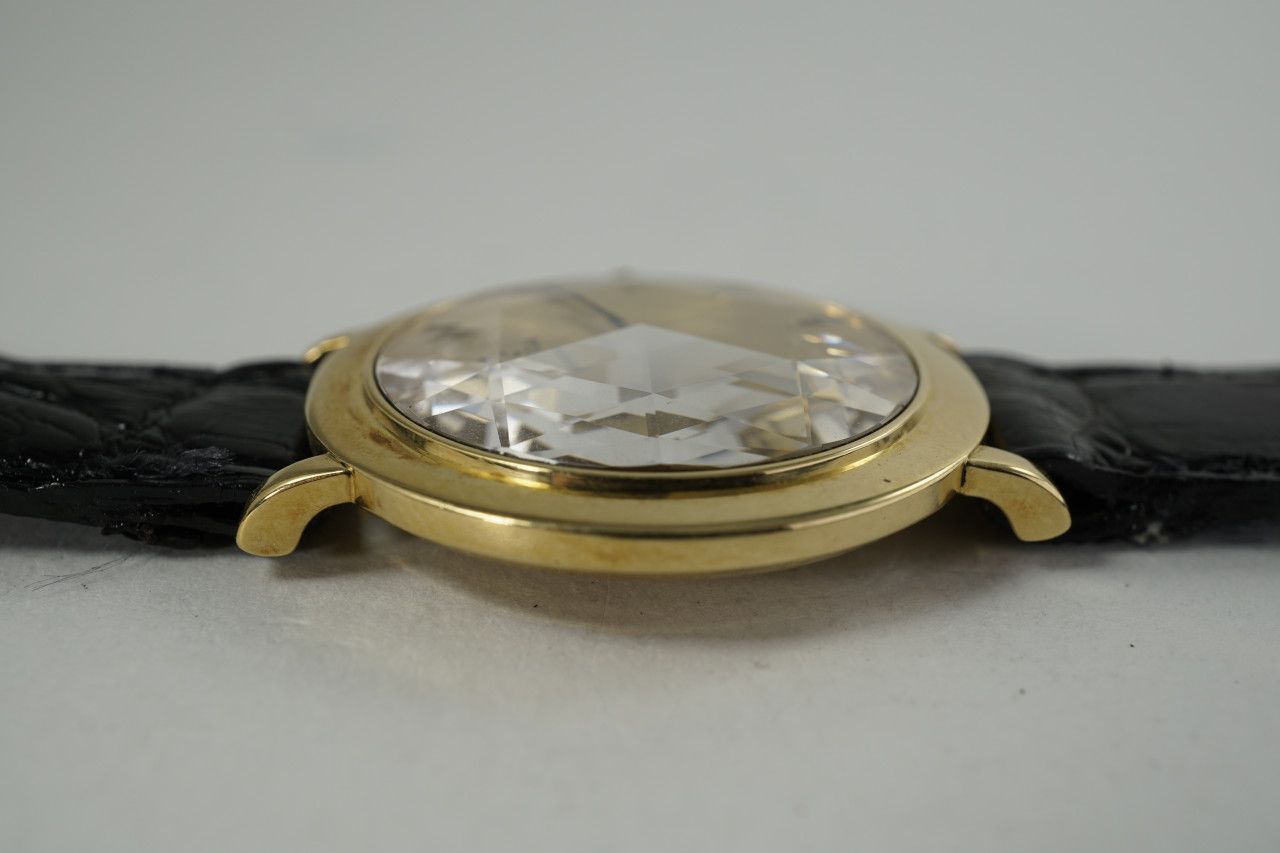 While I'm sure there must be another watch out there with a similar sapphire crystal design, I am yet to find one as well executed today let alone from over 60 years ago.  These crystals have aged remarkably well, it's almost impossible to find one that is cracked, chipped or damaged, which is a good thing as replacements definitely won't be cheap.
The thin gold case is very much designed around the crystal, resembling a diamond setting in a ring or a brooch.  The gold mid-case resembles a flat, coin-like disc, with a bezel sitting proud of the case, shrouding the edge of the sapphire crystal and sitting flush with its edge.  
The simple, curved lugs are soldered onto the gold mid-case and taper downwards slightly, following the curve of the wearer's wrist.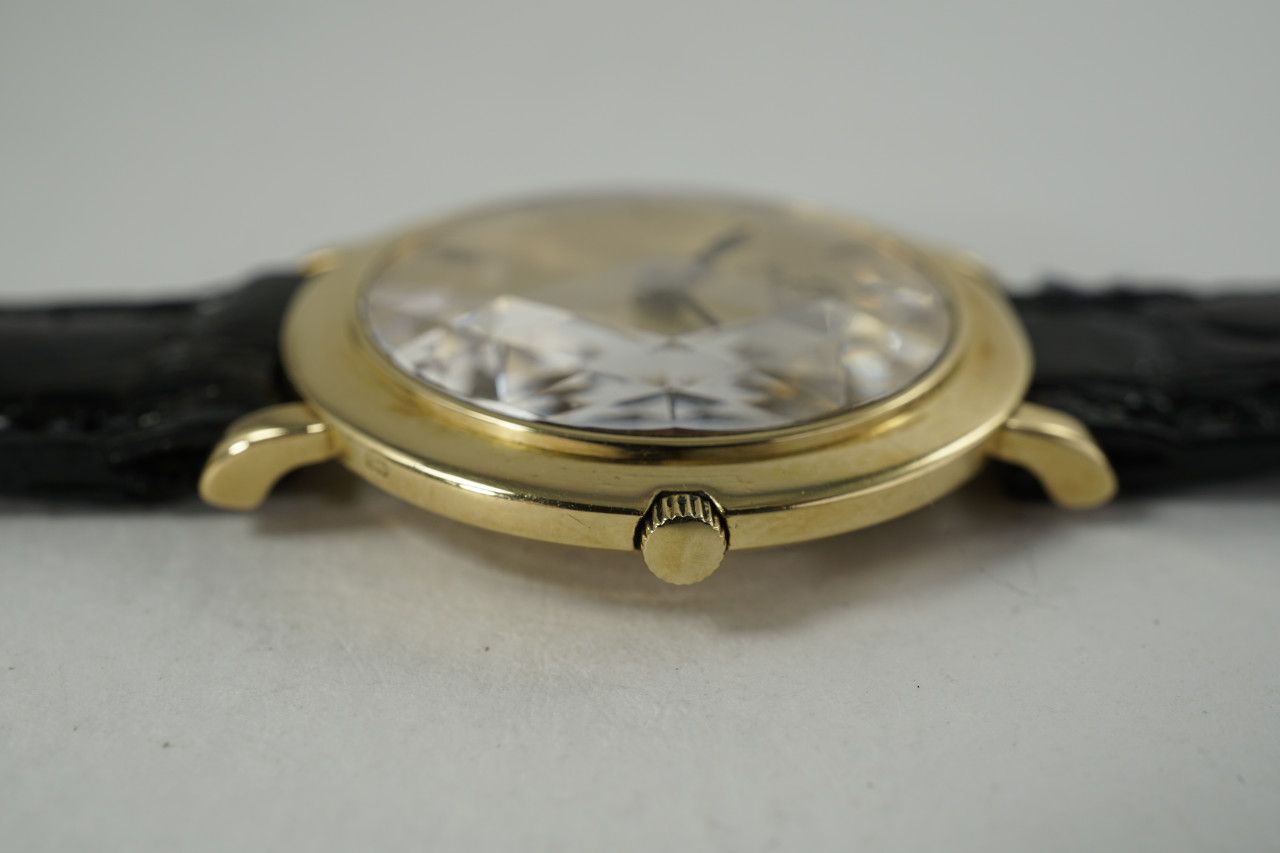 The small, knurled crown is partially recessed into the side of the case, but easily accessible from both above and below the mid-case for winding and setting.
The case-back itself is a screw-in variety with dive-watch style keying, yet this is not a watch that was considered water resistant at all from new, with no depth rating or even splash resistance offered.  For this reason, along with the cost of replacing a moisture damaged dial or movement, these watches should be kept dry at all times.
The 14741 was designed as a dress watch to be worn with a leather strap, and there is no bracelet option offered from new.  The lug width is a rather unusual and somewhat challenging 15 mm, but there are still straps made in this size for ladies' watches so finding a good fit should not be too difficult.
Movement
Powering the Ref 14741 is the Omega Calibre 540 hand-wound ultra-thin.  This is a very special, rare and unusual calibre developed in the 1950's to some incredibly small dimensions with a diameter of  20.8 mm and a thickness of a mere 2 mm.  
Even the impressive ultra-thin calibres of the 1960's and 70's, the Calibre 620/625 manual wind and 71x series of automatics are significantly thicker at 2.5 mm & 3 mm respectively, illustrating just how impressive the Calibre 540 was in its era.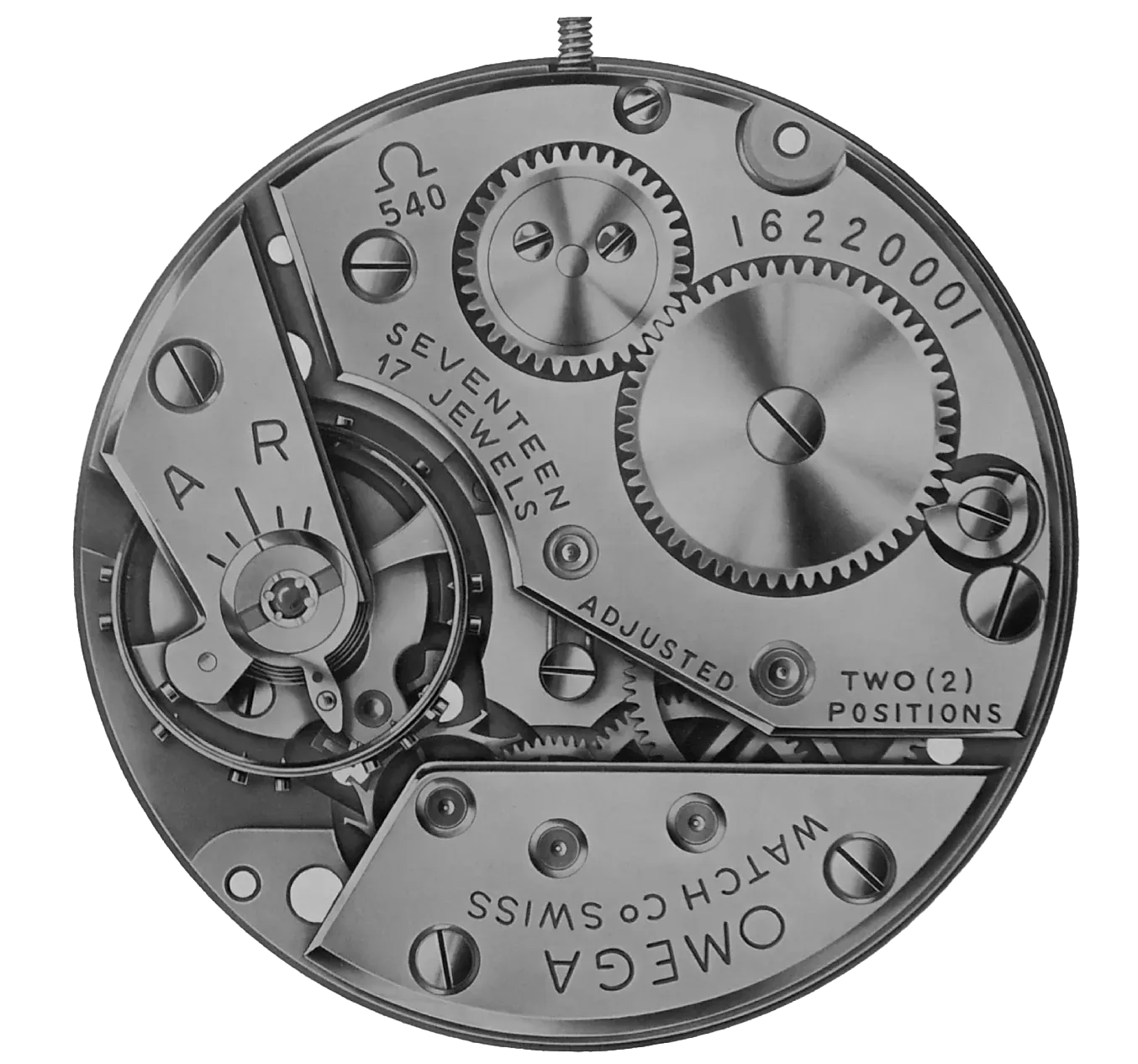 Despite its calibre number, the Cal 540 shares nothing with the Calibre 500 or 550 series of automatics.  This was a very low production, purpose-built calibre for extremely thin mechanical watches, most of which were made of precious metal and quite expensive when new.
The Calibre 540 is a 17-jewel movement, oscillating at 19,800 and with a power reserve of 38 hours.  It is exclusively manual-wind, non-hacking, and time only, with no running seconds hand in order to reduce height requirements.  
Due to the low hand-height required for the ultra-thin applications this movement is designed for, dials used with this movement typically omit the applied Omega logo in order to avoid interference with the hour hand.  As a result this should be seen as a packaging requirement and not a cost saving.
Due to how old and rare the Calibre 540 movement is, Omega does not currently offer parts and support to third parties, even to Omega certified watchmakers for watches with this movement.  As a result they will typically need to be sent back to Omega in Bienne for servicing in order to ensure any worn parts are replaced.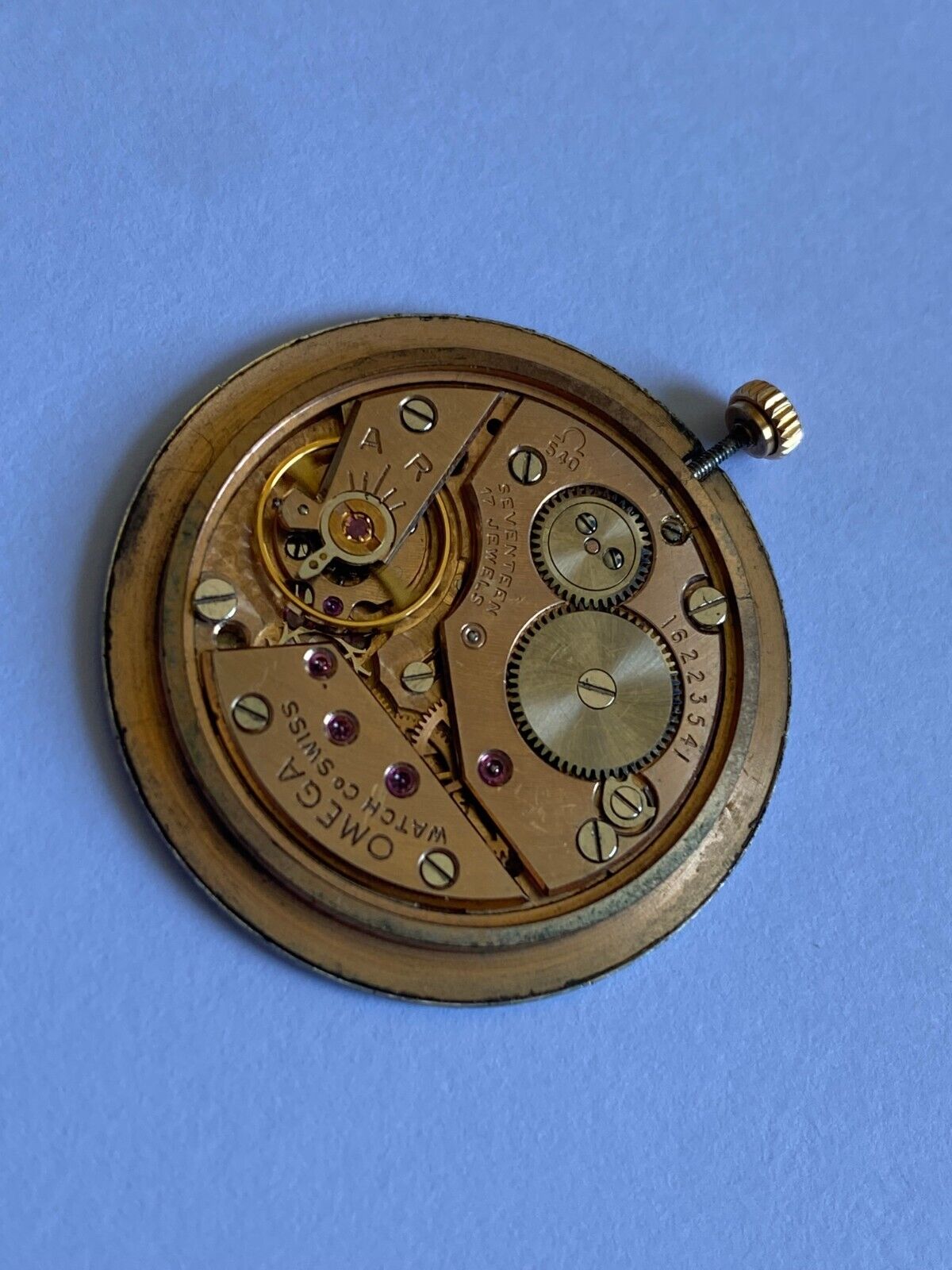 While these movements are very rare, they do appear in some less desirable or less valuable watches, and occasionally as loose movements due to watches being melted for gold content.  As a result, there are some donor movements available, often in very good condition due to minimal use for prices as low as $100-200 as of 2023.
Dial & Variants
The Omega 14741 "Damier" has an extremely simple dial design so as not to detract from the sapphire crystal above it.  
The dial is either champaign color if in an yellow gold case, or an ivory color if in a white gold case, each with applied baton hour markers in solid gold of the same color as the case.  The Omega logo and text is printed, not applied in the upper half of the dial, and it can actually be very challenging to verify the originality of the dial.
This is for two reasons, firstly the lack of water resistance means dial damage, and refinishing can be quite common.  Secondly, the crystal itself while beautiful and fascinating as a design element, massively distorts, magnifies, stretches and shrinks the Omega logo along with dial furniture by its very design.  The same watch can look entirely different when looked at from a difference in angle of only 10 degrees or less.
I would almost not worry about it beyond a certain point, as in the case of this specific watch, the dial is so mundane and almost irrelevant compared to the rest of the design as to not matter that much in the grand scheme of things.  If a dial was too far gone, I might in fact ask Omega to replace or refinish it in Bienne so that the watch can look its best again, a personal preference of course but one I feel is easier with the unusual 14741.
The hands are low profile stick hands in black, with no luminous material.  The hour hand comes just short of the hour markers, while the longer and higher set minute hand is able to just clear them.  There is no second hand in order to minimise the thickness of the watch.
Buying
Purchasing an Omega Damier 14741 is not the easiest of tasks.  The choice is very easy, either 18K yellow gold or 18K white gold, however white gold examples are as rare as hens teeth, with only one example having been photographed thus far.
These watches have appeared at major auction houses like Antiquorum, where they have historically underperformed due to a lack of interest and awareness.  The fact that they were being positioned as a 31 mm men's watch likely also didn't help things as this is well and truly a ladies' watch as of the 2020's even if it were unisex in 1960.  In those auctions sales prices ranged from $600 USD in 2009 to $1,350 for the white gold example in 2012, not exactly high prices considering how special this watch is, but the most recent was a decade ago.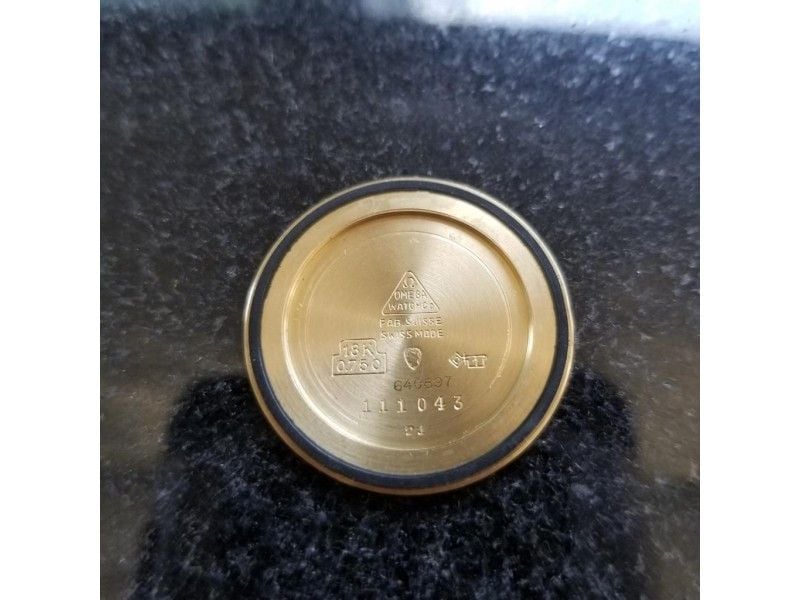 Sales by vintage watch dealers more recently have been around the $1,500-2,000 mark which feels about right for a good example as of mid-2023.  Good examples are however quite few and far between as these watches were just not made in large numbers when new.
Condition is a major factor in purchasing a 14741, the crystal should be free of damage, scratches or chips, and the dial should be as clean and patina free as possible, though this is not always possible.  The case is defined by sharp edges and bold lines, which could attract damage if mistreated and would be lost by excessive polishing, so avoid any cases that look soft or rough.  Finally, the movement in these is rare, fragile, and not easily serviced outside of Bienne, so please avoid winding and running it until it has been properly serviced.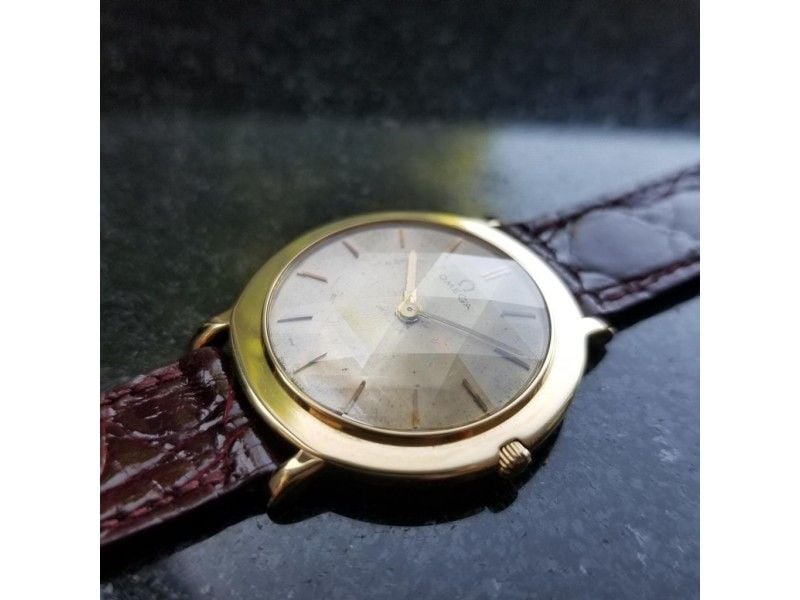 In many ways this is a watch not for beginners, or for the faint of heart.  It is a relatively expensive vintage ladies watch, with a complicated and difficult to maintain movement, poor water resistance, and a soft metal case.  It requires a careful owner willing to spend significant funds on it who understands those caveats.  Yet at the same time, this watch is truly spectacular, captivating, and uniquely beautiful.  The Damier may the best vintage ladies' model Omega has produced from a pure design and aesthetic standpoint, harnessing the best technology on offer to achieve it, and in my view this more than excuses any flaws.