The DeVille Deauville line of tank watches encompasses three of the largest and most visually striking tank watch designs ever produced by Omega in the 1970s.  These were substantial, avant-gard designs in a similar vein to the legendary Movado Polyplan, watches that wrap around your wrist almost like a cuff, and having both size and substance.  
Unlike the Polyplan, the Deauville's feature a high quality automatic movement and relatively decent water resistance for a watch of this type, making them quite wearable.  Most collectors do not know these watches exist, or at most have seen one or two and thought of them as an oddity of the 1970s.  While true enough, they're odd in many ways, they're also quite a special and remarkable watch line, and can turn heads as much today as they no doubt would have when first released.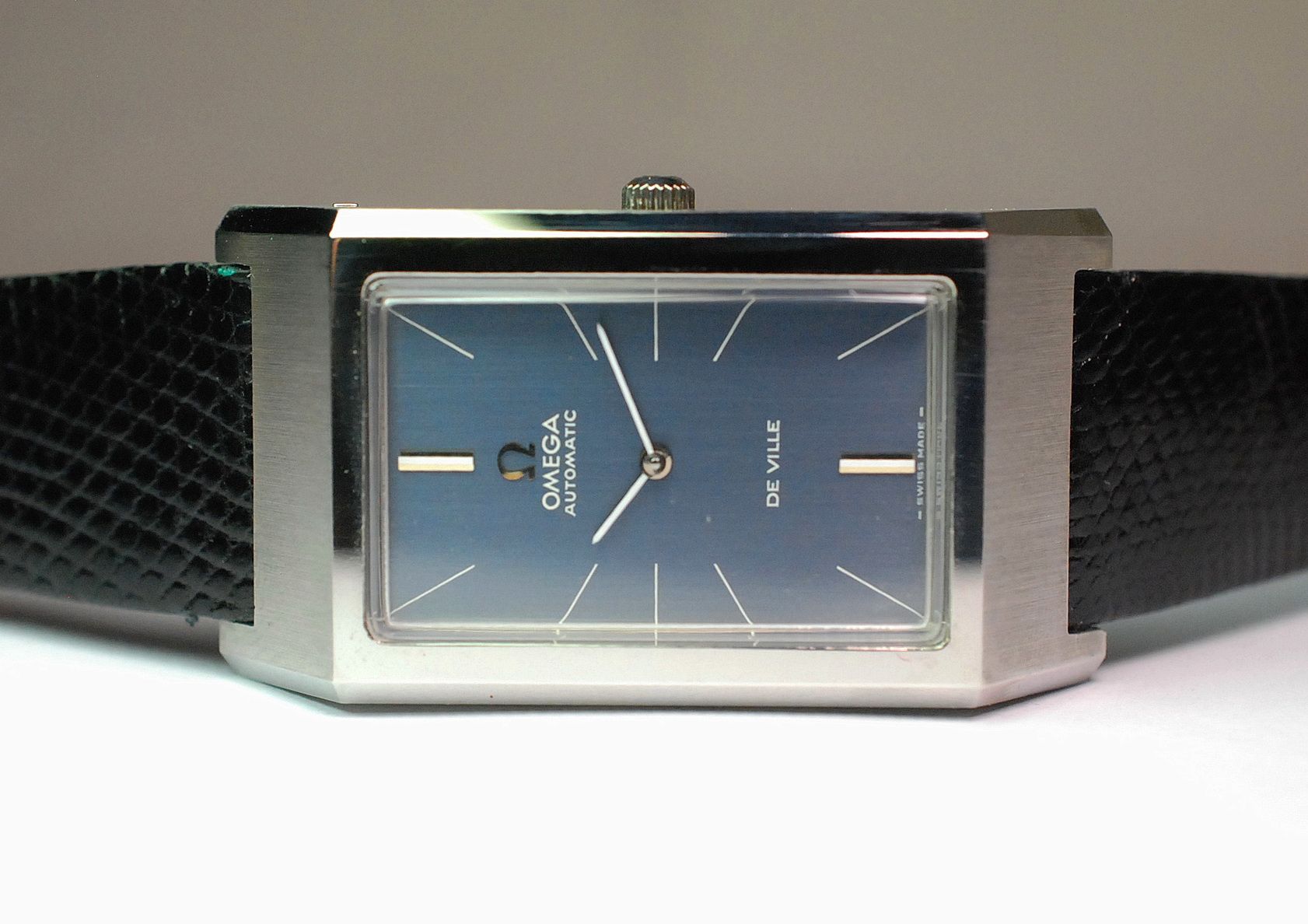 Commonly Misunderstood & Mislabelled
When researching this watch line, it can be very easy to get confused.  There is very little written about them formally, and sales listings frequently mislabel these watch references, mis-identify their movements, confuse models, and generally make them hard to make sense of.
There are many other Omega tank watch designs from the 1970s.  Some of them are even large and carry similar movements, but the DeauVille line is limited to just three references (155.005 / 155.0005, 155.006 / 155.0006 & 155.007 / 155.0007), all of which are large, elongated, and share the same basic lines and dimensions.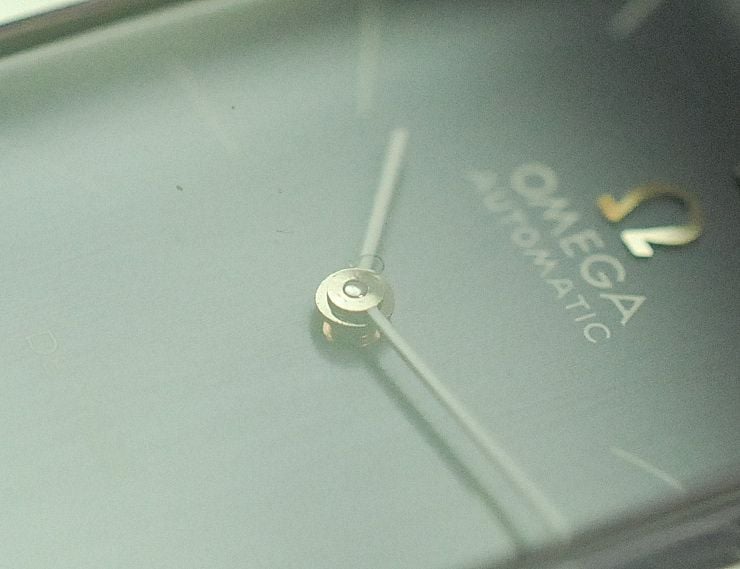 Secondly, because the compressor case design is very difficult for anyone but a watchmaker to open, almost nobody does.  As a result, people google similar watches and guess at which reference their own is.  Similarly, owners guess at what movement is within the watch which leads to all sorts of answers, from the Calibre 712 which is physically impossible due to size, to manual wind calibres when the dial clearly says automatic.  
For these reasons, it is best to take any information seen in listings, or online discussions with a grain of salt and learn what the models actually are and what they contain such that you may rely on your own common sense and judgement.
It should finally be mentioned that there is a second, far less significant Deauville line that appeared in 1981 carrying the reference MD 395.0814.  This short lived product featured a quartz movement, gold plated case and was quite small and basic.  These watches look nothing like the original Deauvilles but will come up in searches occasionally.  
Movement
All models of the Omega Deauville tank series are fitted with an Omega calibre 684 automatic movement.  The Calibre 684 is derived from the much earlier Caliber 620 family of small diameter movements originally released around 1960 and is found in a range of watches from ladies models to thin and unusual shaped mens cases.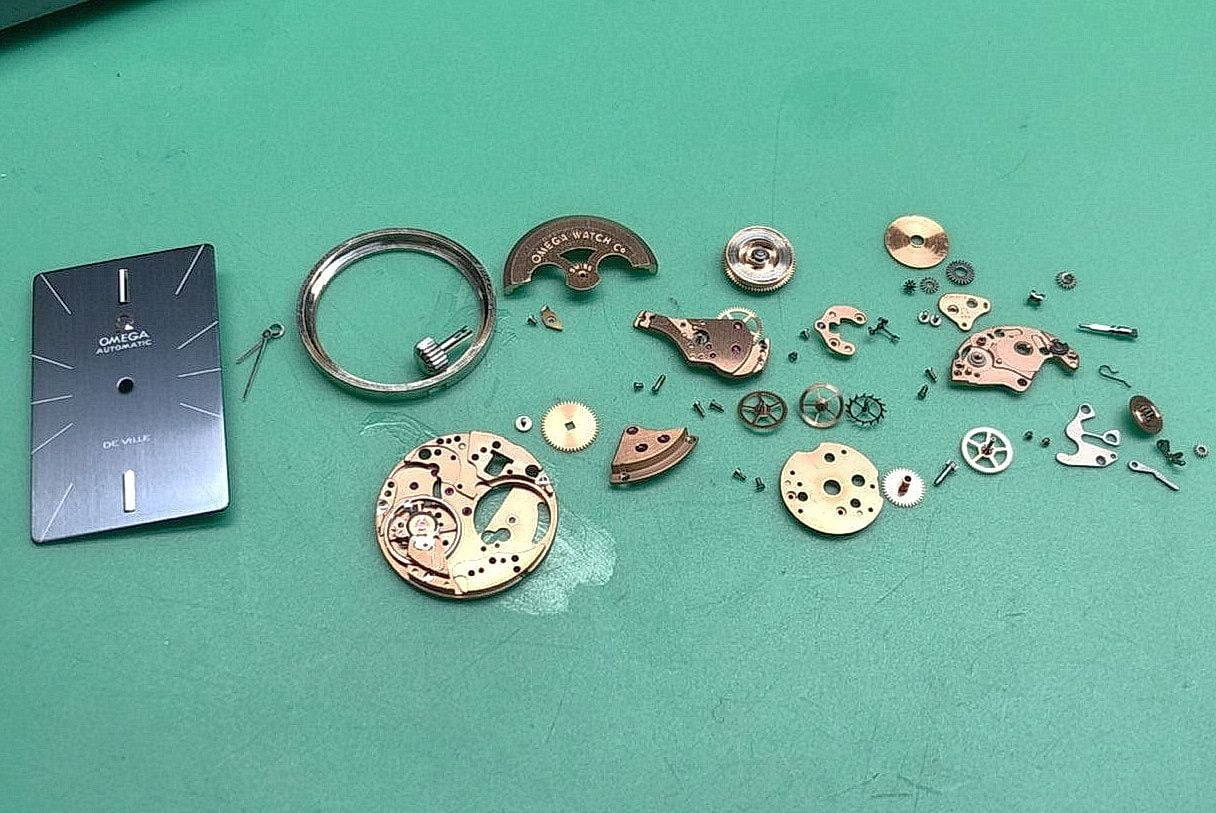 While smaller in diameter at 17.5mm compared to the 27.9mm of Omega's Calibre 55x family, the Calibre 684 is still a very capable movement with a chronometer version of it, the calibre 685 even being produced for some watches.  It features a beat rate of 21,600 vph, a power reserve of 40 hours, a semi-quickset date mechanism and bi-directional winding.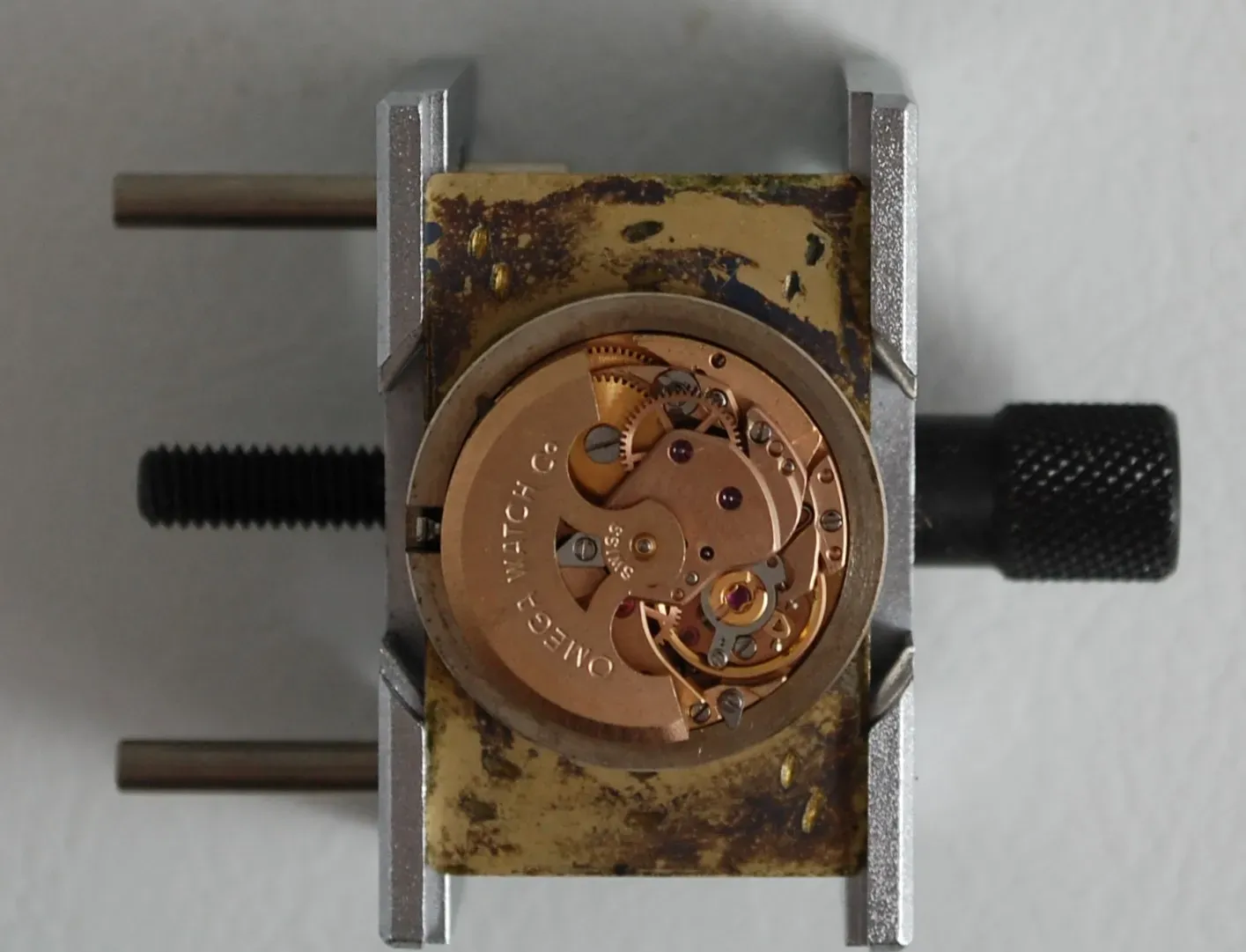 By virtue of the fact that the Calibre 684 was used extensively in ladies models, donor watches and entire spare movements are fairly easy and inexpensive to come by, often with much lower mileage than men's models, making these quite cost effective to maintain.
Common Elements
While the Deauville models break down into three separate references, all with distinctly different cases, there is a great deal that the three have in common with each-other.  
All three models are what Omega refers to as key-bolt compressor case designs.  The caseback is fastened to the case by means of two steel pins which hold it under tension.  The compressor design was originally seen in dive watches and intended to increase pressure on the caseback and seal as water pressure increased, preventing water ingress.  While this DeVille is certainly no dive watch with only a 30M rating, the high survival rate of dials indicates that the compressor case does a fairly good job of protecting this watch and ensuring survival.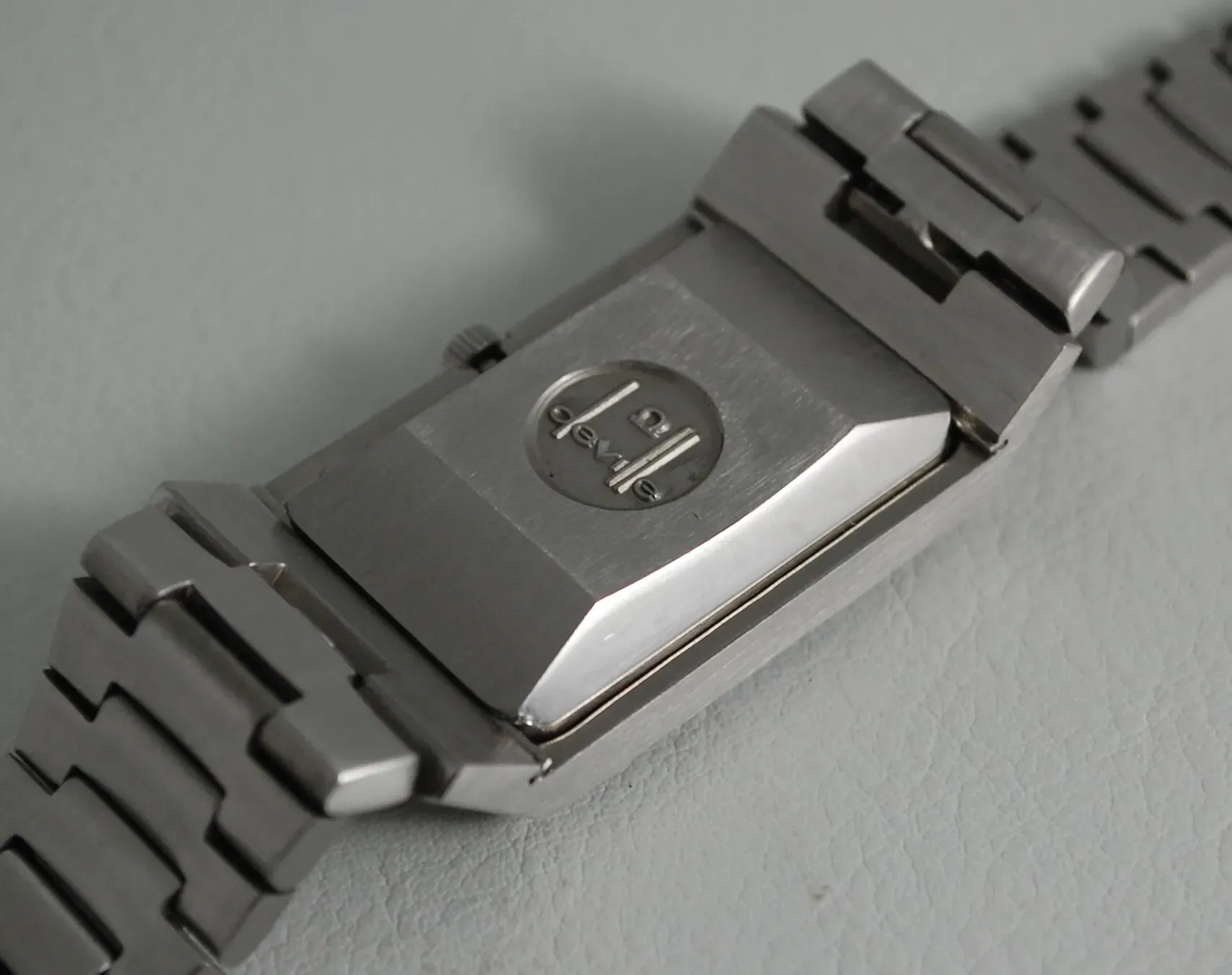 In terms of case metals, all of the Deauville line are only available in stainless steel.  There are no 18K solid gold variants, gold plated or sterling silver variants available at all.  This is likely a design constraint of the compressor case design.
All three cases share the same basic dimensions, with a width of 27mm, quite large for a tank watch, and an impressive length from lug to lug of nearly 50mm while only 10.8mm thick.  They all feature a flat bezel surrounding a crystal made of plexiglass that sits quite proud of the case, shaped similarly to an emerald to make it stand out like a jewel when seen at an angle.  The flat bezel then bends down at a sharp edge to the lugs, with beveled edges running the length of the sides further catching the light and giving the impression of a cut gem-stone.
All cases feature a semi-hidden knurled crown and proudly feature the vintage Omega logo applied on their dials, while a modern version of that sybol appears on both the caseback and crown.
Omega DeVille Deauville 155.005 / 155.0005
The first of the three references, the 155.005 or 155.0005 features a rectangular dial and crystal, and 20mm lugs for fitment of a strap or bracelet.  Aside from a minor variation in dial options, the 005/0005 variant is effectively identical to the 007/0007, but with different lugs.
While many of these models were delivered on leather straps, there was a common factory bracelet option that is quite unusual and fitted the 20mm lugs and style of this watch perfectly.  This bracelet reference was the 1219/161, featuring a steel fold-over clasp with the modern Omega logo on it, and two single piece curved steel sections that wrap around either side of your wrist like a thin, wide hand-cuff.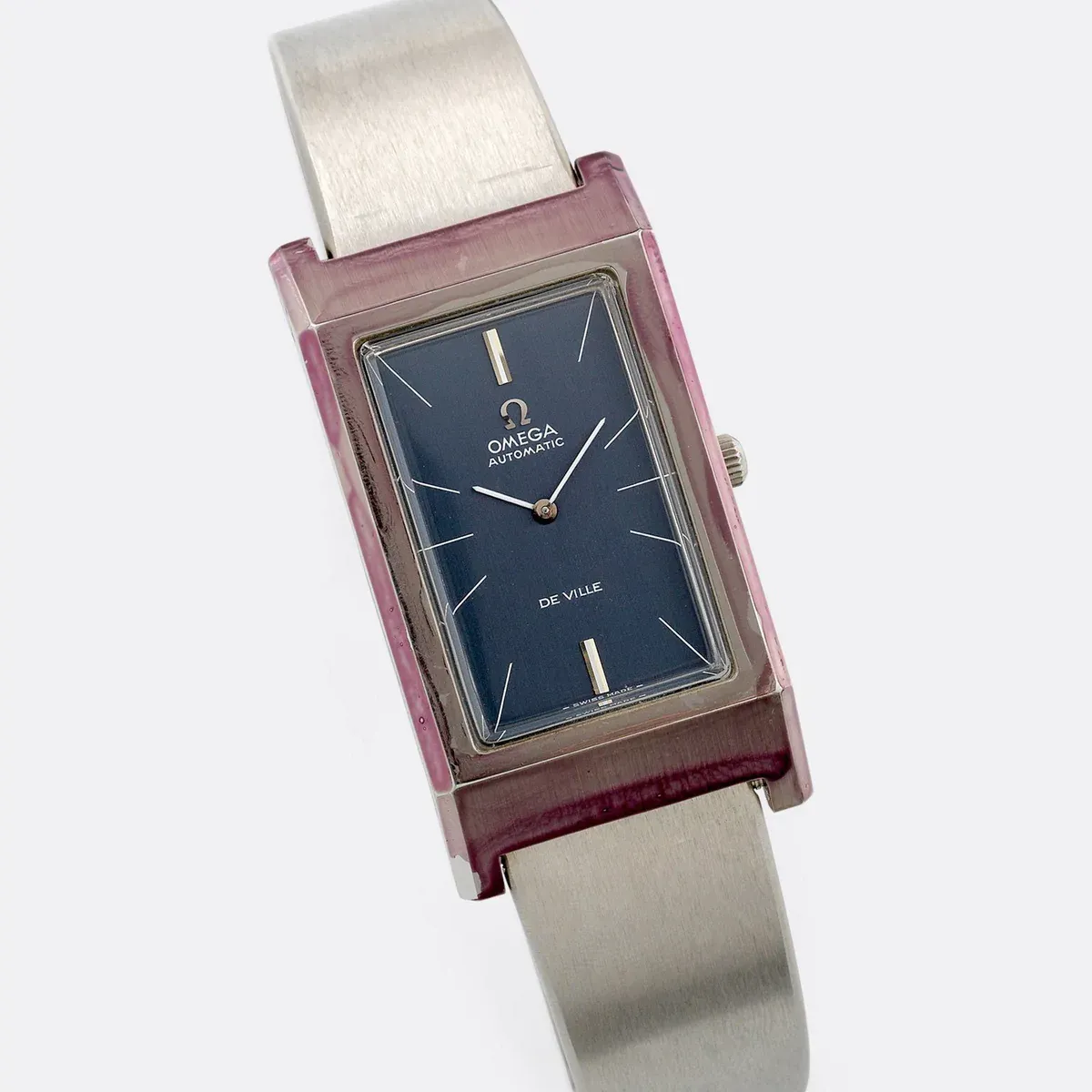 These bracelets are not commonly available, nor really seen outside of these watches but being 20mm, would be a very cool thing to own as a unique looking option for your other modern Omegas too.
Dial Variants
Dials fitted to the 155.005 / 155.0005 are all very similar in overall design, only really varying by colour.  They feature applied stick dial markers at 12 o'clock and 6 o'clock, with painted hour markers for the other 10 hours.  The dark coloured dials, in blue and dark grey / anthracite feature white hour markers, including white paint on the applied markers, with white hands and text.  Light colored dials, specifically the silver, feature dark hour markers, including black painted applied markers, with black hands and text.
All dials have a metallic tone to them and a very visible vertical brushed texture from top to bottom.  It should also be noted that due to the roughly emerald shaped crystal, the dial markers and Swiss Made text at the bottom can appear broken or warped from some angles.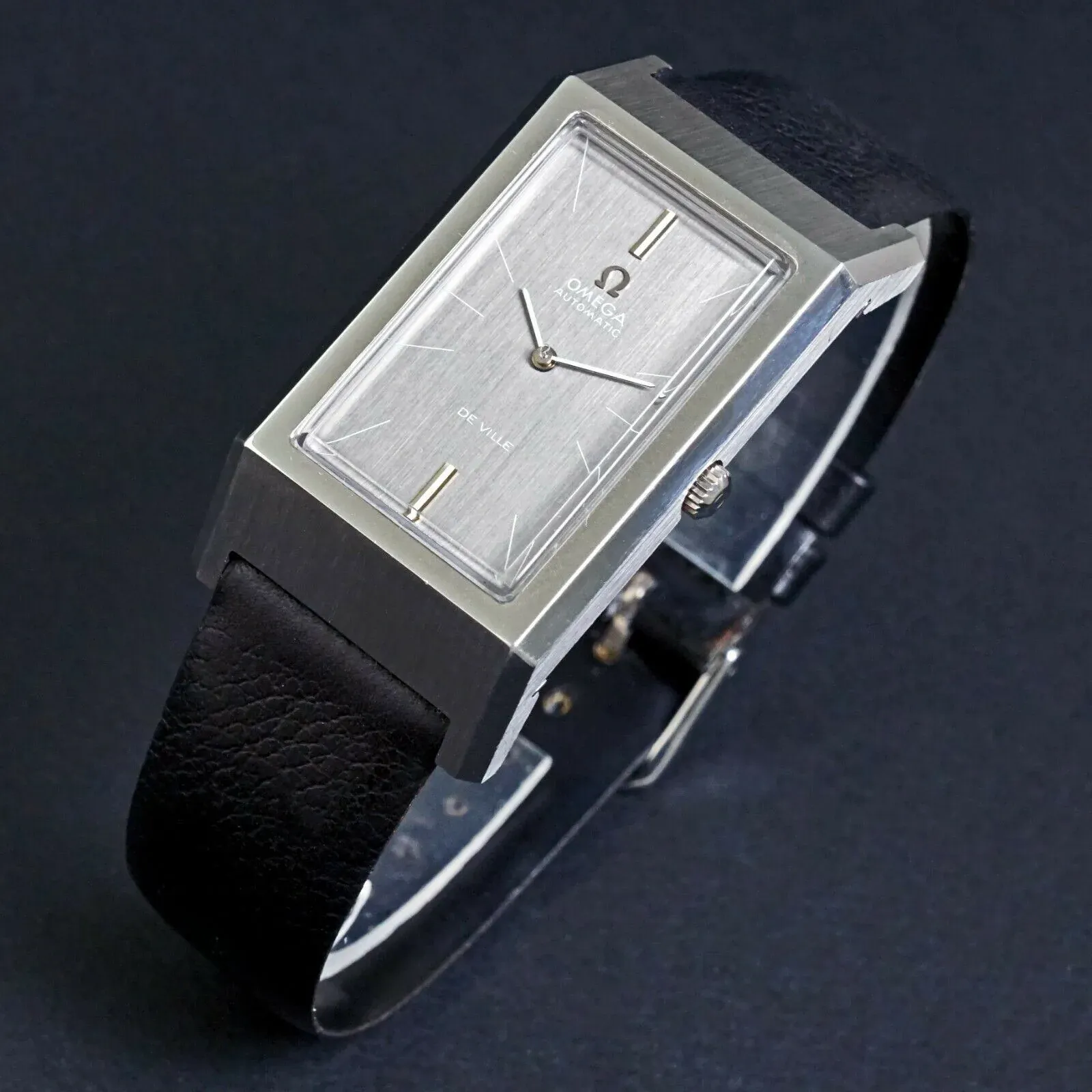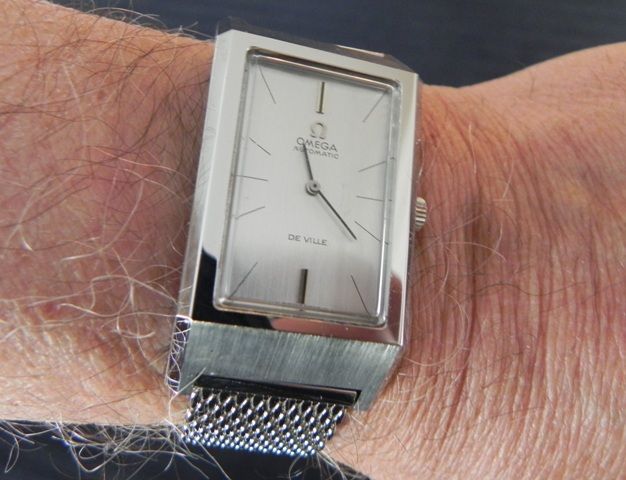 Omega DeVille Deauville 155.006 / 155.0006
The reference 155.006 / 155.0006 model features the same 20mm lugs as the previous 155.005 / 155.0005 model, but with a very different design to the bezel, crystal and dial.  
Instead of the rectangular shape of its predecessor, this model has a roughly tonneau shape to its dial and crystal, while the external shape and dimensions of the case remain identical.  This model is also frequently seen on the Ref 1219/161 flat handcuff style OEM Omega bracelet as well as a variety of strap options.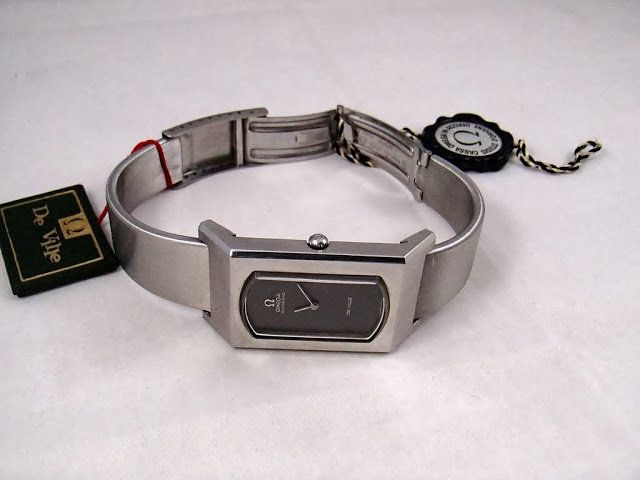 The plexiglass crystal on this reference doesn't appear to be shared with any other Omega watch and has a very unique shape with the same gem-stone like facets that sit quite proud of the bezel and case.  
Dial Variants
This reference comes in a few more different dial variants than the others and has a style that is quite unique from its two cousins.  
The vast majority of dials feature roman numerals for all 12 hour markers, painted onto the dial in a contrasting color.  The dark blue and dark grey roman dials feature white text and dial markers paired with white painted leaf hands.  The silver dial features black text and dial markers paired with black leaf hands.
The outlier in the dial options is rather unique in that it has no hour markers at all, with white text and white stick hands.  This variant has been seen once again in dark blue, silver and anthricite grey.
As with the 155.005 / 155.0005, all dials have a metallic tone and vertically brushed texture to them which leads to significant variation in color depending on the angle a photo is taken.  The crystal is even more unusual in how it warps the dial when viewed from an angle due to the curved edges top and bottom.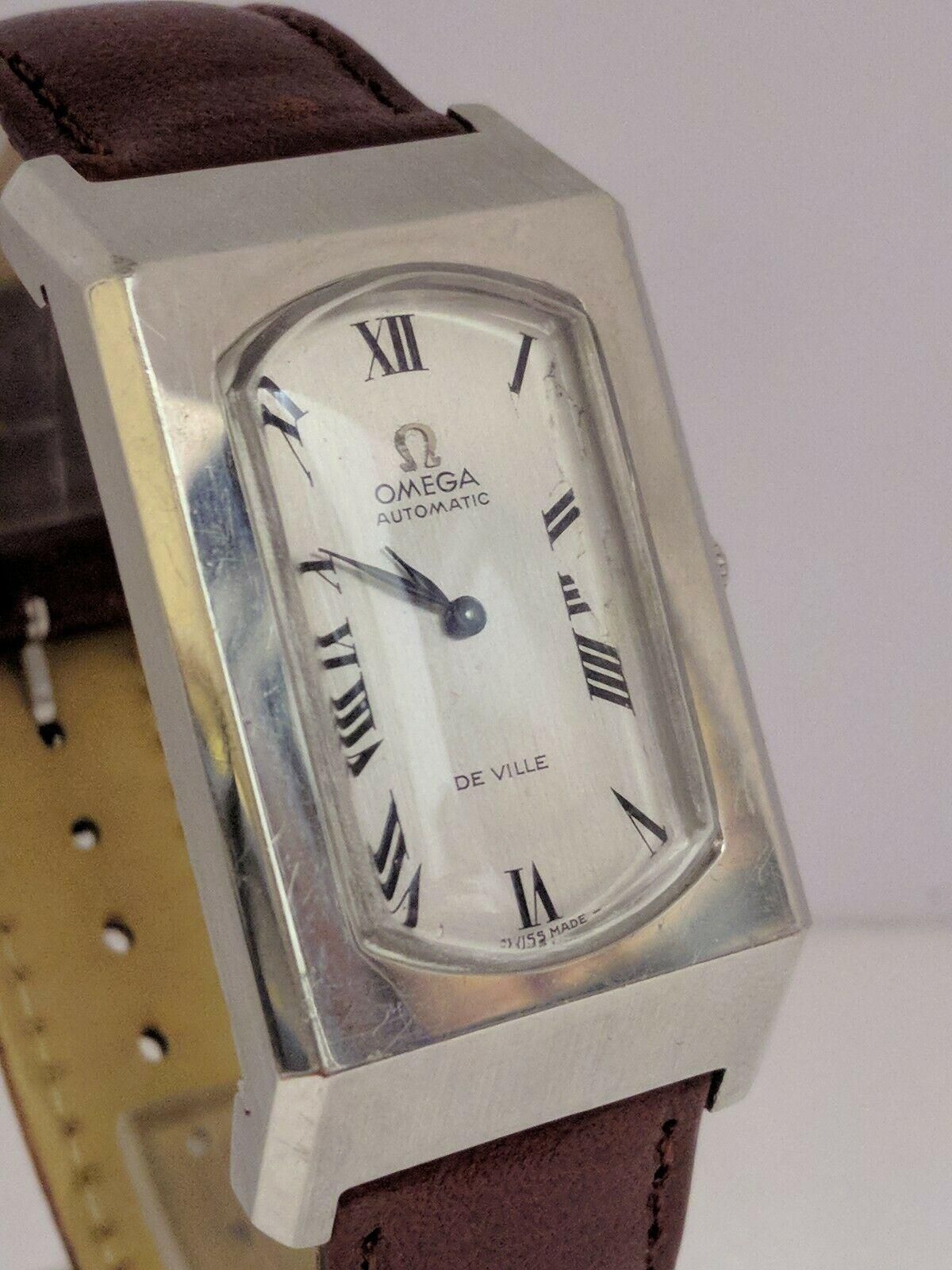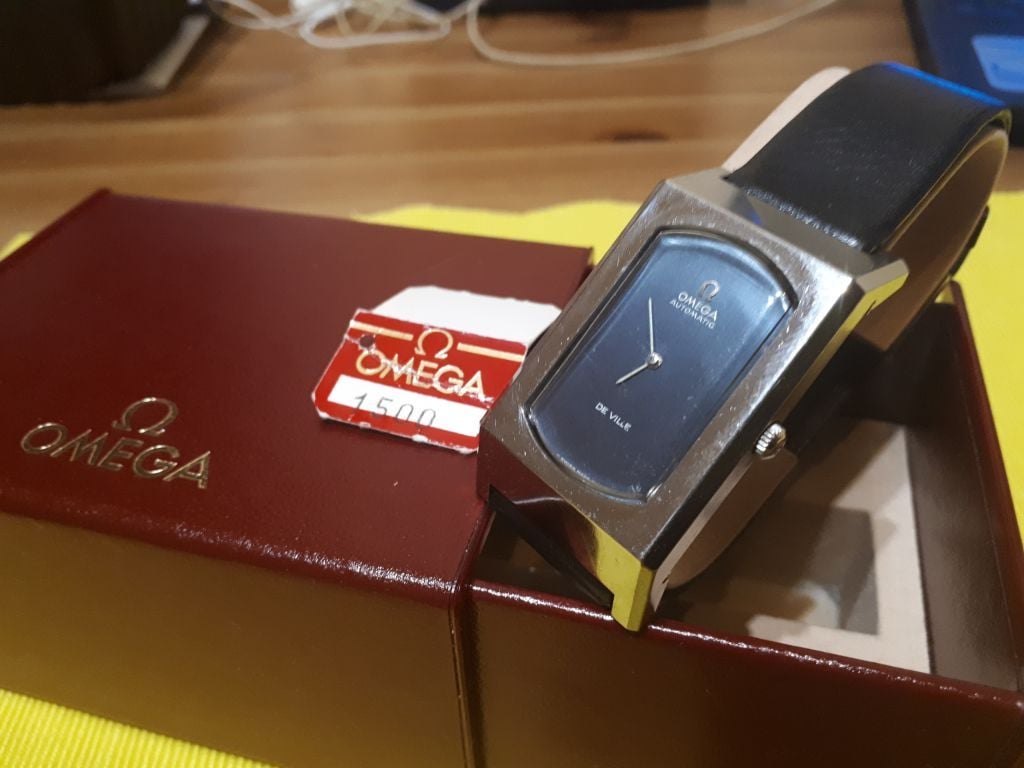 Omega DeVille Deauville 155.007 / 155.0007
The final Deauville variant, the 155.007 / 155.0007 features the same dial shape and even shares the same part number of crystal as the first variant, the 155.005 / 155.0005.  The major difference is that rather than 20mm lugs, this reference has narrower lugs, intended for the fitment of a very specific semi-integrated bracelet.
There are no strap variants of this reference, all watches should be equipped with the reference 1217/207 bracelet in steel.  This bracelet is a very wide, single piece pink design that tapers from nearly the full 27mm width of the watch at the lugs, down to 16mm at the Omega stamped deployant clasp.  
This watch on its bracelet is a very substantial piece of steel but due to its construction, a worn example can easily become very stretched out and loose so its worth holding out for one that is not excessively worn.
It should also be noted that there are quite a few new old stock bracelets and cases of this reference floating around, and entire new old stock watches as well, complete with the fabled "purple snot".
Dial Variants
The dials of the 155.007 / 155.0007 are a minor evolution over the the 155.005 / 155.0005 variant dials.  Once again the dark colored, dark grey and blue dials feature white text and white painted dial furniture paired with white stick hands while the lighter silver dial features black painted accents on the dial furniture paired with black text and black stick hands.
These dials have no painted hour markers, instead having 12 applied hour makers on most, and two applied hour markers with nothing else on others.  
Its also worth noting that in some countries the De Ville logo was not used on the dial, these watches were instead marketed under the Omega International Collection, yet still carried a De Ville logo on the case-back.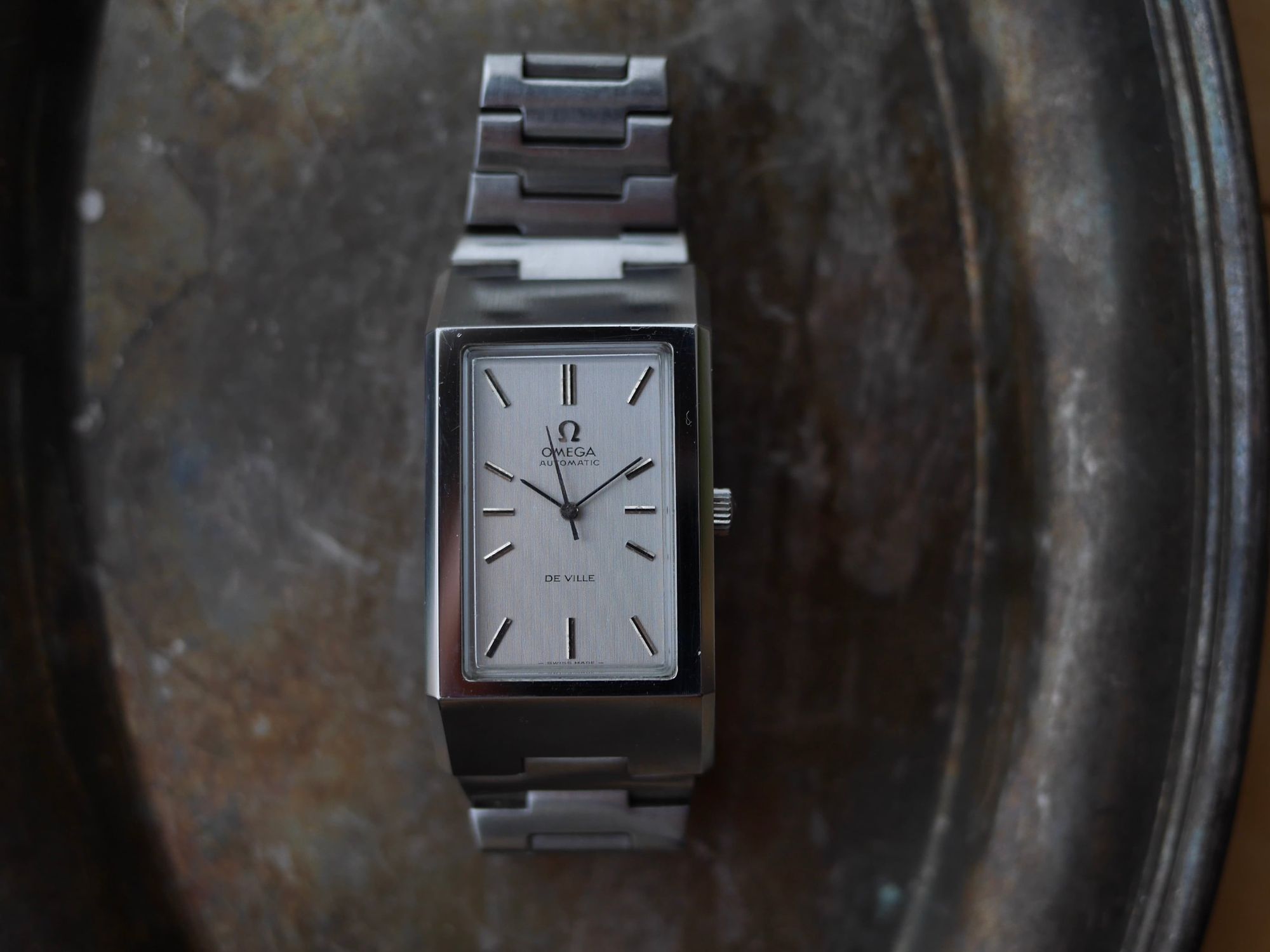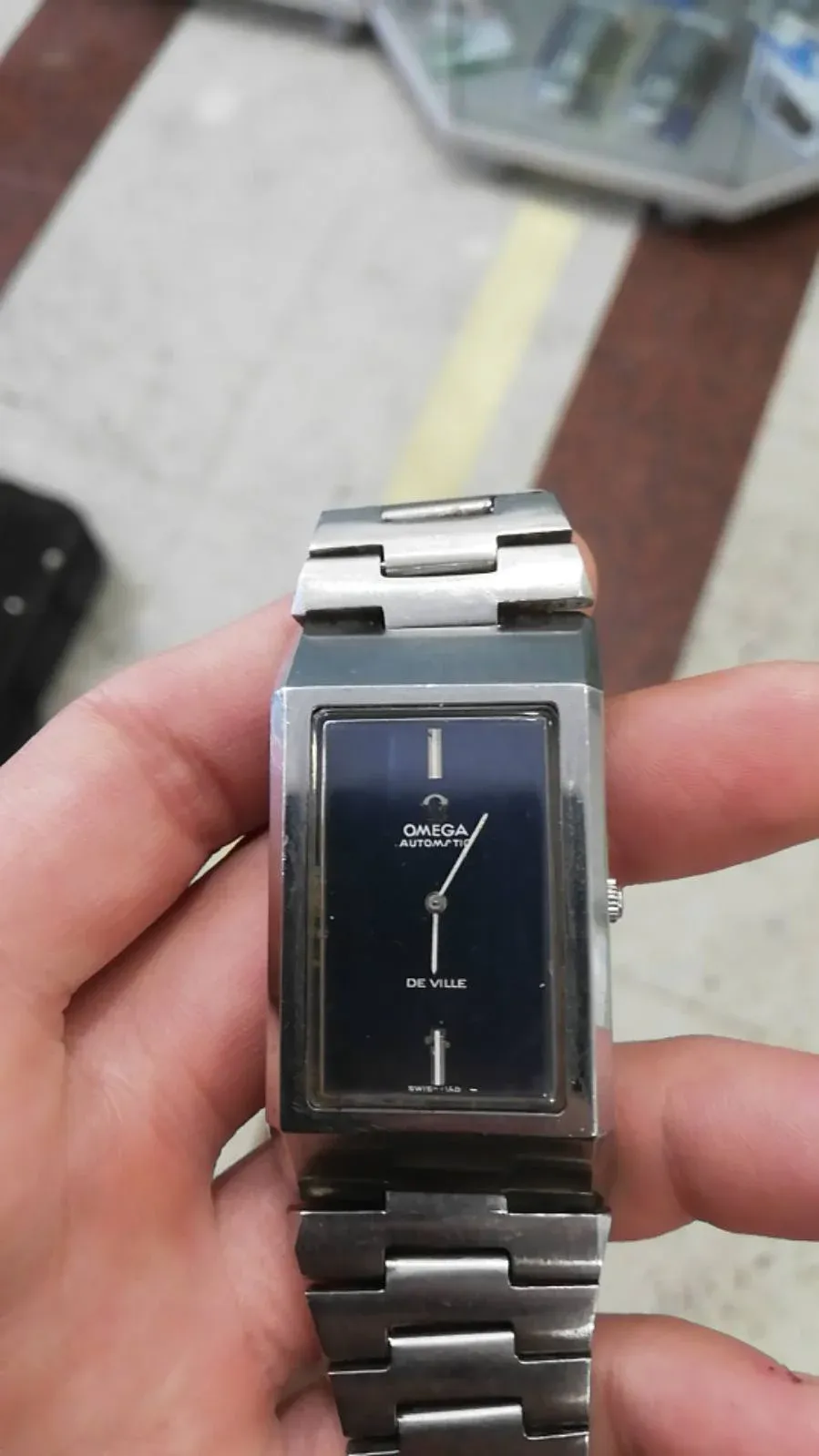 Buying
While very unusual and not often seen or discussed in collector circles, these watches are only uncommon at best. There are typically a substantial number of all three references available at any given point in time, far more than there are people aware of them much less in the market for them.
At the time of writing in September 2022, there are 13 Deauville models listed on Chrono24 and another 5 on eBay, 6 of which are mislabelled with the wrong reference or movement.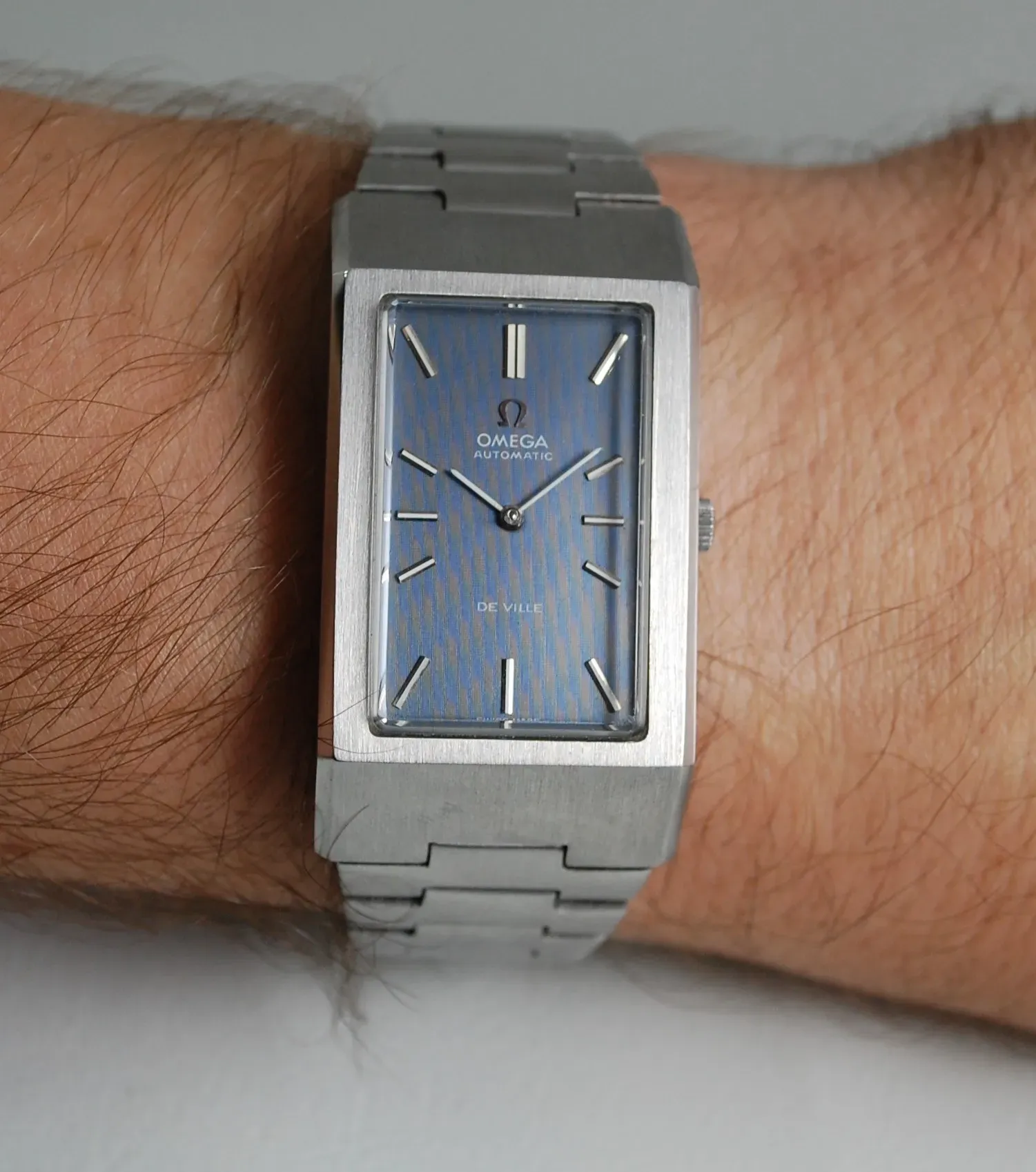 As a result of this, these watches that are very unique, quite attractive and very wearable in today's age languish price wise even in dealers hands and often sit in inventory for a long time before selling below the asking price.  $1000 or less for a worn example and $1200-$2000 for a very nicely kept example is often about the asking as of mid-2022 with even perfect new old stock examples not commanding much more.
When they go no reserve on eBay, nice clean examples can often at prices under $1000, sometimes under $500 depending on how it is labelled and presented as these watches can be quite difficult to photograph well.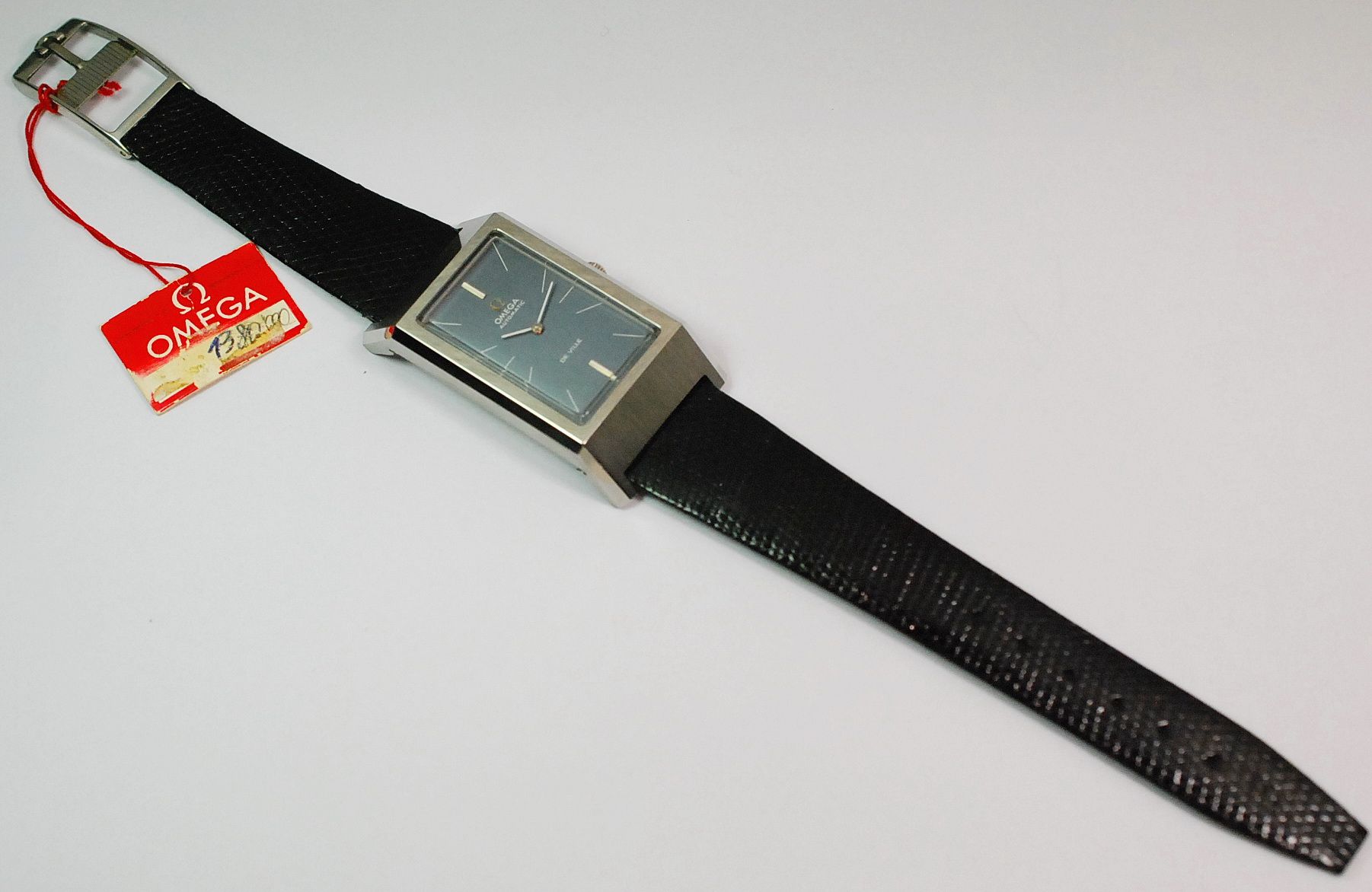 While different people will have different preferences within the range, the 155.007 with integrated bracelet tends to be the most commonly available, especially the blue dial, which is quite attractive.  
Due to the fairly decent water resistance of these models, it is absolutely holding out for a nice condition dial and any sign of water intrusion should be avoided.  The cases, and in particular the sharp edges of the case are critical to the look of this watch, so try to avoid any examples that have been polished excessively.  For the 155.007 in particuarly, if there is no bracelet included it is best to pass as while they are available they can be a costly addition and the watch is fairly difficult to use without it.
If you do find a Deauville that strikes your fancy, please do the world a favor and take some excellent photos of it, these are one of the design highpoints of Omega's 1970s production and they deserve to be seen, worn and enjoyed.
Discussion thread on Omegaforums can be found here: