The Omega Dynamic III Chronograph is an oddity. An entry level, highly durable, two-register chrono with a vintage military style that is absent from any modern Omega.
About a year ago, a member of Omegaforums sent me a fairly long private message claiming it was hypocritical to recommend the Dynamic III Chronograph to people while frequently badmouthing the Speedmaster Reduced when they have a nearly identical movement.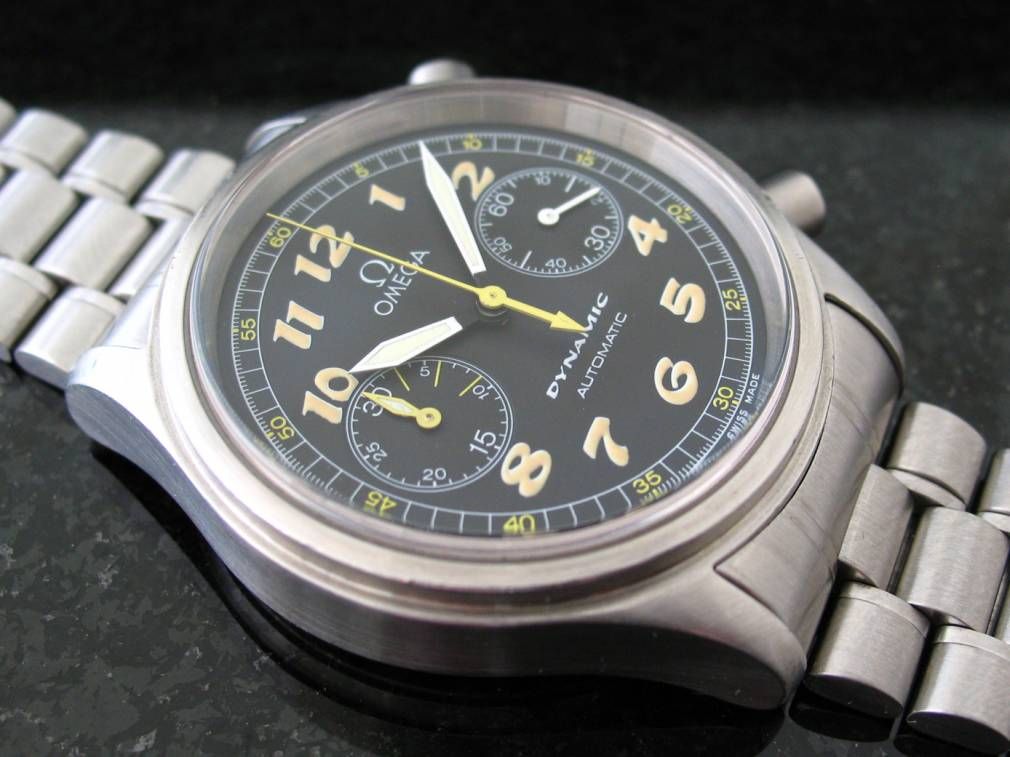 He was very persuasive and articulate, and I admitted to him that he had a good point, the Dynamic III Chrono, being a modular design with a piggyback chronograph module requires the same factory servicing that the Speedmaster reduced does.  That cost is rather unavoidable and is a definite negative.  Yet in spite of this, I still have an enormous amount of love for the Dynamic III.  
It must be because the Dynamic line is no longer with us, because it is something very unique among Omega's offerings and because we haven't seen anything like it since.  There's something special about these watches and their design, dials, and the feel of them.  Special enough to make them worth the servicing bill as long as the initial purchase price is right.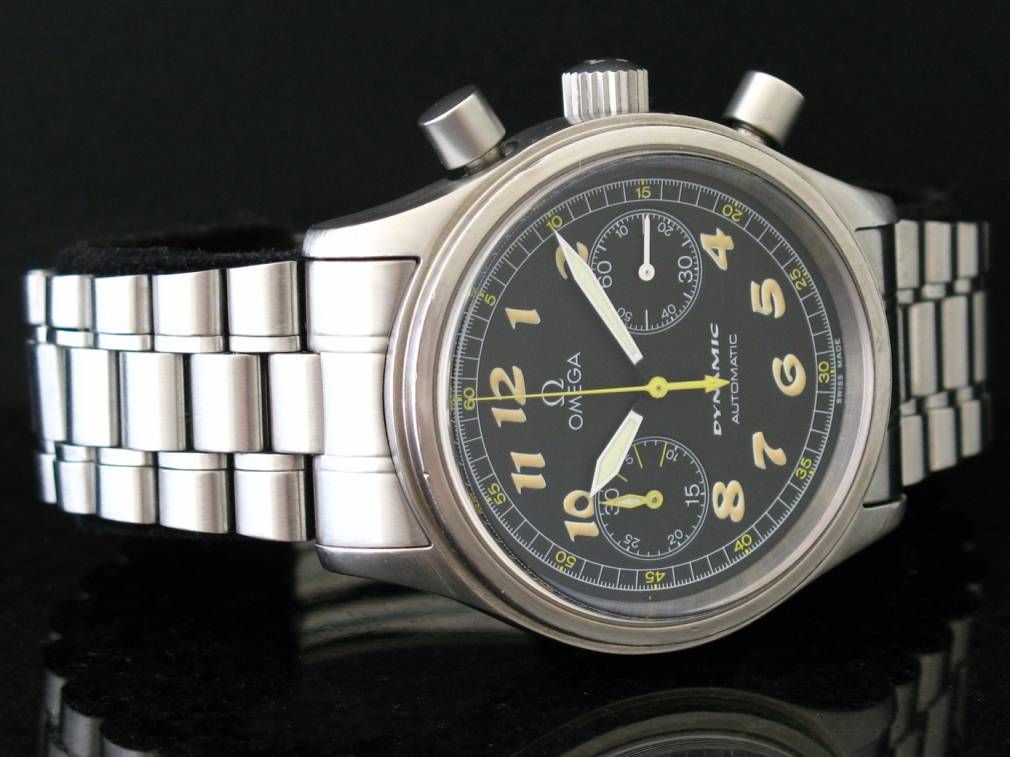 Where Does it Fit In?
To understand the Dynamic III Chronorgaph and how it fits into Omega's model lineup, it pays to read the first article on the time-only Dynamic III here: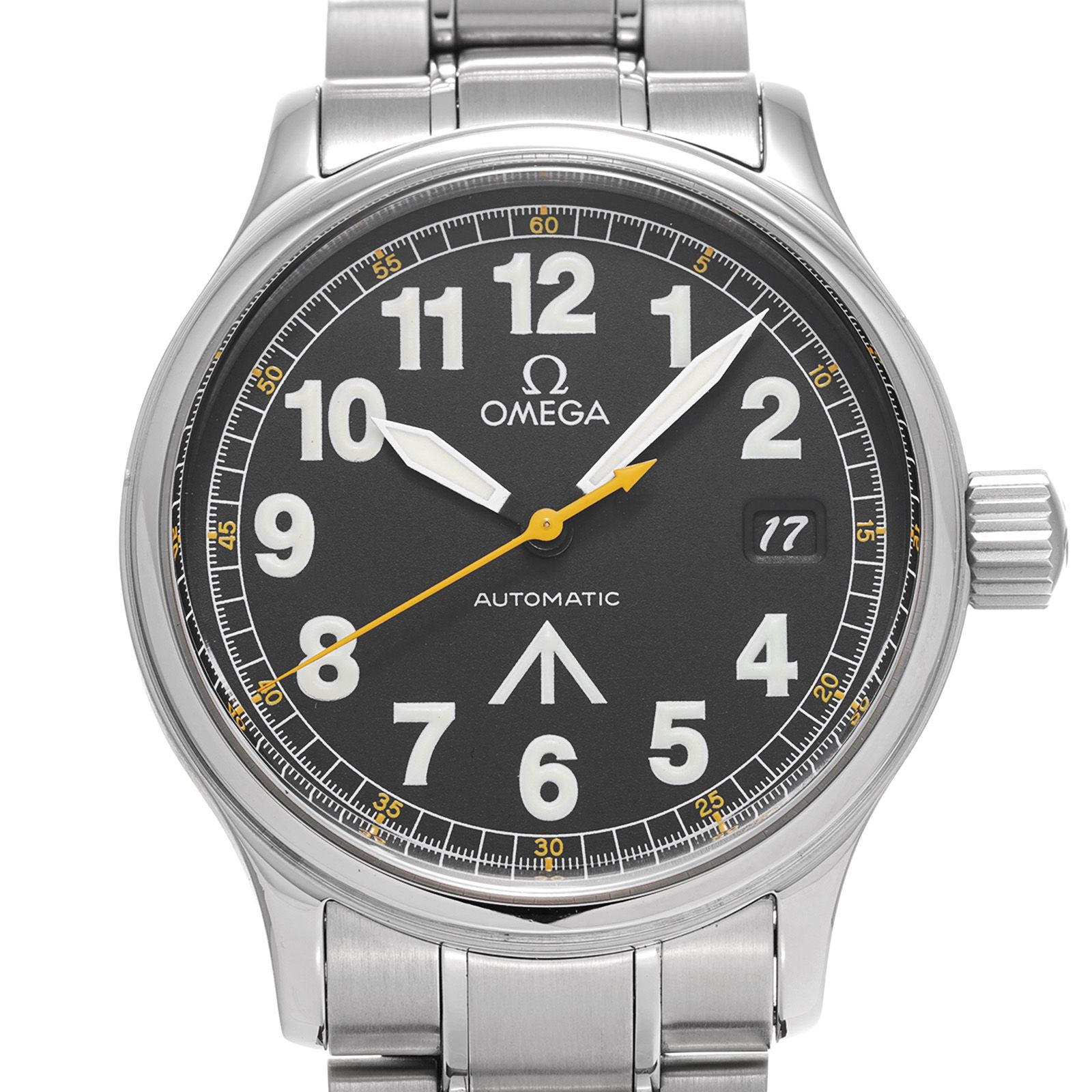 In summary, the Dynamic name was first used on the Geneve, before being applied to select models of De Ville, in watches with unusual cases and at times quartz movements before landing on the Dynamic III design.  The Dynamic III drew upon the vintage Omega RAF 53 military aviator's watch for inspiration, with high visibility hands and luminous hour markers.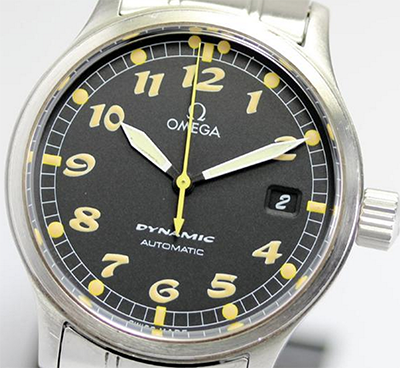 The chronograph version is very similar, but with a 30-minute chronograph function added and a slightly larger case.  Because these watches are branded as Dynamic, rather than a variant of Speedmaster, Seamaster or anything else, they were given a tremendous freedom of design.  Traditional Omega features like twisted lugs, crown-guards and even fonts were able to be set aside, giving the Dynamic a personality all of its own.
Case & Bracelet
The case of the Dynamic III Chronograph is very different from most of Omega's 1990s line-up.  The decent sized 38 mm case has a very simple, austere, military look and feel, very much in keeping with the RAF 53 inspired dial design.  
Like the time-only model, the case is entirely brushed with a simple, stepped, flat bezel, straight sides and rounded off straight 20 mm lugs.  The case does have a bit more thickness at 13 mm to allow for the chronograph movement, and like other piggyback chronographs, the pushers are vertically offset from the crown.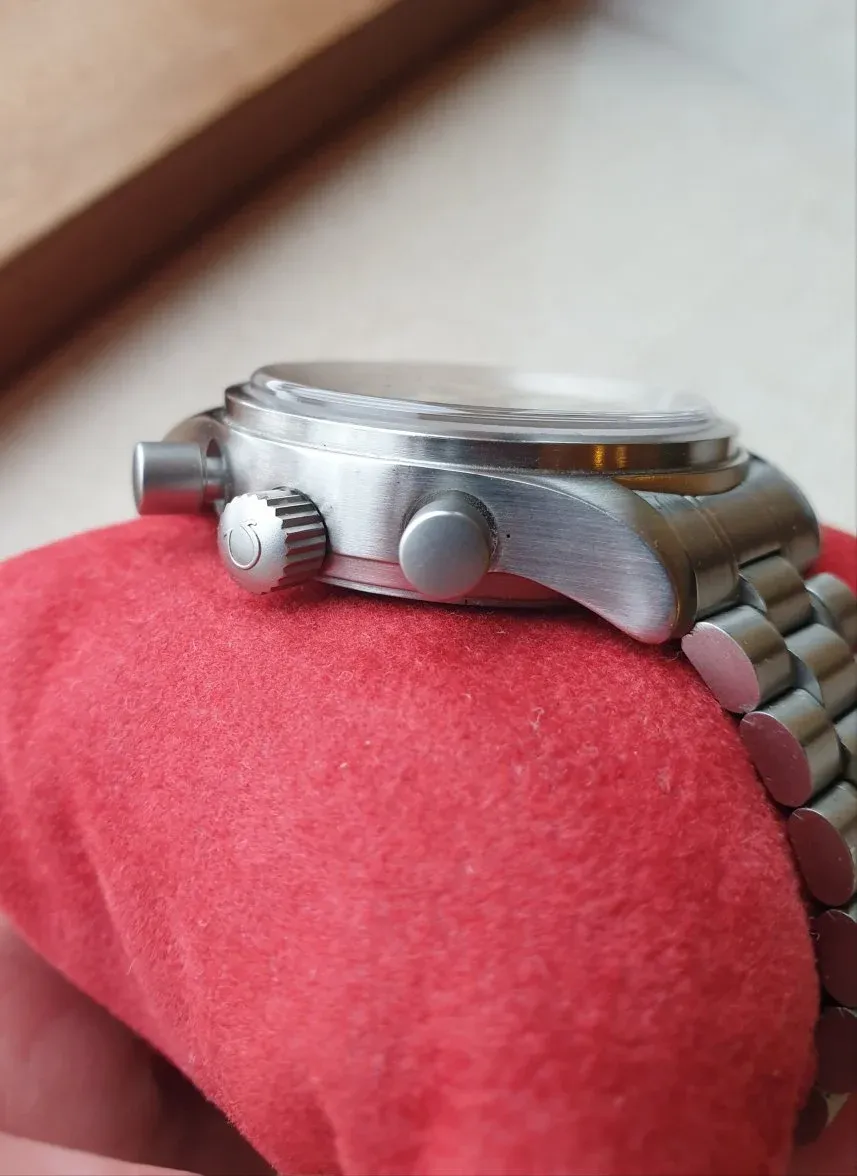 Both the pushers and the large, knurled crown continue the satin finish, and there are no crown-guards at all.   The crystal is a completely flat sapphire which sits slightly proud of the bezel.
The case-back is a simple, brushed, screw-back design with the Omega logo inside of a circle engraved on the back and standard keying around the edges.  The Targa Florio Limited Edition gets a unique design with the race logo and limited edition number in its place.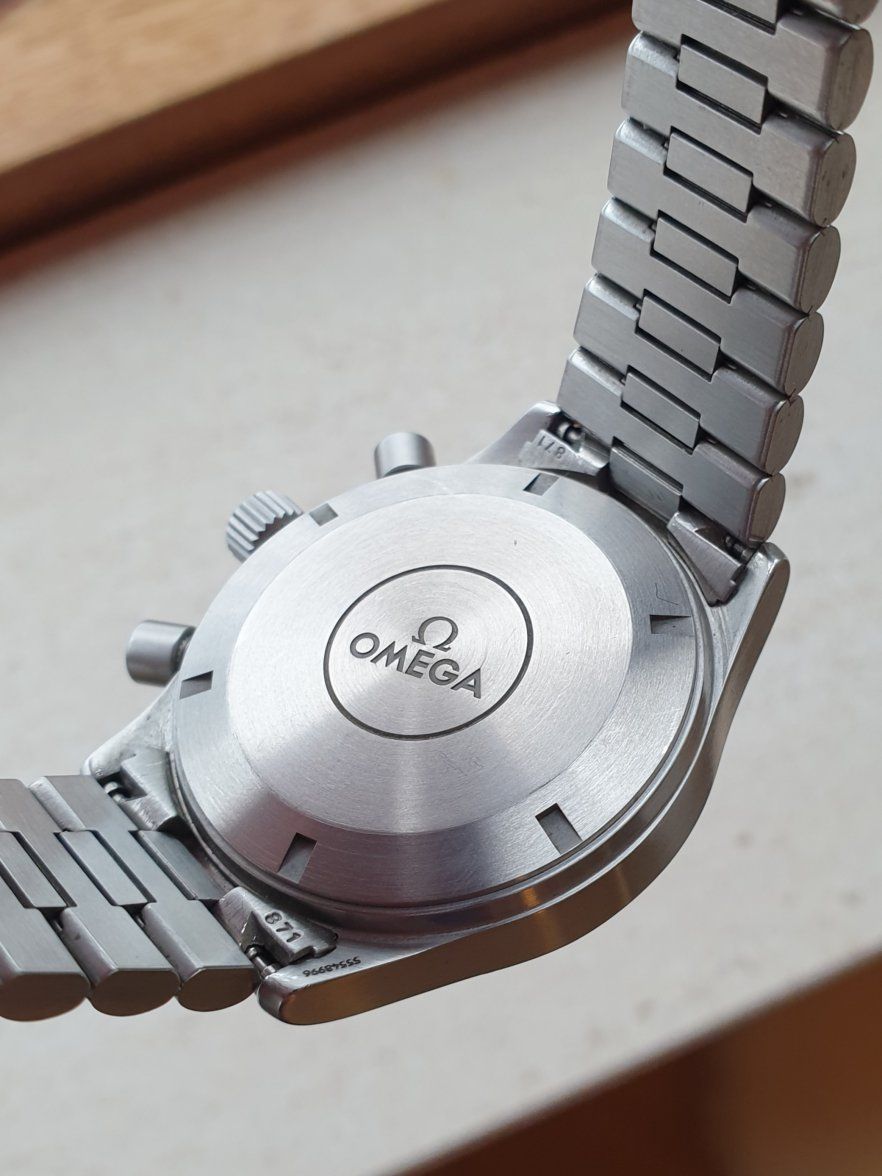 The bracelet fitted to these watches is a Speedmaster style bracelet carrying the reference 1571 with 871 end-links featuring a simple clasp with an Omega Logo stamped into it.  The clasp features micro-adjust so there is no need for half-links.
The Dynamic III Chronograph on bracelet carries the reference 5240.50.00.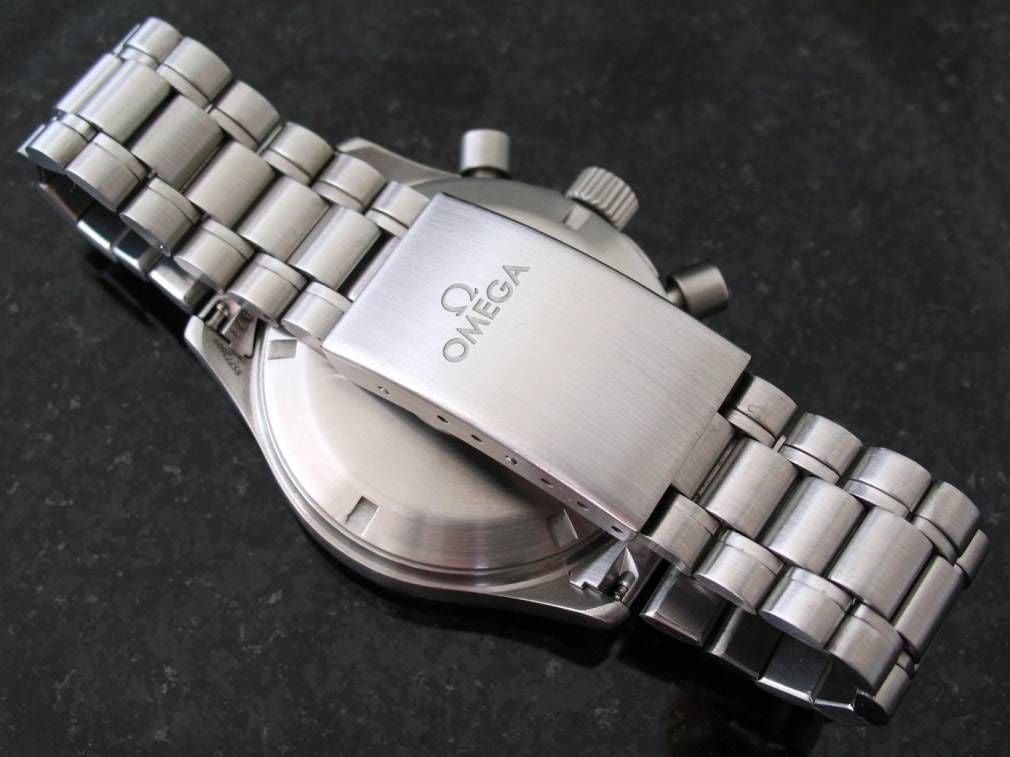 There are several strap options also available in both calf-skin leather and Coramide.  
Yellow Coramide is Ref 5290.50.40 and red Coramide is Ref 5290.50.41.
The brown calf-skin is available with tang buckle as Ref 5290.50.07, and on deployant clasp as Ref 5290.50.27.
The Targa Florio Limited Edition carries the reference 5290.50.07.
Movement
The Calibre 1138 movement is the only somewhat controversial part of this watch, being a piggy-back chronograph.  This movement combines an ETA 2890-A2 base with a Dubois-Depraz DD2030 chronograph module to add the functionality to the time-only movement.  
There is nothing inherently wrong with these movements, they are known to be accurate, reliable, and are not troublesome by design.  The issue is that parts for the chronograph module are not made available, so independent watchmakers cannot effectively service them.  Omega handles these movements on an exchange basis, replacing the movement with a freshly rebuilt one and taking the old one back into their pool.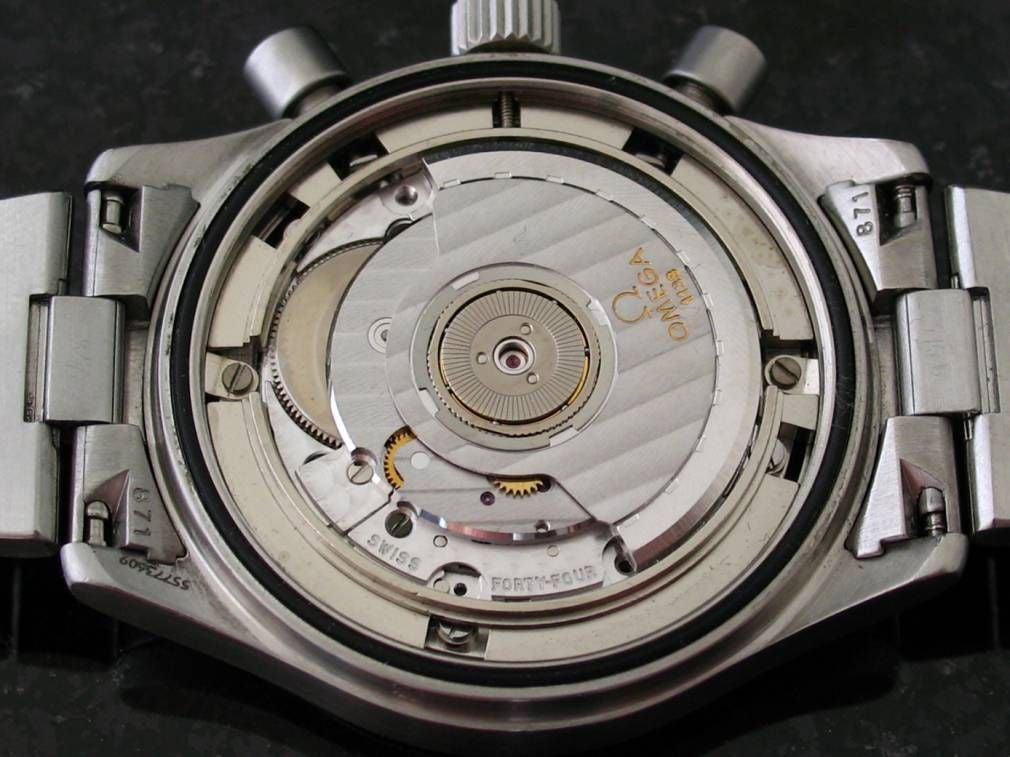 It really is best to always have Omega service these as a result and this will cost a bit more than having an independent service a chronograph on average.  Not the end of the world, just a cost that needs to be factored in.
The Calibre 1138 movement oscillates at 28,800 vph, has hacking, no date and is not chronometer rated, however accuracy is typically very good.
Dial Variants
Officially, there are only two distinct variants of the Dynamic 3 Chronograph, the regular version, and the Targa Florio Limited Edition.  That doesn't tell the full story however.  
These watches were released in 1997, around the time Omega was making the transition from tritium luminous material to non-radioactive luminova material.  This makes a fairly big difference as early dials will have lume that has turned a strong coffee color with time while early luminova tends to take a green-ish white hue.  
Even aside from the luminous material change, Omega used a different dial design later on leading to some further variation between examples.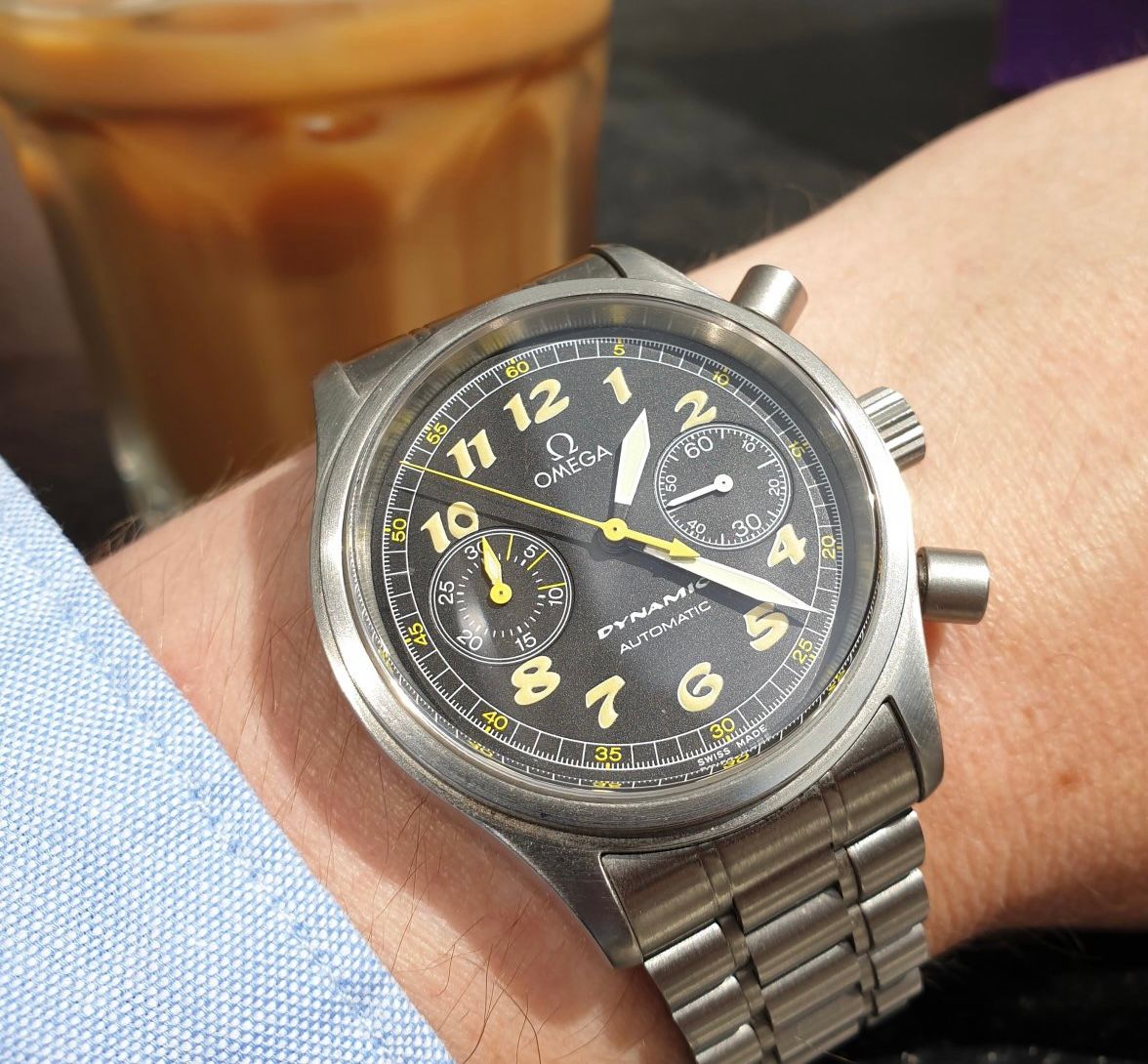 All designs do have a few things in common.  Like the time-only Dynamic III, there are large luminous Arabic numerals as hour markers around the dial using a highly stylised font.  This is truncated by the sub-dials at 3 & 9 o'clock.  There is an outer sub-seconds track with yellow numerals in multiples of 5 and the tip of the yellow chrono seconds hand lines up with this on the outer edge.
The Omega logo and the text DYNAMIC AUTOMATIC appears painted onto the dial above and below, and both sub-dials are painted in white.  The chronograph minutes sub-dial has 3-minute hashes in yellow, a feature common on vintage chronographs but somewhat rare today.  
Finally, all watches feature large luminous sword hands for hours and minutes, with a similar sword-shaped chronograph minutes hand on the left sub-dial.
First Generation - Tritium With Inner Ring
The first generation dial is found on the earliest models made around 1997.  This dial has tritium luminous material and is distinct from later variants in that all of the numbers on the chronograph sub-dial are the same size.  Additionally, there is a ring of hash-marks inside of the numbers for reading off the exact minutes.
We can see by looking at the image below that there is a bit of a problem legibility wise with this dial design, as the yellow chronograph minutes hand is a thick, luminous sword shape and blocks the hashes underneath it making them difficult to read.  This is no doubt why the design was discontinued not long after release, and subsequent models, including all luminova dials feature the updated sub-dial design with outer minute-hashes.
While it is an oversight, it makes these early variants a bit interesting and different as Omega rarely makes mistakes like this in designing a watch.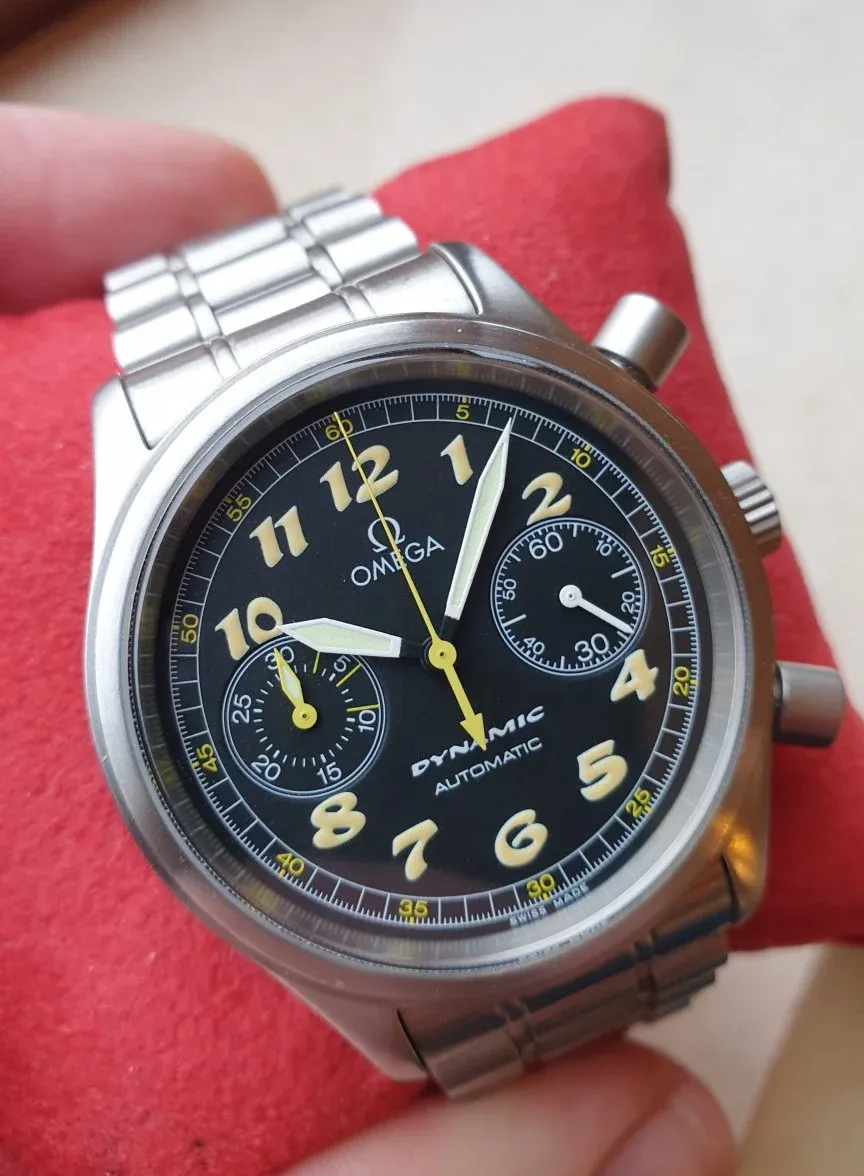 Second Generation - Tritium Without Inner Ring
The second generation dial is by far the least common.  This dial is still tritium like the first generation, but has addressed the oversight in the sub-dial design by changing it significantly.  
The inner minute hashes are removed entirely, and a ring of outer minute hashes are added to the edge of the sub-dial where they can be pointed to by the hand more legibly.  Additionally, the text size for minutes are shrunken for all except 30 & 15 on the sub-dial, making it conform to the look of the running seconds sub-dial on the right.
This dial was only in use very briefly before it was replaced by the third generation Luminova version and can be considered a transitional model.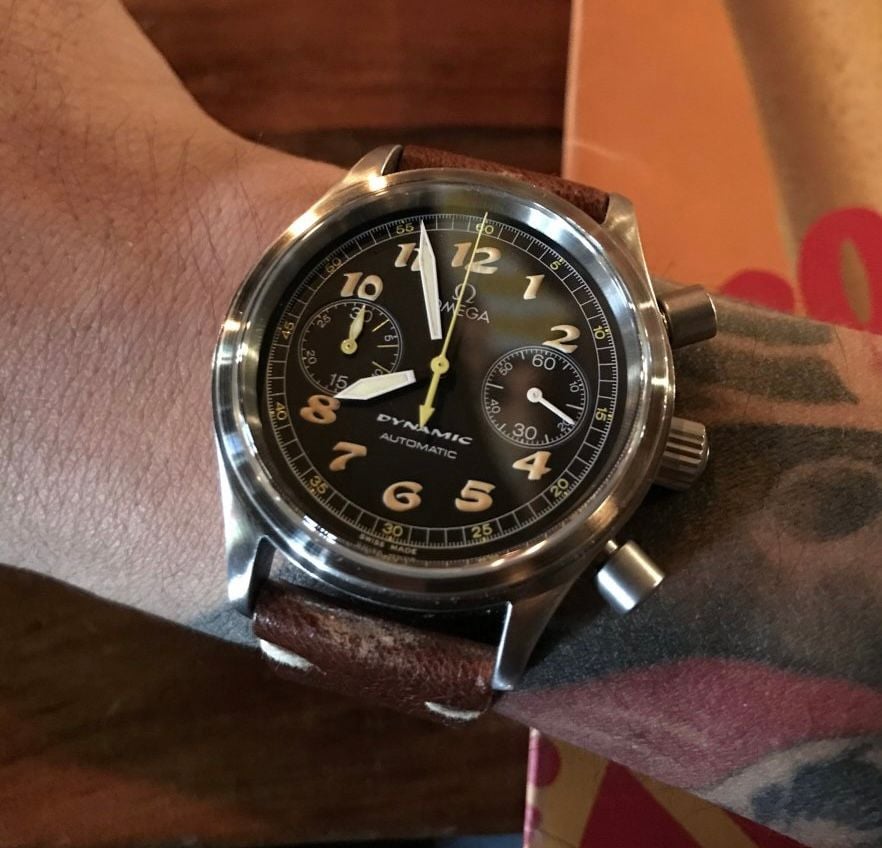 Third Generation - Luminova Without Inner Ring
The third generation is otherwise identical to the second generation, but instead of having tritium lume that fades to an eggshell or coffee color, it has luminova.  This change really transforms the watch from a piece that looks almost vintage to a much more modern and practical watch.
The quantity of Luminova applied to the dial is very substantial and it glows brightly, making this watch exceptionally legible in dark conditions.  It is a bit of an unusual choice though that Omega went with a luminous chronograph minutes hand but a non-luminous seconds hand, as you can only see half of the chronograph in the dark.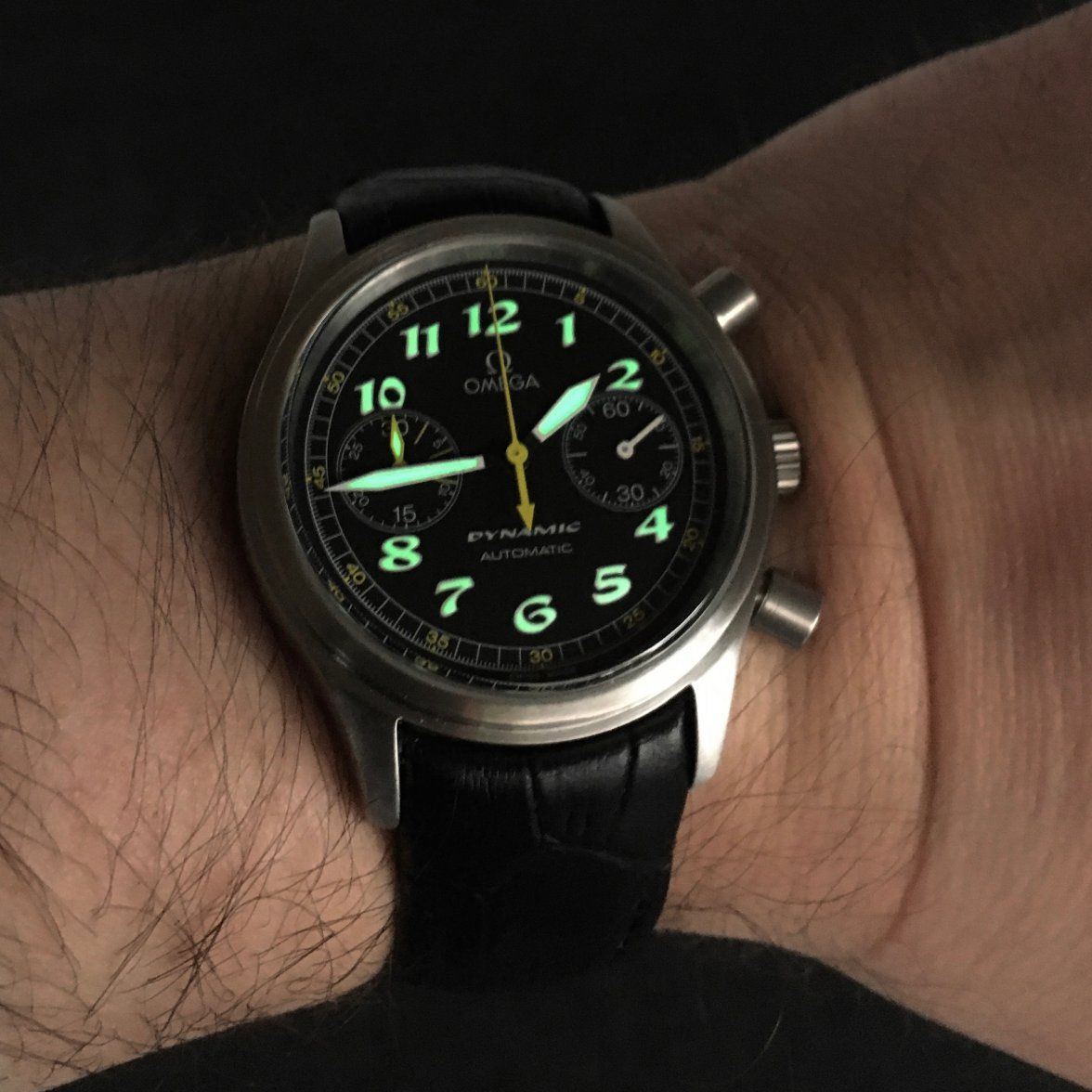 Targa Florio Limited Edition
The Targa Florio is very different from the regular version.  Produced in 1973 units, this is a limited edition that is actually quite uncommon and a very attractive alternative to the regular Dynamic III Chrono.
The Targa Florio's most obvious feature is the panda dial, with a dark black center, white outer seconds track with red lettering, and white sub-dials with red lettering. All of the yellow is removed from the design with the chronograph sub-dials hand reverting to black and a red chronograph seconds hand being employed.  
The font for the large hour markers is also both different and larger, taking up more space and forcing the Omega logo and Dynamic text to be moved inwards to make room.  In a sense it is very similar to the Broad-Arrow variant of the time-only Dynamic III, utilising the same font and size for hour markers.
These dials are only seen with the outer minute hash sub-dial and luminous material, making them equivalent to the third generation regular dials design wise.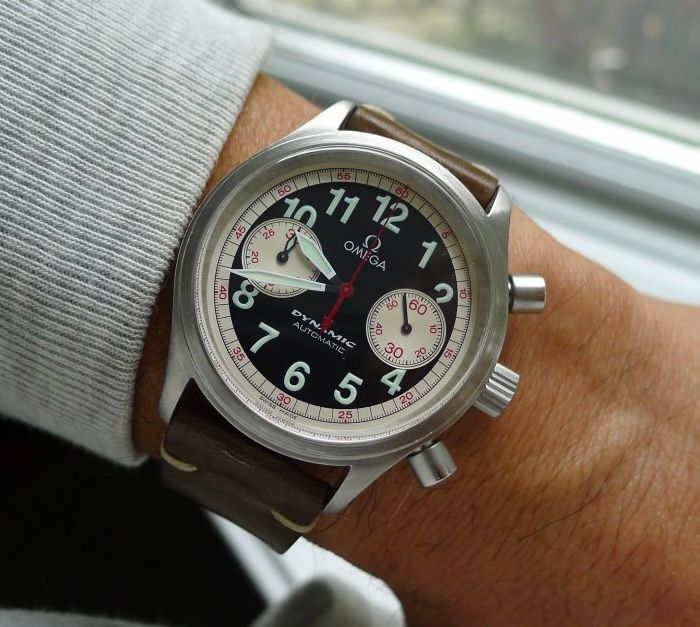 The case-back on the Targa Florio also differs from the regular Dynamic III Chronograph with a custom case-back design featuring the limited edition number and the Targa Florio Giro de Sicilia logo.
The Targa Florio also features a customised box with the logo emblazoned on it and is only available from new with a brown Omega strap.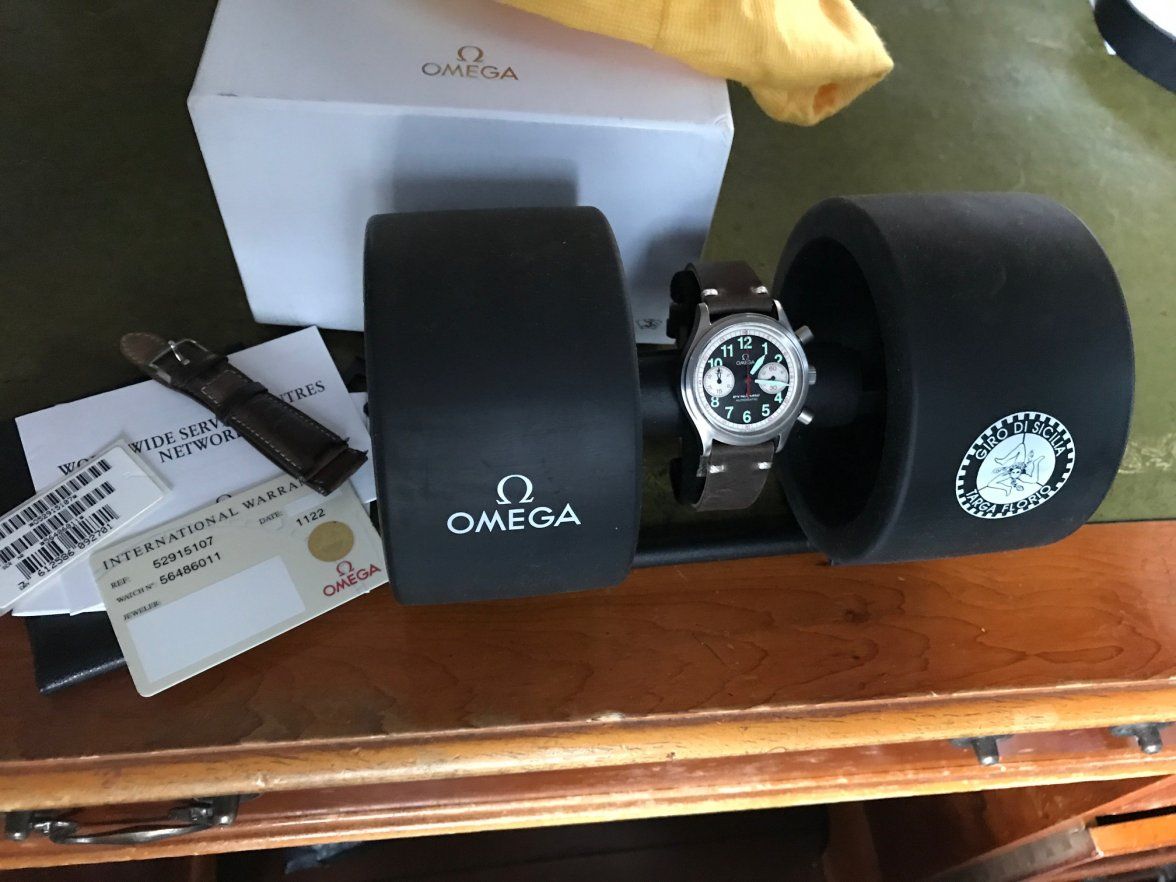 Thai Royal Irrigation Department 99th Anniversary LE
This one is the rarest by far, with only 300 watches being produced to celebrate the 99th anniversary of the Thai Royal Irrigation Department.  The dial is otherwise identical to the third generation variant with the only difference being the text Dynamic Automatic at the bottom being replaced by the Thai Royal Irrigation Department logo.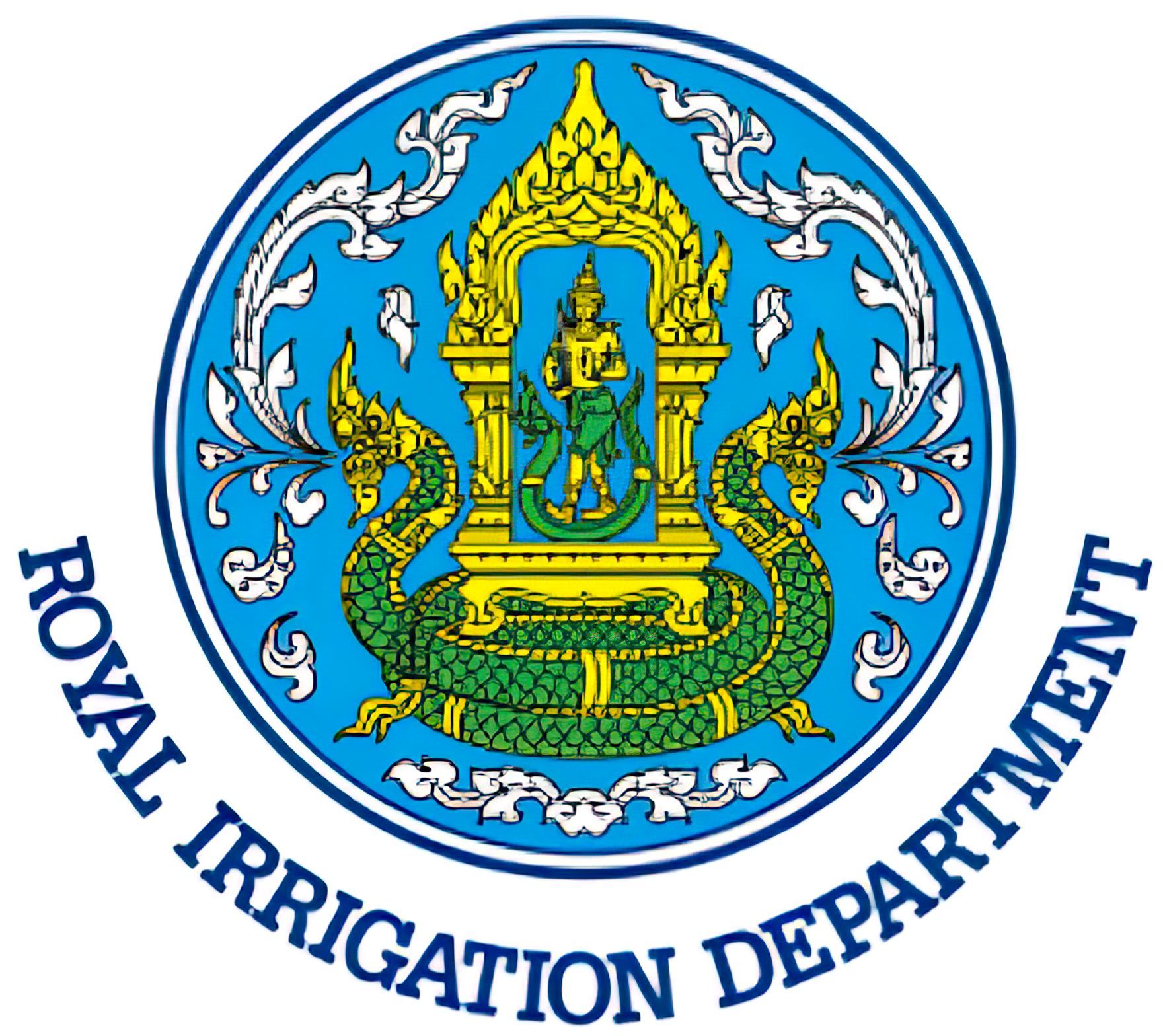 The story behind this is one I'd love to hear one day but it is rather difficult without speaking the language.  If the boss of this government department ordered 300 watches to hand out to staff, that's a pretty cool boss and I'd like a job.  On the other hand, if they were available for sale if you wanted to support a government department, that's a bit odd and I'm not sure how that would even sell.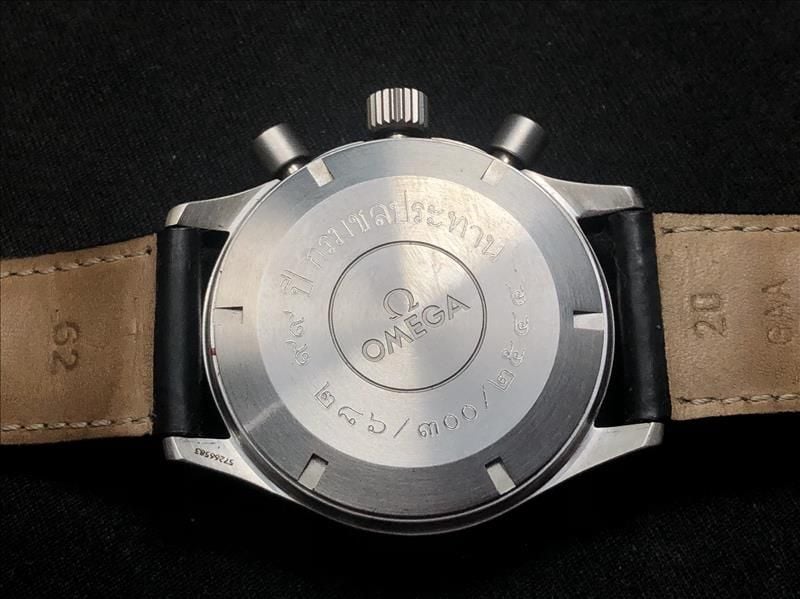 The RID Limited Edition also features a special case-back with limited edition markings and carries the unique reference 5242.52 or 5242.52.00.
These watches all came on bracelet and also have a special box in green which has the Royal Irrigation Department logo on the top in gold, making it a very special gift.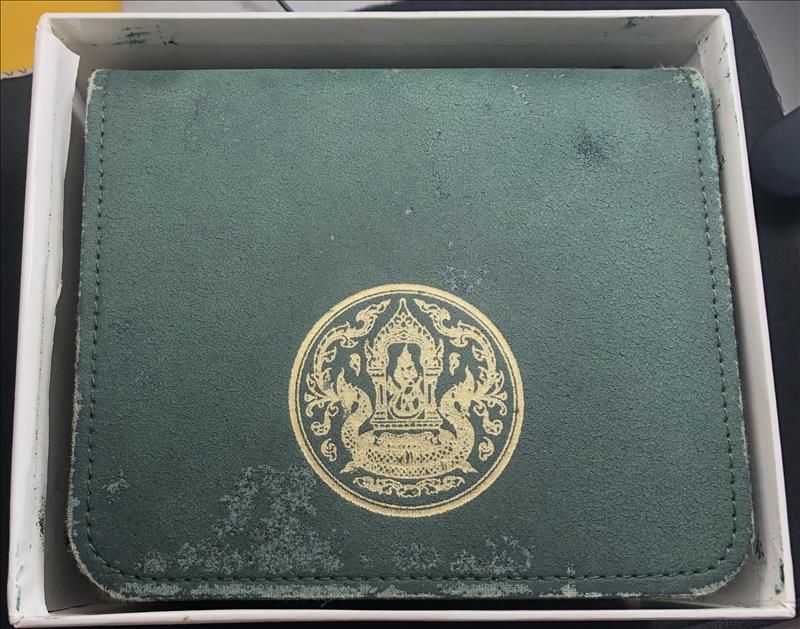 Buying
These Dynamic Chronograph models are quite plentiful, with Omega producing them over many years in their various forms.  
Forums, and eBay tend to be your best bet as these watches tend to take abuse well and are more often than not found in good condition at reasonable prices.  Expect to pay anywhere from $1,600-$2,200 for an example on its own and a few hundred more for a full set.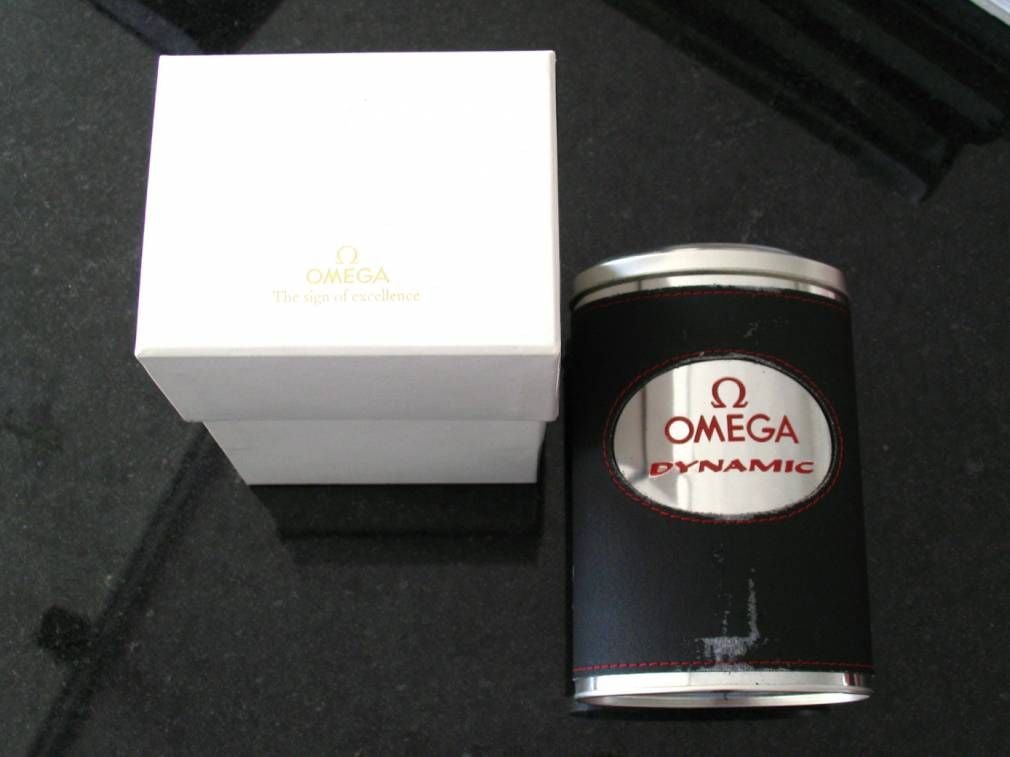 The Ref 5241.51 Targa Florio is a considerably more expensive watch and is less commonly found.  They are still best sourced from forums or eBay, however expect to pay anywhere from $2,500-$3,500 for one of these, with higher prices being commanded by full sets in excellent condition.
All of these watches are now two decades old or more so are due for service.  As a result, if there is not a recent service receipt from Omega, assume that a full factory service may be needed in the not-too-distant future and factor that into your purchasing price.  A freshly serviced watch with evidence could make for an excellent deal.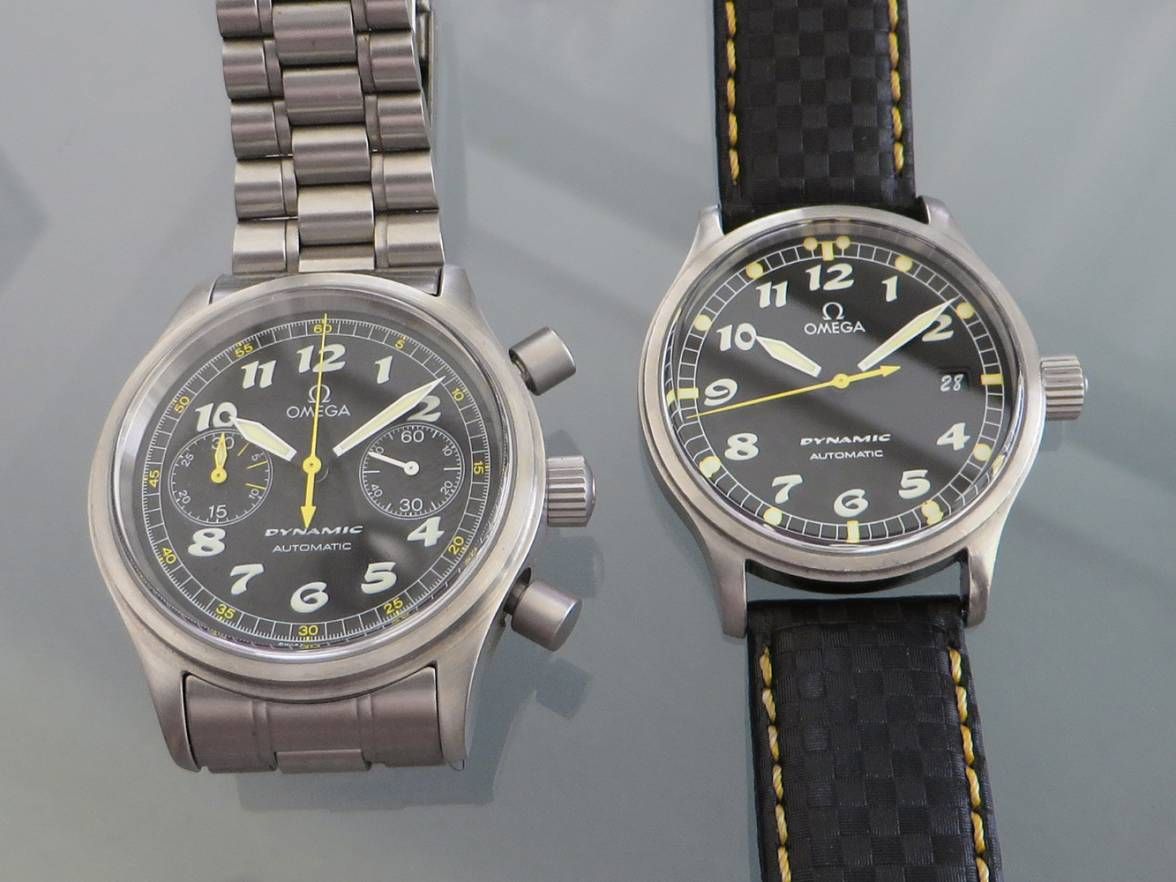 The bracelet on these watches is worth a few hundred dollars, so if possible, try to find an example that includes it as it suits the watch very well and is cheaper to buy as part of the package than separately.
The Dynamic Chronograph is a watch that you either love or won't be interested in at all.  It's not your typical Omega, and closer to a vintage pilot's watch in styling than anything Omega has made since.
Discussion thread on Omegaforums can be found here: