This is the first of many articles about the Louis Brandt line, Omega's high-end flagship watches of the 80's & 90's. The De-Luxe Chronograph makes an excellent entry point as one of the more wearable, durable, and affordable of the line.
An ETA 7750 Gets The Louis Brandt Treatment
The Louis Brandt line was Omega's halo product of the 1980's and 1990's combining exclusively gold cases with complicated movements and designs.  It may seem a little strange then to find a Louis Brandt chronograph powered by the ubiquitous ETA 7750 movement albeit in highly modified form.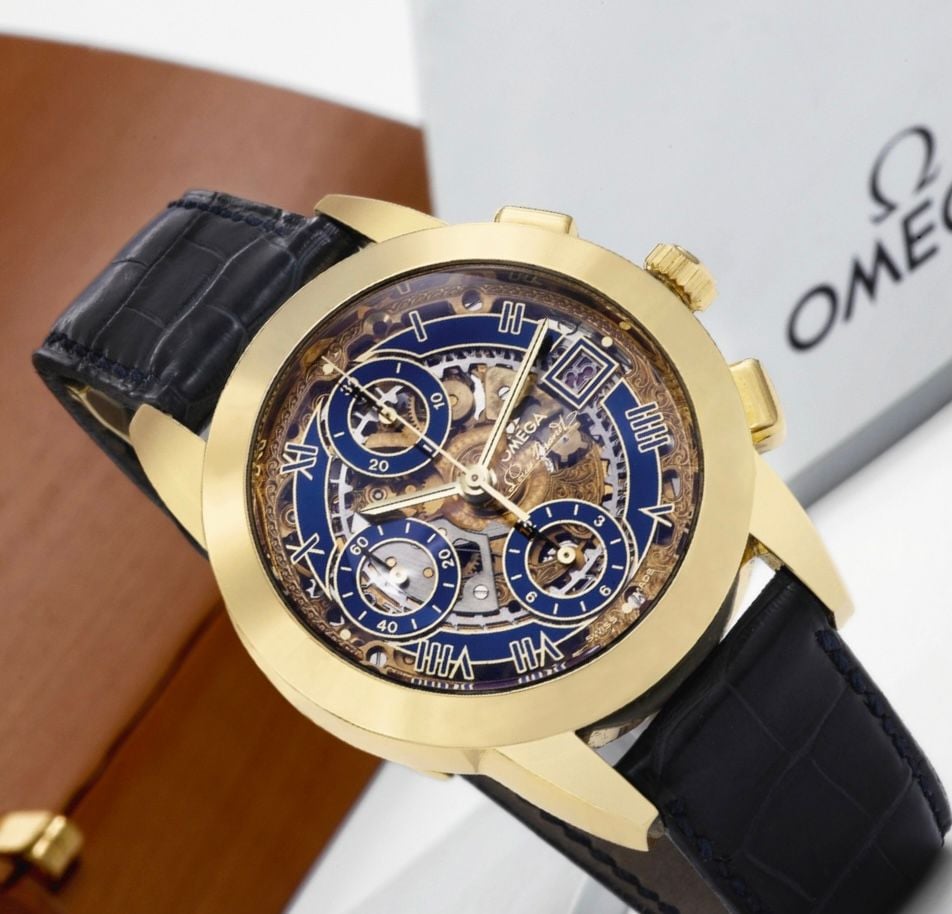 This is a base movement often described as a workhorse rather than an example of haute horologie, yet Omega managed to take this very reliable, dependable, and accurate movement and build something very special around it.
At the time of its launch, the Louis Brandt watches were priced substantially above everything else in Omega's brochures including the venerable Speedmaster Pro.  They were an exclusive, premium product made in quite small numbers and only purchased by Omega's most well-heeled and devoted of customers.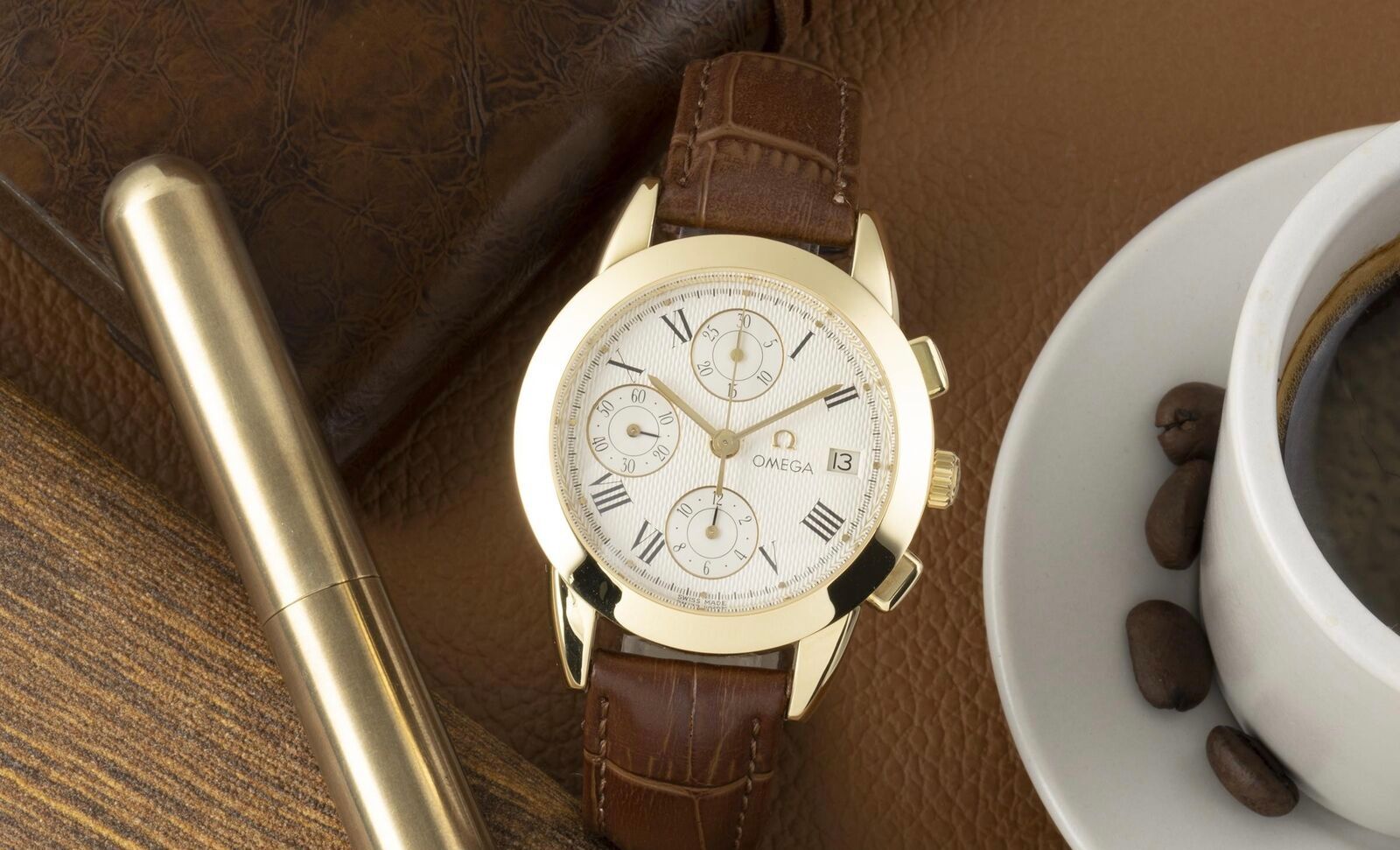 Nearly 40 years later, the Louis Brandt watches fall into a rather unusual category, being too high tech and modern in their finishing to be considered vintage, yet far too old to be considered modern.  They were both decades ahead of their time, and a relic from a bygone era.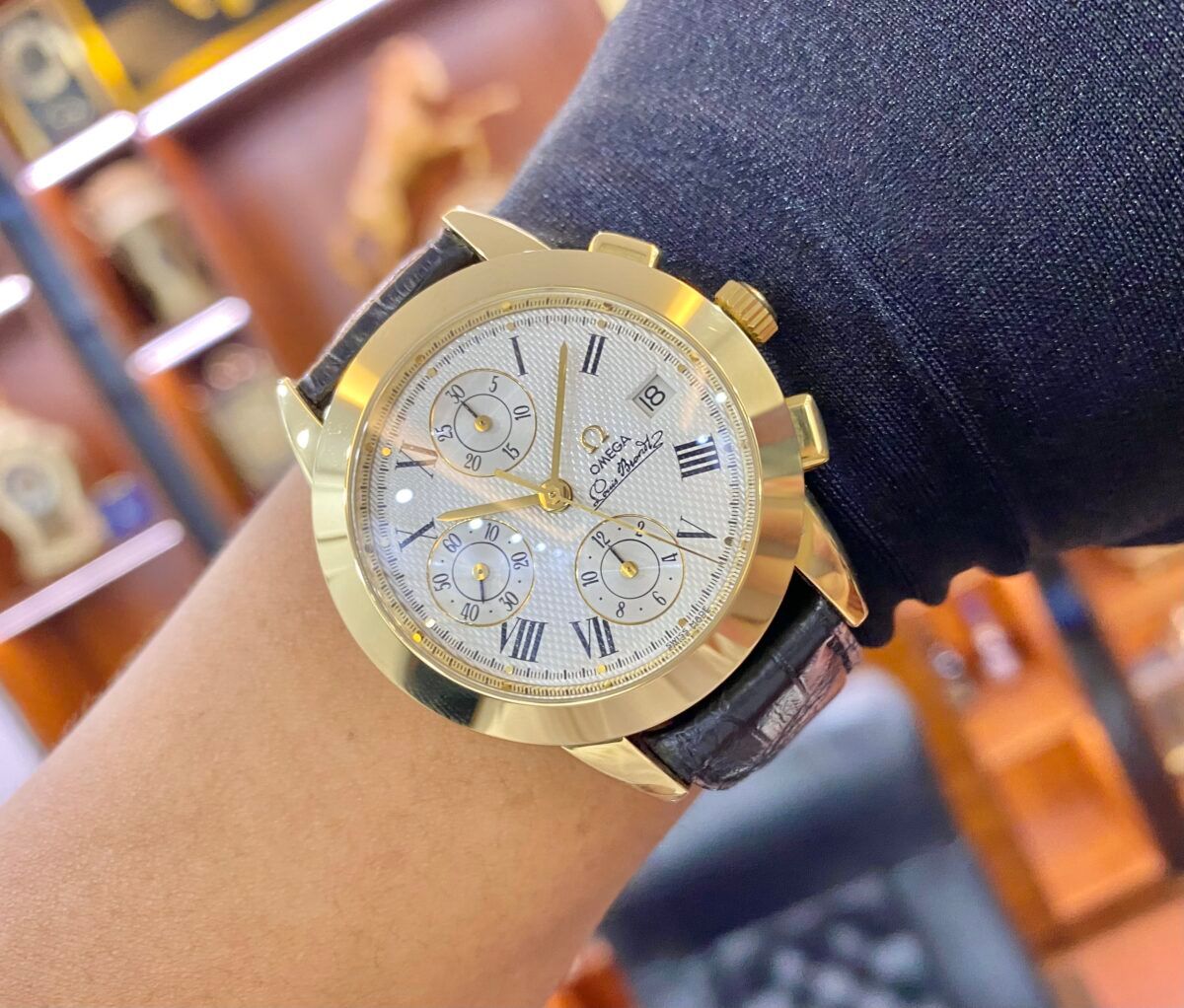 What else has stayed firmly in the past however is the price.  These watches, being smaller than many modern models and poorly known, simply do not command prices appropriate for their materials and quality.  Especially in today's era of inflation and rising costs across the industry, the Louis Brand line, and these chronographs in particular suddenly represent tremendous value.  An opportunity for normal collectors to acquire an Omega intended only for the few.
Case & Strap
The Louis Brandt De-Luxe Chronograph case is one of the larger of the Louis Brandt models at 38 mm in diameter, a decent size for a dress chronograph.
The cases come exclusively in 18K solid yellow gold and have quite a substantial feel to them for their size.  The most prominent features of the case are the quite thick, flat bezel and the very pronounced "beefy" lugs, reminiscent of much loved 1950's Seamasters in that sense.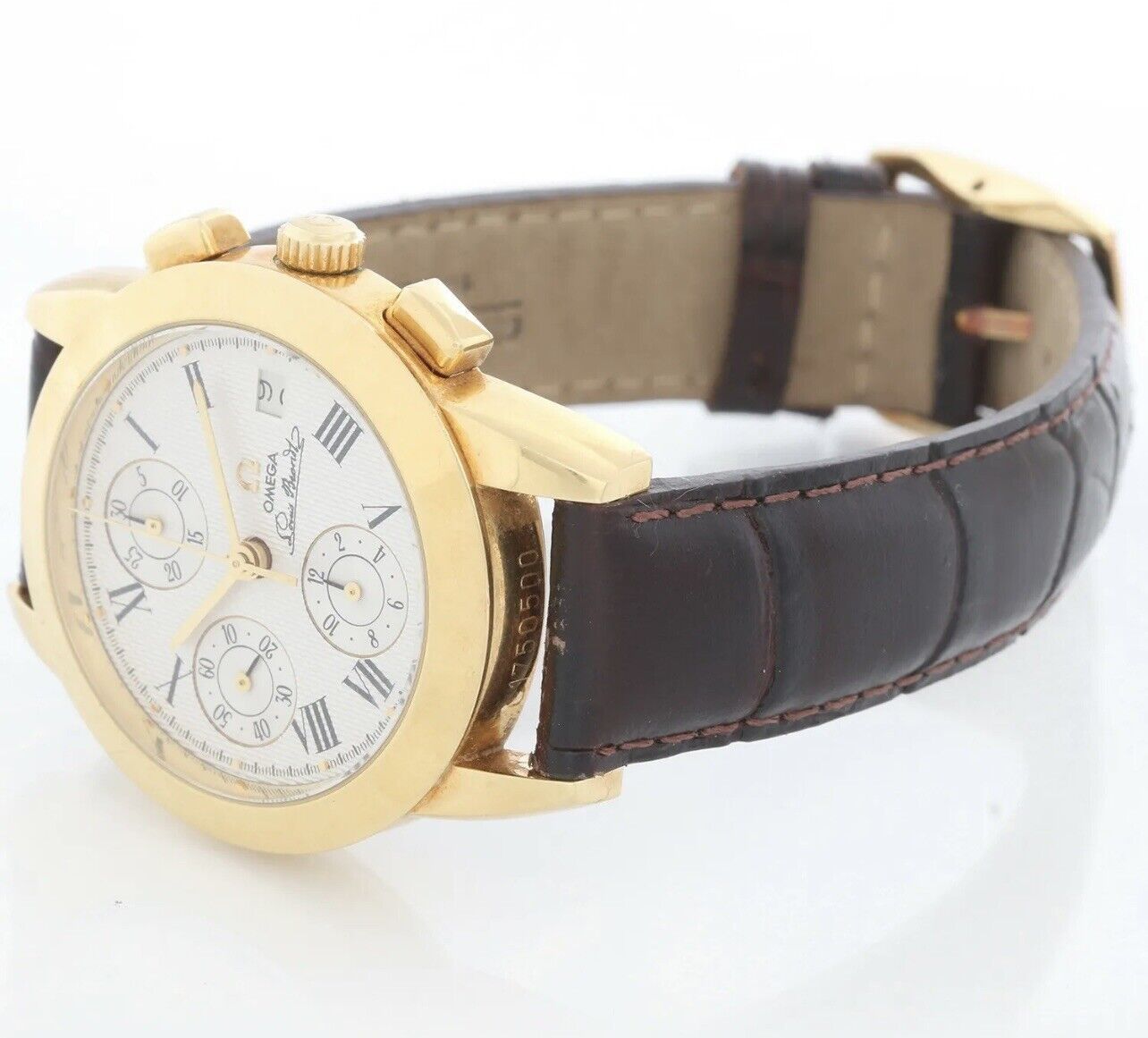 The overall case shape doesn't really correspond to any prior line or model within Omega's back-catalog as the Louis Brandt watches were meant to have a personality and design language all of their own.  The lack of any beveling or facets on the edges of the case does give a very distinct look, although it can also make the watch slightly more prone to dings and dents.
The pushers are interesting in that they appear to be square from the front, in keeping with early Omega chronograph designs, however when looking from behind you can see exposed round shafts beneath them.  This is because square pushers can't seal against a case the way a rounded shaft with an O-ring can and allows the watch to have the vintage look but with modern water resistance.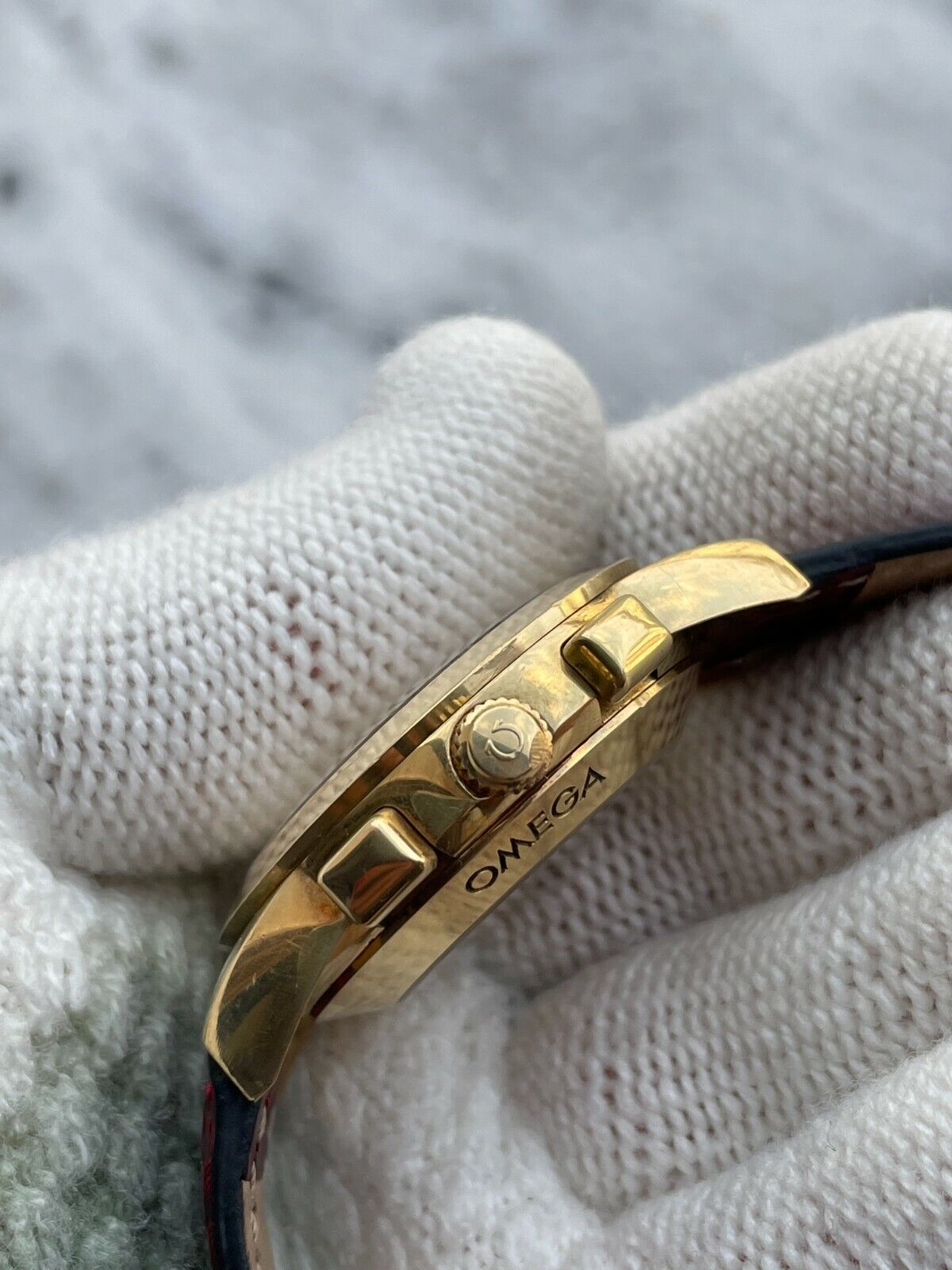 The water resistance for this case is 30 meters, which is modest but more than sufficient for a dress watch meant to be worn with a suit, rather than scuba gear. The sapphire display-back is set into the 18K gold case-back, which is in turn pressure fitted to the case.  As a result of this, and due to the softness of 18K gold, it is strongly recommended that this watch not be opened except by an Omega certified professional watchmaker to prevent damage.  Around the outer edge of the case-back you will find engravings of Omega and Louis Brandt, or the limited-edition number of the watch, but this can vary between variants.
The crown is a simple but very convenient knurled gold design, with no crown-guards impeding access.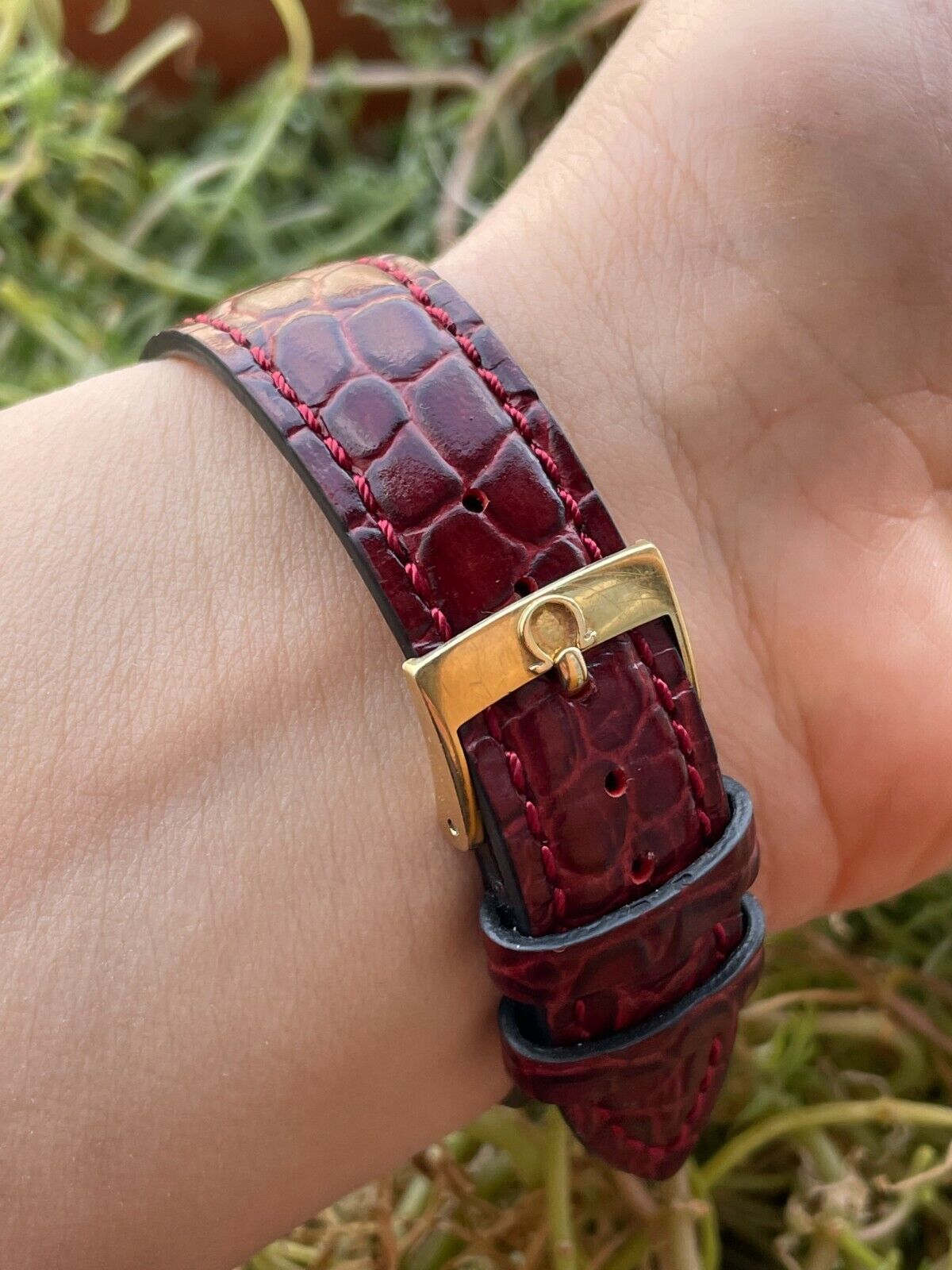 The lugs on this watch are 18 mm, same as vintage Omega dress watches of old.  There are a variety of OEM Omega straps that are compatible with this case, all of which use an Omega signed tang buckle or single-fold deployant clasp in matching 18K yellow gold.  While some of the Louis Brandt models offer integrated bracelets, thus far it does not appear that this was an option made available on these chronograph models.
Movement
There are three different movements that power the various versions of the Louis Brand Automatic Chronograph, the Calibre 1156, 1157 & 1158.  All three of these movements are heavily modified de-luxe variants of the Omega Calibre 1155, which in turn is a modified version of the ETA 7750 base movement.
This is a very good movement to base any watch on, as the ETA 7750 family has built a long-standing reputation for reliability, accuracy, and durability across the Swiss watch industry.  
All three movements oscillate at 28,800 vph, feature quickset date, hacking, and a single-directional automatic winding system with a power reserve of 46 hours.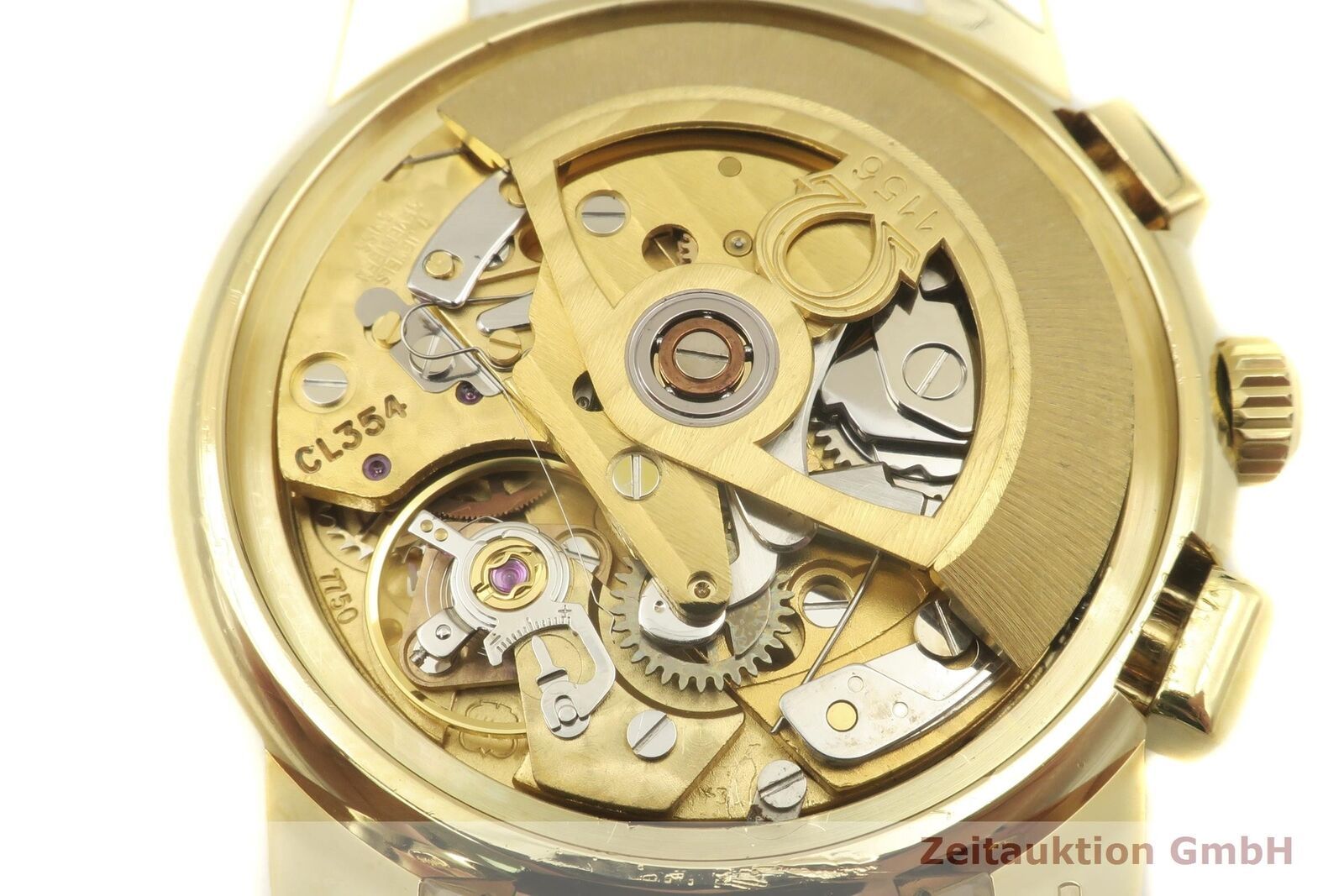 While the 7750 is considered to be one of the easiest chronographs to service and maintain, there are some caveats that need to be kept in mind for the Cal 1156, Cal 1157 & Cal 1158.  As all three of these movements are unique to the Louis Brandt line and were produced in very small numbers with a great many movement specific parts, all of these calibres are meant to be serviced by Omega in Bienne only.  
While independent watchmakers can still service these movements from a cleaning and lubrication standpoint in instances where there is little to no wear, if any parts are worn such as the rotor bearing, they will not be able to order replacement parts.  This of course would need to be factored into the purchasing decision as any example that has been used significantly may require factory servicing with the cost this entails.
Calibre 1156 - Phase 1
The first movement variant is the Calibre 1156, which tends to have been used on the earlier versions of the non-skeleton models carrying the case number 175.0500.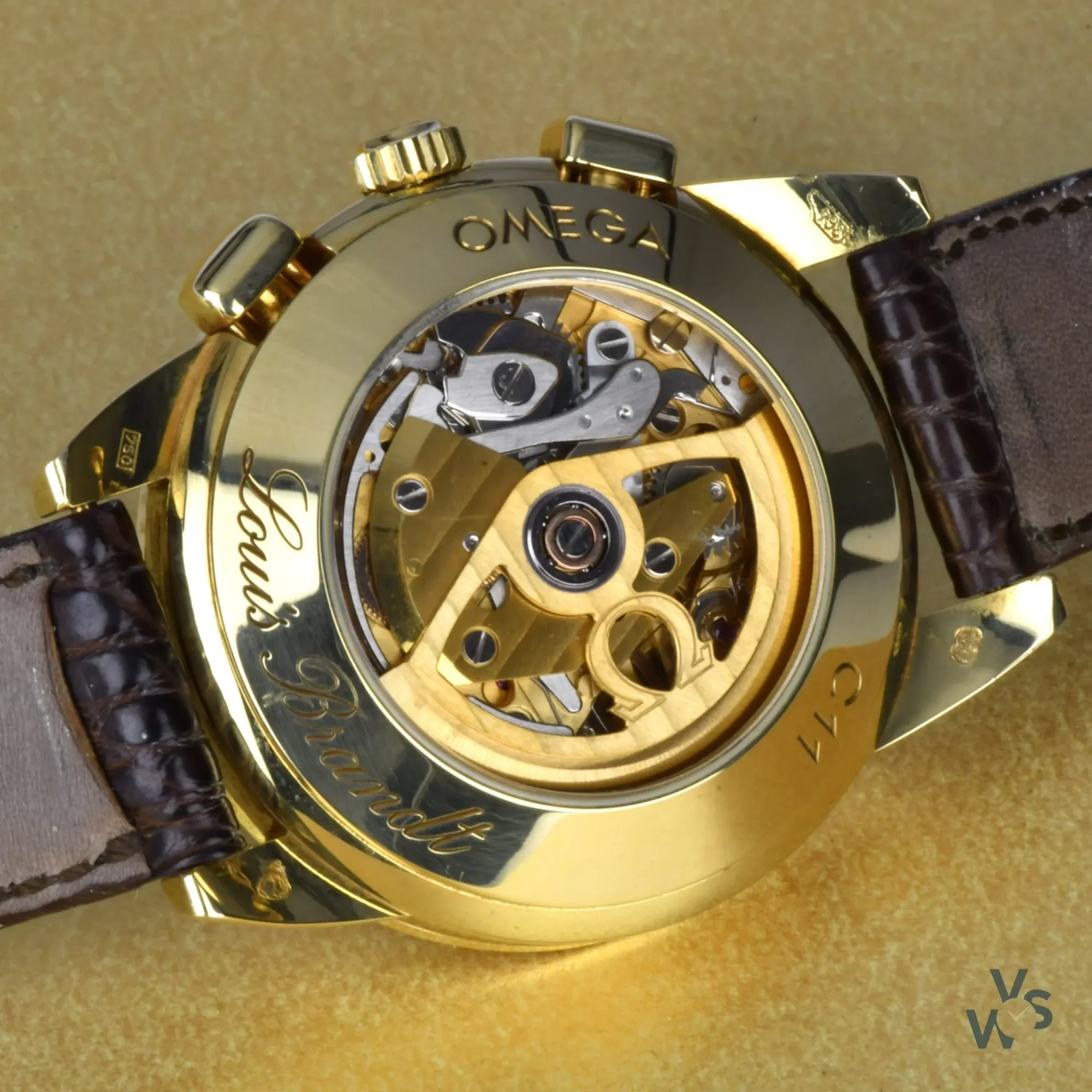 The Calibre 1156 features significantly more decoration than a regular Calibre 1155 movement as it is fitted to watches with a display-back and designed to be seen.  It is interesting to note that Omega has never been willing to expose any ETA 7750 based movements through a display-back other than on these Louis Brandt models.
The most noticeable change is that the rotor is quite skeletonized with two outer arms and a structural Omega logo in the center supporting the outer oscillating weight and "1156" engraved for all to see on later production examples.  Beyond that rotor, the various plates have been plated and very nicely finished in gold, while steel components are nicely polished and finished also.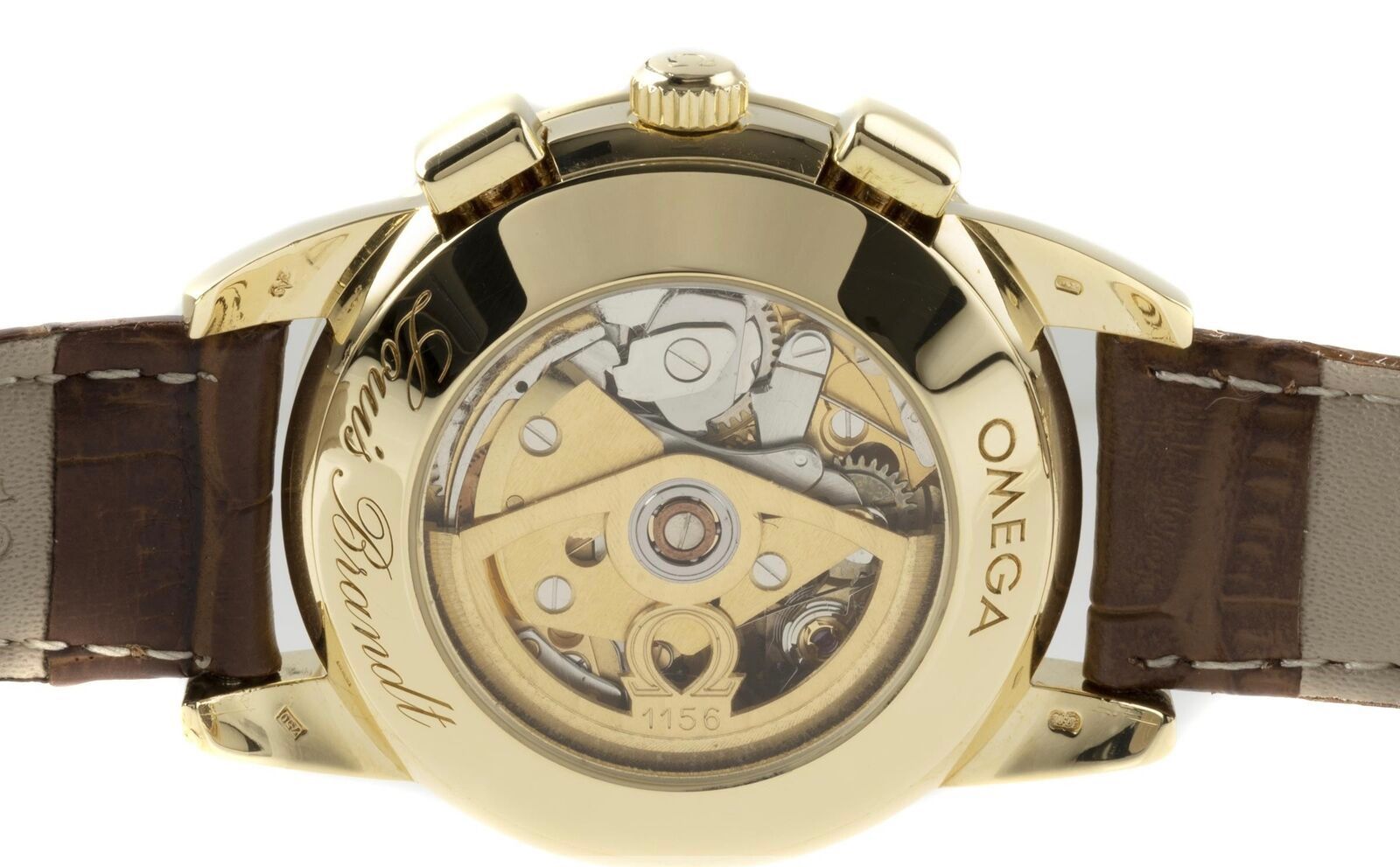 It is clear that a lot of work went into these, and this was a reflection of the Louis Brandt line's status as a halo product in Omega's line-up at the time.  The Calibre 1156 did not carry COSC chronometer certification, although accuracy would still be expected to be very high.
Calibre 1157 - Skeleton
The Calibre 1157 builds upon the Calibre 1156's substantially upgraded finishing and adds complete skeletonisation of the movement.  This is not the easiest thing to do with an ETA 7750 as the multi-plate design does not lend itself to allowing much light to travel from front to back.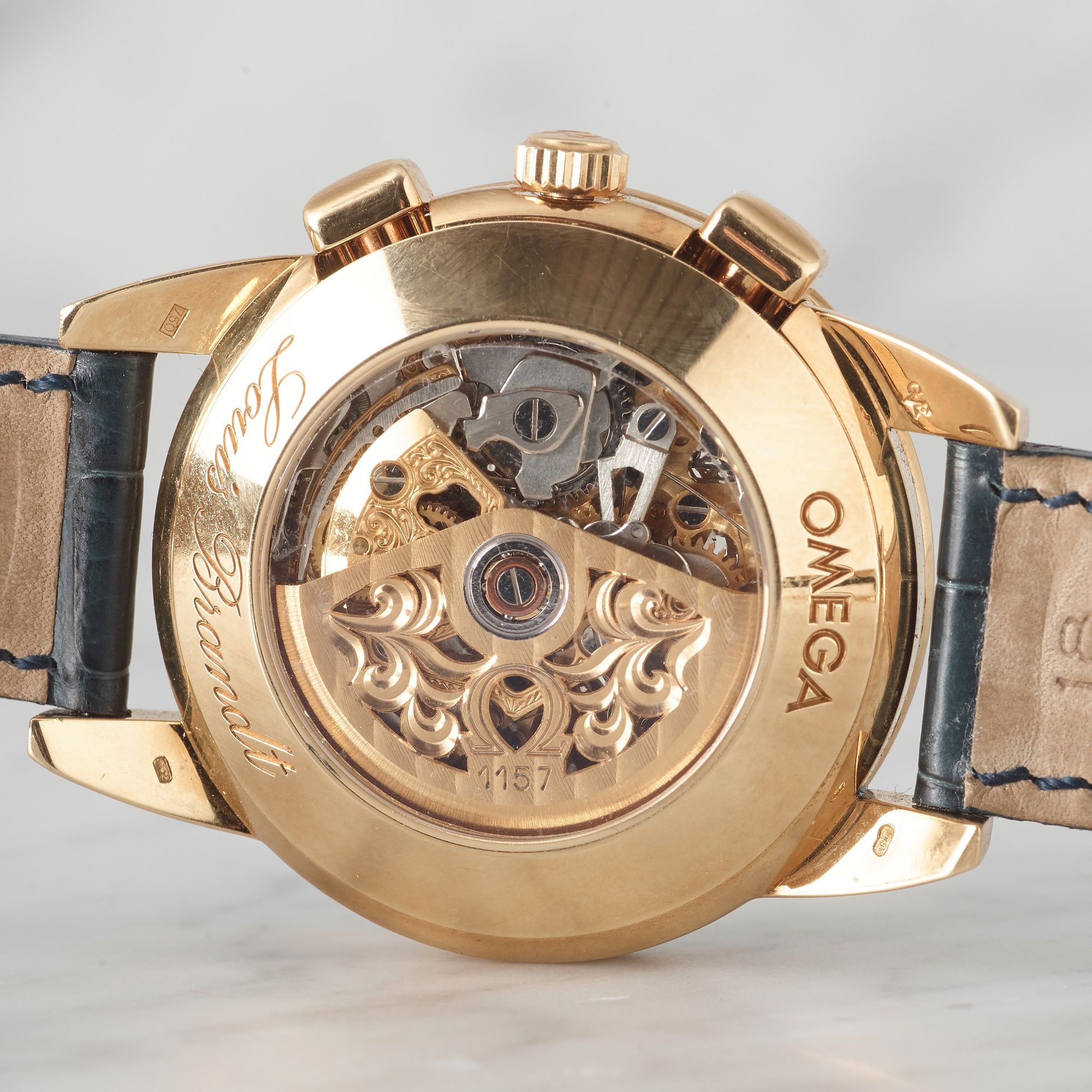 This movement uses a different rotor design with a acanthus pattern engraved into it and the number "1157" engraved at the bottom near the oscillating weight.  The acanthus pattern is repeated on the main plates visible from the back, elegantly engraved to add further to the luxury feel of the watch, and is repeated on the front side of the movement which is visible under the transparent dial.  
I would mention that originally I had mentioned the engraving being a fleur-de-lis pattern, but after receiving a correction from @gmmy775 on Omegaforums I was able to update it to acanthus which can be read about on wikipedia here.
The most striking part of the front face is the skeleton date wheel, which features cut-outs for the numerals of the date with a ruby colored jewel in the background providing contrast.
These movements are also non-chronometers and are fitted to cases such as the 178.0503 and 175.0501.
Calibre 1158 - Phase 2
The final movement in this family is the Calibre 1158, which is also used on non-skeleton watches with the case 175.0500.  
This calibre has a distinctly different rotor with much less material removed around the Omega logo, the calibre number "1158" engraved at the bottom, and a 21K solid gold weight added.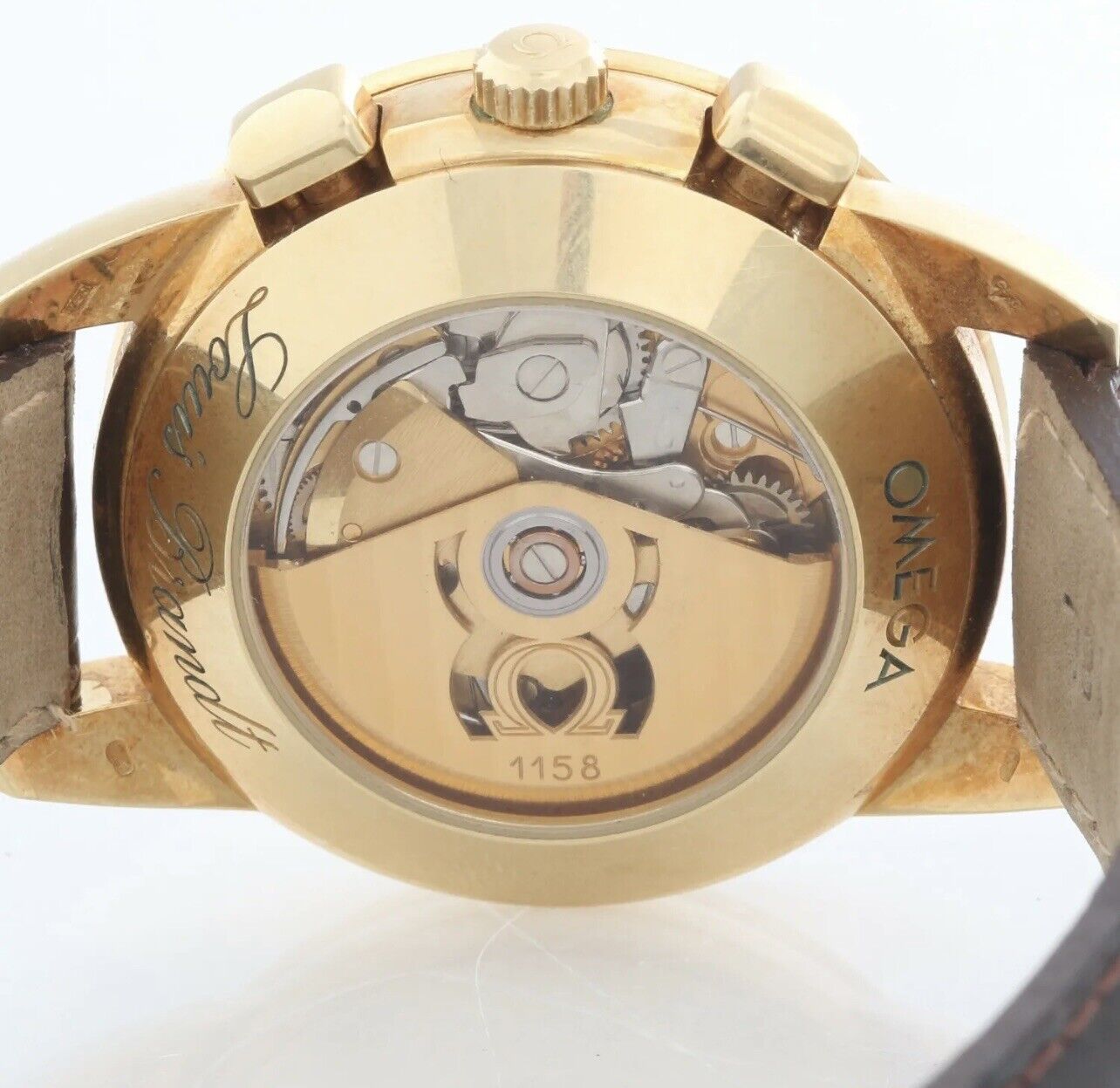 While this movement appears to be very similar to the Cal 1158 with only a different rotor, the differences are far more significant.  
The Calibre 1158 features a different main plate, wheel train and automatic winding bridges, balance and barrel bridge, barrel, and even a different regulator.  On the specifications front, the biggest difference is that Calibre 1158 is a COSC certified chronometer, where the former two calibres were not.
Variants
Describing the variants of the Louis Brandt Automatic Chronograph is actually quite a difficult undertaking.  This is due to the fact that these watches were produced in a lot of different variants and sub-variants, despite being made in such small numbers.  Some of the rarer models were produced in extremely low quantities and due to the nature of the Louis Brandt line, we also know that one-off watches do exist that we may never see.
Over time, this article can evolve and include new discoveries as they appear, so please contact ashley@omegaforums.net or reply to the discussion thread for this article if you find a new member of this model line.
Of those that are known to be in circulation there are three case references which we can break the watches down into.  Those are the standard 18K gold mass produced case Ref BA 175.0500, the blue skeleton Ref BA 178.0503, and the black skeleton with diamond bezel BA 175.0501.  
At this point there are no known examples in metals other than 18K yellow gold, although it is possible as at least two Louis Brandt models have 18K white gold examples.
Standard - BA 175.0500
The BA 175.0500 is the standard 18K yellow gold case for the Louis Brandt Automatic Chronograph and comes in three dial variants that we can identify.  This case reference accounts for the vast majority of these watches.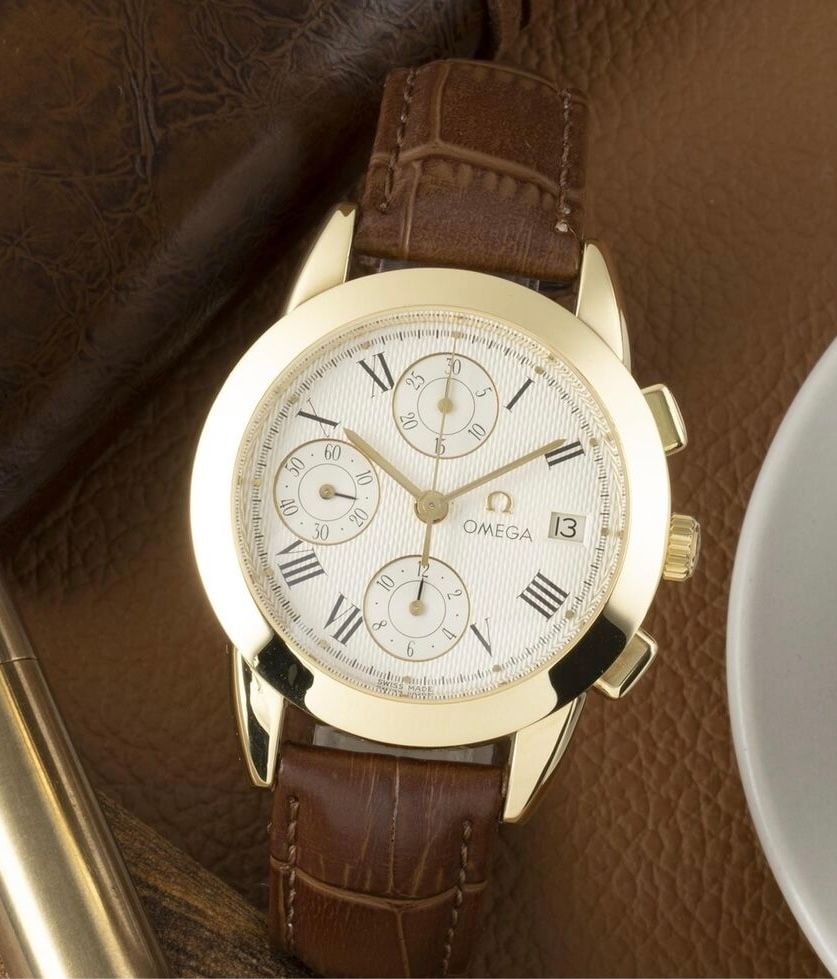 The 175.0500 can be found with either a Calibre 1156 or a Calibre 1158 movement with the change-over happening between the first and second generation.
There is a very broad range of Product Identification Code (PIC) numbers assigned to these watches, 5330.30.11, 5330.30.12, 5331.30.11, 5331.30.12, 5331.30.13, 5331.30.14, 5331.30.15, 5331.30.16, 5331.30.18, 5331.30.19, 5331.30.83, 5331.31.01, 5331.31.02, 5331.31.03, 5331.31.08, 5331.31.23, 5338.80.96, 5338.80.97, 5338.80.98.
Almost all of those come up with no search results however, and the only PIC codes that seem to appear on cards with watches are 5331.51.00 & 5331.31.00.  Even those two PIC codes somehow don't pair to a specific dial which is rather odd.
Omega Logo Only Pattern Dial
These dials tend to be fitted to the earliest models and should typically be found with Calibre 1156 movements.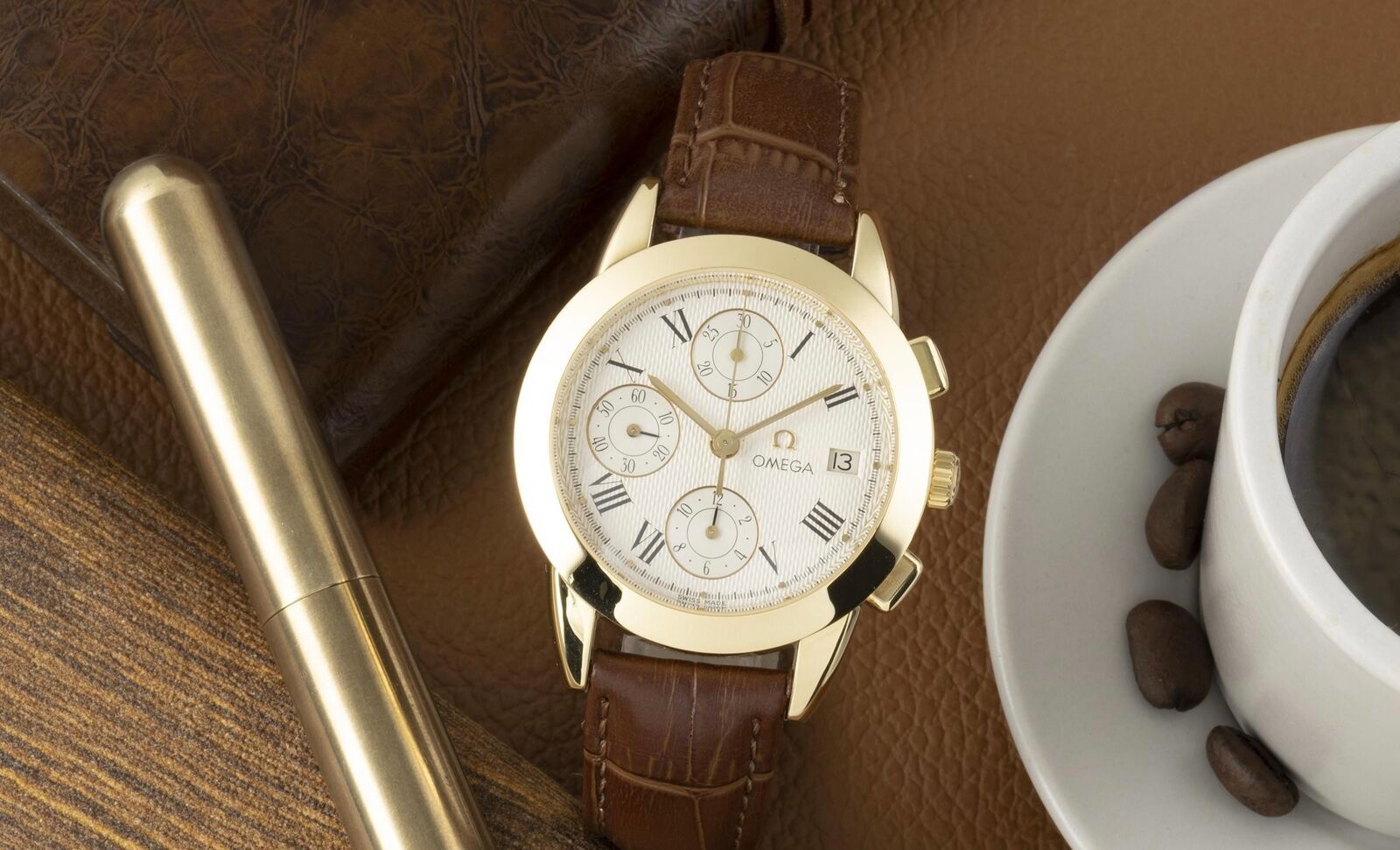 They feature a particularly attractive white guilloché dial with painted black roman hour markers, an applied gold Omega logo, applied gold sub-dial rings, and gold hour markers outside of the Roman numerals.  The hands used are of a simple, non-luminous stick variety in yellow gold.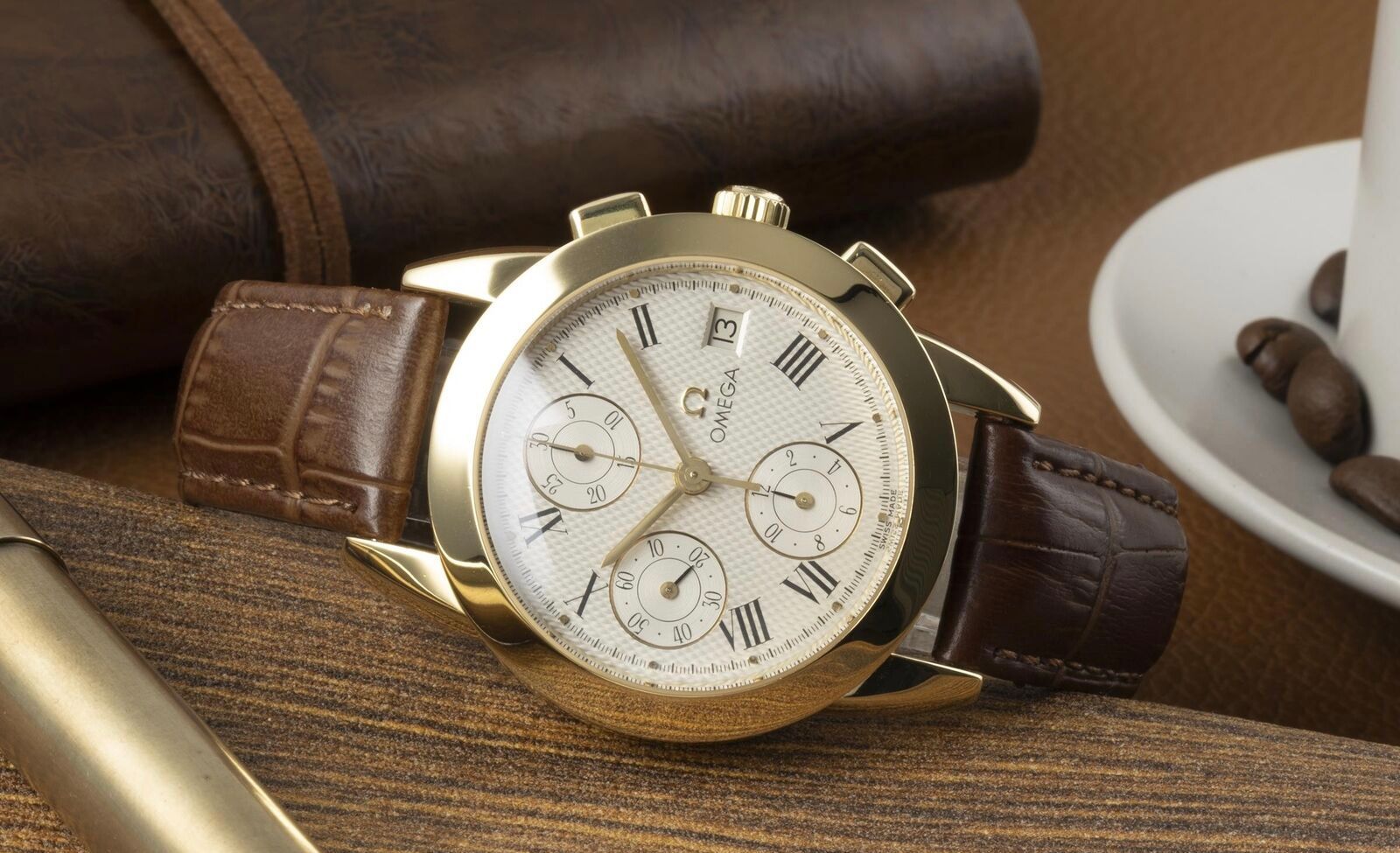 This variant is probably the most commonly found as it was produced for a longer period of time.
Louis Brandt Signed Pattern Dial
The Louis Brandt signed dial replaced the original Omega only dial in the 1990's, and will typically be found equipped with the chronometer rated Calibre 1158 movement.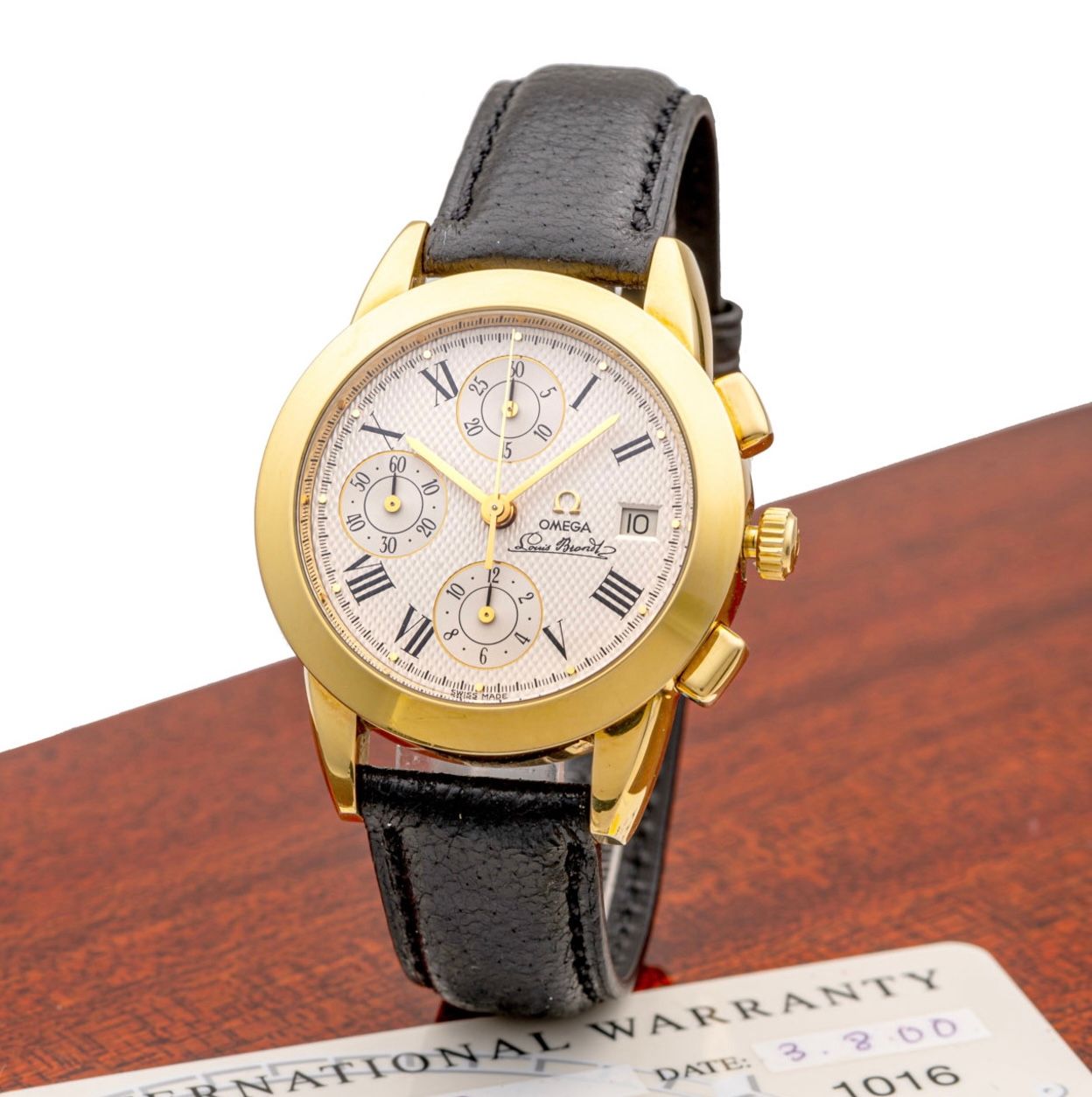 Aside from the change in movement, there is very little difference between this and its predecessor.  The hands, guilloché dial pattern, roman numerals and applied features remain the same, with the only difference being that the Omega logo has reduced in size and has the Louis Brandt signature below it.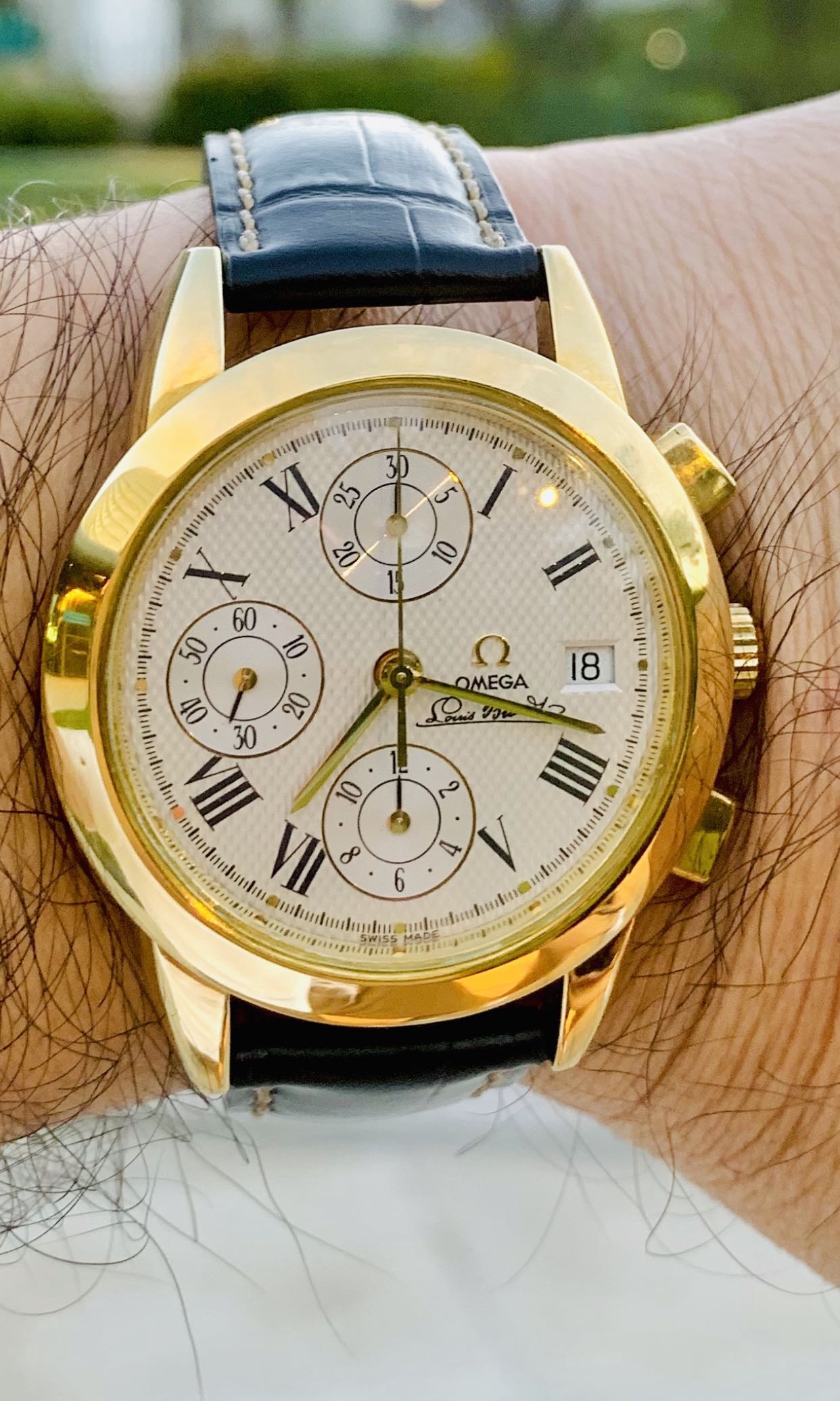 The original versions without this signature were still known and marketed as Louis Brandt watches, but this was with this generation it became a part of the dial.  These watches were referred in marketing materials as the Louis Brandt De-luxe Chronograph II or words to that effect, distinguishing it from the first generation.  That naming convention is used rather loosely and often inaccurately both in contemporary materials and in current sales listings.
Louis Brand Signed Applied Marker Dial
The third generation Louis Brandt Signed, applied hour marker, dials were substantially different from the previous two generations.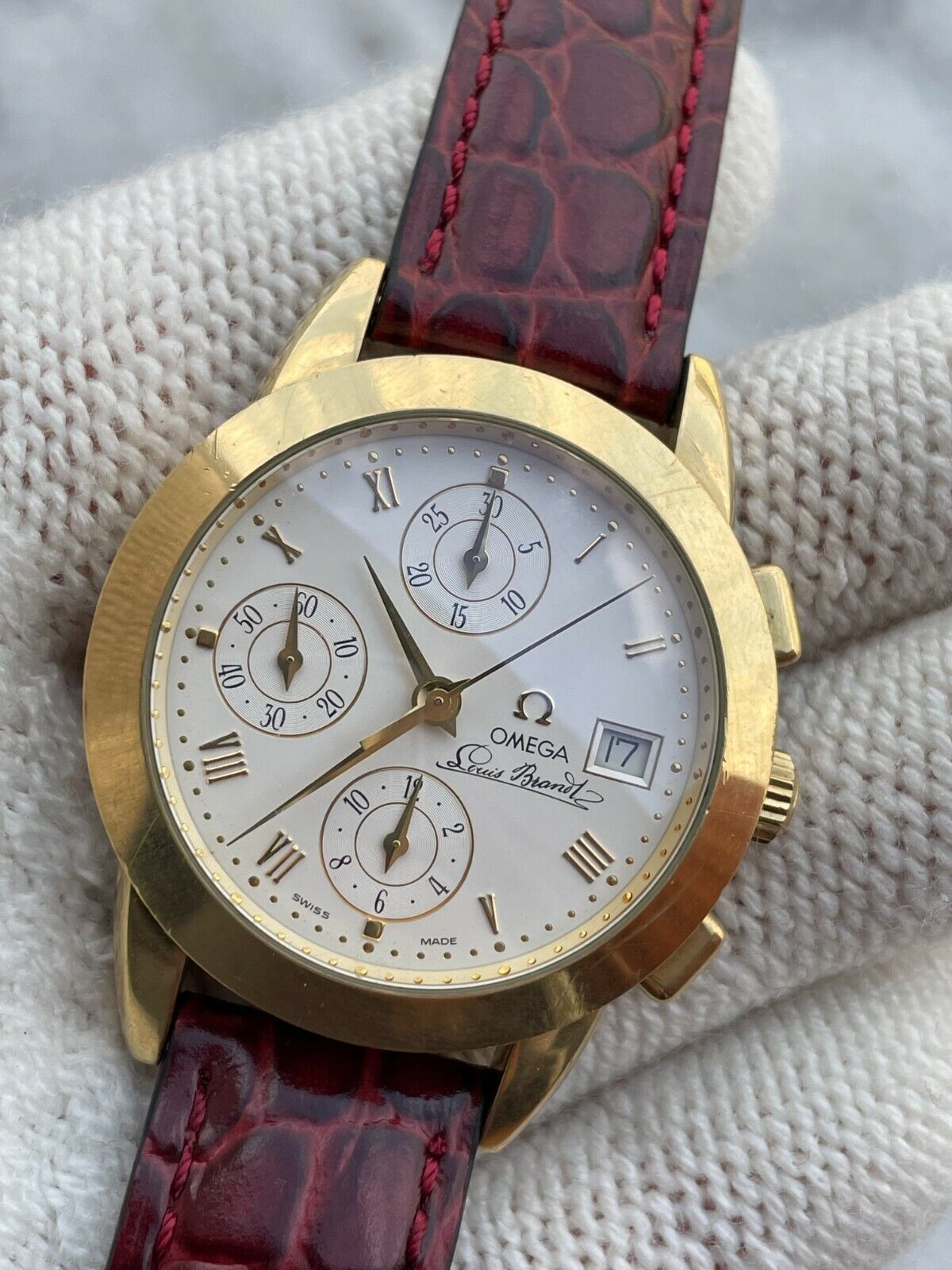 Gone was the guilloché finish and in its place was a smooth white dial.  The black painted roman numerals were replaced with applied yellow gold roman hour markers, and the painted seconds track is replaced by 60 applied gold dots.
A gold painted ring is added around the date window, and subtle changes have been made in a variety of areas.  The applied Omega logo is still above the word Omega and the Louis Brandt signature, but oddly there is a minor error in that the Omega text is shifted slightly to the right of the logo on all dials.  The stick hands have also been replaced by thin dauphine hands, which now reach the outer edge of the sub-dials.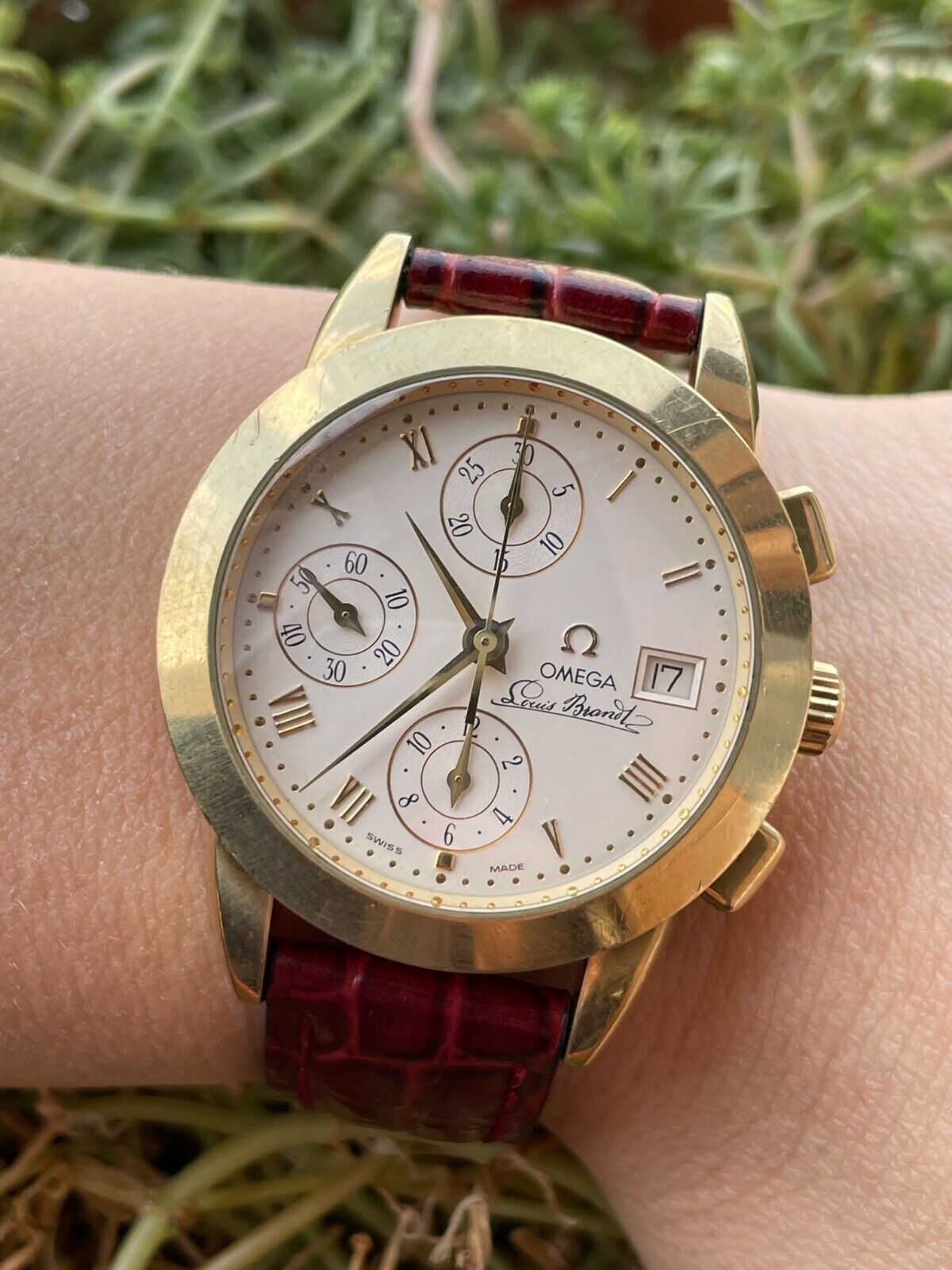 These watches appear to have been made towards the end of the 1990's, and in very small numbers.  As a result, this is easily the hardest of the regular dial variants to acquire.
Blue Skeleton - BA 178.0503
Now we get to the spectacular stuff, the really special watches.  The blue skeleton version carries the case reference 178.0503, and is powered by the impressively finished Omega Calibre 1157 movement.
As mentioned previously, the ETA 7750 is a very thick, multi-plate sandwich of a movement, so it was always going to be difficult to allow much if any light from the back through to the front.  This is not a Corum Golden Bridge by any means.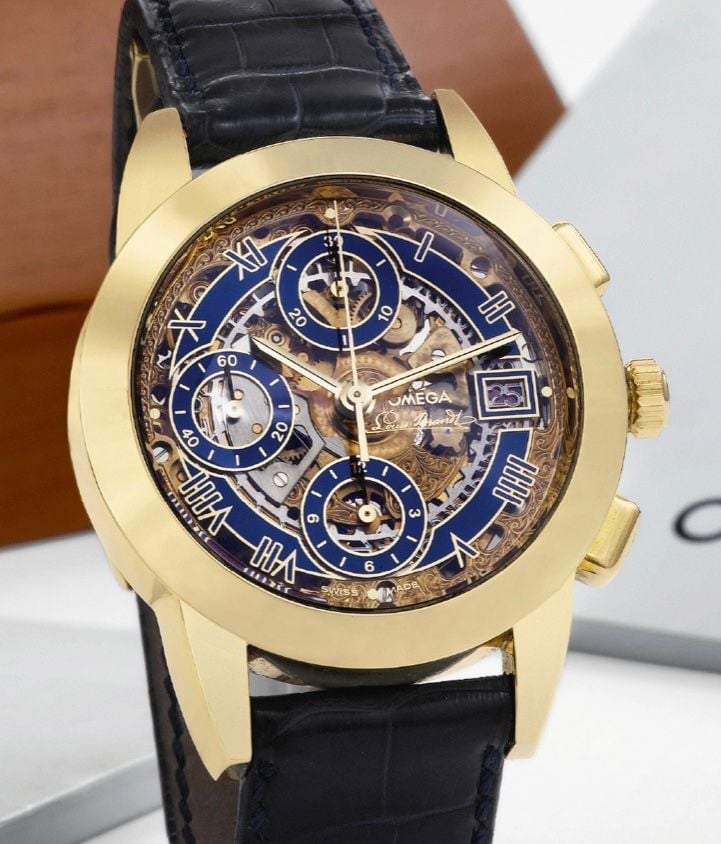 To offset this, Omega put a great deal of effort into making the dial of this watch something very special and unique.  Considering this watch is a product of the 1980's, its remarkably impressive to see what Omega was able to accomplish.
The dial itself is actually a transparent piece of sapphire, onto which blue and gold paint has been applied.  This is how the sub-dials and outer ring appear to float over the movement, they are floating because they're painted onto a transparent surface.  The Omega and Louis Brandt logos both float above the dial, as does Swiss Made at the bottom, and even the date window surround in blue and gold.  Impressively, Omega was able to use the painted areas to entirely hide the dial feet where it mounts to the dial such that the effect looks almost magic.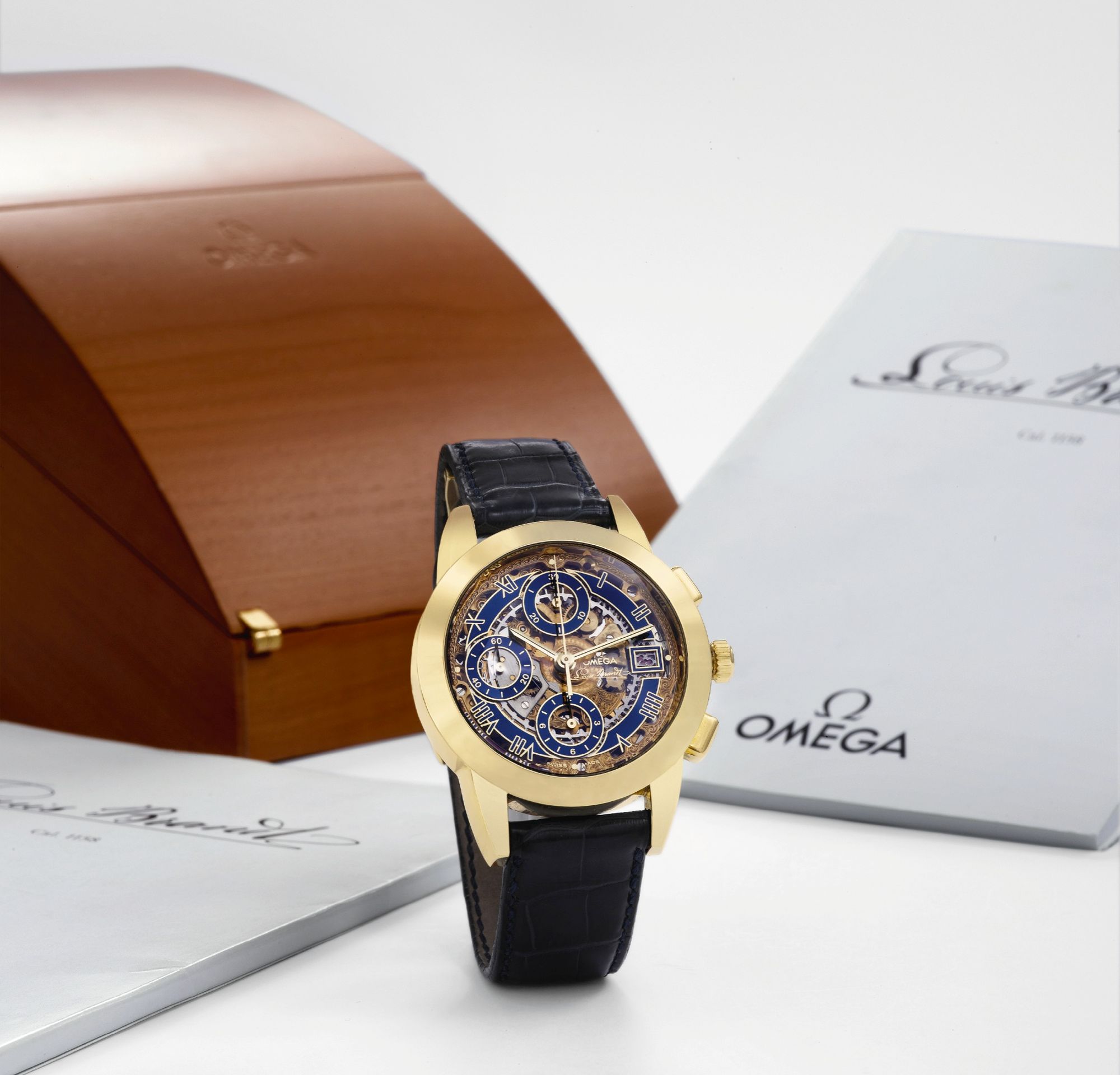 The machined-out numerals of the date wheel and how they make themselves visible against the jewel behind the date window is a particularly elegant effect, really demonstrating the effort Omega went to with this watch.
These watches were made in small numbers, but there are still many floating around in private collections and coming up in auctions.  While they appear like a watch in the unobtainable category, its actually surprising how accessible these are.
Black Skeleton - BA 175.0501
The black skeleton Ref BA 175.0501 is otherwise very much identical to the blue skeleton version, being also powered by Cal 1157 and having a painted translucent dial.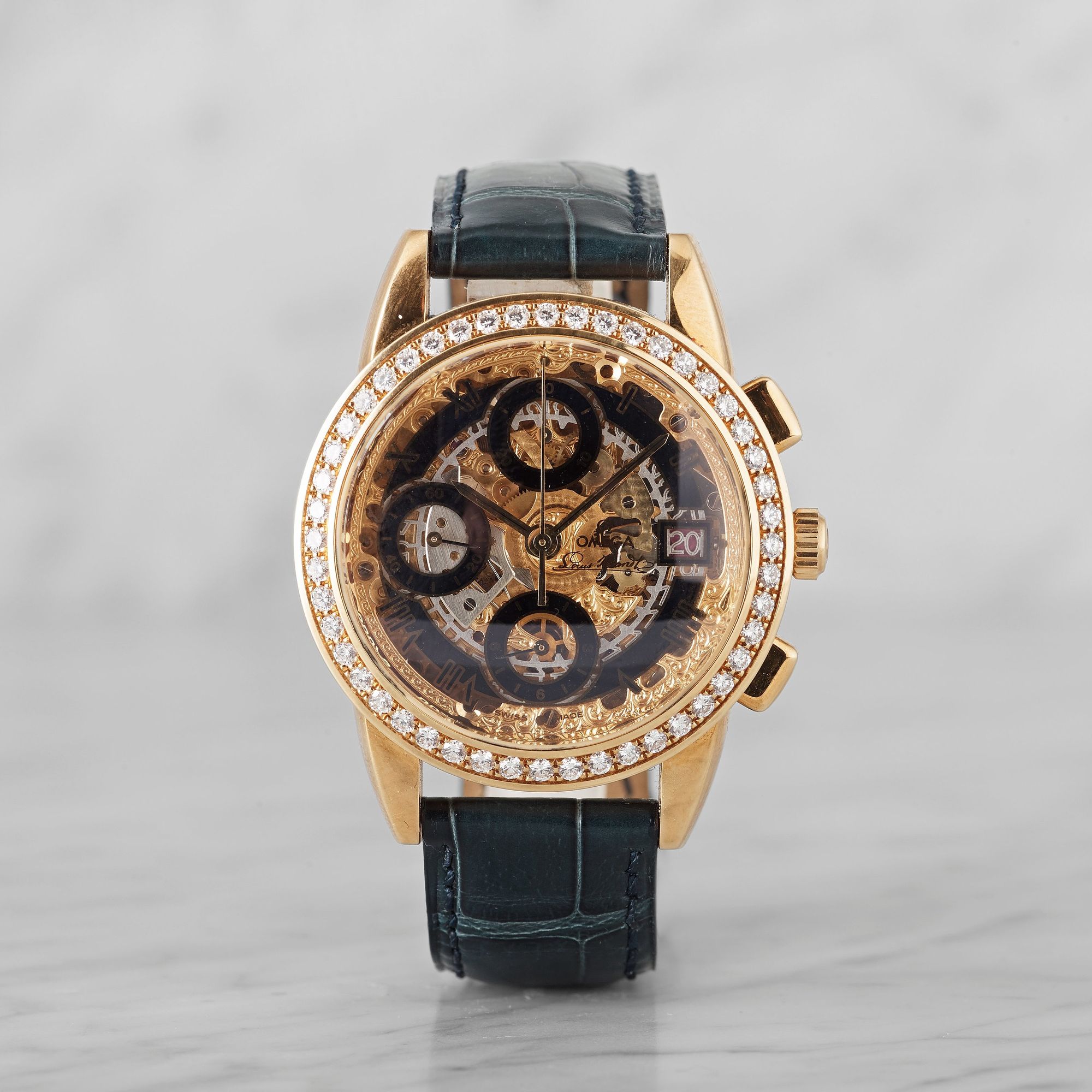 The first major difference is that the blue areas of the previous dial are replaced with black, which looks rather elegant, yet does lose a bit of contrast in the process.  The Omega & Louis Brandt logos on the dial are also changed from gold to black in this example.  The second difference is the channel-set diamond bezel, which is original from the factory.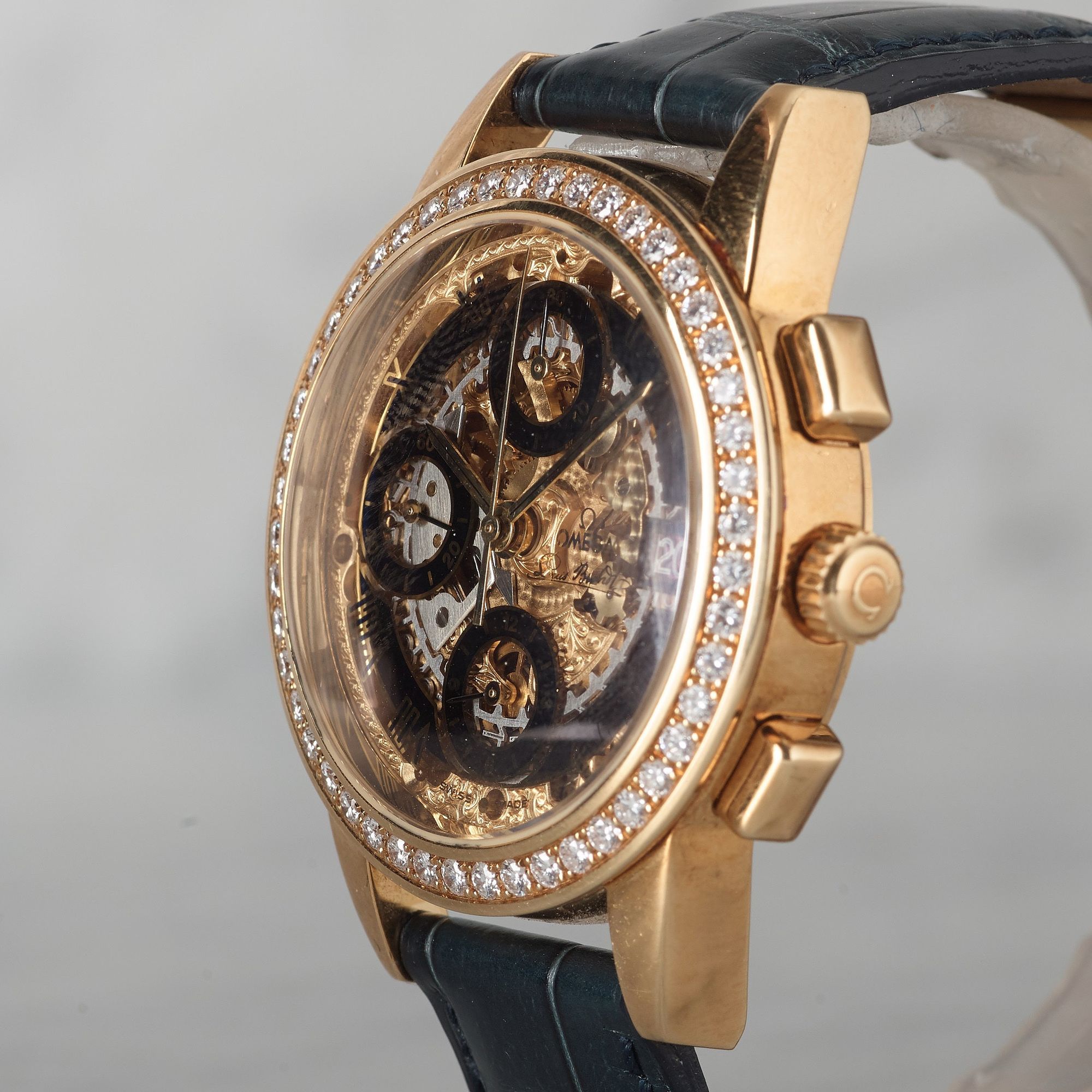 While there are definitely more in circulation, this black dial has only been seen at auction once in recent years and there are no photographs of other examples out there at this point.  Due to the rarity, this one is certainly difficult to acquire.
Buying
There isn't much decision making involved in buying one of these Louis Brandt chronographs.  Either you're in the market for a run of the mill 175.0500 in one of the three variants at the best condition level possible for the price, or you're fishing for big game and going for a skeleton model.
The three 175.0500 variants are all remarkably similar, and while I can write a long-winded explanation of their minute differences above, you'll likely care little when it's on your wrist.  The vast majority are the first two variants with textured dial while the final version with applied roman numerals and smooth dial is quite uncommon.  Although the final version is uncommon, it does not carry any appreciable price premium over the earlier generations.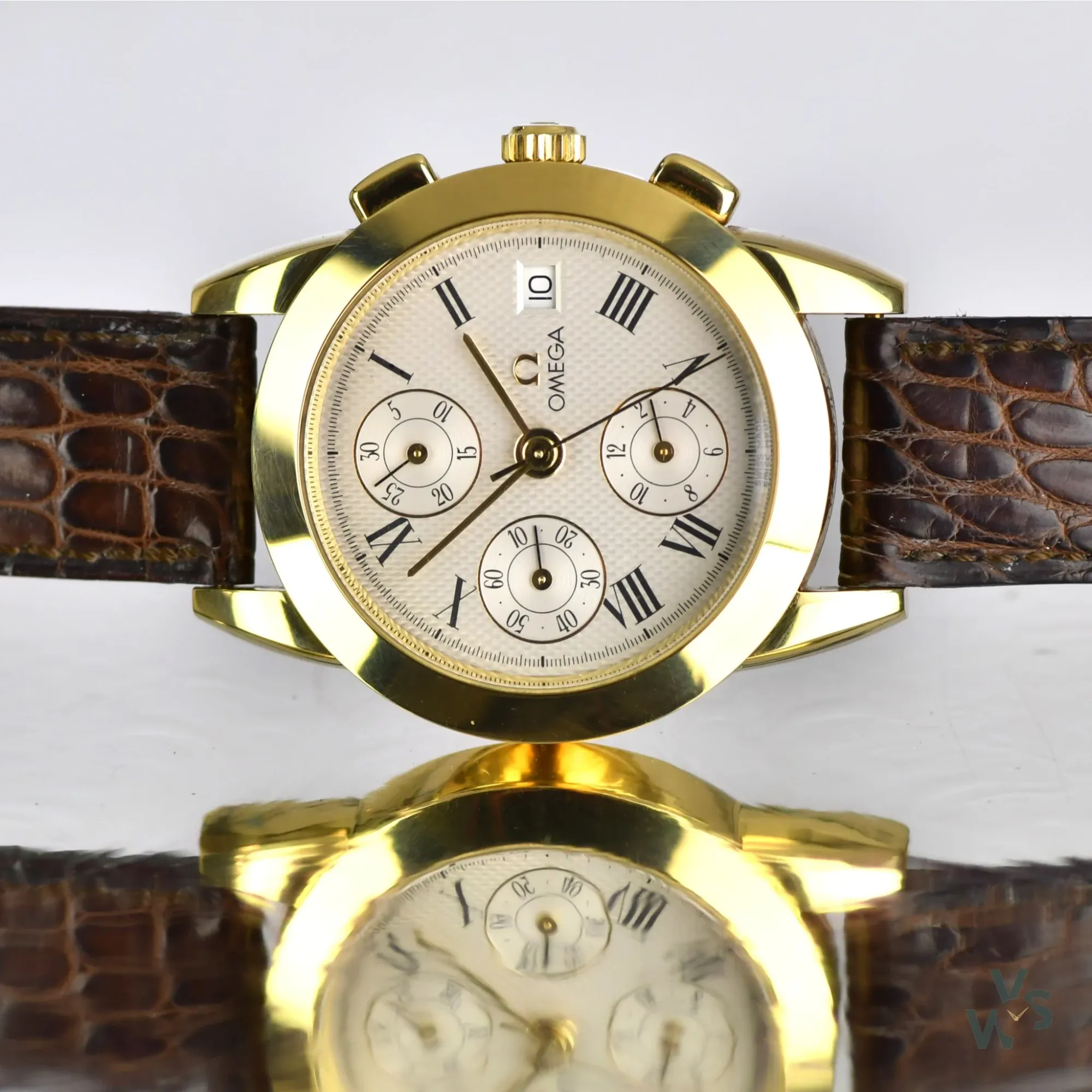 These watches vary wildly in listing prices on sites like Chrono24 and dealer's websites, but there are often good deals even there to be had on nice condition watches.  The best deals though tend to be found on eBay and on local classifieds.  I've recommended Louis Brandt chronographs many times on Omegaforums when they've come up no reserve at auction and for good reason.  Even when outed on the forum, prices range from $2,500 to $3,800 in general, which is exceptionally cheap for an 18K solid gold Omega of this quality.  When they sell in local or language specific auctions or classifieds some even better deals can be had too.
Condition is important to pay attention to, but the majority of these watches are in good shape as they have been treated very well or even kept as safe queens for the most part.  This is a result of the high initial price and the respect their original owners had for them.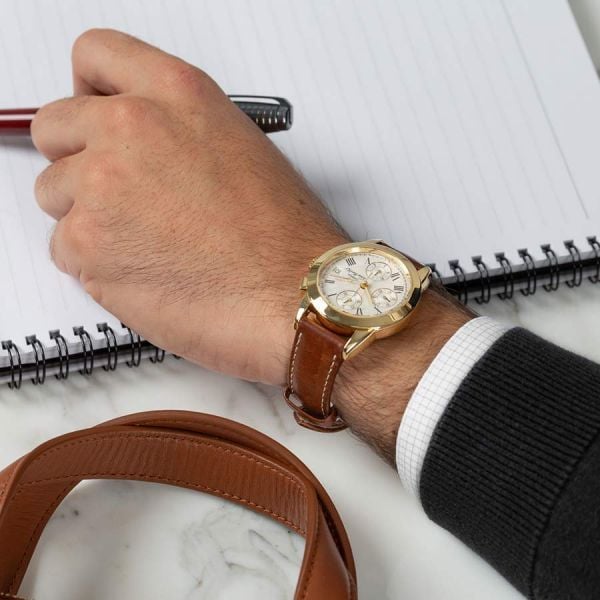 Dials should be flawless and clean, with no signs of moisture intrusion either front or back, and movements should be free of any visible damage, corrosion or scratches from amateur watchmakers.  The most vulnerable part of these watches is the case, which has a great many 90-degree edges prone to damage.  Be careful to look an example over to ensure that there are no severe dents or dings, also make sure that the edges are still sharp, as these watches can easily lose their edges if polished harshly.
It is worth mentioning that while a safe queen example that has never been worn could be ready to wear after a simple clean and lubrication from your local independent, that isn't the case with one that has been worn at length.  If there is any wear or risk of wear to parts in the watch, you will most likely have to go through Omega to get a factory service in Bienne, which will add to the purchasing price.  The watch you get back from Bienne will definitely look amazing afterwards and it will be money well spent at the end of the day.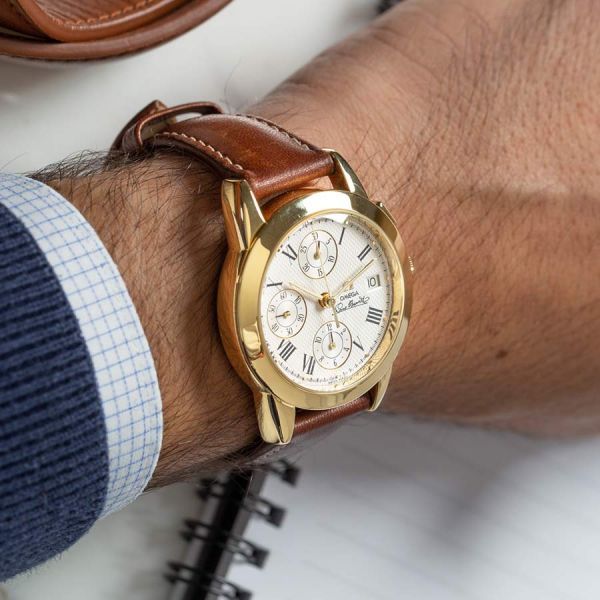 Hunting skeletons is definitely a much harder task than the regular models but could prove to be extremely rewarding.  The skeleton versions do not change hands often; however we do know that a blue skeleton dial example sold at Antiquorum in 2011 for $15,000 USD as a full set in excellent condition.  
More recently in 2017, a black skeleton dial example with full diamond bezel sold at auction in Sweden, and this example sold for $5,600 USD, which is incredible.  I am utterly devastated that I did not buy this watch at that price because I would have loved to have it in my collection for the price of a steel Aqua Terra.
If you manage to find a great deal on one of these Louis Brandt Chronographs, I would highly recommend jumping on it.  They're among my favorite dress watches of this era and offer an opportunity to own one of Omega's most exclusive and special watches at a price possible for mere mortals.
Discussion thread on Omegaforums can be found here: