The 3rd Museum Limited Edition is a rather excellent homage to one of the most expensive and desirable military chronographs of the 1940's.
The Original CK2048
The Omega Museum No. 3 1945 Chronograph is based on a specific variant of a rare and very valuable chronograph produced by Omega in the 1930s & 1940s known as the CK 2048.  The CK 2048 came in a few different dial options, and even a few different pusher configurations, with both mono-pusher and dual-pusher designs carrying the same reference.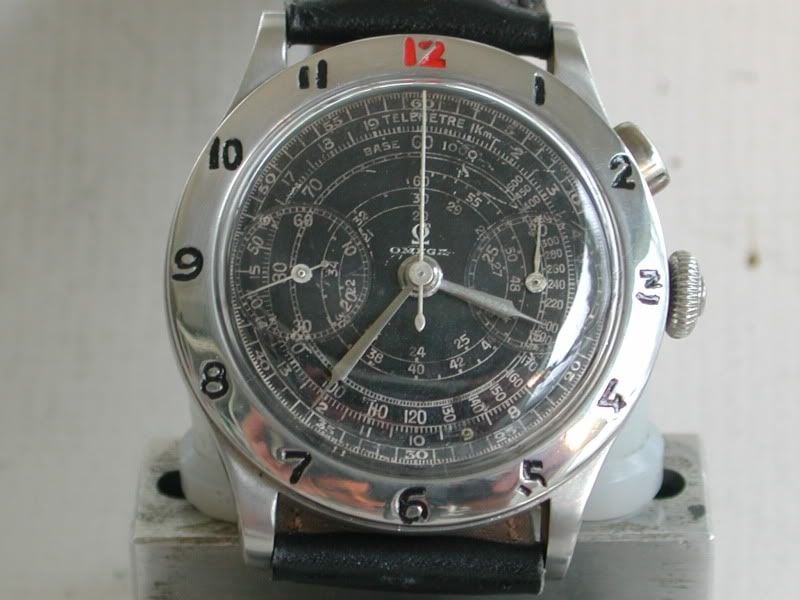 Irrespective of the pusher configuration, these watches were powered by the highly sought-after Omega Calibre 33.3 CHRO movement.  While most brands had few chronograph movements to choose from, Omega was somewhat spoiled for choice thanks to parent company SSIH and sister company Lemania.  Lemania not only provided the base movement for the Cal 33.3 Omega's, but also designed and produced many movements for Omega including the legendary Calibre 321.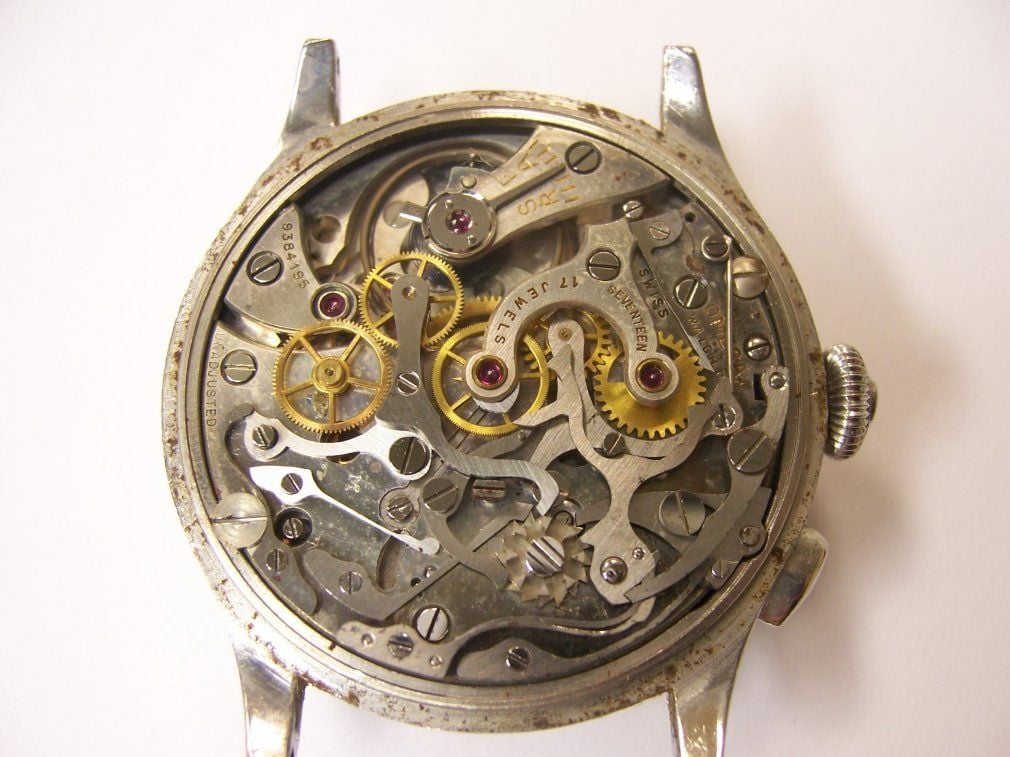 The name 33.3 is derived from the movement's diameter of 33.3 mm, and as a result of this calibre being quite large, all of the watches containing it tend to be a decent size with the CK 2048 being no different.  The CK2048 is a substantial watch on the wrist at 38 mm, with that size amplified by the relatively thin steel bezel and large, wide-set sub-dials.  In it's day it would have been considered over-sized but today it is just about perfect for a sports chronograph.
It is a beautiful, historically significant and aesthetically superb watch to wear, but there are a number of reasons why a CK2048 is out of reach for most collectors.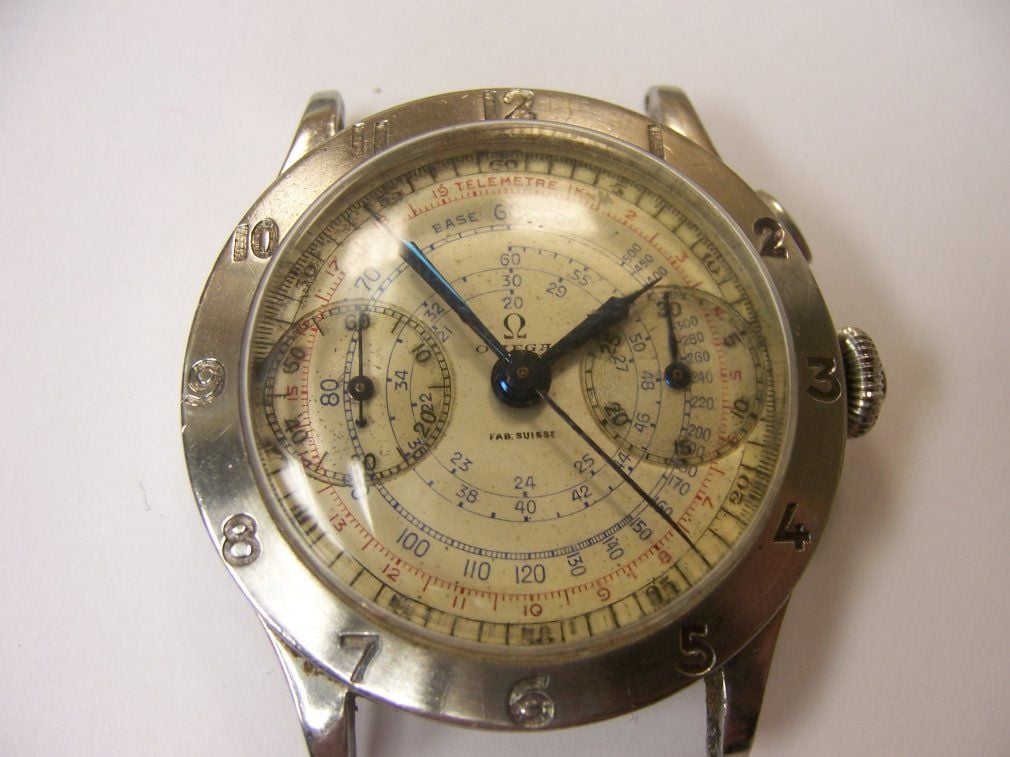 The first is that these watches were produced in quite small numbers, and the number that have survived intact is significantly lower given the passage of 80 years or so.  The second is that water resistance even for time-only watches in the 1930's & 1940's was notoriously bad, leading to many examples suffering badly from water intrusion and having their dials refinished.  The final nail in the coffin is the price, as these watches were selling at auction for 10s of thousands of dollars even 15 years ago and dealers today can ask $50,000 or more for better examples.  
This is why the Museum Editions were created, so these watches can be seen, worn and appreciated by collectors in an era when most of the originals remain in bank vaults or safes for fear of theft or rain.
The Museum Edition
The Museum edition watches have had a lot of attention to detail and care put into them to ensure they are as faithful a modern reproduction as possible.  They prioritise modern necessities, reliability, accuracy, and water resistance, but after those are met, every step possible is taken to be authentic to the original.
In the case of the Museum No. 3, there is only one reference, the 5702.50.02 featuring a black dial and dial pushers which replicates a specific version of the CK2048.  On the dial side it does about as well as it can, but there are some noticeable differences.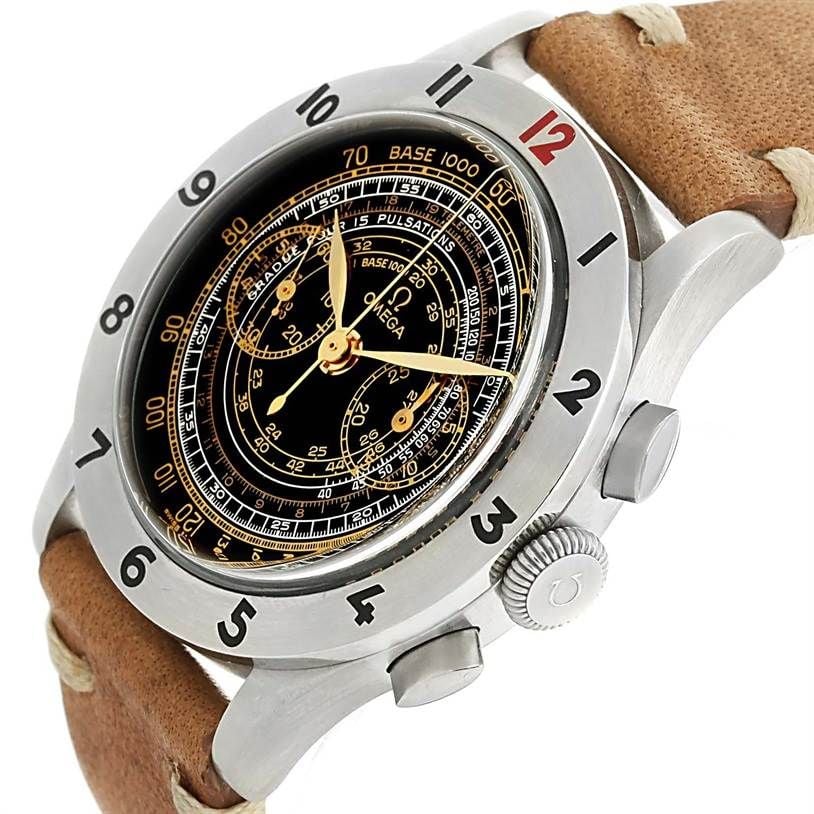 The most significant is that the sub-dial spacing on the Cal 3200 simply isn't as wide as the Cal 33.3 CHRO.  This is rather unavoidable as at 27 mm, the Cal 3200 is significantly smaller as are almost all movements on the market today.  This difference in sub-dial spacing does however make a big difference and required Omega to re-think the dial design from the inside out, altering the layout significantly.  As a result, the tachymeter scale is moved to the outer edge while the sub-seconds track is moved inwards to compensate.  There are differences throughout the design, but the overall goal is to give the overall look and feel rather than a perfect copy as it just isn't possible within movement constraints.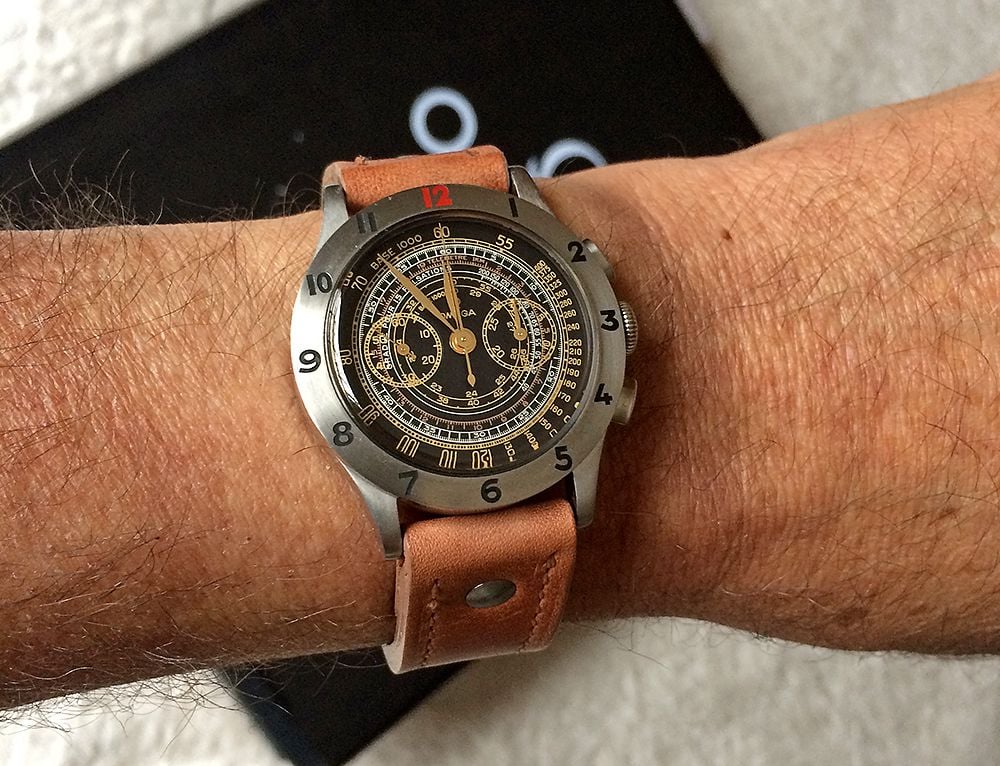 The rest of the watch is remarkably accurate to the CK2048, the case, bezel, crown, pushers, and overall dimensions really pull together to make for a spectacular looking daily wearer with a unique look and feel.
Case & Strap
The case of the Museum Edition No. 3 is an extremely faithful modern edition of the original, retaining the 38 mm thickness, shape and finishing of the CK 2048 to great effect.
The bezel has clearly had a lot of effort applied to it in replicating the rather unusual font for the Arabic hour markers to an impressive degree of accuracy, while even using a subdued, warm red color for the inlay of the 12 o'clock marker to replicate the look of the originals.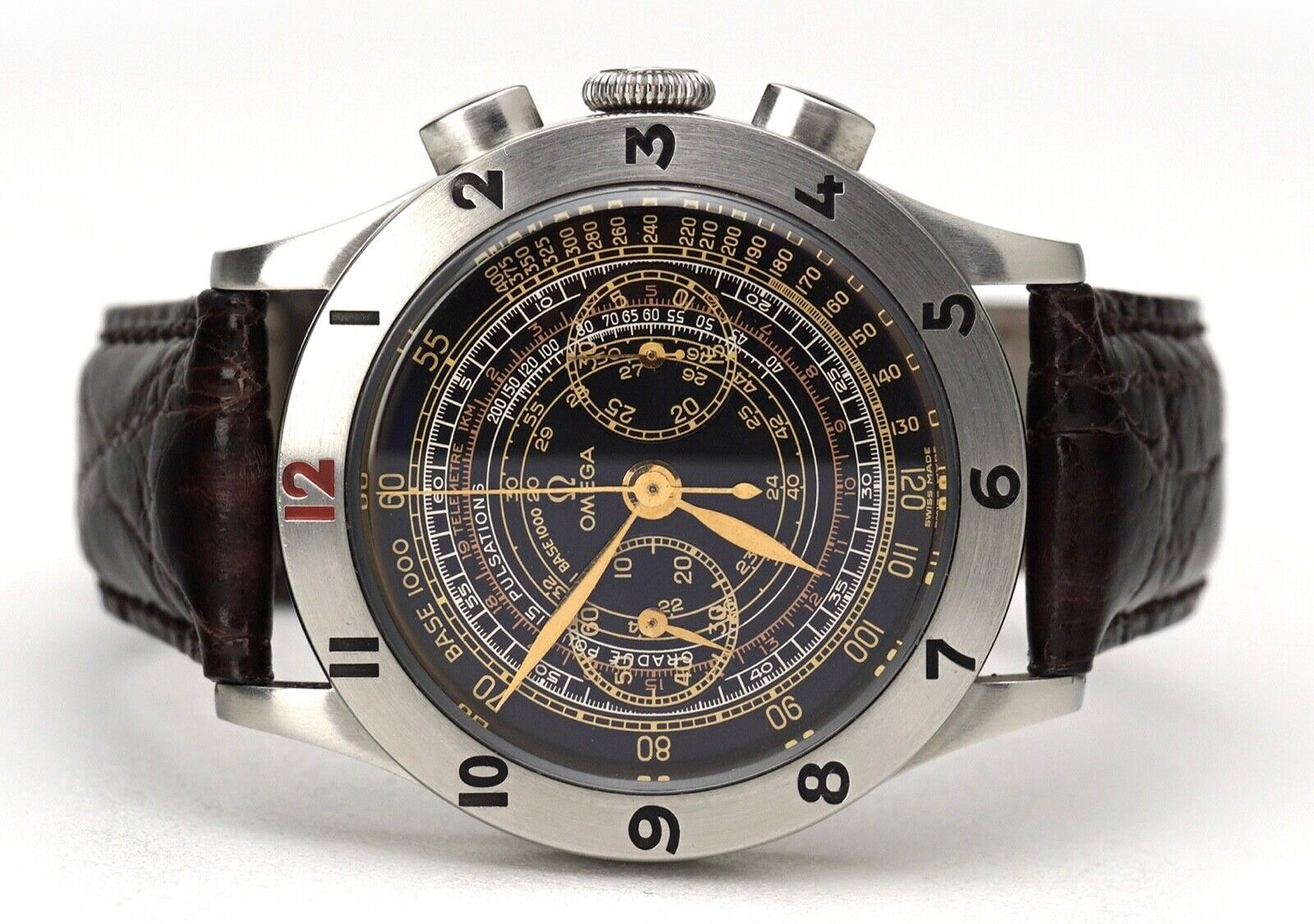 The pushers on the side of the case use the same chunky oval shape as the originals, but while the CK2048 has zero water resistance thanks to a lack of seals and O-rings, Omega has made sure these modern pushers seal internally.  As a result of this, Omega is able to give this watch a modest but extremely valuable water resistance of 30 meters, meaning you don't have to worry when washing your hands or caught in a rainstorm.  
The crown too is an excellent and faithful recreation of the original, thin, and knurled it is shaped to be easy to pull out and does not screw down yet still does its job in maintaining water resistance.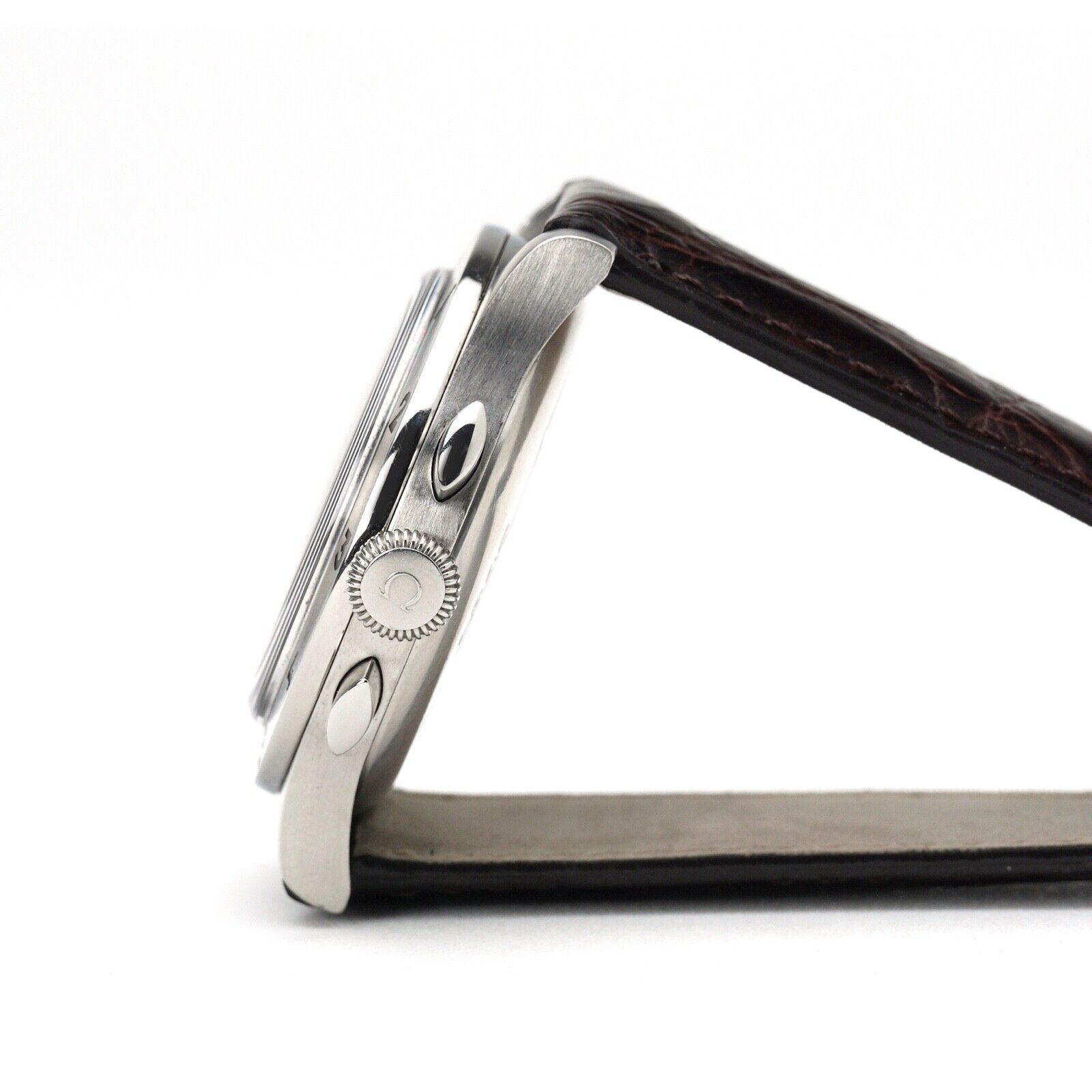 The case-back is a pressure-fit design in steel with no display-back, and while this does make it difficult to see the Calibre 3200 movement within, it also benefits the watch by keeping the thickness to a very impressive 11.5 mm from front to back.  The case-back has subtle engraving identifying it as a Museum Limited Edition, and giving the LE number out of 1945 with both "The Officer's Watch" and "1945" taking up considerable space on the case-back.
The simple curved lugs are 20 mm wide and come from the factory with a brown alligator leather strap on a brushed stainless steel Omega signed tang buckle, matching the matte steel aesthetic of the entire case.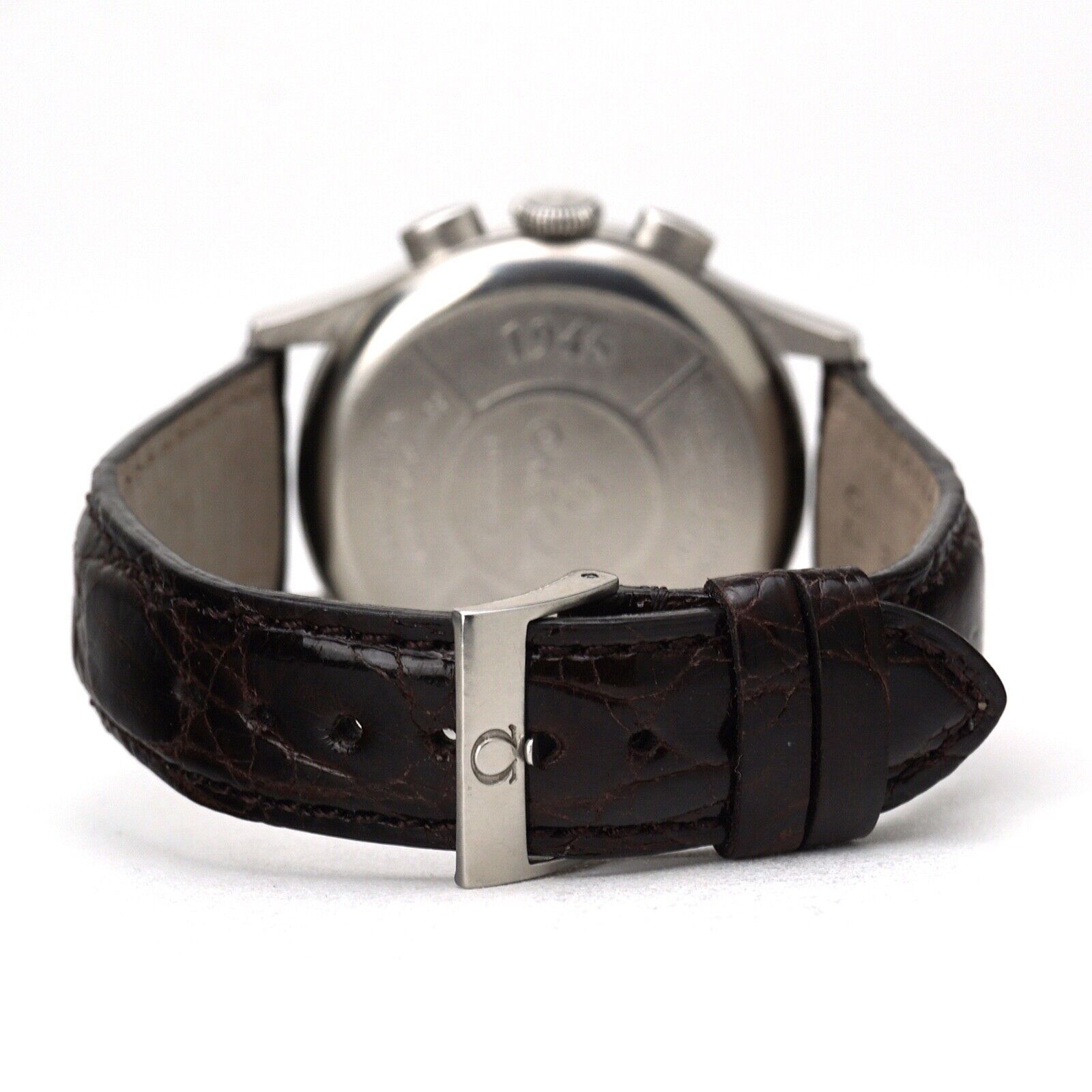 Being a 20 mm wide case and having a very neutral vintage feel and design, this watch works with a wide variety of straps as well as many vintage style bracelets like beads of rice and Milanese mesh with straight ends.
Movement
While I mentioned Omega of the past was spoiled for choice when it comes to chronograph movements, Omega of the present isn't much different in this respect.   Able to still draw upon the massive experience of Swatch Group, there were quite a few options that could have been chosen, from the Calibre 1861 family, to the Calibre 3303 family, to something modular.
In the end, Omega went for quite possibly the most costly and unusual option, creating new variant of the Calibre 3303 chronograph, with only two sub-dials and in manual-winding form.
Manual wind versions of the 33x3 family would go on to appear in several Museum and Olympic models as well as a very expensive Speedmaster, but the Calibre 3200 was the first, made for and only ever used in the Museum No. 3 limited edition.  
The obvious question is why would Omega use a more costly and complex movement like this instead of the simpler and higher volume Calibre 1861, and the most obvious answer is originality.  The column-wheel operated Cal 3200 gives the same light and even click when starting and stopping while the force required varies and can be more severe on functions of a Cal 1861.
On paper, the Calibre 3200 is quite an impressive movement, oscillating at 28,800 vph with a power reserve of 55 hours, it features hacking, a column-wheel chronograph mechanism and even more unusually, a vertical clutch for smooth engagement.  It does not have a Co-Axial escapement like later variants of this movement family so will not have any issues relating to that.
There were teething issues with the Calibre 3303 family in the early years of production, but these problems were addressed with upgraded parts which would be installed during service.  The final set of updates was released in 2008, so any watch serviced properly by someone with access to parts since then will have had these issues solved.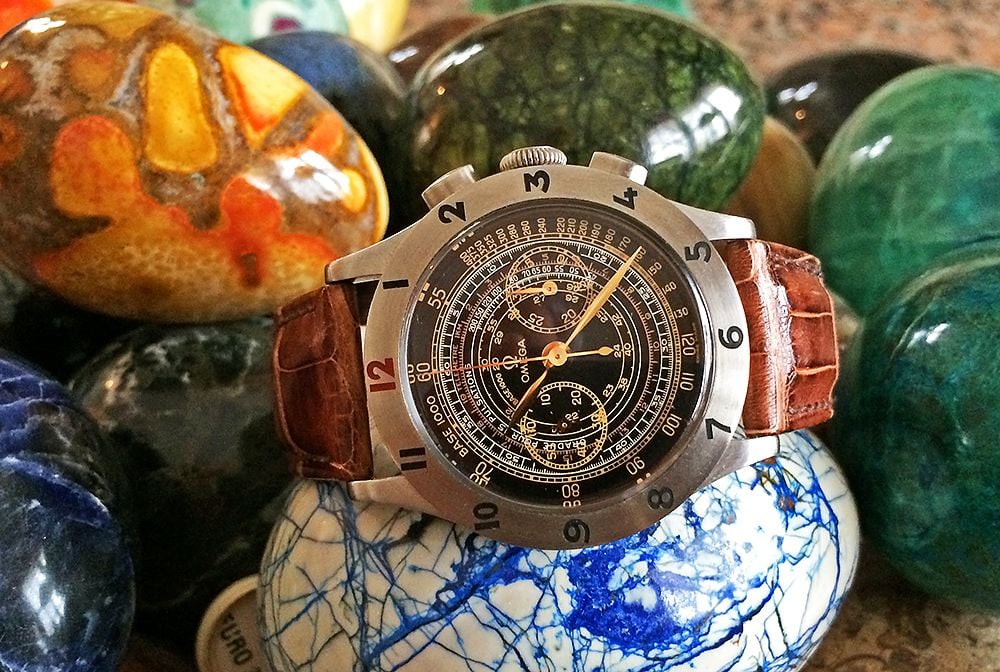 At this point in the 2020's, almost all of these watches will be due for service and as long as they are handled by either Omega, or a qualified watchmaker with an Omega parts account, the watch will receive all upgrades at time of service if it hasn't already.
Based on this, there is no reason to hesitate on these watches any longer as after a full service you will get back an accurate, dependable, and exceptionally capable watch.
Buying
When new, the Ref 5702.50.02 like most Museum Edition watches was quite expensive compared to popular Omega watches of the early 2000's.  The great thing for buyers though is that like other Museum Editions, the secondary market price has largely stagnated as new Omega prices have risen significantly over time.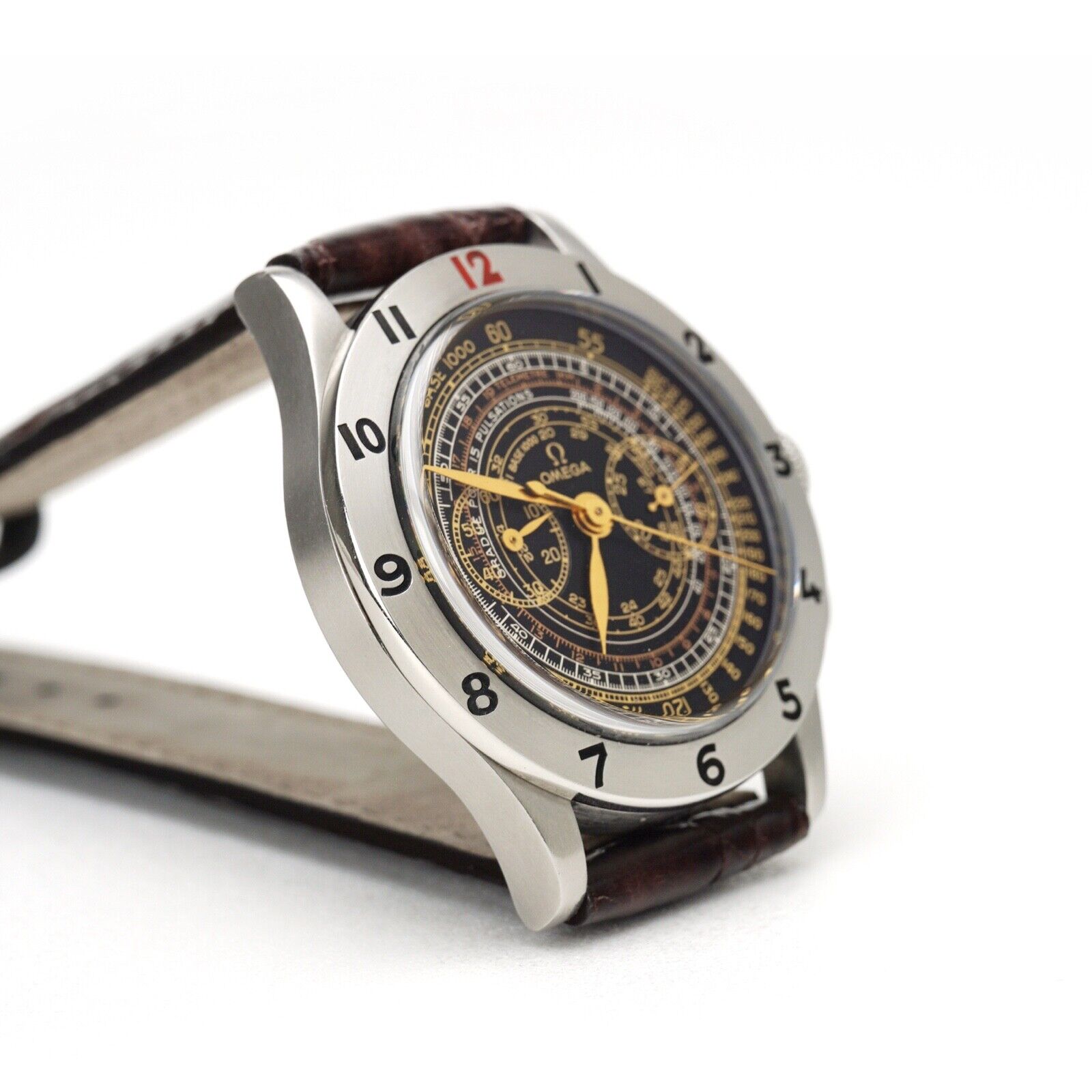 When looking at this watch today and comparing it on its merits to other Omega's, the closest competitor would have to be the new Speedmaster Chronoscope line, which pack a similar dial design into a Speedmaster case with a 43 mm diameter and 13 mm thickness.  These watches are terrific and stunningly beautiful but have a bit more of a modern feel and larger size, while pricing is around the $8,000 mark.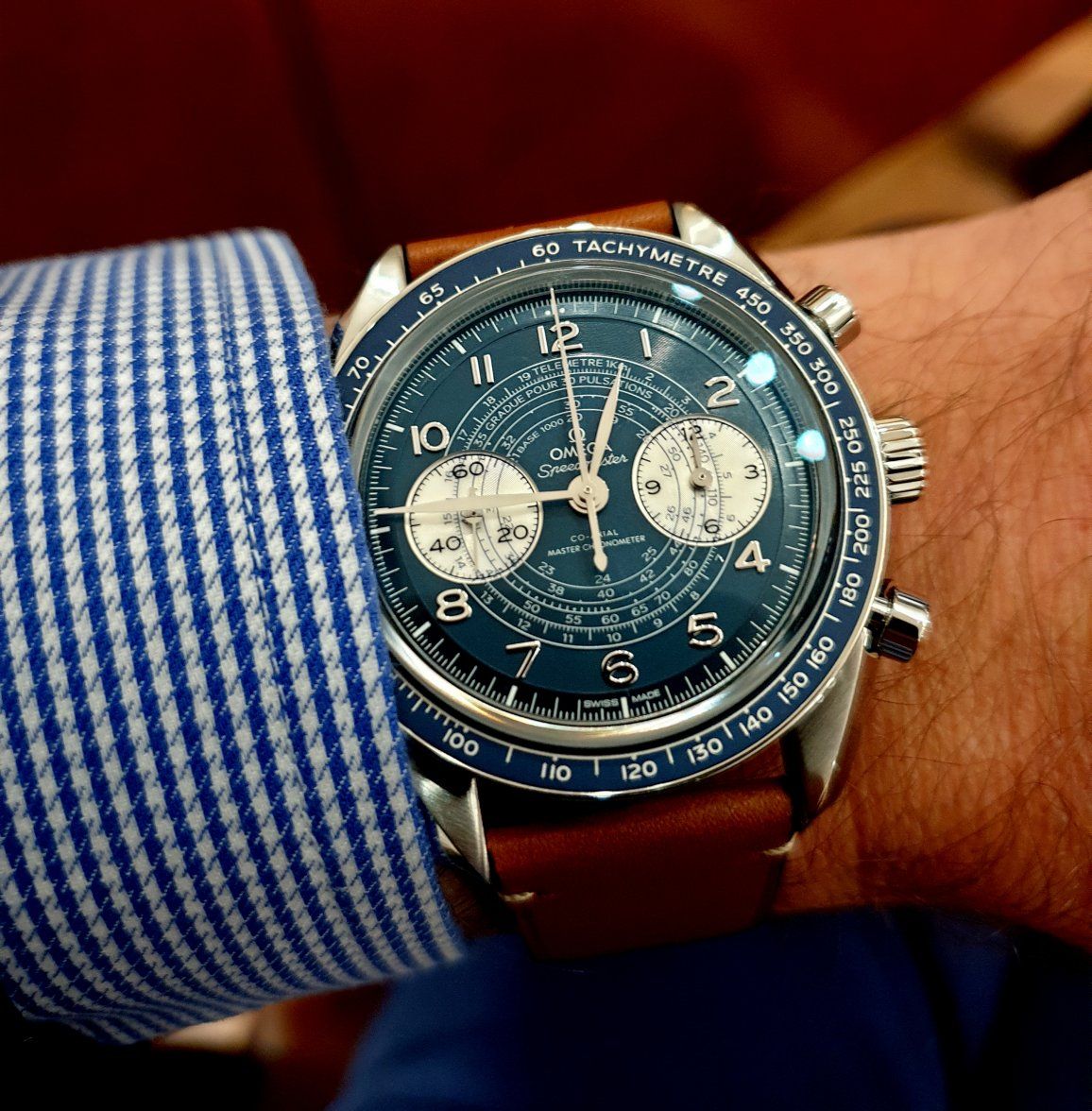 By comparison, the Museum Limited Edition No. 3 can be found on eBay or forums for around $3,200 to $4,000 and offers a look, feel and size that doesn't really exist in modern Omega models.  
This quite nice example with full box and papers recently sold on eBay in October 2022 for $3,538, quite a deal for a watch this special.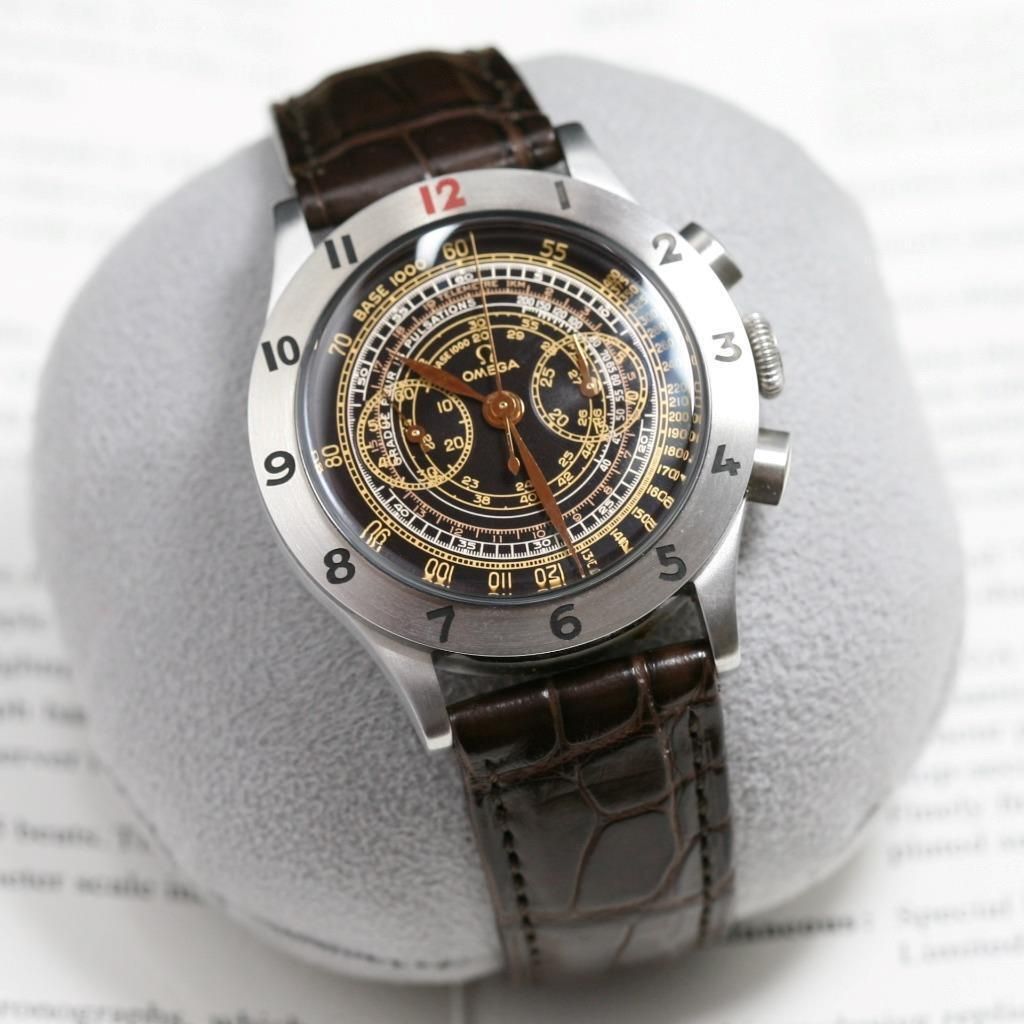 These watches originally sold all over the world very slowly and as a result they can be found everywhere, often in the display box with all the trimmings as they were marketed as a collectors item.  A full set would add a small premium to the value for sure but if you're intending to wear the watch, it isn't worth getting too hung up on it.
Condition wise, as this is a very modern Omega the dial should be perfectly clean with no signs of moisture intrusion and the crystal should be flawless.  The vast majority of these watches have had little to no wear, so any exhibiting noticeable polishing or deep scratches and dings should be avoided.  Omega did make 1,945 of these watches and given the high proportion of mint examples you have every right to be very picky.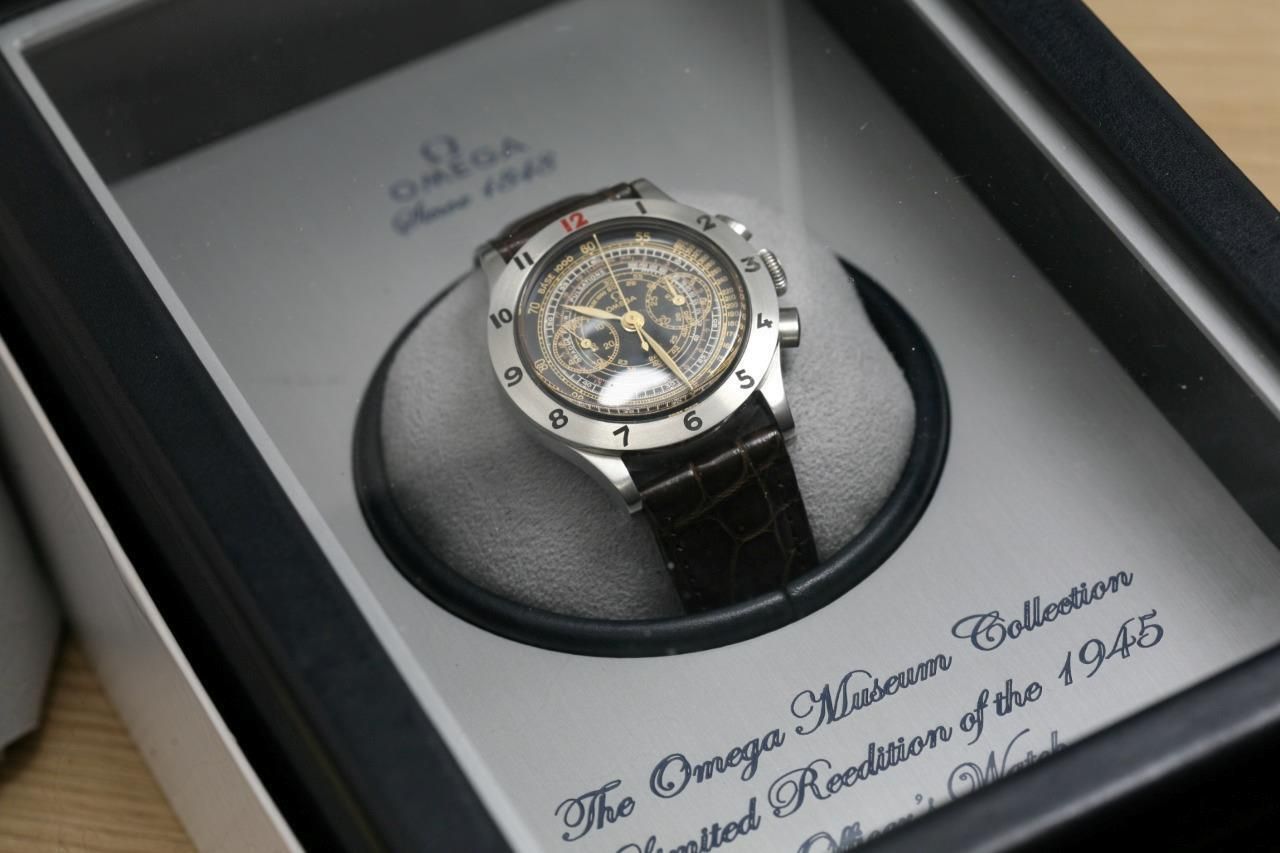 As previously mentioned, these watches are all due for a full service at this point so do factor this into your purchase, unless you are provided with an invoice from Omega or a reputable watchmaker with access to Omega parts.
For the money, the Museum No. 3 Limited Edition 1945 Officer's Watch represents rather excellent value for a very unique watch with no current parallel.  The thin 38 mm case, vintage aviator styling and exceptional quality make it an especially compelling choice now at 20 years old.
Discussion thread on Omegaforums can be found here: