Many people have their own idea of what the perfect dress watch size is. Some say 34.5mm, some say 36mm or even 38mm. These very special De Villes fall into the "way too big" category for most. However, giants do buy watches too.
Its Big Boy Season
I'm a big boy with big wrists, which is always a bit of a problem given how much I love dress watches.  Some of my favorites in my collection are 34.5 mm traditional size Omega Seamasters which can make my wrists look like something out of a Shrek sequel.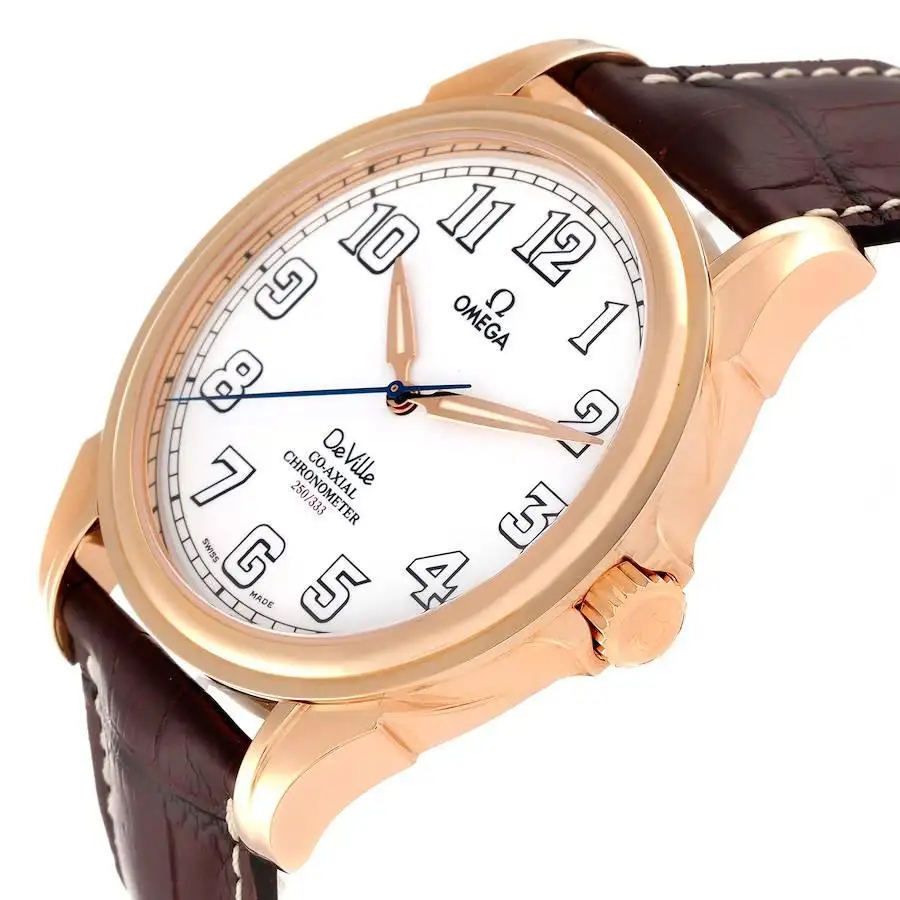 Its a real battle, and that's why I have a soft spot for watches like the De Ville Co-Axial 44 models and actually wish there were more large options like it.  Little dudes, short kings, manlets, are spoiled for choice by both modern options and the vintage Omega back catalog, but rarely do big boys get something just for them.
These 44 mm De Ville's aren't just defined by their size, there's a lot more to them than that as one would expect from a pair of watches only available in precious metals.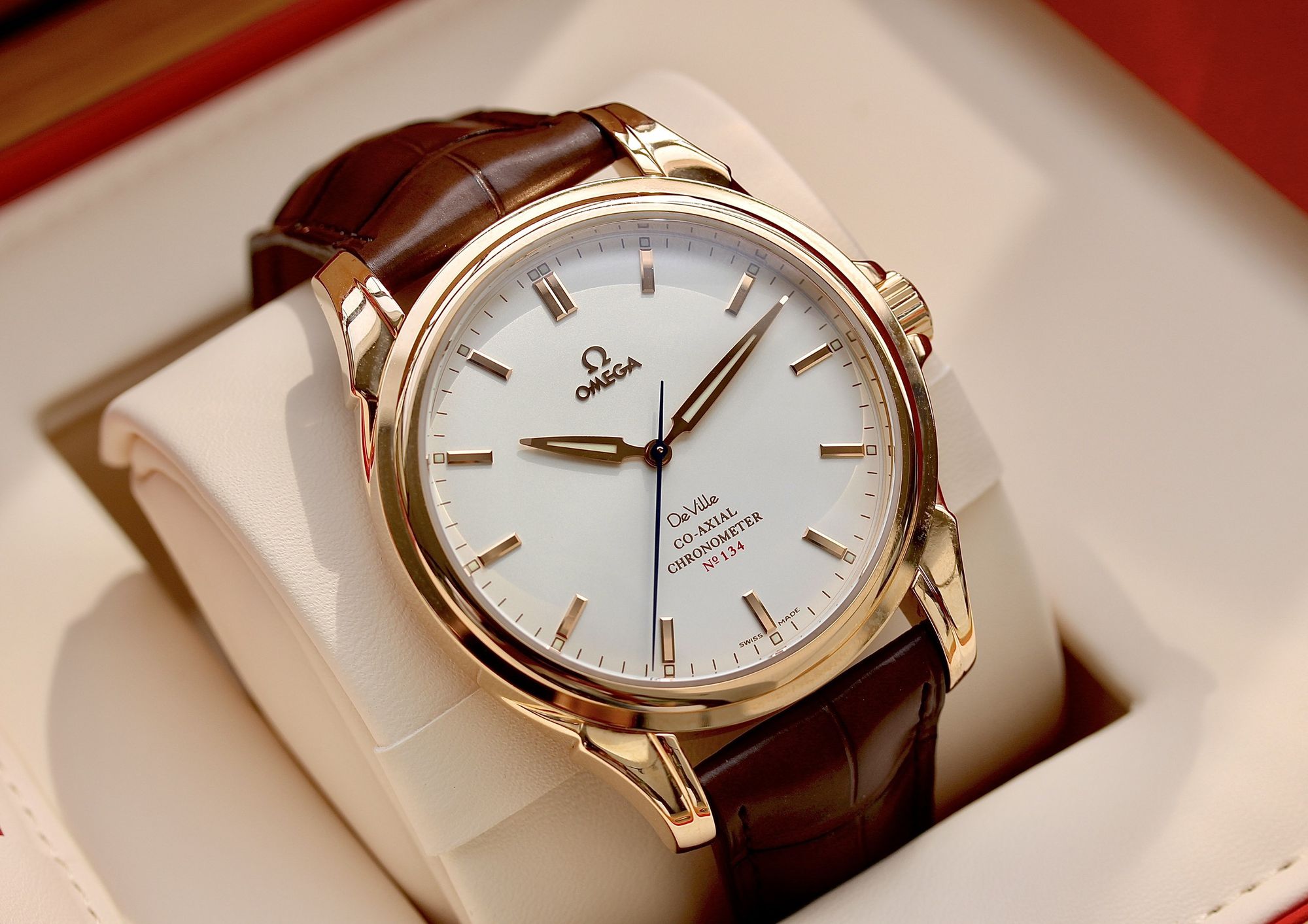 Omega really went all out on the finishing quality and the dials for these two watches, giving them each a bespoke look, with immaculate finishing and materials.  I remember looking over one of these a decade ago with a loupe and being blown away.  These watches hold up as well or better than Omega models made today in 2023.  That's genuinely amazing for a two-decade old watch from 2003, an era when Omega was still finding its feet and recovering.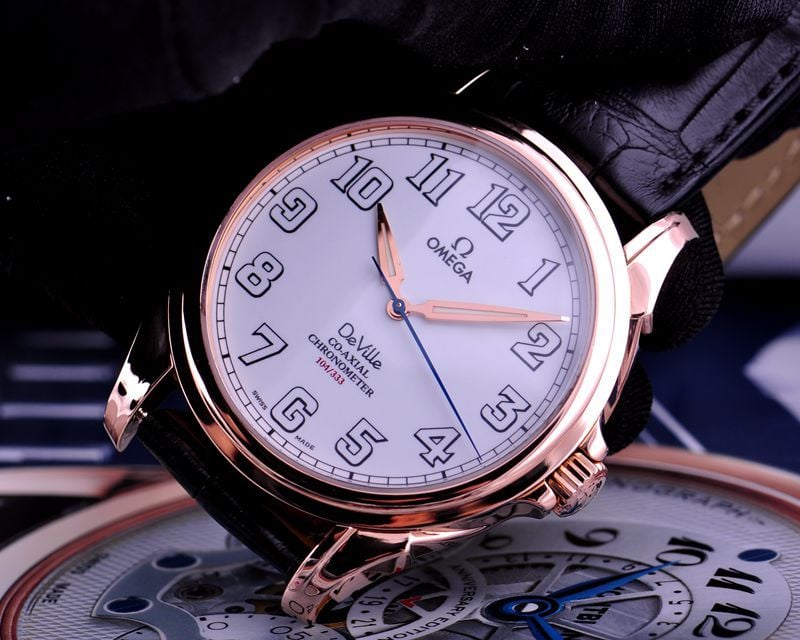 While enormous for a dress watch, these De Ville's are still 5 mm smaller in diameter than the Railmaster XXL.  They're not by any means ridiculous and will look very normal on anyone with an 8-inch or larger wrist.  It's worth noting that Omega really has always catered to a broad range of sizes including the very big, even going back many decades, and I do hope this is something they continue doing in the future.
Case & Strap
The case of the De Ville Co-Axial 44mm is something very special to admire and feel.
Effectively Omega took the very elegant design introduced in 1999 with the De Ville Co-Axial Pie-Pan Limited Edition, which is a very beautiful watch in its own right, and enlarged it from 38 mm to 44 mm.  
The case design is dominated by the substantial lugs, which are reminiscent of vintage Constellation models of old, but with an added ridge on the inside adding some extra character.  These lugs feature sculpted buttresses which blend into the side of the case, adding even further to the design.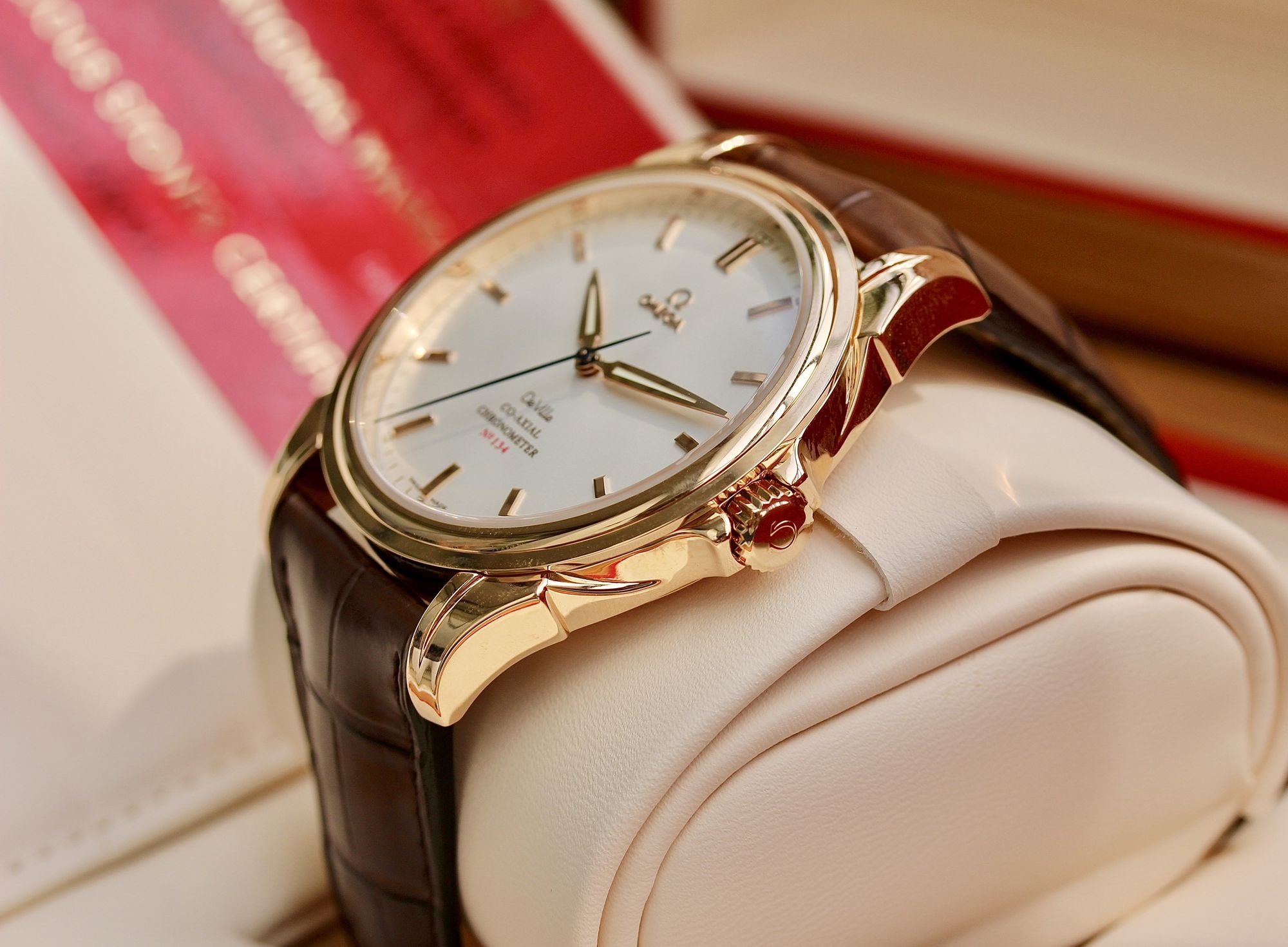 The prominent stepped bezel surrounds a sapphire crystal, and a significant set of crown-guards flank a large, knurled crown, all of which combine to grant this watch a water resistance of 100 meters.  Despite being large, limited production and made of precious metal, Omega designs these watches to be practical and wearable which is something owners will no doubt appreciate.
The case-back is a screw-in design with the same keying as Seamaster Pro models of this era and features a large, engraved relief of Chronos, the god of time atop the earth branded with an Omega logo.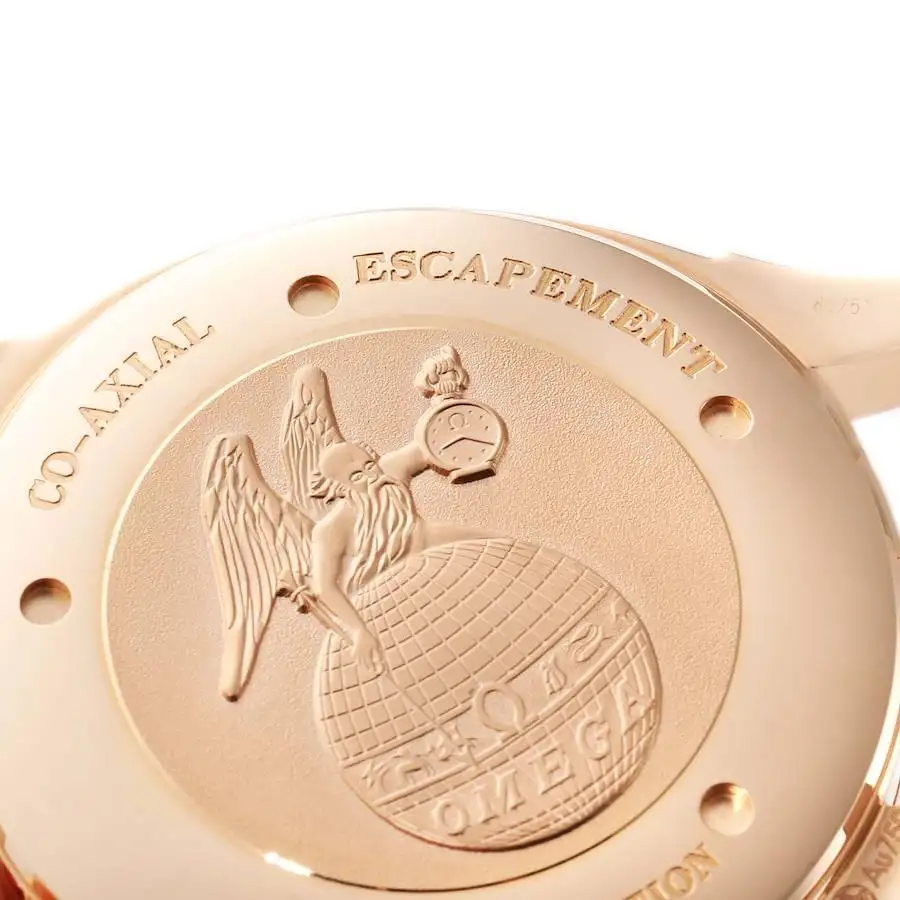 It's worth noting that while the case diameter is very large at 44 mm, the thickness of this watch is a very slim 11.5 mm.  This is comparable to a first generation Bond Seamaster Pro, and the slim profile combined with the downward curve in the lugs makes this watch wear far more comfortably than most would expect.  Omega has a genuine talent for making large bulky watches fit comfortably on the wrist without feeling clumsy and this giant De Ville is an excellent example of that.
The lug width on these 44 mm De Villes is 22 mm, which is very large indeed for a dress watch.  Both watches come with alligator skin straps on single-fold 18K red gold deployant clasps.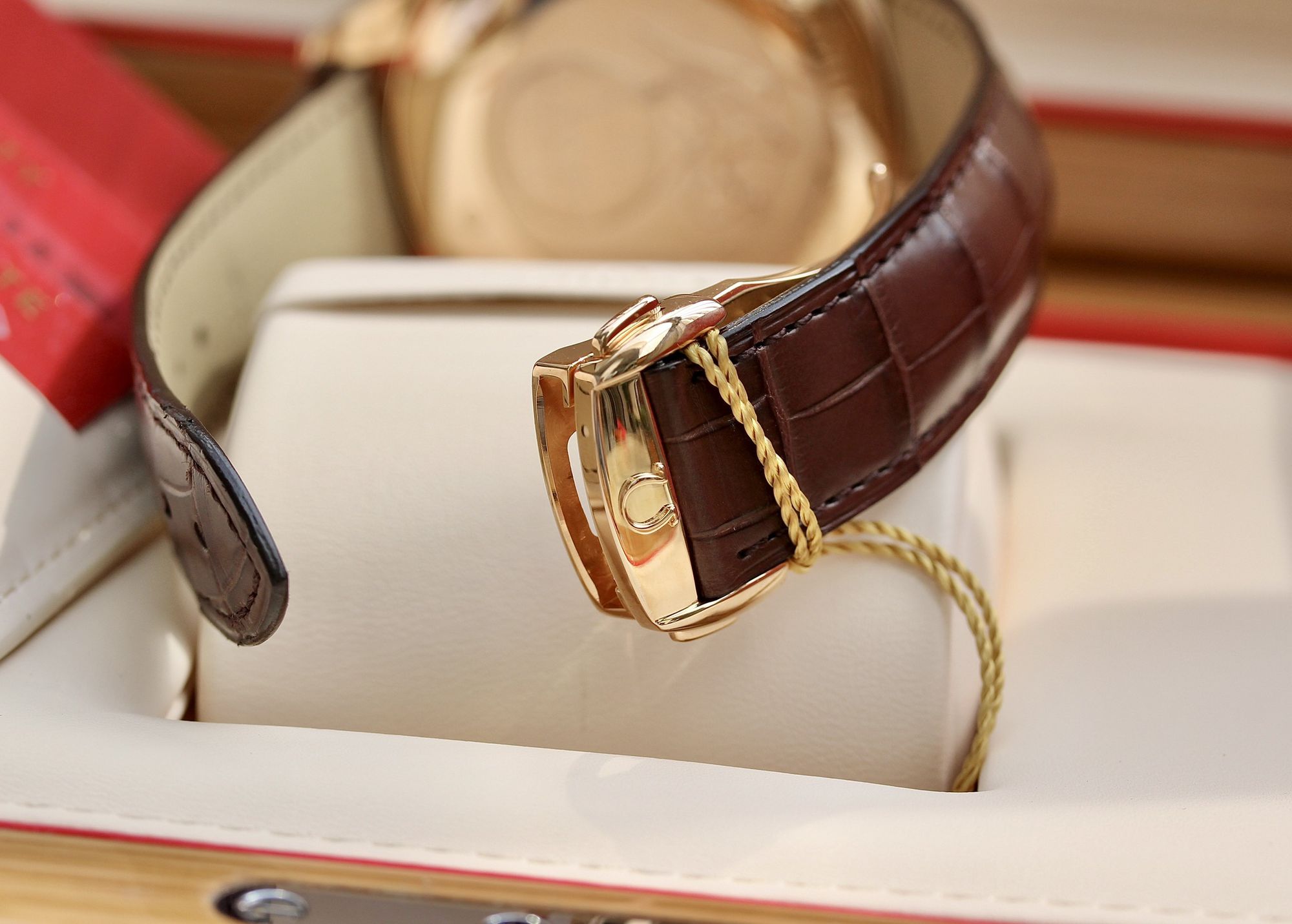 While Omega did produce larger bracelets to fit chronograph models of the De Ville range over the years, even the largest of these are only 21 mm, so an OEM bracelet for these is not an option.
Movement
The engine powering these watches is the Calibre 2403 Co-Axial Chronometer rated movement.
The Cal 2403 is derived from the Calibre 2500 movement used widely in Omega's product range during the 2000's including most notably the Railmaster models, with the only significant difference being the lack of date.  That Calibre 2500 is in turn derived from the highly accurate and reliable ETA 2892-A2 movement.
Cal 2403 beats at 28,800 vph for the A variant, and 25,200 for the B variant, with a 44- and 48-hour power reserve respectively.  These watches, like the Calibre 2500 feature hacking, a chronometer rating, and a bi-directional winding system.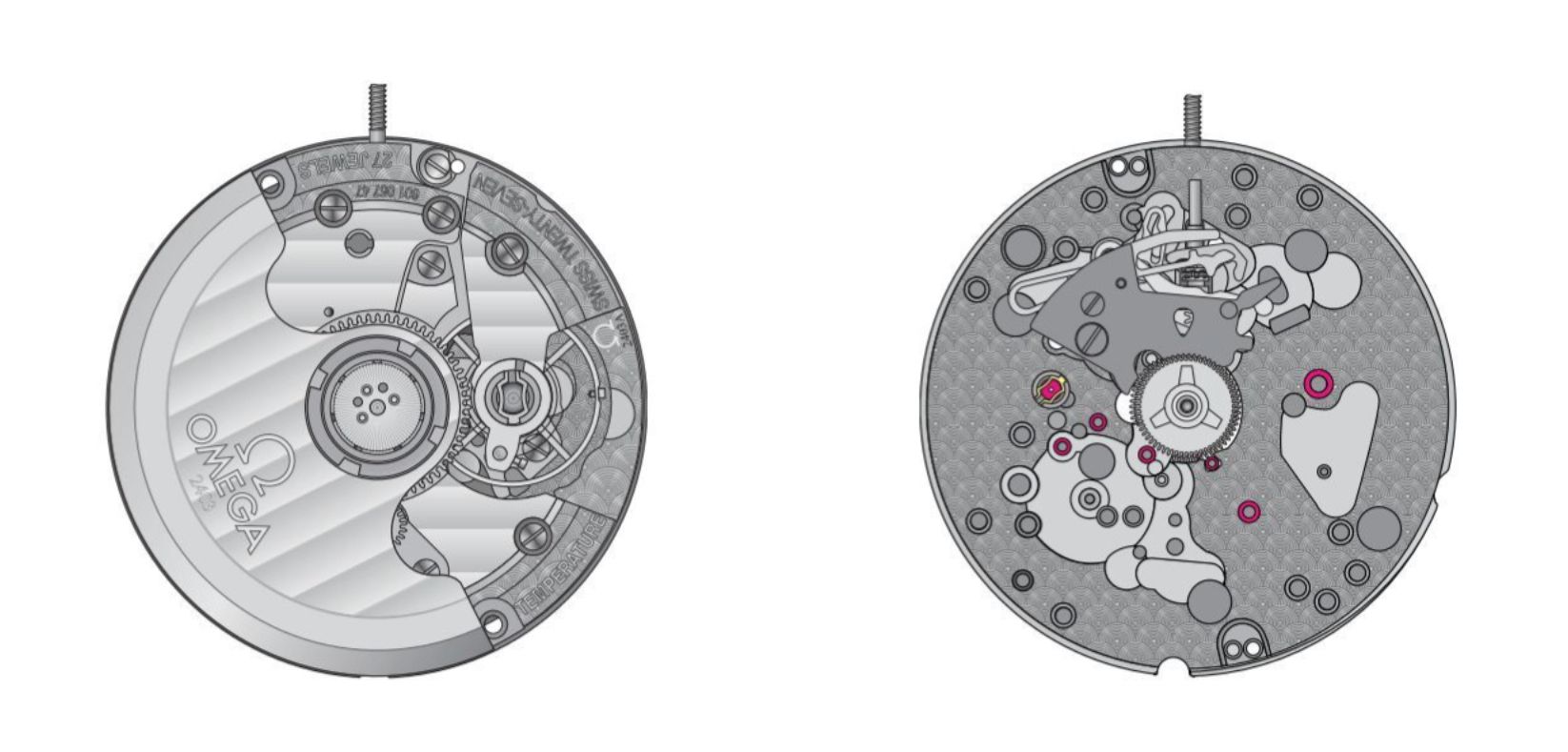 The Cal 2403 does unfortunately suffer from the difficulties had by early versions of the Calibre 2500 movement family.  Early versions of these movements used the "two-level" version of George Daniels' Co-Axial escapement, intended to be more vertically compact than the "three-level" version which Daniels initially designed.  Ultimately the "two-level" escapement went through several revisions both in the design of parts and in servicing procedures before Omega switched to using the "three-level" design from the Calibre 2500D onwards.
There is a lot of information on the various versions of Calibre 2500 floating around the internet, much of which is not entirely correct.  The movement version letters on the Calibre 2500 do not exactly map to the Calibre 2403 either, as the later was introduced around the time of the 2500B variant.
Roughly speaking, the Calibre 2403A variant which beats at 28,800 vph is roughly equivalent to the Calibre 2500B variant.  The Calibre 2403B variant, which beats at 25,200 vph is roughly equivalent to the Calibre 2500C variant, and there is no 3-level version of the Cal 2403.
Given that these giant De Ville's are higher end 18K models, if you have one of these, or purchase one, it makes sense to take it to be serviced by an Omega certified watchmaker or official service center.  In either case, they will be able to implement the latest upgrades and servicing procedures to ensure that the escapement does not create problems in the future.  Once serviced, you can enjoy the watch without worry.
Variants
There are only two variants of the De Ville Co-Axial 44, the enamel dial limited edition of 333 units, and the opaline dial unlimited edition.  Both of these dials share roughly the same dial text but have wildly different themes, styles and even printing.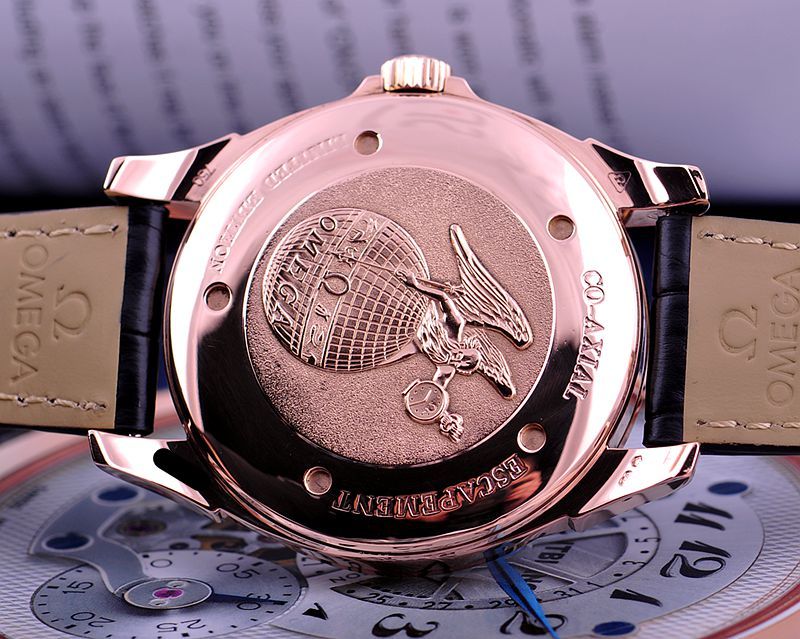 The one thing these two watches have in common is the hands, which are 18K red gold and alpha shape for the hours and minutes with luminous inserts, and a blued-steel stick hand for the seconds.  The lume is used on both dials even though only the opaline dial has lume on the hour markers.
The Enamel Dial Limited Edition of 333 4660.20.32
The limited-edition model of 333 units with enamel dial, Ref 4660.20.32 was the first of the two models to be produced in 2003, and judging by how quickly Omega had to release a successor with a different dial, it sold very well.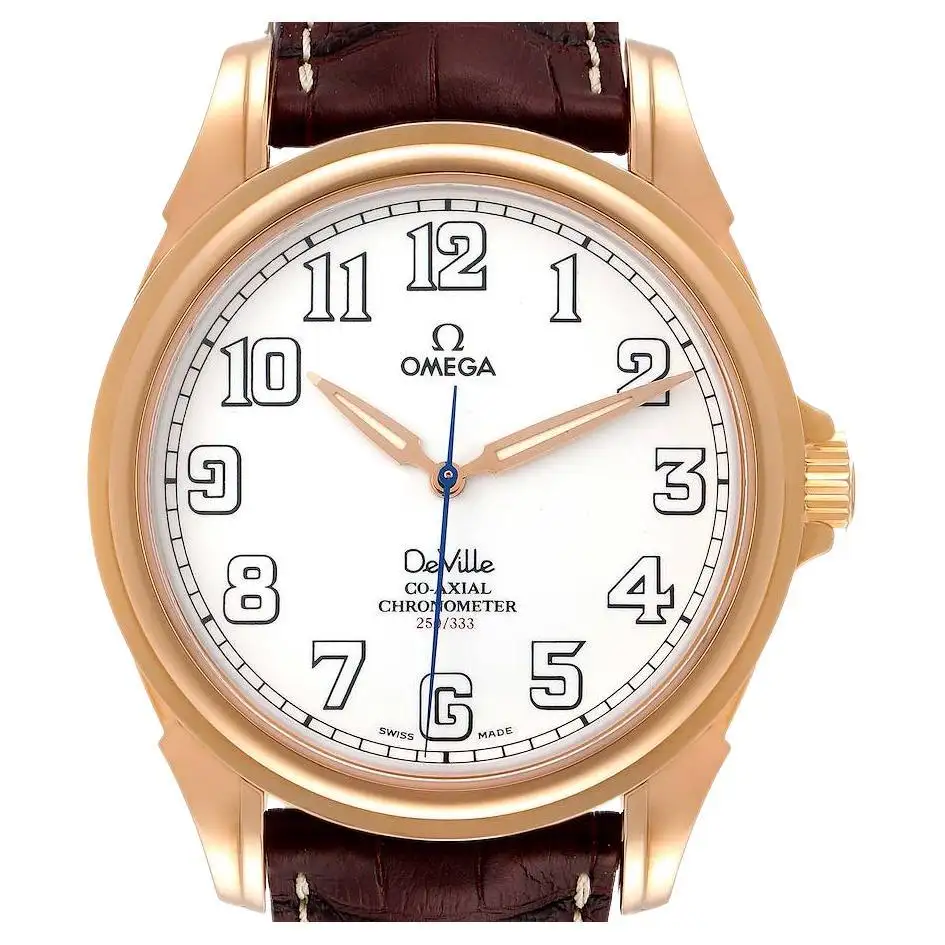 The centerpiece of this very special watch is definitely the dial, which is both attractive and unique in design, and sublime in execution.  Omega's parent company Swatch Group was a long-time customer of 100-year old enamel dial specialist MOM Le Prélet, which it purchased outright in 2006, and they most likely were the producer of these fine examples.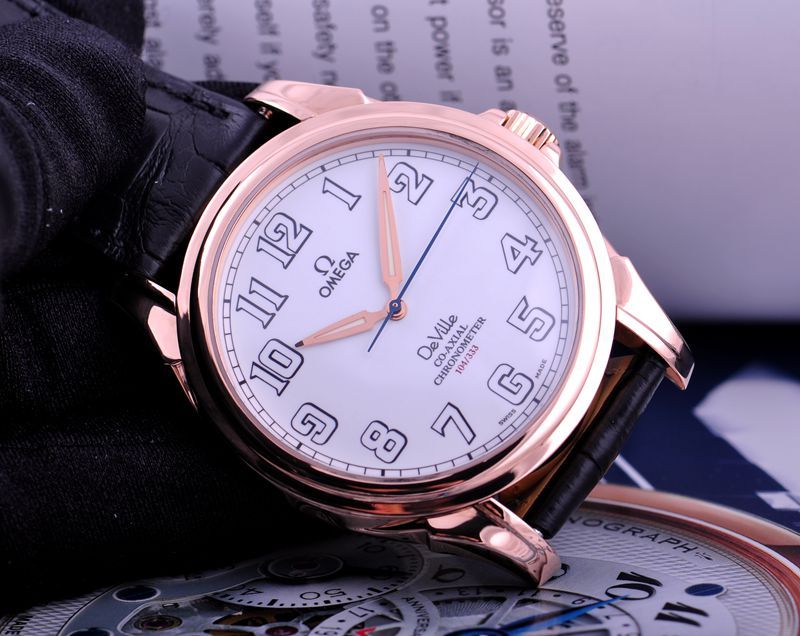 The design is heavily inspired by early pocket watch dials made from enamel, with similar usage of large Arabic numerals and an outer minutes track common for that era.  The dial features the Omega logo at the top, and the text De Ville Co-Axial Chronometer below, with the Limited Edition number in red below that.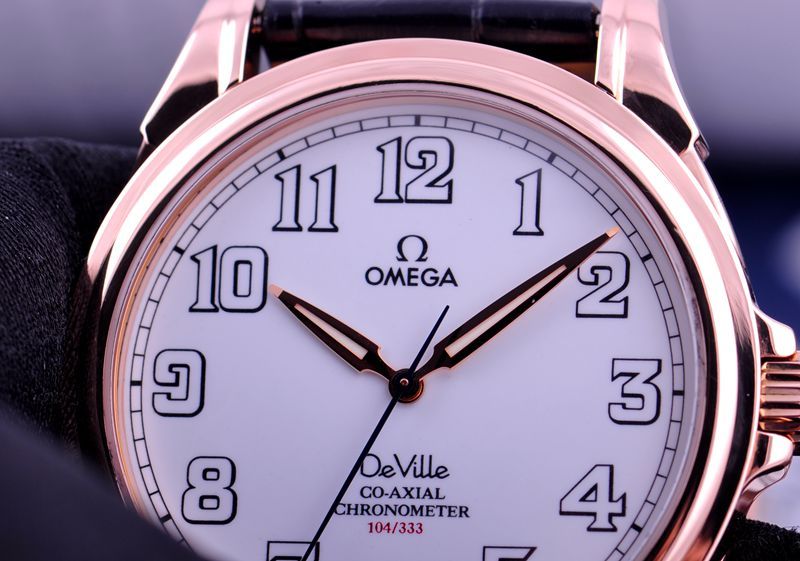 The surface of the dial is perfectly smooth, with the monochrome dial markings bleeding through the white surface like markings on a professional ice hockey rink.  It has a look which is so distinctive and unique that it draws your eye to it even in a sea of beautifully finished watches.  
Enamel dials are costly to produce, time and labor intensive, and very prone to breakage and cracking compared to regular dials which is why they are such an uncommon sight even among high end watchmakers.
The Opaline Dial Unlimited Model 4658.30.32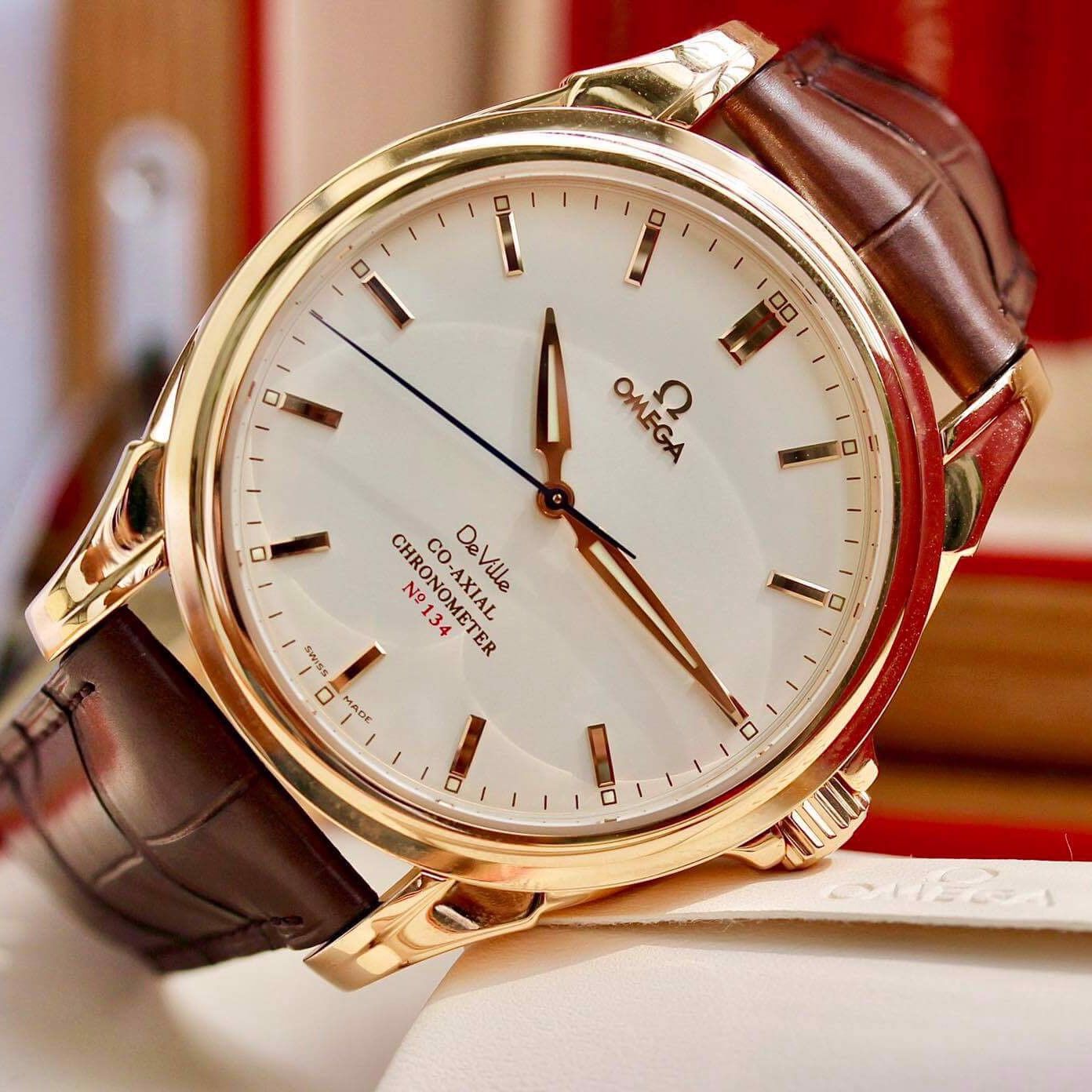 The opaline dial fitted to the unlimited edition, Ref 4658.30.32 is stunning in its own right, and it almost feels unfair to compare it to the enamel version.  
The opaline dial is markedly different in that it has applied 18K red gold hour markers, doubled at 12 o'clock, and an applied 18K red gold Omega logo at the top of the dial.  This dial has more traditional minute hashes around the outer edge, and has square plots of Super-Luminova on the outside of the hour markers.
Unlike the incredible look of the text on the enamel dial, which is melted into the surface, the opaline dial uses more traditional text printing on the surface, with De Ville Co-Axial Chronometer printed in black on the lower part of the dial.  While this version is not a limited edition, it is numbered and the number in sequence is printed in red beneath the other text, making each dial entirely unique.
Buying
There are a lot of watches features because they are incredible value and great deals, but the De Ville Co-Axial 44 models are definitely not bargain bin watches.  
These are two very special models, reflecting Omega at the peak of their ability back in 2003, and the quality of finishing, materials and design is such that these watches still hold up to Omega's much higher standards of 2023.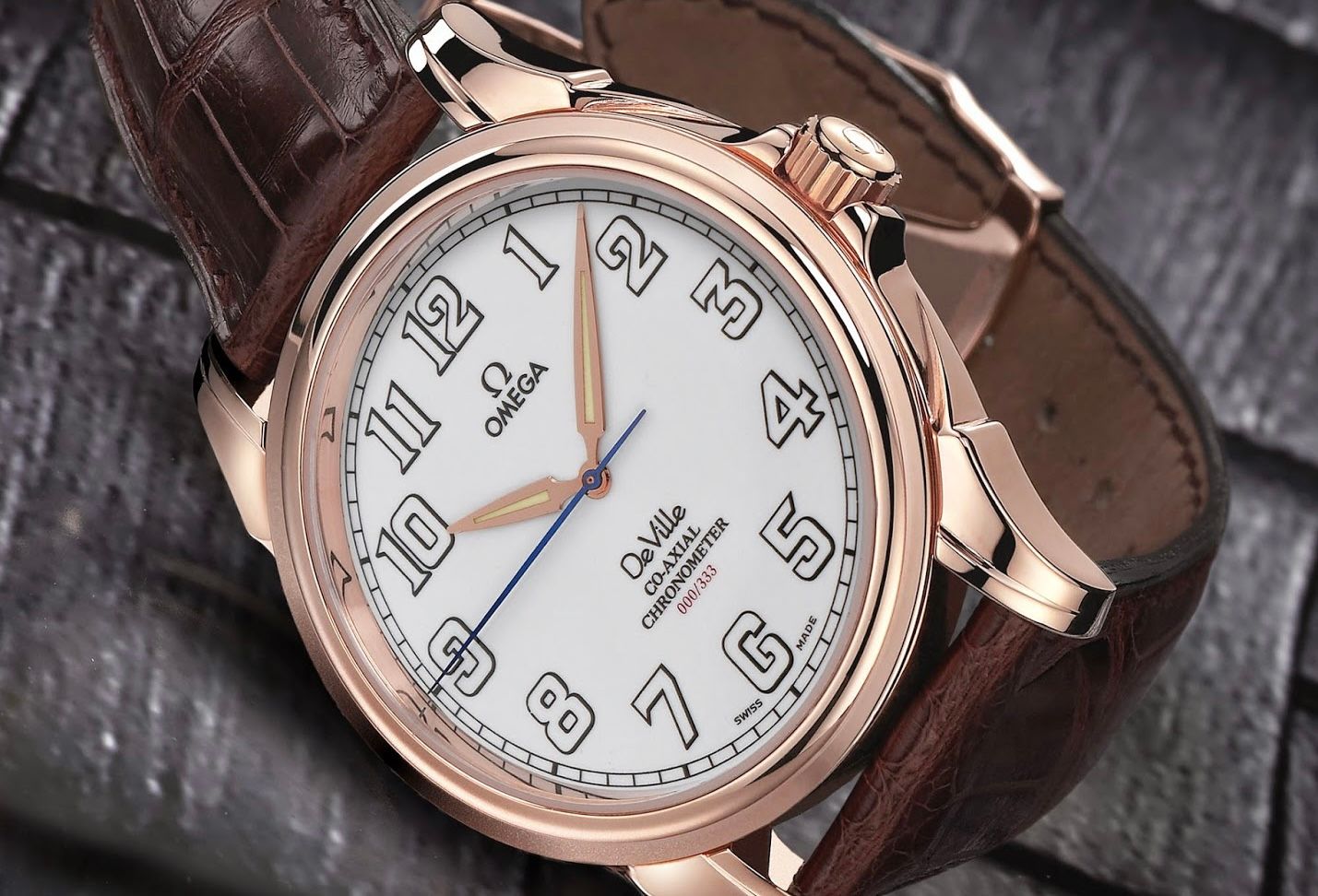 The ballpark rates at the moment are $9,000-$11,000 depending on condition and completeness.  The number of these in circulation is very low, partly due to the small number produced and partly due to the very high initial purchase price.  As a result, finding the right watch at the right price can take quite a while to accomplish, especially for the more desirable enamel dial Ref 4660.20.32.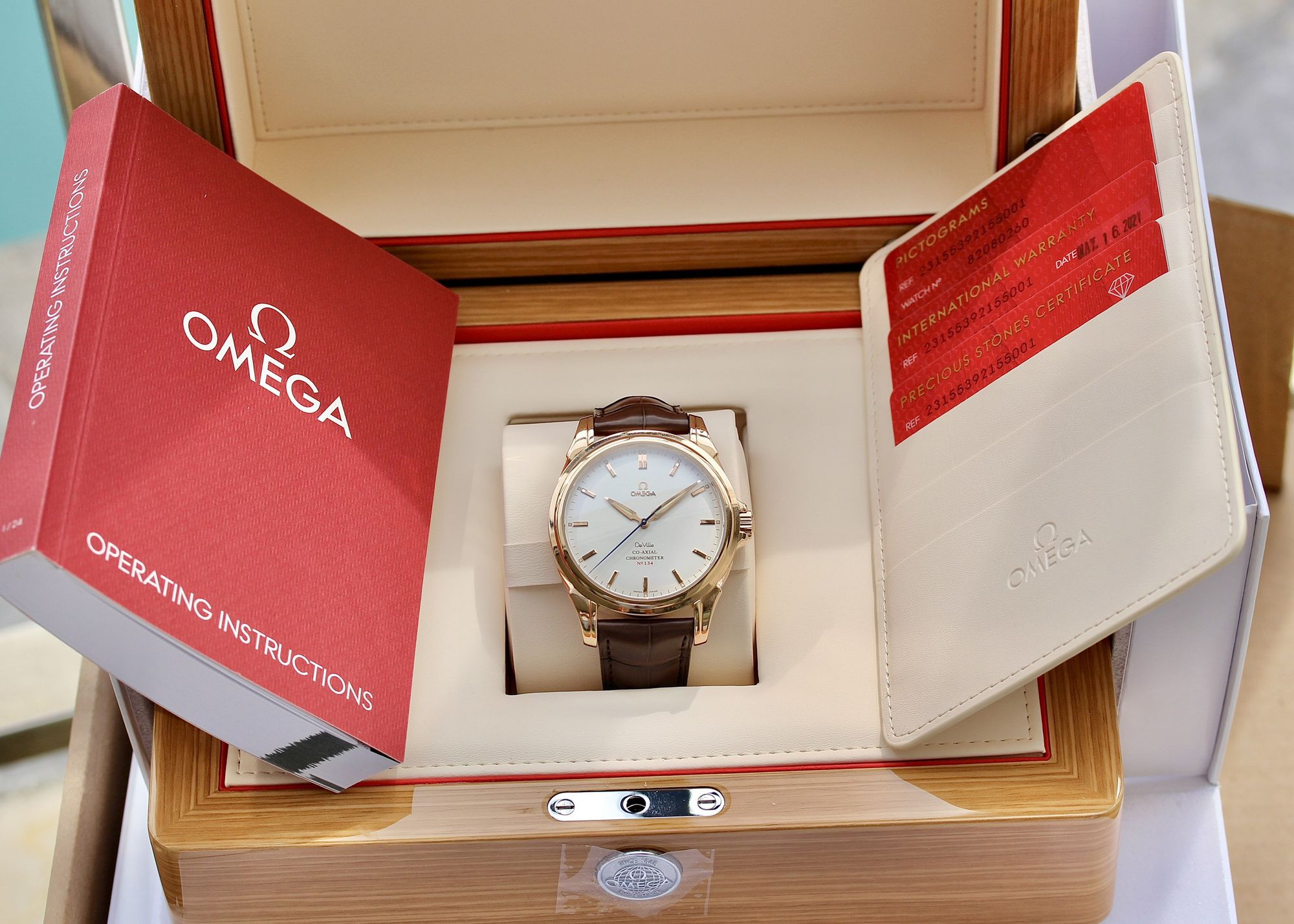 Due to the unique size, there is no current competitor to cross shop this watch against in the Omega catalog, nor is there likely to be a similar giant dress watch any time soon.  That said there are some smaller but still large modern Omegas that can be considered quite similar in many ways that these De Villes can be fairly compared to.
The enamel dialed Tresor gold models, and especially the Olympic Seamaster models introduced in 2018 are 39.5 mm, simple time only watches and feature similar enamel dials with a simpler look.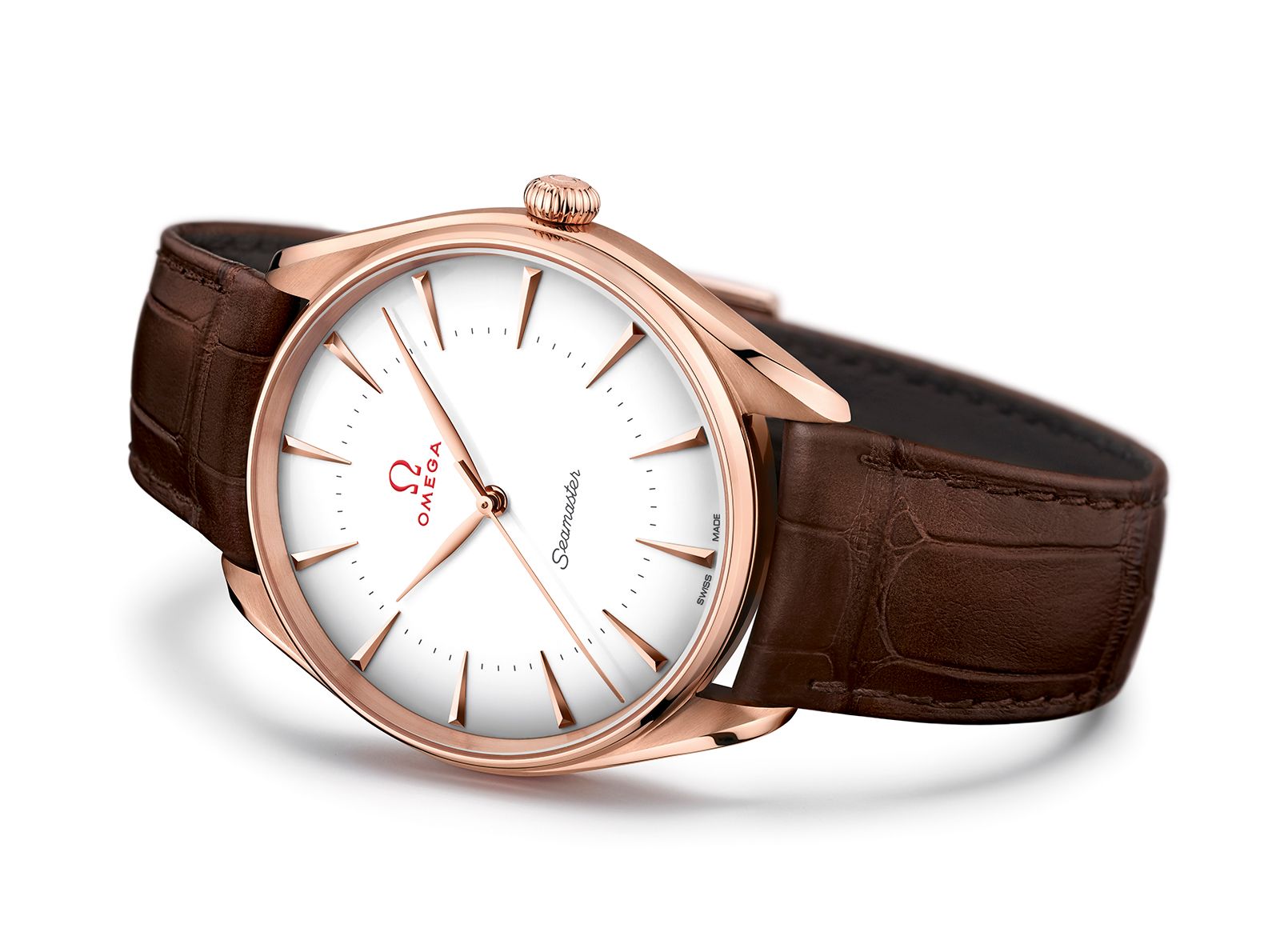 These watches are very beautiful in their own right, but are priced at nearly double the going rate for a De Ville Co-Axial 44, and are made in vastly greater numbers.  
While the modern watches have superior movements, they also have more simple designs and don't carry quite the impact of their predecessors.  
In terms of condition, the case is going to be the most critical aspect.  Gold is soft and easily scratched, dented, and over-polished.  All condition issues relating to the case are a deal breaker and should be avoided.  The dials and hands should be flawless given the excellent water resistance of these watches.  The enamel dial in particular is worth examination under a loupe to ensure there is no damage from haphazard servicing or cracking.  Replacing this dial will be very expensive if it turns out to be damaged.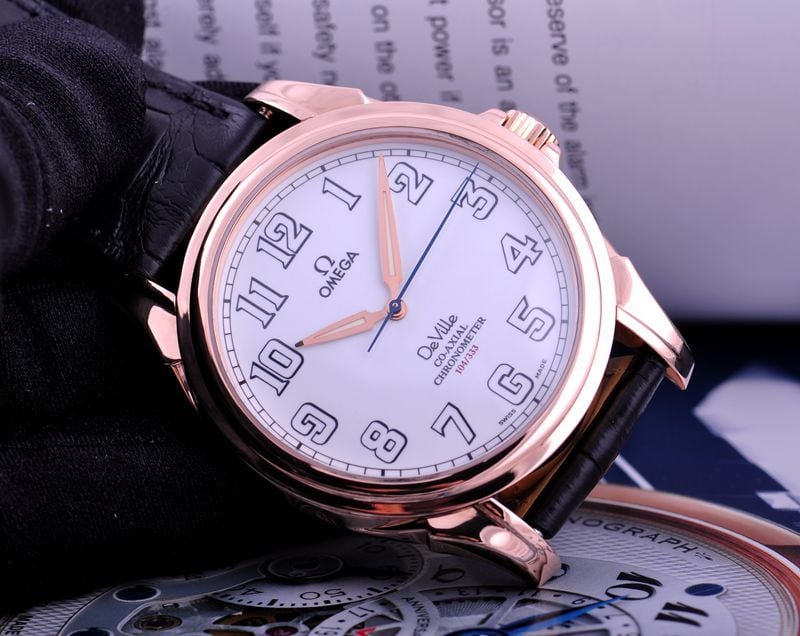 These two giant De Villes will definitely not be for everyone but they're definitely for me, and many other big boys with oversized wrists and an appreciation of Omega's styling.  Both the enamel and opaline are among the most special and beautifully made Omega watches of the early 2000's.  If I had to choose however it would be easy, I'd become one of the 333 owners of the enamel dial Ref 4660.20.32 in a heartbeat.  Simply beautiful.
Discussion thread on Omegaforums can be found here: