Many women's dive watches are a compromise in one way or another, but not the Omega Seamaster Pro Mid-size diver. These watches combined superb movements, excellent quality and impressive finishing all in a 36.25 mm package.
Mehgan Heaney-Grier
Mehgan Heaney-Grier is an internationally renowned American free diver, conservationist, actress, television personality, stunt diver & model.  
In 1996 at the age of just 18, Mehgan set the fist united states constant-weight free diving record of 155 feet, breaking it a year later with a dive of 165 feet.  A year after that, she captained the first United States free diving team to compete in the world championships in Italy in 1998.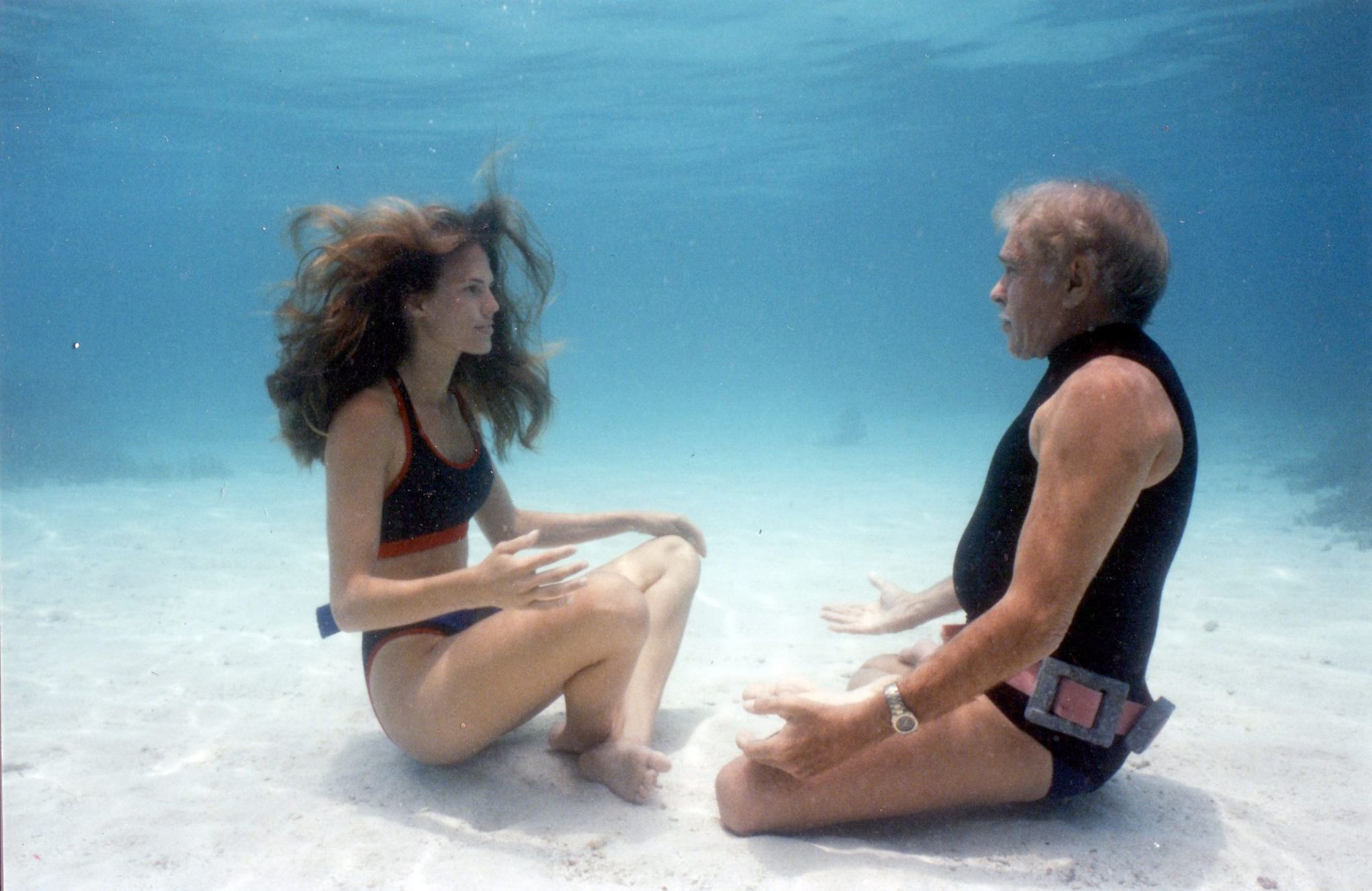 Free diving as a competitive sport was born out of Europe in the early 1990s with the first world championships being held in France in only 1996.   By setting the first American records herself, Heaney-Grier was able to introduce and popularize the sport in the United States and inspired many American divers to compete.  As of time of writing in late 2022, the current women's AIDA no-limit world record is held by another American diver, Tania Streeter.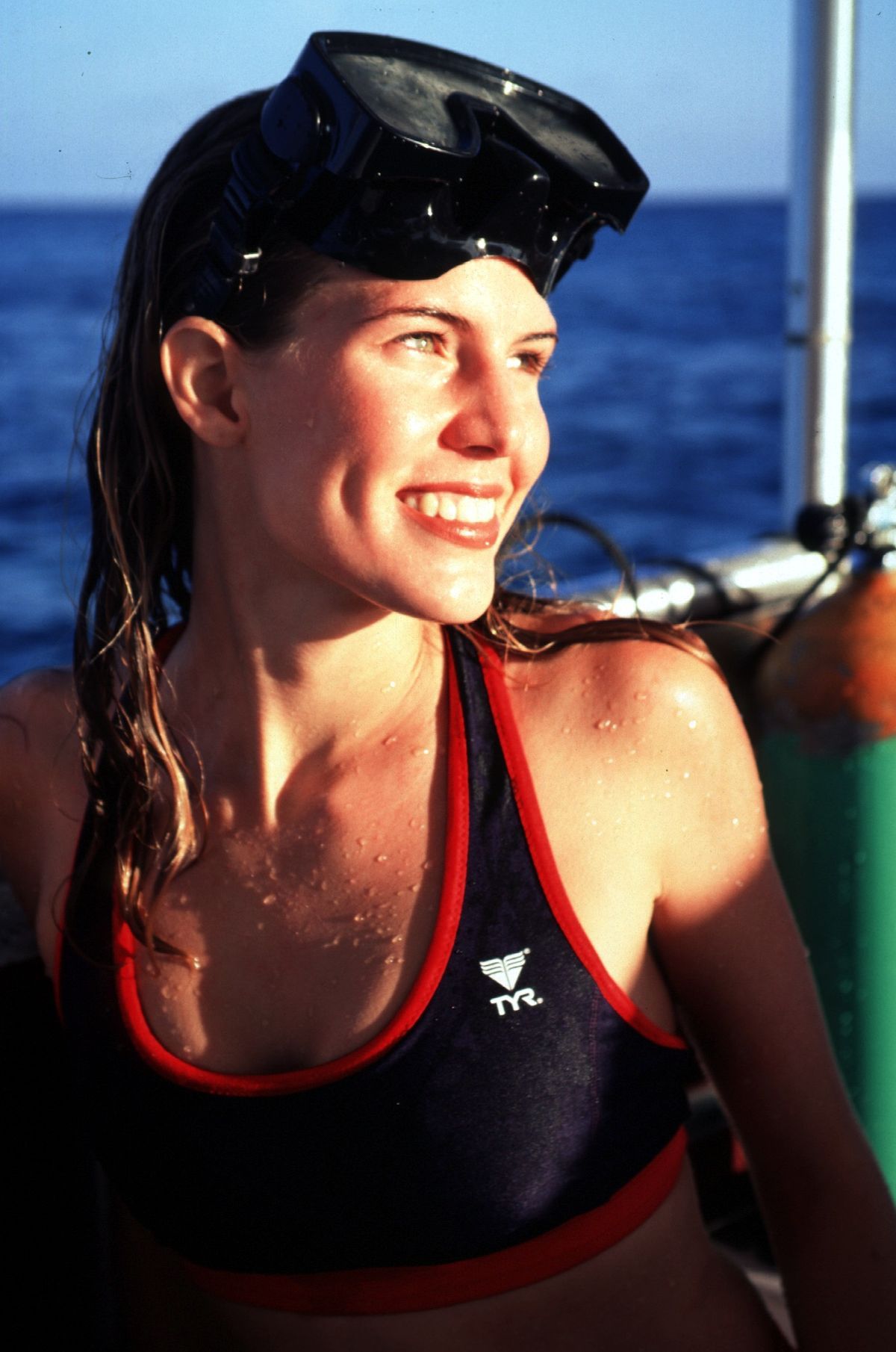 Meghan's passion for both oceanic conservation and her prominent role in American free diving led to her becoming an Omega ambassador in 2000, like her mentor Jacques Mayol in prior decades.  Mehgan wore both on land and while diving a Seamaster Pro mid-sized quartz, wearing it while presenting new models off the coast of Taiwan by diving down to the sea floor.  She remained an Omega ambassador for many years, continuing to wear her blue Seamaster Pro 300M and is even immortalized in the book "A Journey Through Time".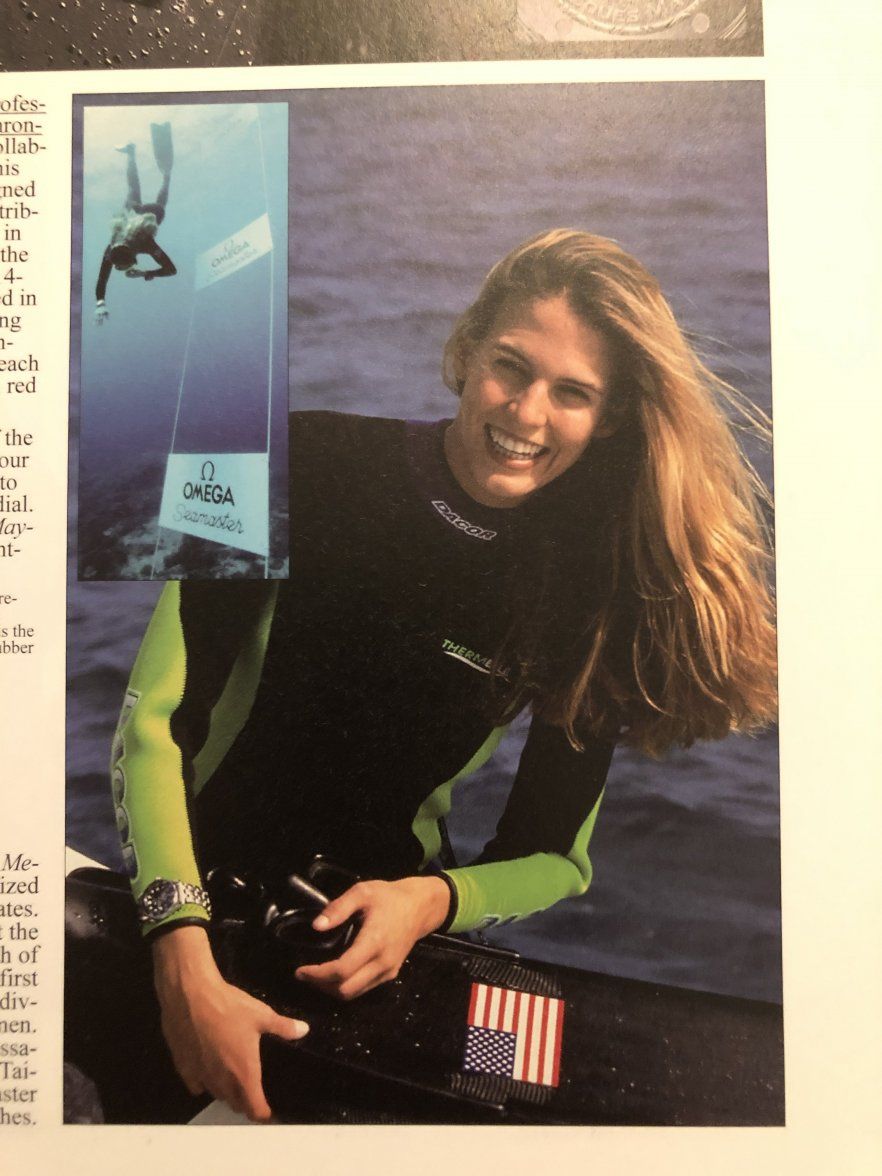 In the years that followed, Mehgan would appear in many television series, as a stunt double for many films including doubling for Keira Knightley in Pirates of the Caribbean and produce shows of her own.
While no longer an official ambassador for Omega, Mehgan still has and wears her original Ref 2561.80 Seamaster Pro 300M quartz mid-sized diver 20 years later, the blue bezel faded to near grey.  While many people including Prince William may own the same reference, few on earth will have been used for their intended purpose as much as Mehgan's.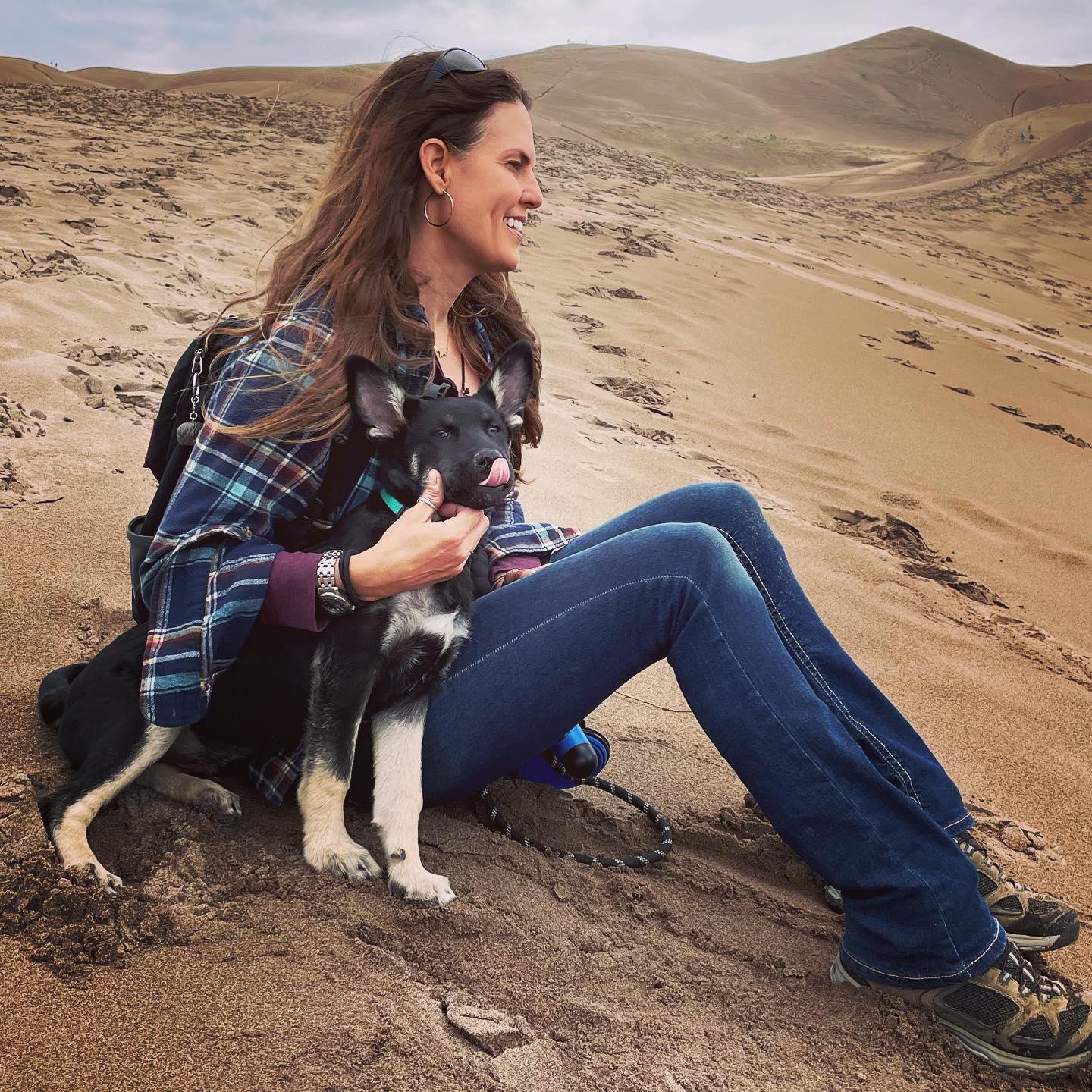 Evolution & Ending
The Seamaster Pro 300M Diver line evolved out of two prior watches, the Seamaster Polaris & Seamaster Professional 200M which were both mainly sold in the mid-30mm size.  It was unsurprising then when Omega released the first generation of "Bond" Seamaster Professional 300M models in 3 sizes, 28 mm, 36.25 mm & 41.5 mm.
Of these three, the 36.25 mm or midsize Seamaster stands out as a comfortable ladies' sized watch without any compromises, caveats or shortcomings.  
This isn't to say that it isn't also a great option for men with smaller wrists too, the mid-size is very much a unisex watch that many men do enjoy as well.  For women though it represents a great value, excellent quality dive watch that isn't an after-thought.
It should be noted that the same cannot be said for the smaller 28mm size, which contains a smaller quartz movement, no automatic option, no helium escape valve and very much is a matter of compromising features and performance for form factor and price.
First Generation - 2551.80 Automatic & 2561.80 Quartz
The Seamaster Pro 300M midsize arrived in 1993 equipped with a distinctive new look and an impressive set of features.  Two versions were introduced, the 2551.80 automatic powered by the Calibre 1109 (later to be Calibre 1120) chronometer rated automatic movement, and the 2561.80 powered by the Calibre 1538 quartz movement.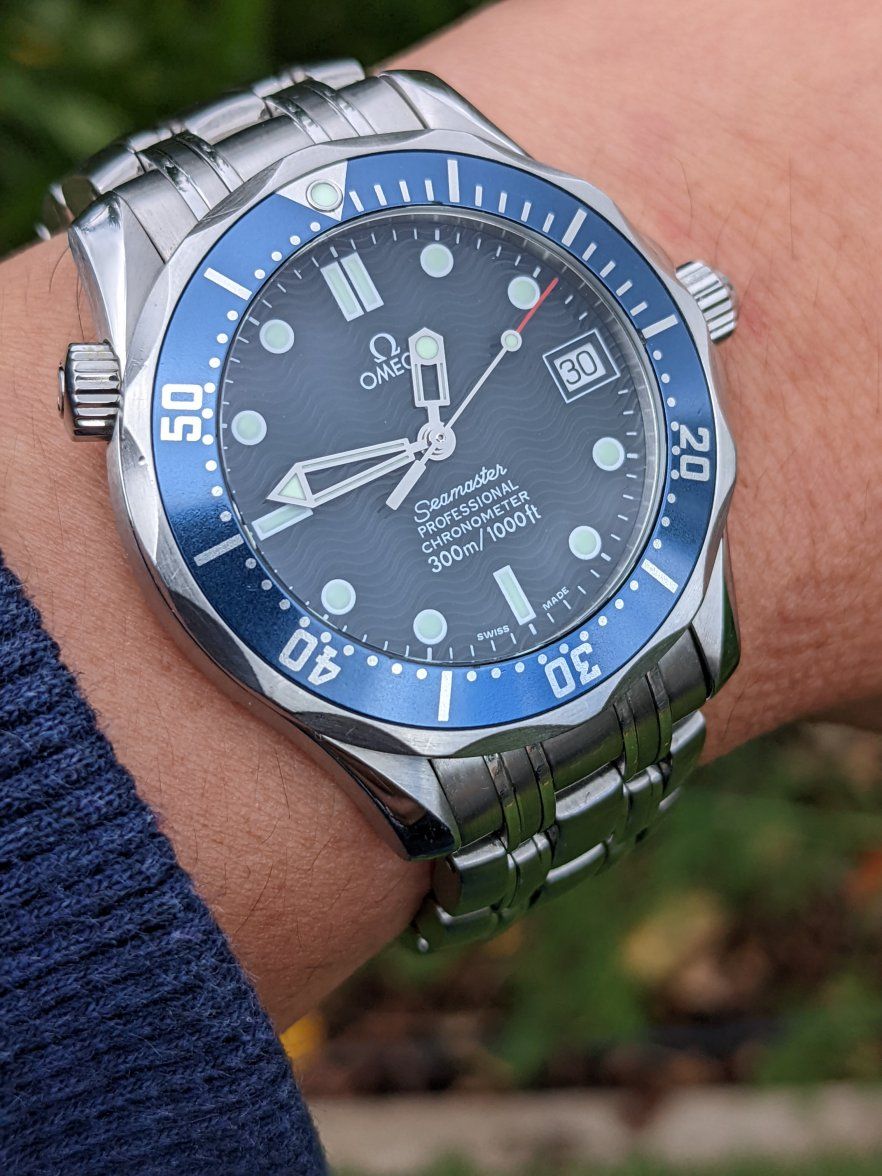 While many smaller, or ladies' versions of watches are built as a result of shrinking the larger mens version and making sacrifices, the Seamaster Pro midsize is one of those rare instances where the opposite happened.  The 36.25 mm case perfectly fits both of the high quality automatic and quartz movements housed within it.  By contrast, when producing the larger 41.5mm version of this watch, Omega re-used the same movements and had to fit a space to occupy all of the empty room in those watches.  The midsize came with a helium escape valve for the first time, preventing failures related to helium build-up in diving bells during mixed gas diving.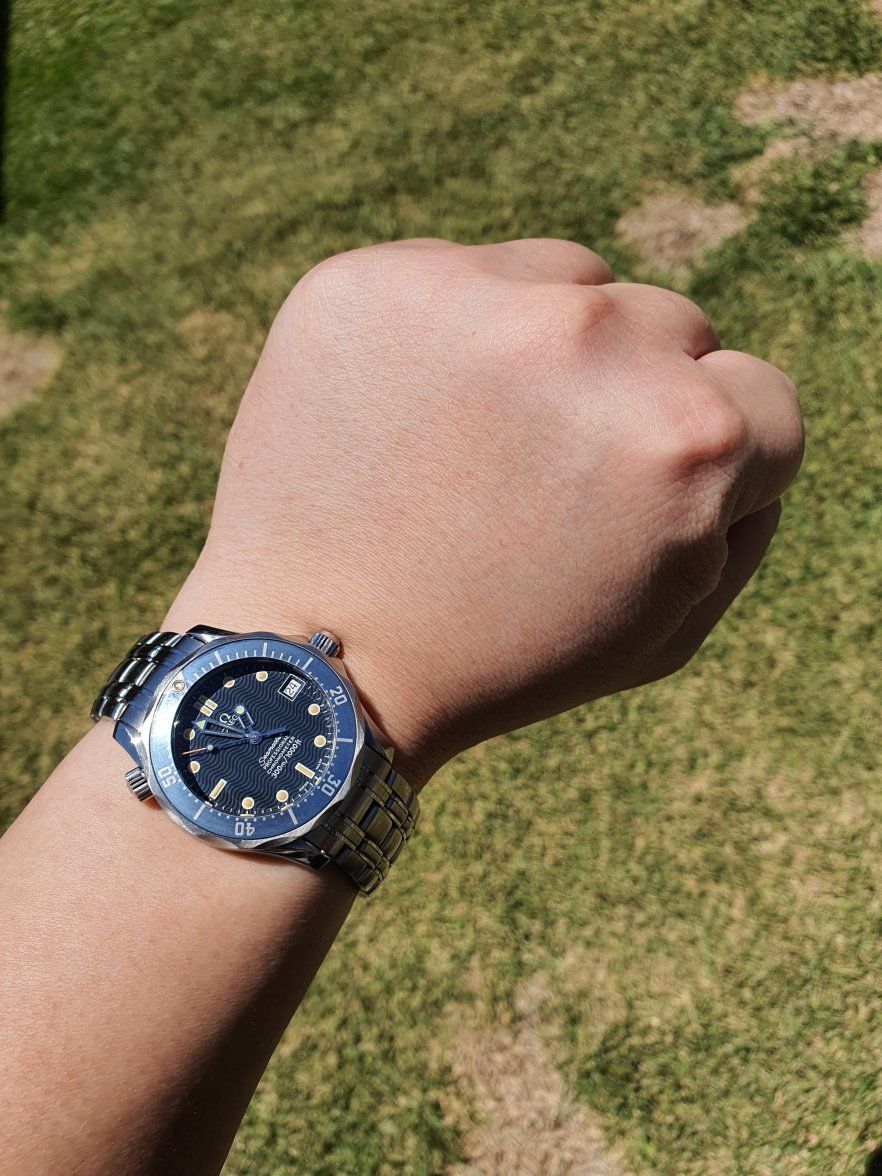 The first years of these models had tritium dials, before transitioning to Super-Luminova in the mid-1990's.  The dials were simple with ample lume plots painted onto a dial and white dial text for everything including the Omega logo.  Skeleton hands gave the watch a unique look while the scalloped, unidirectional bezel in blue aluminium was difficult to accidentally bump and highly legible.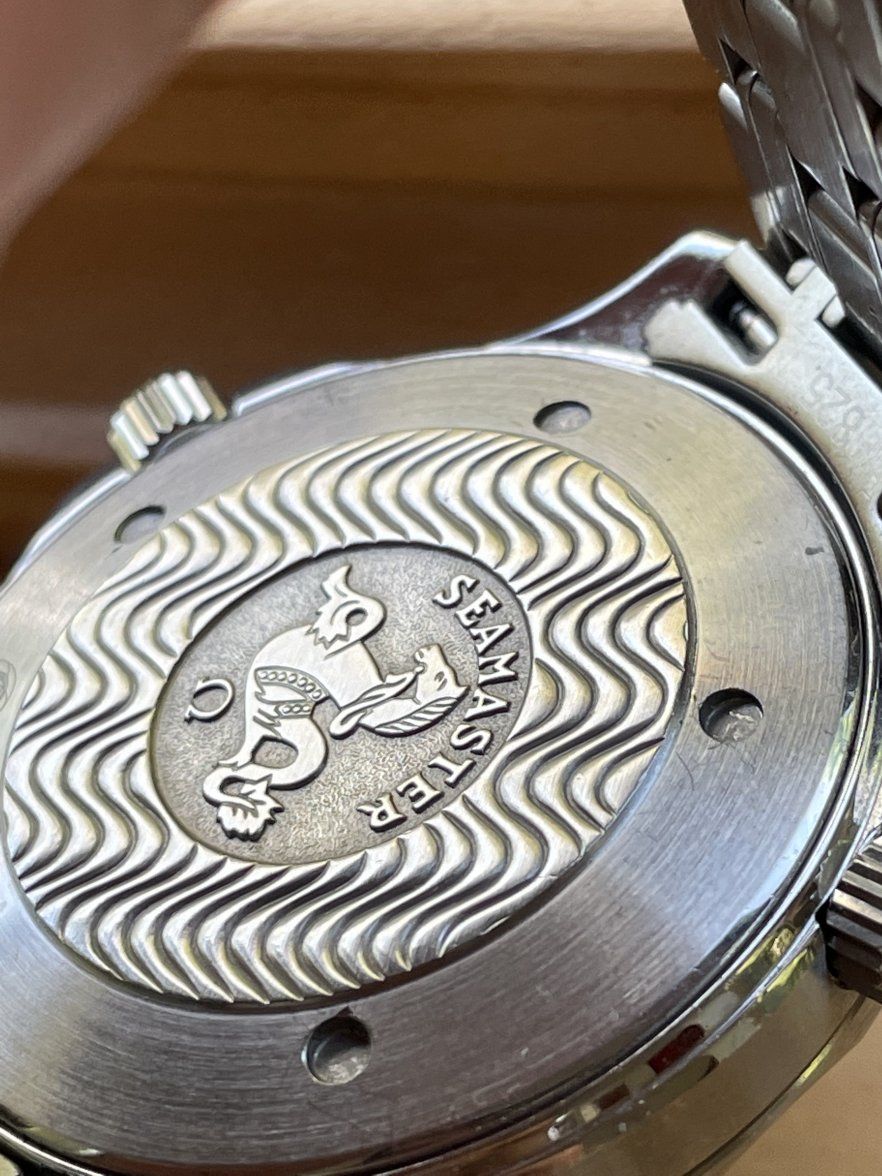 The case sat close to the wrist at 11.5 mm thick in spite of the impressive depth rating thanks to movements that were impressively thin for their performance.  The 18 mm lugs allowed for a lot of bracelet and strap options but the standard "Bond" bracelet with alternating brushed and polished links was ahead of its time in the early 1990s in terms of comfort and durability.  Sizing can be slightly cumbersome with the pin and bushing system and is best left to a local watchmaker with the correct tools.  The solid links and substantial case add up to around 140 grams which is substantial but well balanced as much of that weight is in the bracelet.
Second Generation - 2222.80 Automatic & 2223.80 Quartz
The second generation introduced the 2222.80 to replace the 2551.80 as the flagship automatic chronometer and the 2223.80 to replace the 2561.80 as the quartz version.  
While the quartz version retained the same highly regarded Calibre 1538 movement as its predecessor, Omega took the opportunity to upgrade the 2222.80 with their latest movement, utilising the George Daniels designed Co-Axial escapement.  This new movement, the Calibre 2500 Co-Axial Chronometer had already been in production for several years by the time of the Seamaster Pro's update and had undergone some revisions for improved reliability.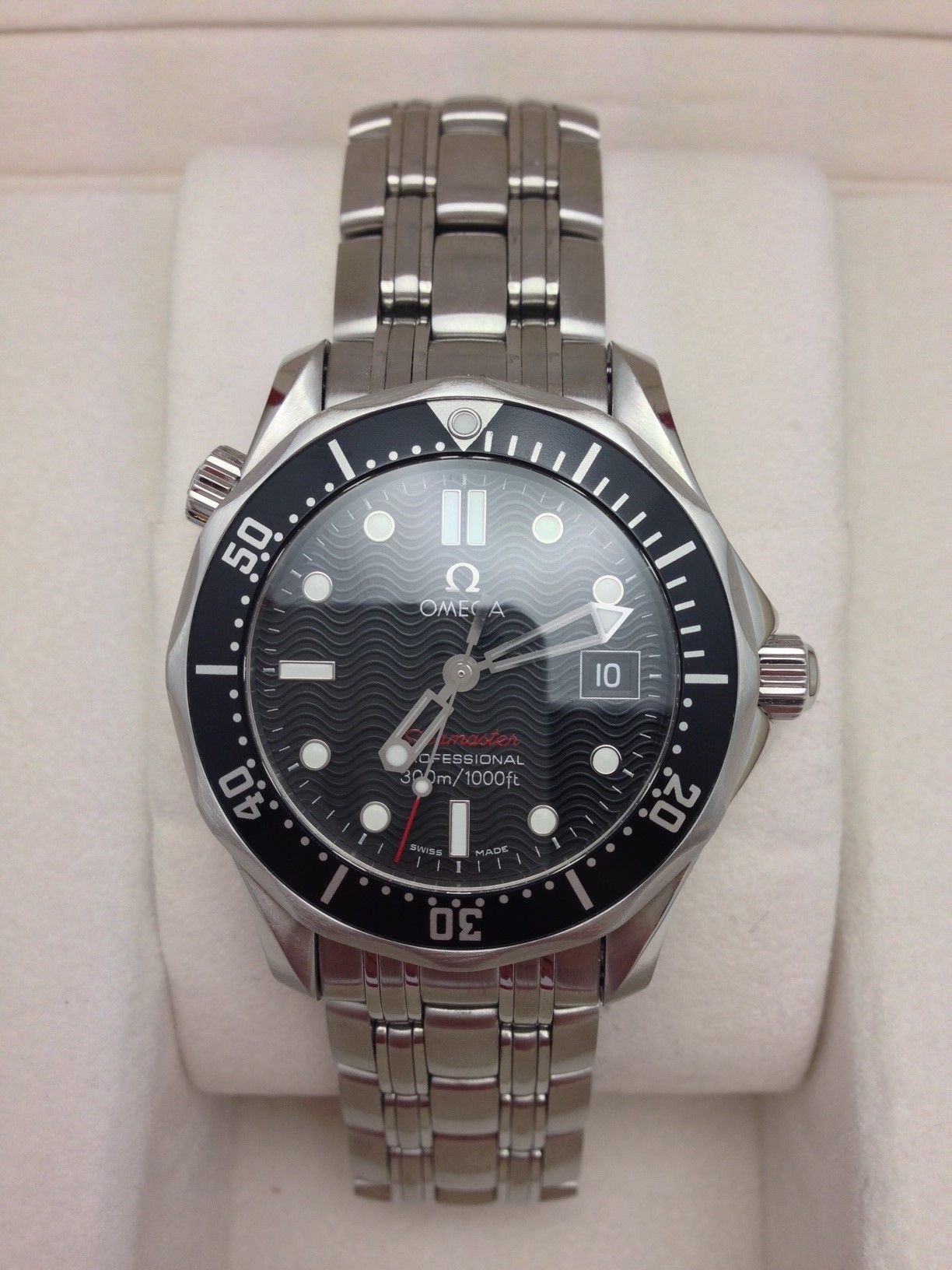 The early Calibre 2500 movements including those used in the 2222.80 were of the "two-level" design, intended for more vertically compact applications.  This design continued to suffer from problems and was not necessarily an upgrade over the Calibre 1120 in its initial form.  In the years since then, Omega has released updated parts and techniques for servicing these movements to ensure that they now reach their intended service intervals without any issues relating to the escapement.
Aside from the movement, Omega also updated the dial design with applied white gold hour markers containing Super-Luminova rather than the luminous material simply being painted onto the dial.  The Omega logo also became applied white gold rather than painted and the Seamaster logo changed from white to red.    The case-back was changed from the wave pattern to a Seamaster hippocampus logo while the overall thickness increased by 1 mm from 11.5 to 12.5 mm thick.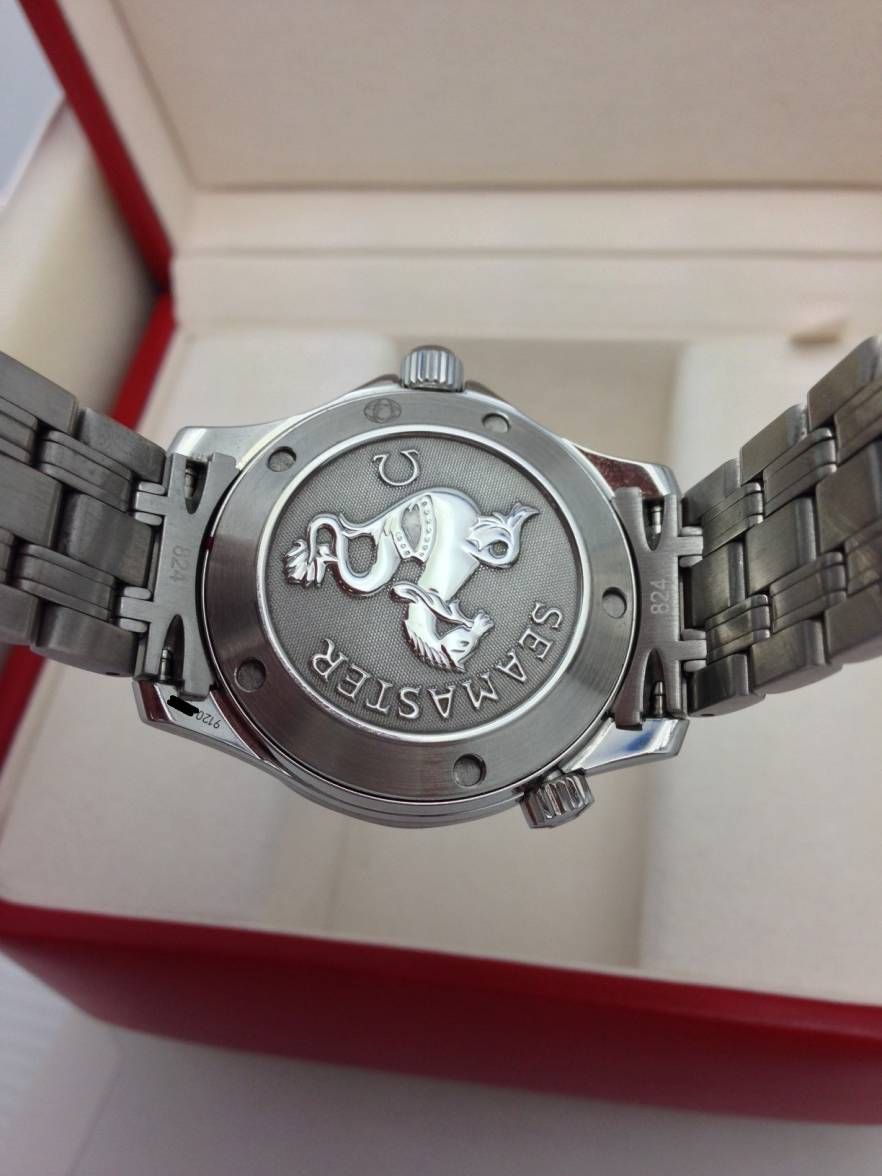 This generation also added a black variant, with the reference 212.30.36.20.01.001 automatic & 212.30.36.61.01.001 in quartz.  Both of these black dial models had a matching black bezel and even a black date wheel as a nice touch.  Today they are far less common than their blue cousins as they tended to be somewhat less popular when new.
Third Generation - 212.30.36.20.03.001 Blue Dial & 212.30.36.20.01.002 Black Dial
The third generation was a very significant upgrade and an extremely impressive watch with many improvements born of learning from the prior two decades.  
The third generation is commonly known as the Seamaster Pro Ceramic and features a stunning high gloss dial in either blue or black, doing away with the traditional wave pattern in favor of a perfectly smooth surface.  The way the white gold applied dial furniture and Omega logo look on this dial is something very special, as they appear to float upon a still, flat lake of dark colored ceramic.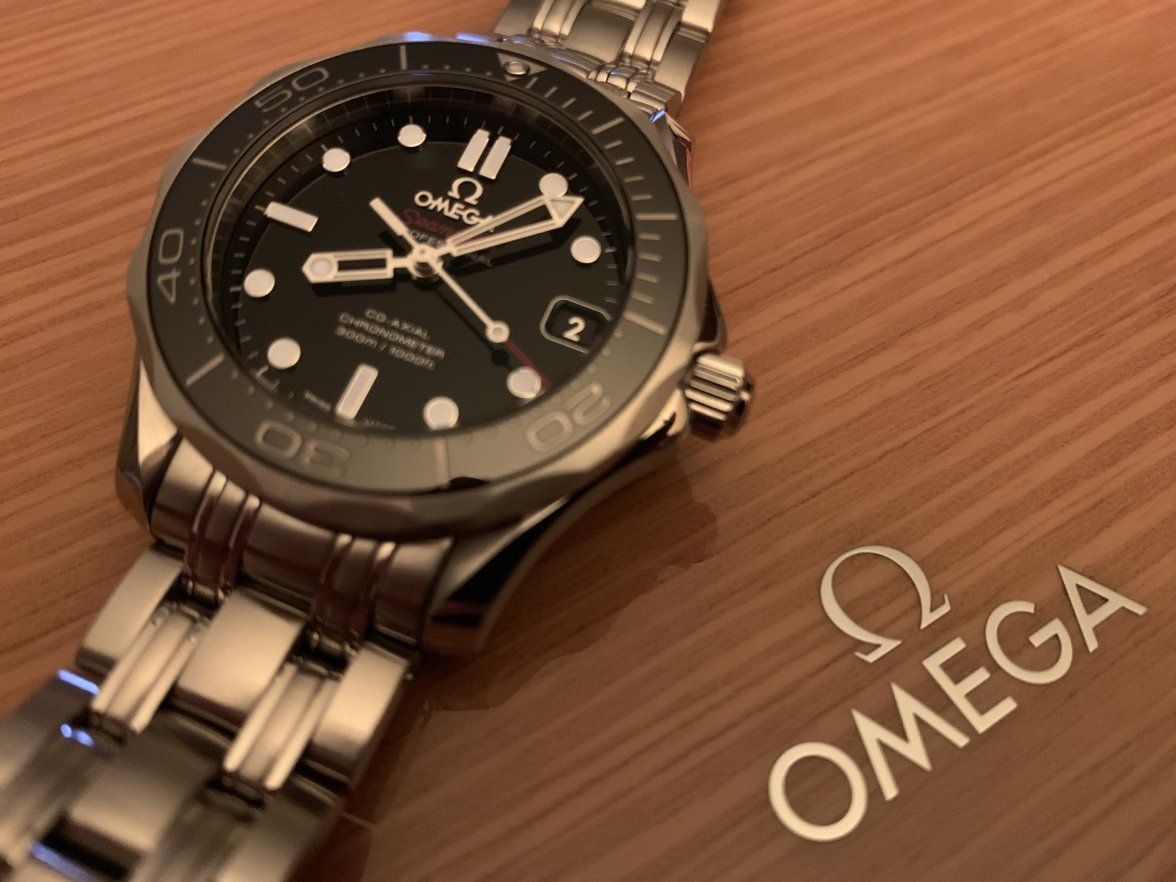 The matching bezel, also in ceramic is exceptionally scratch resistant and does not fade with time, remaining the identical hue of blue or black forever.  It provides excellent legibility, durability, and combined with the flush-fitted domed crystal, makes this watch exceptionally resistant to damage.  The ceramic became thicker again but only by 0.2 mm over the previous generation to 12.7 mm thick.
While skeleton hands remain, to further aid divers Omega alternates the lume with blue used for the hour makers, while the minute hand and bezel pearl are both bright green, making elapsed time immediately prominent.
The bracelet too is upgraded with a new clasp featuring simply the Omega logo, while the pin and bushing system for sizing is replaced with the more user friendly screw and pin system.  It was clear from these design changes that Omega really did pay attention to customers who loved the Seamaster Pro 300M series but identified certain pain points which were addressed with this generation.
On the movement front, Omega used the Calibre 2500D, an upgraded version of the 2500 series featuring a "three level" Co-Axial escapement, which is actually the original design Daniels came up with.  This movement is accurate, reliable and trouble-free without any of the issues of previous Calibre 2500 movement generations.
A noteworthy omission is the quartz version which was not produced in the ceramic generation.  While many watch collectors prefer an automatic chronometer, the quartz was a great option to have available, especially the extremely accurate and reliable Calibre 1538 used in previous generations.  Due to the base price and overall quality having increased substantially over the previous model it likely didn't seem sensible to continue producing the quartz, leaving the 2nd generation as the most desirable quartz generation.
Fourth Generation - Perhaps
The latest Seamaster Pro 300M generation, released in 2021 is a terrific watch line, but sadly the mid-size Seamaster no longer exists.  
The new Seamaster has a Calibre 8800 movement powering the majority of its models, an excellent albeit somewhat thicker movement with impressive specifications that has replaced the Calibre 2500.  Owing to that, and the display-back in place of a regular case-back, the overall thickness of the smallest 42 mm model is now 13.6 mm, over 2 mm thicker than the original Seamaster Pro 300M models.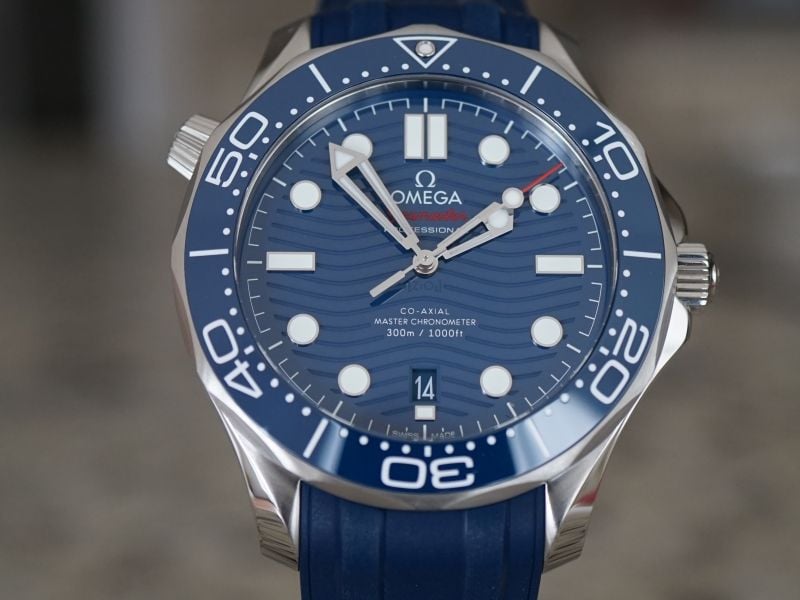 This movement situation is likely the reason we haven't seen a new mid-size model so far for this generation, and why the 39.5 mm Planet Ocean Calibre 8800 remains the only current ladies' diver in the range at a rather bulbous 14.5 mm thick.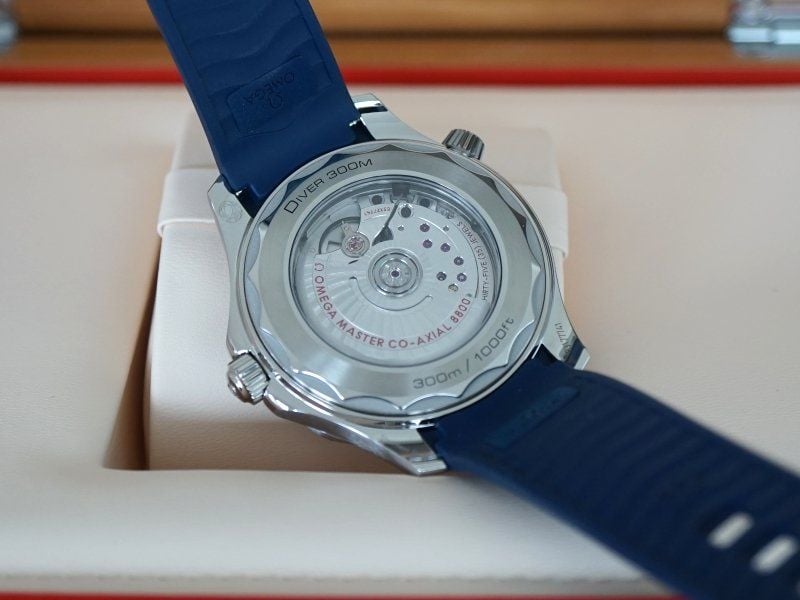 Given how new the Seamaster Pro 4th generation is, we may still see some new options under 42 mm, only time will tell, but for now the superb 3rd generation ceramic is still the best option, and very well priced.
Buying
The mid-size Seamaster Pro models have always slightly lower prices than their full-size equivalent, which is great news to anyone in the market for one.  In this instance there is absolutely zero downside to the cheaper mid-size in performance or specification, it just happens to be slightly smaller and every bit as good, for less money.
Omega marketed and produced these watches in great numbers so they can be found everywhere, dealers, forums, eBay, Chrono24, watch fairs, you name it.  The generation you want will largely dictate the price point, but the best value models to go for are the 1st generation and 3rd generation automatic models, and the 2nd generation for quartz.
First generation automatics can be had in the $1,200 - 1,800 range on eBay with price varying according to condition.  Third generation models often go from $1,700 - 2,600 with a quite nice example in black selling recently for $2,000 on eBay.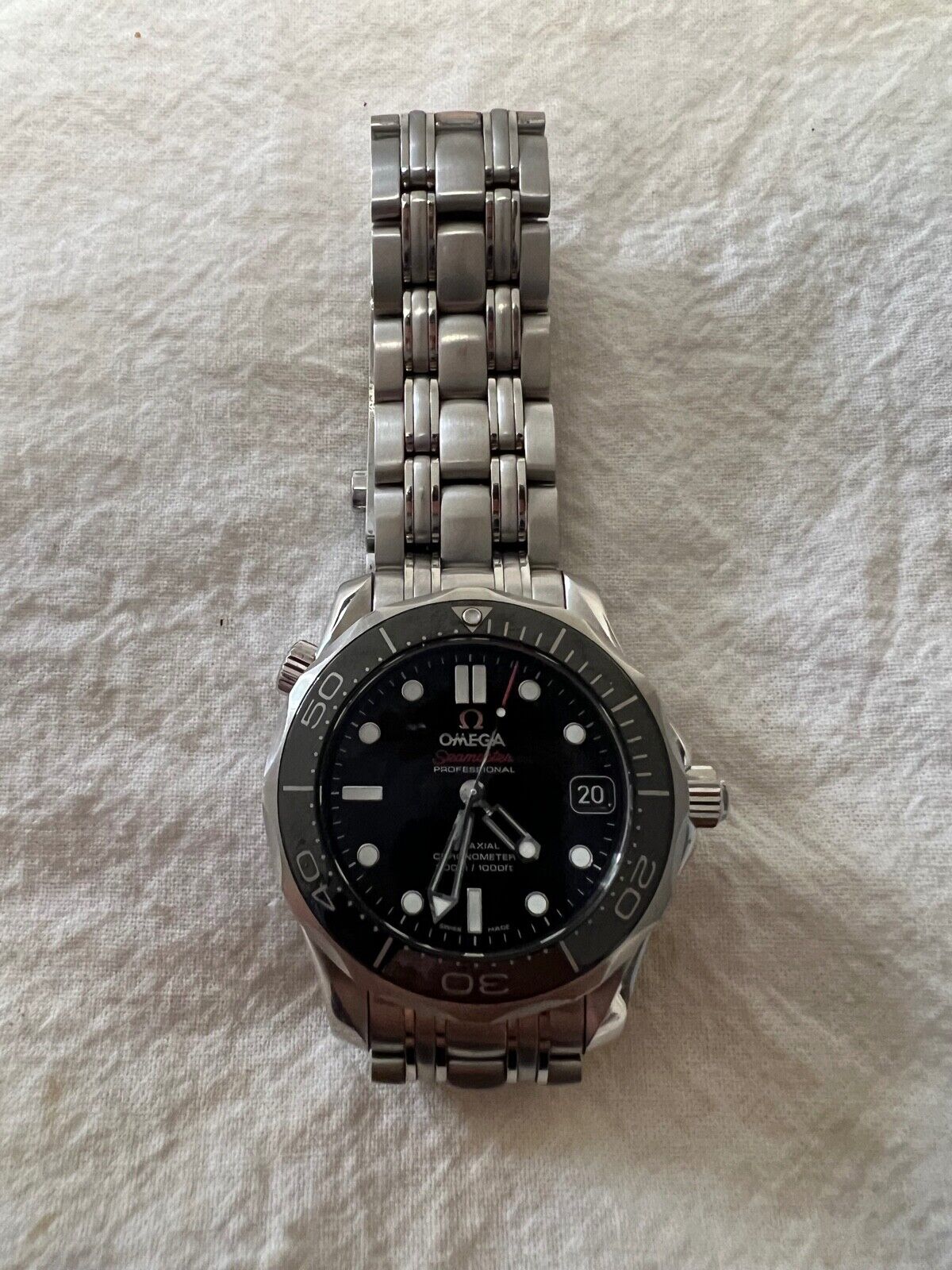 One thing to be aware of is that while servicing can be handled by any qualified watchmaker with an Omega parts account, the bezel on 1st & 2nd generation models can be costly to replace if scratched up and damaged as the insert is not available as a separate part.  
It should also be noted that these watches, while often identifiable by their reference number can be marketed for sale as mid-size, ladies' size, boys' size or even mis-labelled as full sized, so trust the reference more than the description.
If you can find a nice example of these mid-sized Seamasters, especially one of the excellent third generation ceramic models, it will make for an exceptional daily wear piece and last a lifetime.
Discussion thread on Omegaforums can be found here: