Many timepieces claim to be a tool watch, a genuine, purpose-built instrument for a specific profession or activity. The Seamaster APNEA is one of those rare cases where the watch truly deserves the title.
Jacques Mayol - Homo Delphinus
Jacques Mayol was a legendary French skin diver, author and philosopher, famous for breaking numerous records in his lifetime including being the first man to descend to 100 meters.  Mayol was born in China in 1927, and at the age of 7, while diving with his older brother in the sea off Kyushu, Japan, he had an encounter with a dolphin that would go on to shape his entire career and imbue him with a life-long love of the ocean.
Jacques was deeply fascinated by dolphins, their intelligence, their power and grace as swimmers and particularly their ability as mammals to hold their breath when diving to great depths.  In diving with them he saw and felt their similarity with humans and wondered if humans may have evolved out of an ocean dwelling species over millennia.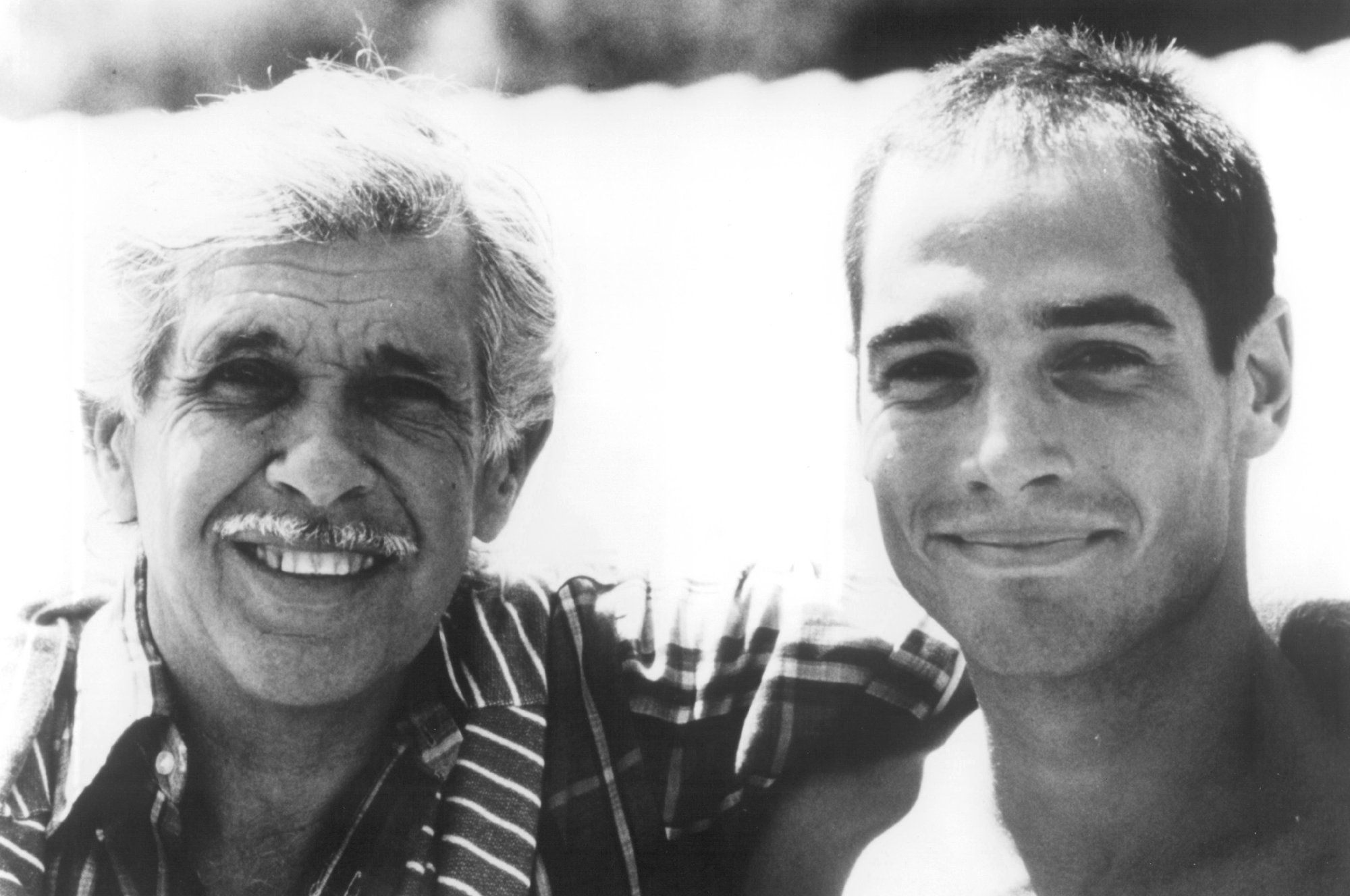 Over his career, Mayol strove to push the limits of human endurance, engineering and scientific understanding with great success.
Omega became involved with Jacques Mayol in 1981 when on a record-breaking free dive to 101 meters, he wore an Omega Seamaster 120M Plongeur De Luxe Reference 396.0900.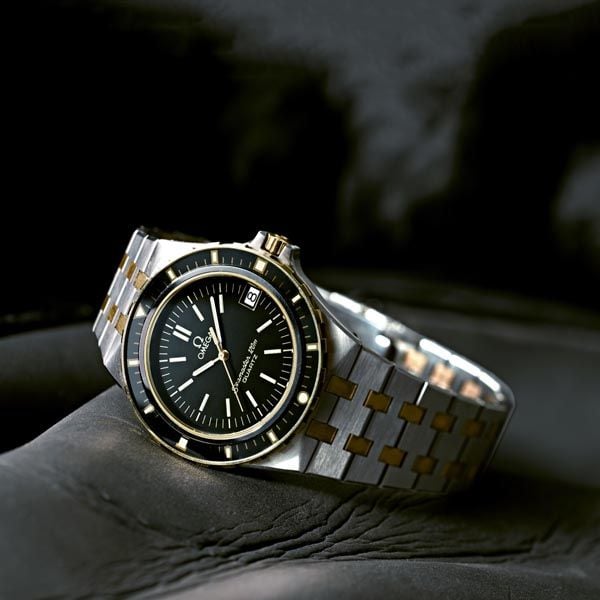 Mayol's final deep dive reached a new record of 105 meters in 1983, at the impressive age of 56.
While at his peak he reached 105 meters and could hold his breath for over 5 minutes, Jacques believed that humans could greatly exceed those limits and predicted that within a few generations humans would be able to exceed 200 meters depth and hold their breath for over 10 minutes.  
Jacques Mayol passed away in 2001 at the age of 74.
In the years that followed his death, his astonishing predictions for human free-divers were not only met, but greatly exceeded.  The no-limit free dive record now stands at 253 meters, 53 meters beyond his prediction and not far from the limits of dolphins.  The static apnea record now stands at 11 minutes, 54 seconds, more than double his record only a few decades earlier and nearly 2 minutes beyond his estimate.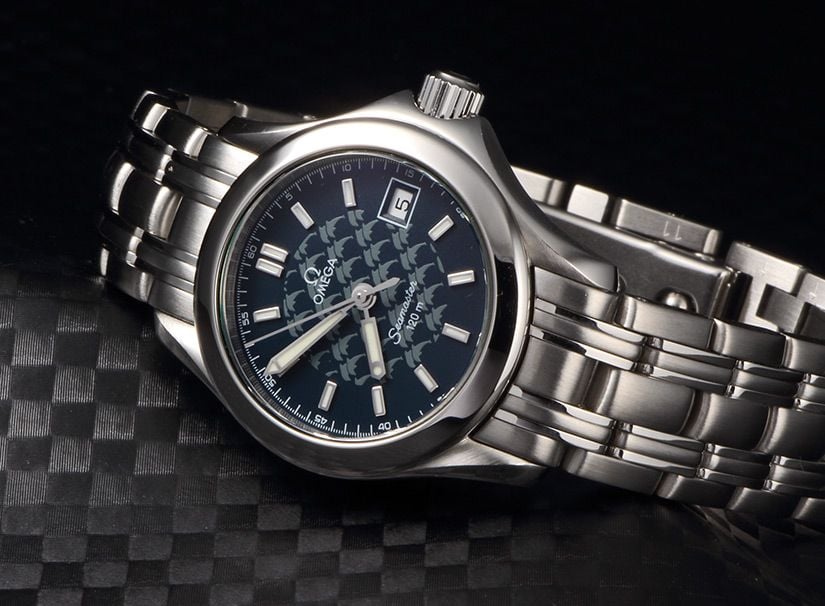 Omega continued to support Mayol right up to his passing, with the Seamaster APNEA representing the most purposeful and final tribute to this astonishing individual.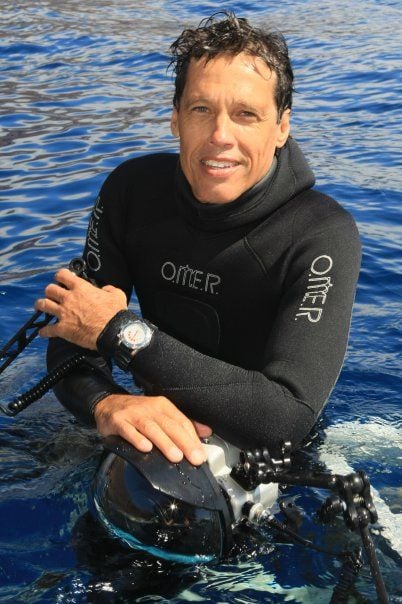 Case & Bracelet
The Seamaster APNEA case has a number of subtle differences to other Omegas of its era and incorporates a number of key features that enable it to perform the task it was designed for.  
The first is the pusher design which is more complex than most people realise.  The vast majority of chronographs, and almost all of those produced 20 years ago were designed to meet their water resistance goals only when the pushers are not being operated.  This is because the O-ring seals on pushers are deformed and moved when the pushers are depressed, which can potentially allow water to enter the watch.  Omega in the early 1990s designed pushers that were not only water resistant to 300 meters, but were fully functional and could be safely pressed all the way down to 300 meters.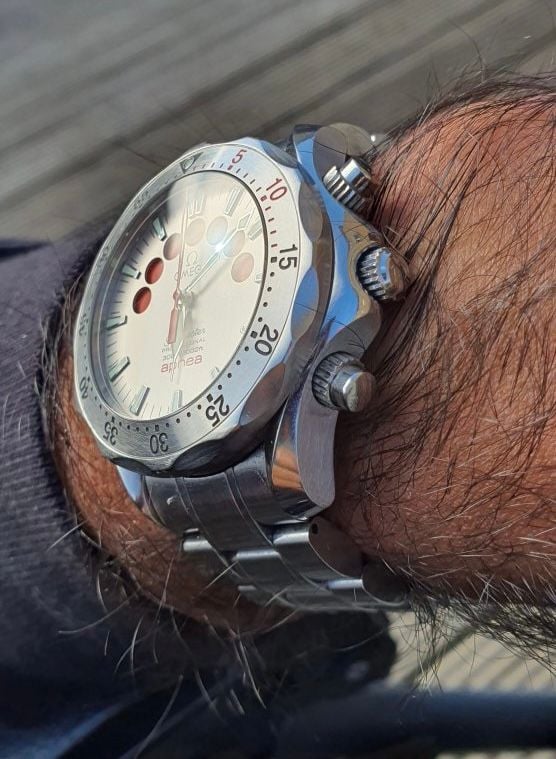 This very rare feature of fully depth safe operational pushers is key to the APNEA, as divers will be actively using this feature potentially all the way down to 100 meters and beyond, a rare case where a highly complex feature is genuinely useful for the intended market.
Another thing you may notice on the Seamaster APNEA is the lack of a helium escape valve.  This is because APNEA divers are not scuba divers, they don't breathe mixed gases, they don't use diving bells, and they don't need a helium escape valve as a result.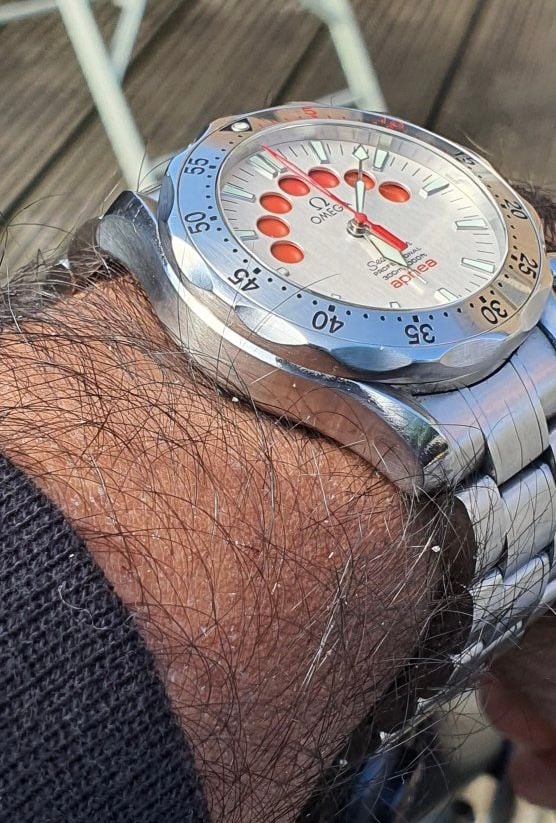 The scalloped uni-directional bezel is slightly different from most Seamaster models in that it has a concentric brushed finish rather than polished, and has red minute markers up to 14 minutes, matching the dial.  The case is also unusually brushed rather than polished, likely to reduce glare and maximise legibility of the dial under difficult conditions while diving.
The case is 41.5 mm in diameter, the same as other full sized Seamasters however the Calibre 3601 chronograph movement makes it a bit thicker at 16 mm, although this is also the same thickness as the regular Seamaster Pro 300M Chronograph models.
The case-back is a screw-in design with the Omega wave pattern, but instead of having the traditional Omega Hippocampus logo, it has a unique tribute to Jaques Mayol with both the name engraved as well as the Team Mayol logo of a dolphin and a diver in a circle.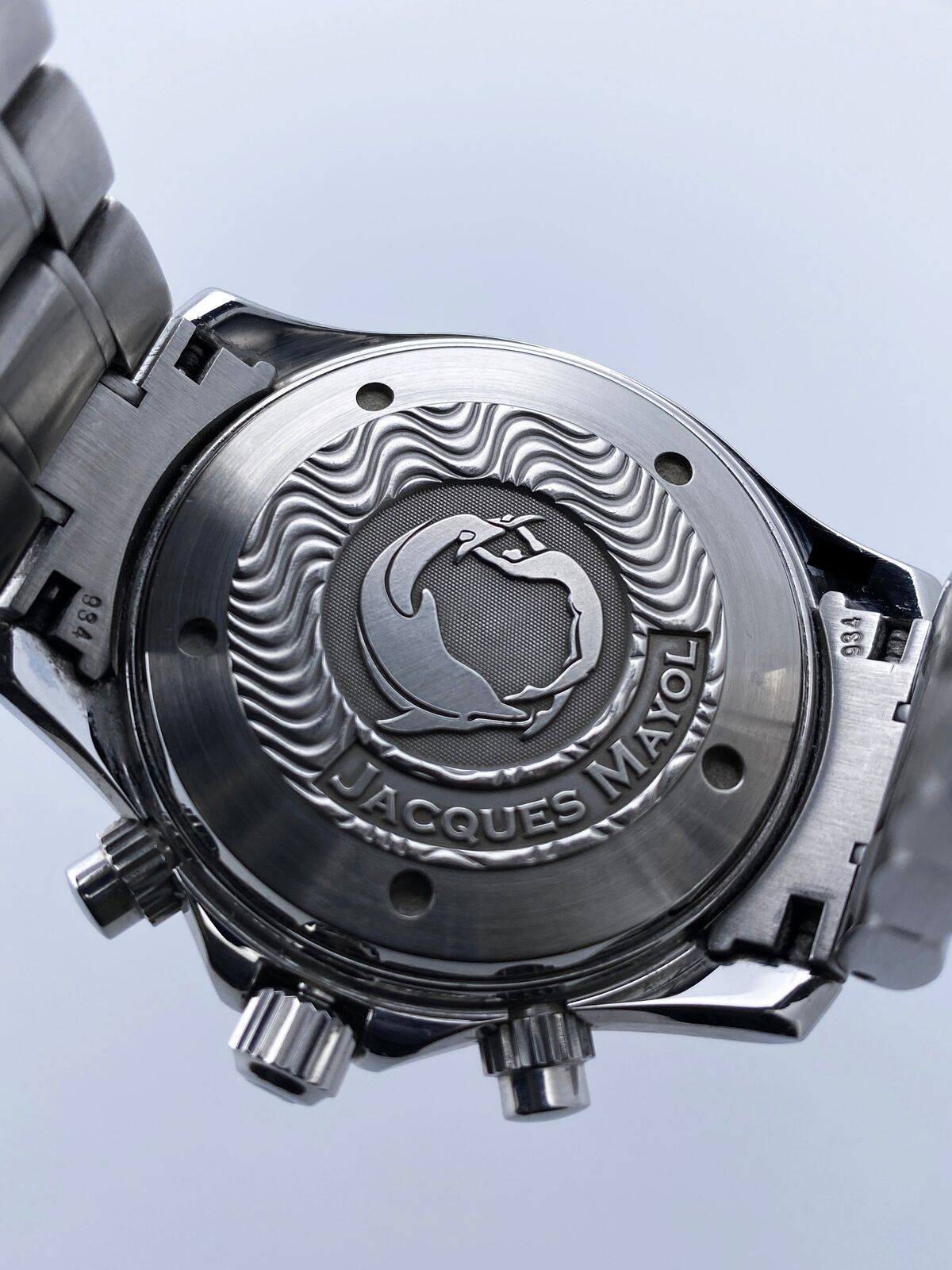 These watches come either on a stainless steel Speedmaster style bracelet, or on the black Omega rubber strap with tang buckle.  Having 20mm lugs there is now a much wider range of strap options including NATOs, ISOFRANE, and Omega OEM mesh.
Movement
The APNEA watches are powered by the Omega Calibre 3601 modular chronograph movement.  This movement is a combination of an ETA 2892-A2 base calibre and a Dubois depraz DD 2029 piggyback chronograph module.
The Calibre 3601 oscillates at 28,800 vph, has a 44-hour power reserve and due to the piggy-back chronograph movement has a slight vertical offset between the plane of the pushers and the crown.
While the APNEA is similar to regatta timers in the Omega lineup like the ETNZ, powered by Calibre 3602, there are some very significant differences that set it apart.  
Firstly, like the Omega Chrono-stop line, this watch has a chronograph second hand, but no running seconds sub-dial or hand at all.  When the watch does not have the chronograph running, it is not obvious at all that the watch is even ticking.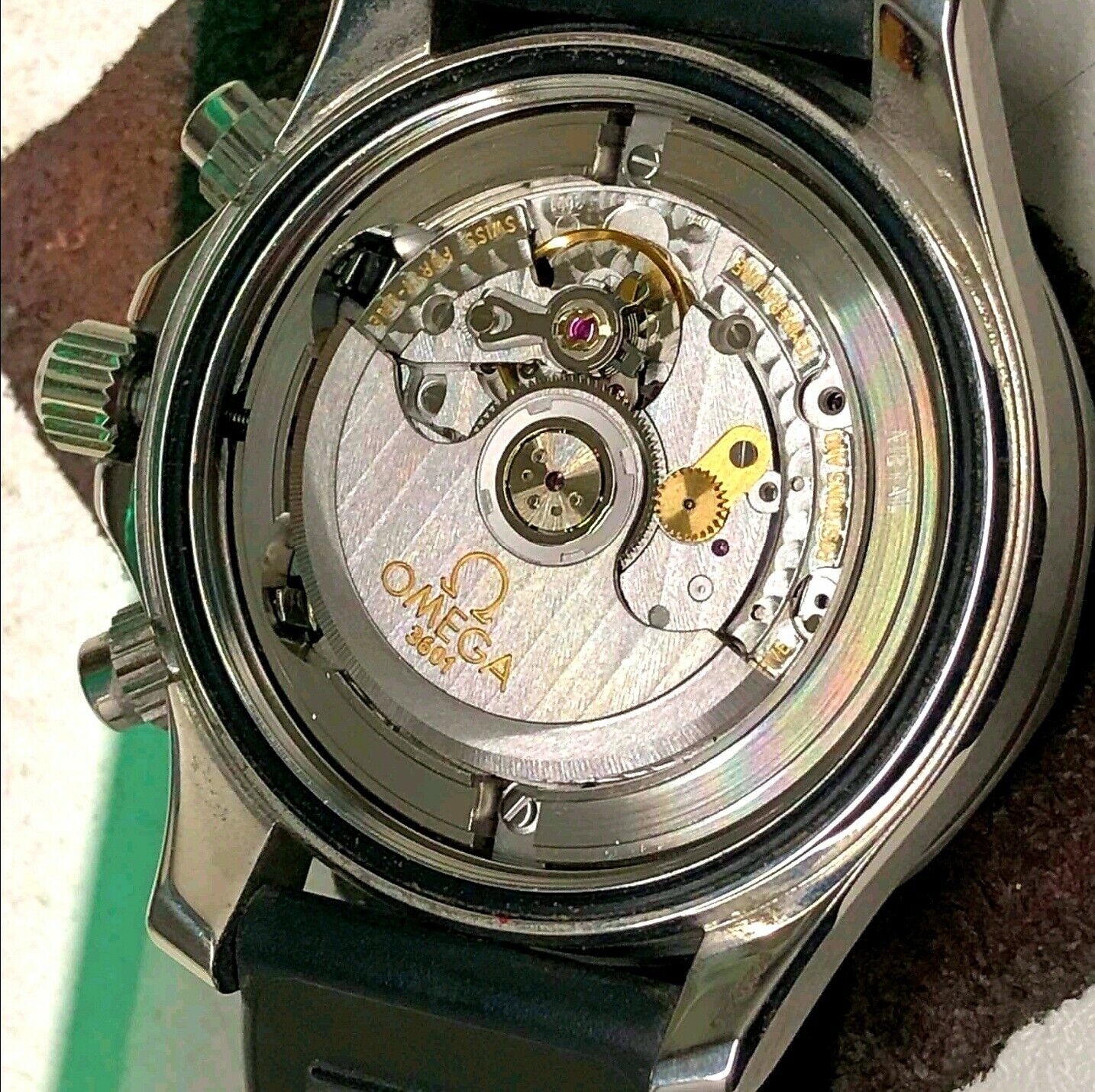 Secondly, beneath the dial is a disc that is half red and half black or silver depending on the dial color, which rotates entirely in 14 minutes, and runs off the chronograph.  This disc is what gives motion to the 7 windows on the upper half of the dial.
The way it works is from rest all the circles will match the dial color, silver or black.  Then as each minute passes, a circle will fill entirely in red, until 7 minutes is reached, at which point the dials will begin turning the dial color again over the next 7 minutes.  The whole process will repeat once 14 minutes is elapsed.
Unlike the ETNZ chronograph with Calibre 3602, the APNEA's Calibre 3601 movement is not chronometer rated however should still perform very accurately in real world usage.  
Due to these watches having a Dubois-Depraz chronograph module, the best approach to servicing these watches is to have them serviced by Omega through an authorized dealer or boutique.
Dial & Variants
Coming at the beginning of the 2000s, the Seamaster APNEA benefits from a noticeable step up in finishing quality made by Omega at that time.
Both dials feature applied white gold hour markers with generous amounts of Super-Luminova material in them.  The hands are similarly rhodium-plated white gold and have a very unique design, derived from the sword hands of other Seamaster Pro 300M models.  Because ordinary sword hands would cover the circular windows on the upper half of the dial, these hands are ultra-thin for the section that crosses those windows, allowing maximum visibility.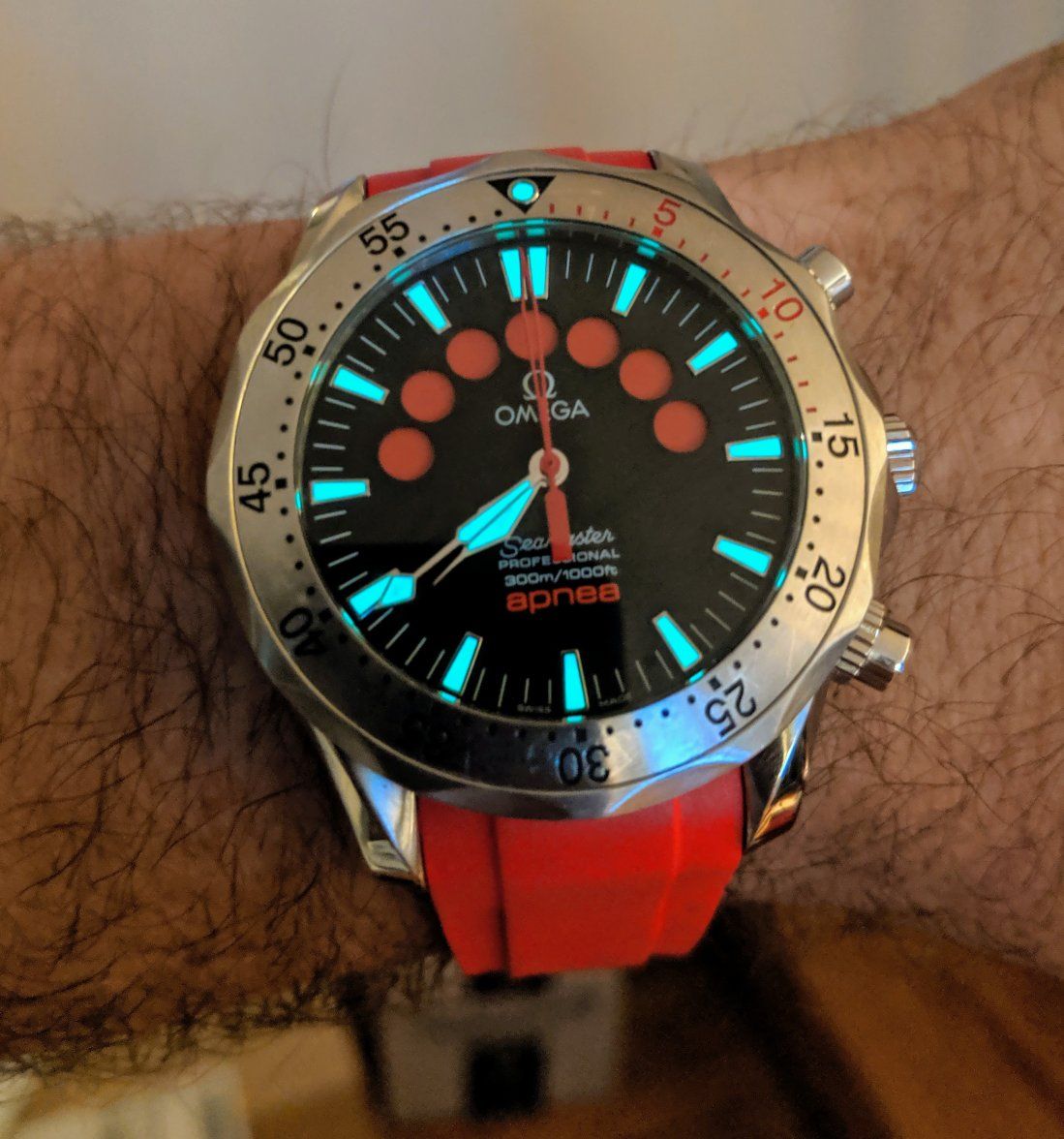 The silver dial has a vertically brushed texture to it with black painted dial text and red APNEA logo, while the black dial is more of a matte black texture.  One thing to note when deciding between the two is because the black dial and the disc below it are both a plain matte texture, the disc does a better job of blending in with the dial.  The silver dial version, because it is vertically brushed, reflects off the disc and dial differently, resulting in more color variation between the silver of the dial and the silver of the disc beneath.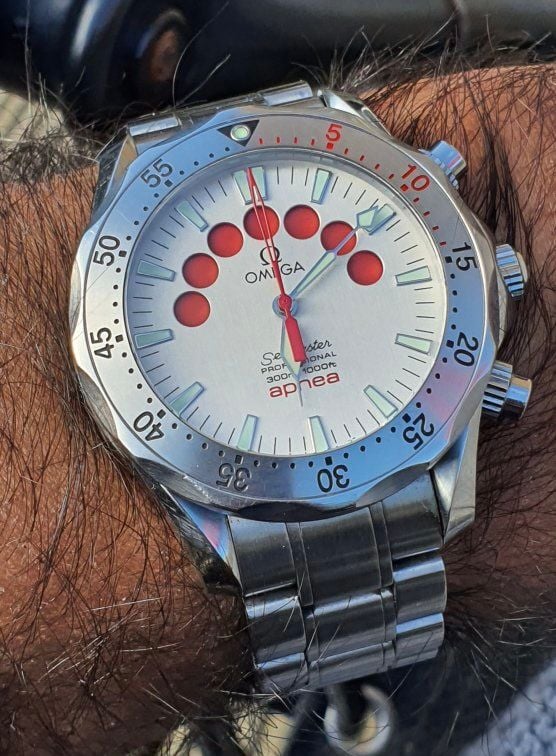 The Seamaster APNEA comes in two dial colors and two bracelet / strap options for a total of four unique references.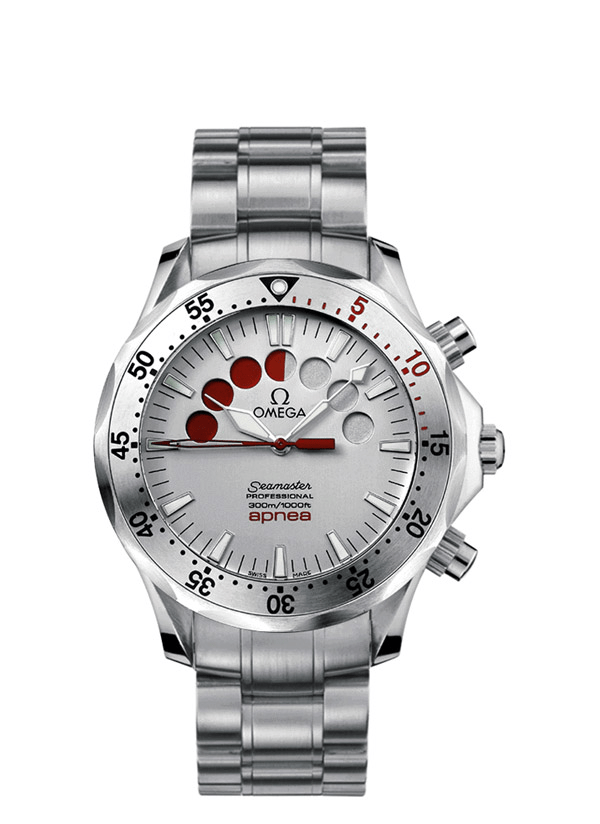 Buying
These watches are remarkably cheap for an Omega Chronograph with an unusual complication.  At this moment in time, decent wearable examples with bracelet have been selling online for around the $2,000-2,200 price range, which is remarkably cheap given that basic Seamaster Pro 300M divers from the 1990's can often sell for around that price.
This example is listed with a buy it now price of $2,045 and free shipping as of October 2022.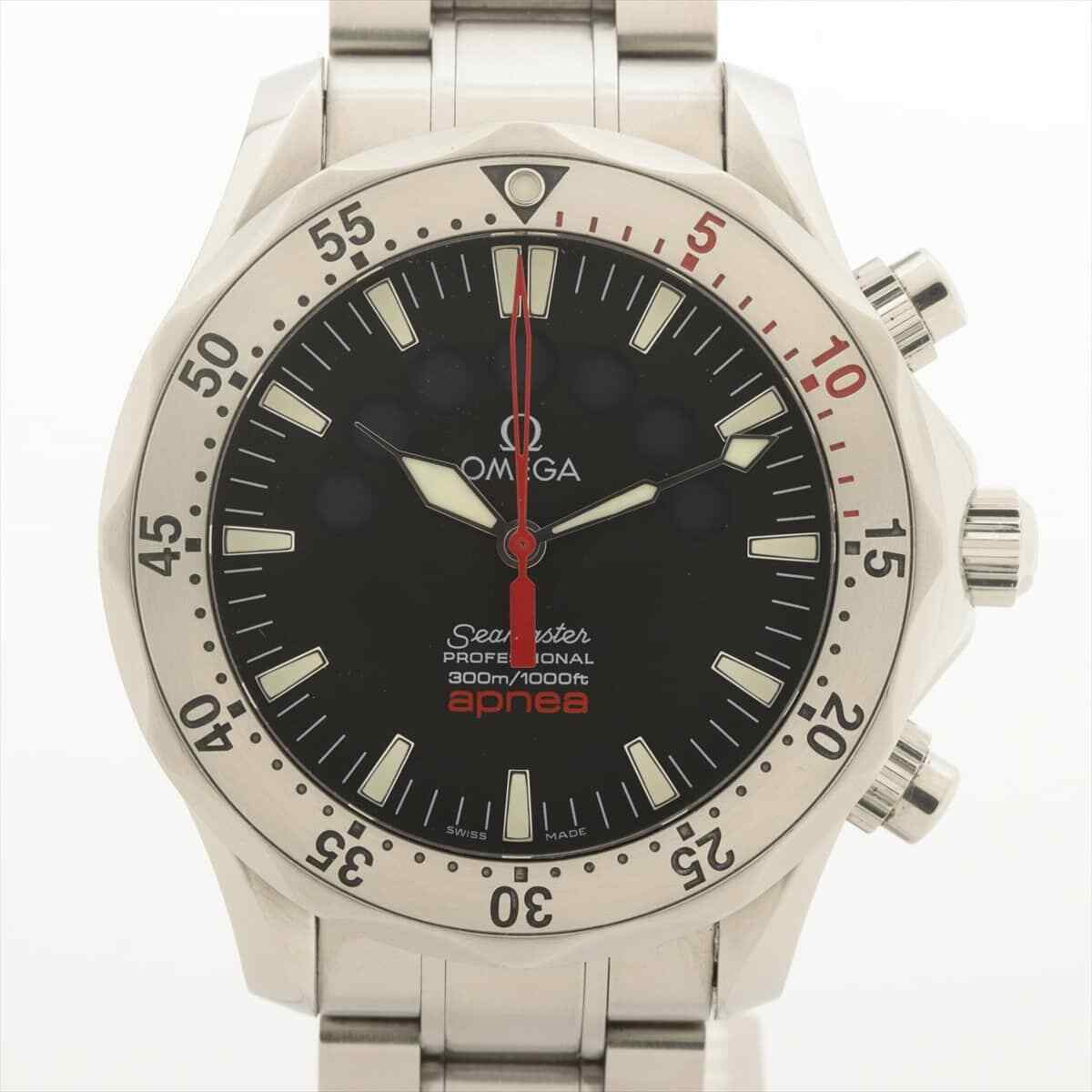 There also is the consideration of a movement service to factor into your purchase. As mentioned, these watches are best serviced by Omega due to the movement type, and this will cost several hundred dollars.  All of these watches are now either due, or well over-due for service given they were produced 20 years ago so unless an invoice from an Omega service center proving service is provided, assume this cost will be required sooner or later.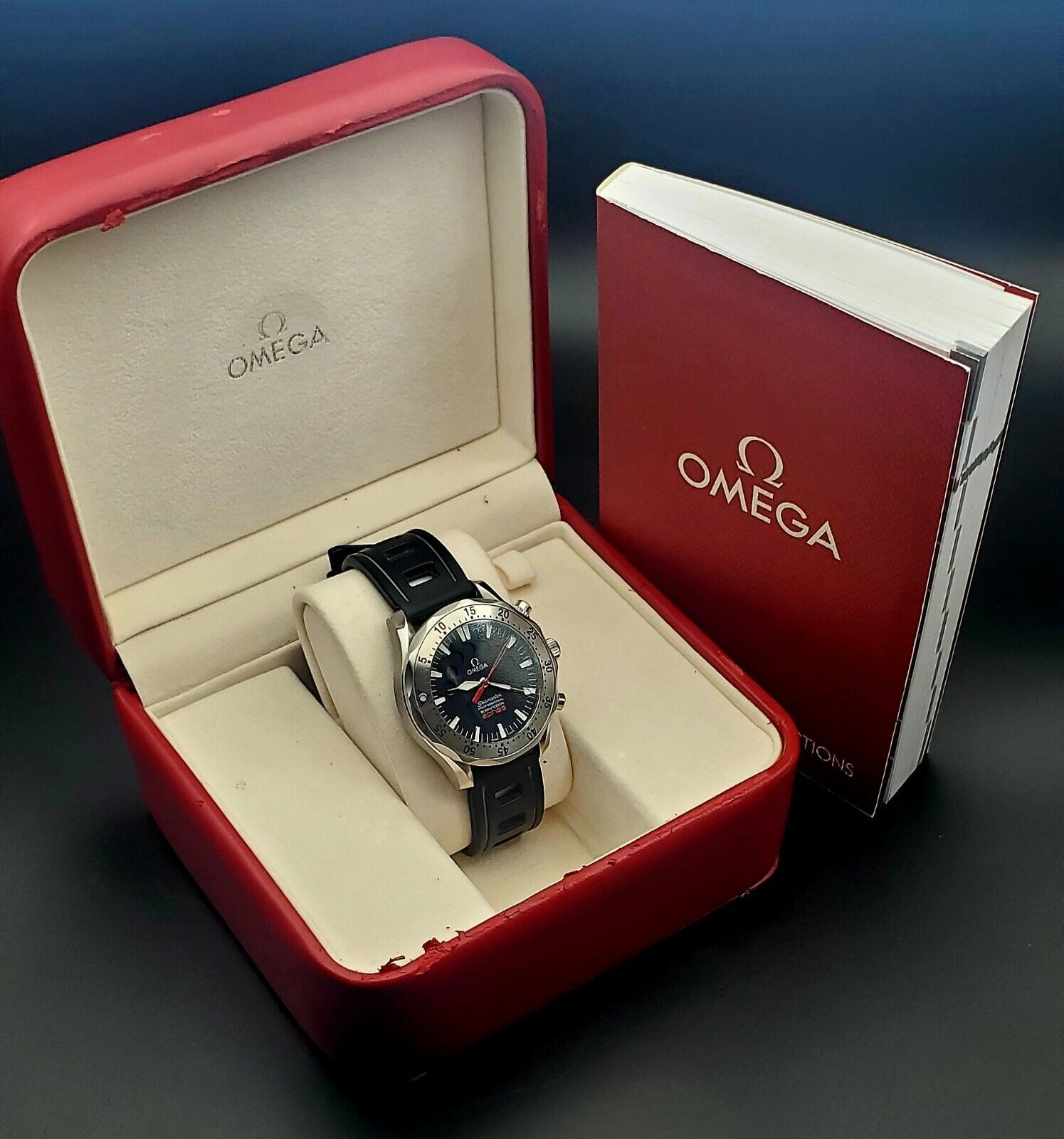 Given the substantial supply of these, it really is best to hunt for one on eBay or on forums at the best price for condition you can find rather than overpaying for one from a dealer.
A lot of these watches are available online at any given time, Omega made a good number of them and while interesting and certainly different from anything else made by Omega, they were never well understood or appreciated.  This is highly unfortunate given the history, story, and significance behind the watch.
When properly serviced and cared for these are a superb daily wear piece with excellent water resistance and durability, and incredibly good value for this quality of watch.  If you're a skin diver with a passion for horology, give one a go and see how many circles you can get up to.  
Discussion thread on Omegaforums can be found here: