These large and strangely shaped Seamasters served as a successful follow-up to the 36 mm "Sparkle" Seamasters of the late 60s. With superb finishing, movements and overall quality in a larger case, they proved a very worthy successor.
Oversized & Durable With 70's Style
Released at the start of the 1970's, this family of oversized Seamasters were a new category of watch, with the size, durability, and enhanced water resistance of a diver, but the stylish design and slim profile of a casual dress watch.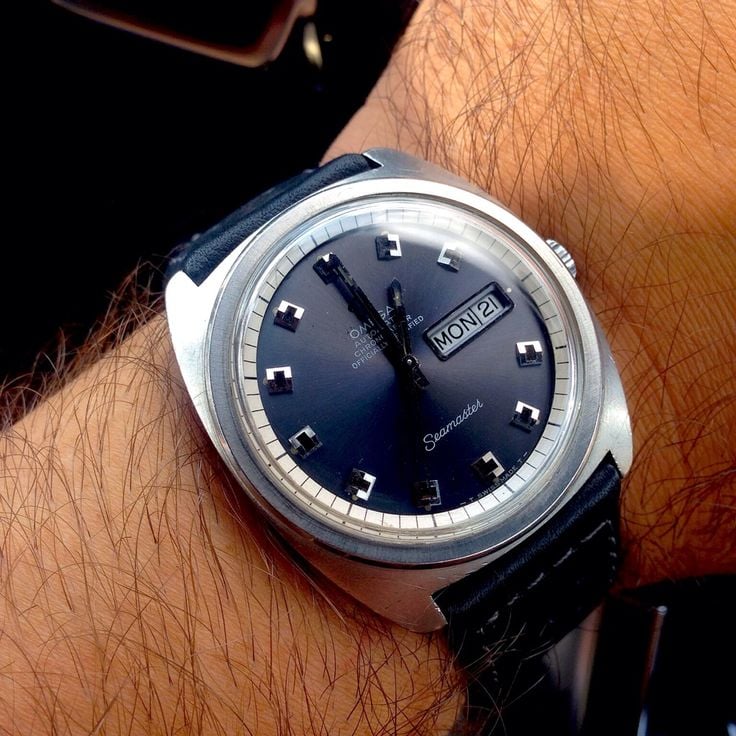 The shape is immediately distinctive, riffing off Gerald Genta's C-Case Constellation design and upsizing it to enhance its wrist presence.  Top quality movements are used, carrying over the best of date and day-date calibres of the 60's in both regular and chronometer grade.  The quality of dial finishing is top tier, showing none of the austerity that the 70's are often known for.  
In many ways, this line of jumbo Seamasters can be seen as the successors to the extraordinary popular and desirable Seamaster "Sparkle" family of the late 60's.  Indeed not only do they share the same calibre options, but also the dial designs, hands and bezels are near identical between the two, yet these larger 38 mm C-Case Seamasters carry a lower price point and are not as well-known as their 60's predecessors.
At the end of the production run for the 38mm Seamaster Jumbo, there was no real replacement.  Omega was no longer at the top of its game, and the Seamaster line began to fragment and become confused.  The closest thing to a successor would be the Seamaster Cosmic 2000, which was still a good watch but never quite reached the quality levels of these C-Case Seamsters.  It would not be until the Aqua Terra decades later that high quality hybrid sports / dive watches would again be a part of the Omega catalog.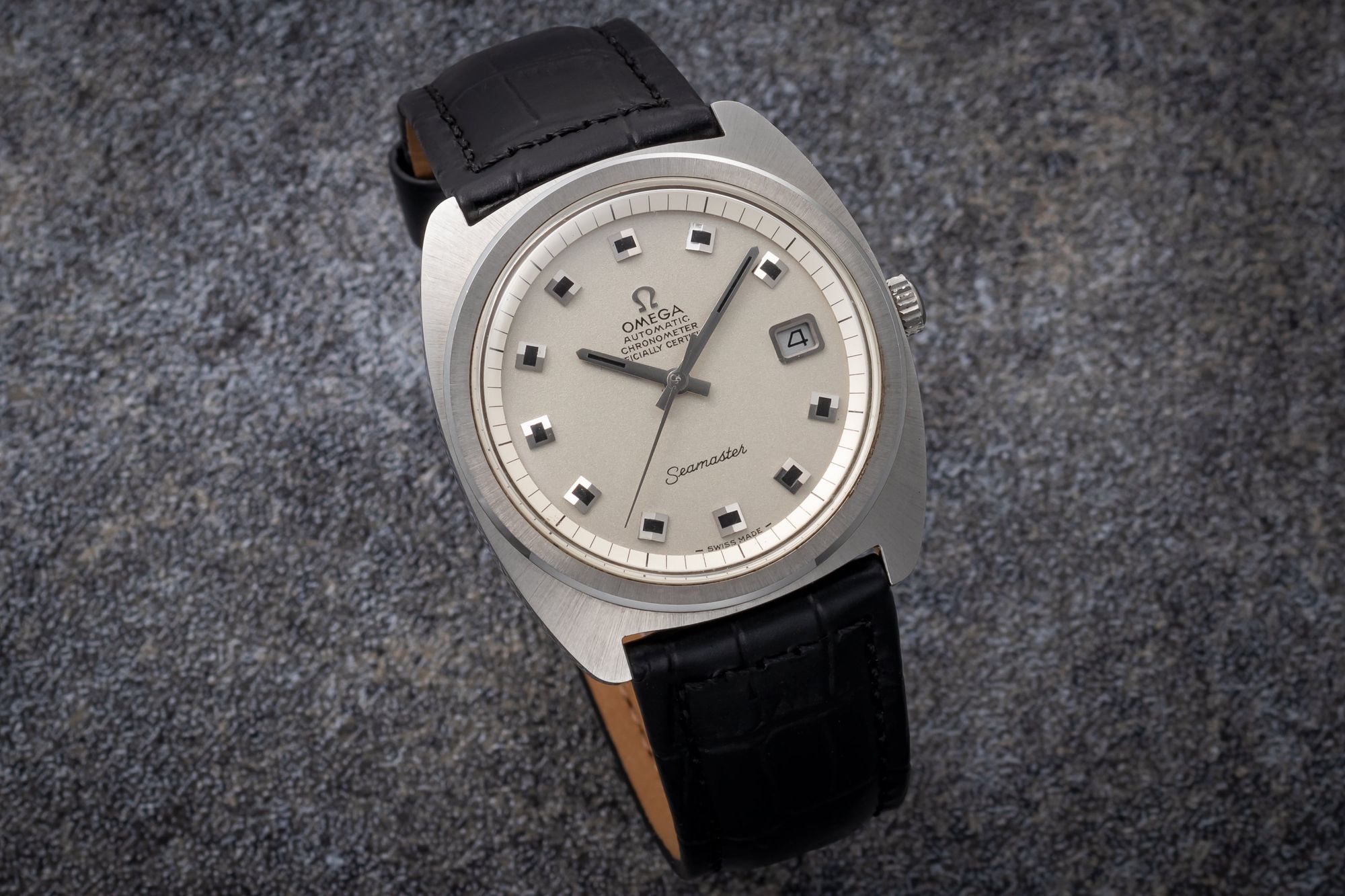 Case & Bracelet
The most noticeable feature of the case is the size, at 38.5 mm diameter and 12.7 mm thick, this watch dwarfs other Omega dress watches of the era, while the additional area and metal of the C-Case lugs makes this watch wear even larger than the size would suggest.  Just to give an idea of how much of a difference the case shape makes, this watch has 22 mm lugs, up from the 18 mm of most vintage Omega's and on par with a modern Planet Ocean XXL.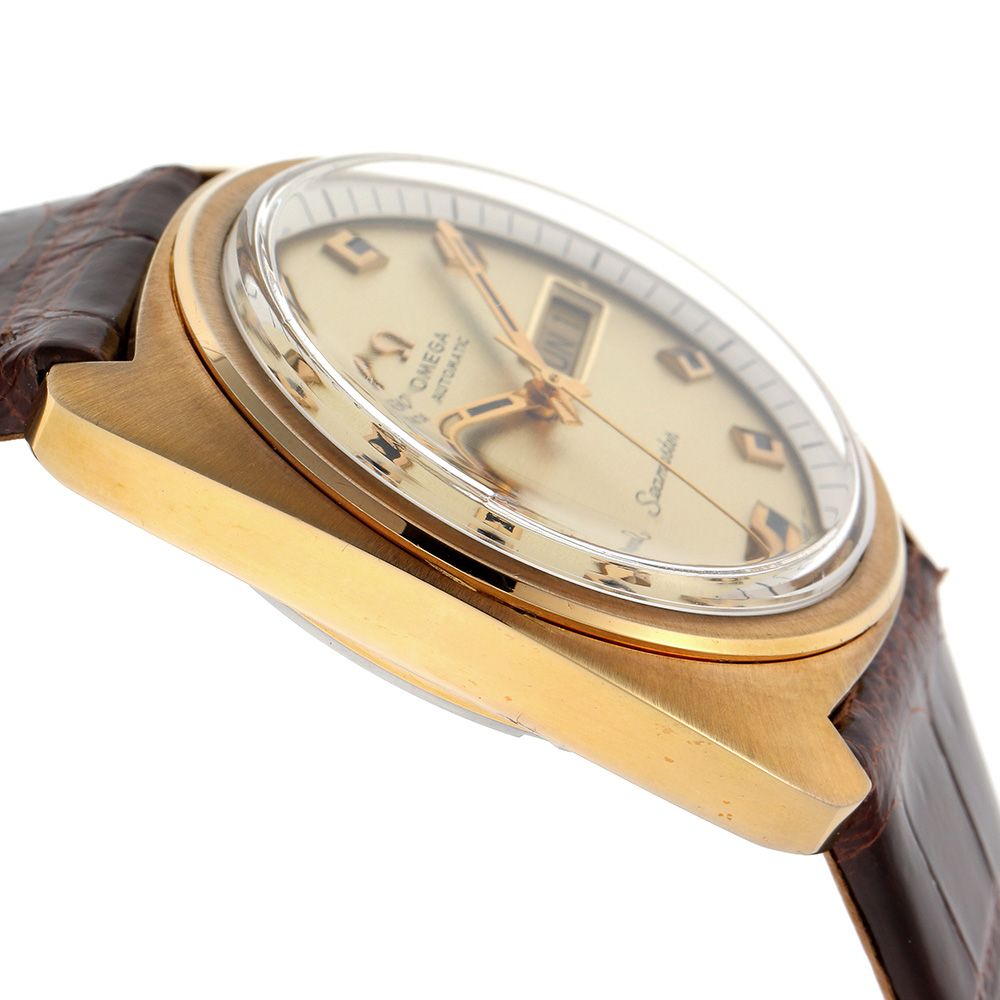 There's a significantly added weight and heft on the wrist to this piece relative to its peers, and along with that is an added durability.  The case-back is a screw-in design, featuring the Seamaster Hippocampus logo in the center, with standard keying around the outer edge.  The depth rating is 60 meters, well above that of comparable watches of the era and indicating that this is a Seamaster actually intended to get wet.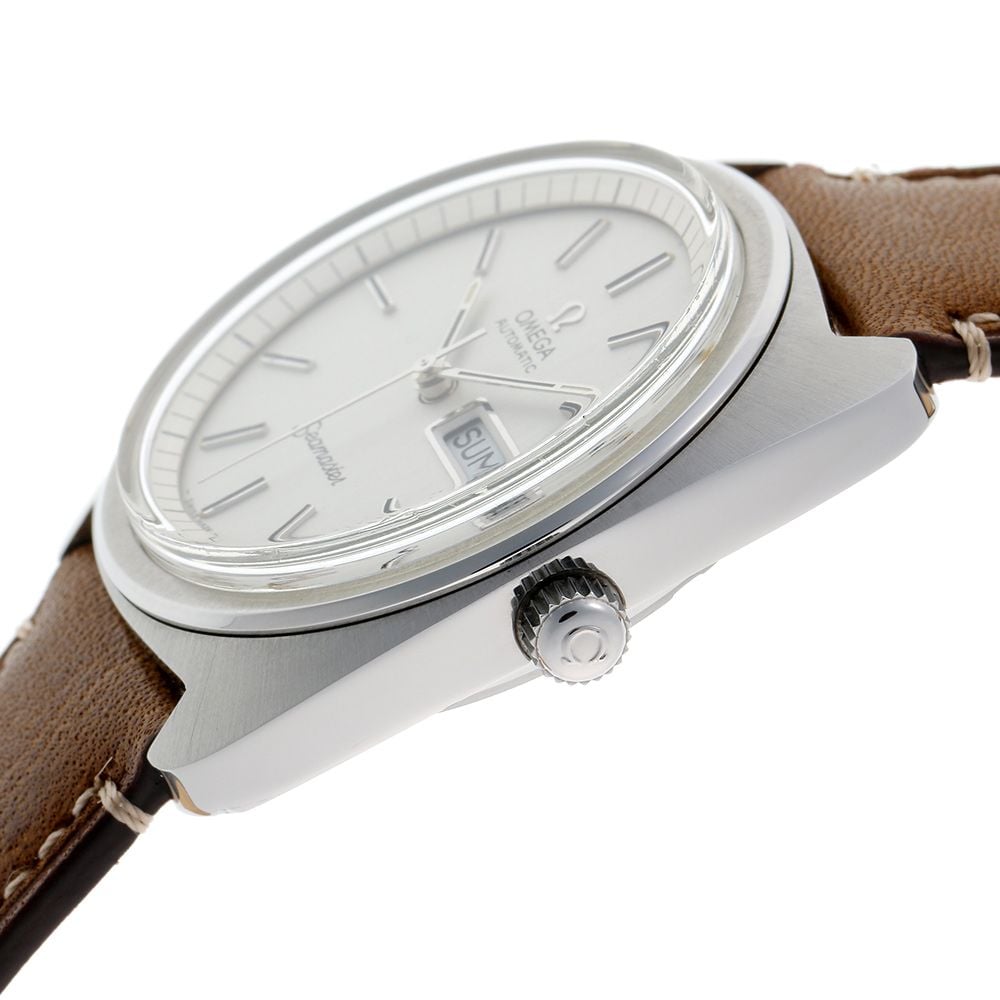 The broad mid-case has a subtle concentric brushed surface, with a substantial bezel sitting quite proud from that flat surface, finished in a radial brushed edge which protects the plexiglass crystal to some extent.  The sides and back of the mid-case are polished to provide some contrast, and the easy to grip, knurled crown is semi-recessed from the front, and exposed from behind for easy setting.  From side-on, you can see that this case actually tapers downwards significantly towards the outer corners, which resemble a manta ray's wings in how they flow, it's a case design that has a great deal of complexity in three dimensions.
Internally, these cases are equally complex, featuring a unique system which isolates the movement from external shocks in a similar way to engine rafts on a  submarine.  This is achieved by mounting the movement to a brass ring, which is in turn secured to the case via rubber bushings, with the inner bezel covering the gap between dial and case, allowing slight movement.
While the majority of these Seamasters are found in stainless steel, there are also many produced in 20-micron gold-plate, as well as a very small number produced in 18K solid yellow gold.  It is possible that there may be 18K solid white or rose gold in the wild as well, but so far, I have yet to find any solid evidence of these existing.
The OEM Omega crystal comes in three different variants, with a regular, a date only magnifier and a day-date magnifier all found on these watches.
The 22 mm lugs on these watches make bracelet and strap options slightly more complicated than other models.  There is an OEM Omega bracelet option in the form of the Ref 1170 bracelet with 604 end-links which give a perfect flush-fitting finish and look fantastic on these watches, however finding one with this bracelet may be difficult.  
22 mm straps definitely do exist, and while room between the spring-bar and case is minimal, there are still many great options especially from the Panerai world in this size which can transform the personality of the watch in a variety of ways.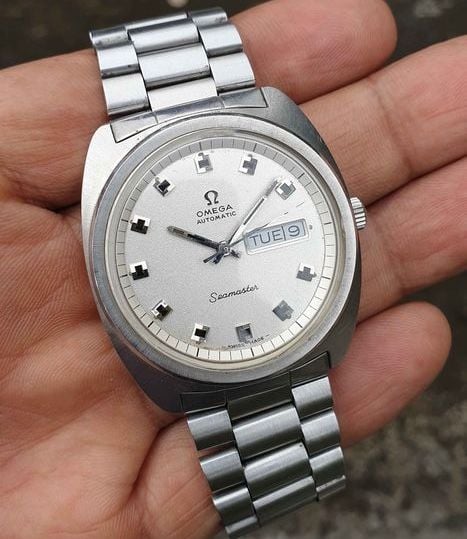 Movement
The two movements powering these Jumbo Seamasters are the Calibre 752 day-date movement for the Ref 166.064, and the Calibre 565 date-only movement for the Ref 166.065.  These two movements are both superb, representing the best of Omega's "golden era" and the final evolution of the highly regarded in-house Calibre 5xx/6xx/75x series of movements.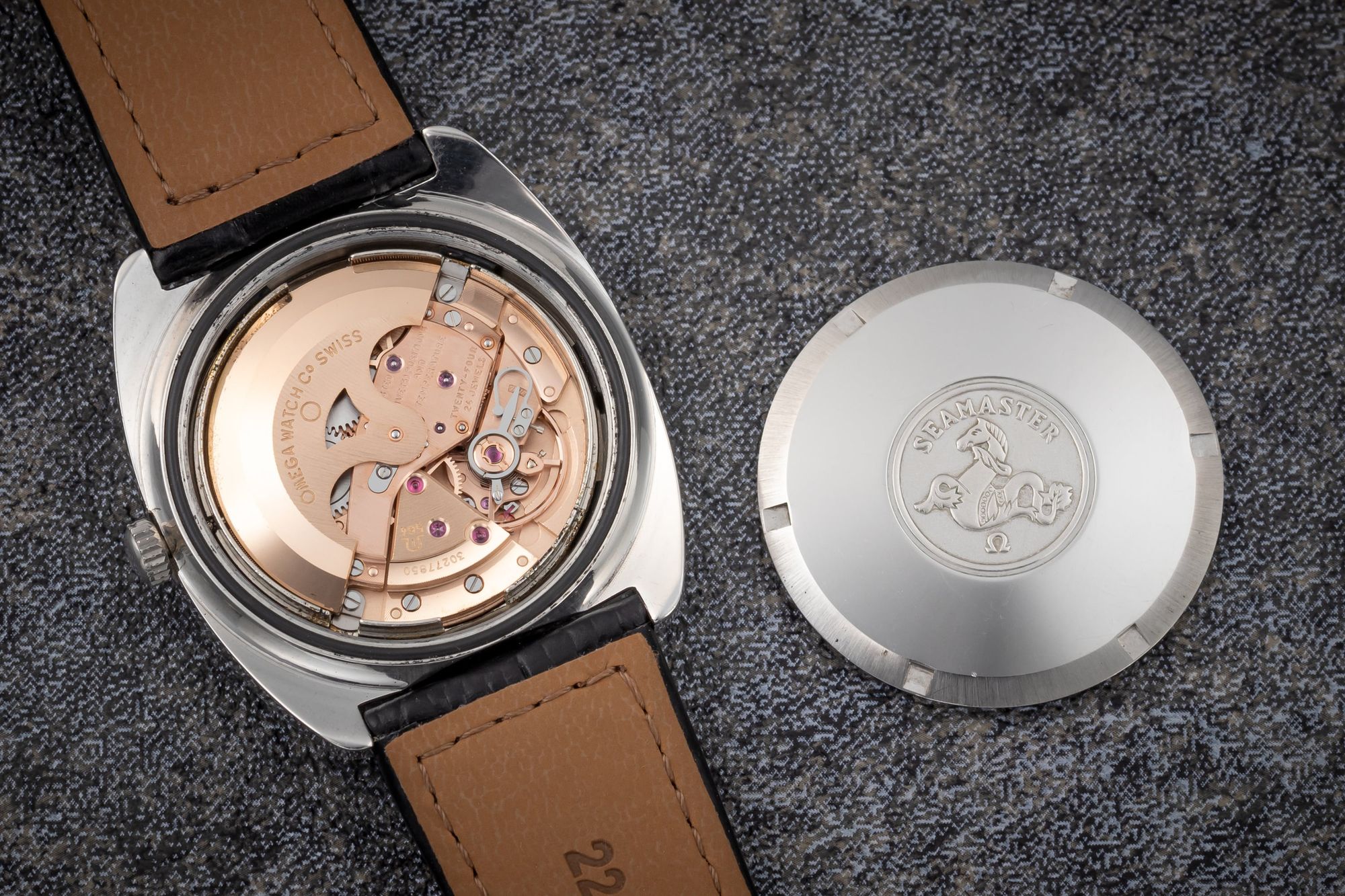 Both of these movements oscillate at 19,800 vph, have a 50-hour power reserve and feature a quickset mechanism for the date, operated by pulling the crown out repeatedly.  Besides the added day mechanism on the Cal 752, these movements are almost identical, sharing the vast majority of their parts.  They are extremely sturdy, robust and although they are not chronometer rated like the Cal 751 and 564, these movements are still capable of superb accuracy.
At 5.55 mm & 5.05 mm thick respectively, the Calibre 752 & 565 allow for a relatively thin and compact case design, and both effectively share the same case in 166.064 & 166.065 with the only external difference being on the dial side.  Due to their position as the final evolutionary step in the most highly regarded family of vintage Omega movements these calibres and the watches they appear in are very popular among collectors.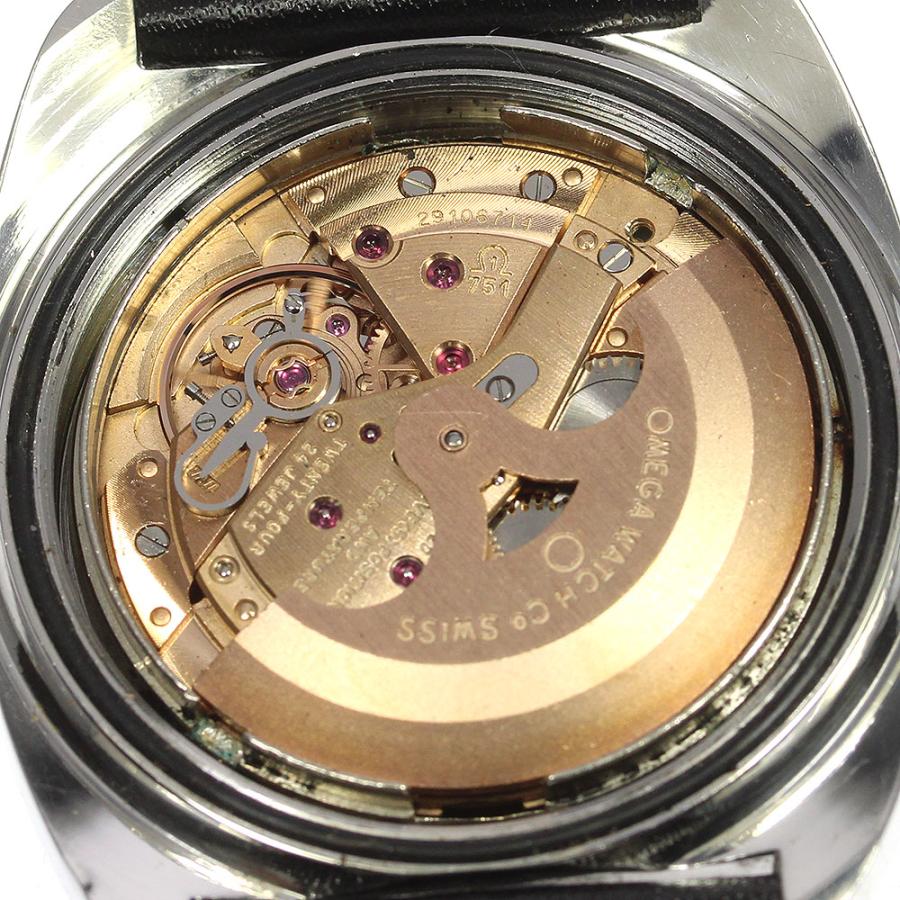 The inherent ability for these movements to keep running well in spite of decades of neglect leads to many people just buying them and wearing them as-is, however it is important to be aware that doing so will result in metal-on-metal wear and damage to parts.  For this reason, it is a far better idea to preserve the movement by servicing before use, even if it appears to be running well and keeping time when you receive it.
These movements can be serviced by any qualified watchmaker with access to an Omega parts account.
Due to the fairly durable and water-resistant cases these Seamasters have, movements should be free of any corrosion or damage and any example with a movement in poor, corroded or abused condition should be avoided.
Dial & Variants
There are two main dial patterns available in these Seamasters, the most common is the applied "roof shaped" hour marker dial, and the second is an applied stick dial which is much rarer.  Both of these appear in a variety of different colors and styles, but they all follow the same pattern.
Due to the increased case size, there is a separate white inner bezel sitting outside of the dial under the crystal which is white on all examples.  There are slight differences in the markings between original and replacement bezels with the black markings being shorter on newer bezels.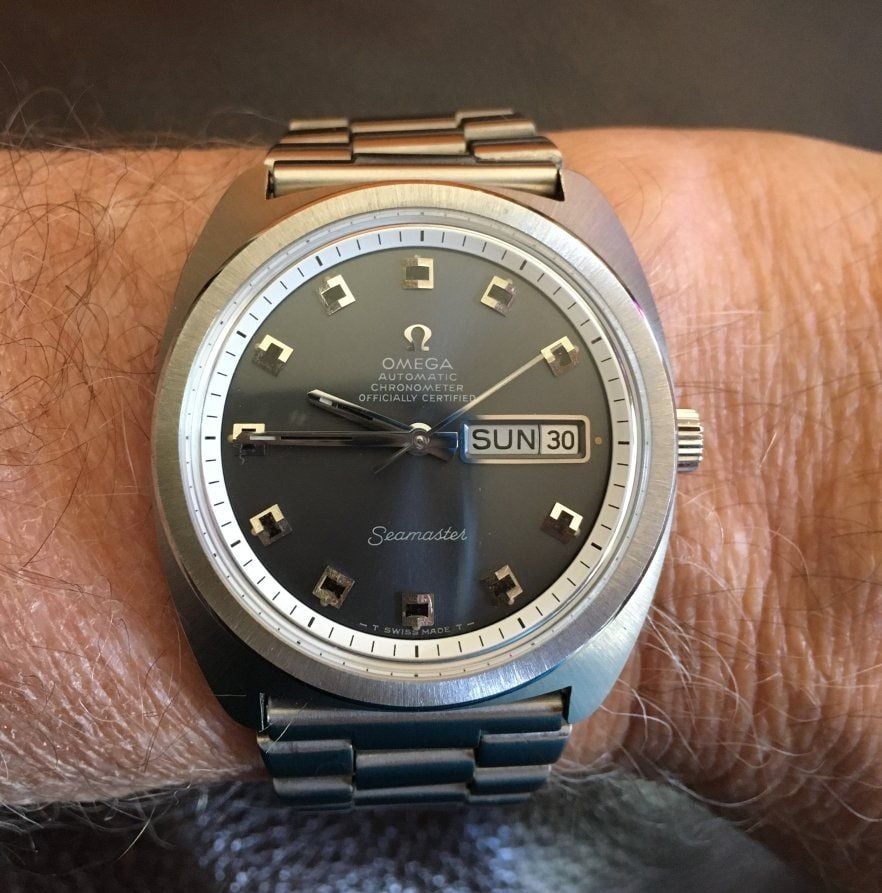 The dials all feature an applied Omega symbol at the top, with "Omega" and "Automatic" at the top on all examples, and additional chronometer text where appropriate on chronometer models below that.  Both the date windows and day-date windows all have an applied metal surround, and Seamaster appears at the bottom of all dials.
The more common square type of applied hour marker are faceted, coming to a point in the center, with black paint in the center of them, while the stick markers similarly have black or white paint atop them, matching the color of the hands.
A variety of stick hands are used, including both silver tone and white painted hands depending on the dial.  Dials and hands also come in both luminous and non-luminous variants for most models.
Day-date Chronometer 168.034 / 168.0034
The 168.034 / 168.0034 is the day-date chronometer rated version of this Seamaster, powered exclusively by the Calibre 751 movement and featuring the text "Chronometer" and "Officially Certified" on the dial.  Any example missing either the movement or the dial marking is incorrect and should be avoided.
Ref 168.034 day-date Seamaster Chronometers are found in stainless steel, gold-plated, and 18K solid gold cases.
Date Chronometer 168.035 / 168.0035
The 168.035 / 168.0035 is the date-only chronometer rated version of this Seamaster, powered exclusively by the Calibre 564 movement and featuring the text "Chronometer" and "Officially Certified" on the dial.  Any example missing either the movement or the dial marking is incorrect and should be avoided.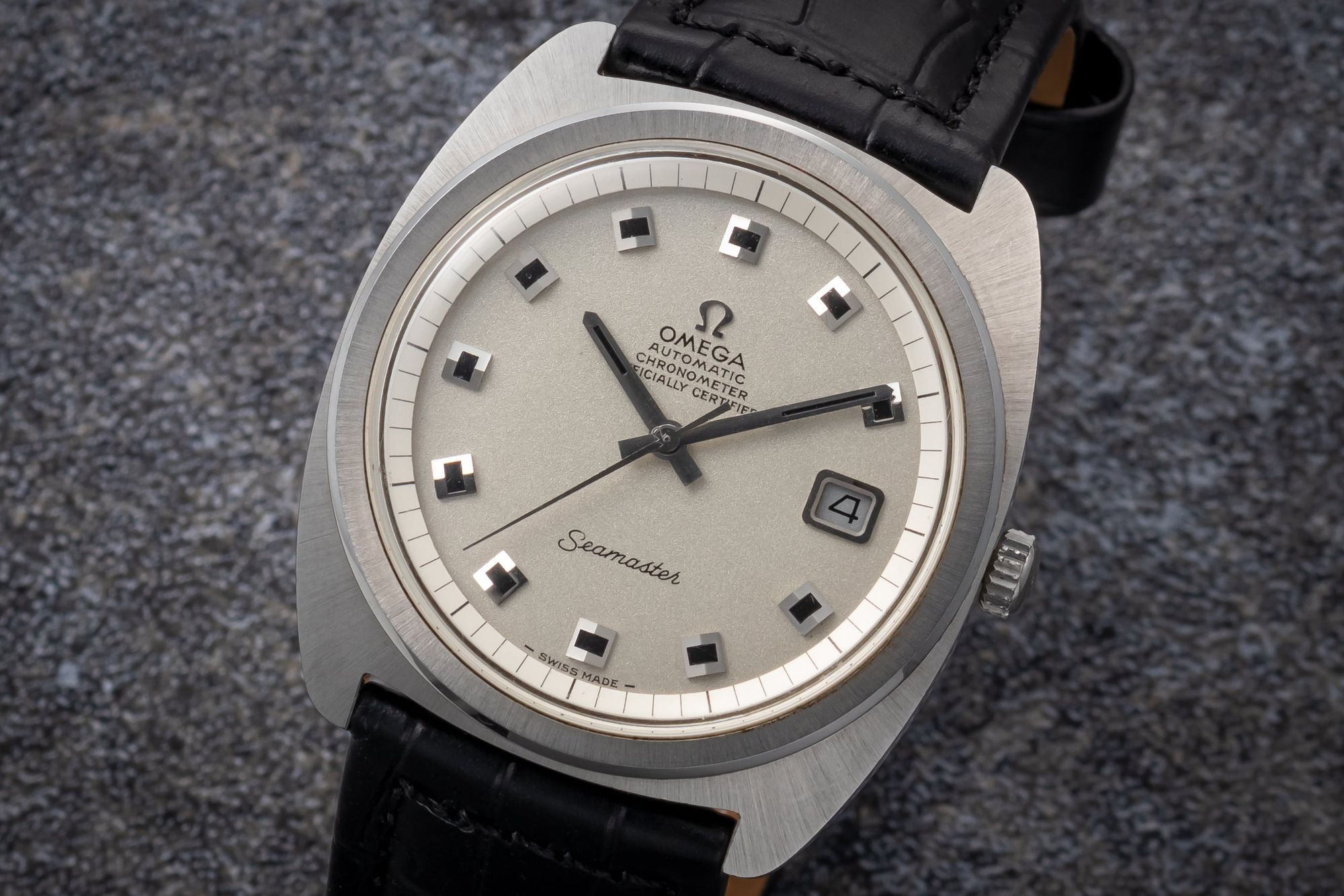 Ref 168.035 date-only Seamaster Chronometers appear to only be found in stainless steel unlike their day-date cousins.
Day-date 166.064 / 166.0064
The 166.064 / 166.0064 is the day-date non-chronometer version of this Seamaster, powered exclusively by the Calibre 752 movement and having a dial that lacks chronometer markings.  Any example missing either the movement or with chronometer on the dial is incorrect and should be avoided.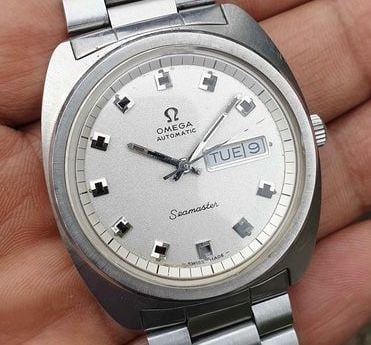 Ref 166.064 day-date Seamaster Chronometers are found in stainless steel and gold-plated cases, it is possible that 18K gold exists in this reference, but I have not seen any evidence of this so far.
Date 166.065 / 166.0065
The 166.065 / 166.0065 is the date-only non-chronometer version of this Seamaster, powered exclusively by the Calibre 565 movement and having a dial that lacks chronometer markings.  Any example missing either the movement or with chronometer on the dial is incorrect and should be avoided.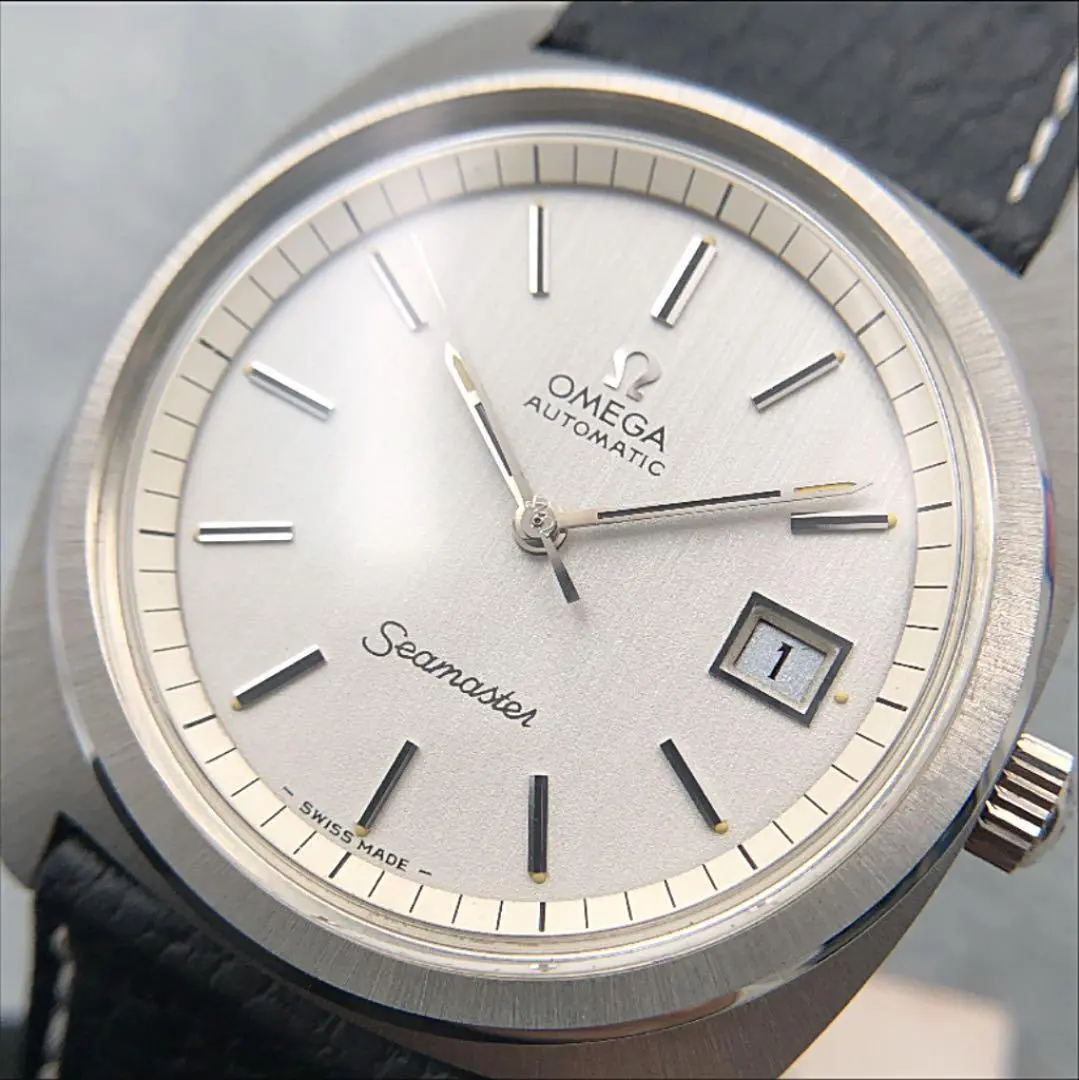 Buying
Deciding which of the four references to hunt for is a personal preference, all of the movements powering these watches are excellent and extremely desirable.  There is no real price difference between day-date or date-only watches, however chronometer rated watches will carry a slight premium over non-chronometer variants.  It is worth noting however that these watches are now over half a century old, so condition and maintenance has a greater bearing on performance than chronometer rating at this stage and a rough chronometer is not worth a premium at all.
These watches are available in reasonably good numbers all over the world and were definitely sold internationally, but the largest supply by far appears to be in Japan, where excellent examples are plentiful of all variants.  Many can be found on eBay, forums and Chrono24, but some of the best deals we be had on Yahoo! auctions or other Japanese sites.  It can be difficult to land these without having a friend in Japan or using a freight forwarding service but with some patience and effort, great watches can be found.
Finding the correct bracelet and end-links to match the 22 mm lugs can be relatively challenging, so it is worth paying a premium of up to a couple of hundred dollars for an example which comes with one in good condition.
Condition wise, these watches have very good water resistance for their era, and most dials are original and free of damage so definitely be picky and find a great dial as a starting point.  Being a large case with some hard edges, these Seamasters can attract dents and dings and are often polished with a heavy hand, case condition is the second highest priority after dial condition.  The gold-plated cases are prone to wear-through and before purchasing one images covering the entire watch need to be examined to ensure a piece is free of this.  The Calibre 56x & 75x movements within these watches are extremely durable and will often run despite extreme neglect.  This does not mean you should wear them in this condition, definitely service before use to prevent metal on metal wear and future large parts bills.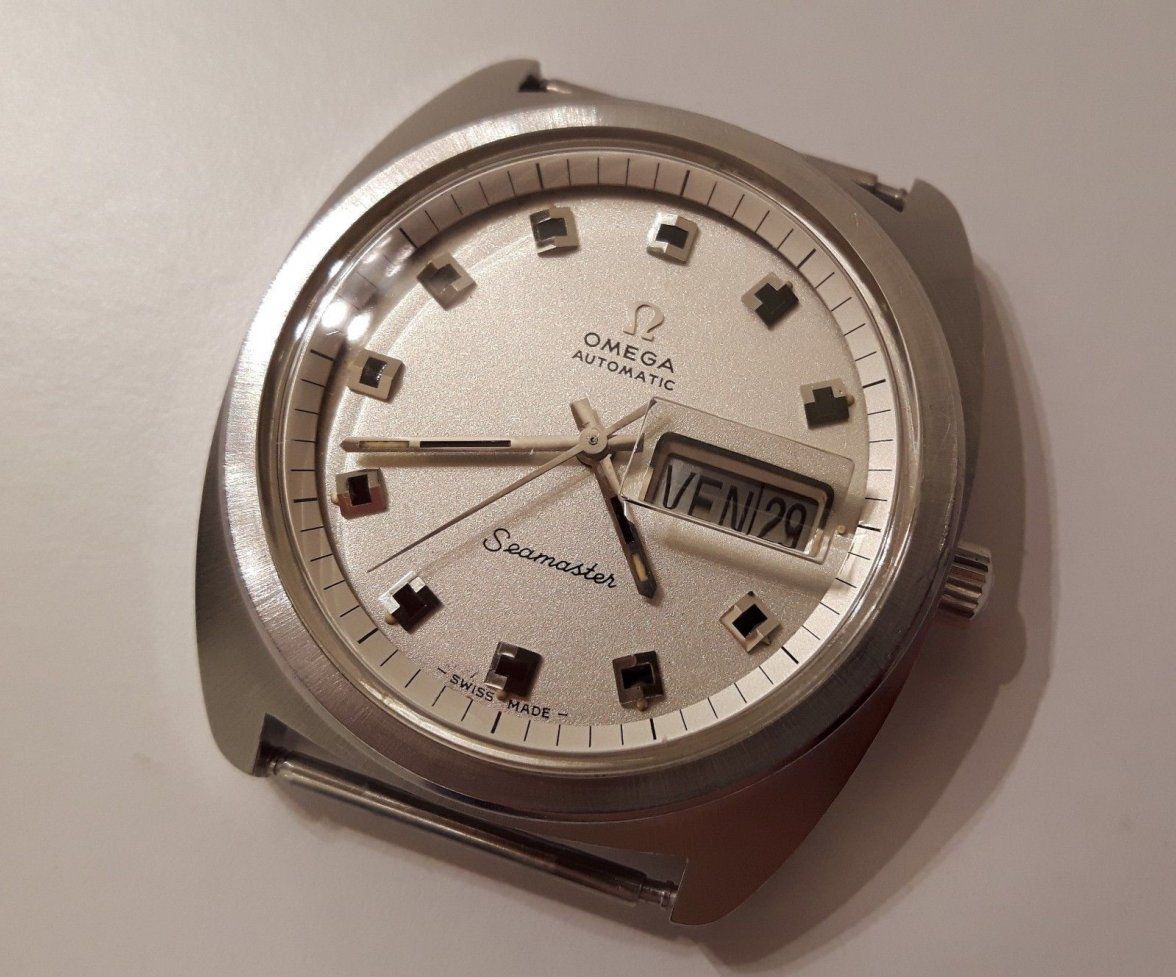 In terms of cross-shopping, the watch most often compared to these jumbo Seamasters would be the 36 mm Seamaster Sparkle in Day-date or date form which immediately preceded these.  Given that the movements are identical and the dials are very similar it comes down to price and size, the 36 mm Seamasters are slightly more costly and smaller which will suit some but not others.
Whichever of the four references you choose, these large and unusual shaped watches are unlikely to disappoint.  With excellent movements, great finishing, a good variety of dials and the option of a fitted bracelet there's a great deal to like at a very reasonable price.