The Seamater DeVille Kleerback is a very unusual watch that would appear occasionally in sales listings or watch forum posts even before omegaforums existed and left collectors scraching their heads.  Displaybacks, while very common today and found on a signifcant portion of Omega's models were virtually unheard of in the 1960s, and not a feature of Omegas of that era.
It wasn't that the movements were unattractive or any less impressive to admire than movements of today, it was more a matter of practicality.  In the 1950s, many watches were marketed as "waterproof", yet were somewhat lacking even among high end makers.  This is the reason re-dialed or refinished dials are highly common from that era, and led to Omega working hard in a multitude of ways to improve water resistance over that decade, until it became fairly decent by the early 1960s.  This involved taking steps to improve crowns, seals, redesiging cases from snap-back, to screwback with gaskets, to the front-loading sytem found on 60s Seamaster DeVilles and Cosmics.
During this process Omega was going to great lengths to remove points of failure and improve the sealing on their watches, so adding an additional point of ingress in a piece of glass or plexiglass on the back was far from the direction they were going in.  Yet in spite of this, somewhere in the offices of Omega's US importer, someone came up with an interesting idea.  Why not.. chop the back out of a front-loading Seamaster DeVille case, bond a piece of plexiglass in where it was, seal it as best as possible, and let owners see the movement in all of its glory.  In the words of Jeremy Clarkson, "How hard can it be?".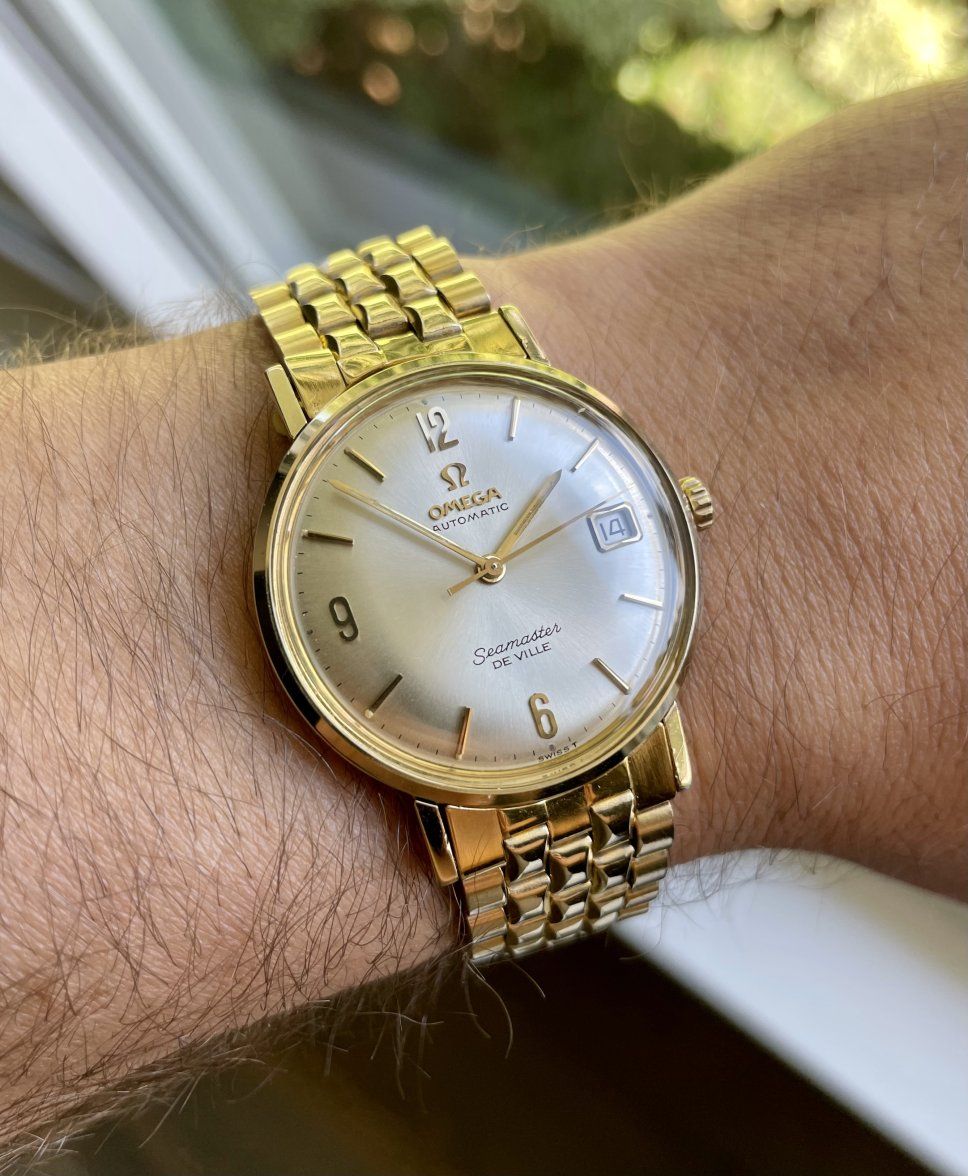 Confirmation by Omega
In 2009, an interesting thread appeared on the Purists Omega forum, in which John R. Diethelm of the Omega Museum confirmed the existance and originality of the exhibition caseback Seamaster DeVille variants produced by Norman Morris.  Diethelm also confirmed that the specific reference for these models was KL6292VB for the "Kleerback" variant, as a sub-reference of the standard KL6292 14K gold filled Seamaster DeVille.  Additionally it was found that, like its parent case, it was produced by US based manufacturer Ross beginning in 1962, although the Ross logo, along with the case reference are absent due to the plexiglass back replacing where they are typically stamped, leaving "14K Gold Filled" between the lugs as the only markings.  

What was interesting about this thread however was that in 2009, with less data available than the present, it was assumed that the Kleerback KL6292VB reference was not available for sale, but was rather a demonstration, or salesman's sample.  Importantly, the Omega Museum did not confirm this, nor did they confirm the other theory in the thread, that only about 12 watches were produced and that they were very rare.  

New Evidence is Found
In 2012, a member of Omegaforums named Zach created a thread and posted an original sales listing for the Kleerback, at a Marcus Jewllers in New Jersey from an oriignal newspaper of the period.  
The ad gives us a bit more information, the watch shows us the transparent caseback, the Seamaster DeVille case, and the fact that it was for sale for $135 at the time.  What's further interesting is that the watch is only mentioned being available in 14K gold-filled form, not in steel or solid gold.  Its also interesting that the ad mentions the price being $135 whether ordered with the Kleerback or the normal steel back, so this was being offered as a no-cost option.
Not long after this, Cicindela managed to find another listing for the Kleerback from the period with slightly better image quality.  This image allows the text to be read a bit more clearly but features the exact identical copy, but with a different jeweller, Schooleys in Ithaca New York, which is still open at the mentioned address, although likely long out of stock.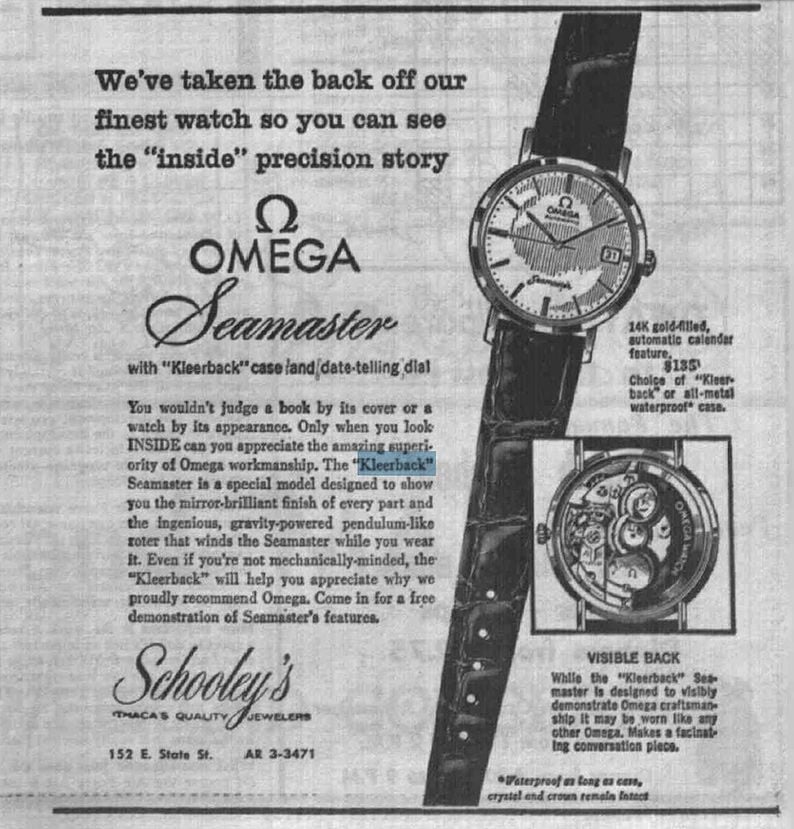 Finally, a third image of an ad from Schooley's was found with an indicated publication date of 1967 and different copy, once again with the same price of $135, but interestingly with a dial showing Seamaster DeVille this time, instead of just Seamaster as in the previous two.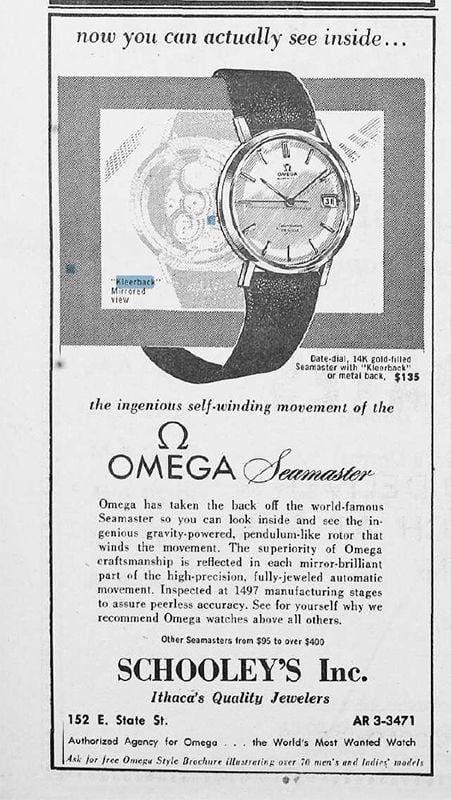 An Unusual Variant of a Very Common Omega
What makes the Kleerback unusual is obvious, the large hole in the back filled with plexiglass.  Aside from this, the reference KL6292VB is identical to the otherwise very common and mass produced KL6292.  It features the same variation of dials that its parent case features, which is to say... a lot.  Norman Morris were nothing if not creative when working with local US dial producers.  They offered Seamaster dials, Seamaster DeVille dials, simple dials, complex dials, striped dials, ribbon dials, quadrant dials, custom company logo dials, so many that its actually difficult to find many KL6292s that look alike.  Kleerback's are no different in this respect and both Seamaster and Seamaster DeVille signed dials have been confirmed both in ads from the 1960s and in original watches with varying dial furniture colour and texture are seen with relatively little consistency.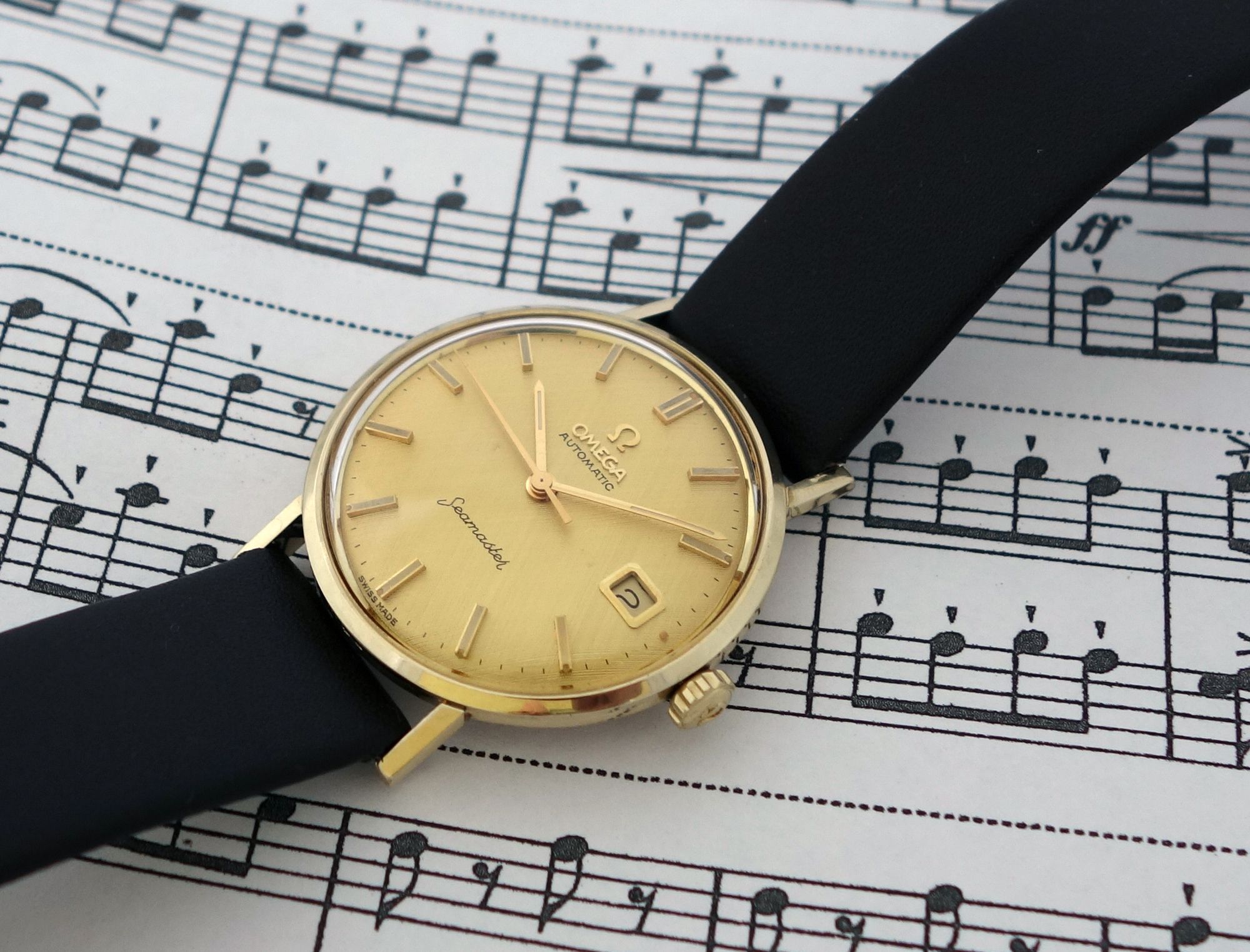 What was consistent however, was the movement, always a Calibre 560, which was a 17 jewel, US market only variant of the better known Calibre 562, known to have been produced in only 3000 units, which were shared among not only KL6292/KL6292VB references but several others as well.  
The Seamaster DeVille was really quite a great watch in its time, and went on to be produced in other references and with other calibres in exceptional numbers throughout the 1960s.  It was affordable, yet accurate, reliable, and exceptionally well made with a resiliant case in 34.5mm that still looks timelessly elegant even today.  The great numbers Omega produced them in, coupled with their high survival rate and simplicity of design has kept their prices under control, but make no mistake, the owners of these watches both in the 1960s and today are very happy with them.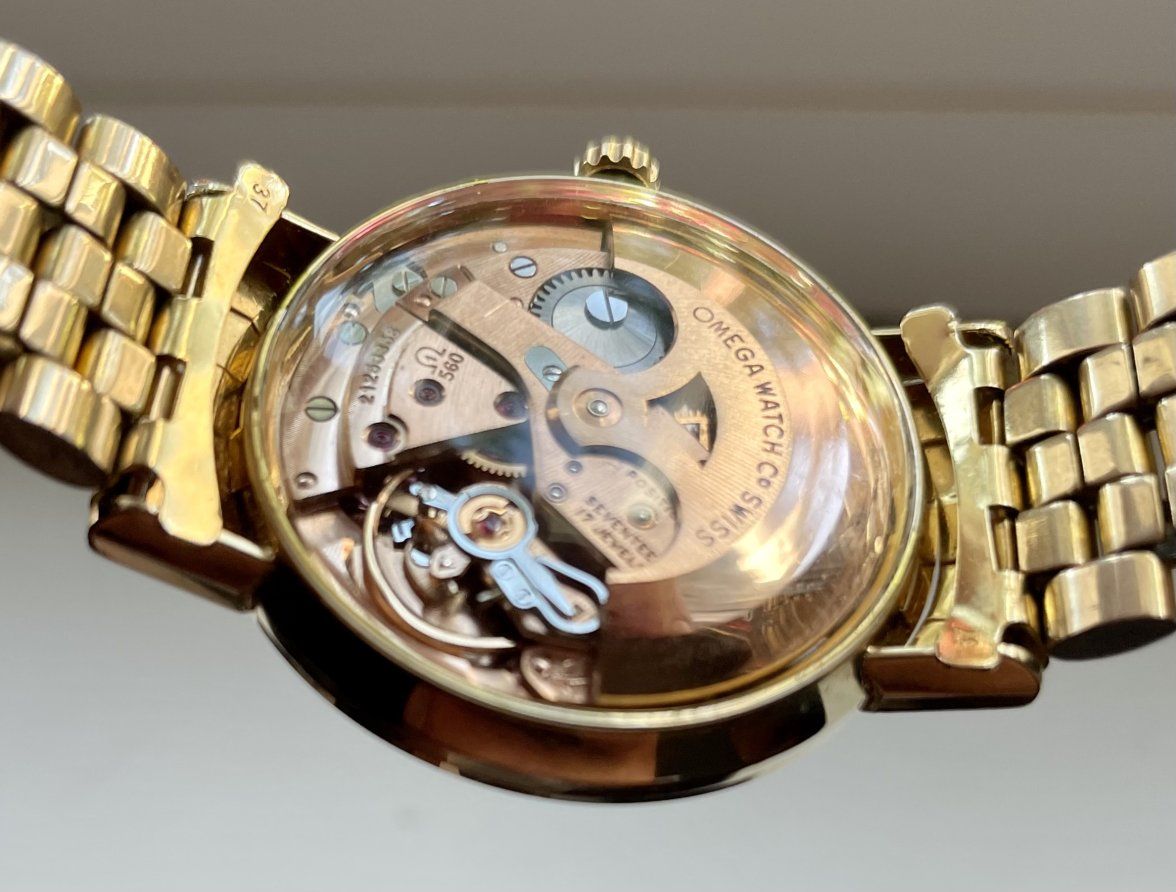 Can you fit a displayback to other vintage Omegas?
Yes for some models, like Speedmasters and even many screwback Constellations and Seamasters.  No for regular DeVilles like this reference that are front-loaders for obvious reasons.
Speedmasters are easy as the parts are compatible across wide age ranges, so an OEM Omega Speedmaster Pro displayback can be fitted to a vintage model, even a calibre 321, although you will need a spacer to hold the movement in position as the dust-cap will no longer be present with the displayback.  There are also aftermarket options such as the Custom Watch Concepts displayback which is a bit more vintage appropriate however its important to note that water resistance may not be the best.
For vintage Omega dress watches, there are actually a surprising number of options  in the aftermarket.  Screwback displaybacks can be purchased from a range of sources, typically with no promise of water resistance, for around $35-$80 and fit a very wide range of 34.5mm cases from Seamasters to Constellations to Geneves and DeVilles.  It should be noted however that quality is often lacking and rarely do they ever look as clean or OEM correct as an authentic Omega part.  
Buying
From a buyer's perspective, the Kleerback DeVille's represent quite a tempting and interesting option.  Most Norman Morris created oddities amount to relatively minor deviations from the Omega norm but this is something very uniquely different and very cool.  There just are not many other vintage watches of this era with exhibition backs as a factory original feature, and likely even fewer that maintain their water resistance reasonably well.  Then you have a remarkably attractive and nicely finished movement in the Calibre 562.  As a package, there's an awful lot to like about the Kleerback.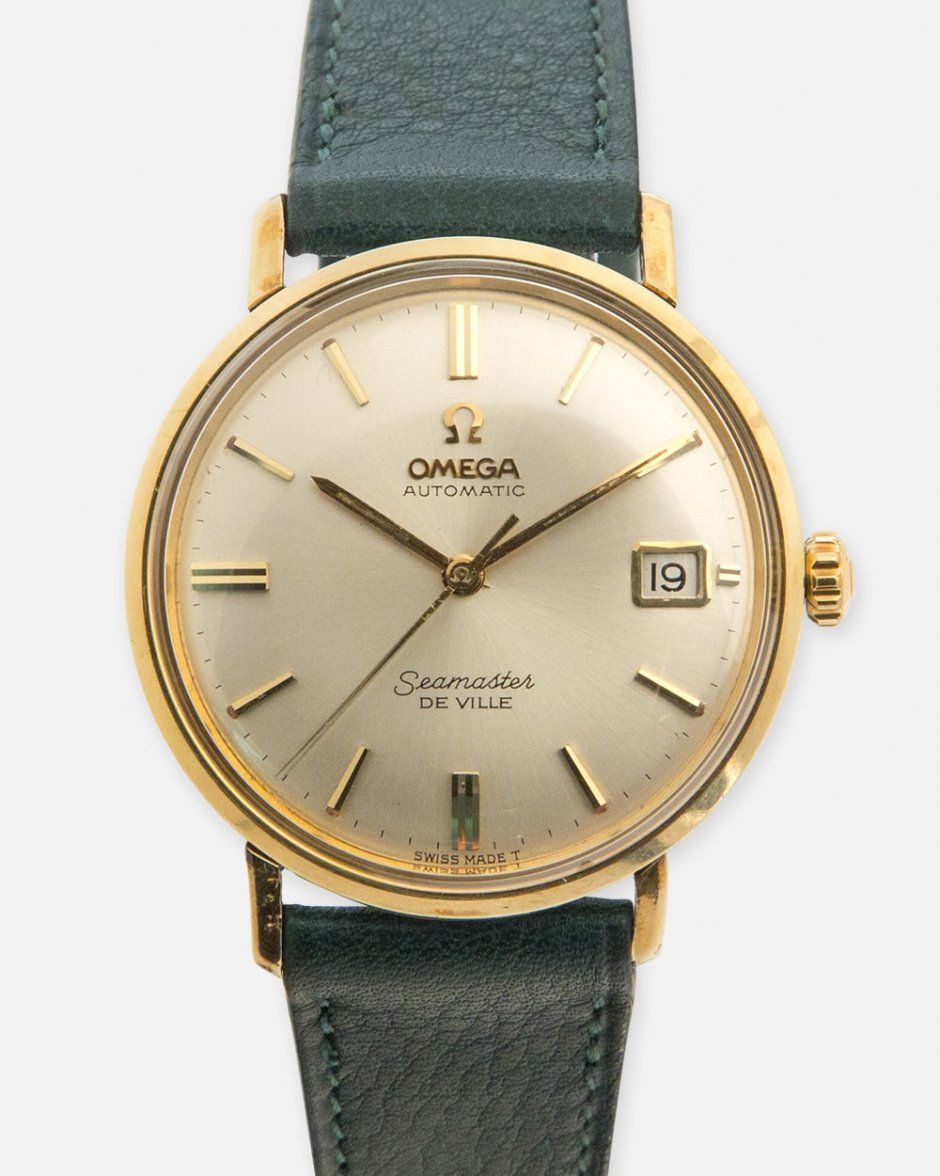 Typically you would expect a relatively uncommon watch with a feature that desirable to sell at a premium, and perhaps a considerable one but that just hasn't been the case at all so far.  The most recent one was posted in the "recommended vintage Omegas on ebay" thread, and in spite of that exposure it sold for about the same price as any other gold filled Seamaster DeVille.  In the past, they've even sold below market average as most people either ignore them or assume them to be damaged goods.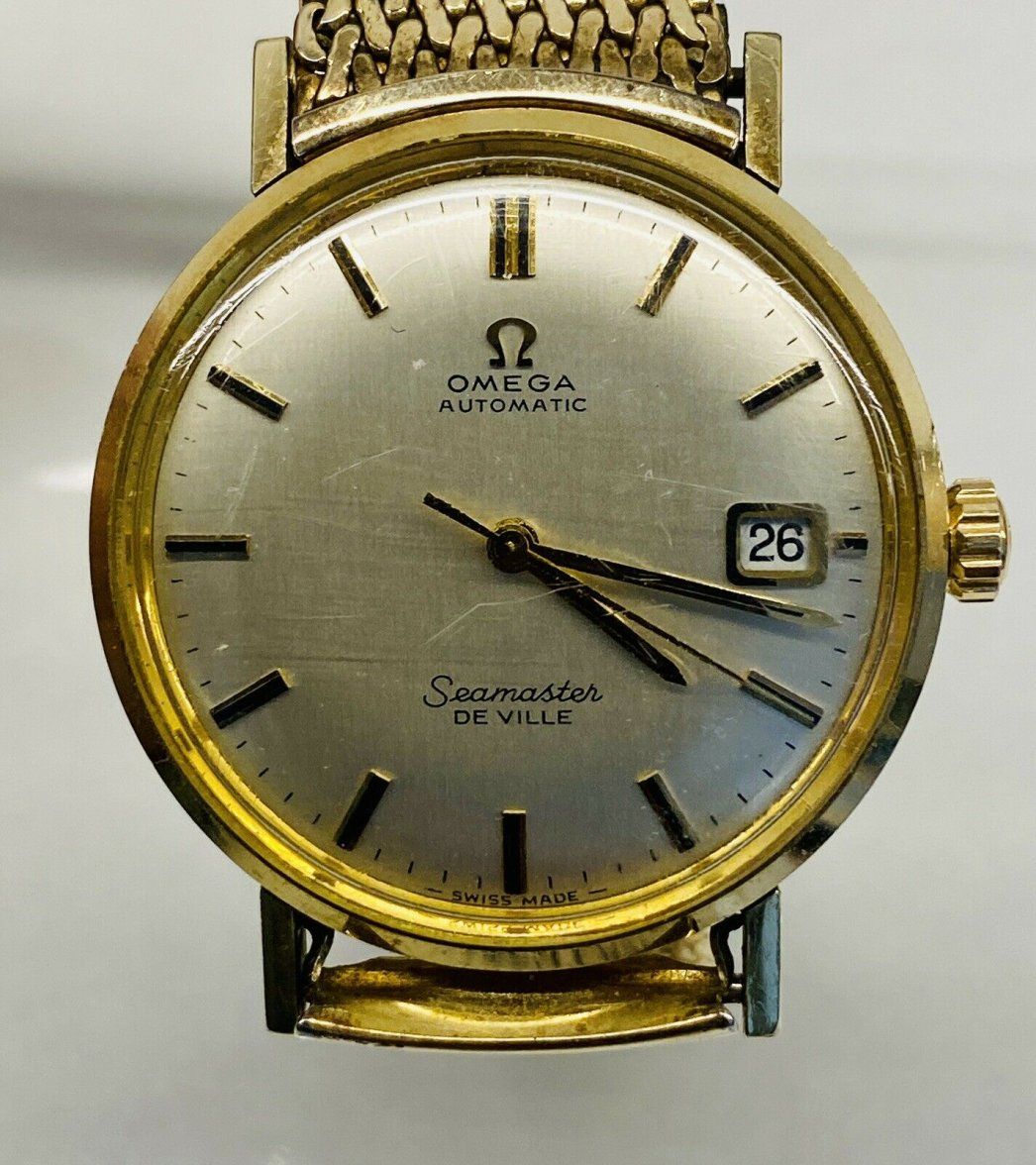 It should be noted though that while these consistently go cheap in the wild, once they reach the collector market or dealers the price goes up considerably.  Dealers have listed these above $3000, or about 5 times the typical going rate on ebay.  
These watches are also typically marketed as "rare" or "very rare", which is frankly a bit of a stretch.  As seen earlier in this article, multiple jewellers that we know and have evidence of had large ads for these watches in newspapers, they were priced affordably being gold filled, and Norman Morris had no reason not to producde plenty.  We see them on eBay at high prices almost constantly, and going no reserve at a low price a few times per year on average, with plenty of listings elsewhere as well.  Uncommon would be a more accurate assessment.
Look for good condition, an original Calibre 560 movement, and a nice dial but do keep in mind that the case is the most critical part of this watch.  A nice case with a rougher or even refinished dial may still be worth buying as dials for this era of Seamaster DeVille are far more plentiful than good cases to put them in.  Also beware of wear-through of the gold, especially around the lugs, and that lugs can often be bent, twisted or broken off and re-attached on these cases.
Discussion thread on Omegaforums can be found here: