At nearly 2 cm thick, the 2nd generation Planet Ocean Chronograph Cal 9300 is an absolute beast on the wrist. Yet this hefty hockey-puck of a watch packs one of the most impressive feature sets and spec sheets of any diving chronograph on the market, even more than a decade after launch.
Features, Technology & Performance In A Thick Package
"The thickest mechanical Omega ever" is quite a claim, given that Omega has produced a great many thick watches in the past.  
Watches that come to mind include the 17 mm thick Seamaster 120M Big Blue Chronograph, the 18.3 mm thick Ploprof 1200M, the 18.1 mm Planet Ocean Ultra-Deep, and the 17 mm Flightmaster.  These are some legitimately chunky watches, yet the Planet Ocean Chronograph Calibre 9300 has them all beat with a girth of 19.4 mm.  In fact, the only Omega that beats that number is the deliberately chunky quartz powered Z-33 Spacemaster with 19.9 mm from front to back.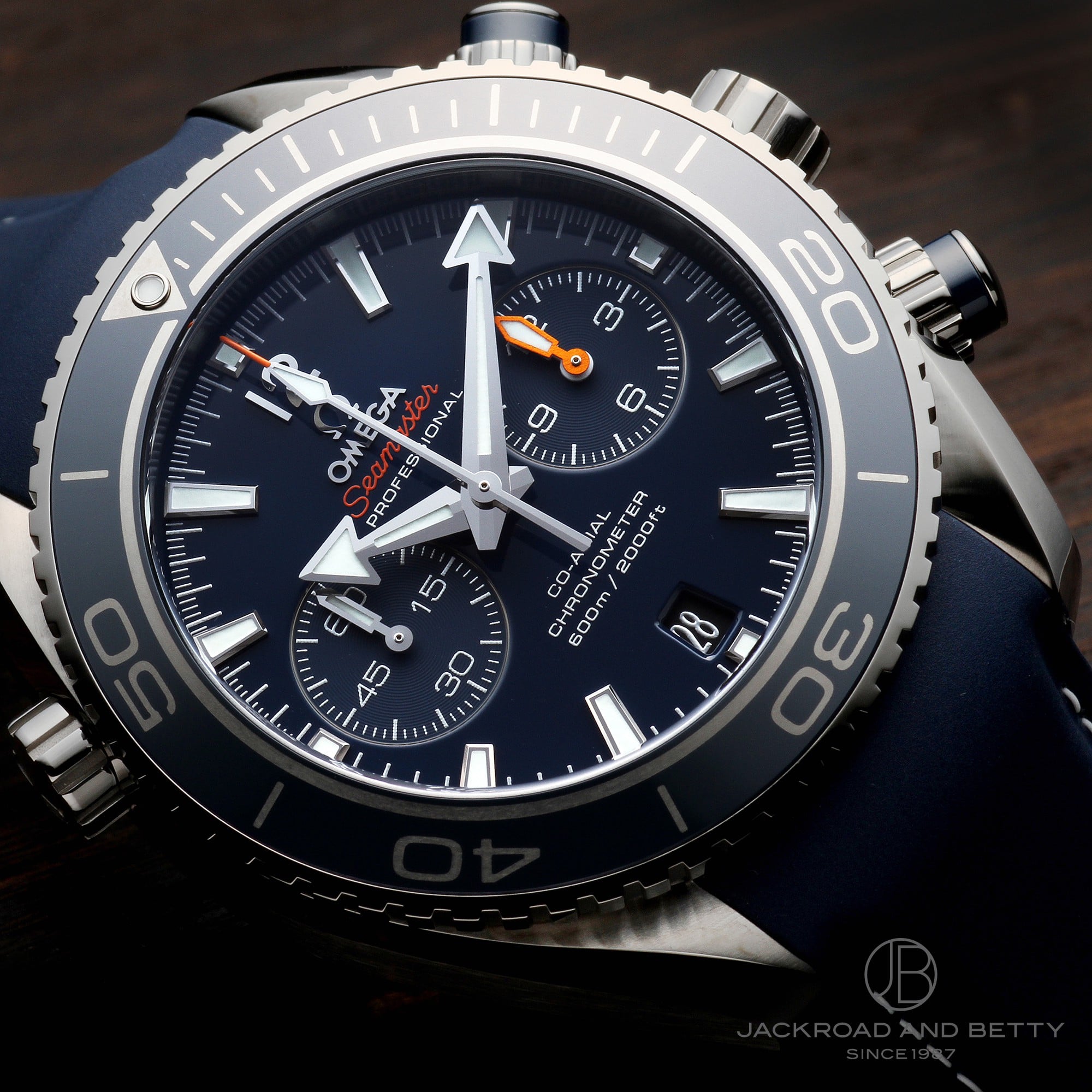 Some thick watches like the Ploprof are often raved about for how well their ergonomics and design hides that dimension and makes the watch feel small and comfortable on the wrist.  The Planet Ocean Chronograph Calibre 9300 is not one of these watches.  This is a large, wide, thick, heavy and chunky watch with a shape not entirely dissimilar to a hockey puck on the wrist.
So, having covered these downsides, why is this watch so thick and why do people still buy them?  Well firstly some people just have large chunky wrists, I am in this category myself and the thick bracelet on this watch coupled with the large head does not look abnormal at all on my 8.5 inch wrist, while many smaller watches do.  If you are a person with smaller wrists this isn't the watch for you and the Seamaster Pro Chrono Diver is a better choice.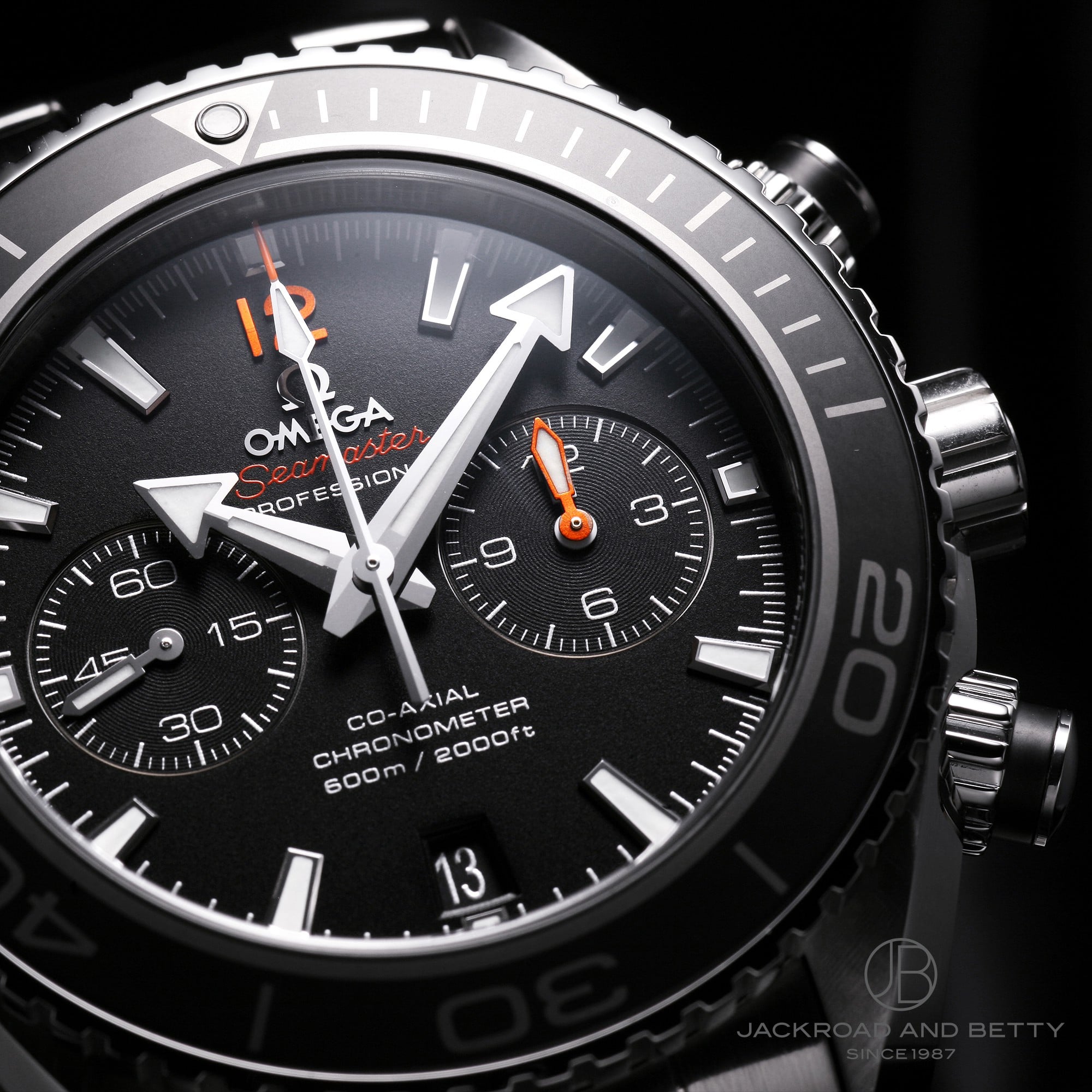 The second and most significant reason these watches are worth owning is that they feature the best of everything.  Beautiful finishing, 600 meters depth rating, full depth capable pushers, a high-power reserve in-house chronograph with column-wheel and vertical clutch, sapphire display-back, LiquidMetal, expert use of ceramics, these watches have everything.  All of the latest and greatest technology, features, and the highest specifications possible are crammed into this near 2 cm thick diver's chronograph.  On paper, if you put the specifications of this Planet Ocean up against any competitor, it wins hands down and that was no doubt a key target for this watch.  But greatness, tech, and features are also what make it such a beast.
Liquidmetal & Zirconium Dioxide (ZrO2)
It's worth understanding these two materials which set the Planet Ocean Chronograph Titanium LiquidMetal Edition apart from other Omegas in order to appreciate the significance of the watches.  In the years that followed the release of the original LiquidMetal watch, the Planet Ocean LiquidMetal Limited Edition, Omega invested heavily in ceramic bezels, dials and Liquidmetal inlays across the entire Omega product range.
Over time, this expanded into several entirely ceramic Omega watches, incredibly vibrant colors, and led to the production of the titanium and LiquidMetal blue Planet Ocean Chronograph.
Zirconium Dioxide (ZrO2)
Zirconium Dioxide is the material Omega is referring to whenever they use the term ceramic in relation to dials, bezels and more recently even cases.  Also known as zirconia, the material is widely used in many industries and has been for a very long time, in everything from dentistry to electronics to industrial engineering, while cubic zirconia is known for its use as a diamond substitute.
Unlike Liquidmetal, ZrO2 requires no license to use and exists in many forms in the watch industry, most often used in dials and bezels for a variety of brands today, including Rolex which markets the material used in their bezels as "Cerachrom".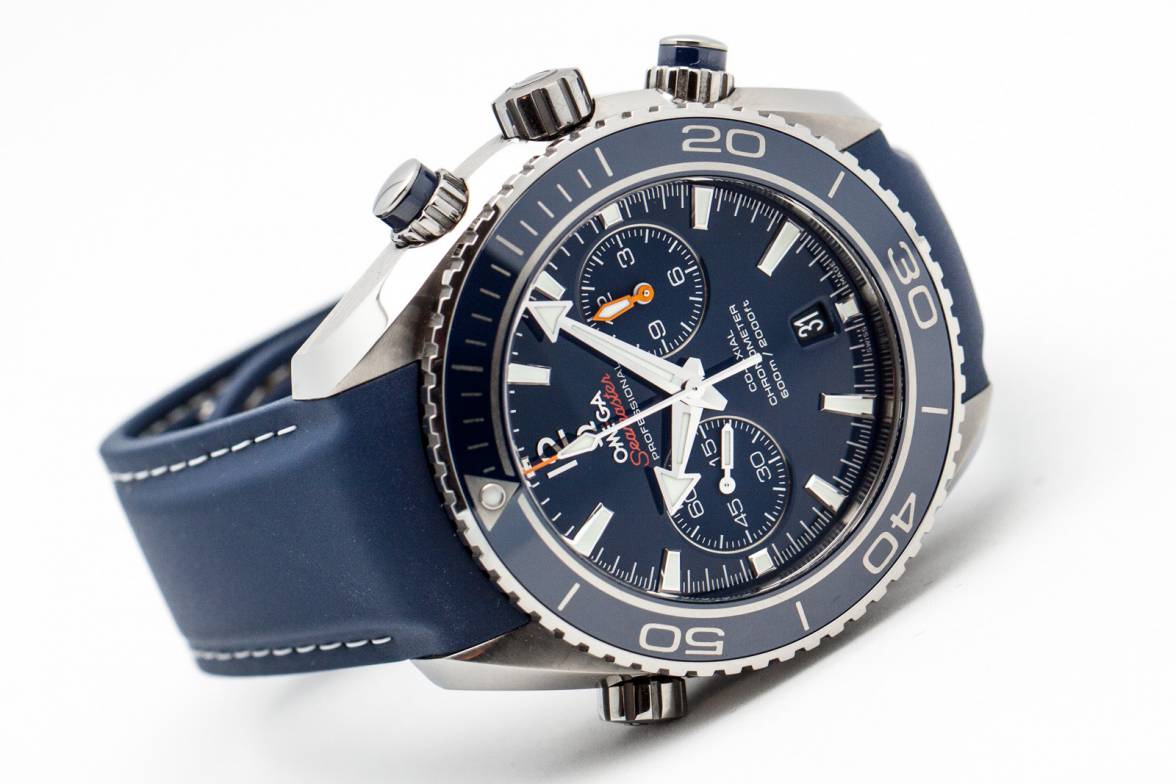 While ZrO2 itself is widely used, the exact chemistry and processes behind the application of color pigments and production techniques do vary greatly along with the capabilities of each manufacturer.  This is where being a part of Swatch Group becomes extremely beneficial for Omega.
One of Omega's stablemates within the Swatch Group is a little known and poorly understood company called Comadur SA, a powerhouse materials and ceramics specialist based out of Le Locle.  The niche expertise of Comadur has enabled Swatch Group brands like Omega to develop stunning dials, bezels and even entire cases as on the Omega Dark Side of The Moon while maintaining high standards of durability.  In recent years they've even been able to produce incredibly rich colors and combine them with embedded super-luminova in bezels and crowns.
LiquidMetal
Unlike ZrO2, LiquidMetal is a commercial trade name that actually refers to a group of amorphous metal alloys with slightly differing properties, developed by a team at the California Institute of Technology and marketed by LiquidMetal Technologies.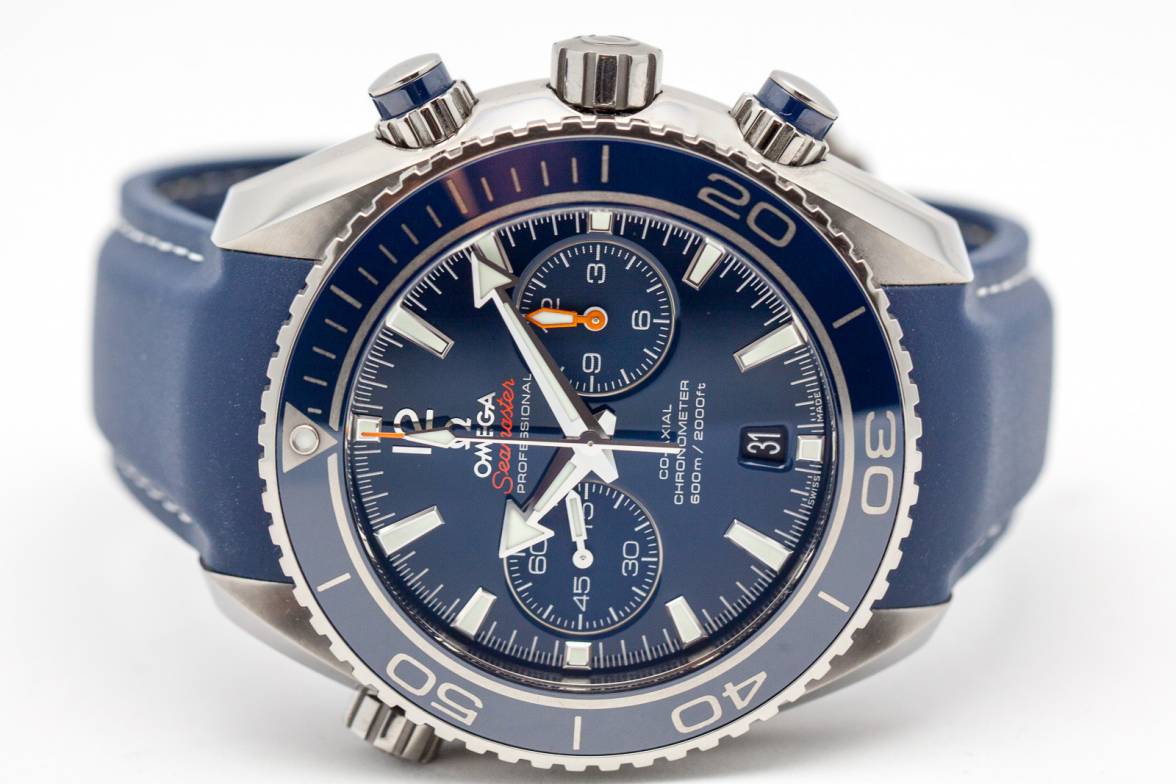 In 2011, Omega & Comadur's parent company Swatch Group signed an exclusive licensing agreement with LiquidMetal Technologies and since then, the use of LiquidMetal in conjunction with ceramics has exploded across Omega's model range.  In the 13 years since the release of the Planet Ocean LM LE, the material has proven to be extremely resilient, durable and ideal for its purpose.
The primary use of Liquidmetal for Omega is in bezels, where it is used to provide contrasting indices against the ceramic color.  Comadur begins by producing the bezel out of ZrO2 with small recesses where the diving indices and numbers would go.  The Liquidmetal is then pressed and bonded into the ceramic, then polished off until a perfectly flush seamless finish is left behind.  The resulting indices are smooth to the touch, of similar hardness to the ceramic, and have a sharpness and contrast that is impossible to achieve any other way.
While Omega was the first to use Liquidmetal via Comadur, it was not the only Swatch Group member to utilize the material.  Breguet released the Reveil musical in 2010 also with Liquidmetal used in an entirely different way, to better reproduce a music-box type sound effect.  No doubt experimentation within the group will continue and more interesting uses will come to light as time goes on.
Case & Bracelet
The Planet Ocean case design is effectively a dive watch based on the asymmetrical twisted lug Speedmaster Pro Moonwatch case.  That design is stretched width wise and in height a great deal to create the Planet Ocean Chronograph.  
These watches feature a helium escape valve at the 10 o'clock position and a pair of very large pushers at 2 & 4 o'clock.  These pushers appear to be screw-down from their knurled outer collar but are in fact not, as the key party trick of the Planet Ocean chronograph is its ability to operate pushers to full 600 meters depth.  This is a feature Omega diver's chronographs have had for several decades, with a special system of seals keeping these pushers resistant to a pressure of over 870 PSI at the full 600 meters.
The pushers themselves are much larger and flatter than the Seamaster Pro Chronograph versions, making them easy to operate with gloved or wet fingers.  Similarly, the helium escape valve and crown are similarly large and knurled for easy gripping, with the later shrouded by the asymmetrical case which acts as a crown-guard.
The 120-click unidirectional dive bezel features a ceramic bezel on all but the orange version and is remarkably solid, precise and legible.  It remains a tool watch but an exceptionally high-quality tool that feels exceptionally dependable.  The ceramic bezels are extremely scratch and chip resistant, while the orange bezel remains a painted aluminium design on this generation as Omega was still developing orange ceramic at time of release.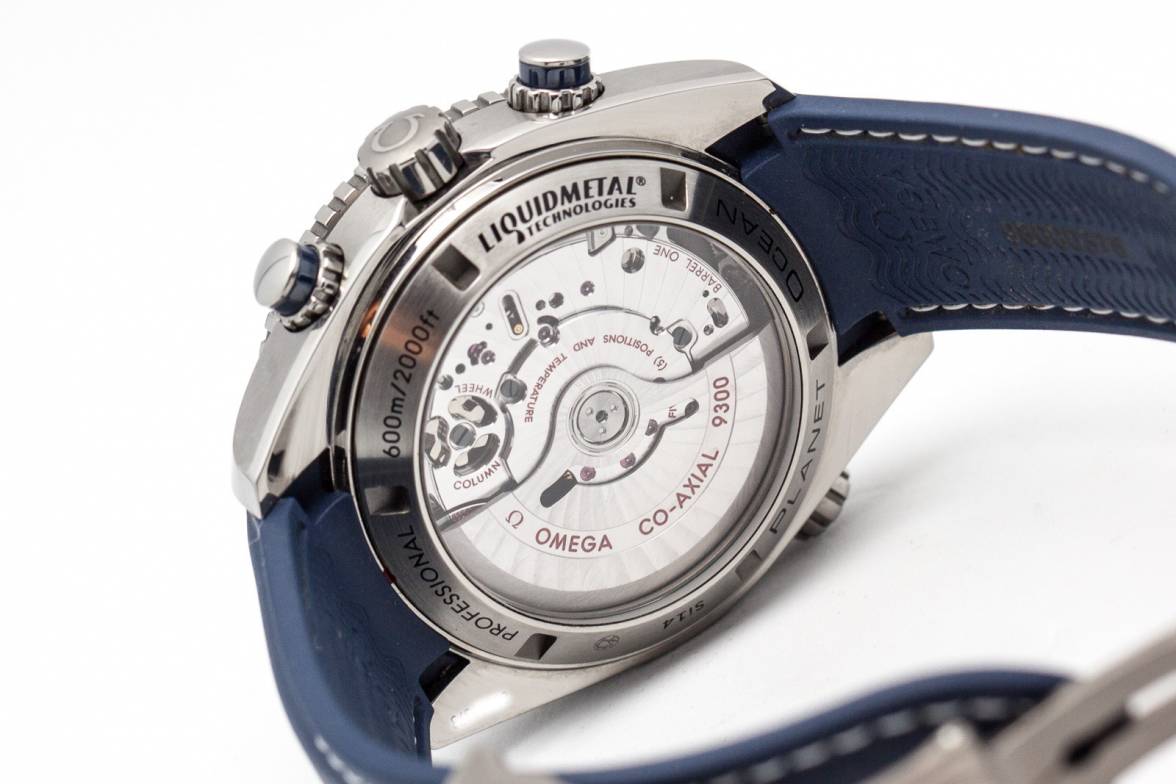 The case-back is an entirely new design for this generation, a sapphire display-back, showing off the very attractive and interesting Calibre 9300 movement within.  It featured text around the outer edge with "Planet Ocean" along with the depth rating of 600 meters, SI14 for the balance spring and other features listed such as LiquidMetal or CeraGold depending on the model.  Interestingly this watch was the first diving chronograph ever produced by Omega to have a display-back, with very few competitors ever attempting such a thing on a similar watch.
The case of the second-generation Planet Ocean Chronograph is 45.5 mm in diameter and 19.4 mm thick from front to back.  The 22 mm lugs are not only wide, but are vertically tall, requiring abnormally large end-links and strap ends, making these watches incompatible with other 45.5 mm Planet Oceans like the time-only versions.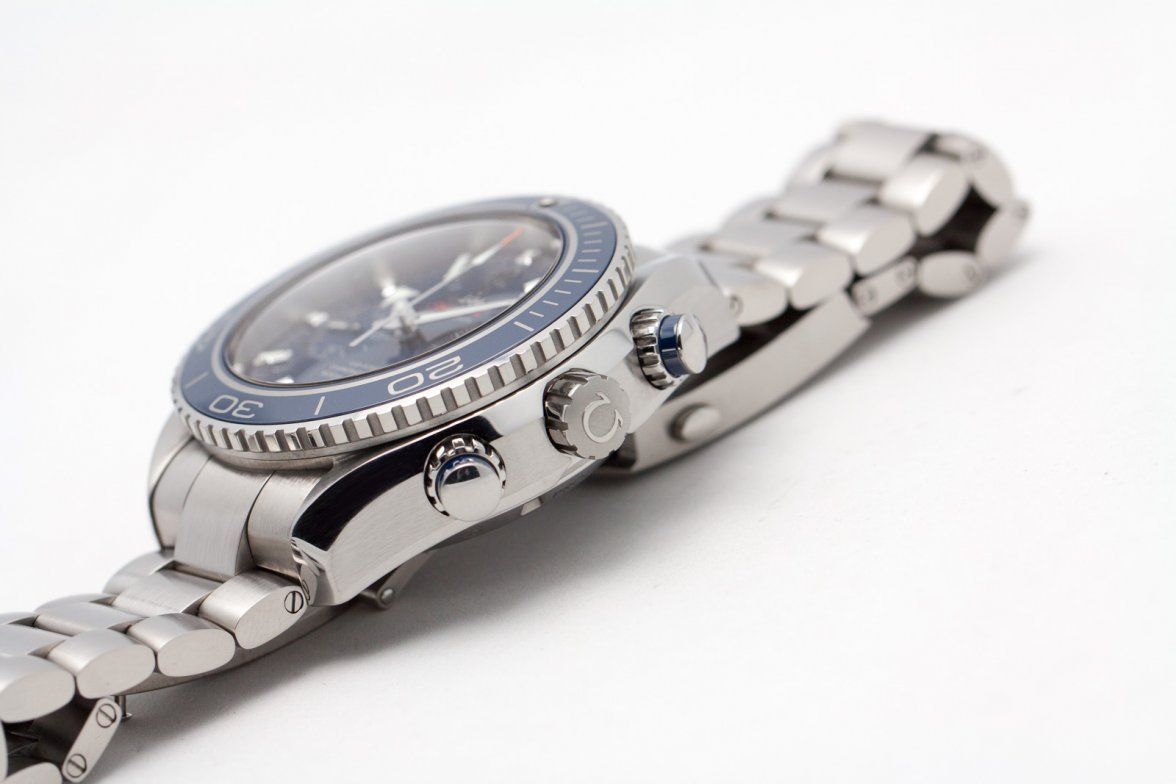 Bracelets are the more common option, with form-fitting rubber straps on deployant clasps also being available which fit flush with the lugs to create a very clean look.  Leather straps are also available in gold and jewelry models, also on matching single-fold deployant clasps.  
In the case of the Planet Ocean Chronograph it is really hard to recommend anything other than the bracelet.  The head of these watches is very heavy, even in steel let alone gold, and straps simply don't offer a secure enough feel on the wrist with this much mass to hold in place.  The bracelet of the Planet Ocean is substantial, untapered, and well suited to balancing out the head of the watch.  The clasp features a diver's extension as well as a double locking mechanism but no micro-adjust as this is achieved with half-links.  The screw-and-bushing design of the bracelet is an upgrade over the previous generation and easier to size but this is still best left to a watchmaker as they can handle the task for more quickly and safely than any civilian.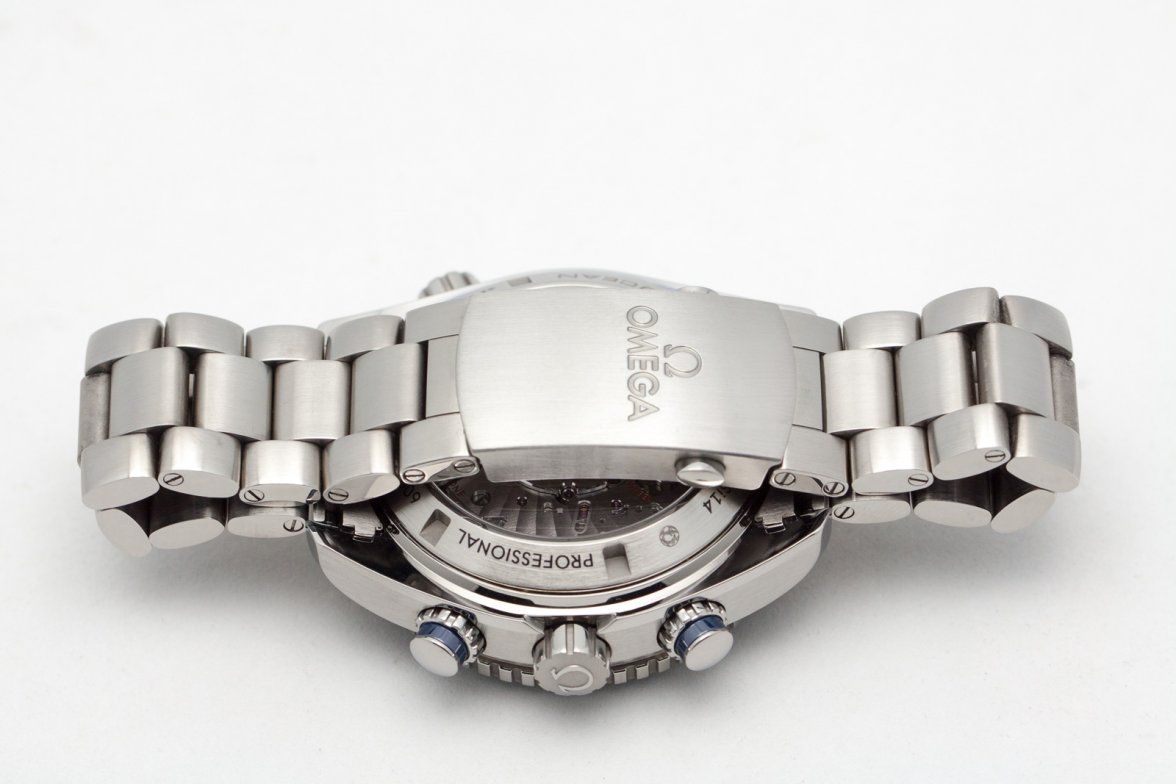 Movement
The second-generation Planet Ocean Chronograph is powered by the Co-Axial Calibre 9300 movement, first released at Baselworld 2011.
The Calibre 9300 was the long-awaited chronograph companion to the in-house Calibre 8500, Omega's flagship 3-hand movement of the era.  By coming out several years after the Cal 8500, the Cal 9300 was able to benefit from a lot of the early learning and solutions found to initial Cal 8500 teething problems and tended to be a very robust movement as a result.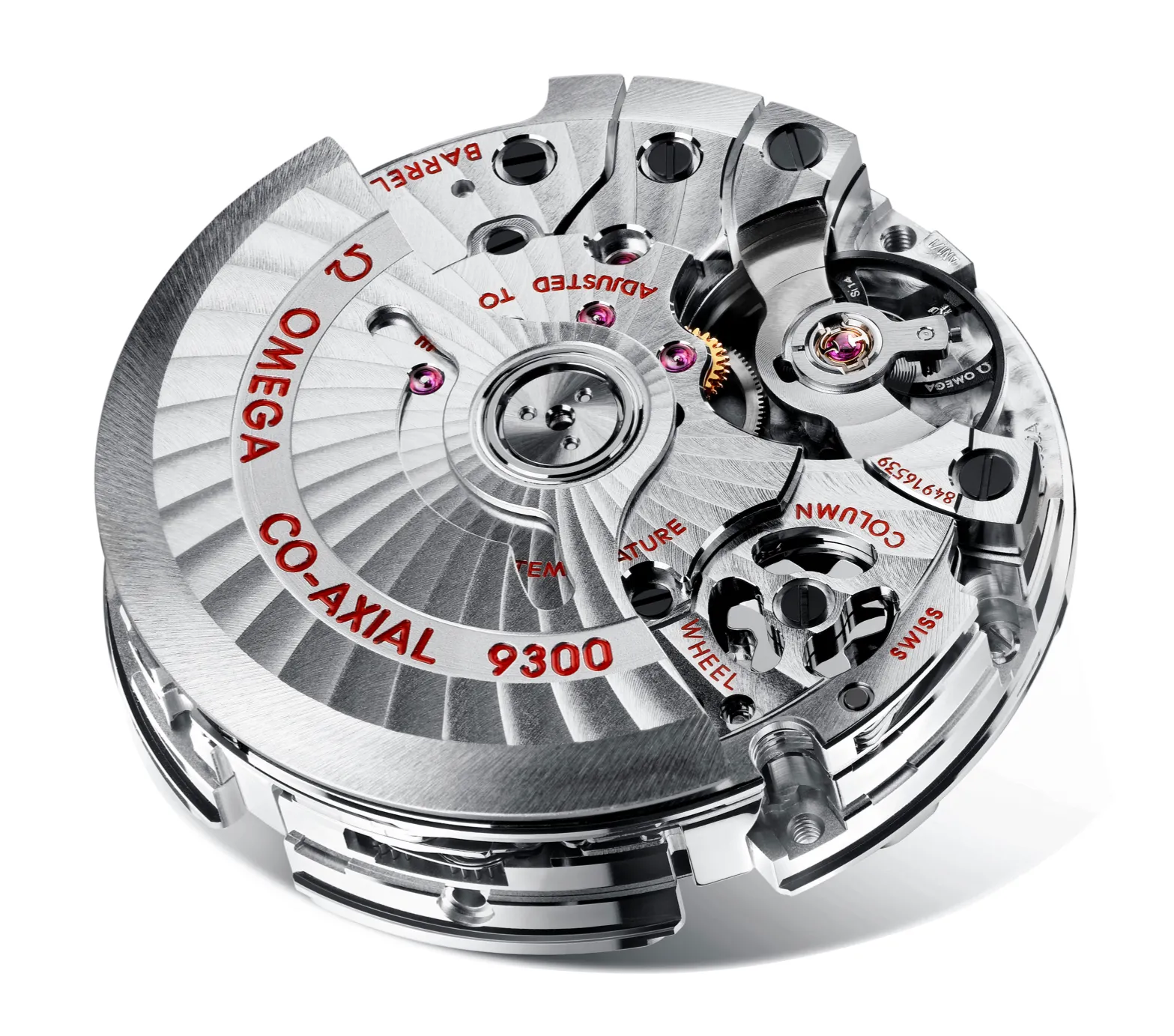 The Calibre 9300 oscillates at 28,800 vph, slightly higher than the 25,200 vph of the Calibre 8500 and its descendants.  It features a column-wheel actuated chronograph system, a vertical clutch, dual barrels, hacking, quickset date, and both chronograph minutes and hours on the same sub-dial, with a power reserve of 60 hours.
The thickness really is the main complaint about the Calibre 9300, and this is the reason all watches based on it tend to be around 16 mm thick or more.  Omega has been steadily working to improve this issue over time with successive generations but for people wanting a thin watch, there's not much that can be done.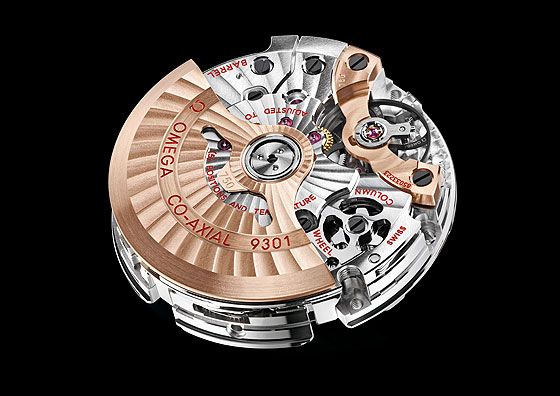 These movements are very robust, reliable, and accurate and can be serviced by any independent watchmaker with access to an Omega parts account.  The Calibre 9301 used in gold models is identical to the standard 9300 but has some red gold finishing in order to differentiate it for precious metal models.
Dial & Variants
All Second-Generation Planet Ocean Chronograph models feature a fairly uniform dial layout.  The dial features a very high degree of finishing quality, with applied white gold luminous hour markers, an applied Omega logo, and an applied 12 o'clock numeral.  The subdials are quite large and very legible, making them quite resistant to interference from the broadarrow hour and minute hand covering them.  The Calibre 9300 substantially reconfigures the dial over its predecessor into a two sub-dial layout with date at 6 o'clock, running seconds at 9 o'clock and both chronograph hours and minutes on the left sub-dial.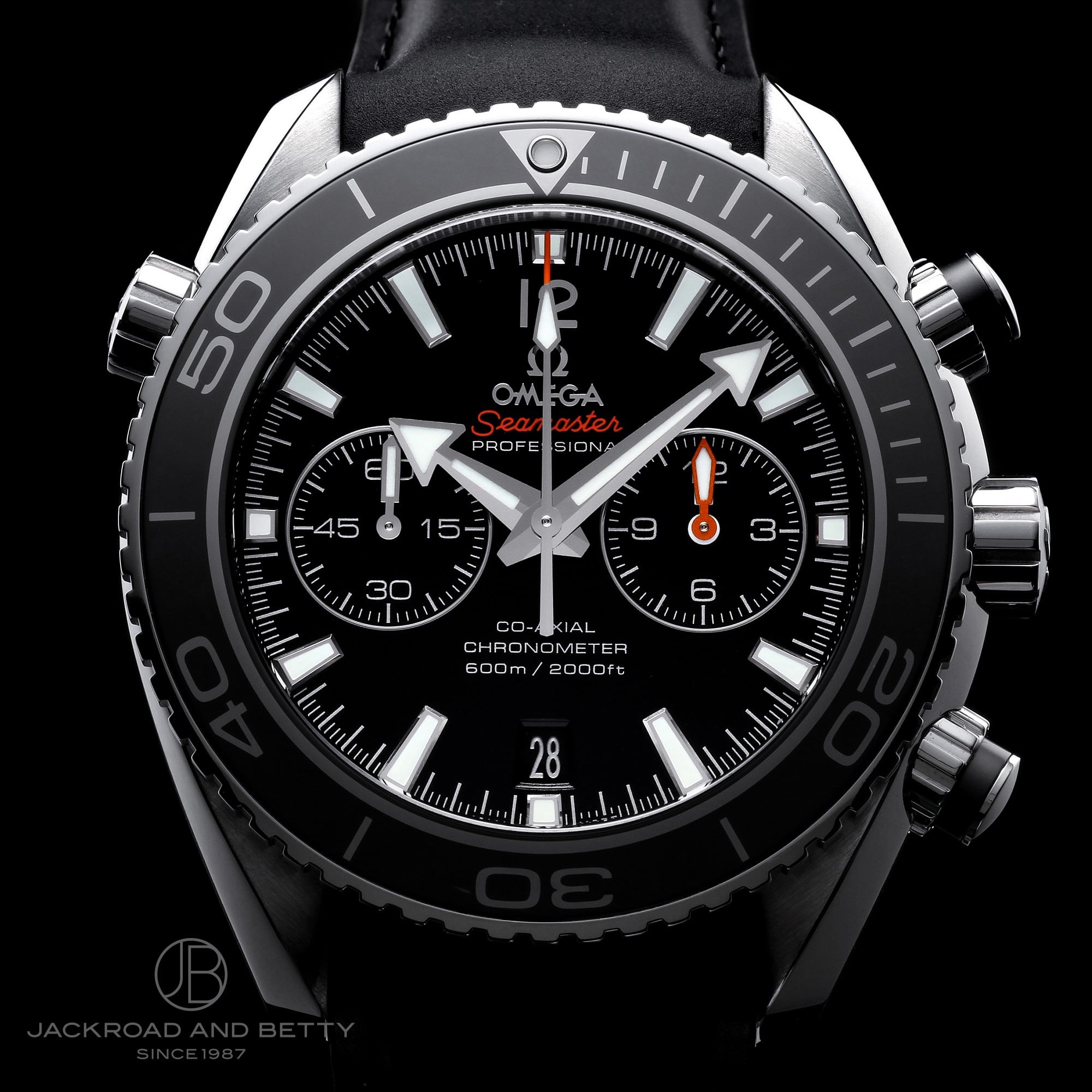 Chronograph minutes are represented by an orange plongeur hand, with a white stick hand hidden behind it to represent hours, a nice nod to Omega's divers of the past.  All sub-dial hands feature luminous material in sufficient quantity to make them quite legible.  It is important to keep in mind the sheer size of this watch and how physically large the dial is, as the scale of the sub-dials and how easy they are to read is difficult to appreciate from photos.
The dial text and outer sub-seconds track for the chronograph hand are in white paint with Seamaster in contrasting red.  The exception to this is the gold and jewelry models, which use an entirely monochrome dial.
Stainless Steel
The stainless steel versions are the most popular by far, with all variants widely sold around the world.  Bracelet versions are more common and definitely preferable due to the head weight.  
It should be kept in mind that the bracelet version is 257 grams, while the strap version is only 176 grams, so the strap misses out on a lot of counterweight to balance the head.  The cost of the bracelet is quite significant and adding it after the fact can be difficult for this reason.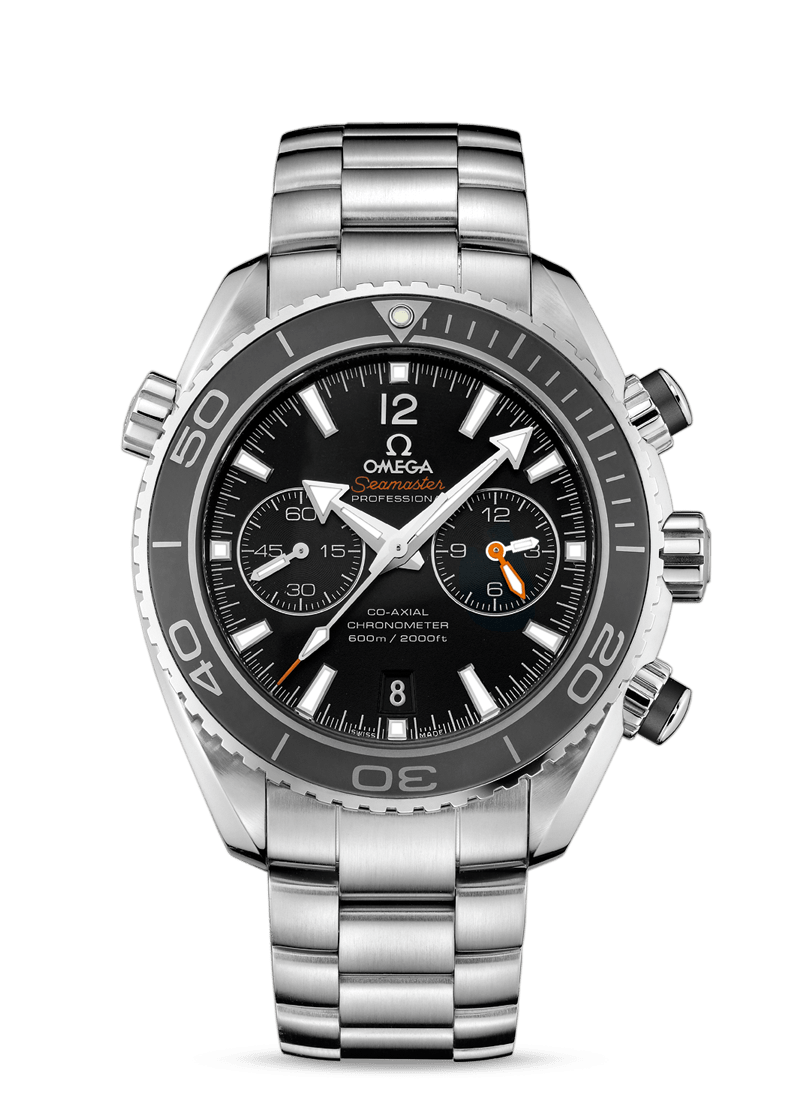 While the strap version is top heavy and a bit unwieldy, it does not lack in quality, and the new rubber strap and single-fold deployant are both an improvement over the first generation.  The orange in particular makes quite an impact on strap, and due to reduced prices, there can be some good deals to be had on these if you are a rubber man like Luffy.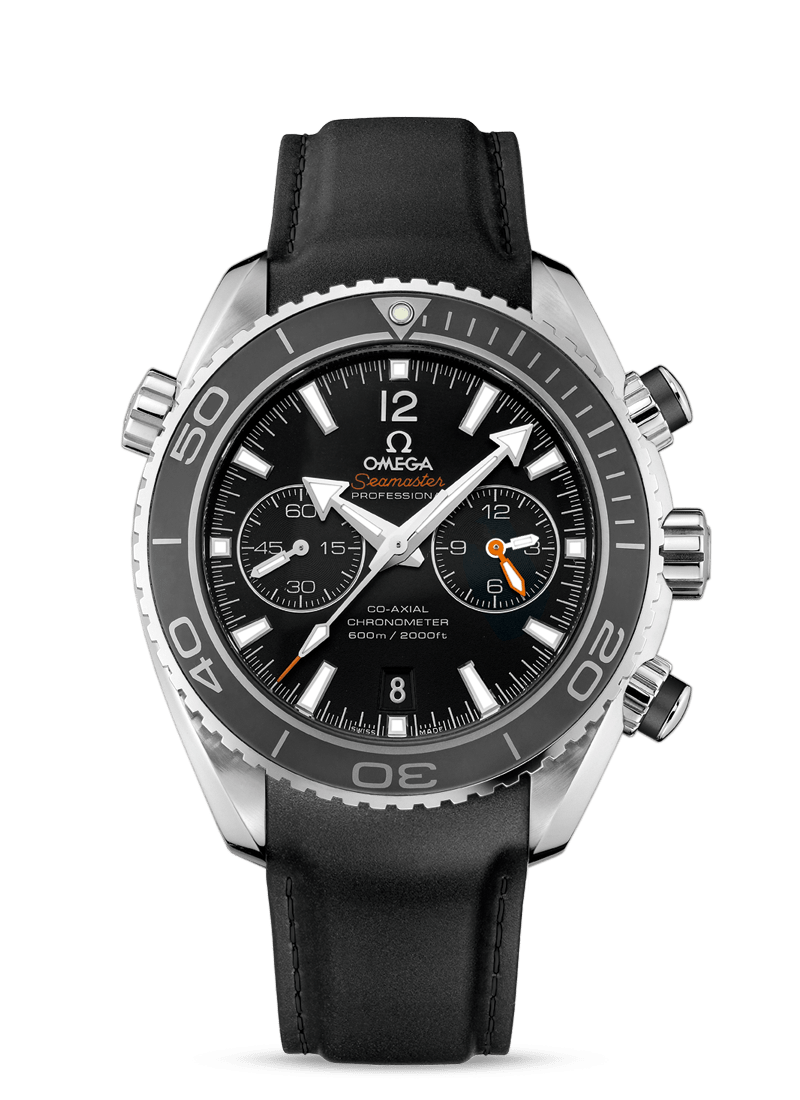 LiquidMetal Titanium
The titanium LiquidMetal edition of the Planet Ocean Chronograph is my personal pick of the bunch.  These watches sell for a small premium over the steel but the greatly reduced weight on both the bracelet and strap version along with the stunning LiquidMetal bezel make it worth that easily.
The bracelet version is a mere 173 grams, 3 grams lighter than the steel version on rubber strap, while the titanium on rubber strap is a featherweight 140 grams.  The bracelet doesn't make anywhere near as much of a difference on this watch comfort wise and the strap is about equally as comfortable but I would still opt for the full bracelet for completeness.
This is the only second-generation Planet Ocean Chronograph that feels "normal" on the wrist, and downright comfortable, though it will still collect door-jams and other objects as the thickness does remain.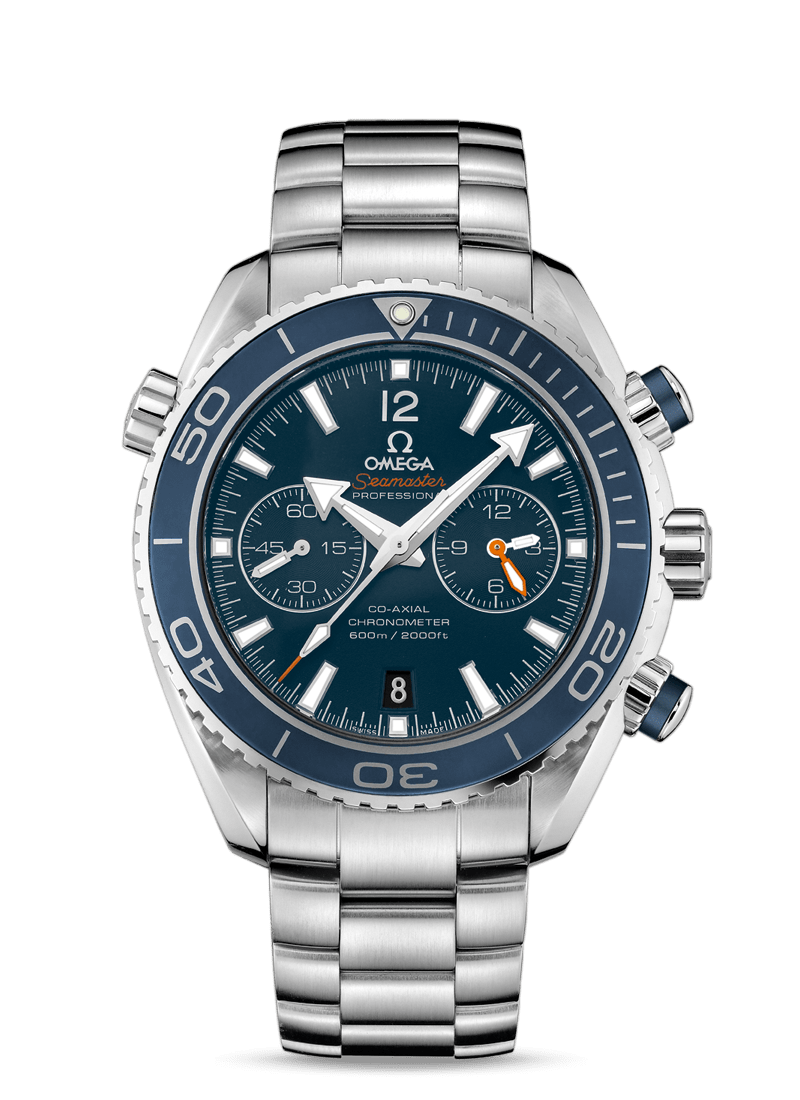 18K Solid Red Gold
The 18K solid red gold edition on leather strap, Ref 232.63.46.51.01.001, is the only precious metal model in the second-generation Planet Ocean chronograph family.  
This model is unique in that it is also uses the Calibre 9301 deluxe finished version of the Calibre 9300 with red gold finished rotor, and features what Omega calls a "Ceragold" bezel, combining ceramic with red gold inlay for indices.  The bezel, coupled with the rich black dial with red gold hardware and overall finishing makes this an exceptionally attractive watch.
These watches were not a limited edition and were produced between 2012 and 2016, with a fairly high price-tag which did restrict overall production quite a bit.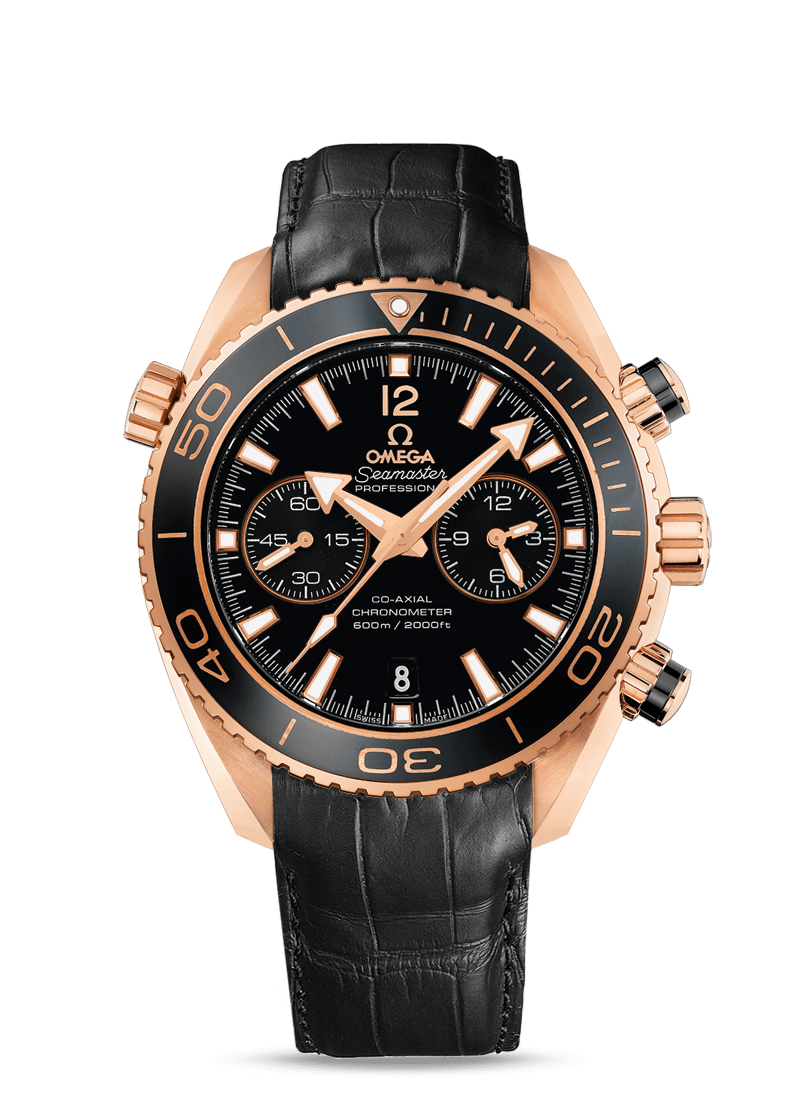 Jewelry Models
The two jewelry models in this generation of Planet Ocean chronograph are quite different from what came before.  These watches are far more sedate, simple, and affordable than the first generation, not to mention more limited in options.  They're also the last of their kind, as jewelry models were never offered in the third generation Planet Ocean chronograph.
These two watches, available on bracelet, Ref 232.15.46.51.01.001 and on leather strap, Ref 232.18.46.51.01.001 are both made from regular stainless steel rather than any precious metal.  Their key differentiating features are the channel set diamond bezel and the monochrome, entirely colorless dial and hands.
These watches were never a limited edition and were produced from 2011 until 2016 as required, though numbers in circulation are not that high overall.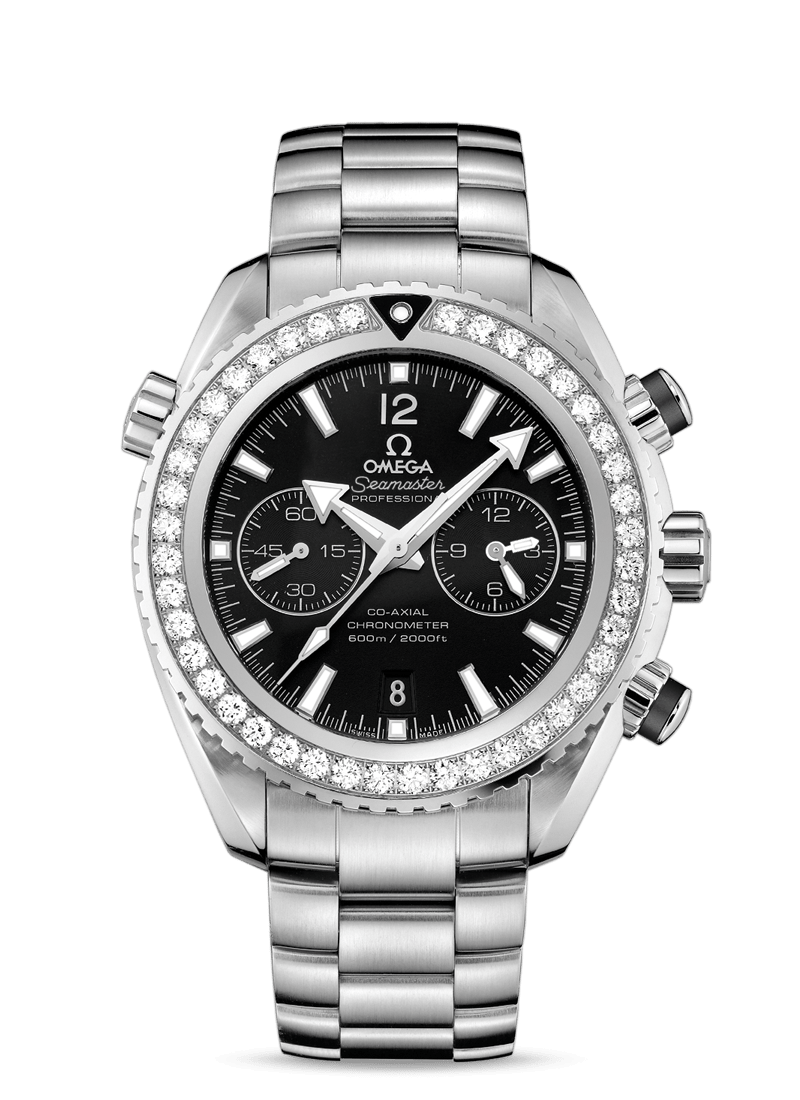 Buying
For most people the decisions are bracelet or strap and steel or titanium, as the differences between colors are relatively minor.
On most watches it is very much a personal preference, however due to the mass and size of this watch I would rank them in a specific order.  The titanium with LiquidMetal on bracelet would be the pick of the litter, followed by titanium on strap, followed by steel on bracelet.   As mentioned above, the steel on strap is a rather difficult watch to wear due to the heavy head which tends to flop around on the wrist.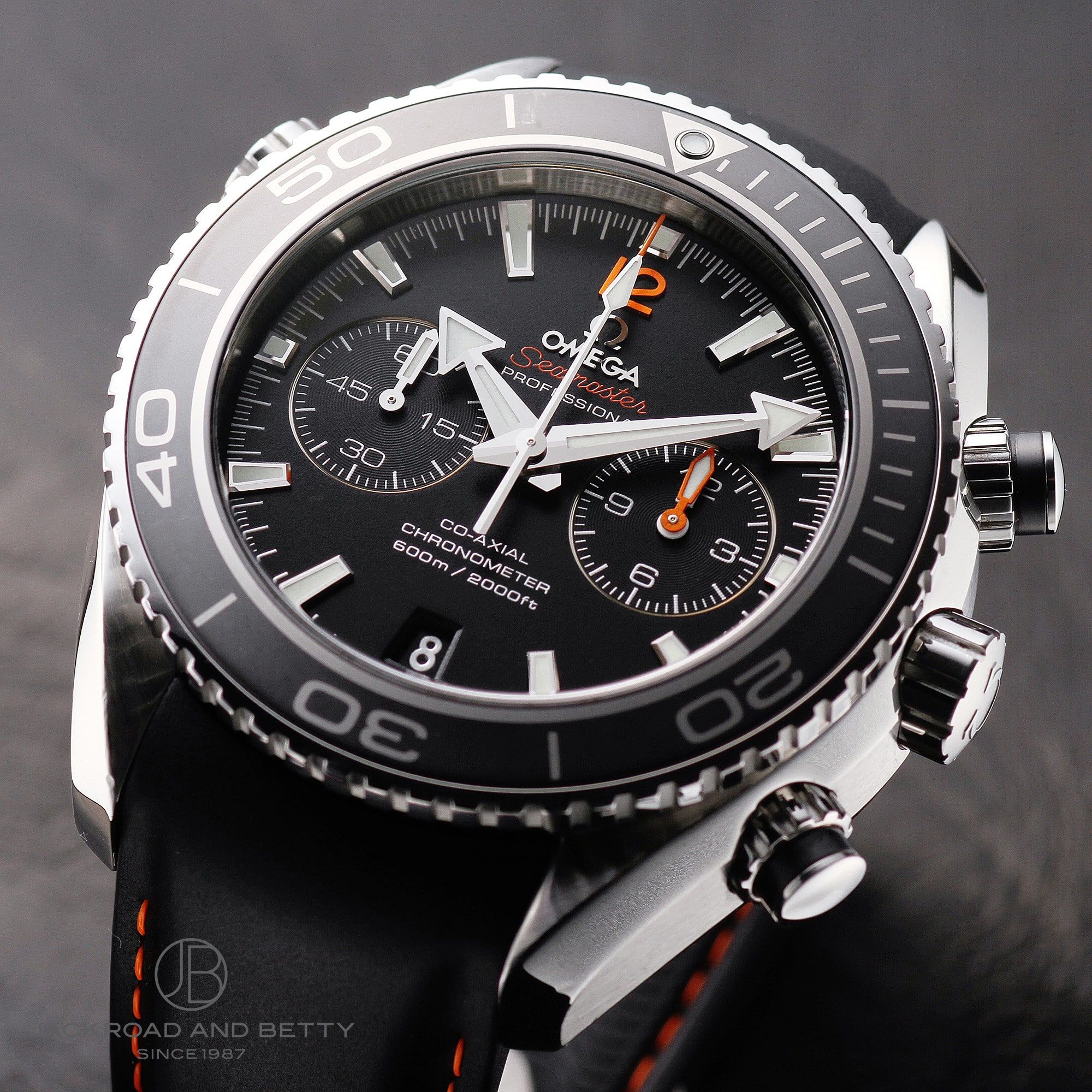 The chronographs didn't sell quite as well as the time-only Planet Oceans, but there is still a very large supply of all models, with even the jewelry and 18K red gold models being relatively easy to find online.  The Chrono24, eBay and forums are all good options, with no reserve auctions of course being some of the best deals, but these watches tend to rarely go at auction due to their cost.  
The Planet Ocean Chronograph was a very expensive watch when new, one of Omega's most costly in each respective metal at the time of production, but prices have come down quite considerably on the secondary market.  Steel versions tend to start from around $4,500 and go to around $6,000 depending on completeness and condition, while titanium is about a thousand more at around $5,500 starting money.  That 20% premium for the titanium really is a small price to pay for the comfort and convenience.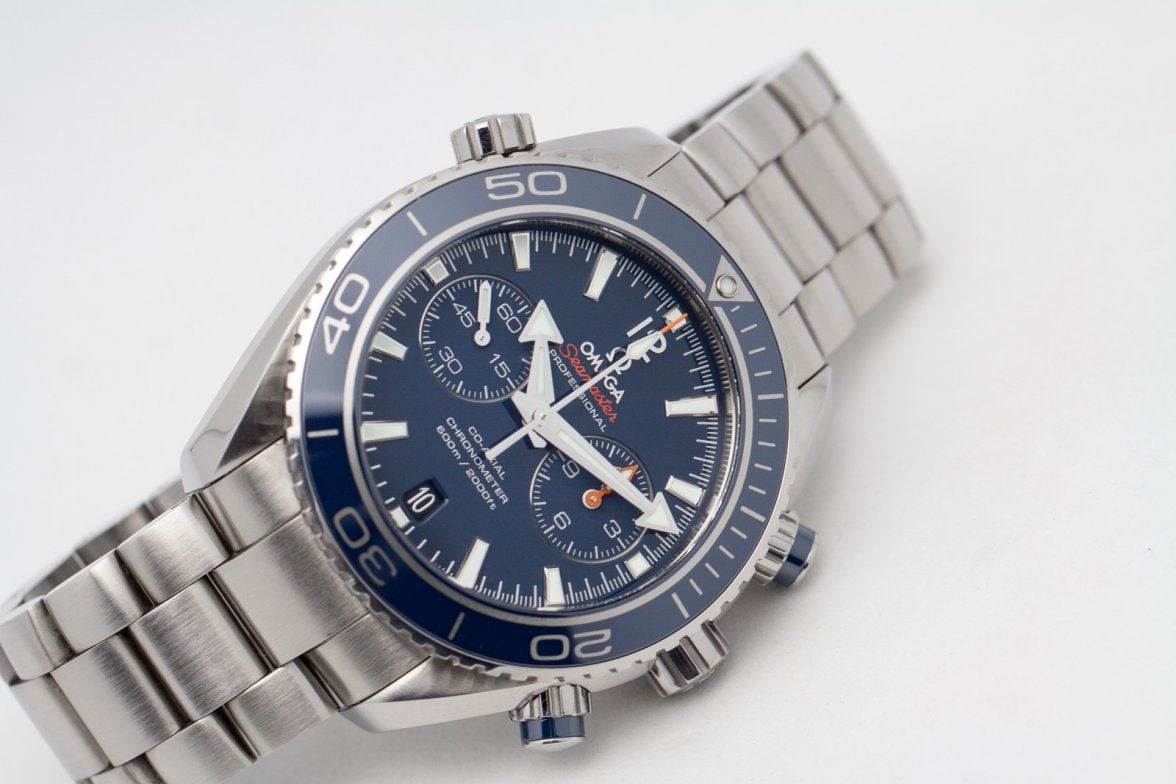 From a condition perspective, these watches are extremely durable, with quite trouble-free movements, and bezels that are highly resistant to damage with the exception of the all-orange version.  The biggest enemy of this watch is its tendency to be an absolute magnet for dents, with the bezel and case sides taking the brunt of the impact.  Many of these have dings and dents or have been polished aggressively to remove them so keep this in mind.  Any serious damage to the bezel should be avoided as these are only sold as a complete unit at considerable cost.  Similarly, the crystal should be free of chips or scratches as this adds to repair costs.  All of these watches are now due for service so factor that into the purchase price, however any Omega certified independent watchmaker can handle this task at a more reasonable price than a factory service.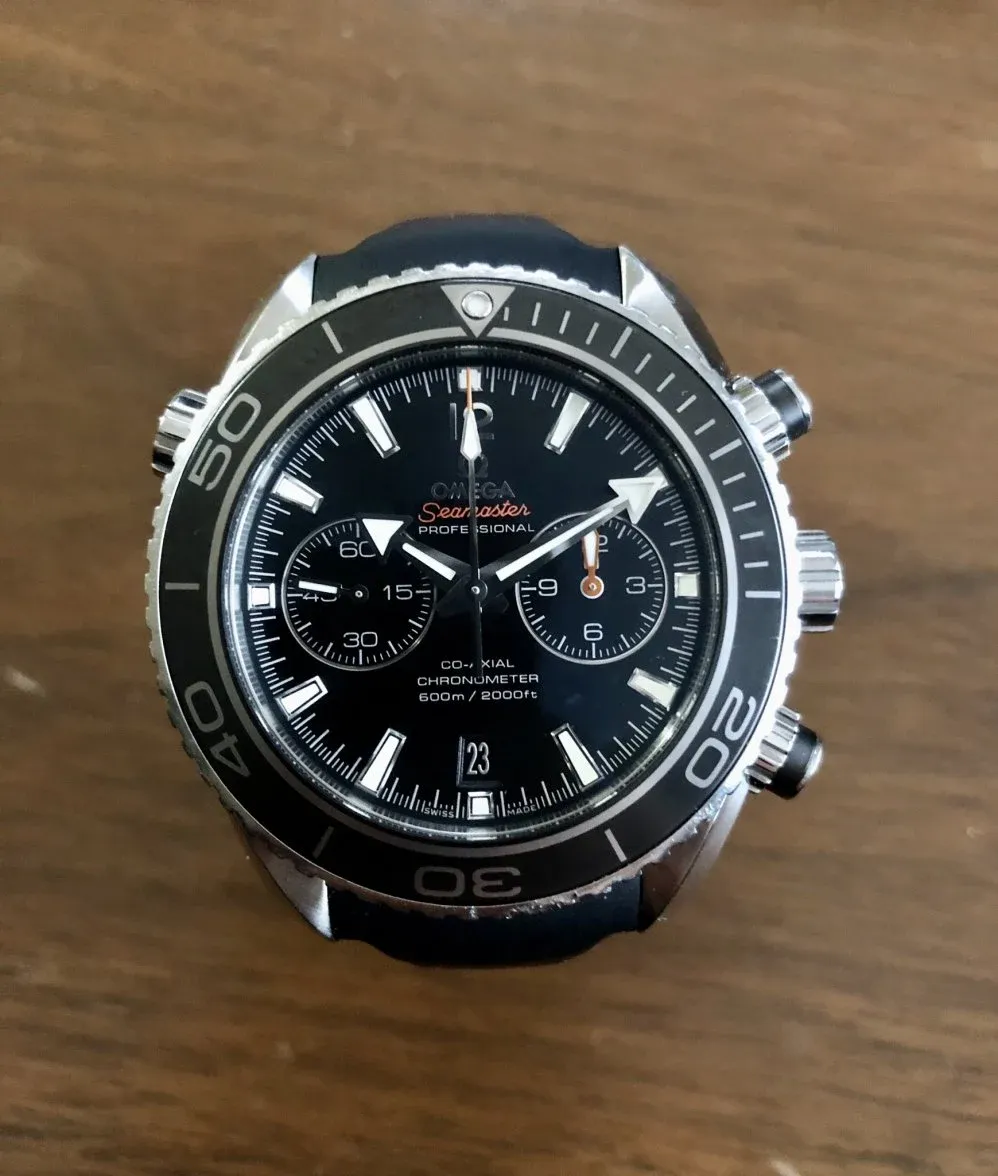 The third generation of Planet Ocean Chronograph was released in 2017 with an upgraded, slightly thinner movement and case, along with some slight re-designs of dial and bezel.  It was however a relatively minor upgrade compared to that ushered in with the second generation, and came with a very significant price bump at the same time.
This leaves the Planet Ocean Cal 9300 in a rather interesting position.  The price point makes it extremely compelling considering the very impressive feature set which lacks little compared to the latest version.  It is a watch that does everything, does it well, and does it reliably and accurately.  The only question is whether the nearly 2 cm thick case is something your wrist is capable of rocking or not.
Discussion thread on Omegaforums can be found here: