It's the Seamaster Pro 300M Diver.  I'll save you the trouble of reading if you'd like to skip and just say that specifically, its the 3rd generation Seamaster Pro 300M Diver in steel with either blue (Ref 212.30.41.20.03.001) or black (Ref 212.30.41.20.01.003) dials.  You should watch the video though, as the video is pretty great.  We reviewed this watch many years ago when we were able to get a hold of it as it was a critically important watch to Omega.  
At the time we were extremely impressed.  This was a big leap forwad for the Seamaster Pro and for Omega.  Quality was noticably higher, the dial had a beautiful depth to it with excellent finishing on the white gold applied dial furniture and matching hands.  The ceramic bezel matched perfectly, looked incredibly good and our only concern was how well it would hold up over time and resist damage.  Nearly a decade later, we can say with a very high degree of certainty that this watch was an absolute gem, and even though it has been replaced by a newer generation with Calibre 8800 movement, displayback and a return to wave dial, the latest iteration is more a style update than an outright improvement.  That isn't a slight against the new Seamaster Pro by any means, it's just that this Calibre 2500D powered model is that special.
More Revolution than Evolution
First Generation - 2531.80
The original Seamaster Pro 300M, the 2531.80 "Bond" watch was famous for its durability and reliability, but it wasn't without its faults.  
The first was the bezel, or more particularly the painted aluminium insert.  Over time these inserts fade, get easily scratched, and generally look quite "rough".  While some may appreciate this as patina, most just want a nice looking watch and unfortunately the insert cannot be replaced without buying a complete bezel assembly which is a job in the order of $500.  It's also worth noting that due to this cost, a large number of Seamaster Pros have their bezels replaced with aftermarket / counterfeit bezel inserts.  This problem is not isolated to the 2531.80 and is the same for all aluminium bezel Seamasters, including Gen 2 models, sword hand references like the 2254.50 and even Planet Oceans.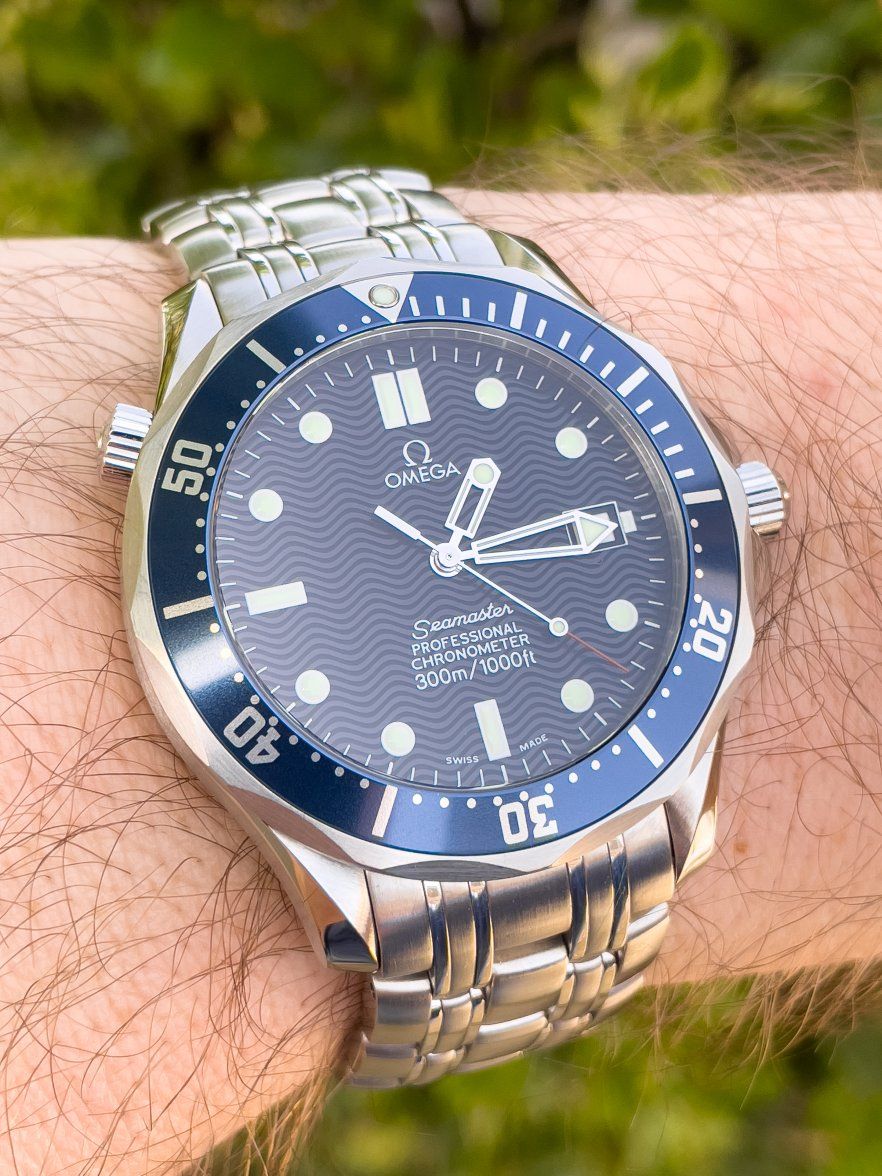 The second was the bracelet, specifically the sizing mechanism and clasp itself.  Sizing was a particular chore with the original and second generation Bond watches due to the pin and bushing mechanism used to secure the links together.  This often led to sales assistants haphazardly working on these watches with a jewelry hammer and pliers, bending pins and causing trouble.  The clasp also had occasional issues with the springs coming loose over time.
Second Generation - 2220.80
When the 2531.80 gave way to the second generation 2220.80 in the mid 2000's, neither of these issues were addressed.  
The Seamaster Pro did gain some more elegant applied white gold dial furniture, a different caseback and a Co-Axial Calibre 2500 movement, but this was only an upgrade in part.  The early variants of Calibre 2500 used in the 2220.80 were not quite as bulletproof as the simple Calibre 1120 that preceded it, as they used the thinner "two-level" Co-Axial escapement design.  Even though the watch appeared on the wrist of Daniel Craig in his first James Bond outing, Casino Royale, the 2220.80 had a relatively short lived life before being replaced by the ceramic 212.30.41.20.03.001.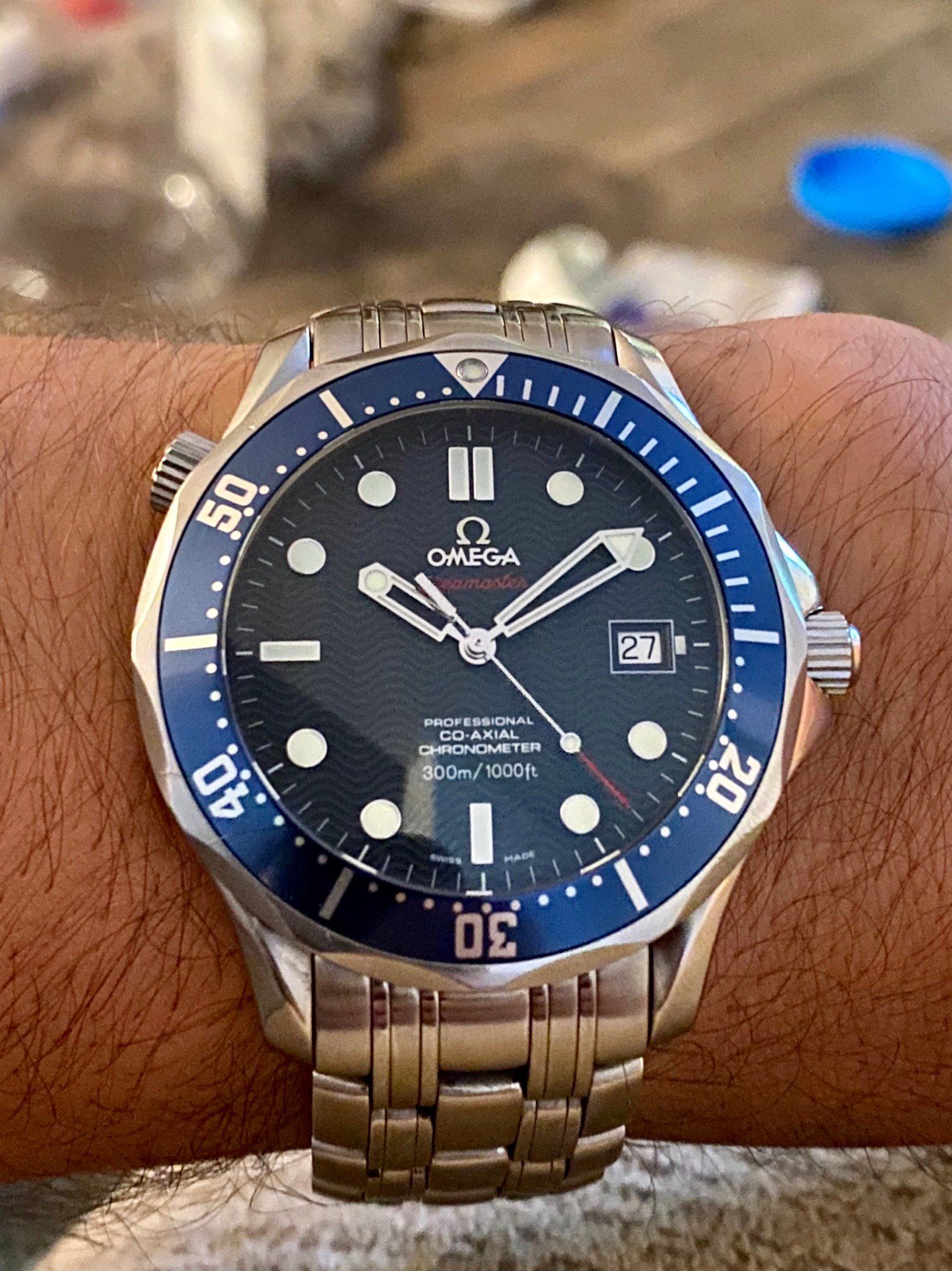 Third Generation - 212.30.41.20.03.001
When the ceramic Seamaster Pro came out, almost every piece of the watch was new.  The earlier Calibre 2500 movements gave way to the Calibre 2500D variant, featuring a redesigned "three-level" Co-Axial escapement.  This new movement proved to be quite robust, accurate and trouble-free, while retaining the thin profile necessary to run a slim case at only 13 mm thick.  
The bracelet featured a redesigned clasp with a simpler external design and a more modernized and foolproof bracelet sizing mechanism.  Gone was the pin and bushing design, and in its place was a screw and pin system which was both secure and simple to use.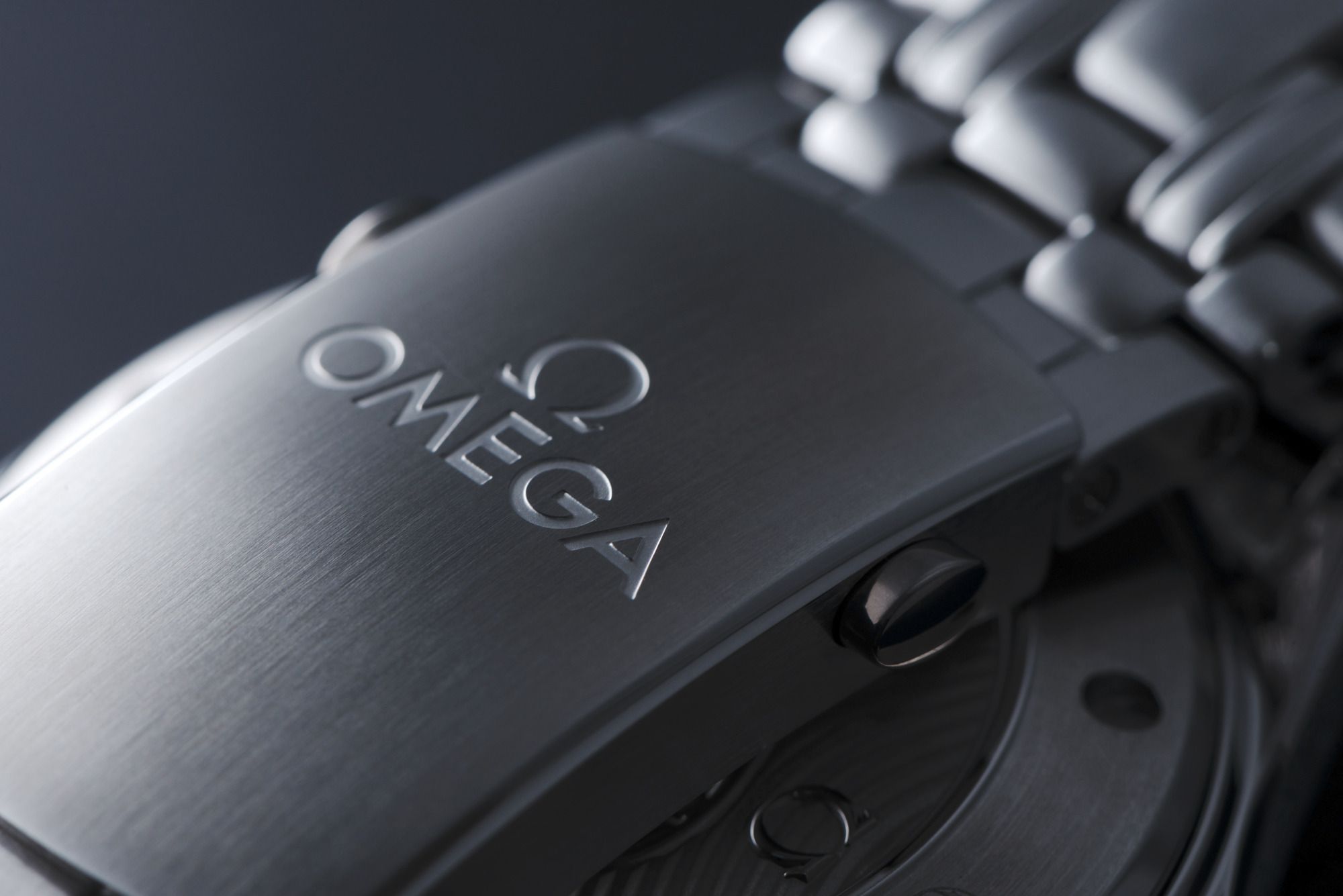 The wave dial, long a fixture of the Seamaster Pro made way for a glossy ceramic dial, matching the colour and finish of the similarly ceramic bezel.   Depending on how the light catches dial and bezel, they can appear any shade from a bright royal blue, to a near black tone.  The glassy depth of the dial makes the white gold applied dial furniture and Omega logo appear to be floating on still water, and created a brilliant contrast and legibility.  It genuinely is a beautiful watch to look at, worth photographing as it catches different angles of light throughout the day and night.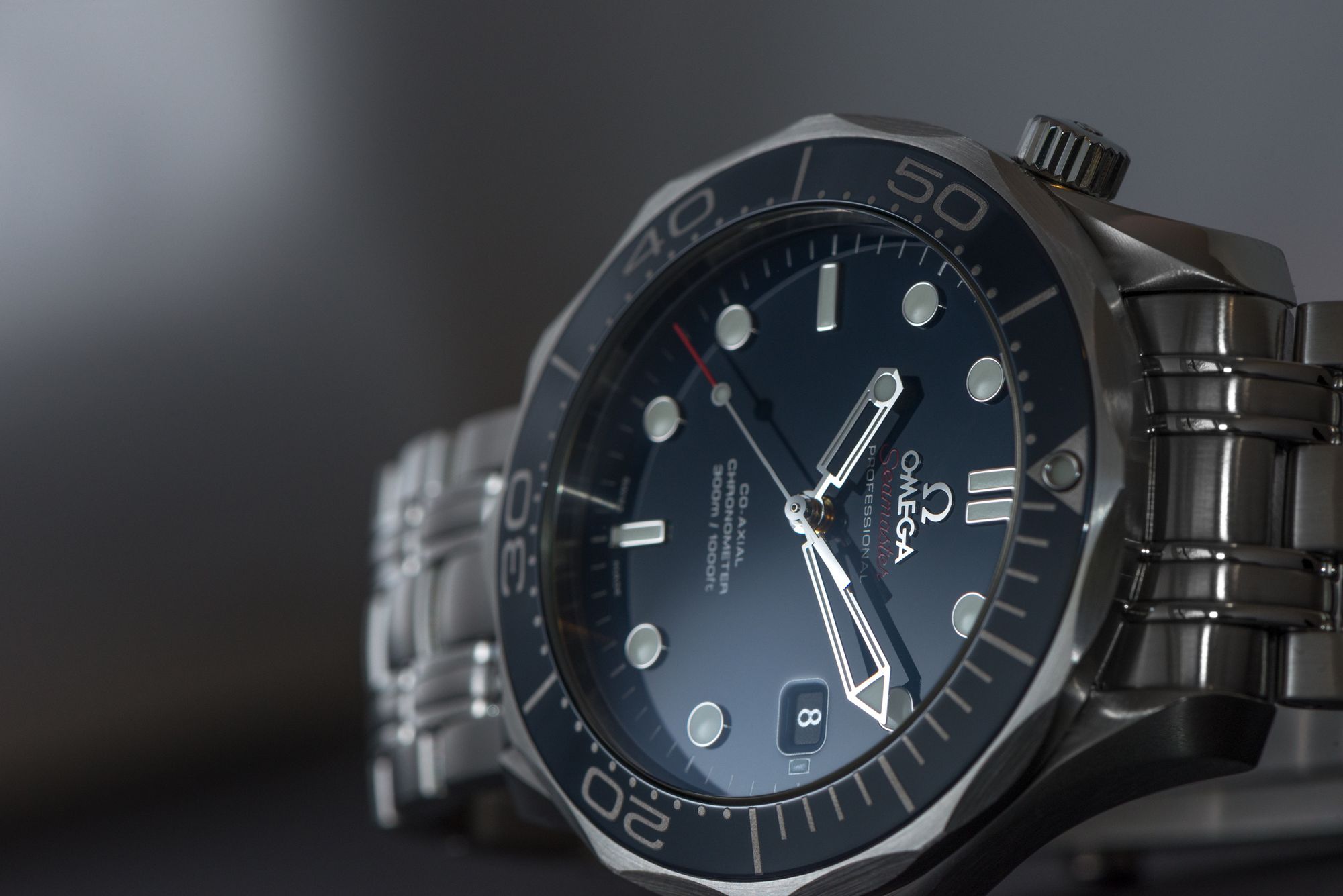 Omega also debuted their bi-color luminous material on this first ceramic release, with the minute hand and bezel pip glowing a bright green for quick reference while the hour hand, seconds hand and hour markers all glow bright blue.  
Fourth Generation - 210.30.42.20.03.001
The fourth Generation Seamaster Pro 300M was in many ways a much more minor iteration on a winning formula.  The wave dial made a return, a displayback was added, and the biggest change was the move to a Calibre 8800 Co-Axial movement and its date at six placement, harking back to the calibre 3xx series Seamasters of the 1950s.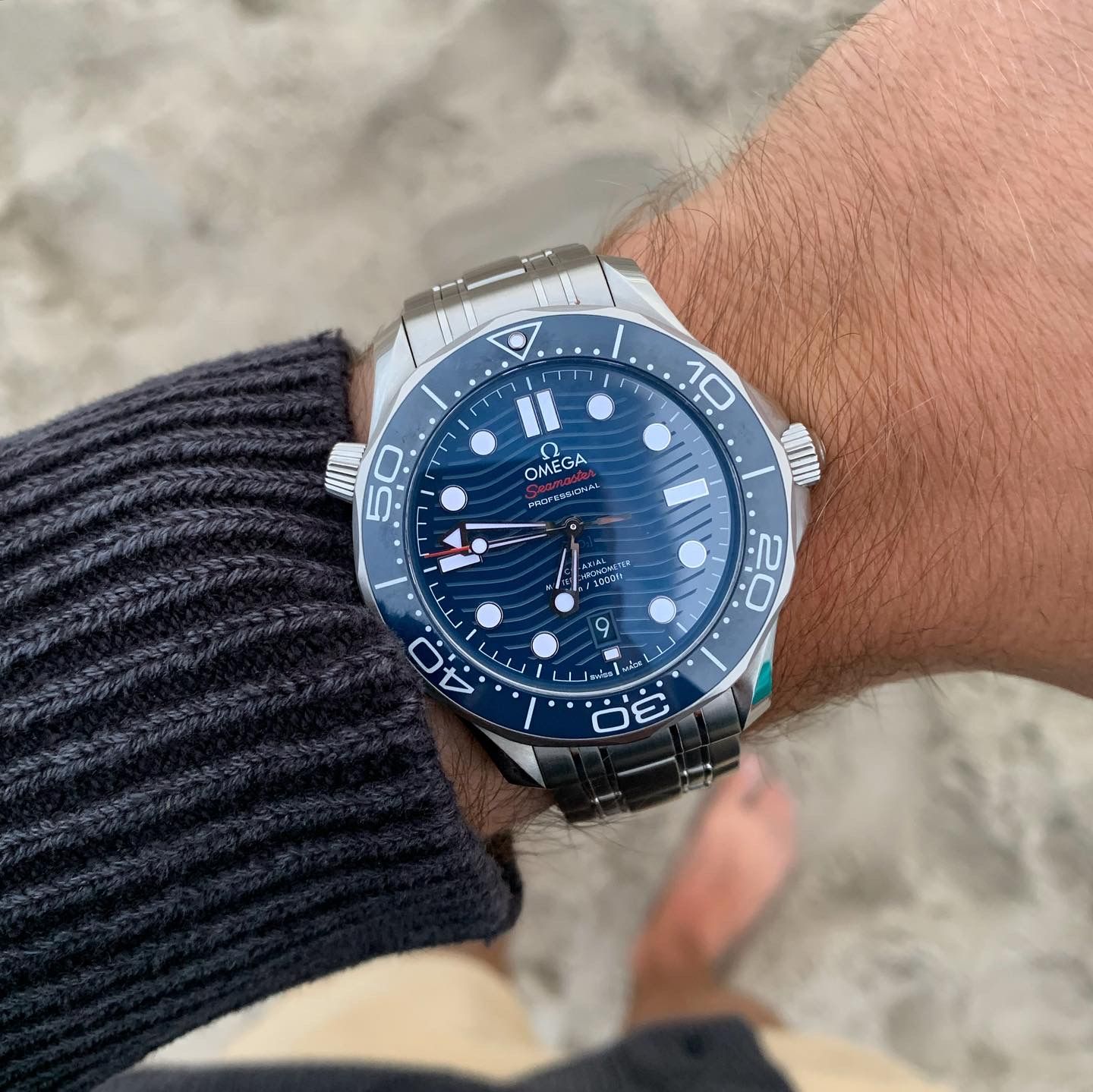 This latest Seamaster Pro is a terrific watch, easily one of the best in Omega's current lineup, and also comes in a larger 43.5mm size as well as a larger variety of colours, straps, and styles than ever before.  This does come at quite a bit of a price premium however and whether that is worth it or not depends on your own preference.
Cost to own
A major consideration in buying a good daily wearer is how it will stand up to wear and tear, and how much it will cost you to maintain in the long run.  10 years on, one of the most remarkable chracteristics of the ceramic Seamaster Pro is how new nearly all of them still look.
Both the ceramic bezel and dial, look the same today as they did when new.  There is no color fade or patina, almost never scratches given how incredibly hard the surface is, and only the outer steel portion really attracts damage at all.  It's actually quite remarkable just how clean and new looking even a "rough" example of a 212.30.41.20.03.001 actually looks, and after a polish they tend to not look rough anymore at all.  That really is one of the best features of the Seamaster Pro Ceramic for daily wear, its ability to take abuse and still look nice.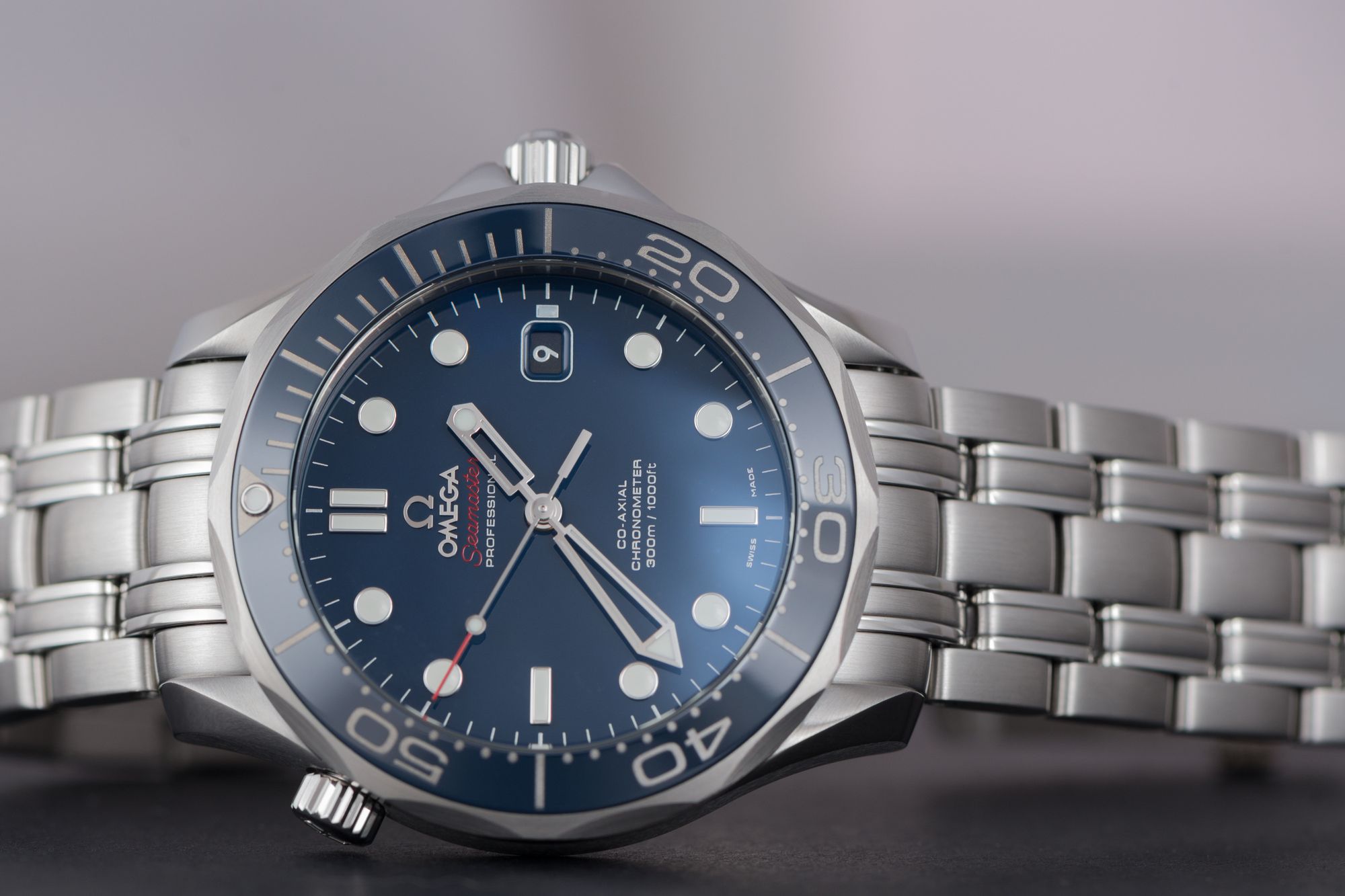 The Calibre 2500D movements have stood up very well, especailly compared to earlier Calibre 2500 variants, and can be serviced by any Co-Axial escapement trained watchmaker, whether an independent or through Omega.
The domed crystal sits almost flush with the bezel, and does a great job of keeping both it and the ceramic bezel insert out of harm's way.  An early concern at time of release was the cost to repair a cracked bezel insert but there have been extremely few complaints about these on forums or elsewhere since release considering the very large number produced.
It should be noted that as of 2022, just on an age basis, many of these watches will be about due for their first service, if not slightly overdue at this point and this should be factored into your decision making.  Having said that, you're unlikely to need to replace a faded or worn bezel at a significant cost as you would on a 2531.80 or 2220.80, and are getting a significantly newer and better watch for a relatively small price difference, and honestly its worth every dollar.
Buying
The price of these watches right now is a big part of what makes them so compelling.  There's a reasonably big spread with ebay listings and private sales being on the lower end while dealers will want up to $1000 more.  
There are currently two listed on forums for around $2850-2950, a couple on chrono24 as low as $2860, and an example in nice condition sold recently for $2450 on ebay with no box and papers which is simply a steal for this amount of watch.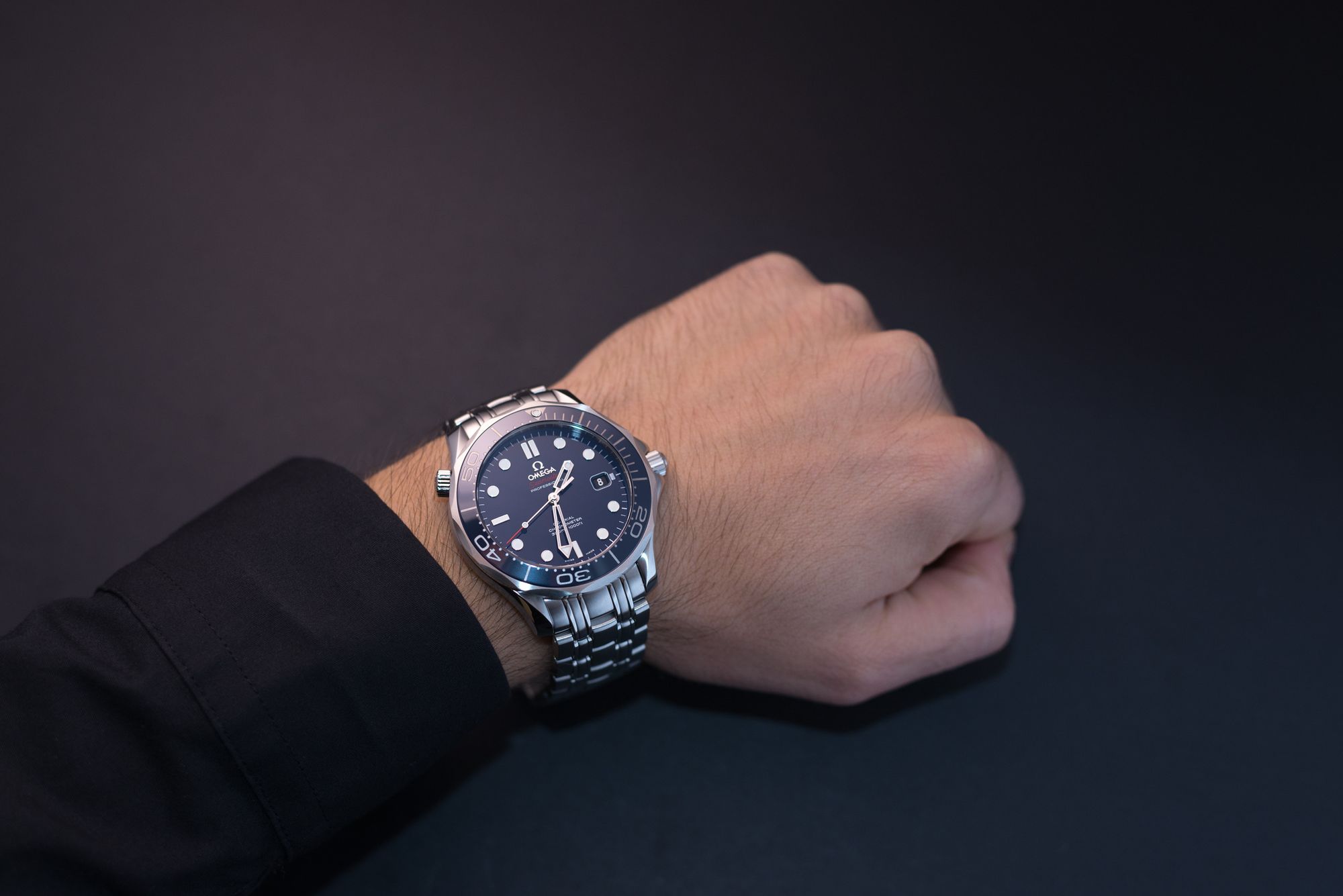 The condition tends to be pretty good for most of these, the domed sapphire crystal is fairly resistant to chips and damage, the ceramic bezel holds up very well, and the bracelet and case hide scratches and dings quite well.  Obviously, you will want to go for the best condition possible for the money, and any watch with a recent service receipt will be of particular interest, but there tend to be far more good examples than rough ones.
As a first watch, as an only watch, as a daily wearer, for a suit and for board shorts, I honestly can't think of a watch I would recommend for $3000 or less more than this Seamaster.  I've helped about a dozen people I know in person acquire them over the years and every one of them is extremely happy.  
The Seamaster Pro 300M Diver really is modern Omega at its absolute best.
Discussion thread on Omegaforums can be found here: