The Quantum of Solace LE Planet Ocean is a watch people tend to either love or hate. This is one of the first Bond LE's to take a big leap forward in finishing and customisation, yet the design can be polarising to many. That said it represents some of the best value in the Bond Omega range.
The Greatest Of Beginnings
The film Quantum Of Solace picks up immediately as Casino Royale ends with one of the best opening scenes, and the greatest car chase of the Bond franchise.  Bond in an Aston Martin DBS, bad guys in black Alfa Romeos with FN Minimi machine guns, incredible scenery with obstacles and hapless police, it's perfection.  
Of course, Bond passes on the automatic Aston in favor of the 6-speed manual, even though it makes it hard for him to fire his H&K UMP-9 while rowing through gears.  Of course, he takes a V12 GT car with no real ground clearance off-road through a construction site.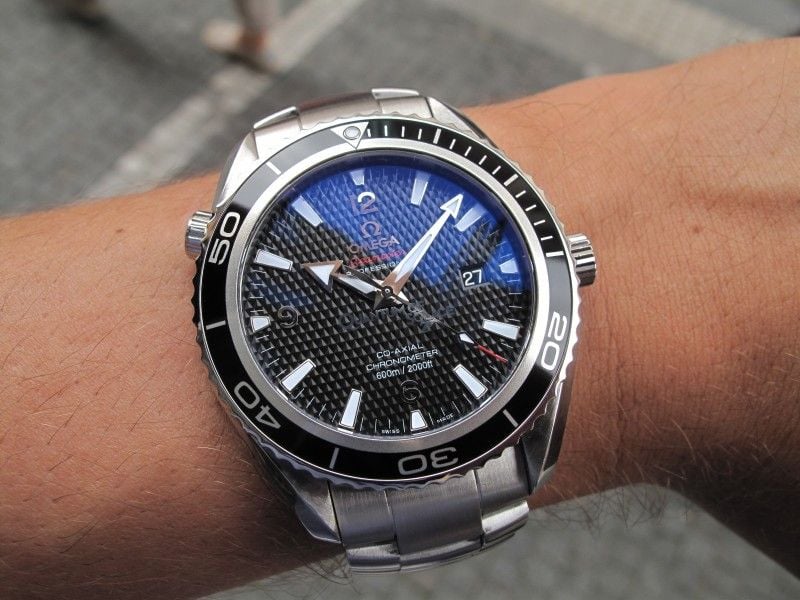 It's perfection, right down to the metallic sound of a firearm bolt-release the Foley artists used as the sound effect for every gear-change Craig makes.  As a grown man, it brings out the 7-year-old boy inside you that just thinks the whole thing is unimaginably cool, and that is why Bond is still relevant after all of these years.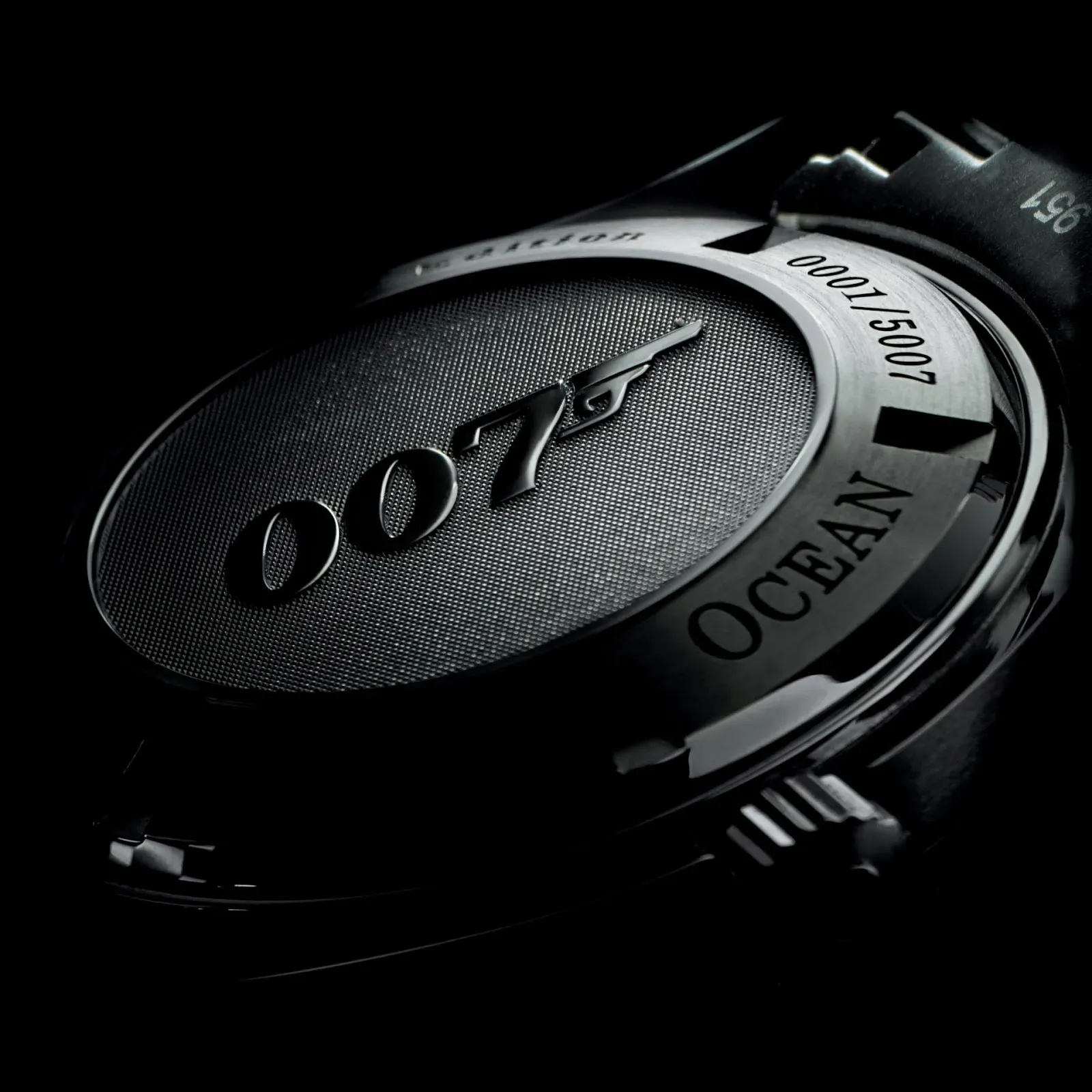 The Quantum of Solace limited edition Planet Ocean came along at an ideal time, right as Omega began to experiment more with materials, technology and finishing.  Much like the Liquid Metal Planet Ocean Limited Edition, this is a model that pushed the boundaries of Omega's capabilities of the era and resulted in a remarkably attractive watch.
A Film Born Of The 2007-2008 WGA Writers' Strike
Daniel Craig's first outing as Bond in Casino Royale silenced his and the franchise's doubters with an incredibly well written and perfectly executed film, bringing a new generation into Bond at a highly competitive time for cinema.  Quantum of Solace was always going to have a hard time matching that incredibly high bar, but any chance of meeting it ended with the start of the writer's strike in 2007.
The first draft of the script arrived a mere 2 hours prior to the strike's beginning and left the film well and truly in trouble.  
When asked if the script seemed like an after-thought, Daniel Craig replied:
'Yes and you swear that you'll never get involved with shit like that, and it happens. On "Quantum", we were fucked. We had the bare bones of a script and then there was a writers' strike and there was nothing we could do. We couldn't employ a writer to finish it. I say to myself, "Never again", but who knows? There was me trying to rewrite scenes — and a writer I am not.'
Everyone involved did their best, and that the film is still decent and watchable, receiving mixed reviews at launch is evidence of this.  The action choreography, the chase scenes, the gunfights were still exceptional and impressive to watch, but the plot did suffer from a lack of cohesion.
It is lucky then that as of now in mid-2023, when the WGA is once again on strike over streaming royalties and the use of AI in place of writers, no Bond actor has yet been selected for the next film and no production is underway.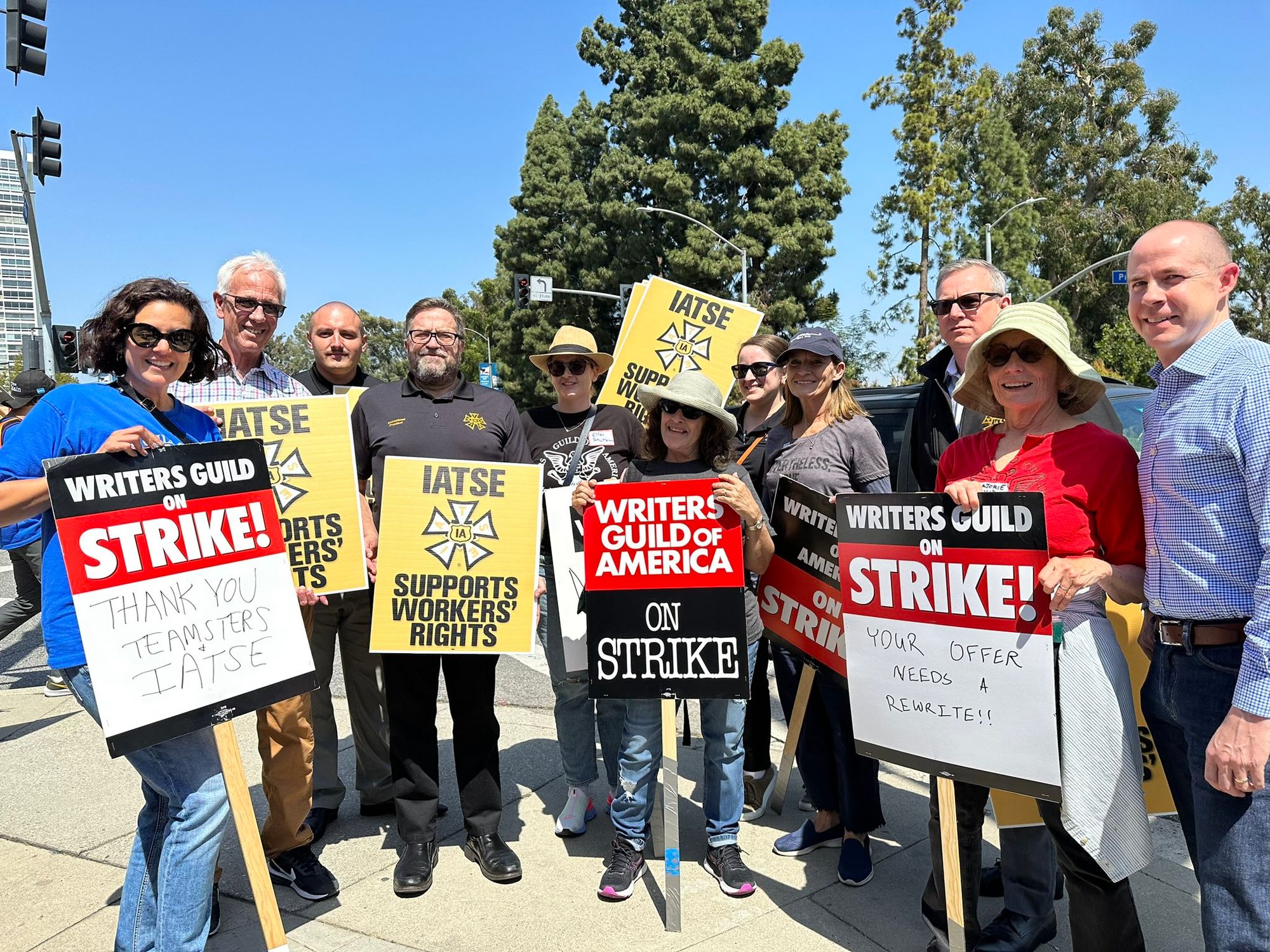 The writers do make a very interesting and valid set of points, which as a person writing this article I can very much relate to.  What I'm doing now, and spend dozens of hours per week doing, could be done by ChatGPT4 in seconds.  Omegaforums co-founder Trev spends a lot of time working with AI tech and has shown me GPT's take on several watches, and its suggestions for titles.  Everything it produces is accurate and intelligent sounding but somewhat sensationalist, synthetic and made-for-google without the excitement and passion of a human behind it.
As inefficient as it is, I would much rather write than have it done for me and would rather consume the creative work product of real humans than something generated synthetically.  It's why I love watches like this Planet Ocean Limited Edition, they're designed with human imagination and assembled by real people rather than being produced by machine for maximum profit.  There's a humanity in these machines we wear on our wrists and in a world that's becoming increasingly automated, I'd like to hold onto that wherever possible.
Case & Bracelet
The Quantum Of Solace Ref 222.30.46.20.01.001 is available only in the larger 45.5 mm XL size as it is based on the larger Ref 2200.50 Planet Ocean.  This size isn't going to suit everyone as it definitely requires a larger wrist, but it is somewhat unique as the only oversized Bond limited edition.  While larger in diameter than the regular model, the XL size Planet Ocean retains about the same thickness of around 15 mm, which is less than the current Planet Ocean models but still somewhat bulky compared to the 12.5 mm of similar Seamaster Pro 300M models.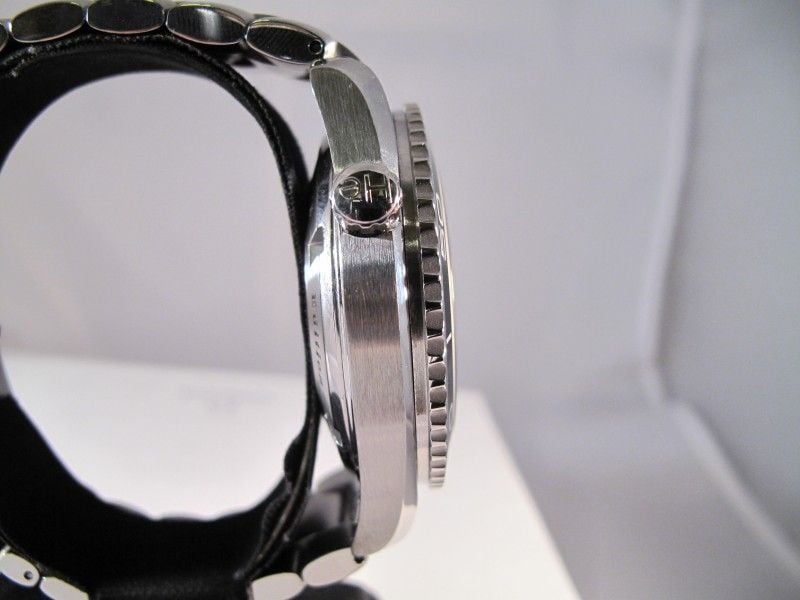 The Planet Ocean line carries the traditional twisted lugs first seen on the Seamaster 300 diver models of the 1960s, in an asymmetrical case with integral crown guards derived from the Speedmaster Pro Moonwatch case rather than the Seamaster Pro 300M.  It's easy to miss this small element that differentiates the Planet Ocean from the Bond Seamaster case but the Seamaster Pro 300M really does have crown-guards that sit proud of the case on their own while the Planet Ocean is effectively a Moonwatch case without pushers.
The most notable difference between the Ref 222.30.46.20.01.001 Limited Edition and the regular 2200.50 Planet Ocean XL it is based on is the crystal with "Quantum Of Solace" etched into the sapphire.  It is well executed, and impressive that they were able to achieve this on the watch but personally, and subjectively I do not love this due to the way it distracts, casts shadows on the dial, and gets in the way.  This is a bit of a frustration, as I do like the watch a lot other than that.  As a result, if I were to buy one of these, when getting the watch serviced, I would ask my watchmaker to order a brand new replacement sapphire for the regular 2200.50 without the logo etched in, and I would swap it out and keep the original in the watch box.  It wouldn't cost that much, but to me it would make this a drastically nicer watch for a minimal cost.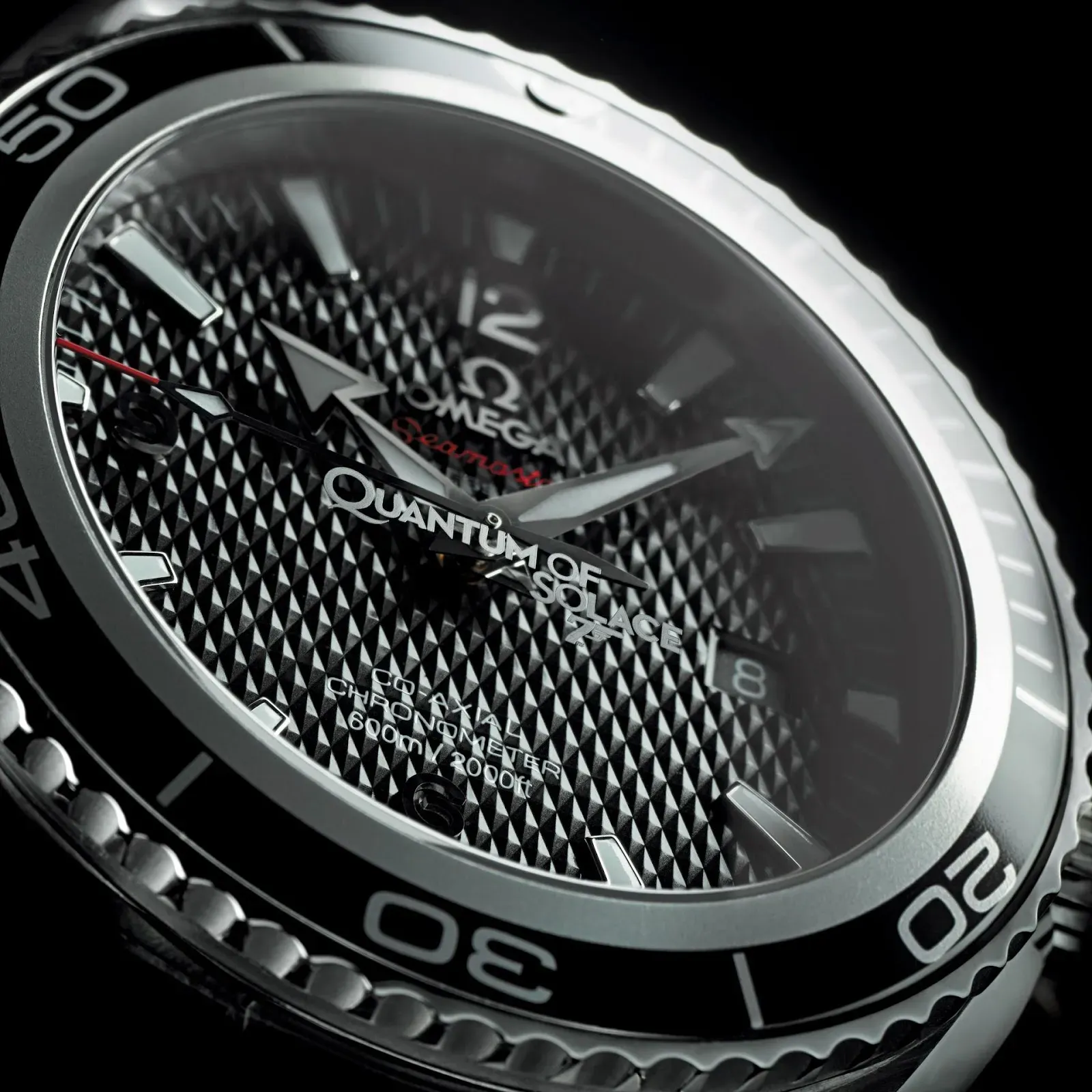 The case-back of the Quantum Of Solace Limited Edition is a unique variation on the traditional Omega Planet Ocean case-back, with the "007" logo machined into the surface, which has a pattern similar to the dial.  This case-back also features the limited-edition number out of 5007 units, and the words "Limited Edition" engraved in the outer ring. While there is no display-back  like on the Calibre 8500 Planet Oceans, this caseback contributes to the relatively thin 15 mm overall case height by ensuring impressive water resistance without taking up much vertical space.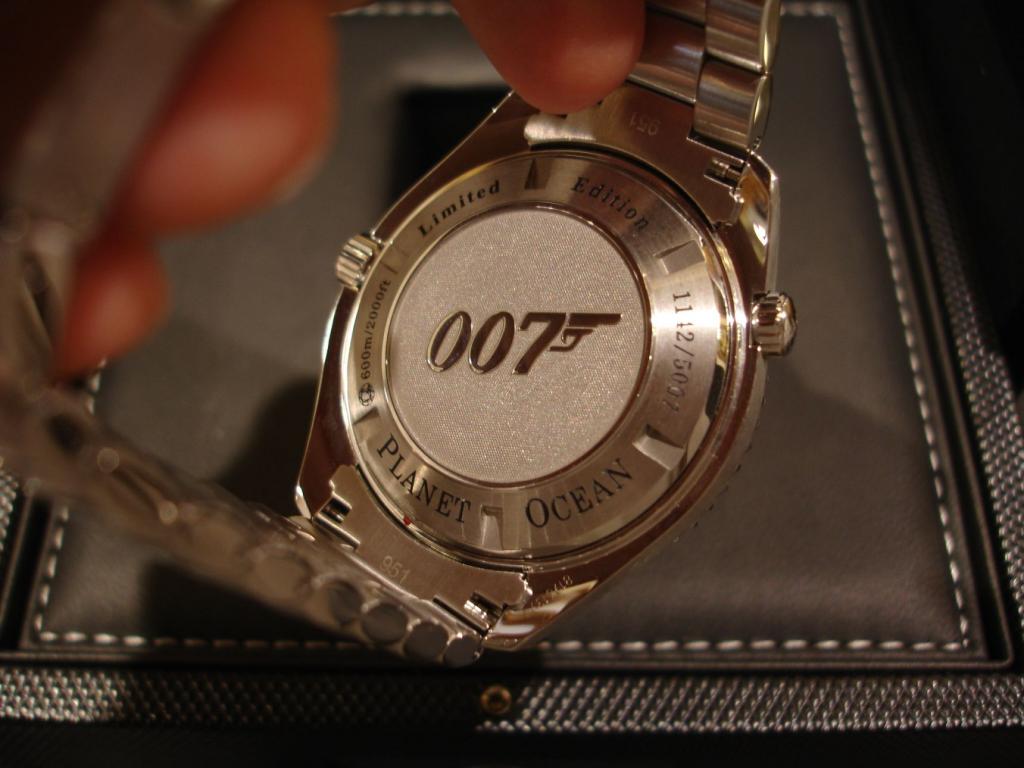 The Quantum Of Solace case features 22 mm wide lugs and comes with a bracelet as the only option.  The Planet Ocean bracelet is simple, comfortable, durable and easily maintainable.  The bracelet features a pin and bushing adjustment system with half-links similar to the Bond and Speedmaster bracelets of that era, along with an identical clasp to the Seamaster Pro 300M with diving extension and the addition of the text Planet Ocean to the clasp.  To mark the limited edition, a special "007" logo is also engraved on the clasp.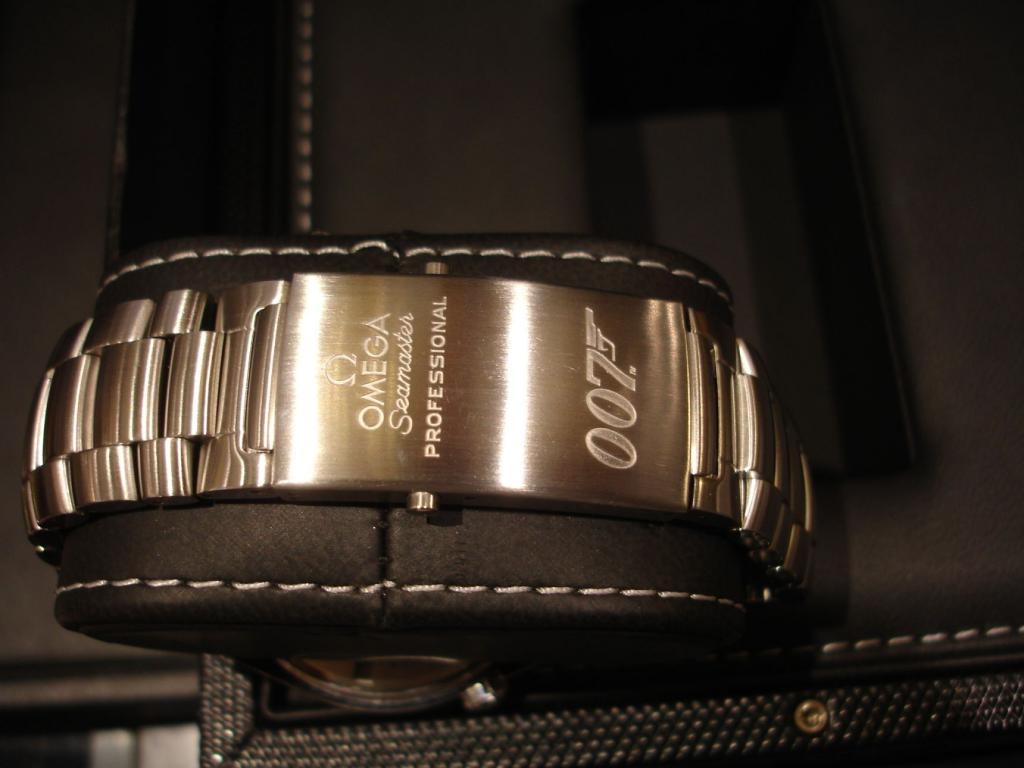 Due to the links and clasp being entirely brushed, any minor swirls and scratches they collect can be rectified relatively easily without the need for professional assistance.  Even with some scratches it tends to still look respectable in a utilitarian tool watch kind of way and doesn't look rough like some polished bracelets do in a short period of time.  The bracelet as a whole is very comfortable on the wrist, not known to be a hair puller and is non-self-marking, meaning it can be placed down without scratching itself or the case-back.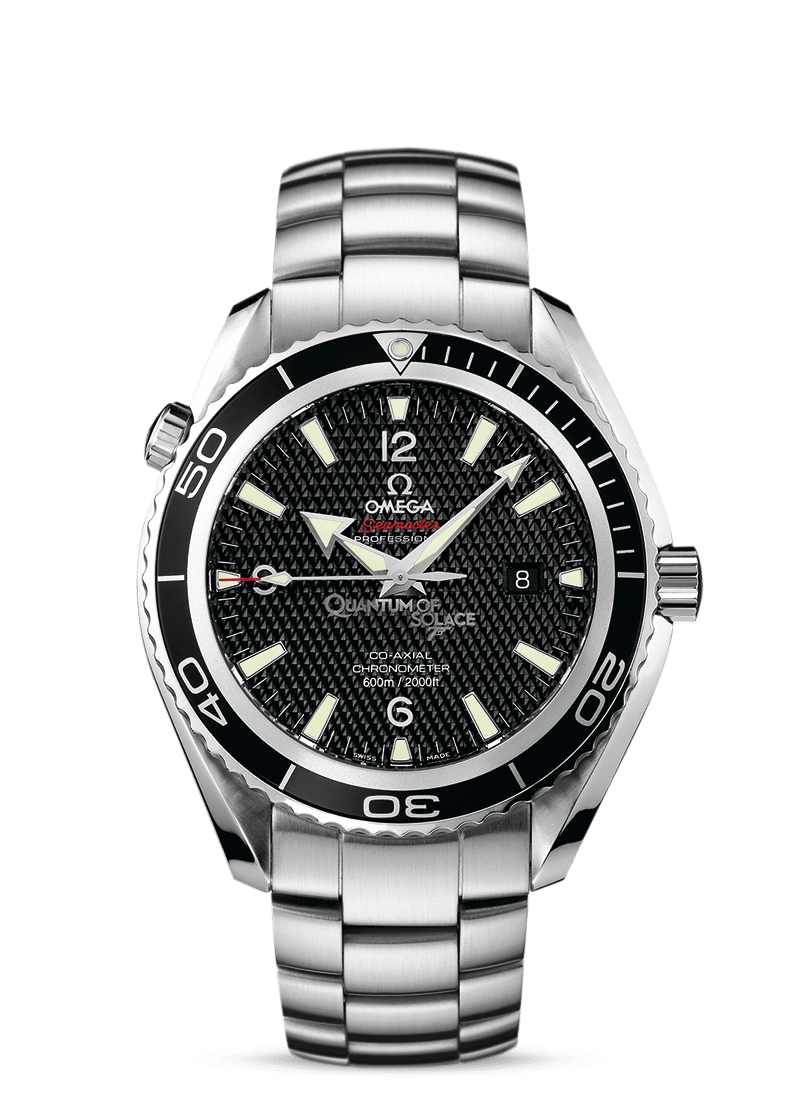 Movement
The movement powering the Quantum Of Solace Planet Ocean is the Calibre 2500, specifically a late production, either Calibre 2500C or 2500D.
These movements were produced for a very long time, since first appearing in the late 1990's and were used in the majority of Omega's models over the following decade.  The particular advantage offered by the Cal 2500 is that while it is an accurate chronometer rated movement, it also fits into a very small footprint being just over 25.6 mm in diameter and an impressive 4.1 mm thick.  The compact dimensions of this movement allowed for the packaging of a 600M water resistant heavy duty dive watch into a watch only 14.5 mm thick, 1.2 mm thinner than the Calibre 8500 Planet Oceans that would follow.
Both the C & D variant of the calibre oscillate at 25,200 vph as opposed to the 28,800 vph of earlier Cal 2500 variants and feature a 48-hour power reserve, up from 44 on the A & B variants.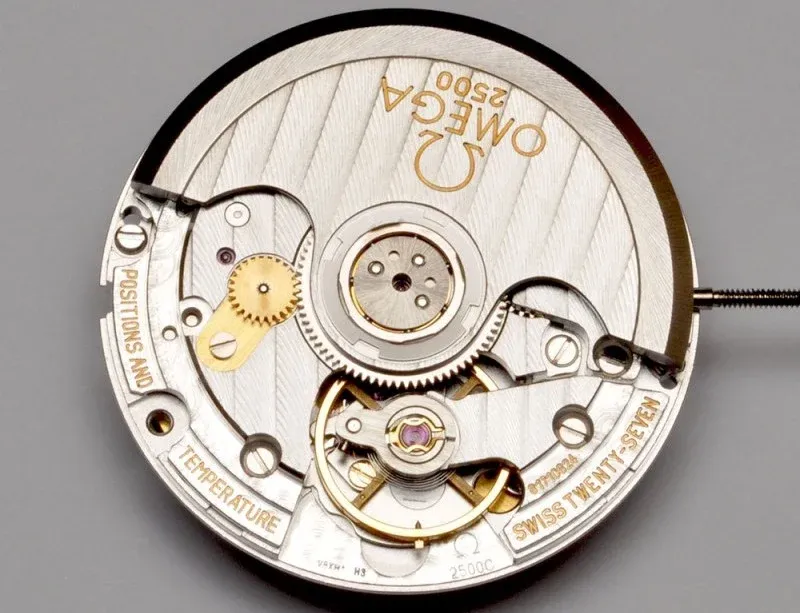 The key difference between the Calibre 2500 C & D variants is the design of the escapement.  The later Calibre 2500D movements utilise a 3-level co-axial escapement, which is actually the original design George Daniels intended for this escapement while all earlier versions including Calibre 2500C utilise a 2-level co-axial escapement.  The two-level design was developed to keep thickness down as much as possible and unfortunately this compromise led to issues that required several attempts to address.
The ultimate solution for the Calibre 2500C movement was an upgrade package Omega developed with some new parts and new procedures to follow in servicing.  After this solution is applied, the movement stopping issue is effectively resolved to the extent that it will no longer be the limiting factor that brings the watch in for service.  All Quantum Of Solace Limited Editions by now have either had at least one service or are overdue for a service, so it is likely that they either have this upgrade or will receive it when they are sent in.  Any qualified watchmaker with access to an Omega parts account will have the ability to apply this during service as will Omega if a factory service is sought.

The Calibre 2500D just seems to run like a top, has no real issues and runs very reliably and accurately.  There is no real way to identify whether you have a Calibre 2500C or D externally without examining the movement or running the serial number.  That said, while it is good to be aware of these issues, there is no reason to be afraid of them.
Given the prices these watches command and how special they are, simply factor in a full service irrespective of whether the movement is Calibre 2500 C or D, as both will require it after this many years and then enjoy your watch.  Both movements, fresh from a watchmaker will be extremely accurate, reliable and dependable so spend the money to service your Planet Ocean and wear it without worry!
Dial & Variants
While the bezel is still the regular aluminium style fitted to the serial production Planet Ocean, the dial of the Quantum of Solace Limited Edition is something very special.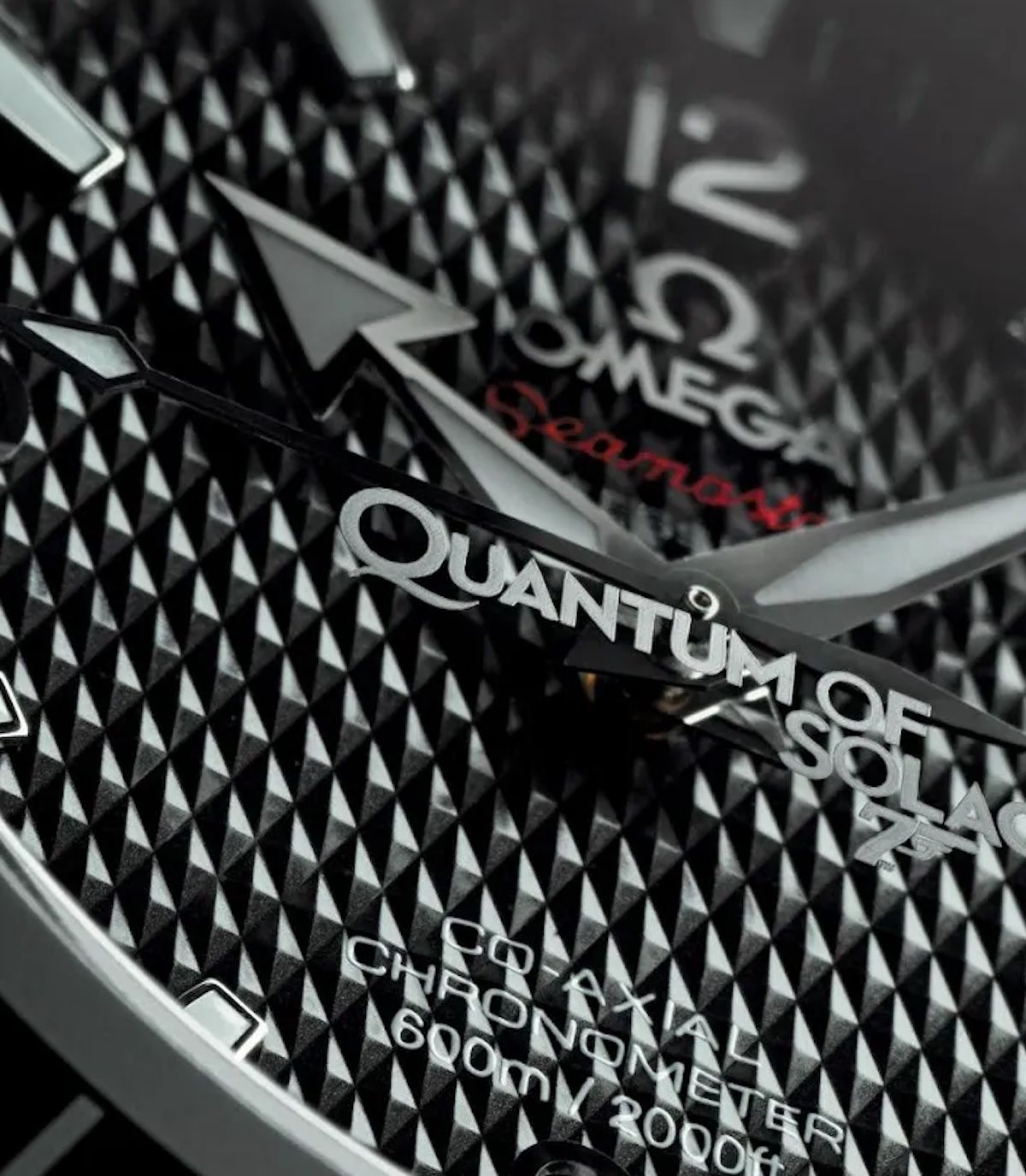 The three-dimensional texture of the dial is frustratingly often misunderstood and identified as "carbon fibre" which it looks nothing like.  The dial texture is actually intended to replicate the grip-pattern of the Walther PPK used by Bond in Quantum.  The choice of this ties in to the movie, where Daniel Craig uses the classic PPK for the first time, marking a return of the famous weapon for the first time since Goldeneye in 1995.  For the films Tomorrow Never Dies until Casino Royale, Bond used a larger and more modern 9x19mm Walther P99.
While all Planet Oceans have applied luminous hour markers with white gold surrounds, the Quantum Of Solace Edition features similar applied hour markers to the Liquid Metal limited edition, with the same open 6 and 9 font which looks so attractive.  The Omega logo is also applied in white gold, with red text for Seamaster to give added character.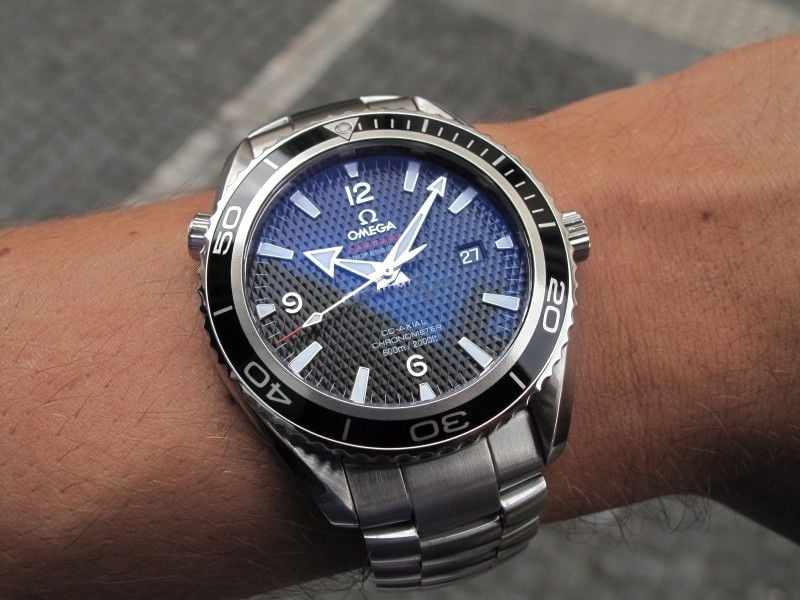 The final feature of the dial is really the crystal which was discussed earlier.  This is my one reservation about this watch, in that while it is beautifully and crisply etched into the sapphire crystal, it just feels a little bit too much.  I would have preferred the movie title be relegated to the case-back rather than on display in a way that moves above the dial and casts some shadows on the dial at times.
Buying
The Ref 222.30.46.20.01.001 is quite interesting among Bond models in that it has a lot of features that should make it highly desirable and valuable, yet the prices have never really reflected that.  The best explanation for this I can come up with is that with 5,007 units in circulation and all of them being at the larger 45.5 mm XL size, there just aren't enough shrek-wristed collectors to soak up supply.  It's possible that the crystal engraving also makes it a bit of a marmite (or vegemite in Australia) kind of watch, in that most people will either love it or find it a bit too much.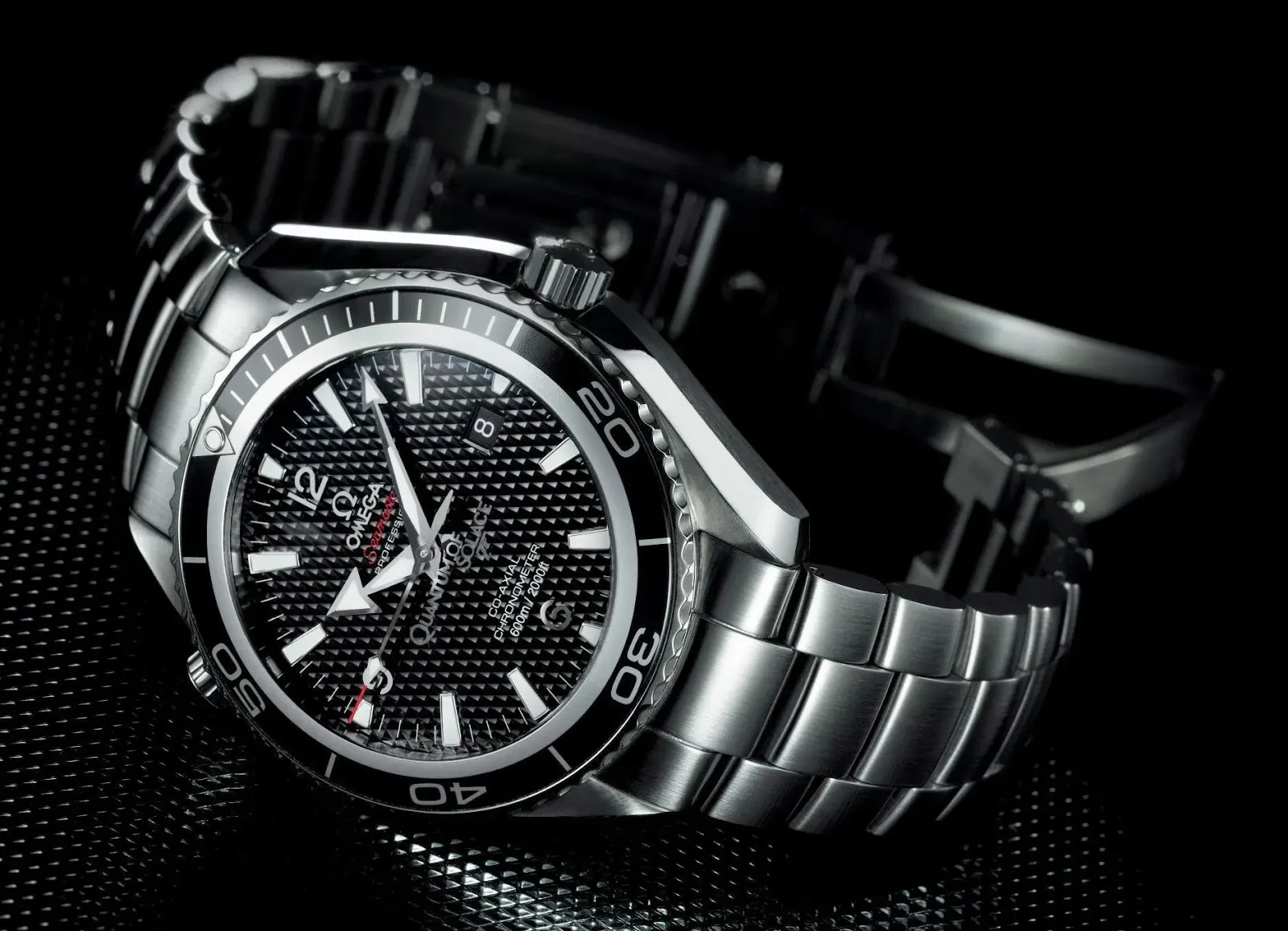 In any case, this is good news for Bond enthusiasts and keen big-wristed collectors alike, as it is still very much a buyer's market.  Indeed, these watches tend to sit on shelves for a long time, and have sold under $5,000 as of 2023 which is very good value considering a regular 2200.50 is typically around $3,500 with a less impressive dial.
Something that needs to be mentioned is that this is probably the most frequently counterfeited Bond limited edition Omega of all, with poor quality imitations appearing frequently even on platforms like eBay.  Be extremely careful in ensuring that the watch you are looking at buying is an authentic Omega and treat any deals that appear to good to be true with extreme suspicion.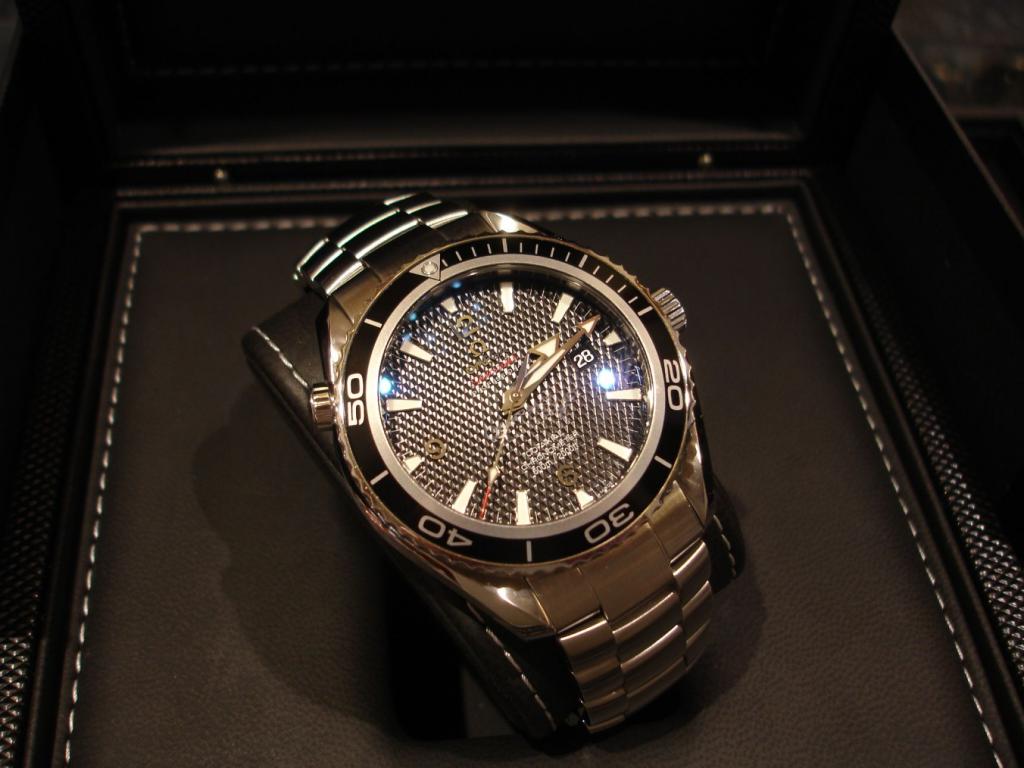 Condition-wise the biggest issue on these Planet Oceans is the bezel, which must be replaced as a complete assembly in the event that the insert is damaged as Omega does not sell them separately.  This is a component that costs several hundred dollars on its own so any example with a damaged bezel or insert should be avoided or priced accordingly.  A scratched sapphire is interesting, I would personally use it as a bargaining chip to get the price down and then replace the QoS logo crystal with a blank one as mentioned previously but not all will agree with me, in any case this too costs a few hundred.  
The case and bracelet are fairly wear and damage resistant although major dents, dings, scratches or overpolishing should be avoided.  Due to the immense water resistance of the Planet Ocean case, water intrusion should not be an issue, but seals do fail on all watches so be wary of any moisture damage regardless.  All of these watches are now due for servicing so factor this into the cost, it should not be too bad in the hands of an Omega certified watchmaker.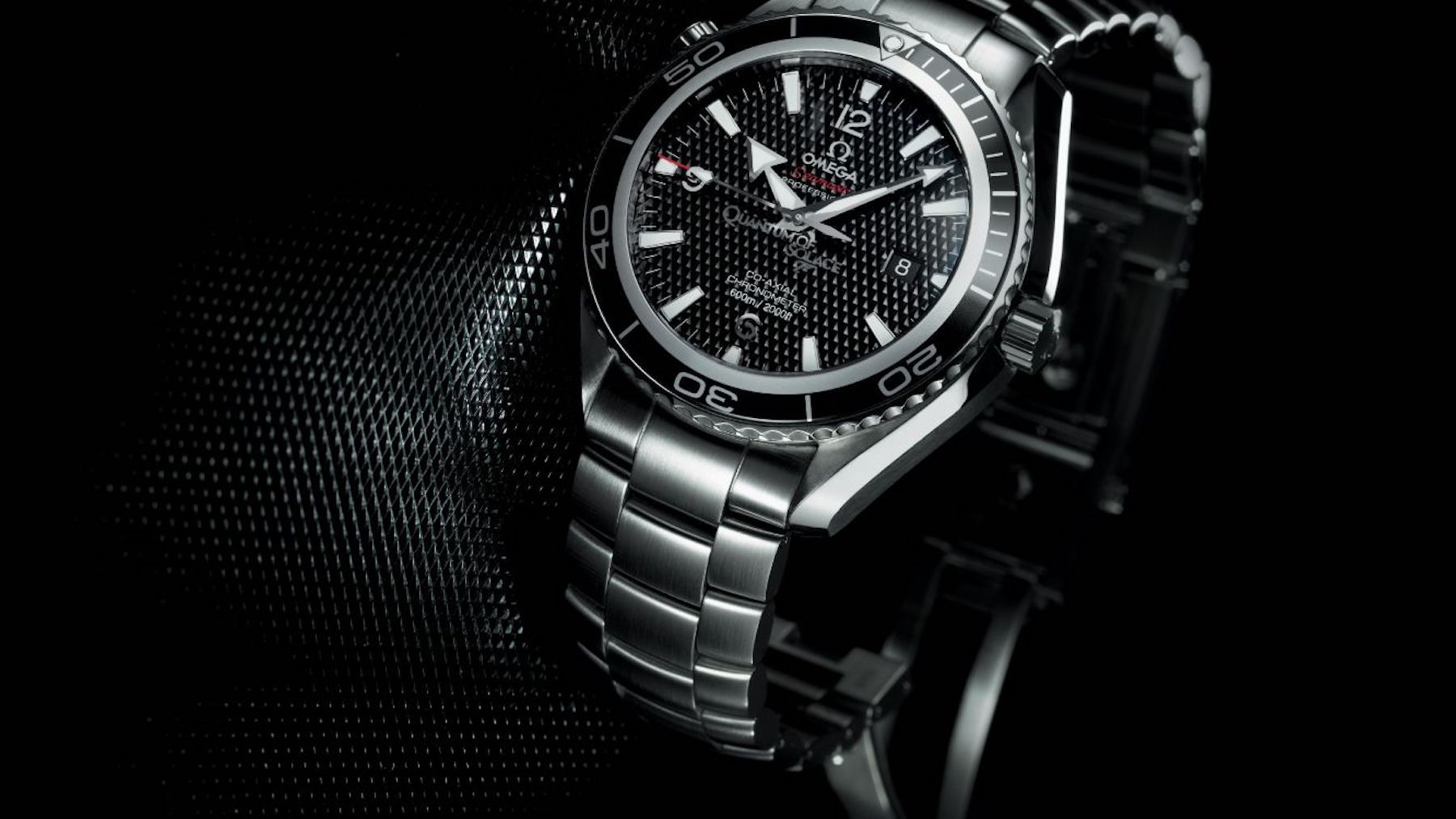 The Quantum of Solace Limited Edition was sold all around the world in 5,007 units, so there are a lot of them to choose from in the market ranging from heavily worn examples, to brand new in box watches that have never been touched.  These watches can be found on forums, Chrono24, from dealers and just about anywhere.  The best deals tend to be found at auction, both eBay and others, where these watches tend to underperform.  There have been examples in nice condition sell even under $4,000 in recent years due to a lack of motivated bidders, so if you're patient enough good deals can be had.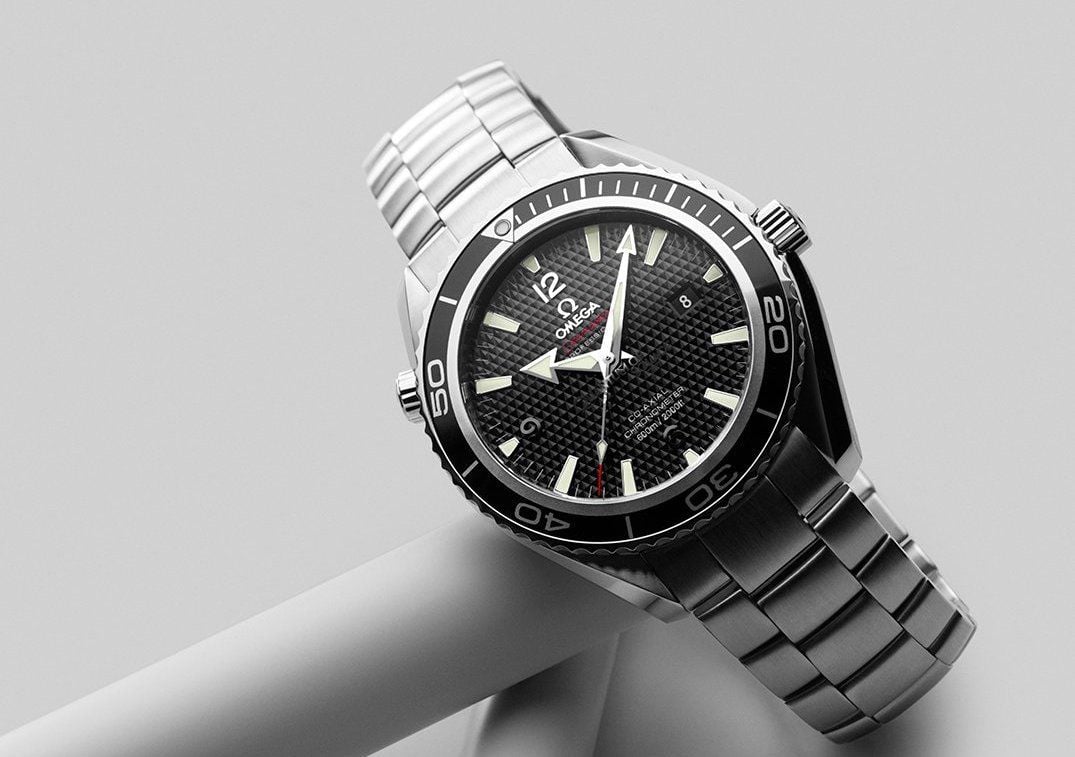 The Quantum Of Solace Planet Ocean occupies an interesting position as the only oversized Bond limited edition, and as one of the first Bond watches to feature extensive and detailed finishing upgrades and customisation.  Yet due to its size and crystal it comes in at a very reasonable price point, well beyond modern pieces like the No Time To Die and Spectre.  It's a watch you'll either love or hate, but if you're in the former category, it represents a cracking deal.
Discussion thread on Omegaforums can be found here: