Designed in 1998, the Seamaster GMT was Omega's first and arguably best ever purpose built GMT travel watch. With excellent water resistance, a high quality movement and brilliant styling, these watches are now a sought after classic that Omega has never quite been able to replicate.
Omega's First Real GMT Competitor
The Omega Seamaster GMT series was released in 1998 on the 50th anniversary of the first Seamaster model.  Omega had produced many watches in the past with 24-hour sub-dials or 24-hour bezels, but never with the primary purpose of competing with the Rolex GMT-Master.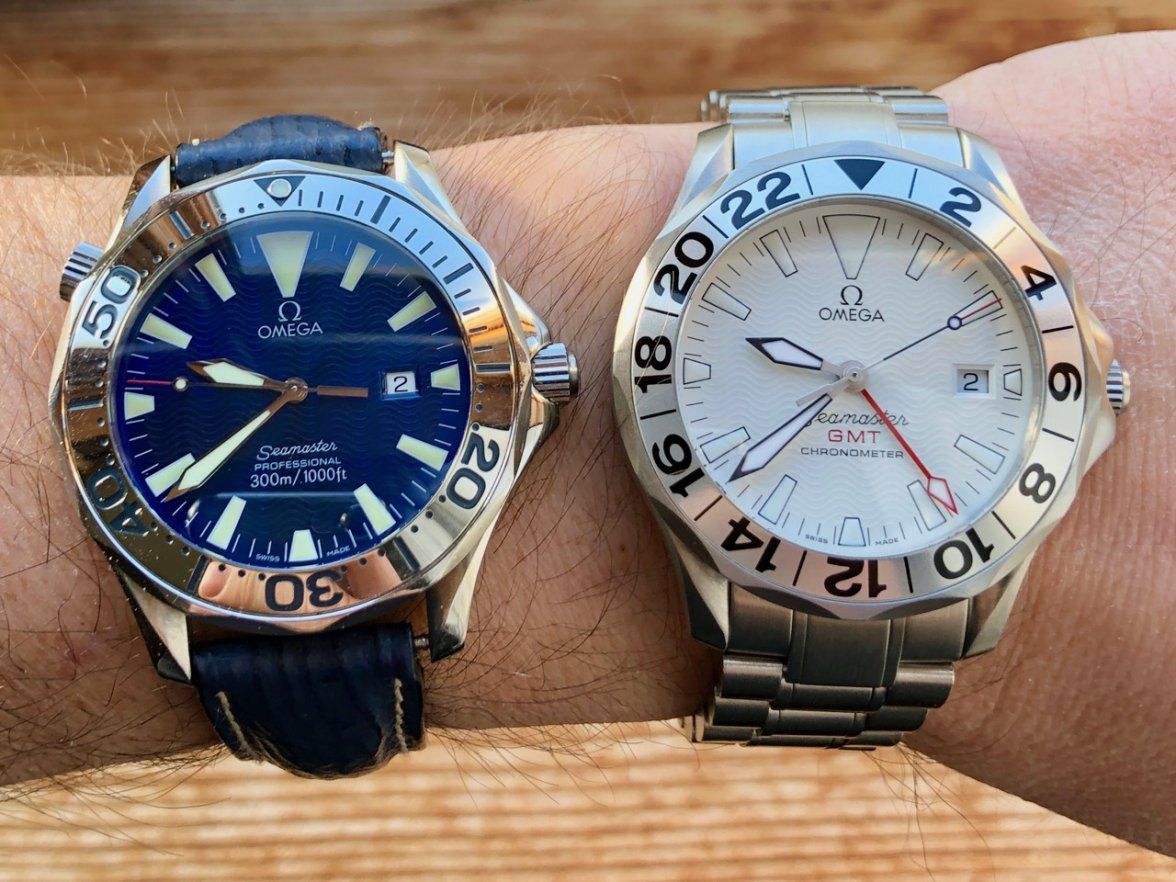 The Seamaster GMT evolved out of the sword-hand generation of Seamaster Pro models released in the late 1990s.  By replacing the somewhat complicated skeleton hands and introducing large Seamaster 300 "Big Triangle" style lume plots, legibility was greatly increased, making it an ideal platform for further complications.
Everything about these watches, from the slim case, to the accurate and highly durable movement, to the easily read bezel, to the torch-like lume was designed with practicality in mind.  Omega wanted this watch to be the best multi-timezone travel watch that it could be, and that devotion to purpose resulted in an excellent product at a very reasonable price point.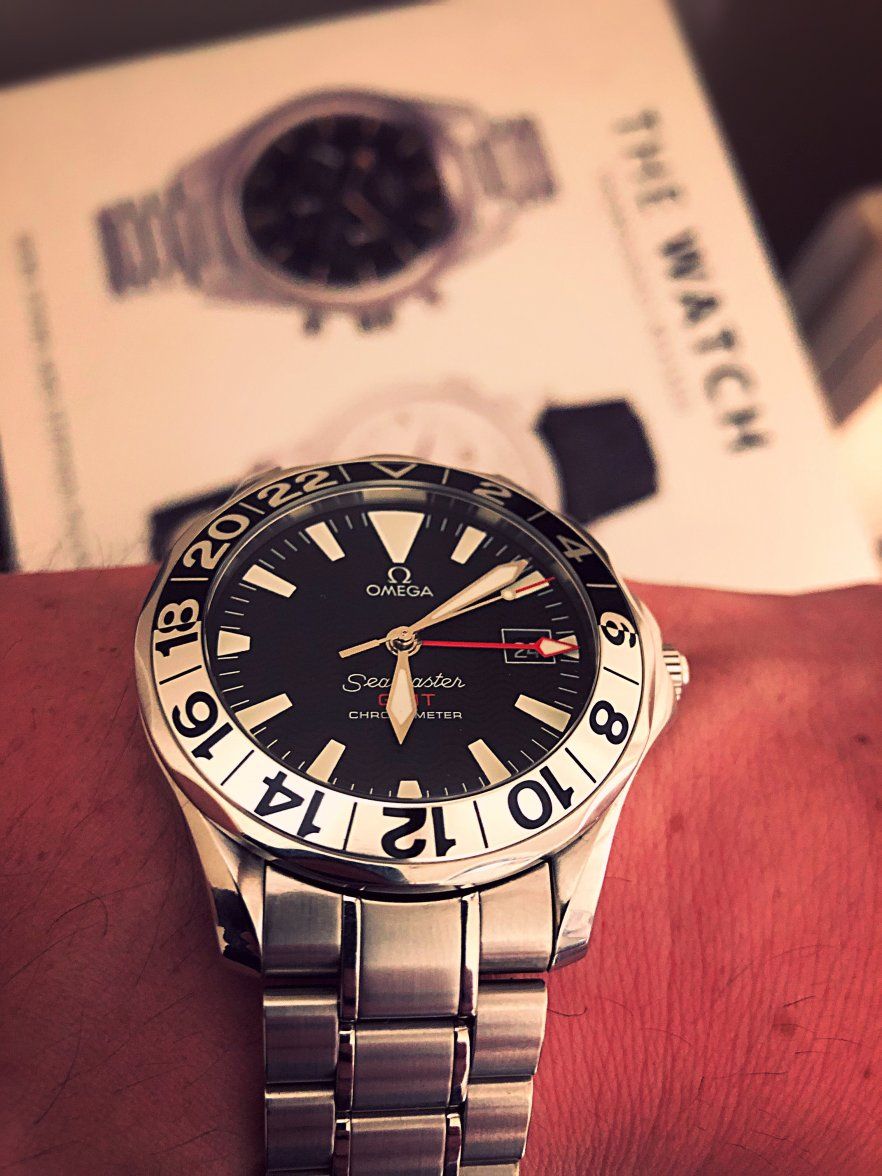 In the mid-2000s I was shocked to see how often even on Rolex forums, members would recommend the Seamaster GMT as an excellent alternative to the GMT-Master at half the price.
Omega's Last Real GMT Competitor
After the retirement of the Calibre 1128 during the transition to Co-Axial movements, Omega released some further GMT models but never quite a direct successor to the Seamaster GMT.
The Bond Seamaster Pro GMT was released, powered by the Co-Axial Calibre 2628, yet this watch looked more like a standard Seamaster Pro 300M, with a diving bezel and poor legibility.  In fact, while Calibre 2628 was used in other watches like De Villes, it was never featured in a watch with a true GMT bezel like the Seamaster GMT.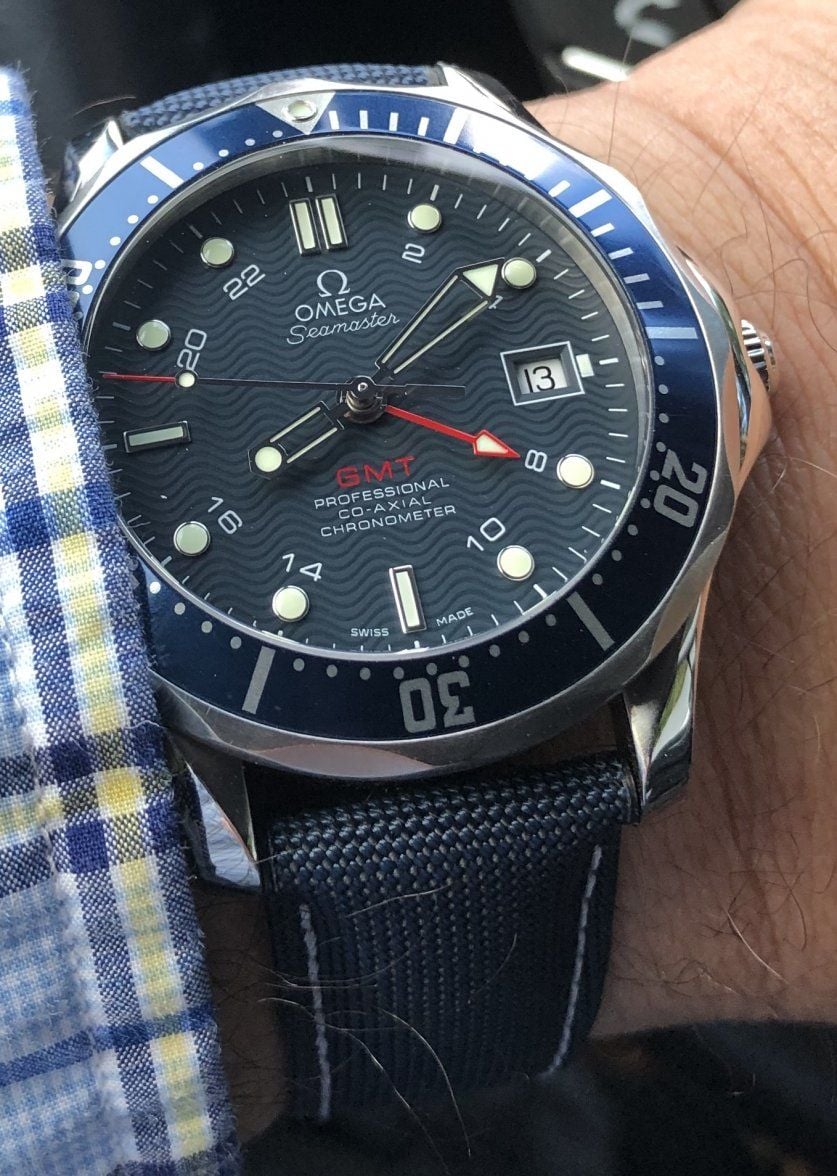 The GMT bezel returned in 2013 with the Planet Ocean GoodPlanet GMT, with its orange and blue bezel and fairly decent legibility.  The GoodPlanet GMT, and the standard Planet Ocean GMT models that followed were a great watch in many ways, I even helped two of my friends acquire them locally back then.  They were beautifully finished, had a beautiful in-house movement and made excellent use of ceramics.  They were a very different watch from the original, and in trying to be both an excellent diver and travel watch, didn't excel much as either.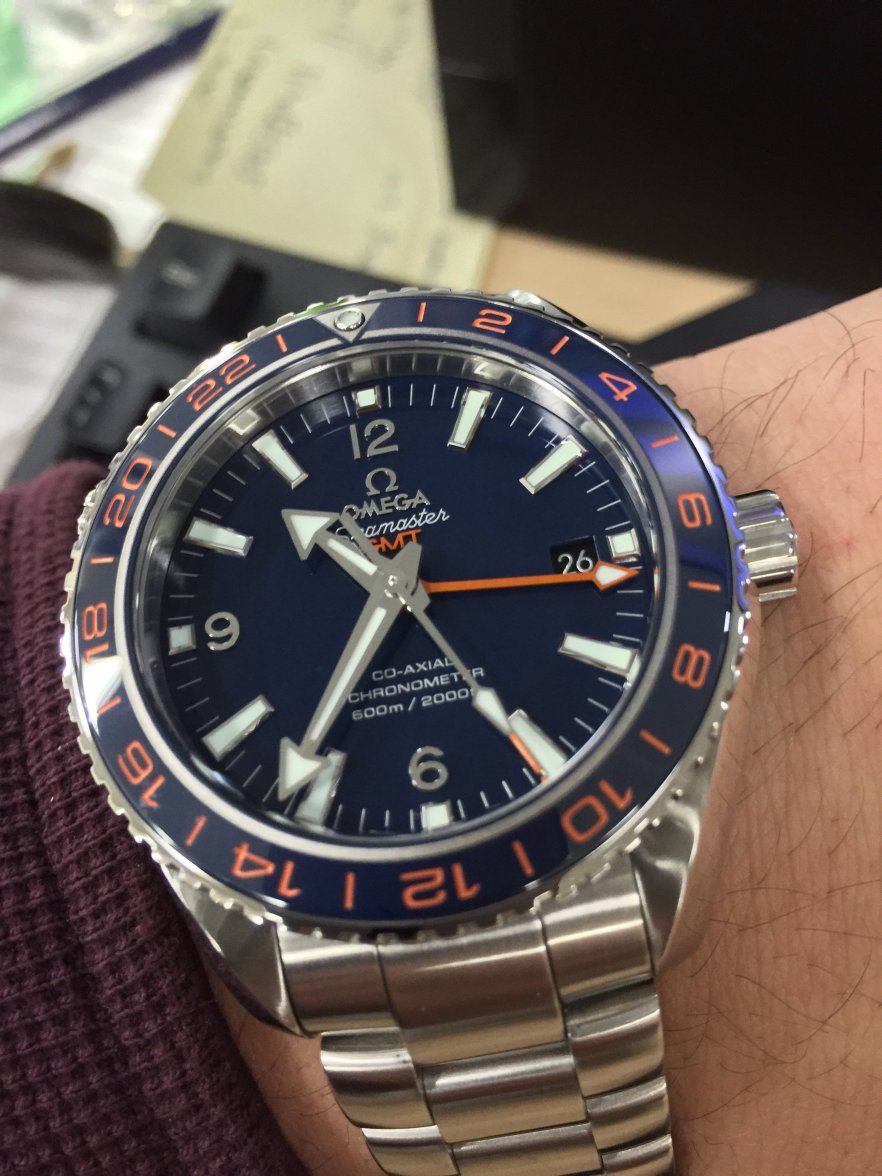 The issue with the current Planet Ocean GMT models is primarily the size.  At 43.5 mm diameter for the GoodPlanet GMT, and a rather rotund 17.3 mm thick, this is a big watch.  It has no choice but to be thick due to that 600-meter depth rating, and the display-back, attractive as it is adds a bit of height too.  It also has a helium escape valve for mixed gas diving, even though it lacks a diving bezel to time said dive, but at least you'll know what time it is in New Zealand when you're at bottom of the sea.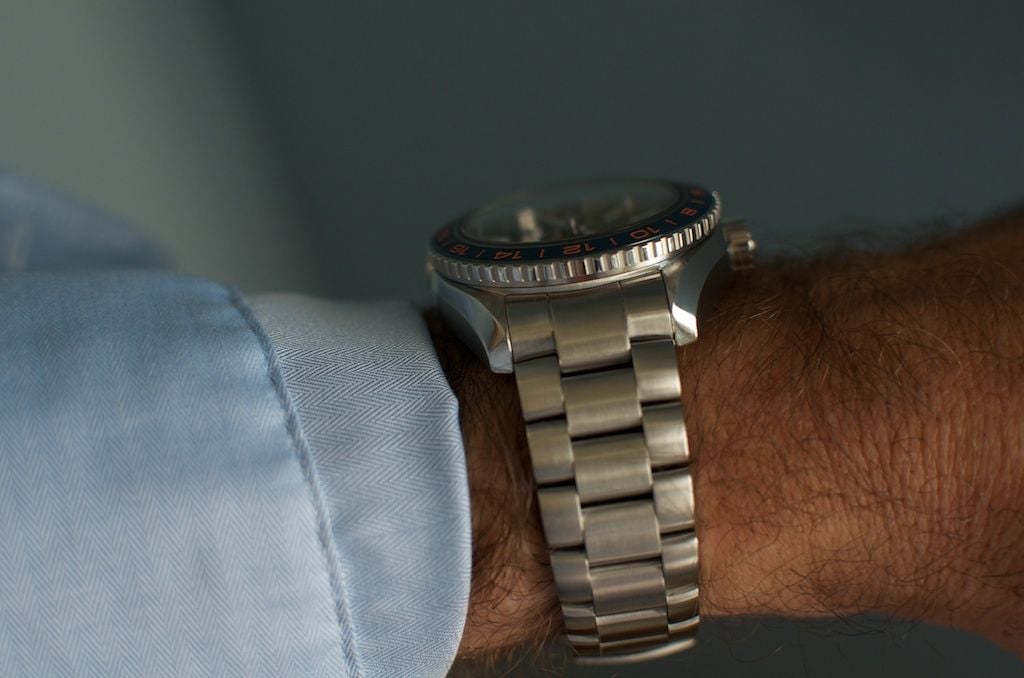 The buyers of GMT watches really want them to fit under a shirt cuff while they're traveling and are more likely to pass through a metal detector than a diving bell.  They want something elegant, discrete, and highly legible without all of the trappings of a dive watch.  
What they want, is really a Seamaster GMT, maybe with a ceramic bezel and an updated dial & micro-adjust bracelet for air travel.  
With the 4th generation of Seamaster Pro 300M now released and more variety in this generation than ever before, maybe we will see the rebirth of this much-loved watch family sooner rather than later.
Case, Bezel & Bracelets
The 41.5 mm case on the Seamaster GMT is derived from the Seamaster Pro 300M sword hand generation best exemplified by the Reference 2254.50.
From this foundation, Omega makes quite a few subtle changes.  Firstly, the helium escape valve is deleted from the case, which makes perfect sense as the dive bezel is not present on these models anyway.
Secondly the crown-guards are more substantial on the Seamaster GMT, encompassing more of the crown for protection.  Thirdly, the outer steel bezel is polished on the front face of the GMT models, adding a bit of shine around the GMT insert.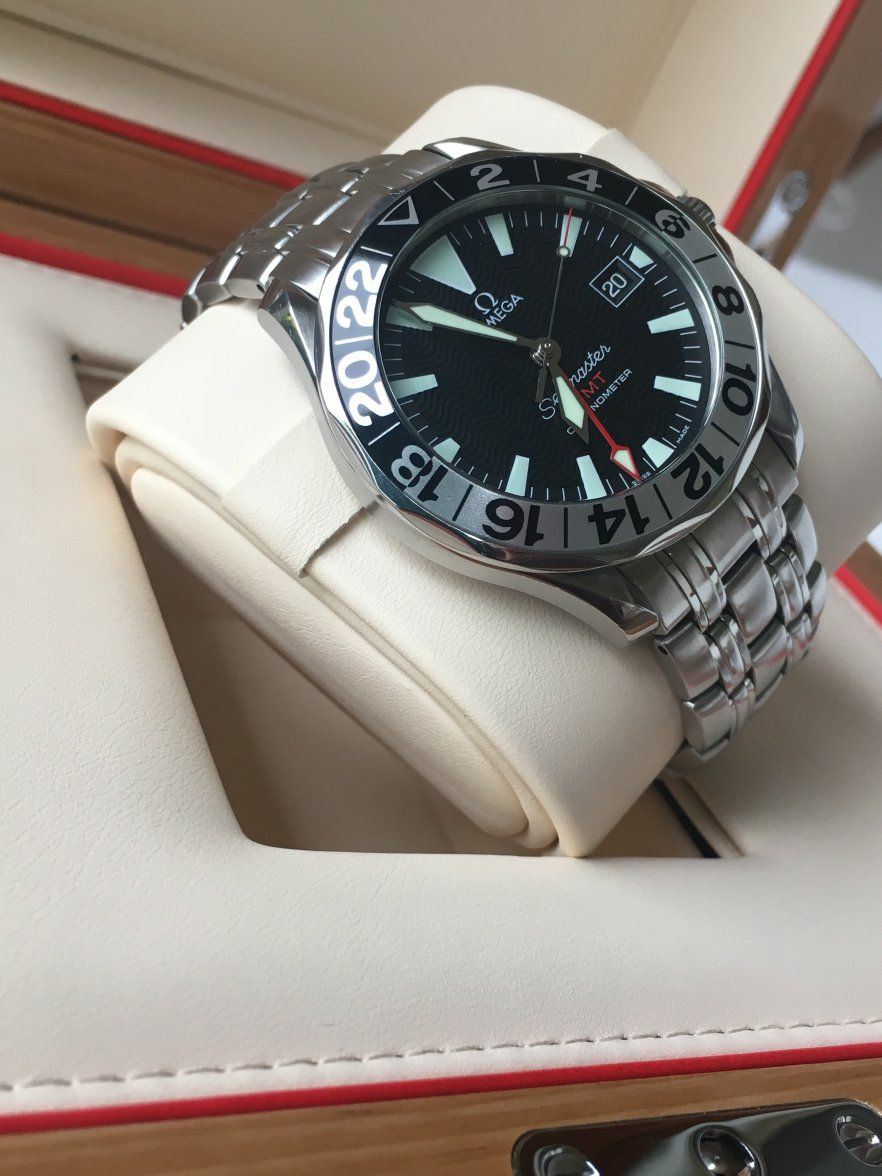 The GMT has a small, knurled, screw-down crown and has a water resistance of 300 meters, identical to the Seamaster Pro 300M divers, and far higher than the 100 meters of the Rolex GMT-Master series.
The case-back on these watches is the standard Seamaster Hippocampus "wave" design found on the Seamaster divers, with an added "50 Years" inscription to commemorate the anniversary.  The exception to this is the Gerry Lopez limited edition which has a uniquely decorated glass display-back.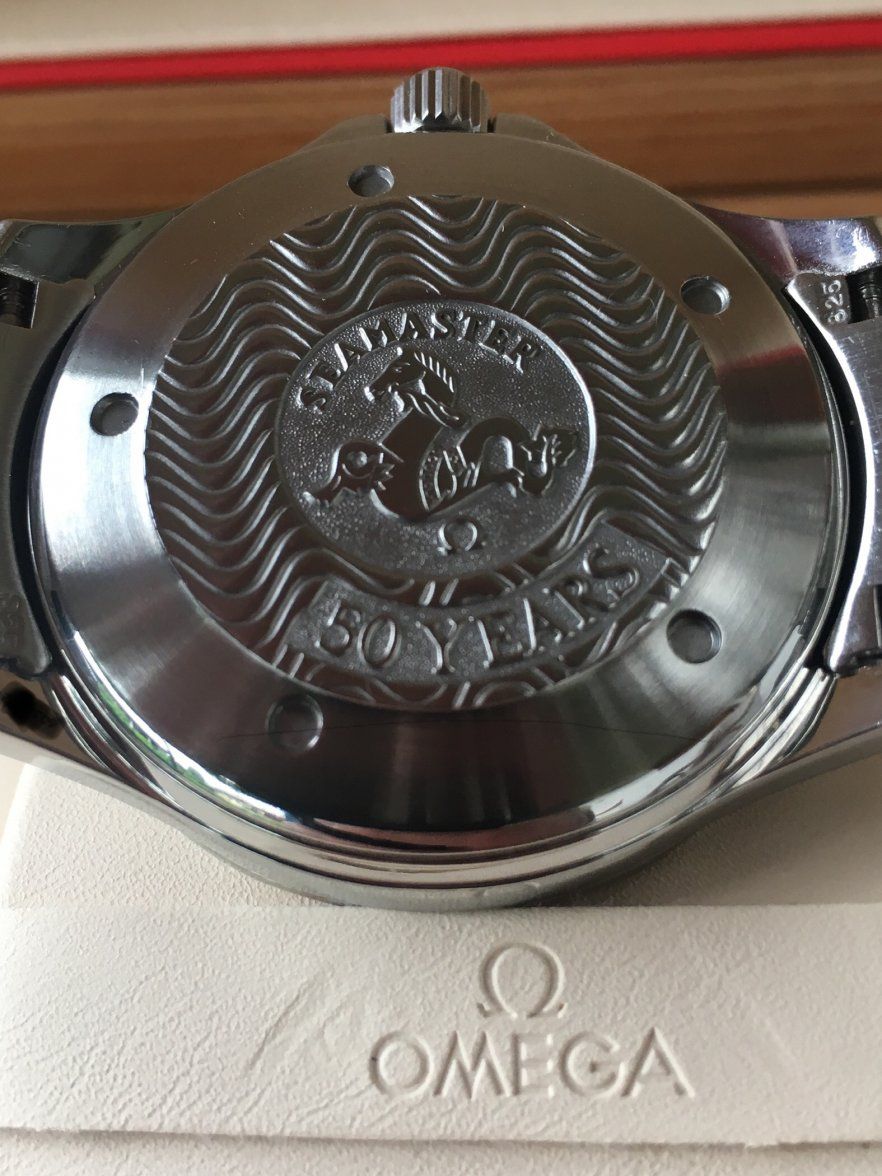 The GMT-bezel features an aluminium insert with hours marked in 2-hour increments with 1-hour indices between them.  The bezel is bi-directional with 120 clicks, which means each of the 24 hours is 5 clicks apart.  It should also be noted that although the 120 clicks won't quite give the resolution needed to align with half-hour timezones, it will get very close.  Watches that use a 24-click design like the Rolex GMT-Master II Ceramic will not support half-hour timezones like South Australia and will require a bit of memory and math.
The Seamaster GMT was available in both stainless steel and 18K solid yellow gold, although gold models are very few and far between.  
All models feature 20 mm wide lugs, with two bracelet options, and a strap option available on these watches, although the Gold, Great White, and Gerry Lopez models are restricted to only one each.
The most common is the Speedmaster style bracelet which has a Seamaster Pro clasp and comes in both a polished center link version and an all-brushed version which is used on the Great White.  The second bracelet is the Bond bracelet, which is used on the gold version, the Gerry Lopez, and as an option on the regular 50th anniversary model.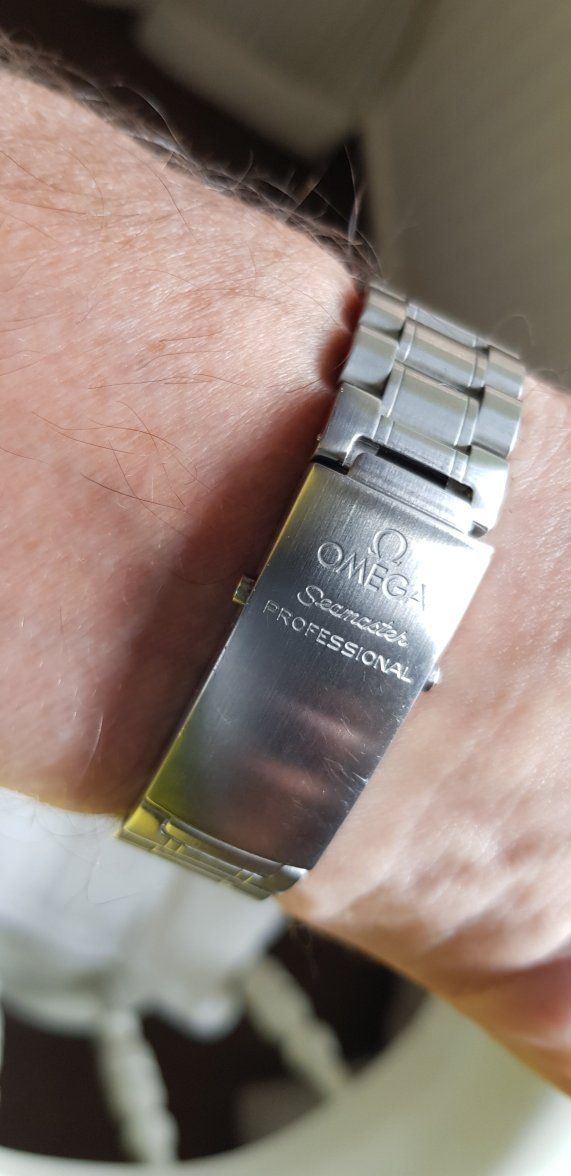 The strap options are both rubber and feature a bi-fold diver's deployant clasp on the steel models, and a single fold 18k gold deployant clasp on the gold models.
Movement
The movement powering the Seamaster GMT models is the Omega Calibre 1128.  The Cal 1128 is based on Omega's very highly regarded Calibre 1120 3-hand automatic movement, which is in turn a heavily modified ETA 2892-A2.  
The added GMT complication increases the movement thickness slightly, but given how thin the calibre is to begin with, the Seamaster GMT is able to remain quite thin, at only 1 mm thicker than the 3-hand Seamaster Pro models.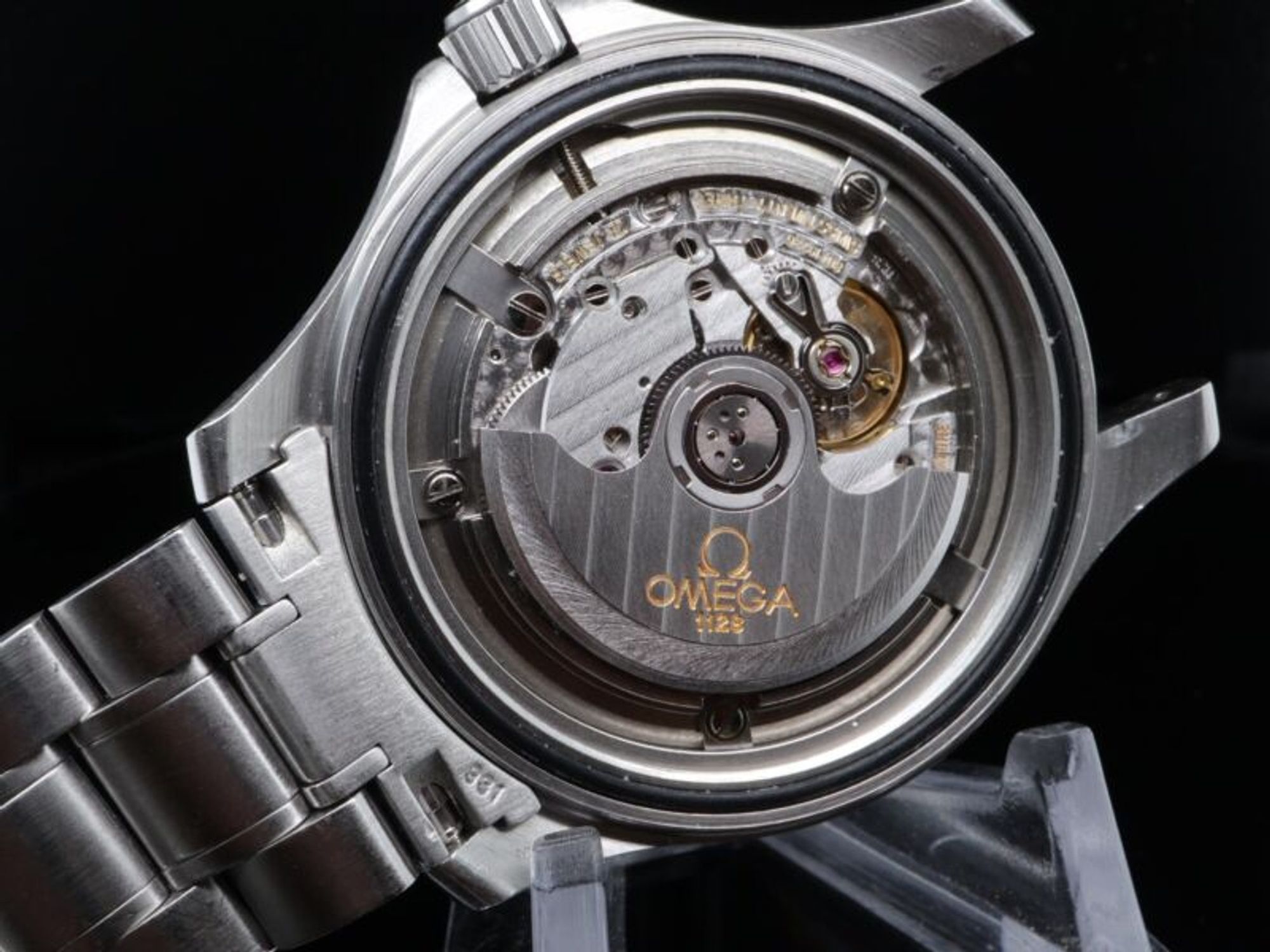 The Calibre 1128 beats at 28,800 vph, has a 44-hour power reserve, bi-directional winding, hacking, and date, with an hour hand able to jump in 1-hour increments separate from the minutes and 24-hour GMT hand.
As with the Calibre 1120, the 1128 is reliable, accurate, chronometer rated, easy to service, and will easily outlive its owner if properly cared for.  These watches can be serviced by any qualified independent watchmaker with an Omega parts account for significantly less than the cost of a factory service.
Variants
There are many unique references covering the different Seamaster GMT models but aside from the Great White and gold versions there isn't that much variety to these watches.  Due to how similar most of them are, it isn't uncommon to see incorrect references quoted and even mismatches of bracelets and straps on watches they didn't originally begin with.
All models feature a subtle wave dial with large non-applied lume plots for hour markers, sword hands, and a red, luminous GMT hand.
The 50th Anniversary
Often referred to as the 50th Anniversary, this is the original and most common of the Seamaster GMT models.  It features a black dial with a bezel that is black with silver lettering for the night hours, and silver with black lettering for day hours, this watch is simple, legible, and easy to come by.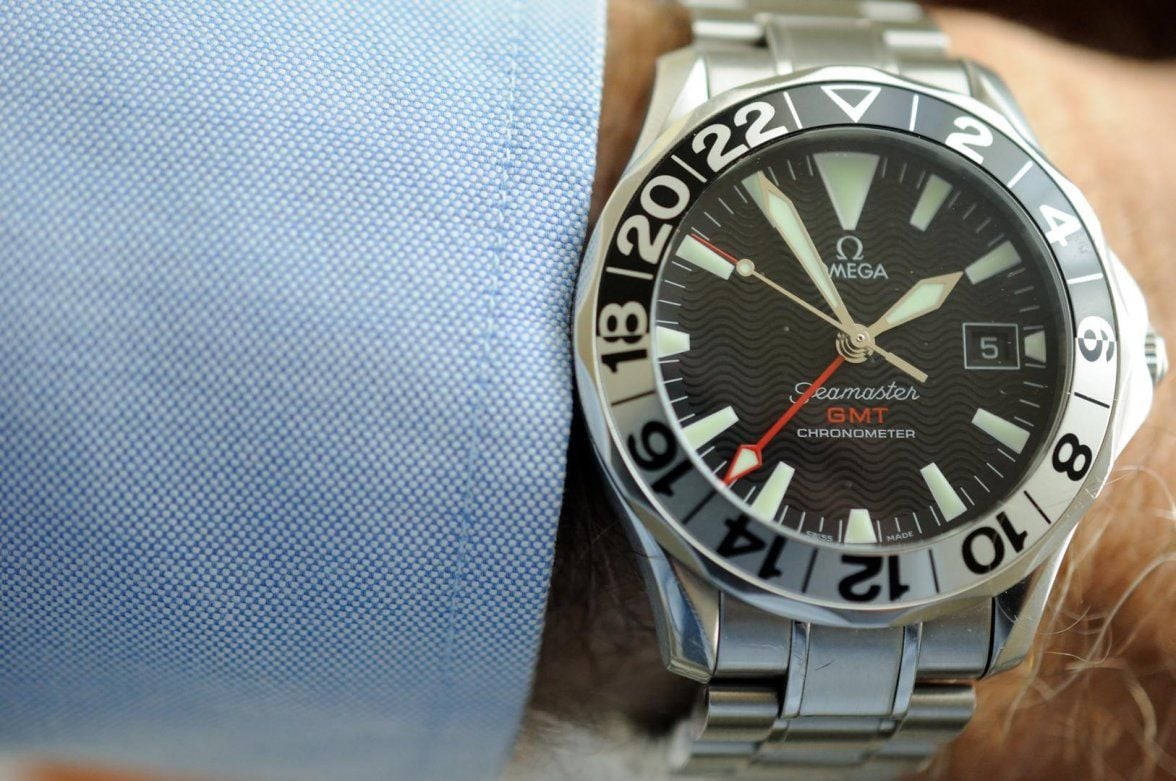 The 50th Anniversary has the standard "wave" style Seamaster case-back, hands with silver edges (excluding the red GMT hand) and a black date wheel with a white painted surround.
These watches come on the Speedmaster style bracelet, as reference 2234.50, on the Seamaster Pro style bracelet as reference 2534.50, and also on the Omega rubber strap with bi-fold deployant clasp, as reference 2834.50 / 2834.50.96.
The Great White GMT
The Great White GMT is probably the most loved model by collectors, as is evident by the fact that it has one of the coolest nicknames of any watch ever.  
The name comes from the pure white wave dial, with contrasting black text and black outlines around the large lume plots.  In a lot of ways this watch dial is very similar to the famous Omega Alaska Project Speedmaster Pro, albeit at a much more affordable price point.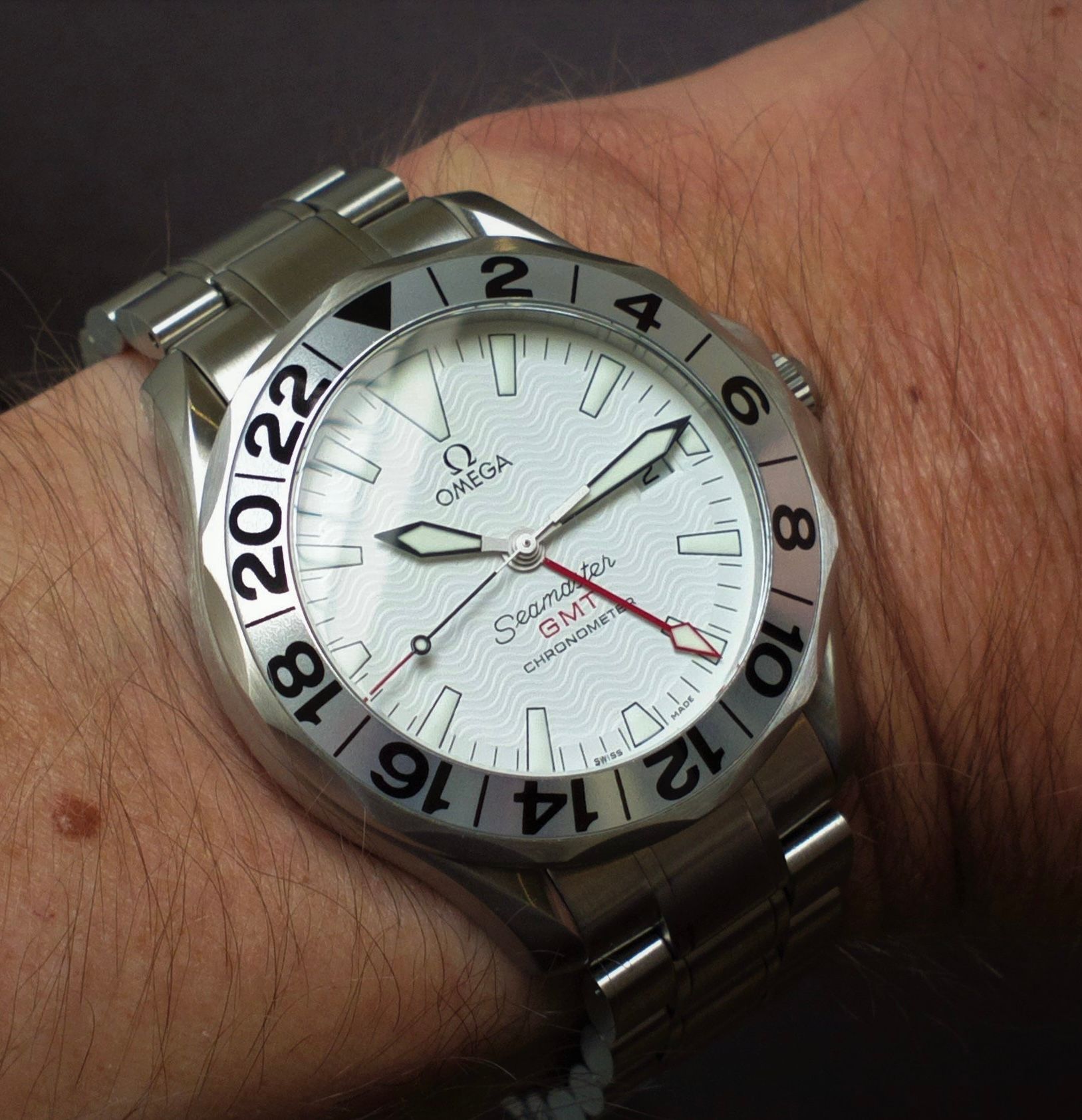 To compliment the white dial, Omega gave this watch hands that are white in the center, with black tips for all except the GMT hand, making for excellent legibility.  The Great White also gets a unique bezel in all silver with black lettering, and an all brushed Speedmaster style bracelet.  
Photos of this watch in the snow look absolutely fantastic and it has a unique look that Omega has never managed to quite re-capture with a bit of a Bond villain feel to it.  
While all sword hand Seamasters have fantastic lume, likely the best of any Omega produced to date, the way the Great White illuminates against that white dial is something very special.  
In short, this watch deserves all of the love, and the price premium it commands.  This superb watch carries the reference 2538.20 on bracelet and 2838.20.91 on strap.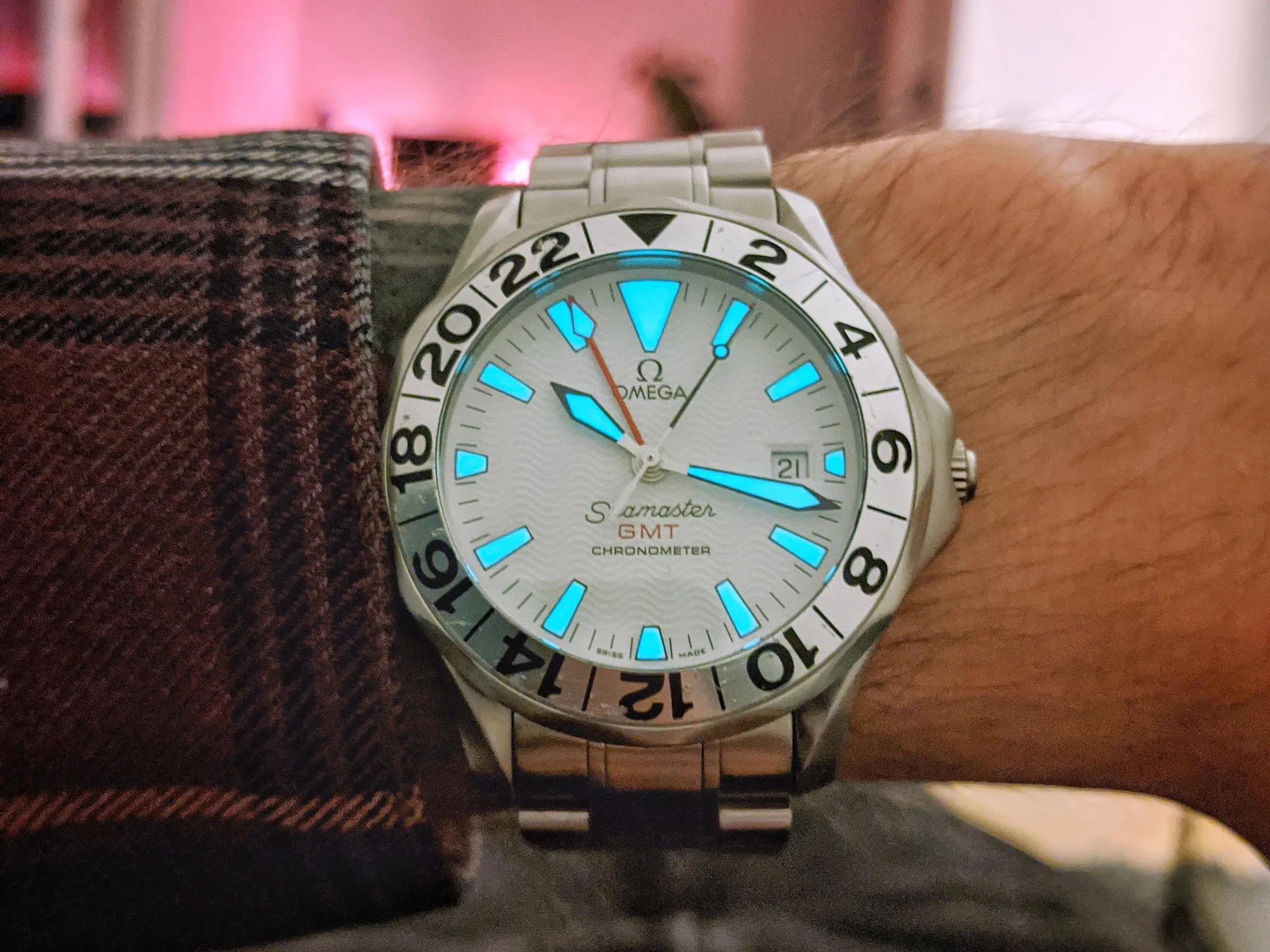 The 18K Gold Models
The 18K solid yellow gold models certainly have a presence about them.  These watches are otherwise the same as the steel versions, but have two dial options for each reference, black, and electric blue.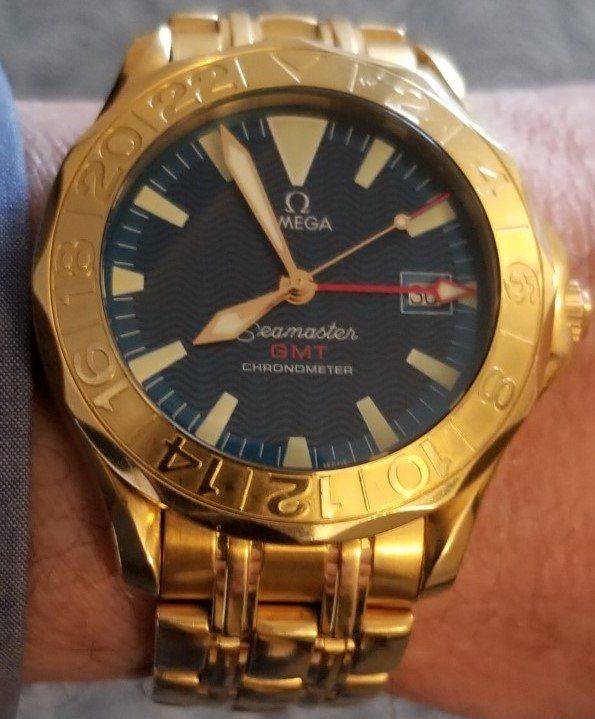 The bezel is unique in that the night hours have recessed lettering while the day hours have raised lettering, although neither are particularly easy to actually read. When one of our members @sjl1212 came to Omegaforums he asked if he could substitute an aluminium painted bezel in to make the watch more usable, which unfortunately wasn't an easy task to accomplish.

The yellow gold models feature yellow gold hands (except for the red GMT hand), and come with the option of either the Bond Seamaster style bracelet, carrying reference 2134.80, or a rubber strap with solid gold single-fold deployant clasp, reference 2634.80 / 2634.80.93.
The Gerry Lopez Limited Edition
Gerry Lopez is an icon of surfing culture, as well as a board shaper, actor, and journalist.  Footage of Gerry inevitably turns up whenever searching for video from pipeline, especially in the era before GoPro cameras.
Lopez appeared in many films since the 1970s including Conan the Barbarian with Arnold Schwartzenegger, however most recently in 2022 he has been featured in his own documentary titled The Yin & Yang of Gerry Lopez.
Getting back to the watch, Omega only produced this one limited edition for Gerry, a release of 999 watches, based on the 50th Anniversary black dial design.  Given Gerry chased waves all over the world, from Hawaii to Australia to Vietnam, it seems fitting that a Seamaster GMT was chosen as the basis of his watch.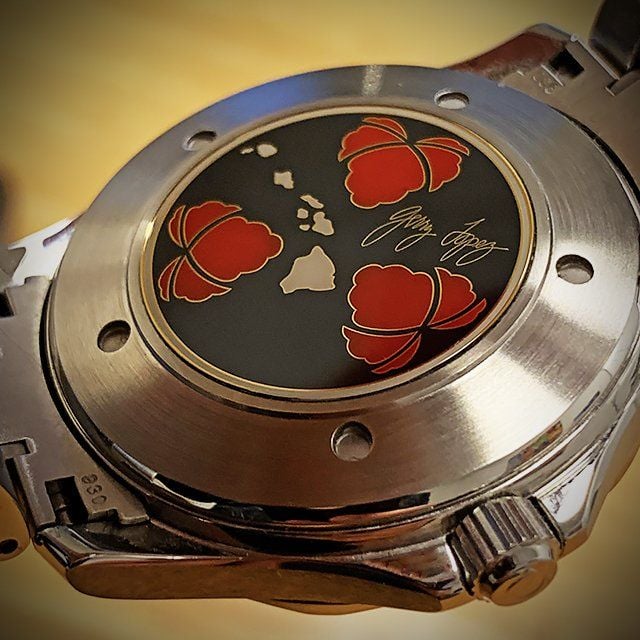 The key feature of the Gerry Lopez Seamaster GMT is the case-back, which is a sapphire display-back, that has been painted on the inside with Gerry Lopez' logo, which consists of the Hawaiian islands surrounded by hibiscus flowers.
Buying
Seamaster GMT models were made for many years, were very popular and made in large numbers.  As a result, there are always a lot of them on the market at any given point in time.  
The best deals on these tend to be on eBay and forums although occasionally you will find one going cheap on Chrono24.  Dealer prices are best avoided as these are common watches with minimal variation other than condition.
For most people, the biggest decision is between the black dial and the Great White.  The price difference tends to be noticeable, with the entry level for a black dial being around the $2,200 mark while a similar Great White might start around $3,000.  That is quite a lot more money for a watch that is nearly the same, however such is the demand for the Great White on the secondary market.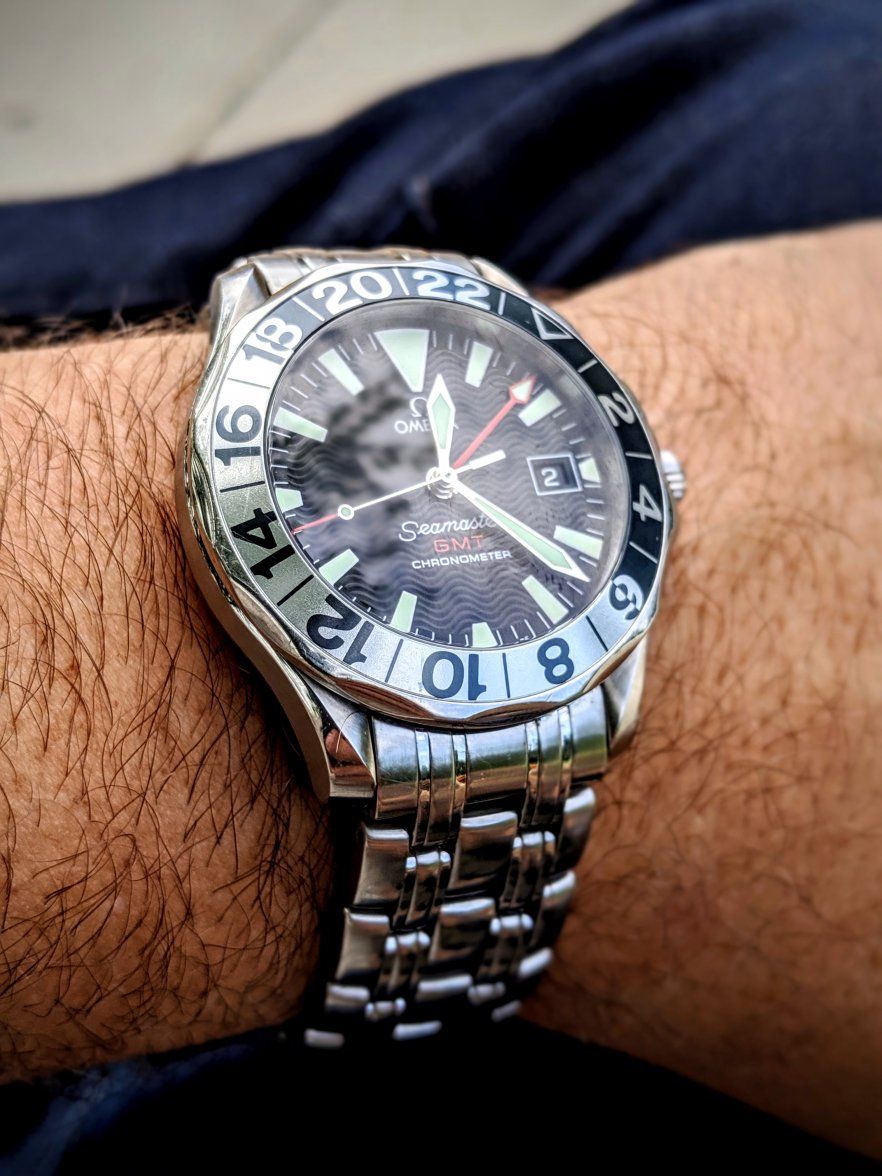 Condition is something that close attention needs to be paid to.  Bracelet and case in general can be refinished easily enough, but the bezel is an expensive part to replace, costing several hundred dollars on its own.  For this reason, it is often worth paying more to get an example in better condition.  
The bracelets on these watches are not cheap and a head-only watch should come at a steep discount of at least several hundred dollars.  Both the Speedmaster and Bond Seamaster bracelets are very durable, comfortable and solid so either will serve you very well.   The original rubber straps are mostly gone now and it is rare that you will come by the bi-fold deployant after all of these years.
All of these watches are now either due for, or well over-due for servicing, so factor this into the cost unless the seller has an invoice from a reputable watchmaker with an Omega parts account.  Independent servicing is not too expensive and is worth doing to prevent wear and tear on parts, and to ensure excellent time-keeping.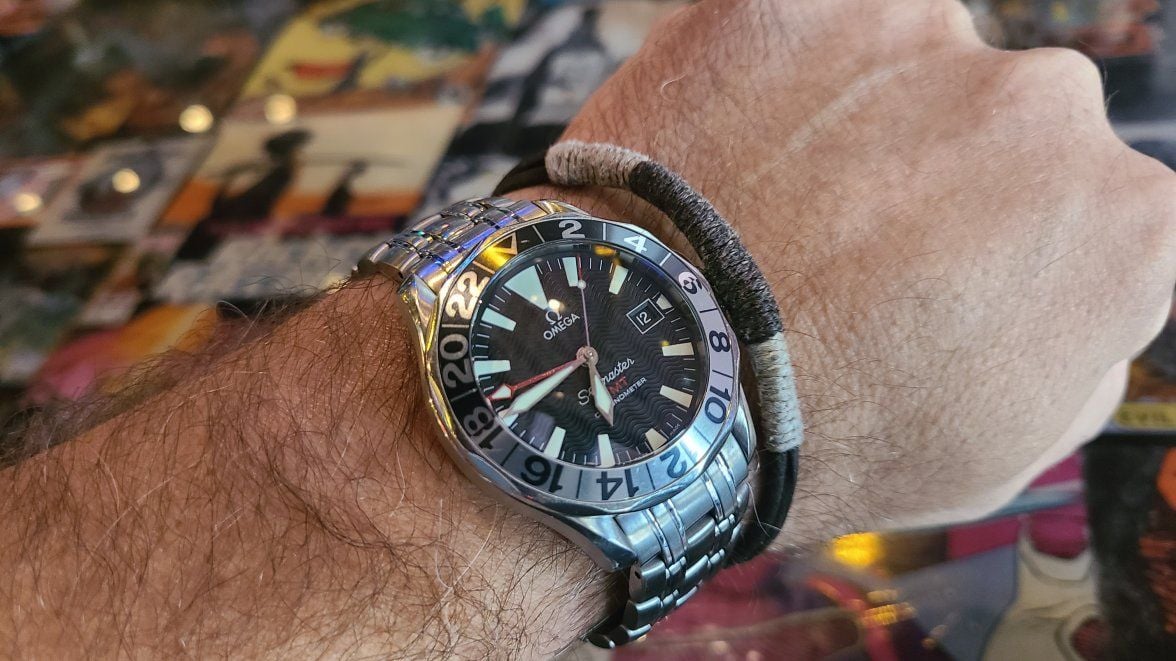 These watches really are something special that Omega has never really been able to re-capture since their production ended.  They're comfortable, convenient, practical, highly legible, and among the toughest Omega watches ever made, yet they still come at a very reasonable price point, even for the Great White.  Omega might get around to attempting a watch like this in the next few years, but until then, the Seamaster GMT remains both an absolute classic, and one of Omega's best unique models.
Discussion thread on Omegaforums can be found here: