The Constellation 167.021 combines an elegant and timeless design with a superb ultra-thin chronometer rated automatic movement in a water resistant watch. Even better, this is a Constellation that isn't in huge demand which can be purchased in mint condition for a very reasonable price.
Ultra-Thin, Beautifully Made & Modern
The Constellations that attract the most interest tend to be the early 2852 and the dog-leg family of the 1960's, everyone knows about them, and the distinctive cases draw people in.  My personal favorite Constellation though is the 167.021 ultra-thin, and I hope by the end of this you'll see why and perhaps even share that view.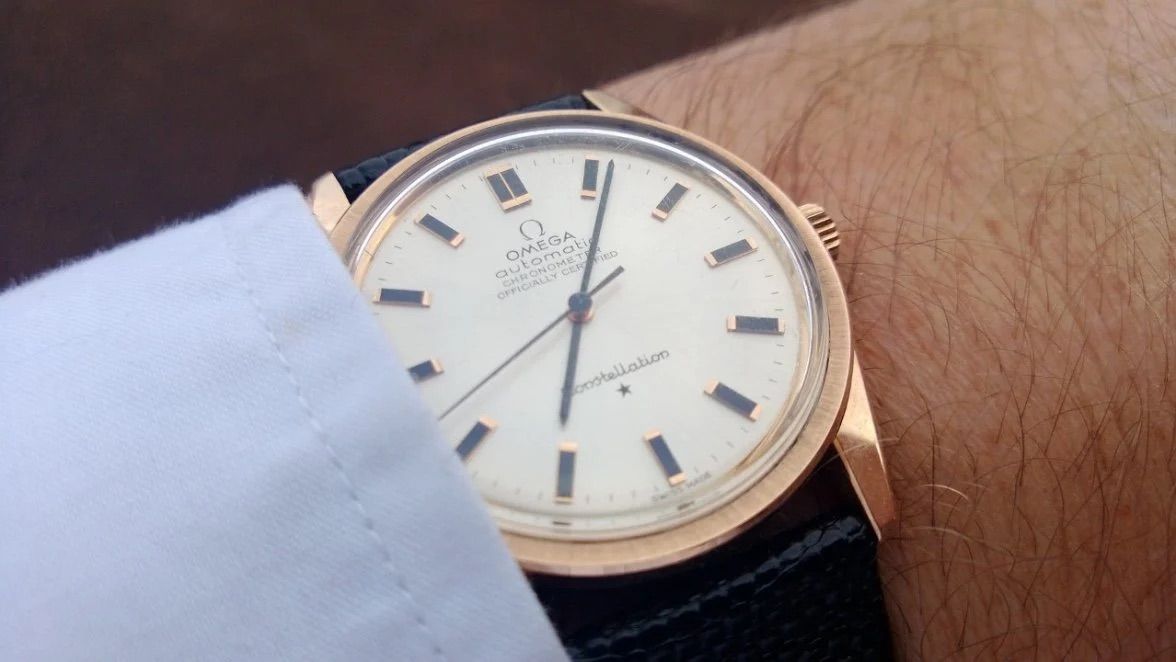 The 167.021 represents a raising of the bar from Omega's already high standards during the "golden era" of the 50's and 60's.  By the early to mid-60's Omega had reached a very good standard of water resistance and durability as well as accuracy in their watches.  The Calibre 55x series had both improved the automatic 50x series and made it thinner, but the ultra-thin Calibre 712 Chronometer went even further.
The Calibre 712 was, and as of early 2023 still is, the thinnest automatic chronometer movement ever made by Omega.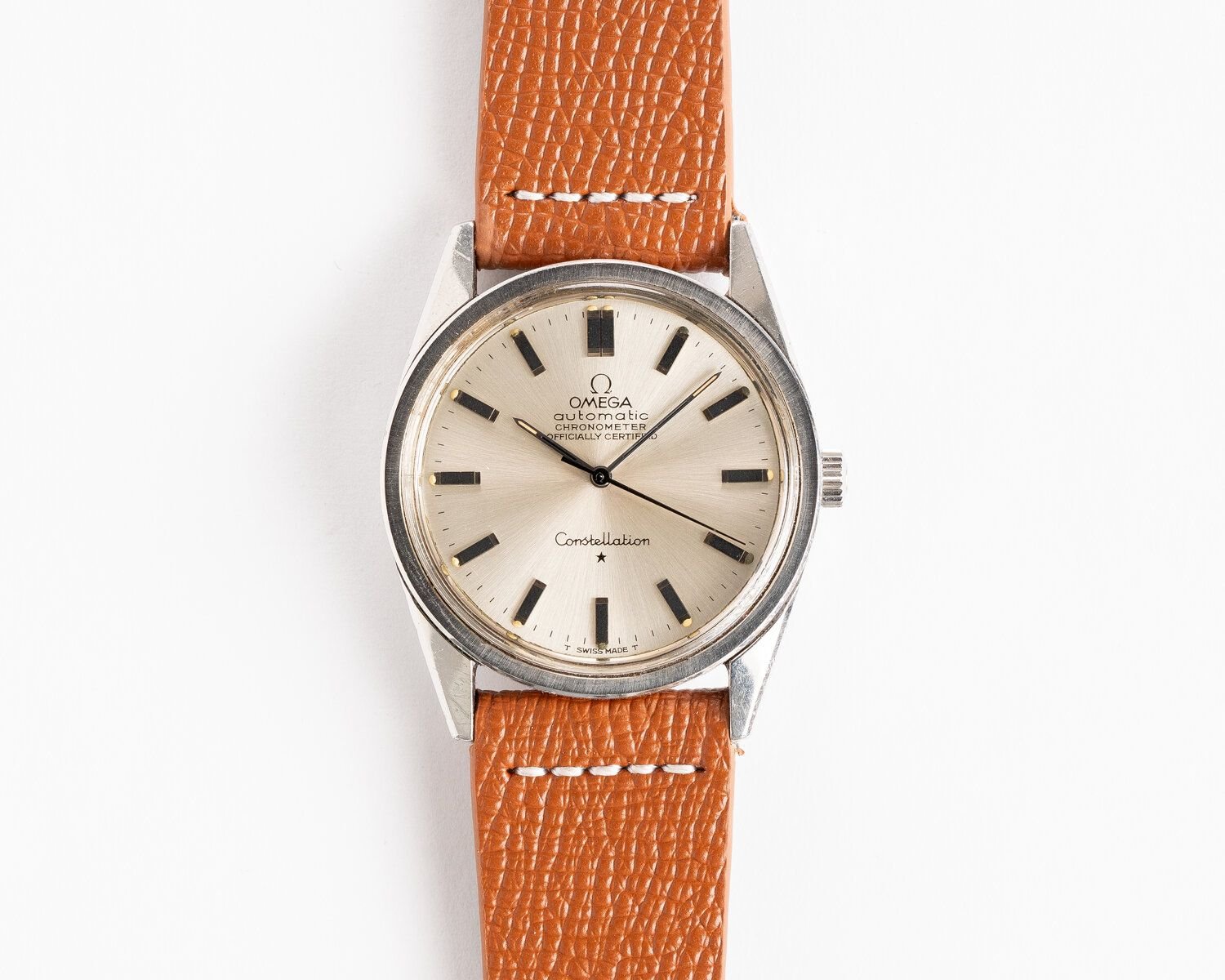 Combining this very special movement with a beautifully finished, water-resistant case, a slim crystal and minimalist styling resulted in an exceptionally thin, comfortable and timeless dress watch that fits exceptionally well under a shirt cuff.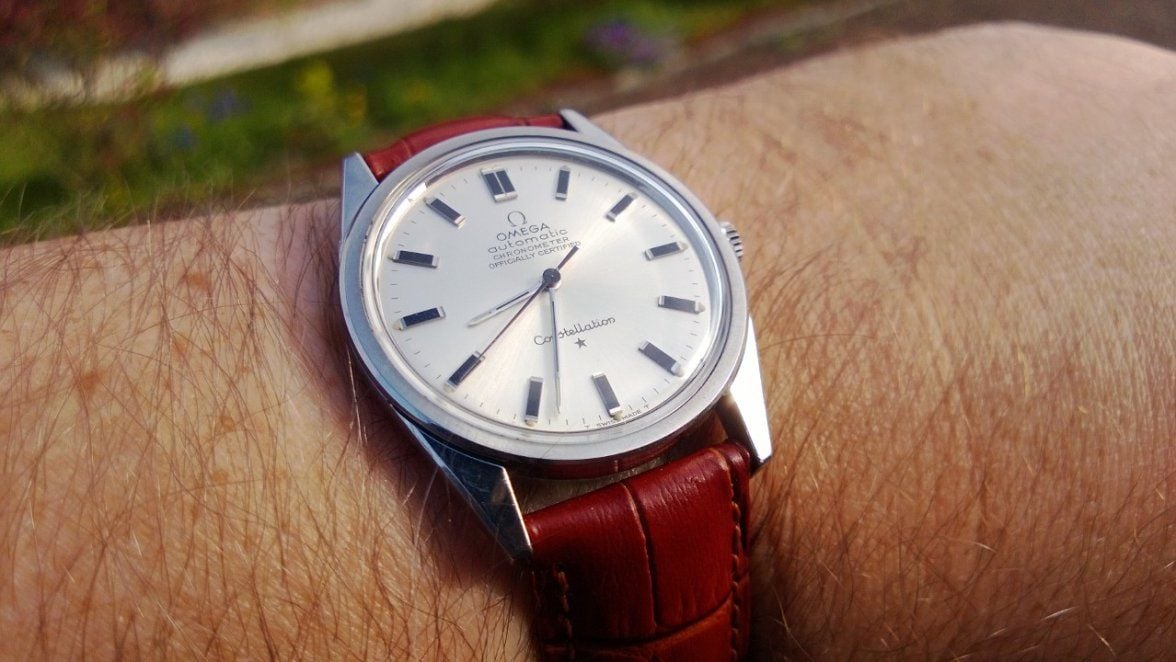 While Calibre 712 appeared in many other watches, including some with really interesting and unique designs, the 167.021 is by far the best, most widely produced and most wearable watch to feature it.  Despite this, prices are remarkably soft for a watch this special, languishing far below similar condition dog-leg or 2852 models.
Desmond Guilfoyle of the Constellation Collector blog wrote an excellent essay on the Calibre 71x series movements below, giving some further insight into the range powered by these calibres.
Case & Bracelet
The case of the 167.021 Constellation definitely has the feel of Omega's early sports watches like the Speedmaster 2915 and Railmaster 2914.  The straight lugs and sharp edges give a slightly sporty feel to an otherwise very dress-oriented watch.  The thin, finely fluted bezel and slim case however let you know of this watch's intended purpose.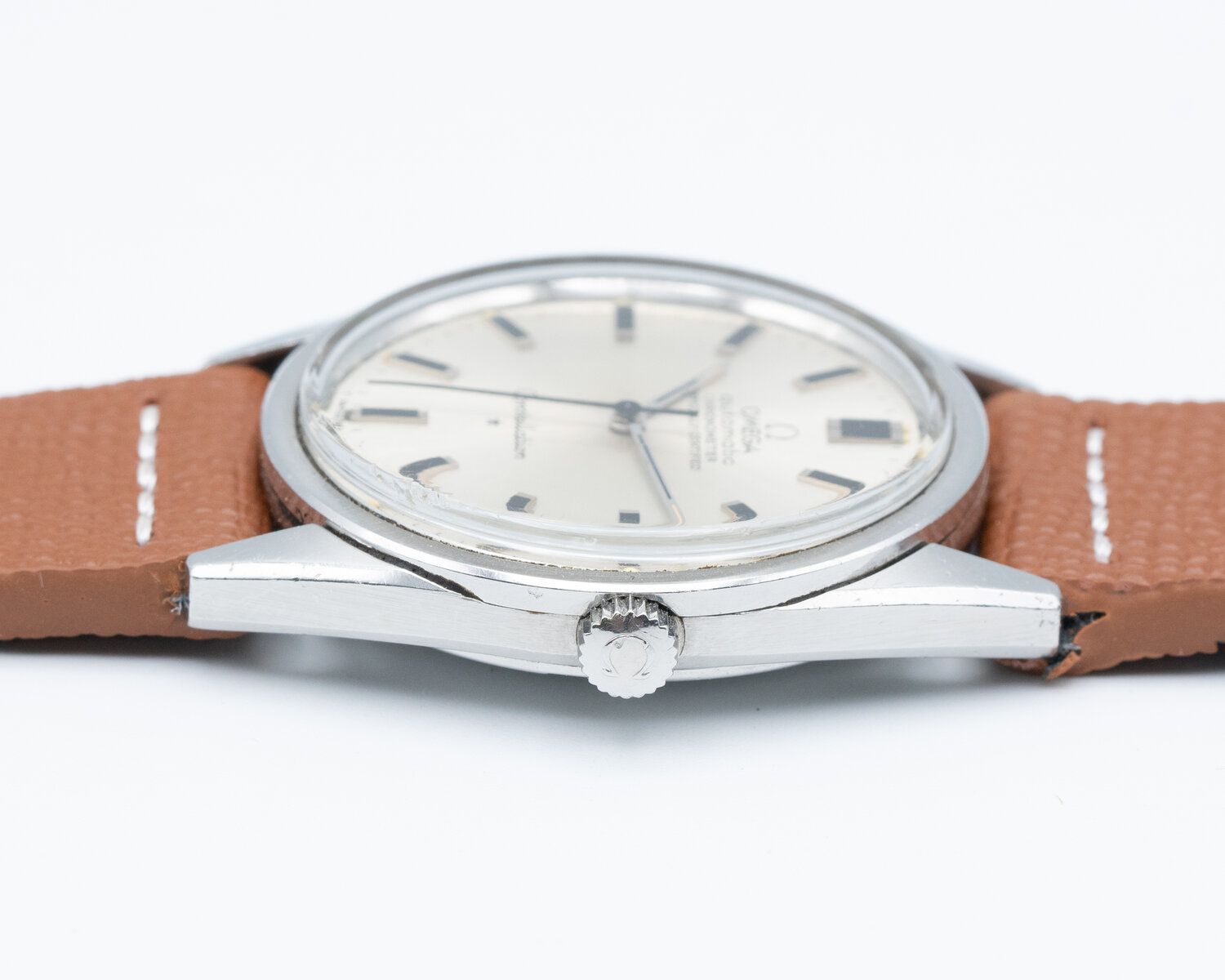 At around 7.5 mm thick, this watch is incredibly slim for a vintage automatic chronometer.  A lot of this is down to the extremely impressive Calibre 712 movement but Omega still managed to include a keyed screw-back case-back design in order to ensure good water resistance of 30 meters in this incredibly tight package.  While the case-backs are stamped 167.021 and generally the watches are known by this, they are also referred to as 167.0021 and this extra zero is used in the Omega vintage database for the reference.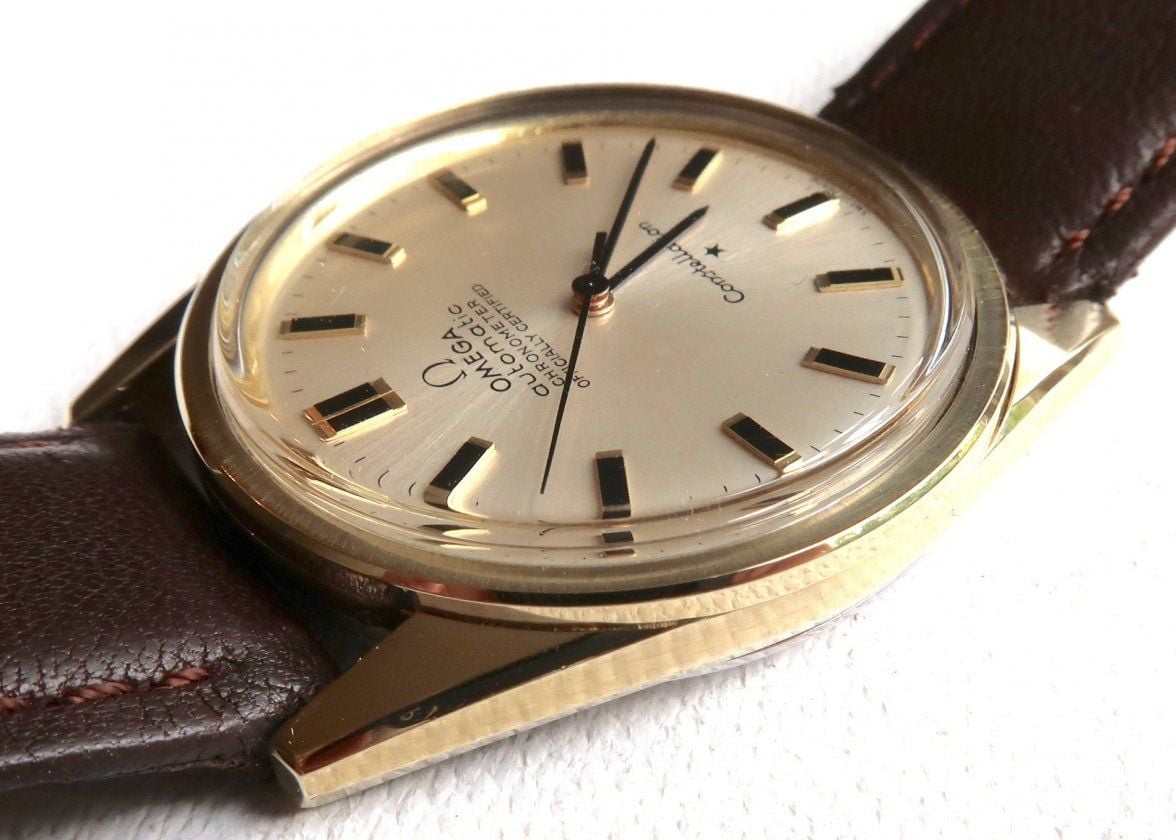 In designing this case Omega took several steps to minimalise the thickness of the design.  They employed flat, rather than curved lugs, utilized a slim-line, flat crystal, and the case-back is allowed to protrude slightly from the rear, allowing the strap or bracelet to pull if flat against your wrist.  The end result is a watch case massively thinner than contemporary Omega's as can be seen in the image below.

The symmetrical case features no crown-guards, allowing easy access to the knurled crown.  Although the case is slightly smaller than typical Omega Constellation models of the era at 33 mm rather than 34.5 mm, the thin bezel, large dial, and flat case profile result in a watch that wears larger than it sounds.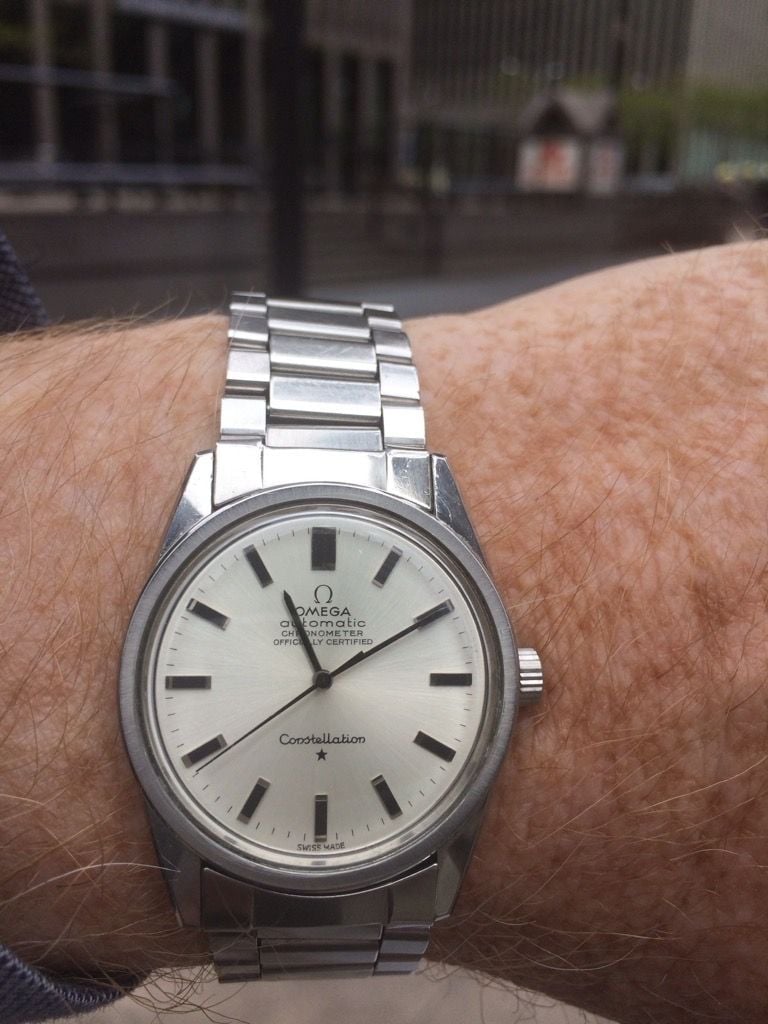 The lug width is 19 mm, slightly larger than the 18 mm average for dress watches but typical for watches using flat-link style bracelets which are a great fit for the 167.021 Constellation.  While for a formal look, a simple leather strap can never be replaced, the flat-link bracelet suits the straight lugs and hard lines of this Constellation beautifully for a very modern and clean look.
Movement
As mentioned in the title, the Calibre 712 is a very special movement for Omega.  
The headline figure is the thickness which is only 3 mm.  This compares to 3.6 mm in the much newer Calibre 1120 chronometer which is considered to be a very thin movement, and the 4.5 mm thick Calibre 551 which was Omega's flagship chronometer at the time.  Even the famous Jaeger LeCoultre Calibre 920 is only slightly thinner at 2.45 mm.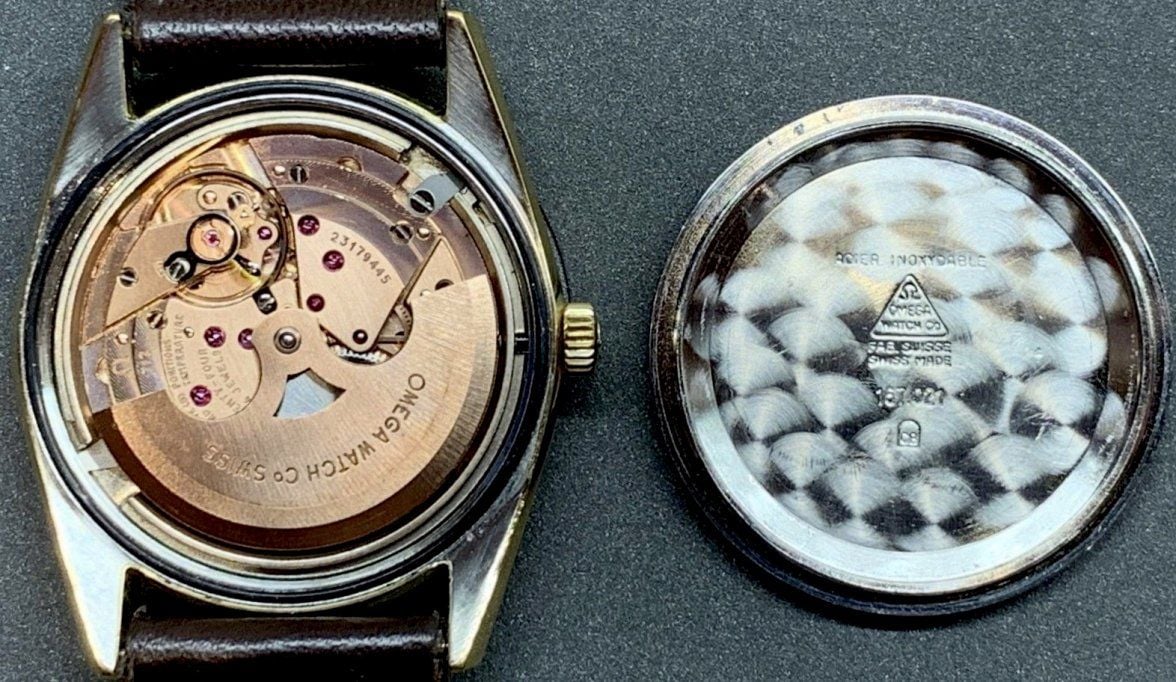 The Calibre 712 oscillates at 19,800 vph, has no date, no hacking, the option of a sweep seconds hand, and a bi-directional automatic winding system with a power reserve of 42 hours.  
While the watch is quite basic in its specifications on the surface, the accuracy, slim packaging and robustness of this design led to it being used in various forms over almost three decades.  From the original release in 1966 Omega kept using this movement in new and different watches, eventually resurrecting it to form the basis of piggy-back perpetual calendar and dual time models of the Louis Brandt line in the mid-1980's.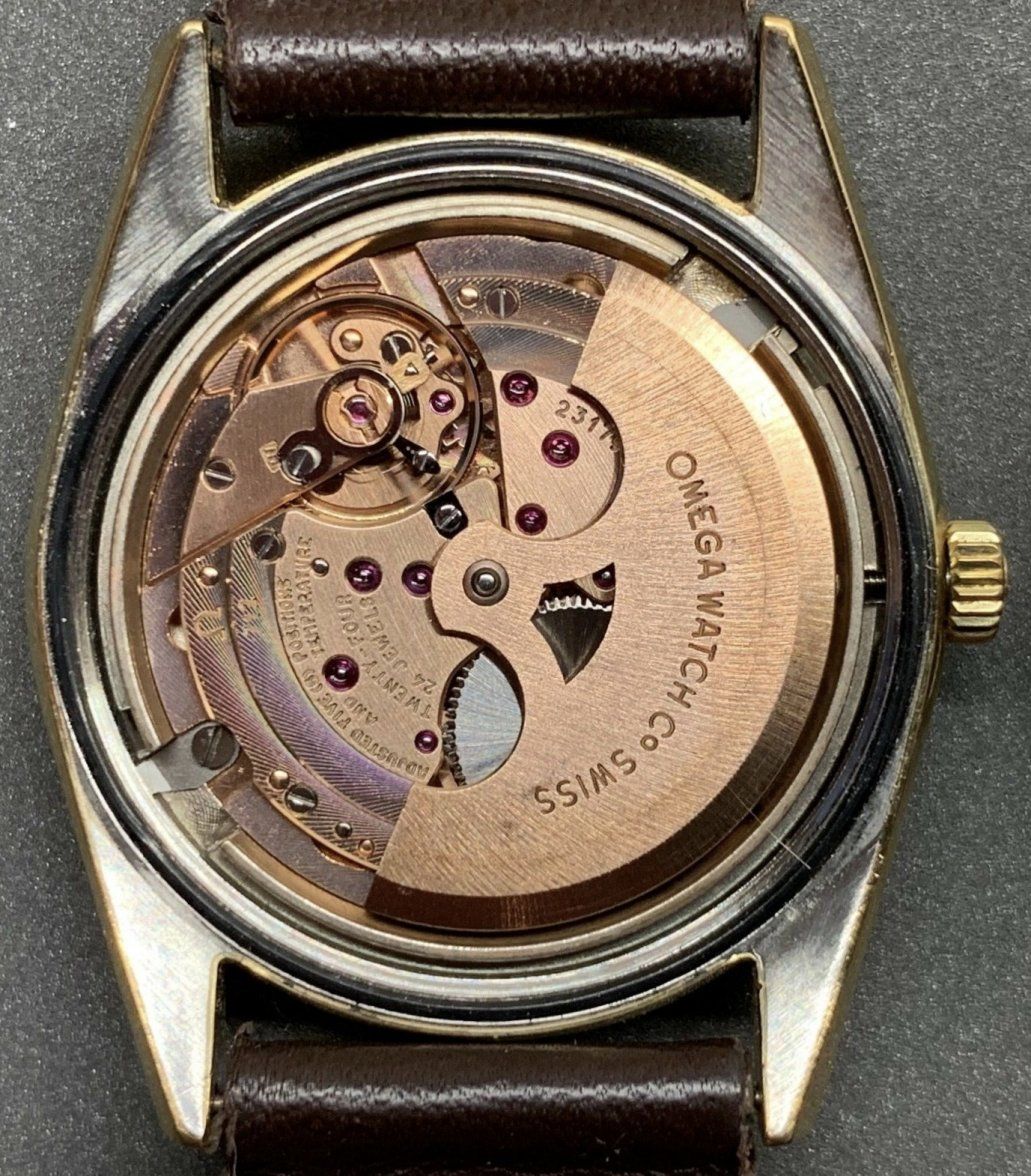 On the surface, the Cal 712 looks very similar to other Omega movements of the era due to the same color of plating and the shape of the rotor.  Despite this, there is no relationship between this movement and the Calibre 5xx family of regular Omega time-only calibres.  Instead, these movements were designed and produced by SSIH group stablemates Edward Piguet/Rayville SA-Montres Blancpain for exclusive use by Omega.  This is a similar arrangement to the Calibre 321 Speedmaster movement and its successors which were designed and produced by Lemania for Omega, and while not in-house specifically these movements are no less important or special.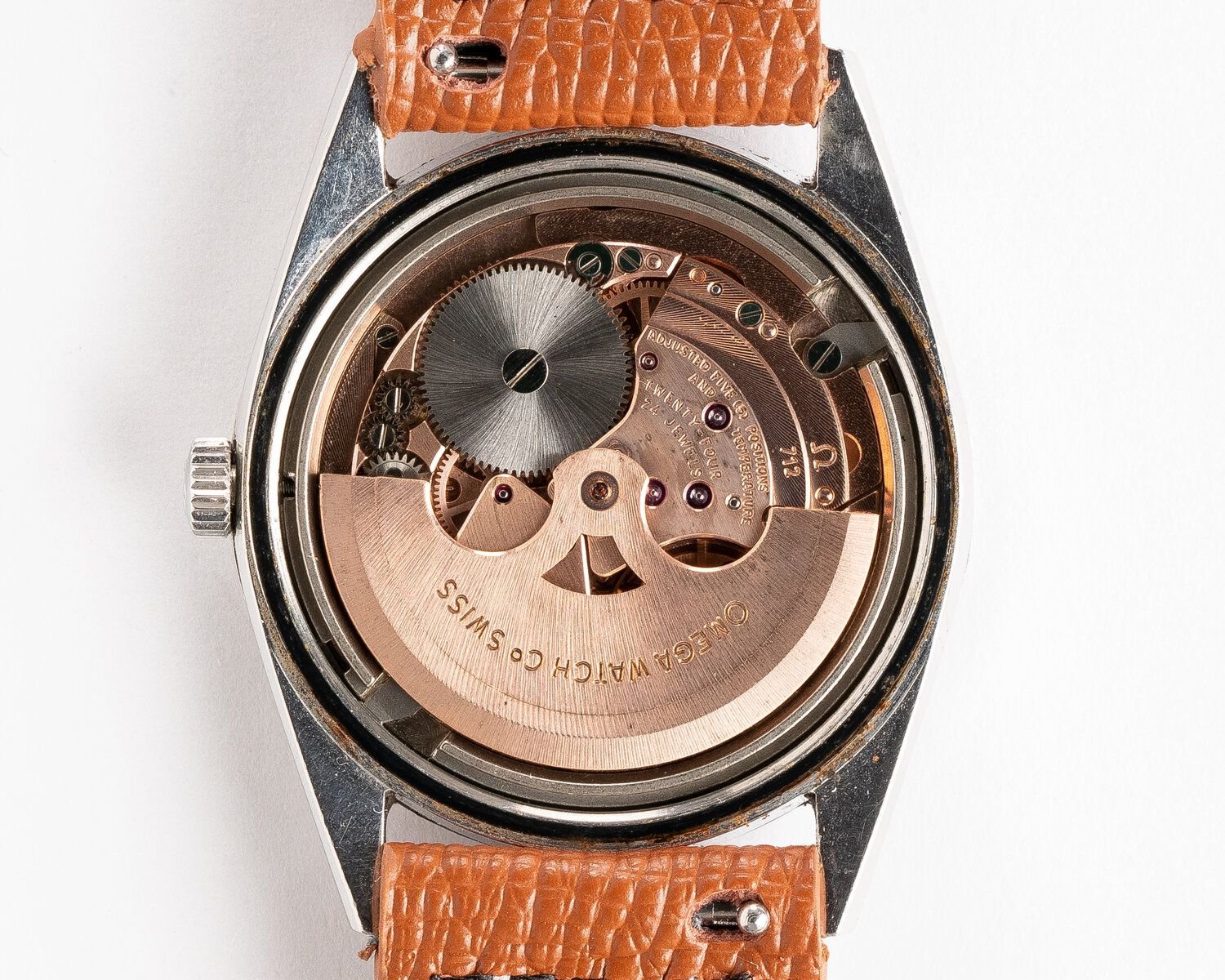 These watches should be serviced before wearing in order to prevent any metal-on-metal wear on potentially expensive vintage parts.  Servicing can be handled by any Omega certified watchmaker with a parts account.  After servicing these watches should be able to reach chronometer specifications again and provide many years of accurate and dependable service.
Variants
The Constellation 167.021 is interesting in that it's one of the few Constellation model lines that has only a single real dial option, albeit in a few different colors depending on the metal in use.
All versions of the 167.021, both luminous and non-luminous and utilise a very specific type of dial furniture which resembles a surface-mount resistor used in electronics with exposed metal at either end and black paint in the center.  Matching this, they use stick hands with luminous tips and black inserts on luminous models and simple black stick hands for non-luminous models in all dial colors and metals for high contrast and good legibility.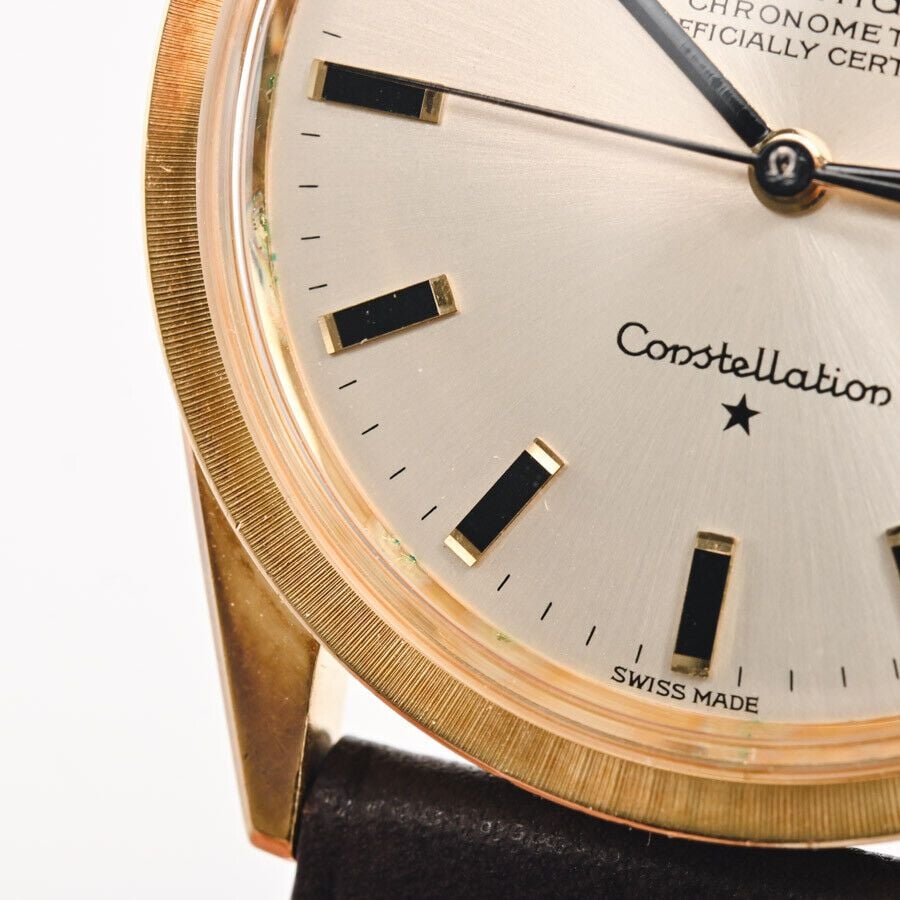 These dials can look slightly lower-end than earlier Constellation dials simply for the fact that there is no applied Omega logo or even Constellation star.  This isn't an unfair assumption as Omega did begin to cut costs in the 1970's, but this was a flagship product released in 1966, during the height of Omega's vintage successes.
The real reason for the lack of applied logos on this dial is that this being an ultra-thin watch, the lowest hand (the hour hand) doesn't have a great deal of clearance over the dial.  Any applied logos or protrusions inside the radius of the hour hand would only reduce that clearance further and potentially interfere with the movement of the hand.  This makes Omega's choice of applied hour markers and painted dial text and logos a very simple and sensible choice for this type of watch.
The stainless steel versions of the 167.021 only come in a single dial pattern, that being a starburst opaline silver, with both luminous and non-luminous versions available.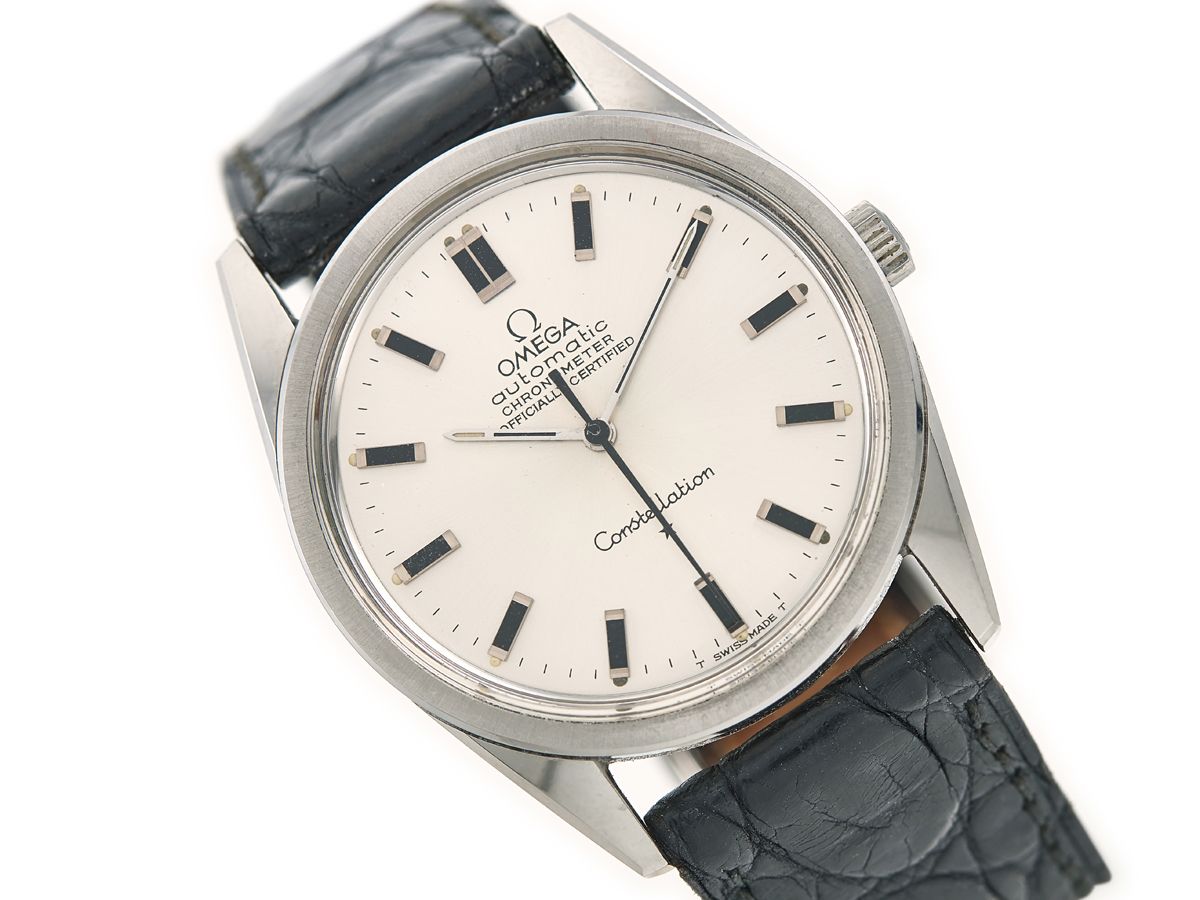 The gold-capped and 18K solid gold versions of this Constellation come in two dial colors, a starburst gold, and a starburst opaline silver.  Both of these dials feature gold metal on the dial furniture and come in both luminous and non-luminous variants as well, with the luminous variants using gold hands with black inserts and luminous tips.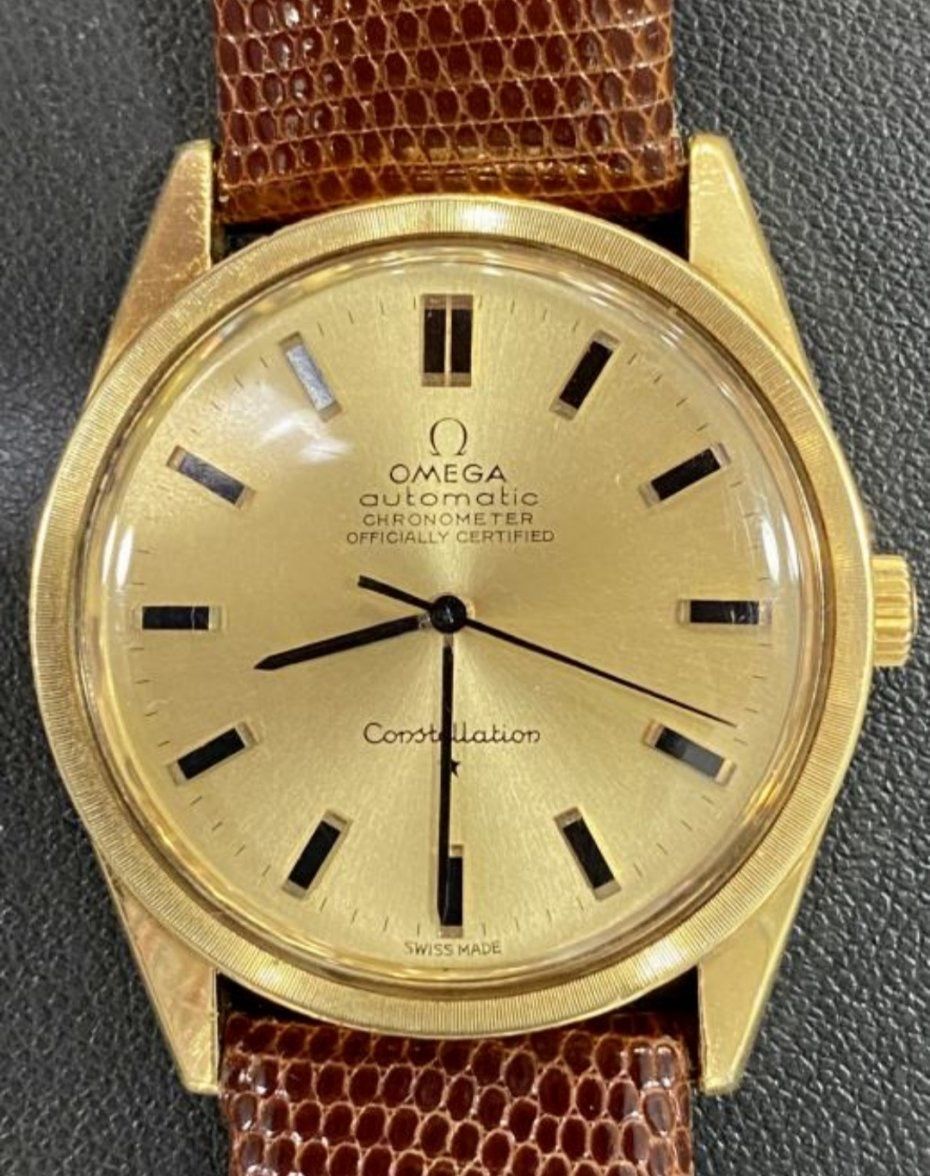 It can be difficult to tell at times whether a watch is gold-capped or solid gold in particular.  The easiest way is to check the rear, as the gold-capped cases will have exposed steel on the back of the lugs and a steel case-back with gold medallion, while the 18K gold versions will have an all-gold case-back.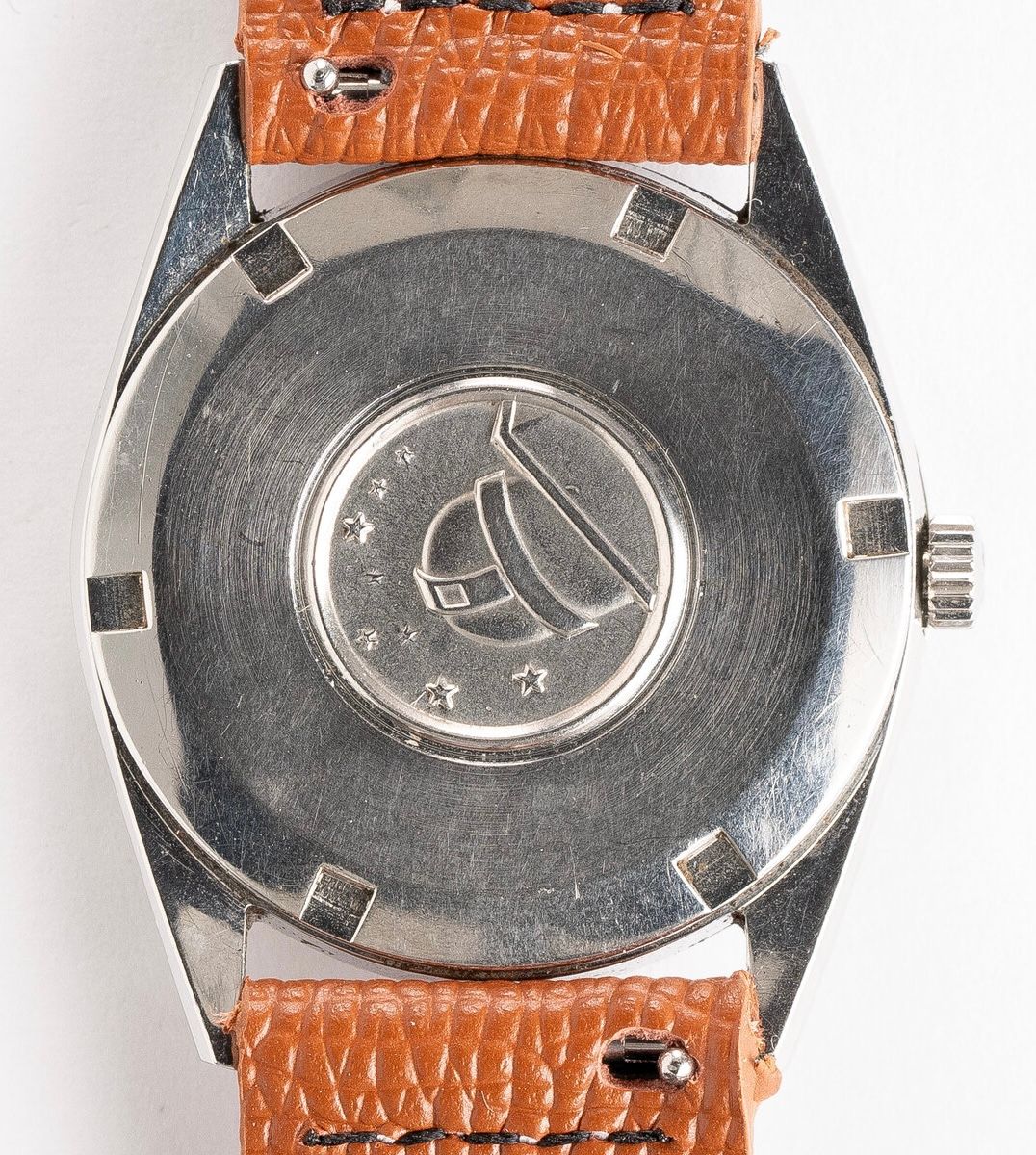 Finally, these watches come in both rose gold and yellow gold for both gold-capped and 18K solid gold variants.  The difference is subtle and at times can be lost or misrepresented by white balance in photos so just be aware of this when browsing.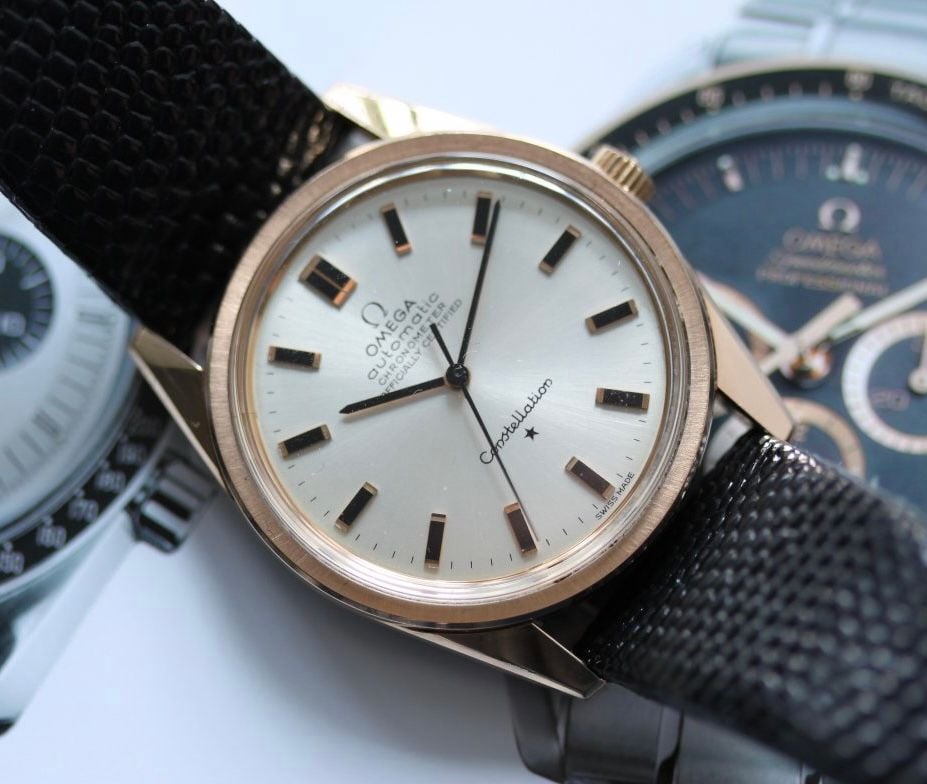 Buying
These watches are chronically undervalued compared to similar Constellation models, Desmond commented on this in his article over a decade ago and it remains true to this day.
The main things that turn people off these watches aside from them simply not being that well known are the slightly smaller size at 33 mm, and the poorly understood movement.  The size really is a very minimal difference from the 34.5 mm models and is barely noticeable in terms of how this watch wears.  Similarly, the movement may be unusual, but it also happens to be very special and well worth owning.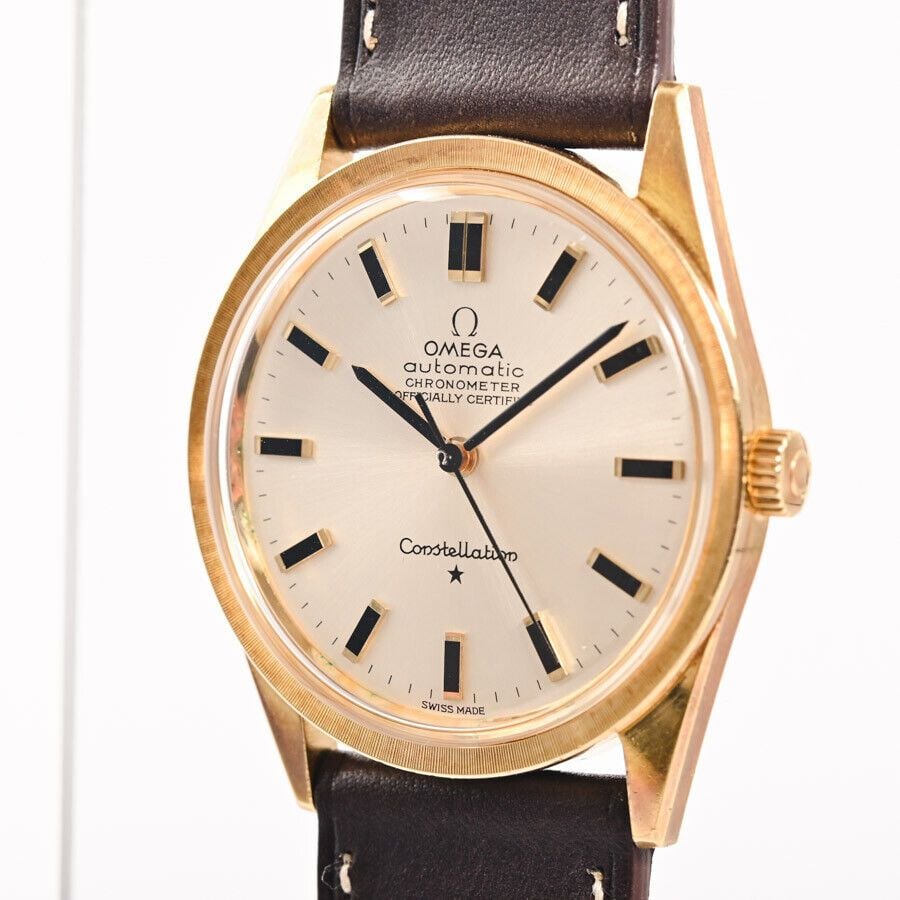 Deciding which of these to purchase isn't a hard decision given there are few dial options and only a handful of metals.  Rose gold in either gold-cap or solid gold will be the most difficult to find with yellow gold and steel being quite common by comparison.
These watches have sold all over the world and are not concentrated in any one area to any great extent.  They appear on eBay frequently as well as Chrono24 and other sales platforms but some of the best deals are actually found on forums for these as they take a while to sell, and collectors tend to find nice ones to begin with.  In no-reserve auctions on eBay, these watches in stainless steel or gold-cap frequently sell under $1,000 with excellent condition examples selling for not much more.  The 18K gold models carry a premium as any solid gold Constellation does, but given how nice, sharp, and beautifully finished the thick gold-capped versions are, I would struggle to justify the premium for gold over a mint condition capped example.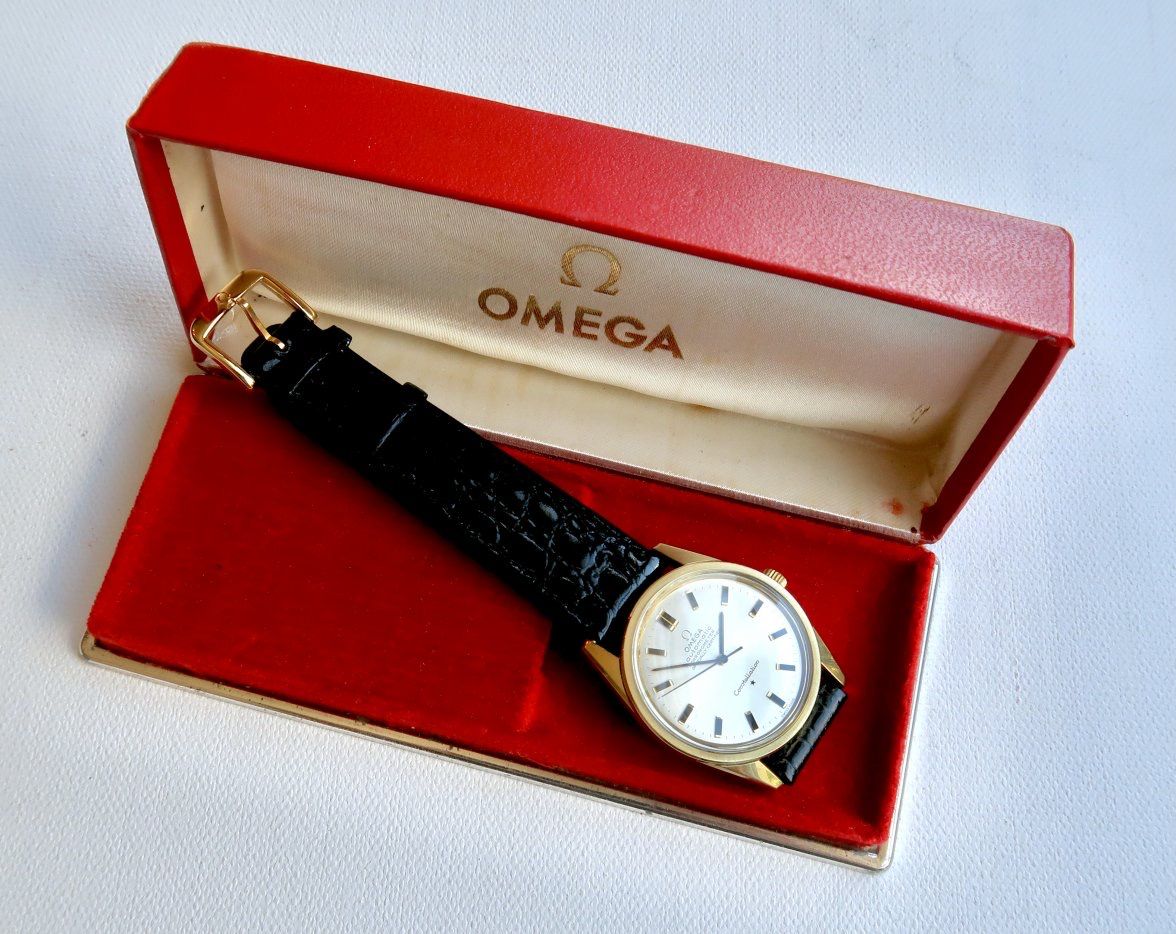 In terms of condition, these watches hold up quite well water resistance wise so dials should be very clean and any with discoloration or staining should be avoided.  The case on these watches needs to be sharp in order for them to look their best, so avoid any with severe scratches and dents but more importantly avoid any example that has lost its sharp edges.  The bezel should have the very fine fluting visible in a radial pattern on its surface and any that has been polished excessively should similarly be avoided.  As mentioned in the movement section I would strongly recommend not wearing these Constellations until they are serviced to prevent wear on parts which could be expensive to replace.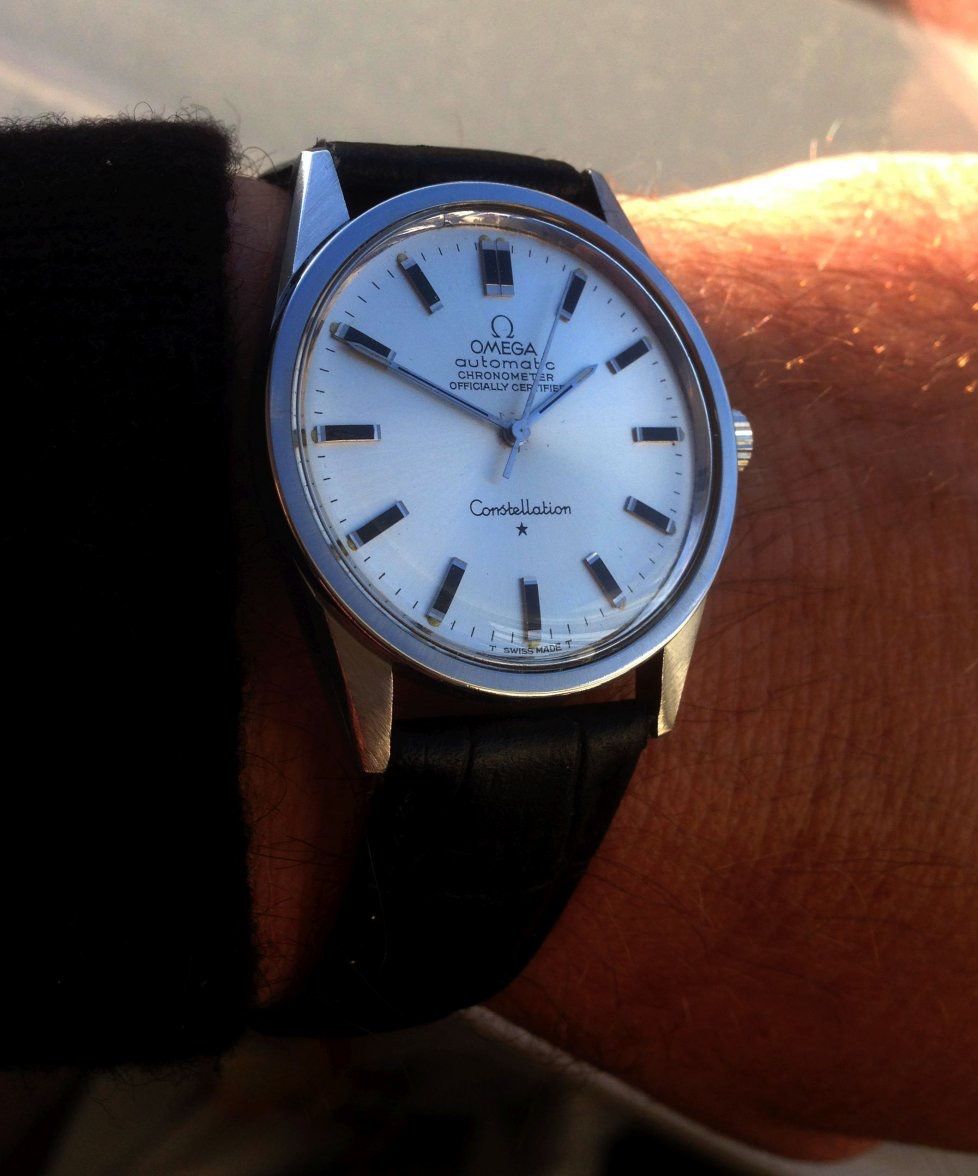 There's a tremendous amount to like about these Constellations, from the price point to the unique movement with its historical and horological significance, to the way the watch sits on your wrist.  To this day they remain one of Omega's finest ever attempts at an ultra-thin chronometer, and a beautiful example of Omega's creativity at its absolute best.
Discussion thread on Omegaforums can be found here: