The Seamaster 566.013 is one of Omega's best ladies' vintage sports watches. Featuring an accurate and durable automatic movement, good water resistance, and charismatic, modern styling, these watches are a tremendous deal at their price point.
A Timeless & Robust 1960's Design
The Seamaster "Sparkle" is a watch with an incredibly well-known nickname in the collector world and a tremendous amount of demand as a men's watch.  The 566.013 ladies' version of this Seamaster, powered by a great quality automatic movement and carrying all of the features of the men's version is a ladies' watch that lives up to the hype of the men's version at a much lower price point.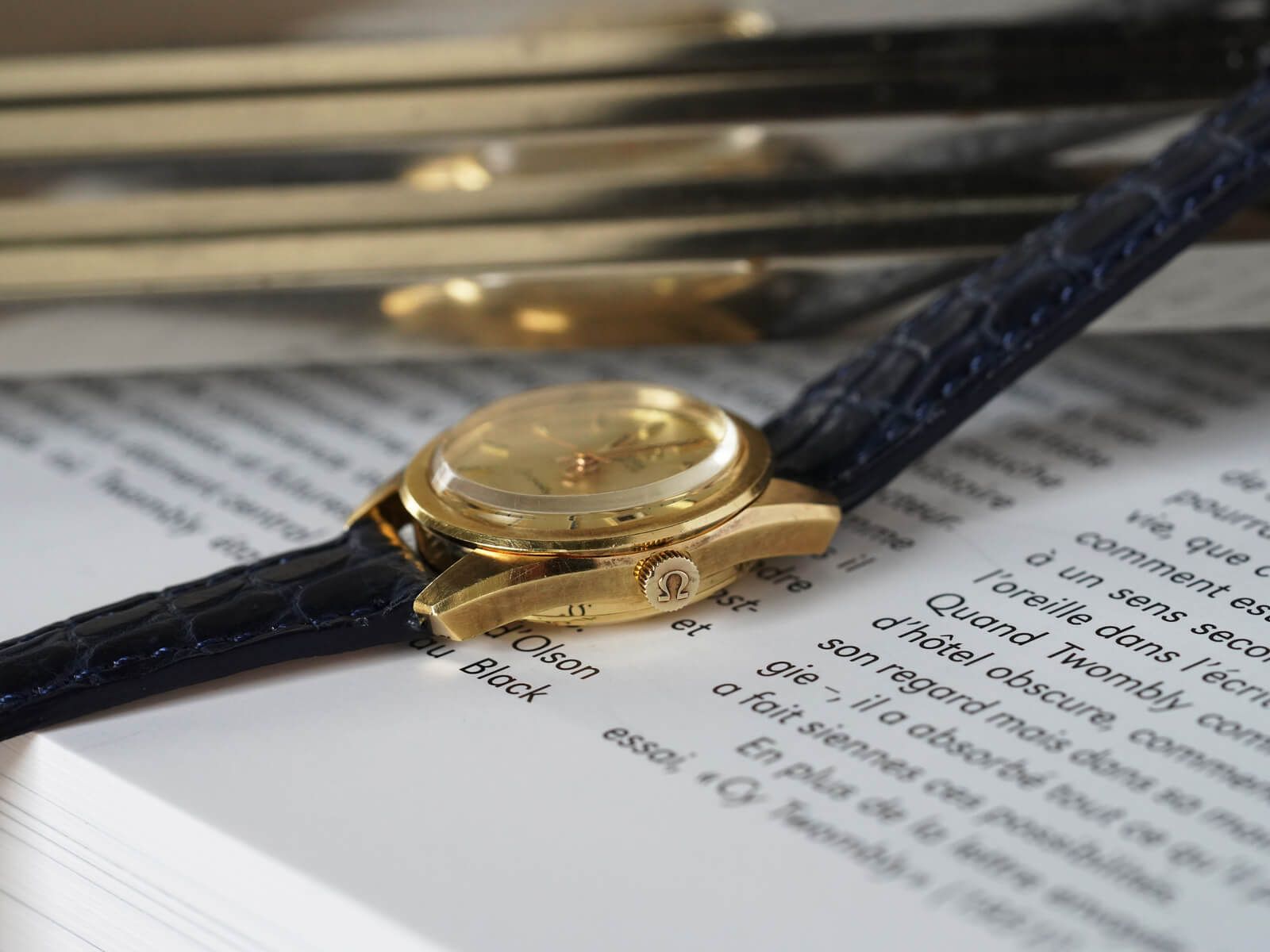 While the Constellation models were all about absolute accuracy and chronometer ratings, the Seamaster line was more focused on water resistance, durability and designed for an active lifestyle.  They were fitted with one of the most attractive and comfortable bracelets of the era too, a Speedmaster-like design remarkably similar to that fitted to the latest generation of Moonwatch.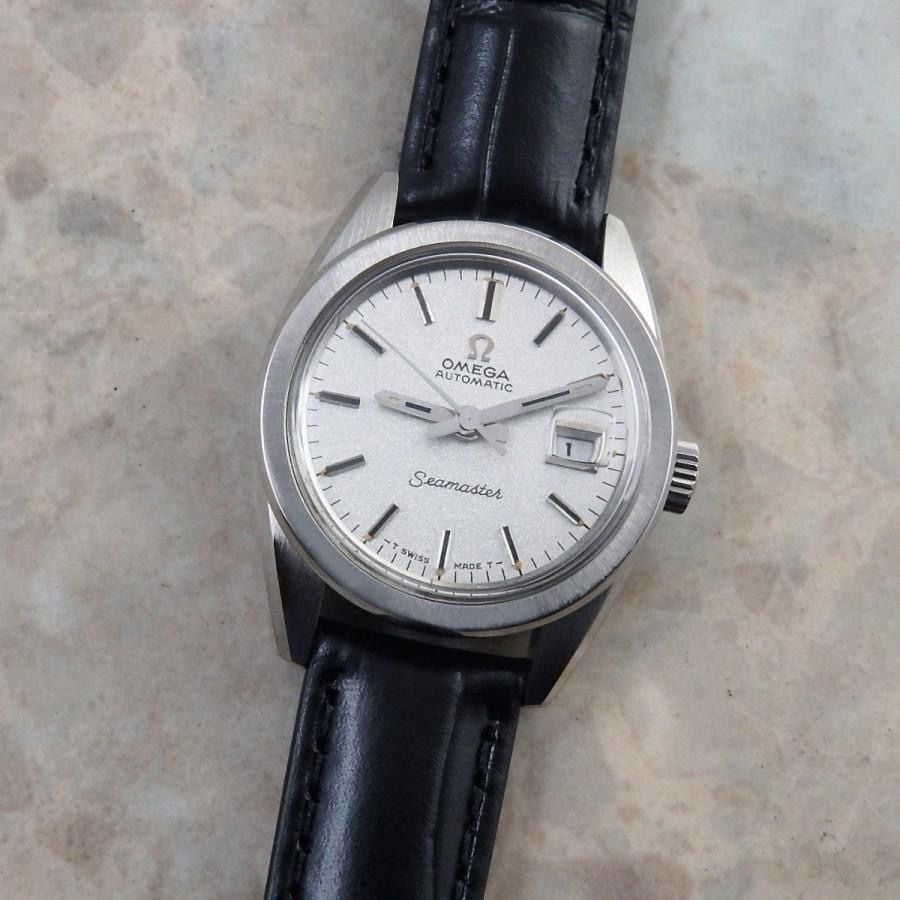 When I asked several of the ladies in the Omegaforums community what makes a watch stand out to them, a lack of compromise was a common answer.  Many ladies' watches can suffer from being poorly thought out shrunken versions of men's watches.  The Seamaster 566.013 is a model that clearly meets this requirement, featuring the same level of finishing, quality, performance and features in a small packaging.  This isn't a watch made as an after-thought, but rather Omega trying to build the best Seamaster they could in a ladies' size, and this definitely shows.
Case & Bracelet
The case of the Seamaster 566.013 is substantial, solid and very familiar yet at the same time uniquely different from most Omega models.  The lugs are a lot beefier than any straight-lug Omega sports watch case and closer in substance to the large twisted lugs found on modern watches like the Aqua Terra, yet there is no twist to the top facets of these lugs at all.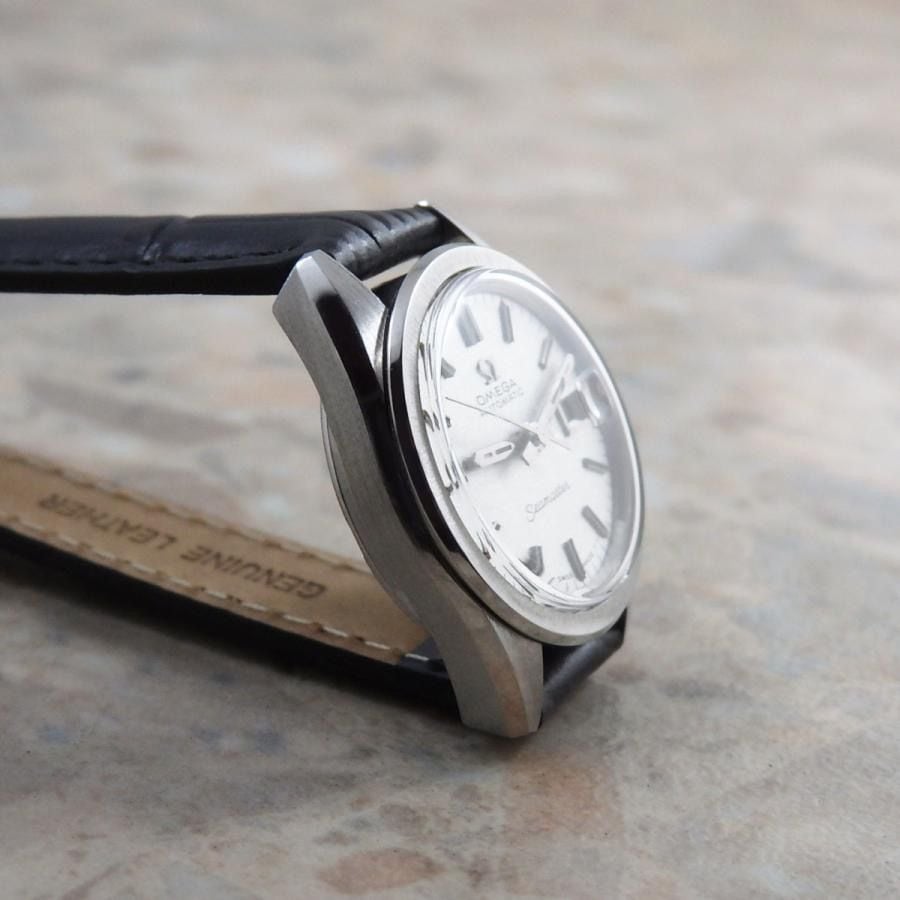 The overall chunky feel of the watch extends to the bevel separating the top face from the side and the thick side itself too.  While this is still quite a small watch at 26 mm in diameter it is mighty and wears a lot bigger than that would suggest.
The bezel is a separate piece sitting quite proud of the lugs with a flat front face featuring radial brushing on the surface, while the hesalite crystal sits further proud of the bezel.  The case is symmetrical, featuring no crown-guards to hinder access to the coarsely knurled crown.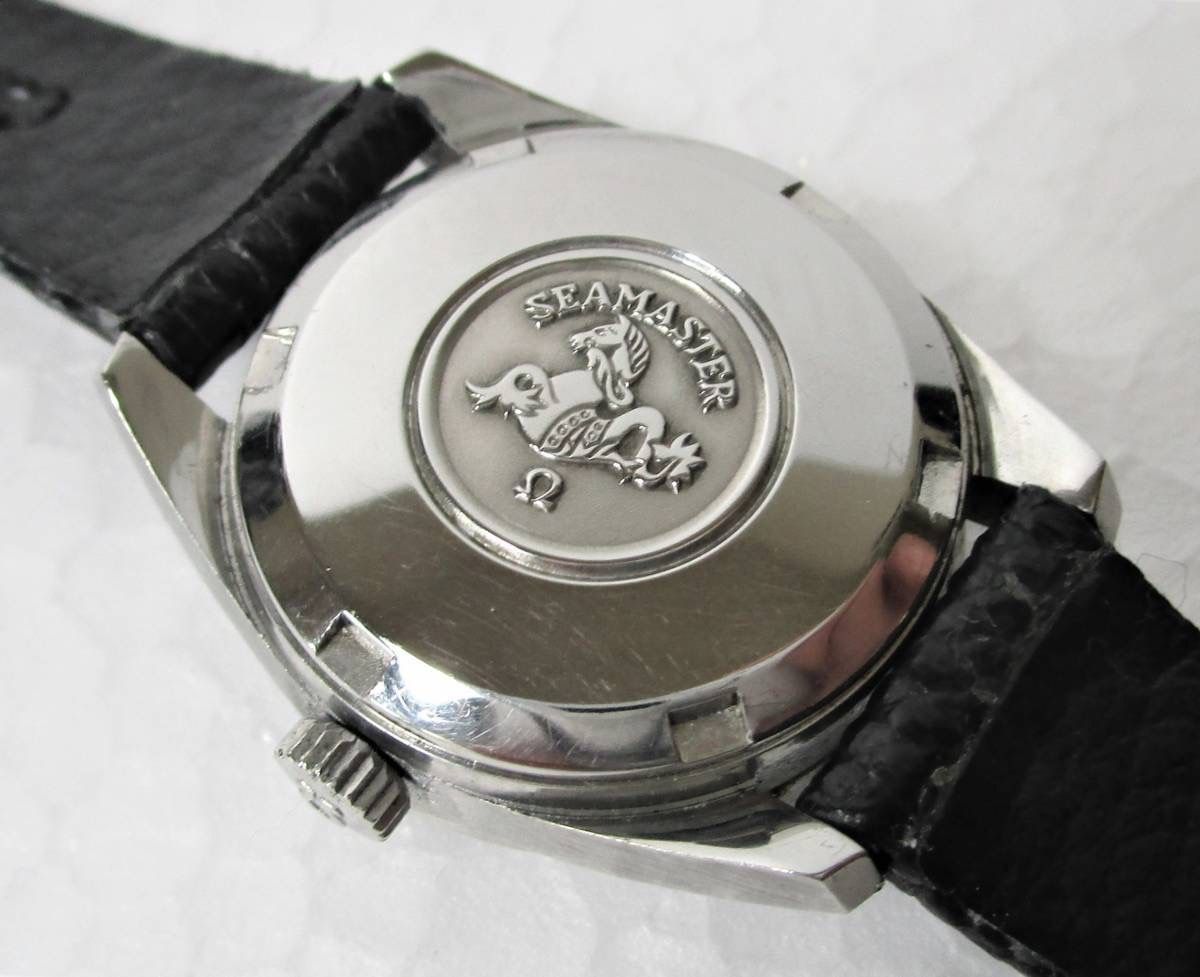 The case-back is a keyed, screw-back design with the traditional Seamaster hippocampus logo engraved into the center.  This design allows the watch to maintain a decent water resistance of 30 meters.  Given how many of the dials on these Ref 566.013 Seamasters have survived in good condition, it appears that the design does a fairly decent job at keeping water out, but fresh seals and a pressure test will be needed to continue this.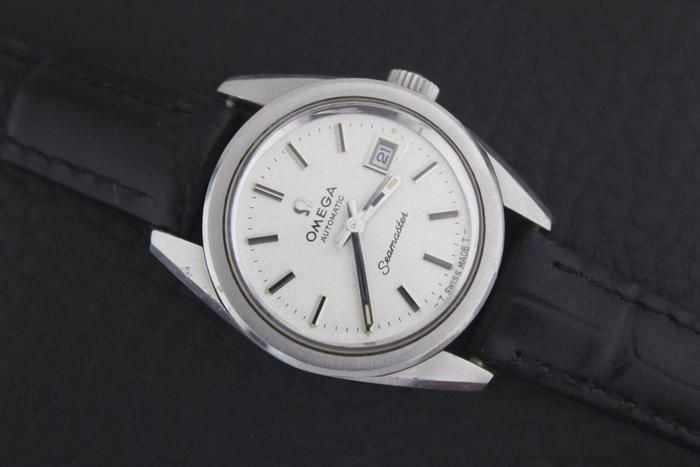 The lugs on this case follow the standard lug-width for ladies' watches of this size at 12 mm.  These watches are both found on leather straps as well as on Speedmaster-style link bracelets.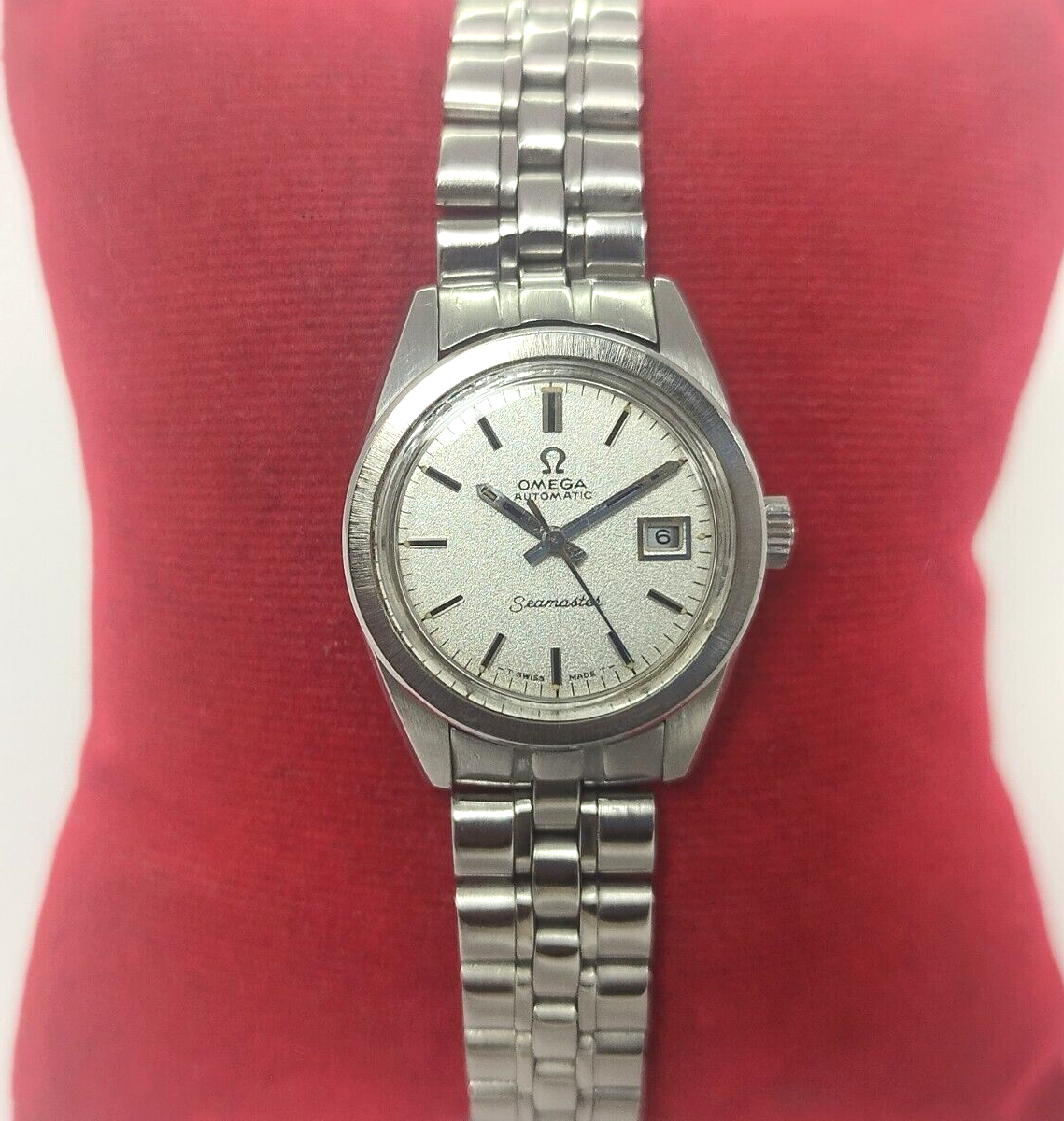 The correct bracelet for these carries the Ref 5726 and uses Ref 546 end-links.  It features a micro-adjust clasp, and there is also an 18K solid gold version of this same bracelet although it is a very rare item indeed.  Given how well the bracelet fits the case, it would be very much worth trying to source one of these even if separately after purchasing the watch.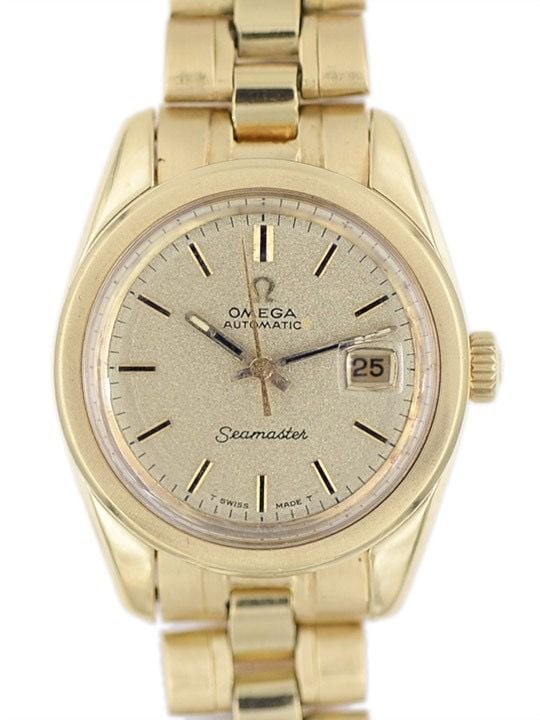 Movement
The movement powering the Seamaster 566.013 is the Omega Calibre 681 / 684 automatic movement with date.  These two movements are extremely similar to each-other with the only difference being that the later Calibre 684 oscillates at 21,600 vph while the earlier Calibre 681 oscillates at 19,800 vph.  Both watches otherwise have identical specifications and the same jewel-count of 24.  The earlier generation Calibre 681 was available from around 1961 to 1971, while the later Calibre 684 was available from 1971 all the way to the 1980's seeing use in a great many compact watch designs.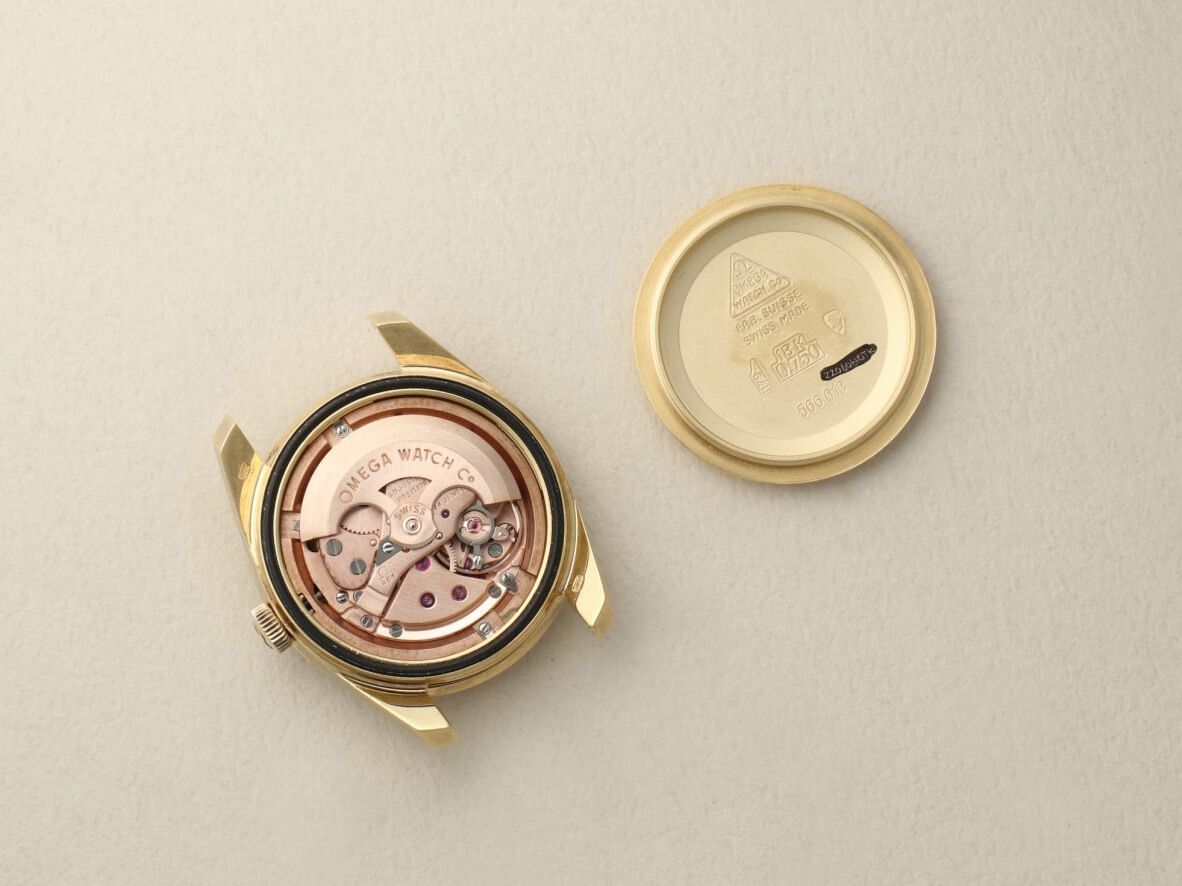 The Calibre 68x series of movements share many parts with the manual-wind Calibre 620 & 625 movements of the early 1960's and while production continued well into the 1970's and beyond, these movements were built to the high standards of Omega's golden era.  Just by looking at this movement you can see from the finishing, the rotor shape, and the layout how similar it is to the highly regarded 1960's calibres more so than anything that followed in the 1970's.
The calibre 681 & 684, have a sweep second hand, and feature the same semi-quickset date mechanism as the calibre 561 men's watches.  All of this is achieved in a movement with a much smaller outer diameter of 18mm compared to the 28.4mm of the calibre 561, and only adds 0.3 mm to thickness.  The only sacrifice made for packaging is the power reserve of 40 hours, 10 shorter than the calibre 561, but still more than adequate for daily use.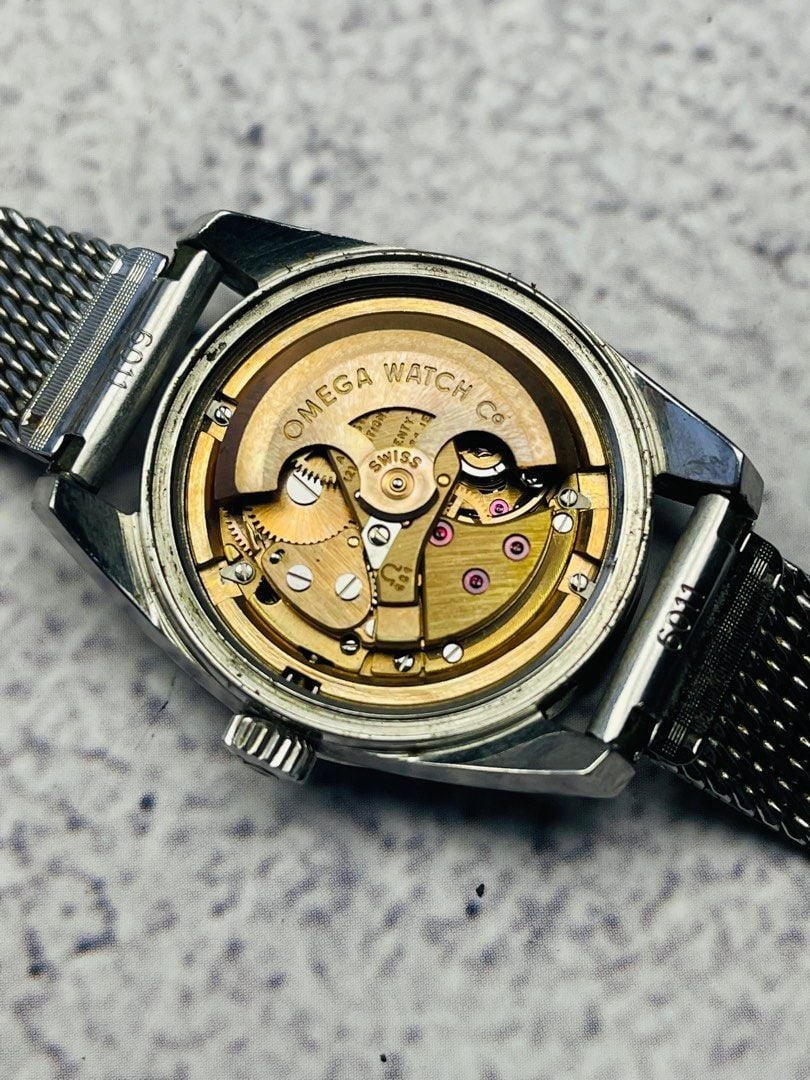 The calibre 681 / 684 is compatible with a large number of related movements in the 62x, 67x & 68x family which can be a bit of a double-edged sword.  On one hand it means there is an exceptionally large pool of donor parts from less desirable models featuring the same movements, keeping parts costs under control for decades to come.  On the other hand, you can also find watches that have patchwork movements or incorrect replacements, so it is important to be somewhat vigilant in this respect.
If properly maintained there is no reason why a calibre 681 / 684 cannot continue to meet or exceed its original chronometer specifications.  They were a well-designed, durable, and high-quality movement which can be cared for by any watchmaker with an Omega parts account.
Dial & Variants
The dials on the Seamaster 566.013 are rather limited options wise, there are both luminous and non-luminous variants but while the full-size also comes in concentric and starburst pattern dials, the sparkle dial is the only option on the 566.013.  Given that the sparkle is the most desirable dial option on the 36 mm version and the star feature that gives this watch its name, that isn't really a bad thing though.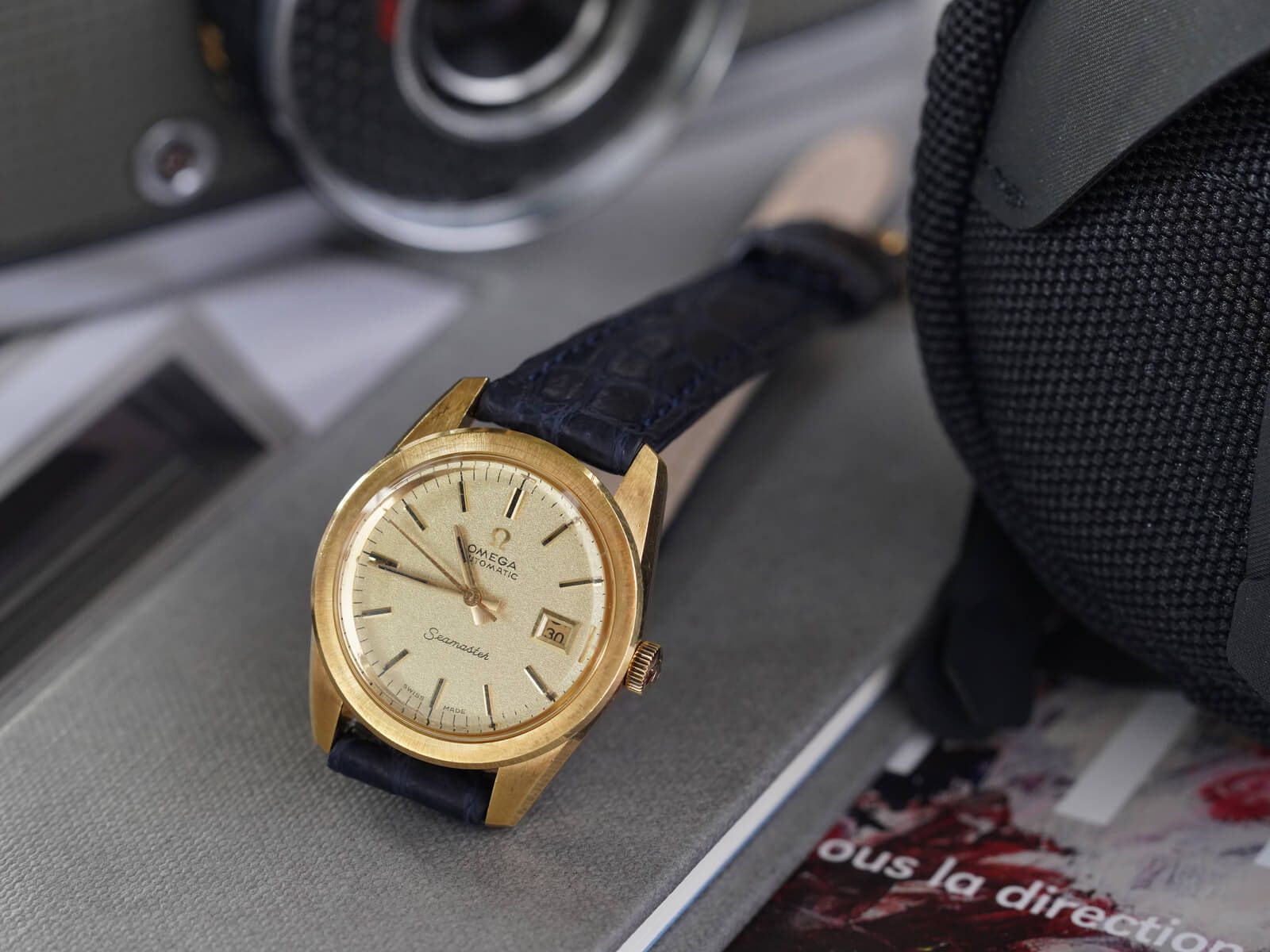 These dials feature a beautiful, anodised aluminium-like frosted silver texture which catches the light and dances depending on the angle it is held at.  This dial texture is beautiful, durable, and more resistant to damage than most.  The dials feature applied metal hour markers with black inserts and luminous dots outside of them, applied Omega logos and applied date windows.  The matching luminous stick hands with black inserts give good contrast against the silver dial.  There is an outer minutes track around the edge of the dial, and modern styling that makes this watch look remarkably current for a product of the 1960's.
The gold-capped and 18K gold versions feature an otherwise identical dial design, also coming in both luminous and non-luminous however the dial has a champaign color.  There are matching gold hands, gold dial furniture and even the date window is a gold shade rather than white.  These dials can look silver under some light and more gold under other conditions as the tone is a lighter gold shade than the case so some variation in descriptions should be expected.
There does not appear to be a white or silver dial option, nor any other variants available for solid gold or gold-cap, however if evidence of an alternative dial does get uncovered, please get in touch with us to update this.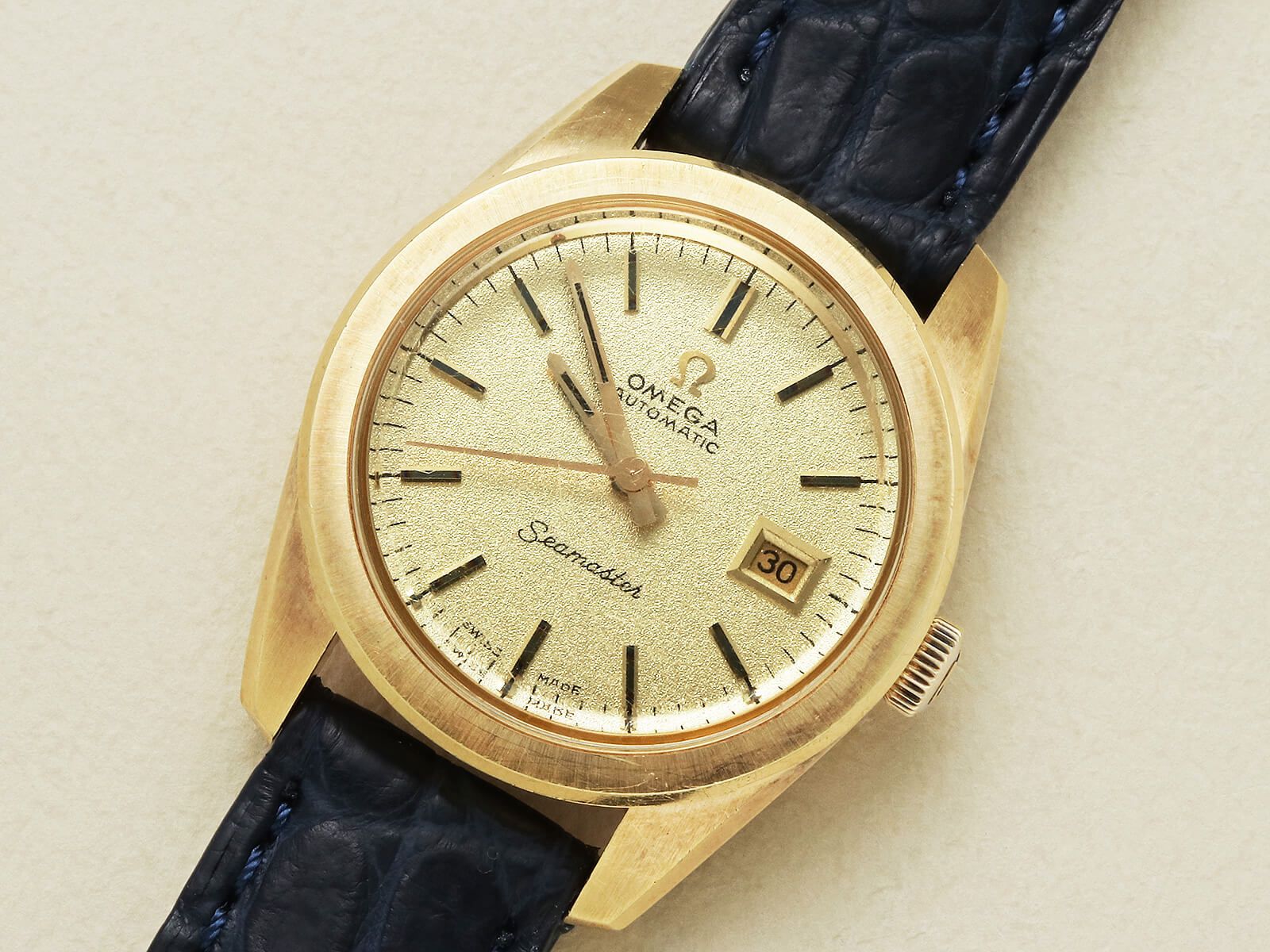 The way to tell the difference between solid 18K gold and gold-cap is to look at the back, as from the front they will look identical.  The Gold-cap version will be exposed stainless steel from behind however, while the 18K solid gold version will be all-gold from behind.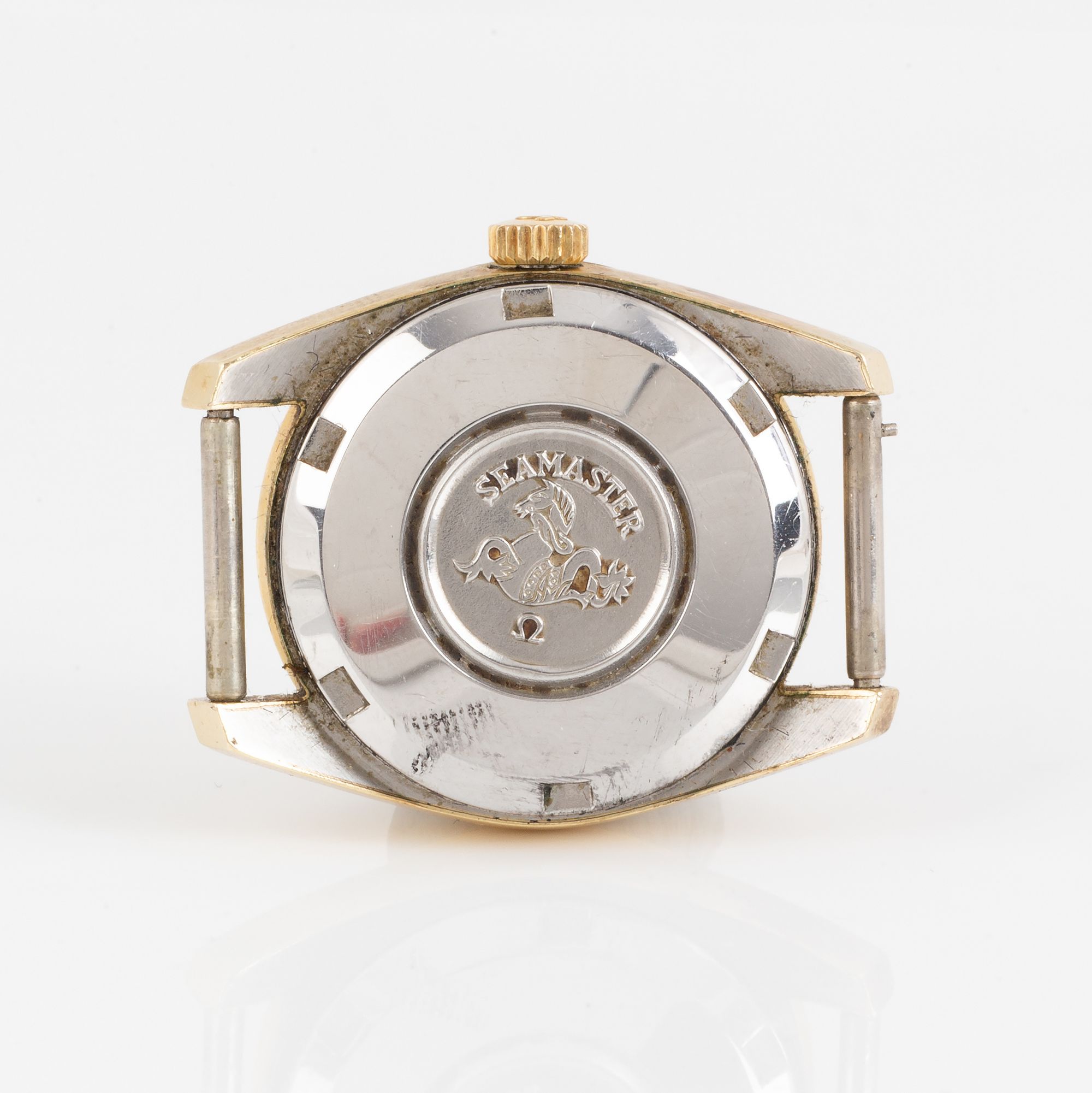 Buying
Buying a Seamasters 566.013 doesn't involve much decision making, as gold-cap models appear to be relatively uncommon as are 18K solid gold.  The vast majority, almost all in fact are stainless steel with luminous dial and hands and the silver sparkle dial, but that also happens to be the nicest and most desirable model to wear.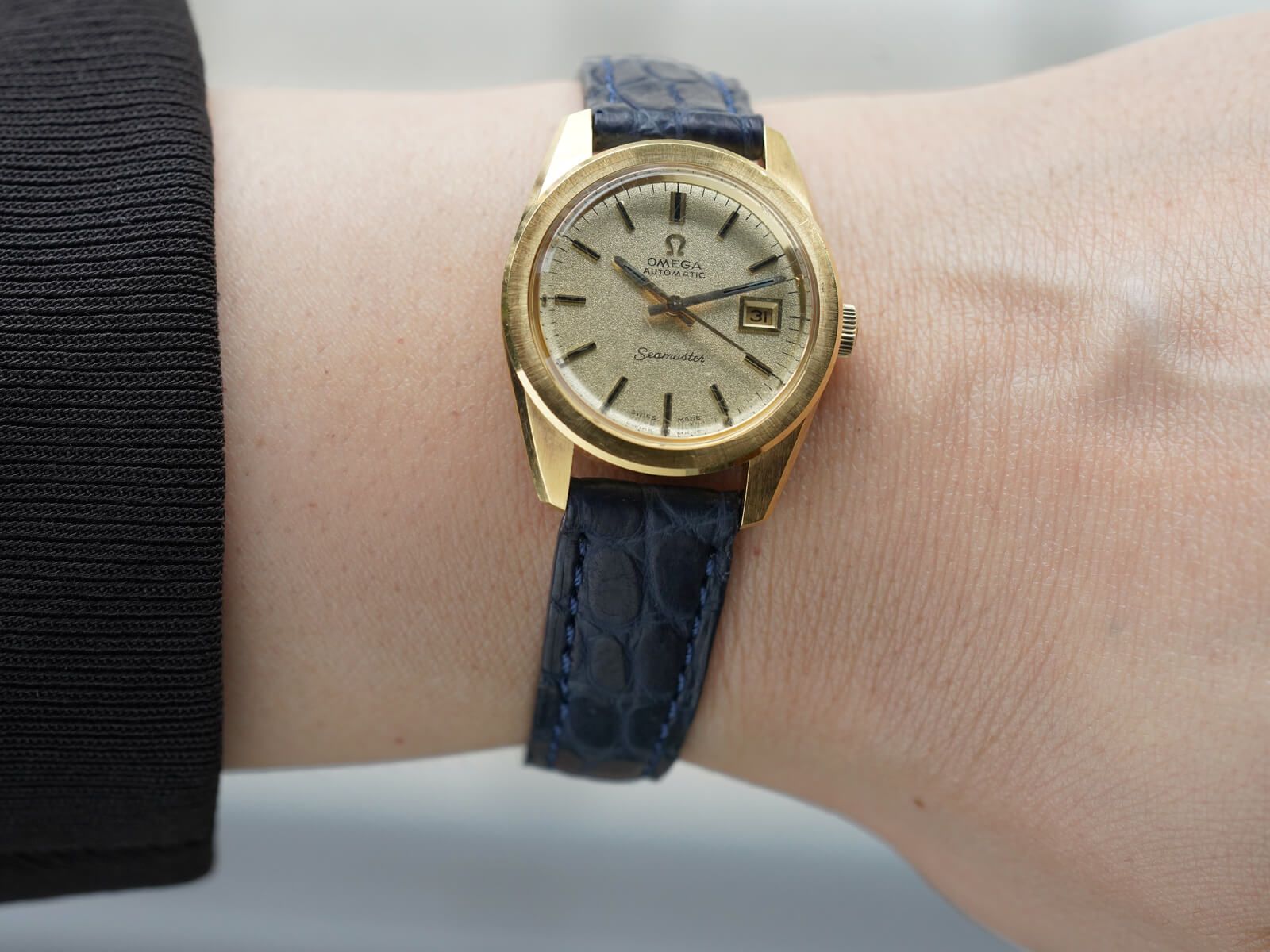 The 5726 bracelet, especially in more durable stainless steel is a very attractive and fitting match for the 566.013 Seamaster.  There aren't that many of them in circulation fitted to the watches but they do appear and at very reasonable prices.  The bracelet and the correct end-links are frequently available on their own and given how good the pairing looks and how cheap the bracelets are it is well worth getting.
Condition wise, the vast majority of these watches have perfect dials and hands, so do not settle for anything less than this.  The case should be sharp and unpolished, most of these are in good shape as they are quite light and slim watches that don't attract dents as easily as their full-sized cousins.  Lastly the movement is worth having serviced by a good independent watchmaker.  While donor parts are easily available and the movements are not expensive, these are good watches and worth properly maintaining although not worth the cost of a factory service.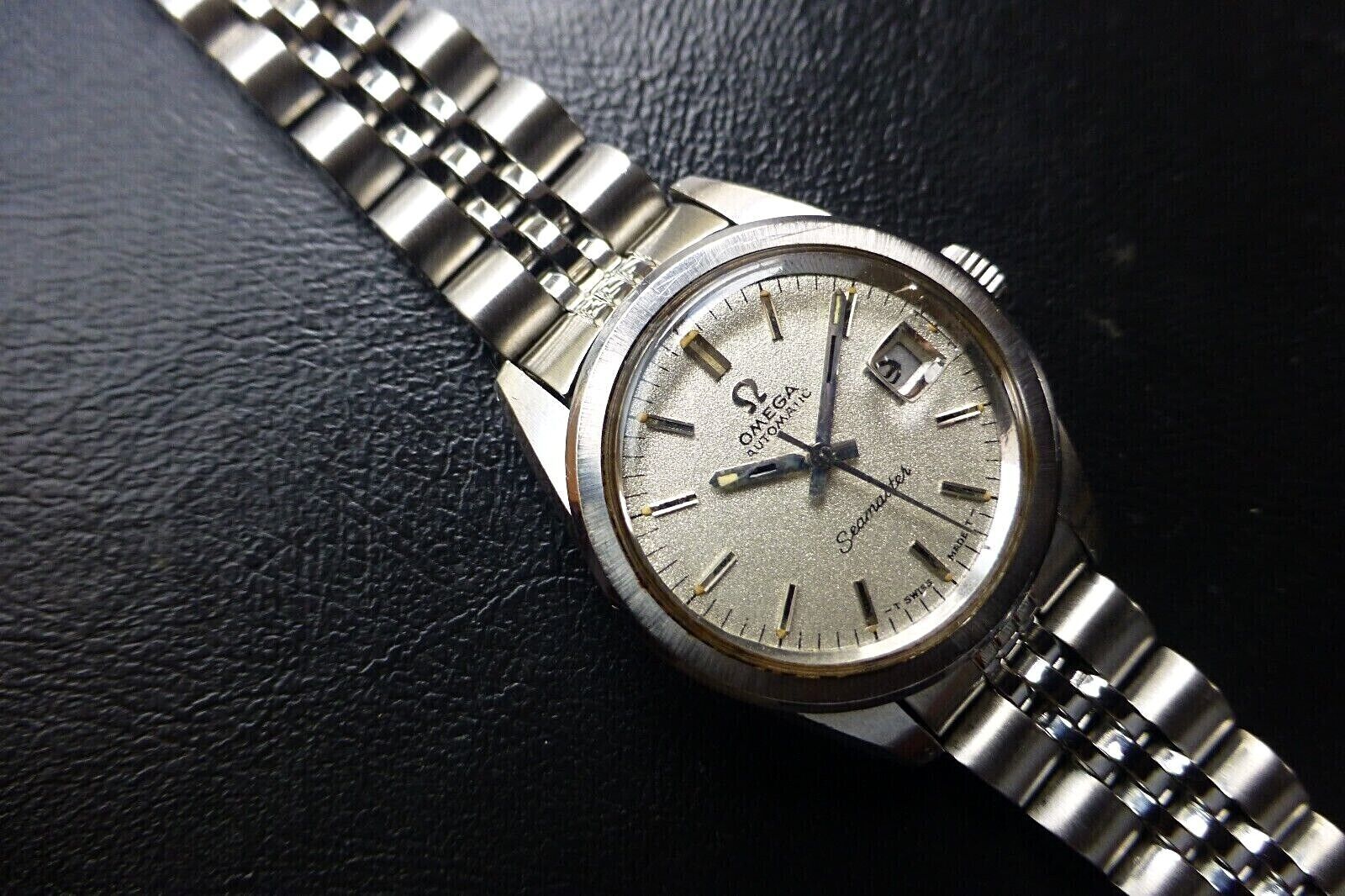 These watches were sold all around the world but there is a particularly high concentration of them in great condition in Japan and Asia.  Japanese auction sites like Yahoo! Japan and Japanese dealers are worth exploring as there are some great deals to be had although you may need to use a freight-forwarding service or have a friend in Japan to assist you.
Other auction sites like eBay can be a great opportunity to buy these especially when they list at auction no-reserve as there are often very few bidders and supply is quite high for the number of buyers.  When searching on these sites, you may need to expand your search terms to find these to just "Ladies Seamaster" or to include the alternate reference of 566.0013 which is used in the Omega database as well as the reference alone will not always get all results.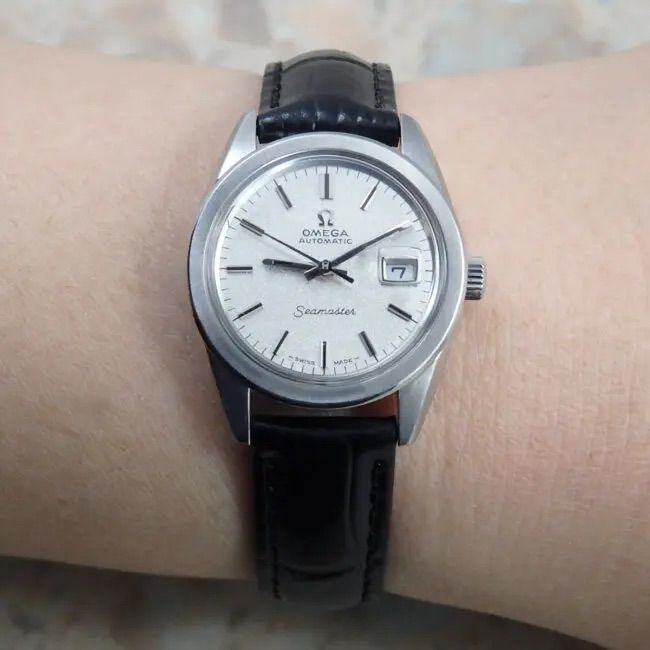 While it isn't as elegant or intricately finished as a Constellation, the Seamaster is a watch with great wrist-presence and personality, perfect for casual wear, work, or pairing with jeans.  The Seamaster 566.013 Sparkle makes for a stylish, modern, and very practical vintage watch at a very reasonable price point, especially for an in-house automatic from a quality brand like Omega.
Discussion thread on Omegaforums can be found here: