The Seamaster Pro Chronograph was a cornerstone of Omega's model lineup in the 1990's and 2000s. Durable, accurate, with underwater usable pushers and a multitude of metals, these watches are still very special even decades later.
The Watch that Started Omegaforums
So back in the late 2000s, I purchased an Omega 2225.80 Seamaster
Pro as my first Omega, and not long after a very talented designer named Trev saw it and liked it so much that he purchased a steel bezel 2598.80.  Those watches and the discussions we had about Omega watches led to us wanting a better place to discuss the brand than a sub-forum on TRF would allow and about a year later in March 2011, Omegaforums.net came to be.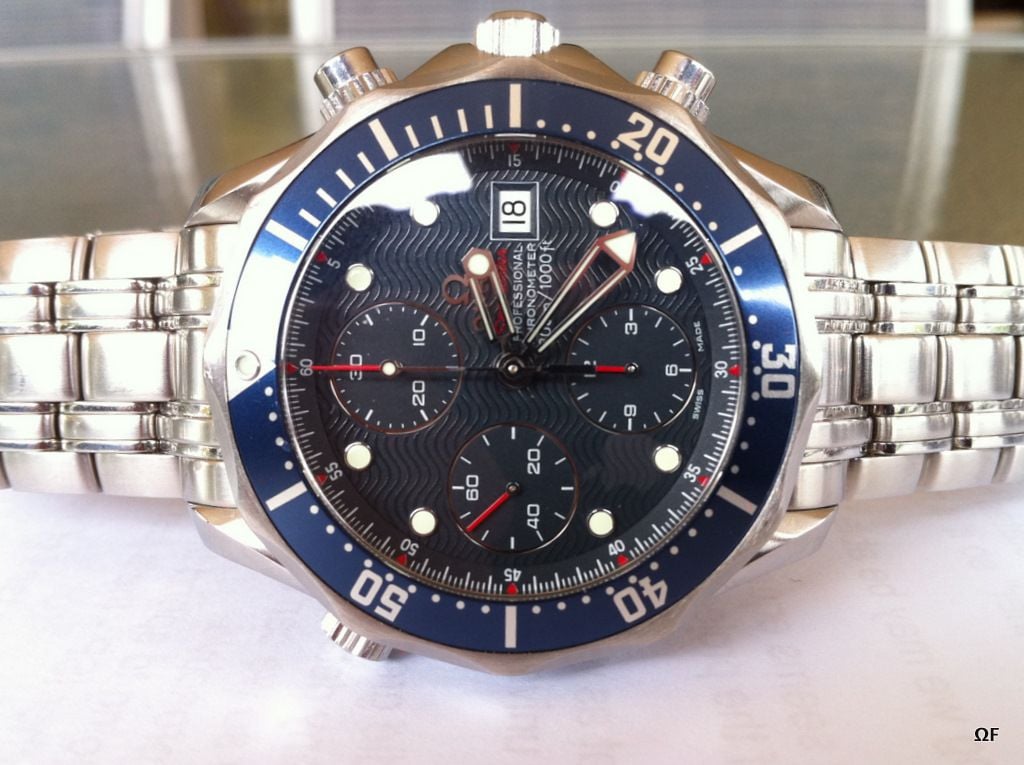 I had previously been the owner of a TAG Heuer F1, but it was in bad shape and the quote for a full overhaul was around $2,000 AUD, which I felt was better to spend as the budget for a new watch.  I nearly purchased a Speedmaster Pro, but the desire for better durability and water resistance for use on boats made me go in the direction of the Seamaster.  Trevor and his wife were actually living on a boat at the time, so his preferences were very similar.  
Eventually I ended up selling my Seamaster Pro as I wore my Moonwatch models more and Trev replaced his with a Glashutte Original PanoMaticLunar which was a fantastic watch in its own right, but both of us had a great deal of appreciation for the Seamaster Pro Chrono Diver.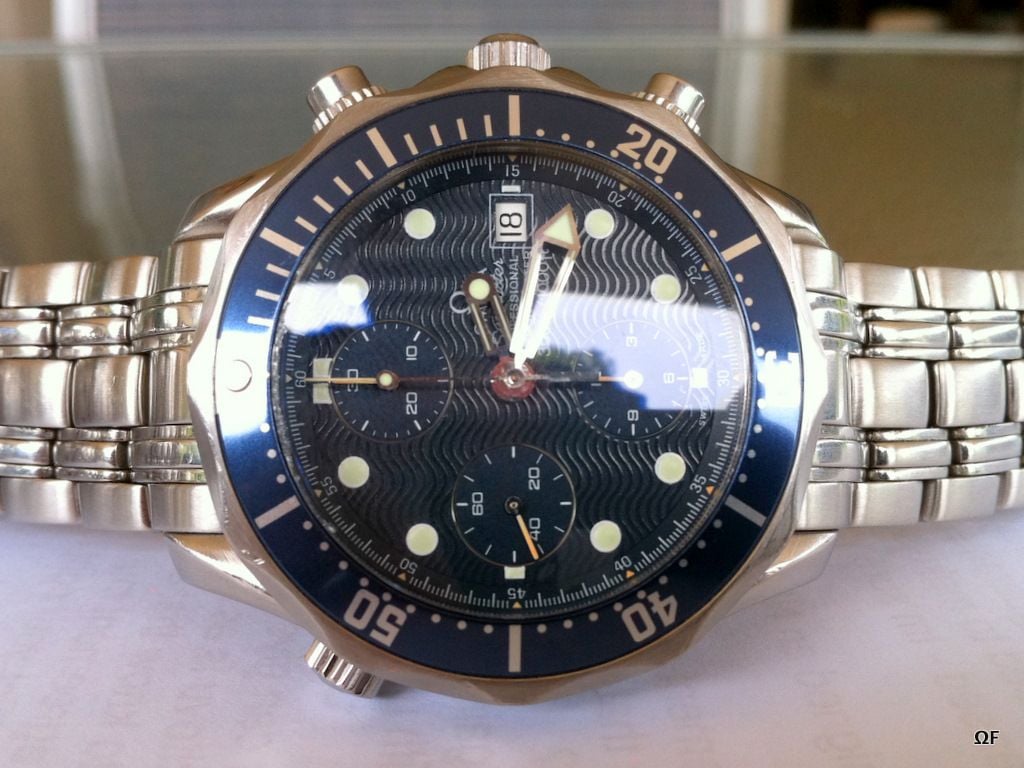 The personal inspiration to purchase this watch came from a man I never actually got to meet, Chuck Maddox and his immense appreciation for these watches.  You see, while Chuck is inexorably linked to the Moonwatch in a way that few non-astronauts could ever be, one of his favorite watches of all was a titanium Seamaster Pro 300m Chronograph, reference 2298.80.

Oh, I do love the Speedmasters as well. But I do think that for most folks a Seamaster is a more practical decision. Better water resistance, stronger more scratch resistant crystal, automatic movement, more variety in terms of case materials (SS, Ti, Au), etc. The Speedmaster is like the '57 Thunderbird with the porthole top or the '63 Split window Corvette Coupe that shouldn't be touched because it's a classic, timeless and came from the factory soooo close to perfection. The Seamaster is the new classic that we will be speaking of in revered tones in 10, 20 and 30 years from now in the same way people who bought their prized Speedmaster's in the '60's and '70's do today. -Chuck Maddox
Case & Bracelet
The case of the Seamaster Pro Chrono Diver is quite large at 41.5 mm and rather thick at 16 mm.  There's no denying it sits rather high on the wrist, which it has to as a result of the 7.9 mm thick chronograph movement and 300 meter depth rating.  Yet in spite of this height, the case design and bracelet do an exemplary job of making the watch feel comfortable on your wrist.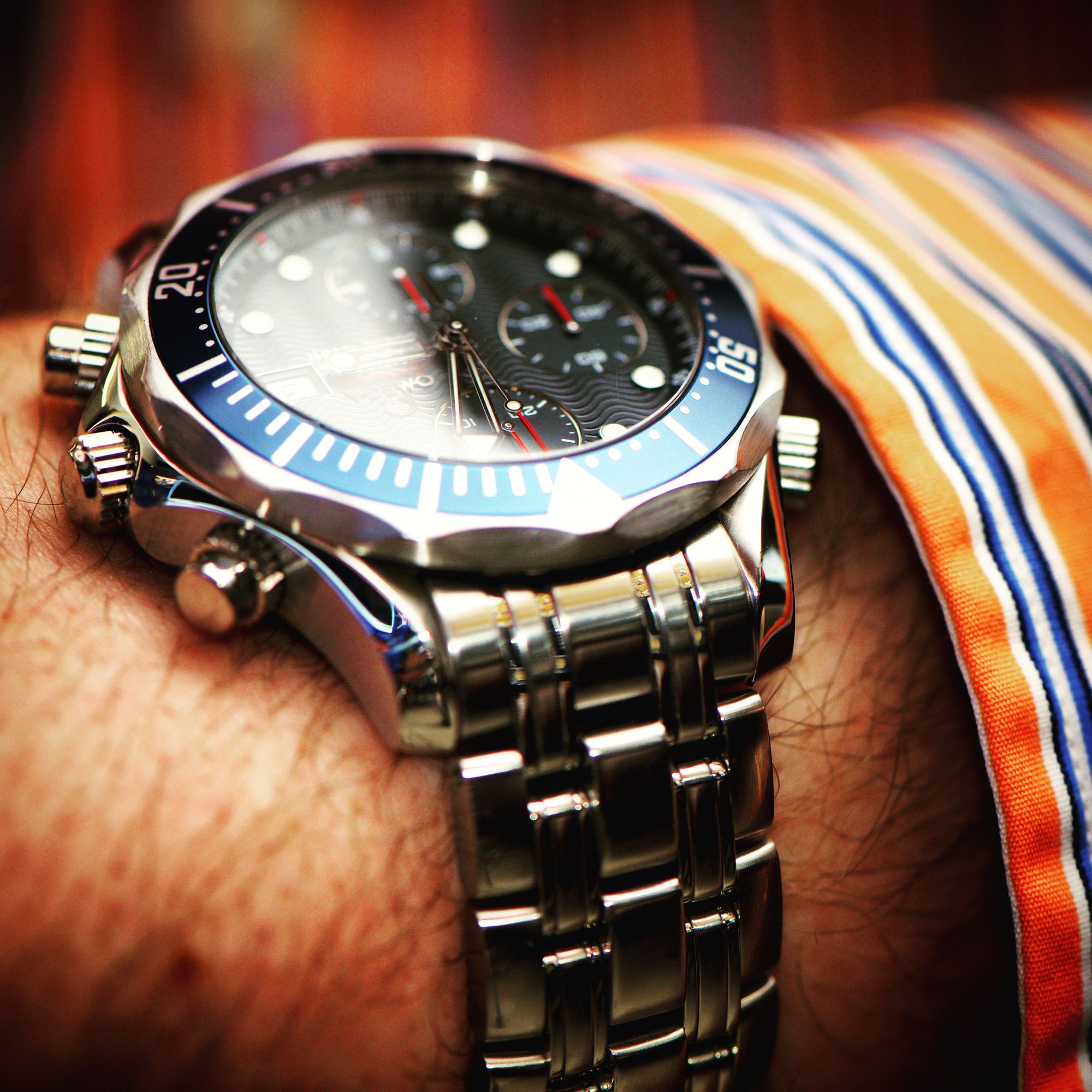 The case design is generally very similar to the regular Reference 2531.80 Seamaster Pro 300M diver in design but also draws a great deal of inspiration from the Seamaster Polaris Titane XL that came before it.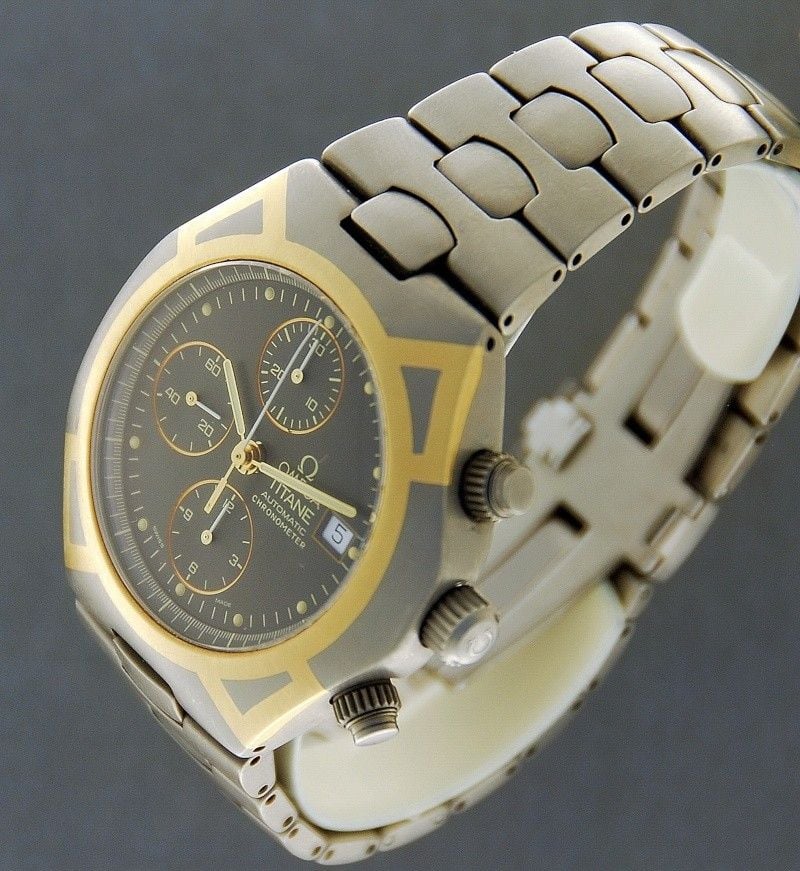 While the pushers on the Seamaster Pro Chrono Diver closely resemble the screw-down pushers of the Titane XL, they are not actually screw-down as they don't need to be any longer.  The pusher design used on these watches is very special for the era in that it allows the pushers to be fully operational under water, even down to the depth rating of 300 meters without any risk of water intrusion.  Extremely few watches had this feature in 1993, and even today it is very uncommon for chronographs to be intended for diving use in this way.
The bezel on these watches comes in a variety of styles and materials, but one common thread amongst them is that they are somewhat expensive to replace and can be scratched, dented, or damaged relatively easily.  The painted aluminium insert versions, in blue and black are the most susceptible to this, and unfortunately the aluminium insert is not available from Omega as a separate part, only as a whole new bezel assembly.  This means that if a watch has a rough bezel, the repair cost will be a few hundred dollars at least, and many watches with perfect bezels seen for sale have aftermarket inserts which should be avoided.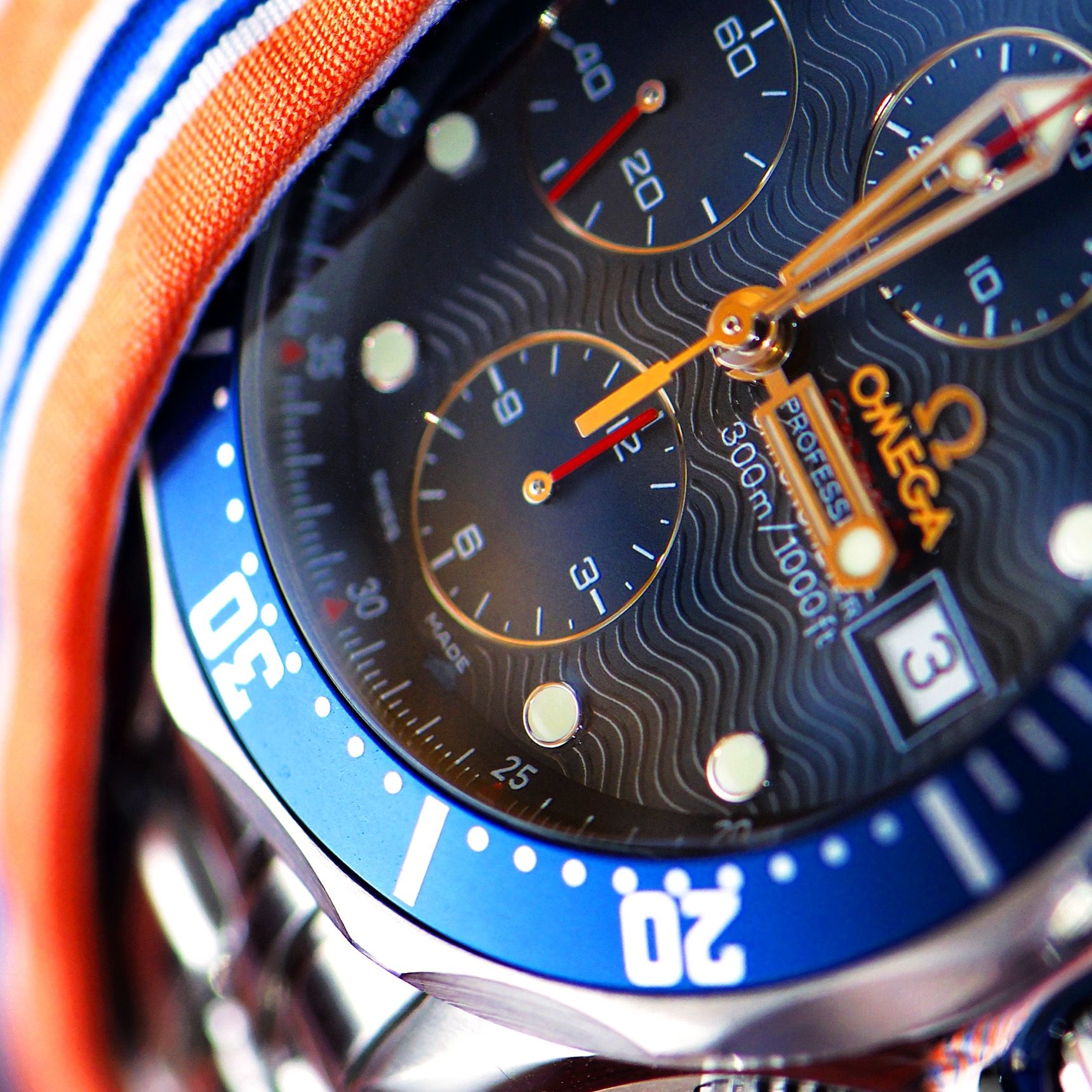 There are two different case-backs in use, the first generation which covers the vast majority of models have a Seamaster wave style case-back with a small hippocampus in the center.  The second generation, which includes the Ref 2225.80 and Ref 213.30.42.40.01.001 use a different case-back, with a much larger hippocampus logo engraved on the back in place of the wave pattern.
All models include an exposed, manually operated helium escape valve, and a screw-down crown with integrated crown-guards.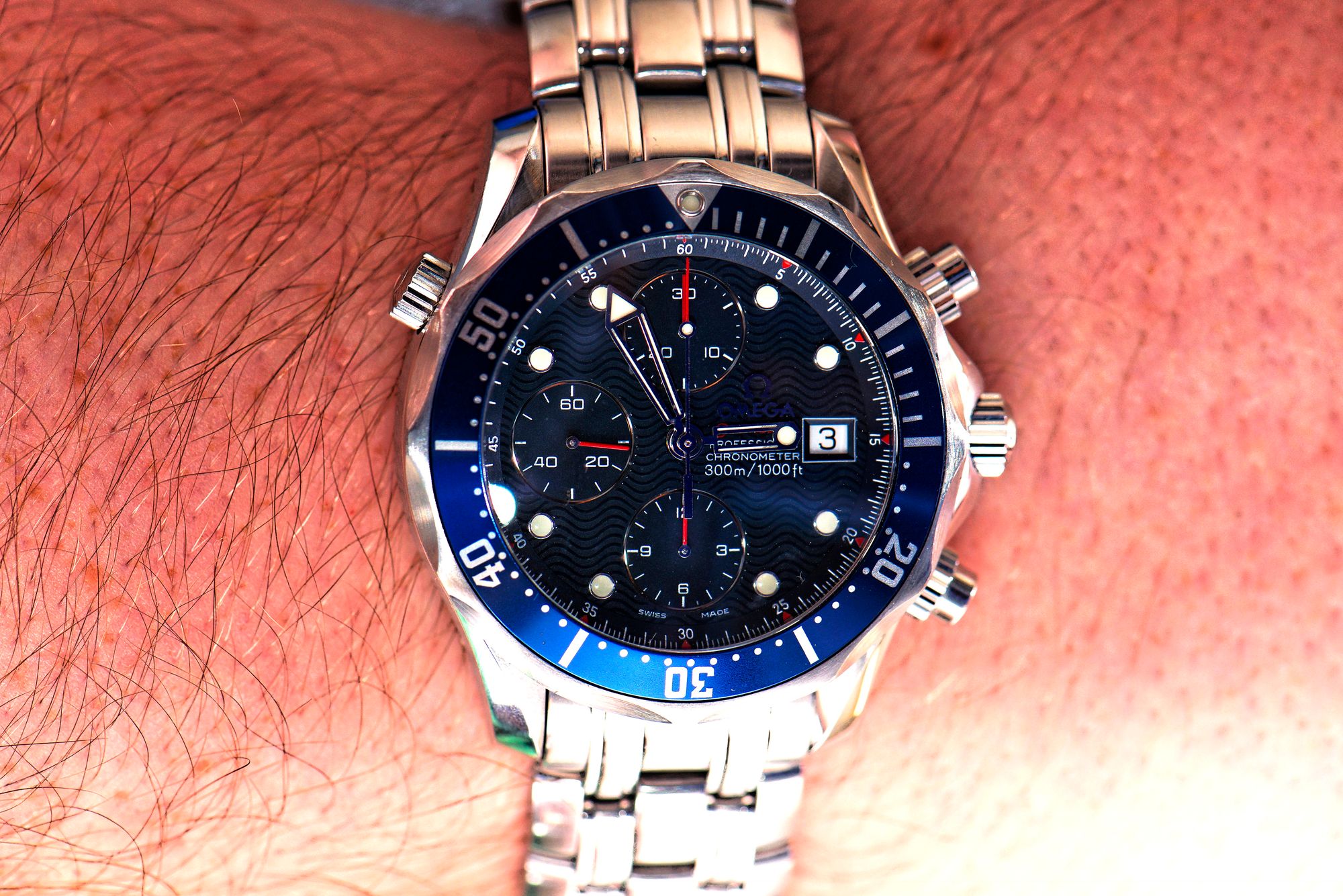 The bracelet fitted to these watches is exclusively the 20mm wide "Bond" style Seamaster bracelet, with no taper.  It should be noted that while the bracelet is mostly the same as the time-only versions, the Chronograph has much thicker and taller end-links and is not compatible with other watches.  There are many bracelet versions including steel, gold, gold & steel, gold & titanium, titanium and titanium, tantalum & rose gold.  
There is also a rubber strap option with deployant clasp which is quite uncommon to find.  
Movement
The movements used in the Seamaster Pro Chrono Diver are the Calibre 1154 & 1164 Chronometer movements.  
These movements are functionally identical and differ only by the degree of Omega specific modification and decoration of the base ETA 7750 movement with rotor shape being the most identifiable difference.  Chronologically, the 1154 was replaced by the 1164 during the 1990s but the exact transition varies from reference to reference.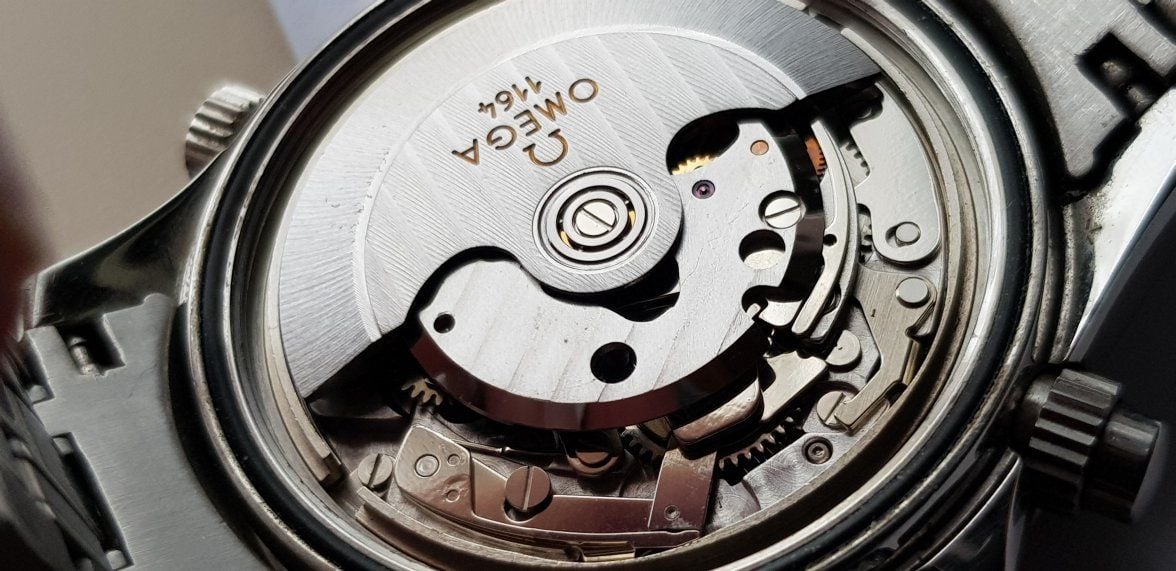 The Cal 1154 / 1164 movements are superb, primarily because they are based on the chronometer grade version of the ETA / Valjoux 7750 movement which is known for excellent accuracy, reliability, and durability.  The ETA 7750 has been a lynchpin to the survival of a great many Swiss watch brands throughout the 1990s and 2000s and continues to be used and appreciated even by Omega in modified form to this day.
The Calibre 1154 & 1164 beat at 28,800 vph, features hacking, quick-set date, a cam and lever actuated, integrated chronograph and single directional automatic winding with a 44-hour power reserve.  The movement is famous for having a characteristic wobble on the wrist under some circumstances, caused by the free motion of the automatic winding rotor when spinning in the non-winding direction.  
These movements are easy to work on and service and can be handled by any independent watchmaker with access to an Omega parts account.  Even after decades of use, you can expect these movements to perform extremely well when correctly serviced, well within chronometer specifications without much trouble.
Although these movements are not troublesome and have a reputation for being highly robust, one thing to keep in mind is that you should always avoid operating the quickset date around midnight.  The instruction manual for all ETA 7750 based watches will mention this and nobody ever reads it, but try to keep this in mind to avoid causing damage.  
Variants
These watches come in a lot of different variants, and several of them are very special to the point of having a significant following among collectors.  The Seamaster Pro 300M Chronograph was available for around 15 years and was an excellent seller across the entire range so it tends to be possible to find very specific models, even gold models at reasonable prices today.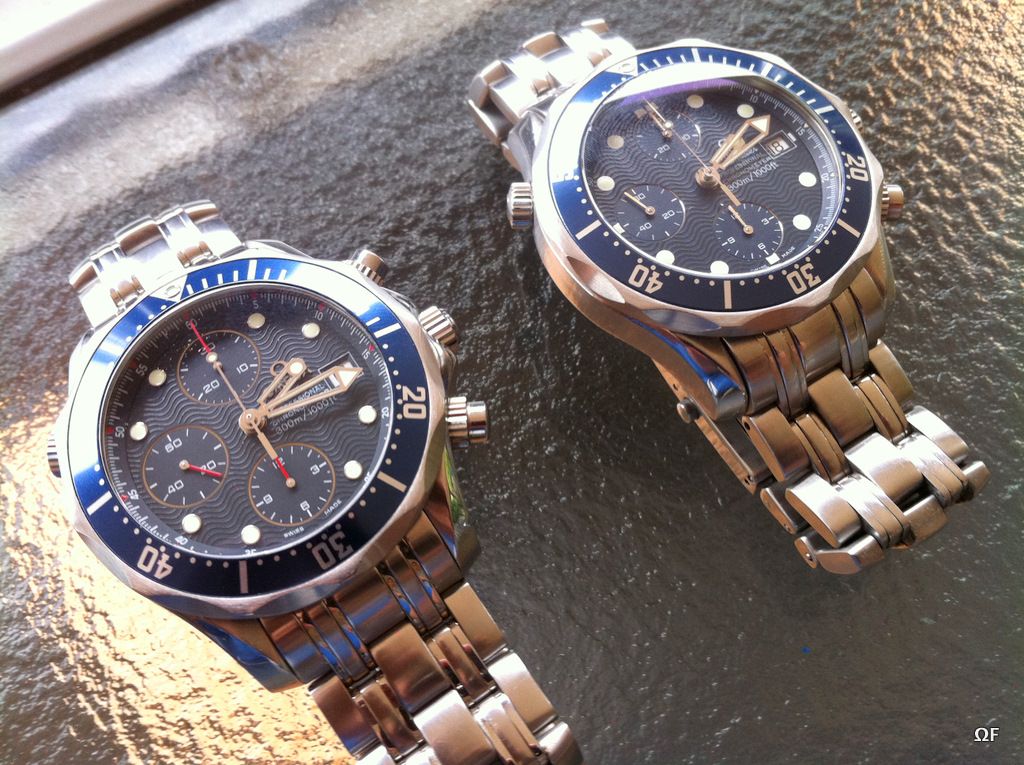 The Standard Models & Military Limited Edition
The standard models revolve around the original version of this watch, the most produced model of all, the reference 2599.80 in stainless steel with blue bezel and dial.  This was the direct chronograph companion to the famous reference 2531.80 Bond Seamaster Pro, and sat alone as the one steel painted bezel model until the second generation in around 2002.  There was also a strap version of this same watch head with the reference 2998.80.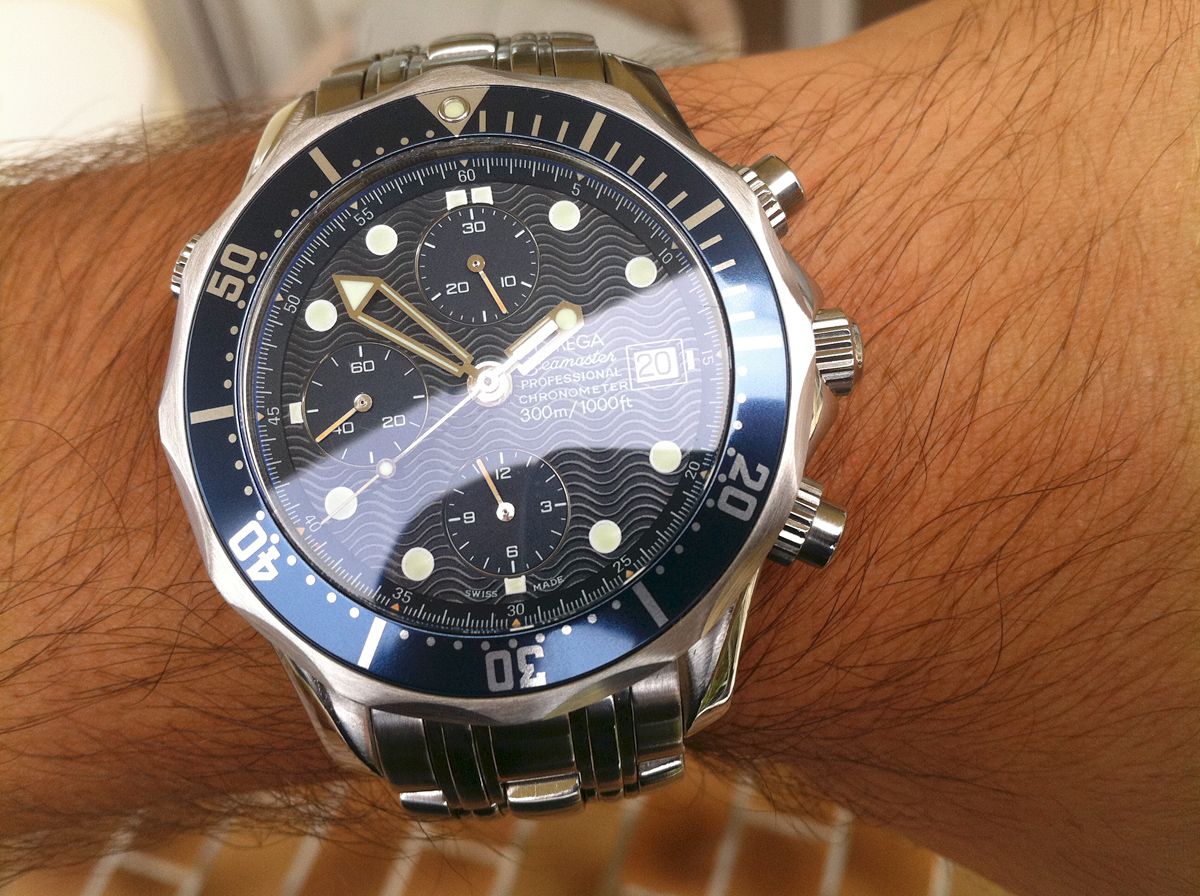 The second generation saw a significant update, with the 2599.80 being directly replaced by the new 2225.80, and two models being added in the form of a black version, Ref 213.30.42.40.01.001, and a deployant strap version, Ref 2925.80 / 2925.80.91 in blue.  
The second generation was never expanded to any other variants and saw the previously very wide lineup slimmed down quite significantly.  The key differences were in the dial, with Omega stepping up the finishing quality over previous versions in a number of ways.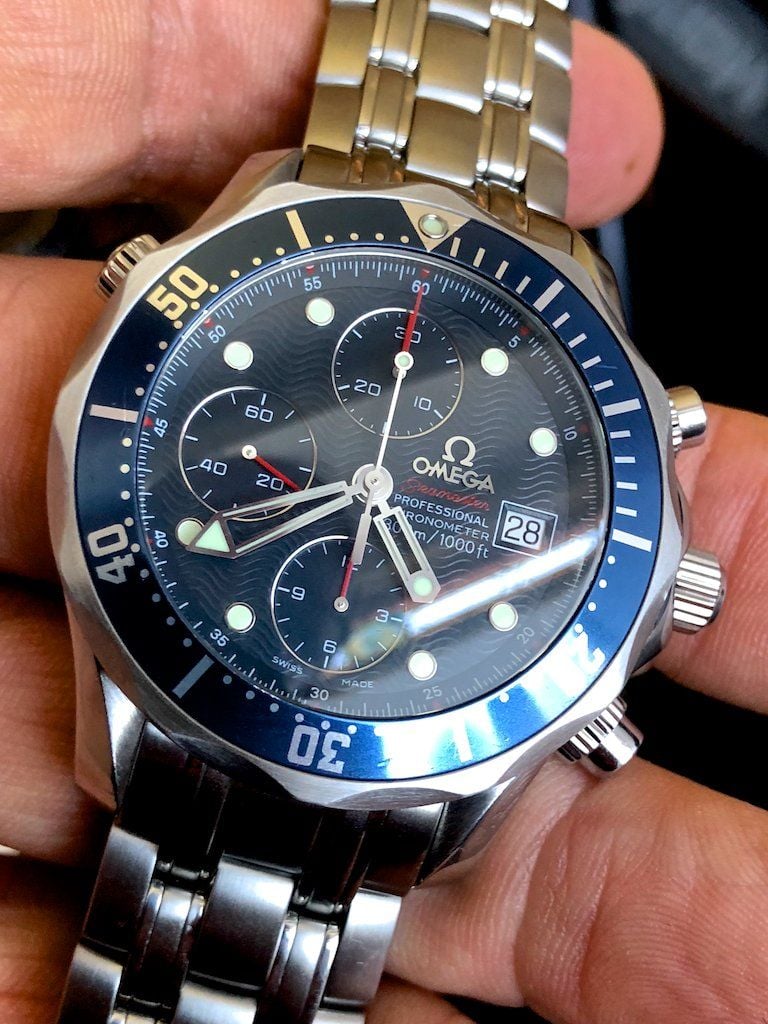 Firstly, the Omega logo and text which was previously in white paint has been replaced by an applied 18k white gold logo with finer red and white text below it.  The hour markers at 6, 9, and 12 are removed and the remaining hour markers receive an 18k white gold ring surrounding them, while the sub-dials also received a subtle white gold ring.  Overall, the look and feel was noticeably higher end and fit more appropriately alongside the newly released 2222.80 Bond Seamaster Pro which featured the same white gold touches.
It's worth noting that there is also a rare military version of the second generation models based on the Ref 2225.80 known as the Ref 2227.80 produced in 500 units, although far less than that sold.  These watches feature a painted display-back with Royal Marines 3 Commando Brigade Reconnaissance Force insignia and can be found floating around for around the same price as a regular version.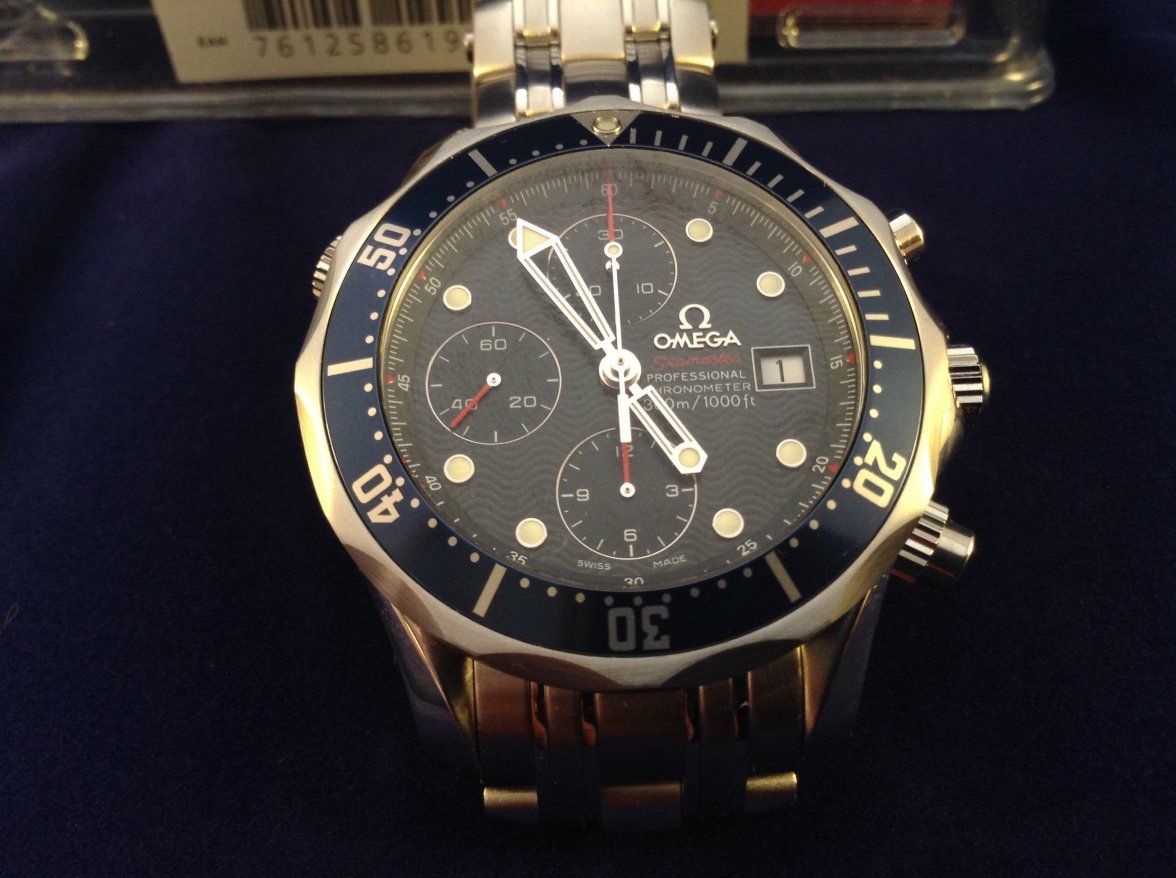 The Polished Steel Bezel Variants
The polished steel bezel variants are otherwise identical to the standard 2599.80.  So similar are they in fact that Trev's watch was originally a polished bezel version before he swapped it with the blue bezel off a 2599.80.
The blue dial version carries the reference 2598.80 while the white dial version, which is quite spectacular in person, carries the reference 2598.20.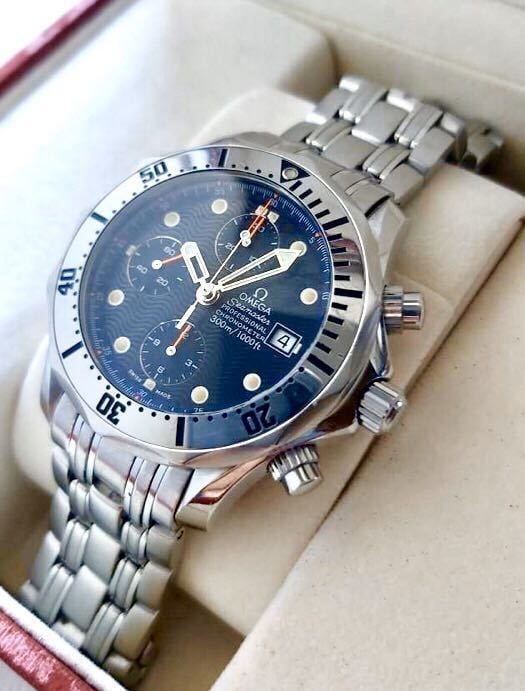 The bezel itself features a stainless steel insert instead of a painted aluminium one, with engraved recesses for indices which are filled with black paint for contrast.  These bezels are typically much more durable than the painted bezels and stand up to abuse relatively well, they can also be polished to remove scratches and marks without too much trouble.  
One issue that can happen is the loss of black paint from inside the recesses over time, and this can be resolved quite easily with a sharpie, with the excess then wiped off the polished area afterwards.  
The TiTanRAu - Titanium Tantalum & Rose Gold
The TiTanRAu is a very special and unique Omega design, which was heavily marketed at launch in 1993 and instantly became a fan favorite.
This watch stands alone in using three distinct metals, titanium (warm dark grey), tantalum (cool blue grey) and rose gold (pink gold tone).  It sounds like a combination that wouldn't work but somehow it looks genuinely spectacular in the metal, while also maintaining a relatively low weight by virtue of its primarily titanium case.  The dial is superficially similar to the regular blue dial, but has gold sub-dial rings, and gold hands to match the bezel.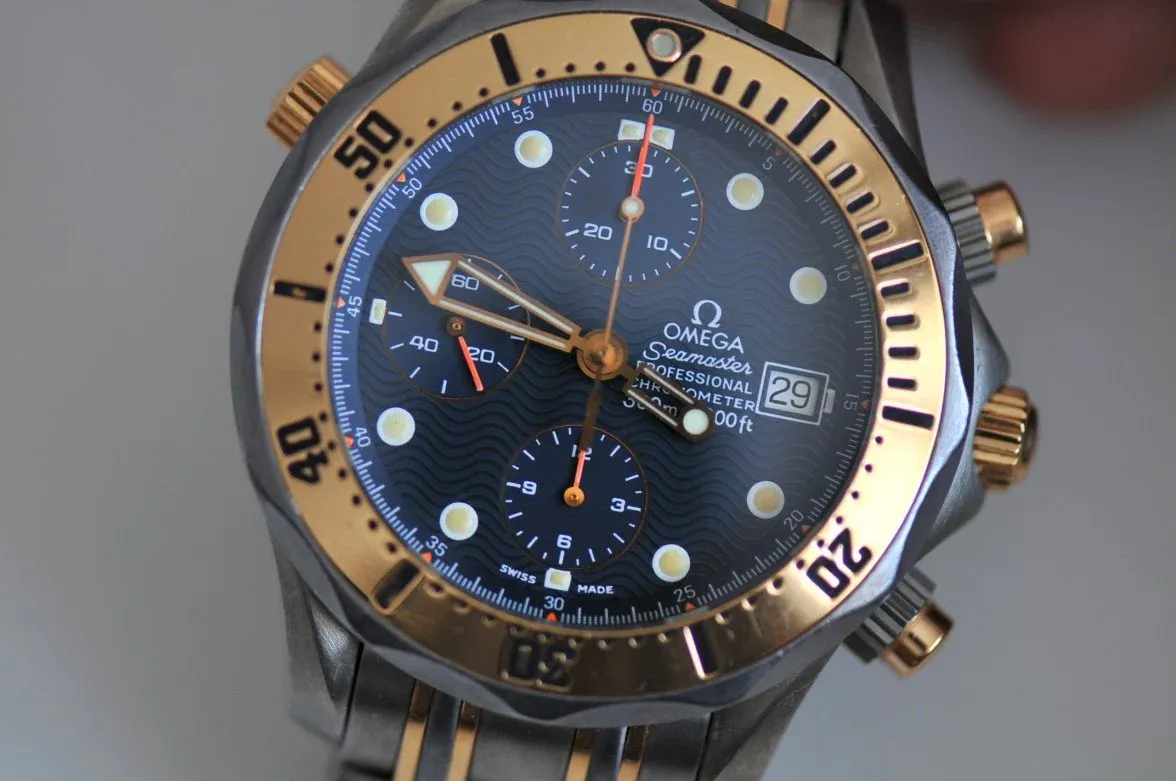 TiTanRAu is so well loved by Omega collectors that the metal combination continued in several subsequent generations and still exists in the current Seamaster Pro 300M lineup today.
The reference 2296.80 uses all three metals throughout the design including in the bracelet which features all three contrasting against each other in each individual link.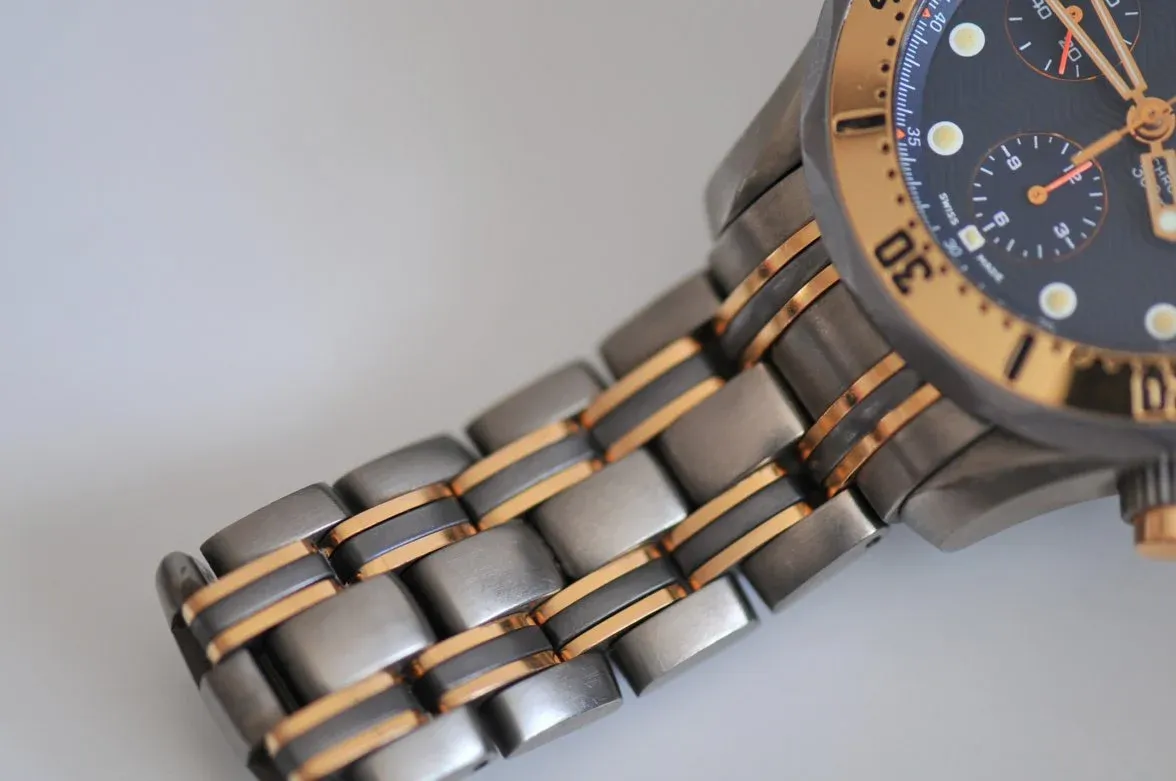 Due to the popularity of this reference, the metals involved and how it can be both susceptible to damage and more costly to repair, prices are higher than other references for similar condition.  It does however have some real significance for Omega as one of the most iconic models of the 1990's, and is great value considering the cost of current TiTanRau models.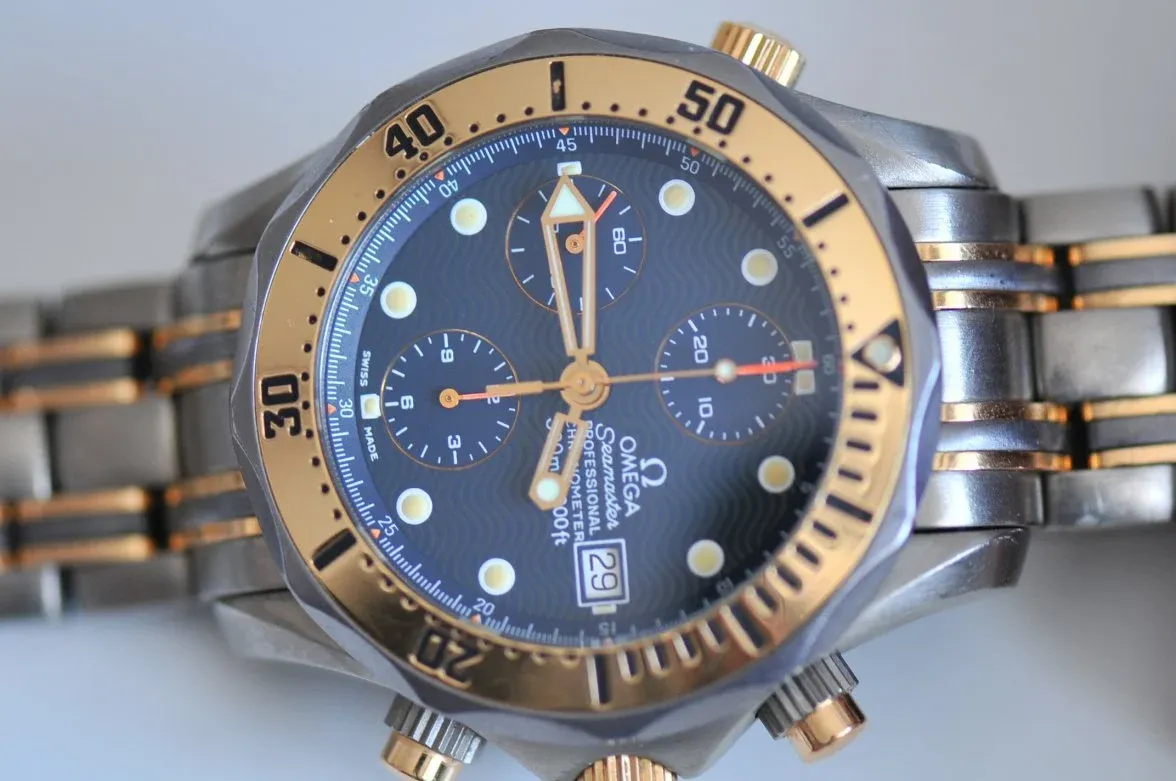 The Titanium - Chuck Maddox's Favorite Seamaster
The 2298.80 is the only all titanium model in the lineup and was discontinued after the first generation.  This watch looks otherwise identical to the standard steel 2599.80, with the only difference being the color of the metal being darker and the weight, which is a svelte 137 grams compared to the hefty 210 grams of the steel version.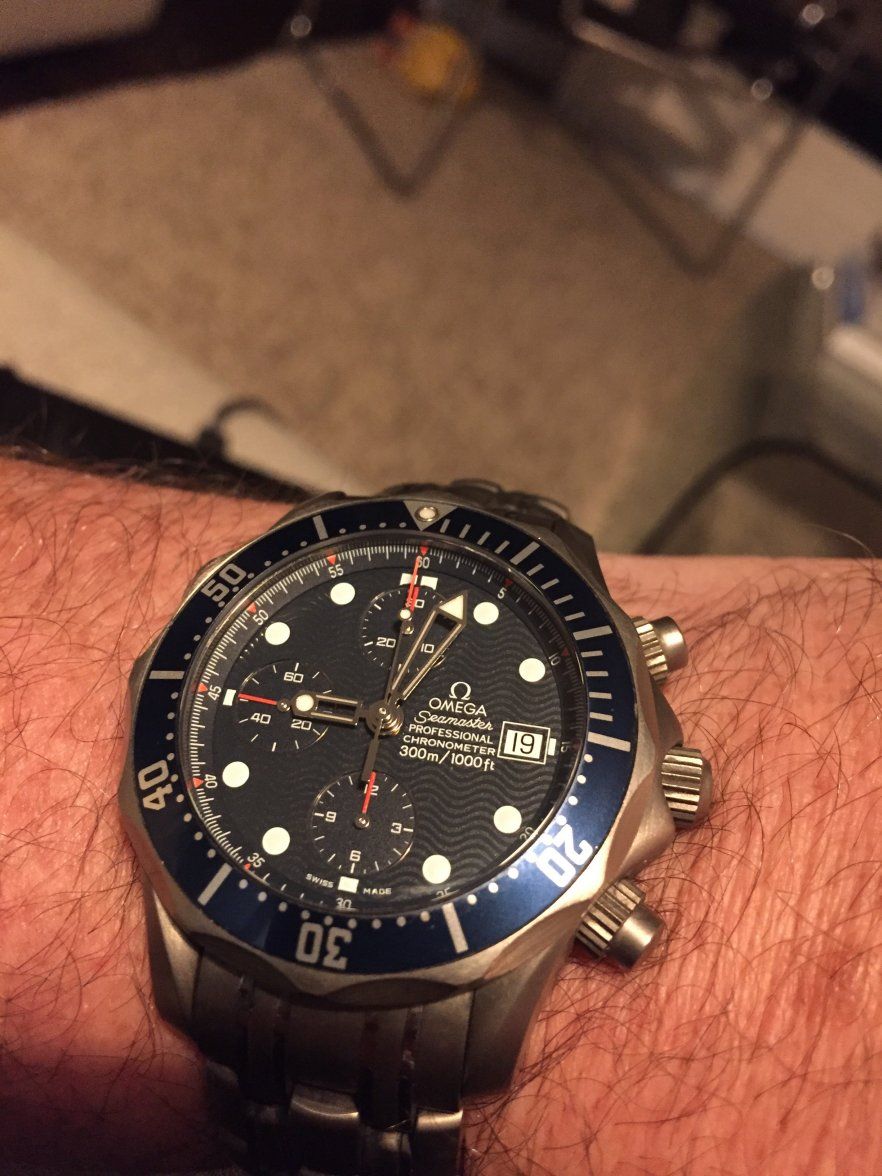 As I mentioned in the intro, Chuck Maddox was a huge fan of these chronographs, and while I went with the second-generation steel version, his favorite was the titanium 2298.80.  
Chuck is always most closely associated with the "Holy Grail" Speedmaster which he named, and these watches are both highly sought after and very costly, but the Holy Grail was more about the hunt than the watch itself.  
The watch many people who knew him, including Bill Sohne and Robert-Jan Broer of Fratellowatches associate with him the most is this titanium Seamaster Chronograph.  There's an article on Fratellowatches here about the 2298.80 Robert-Jan purchased to remember Chuck by here:
When you try the titanium model on, you can immediately tell that Chuck was right about this watch.  The lightness makes the large case size feel incredibly comfortable on the wrist, yet it never feels cheap or flimsy.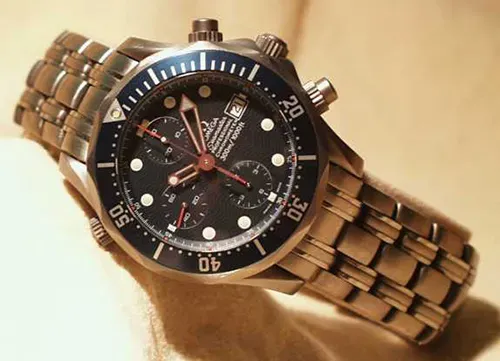 These titanium models can acquire scratches more easily than steel and are sometimes polished rather poorly so try to ensure you find one in the best condition possible to avoid the need to replace parts.
Two-Tone Models
In all there are five two-tone models, all of which feature a polished solid gold bezel insert similar to the polished steel models mentioned above.  
The first model is the reference 2297.80 in titanium and gold, which is distinct from the TiTanRAu in that it uses yellow gold instead of rose and does not contain tantalum.  This model is almost as light as the pure titanium version given the fairly low gold content, and only comes in a blue dial.  Like the TiTanRAu, the dial features gold sub-dial rings, white text and gold hands.  The bracelet is primarily titanium with small yellow gold inner link sections and a titanium clasp.  
Next there is the full yellow gold and steel two-tone, available in blue dial as reference 2398.80 and white dial as reference 2398.20.  Both of these watches feature gold sub-dial rings and the blue version features gold sub-dial text, unlike the titanium or steel versions.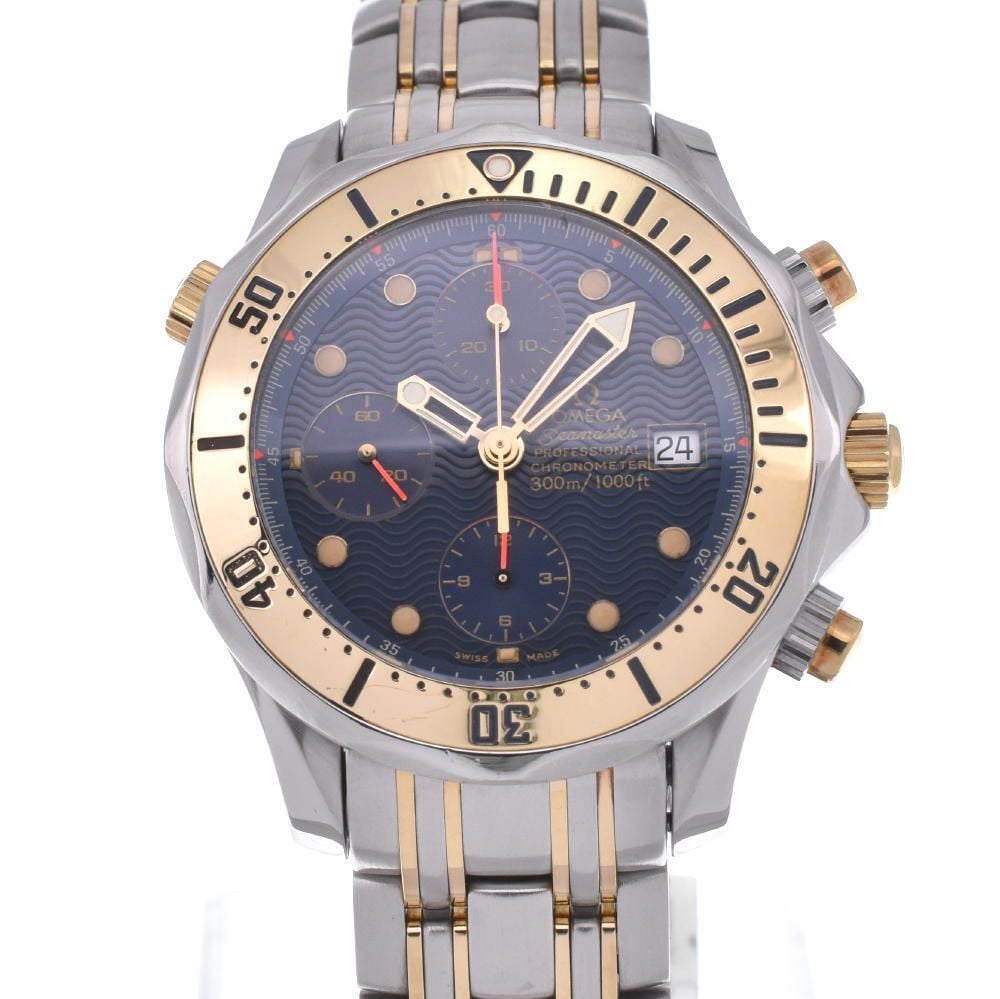 Both of these models also feature gold and steel throughout the bracelet in each individual link, with a steel clasp.
Finally, there is the partial yellow gold and steel two-tone, available in blue dial as reference 2498.80 and white dial as 2498.20.  These two are identical to the previous pairing in every way except for the bracelet, which is all steel and does not contain any gold at all.
18K Gold & Jewelry Models
The 18K gold versions of the Seamaster Pro Chrono Diver are rare, but they do exist and several members of Omegaforums own and enjoy them.  The prices for all gold Omega's were not quite as high when these watches were new in the 1990's as they are today so they were always a bit more affordable and have remained that way.
The first and most frequently seen pair are the all 18K yellow gold blue dial with blue bezel, reference 2198.80, and the white dial with machined gold bezel, reference 2196.20.
The blue version is as you would expect, very similar to the steel model but updated with gold text, sub-dial rings, hands and bezel insert to match the yellow gold case and bracelet.  It is stunning, yet at the same time very familiar.  It is also available on strap as the reference 2698.80.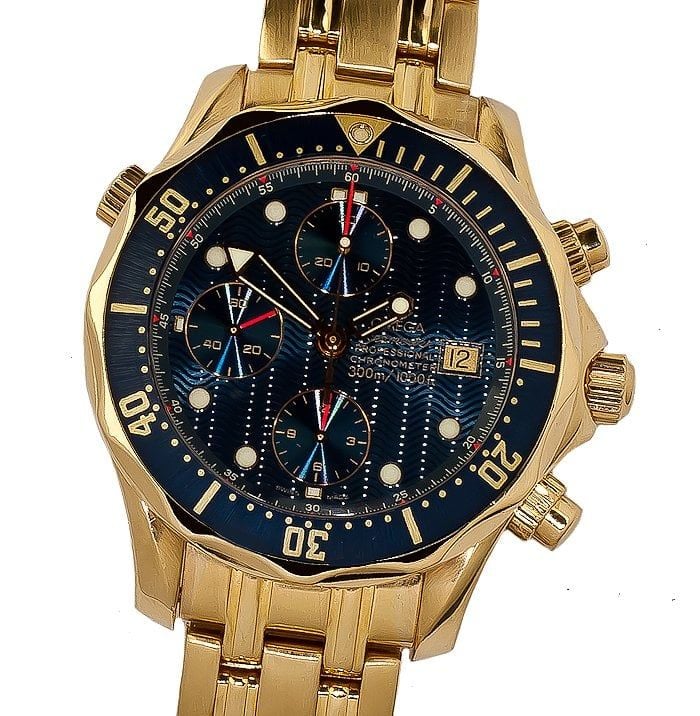 The white version is somewhat different in that it does not share the polished gold bezel insert from other models, but has a design all of its own.  This bezel is unpainted and machined out of a solid piece of gold with the polished indices protruding from a matte finished surface in the insert.  The white dial again features gold sub-dial rings and hour marker surrounds along with gold hands.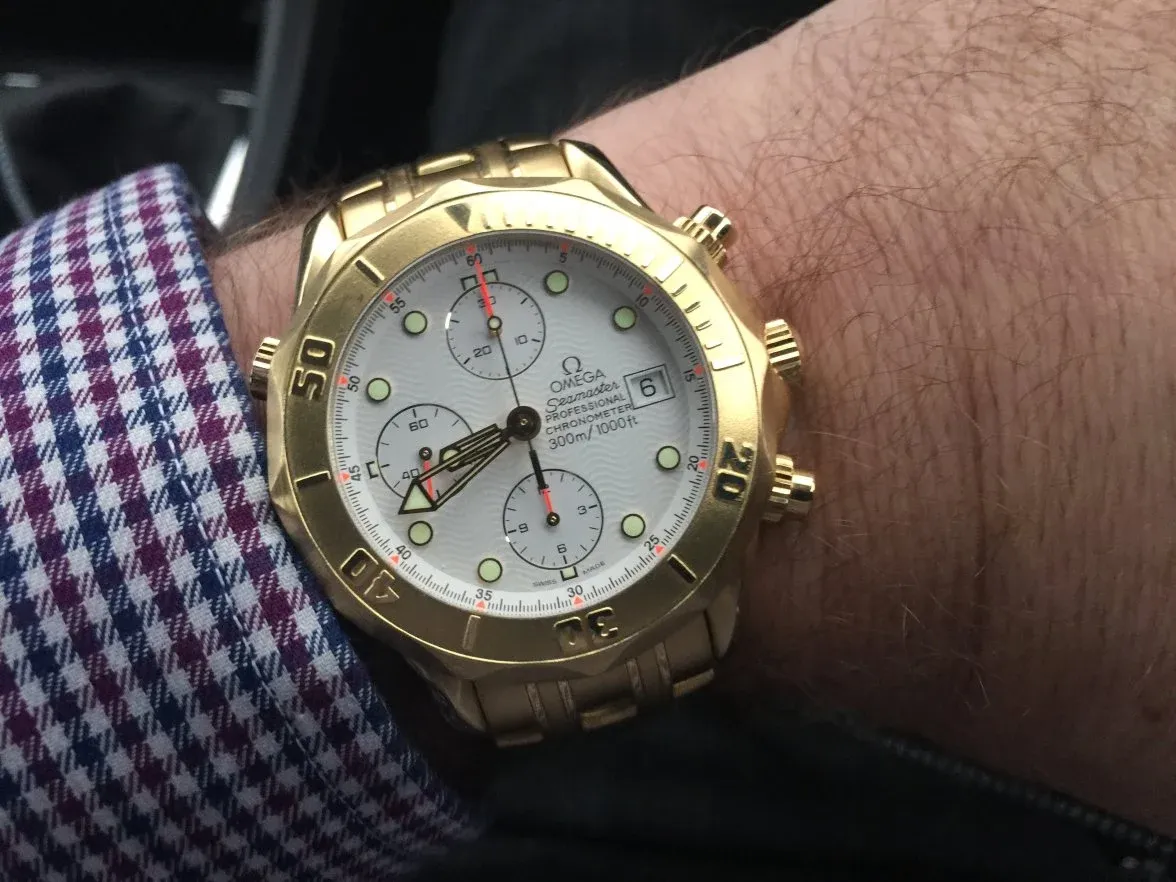 Interestingly, the 18K gold models do not have the same wide clasp with diver's extension that the other models have, and instead have a simple fold-over clasp with the Omega logo.
The jewelry models are even more rare than the standard gold versions, with the blue dial reference 2194.85, and white dial 2195.25 being difficult to even find photographs of.  
The blue dial features blue sapphires set into the gold bezel for the minutes 0-15, with diamonds taking up the remaining 45 minutes in a design that likely is not particularly practical for diving but is very cool regardless.  The white dial is even less practical, with diamonds all around the bezel, yet somehow looks even more impressive.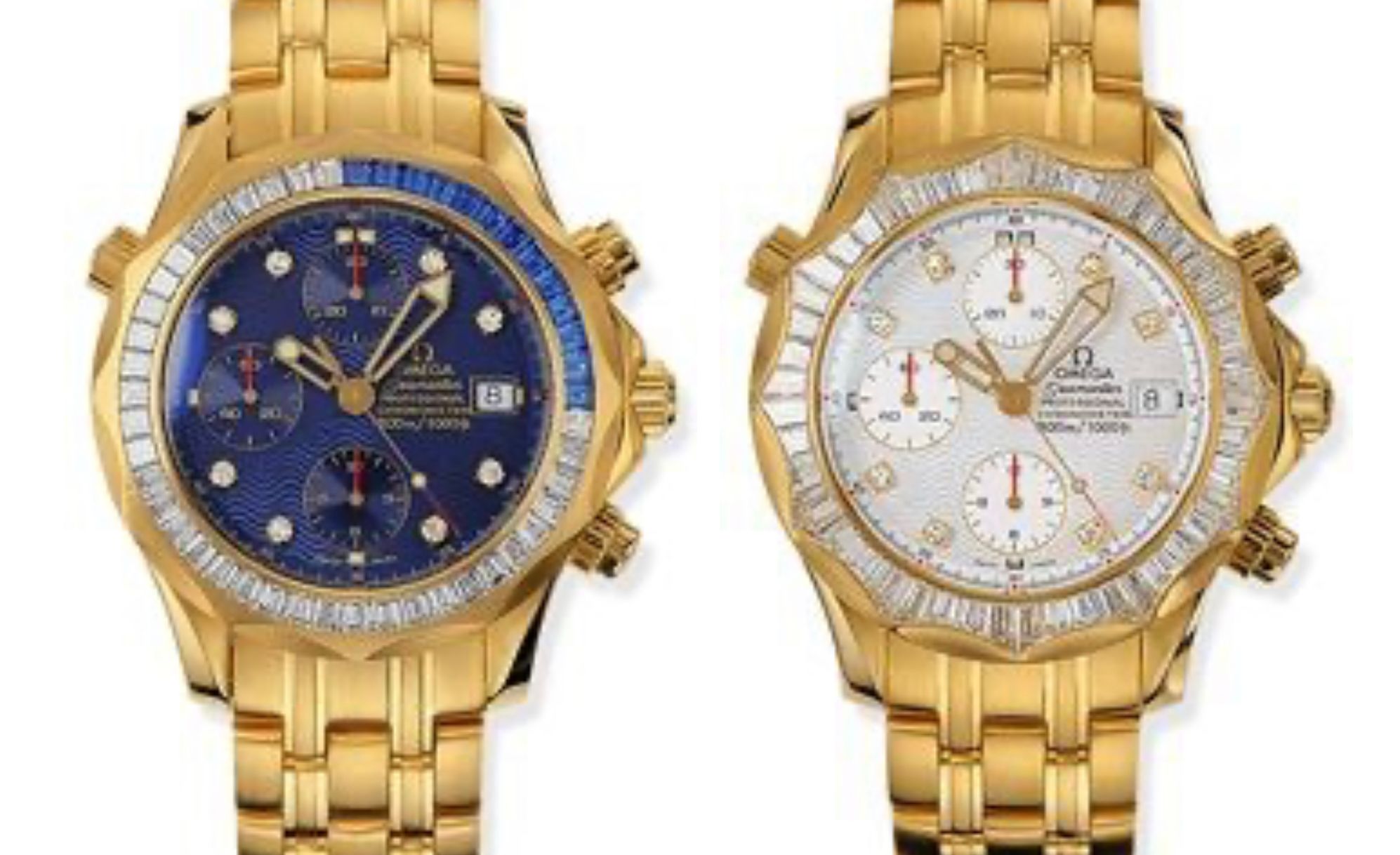 The final jewelry model is a very rare duck, apparently a piece unique produced as a prize at a golf tournament.  The story goes that Davis Love III won it by scoring an Eagle on the 9th Hole a par 5 with an island green at the Million
Dollar Challenge in Sun City.  That was what the seller claimed and given the quality of the setting in the bezel, it would tend to fit that it is an original watch although the reference, if one exists is unknown.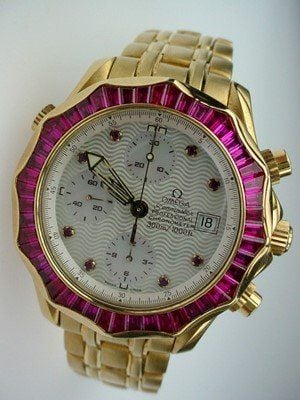 Buying
Buying a Seamaster Pro Chronograph is really a matter of choosing which reference appeals to you specifically first and foremost.  These watches were produced for a very long time and in very great numbers, so it should be possible to find just about any reference excepting the jewelry models in good condition at a good price.
At this point all of these watches are either in need of service or well overdue so this should be factored into any buying decision unless a receipt from a suitably qualified watchmaker is provided by the seller.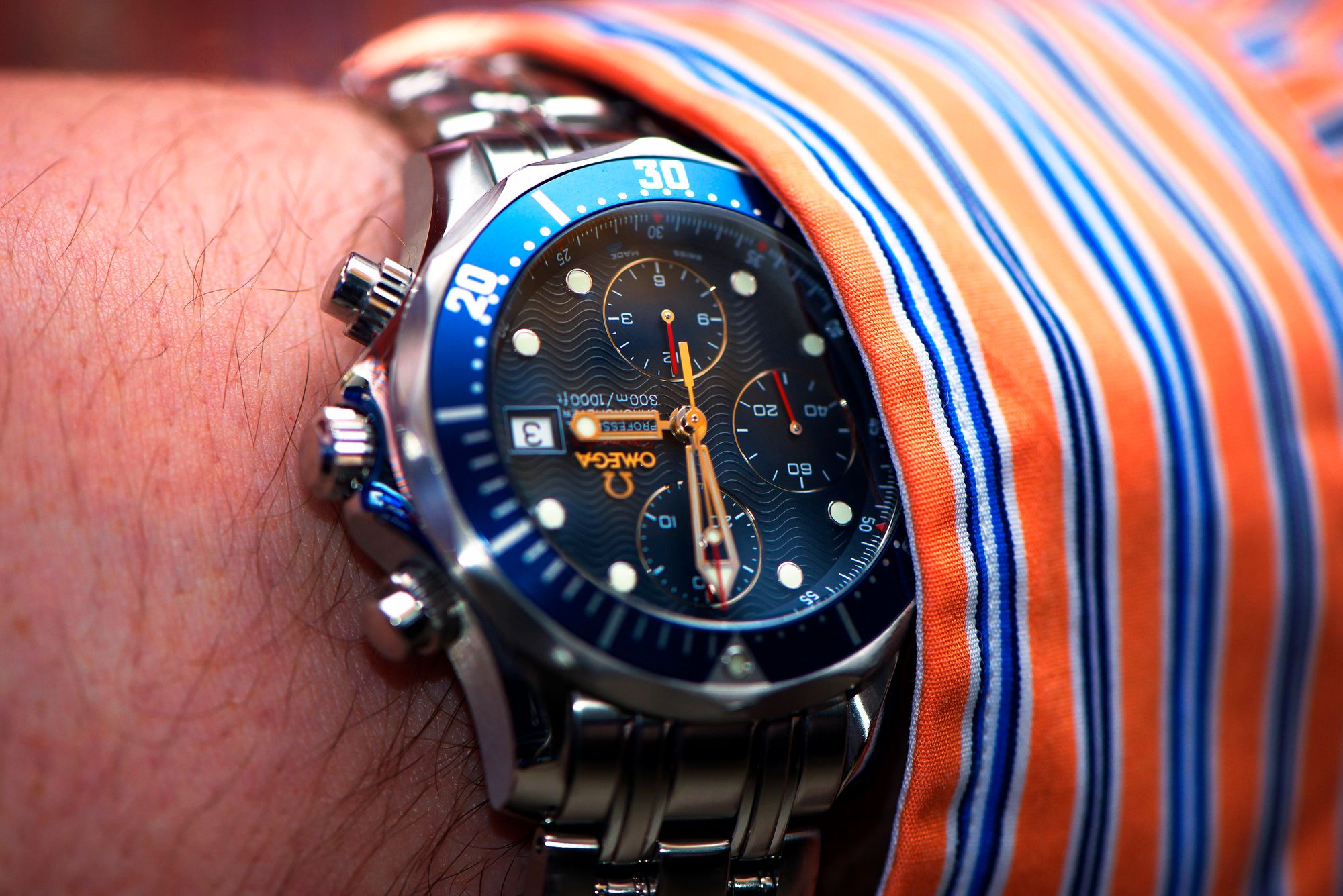 The second thing to consider is the bezel, especially if it is a painted aluminium bezel, or a polished bezel with any visible damage.  Replacing this will add a few hundred to the servicing cost as there is just no other way to get the genuine part replaced.  To this end, the polished bezels tend to have an advantage as they can be polished if only minor marks are present, while even minor marks or scratches in paint can't be repaired.
All of these watches bar one reference came from new on bracelet, so if the bracelet is missing that is costly to replace.  This cost becomes significantly higher in titanium, two-tone or TiTanRAu, and extremely high in gold.  
Missing links, and half-links can also be very expensive, especially for special metals.  Many people overlook this, especially the half-links as they are easy to lose but a single titanium half-link can be $100 on its own, and may be necessary for accurate sizing.  A short bracelet with missing spare links should thus be avoided.
Finally, excessive polishing or scratches and dents should be avoided especially on special metals like gold and titanium as the shape of the watch is easily lost and effectively impossible to get back.
Once you take that on board, the best place to get a good balance of condition and cost tends to be in forum classified sections as collectors have generally taken better than average care of them and tend to be reasonable on price.  eBay can be a mixed bag with a lot of rough examples appearing along with some very clean ones from time to time and good deals can definitely be found with enough patience.
Chrono24 and dealers will always have good supply of these references but asking prices for good quality examples have been increasingly going up in recent years, especially the Titanium & TiTanRAu models.  This is a trend I would expect to continue as these watches are now moving into that modern classic territory occupied by sought after 1990's cars.
Discussion thread on Omegaforums can be found here: