The Speedmaster Classic is an oddly branded watch fitting into the lineup slightly below the De Ville Prestige. While cheaper and less well-known, these watches offer two-tone and 18K gold in elegant designs at a very attractive price-point.
A Speedmaster In Name But Nothing Else
Clearly when looking at these watches, they bear no resemblance to the Speedmaster line at all.  These watches do not have Speedmaster written on them anywhere but the official name that also appears in the Omega Vintage Database is Speedmaster Classic (Heritage).  This is unusual, but it's possible that Omega in 1990 simply wanted to expand on the most valuable and successful brand in their line-up as many other brands have over the years.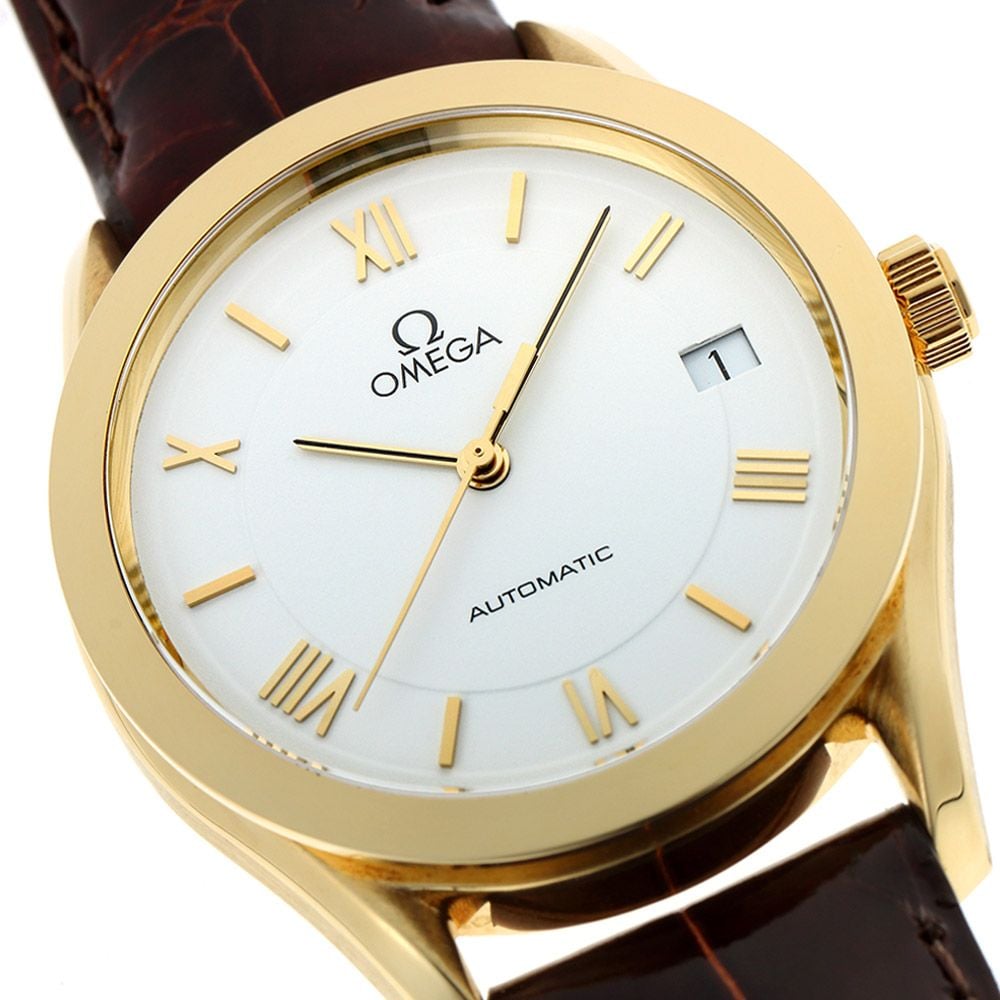 The second name, "Maison Fondée en 1848" comes from the engraving on the case-back, but as this is the only marking on the watch it has come to be the unofficial name for these watches.  Now "Maison" means house, "Fondée" means founded (as opposed to fondue which is delicious melted Swiss cheese), and "en 1848" means in 1848, so "house founded in 1848" which is true for an Omega but a really weird name for a watch.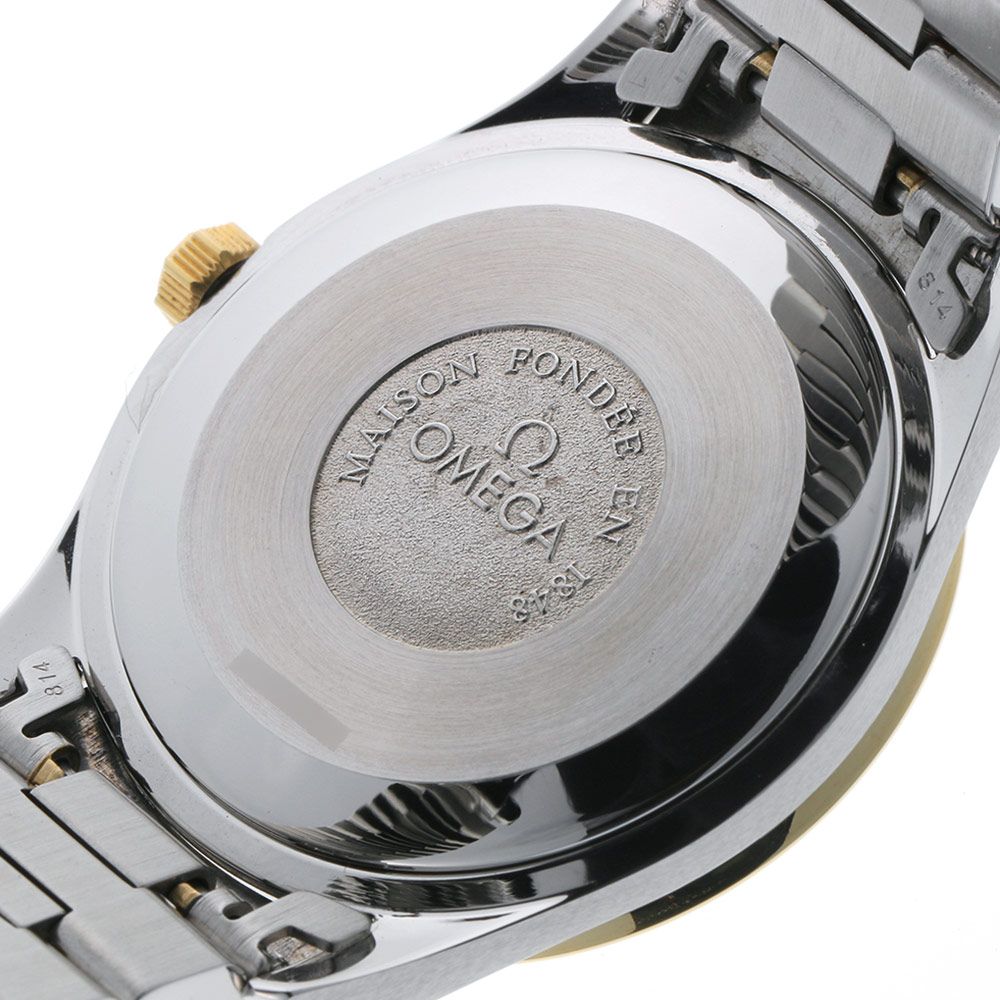 This watch line was released in 1990, 4 years earlier than the much better received and far longer lived De Ville Prestige line, yet it attempted to achieve much the same goals.  These were dress watches with high quality movements supplied by ETA and modified by Omega, in robust, water-resistant cases, fitted with Speedmaster style bracelets which tie back in with the Speedmaster Classic branding.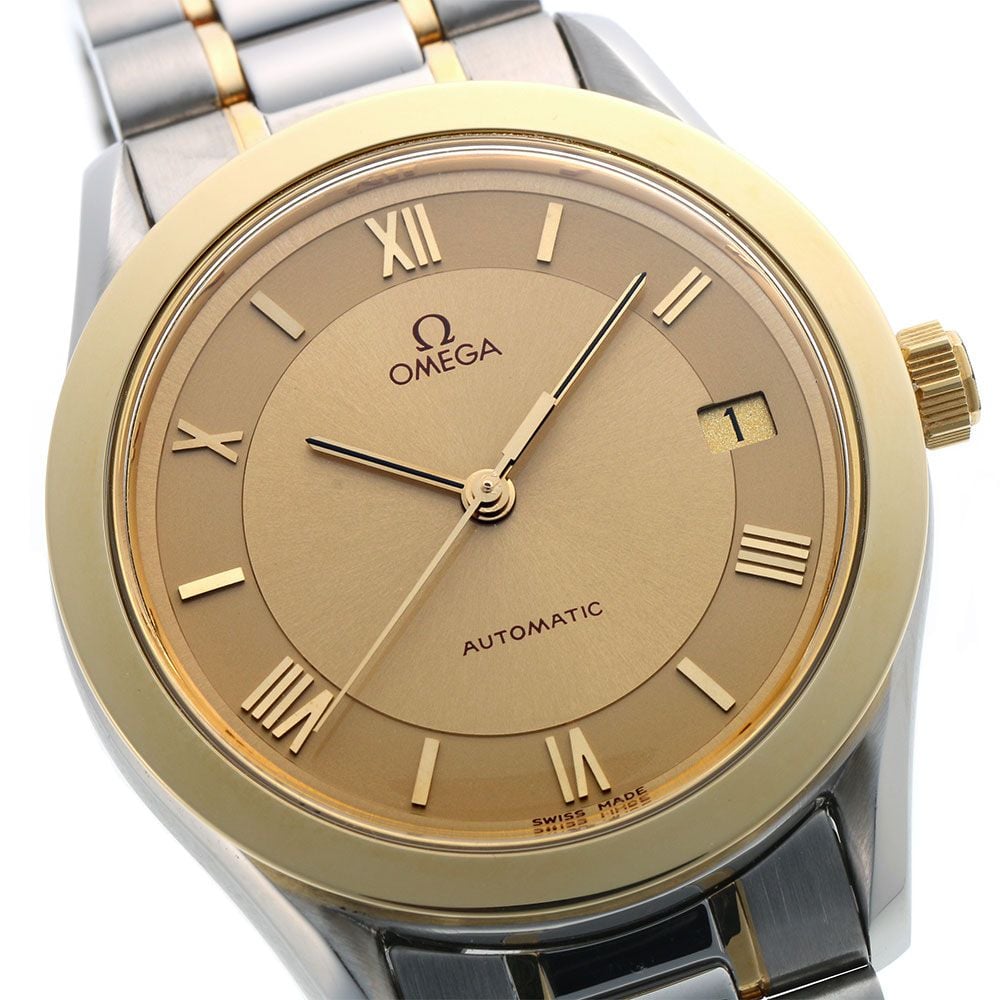 Compared to the Prestige, the Speedmaster Classic / Maison Fondée en 1848 is slightly larger, quite a bit more sporty and robust, and a bit cheaper in general.  The lack a strong direction in terms of branding with these watches has made them rather anonymous in the secondary market, with few people knowing their name let alone their reference.  All of this adds up to a quite good deal for collectors interested in a great quality entry level Omega dress piece.
Case & Bracelet
When looking at the case and bracelet design of these watches you can start to appreciate how they were categorised as Speedmaster family watches despite being non-chronograph dress watches.
The case itself is very similar to the Speedmaster with similar flat satin finished sides and twisted lugs with a very thin overall profile although unlike the Moonwatch, this is a symmetrical case with no crown-guards.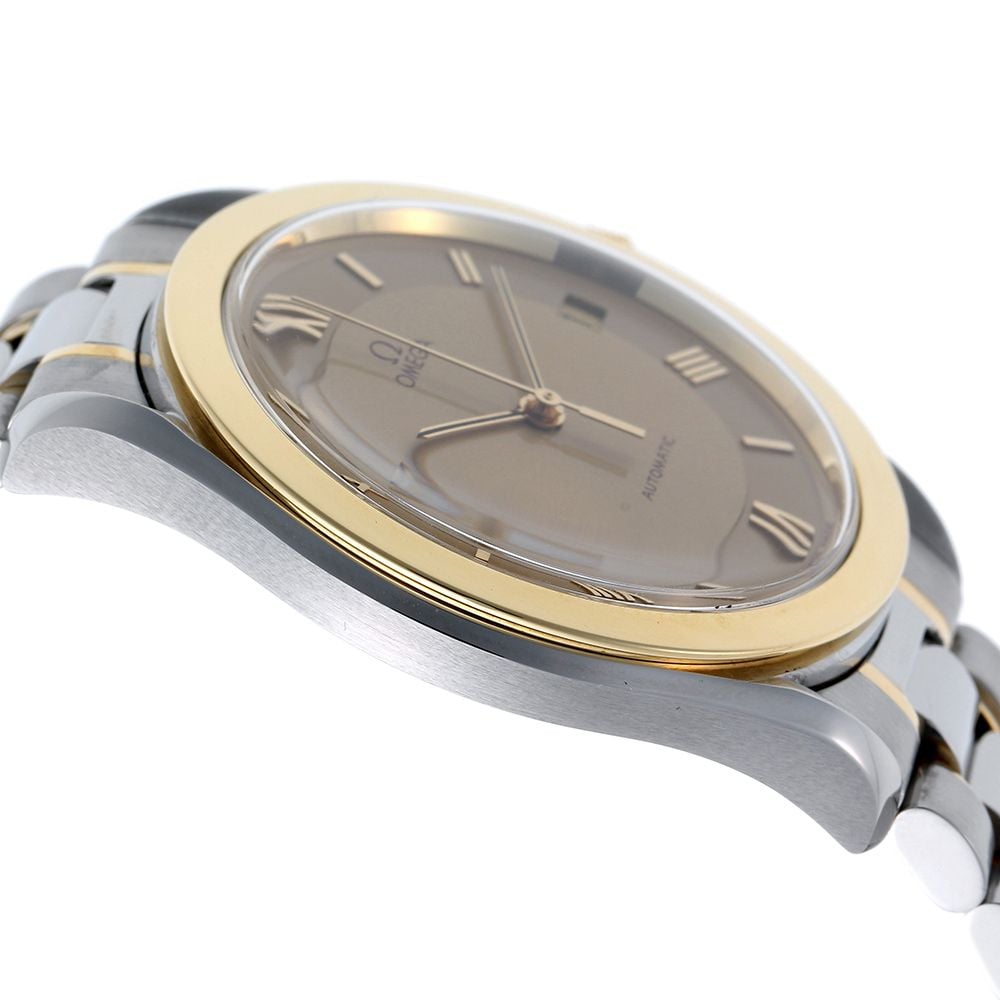 The entirely flat bezel does bear a striking similarity to the tachymeter bezel on the Moonwatch, especially when viewed at an angle as above.  Of course, on the Speedmaster Classic / Maison Fondée en 1848 there is no point in a tachymeter bezel given there is no chronograph, but the look is definitely there as is the protruding domed crystal sitting proud of the bezel.  The bezel is an entirely separate and removable piece which if not secured can fall of and be lost in some cases, be wary of any seller trying to unload a watch in this condition.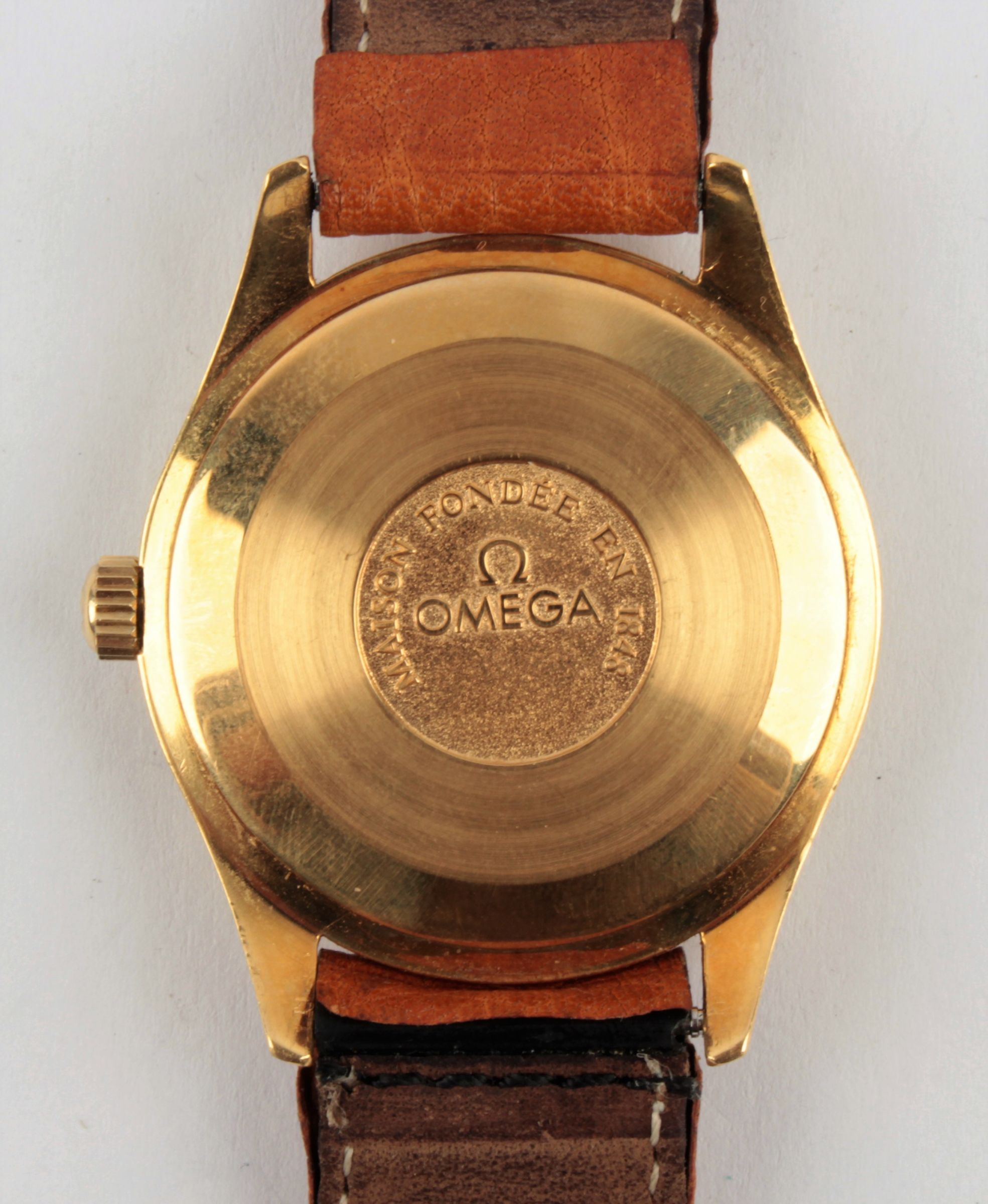 Water-resistance is modest at only 30 meters, but such is to be expected of a dress watch, especially one with a press-fit case-back.  The key differnce between the two date-only references is that the 166.0285 has a hesalite crystal while the later 166.0295 features a domed sapphire crystal which will make it far more durable than earlier hesalite models.  The date-only models feature a octagonal knurled crown similar to that used on early Speedmaster date variants while later day-date models have a more simple round knurled crown.
The case itself is a decent 35 mm in diameter and thanks to the impressively thin movements, the date version, case reference 166.0285 & 166.0295 is only 8.5 mm thick with the day-date version, case reference 166.0299 being slightly larger at 10 mm yet still impressively slim.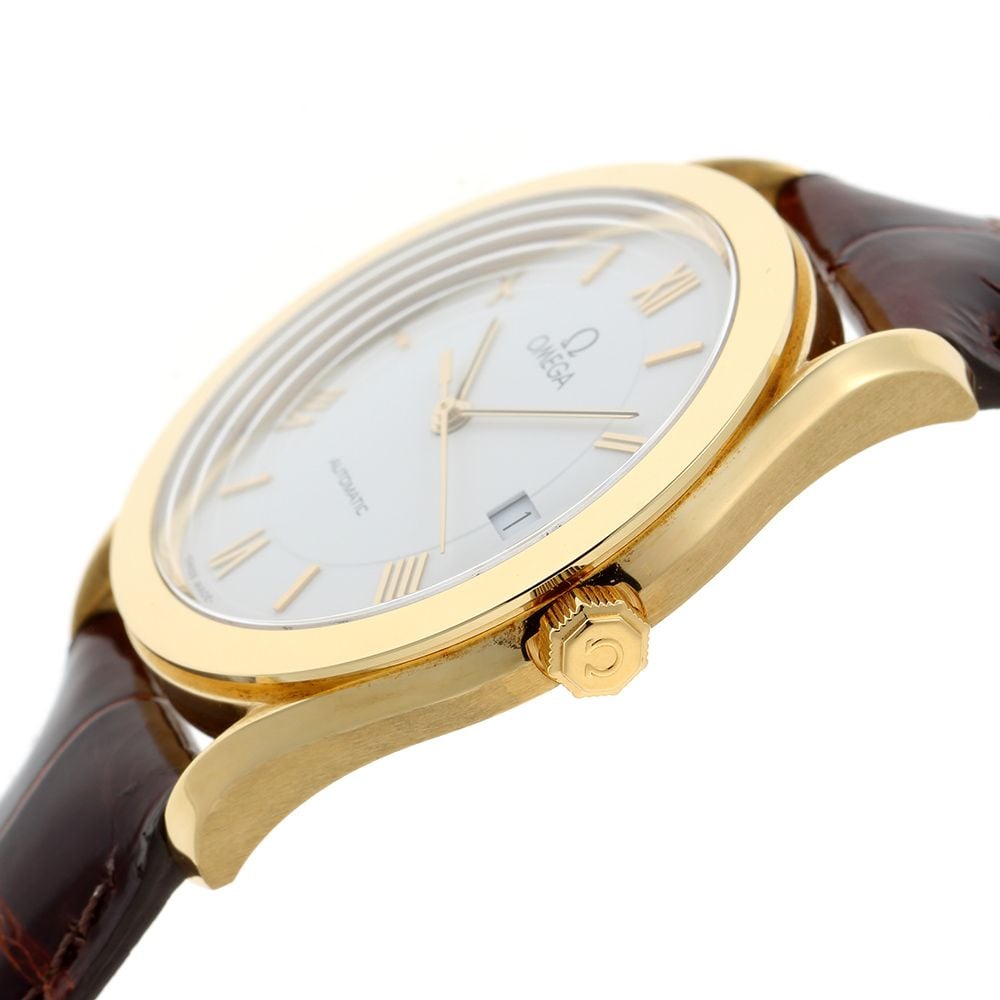 The Speedmaster Classic Heritage / Maison Fondée en 1848 appears often on both leather strap with tang buckle, and on a full bracelet.  There is a bit of variety to the bracelets with stainless steel, two-tone and 18K gold available, and two clasp styles.  Early models, particularly in steel oddly feature a micro-adjustable clasp bearing a Seamaster stamp, adding even further to the confusion surrounding this watch's branding.  Later models feature a non-micro-adjustable clasp and use half-links for sizing.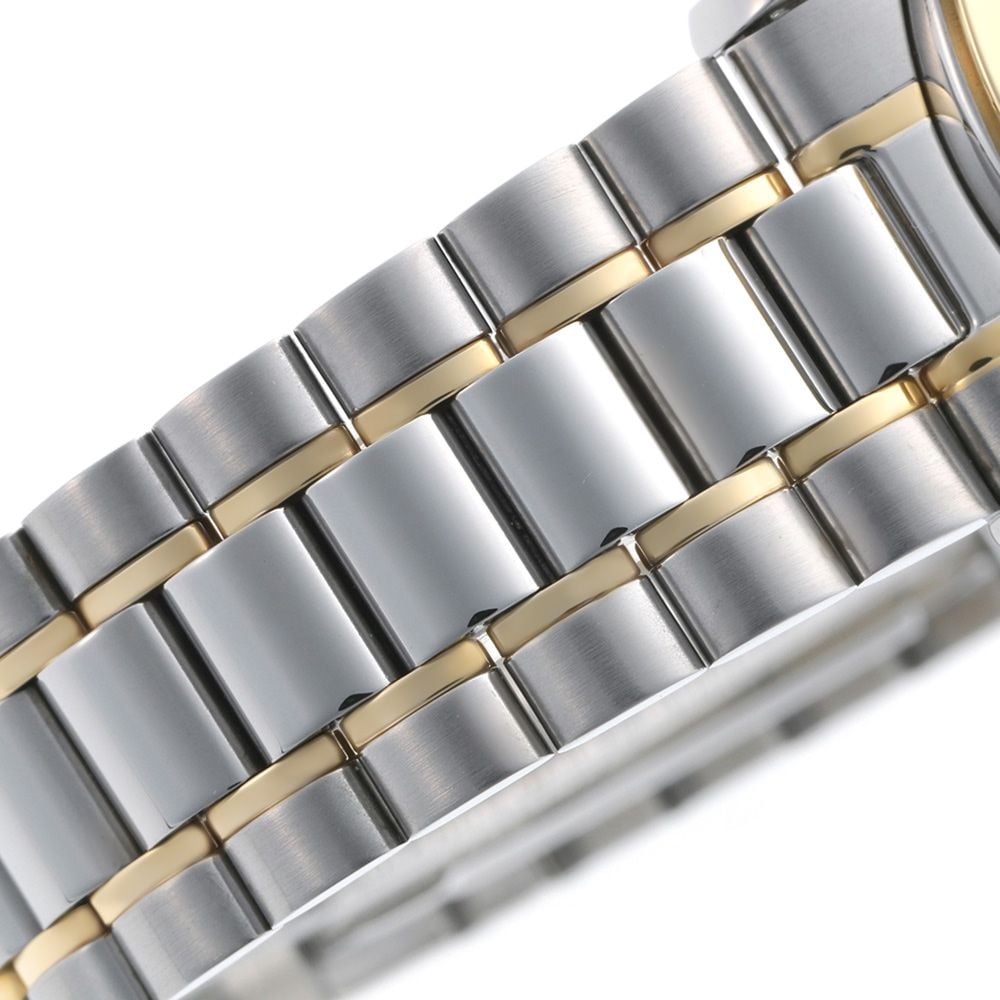 Movements
The movements powering these watches are the Omega Calibre 1108 & 1110 for the case reference 166.0285 & 166.0295 date-only version, and Calibre 1051 for the 166.0299 day-date version.
The Calibre 1108 & 1110 are based on the ETA 2892-2 while the Calibre 1051 is based on the ETA 2836-2, both with significant modifications and additional finishing by Omega.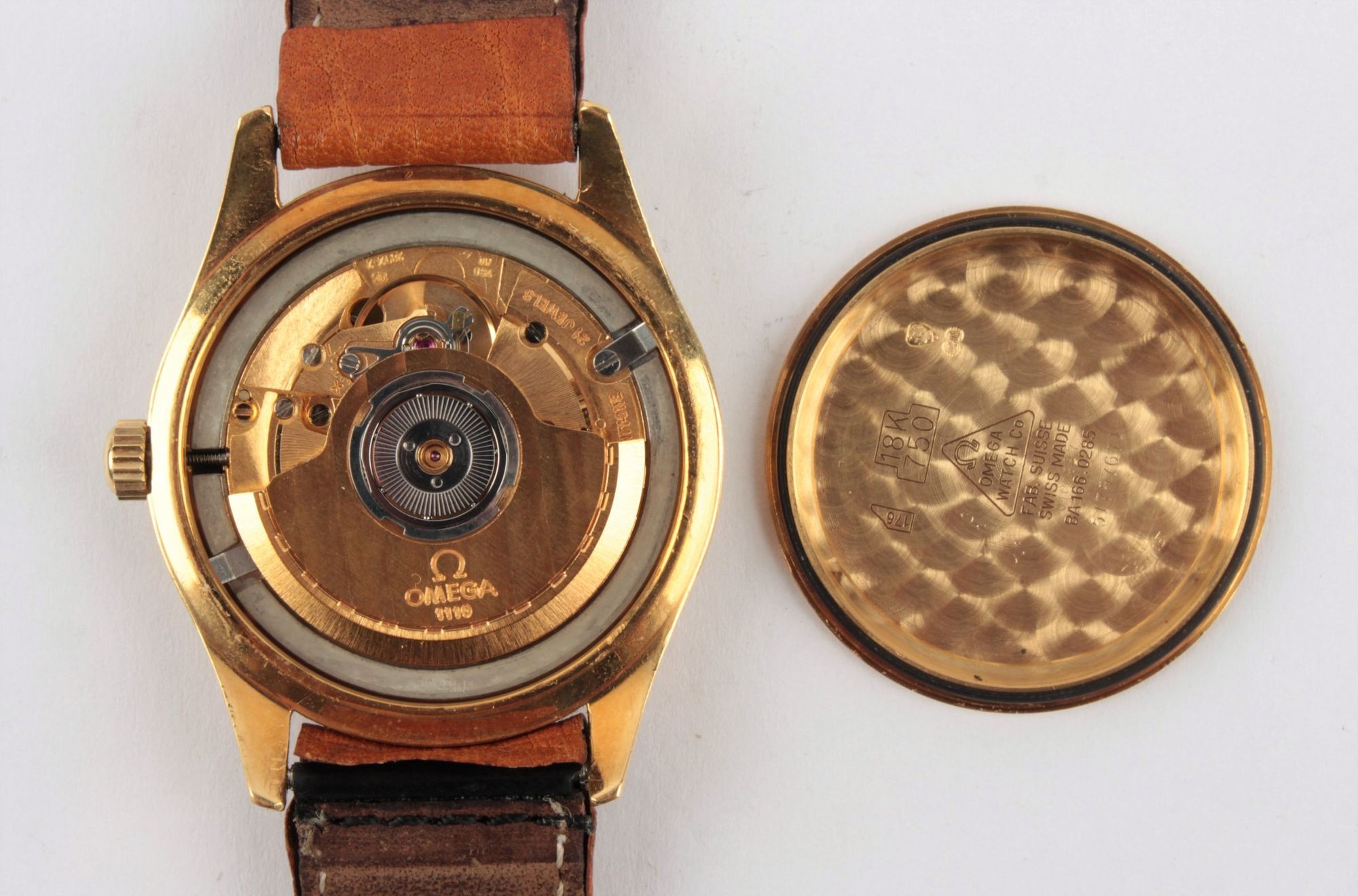 Both movements oscillate at 28,800 vph, feature hacking, quick-set, and a bi-directional winding system with a 44-hour power reserve, while the Calibre 1110 additionally has a day wheel.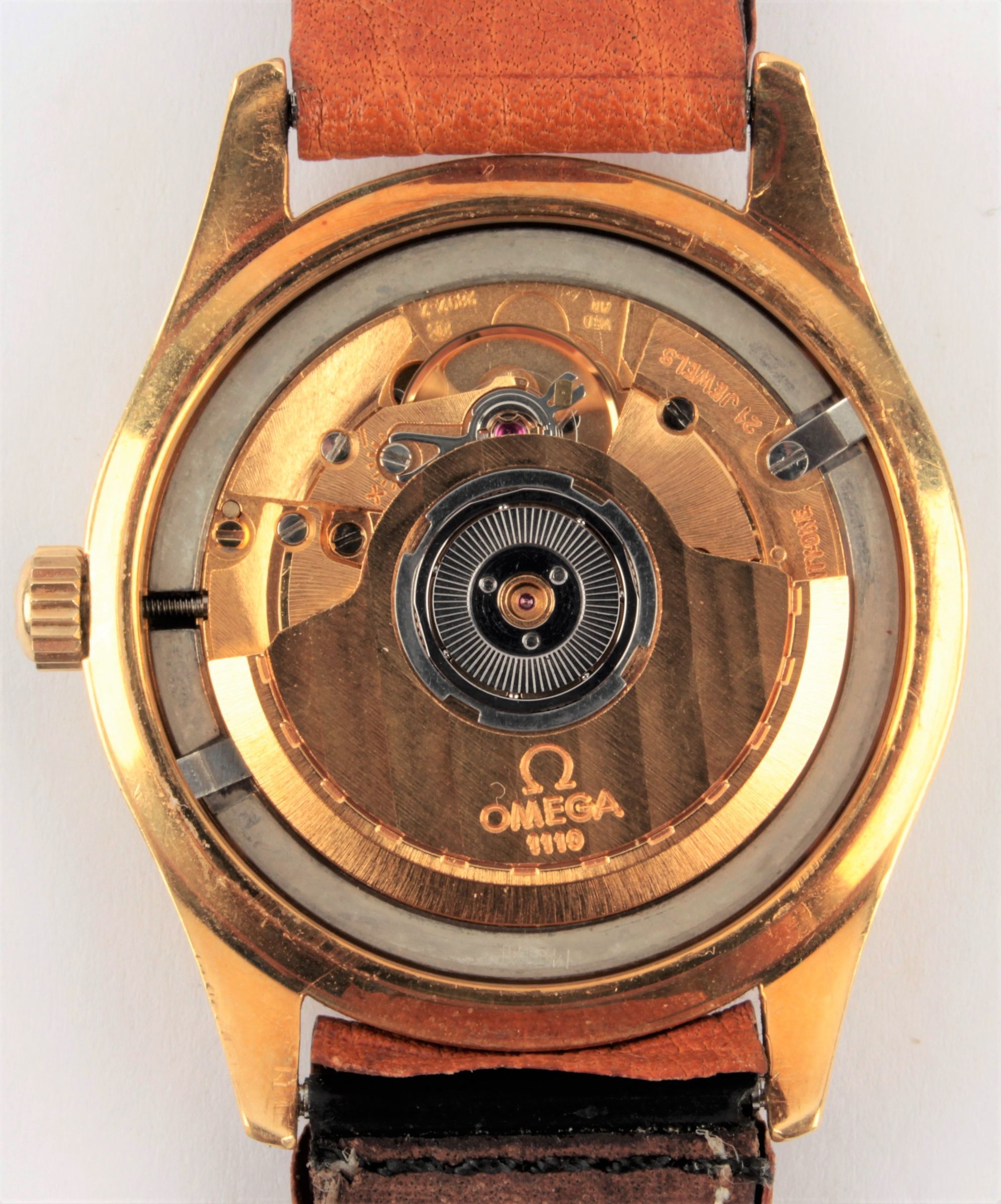 Both of these movements, being improved, modern ETA designs are high quality, durable, quite accurate and can be serviced by any independent watchmaker with access to an Omega parts account.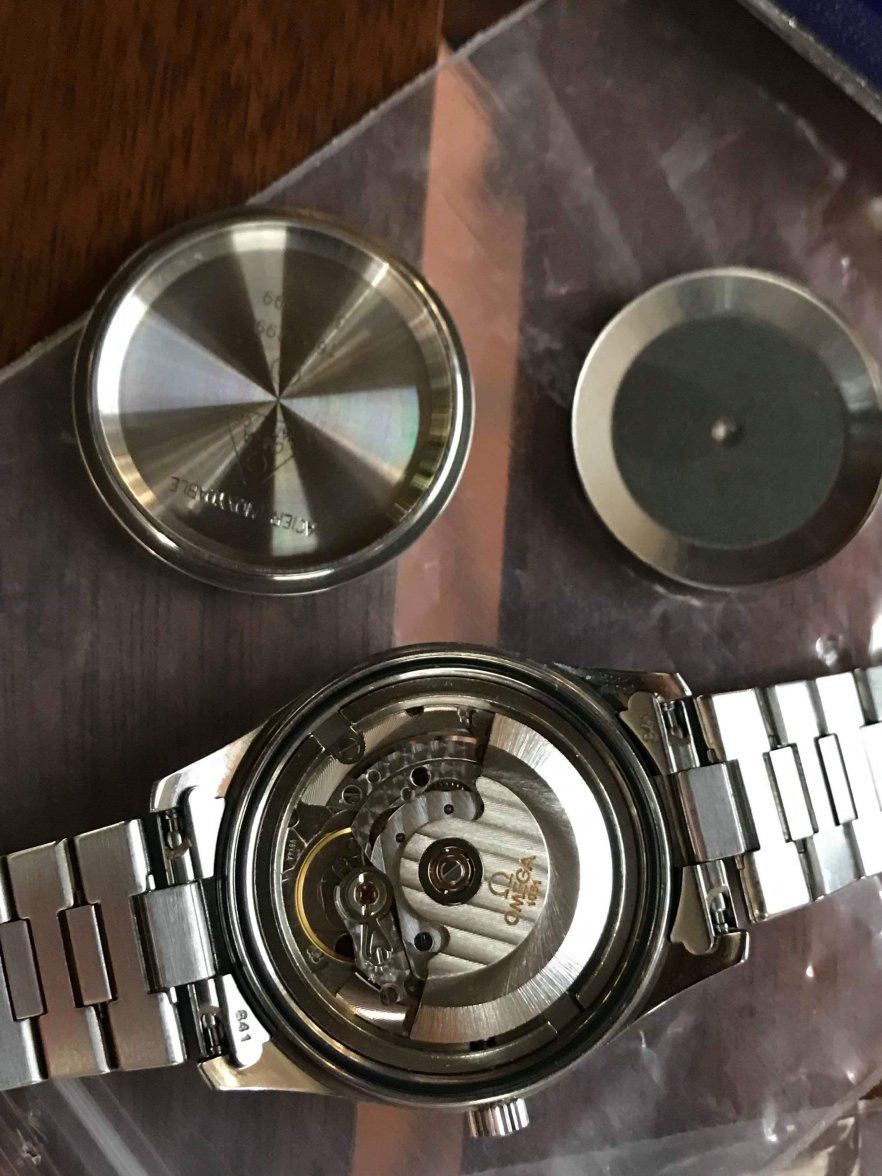 While these movements are non-chronometer calibres, unlike the Cal 1109 & 1120 in the De Ville Prestige that would follow in 1994, they share the same underpinnings and can be brought to a very good degree of accuracy when serviced by a good watchmaker.
Variants
The two men's case variants of these, the 166.0285 & 166.0295 date versions and the 166.0299 day-date variant differ in quite a wide variety of ways as the later came out in 1995, a full 5 years after the date version in 1990.  While externally the case and bracelet remain almost the same bar a small thickness difference, the dial, hands and even styling is quite different between the two.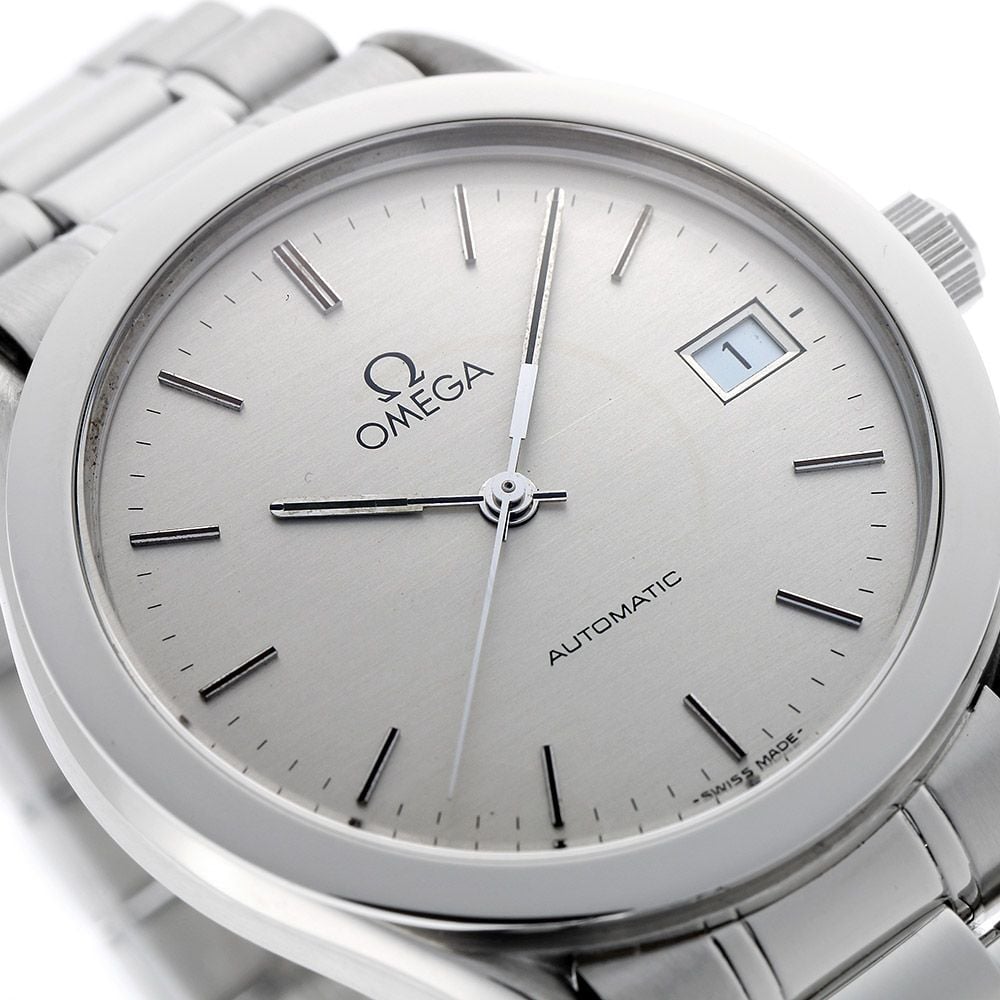 Around the time of the day-date version's release, a second version of the date-only models was released which also carried the same design language and styling of the updated day-date.
Of the two, the date versions tend to be far more common, come in many more unique variations, and are the more aesthetically pleasing of the two.  The day-date is a more austere watch design released after the De Ville Prestige had already effectively made the Speedmaster Classic / Maison Fondée en 1848 redundant.
Date-Only Reference 166.0285 / 166.0295
Unlike most Omega models of this era, the great majority of these watches are either two-tone or 18K gold.  In both metals there are three dial designs, and two hand options.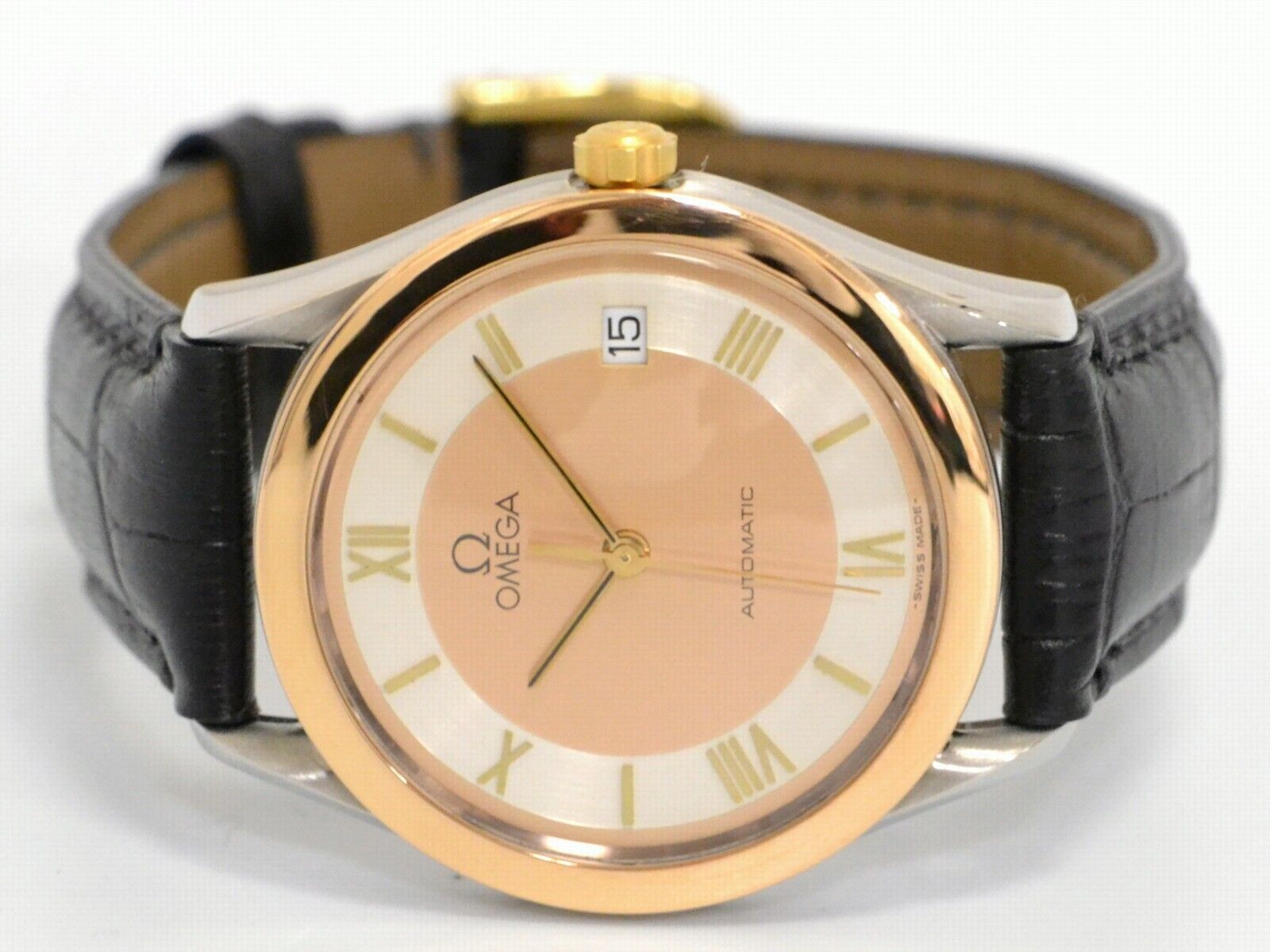 All dials for two-tone models feature a pronounced step to them, reminiscent of early Speedmasters, and have applied 18K yellow gold roman hour markers, with odd numbers marked with a single stick marker.  The gold dial features a starburst pattern on the inner step, and a concentric finishing for the outer ring, giving a good degree of contrast and visual complexity to a monochrome dial.  The white dial goes with highly legible and clean gloss white on both sides of the step.  Finally, the two-tone dial is rather interesting in that the center is a salmon / rose gold color, matching the 18K rose gold bezel, while the hour markers and crown remain in yellow gold, making somewhat of an odd contrast.
Hands are either black stick hands, or 18k yellow gold hands with full-length black inserts.
These watches tend to appear around equally on either bracelet or on strap, with very little premium being commanded by the 18K two-tone bracelet.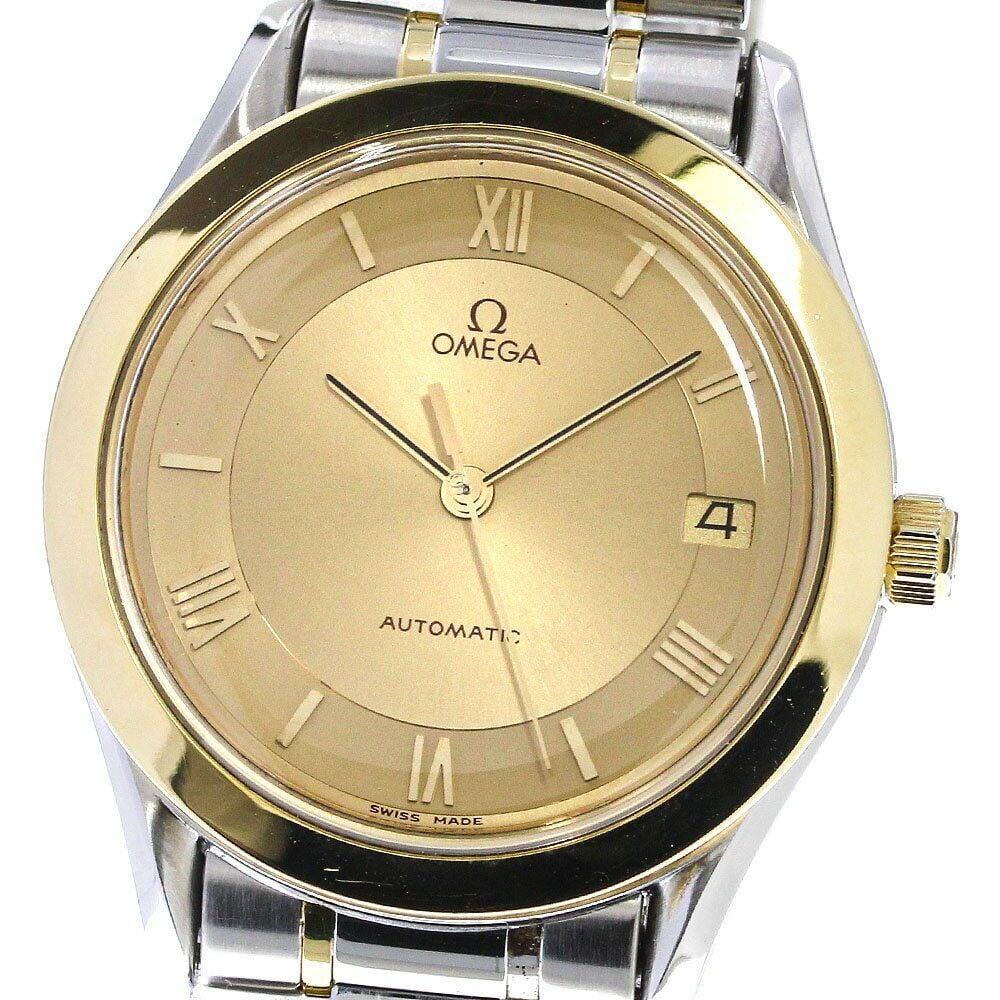 The 18K Gold models feature the exact same dial options as the two-tone variants, and the exact same hand options of black stick, or gold with black insert.  These all-gold models are surprisingly affordable for an 18K Omega model, especially when on strap.
There are also 18K solid gold full bracelets equipped to some of these, but the bracelet option is both quite uncommon and highly expensive as one would expect for a heavy 18K gold bracelet.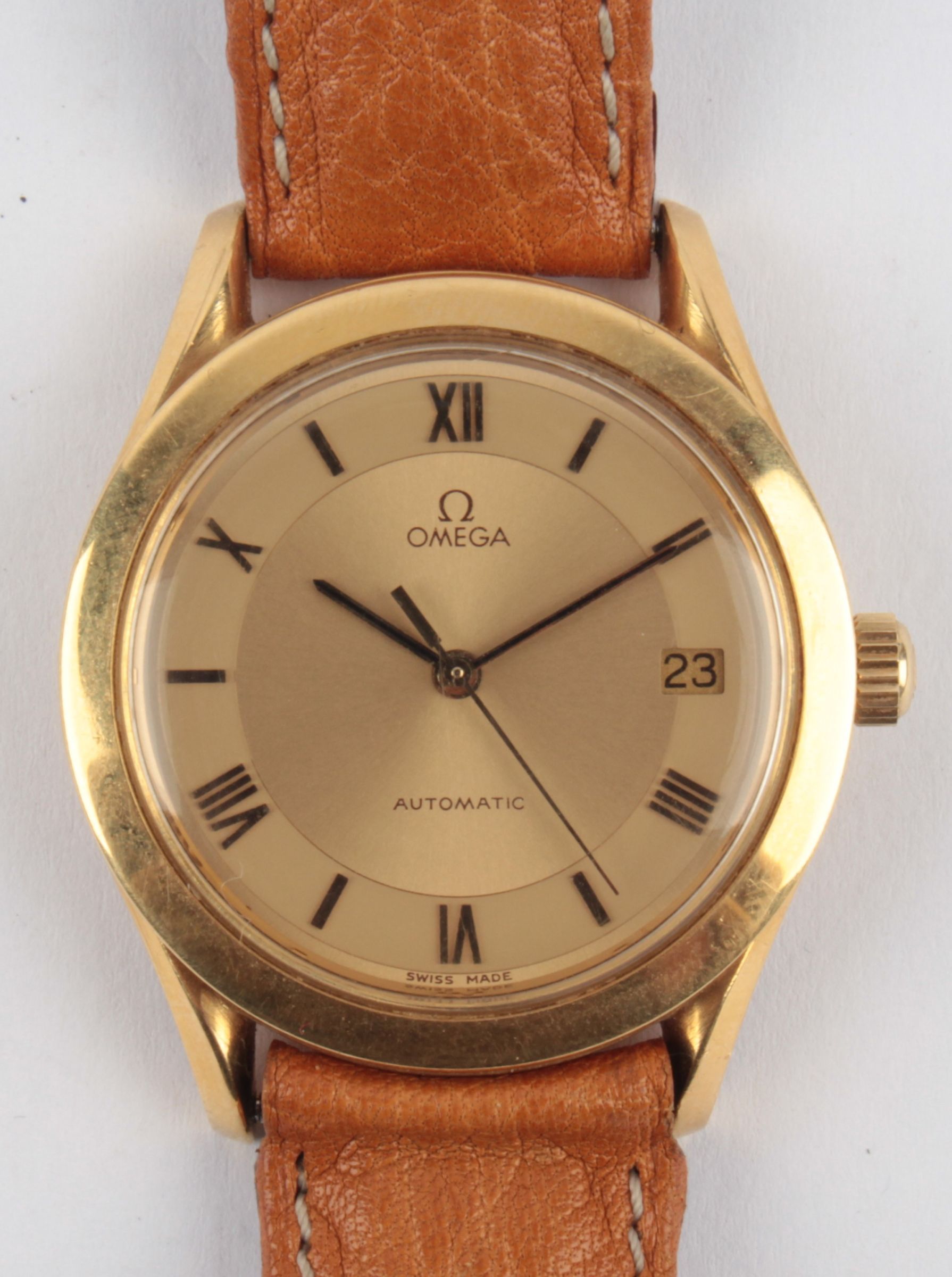 The stainless steel versions of the 166.0285 / 166.0295 are quite odd in that they're both rather uncommon compared to the gold and two-tone, and only have one dial variant.  The PIC code for the steel Speedmaster Classic on bracelet is 3501.30.  The dial is nice if a bit simple, featuring applied stick markers with black inserts and a black painted Omega logo.  There is a horizontal brushed texture to the dial which can be seen from some angles but not others.
The hands evolved over time, starting out as non-luminous stick hands with black inserts, then progressing to stick hands with black & luminous inserts, and finally baton hands, which carried over to the day-date version, Ref 166.0299.
It should be noted that there are blue, black, and other colors floating around in these steel models, but they are produced by a handful of dealers who refinish them in order to charge higher prices, the only original color made by Omega in steel is silver.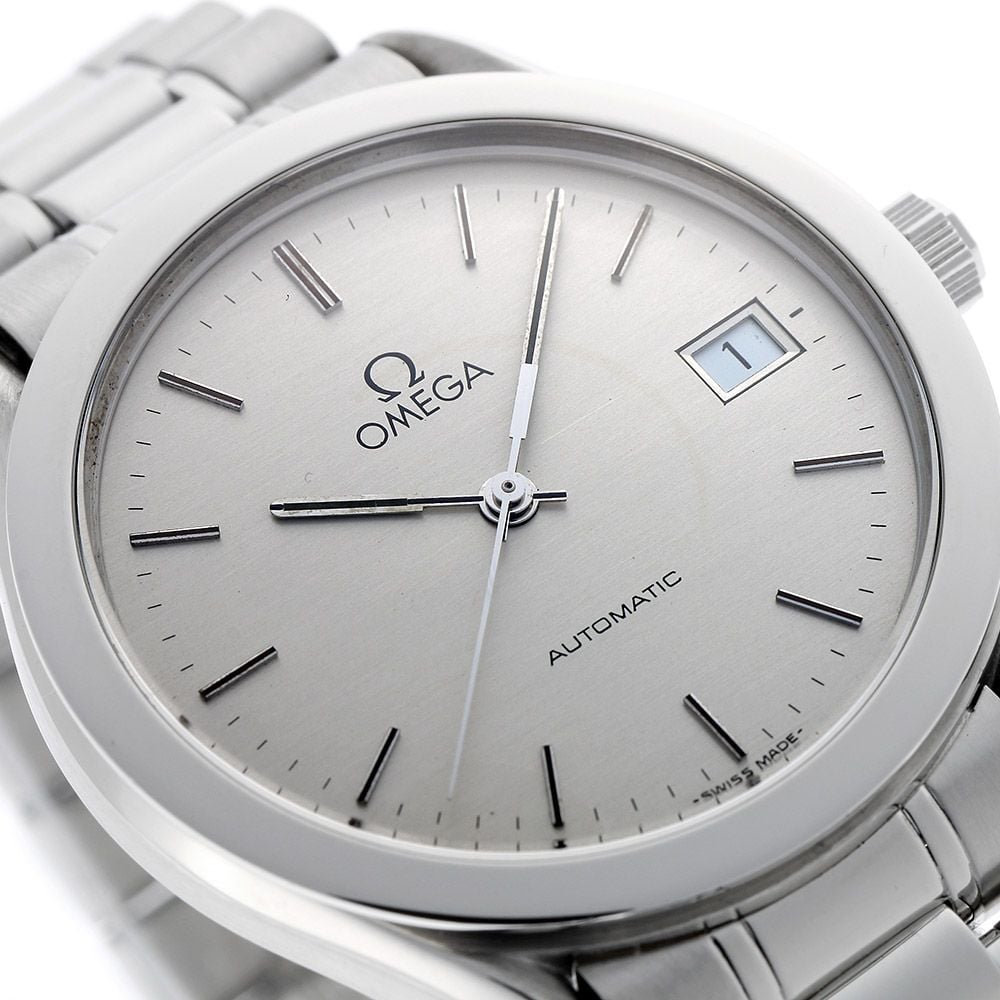 Day-Date Reference 166.0299
The 166.0299 Day-Date version of the Speedmaster Classic Heritage / Maison Fondée en 1848 is in many ways a mildly upgraded version of the steel date version.  These watches in stainless steel on bracelet carry the PIC code 5122.31.
Coming out later in 1995, this model retains the same horizontally brushed silver dial on the steel version and the same applied hour markers but adds an applied Omega logo and applied date window.  The hands follow the same progression from steel sticks with black inserts, to luminous stick hands, to baton hands over the production years.  
As with the date version in steel, you only get one color and that is silver, anything else is a refinished dial.  The majority of these tend to come on bracelet, however there are also many examples available on strap.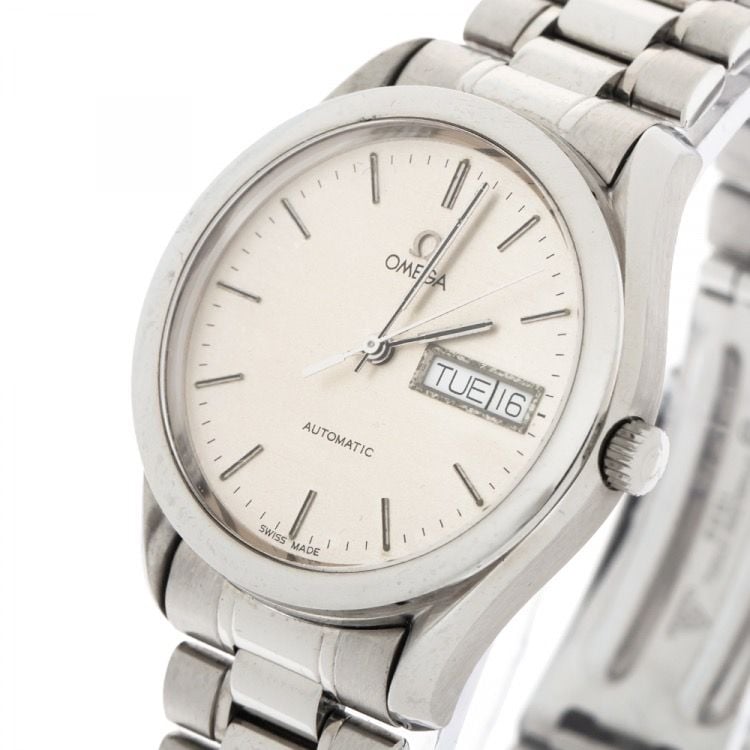 The two-tone version of the 166.0299 gets the same upgrades as the steel version in terms of applied dial hardware, yet it doesn't get the two-tone dials from the date versions.  The obvious reason for this is that the stepped dials would interfere with the wider day-date window, so instead these dials are based off steel dial and feature the same horizontal brushing.
As with the steel version, there is still a small variety of hand styles on offer, but only the gold dial is available, with no other options, not even a silver dial being offered for the two-tone.  The majority of these come on bracelets but there are also many on strap as well.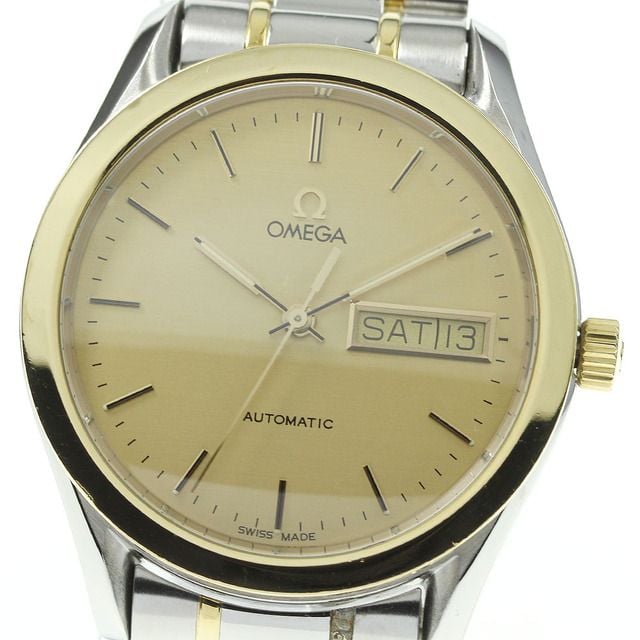 Buying
When it comes to buying these watches, it is very much a buyers' market.  There are really good deals to be had if you're patient, especially in no reserve auctions on eBay or similar platforms.  
The single biggest impediment to buying or selling these watches is the branding confusion.  They can be listed as "Speedmaster Classic", "Speedmaster Classic Heritage", "Maison Fondée en 1848", "Omega Classic", or in some cases even "Omega Seamaster" because of the bracelet clasp stamp.  Searching for case reference can also be confusing as 166.0285, 166.0295 & 166.0299 are often confused and used interchangeably by sellers, with even PIC numbers being wrongly labelled often.
Because of this you really need to cast a wide net, use a variety of different search terms of be willing to filter out a lot of flotsam looking for the watch you want.  While these watches were sold all over the world, they are particularly concentrated in Japan and Asia, especially the Day-Date and stainless steel Date variants.  Accordingly, if you're after one of these it is worth looking at Japanese dealers and auction sites and considering importing one from there if the price to condition ratio looks good.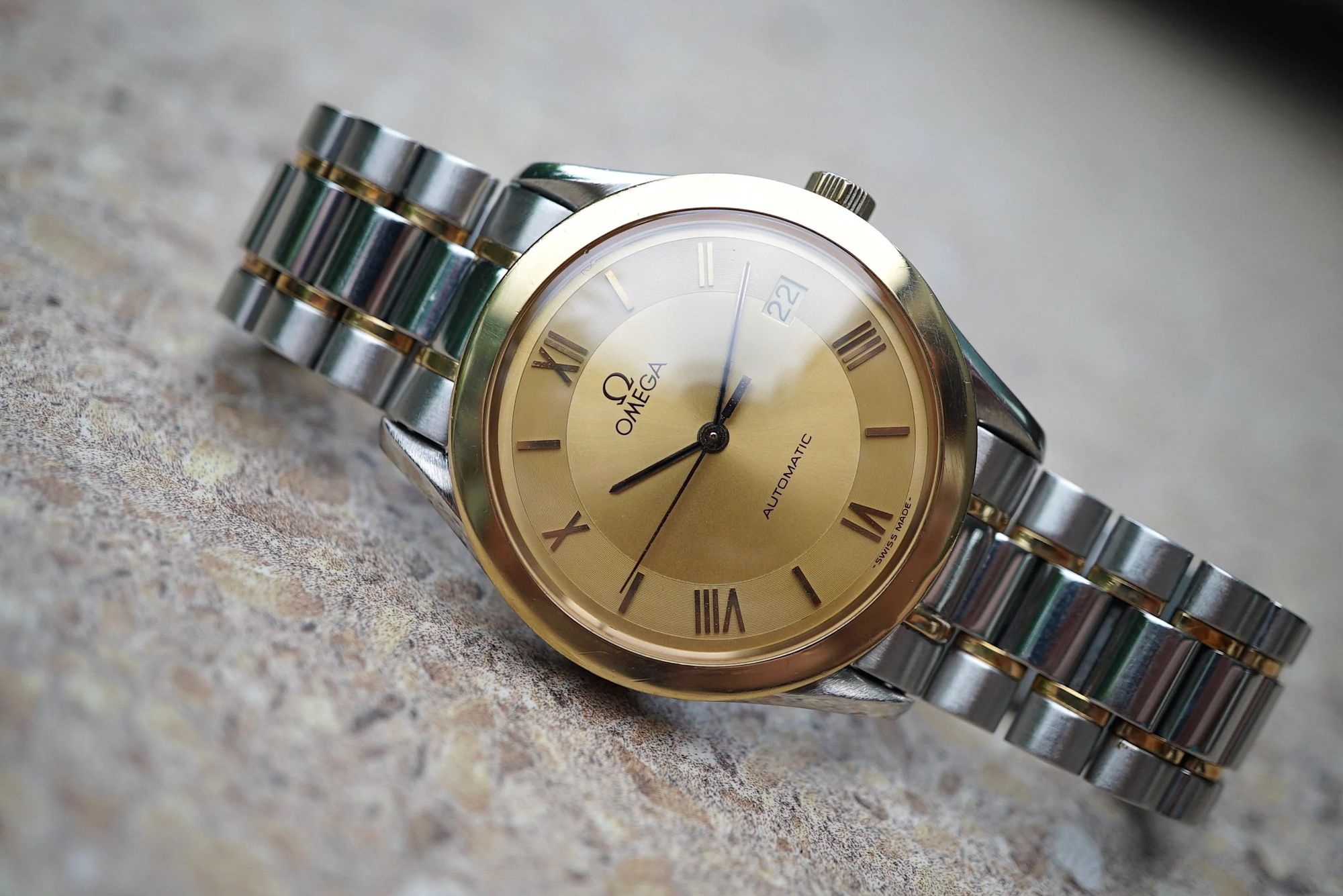 Condition wise, these watches tend to hold up very well in general.  Water resistance is very good in general, damage from moisture intrusion or dial refinishing is extremely rare so the priority is the case.  The flat bezel with a hard edge is a bit prone to damage and dents, especially on the models featuring a gold bezel which is obviously very soft.  These won't be cheap to replace, and while they can be polished, they will never look the same as an original condition bezel again.  The case as well has sharp edges in the design, especially on the sides and twisted lugs which need to be clean and unpolished to prevent the watch looking like a melted soft-serve ice-cream.
Because all of the movement options are based on robust ETA designs, they can easily be serviced by your local independent though they should be Omega certified to ensure they have access to the correct Omega specific parts.  After service they will be accurate and reliable with little trouble.
The two competitors these watches will be cross shopped against most will be the Louis Brandt automatics on one hand, and the De Ville Prestige on the other.  The Speedmaster Classic is definitely far more sporty than both, cheaper to service and buy than the Louis Brandt, and slightly cheaper than the De Ville though it will come down to personal preference.
Having spent a lot of time with these now, looking at them from a variety of angles I do see the Speedmaster in them, and the place in Omega's history they deserve.  At their price point they offer an edgier, sportier, and very durable option to buyers, and while I once described these as 90's mediocrity, I now think that may have been unfair.  For the few hundred they cost, these are decent watches worth owning, even if not the greatest branch of the Omega family tree.
Discussion thread on Omegaforums can be found here: