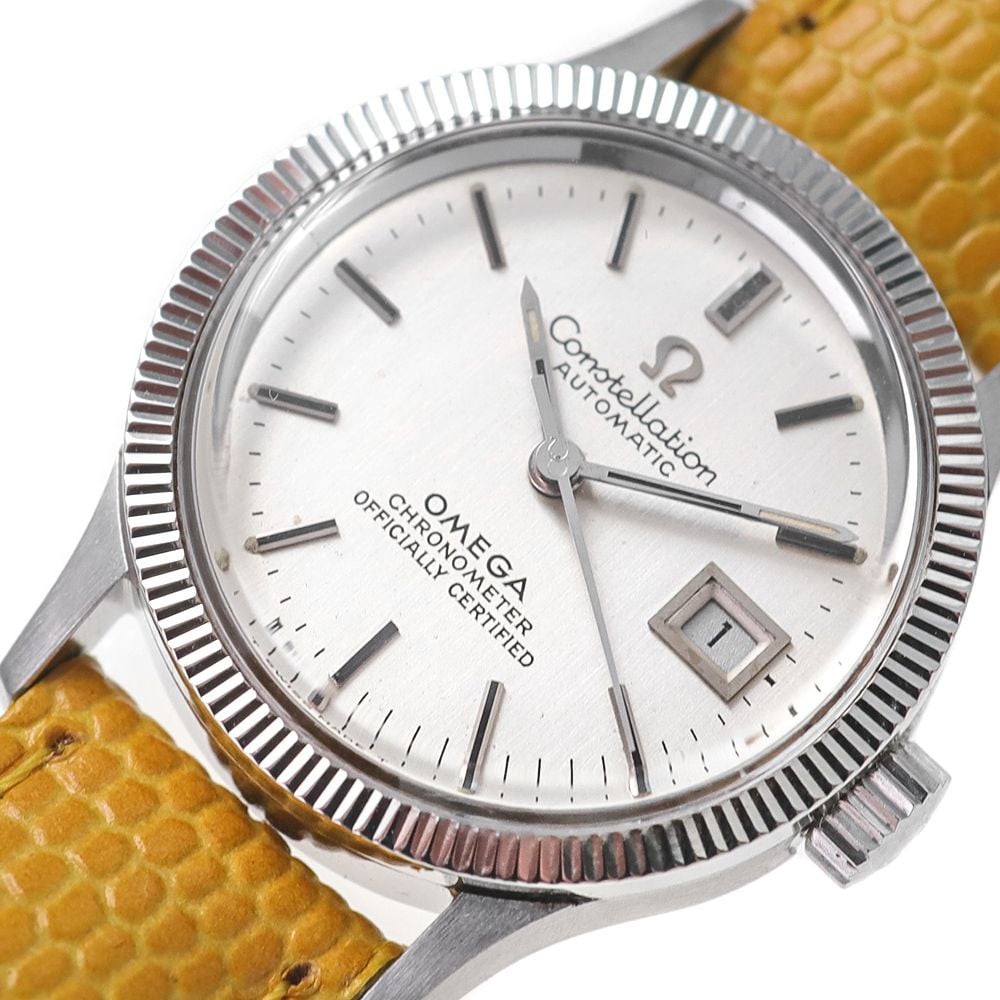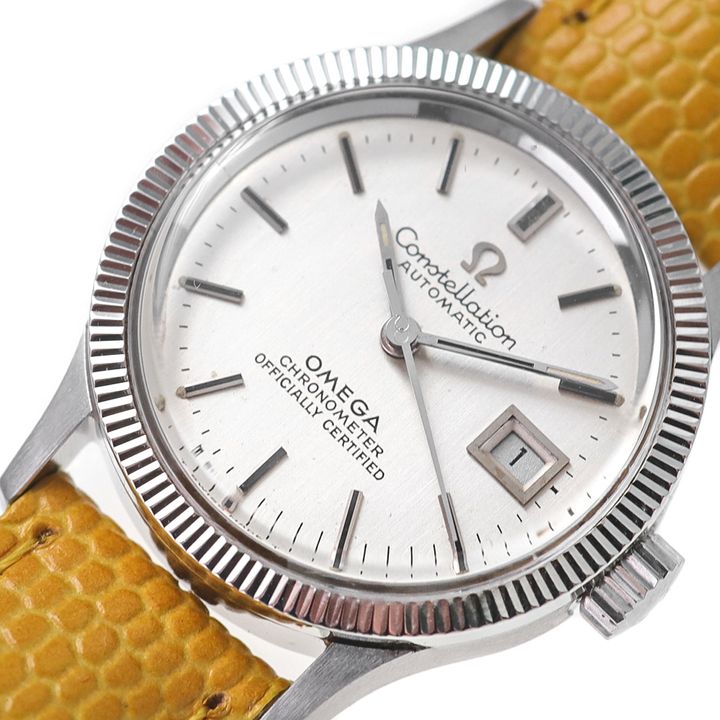 Deep Dives
The Brilliant 568.016 Ladies Constellation Chronometer
Ladies get Japan specials too.
We've written about a lot of full-size watches sold on the Japanese market between 35mm and 40mm which are typically considered unisex today but would have originally marketed towards men.  Omega did however not leave ladies out when it came to producing very elegant models back in the day, and the Constellation Cal 682 Chronometer is one of the stand-out watches of the era that can still be found today.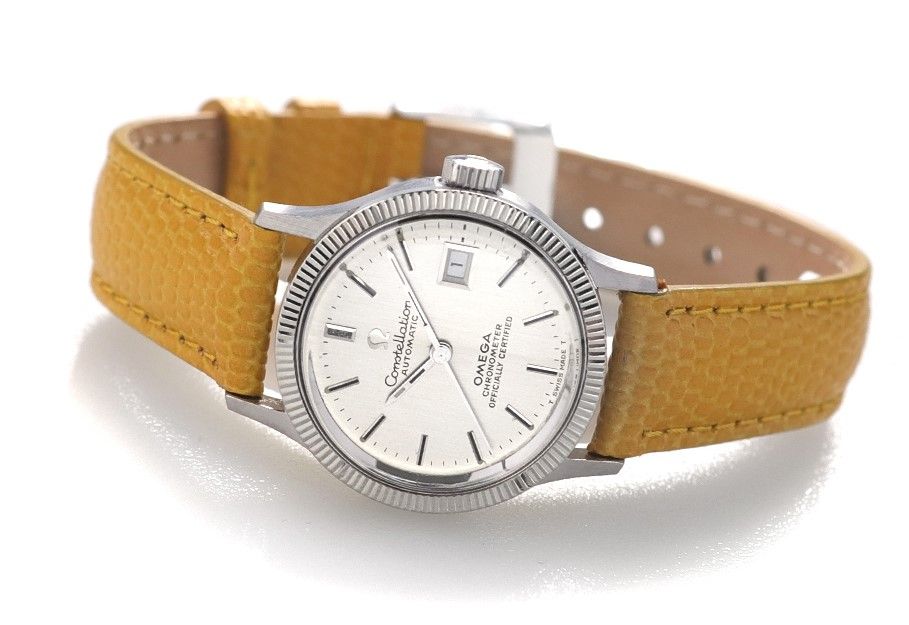 While this Constellation is only 25 mm in size, it makes a sizable impact.  The beautiful, sharp, coin-edged bezel catches and scatters the light like a diamond, while the modern case design and elegantly finished dial furniture result in a watch that looks and feels far better than its price point would suggest.
A great many ladies watches suffer as a result of being somewhat of an after-thought, rather than a deliberately created product.  They tend to be cut-down, simplified, and often inferior versions of a similar men's piece.  This is not the case with the 568.016.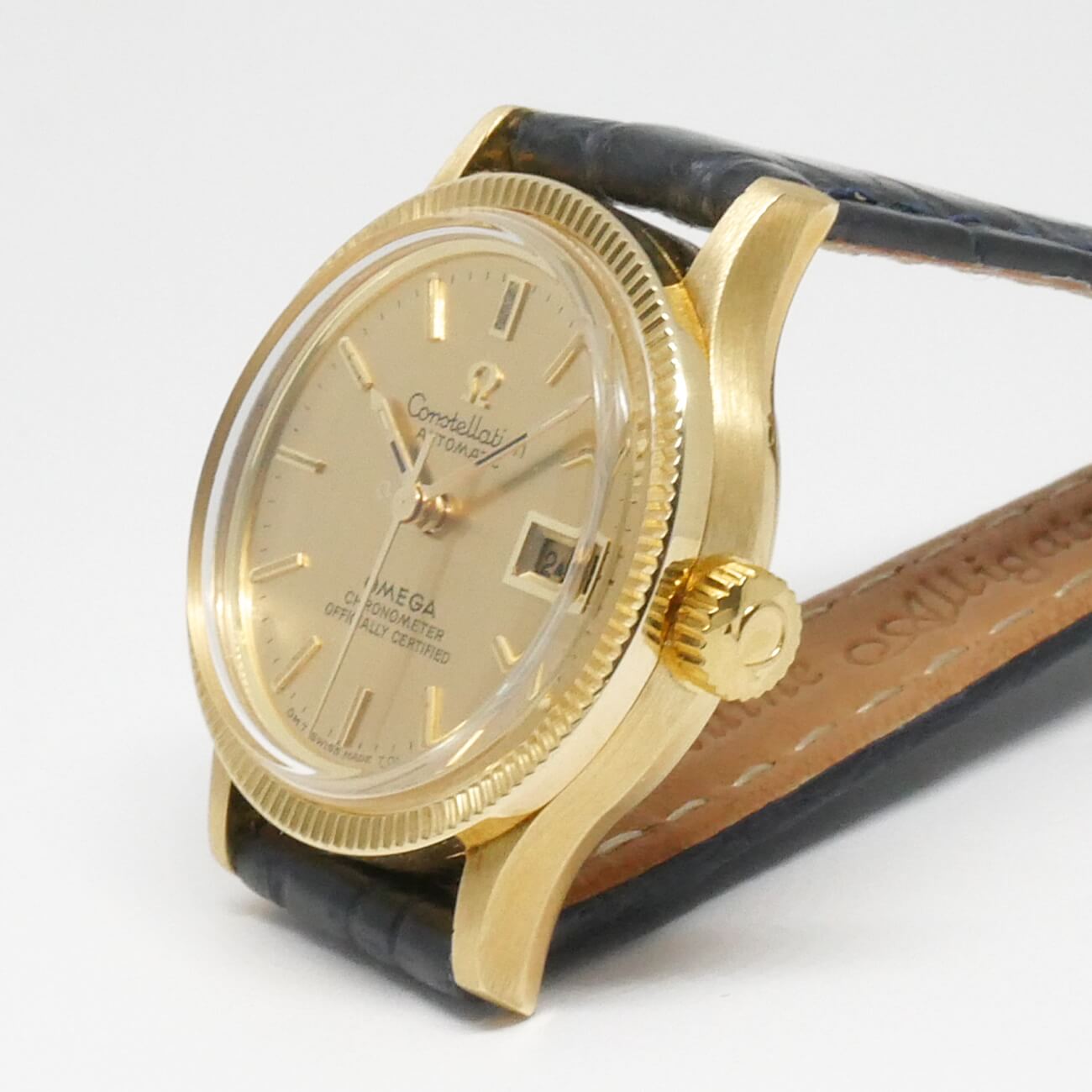 This Constellation is quite unique with no corresponding men's model that it is based off.  It carries an excellent Calibre 682 chronometer rated automatic movement, at a time in the 1970's when Omega was already beginning to produce fewer chronometer rated watches.  It also retains with pride the applied vintage Omega logo on its dial, and the classic Constellation observatory medallion on its case-back.  In an era of austerity and compromise, the 568.016 was as opulent and elegantly finished as any watch from the 1950's and 1960's.
Case & Bracelet
It's hard to find a modern Omega that is anything like this case design.  It borrows the beautiful 18K gold coin edge bezel from the Gerald Genta penned C-Case Constellation line, but fits it to a contrasting brushed case and more Seamaster inspired lugs.  The end result is a watch that looks quite similar to a current model Rolex Datejust, but with a more sporty design due to the thinner brushed lugs.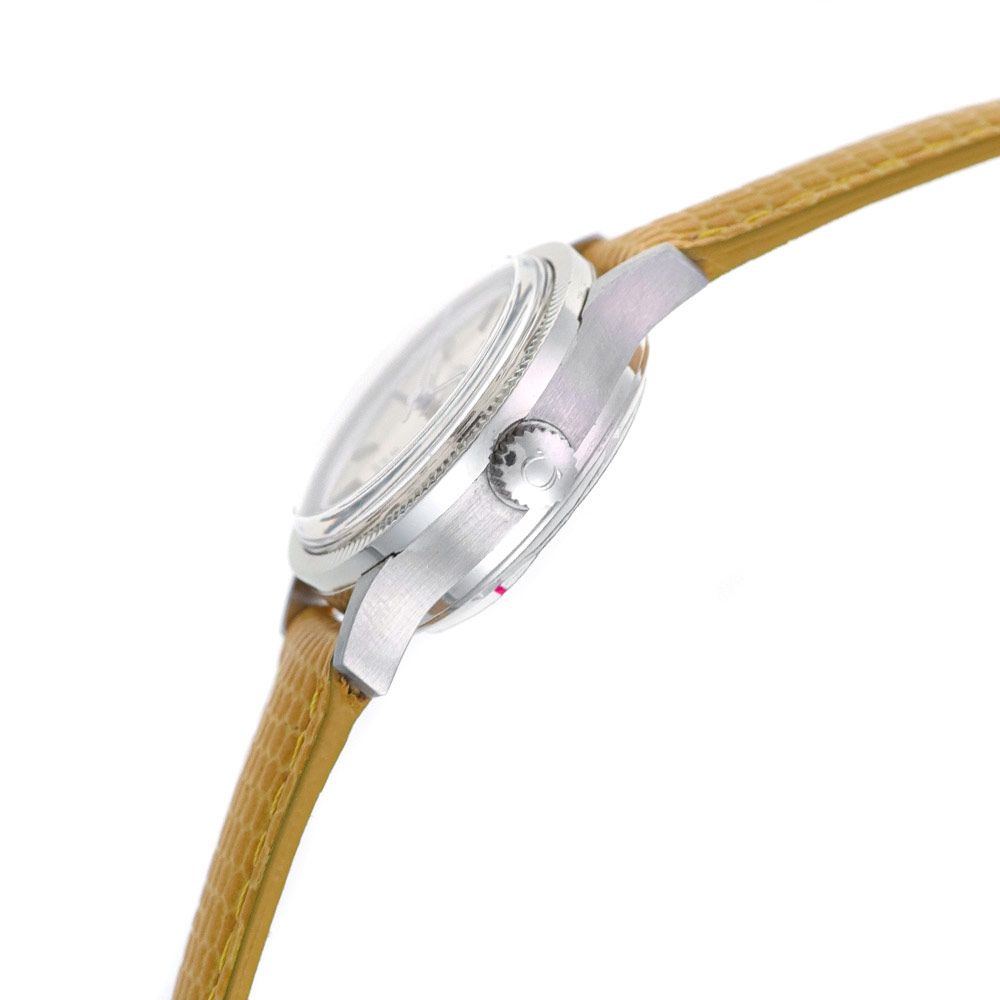 The case is relatively small at 25 mm, but thanks to the quite thin movement, the watch has an overall thickness of only 9.5 mm.  It features a large knurled crown, and 13 mm lug width.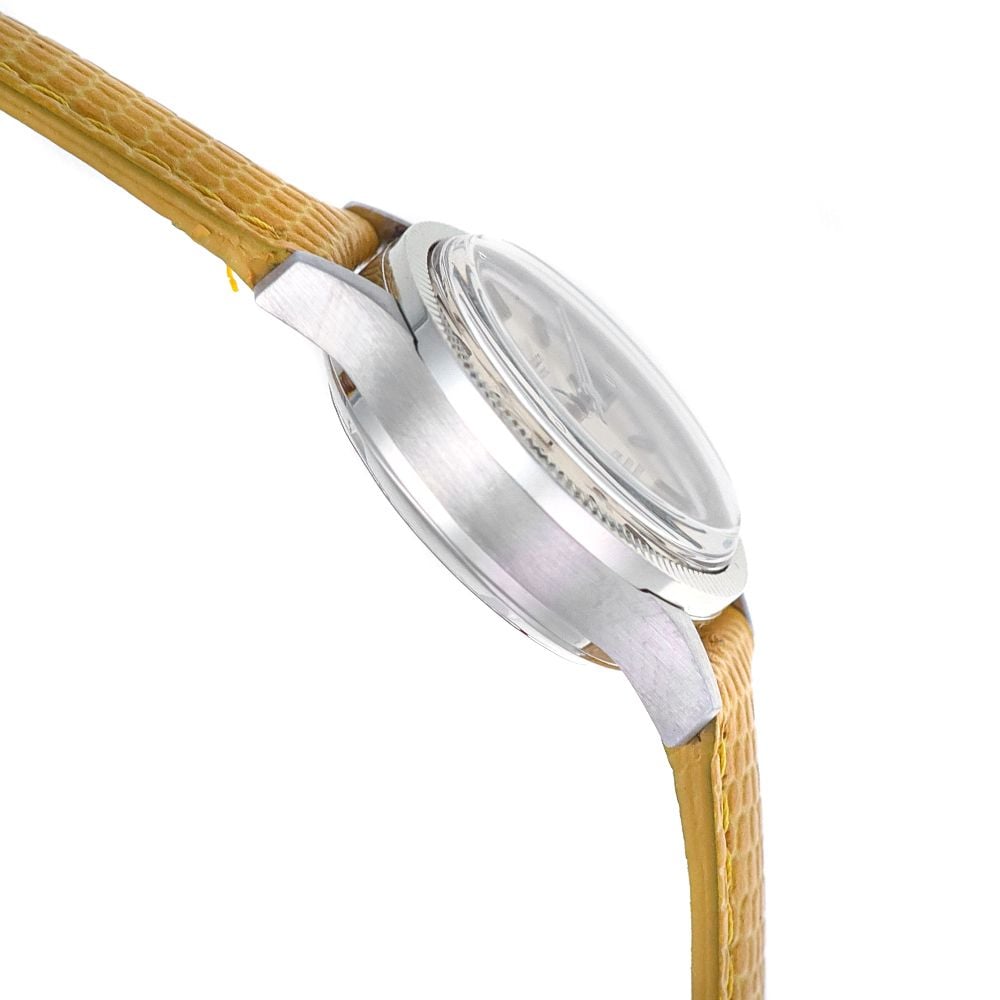 The watch case comes in three versions. The first, and most common, is a stainless steel case with an 18K white gold bezel.  The second is nearly as common and features a 20-micron gold plated steel case, with an 18K yellow gold bezel and steel case-back with gold observatory medallion.  The final case is an entirely 18K yellow gold, and while it may be possible for a white gold version to also exist, none of have been seen thus far.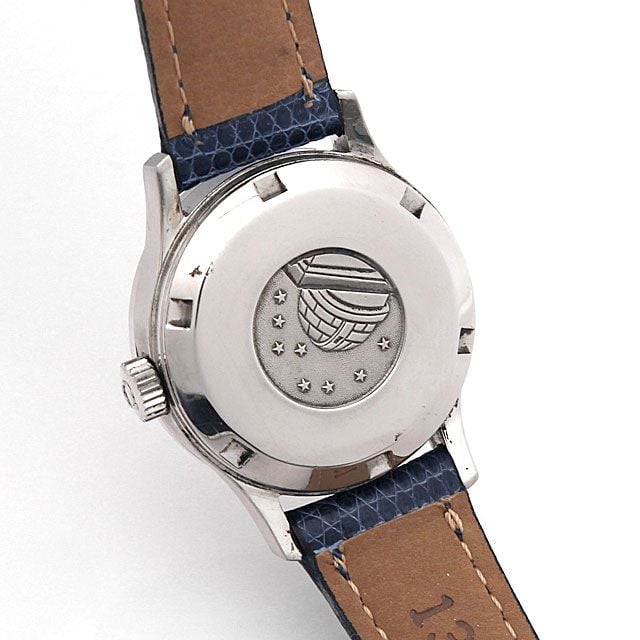 All cases have a standard keyed screw-in case-back and given the high survival rate of dials and movements, the water resistance is at the least quite decent for a ladies watch of this era.
These watches are often seen on leather straps, however there is also a beads of rice style bracelet that fits the 13 mm lugs, which draws even more parallels with the ladies Rolex Datejust due to its similarity to the Jubilee bracelet.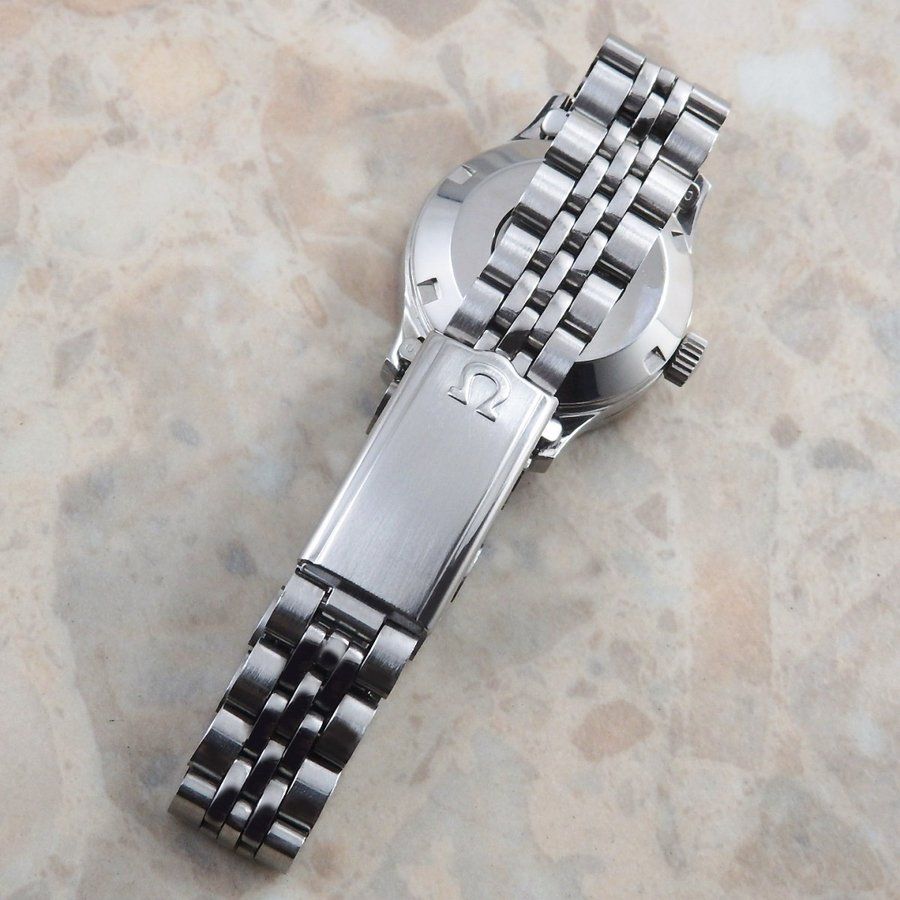 Movement
The movement powering these watches is the Omega Calibre 682 Chronometer rated date movement.  Although many of these watches were produced in the 1970's, the Cal 682 is derived from the manual wind calibre 620 introduced in 1960 at the height of Omega's technical prowess.  
Looking at this movement, you can clearly see from the finishing, rotor design and layout that it has more in common with the highly regarded 1960's calibres than anything that followed.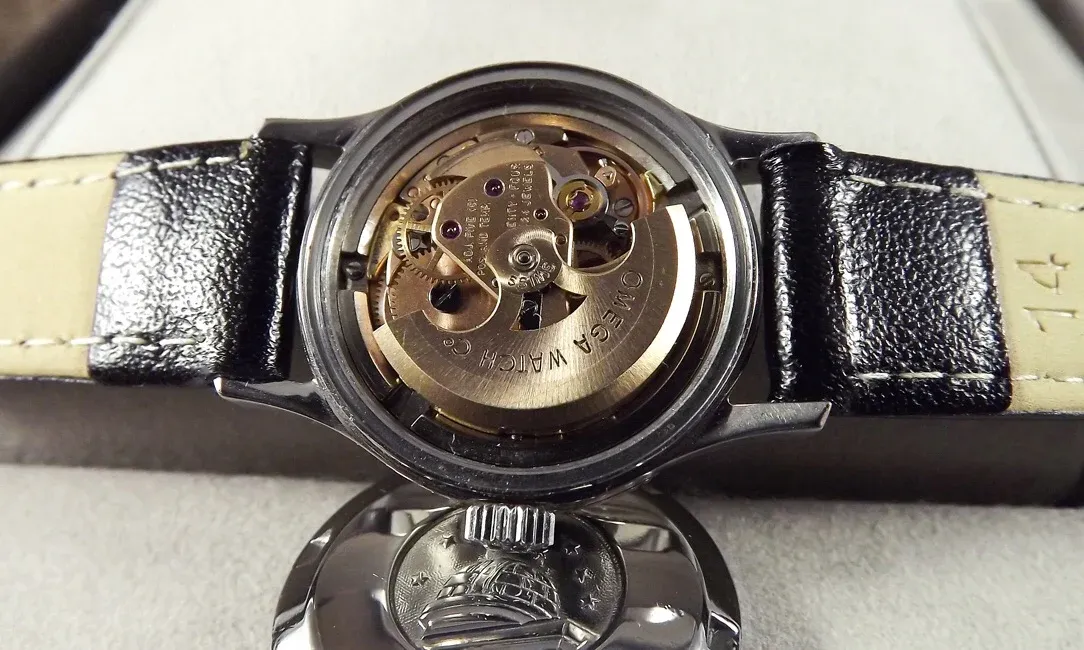 The calibre 682 beats at 19,800 vph, has a sweep second hand, and has the same semi-quickset date mechanism as the calibre 561 men's watches.  All of this is achieved in a movement with a much smaller outer diameter of 18mm compared to the 28.4mm of the calibre 561, and only adds 0.3 mm to thickness.  The only sacrifice made for packaging is the power reserve of 40 hours, 10 shorter than the calibre 561, but still more than adequate for daily use.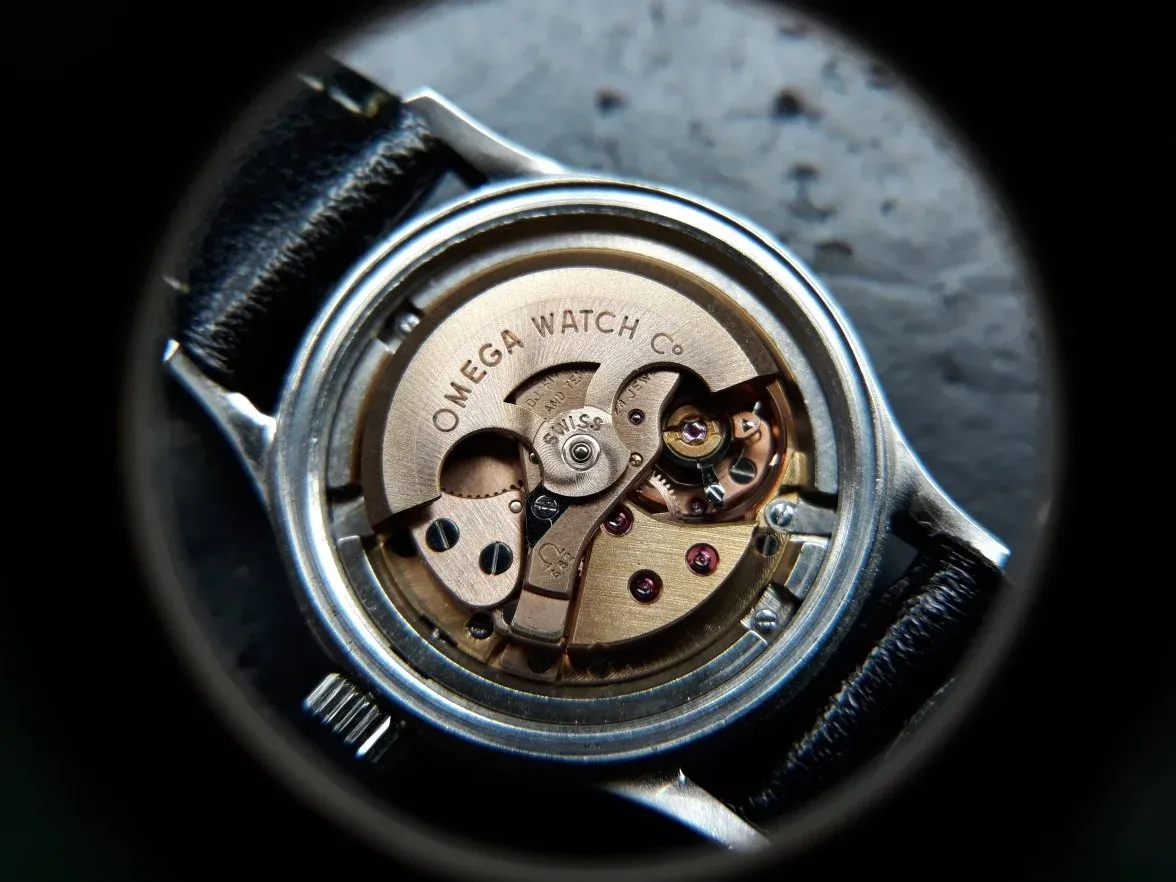 The calibre 682 is compatible with a large number of lesser related movements which can be a bit of a double-edged sword.  On one hand it means there is an exceptionally large pool of donor parts from less desirable models featuring the same movements, keeping parts costs under control for decades to come.  On the other hand, you can also find watches that have patchwork movements or incorrect replacements, so it is important to be somewhat vigilant in this respect.
If properly maintained there is no reason why a calibre 682 cannot continue to meet or exceed its original chronometer specifications.  They were a well-designed, durable and high quality movement which can be cared for by any watchmaker with an Omega parts account.
Dial Variants
All three dials share a lot in common.  They all feature a vertically brushed dial texture with applied Omega logo, date window and dial furniture with black inserts atop.  The also all have Constellation Automatic printed at the top of the dial and Omega Chronometer Officially Certified at the bottom in black.  They all also feature hands matching their metal color, with black inserts as well as luminous material against dials also with luminous material.
There are however several small difference between them that make each unique to its specific case type.
Stainless Steel
The stainless steel is simple and quite elegant.  It features a silver brushed dial, silver dial furniture and applied Omega logo, and a matching silver date wheel.  The furniture, hands and dial combine to compliment the coin-edge bezel beautifully and this design looks terrific whether on strap or bracelet.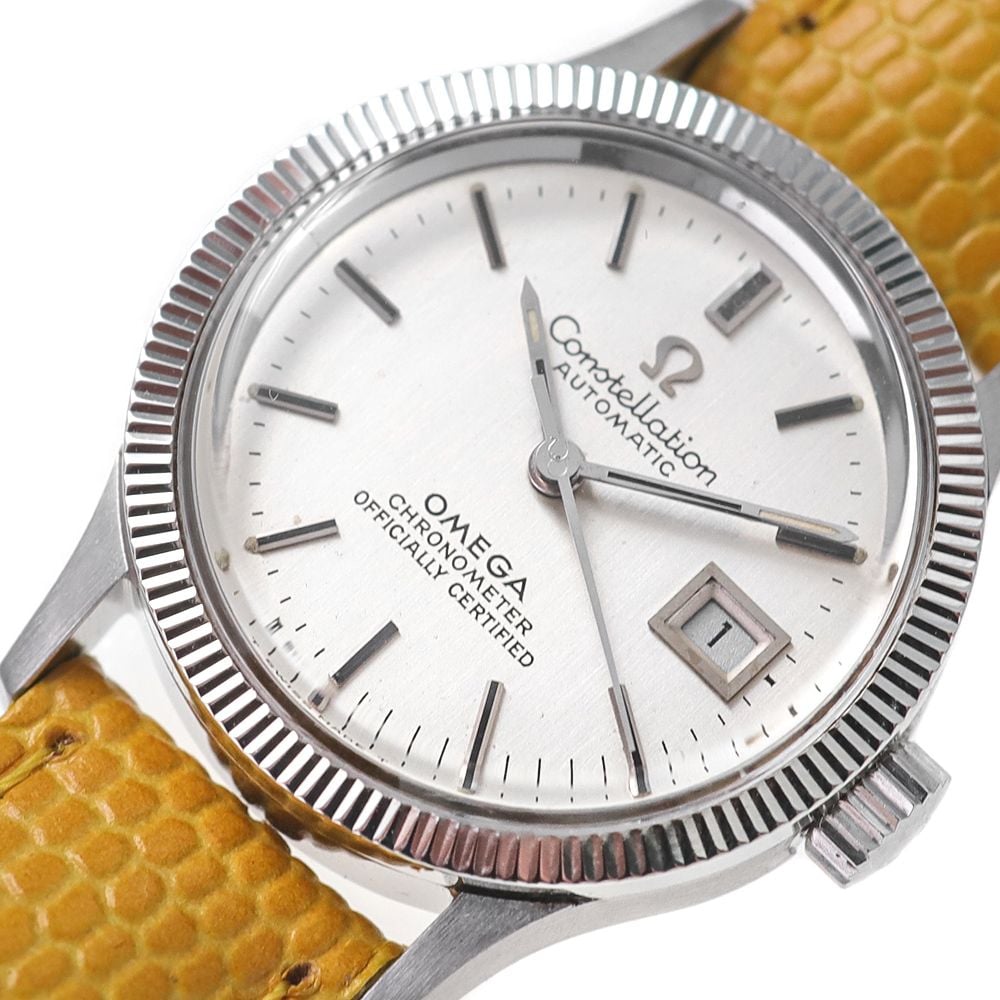 The black inserts in the hands and on the dial furniture allow for excellent contrast and legibility which is important given the small size of the watch.
Yellow Gold-Plated 20 Micron
The yellow gold plated dial is identical to the silver dial except for being gold toned and having a gold toned matching date wheel instead of white.  It also has matching gold toned dial furniture, a gold applied Omega symbol and gold hands.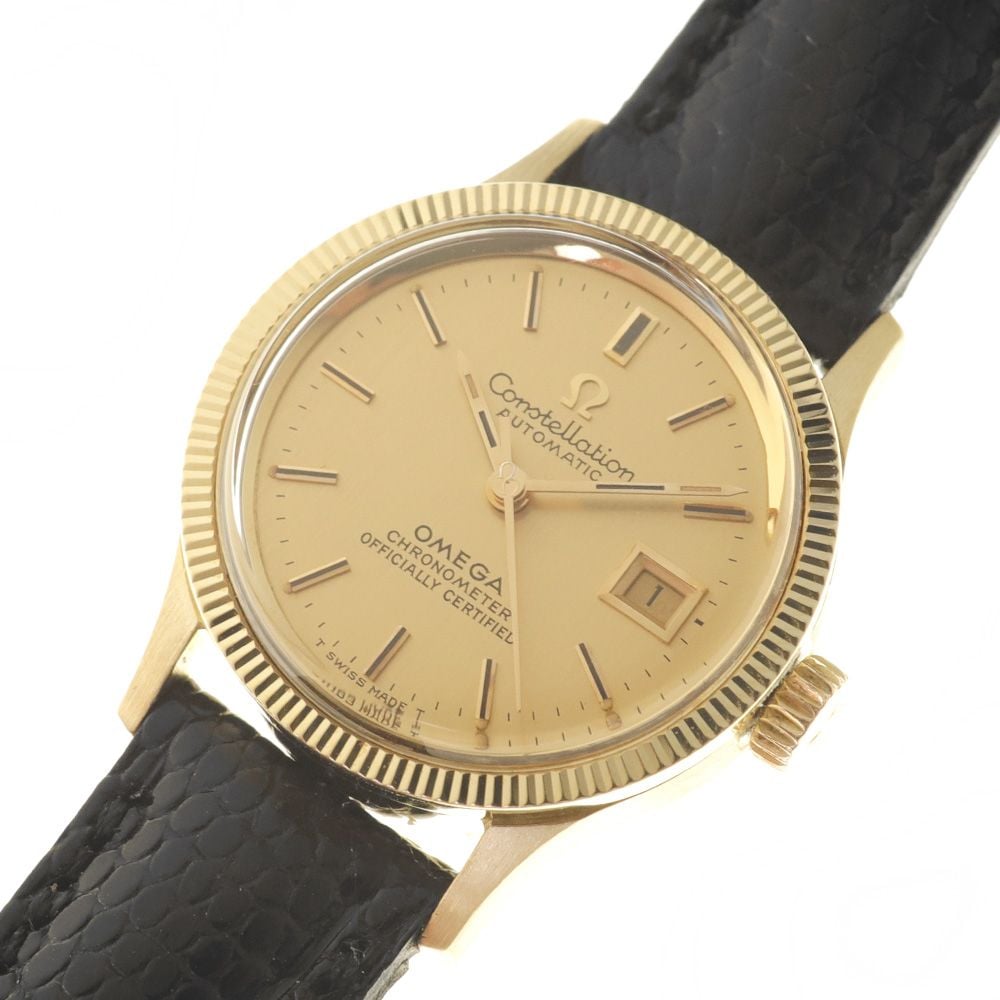 The gold plated version is also unusual in that it has a contrasting gold observatory medallion in the center of the steel case-back in the same way Constellations of earlier years did.
18K Solid Yellow Gold
The solid gold version is quite rare, and while on the surface it looks very similar to the gold plated variant there are some subtle differences.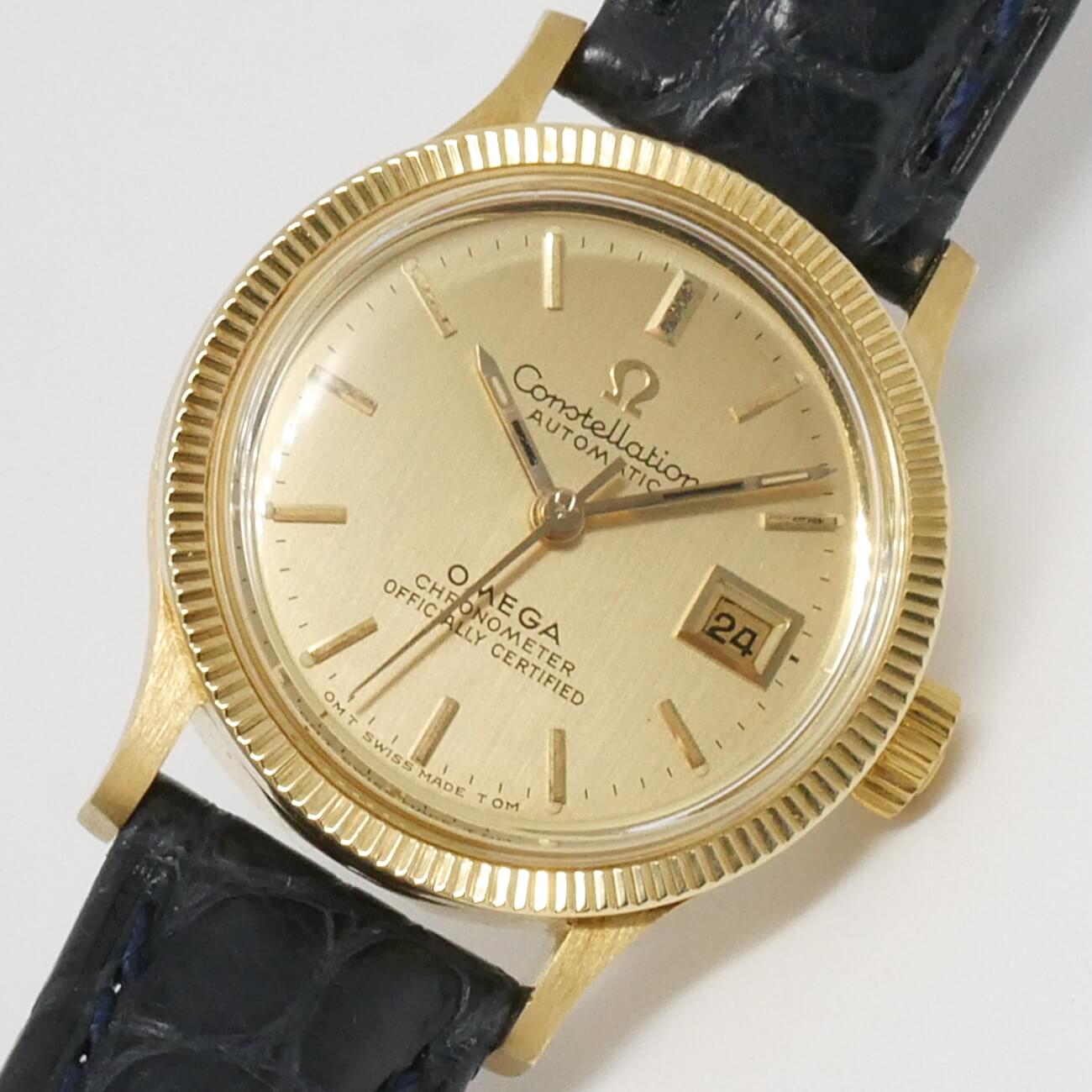 Firstly, the dial is marked at the bottom "OM T SWISS MADE T OM" which is highly unusual and tells us a few things.  "The T SWISS MADE T" is the same as the other dials and indicates the presence of tritium luminous material, but the OM on either side stands for "Or Massif" and indicates that the dial is in fact also solid gold.  Most solid gold dial Omega's do away with luminous material so it is somewhat unusual that this gold dial retains it on both hands and dial.
That solid gold dial still has the same brushed texture but there is no paint, you're looking at the actual gold surface of that dial that has been finished that way.  The hour markers are slightly different, with the black tops being omitted in favor of a polished surface on top.  
The 18K gold variant also has a solid gold case and all gold case-back, with the Constellation observatory logo in the center.  
Buying
The first thing to know when looking for a 568.016 is that there is a very similar Constellation reference that has an identical case powered also by calibre 682 known as the 568.0018 which came after the 568.0018.  The 568.0018 was sold more widely and has different dial designs that it shares with the integrated bracelet reference 568.0017, and is often mistaken for the 568.016.  The best way to identify the difference is by looking at the dials and comparing them to the known variants above.
The real 568.016 should only come with a calibre 682 movement, do not accept anything else unless the deal and condition make it too compelling to pass up.  Secondly, make sure the dial condition good and clean, most of these watches are in great shape still and its not worth buying one with a bad dial.  Thirdly, the gold coin edge bezel on these watches is the star of the show, if it isn't sharp and clean, the watch will fizzle under lights.  Do not let anyone polish these bezels as the gold is soft and will easily lose sharpness.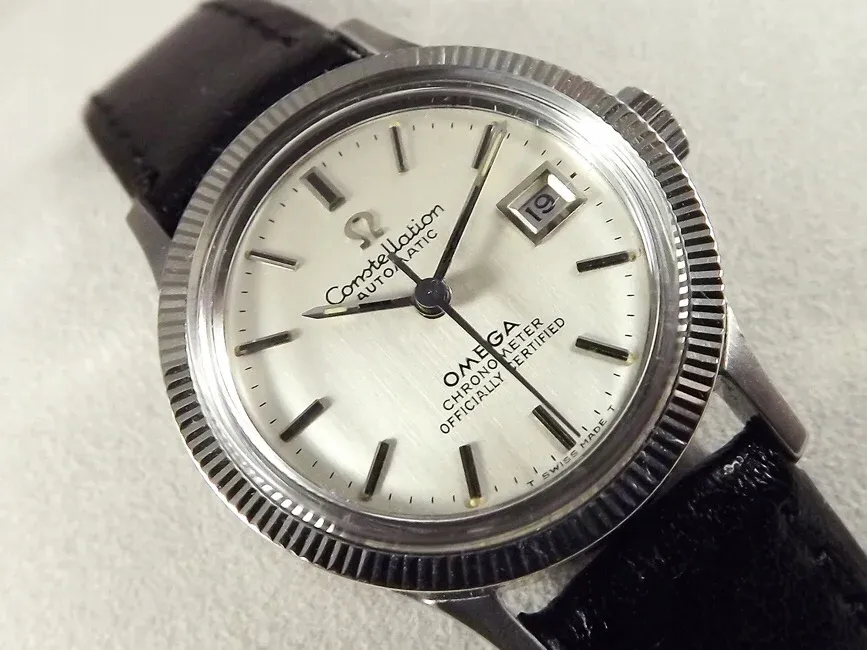 A small number of these watches are in Europe and the USA but the vast majority are still in Japan, and in very good condition.  There is very little competition for these watches in their home market, so while occasionally one may appear on eBay or Chrono24 for $1,000 or more in steel, they actually change hands for a mere few hundred dollars.  This does mean you will likely need to browse Japanese auction sites, Japanese dealers and potentially do some translating or have a friend help you but once again, it's the best way to find these watches at good prices.
If Omega had produced a 34.5 mm version of this design with the straight brushed lugs and stunning bezel, it would likely be a $2,000 watch in stainless steel.  
So for ladies that do enjoy smaller 25 mm watches, this presents a very compelling opportunity.  The 568.016 is an attractive, modern looking, high quality, accurate, beautifully finished, automatic chronometer from one of the most highly regarded watch brands in the world at a price point below an Apple Watch.  As an entry point into Omega's ladies' watches it is tremendous value, and if cared for it will be unlikely to ever lose any value in the time you own it.  Few accessories can compare to that.
Discussion thread on Omegaforums can be found here: