I have to word this carefully because the original Railmaster, the CK2914 is a much loved watch by many collectors including several who will vehemently object to any besmirchment of this magnetic field resistant tool watch.
The Weak Link in the Trinity
The Omega trinity of tool watches, the CK2913 Seamaster 300, CK2914 Railmaster & CK2915 Speedmaster were a watershed moment for Omega.  All launching in 1957, these watches are in extreme high demand in the vintage world and each achieved impressive technical feats in the time.  
The Speedmaster would go on to become arguably the most legendary chronograph line of all, while the Seamaster 300 led to a plethora of different types and styles of dive watches all of which are very popular decades later.  The Railmaster, while highly adept at the task it was designed for, remains a bit of a prodigal son.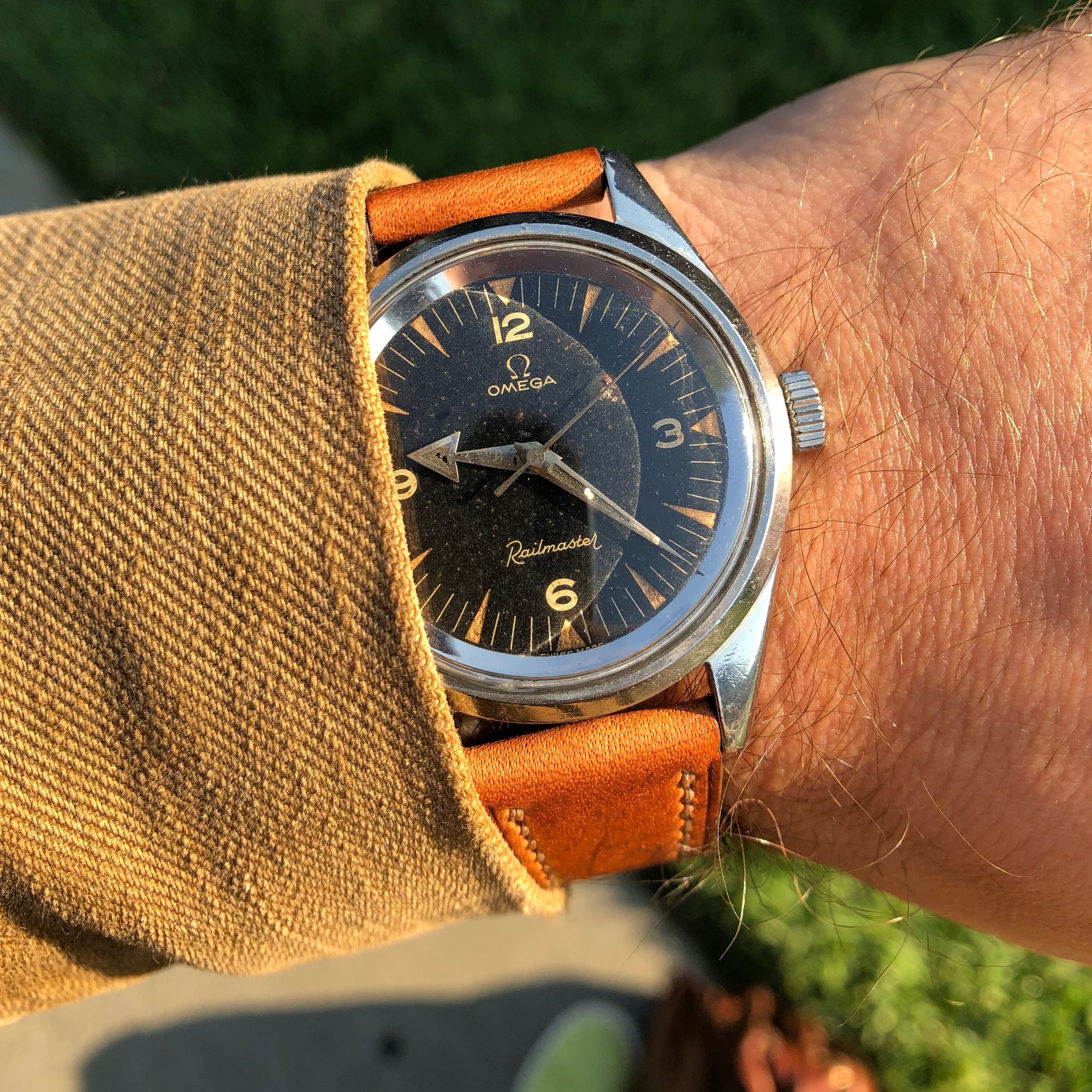 The model has died off and been resurrected several times at this point, and despite the best efforts of Omega's product and marketing team, the watch just doesn't seem to find its feat whenever introduced.  
The original watch didn't survive past the early 1960's.  It's key selling point, was the ability to withstand magnetic fields of up to 1000 gauss.  The reason for the Rail in Railmaster, is that both diesel-electric and electric trains in the 1950's and earlier used low-voltage DC powered traction motors, as well as low voltage DC generators, overhead cables or third rails.  These low voltage DC systems required very high current and created substantial magnetic fields which can magnetize the hairspring in a watch, causing it to stick together and ruining accuracy.  This was a serious issue for any railway worker operating near generators, electrified wires, or traction motors.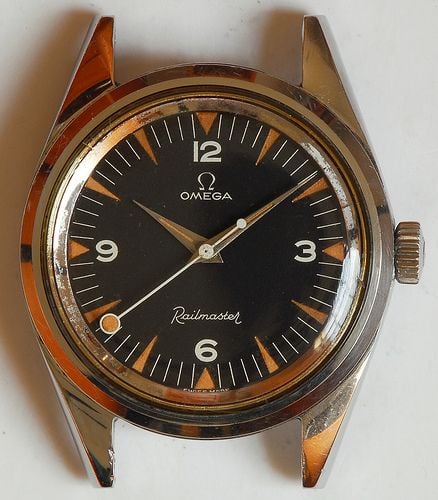 To make the Railmaster resistant to these forces, Omega started by choosing a slimmer movement, the 30mm Calibre 284/285/286, and using the space bought by that to add a soft iron dust cover, and a thicker dial, acting as a faraday cage around the movement.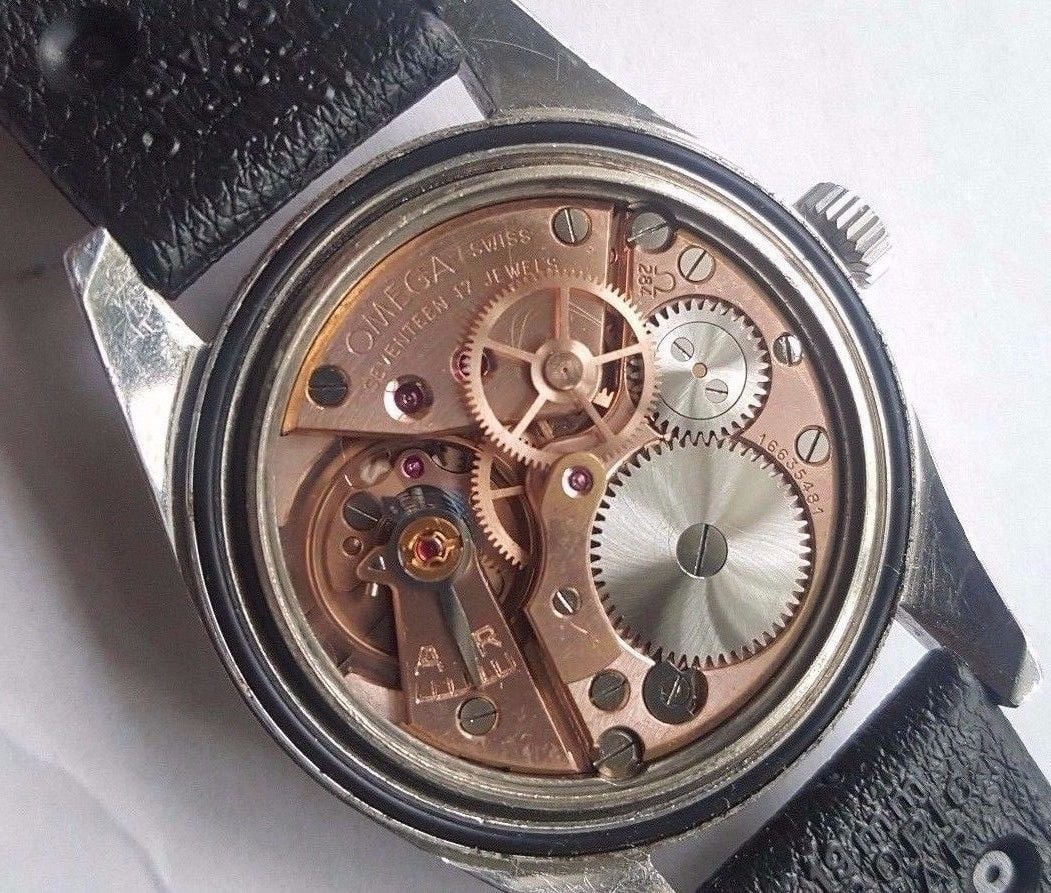 In the late 1950's, trains however were already beginning to change.  Advances in semiconductor technology led to inefficient DC generators being replaced by AC alternators, while low voltage DC rail lines were to be replaced by high voltage AC.  
The result of this is that strong magnetic fields became far less of an issue even for railway workers, leaving the Railmaster along with similar anti-magnetic watches as even more of a niche product.  
By 1963 the original Railmaster had left the Omega catalog, and would not be revived until 2003.
What the 2000's Railmaster was up against
To people working around strong magnetic fields, the original Railmaster had a specific task and the specifications to meet that need.  To ordinary people, the CK2914 was more or less a Seamaster without a bezel, and without automatic winding.  It was defined by what it lacked, not by what it could do.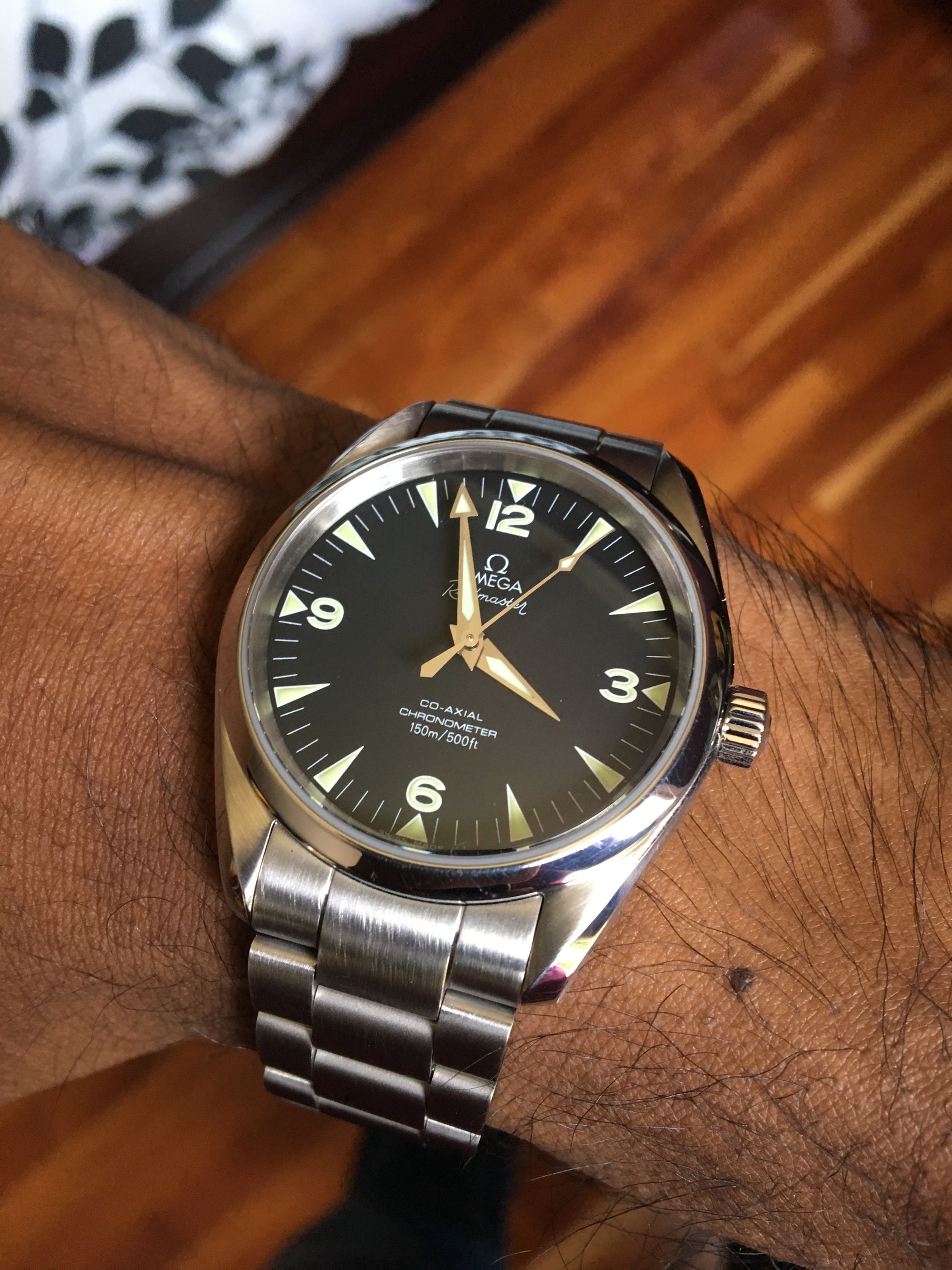 The revived Railmaster was a watch that suffered a similar fate, sitting along side a similar, yet painfully superior relative and often being overlooked as a result.  
Even the name was a problem.  The Railmaster was not a model in its own right, but instead was a sub-brand of the Aqua Terra line.  Worse still, the Railmaster offered almost no meaningful differences from the Aqua Terra other than lacking date and lacking applied dial furniture and logos.  In essence the Railmaster was almost a dial option rather than a separate model, with that lack of date being the only thing that set it apart under the surface.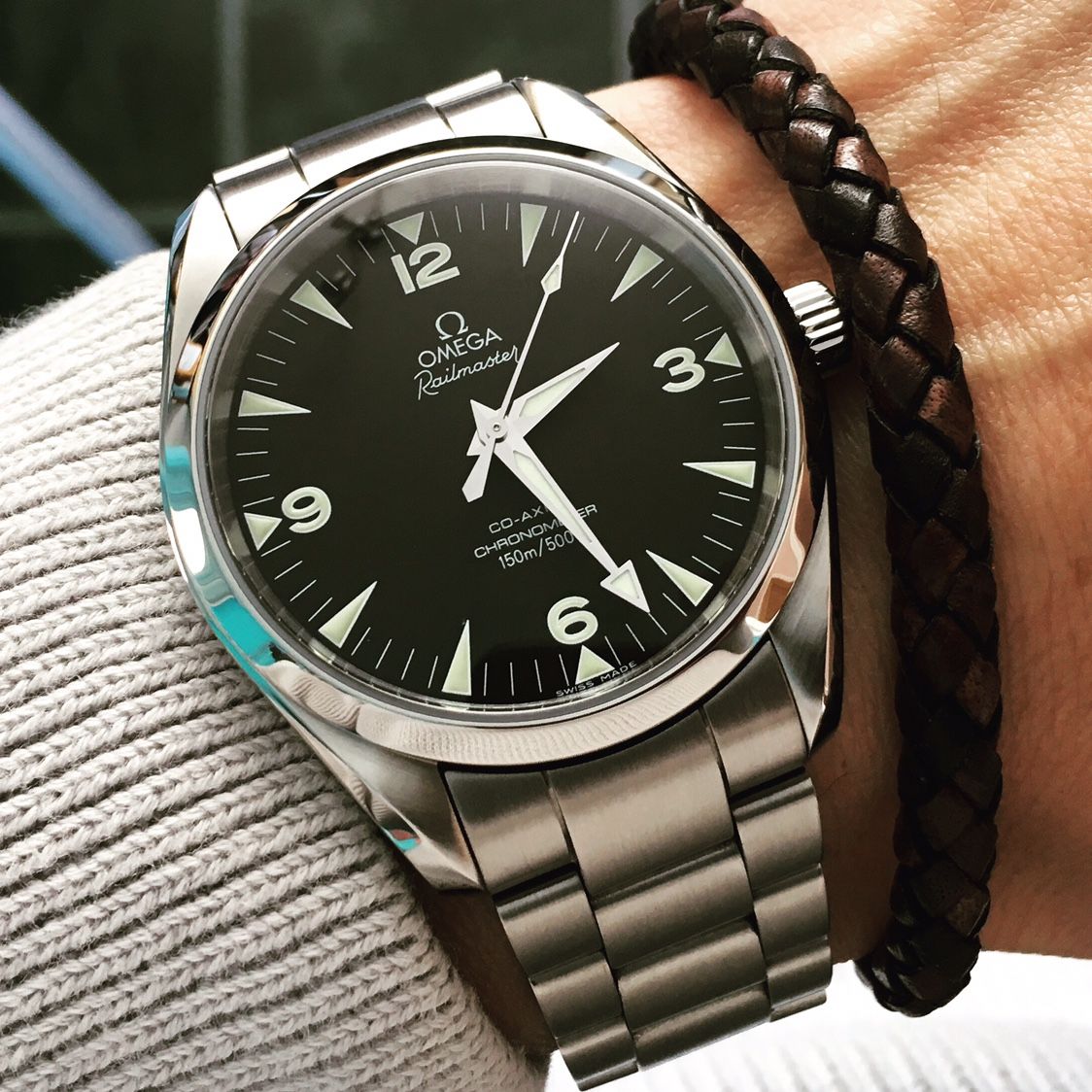 I say one thing because even the magnetic shielding offered by the soft iron core was deleted from this Railmaster, leaving it with a standard Aqua Terra display-back instead which offered no shielding at all.  As a result, we're left with a watch that doesn't protect against magnetic fields in spite of its name and heritage, in an Aqua Terra case with a slightly worse dial and no date.
That isn't to say this is bad watch.  It actually isn't, because it is essentially an Aqua Terra, which is a superb, slightly dressy sports watch that works well with both a suit and with shorts.  It's thin, comfortable, has a great feel on the wrist and if you like the CK2914 inspires styling there's no reason not to get one.  
There just isn't any great reason to get one either, and that ultimately is why this watch faded out of display cases by 2010 without an immediate successor.
Case & Bracelet
There are three distinct case sizes available for the Aqua Terra Railmaster.  There is a 36.2 mm, a 39.2 mm & a 42.2 mm.  All of these cases are exactly identical to the Seamaster Aqua Terra case, with twisted lugs and a smooth polished bezel.
All three sizes use a display-back bearing the writing Seamaster Aqua Terra, and Co-Axial Escapement around the edge, along with the depth rating of 150 meters / 600 feet.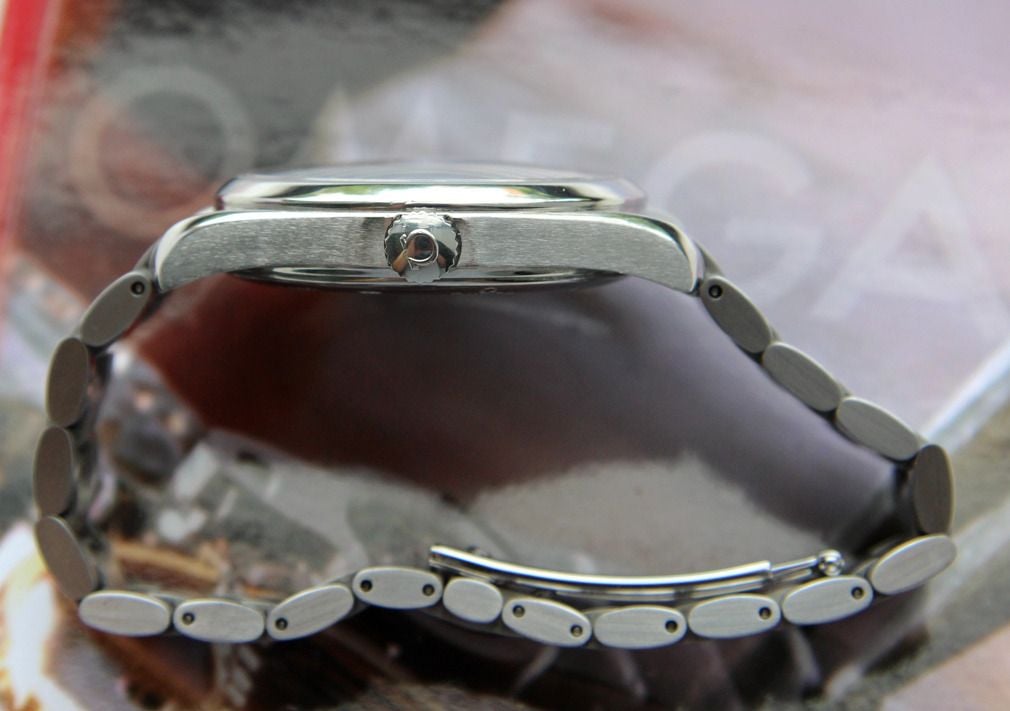 As with most Aqua Terra models the crown is large, knurled and easily accessible due to the lack of crown-guards.  From many angles you can definitely see the similarity in design between the Aqua Terra Railmaster case and the original case used on the CK2914 and appreciate Omega's choice here, especially on the 39.2 mm version which most closely matches the original.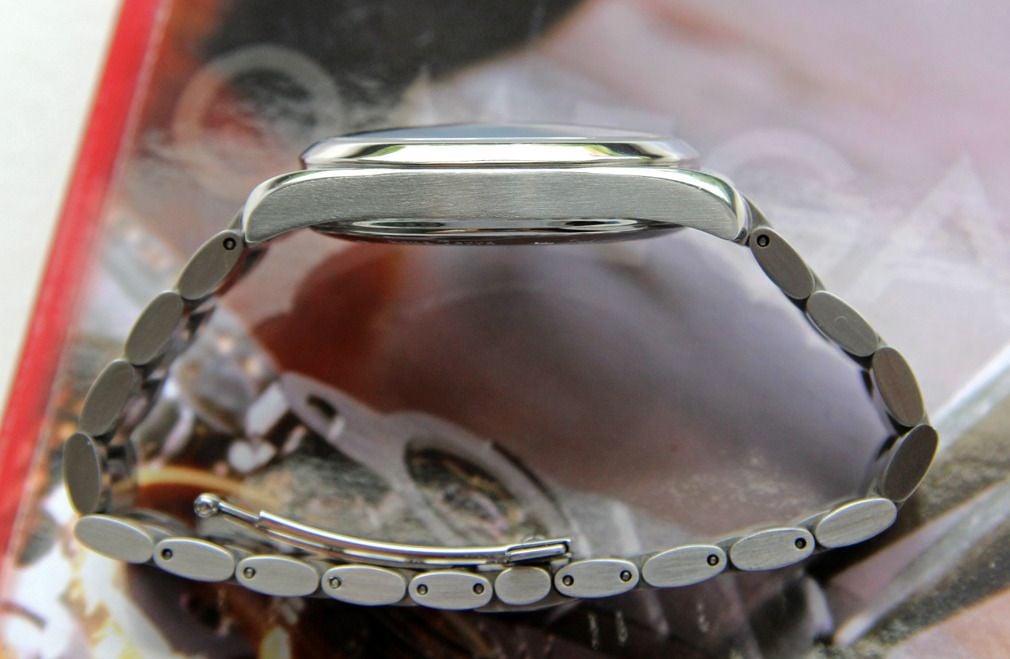 While the original Railmaster was only available in steel due to it being a requirement for magnetic field resistance, the Aqua Terra Railmaster has no such constraints and was produced in 18K solid gold.  These examples are extremely uncommon but carry the reference 2603.52.37 for 18K gold on brown alligator, 2603.52.31 for 18K gold on black alligator & 2103.52.00 for 18K gold on full bracelet.  
Railmasters were often sold on brown and black leather straps as well as on the Aqua Terra bracelet.  It should be noted that each model of Railmaster, as with other Aqua Terras has a unique lug width, so the 42.2 mm has 21 mm lugs, the 39.2 mm has 20 mm lugs and the 36.2 mm has 19 mm lugs.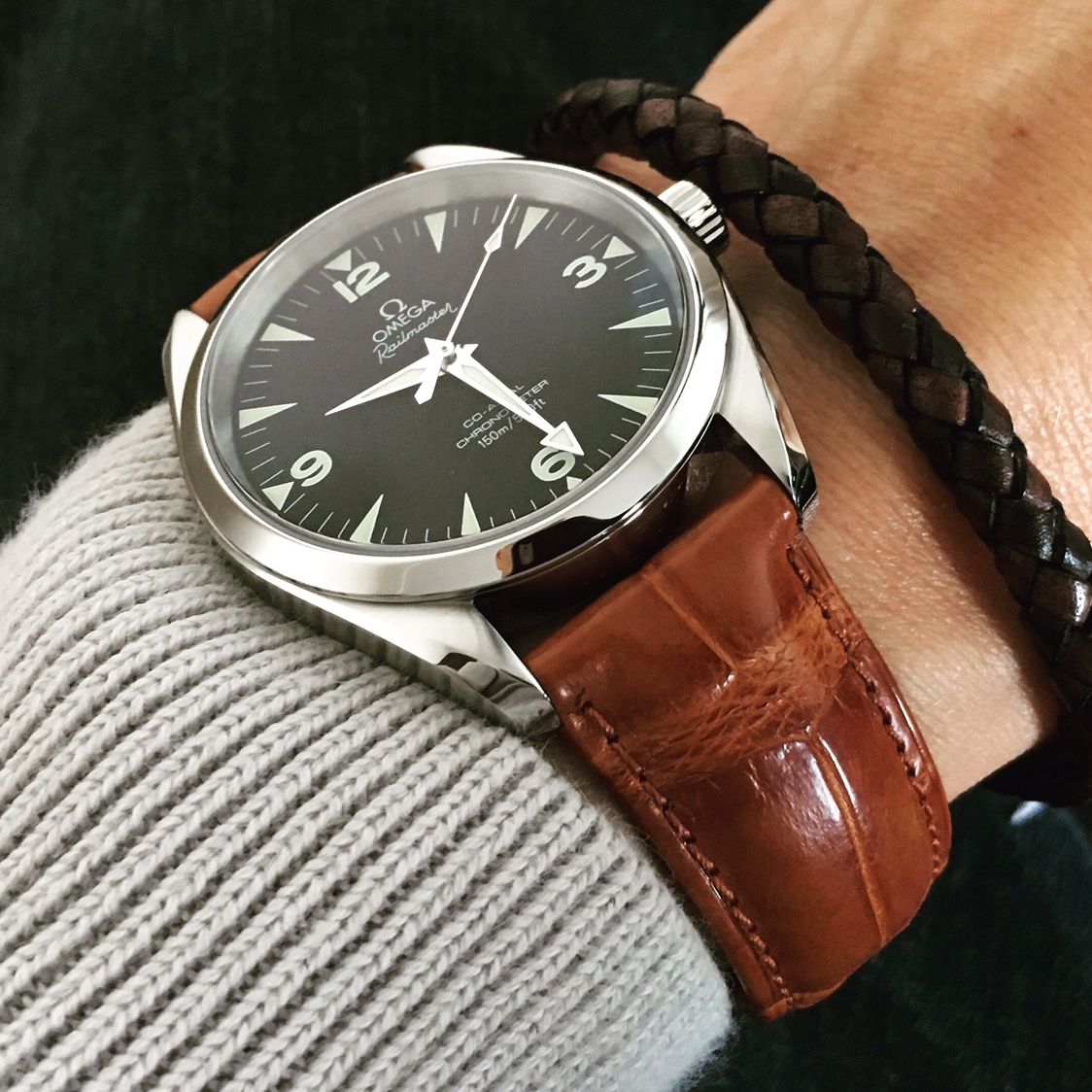 The bracelet is simple but very comfortable and low maintenance with brushed links and a seamless fold-over clasp.  The clasp does not have micro-adjustments so fit is achieved with half-links.  The pin and bushing mechanism used to secure these links is best left to a professional with the right tools, ideally a watchmaker.
Movement
All three sizes of the Railmaster Aqua Terra use the same movement, the Calibre 2403 Co-Axial chronometer movement.  
The Cal 2403 is derived from the Calibre 2500 movement used widely in Omega's product range including by the rest of the Railmaster models, with the only significant difference being the lack of date.
The Cal 2403 does also suffer from the difficulties had by early versions of the Calibre 2500 movement family.  Early versions of these movements used the "two-level" version of George Daniels' Co-Axial escapement, intended to be more vertically compact than the "three-level" version which Daniels initially designed.  Ultimately the "two-level" escapement went through several revisions both in the design of parts and in servicing procedures before Omega switched to using the "three-level" design from the Calibre 2500D onwards.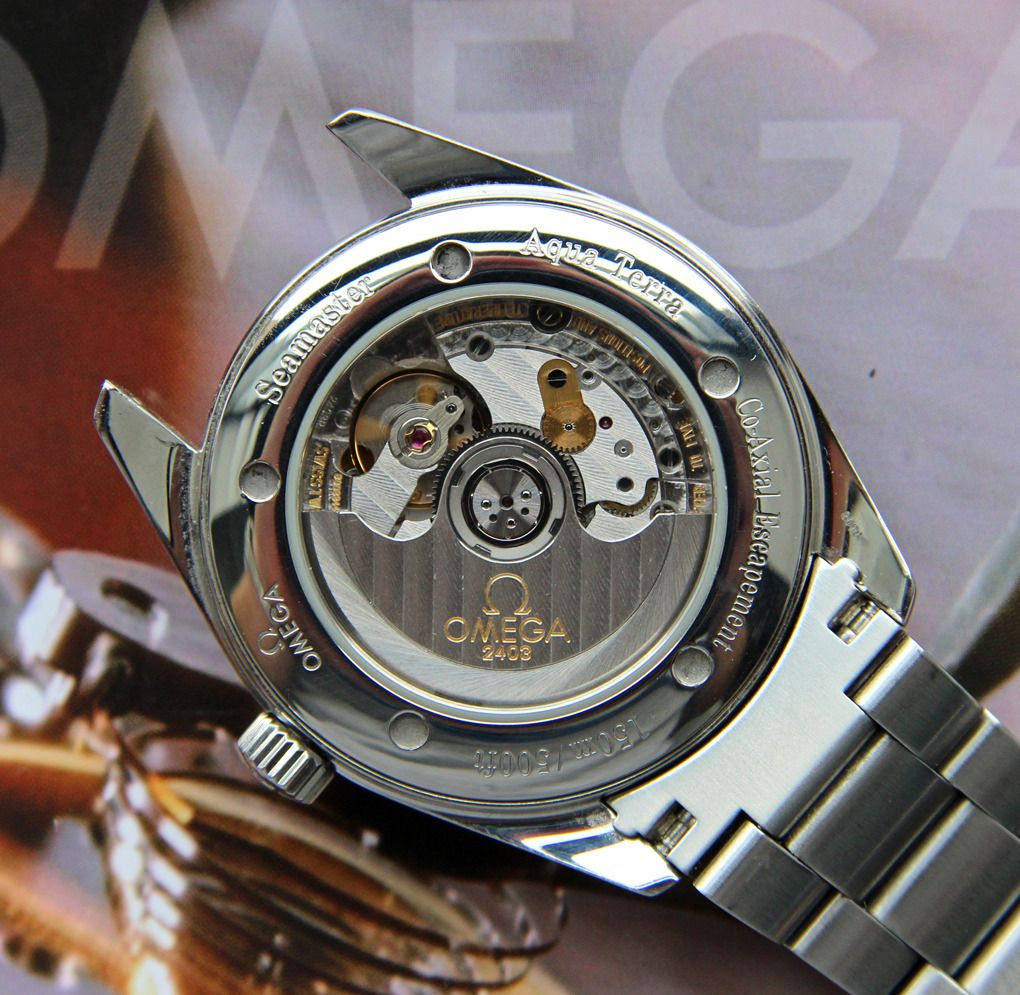 There is a lot of information on the various versions of Calibre 2500 floating around the internet, much of which is not entirely correct however the movement version letters on the Calibre 2500 do not exactly map to the Calibre 2403 either, as the later was introduced around the time of the 2500B variant.
At the end of the day, if you have one of these, or purchase one, take it to be serviced by an Omega qualified watchmaker and they will be able to implement the latest upgrades and servicing procedures to ensure that the escapement does not create problems in the future.  Once serviced, enjoy the watch and don't worry.
Dial & Variants
The Aqua Terra Railmaster dial, like the Ford Model T, comes in any color you want, as long as it's black.  The three different sizes have basically the same dial, design and text and in all cases that consists of white text and super-luminova on a black matte dial.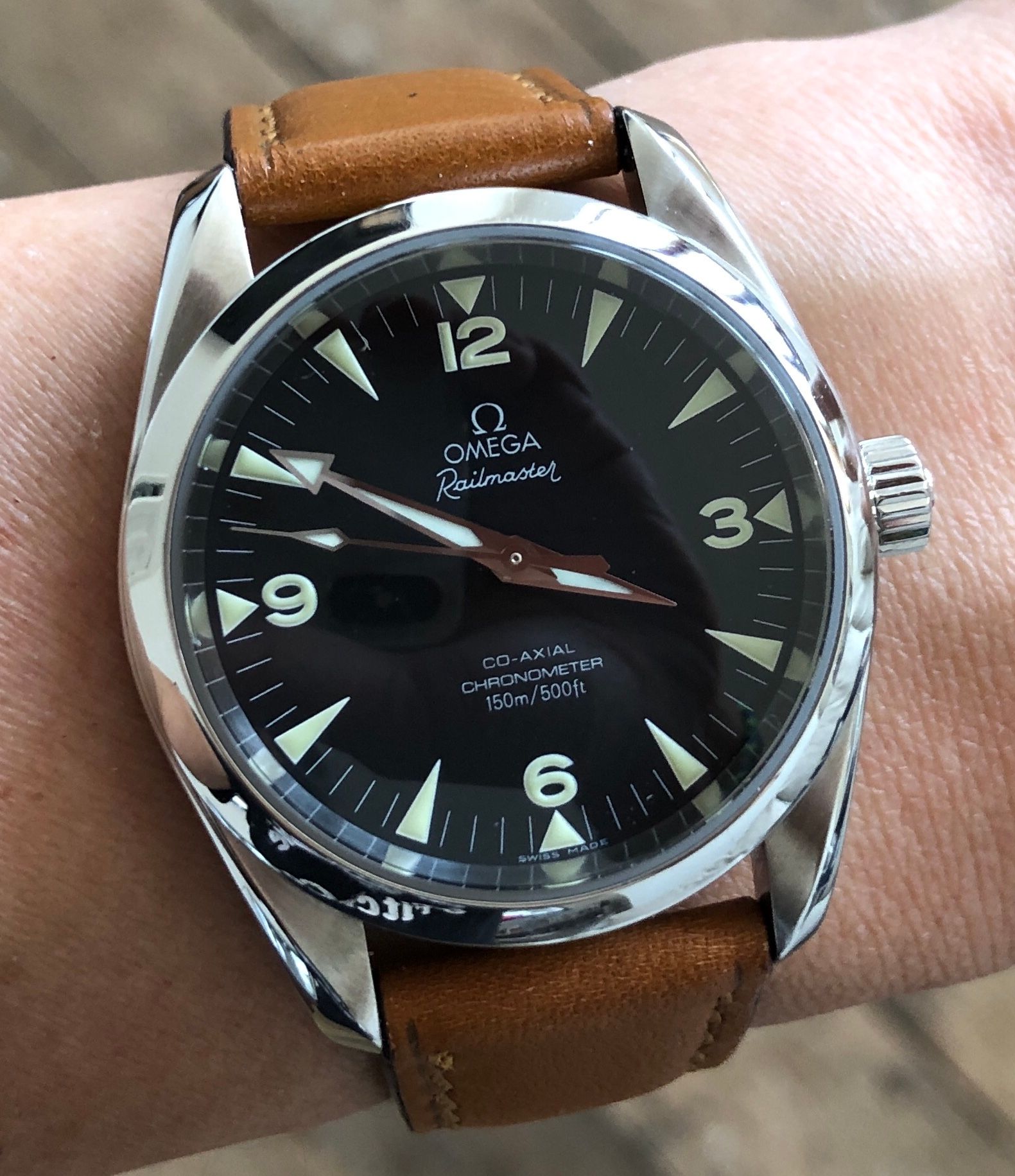 The intention of the dial is to closely replicate the CK2914 design and in some ways, it succeeds, however the bright white luminous material really stands out quite a lot.  It actually makes you genuinely appreciate Omega's more recent efforts with the 60th anniversary set in creating egg-shell colored luminous material as this shade of white is quite stark against the plain black dial.  The positive of having all of this super-luminova is that the legibility and glow is extremely impressive, especailly as the numbers at 12, 3, 6 & 9 glow in their entirity also.
The presence of luminous material instead of applied dial furniture and the matte surface are the major differences from the other Aqua Terra models and definitely give the Railmaster a different, more utilitarian look.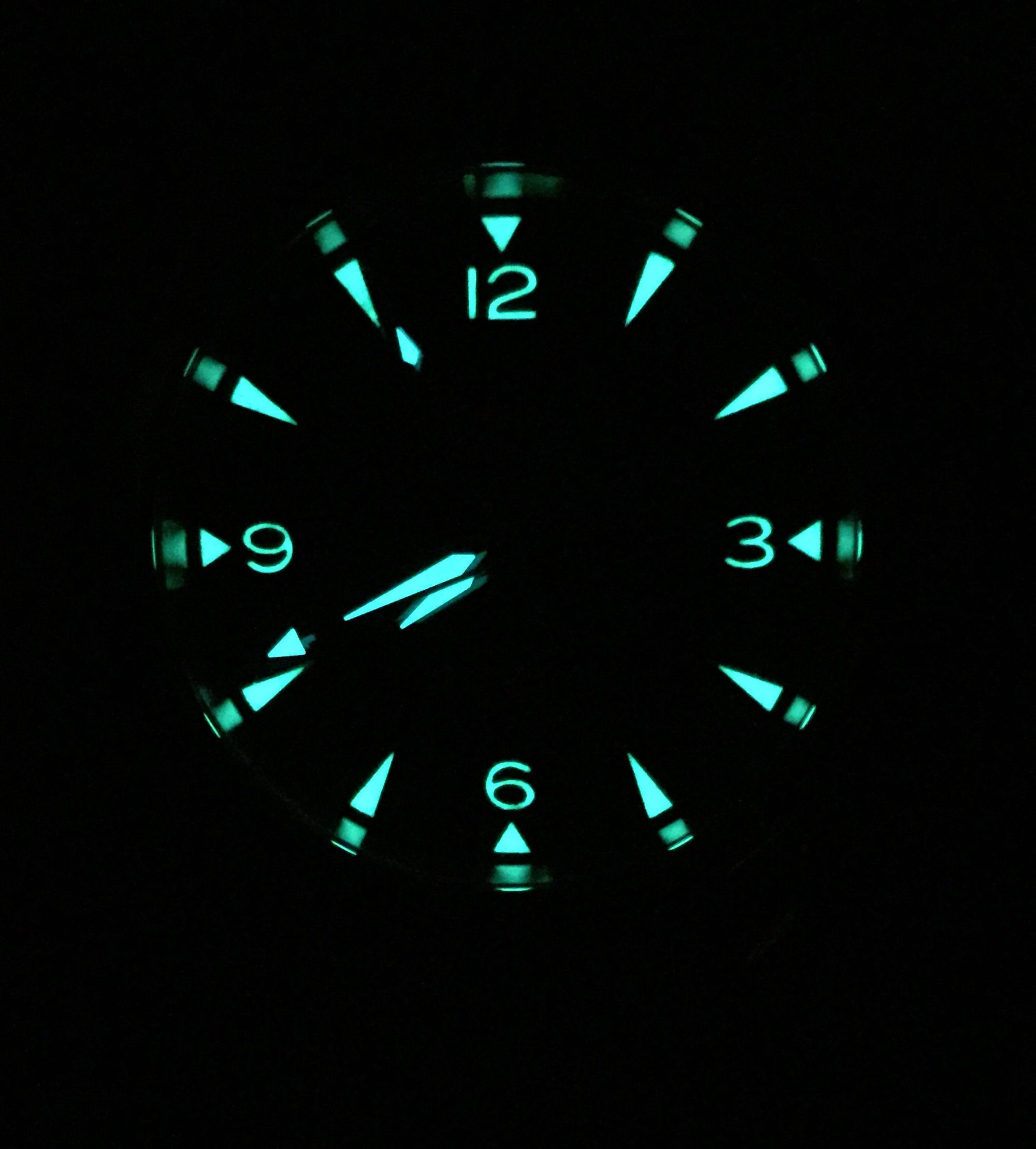 The hands are highly legible and look great against the matte dial, and do differ in shape and in luminous material from the standard Aqua Terra set.  While intended to be similar to the CK2914, they are quite a bit different from any set used on that original model.
Buying
Buying a Railmaster of the Aqua Terra generation is oddly a bit less straight forward than one would expect.  
The first decision is going to be finding the right size, which is hopefully either the 39.2 mm or 42.2 mm.  I say hopefully, because the 36.2 mm version was produced in very small numbers and is remarkably hard to find at all for a modern Omega.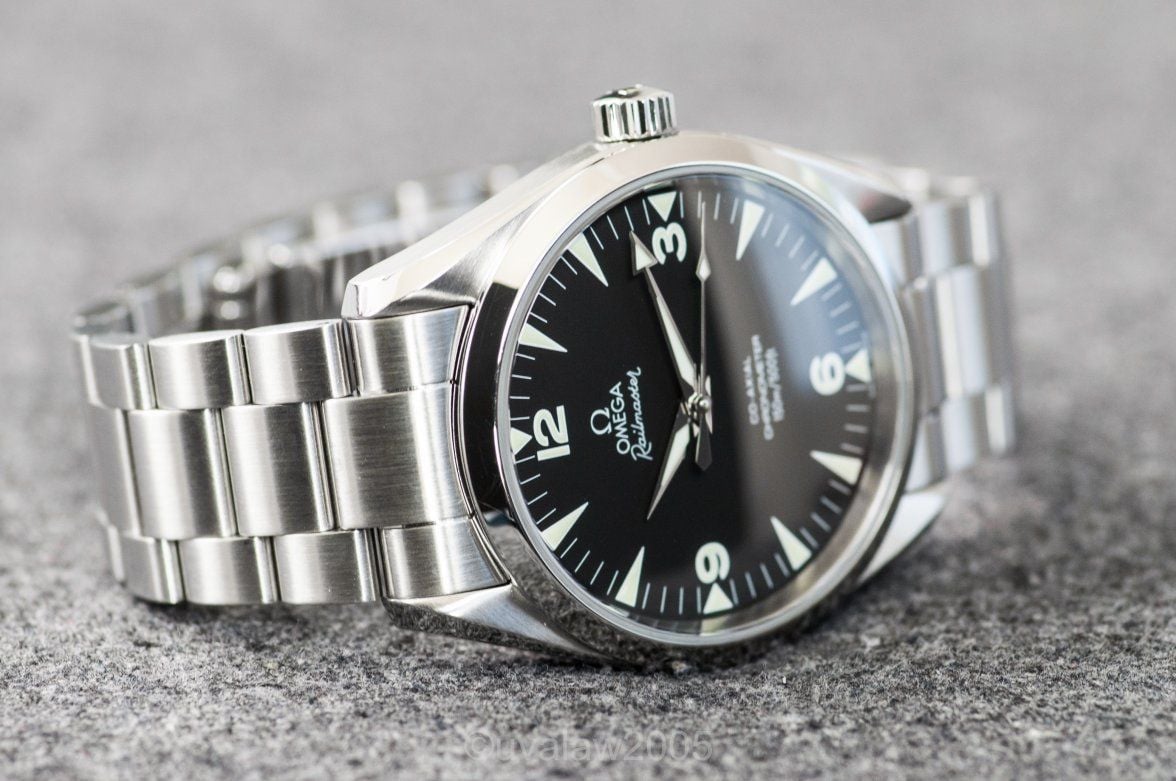 At time of writing, if one searches for the 36.2 mm Railmaster's reference, 2504.52 on both eBay and Chrono24, zero examples come up.  One Omegaforums member, @Ollipekka purchased his 2504.52 last year for 2900 euros, and he is in a genuine minority as there are only a handful of these in the community at all.  Another was recently sold for $4,700 which is a lot, more than double the price some of the larger models can sell for on eBay.  This rarity and the prices caused by it may lead many to strongly consider going one step larger at least.
Shopping for the 39.2 mm version (Ref 2503.52) or 42.2 mm version (Ref 2502.52) is generally much easier.  There still aren't huge numbers available but generally those that are floating around on forums, eBay & Chrono24 do exceed the demand for them sufficiently to keep prices down around around $2,000-2,500 for a decent example.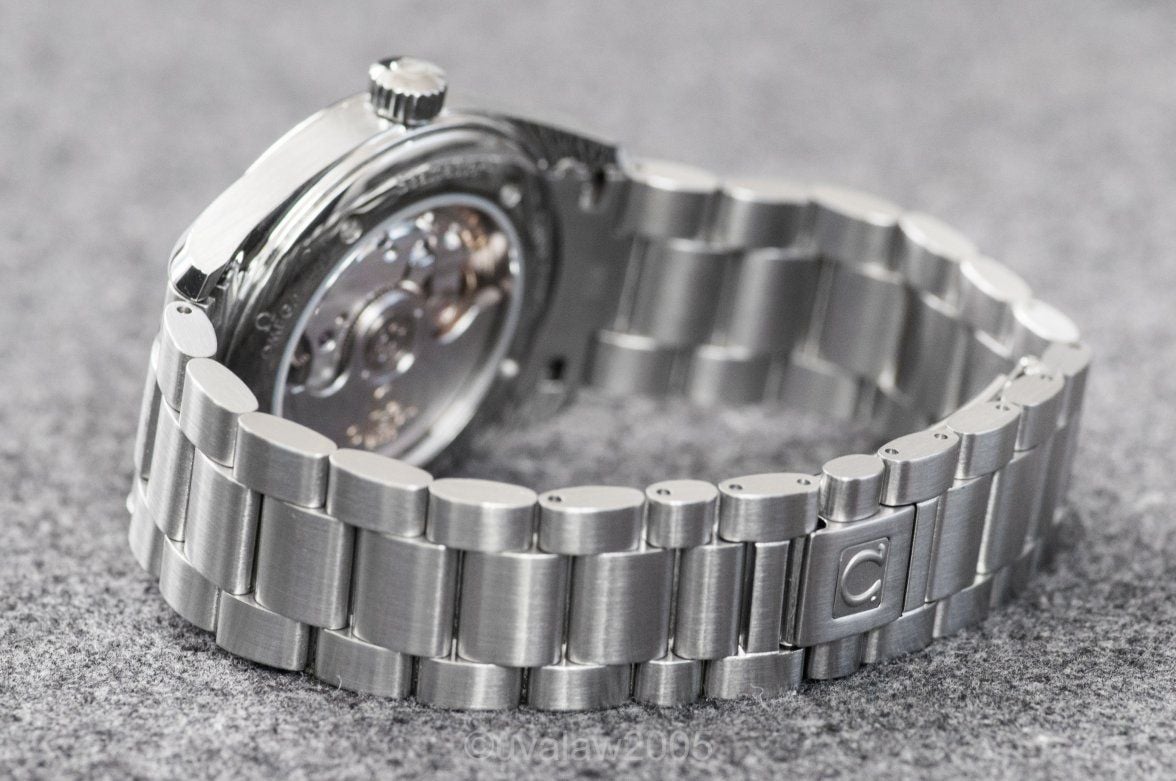 The bracelets are very expensive if purchased separately so it is better to buy the references that include one if given the opportunity.  The strap references are 2804.52.37 for the 36.2 mm on brown strap, 2803.52.37 for 39.2 mm on brown strap, 2802.52.37 for 42.2 mm on brown strap, 2803.52.31 for 39.2 mm on black strap & 2802.52.31 for 42.2 mm on black strap.  All strap versions come with the Omega stainless steel deployant clasp.
It is important to keep in mind that all of these watches are now either due or overdue for a service, and unless there is an invoice from an Omega service center or Omega qualified independent watchmaker included in the deal, assume it still needs one.  This shouldn't be too costly being a time only piece but is necessary to ensure the Co-Axial movement has had the latest updates and is running smoothly.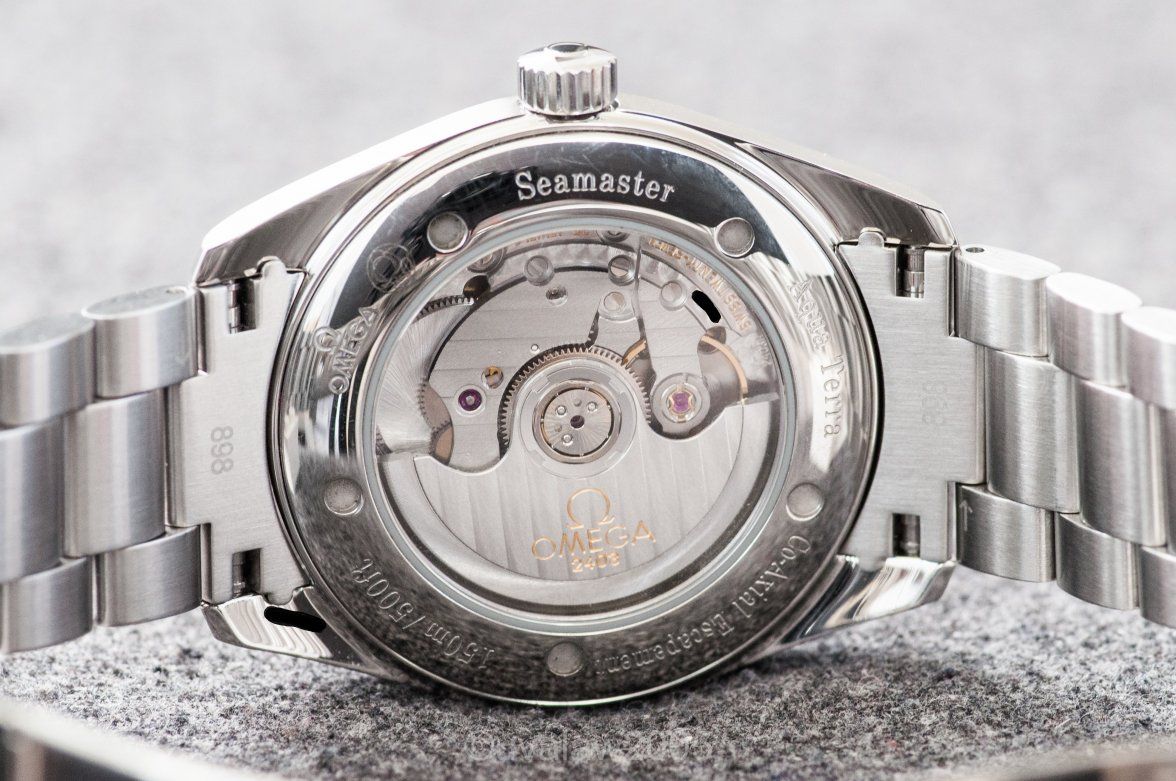 While they may no longer be magnetically resistant enough to really deserve the name Railmaster, these watches still have a unique look and are based on one of Omega's most popular and loved models in the Aqua Terra.
Discussion thread on Omegaforums can be found here: