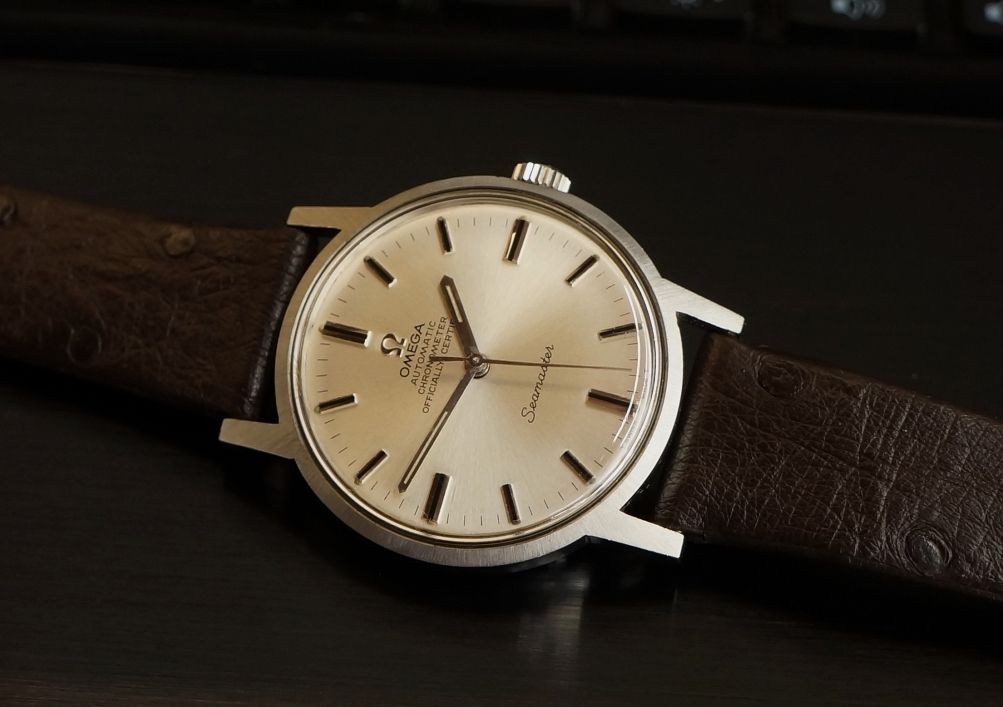 Deep Dives
167.070 Seamaster Chronometer Née Geneve
The reference 167.070 Seamaster Calibre 551 Chronometer is quite an unusual piece, and one surrounded in a fair degree of confusion and controversy over the years, added to by an origin story that's difficult to source or confirm.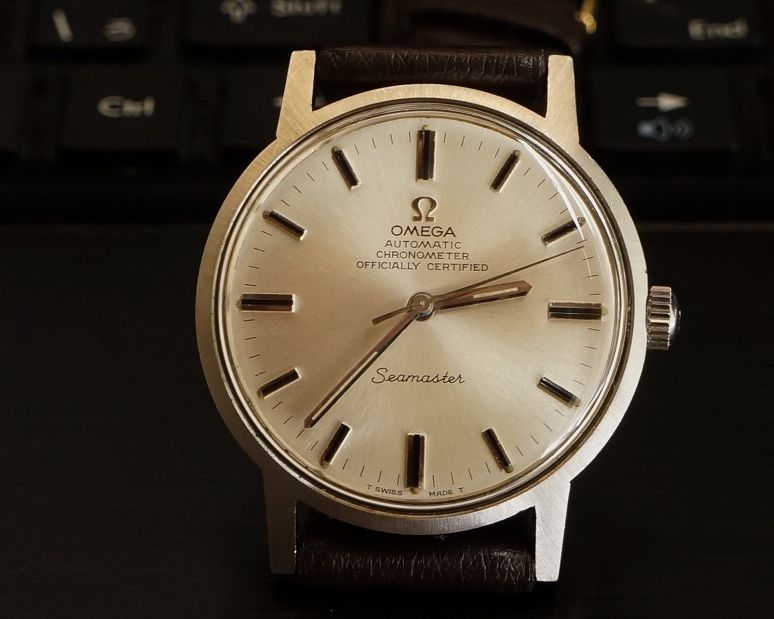 At first glance, the reference looks like a frankenwatch assembled by someone for sale, and in years past they have been dismissed as such many times as they just don't immediately have the look and feel of something Omega intended to produce.  The case is a simple, yet traditional looking screw-back design with square edges, and is identical to the 165.070 case used on Calibre 552 powered Geneves of the era with a brushed surface finish.  The movement however is a Calibre 551 chronometer rated sibling of the Calibre 552, and the dial bears the markings Seamaster at the bottom, and Chronometer Officially Certified at the top.
A Riddle of a Reference
What makes this quite unusual is that the Omega Geneve line in it's later years was a budget or entry level line, heralded by simplicity, minimally finished cases and dials, and a lack of mechanical chronometer movements, although some electronic variants were certified.  The only exception to this is the bespoke chronometer rated reference 137.001 in 18K gold powered by the Calibre 602 which I've discussed previously.
Even more strangely, the Calibre 551 chronometer rated movement was produced in quite vast numbers by Omega, far beyond the limited run of the Calibre 602, however it was a movement intended for Omega's flagship Constellation models, not for Seamasters.  Now Seamaster Chronometers do indeed exist, with many models made in both the 1950s and 1960s but by the time the Calibre 551 arrived, Omega had effectively stopped producing non-date Seamaster Chronometers.   So while Calibre 561 & 564 calendar movements appear in many popular Seamaster chronometers including the 168.022, 168.023, 168.024 & 168.034 among others, the only Calibre 551 powered Seamaster, and the only Seamaster Chronometer without date at all remains the 167.070.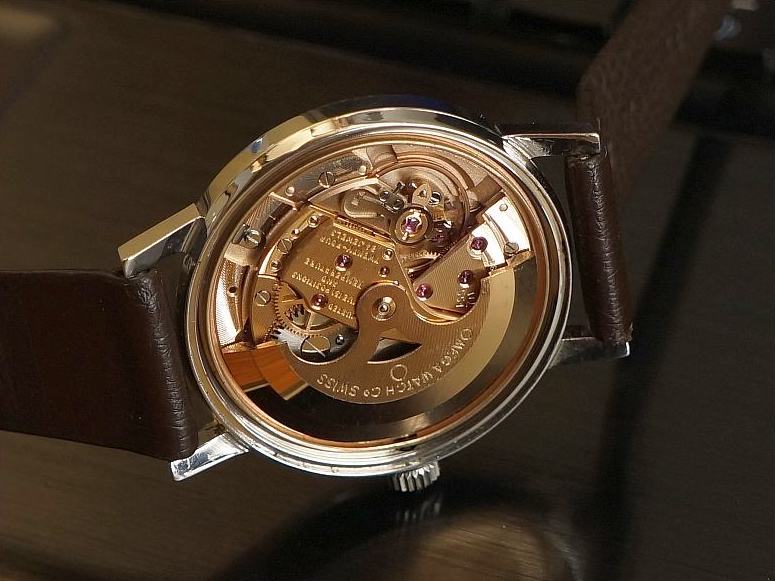 It was concerning enough that around 10 years ago in a discussion on Purists, many of the best minds in the Omega world were unwilling to consider it a legitimate original watch at the time, and with the evidence available at the time this wasn't an unreasonable position to take at all.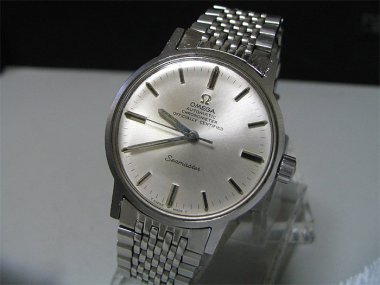 The rumoured origin story which was published in Klassic Uhren magazine many years ago was that these watches were originally made and cased as stainless steel Geneve Chronometers.  Then before delivery it was decided that the only Geneve Chronometers should be solid gold models, and to retrospectively alter these watches.  This resulted in fitting them with appropriately marked Seamaster dials and stamping the second reference on the caseback.  There is some evidence in the construction, tight serial grouping, and odd-duck status to make this at least plausible but without confirmation from Omega it's impossible to confirm the story.
Modern History
In the last 10 years there have been a lot more data points that have come to light, with each of these watches having the exact same Seamaster dial with the same peculiar text spacing as well as the same movement.  Some members of Omegaforums have also had extracts from the archive requested on these watches, which have added further evidence to their originality, and some interesting facts and quirks have been discovered along the way.
This thread was created way back in 2013 with a watch featured in the original post by Melhadary carrying serial number 26303344 on its Calibre 551 movement.  Melhadary was kind enough to not only post a detailed dial shot of the watch, and a movement photo but to also include a copy of his extract from this watch, confirming the 551 to be correct and original to the reference 165.070.  There is however an interesting twist to this extract, Omega mentions the watch model as Geneve, which matches the case but not the Calibre 551 chronometer movement, or the Seamaster Chronometer dial.

A further thread in 2018 shared 5 unique Seamaster Chronometer 165.070s all with the same characteristic dial featuring the unusual text spacing, with those words "Chronometer Officially Certified".
Since then we've been able to track down quite a few more, and its remarkable how tight the serial number range actually is.
26283686 - online seller luxify
26287846 - eBay seller, poor condition
26303019 - bumper
26303260 - Tamura
26303333 - breakingnoi
26303336 - dmtowl (just bought off eBay)
26303344 - Melhadary (with extract)
26303581 - timelessgalleryshop (redial)
26303621 - eBay seller in Japan
While there are two watches that have been seen with 2628x serial prefixes, both in poor condition from online dealers, the 8 others including 6 members of Omegaforums are all within a serial range of 602 of each-other, which is quite an impressive grouping for a random selection of vintage watches that are over 50 years old.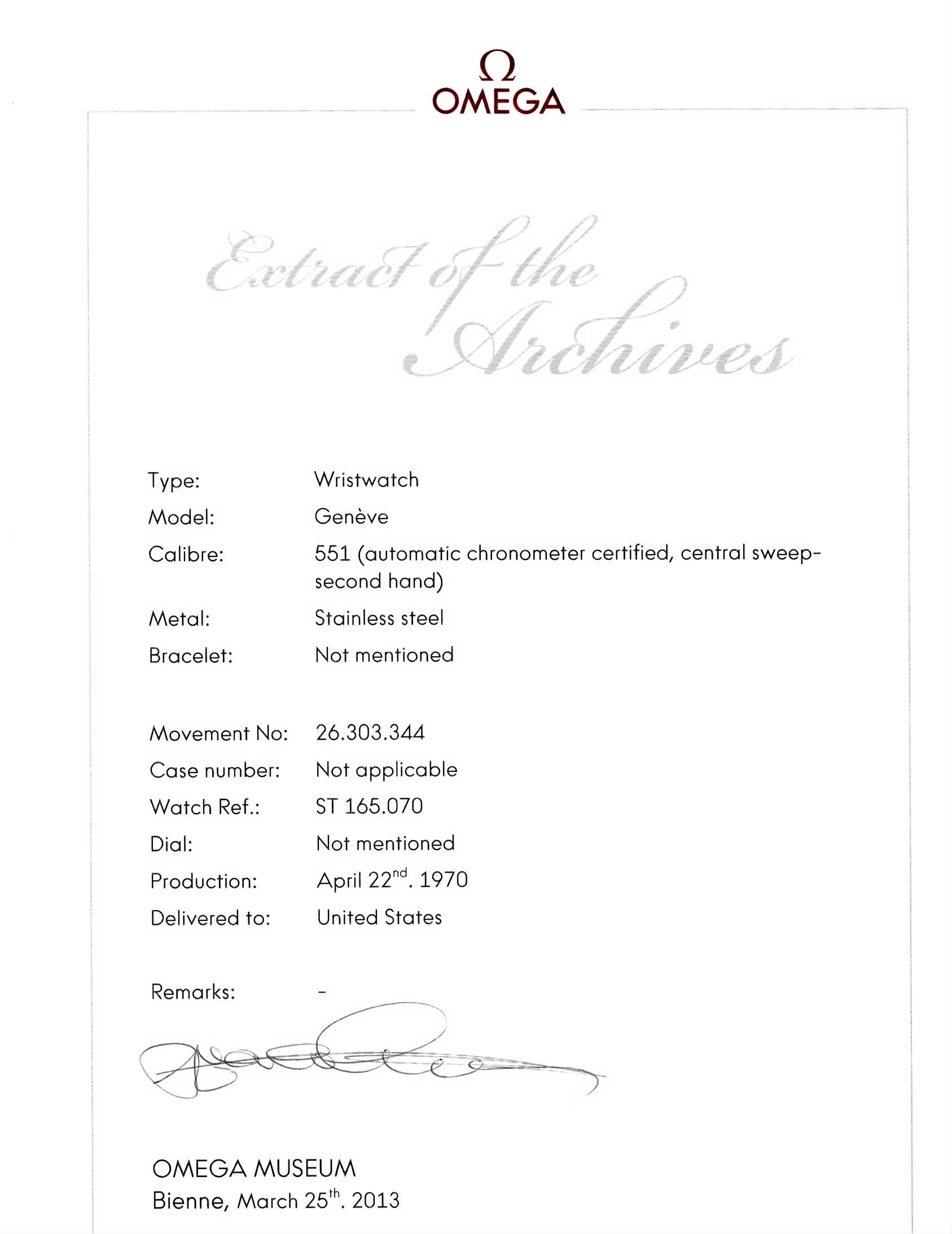 Dial & Hands
Conveniently this reference only has just the one dial, which is specific to itself and not shared or easily substituted with any other, with no variation in color, font, or even dial furniture.  The dial is silver toned, featuring a subtle starburst texture to it, with black text and an applied Omega logo at the top.  Text at the top of the dial reads Omega and Automatic, with Chronometer below that, and Officially Certified below that again in a similar style to Constellations of the era such as the reference 167.005.  At the bottom is a Seamaster script with a fat-S.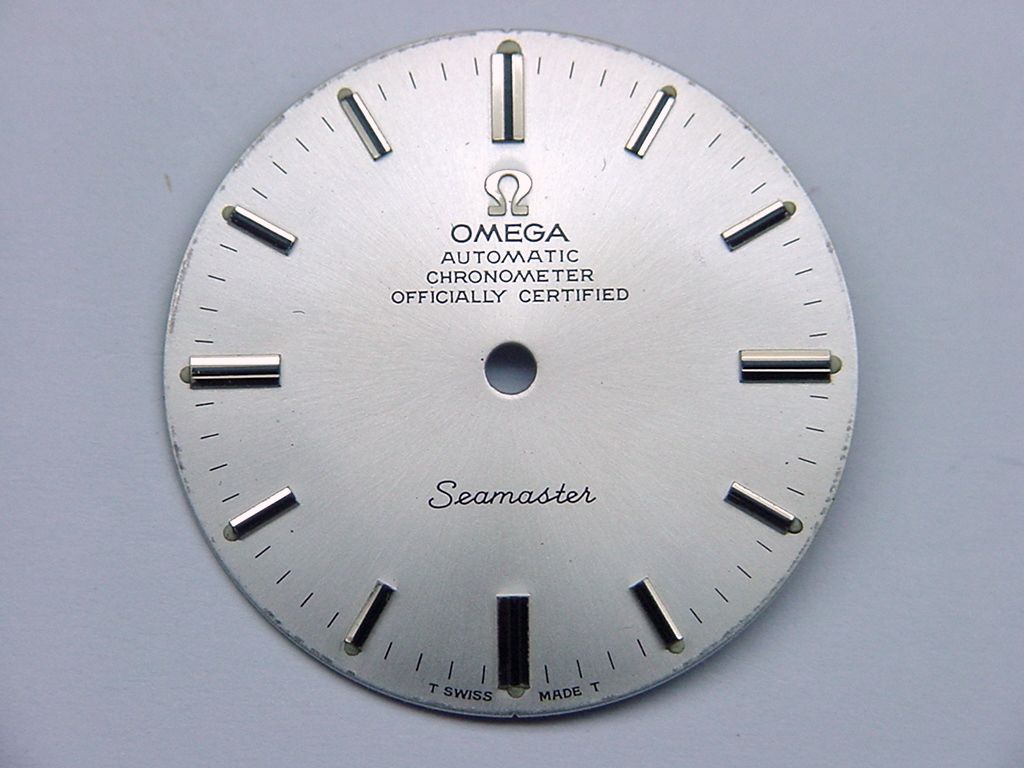 Dial furniture is simple but quite elegant with 12 applied metal hour indices, enlarged for the hours 12, 3, 6 and 9, and inlayed with onyx inserts.  All dials are luminous with a dot of tritium placed at the outside of each applied hour marker.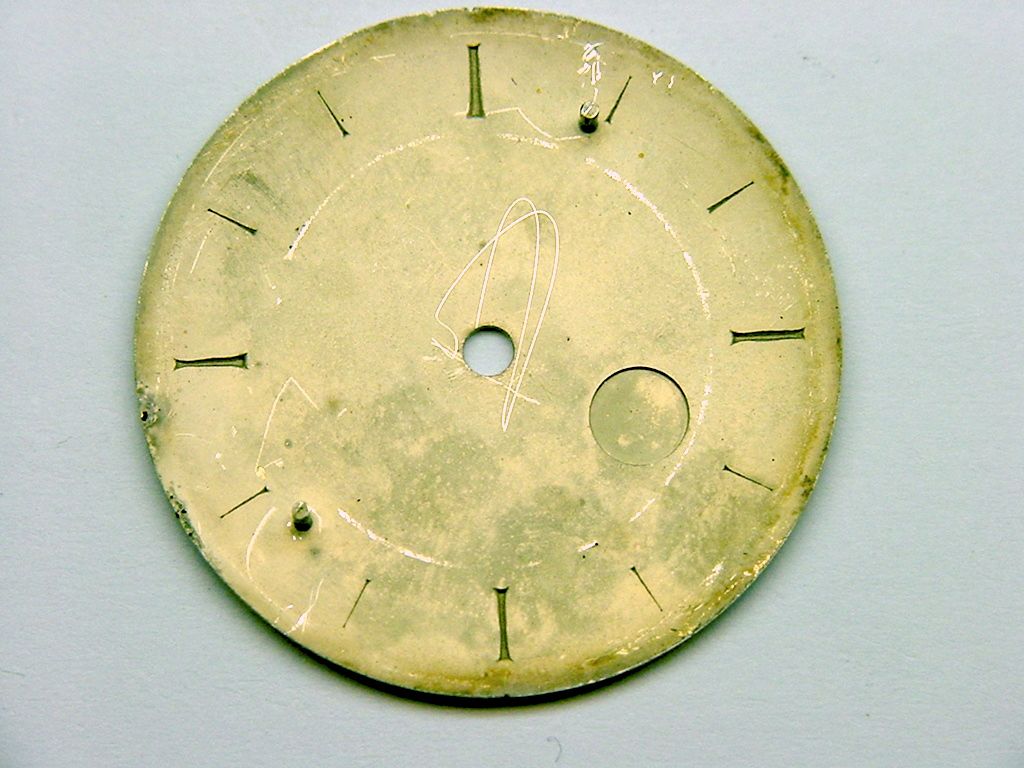 There is a known issue that has been seen on several dials where a dent can be seen at around the 46.5 minute mark on the minute track just above the 9 o'clock marker.  This is the result of incorrect assembly and is unfortunately not going to be repairable without completely refinishing the dial, so look out for this and avoid it if at all possible.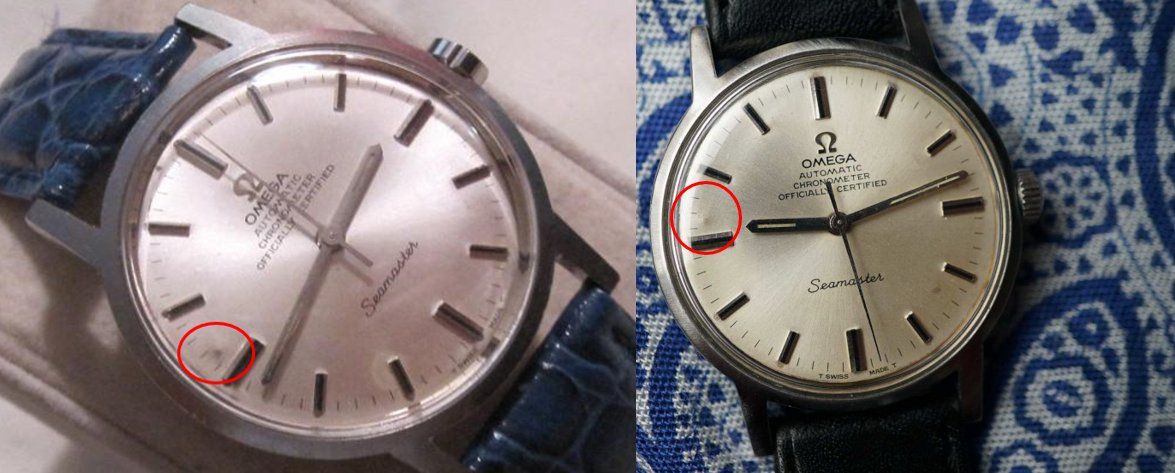 Hands are simple luminous stick hands, exactly as typically seen on 165.070 Geneve models that the Seamaster chronometer shares its case with.
Because these cases are known to be quite durable, fairly water resistant for their era, and have screw-in casebacks, the survivability rate for original dials tends to be quite high, notwithstanding the assembly damage risk mentioned above.
Case & Movement
The typical reference found on these cases is 165.070, with a variety of different case makers' stamps appearing alongside that reference.  The Seamaster Chronometer casebacks are limited to one case maker, CB, and feature a double reference stamping.  Above the CB logo is the typical Geneve reference, 165.070, and below the CB logo is the second, Seamaster specific reference, of 167.070.  It is also worth noting that the second, lower case reference stamping does not appear to have been made at the same time as the first one, or even match the appearance of any of the rest of the numbers and texts stamped on the caseback, lending credence to the notion that these were added at a later time.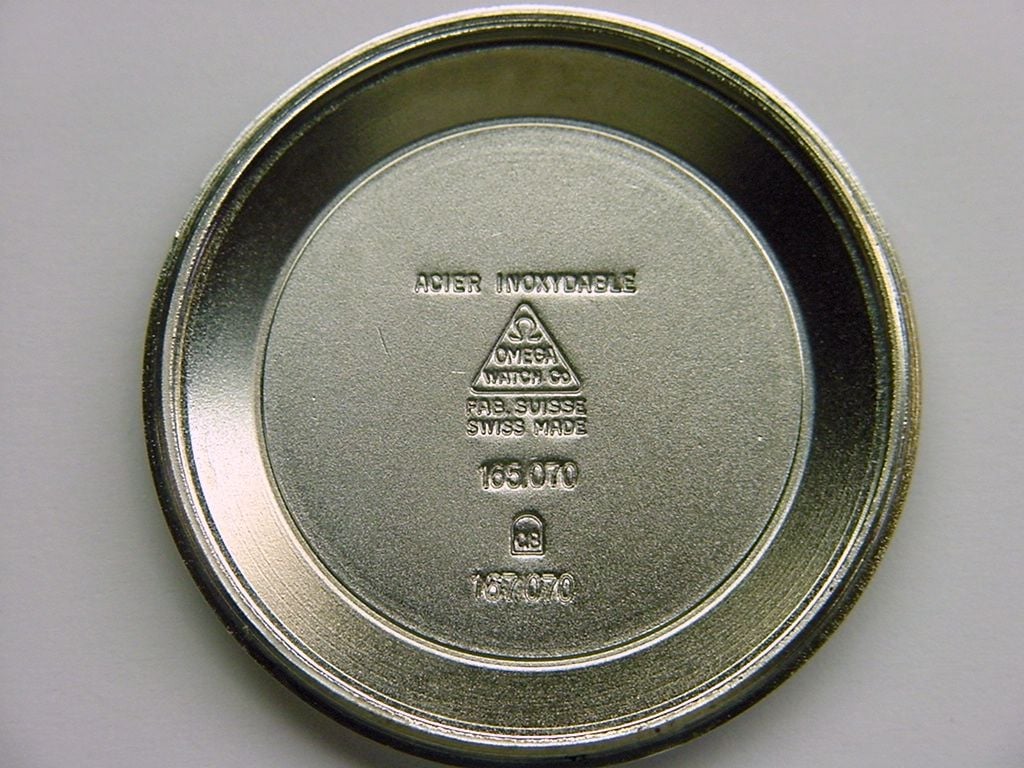 The case itself is simple with strong lugs and a sturdy design however the finishing is often found to be incorrect on watches that have been prepared for sale.  The flat front face of the watch from the bezel, extending down to the lugs is often polished to a mirror finish or otherwise "brightened up", however the original finish is a very subtle radial brushing that gives it an almost matte appearance from any distance.  
The movement should always be a Calibre 551 chronometer movement, and given how tight the known serial grouping is, checking the serial against that list would also add credibility to an example if it fitted with the rest of the group.  
Buying
Even though the reference could fairly be described as quite uncommon, there are enough 167.070's floating around that it is not worth settling for a redial or a damaged dial, and prices for original examples are quite modest due to the reference's low popularity and lack of visibility.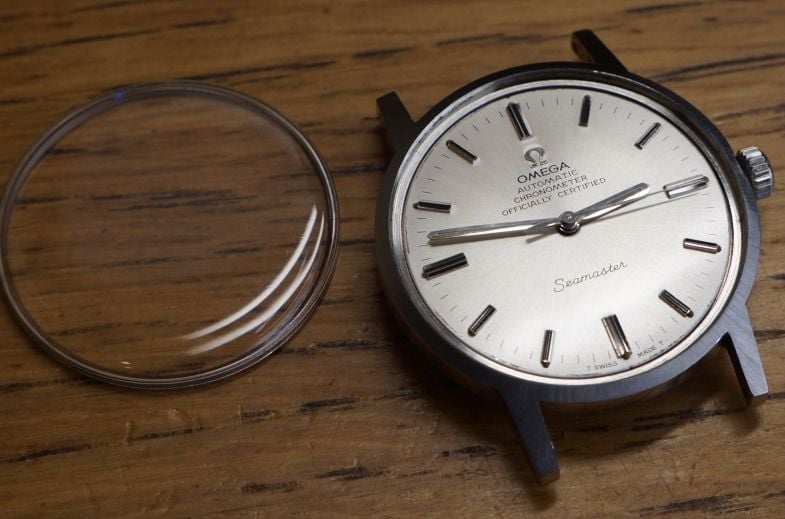 If the case is polished, whether to a mirror instead of radial brushed finish or has lost its edge, this can be resolved by a skilled watchmaker, so prioritise dial condition over case if necessary as this design is quite forgiving when it comes to polishing without intricate facets or bevelling and has a lot of metal to work with.
A recent sale on ebay in mid 2022 of a very good condition example went for $869 USD, so prices are significantly below even non-piepan dial Constellations and even slightly below references like the Seamaster "Sparkle" chronometers.  The affordability is definitely part of the attraction of the reference though so if price much exceeds $1000 there are better options in the Omega world to also consider unless your heart is set on one of these.
Discussion thread on Omegaforums can be found here: