I've previously singled out the De Ville Prestige Chronograph as the best value modern Omega chronograph on the used market. The Hour Vision Chronograph powered by Calibre 9300 is a superb modern watch that comes in a close second, representing exceptional value to collectors.
The First & Only Calibre 9300 Dress Watch
At Baselworld 2012, Omega released the De Ville Hour Vision Chronograph powered by their new Co-Axial Calibre 9300 movement.  At the time it did receive quite a bit of fanfare as it was the first dress watch to appear powered by this all-new in-house movement.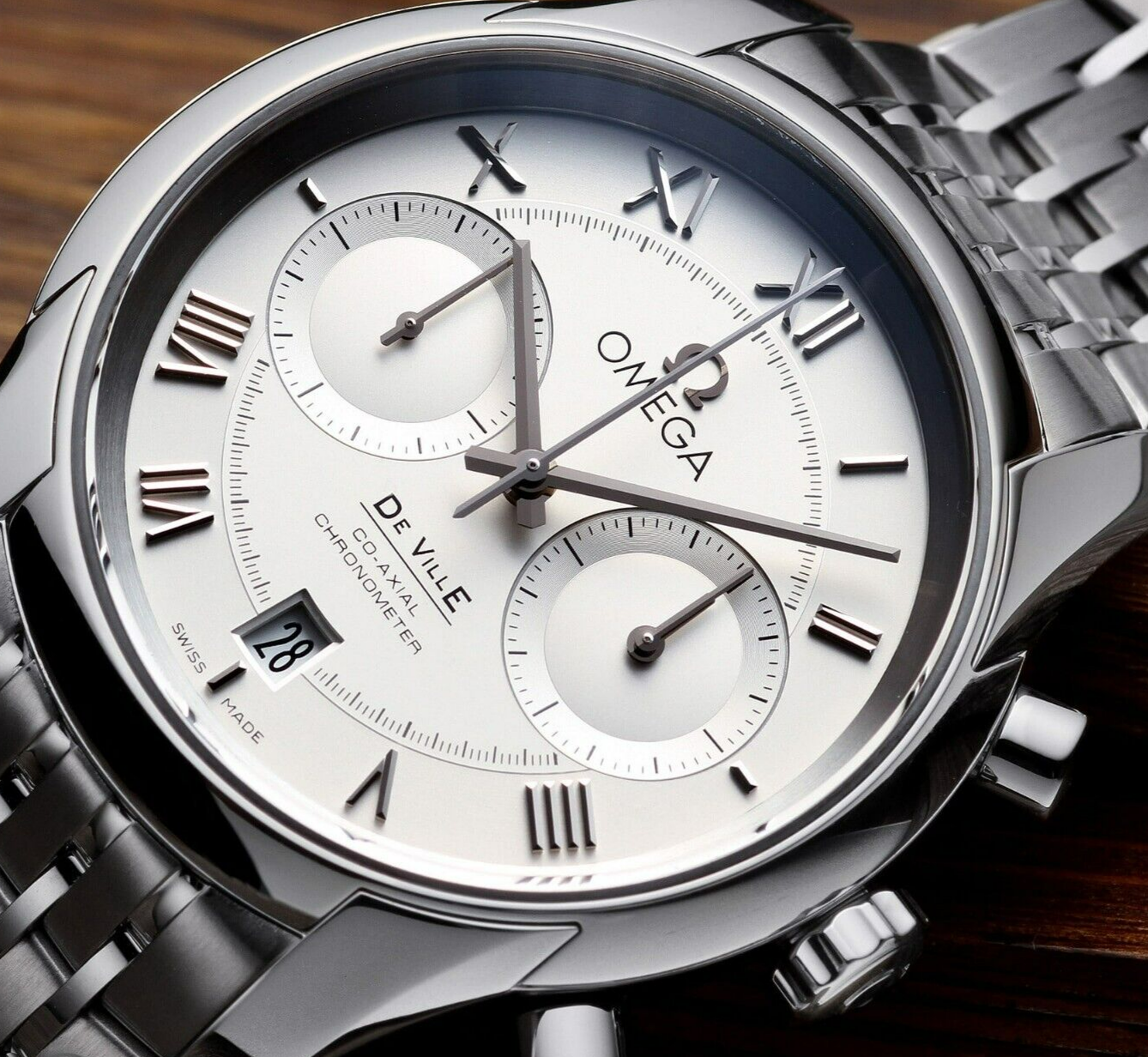 Over a decade later, and even with the updated and thinner Calibre 9900 on the market to replace the original Calibre 9300, none of these movements have ever been used again in a dress watch of any form.
This is an interesting fact that doesn't become apparent until careful consideration of the recent Omega catalogs and website.  The De Ville line, as of 2023 contains no chronographs at all, nor does the Constellation line.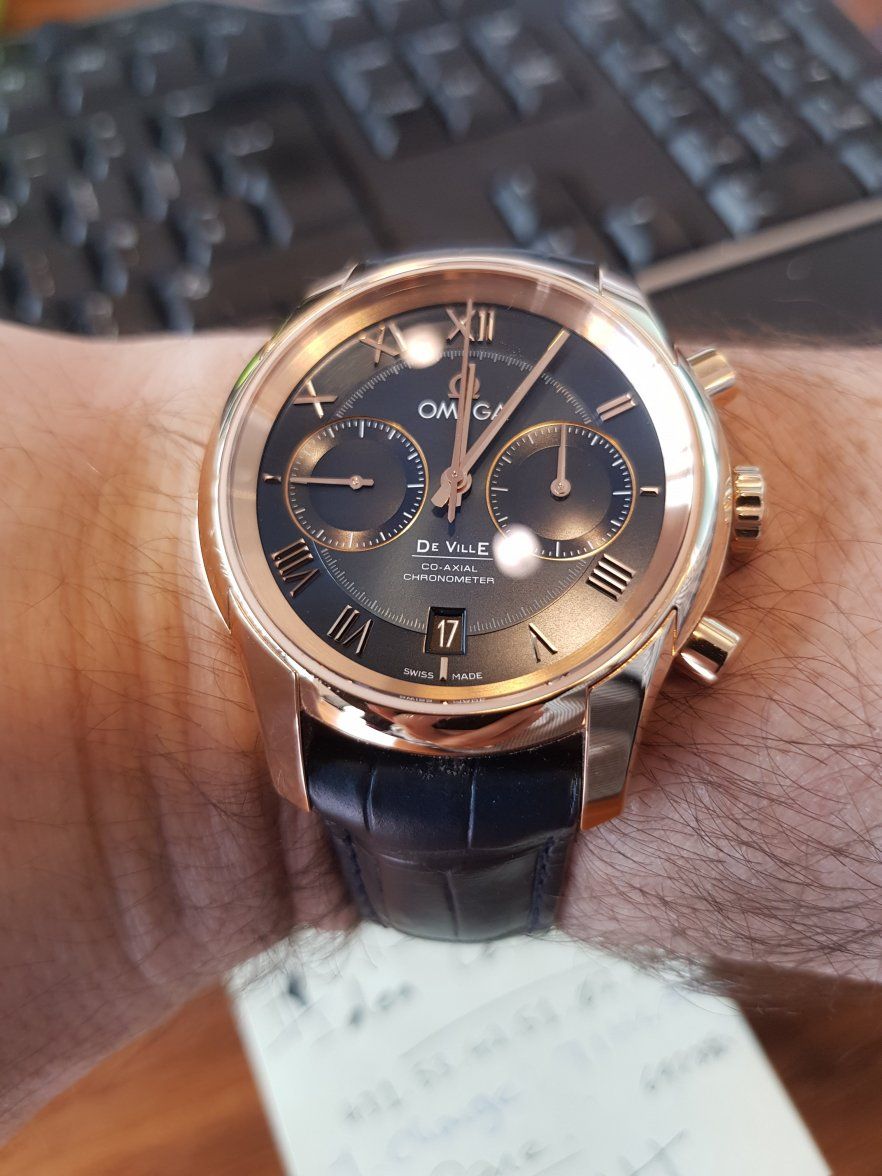 The De Ville Hour Vision Chronograph is out of production now and has been for a few years, which means there are now no dress chronograph options at all outside of the dressier Seamaster and Speedmaster options.  That's a bit sad really as Omega is brand with a very rich heritage of creating high quality dress chronographs going back around 100 years.
Hour Vision In Name Only
The Hour Vision naming in relation to this watch is a bit of an odd one.  I can see why they did it, given that the Hour Vision was the launch product for the Calibre 8500 movement while these De Ville Chronographs were the launch product for the Calibre 9300.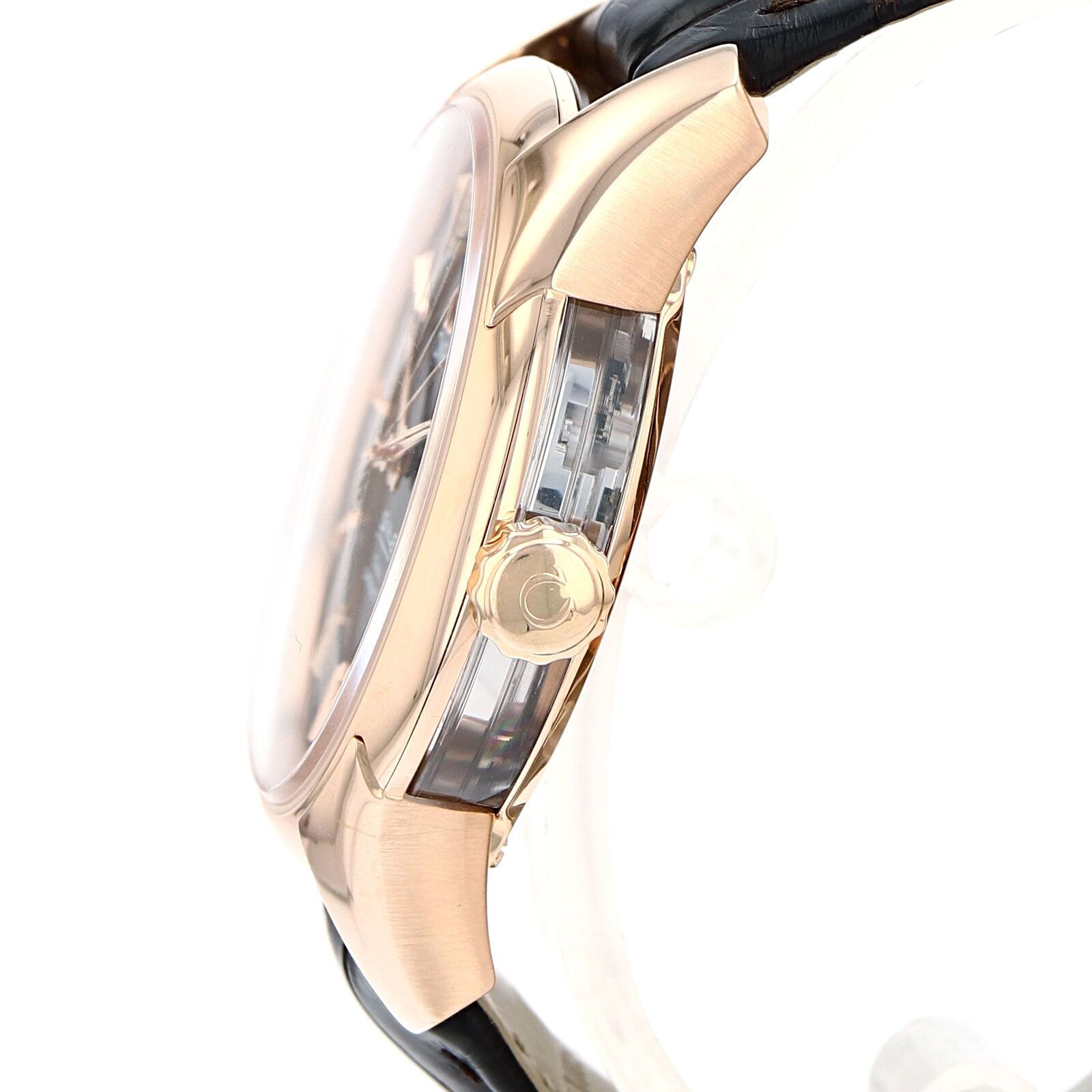 The case design from the front does share more than a few design similarities and the bracelet is practically identical.  The dial does differ quite significantly in styling from the Hour Vision time only watch, but I guess some difference is to be expected in the move from 3-hander to chronograph.
The core reason for the name Hour Vision is the case design, which is extremely unique with a panoramic piece of sapphire exposing the sides as well as the back.  This rather spectacular feature is a notable omission from the chronograph.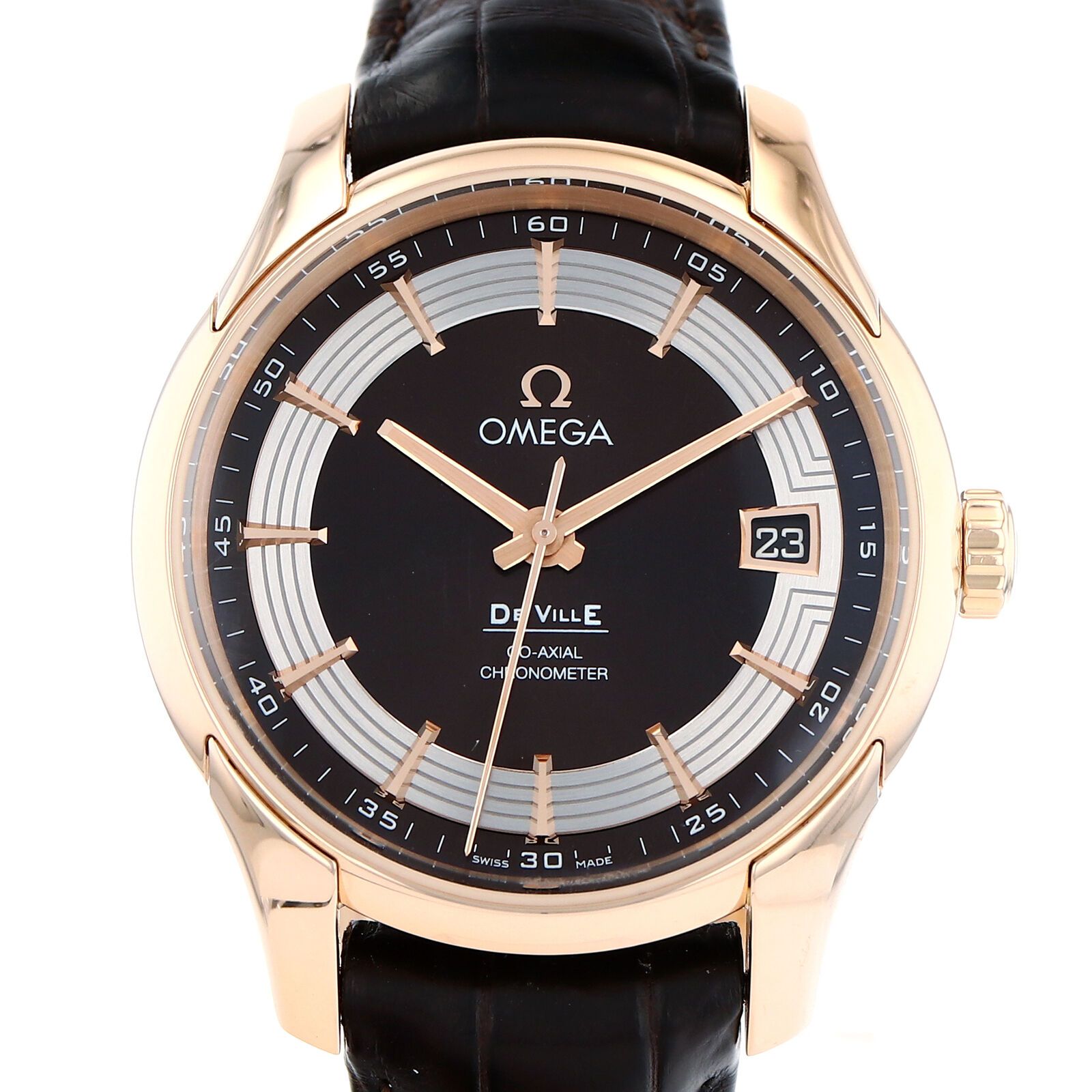 One can only guess as to the reason for not using the all sapphire construction.  I long suspected the original Hour Visions were probably very costly to produce compared to regular watches or difficult to manufacture at scale.  Regardless, not only does the chronograph not have this key feature, but the Hour Vision text is omitted from the case-back entirely, with Hour Vision only really appearing in marketing material, brochures and Omega's website.
Possible Future Successors
I don't envision the current situation with no chronographs in the De Ville and Constellation line will last very long.  

Omega recently released a rather dress watch feeling Speedmaster line called the Speedmaster Chronoscope family which is frankly spectacular.  These new models feature incredibly detailed, beautiful dials combined with a new hand-wound movement called the Calibre 9905.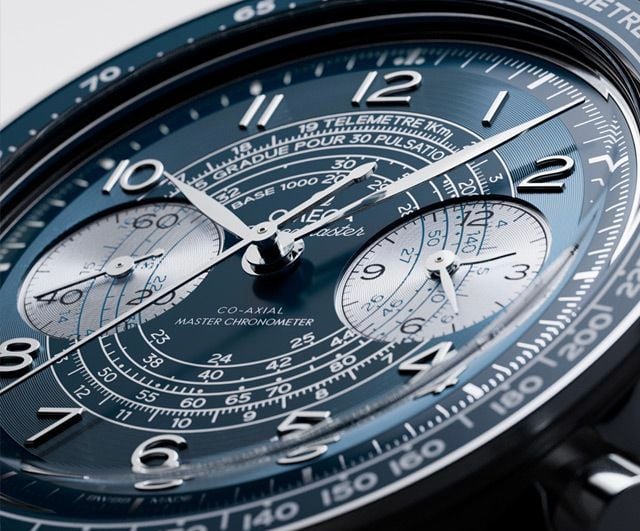 Given how many of the best vintage Omega dress chronographs have been manual wind, and the benefits of using a slimmer movement I can absolutely imagine a De Ville or Constellation featuring a movement like this at some point in the future.  Even better, if Omega went back to basics and removed the chronograph hour hand from Calibre 9905, they could create a modern take on the very special Calibre 320 powered watches of the 1950's and 1960's.  
Case & Bracelet
As mentioned above, the case design of the De Ville Hour Vision Chronograph is very heavily influenced by the 2007 Hour Vision, at least from the front.  
It has the same look of the lugs being soldered on to the mid-case with clear lines visible, and the same overall shape.  The diameter, at 42 mm is not excessive in any way and is only slightly larger than the 3-hand Hour Vision.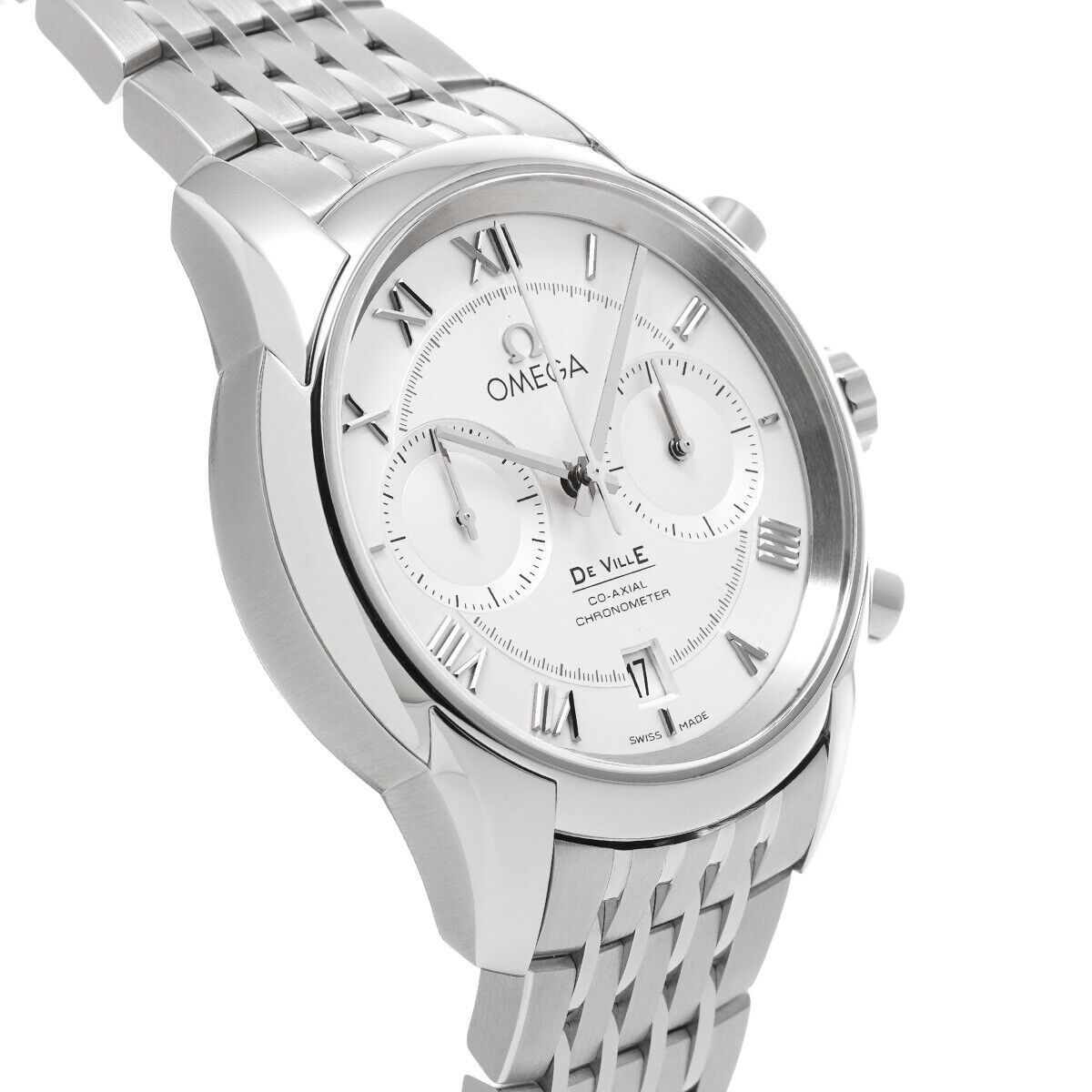 The one slight difficulty with the Hour Vision Chronograph is the thickness.  The Calibre 8500 equipped time-only version is only 12.2 mm thick, even with the complex sapphire housing and display-back.  By contrast, the Hour Vision Chronograph is 15.9 mm thick, which is quite substantial for a watch intended to be worn with a dress shirt.  
While I like these watches a lot, there is no disputing the fact that 15.9 mm is a lot. As a point of comparison, the new Calibre 9905 Speedmaster Chronoscope mentioned earlier comes in at a very impressive 12.5 mm, genuinely thin and comfortable by anyone's definition for a chronograph.  This is why I'm hoping a future De Ville harnesses that movement in a similar profile.
The symmetrical case features a simple knurled crown with no crown-guards and exposed, easily accessible round pushers for the chronograph.  The display-back, while not nearly as impressive as the Calibre 8500 version still looks terrific and shows off the very photogenic Calibre 9300 movement within.  Four polished screws in the corners of the metal surrounding the display-back hold it in place.  Though it may be a dress watch, Omega has still afforded the Hour Vision Chronograph a very impressive 100 meters of water resistance which is excellent for a watch in this category.
Omega does a great job of matching the bracelet of this watch to the case with thicker endlinks shaped in such a way as to minimise the size of the watch head and create balance on the wrist while wearing.  This bracelet is visually almost identical to the Calibre 8500 Hour Vision bracelet with a modern take on the vintage "beads of rice" style.  It feels great on the wrist too and is very comfortable with a bi-fold deployant clasp.
Strap versions of the De Ville Hour Vision Chronograph are a bit less balanced due to the heft of the head, but still come with a comfortable single fold deployant clasp.
Movement
The De Ville Hour Vision Chronograph has only ever been powered by the Co-Axial Calibre 9300 movement, first released at Baselworld 2011.
The Calibre 9300 was the long-awaited chronograph companion to the in-house Calibre 8500, Omega's flagship 3-hand movement of the era.  By coming out several years after the Cal 8500, the Cal 9300 was able to benefit from a lot of the early learning and solutions found to initial Cal 8500 teething problems and tended to be a very robust movement as a result.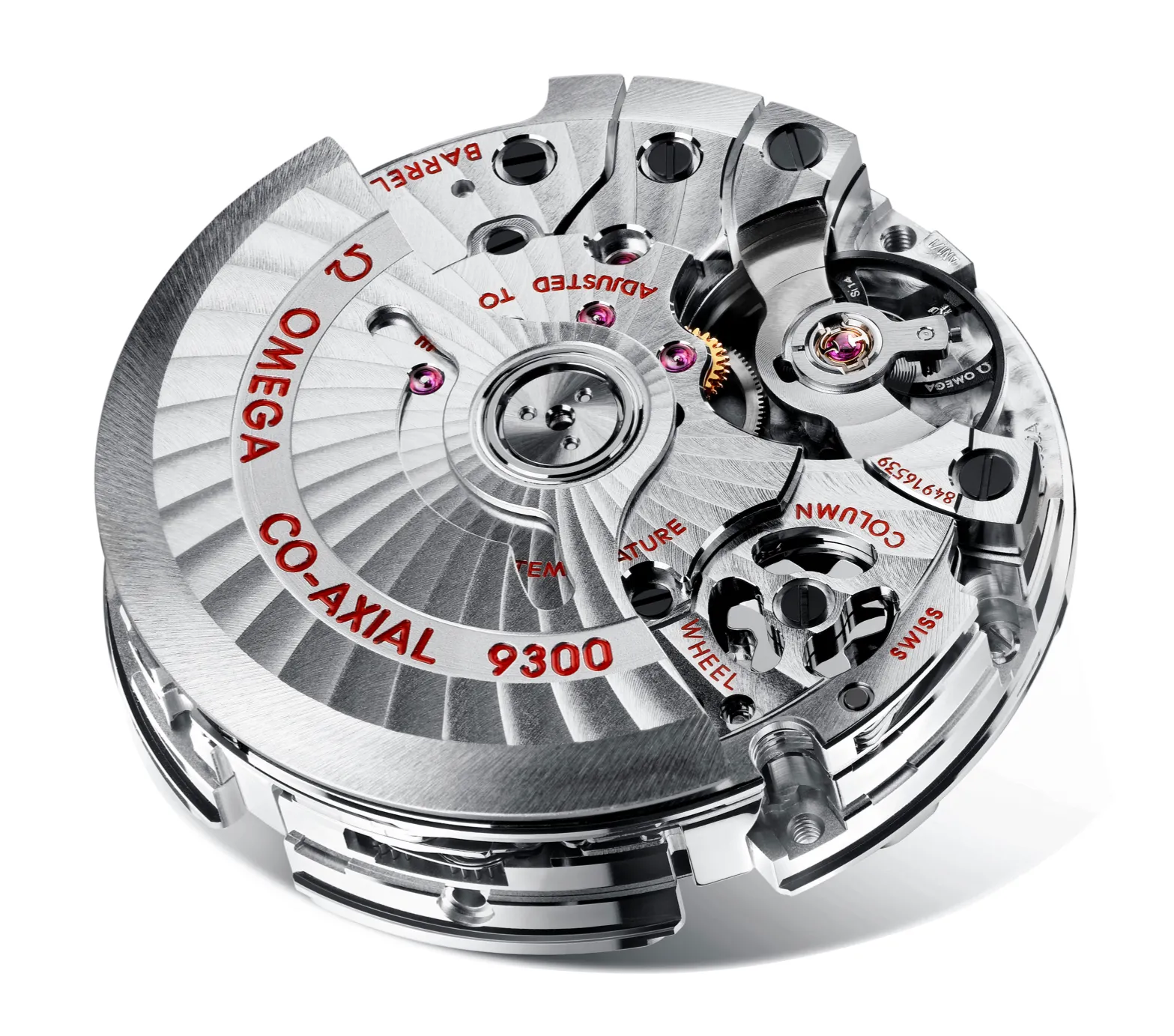 The Calibre 9300 oscillates at 28,800 vph, slightly higher than the 25,200 vph of the Calibre 8500 and its descendants.  It features a column-wheel actuated chronograph system, a vertical clutch, dual barrels, hacking, quickset date, and both chronograph minutes and hours on the same sub-dial, with a power reserve of 60 hours.
The thickness really is the main complaint about the Calibre 9300, and this is the reason all watches based on it tend to be around 16 mm thick or more.  Omega has been steadily working to improve this issue over time with successive generations but for people wanting a thin watch, there's not much that can be done.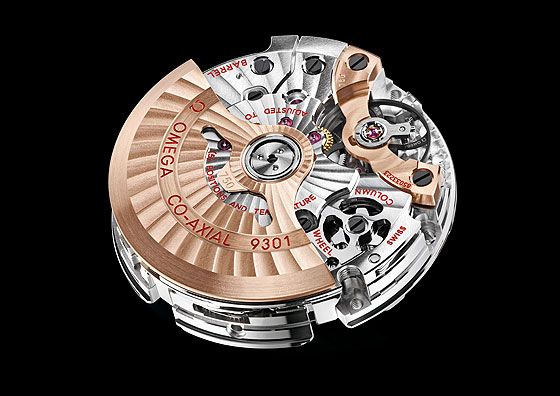 These movements are very robust, reliable, and accurate and can be serviced by any independent watchmaker with access to an Omega parts account.  The Calibre 9301 used in gold models is identical to the standard 9300 but has some red gold finishing in order to differentiate it for precious metal models.
Variants
In all there are only 8 variants of the De Ville Hour Vision Chronograph, 3 bracelet versions in steel, 3 strap versions in steel and 2 strap versions in 18K red gold.
All of these watches follow an identical pattern in terms of dial design and layout with the only differences being dial color and metal.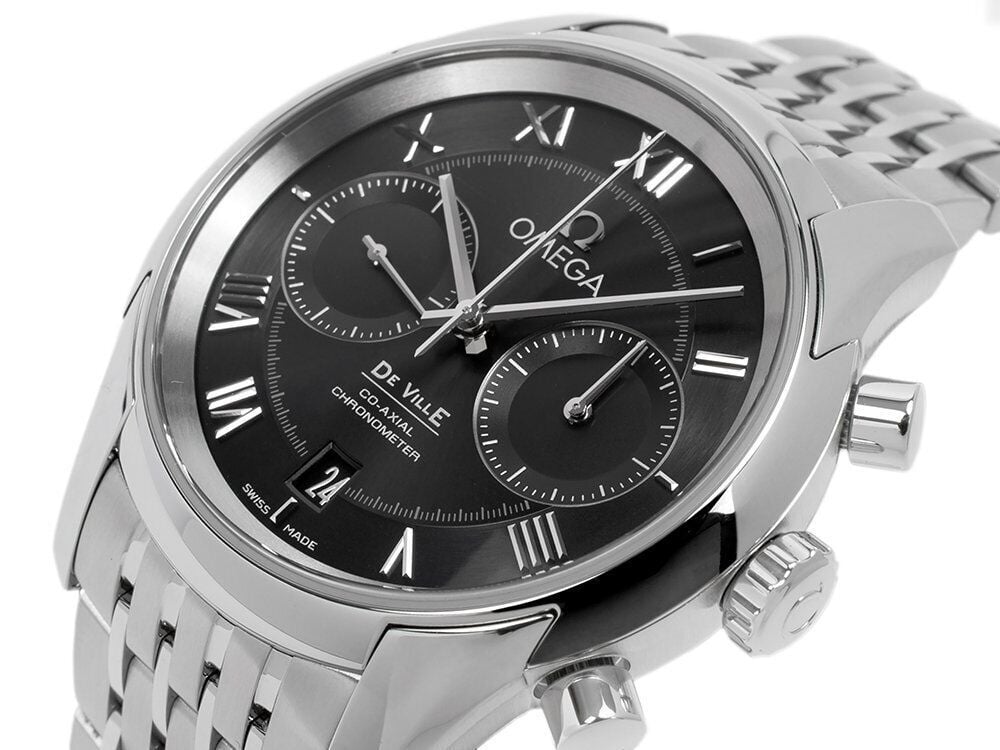 They feature applied white or red gold hour markers in the form of roman numerals around the dial, with simple bar markers used for 3, 6 & 9 where sub-dials and date are.  The entire dial is non-luminous and all hands are stick hands in matching white or red gold.  The Omega logo is applied, while the remaining dial text is painted in a contrasting color to the dial.  It is a simple, elegant and very attractive dial design and compliments the case very nicely.
Stainless Steel
The stainless steel models on bracelet are the black dial Ref 431.10.42.51.01.001, white dial Ref 431.10.42.51.02.001, and blue dial Ref 431.10.42.51.03.001.  
These watches were produced for a long period of time and are in my view the most attractive and desirable models as they are both very affordably priced, and excellent to wear with the bracelet.  This watch is genuinely made better by the bracelet and the balance it brings to the head, so it is worth going out of your way to get one of these over the strap version.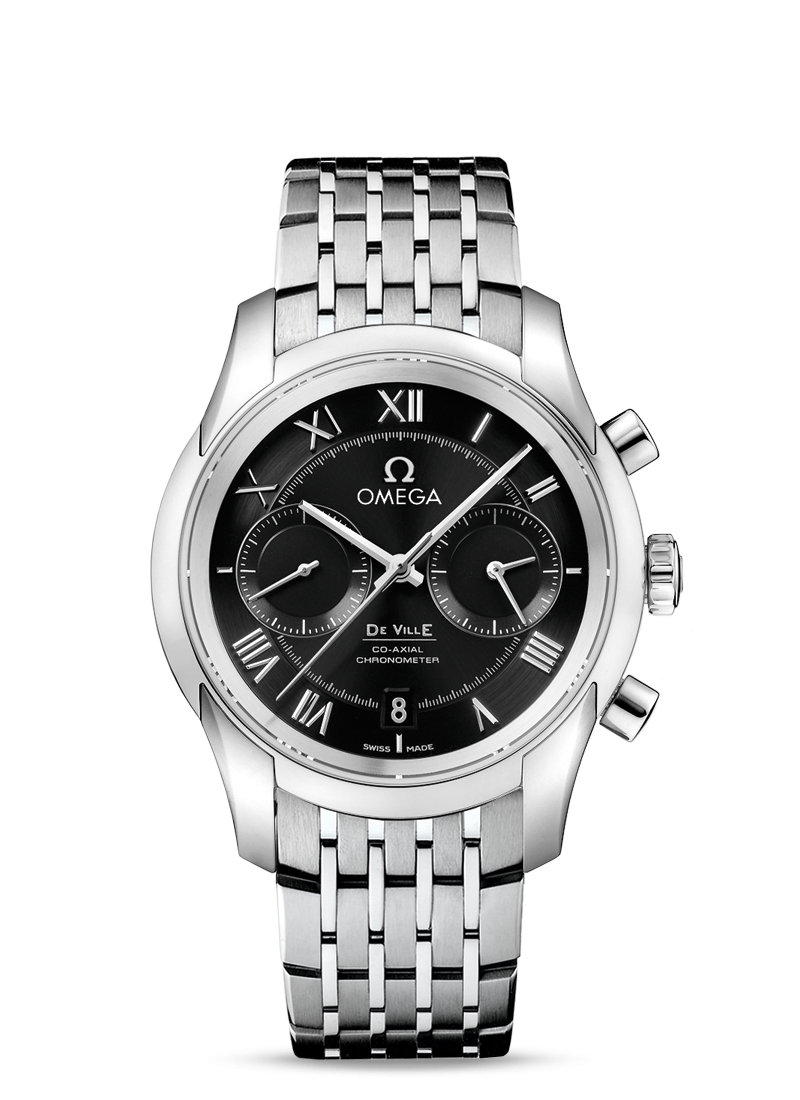 The stainless steel models on strap are the black dial Ref 431.13.42.51.01.001, white dial Ref 431.13.42.51.02.001, and blue dial Ref 431.13.42.51.03.001.  
These watches can be found for really good prices due to the lower demand for the strap versions so if you prefer these, there are definitely good deals to be had.  It's worth noting that while both black and white dial are on a black strap, the blue dial comes on a matching blue strap which is quite a nice look.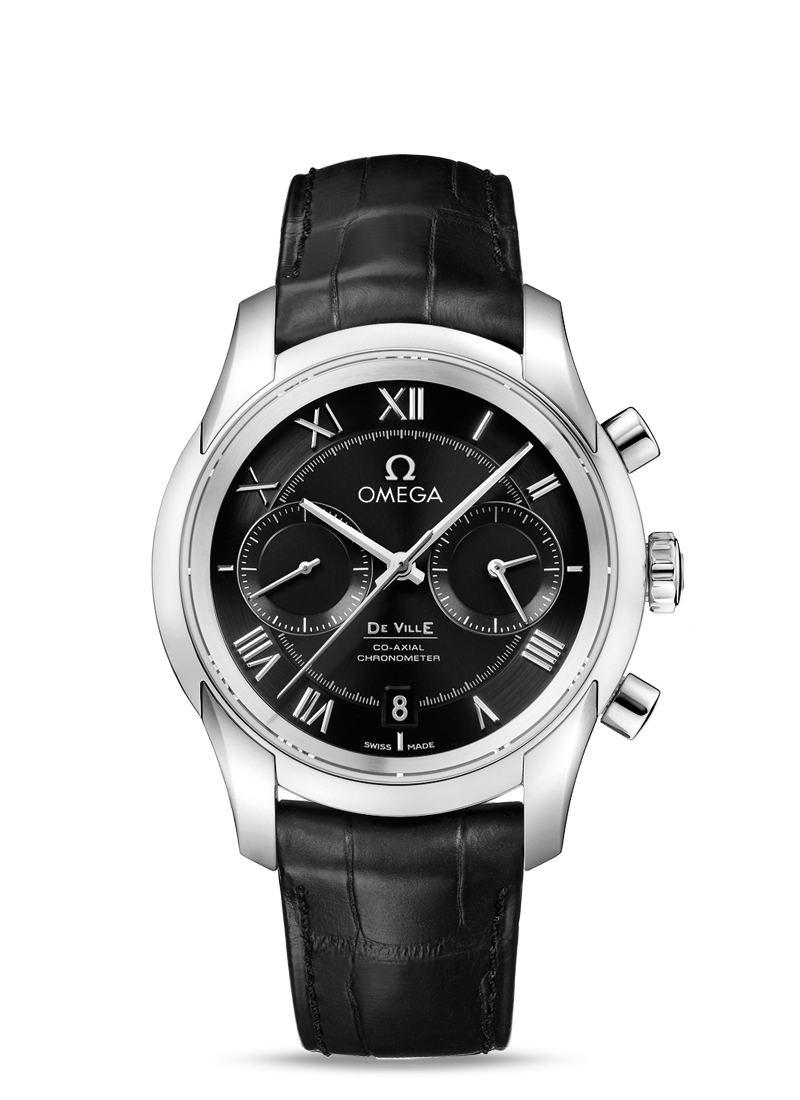 18K Solid Red Gold
The 18K solid red gold models only come on strap, which is highly unfortunate.  The gold version of the time-only Hour Vision does come on a full gold bracelet, and looks absolutely amazing, but that bracelet does not fit the lugs of the chronograph version.
The 18K red gold white dial model is Ref 431.53.42.51.02.001, and the blue dial model is Ref 431.53.42.51.03.001.  The white dial features a brown strap, while the blue dial uses a blue strap, and both models feature the Calibre 9301 movement with rose gold balance bridge and rotor to match the case.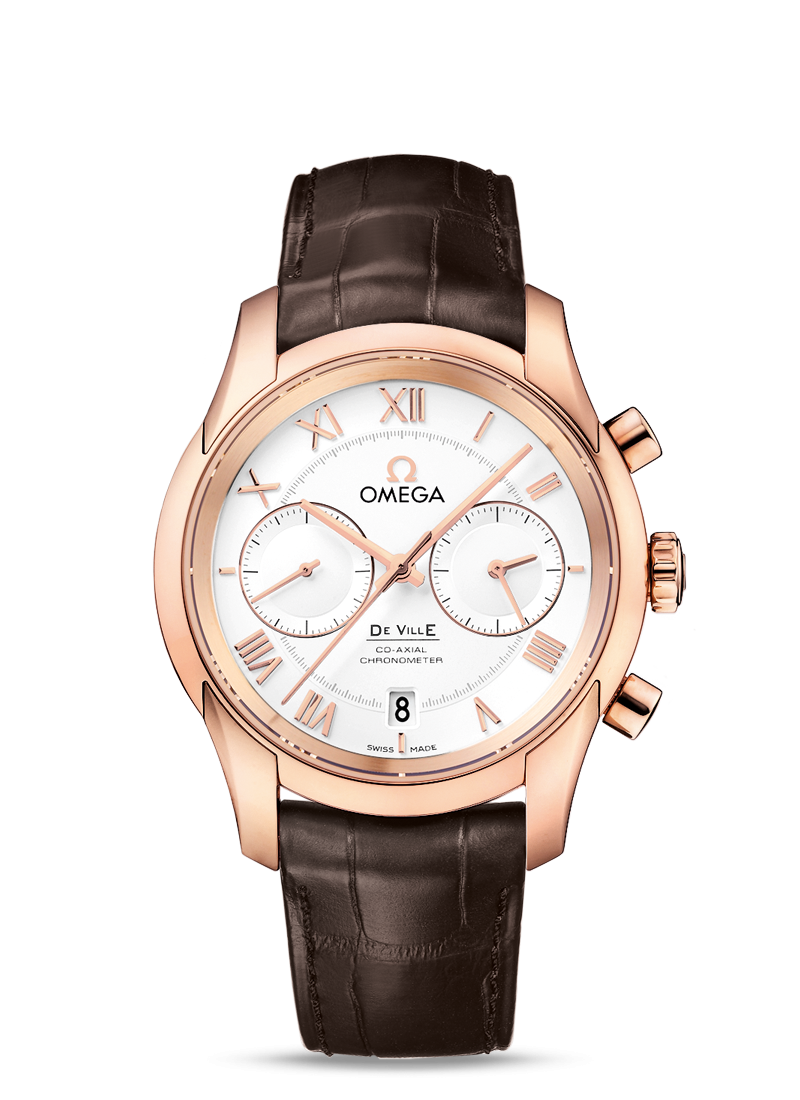 Buying
As modern dress chronographs to actually wear every day, these watches are absolute terrific value for money.  The best value used dress chronograph on the market for Omega is the De Ville Prestige Chronograph which I wrote about last year.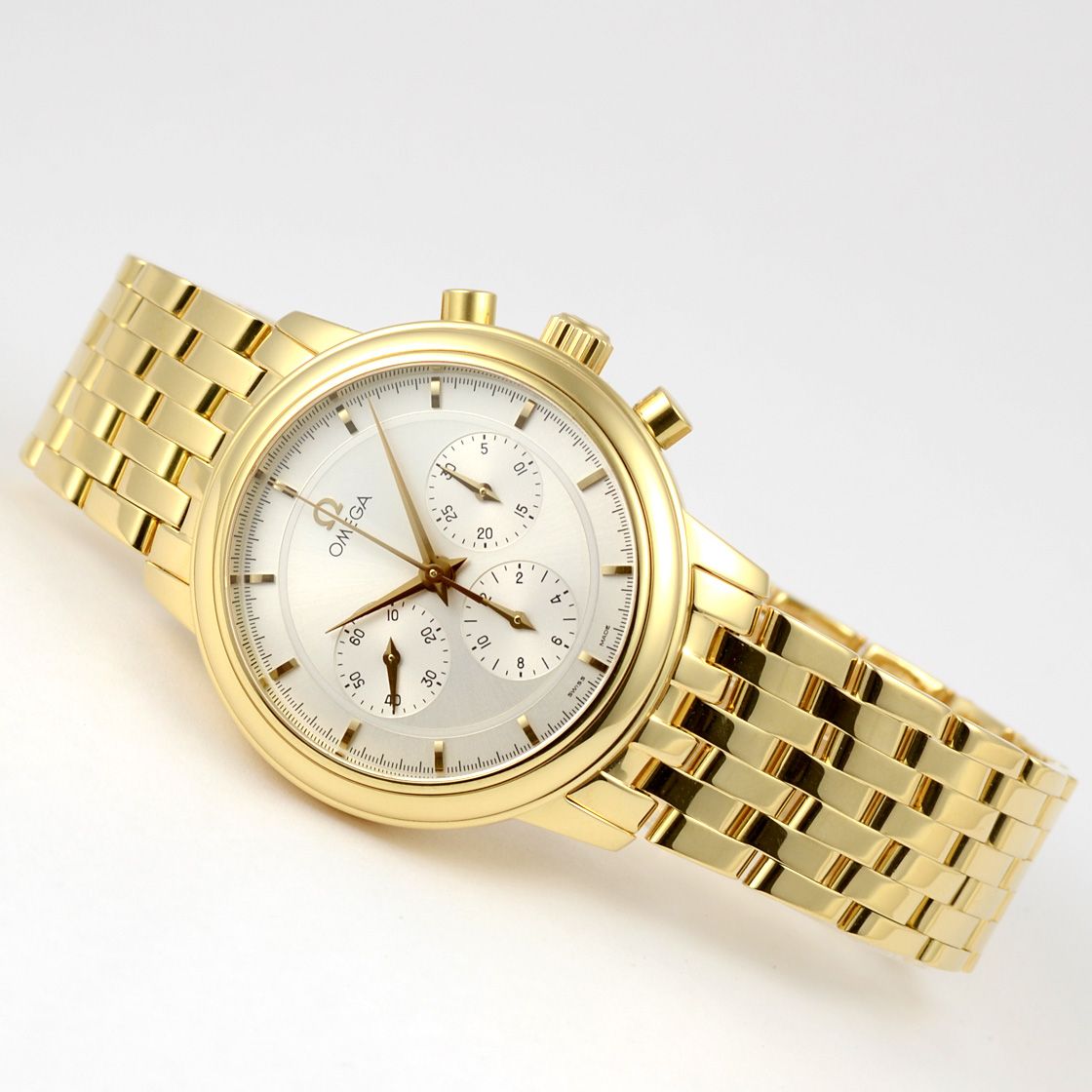 The De Ville Hour Vision Chronograph is a very close second, as the price point is a bit higher, but it also represents a great deal more watch.  
Most people do not realise how cheaply these watches sell for on eBay and other classifieds at the moment, so I'll give an example below.  This watch sold out of Japan just in December 2022 for $2,729.35 USD and it's a decent condition black dial on bracelet.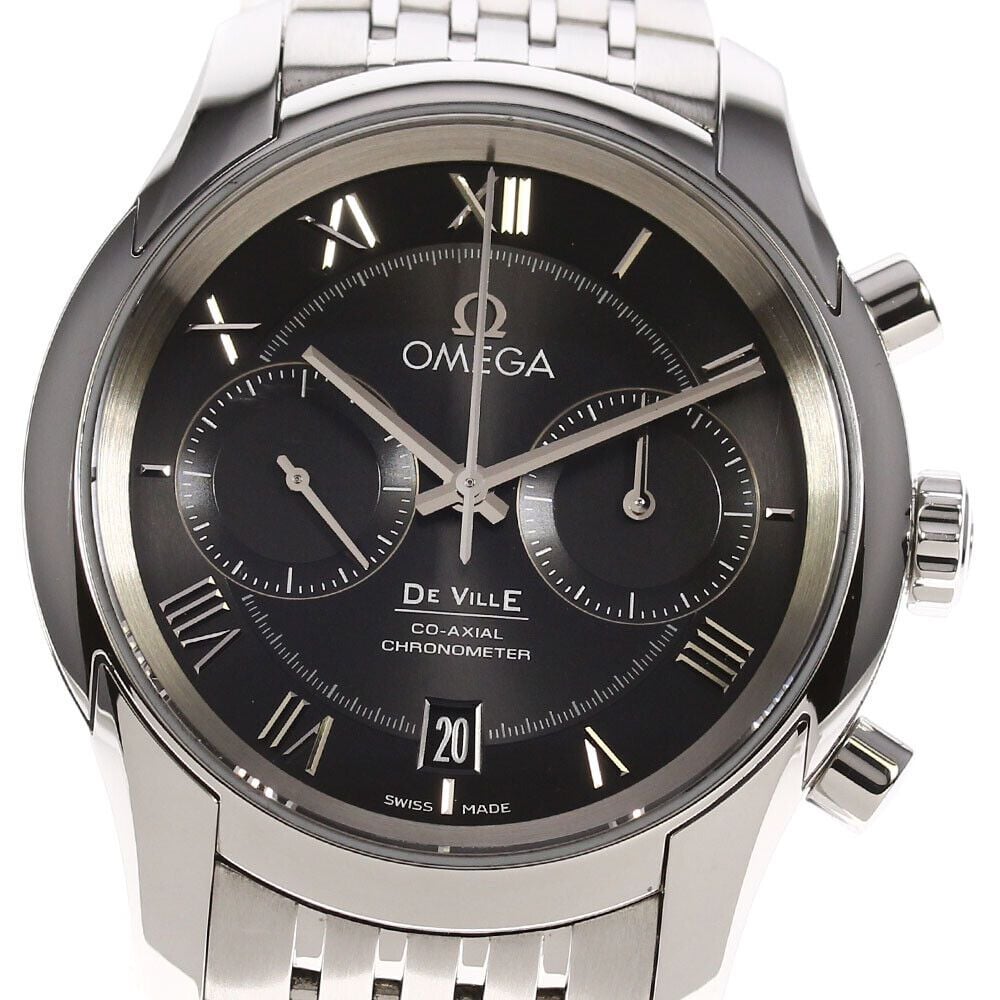 Now that is a terrific deal for a watch of this quality.  This isn't in isolation either, another black dial sold this week in March 2023 for $2,958.04 and a white dial on strap sold in June 2022 for $2,423.55.  That's how cheap these watches are going.  
Frankly anything under $3,500 is very fair on these watches and anything below $3,000 is an exceptional deal as even after service, you have a modern high quality in-house Omega chronograph on your wrist for an incredibly low price.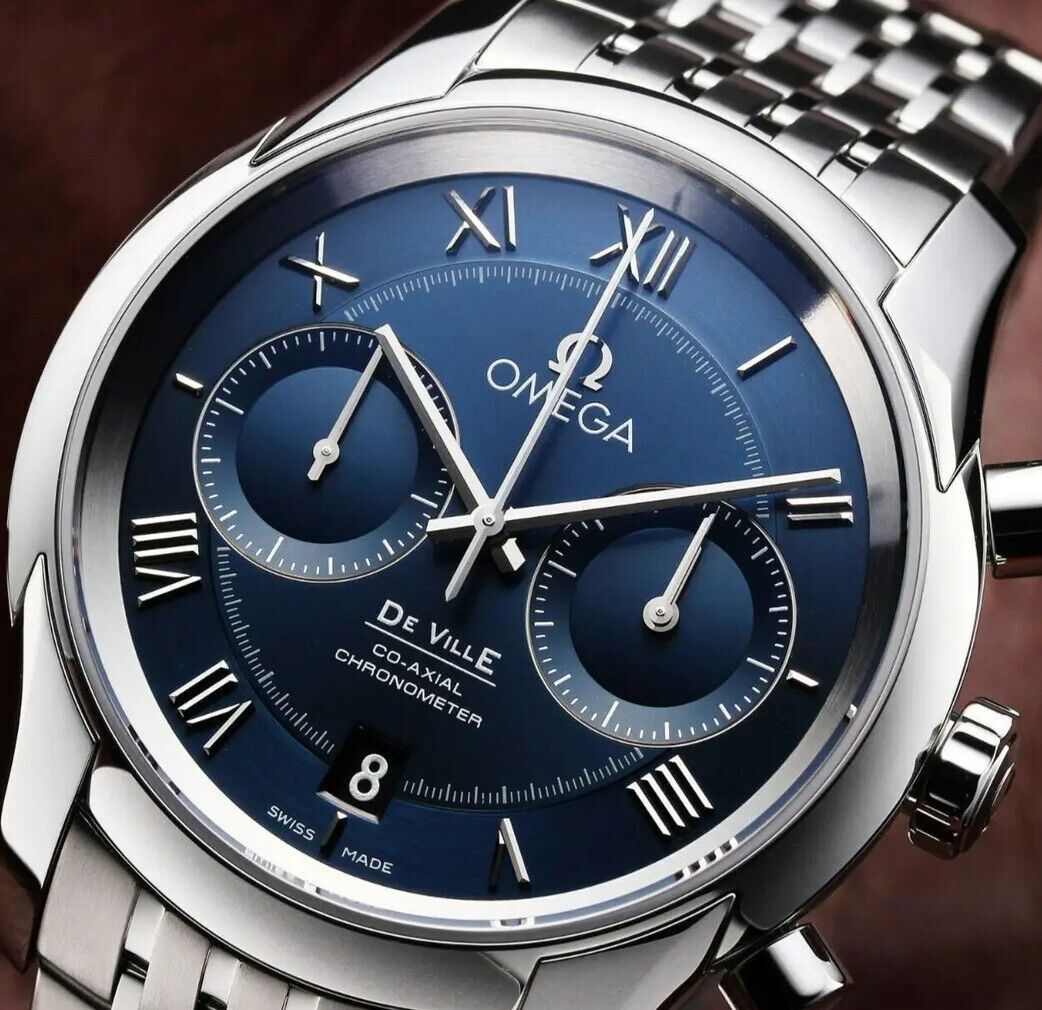 Condition wise, these watches hold up very well thanks to a durable construction, reliable movement and 100 meters water resistance.  Dials and movements should be perfect and free of any corrosion, staining, scratches or damage, and the only condition issue that should be a factor is case condition.  These cases do have some sharp edges and can attract scratches and dings so look out for damage as well as for the loss of sharpness from excessive polishing.
Many of these watches will be due for a service, and this can be expensive through Omega so I would try to have an Omega certified independent service this watch if at all possible.
These watches were sold all over the world, but in the last couple of years the best value examples have definitely been coming out of Japan where these watches seem to have sold quite well.  The volume there combined with the current weakness in the yen as of 2023 combines to make Japanese dealers and eBay sellers a very compelling option for these watches.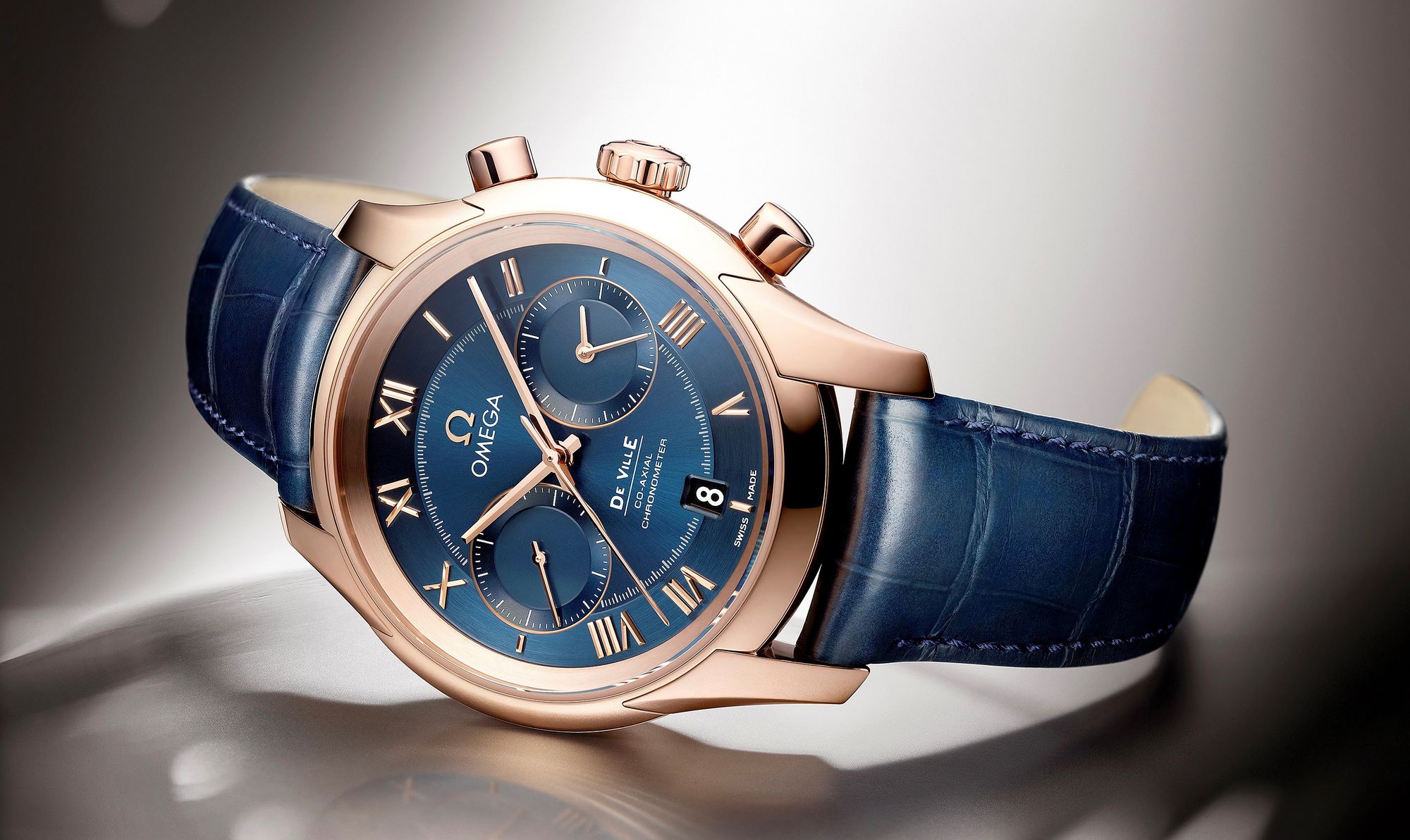 The 18K red gold examples can be found for semi-decent deals at times but there are quite few of them in circulation and they command a bit more value still than I would like.  The fact that they are strap only and have quite a heavy head also makes them a bit harder to enjoy than other examples, but if one does come up at auction it could be still worth watching.
The stainless steel versions of the De Ville Hour Vision Chronograph really are hidden gems in the used Omega market, well worth hunting down.  Until Omega makes something based on the Calibre 9905 there won't be any newer or better dress chronograph from the brand and with prices under $3,000, it's hard to go wrong.
Discussion thread on Omegaforums can be found here: