The DeVille Prestige Chronograph is hands down, the absolute best value Omega chronograph you can buy on the secondary market.  At $1400 or less, you're almost purchasing a Calibre 861 movement and getting a free watch and bracelet that happens to look and feel great for free.  It can be maintained easily by an independent watchmaker for a reasonable price, the movement it shares with the Speedmaster Pro Moonwatch will have a supply of parts until the end of time. It also offers all of the benefits of a modern watch like decent water resistance, a sapphire crystal and a comfortable bracelet option in a vintage style case and dial with a legendary manual wind movement.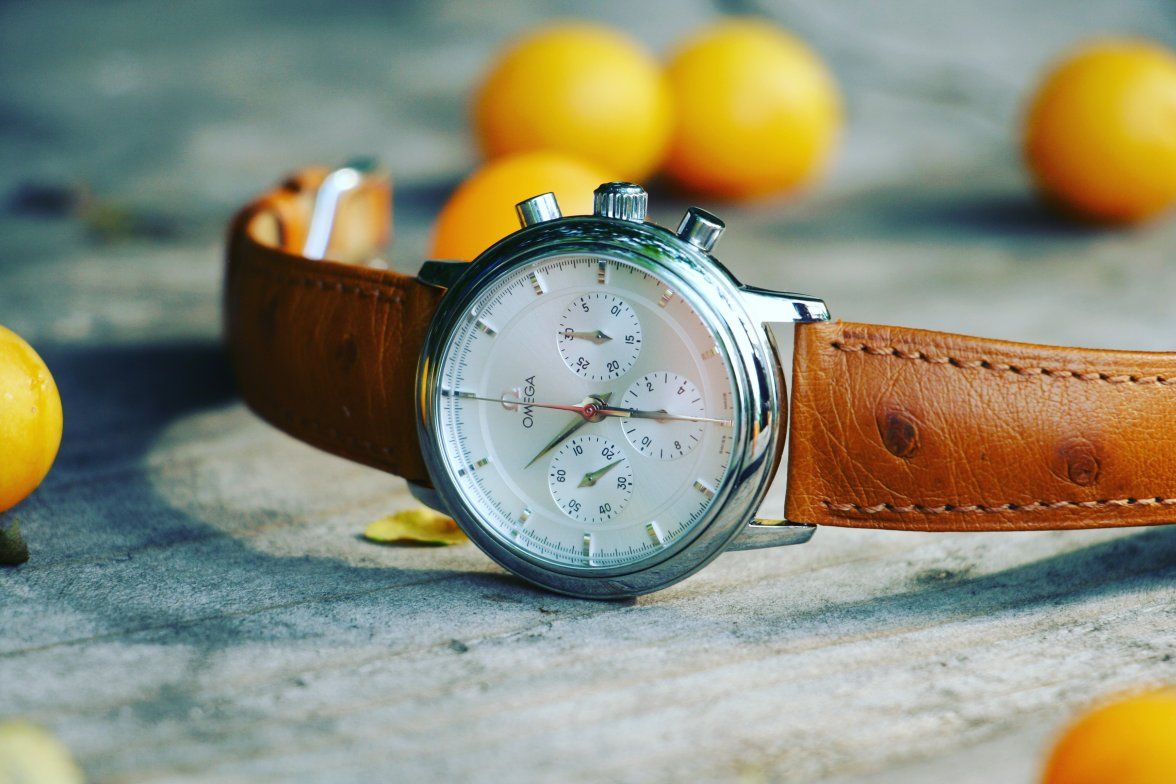 So why then do these watches languish unloved so frequently on eBay, Chrono24 and forum listings?  
The Many Faces of De Ville
One of the hardest Omega questions to answer is what is a De Ville?  
It's a question even Omega struggled with for several decades with different ideas, directions, styles and even spellings being attempted.  The name De Ville was originally a creation of Norman Morris, the legendarily creative US importer for Omega as a name for Seamaster monocoque front loading dress watches.   The Omega Seamaster De Ville hit its stride in the extremely high volume and highly successful reference 166.020 before becoming a separate line in Omega's hierarchy in 1967.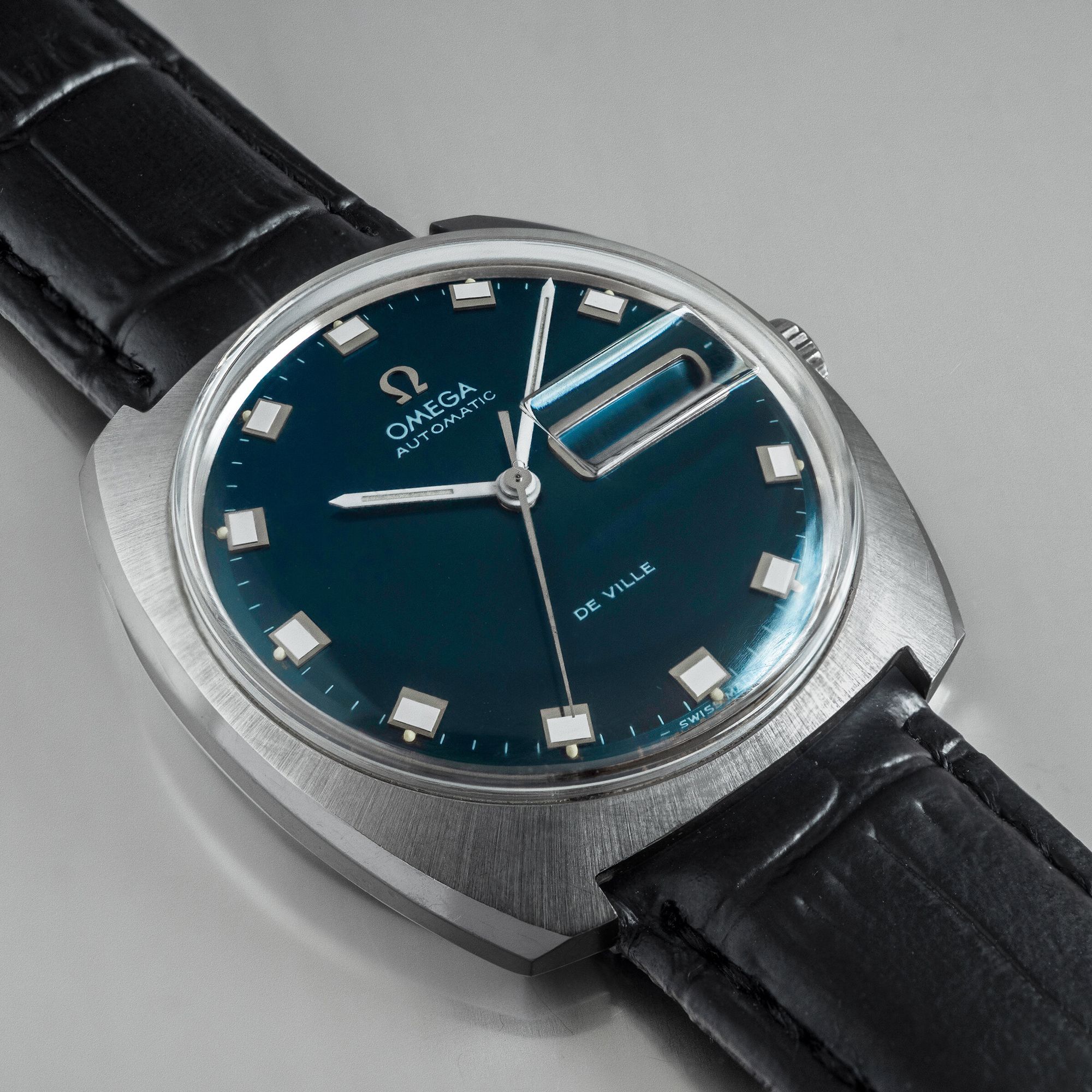 From that point it was used in an extremely broad range of dress-oriented watches from the simple and elegant to the unusual and bizarre.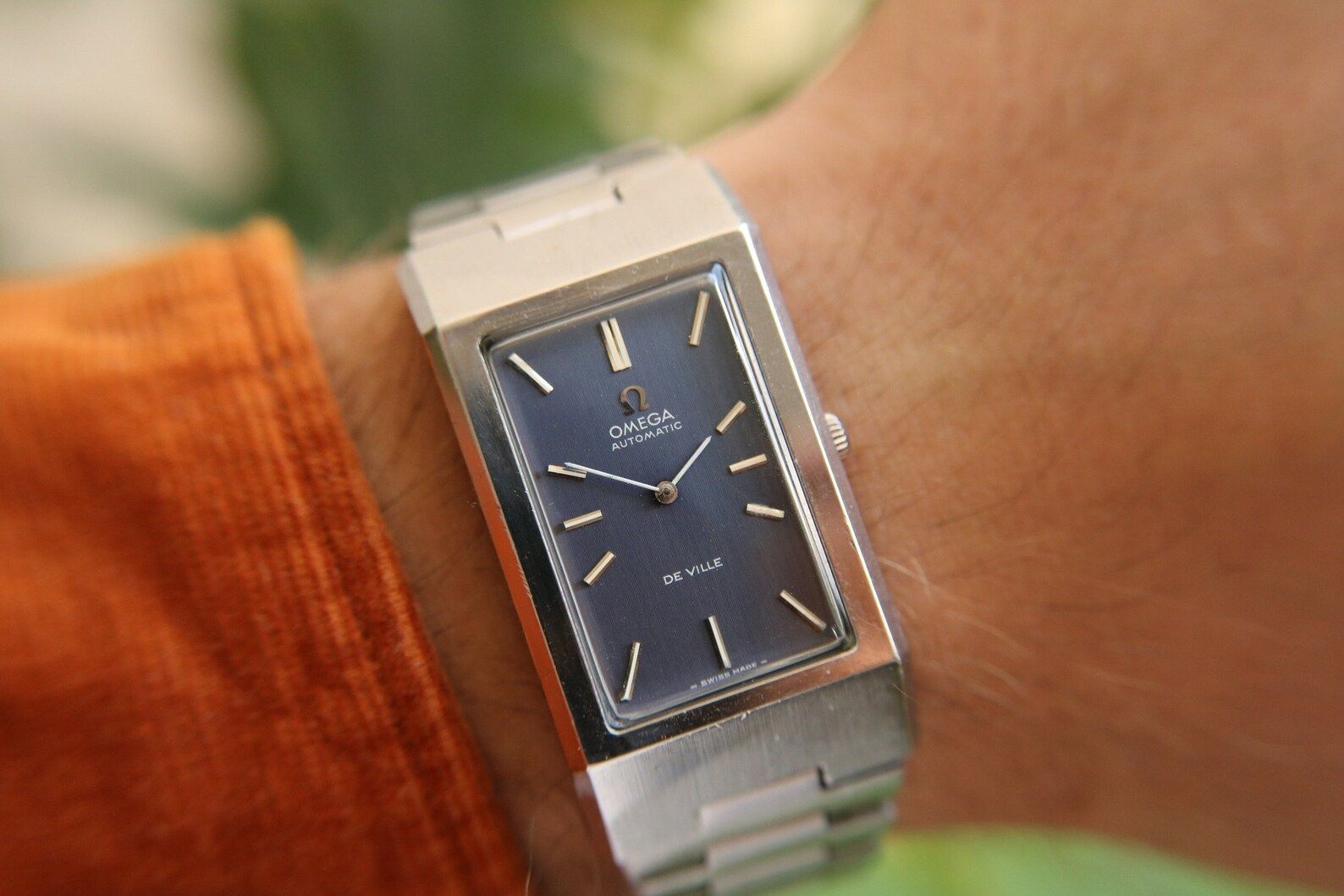 In the early 1990s Omega introduced a line of watches known as the De Ville Prestige, featuring both the chronograph and a 3-hand dress watch, both powered by high quality ETA / Lemania movements.  This line has now continued with minor updates over the years to movements and bracelets and still exists in very similar form to these originals at time of writing in late 2022.
Movement
The Calibre 861 is known best to watch collectors as the Moonwatch movement.  It wasn't the first of course, that was the Calibre 321 which was recently put back into production by Omega.  The Calibre 861 powered the 145.022 Speedmaster Professional Moonwatch models and was flight tested and certified by NASA for the shuttle program, seeing extensive use throughout that time in space and even on EVA.
The De Ville Prestige Chronograph never went to space.  The closest it ever got was probably a flight on an Air France Concorde, but it still features the exact same highly durable and well-regarded chronograph movement as it's more adventurous and expensive cousin.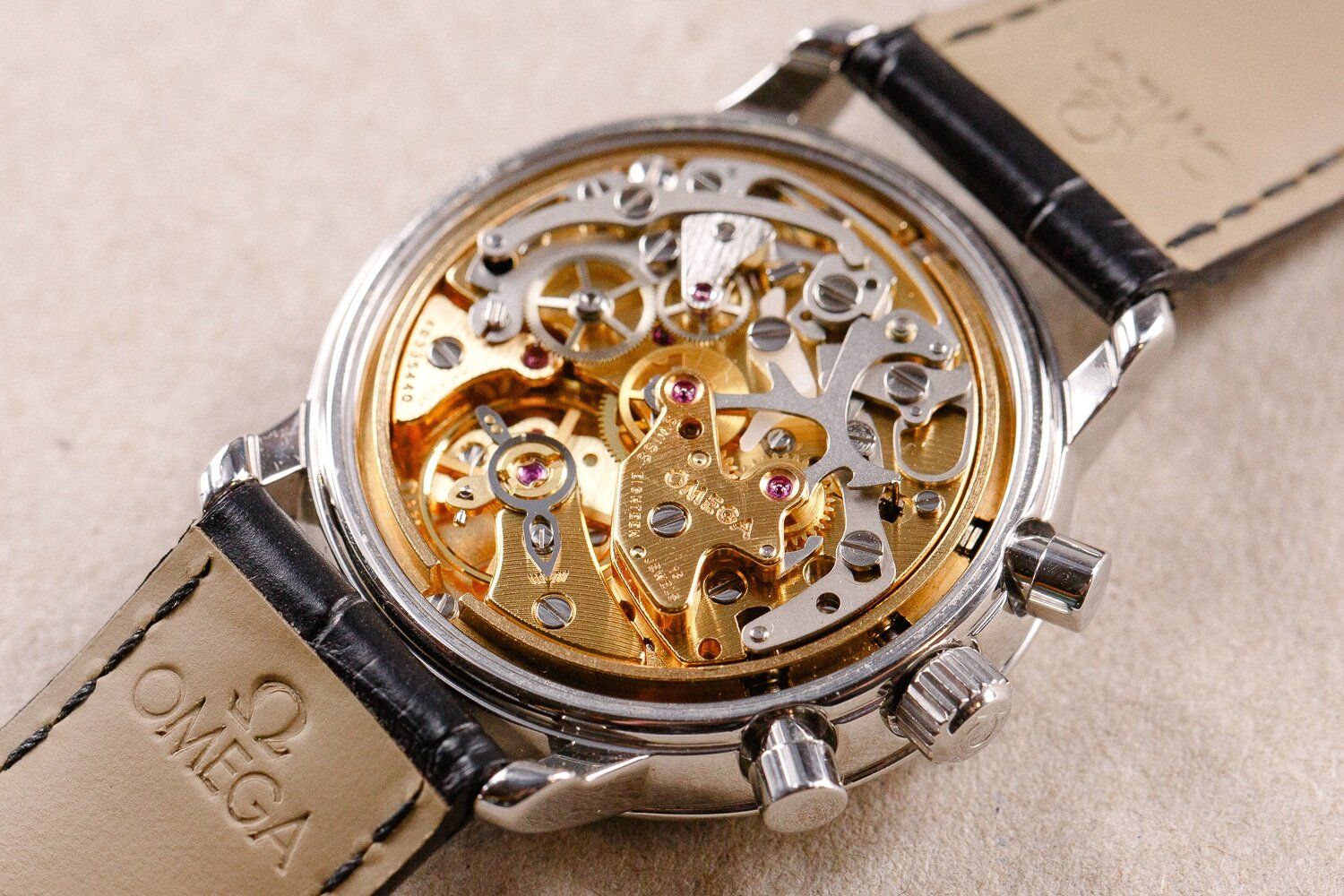 The Calibre 861 movement is based on the Lemania Calibre 1873.  It features a cam and lever operated chronograph mechanism, oscillates at 19,600 vph, and has a 48-hour power reserve.  
The Calibre 861 served as the base for most Moonwatches produced from 1968 until 1996 and went on to form the basis for the Calibre 1861 and Co-Axial Calibre 3861 movements that have succeeded it.
These watches can be serviced easily by a qualified independent watchmaker with access to an Omega parts account and are extremely durable.  
Confusions relating to serial numbers
When looking at these watches online, especially in sales listings you will frequently see sellers and even owners quoting production dates of around the mid-1980s for these watches.  Yet when consulting Omega's website and various other sources you will find that Omega did indeed release the De Ville Prestige line in around 1994, in parallel to the "Bond" Seamaster Pro.
How then do these 1980s examples exist?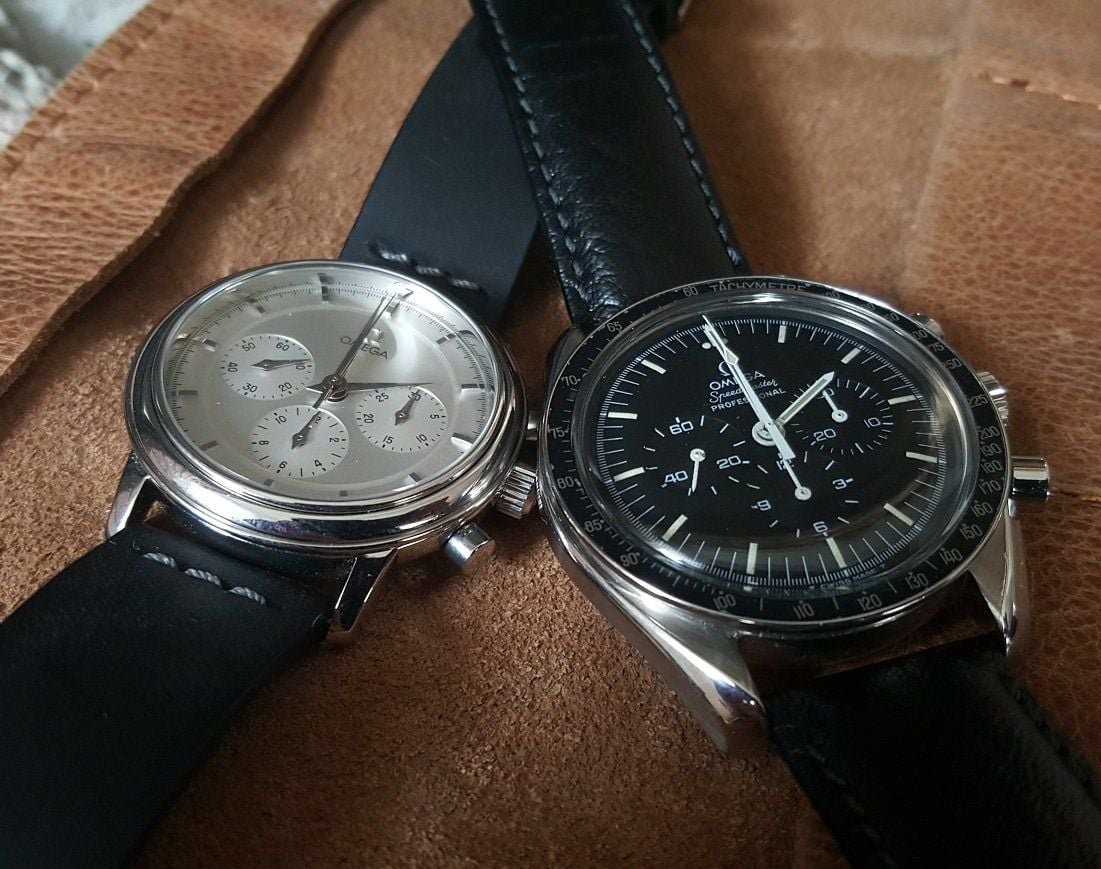 The answer is that people often look up serial number tables which list movement numbers by year.  In all of these tables there are lists for Omegas in general, and then a separate list for Speedmasters, as the Lemania movements powering Speedmasters were produced out of sequence.
While we can all agree the De Ville Prestige Chronograph is certainly not a Speedmaster, for serial number purposes you need to pretend that it is, and in doing so you will get the correct date range.  For example, a recently listed De Ville carried the serial 48,312,395.  This equates to 1985 in the general Omega serial range, which is what the seller has quoted but falls in the 1990-1999 bracket on the Speedmaster charts.
Case & Bracelet
The case of the De Ville Prestige Chronograph is extremely simple, in a similar vein to the original Seamaster De Ville designs of the 1960s.  The decent sized 36mm case is dominated by a large polished bezel with two steps to it. The lugs are relatively straight and plain, curving downward slightly with a width of 19mm.  The caseback is a friction fit design and the watch has a modest water resistance of 30 meters.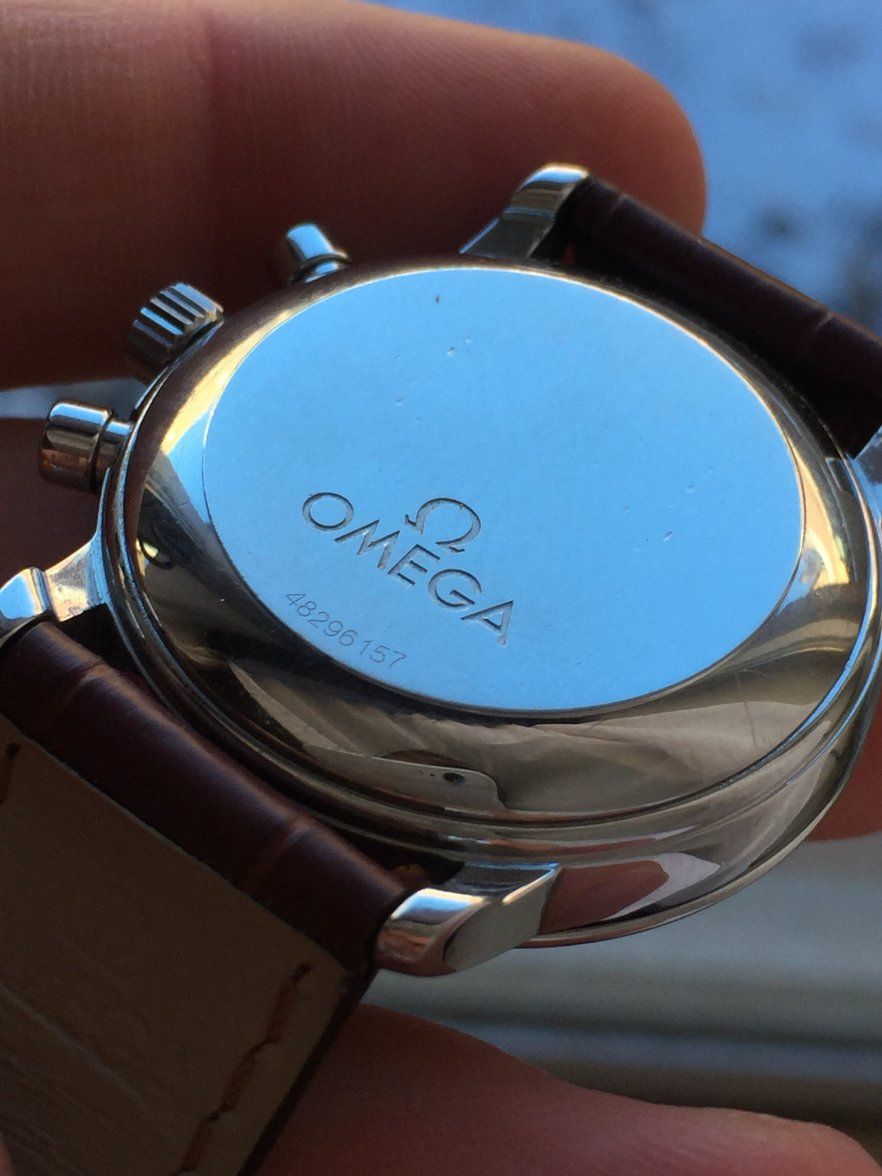 Unlike most other Omega watches, the caseback of the De Ville prestige has the serial number visibly stamped into the caseback, below the Omega logo.  This is a feature seen on some other watches like the Speedmaster reduced which has a movement that is often swapped out in service however the Prestige Chronograph has a serial also on the movement as well.  Presumably the second external serial is there for convenience to ensure it is not necessary to open the friction fit caseback just to get the serial number.  The reference stamped on the inside of the caseback is 145.0050 irrespective of the dial or configuration of the watch.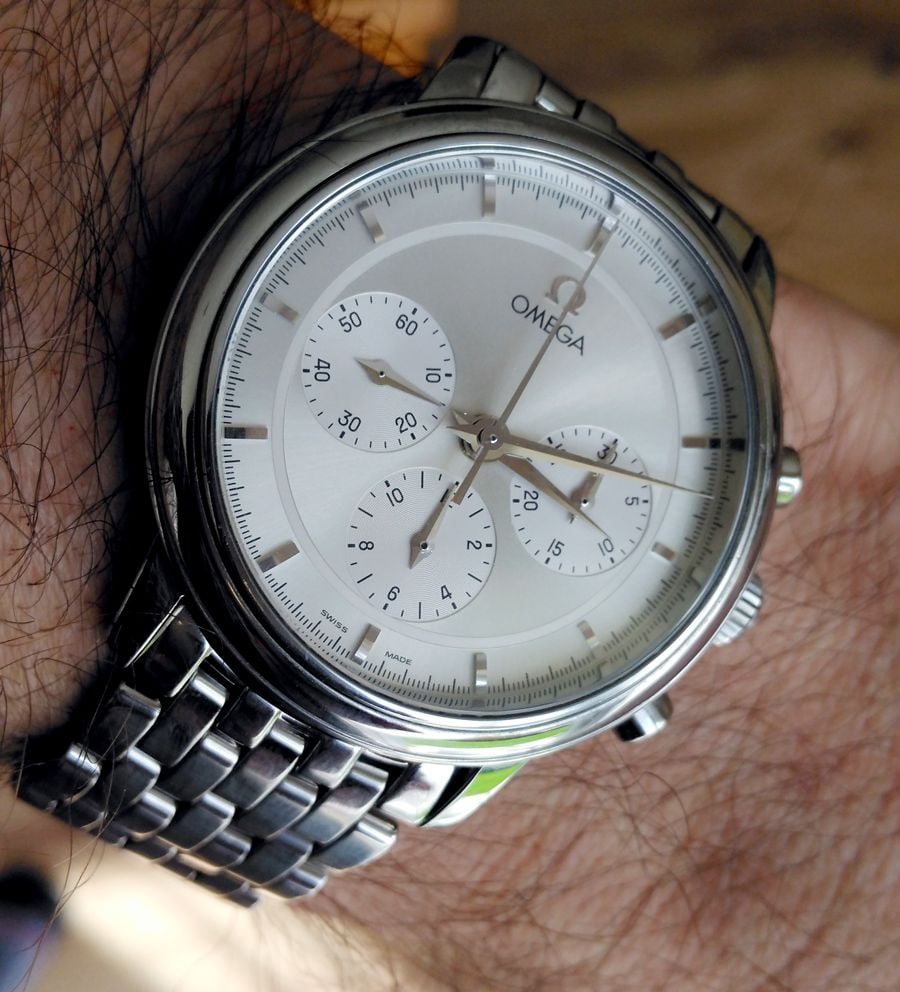 The bracelet for this watch, the Ref 1509/836 is something rather special.  In many ways it is the closest thing we have to a modern successor for the vintage beads of rice bracelet, and in terms of comfort it is remarkably good.  The sizing mechanism is very similar to the Bond Seamaster Pro in that it uses half-links and a pin and bushing mechanism for adding and removing links.  The bracelet is very well finished, substantial and feels terrific on the wrist and really is worth chasing as it works superbly with the understated case and dial, balancing the relatively light weight head brilliantly.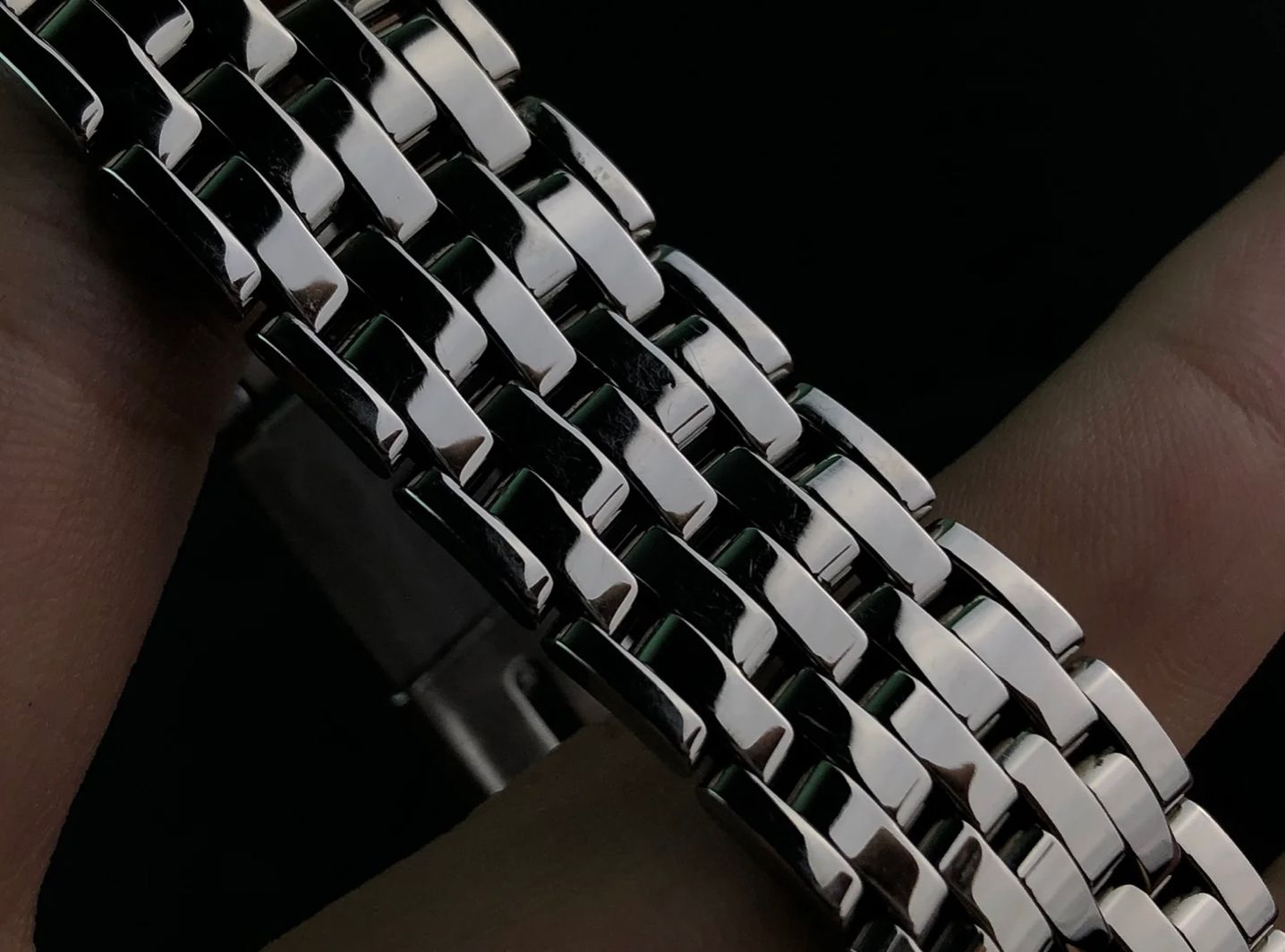 Variants & Metals
All variants had several features in common.  Dials were a two section design with a contrasting step in a ring just outside the subdials, while subtle this effect appears even on the black dials as well.  All models feature applied dial furniture for hour markers, and metal dauphine hands both centrally and on subdials with no luminous materials.  All dials feature an applied Omega symbol with the word Omega painted in black on light dials and white on black dials.
Stainless Steel On Bracelet
There are three dials available in stainless steel on bracelet, the most common is the silver dial which does not have rings around the subdials.  The less common option is the black dial, though there are still quite a lot around.  The least common option by far is the white dial which has silver applied metal rings around the subdials.  These ones are genuinely hard to come by.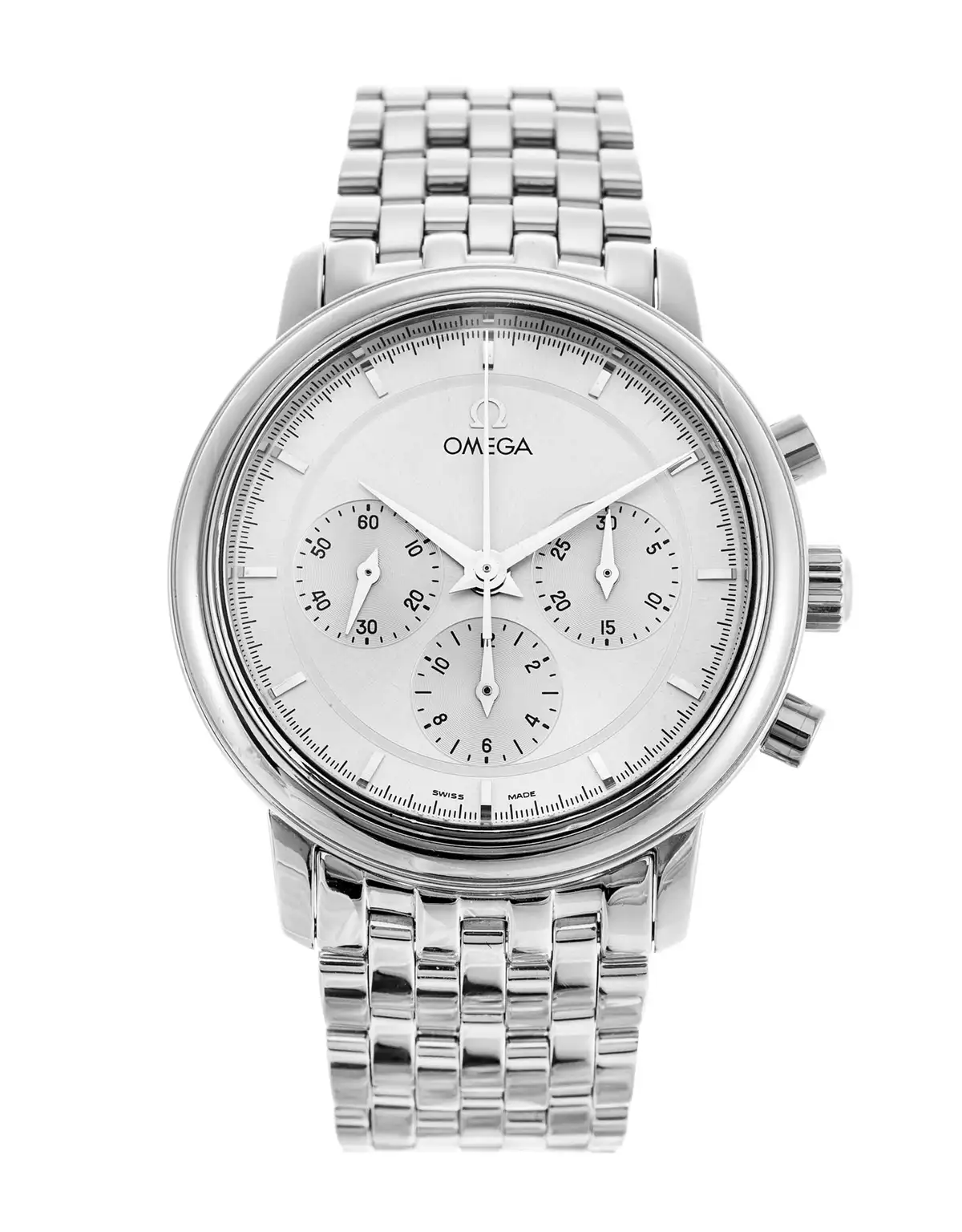 Stainless Steel On Strap
The three available dials on bracelet are also available on strap with the same degree of rarity on each.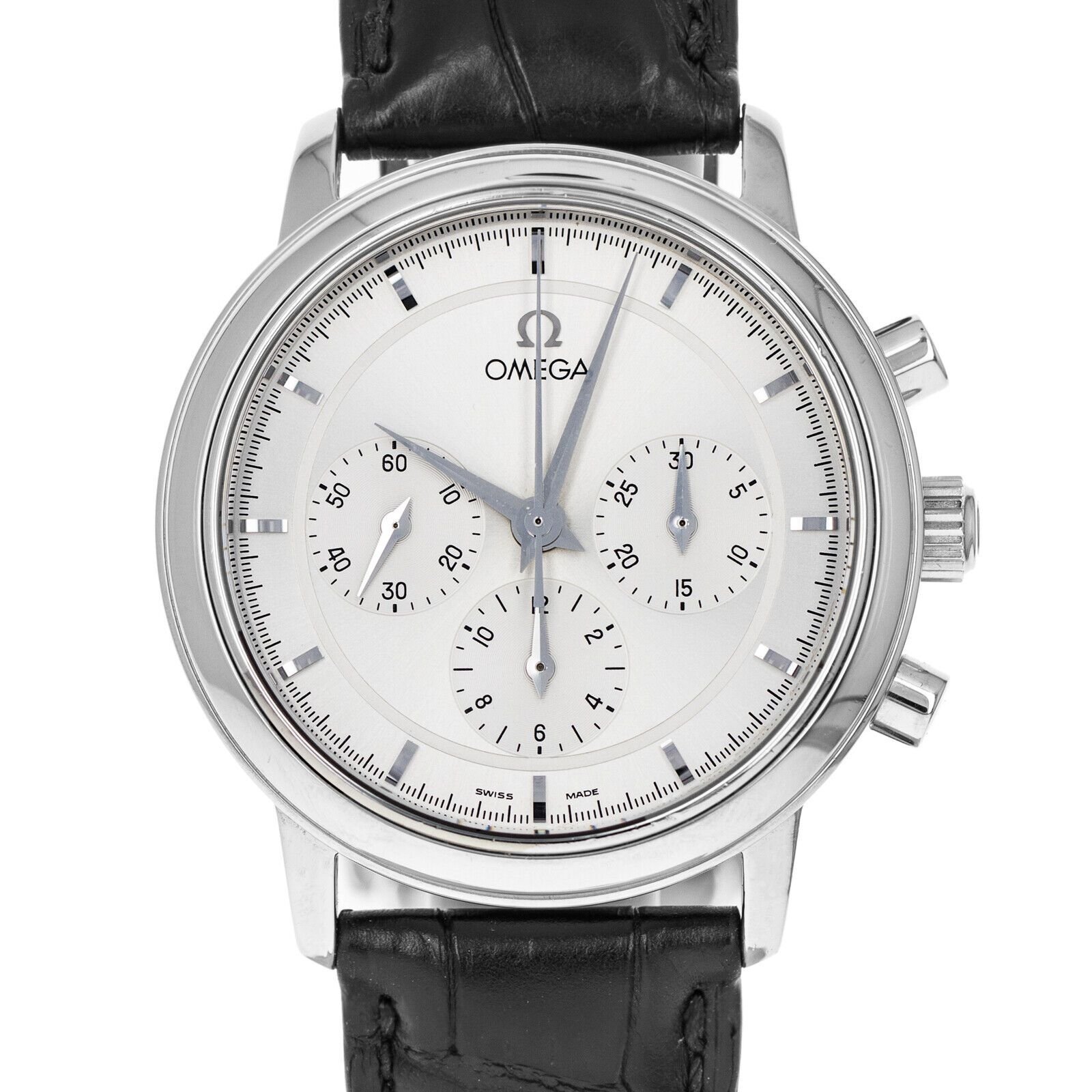 18K Gold & Steel on Strap & Bracelet
The two-tone is interesting as it appears there is only one dial option for bracelet which is metallic silver tone.  What is more interesting though is that the strap version of this watch is quite different, with rose gold instead of yellow gold, and gold rings around the subdials on a silver toned dial.  Quite a unique and interesting design.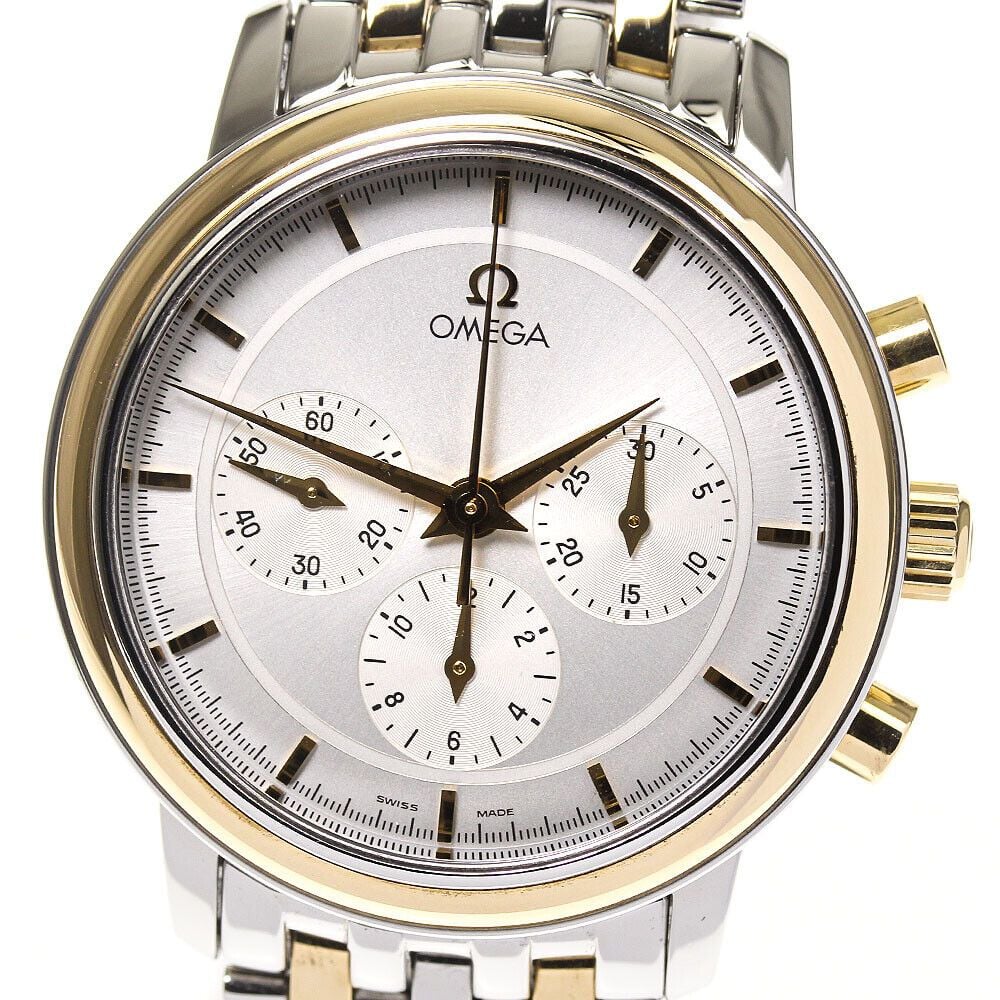 18K Solid Gold On Bracelet
The 18K solid gold models on bracelet are spectacular, with a unique metallic champaign gold tone dial as an option along with a metallic silver.  The gold bracelet is identical to the steel but with significantly more weight to it.
18K Solid Gold On Strap
The 18K gold strap models feature an 18K gold Omega tang buckle and were available in a variety of strap options in both silver and gold dial.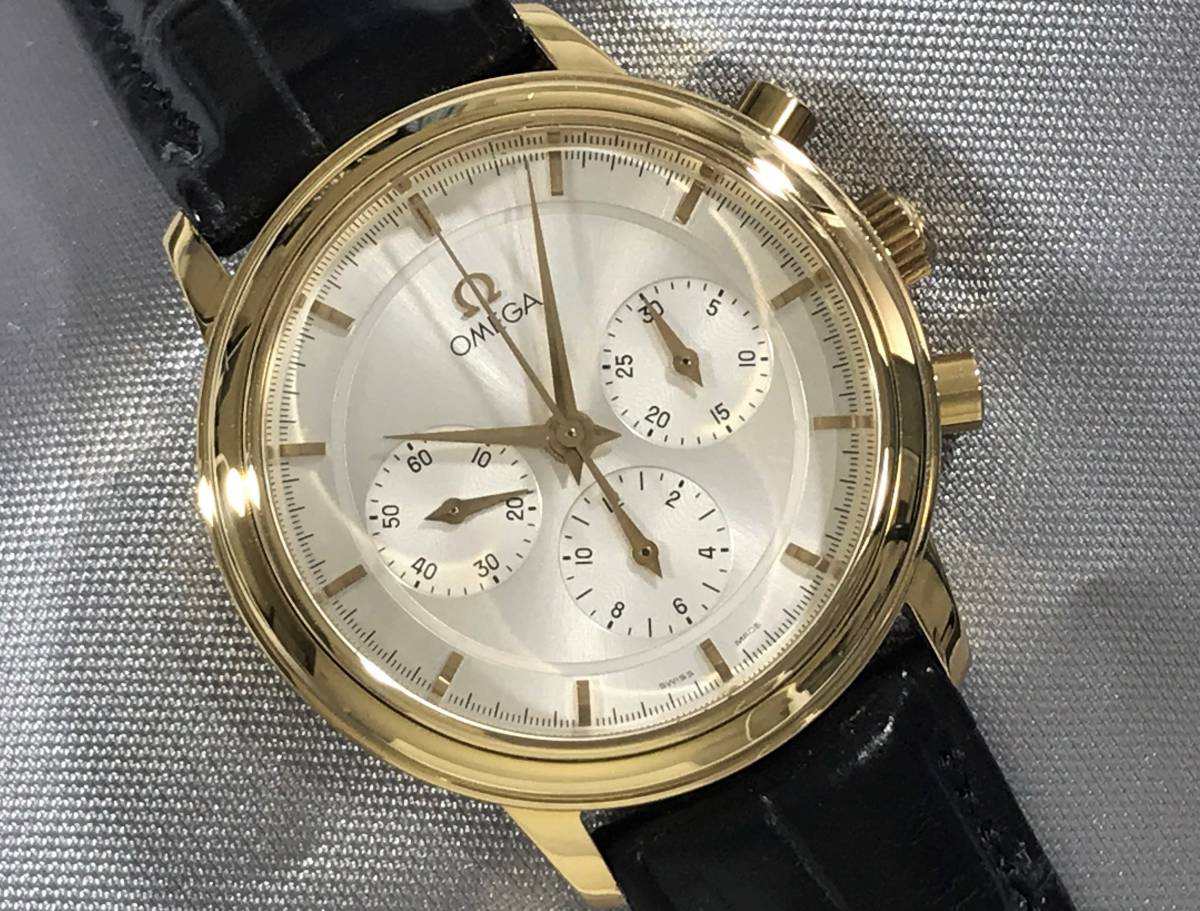 Buying guide
There are certainly plenty of these watches around and not that many people that know about them.  The lack of any markings on the dial, even just the word De Ville, couples with confusion over what they are, and even what decade they are from due to the Speedmaster serial numbers adds to the reason they clutter eBay, forums and Chrono24.  They shouldn't though.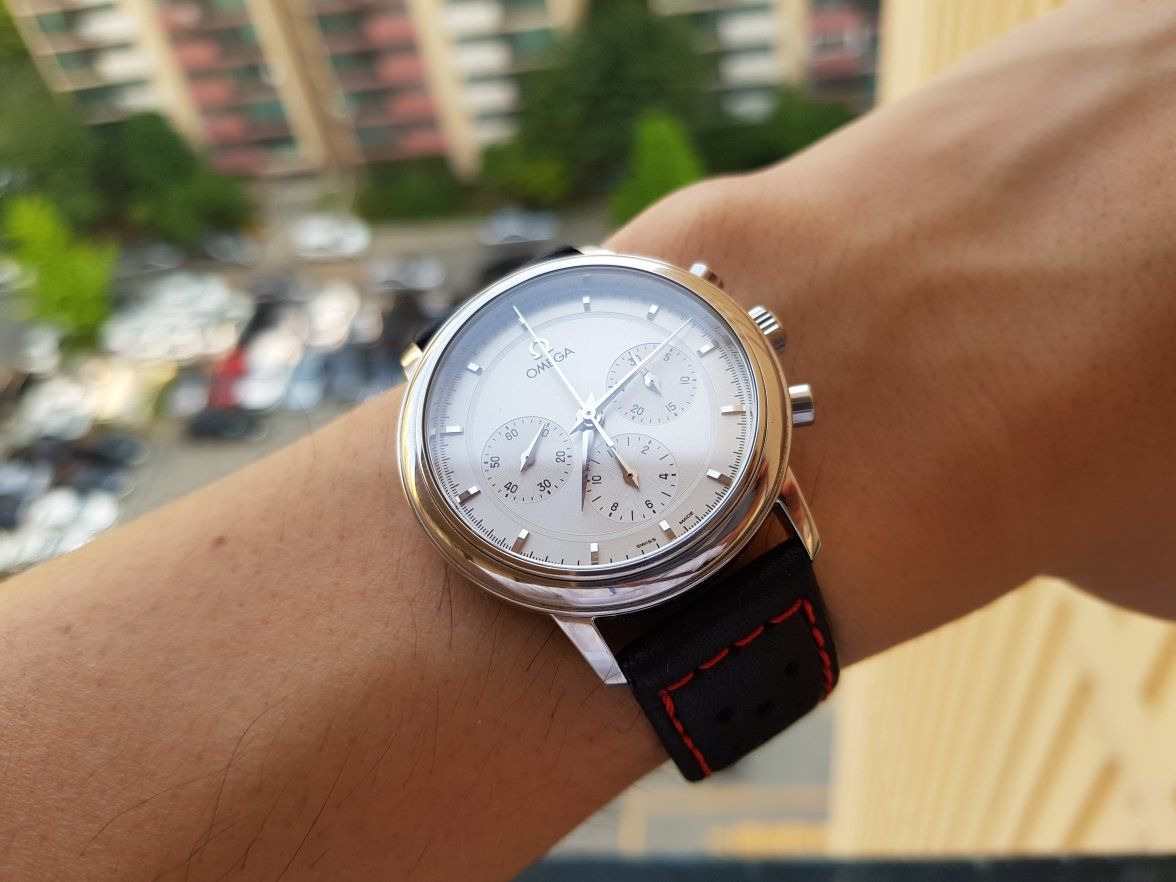 The pick of the bunch tend to be the steel models on bracelet, they're just so cheap for the amount of watch you are getting and frequently sell under $1,500 on eBay with prices dipping down just north of a grand at times for examples on strap.  This quite nice black dial sold just recently in late 2022 for $1,480 with free shipping out of Japan.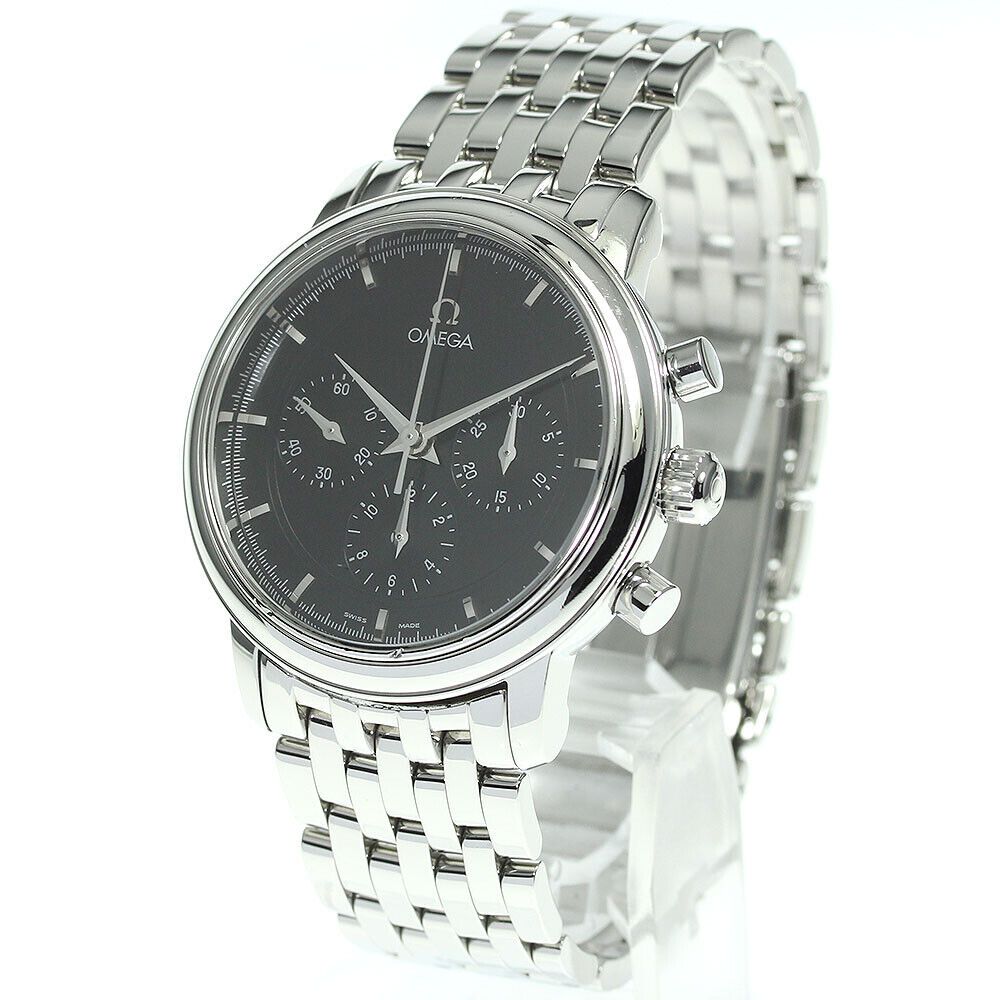 These watches were sold all around the world and were not exclusive to Japan by any means, however as I've said before, the Japanese have excellent taste in Omegas and there are a LOT of these watches in Japan.  Between major sales platforms there will always be a couple of dozen listed out of the land of the rising sun, and if you have some Japanese language skill or a Japanese friend it can pay to search the Japanese auction and sales sites for good deals.
It is worth keeping in mind that the steel bracelet itself typically sells for $200-350 on its own, so factor that much of a price difference between strap and bracelet examples.
Two-tone does not carry a significant premium over steel, only about $600-$800 or so, and if they appeal to you they're a great option.  
The 18K solid gold models on both bracelet and strap tend to be tough sellers.  Nobody wants to sell a solid gold Omega with a great movement like this for peanuts but they suffer from the same lack of recognition that the steel models do which leads them to gather dust in sales listings for years.  Occasionally one will go no reserve at auction, and when they do, some great deals can be had, particularly on the strap models with prices under $3500.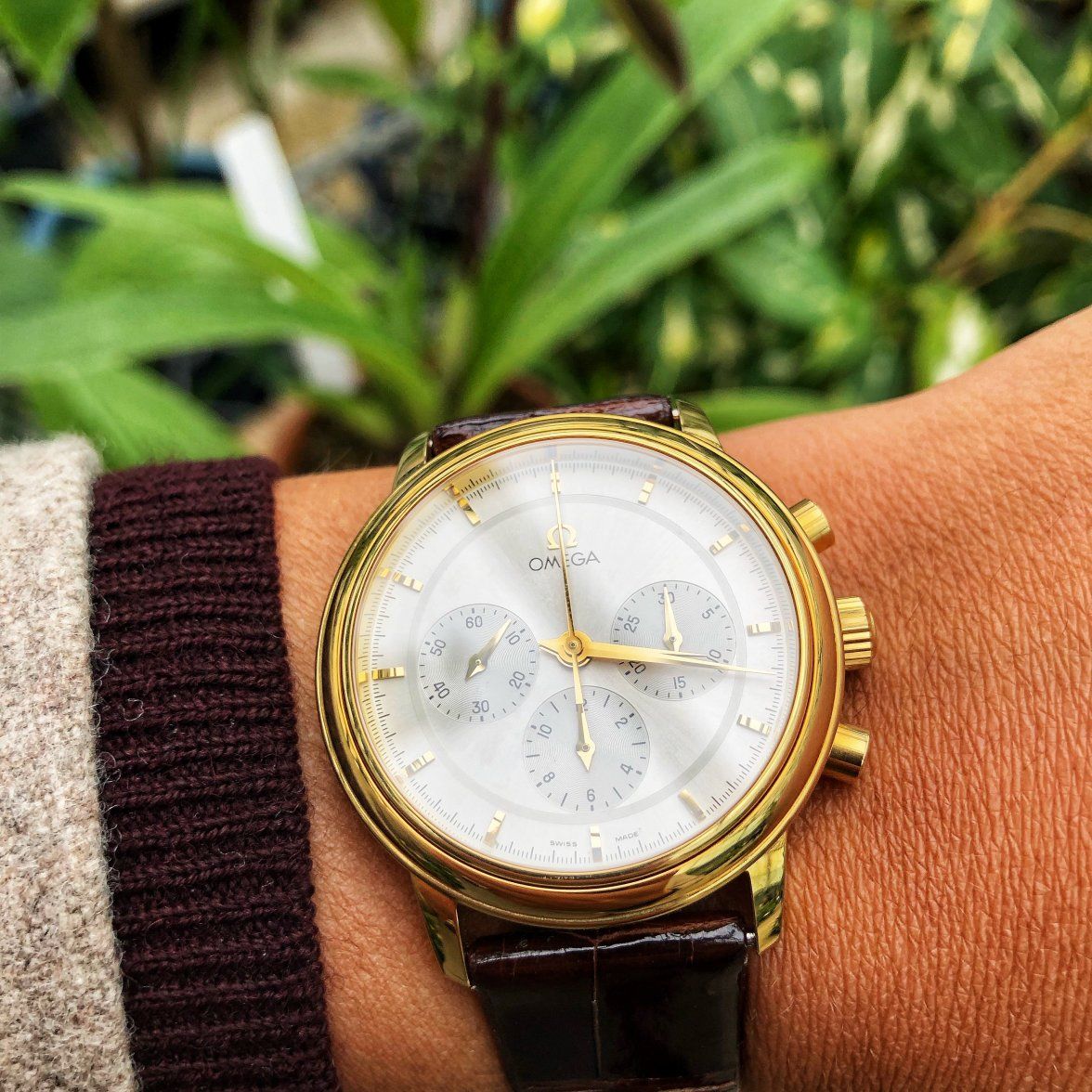 It also isn't often that the steel models go no reserve on eBay as the lack of awareness of the reference can lead to them going for very little money, earlier this year a head only example went for around $900 in quite nice condition, likely to the disappointment of the vendor.
As a first Omega, or a just an excellent way into a superb dress chronograph, these watches really do represent terrific value.
Discussion thread on Omegaforums can be found here: