This will be the first of four parts in our series on the Omega Chronostop, a model spanning many model lines and even brands with a complication so unusual that there is nothing in Omega's modern product line that even compares.
The Beginning of the Chronostop
The Omega Chronostop family began in 1966 with a model under the Geneve line powered by Calibre 865, carrying the reference ST 145.009.  From this initial watched spawned a remarkably large and varied family of mono-pusher chronographs with different dials, cases and purposes.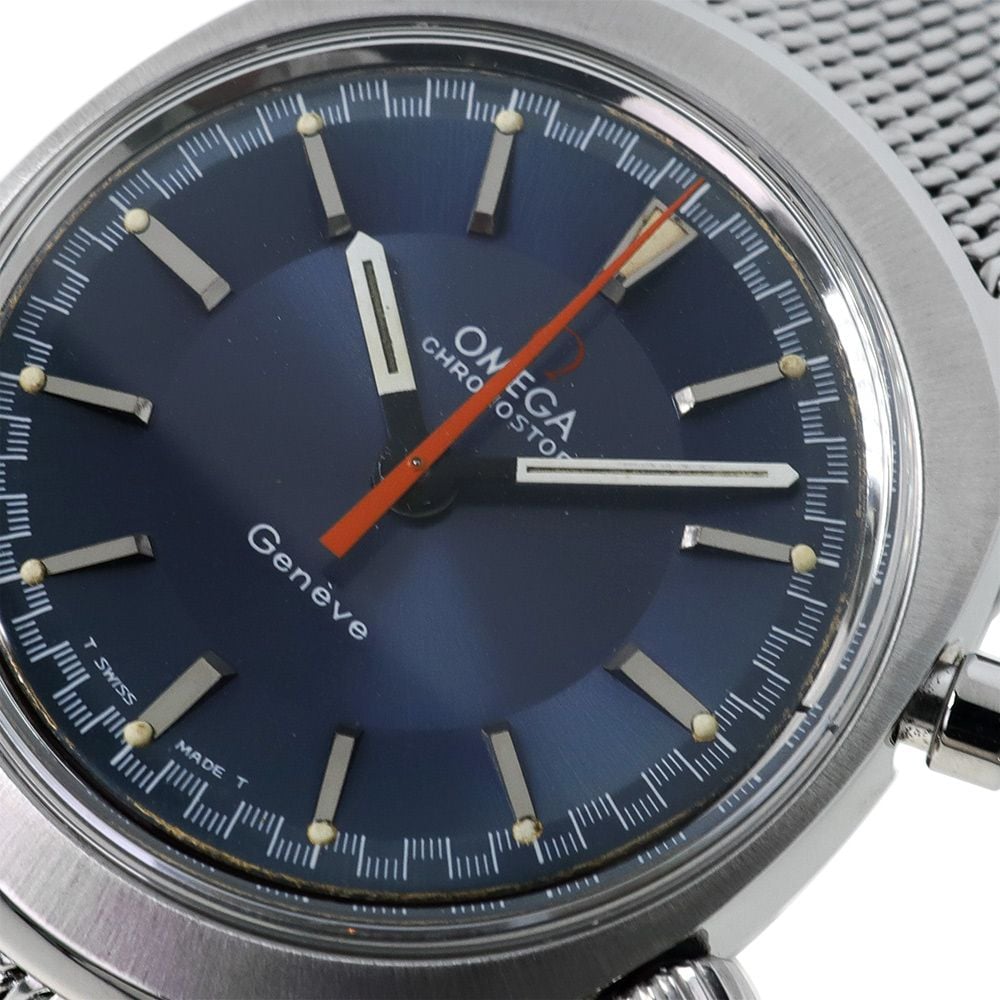 In this first part, we will look at four specific references, the original 145.009, the 90-degree rotated version for under-the-wrist wear reference 145.010, and their respective calibre 920 powered date versions, the 146.009 and 146.010.  While it may seem a bit confusing looking at all these references, they all refer to the same physical case design and only vary by date and orientation. So any Geneve chronostop starting with 145 should have no date and Calibre 865, while any starting with 146 should have date and Calibre 920.  Similarly, any chronostop ending in 009 is the standard orientation, while any ending in 010 have the dial rotated 90 degrees.
We will also look at the Japanese special editions of the 146.009 reference which are quite unique and very different aesthetically yet also share the same case and reference number.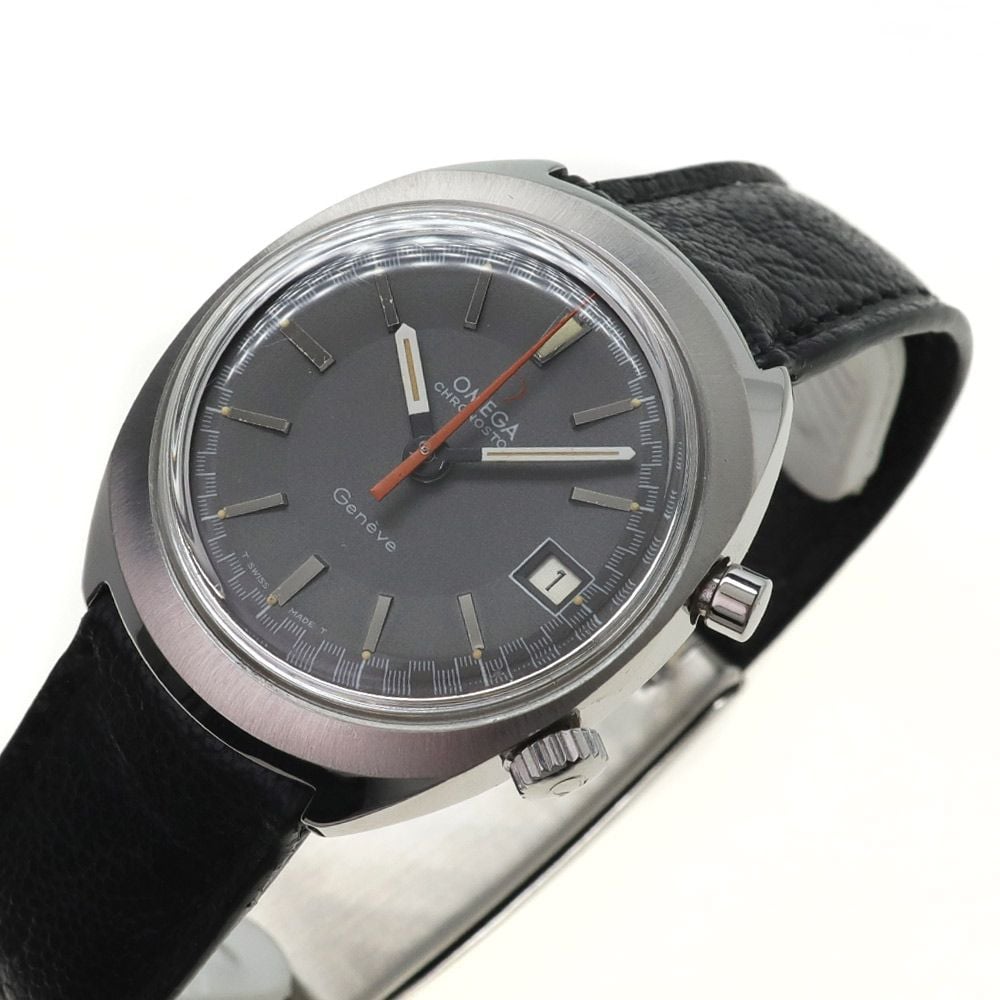 The chronostops are an unusual design choice, being a chronograph of sorts but only intended for short time periods of 60 seconds or less, perhaps slightly more if you can remember a minute has elapsed.  They're designed for maximum legibility, simple operation, and with ergonomics in mind such that the operator can be driving, running, or otherwise participating in the event they're timing rather than relying on a third party.  So focused is this watch on elapsed timing that it even eschews a running second hand in favor of reduced dial clutter.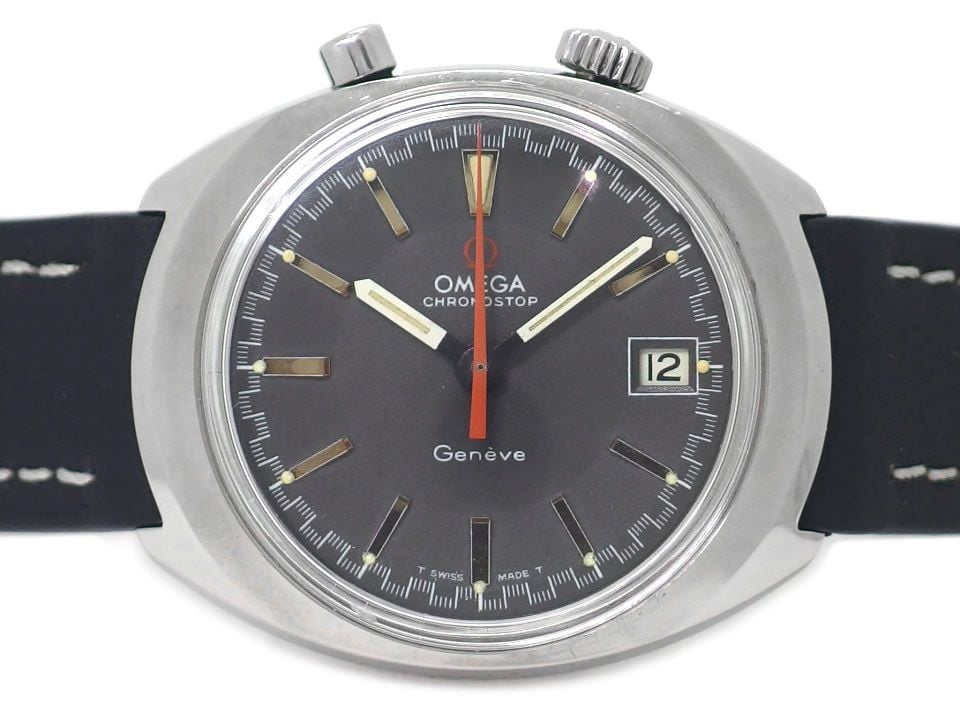 These chronostops are also a much higher quality watch than their lowly Geneve model name might suggest, with movements derived from the Speedmaster Professional's Calibre 861 albeit with significant modification.
The Japanese Geneve Chronostop
The Japanese chronostops are quite unusual in that they combine unique dials and hands with different case finishing but retain the same reference, that being 146.009 as they are all date watches with Calibre 920 and all standard orientation.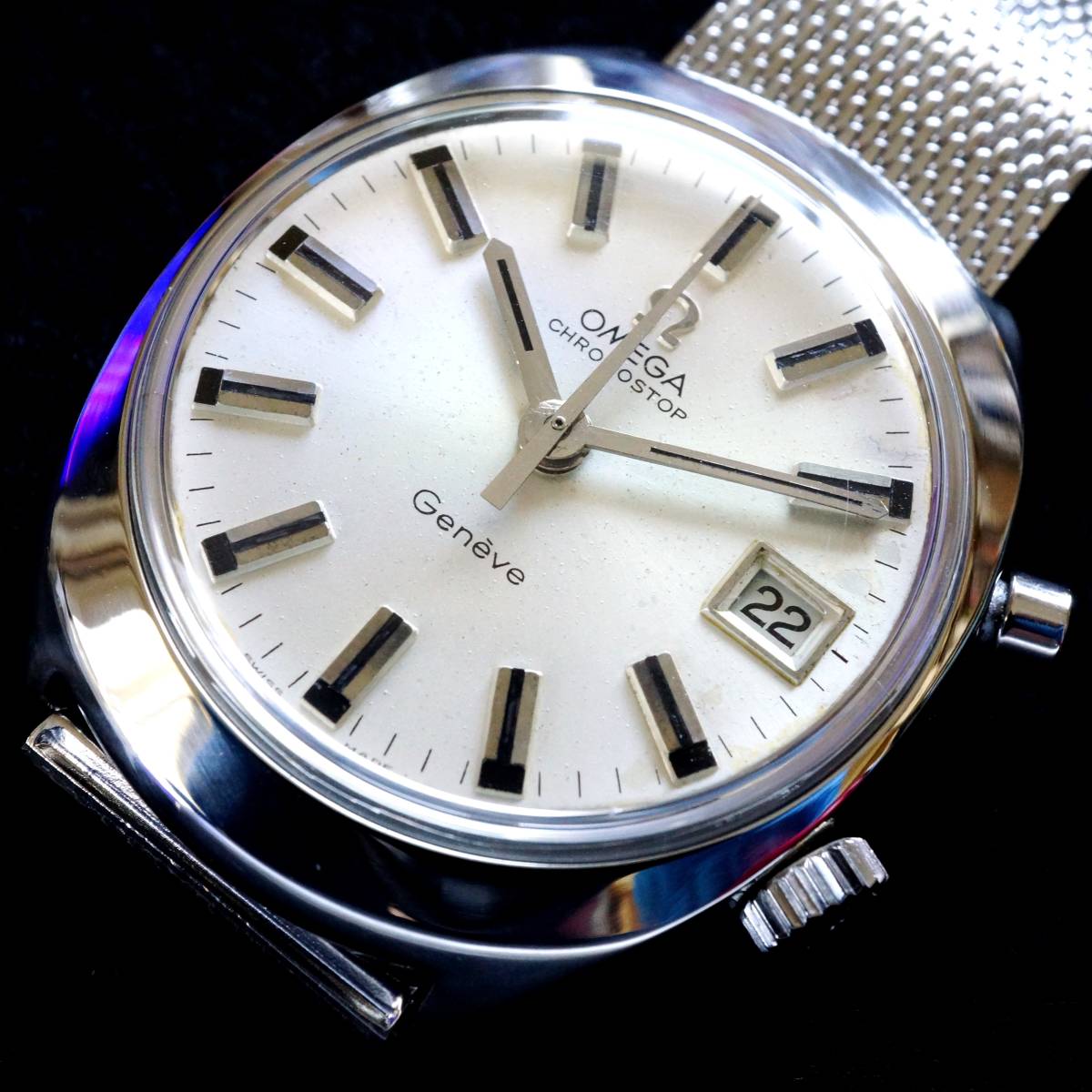 The original Geneve chronostop designs had a distinct sporting or racing focus with orange second hands, sub-seconds indices and simple dial and hand designs to maximise contrast.  They were purely tool watches, with a funky 1970's vibe.  
The Japanese versions go in entirely the opposite direction, dressing the watch up, putting practicality to one side and embracing many of the characteristics common to Japanese market special editions.  
These watches delete the sub-seconds ring, the luminous material, the high contrast orange hand, and the entire utilitarian nature in favor of polished steel dial furniture, hands, and bezels which catch the light and make it dance.  Both dials feature a flat surface with complex three-dimensional dial furniture, and painted inserts in contrasting colors to the dial in both hands and furniture.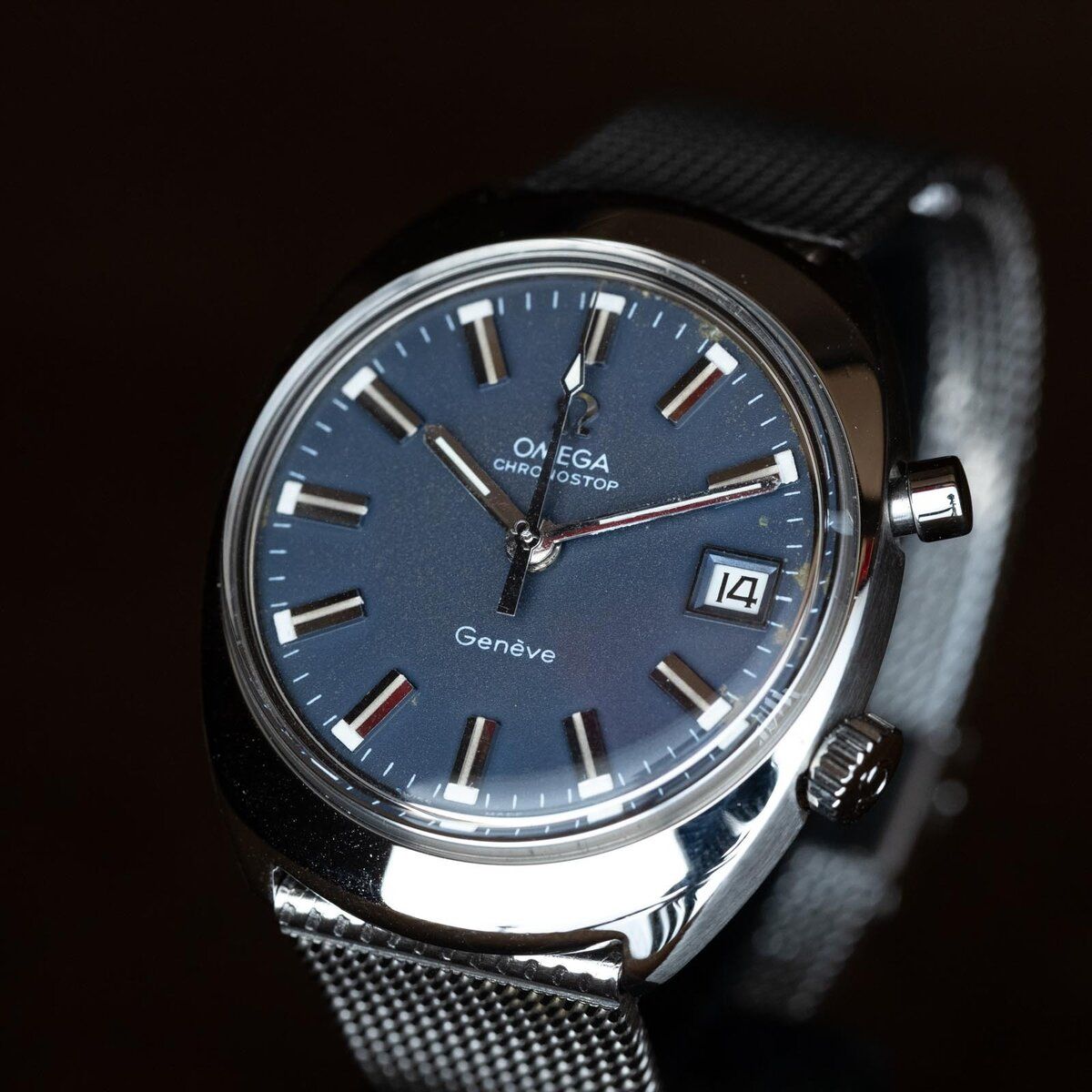 These models also feature an applied vintage style Omega logo, and an applied date window. There are also different fonts and dial text spacing as without the faceted center of the racing dial there is more room to spread things out in the center.
The Japanese chronostops came out a few years into production of these Geneves, around 1970 and were only produced for a short period of time.  Despite this there are a lot of them in circulation, especially in Japan and the lack of awareness of this model contributes to keeping prices down even for very nice examples.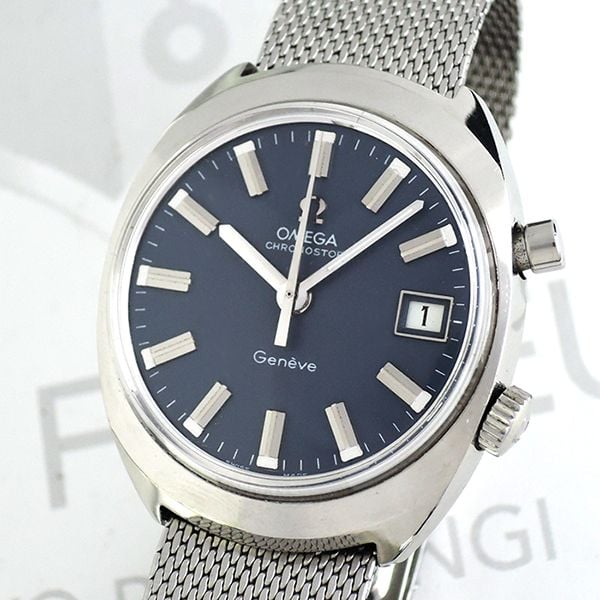 Case & Bracelets
While there are four different unique references to speak of here, there is really only one physical case design with some subtle variations in finishing and movement within.  
The case-backs between different orientated references are often double stamped, with 145.009/145.010 or 146.009/146.010 and there is no difference in design between them or their external markings either.  The case-back has standard keying and is a screw-back design without a hippocampus but with the water resistance etched on the outer edge.
The Geneve Chronostop cases feature a unique layout with a knurled crown at the 4 o'clock position, and the single pusher at the 2 o'clock position, with no crown-guards on either.  This allows for better ergonomics and easy operation of the pusher even without looking at your wrist or while wearing thick gloves in the thick of action.
The case is simple and elegant with a vaguely C-Case like design at 35 mm in diameter.  It features a subtly downward sloping front bezel integrated into the case, which angles down into a separate face towards the lugs and into the sides at the edges.  The bezel extends slightly outwards into the lugs giving a slight hood to them and covering up the connection of bracelets and straps to give an integrated look.  
There is a subtle difference between the racing oriented Geneve models with orange hands and the more dress oriented Japanese models in the finishing of the bezels.  The racing models have radial brushing which then sharply transitions to the polished face of the lugs, while the Japanese models feature a polished bezel to match their dial furniture and overall aesthetic.
Water resistance should be fairly reasonable at 30 meters, however being a manual wind watch with a pusher, there are seals that must be renewed in order to maintain that resilience.  Out of age and neglect many of these have been exposed to moisture and this can lead to discoloration of dials and corrosion of movements, both of which are highly expensive and best to avoid.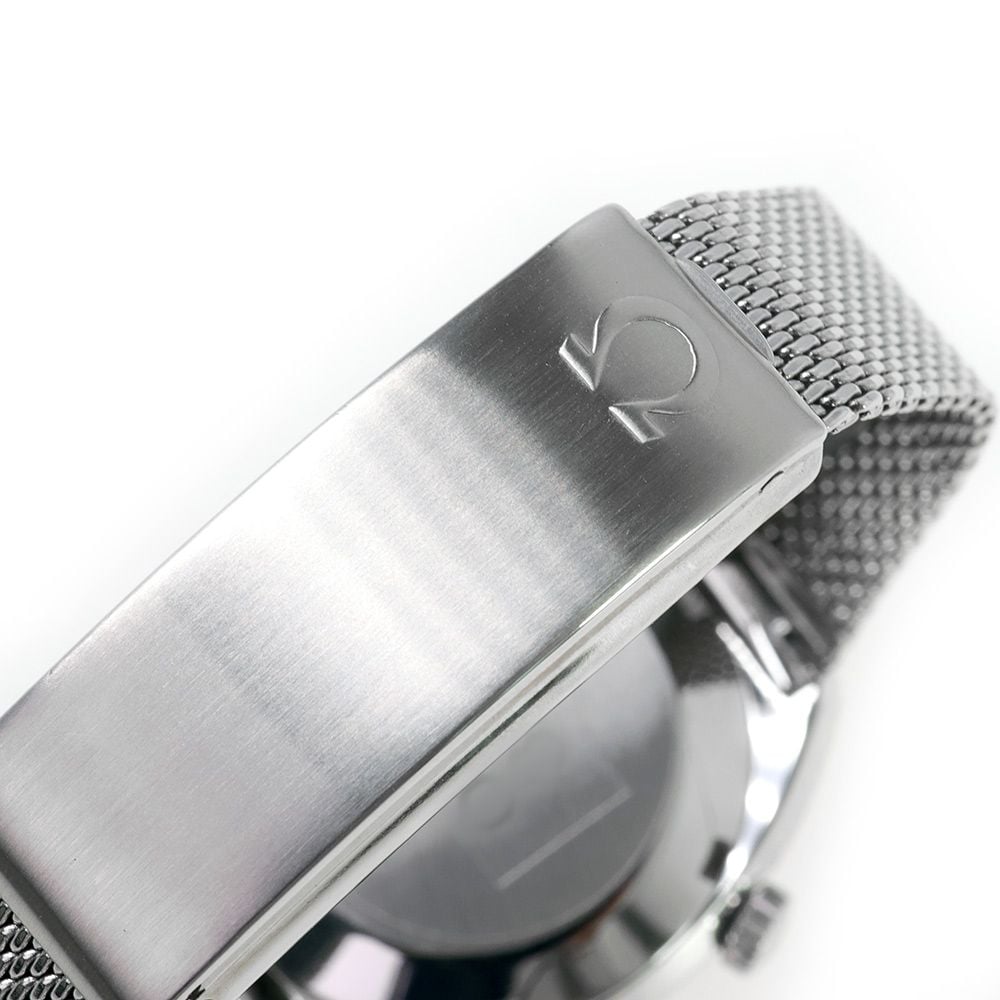 The lugs on these watches are 18 mm wide and a variety of options were offered in both straps and bracelets.  The racing models in particular came in different colored leather straps to match their dial tone, and unlike many other references of the era, a steel deployant clasp was typically fitted to these straps instead of a tang buckle.
The bracelet option most commonly found is a Milanese mesh bracelet which fits into the same deployant clasp as the leather straps carrying the reference 1120/116.  This bracelet is found on both racing models and nearly all of the Japanese dress models and suits the case design very well.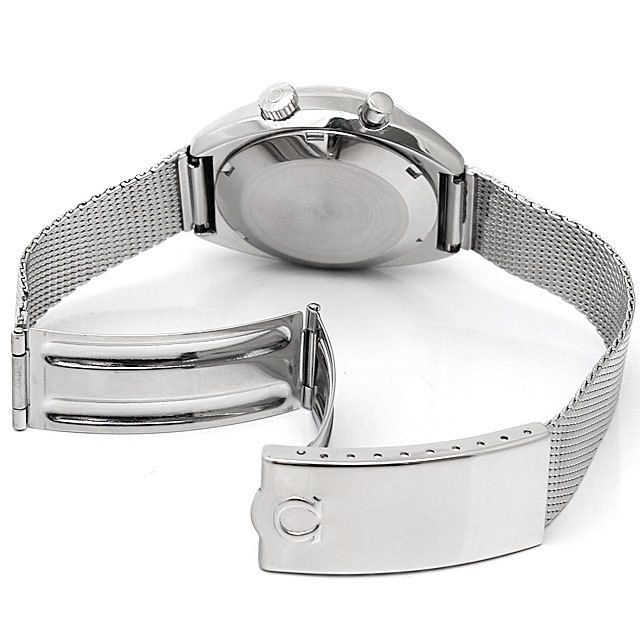 The second bracelet option on early models is the Omega flat-link reference 1035 bracelet, as found on Speedmaster Pro models which is quite expensive and somewhat more fragile.  The reference 1098 bracelet, also a Speedmaster style was an option on later years and gives a more modern look, with greater durability than the earlier flat-link.
Movements
The two movements found in these watches are the Calibre 865 for non-date references, and Calibre 920 for date references.  While their numbers are very different, both are highly modified relatives of the Lemania designed Omega Calibre 861 found in Speedmaster Professional Moonwatch models.  This is great news because that family of movements has proven itself to be highly reliable, accurate and maintainable over many decades of service.  The latest evolution of this family, the Co-Axial Calibre 3861 continues to power the Moonwatch even today.
These calibres are both manual wind, beat at 21,600 vph and lack hacking, while the Calibre 920 with date also lacks quickset date.  Neither of these calibres are chronometer rated however when serviced correctly can reach quite good levels of accuracy.  Being derived from the Calibre 861, the chronograph mechanism found in these movements is a cam and lever design. It differs here from the 861 in that there is only a single pusher for all three functions rather than two.
This means that the same pusher will function in the order Start -> Stop -> Reset before starting again on the fourth press.  This also means that once the chronograph has been stopped, there is no re-starting it without resetting first as the sequence is dictated by the position of the cam with a single pusher configuration.
It is worth noting that while the Calibre 865 will be the same, whether in a 145.009 standard watch or the 90 degree rotated 145.010, the Calibre 920 date version actually has a unique date wheel that must be used on the 90 degree rotated reference 146.010. This date wheel offsets the date slightly to ensure it lines up with the window on the dial.
Parts for these watches are still available and they can be serviced by any qualified watchmaker with access to an Omega parts account.  It is worth keeping in mind that these movements are more expensive than most vintage Omega calibres if needing a whole donor movement.  Also, a watch with many worn parts can add up to a somewhat large bill on these movements. If buying one you are best to have it serviced prior to using it, in order to minimise any wear-induced parts bill.
Dial Variants
The dial variants are best broken down into three categories, original, rotated orientation and Japanese variants.  Generally speaking, on the original and rotated models, the dials available in the non-date versions are also available in date versions so in the interest of brevity we'll try to show one of each type and orientation.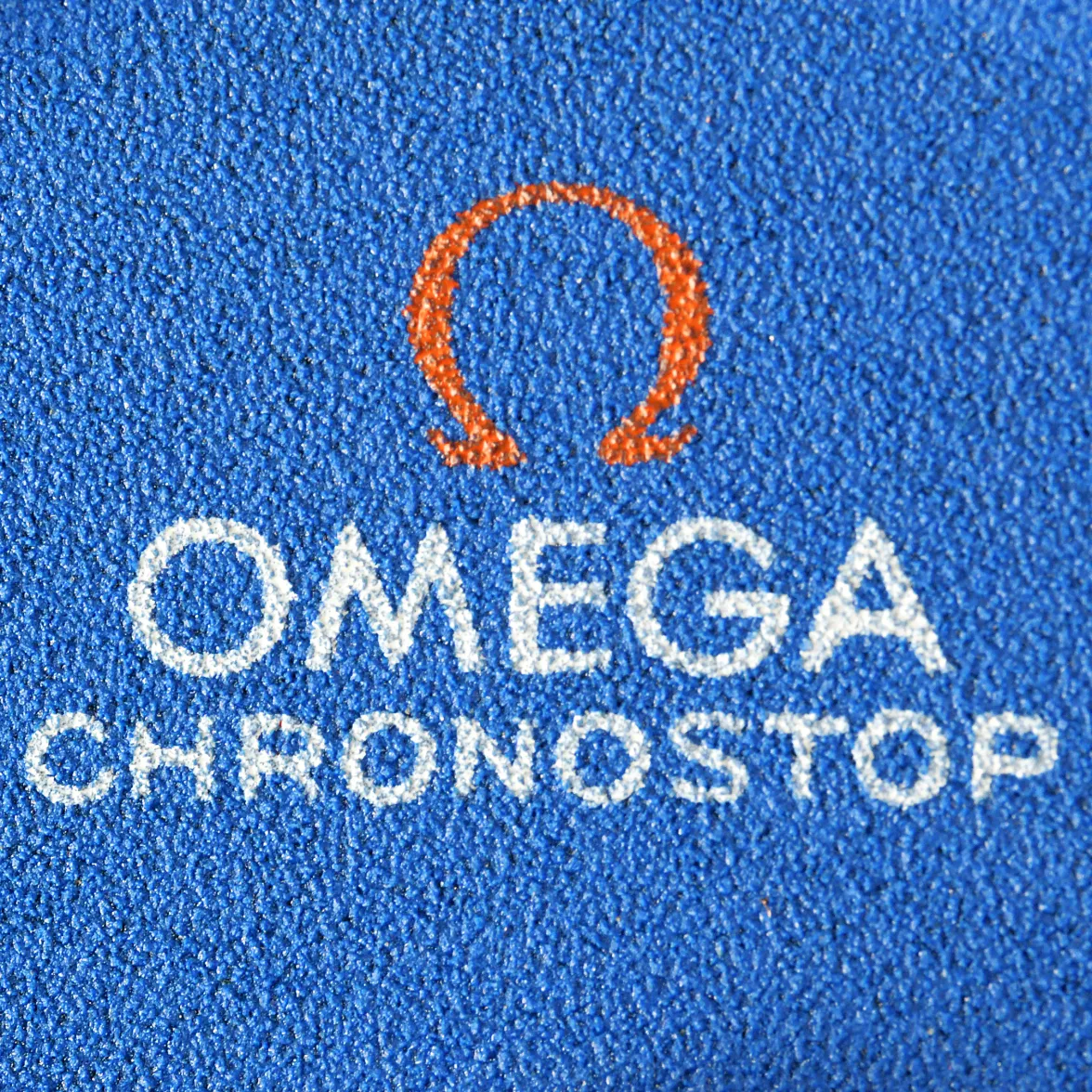 Original - 145.009  / 146.009
The original dial design, used in standard orientation Geneves has a three-dimensional layout with a sunken center section, from which the applied dial furniture radiate outwards as the dial sweeps upwards towards the outer edge.  
The dial furniture has a distinctive door-stopper shape to it, stepping up sharply in the center before tapering down towards the dial on the outer edge.  These markers have a luminous dot on the outer edge of them and are present for all hours except for 12 o'clock.  The 12 o'clock position has a wider trapezoid shaped marker with luminous material atop it.  On date versions, the hour marker is omitted where the date window appears.
The Omega logo appears in orange on all dials, with dial text, date window surround and outer sub-seconds track painted in a contrasting color, white on all dark dials and black on the white dial.
The hour and minute hands are black for the first few millimeters in the center before changing to a high contrast white for the remainder with luminous material on dark dials, and all black with luminous material on white dials.  All dials use an orange chronograph second hand, matching the orange of the Omega logo on the dial.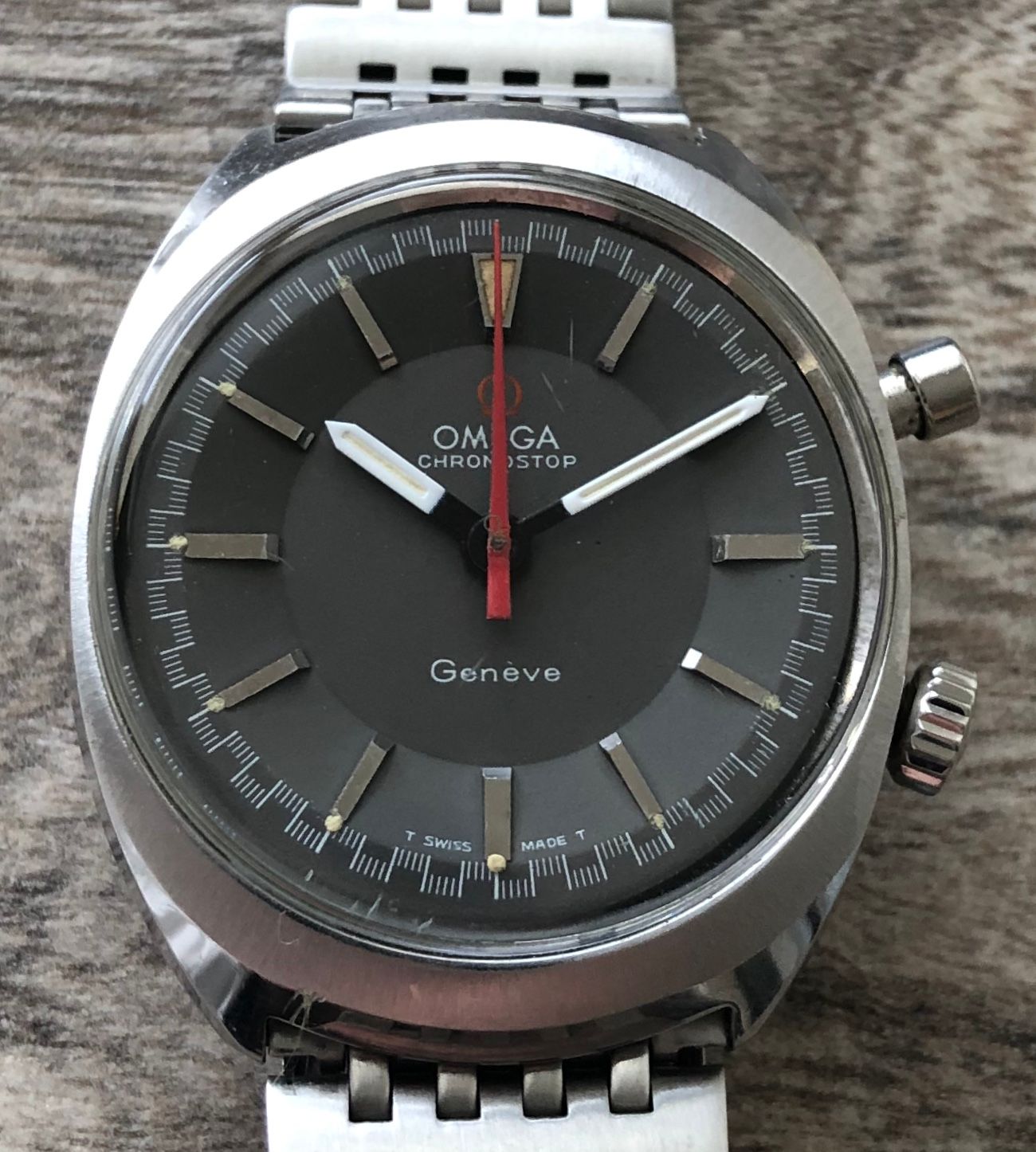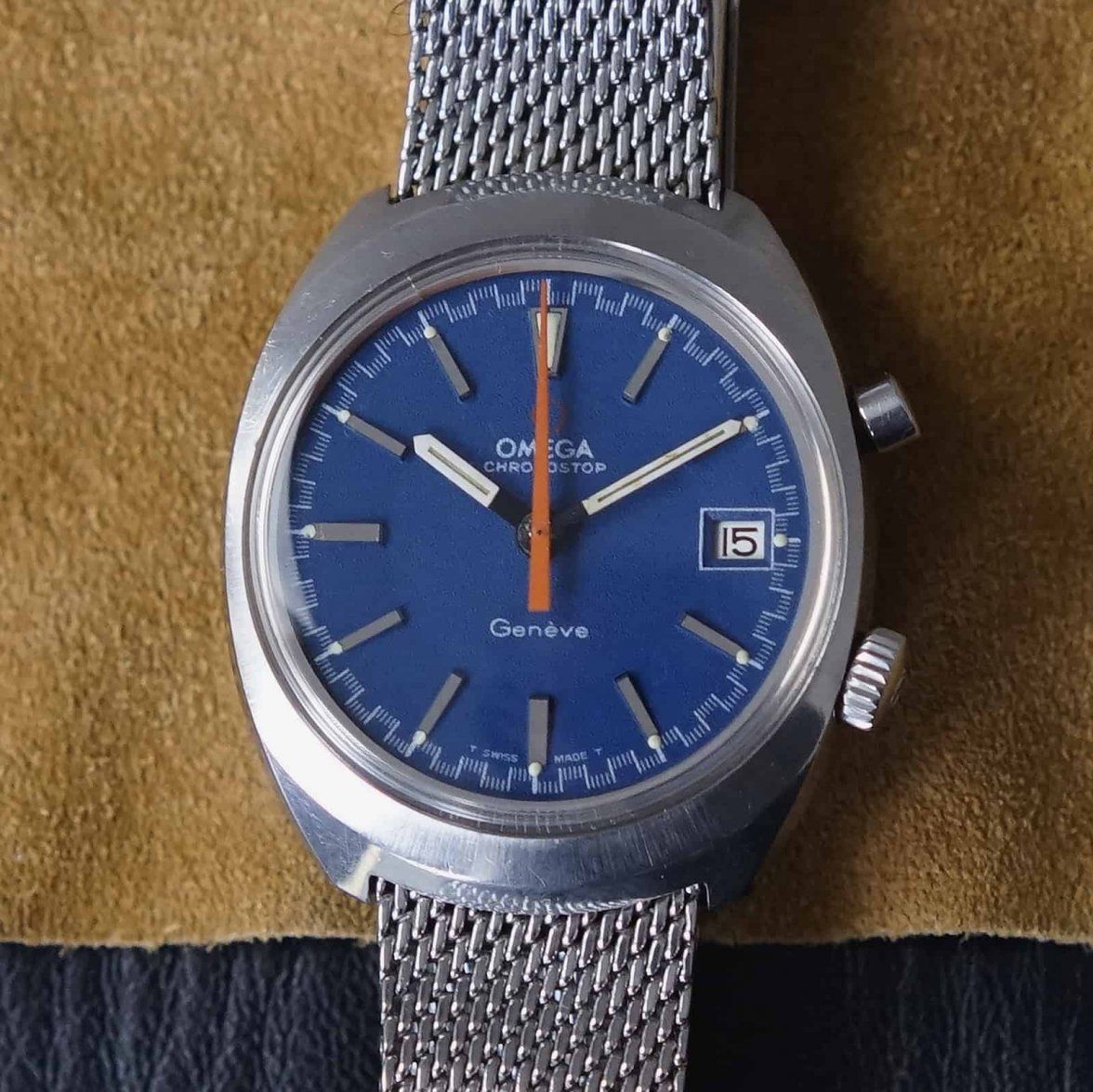 Rotated Orientation - 145.010 / 146.010
The rotated orientation dial is intended for situations like driving, where it is more ergonomically convenient to have the watch upside down with the head on the inside of your wrist facing you.
To achieve this, Omega takes the original dial design with no changes and rotates the placement of the dial feet by 90 degrees.  So, the movement, case and everything else stays where it is, while the dial is rotated.  Once this happens, a different date wheel is used as mentioned in the movement section for date versions which makes it work and look normal.  
It should be noted that you cannot simply rotate the original dial, it does require the specific driver orientation dial and the correct date wheel on the date versions, so you are better off buying the style you want up front.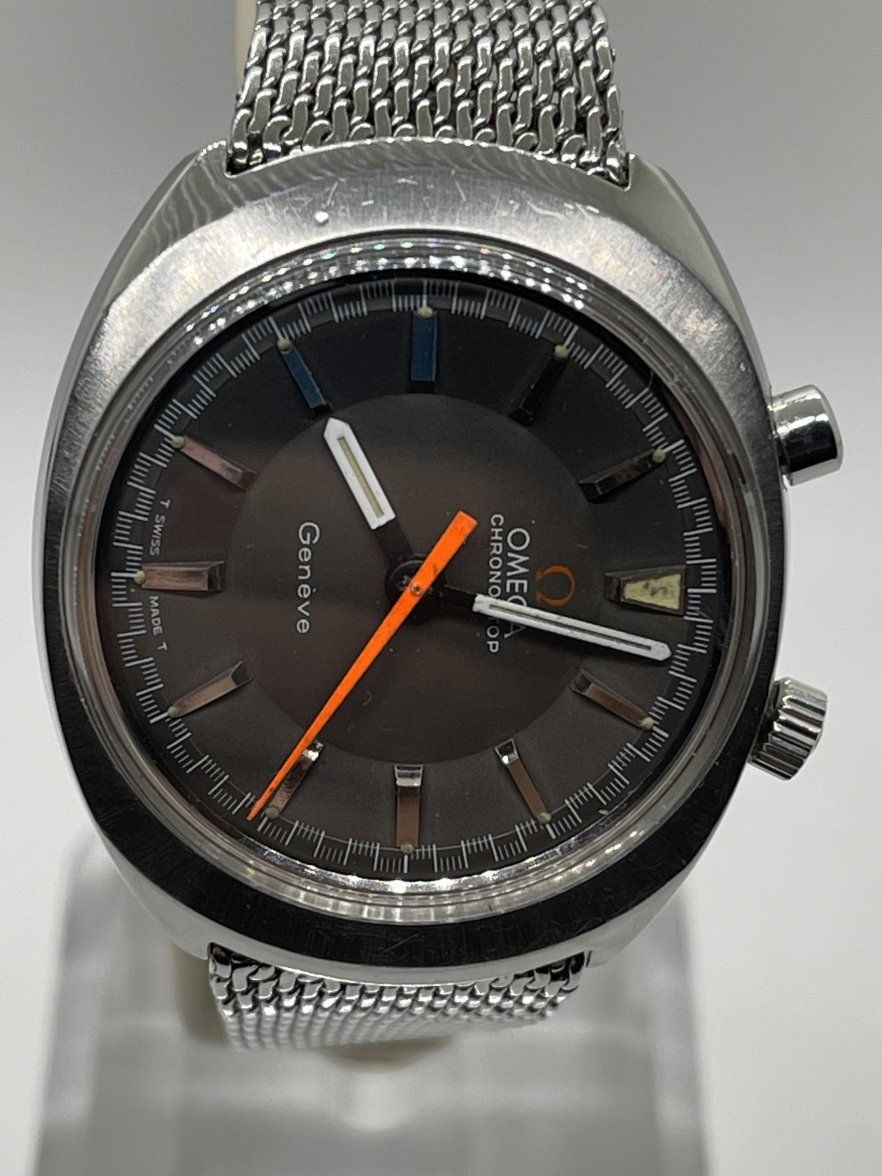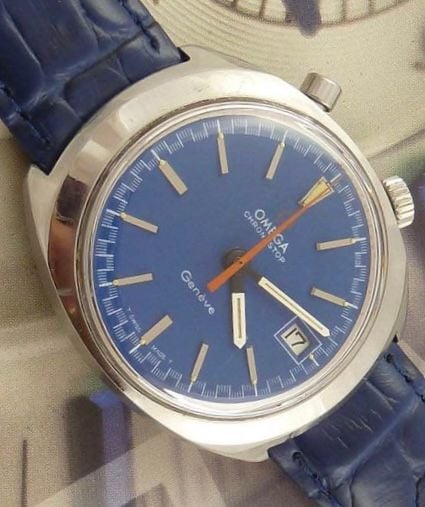 Japanese Variant - 146.009
The Japanese dial is completely different from the previous pair of designs.  There are only two versions of these dials, a dark blue, and a starburst silver, both with unique hands and dial furniture, and only with date.
Both dials feature identical applied dial furniture for all hour markers except the date at 3 o'clock.  The hour markers are a rectangular block, with contrasting colored paint in a line along the top of the applied marker and a painted rectangle of that color on the outer edge of each hour marker.  Similarly, the hands have the same contrasting color painted inserts where the luminous material would typically be, black on the silver dial, and white on the blue dial.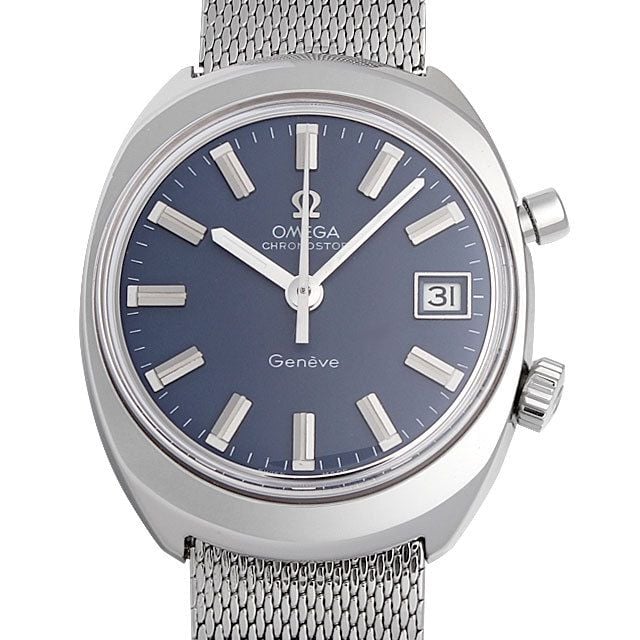 It is a very strange thing to have white painted inserts in hands and hour markers, but they are indeed white paint and not luminous material on the blue dial.
Unlike the previous variants, there is a vintage style applied metal Omega logo and applied date window surround as well as a polished silver chronograph seconds hand in place of the orange.  A simple seconds track replaces the racing oriented sub-seconds track of previous models and the dial layout is more spaced out due to not having the step present in the original dials.
Both the silver and blue dial are roughly equal in numbers and quite plentiful however the blue dials tend to have more condition issues and can be found degraded more often while the starburst silver dial appears to be very durable.
Buying
The Geneve Chronostop was produced in very large numbers and the survival rate is very high however condition can be quite variable, mainly due to water intrusion and the effect that can have on both movement and dial.  Any watch that shows signs of corrosion or damage on the movement should really be avoided as the potential cost is too high to be worth the risk.  Similarly, while replacement dials are available from Omega, they differ greatly from originals and a degraded original dial can really bring down the look of a chronostop.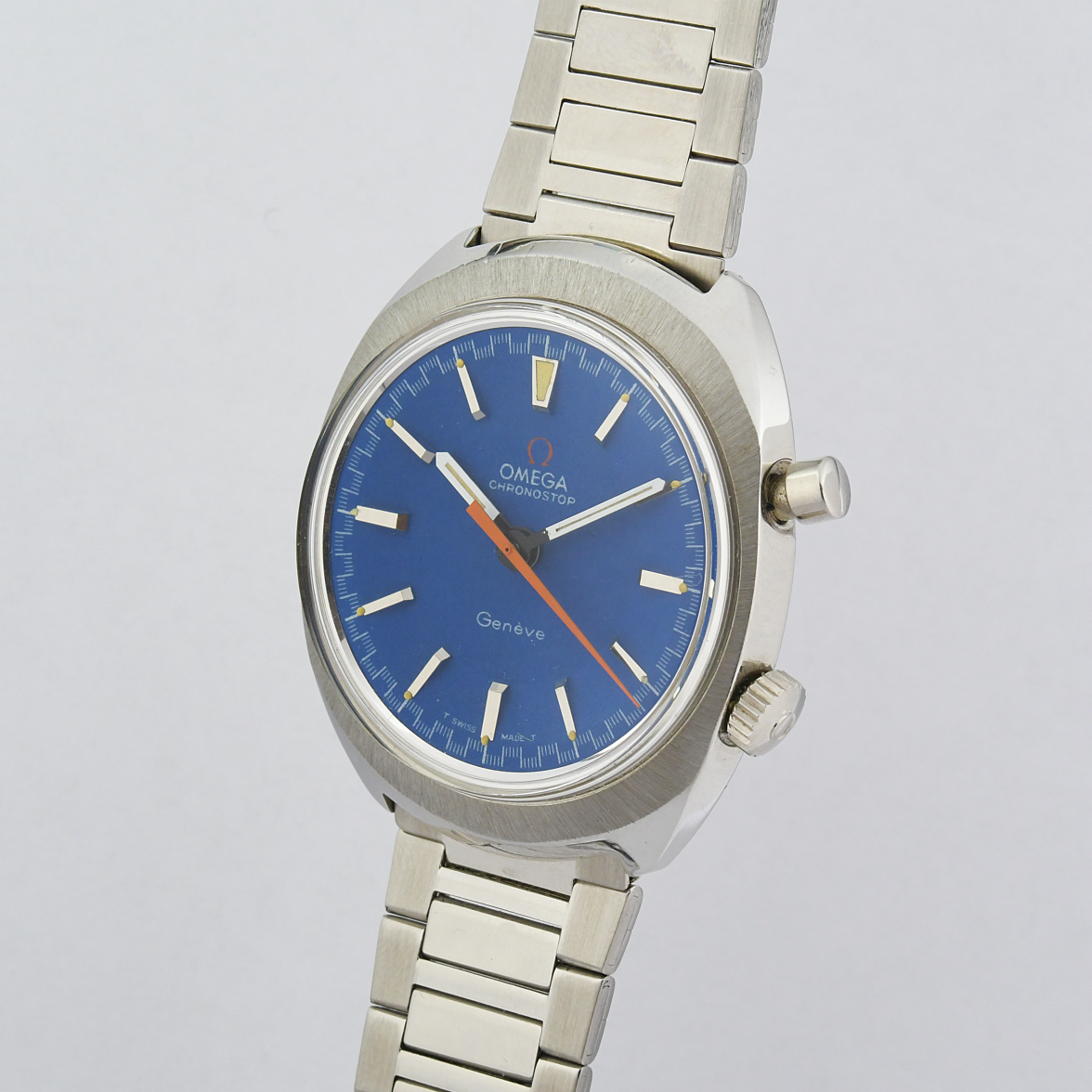 The case finishing and condition is the second major issue, a loss of the brushed finishing or some minor scratches, swirls and dings are not the end of the world, but these watches look terrible after heavy handed polishing.  The fact that the bezel is not a separate piece and transitions at a shallow angle to the lugs means that if this edge is lost through polishing, the watch ceases to look like a chronostop and becomes a bit of a misshapen blob.  This could be resurrected to some extent with time and effort by a skilled watchmaker, but it will never quite be the same, so a sharp unpolished case should be the priority.
Choosing the type of chronostop that speaks to you is a personal decision and there really is no bad option between the original model, the rotated orientation version, and the Japanese version.  Each has a distinctly different personality, yet all fall into a relatively similar price bracket from about $1,200 to $2,500 depending on condition, when found in international markets like forums, eBay and Chrono24.  With the cost that can come from purchasing a lemon, it is worth spending a bit more to get a better condition example if it is within your budget as a cheap watch can end up being costly and still looking shabby.
There are a lot of service parts floating around in the market including dials, cases, bracelets, and hands.  Treat any claims of "new old stock" with a grain of salt, especially if there is a disparity in condition between components.  Factor in also that the bracelet, if present, will add about $200-300 to the value of the watch and if missing will be that much in additional cost.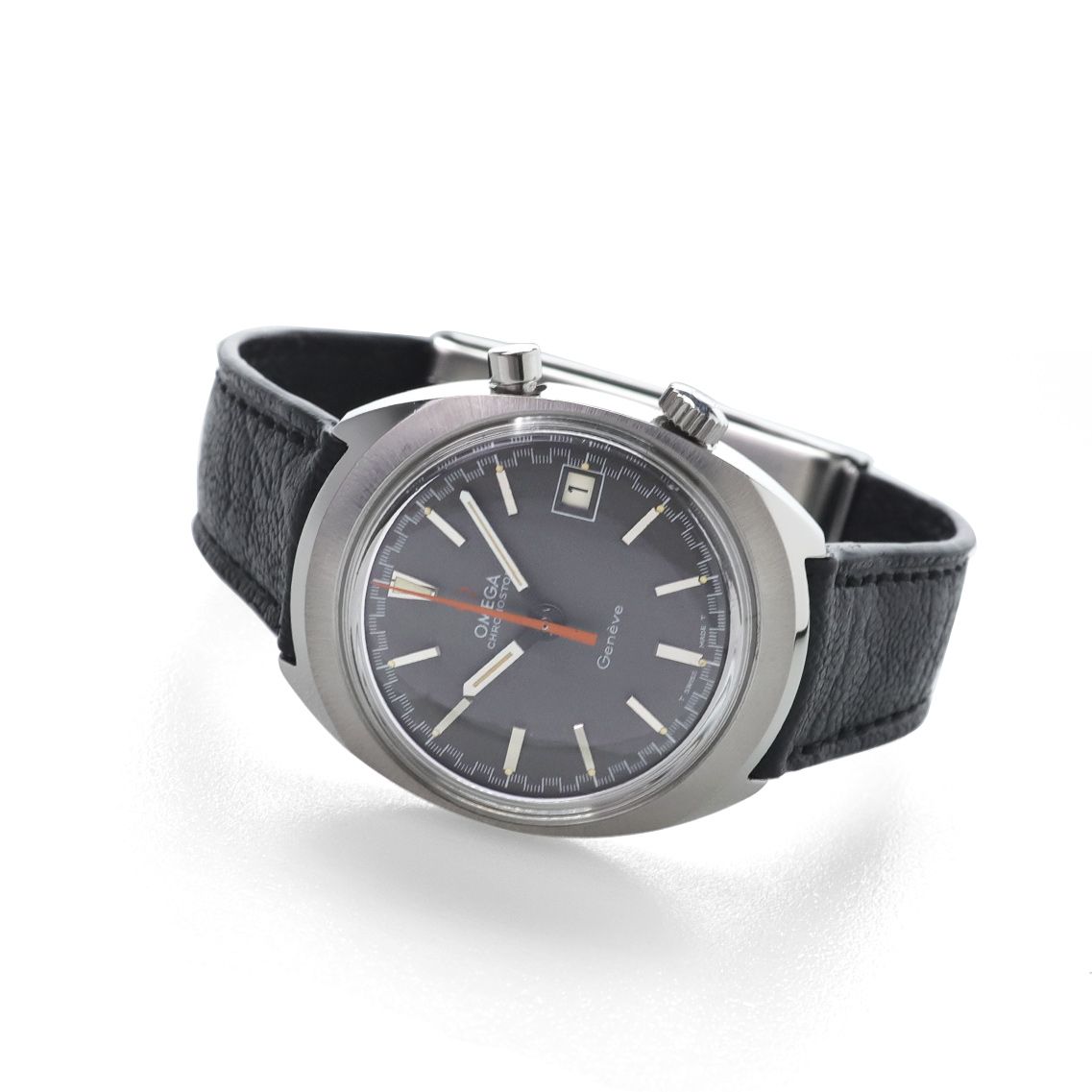 The Japanese versions have leaked out around the world, however the best deals on these can be found in Japanese watch markets and from Japanese dealers.  If you are able to use Yahoo! Japan auctions or have a Japanese friend you can rely on to assist you, there are great deals to be had which can make these dressier chronostops among the cheapest and best condition examples on the market.
Servicing costs through an independent watchmaker will be those equating to a vintage chronograph because that is ultimately what this is in terms of labor.  Parts will also be higher than average for a vintage Omega so factor this into the purchase price.
These Chronostops really are a special and unusual watch with no direct modern parallel in production today.  With an excellent movement, durable case and fun complication, it's a watch that firmly deserves a place in your watch box.  When you do find a nice condition example to call your own, you'll never want to let it go.
Discussion thread on Omegaforums can be found here: