The 1970's produced an incredible wave of creative designs from Omega as they experimented with packaging, case designs and smaller movements. The De Ville 156.0002 is one of the more unusual products of this, an ultra-wide, oversized dress watch filled with character.
A Softer Deauville, Rotated 90 Degrees
The 156.0002 De Ville looks very different from the Deauville family of De Villes but really is based on the same formula.  Instead of being a large and very elongated tank style watch, the 156.0002 is a very wide watch that spreads out horizontally on your wrist.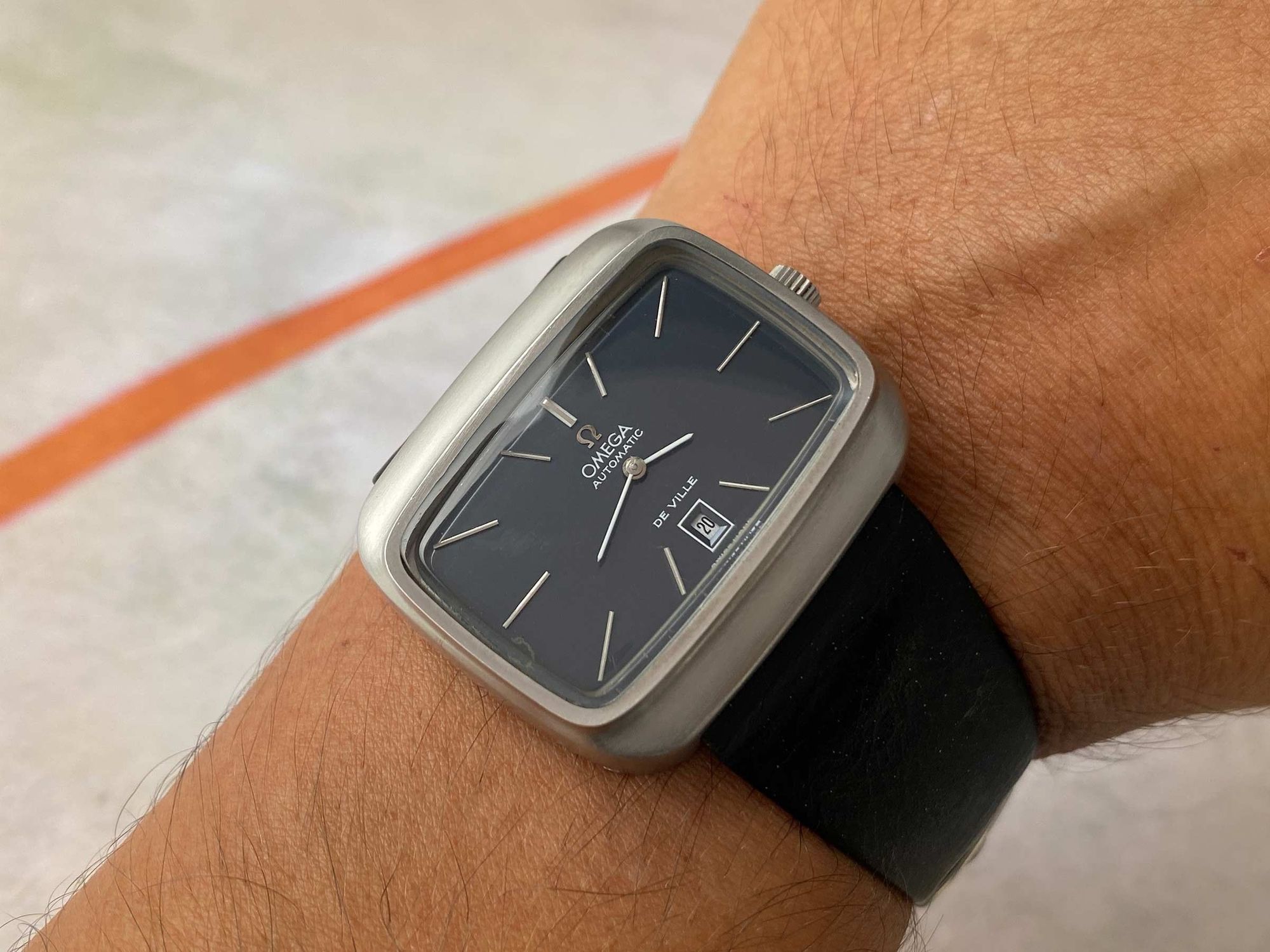 The styling is very 1970's, extreme, unusual, and very unique in Omega's historical back catalog.  The sharp edges of the Deauville are instead replaced with a much smoother and rounder design with a distinctly retro-futuristic feel.  While it's a design that is very much a product of the 1970's, there are many modern watches replicating this same feel today like the Apple Watch or Ikepod Platypus.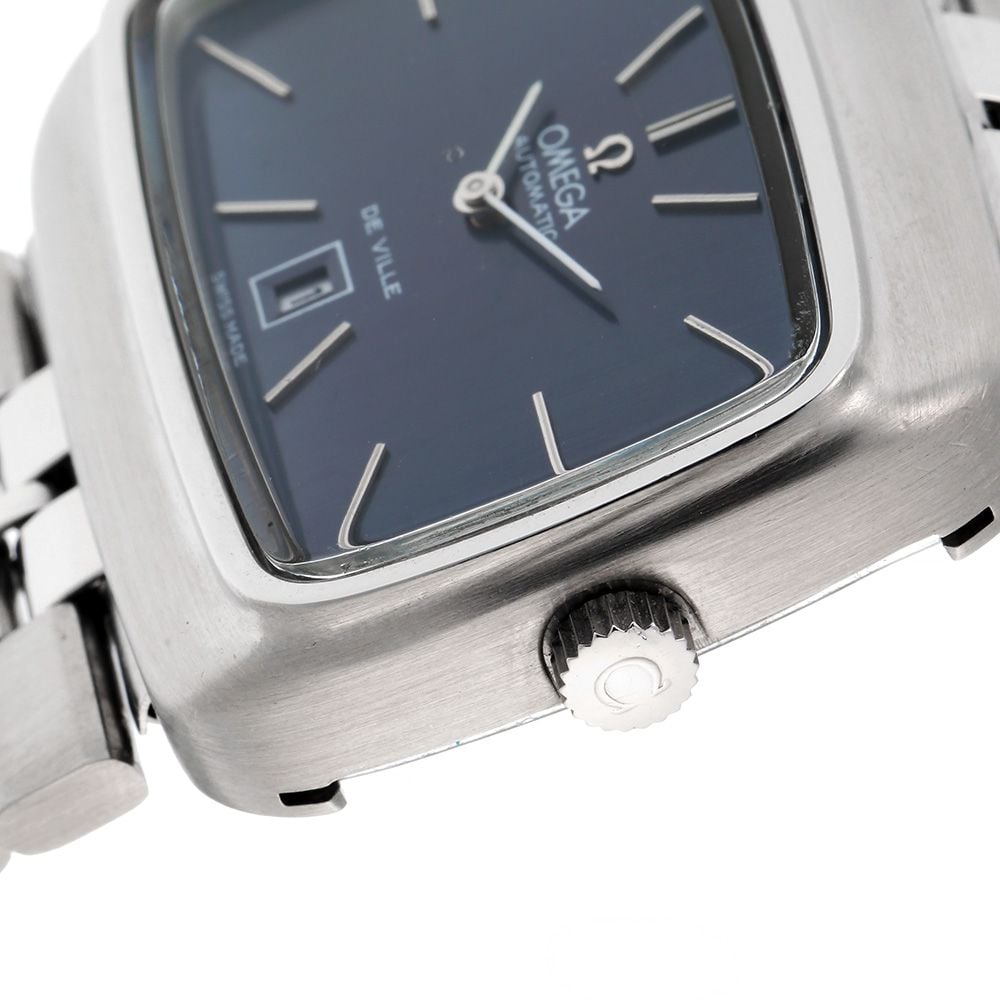 The closest Omega to the 156.0002 is probably the quartz powered Omega Albatross, another wide yet short piece with a lot of complexity built-in.  Unlike the Albatross, this De Ville can still look modern, especially on bracelet.  Being powered by a vintage Omega automatic movement, it makes for a far more approachable and long-term dependable option.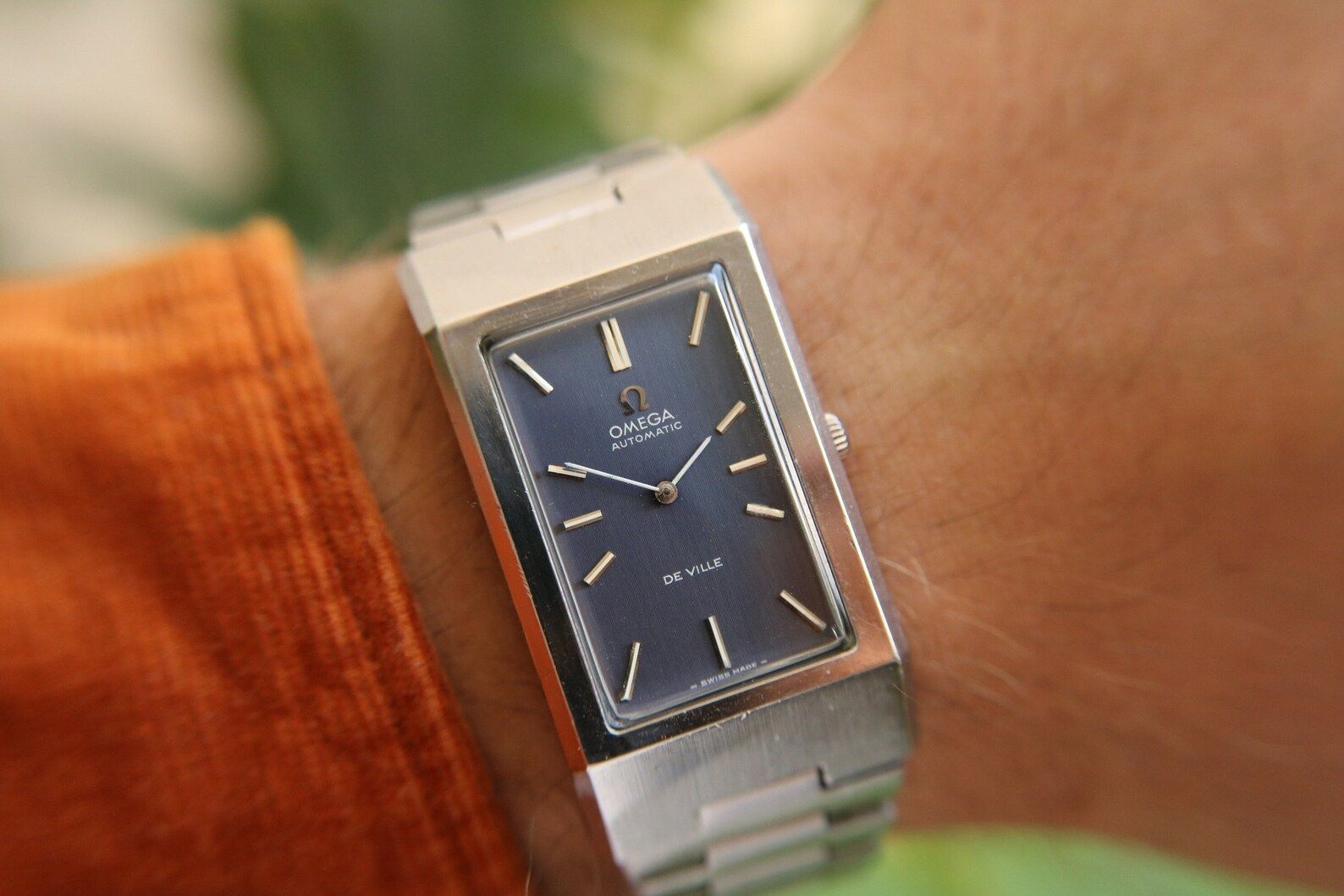 While the Deauville is a somewhat large watch and requires a bigger wrist by virtue of its length, the 156.0002 is quite the opposite.  Depending on the strap or bracelet, this watch can fit anyone of any wrist size, and is absolutely unisex.  
As either a men's or ladies' watch, these De Ville's are a real statement piece with their size, shape, and wrist presence.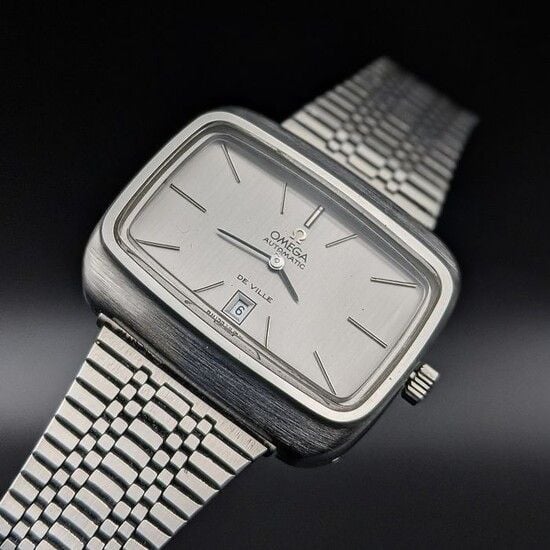 It should be noted that these watches are stamped internally as 156.0002 (either ST 156.0002 for steel or MD 156.0002 for gold-plate) but they are often referred to as 156.002 as well.  The extra leading zero after the dot is sometimes present and sometimes not in marketing materials and hang-tags but in either case, both 156.002 & 156.0002 refer to the same watch reference.
Case & Bracelet
The case of the 156.0002 is large and quite significant on the wrist yet as mentioned it does not require large wrists.  
The diameter of the watch is around 38 mm, which is quite significant, with a gigantic lug width of 24 mm, something you typically only see in some of the largest Panerai watches.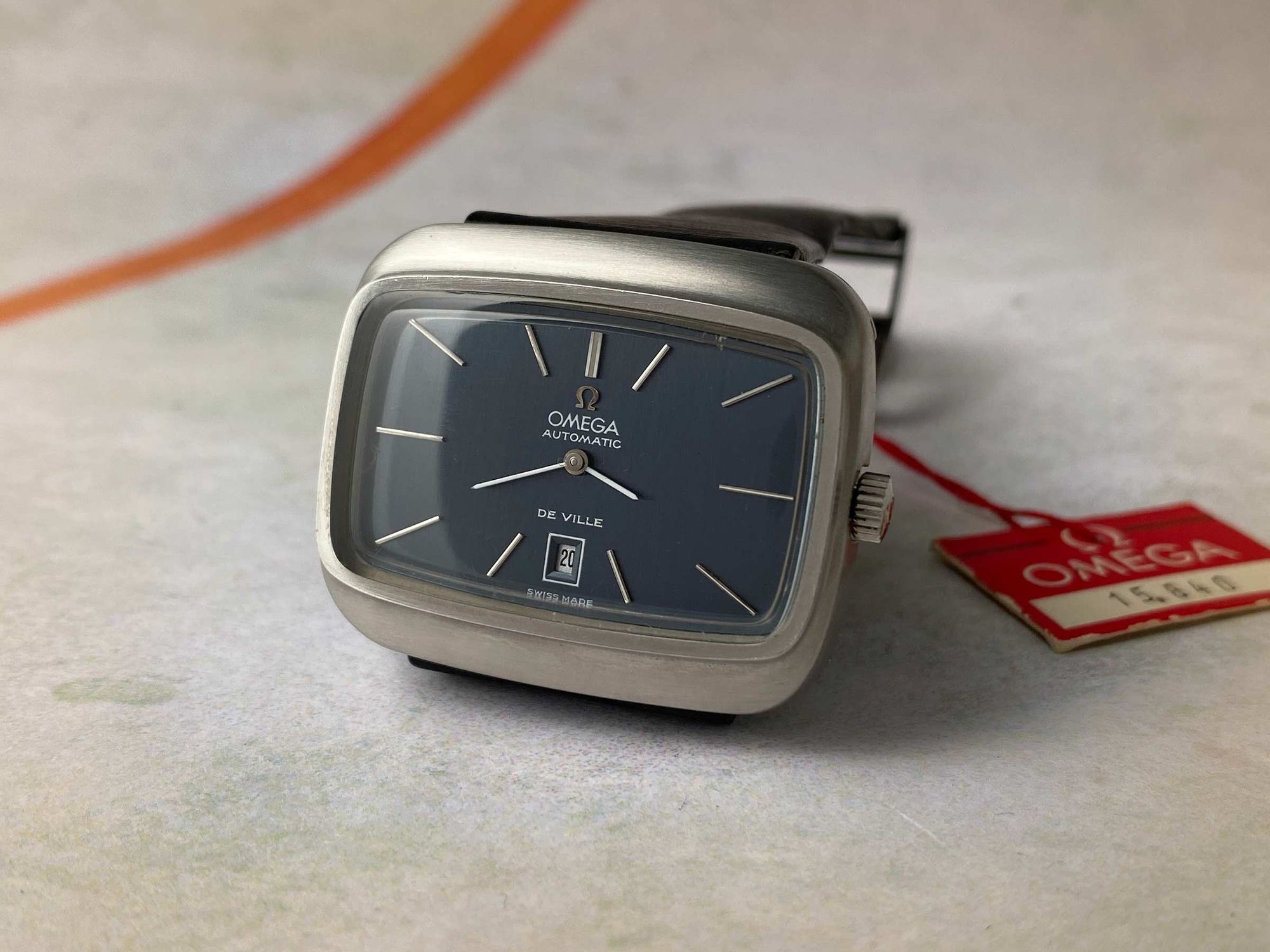 As big as that sounds, the overall height of the watch from lug to lug is only 32 mm and this is what makes the watch so incredibly versatile.  This is a watch that does not look in any way "too large" for a petite woman's wrist, yet also doesn't look "too small" for a large man's wrist and is comfortable for both.
Because the watch is powered by a compact Omega automatic typically found in ladies' watches, Omega was able to keep the thickness of this watch to a relatively slim 11 mm, preventing this watch from feeling chunky on the wrist.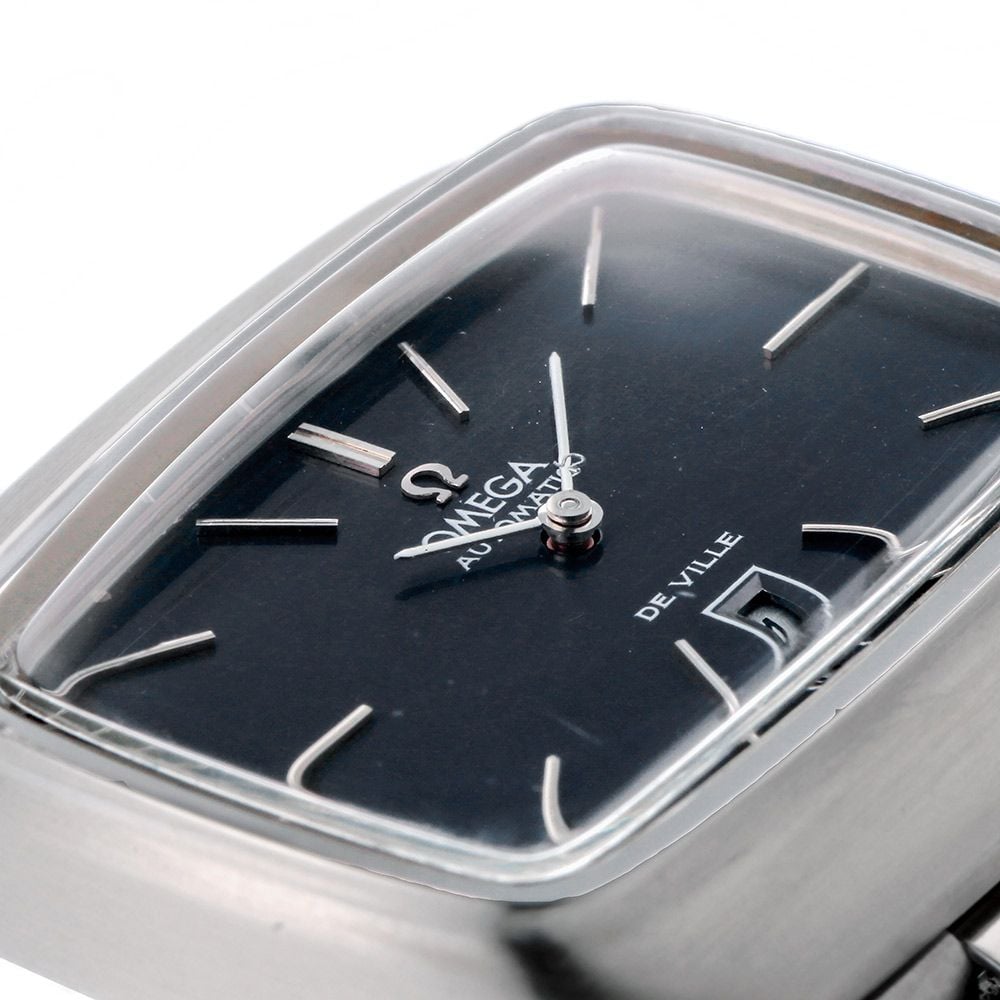 The overall look is very much that of a TV-dial watch but this time in widescreen.  The case has a pronounced bezel with a flat face and rounded edges, which sits proud of a smooth rounded case with horizontal brushing that blends into the sides.  The case covers the lugs to provide a seamless connection between strap or bracelet and case.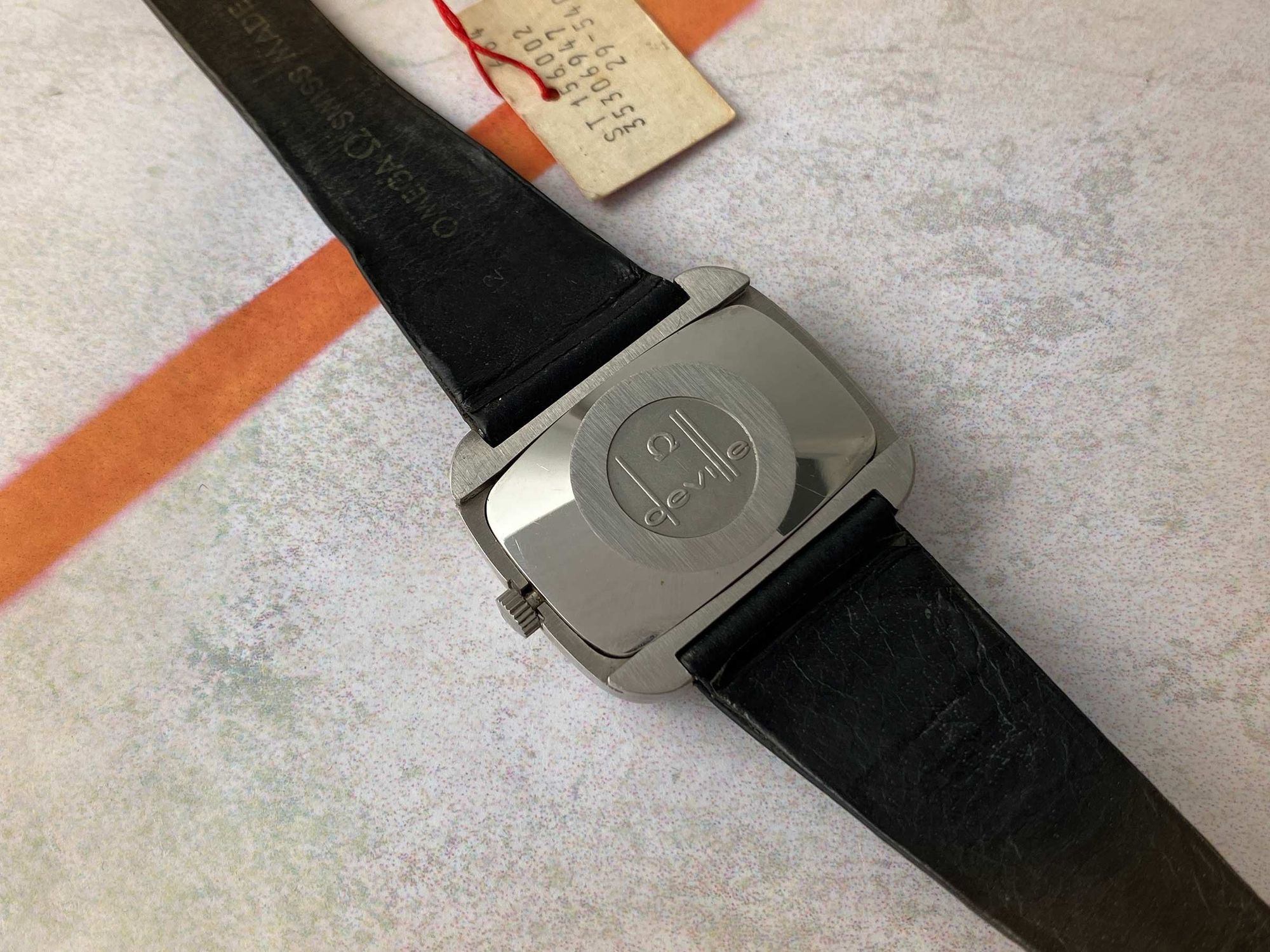 The case design of the 156.0002 is very similar to the Deauville family in that this too is a key-bolt compressor case.  The case-back is fastened to the case by means of two steel pins which hold it under tension.  The compressor design was originally seen in dive watches and intended to increase pressure on the case-back and seal as water pressure increased, preventing water ingress.  While this De Ville is certainly no dive watch with only a 30M rating, the high survival rate of dials indicates that the compressor case does a fairly good job of protecting this watch and ensuring survival.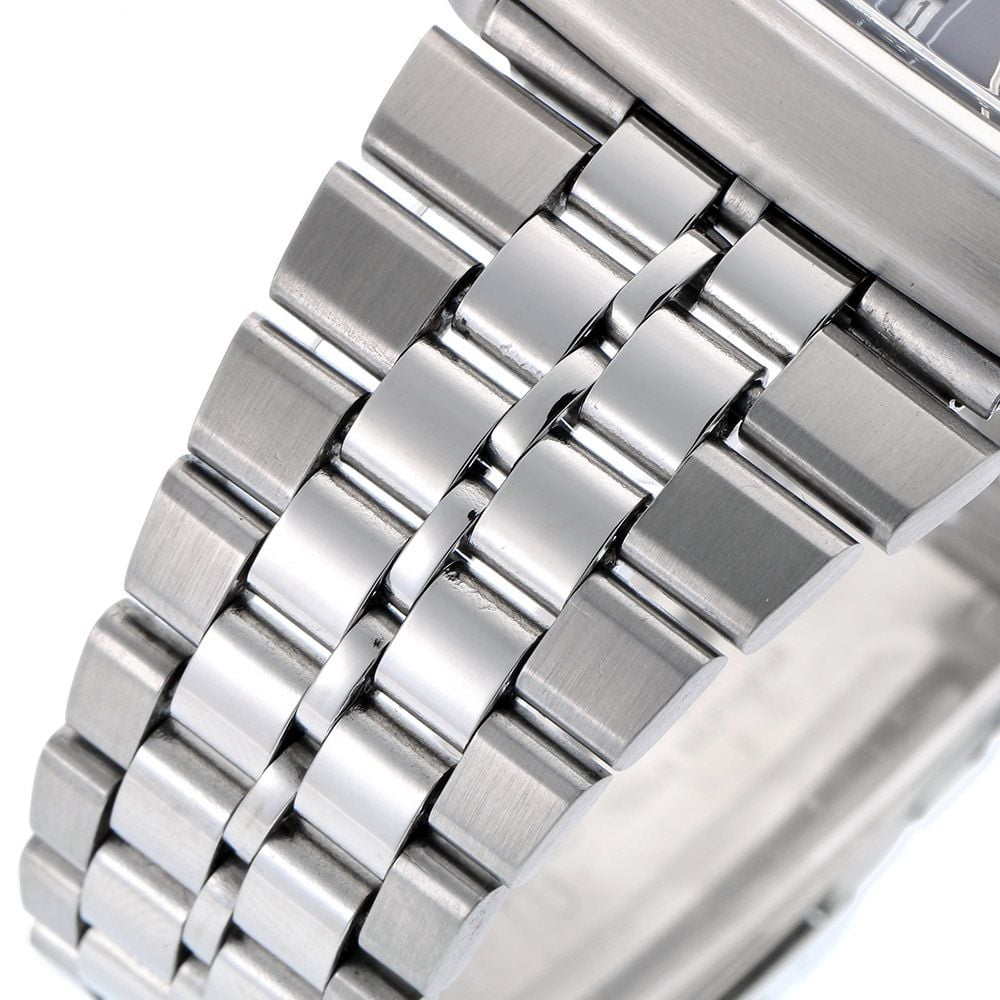 The 24 mm wide hidden lugs can take both a variety of leather straps, as well as a couple of different variants of stainless steel bracelet.  While the straps do look terrific, the bracelet really makes this watch and balances out the large head with a wide and substantial chunk of steel in a great pairing.
Movement
All models of the Omega Deauville tank series are fitted with an Omega calibre 684 automatic movement.  The Calibre 684 is derived from the much earlier Caliber 620 family of small diameter movements originally released around 1960 and is found in a range of watches from ladies' models to thin and unusual shaped men's cases.
While smaller in diameter at 17.5mm compared to the 27.9mm of Omega's Calibre 55x family, the Calibre 684 is still a very capable movement.  Omega even produced a chronometer version of it, the calibre 685 which was used in Constellation models.  It features a beat rate of 21,600 vph, a power reserve of 40 hours, a semi-quickset date mechanism and bi-directional winding.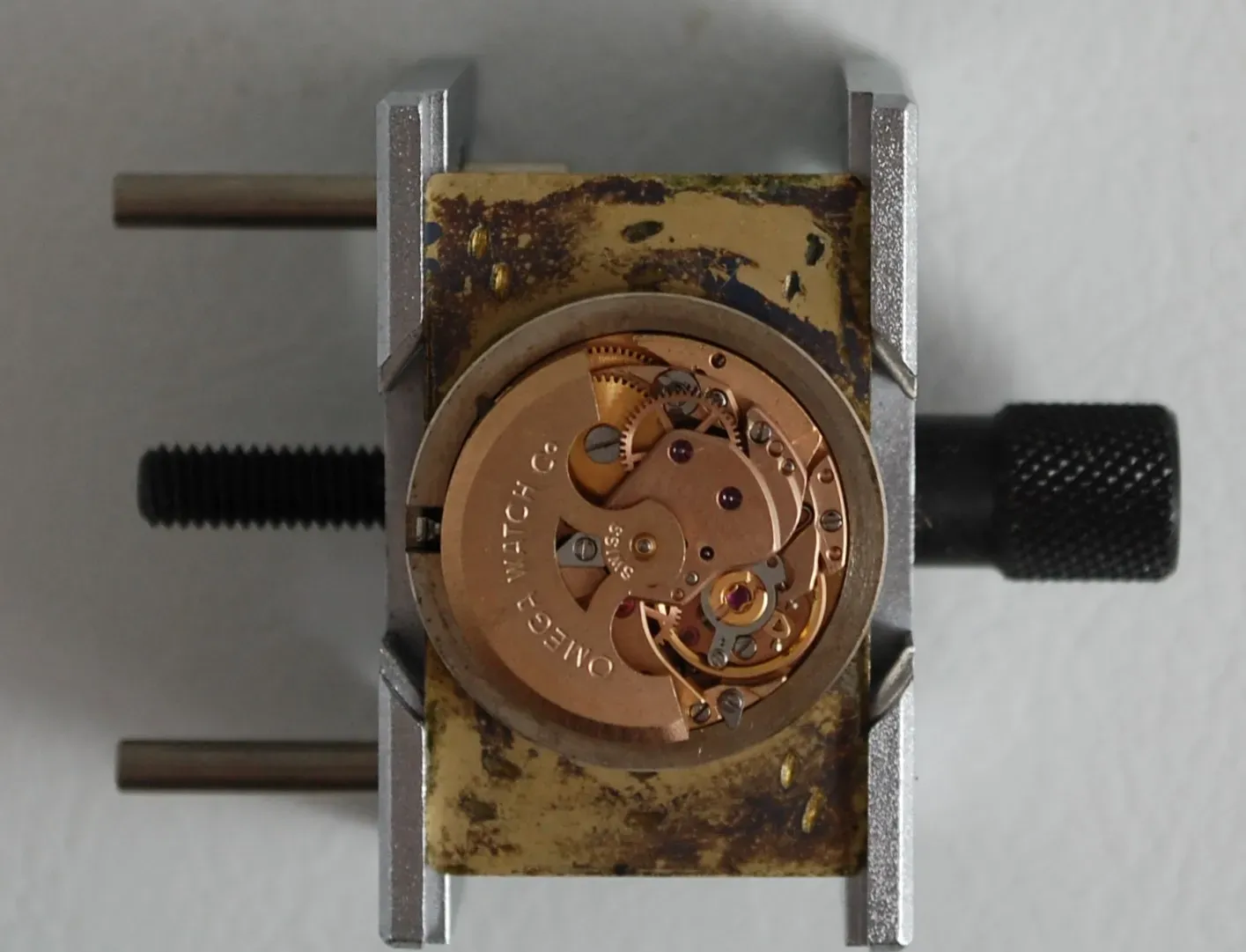 By virtue of the fact that the Calibre 684 was used extensively in ladies models, donor watches and entire spare movements are fairly easy and inexpensive to come by, often with much lower mileage than men's models, making these quite cost effective to maintain.
It is worth noting that while both the Deauville and the 156.0002 have the same Calibre 684 movement powering them, only the 156.0002 is fitted with a date wheel and aperture, with that feature not being used on the Deauville.
Variants
The 156.0002 De Ville comes in two three dial colors in stainless steel, and in one seen so far in gold-plate.  
All variants have the same general features.  There is an applied metal Omega logo along with applied metal hour markers for all hours except 6 o'clock where the date resides.  The date window has a painted square around it in a contrasting dial color and that same color is used for the text OMEGA Automatic and De Ville on the dial.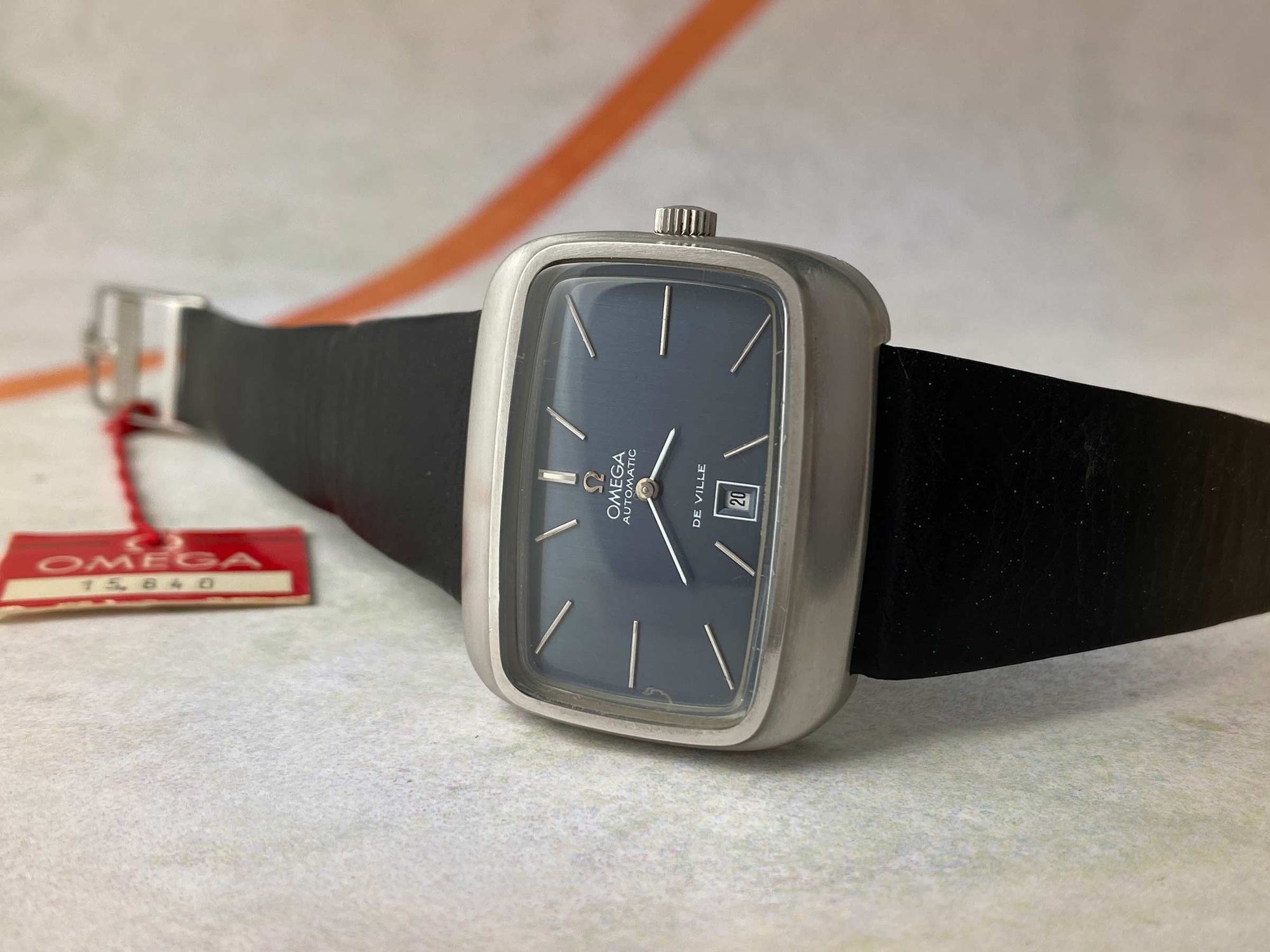 All of these watches have an hour and minute hand only, without a running seconds hand.  Some watches may be found with a seconds hand as the Calibre 684 can be fitted with one but this is incorrect and not original to the watch.  
Stainless Steel 156.002 / 156.0002
The three main dial colors are blue, black, and metallic silver-grey with all dials having a subtle vertical brushed texture.  The vertical brushing causes these dials to look quite different from various angles, especially the silver-grey which can look a much darker or lighter shade depending on lighting and angle.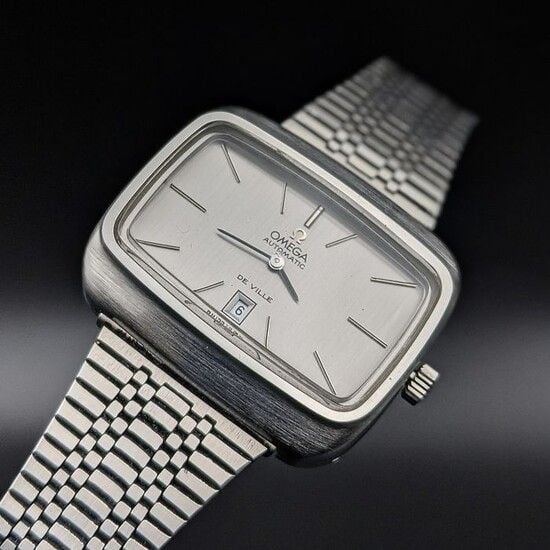 Gold-Plated 156.002 / 156.0002
The gold-plated versions of the 156.0002 actually hold up remarkably well due to the smooth, rounded case protecting the plating for damage far more than more angular case designs.
There are far fewer gold-plated models in circulation than there are steel, but due to how well most have survived they are actually worth owning if they appeal to you.
There are two dial colors that have been seen thus far in the gold-plated versions, a darker silver dial than the steel version, and a gold dial, both with black hands and black dial text in contrast to the lighter dial color.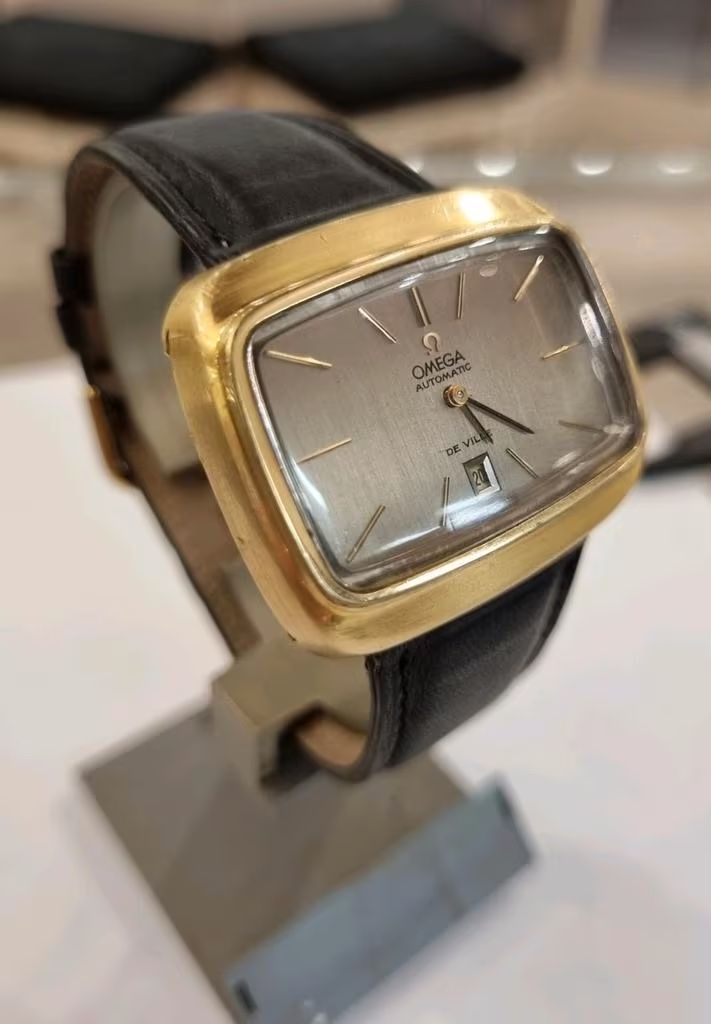 Buying
Choosing a 156.0002 De Ville is a fairly easy choice.  With only three dial options and the decision of whether to get a bracelet or not (I absolutely would) there aren't a great many choices to make.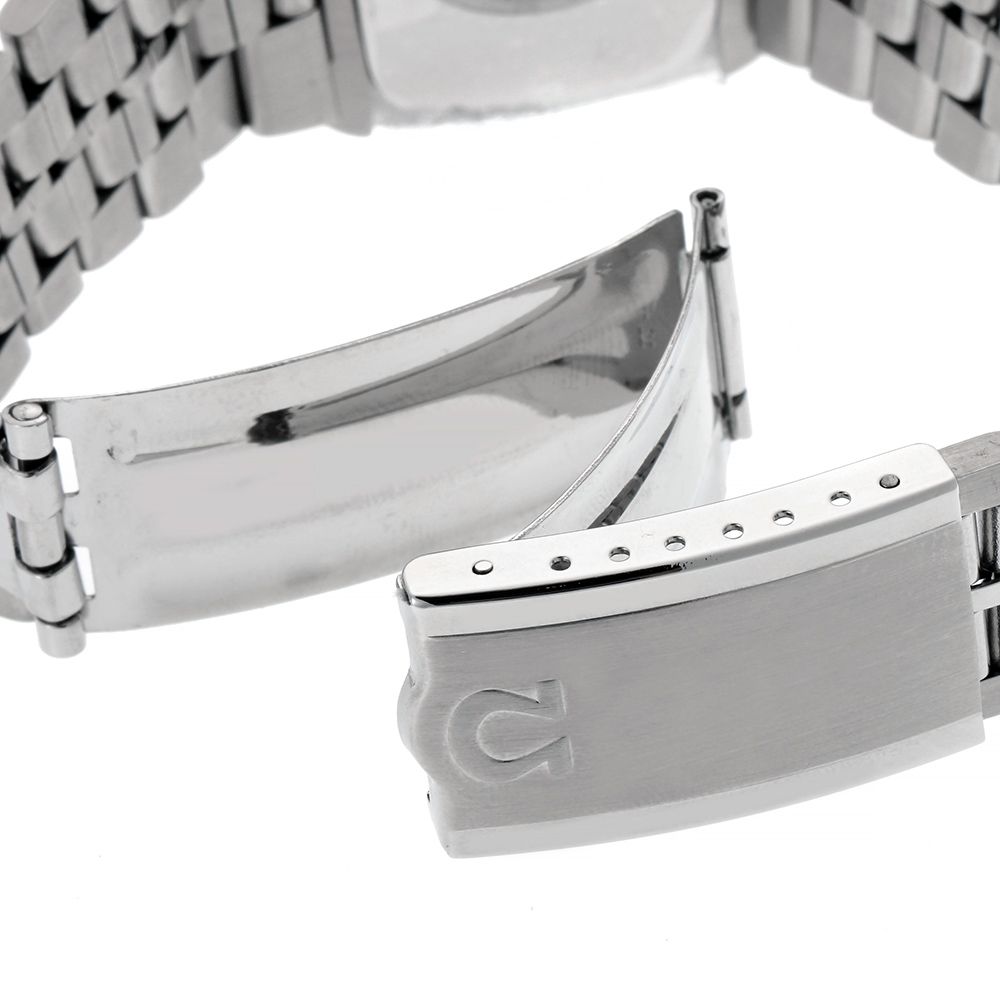 The bigger choice though is going for a 156.0002 over a similarly powered and elongated Deauville, a Geneve Stingray, an Albatross, or one of the other quirky 1970's models in Omega's back-catalog.  It's a watch that will be very subjective, if it appeals to you there is a very great deal going for it and as a unique and interesting choice it deserves a place in your collection.  Personally, I would have a hard time not going for something like a Deauville first however as they represent arguably the most compelling design in this market segment.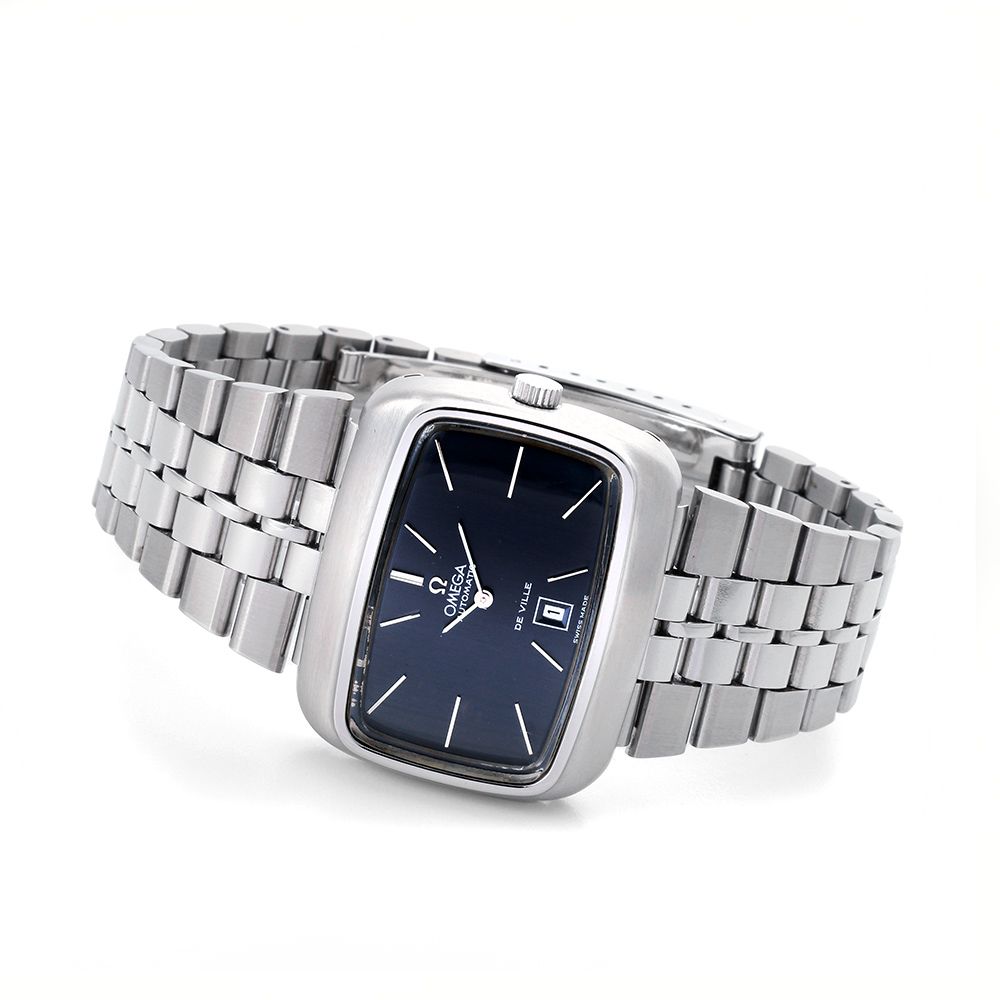 Condition wise, these key-bolt compressor cases do a relatively good job of maintaining water resistance and given the quantity of watches in the market you should not be settling for a watch with any dial or movement damage.
The bezel should be sharp with clear edges and the surrounding edges of the case should be smooth and clean.  Due to the case design, this watch case naturally deflects hits and does not attract damage the way more angular cases do.  Over-polishing should definitely be avoided though especially when it comes to the bezel.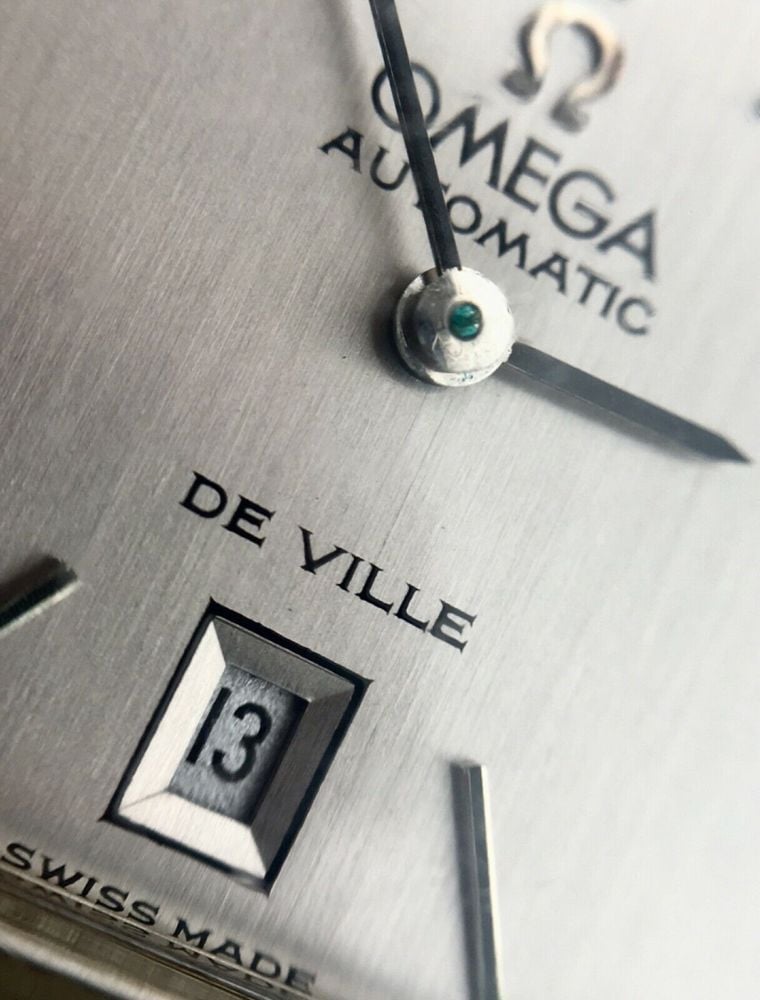 Finding a watch with a bracelet is definitely worth doing as the bracelets can cost $200-300 on their own if purchased separately.
Price wise, these watches have a considerable gap between asking prices and selling prices.  They are just not well known, not well understood and demand is accordingly very low.  As a result, they remain for sale even in near NOS condition for long periods of time before a buyer comes along if at all.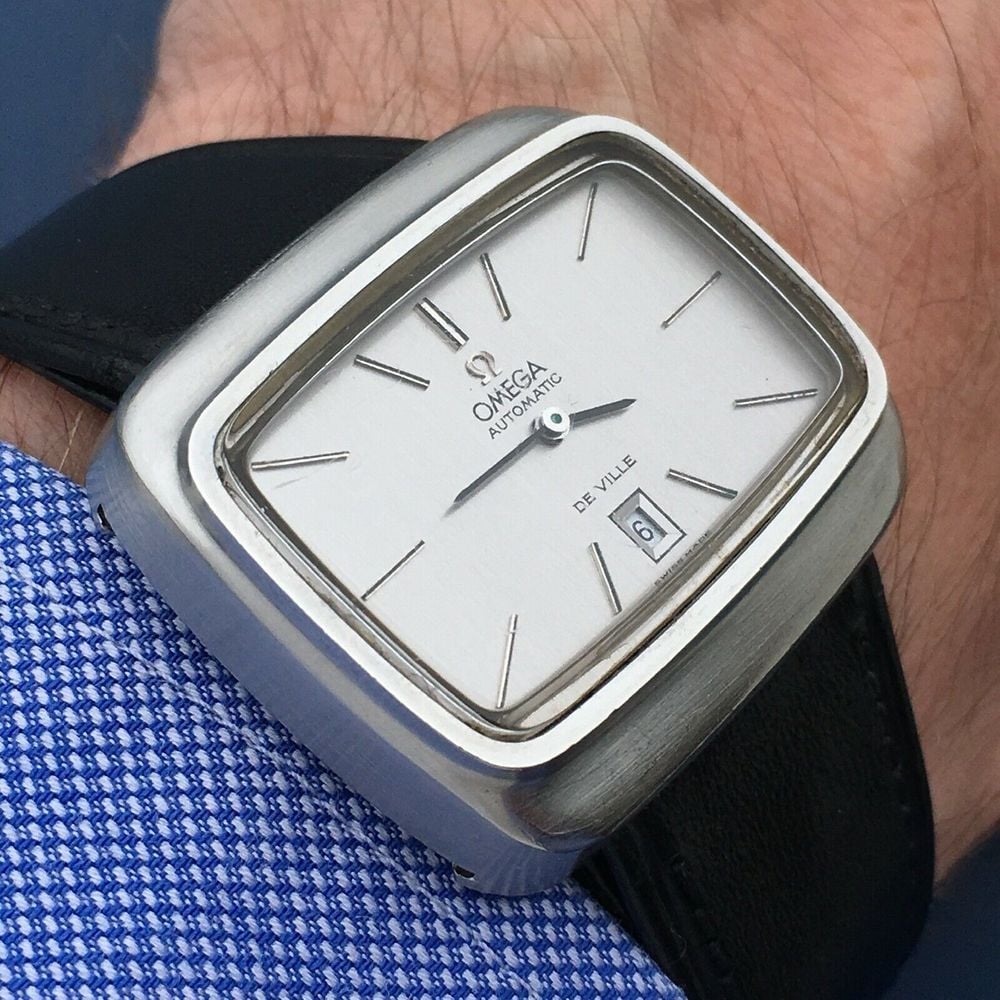 The best deals are to be found through auctions, particularly no-reserve auctions as you will find yourself bidding against few opponents and may be surprised how low they sell for.  In years past, these watches have sold for as low as a couple of hundred dollars and as high as $500 on eBay for decent condition examples.  At that price they're genuinely worth owning, but at higher prices above $1,000 they can only really be justified if the condition is excellent and if you have a genuine appreciation for the design.
I keep comparing the 156.0002 to the Deauville because of how similar their formula is, and in most cases the Deauville does tend to win due to the incredibly attractive design much less the catchy name that goes with it.  That said, I'm glad there is a horizontal companion to the Deauville, and I appreciate the design in its own way.  Its yet another expression of Omega's tremendous, wild, and varied imagination over the years, and in a world of conformity and imitation, it's great to see such originality.
Discussion thread on Omegaforums can be found here: