This unique and unusual jumbo sized Omega Geneve comes in two near identical variants.  The first is the date only which carries a Calibre 1012 movement and has the reference 166.0164.  The second is the day-date version, powered by a Calibre 1022 movement and carrying the reference 166.0170.  Besides this difference in movement and functionality, both watches are effectively identical in all other ways.
It Was the 70s
So this watch case is very different.  It's hard to describe exactly what it resembles. It's large and substantial for the era at 37mm wide for a square outer case, it grabs attention, and it is unlike any watch on the market today.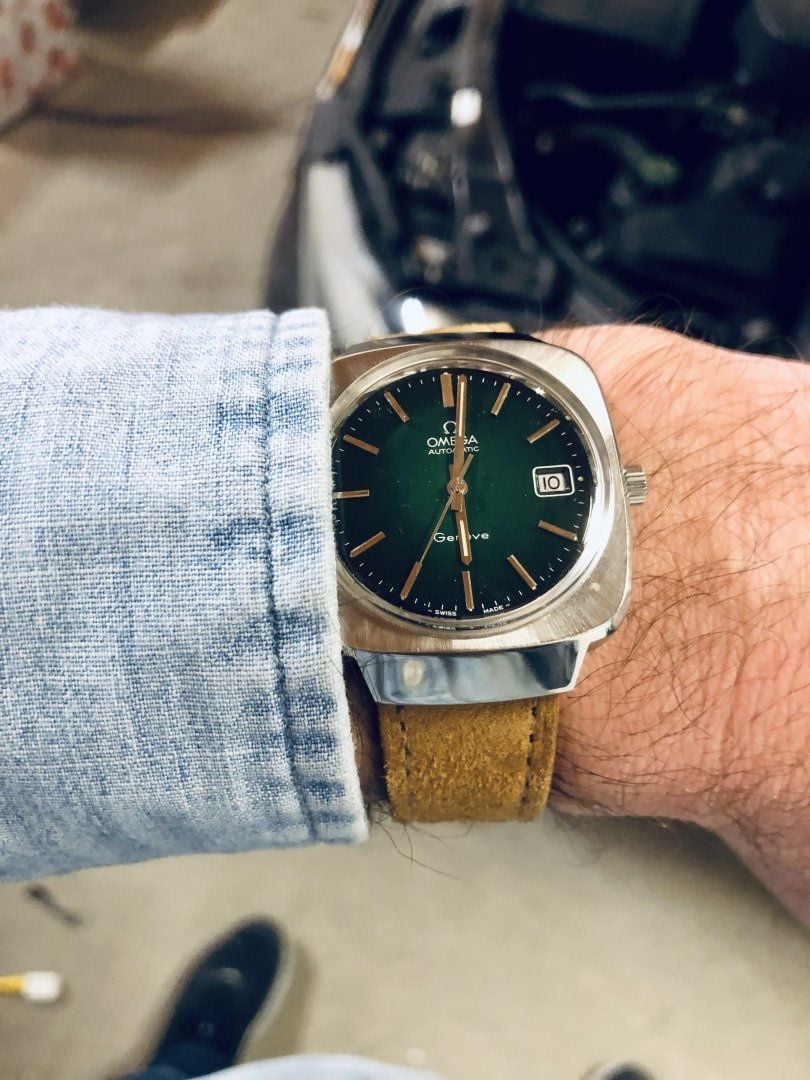 It was released in the same year as the BMW 3.0 CSL Batmobile, and much like the BMW, there is beautiful mixture of elegance and vulgarity about the design.  I imagine it being worn in its day by a man with a thick mustache, matched by a forrest of chest hair, who doesn't like wearing a shirt as it gets in the way of his gold chain.  Somewhere between Tom Selleck and a professional wrestler.  
And I like that about it a lot.
There was something very cool about 1970s design.  People weren't afraid to experiment, to stand out and be different, to risk getting things wrong on the off chance they may get things really right.  In an age now, where watches are inspired by, derived, borrowed, or outright copied from other popular designs, the 166.0164 Geneve is a true original that owes nothing to any predecessor.
The question is, being a polarizing design as it is, is this watch for you?  
Dial Variants
The dial variants on these references of Geneve have quite a bit of variation.  The most common colours seen by a wide margin are silver in stainless steel, and gold in gold plated examples.  Both carry matching metal tones hands with luminous tips and onyx inserts and have painted dials with black text and simple baton shaped dial furniture.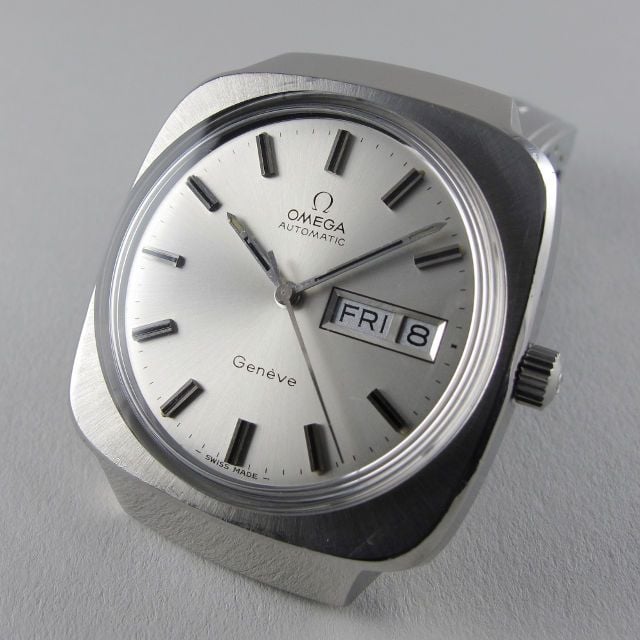 Beyond the standard, there are also colorful options that are quite unique to the time period.  Firstly, there were color-fade dials, the most popular being green in the center fading to black at the outer edge, and then red in the center fading to black at the outer edge.  These dials have white printing instead of black and use different hands without the onyx inserts as is isn't needed for contrast against these darker dials.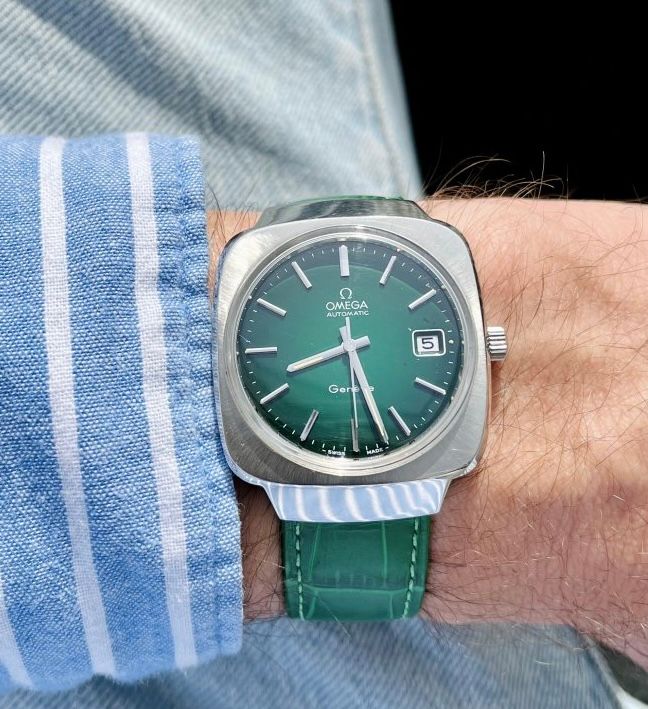 Other dial variants available include solid black, and dark metallic violet, both of which also feature white text but also use white hands instead of metallic ones for added visibility against their dark backgrounds.  These are also less common again than the color fade dials, at least on in the current market.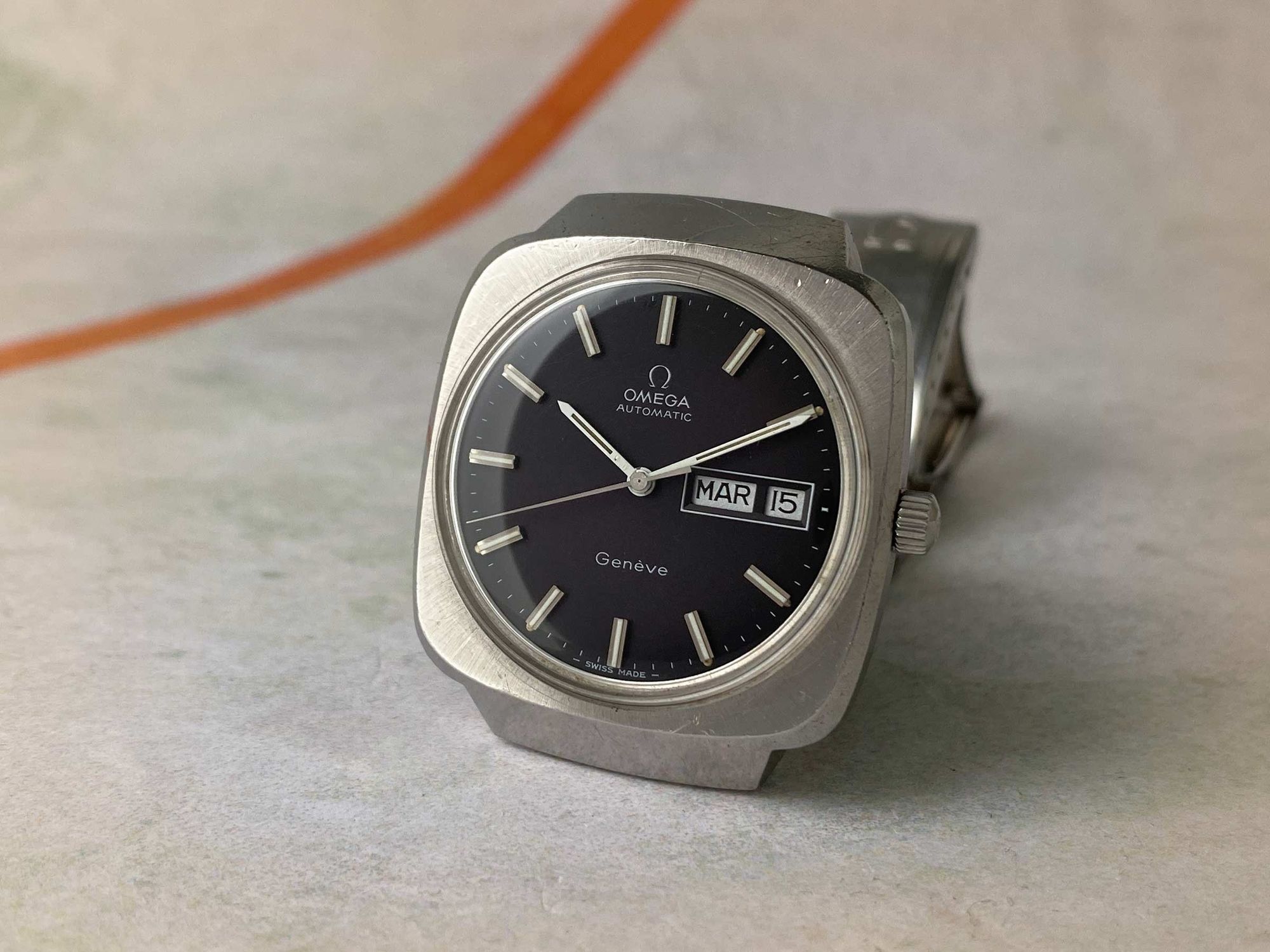 Case & Bracelet
The case is large, at 37mm and vaguely resembles C-3PO's knee-joint.  It is a round dial, in a square, or TV shaped case, with quite deeply hooded lugs, which is a lot of shapes to have in one watch.  The watch is only about 10.5mm thick which is less than it looks and has 20mm wide lugs, which are quite a bit larger than most Omega's of the era.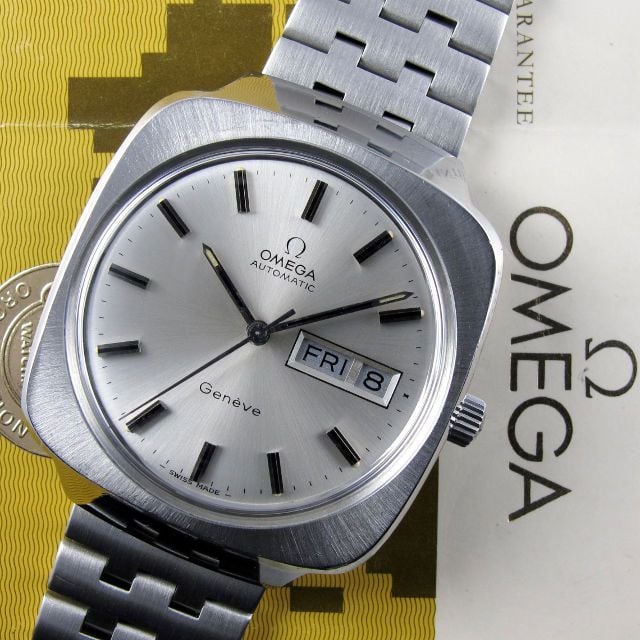 The cases on these Geneves come in either stainless steel or in gold plate with stainless steel back.  Both models are somewhat prone to attracting dents and scratches due to their shape, and this is worse on the gold plated models as wear through can happen especially on edges.
The cases originally featured radial brushing on the front face of the case, surrounding the dial.  There is a more polished finish on the beveled edge which wraps around between the front surface and the sides and also blends into the hooded lugs which are also a polished surface, contrasting with the radial front face.  The sides of the case are then vertically brushed in a front to back direction, creating further contrast with the bevel.  This alternating brushed and polished finish is often lost due to bad re-finishing and general wear, but there is a lot of metal to work with here so it should be possible to reproduce in the hands of a skilled watchmaker.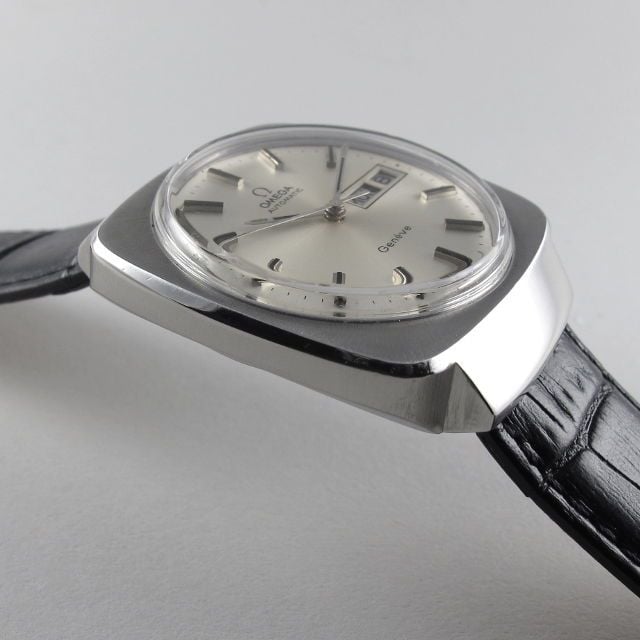 This Jumbo Geneve does look quite good when paired with a strap that is bold and makes a statement, by virtue of its hooded lugs.  That said, this watch does have quite a few bracelet options including one particular bracelet that truly stands out when paired with this case.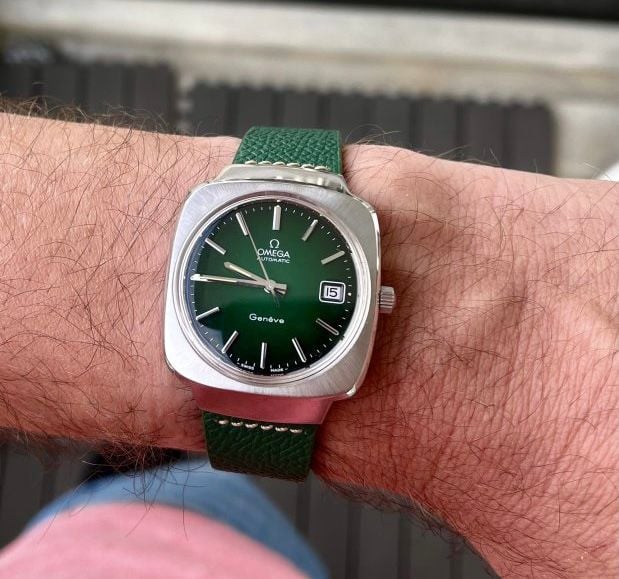 The 1223/214 bracelet is somewhat reminicent of the older beads of rice bracelets, but uses simpler one piece brushed links, looking almost like tank tracks.  It tapers from 20mm at the lugs down to 16mm at the clasp and comes in both stainless steel and gold plate.  These Geneves can often be found with these bracelets, or they can be found loose for sale on their own, or on scrap watches ready to be salvaged.  It really does set the watch apart and looks superb on the wrist.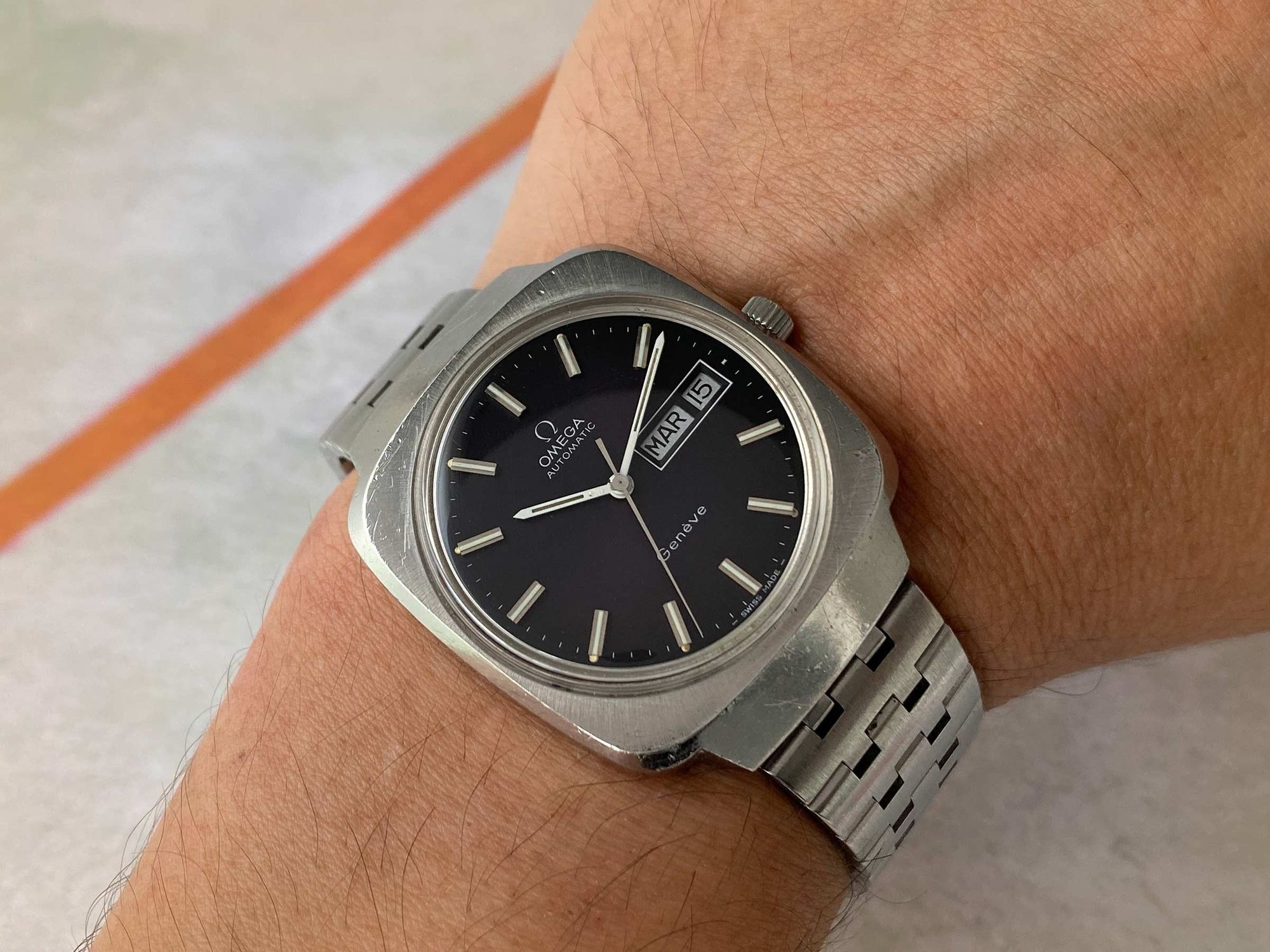 The Movement
This is the elephant in the room.  People don't buy these, or even look at these because they see that the movement in it is a Calibre 1012 or 1022.  Watch forums, blogs, YouTube, and Facebook are full of warnings about "The Calibre 1000 series" likening them to rotary engined cars in their unreliability and trouble.  
What they fail to realise is that the Calibre 1000 series refers to a very different set of movements, specifically the Calibre 1000,1001 & 1002.  The Calibre 1010, 1011, 1012, and more complicated variants based on them like the 1022 are a major redesign with mostly new parts and are a distinctly different breed, even looking quite visually different to the naked eye.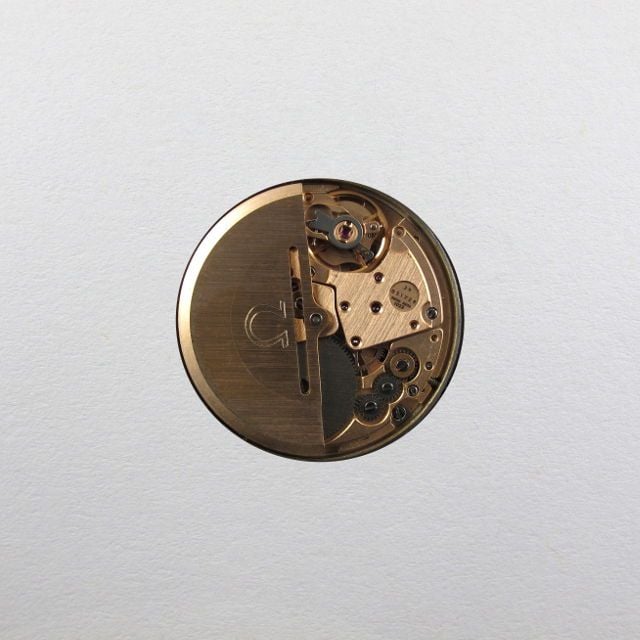 Unfortunately this doesn't stop people from lumping them together as undesirables and is a major reason for the prices being as depressed as they are on an otherwise interesting watch.
The Calibre 1012 is the non-chronometer, date version of the Calibre 1011, beating at 28,800 vph, up from the Calibre 5xx/6xx/7xx family of movements which ran at 19,800 vph.  It features both a quickset mechanism and hacking, while the Calibre 1022 also adds a day complication similar to the previous 75x family.  It was a thinner movement than the previous family too, at only 4.25mm down from 5.5mm in the Calibre 50x and 5mm in the Calibre 55x series, and only being beaten by the much most costly Calibre 71x series of ultra-thin movements at 3mm.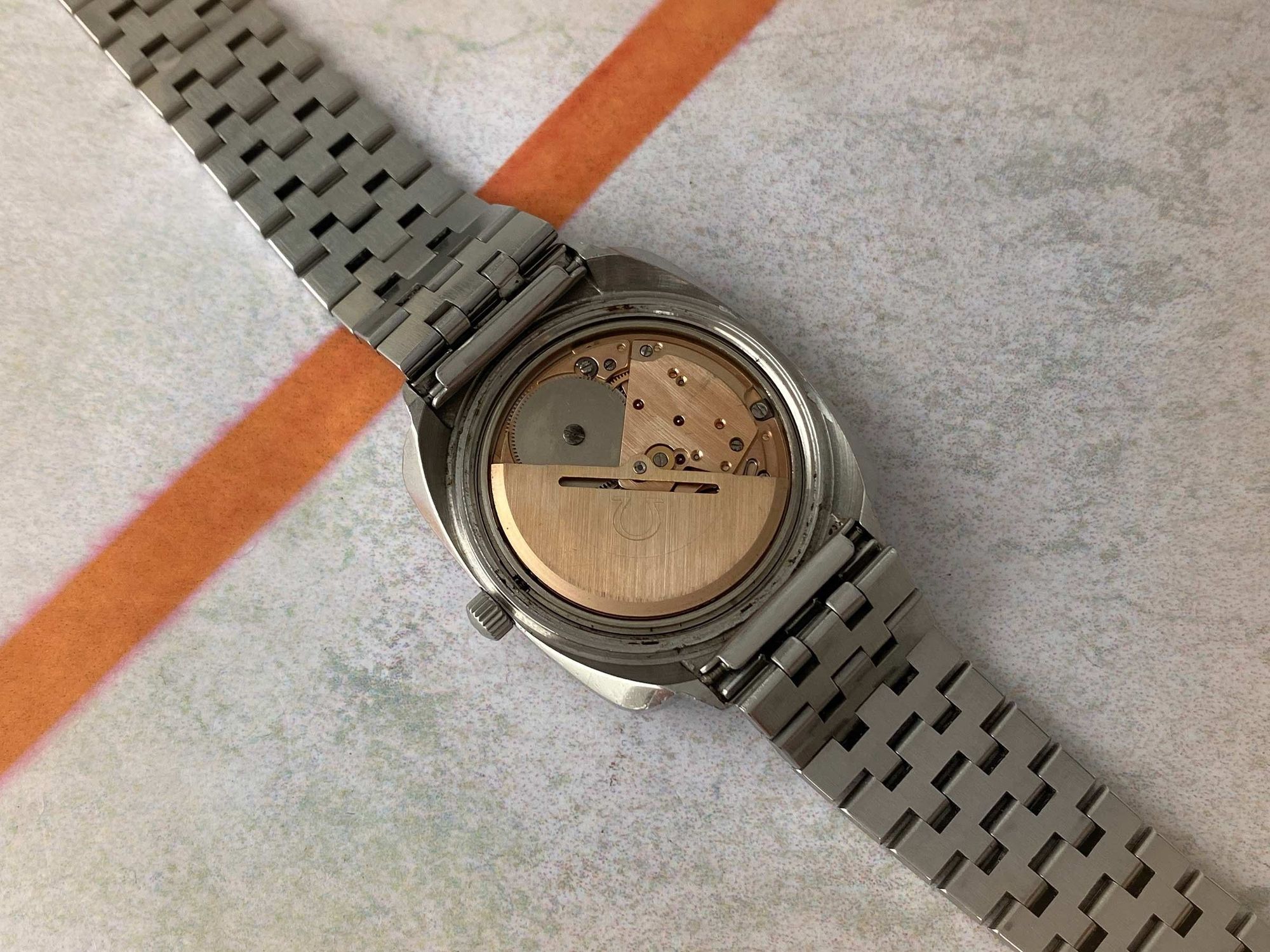 The Calibre 1010/1020 series, if correctly serviced by a qualified watchmaker with an Omega parts account, will be a dependable, accurate, and long lasting movement.  
Buying
These watches sold internationally, and while not one of the most popular models, they are far from uncommon.  At all times there tend to be several for sale on chrono24 and other popular platforms at retail prices of around $1500, which is far from cheap.  If you are patient, educated about the model, and watch forum classifieds and ebay, you will find one cheap.  Dirt cheap.
As an example of how cheap, this Ref 166.0170 Day-Date sold just recently in July 2022 for $257.  $3 less than a MoonSwatch.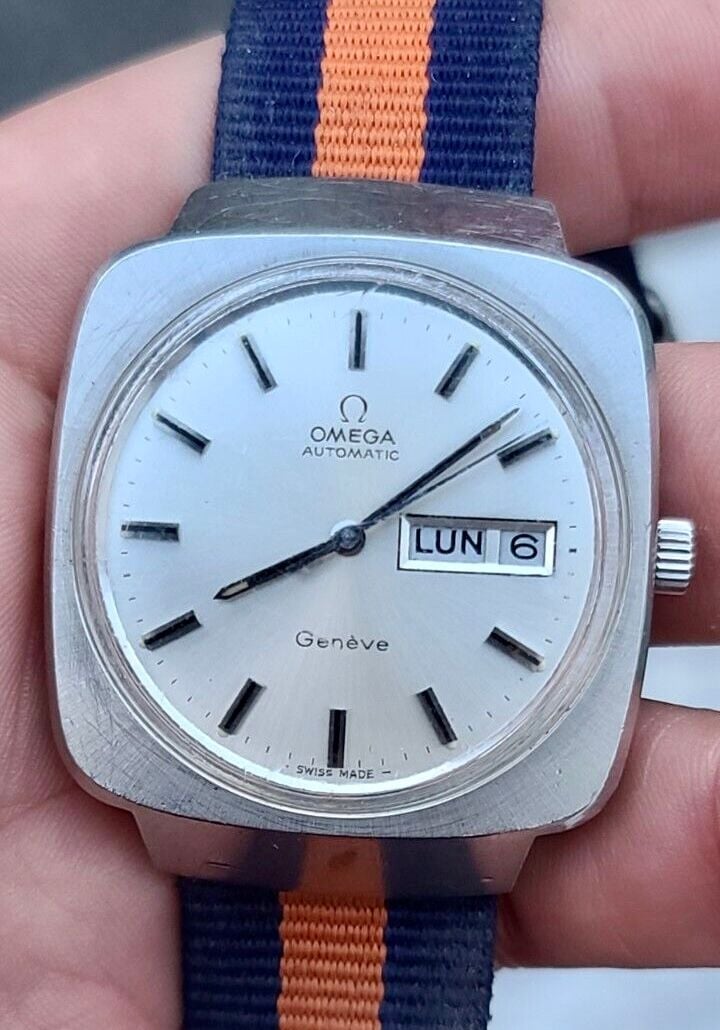 It wasn't alone either, these have gone for prices in $130-$170 range in the last  year, typically when they run no reserve at auction on eBay.  People simply don't know what it is, don't care to search for it, and dismiss it due to misinformation about the movement, and they go begging.
Another thing to keep in mind is that many of these watches are missed if you are searching for the reference number online, as original owners often don't care to open the caseback before listing it.  As a result they are marketed just generically as "Omega Geneve" typically with some advertising nonsense words like "rare" thrown in.  It's up to you as a buyer to have done your research, be able to identify the reference from the case and dial, and bid accordingly.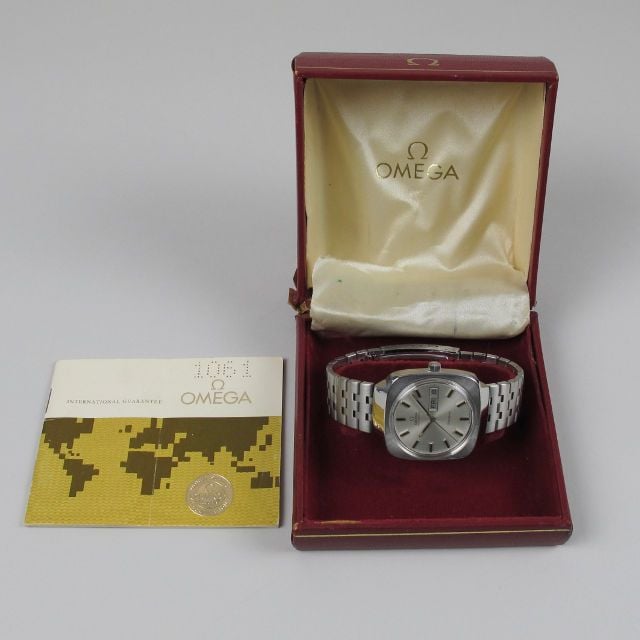 By virtue of how cheap they are, you should be able to budget a service as well into your purchase, and after being overhauled properly and cleaned up you will have quite a good piece of the 1970s on your wrist.
Discussion thread on Omegaforums can be found here: