Many ladies' watches and especially vintage models can feel like inferior version of the full size models they are based on. The ladies C-Case Constellations are a firm exception to that, earning the observatory medallion and star on their dial with quality and substance.
Quality Without Compromise
The Constellation C-Case is one of Omega's most iconic dress watch designs of the 1960's, and a line that expanded to countless variants throughout that decade and well into the 1970's.  
These smooth bezel C-Case ladies' models carry two references which will be mentioned in this article.  Firstly the 567.001 is the non-date version, powered by Calibre 672, and the 568.001 is the date version powered by the Calibre 682.  Aside from the difference in date, these watches are otherwise identical in every other way.
As every dealer is eager to brag in the first line of any sales listing, the C-Case Constellation was a watch penned by the legendary designer Gerald Genta.  Genta's name is tied to the Audemars Piguet Royal Oak, the Patek Nautilus and a number of the most highly regarded watches ever made, cementing his place as the Battista Farina of horology.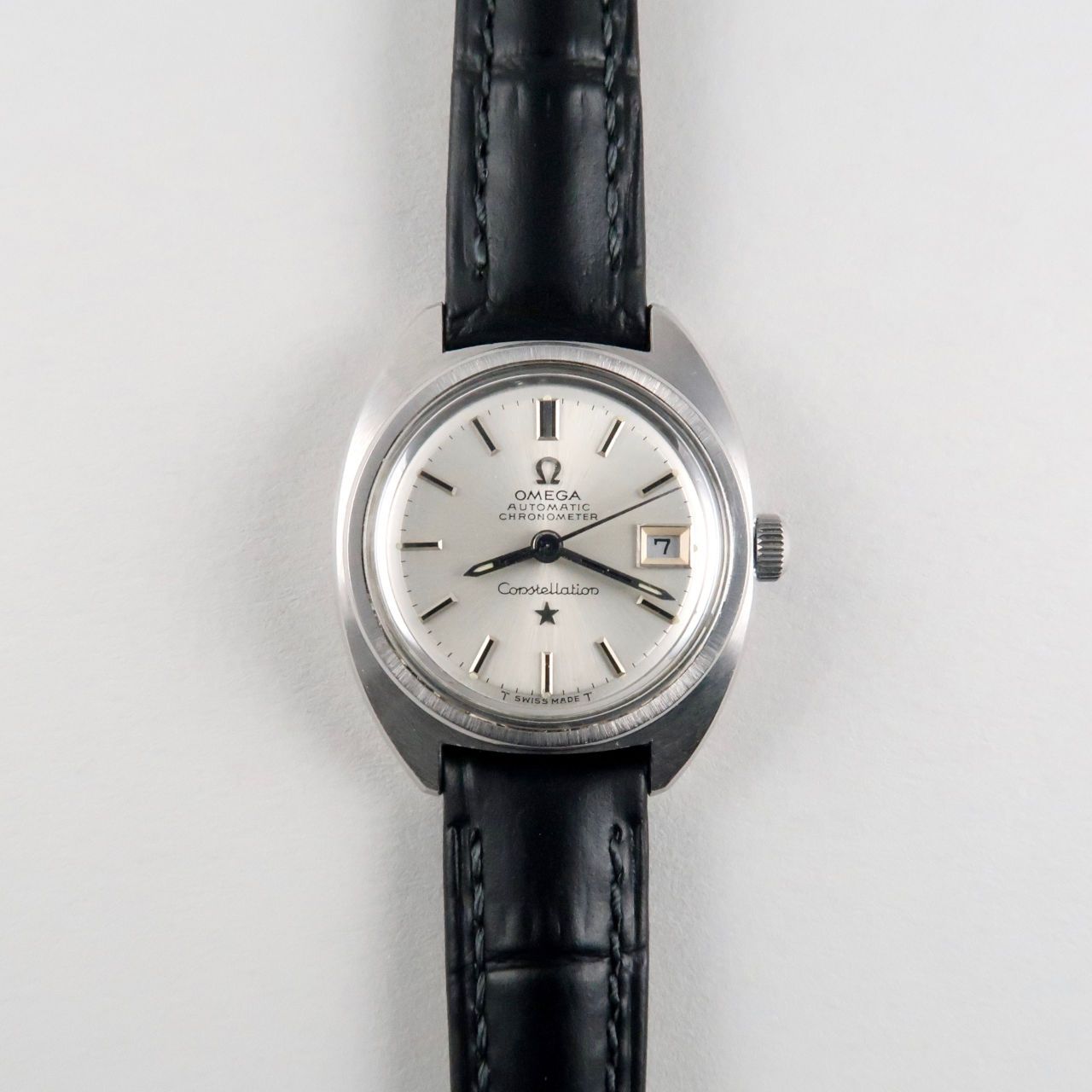 The full-size Constellation C-Case, at 35 mm is a watch that can be a little polarising, with a devoted group of fans and many more that are not so into the design.  The smaller Ref 567.001 & 568.001 ladies' version is somehow a more attractive and less divisive watch.
It's hard to quite put a finger on why that is, it could be that ladies' watches have a license to be more abstract, more stylised, and less strictly traditional.  It could also be that the C-Case lines simply suit the smaller case design more than the larger version, but this is an interesting case where the ladies' version is arguably a much better looking watch than then men's.
Styling aside, the ladies' C-Case Connie stands out in the Omega vintage back-catalog as a vintage model that makes no compromises.  
An applied logo and dial furniture, automatic chronometer rated movement, exceptionally well finished dials, and a variety of quality bracelet options all set the 567.001 & 568.001 apart as a premium ladies' watch of the highest tier.  For even more discerning buyers, 18K solid gold models and factory diamonds are an option as well.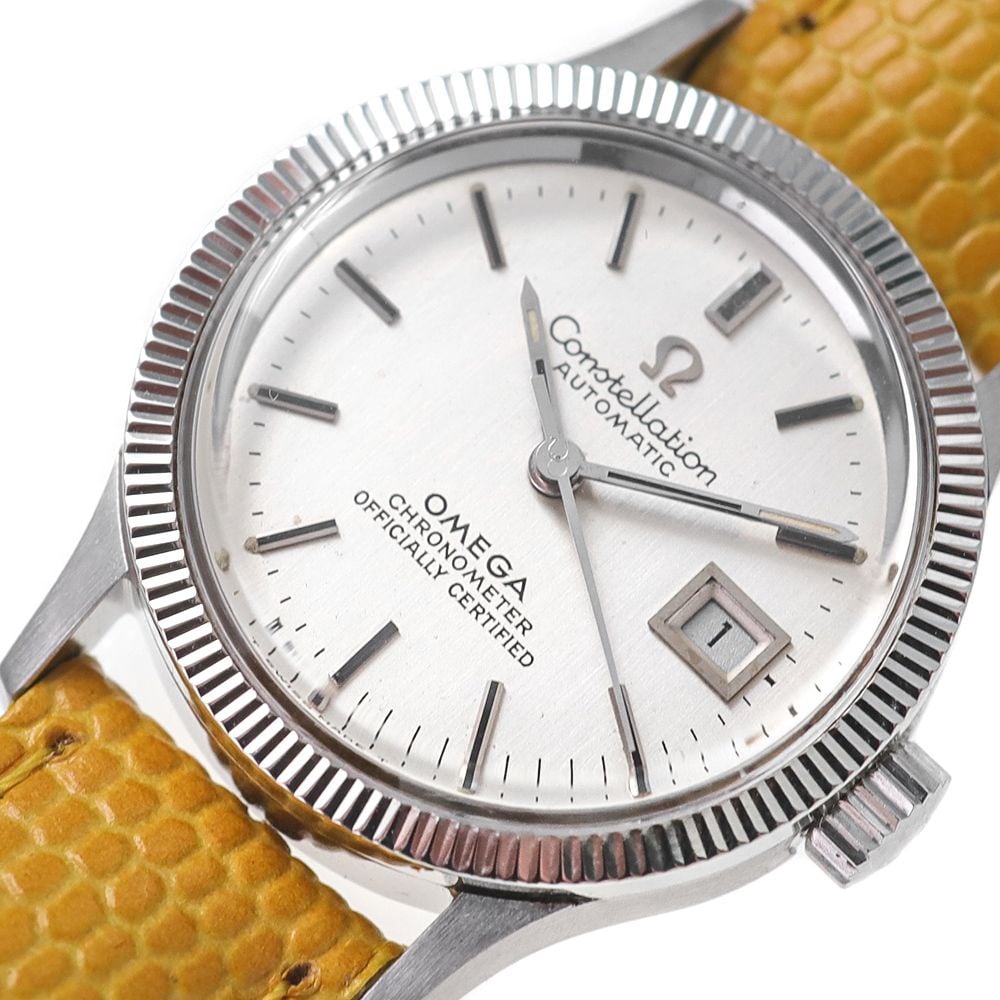 Like the 568.016 Constellation reviewed last year, the 567.001 / 568.001 C-Case is a flagship product, intended to compete with the best in the world of the 1960's.  
Case & Bracelets
The Constellation "C" Case, Ref 567.001 & 568.001, also known in the Omega numbering system as the 567.0001 & 568.0001 were released in 1966 alongside the full-size C-Case models.
There are other variants of ladies' C-Case Constellations, but the .001 version specifically is easily identifiable as the version featuring a smooth bezel rather than a coin-edge bezel.  The case is 25 mm in diameter, and 9 mm thick, slightly thinner than the 568.016 Constellation models.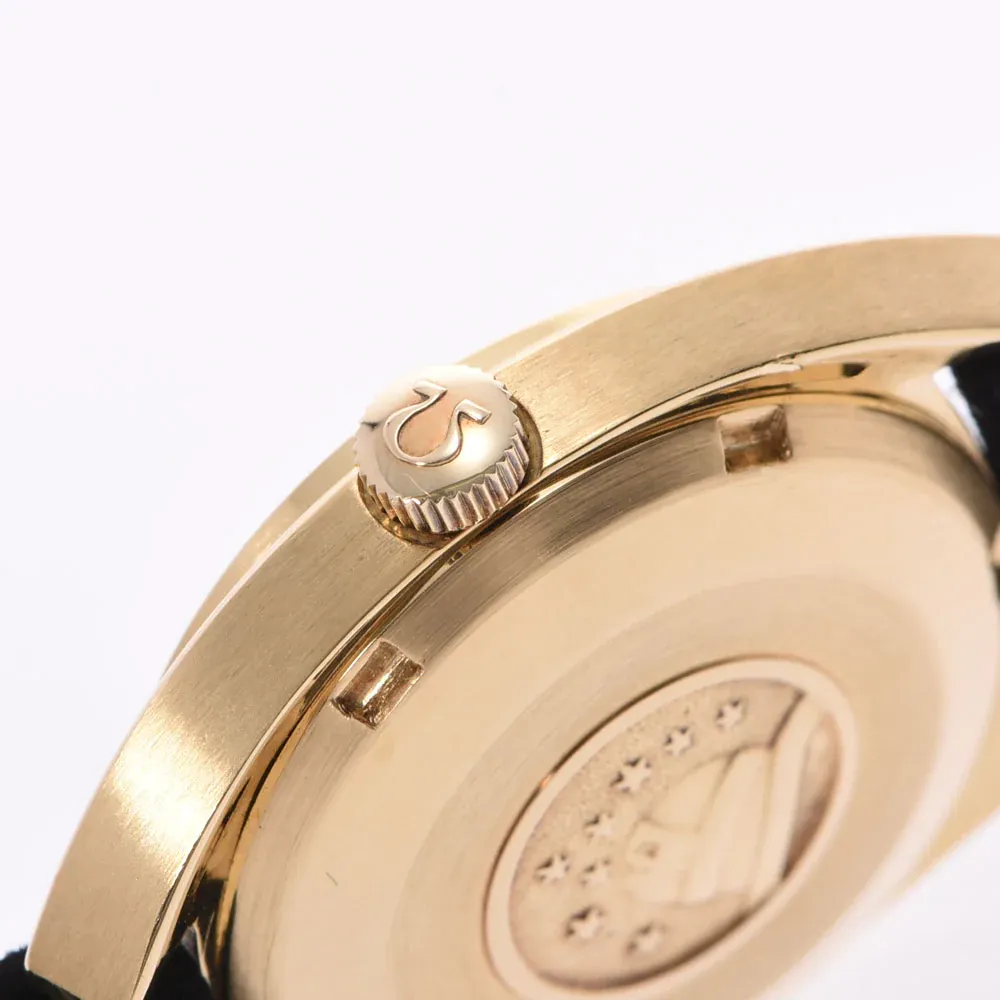 The design of this case features a flat, smooth bezel with subtle radial brushing.  The bezel steps down to a smooth matte finished front face with subtle concentric circular brushing.  This front face of the watch makes the C-Case design, with a smooth flowing curve extending along each side from the tips of the upper lugs to the tips of the lower lugs.  The edge of the case is bevelled with a mirror finished edge and this bevelling can be lost over time to careless polishing.  The side of the case has a brushed finish again to contrast with the polished bevel.
As well as taking the design of the Constellation in an entirely new and quite unique direction, the "C" case Constellations came along at a time when Omega was at the peak of the "Golden Era" and producing some of the best watches of the 20th century.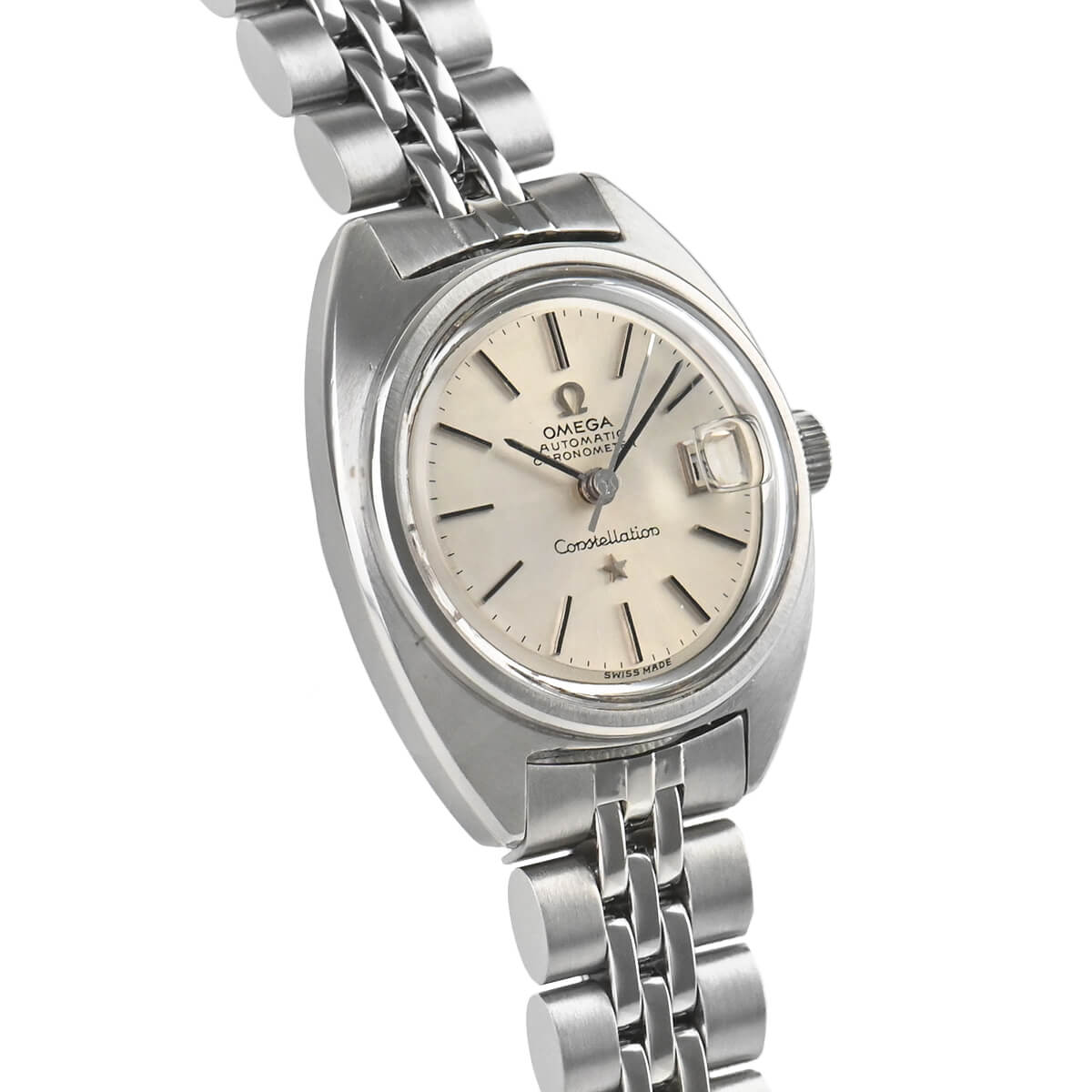 While many earlier model Constellations would suffer from water intrusion, an issue common in the 1950's and 1960's, the 567.001 & 568.001, like the full-size version features a solid mid-case and screw-in case-back along with a better crown design. As a result, this generation of watches have a water resistance rating of 30 meters, and quite dependably maintain that if seals are replaced.  Thanks to this, the survival rate of these Constellations, their movements and especially their dials in original condition is very high, especially compared to earlier watches.
Both the reference 567.001 non-date and 568.001 date version of this case share the same design and mid-case, but case-backs are individually stamped with the specific reference corresponding to the model.  Any mismatch between dial, movement and case is a red-flag indicating a watch that has been assembled from parts, or "optimised" for sale.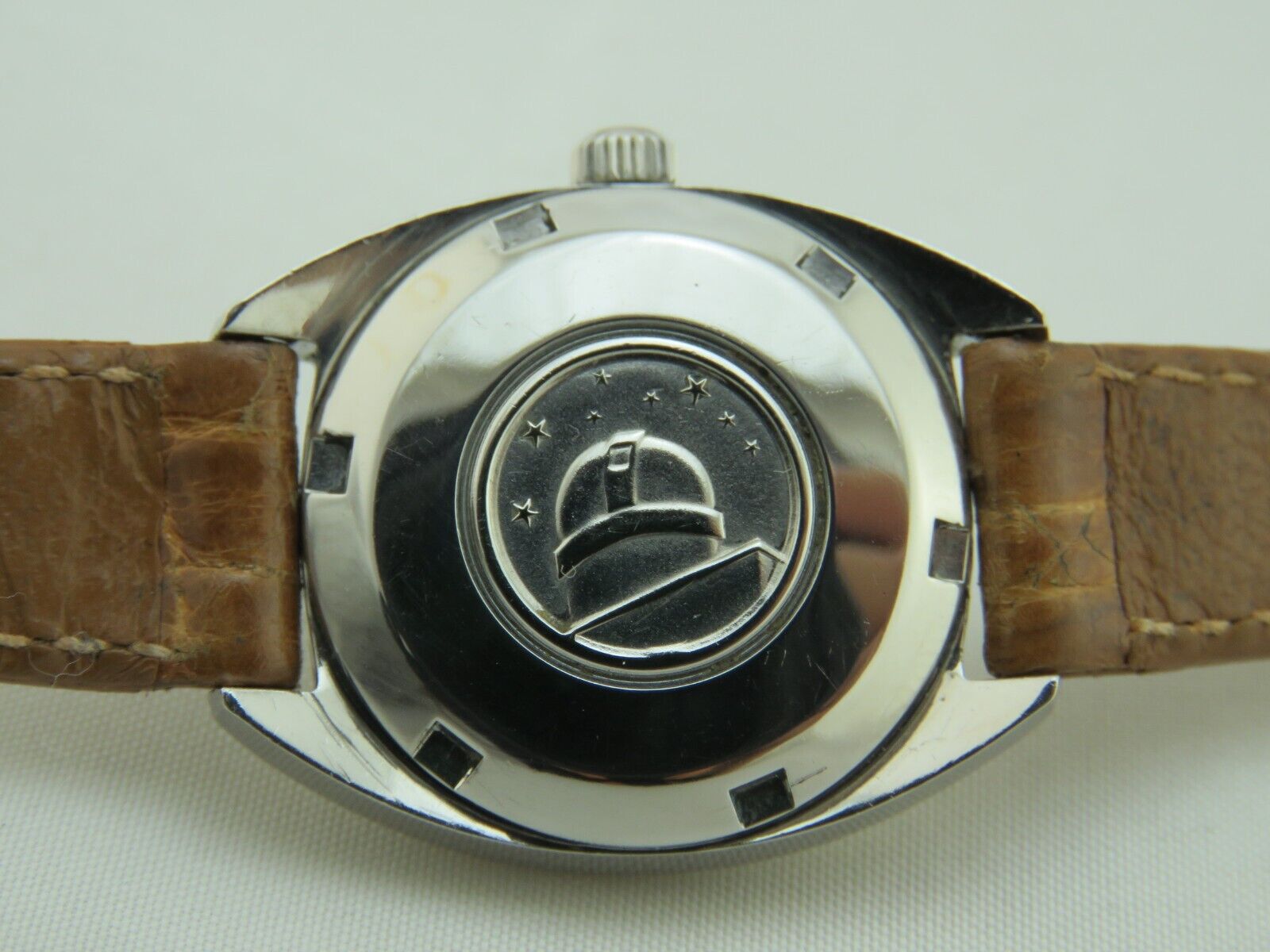 There are three different metal types, stainless steel, gold-capped, and solid 18K gold.  Each of the three has a different case-back, unique to the metal.  The stainless steel models have a simple observatory logo engraved into it, with a smooth background.  The gold-capped models have a steel case-back with a gold observatory medallion set in the center with a simple logo and smooth background.  The 18K gold models have an all gold case-back with a more complex observatory against a frosted background.
It should be noted that while earlier Constellation models are almost always yellow gold with rose and white gold being quite rare, this is not the case with C-Case Constellations and this extends to ladies' models.  Both the 567.001 & 568.001 can be found in white gold, rose gold, and even with diamonds without looking too hard.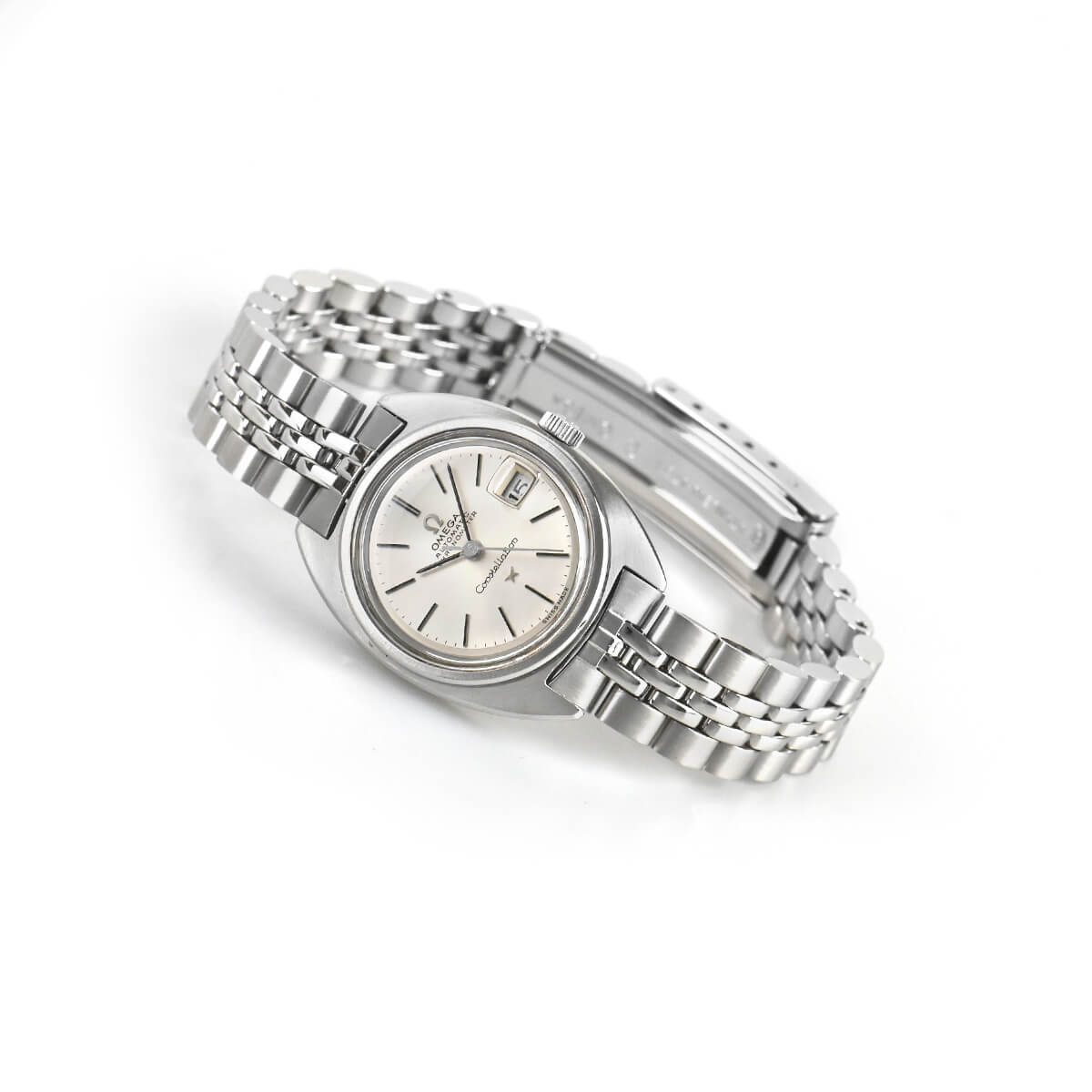 The lugs on this watch are 12 mm in width and are often fitted with the 3-row Omega beads of rice bracelet, which looks quite similar to a Rolex Jubilee.  There are also some other options including a riveted version of that same beads of rice, and an Omega Milanese mesh bracelet.  Leather straps are also a very common option and give a great opportunity to personalise these watches in unique and interesting ways.
Movements
Each of the two references in this family carries a unique movement, with the non-date 567.001 case carrying the Calibre 672 movement, while the date version, 568.001 carries the Calibre 682.  There should be no other movements in these cases, and they should not be mixed up between them.
For all intents and purposes, these two movements are identical aside from the presence or absence of a date mechanism.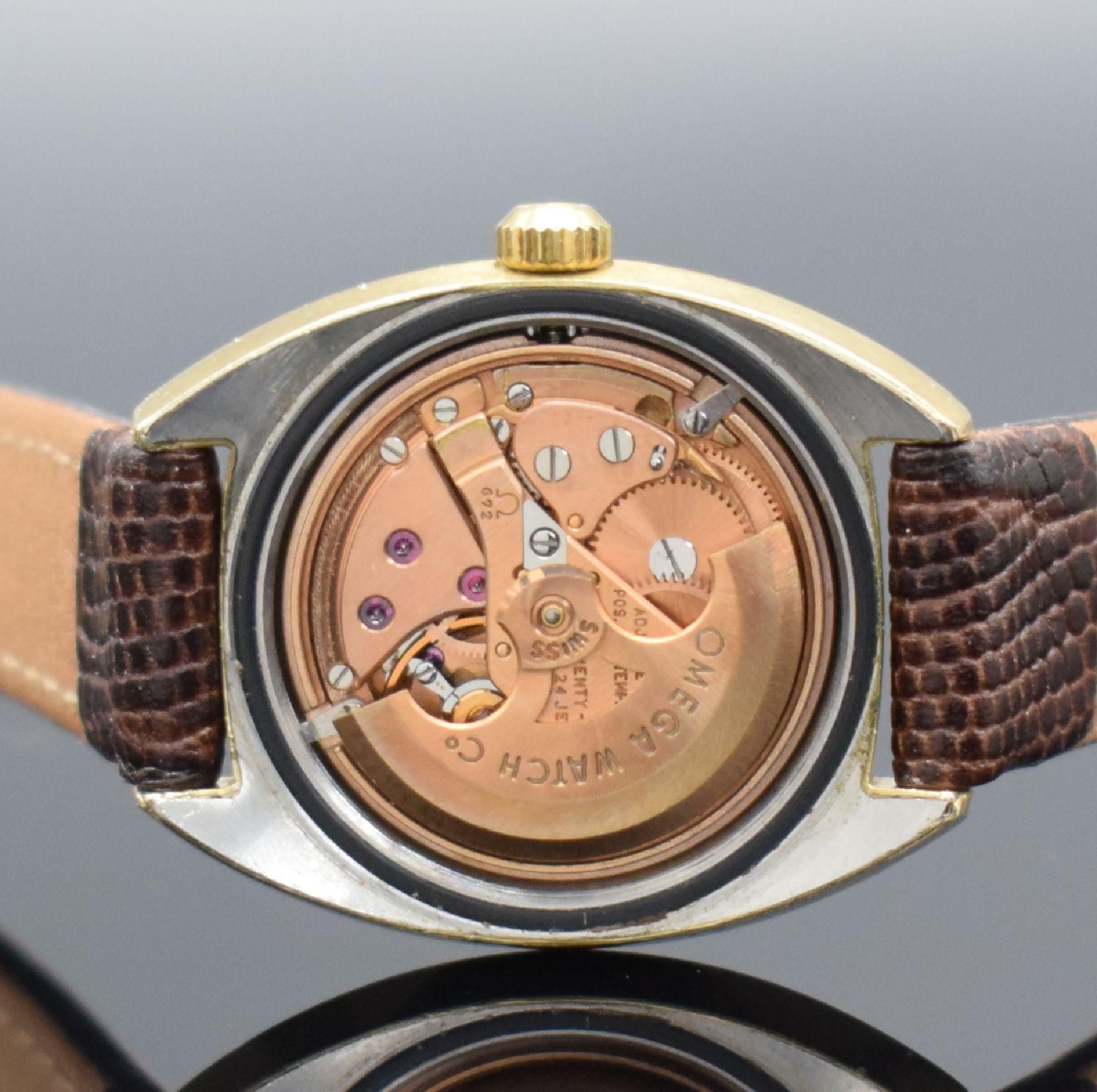 Both Cal 672 & Cal 682 oscillate at 19,800 vph, feature a bi-directional winding mechanism with a 40-hour power reserve, have 24 jewels and are chronometer rated, while the Cal 682 additionally has a date function and semi-quickset mechanism.  All of this is achieved in a movement with a much smaller outer diameter of 18mm compared to the 28.4mm of the calibre 561, and only adds 0.3 mm to thickness.  The only sacrifice made for packaging is the power reserve of 40 hours, 10 shorter than the calibre 561, but still more than adequate for daily use.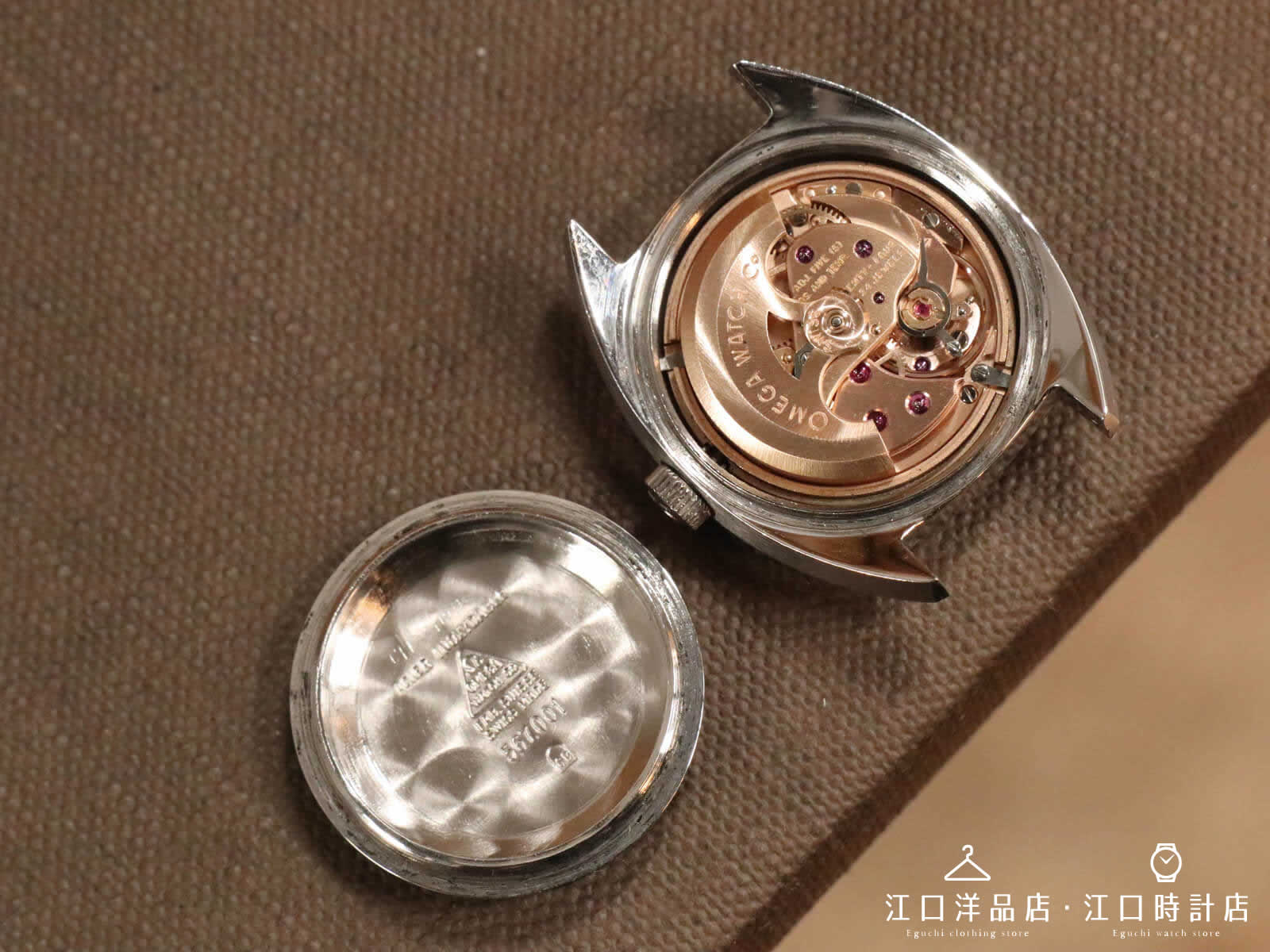 The calibre 682 is compatible with a large number of lesser related movements which can be a bit of a double-edged sword.  On one hand it means there is an exceptionally large pool of donor parts from less desirable models featuring the same movements, keeping parts costs under control for decades to come.  On the other hand, you can also find watches that have patchwork movements or incorrect replacements, so it is important to be somewhat vigilant in this respect.
If properly maintained there is no reason why a calibre 682 cannot continue to meet or exceed its original chronometer specifications.  They were a well-designed, durable and high-quality movement which can be cared for by any watchmaker with an Omega parts account.
Variants
All variants of these Constellations have a few features in common.  Firstly, they use exclusively applied dial furniture, applied Omega logos, applied Constellation stars, and an applied date window frame on the Ref 568.001 date versions.
The dials all feature the text Omega Constellation Chronometer at the top, and Constellation at the bottom just above the star.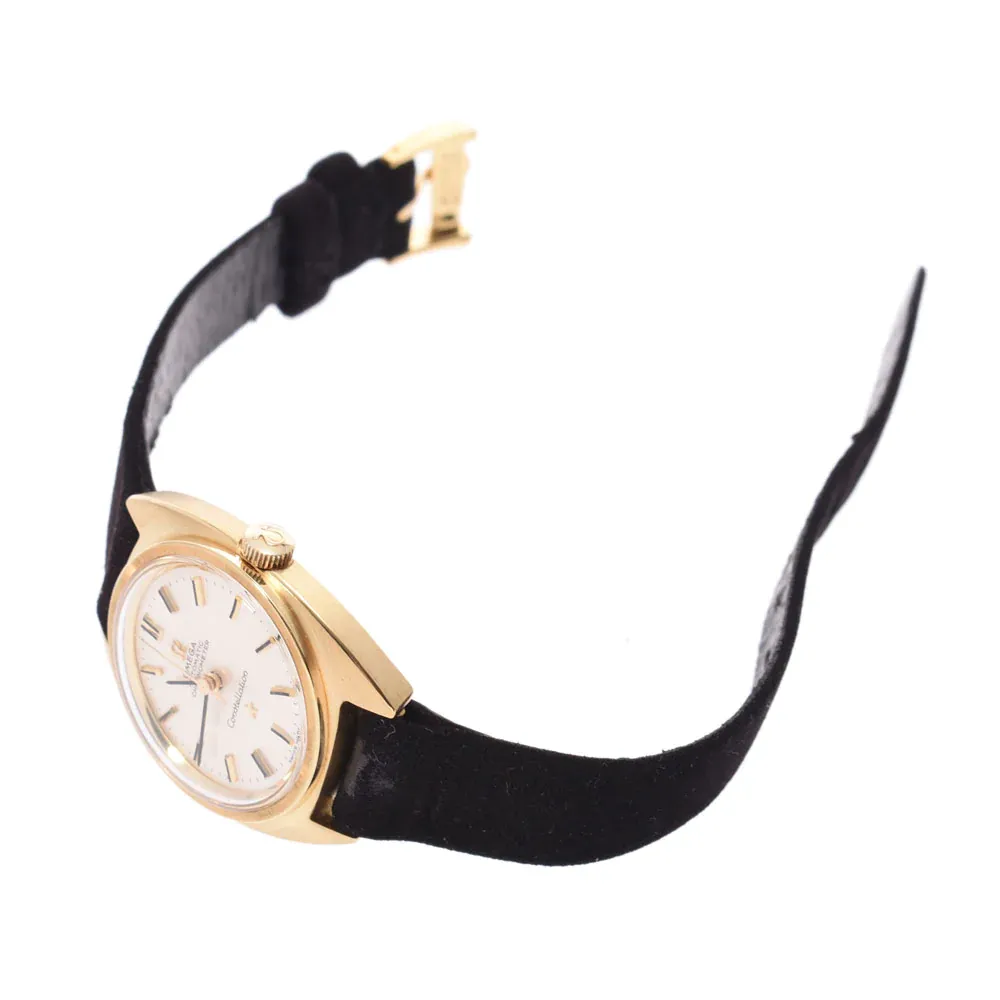 All models feature minute hashes around the outer edge and come in luminous and non-luminous variants with Ts either side of Swiss Made at the bottom of luminous dials.
As mentioned previously, all 567.001 & 568.001 models feature a smooth bezel, and any watches with a coin edge bezel are a different reference and have been mislabeled.
567.001 Starburst Dial
The 567.001 / 567.0001 non-date versions of the Constellation C-Case fitted with starburst dials seem to be almost all non-luminous and fitted with stick hands.  The dials come in both silver and gold tone, with dial furniture color matched to the case.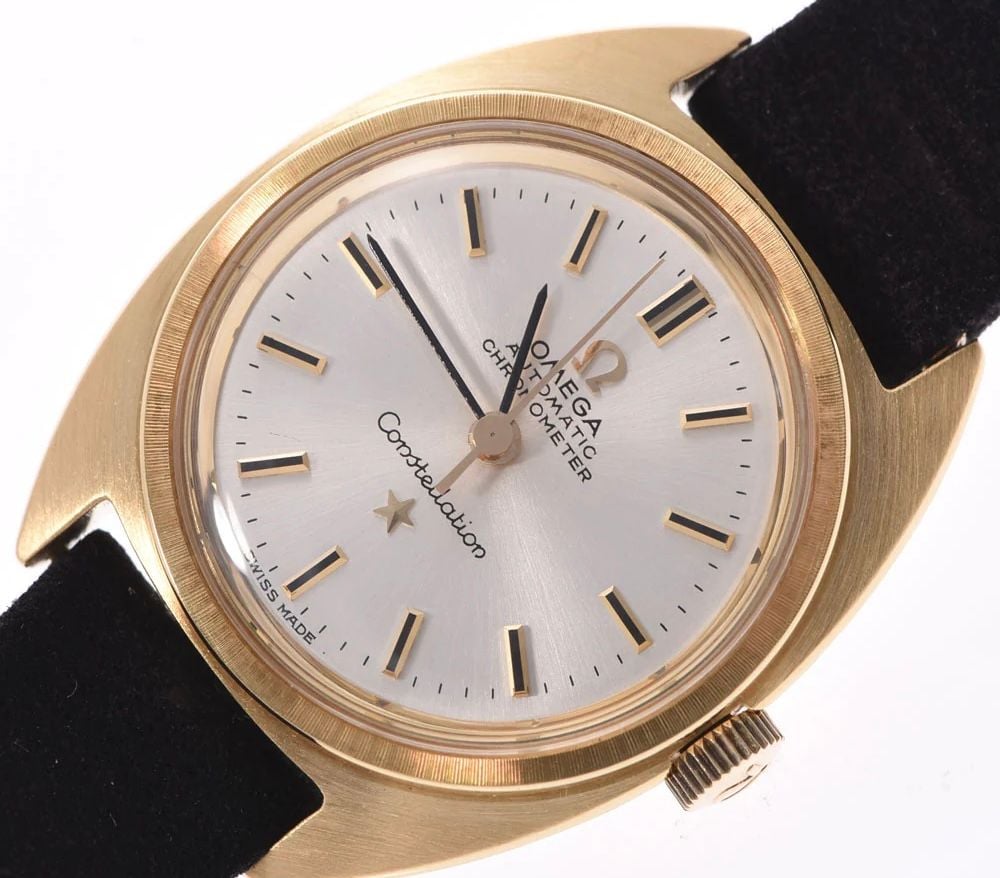 There are a few different dial furniture options with the most common being short stick markers, doubled at 12, and longer stick markers not doubled at 12.  
The starburst pattern tends to be the more common in the 567.001 with these dials outnumbering linen dials by quite a significant margin.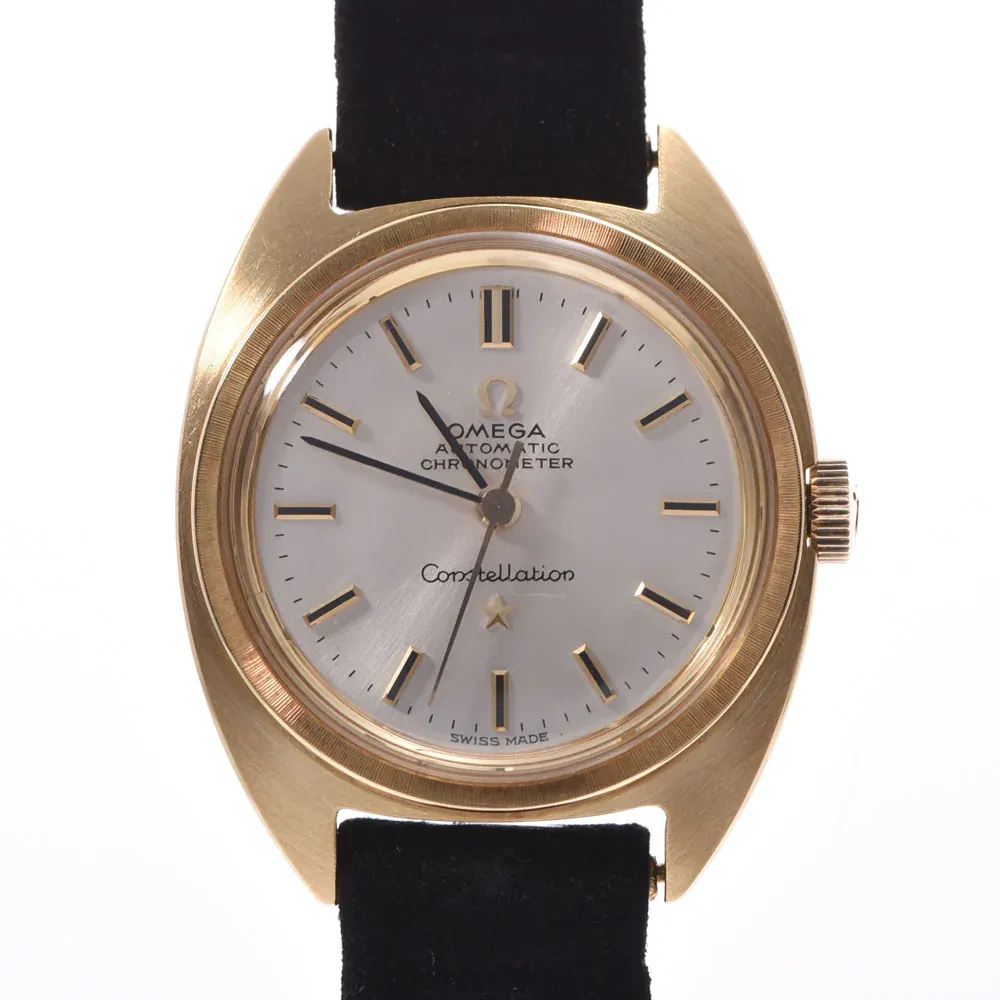 567.001 Linen Dial
The 567.001 / 567.0001 non-date variants fitted with linen dials tend to be mostly non-luminous with some luminous models occasionally seen.  The luminous models have tritium dots on the outside of the hour markers and thicker stick hands with black inserts for most of their length and luminous tips.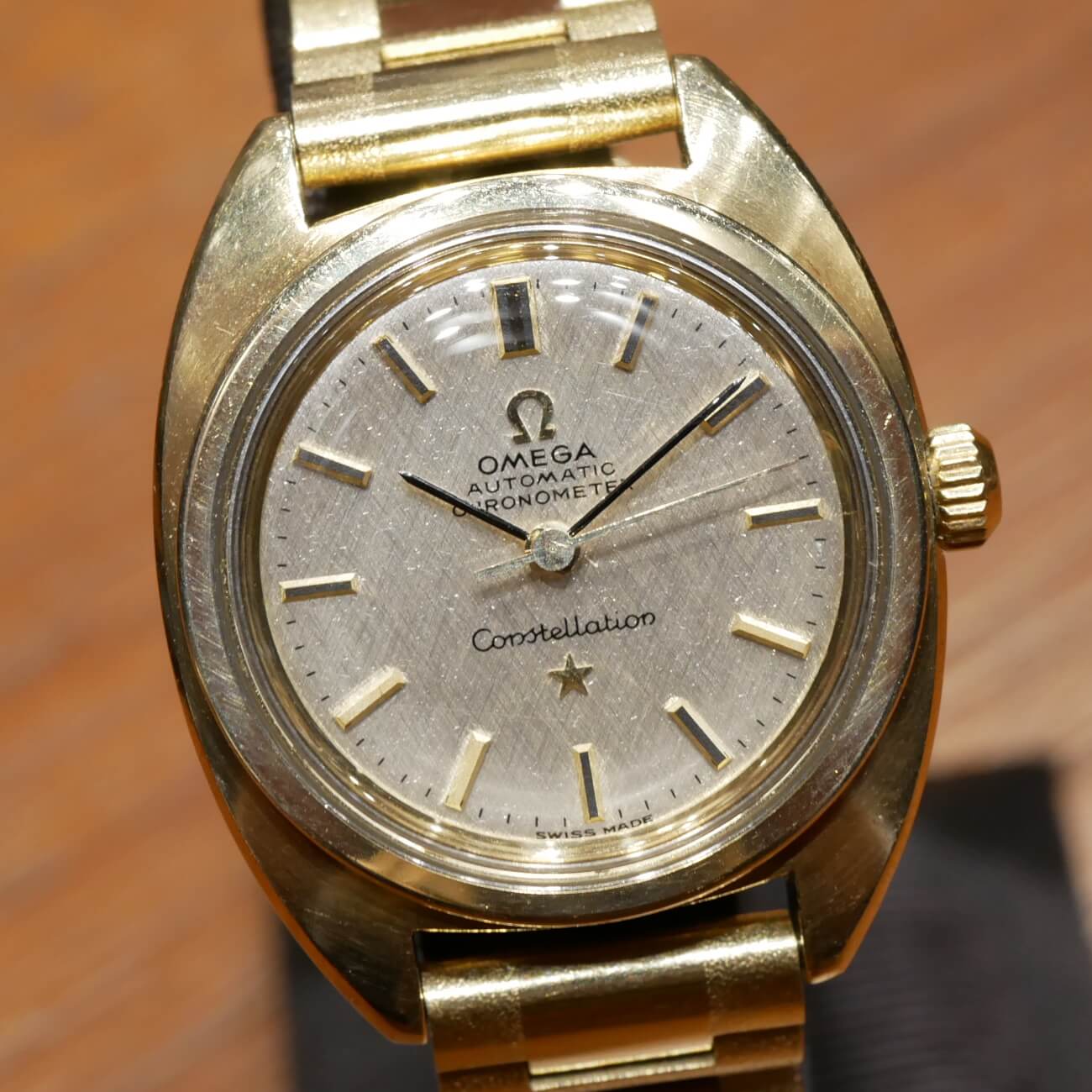 Like the starburst dials, the linen dials come in both a silver tone and a gold tone, the latter of which is far less common.  The same dial furniture options available on the starburst dial exist on the linen dial as well.
Linen dials tend to be significantly less common across all materials than starburst in general.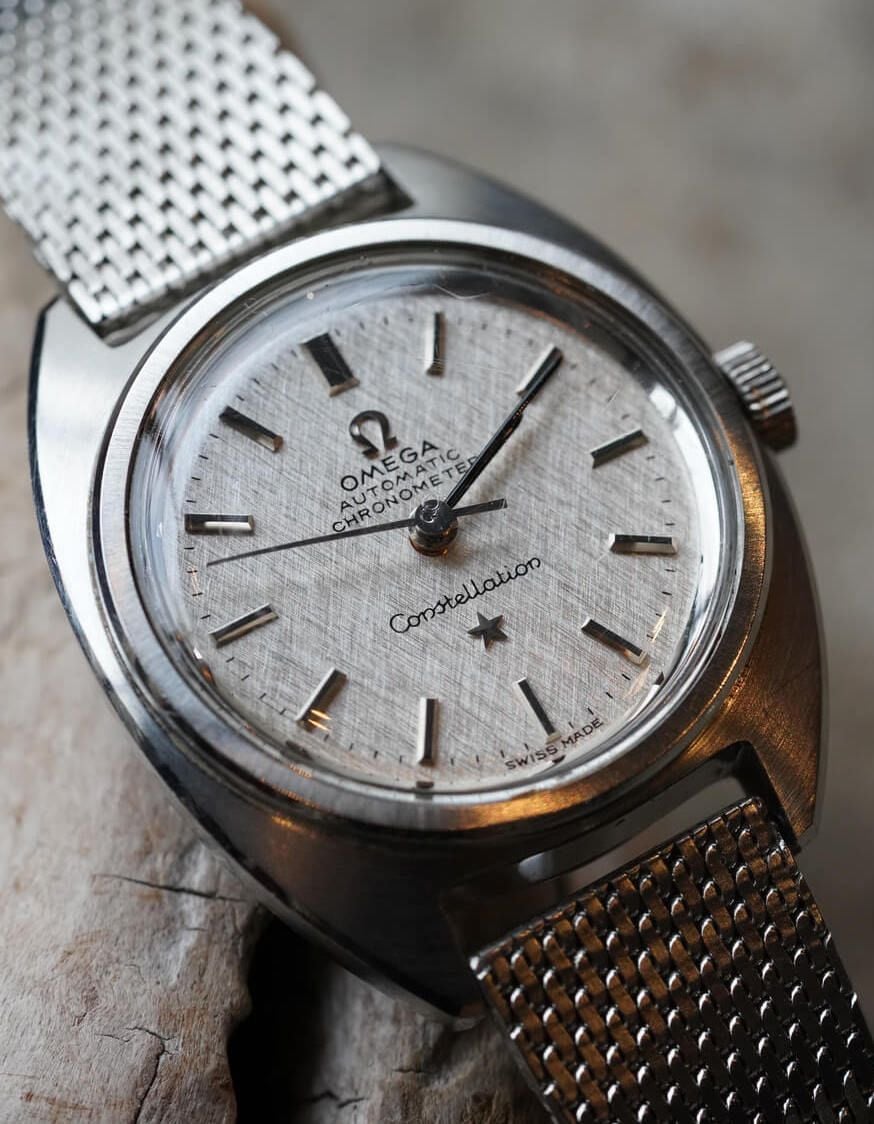 568.001 Starburst Dial
The 568.001 / 568.0001 date variants with starburst dial are relatively commonly found with both luminous and non-luminous dials.  The luminous models have tritium dots on the outside of the hour markers and thicker stick hands with black inserts for most of their length and luminous tips.
As with previous dials, these come in both silver tone and gold tone with dial furniture metal in a matching color to the case metal.  The same dial furniture options from the 567.001 dials also apply to the 568.001 starburst dials.
The starburst dial 568.001s are definitely more abundant than the linen dials in general.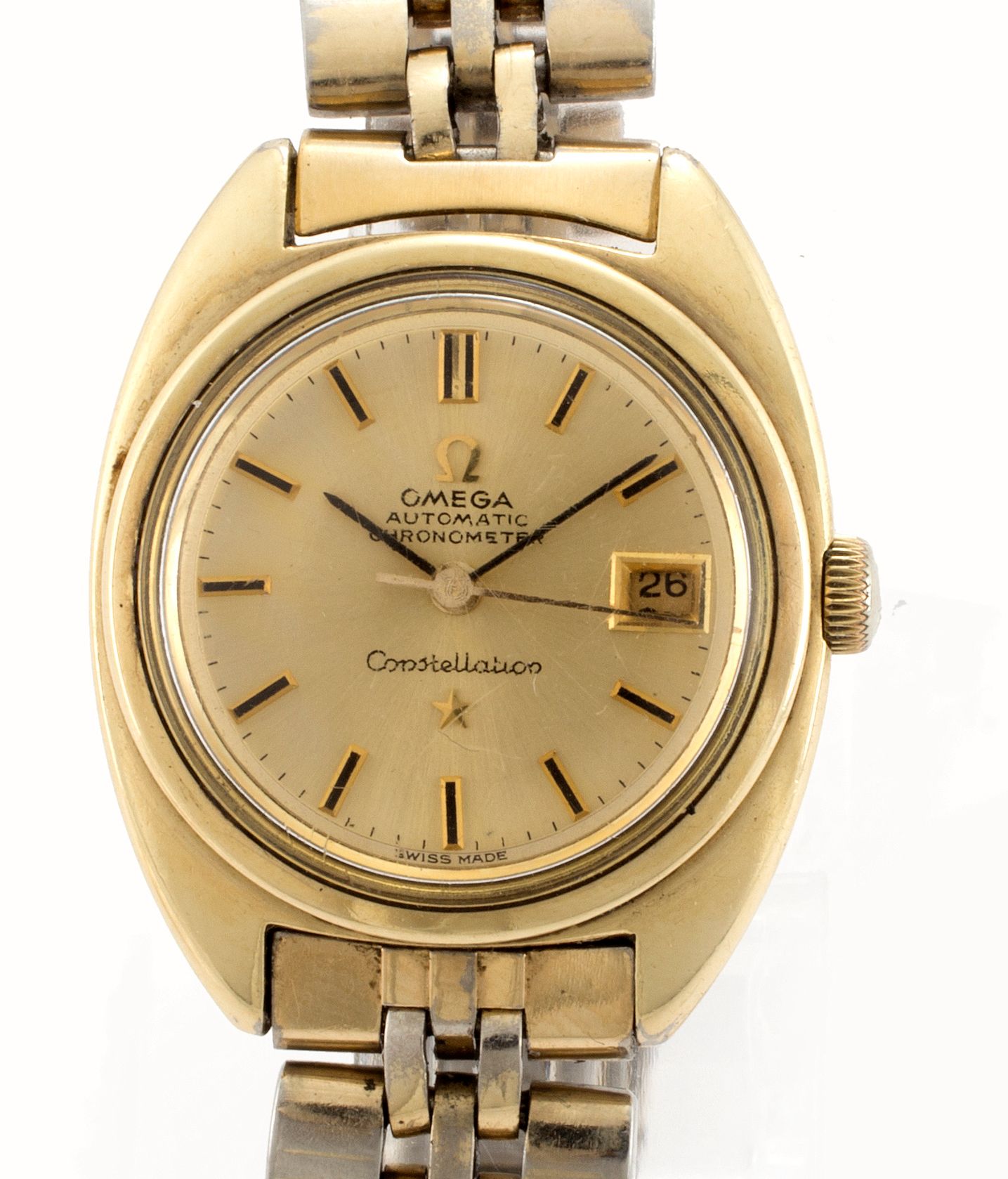 568.001 Linen Dial
The 568.001 / 568.0001 date variants with linen dial are somewhat less common than the starburst dial and are commonly found in both luminous and non-luminous variants.  The luminous models have tritium dots on the outside of the hour markers and thicker stick hands with black inserts for most of their length and luminous tips.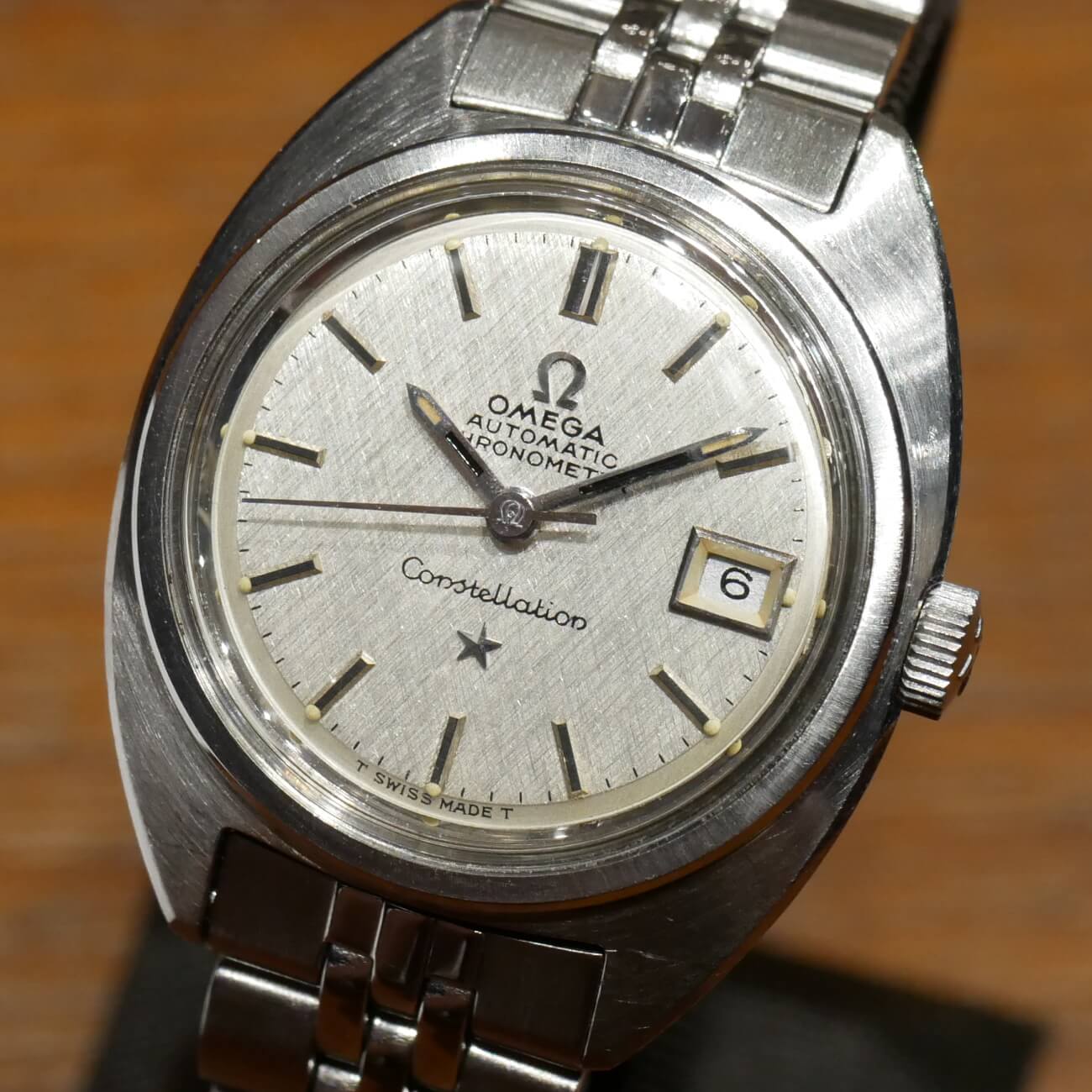 As with previous dials, these come in both silver tone and gold tone with dial furniture metal in a matching color to the case metal.  The same dial furniture options from the 567.001 dials also apply to the 568.001 linen dials.
These dials are more abundant than the non-date linen dials and while less common than the starburst version, there tend to be plenty on the market to choose from.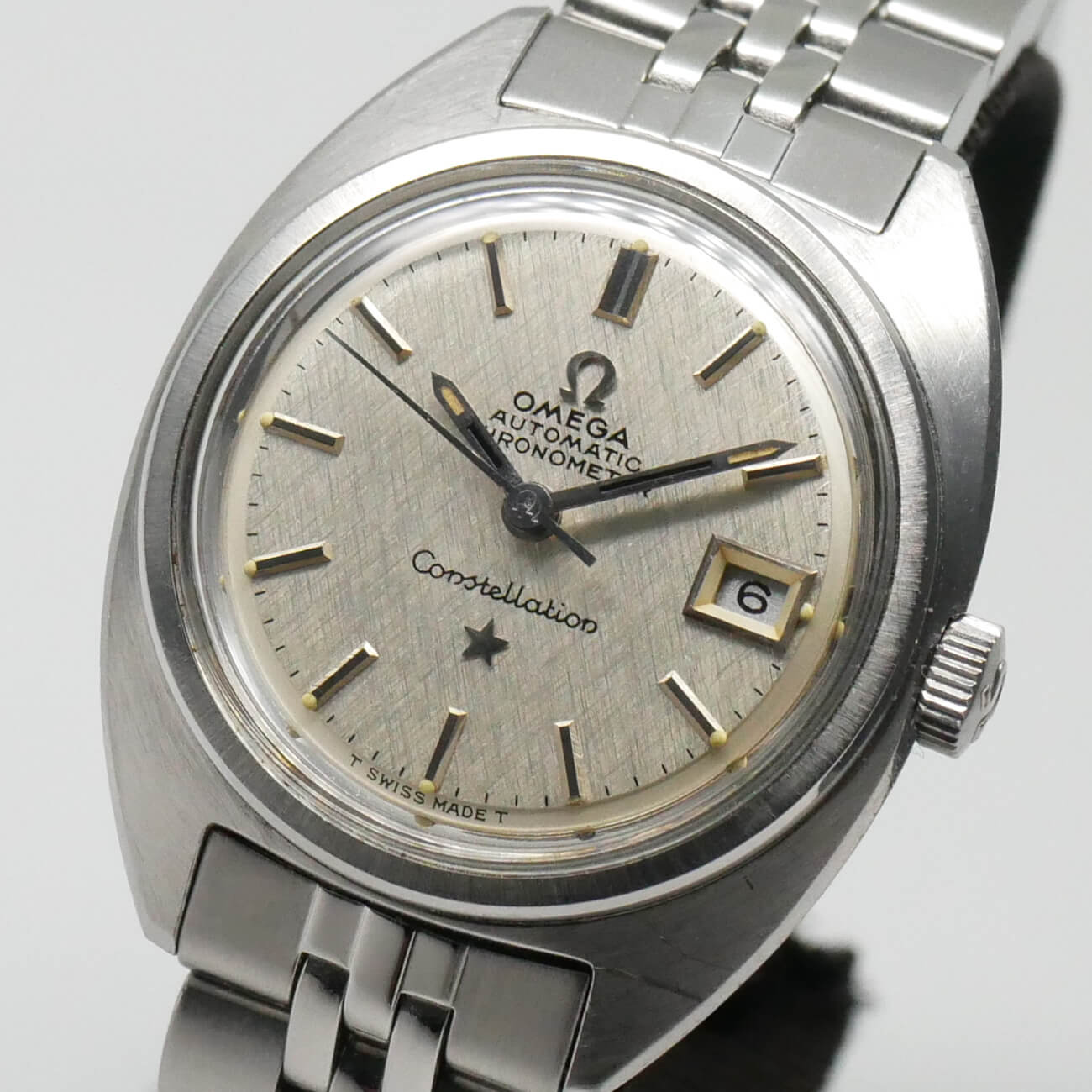 Buying
Buying these Constellations is easier than for a lot of earlier ladies' watches.  The good level of water resistance they have is a genuine asset to collectors and as a result the majority 567.001 & 568.001 have survived with great condition dials intact.
The choice between date or no-date is definitely a personal one as is that between starburst and linen dial, however the watches are similar enough between versions that you may wish to let case condition be the deciding factor.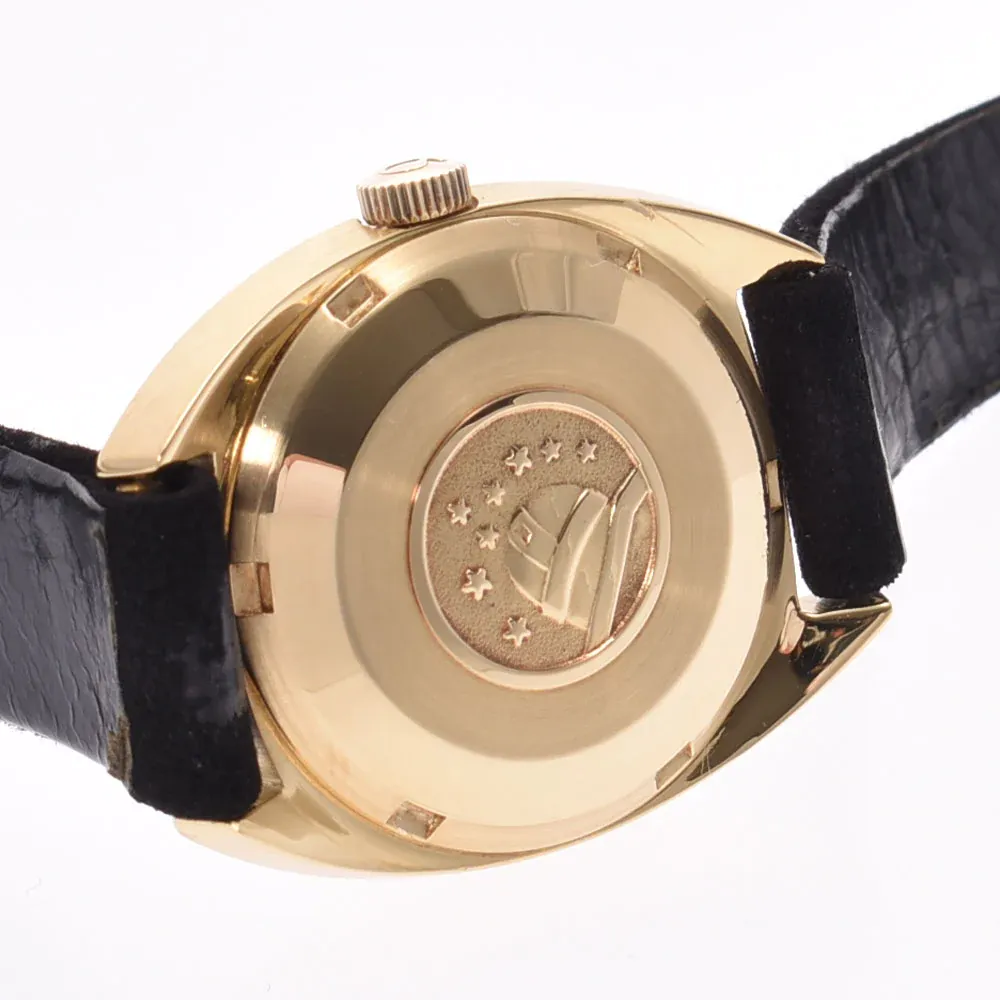 Case condition really is what makes or breaks this reference.  A sharp example with a beautiful, polished bevel, a nice starburst finish left on the bezel and the concentric brushing intact on the front face is truly a sight to behold.  These excellent cases are somewhat hard to find however as many have been polished, often quite harshly.  Anything less than a professional job will invariably lead to softened edges, curves, and the watch appearing like an expired avocado which is certainly not something you want on your wrist.
The choice between luminous and non-luminous dials tends to be a fairly unimportant one, but given the choice between two equal watches, the non-luminous version is typically better.  The reason for this is that tritium does tend to break down and degrade with time, so not having it to begin with just means one less thing that can go wrong.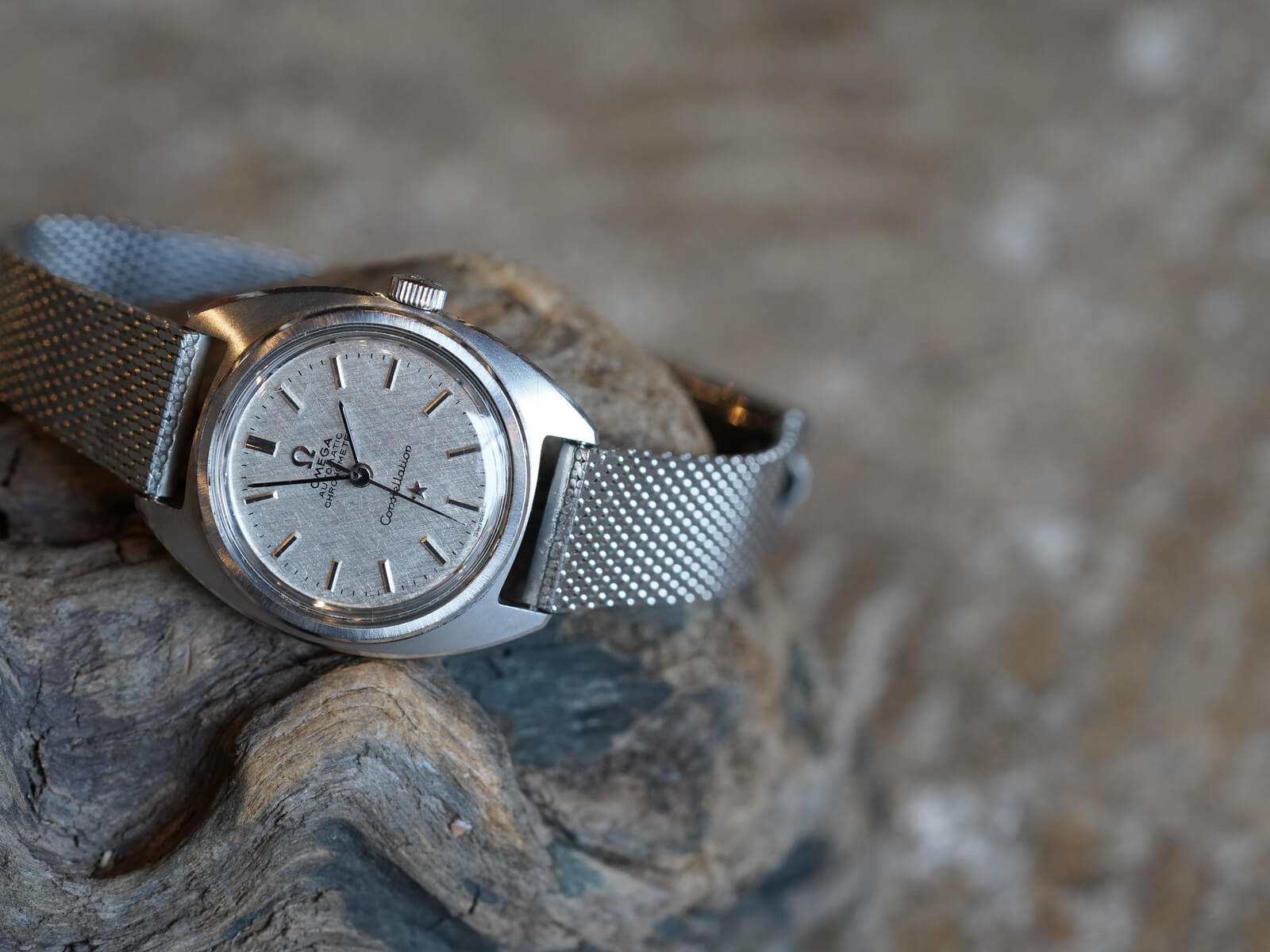 Getting a watch with a bracelet on it is definitely a bonus, but these bracelets can be found in stainless steel relatively easily for a couple of hundred at most.  The gold-filled version of the beads of rice bracelet is a bit harder to come by, especially in decent condition.  
While the ladies' C-Case Constellations were sold around the world, there is a very high concentration of these watches in Asia, and especially in Japan.  The Japanese watches also tend to be among the best condition as collectors and dealers there tend to be more restrained when it comes to polishing than their western counterparts.  Buying out of Japan can be a bit difficult and potentially require a friend in Japan or some knowledge of the language and a freight forwarding service, but it really is one of the best ways to get an excellent C-Case for a good price.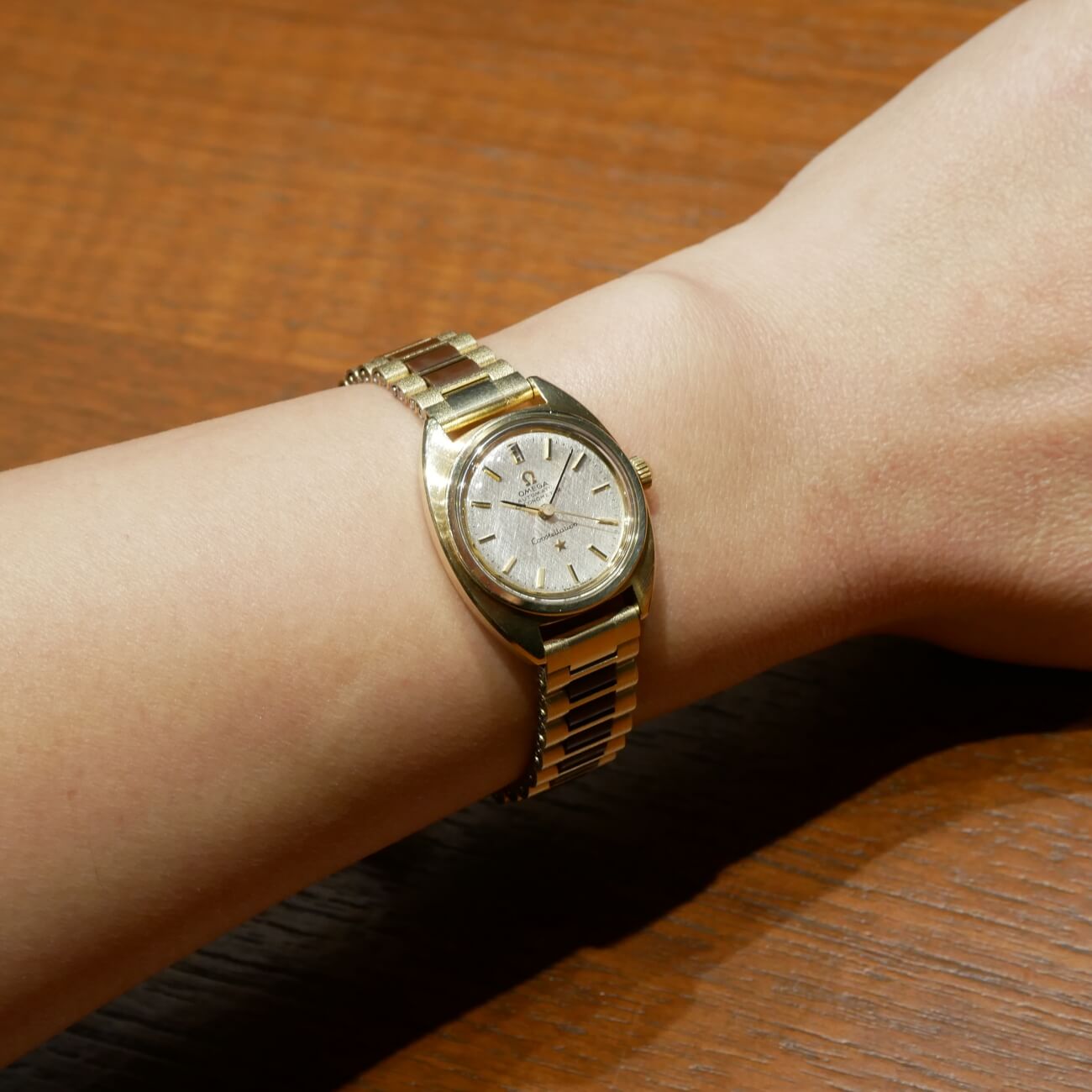 At any given point in time there tend to be a lot of examples in a range of condition levels available from dealers but prices tend to be very variable from $400-$600 on the low end to $4,000 or more on the high end for gold examples.  The best deals irrespective of metal always come from auctions as there tend to be few bidders.  Decent examples have gone on eBay for ridiculously low money, in some cases under $100.  This quite good condition gold-cap example recently sold on eBay for $188.50 no reserve, which is Flik-Flak money for an Omega in-house Chronometer.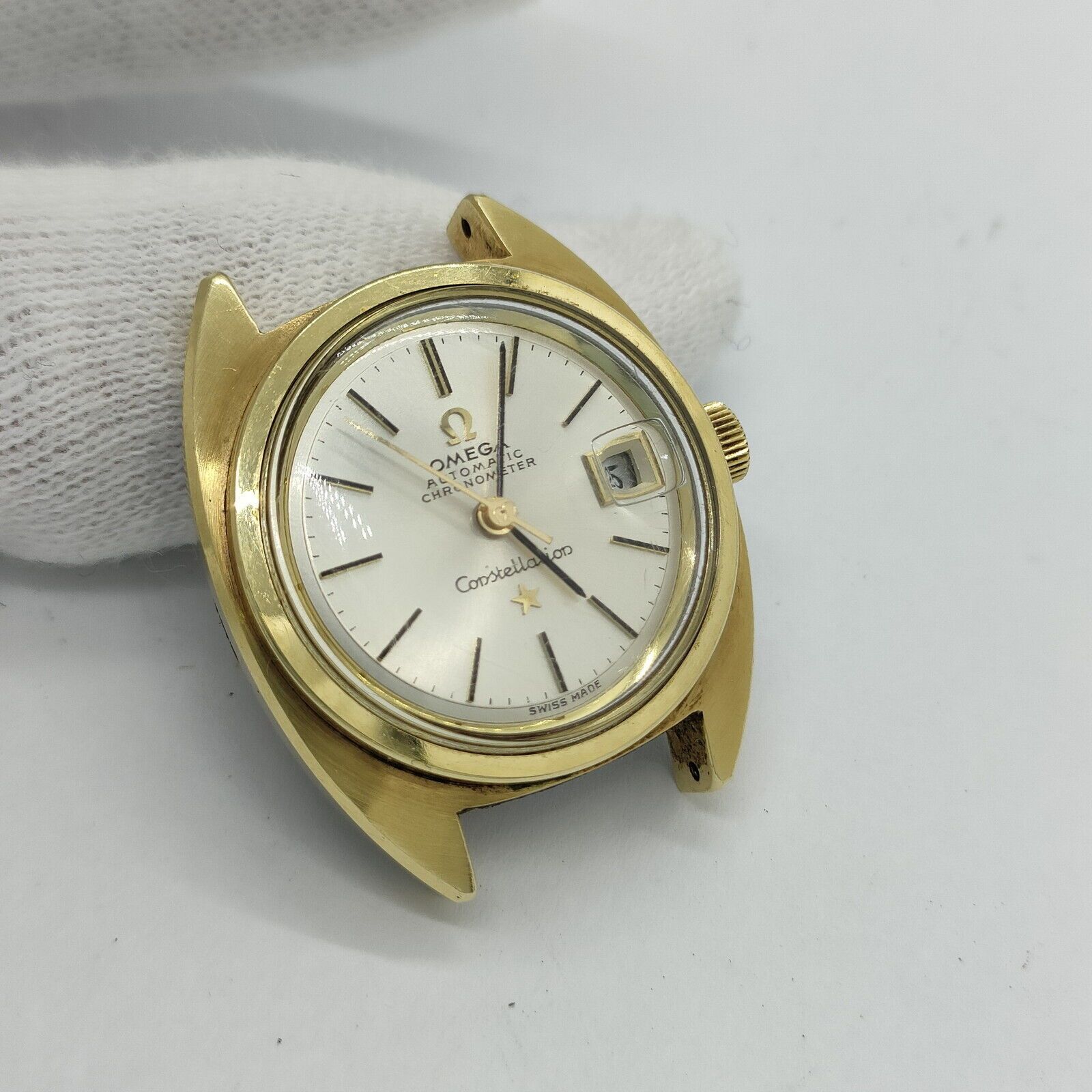 The ladies' Constellation C-Case models really are quite an impressive piece for a watch of this size.  By combining the best movements, water resistance, and finishing of the era with a unique design penned by Gerald Genta, they represent remarkable value for such a high-quality timepiece.
Discussion thread on Omegaforums can be found here: