The 1970's family of Omega Geneves offer a great deal of variety, experimentation and character at a great price. The 111.0116 & 111.0117 are two such pieces with a tremendous amount of personality and charisma.
1970's Omega At Its Flamboyant Best
My favorite watches to cover are the little-known pieces of 1970's eccentricity that have such significant presence and charisma to be not only relevant but very cool 50 years later.  Given how many different models and designs were tried in that era it's a very deep well of options, but the twin Geneve 111.0116 & 111.0117 tanks are just plain special.  These watches are big, vibrant, colorful and fun in a glam-rock kind of way that sets them apart even among their peers.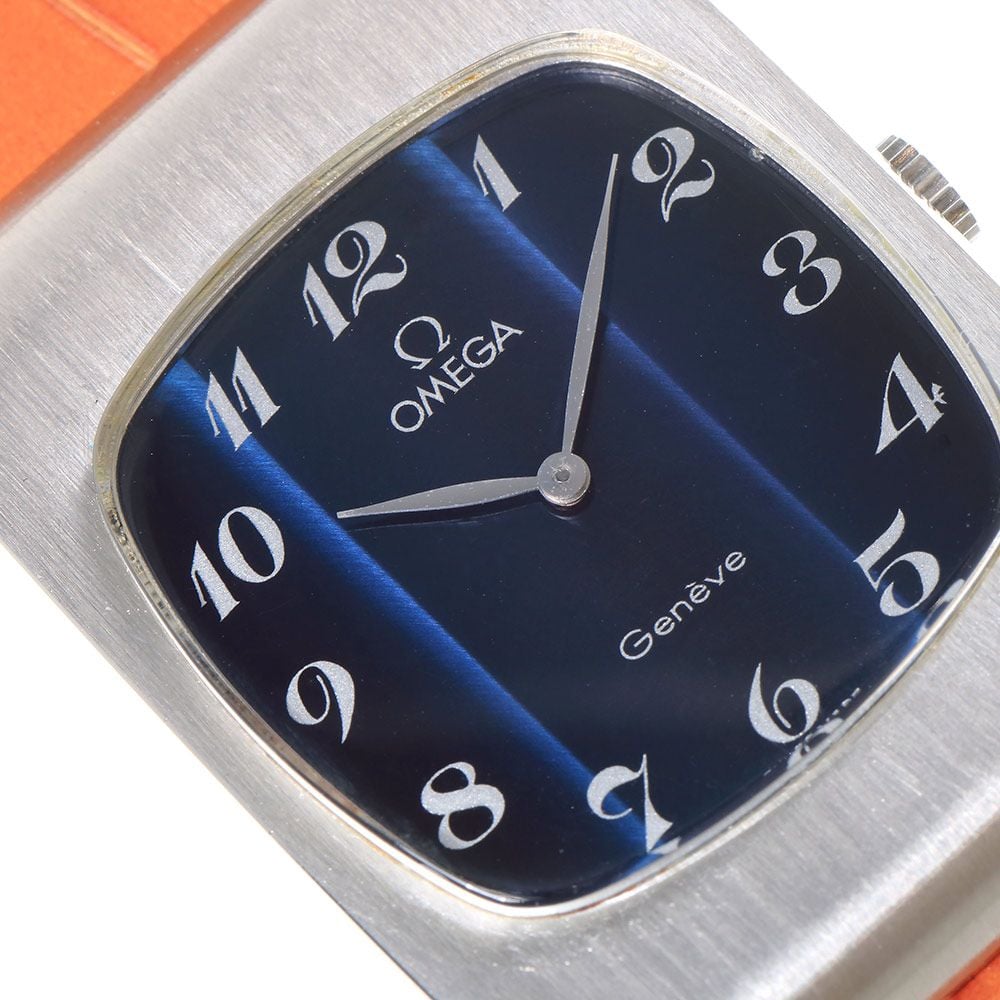 The Geneve line wasn't about chronometer rated movements or complications or beautifully finished cases with exceptional detail.  The Geneve line was about simplicity, creativity and flair at an affordable price point, and this allowed Omega to really experiment with this line without fear of "getting it wrong".  
The 111.0116 & 111.0117 really fit that mould.  The shape isn't rooted in a specific era and is both big enough to be comfortably a full-size men's watch and flexible enough for women to wear as an oversize piece.  The choice of colorful straps can dress it down as a playful statement piece while the bracelet can add a level of class to make it work with a suit.
More than anything, these Geneves are fundamentally different and unusual even within the incredibly broad church that is the Omega watch world.  Like the Deauville they're a branch of the design tree that was explored and as brilliant as it was, ended up being a one and done.  
Its unlikely that a watch like this will ever be made by Omega again, just as its strange that they ever made it in the first place but I'm very glad they did.
Case & Bracelet
These Geneves have two unique case references and dial shapes, but the external case dimensions are actually shared between the two.  Effectively the only difference between them is that the 111.0116 has a rounded-off rectangular opening in the front of the dial for the crystal and dial while the 111.0117 has a rounded-off square or "TV dial" opening instead.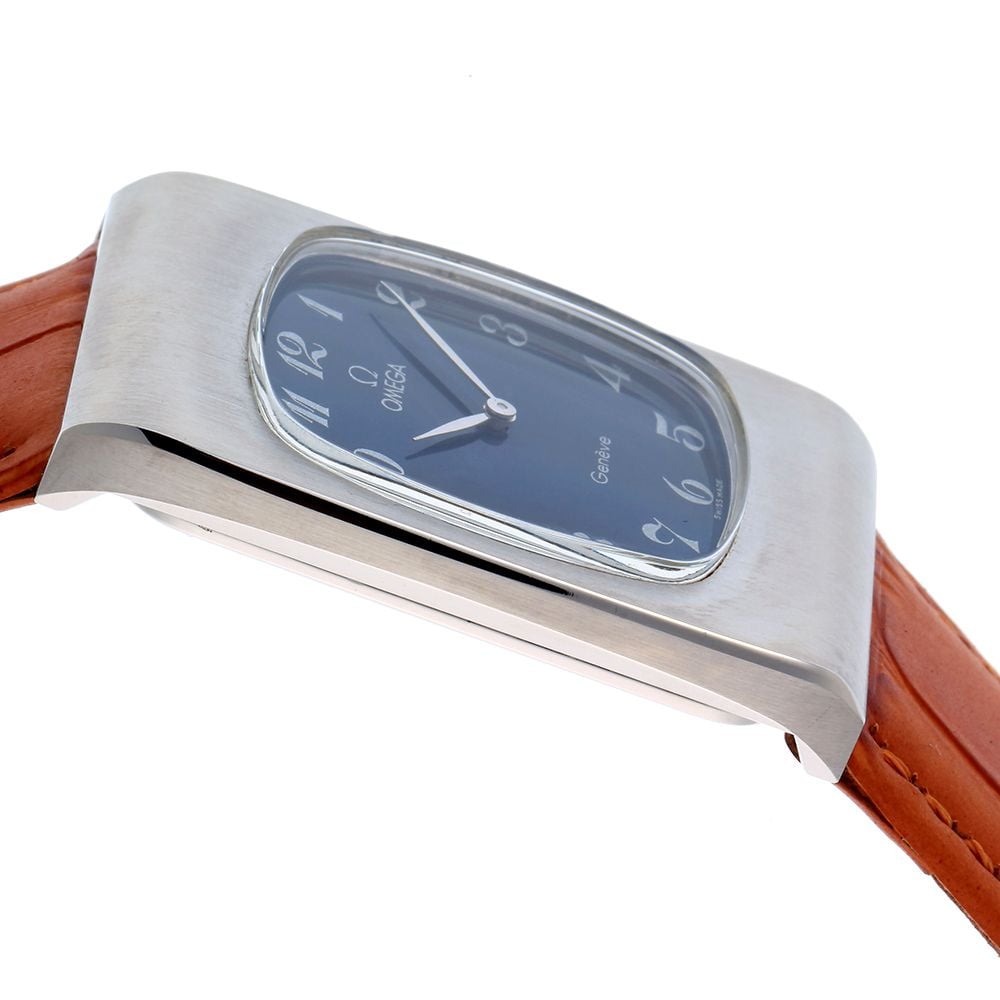 In both cases, these Geneves are not sealed in any particularly serious way and do not use the key-bolt compressor case design of other similar watches.  Instead, the case-back is a simple press-fit design which does not carry an official water resistance rating.  Suffice to say it is best to not get these watches wet in any way, shape or form if you want them to survive as they are simply not designed for that.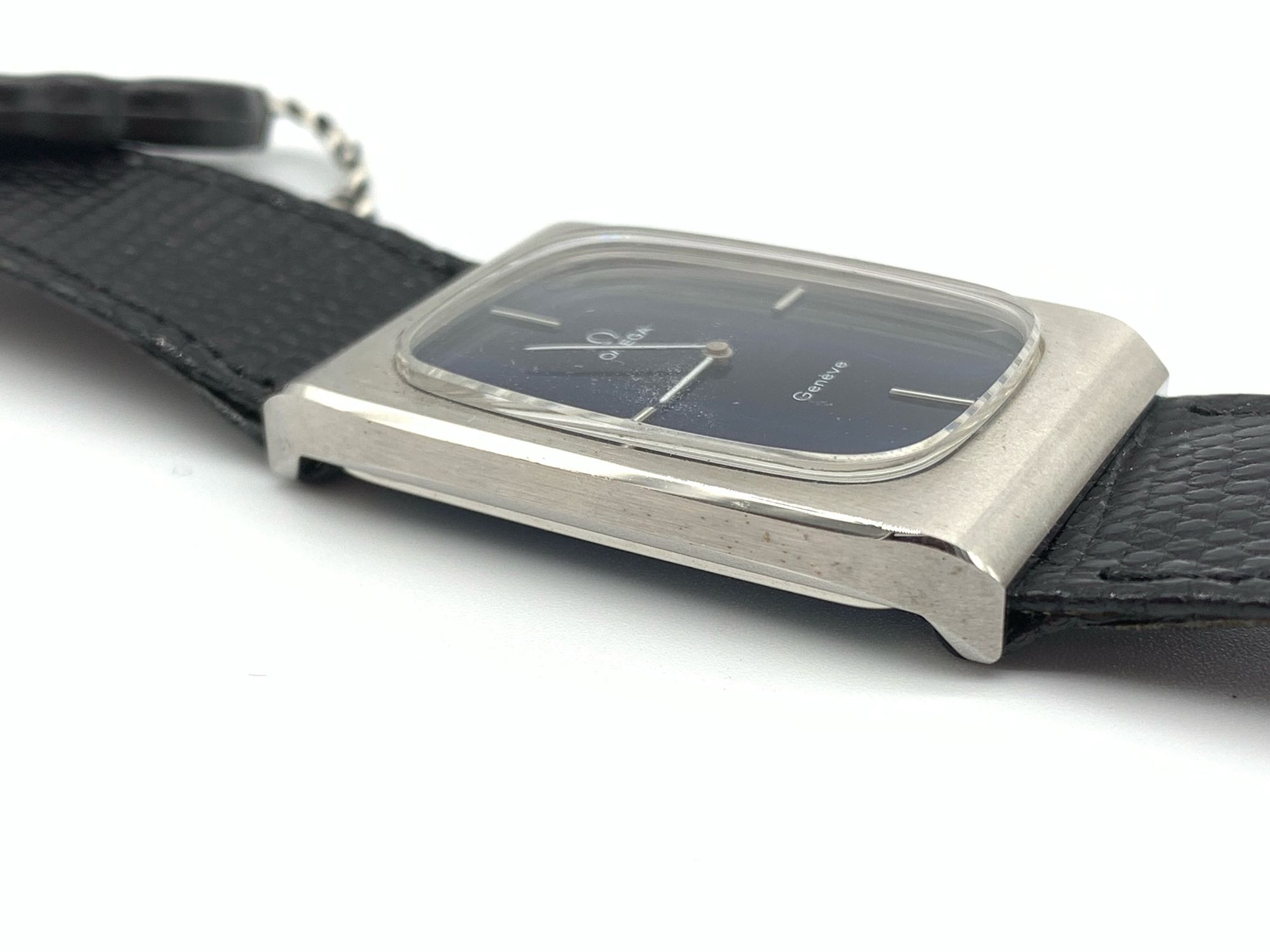 The shape of the case is mostly flat on the front face with no bezel around the crystal on either version, sloping downwards towards the hooded lugs.  In side profile, the case has a flat brushed side with bevels towards the case-back and towards the front face.  You can see how straight the watch is throughout its length side on, and how pronounced the hooked lugs are beneath the hoods.  It really is one of the most unusual and extreme shapes even among 1970's Omega models.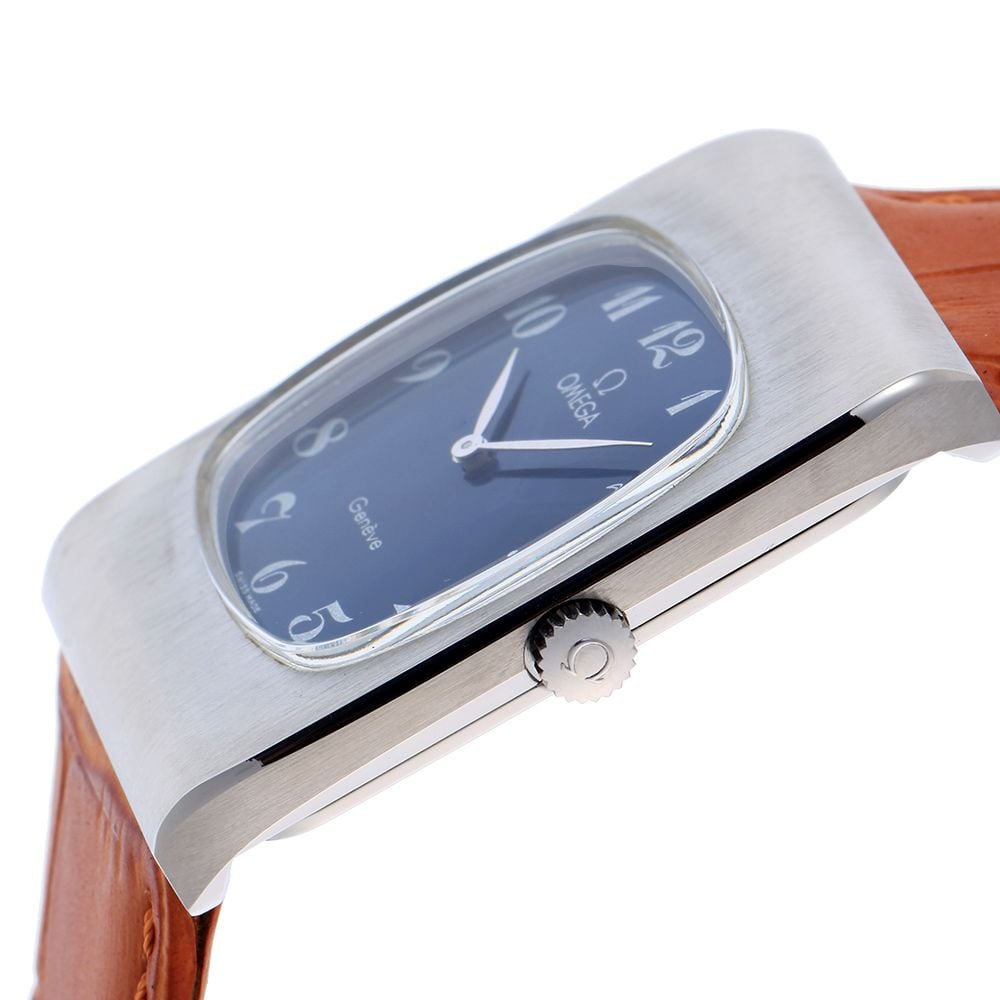 The lugs on this watch are capable of taking both straps and some of the larger bracelets of the era and measure an enormous 24 mm wide.  This lug width is oversize Panerai territory and gives the watch a very cuff-like look on the wrist.  It should be noted though, that while the lug width and strap is going to be huge, the 30 mm wide case can still be unisex and worn by anyone with the right strap combination.
Because of the wide lugs and how well hidden the connection to the case is, there is a wide variety of both first party Omega and third-party bracelets that can also fit these cases, ranging from single link Omega bracelets to mesh, to jubilee to beads of rice.  The creative options available really are limitless.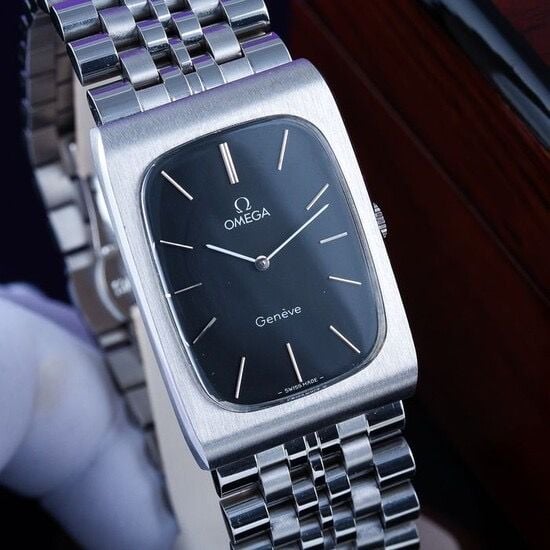 Movement
Calibre 625 is a movement typically employed by Omega when there is a need to take mechanical constraints out of the equation in order to allow the case design of a watch to take priority.  For this reason, the calibre sees equal use in both men's and women's watches with the common factor being a need for an ultra-thin and compact movement design.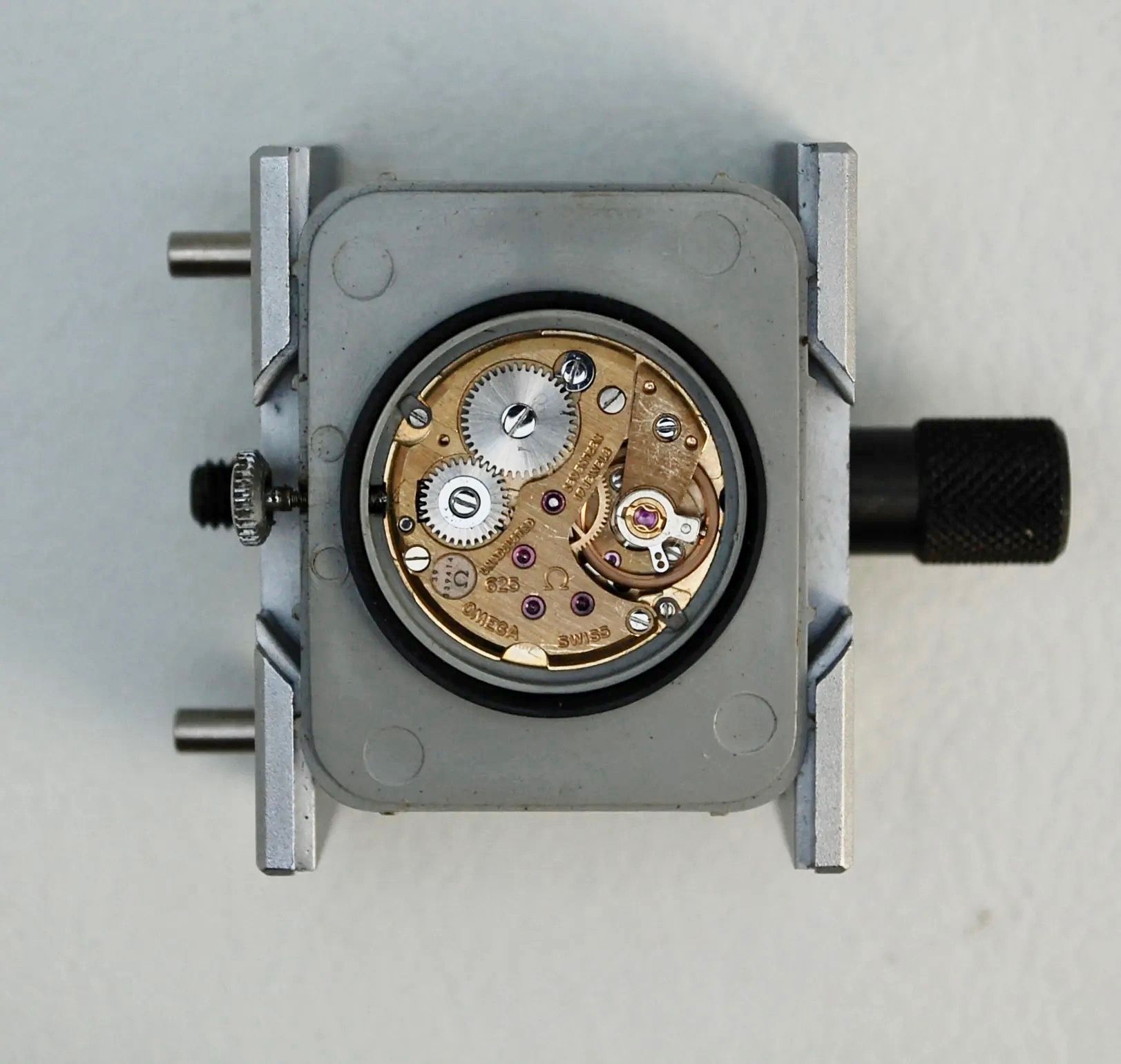 The Calibre 625 oscillates at 21,600 vph, is non-hacking, has no date, no seconds-hand, a 42-hour power reserve, and no other features to list.  The key feature of the movement is the size, which is a remarkably compact 17.5 mm in diameter and 2.5 mm thick, allowing it to work in almost any packaging.  As can be seen in the image below, there is an enormous amount of empty space around the movement in these watches, but that is normal and correct for this reference.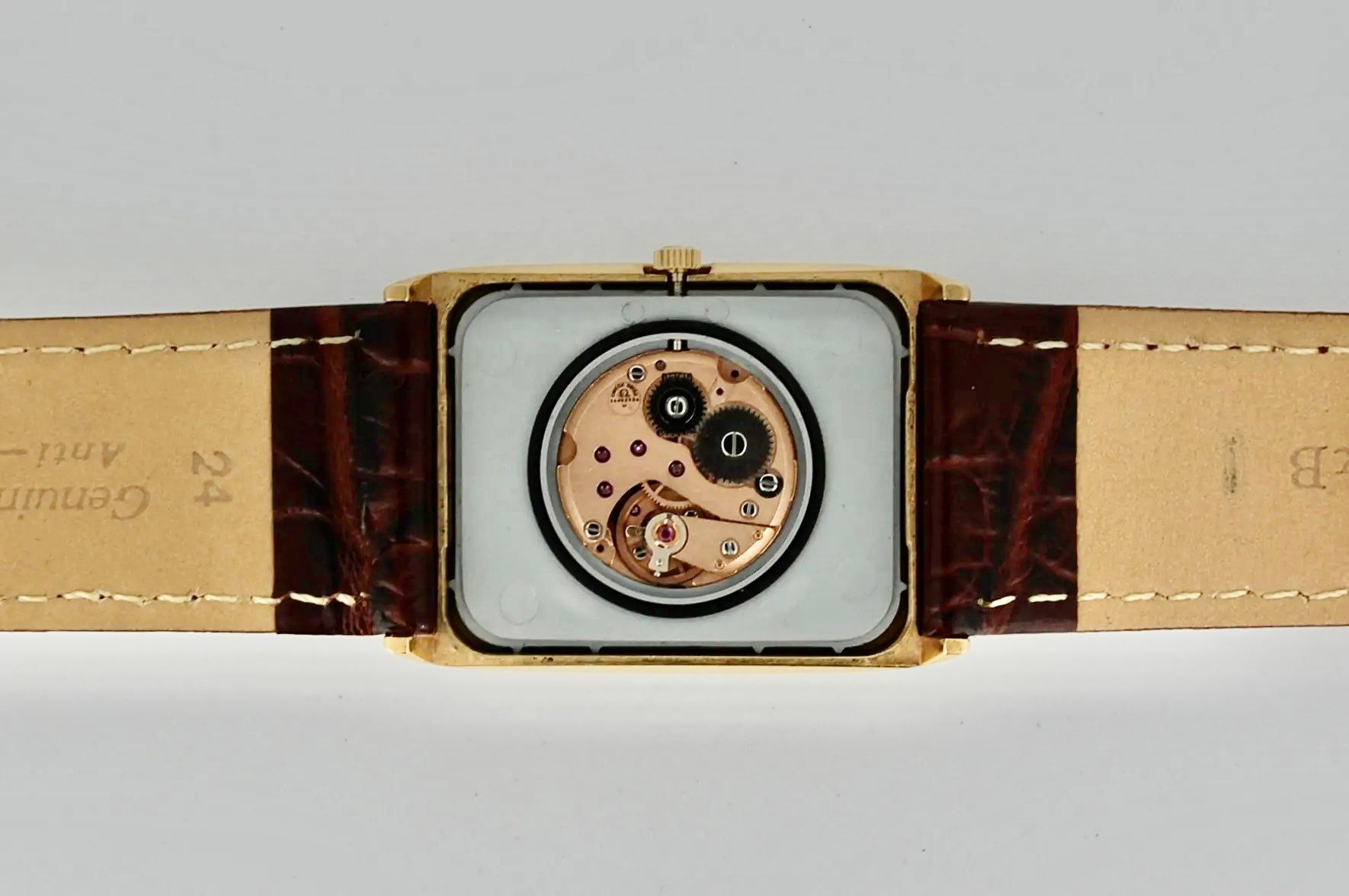 These movements do tend to be robust and plenty of spares and donor movements are out there in lesser watches, but the Calibre 625 also shares a great many parts with the Calibre 67x & 68x ladies' automatic calibres.
While these are not intended to meet chronometer specifications, they can be quite accurate watches still and will do a great job after servicing by any Omega certified independent watchmaker.
Variants
These Geneves are quite difficult to provide a comprehensive list of examples for because there are simply so many variants out there and yet a relatively small overall production run of the watches.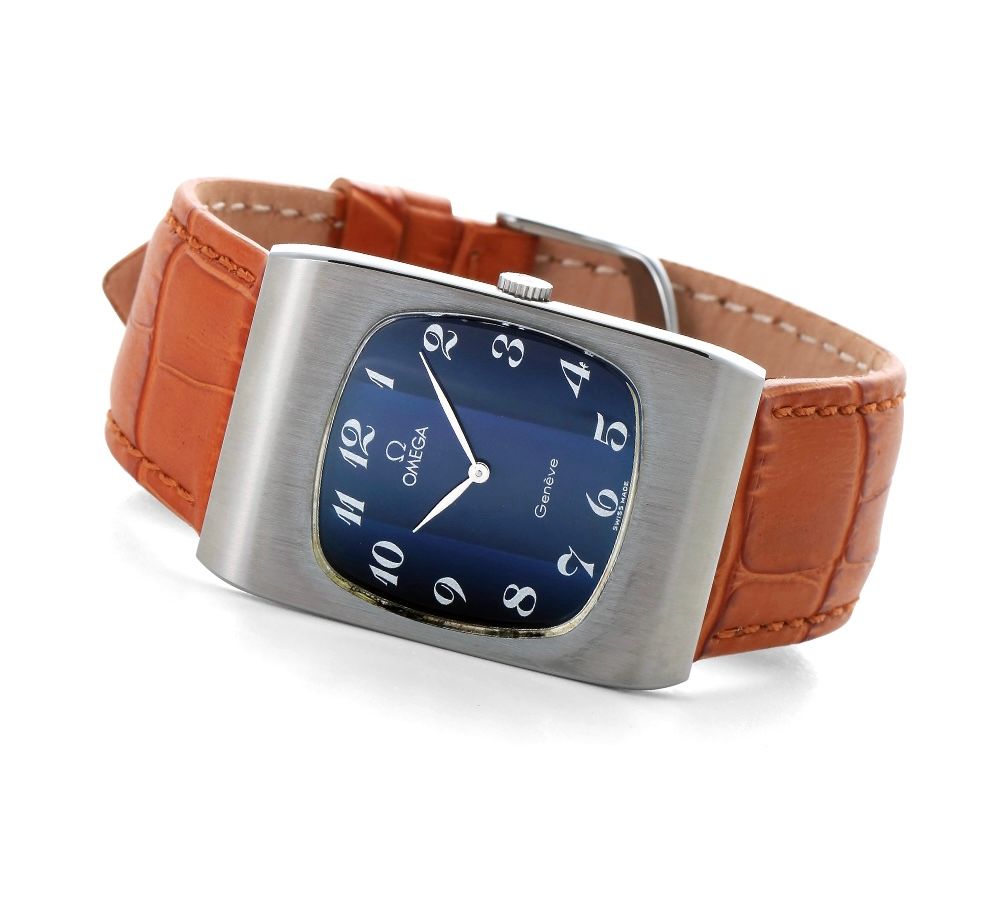 Of the two variants there are definitely far more examples of the rectangular dial 111.0116 than there are 111.0117 square dial models.  Variety also tends to be greater in the rectangular dials than in the square versions.
Rectangle Dial Ref 111.0116
The rectangular 111.0116 dials can be broken down into five categories, applied 12 & 6 Roman numeral dials, full Roman numeral dials, full Breguet numeral dials, regular stick marker dials, and 12, 3, 6 & 9 stick marker dials.  These watches are available in both stainless steel and in gold-plated cases.
Applied 12 & 6 Roman Numeral Dial
The applied 12 & 6 Roman numeral dials are typically a starburst metallic pattern in the background with either white or gold paint for the Omega logo at the top and the words Omega and Geneve at 9 o'clock & 3 o'clock.  The Roman numerals XII & VI are applied in gold or white gold on the dial to create a very minimalist look that accentuates the metallic color-change texture of the starburst dial.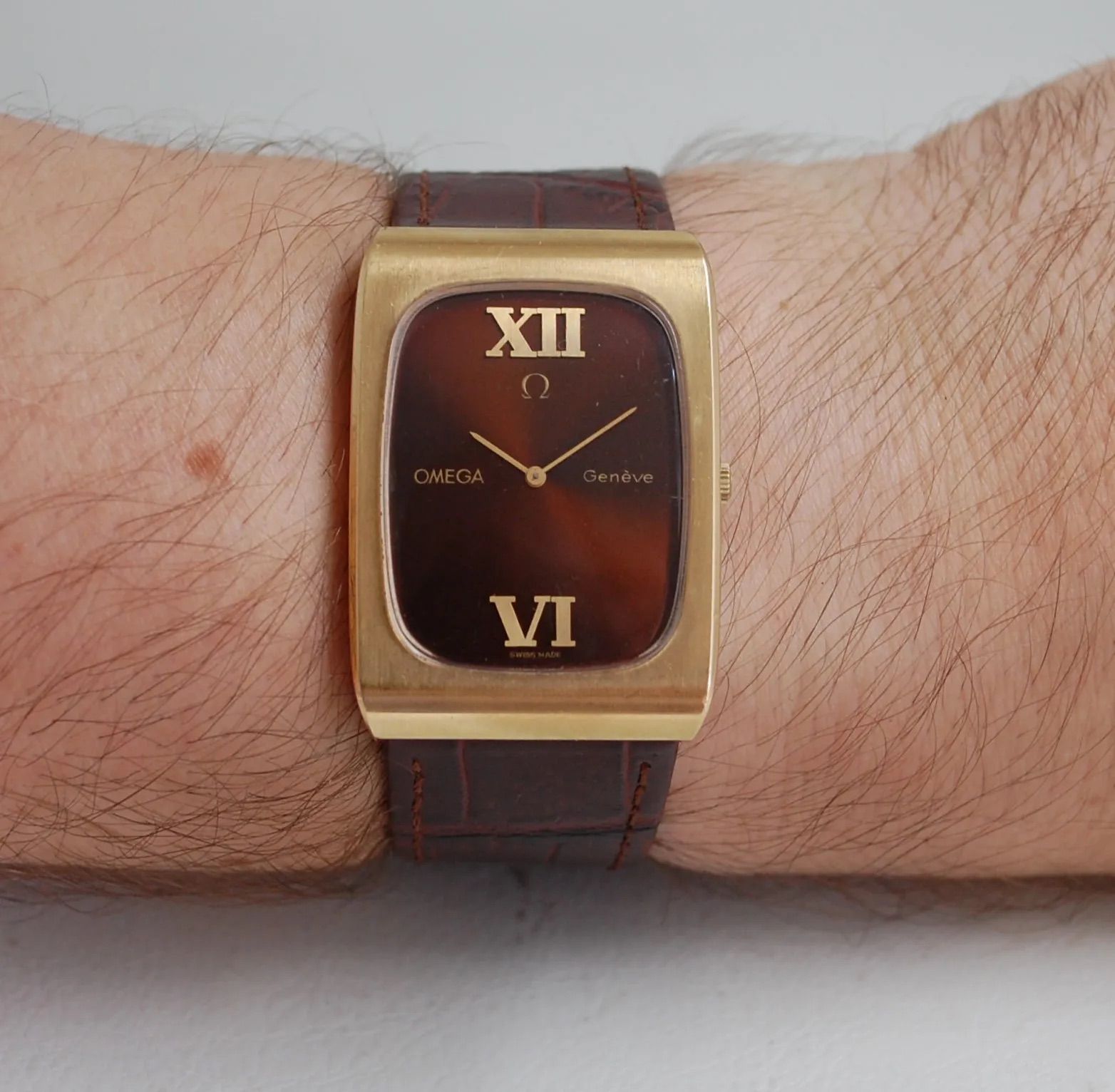 Painted Roman Numeral Dial
These dials have painted roman numerals at all 12 hour markers and feature a very unique dial texture with a metallic tiger's eye type finish which catches the light in vertical strands.  These dials are available in a few different colors including blue & grey but chocolate brown metallic is the most common.  The gold-plated examples have golden painted hour markers and dial text instead of white.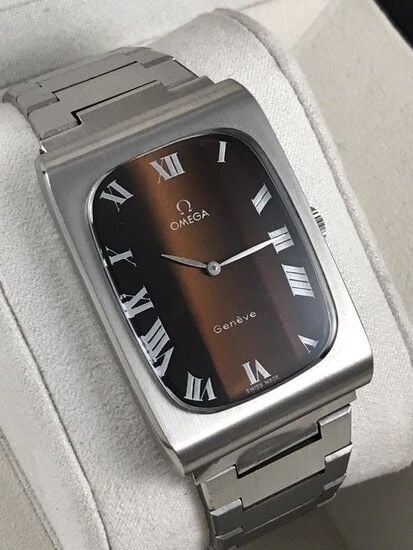 Painted Breguet Numeral Dial
The Breguet numeral version uses the same general pattern as the previous Roman numeral dial variant, gold-plated models have gold paint while steel have white.  The tiger's eye stripe pattern metallic dial effect is also present and quite beautifully so.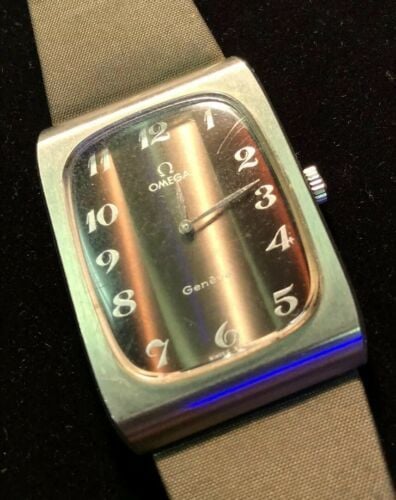 Regular Stick Marker Dial
The stick marker dials come in both painted markers and applied metal markers, both with stick hands in a variety of dial colors and in both gold-plate and stainless steel.  While these dials are not the most exciting compared to the previous versions, they're still quite elegant and with the right strap or bracelet can look amazing.
12, 3, 6 & 9 Stick Marker Dial
The 12, 3, 6 & 9 stick marker dials have a simple, minimalist layout allowing that tiger's eye dial to be seen and appreciated.  They come in a variety of colors but the blue below are particularly striking.  They can once again be found in both stainless steel and gold-plated cases.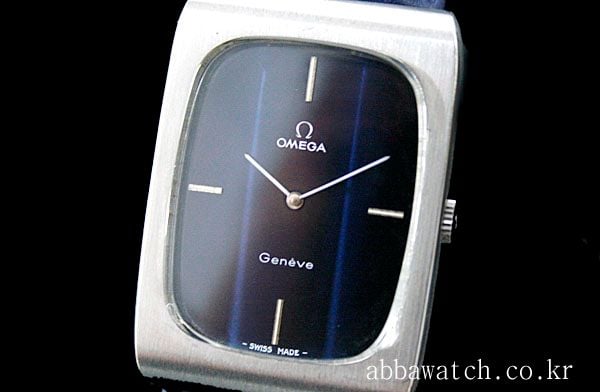 Square Dial Ref 111.0117
The square dial reference 111.0117 is much more limited in terms of dial options, which isn't overly surprising given that the total number of these produced is also much lower than the rectangular 111.0116 case.  These cases are found in both painted Breguet numeral dial variants and regular stick dial variants.  At this stage there don't appear to be any gold-plated cases in this reference, however if one is located, please let us know.
Painted Breguet Numeral Dial
This dial is undoubtably the pick of the two for the 111.0116 case reference with the stunning colorful tiger's eye metallic pattern giving ribbons of character to the background behind the Breguet numerals.  These have been seen in both grey and blue colors although there are likely more variants out there.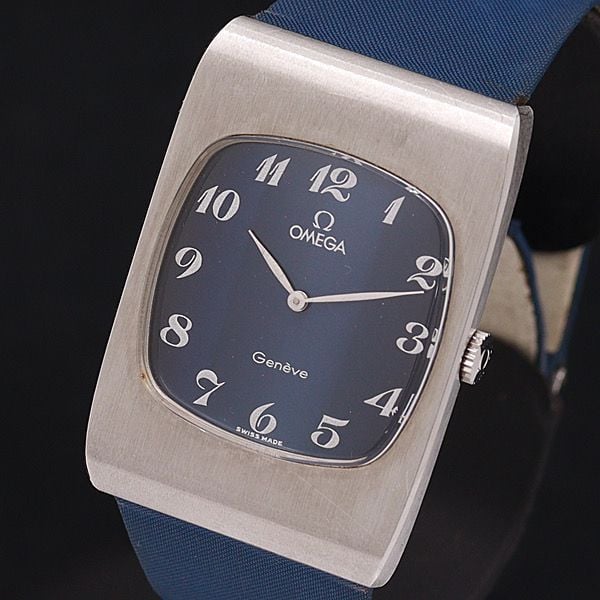 Regular Stick Marker Dial
As with the rectangular dial version, these stick marker dials can be either painted or applied hour markers with stick hands.  They come in a limited range of colors but are still an elegant choice that allows the case design to speak for itself.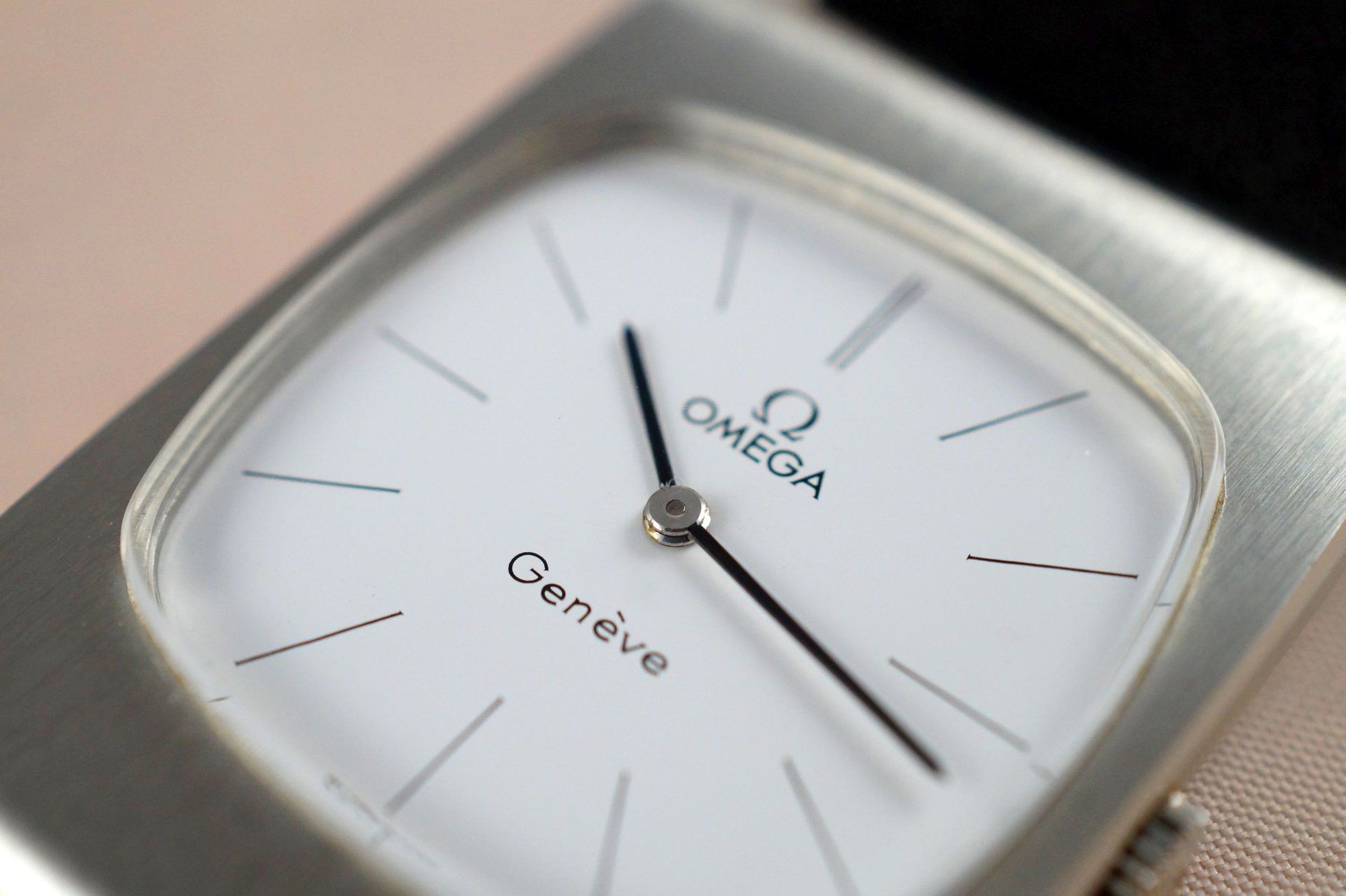 Buying
Choosing between the rectangular dial 111.0116 and square dial 111.0117 is probably not going to matter to most people as much as the choice of dial.  The tiger's eye metallic dials and the starburst patterns are really beautiful, special, eye-catching designs that set these watches apart and the way they interact with various straps.  That's what these watches are about and finding the best and most interesting example possible will be most people's priority.
Condition wise, these watches can be a bit tricky.  The case design, being rather slab-sided and blocky does attract scratches and dents quite easily and can lose the bevelled edges of the case if polished excessively.  The gold-plated cases also do experience wear-through of the plating easily and should only be bought if condition is excellent.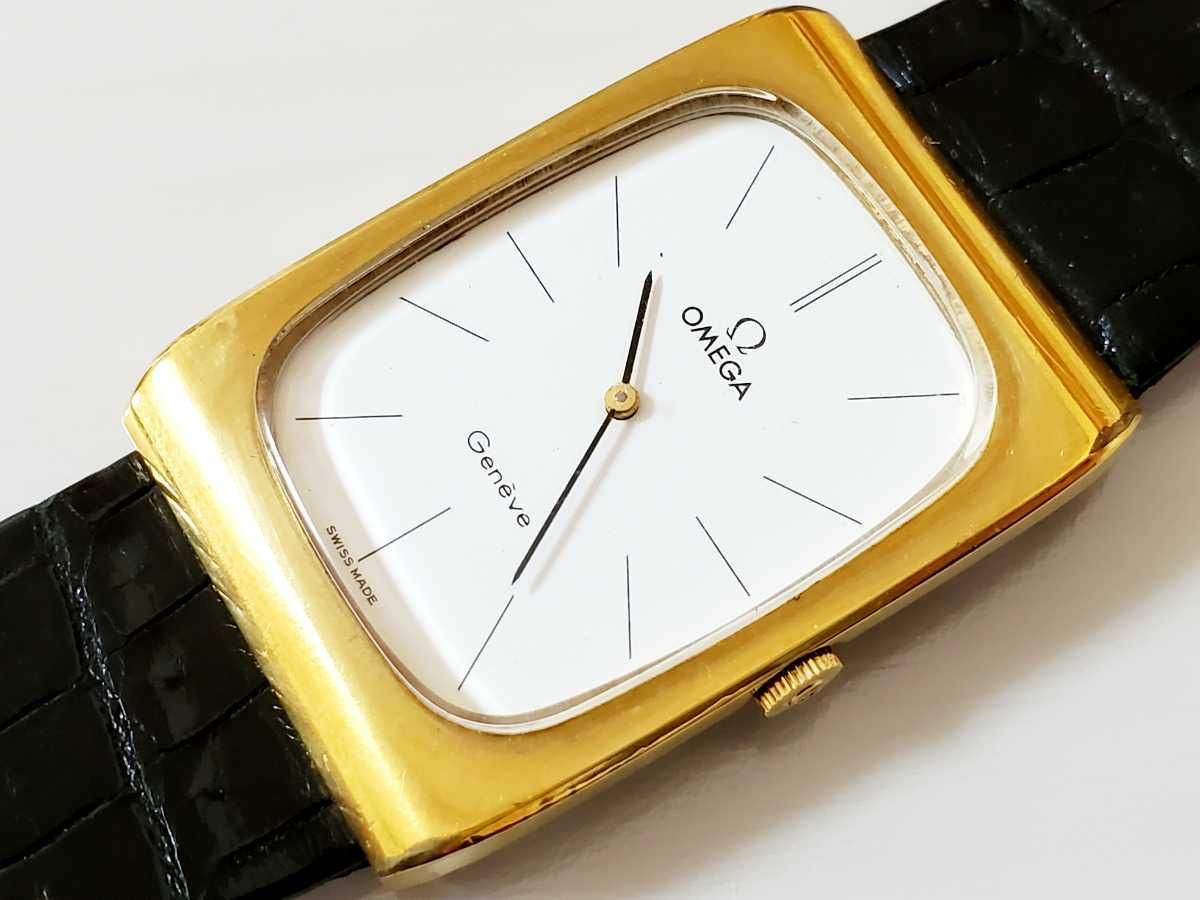 The poor water resistance is a major issue on these watches and can lead to degradation and serious damage of the dial and corrosion of the movement.  This is offset slightly by the fact that these metallic dials in particular do tend to resist moisture damage better than many of the older plain white dial watches but there are still many refinished dials out there to avoid.  The movement is less of an issue with these watches than in others due to how commonly and cheaply donors in good shape can be found, so even in the case of non-running watches, dial and case condition should be the highest priority.
These watches were sold all around the world and can be found just about anywhere, but there is a particular concentration of them found in Japan in rather good condition.  Finding them can be made more difficult by the fact that the press-fit case can be hard to open and the case is not easily recognisable.  As a result, they are often listed just as "rectangular Geneve" or "tv dial Geneve" or similar permutations and even references are often mistaken.  Sometimes you do need to cast a wide net and search for more generic terms and then narrow down by eye.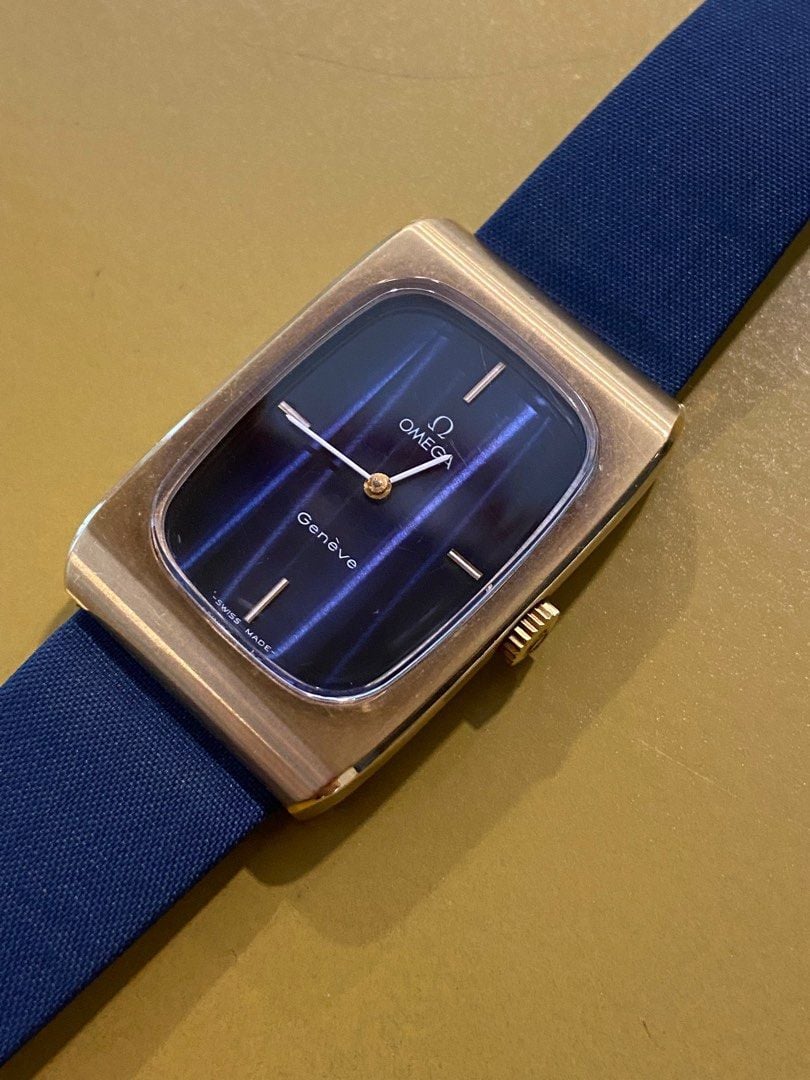 There always do tend to be a few available from dealers online at their own stores as well as Chrono24 and eBay, but as with other relatively unknown Omega models they ask for very optimistic prices compared to typical auction results.  When these watches go no reserve on eBay or other auction sites, there are very good deals to be had with very few bidders paying attention.
My personal favorite would be a metallic blue dial with Breguet numerals in a 111.0116 case on a bright orange full width strap similar to the header image, but the beauty of these watches is the limitless options.  As a unique, compelling and endlessly flexible design that catches the eye and draws a smile at a reasonable price, these Geneves deserve a great deal of appreciation.
Discussion thread on Omegaforums can be found here: