A larger and less common sibling to the oval shape Geneve Dynamic line most collectors are familiar with, these square case Geneve and De Ville models were produced for over a decade and have a style and variety of dial options entirely unique to themselves.
A Pair of Massive Squares
The Geneve & De Ville Dynamic square cases are a very substantial piece of 1970's eccentricity with a very unique style and presence and a variety of funky dials to make them really desirable.
These giant square case models get lost among the modular Dynamic case models, are often mislabeled and misunderstood and get overlooked for their round case cousin, but these are in my view more worth exploring.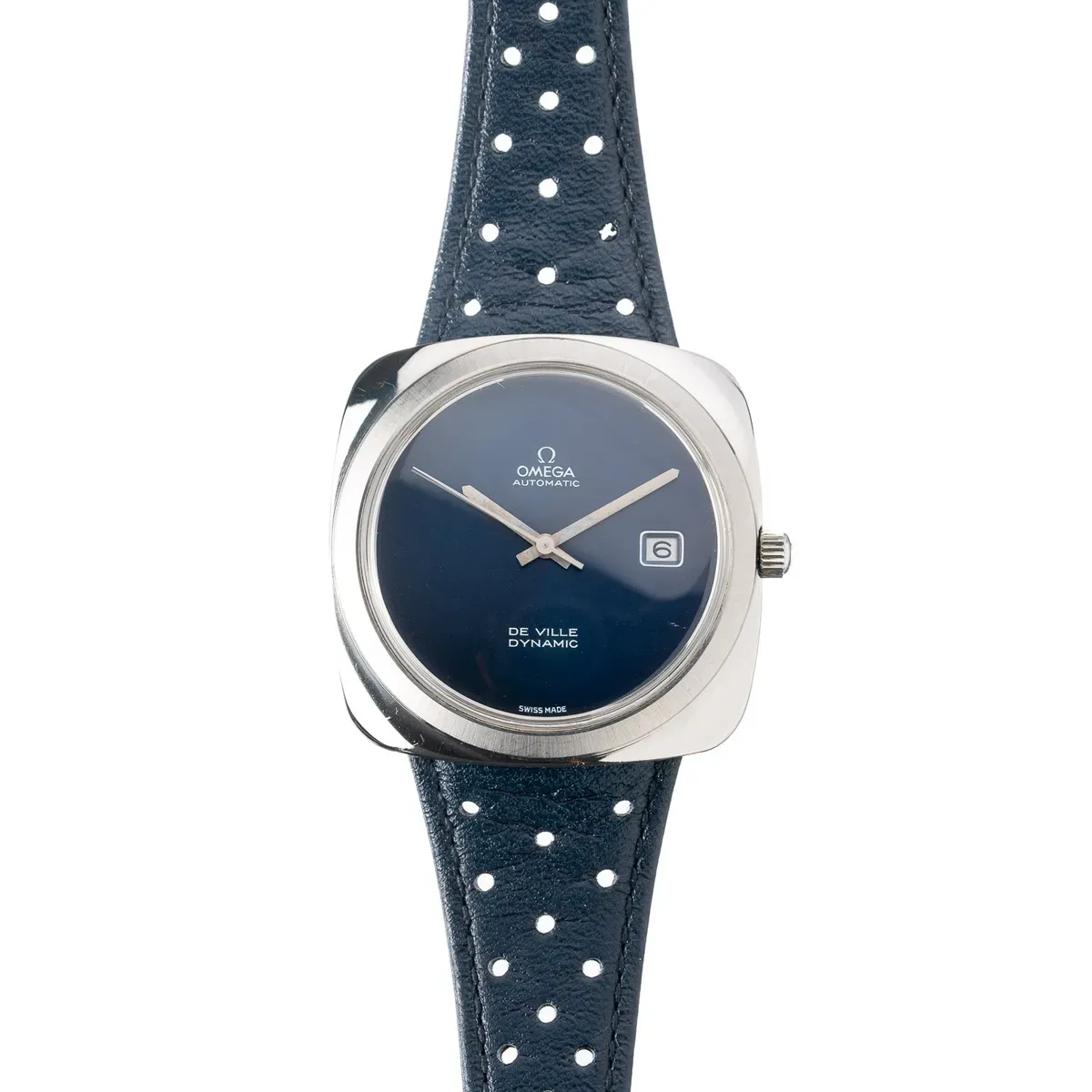 It should be noted that we are talking about two similar but separate watches here, the Geneve, reference 166.081 and the De Ville, reference 166.145.  Both versions of the square dynamic each have their own slightly different case design, their own reference and their own dial patterns to fit.  We go into a fair bit of depth into those differences along the way.
The Dynamic family are interesting in that they came out of the 1960's as a relatively affordable sporty watch and sold well enough that the final versions of the De Ville Dynamic were still being made even in 1979.  This is despite the fact that several new generations of watches and movements had come out during that decade.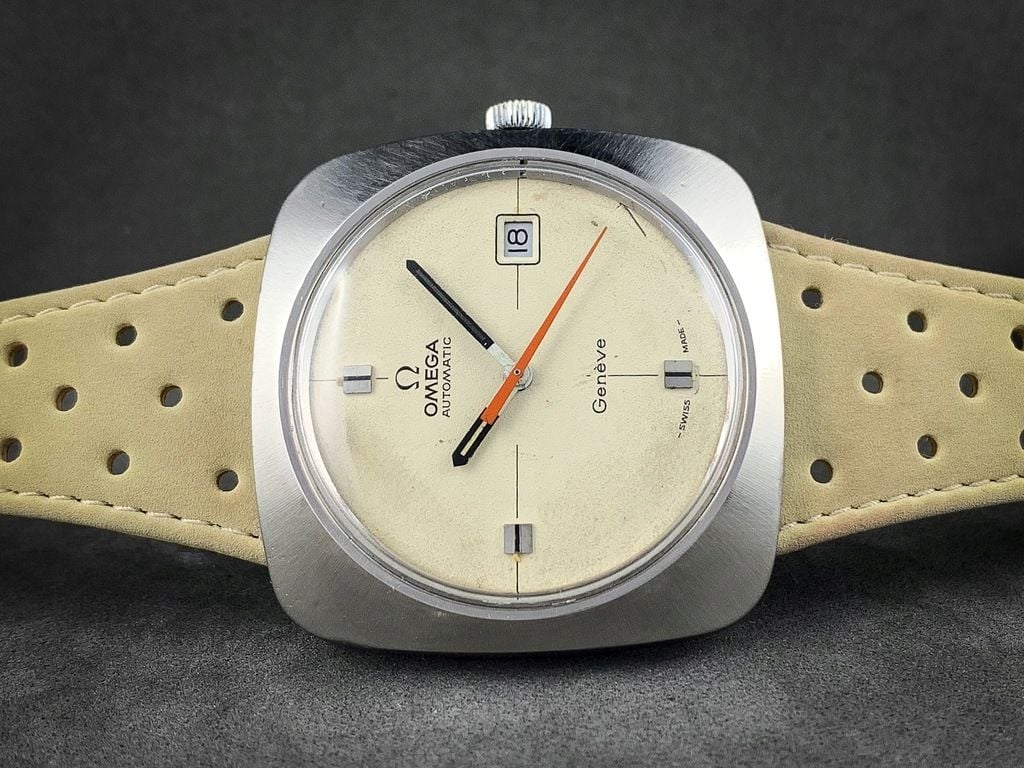 The Dynamic name would be revived in the 80's with a rather forgettable second generation bearing the Seamaster name, and a much better third generation in the 1990's.  These original models, born out of Omega's golden era though, are fondly remembered by collectors for their quality, style and flair.
Cases & Bracelet
Both of these square Dynamic case references have a lot in common.  They share an abnormally large 39 mm diameter, which translates into a very substantial wrist presence thanks to the cushion shape of the watch case.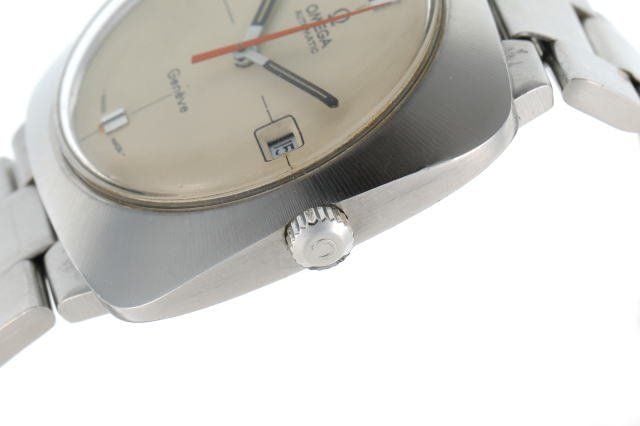 Both models utilize the front-loading mechanism Omega introduced in the 1960's to improve water resistance, so the movement is accessed by removing the crystal with a special tool and then removing the crown and stem.  They also feature a symmetrical case design with no crown-guards, allowing full access to the somewhat large knurled crown.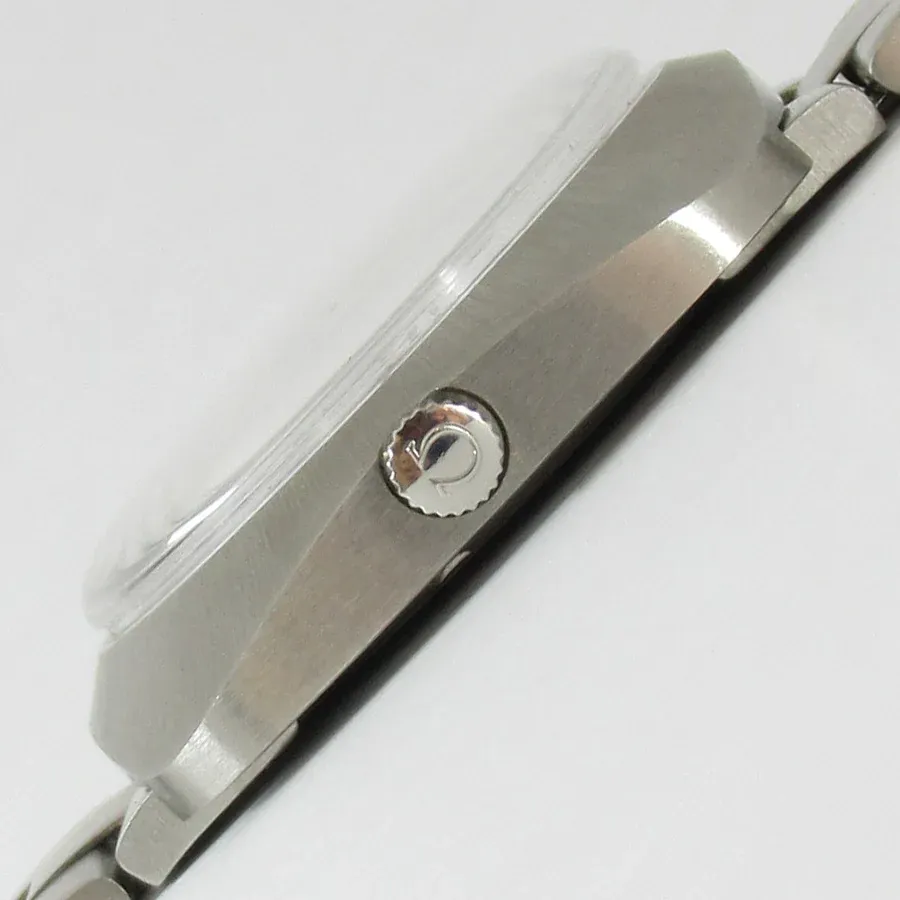 The water resistance of both watches is rated at 30 meters, and when considering the dial condition of most examples available for sale or in collections, they tend to have held up remarkably well, probably a fair bit better in fact than the round case Dynamic models.
Due to the way these watches are opened, it is best left to an Omega certified watchmaker with access to the right tools, and there is no point in messing around with these cases on your own as all you are likely to do is damage.
Like all first generation Dynamic designs, these watches feature a quick change system for both straps and bracelet instead of having traditional lugs.  This involves a locking ring on the back which presses either a one piece strap or a bracelet with a round opening into the case-back, which the locking ring then secures in place like the meat in a sandwich.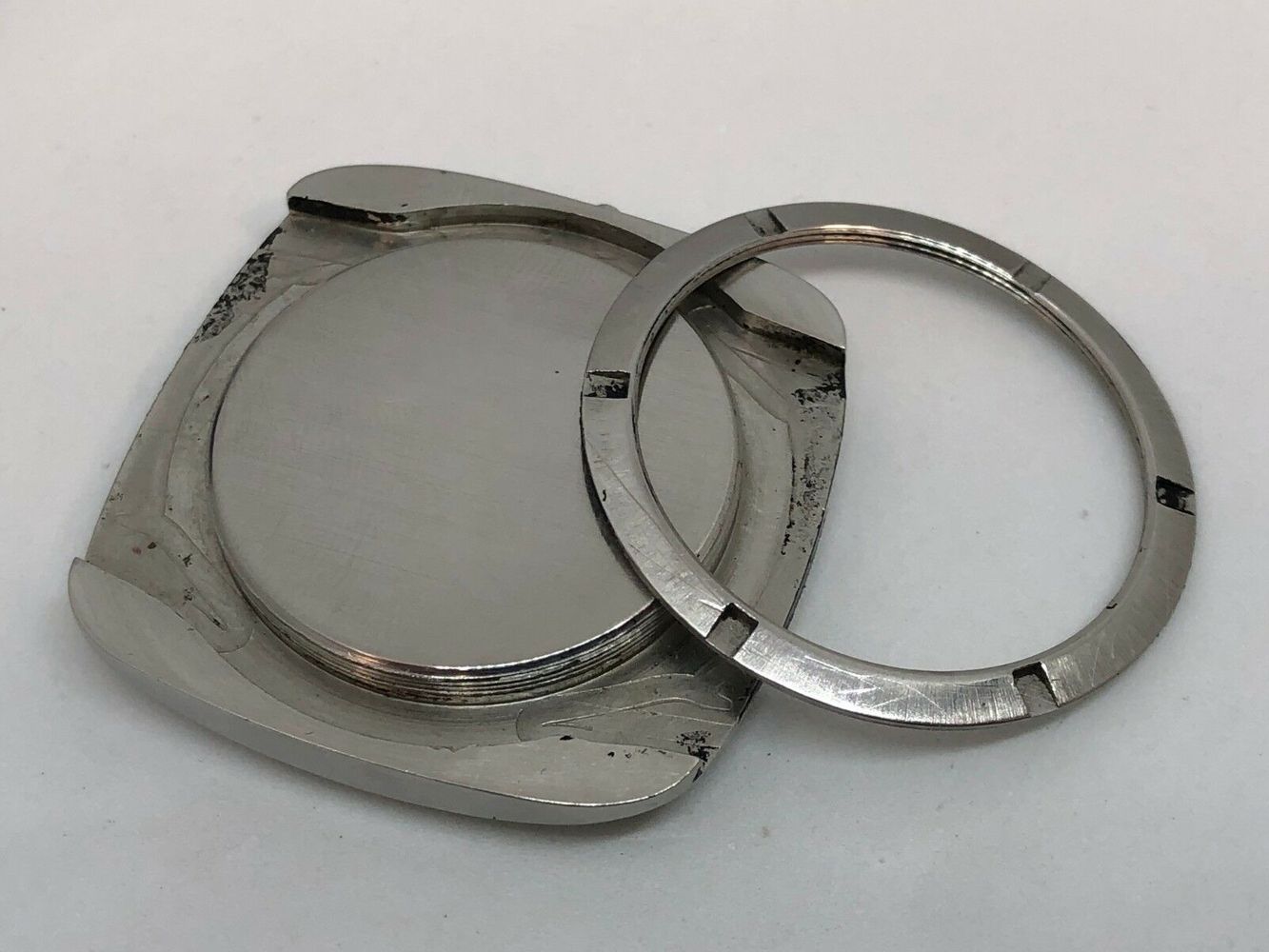 The steel link bracelet comes with two slightly different clasp designs depending on the era it was produced.  Both have removable links via push-pins and a large micro-adjust clasp.  Because of how many Geneve Dynamic models were produced, the bracelets are not that hard to source and the links are relatively plentiful on the secondary market.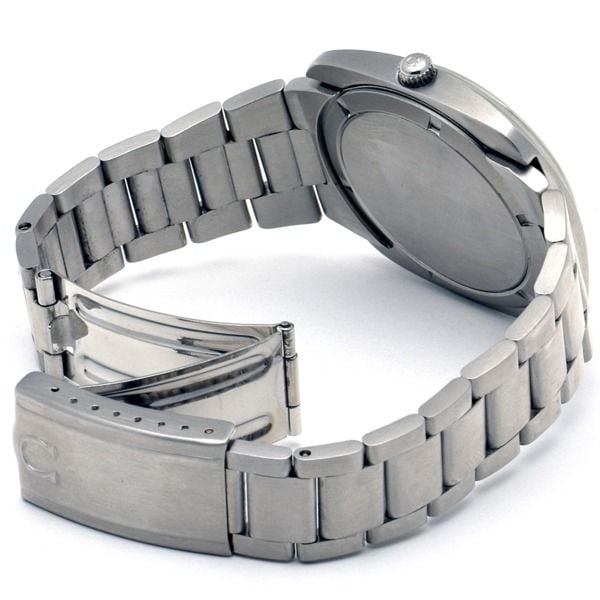 The Corfam strap options originally available came in both tang buckle and deployant clasp form.  These straps are a sporty, rallye style strap with perforated holes but the material is not the best quality or the most comfortable.  As a result, aftermarket straps for these are both available and typically preferable to the originals when it comes to wearing on the wrist.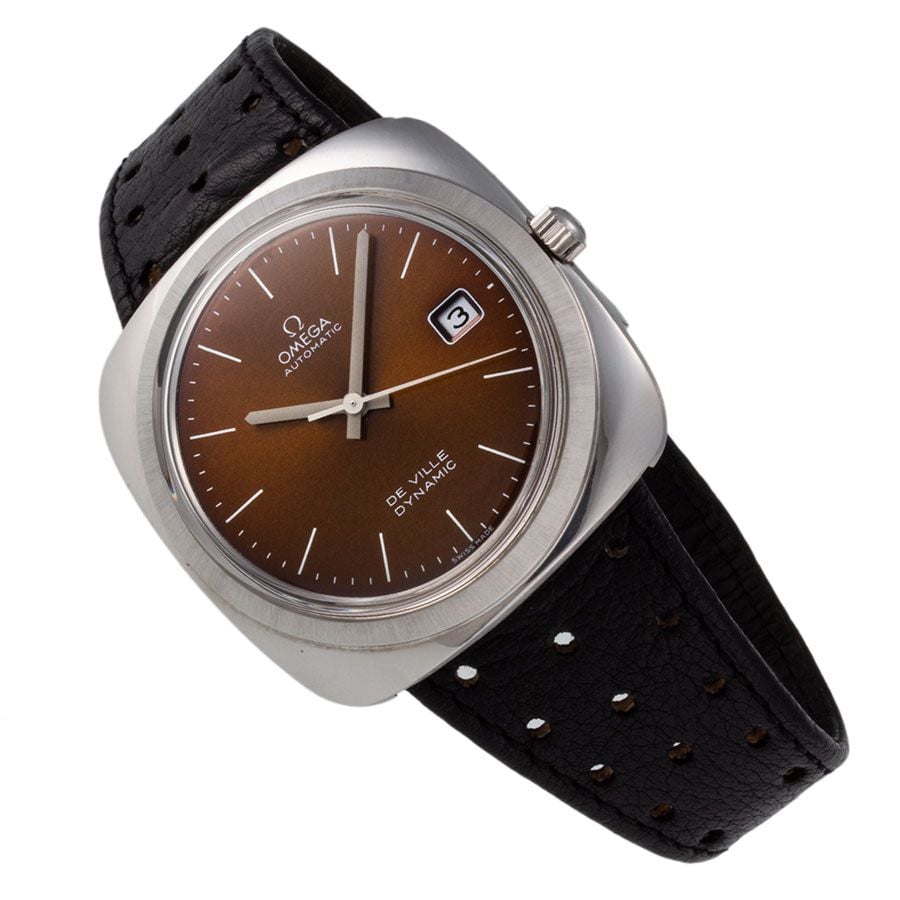 The front of the case and bezel is where the two references begin to diverge.
Geneve Dynamic 166.081 / 166.0081
Firstly addressing the Geneve Dynamic case, Ref 166.081 / 166.0081, this case is the simpler of the two and is most obviously identified by the lack of any bezel on the front face of the watch.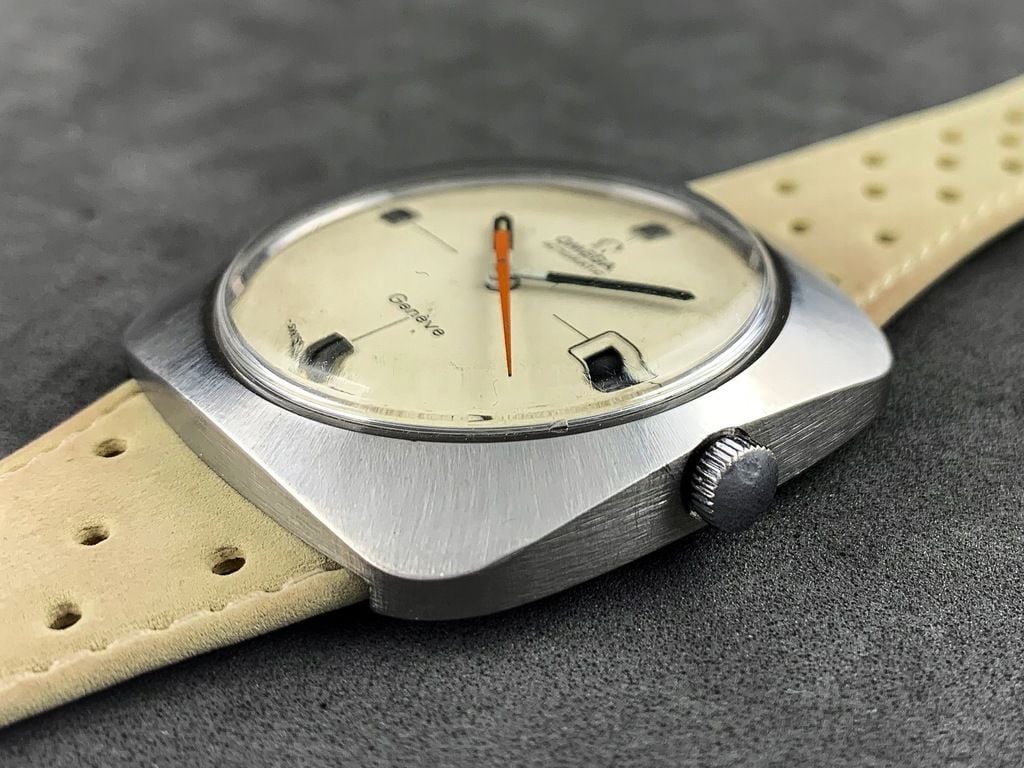 The front face is a single continuous, curved surface which tapers off towards the corners of the watch, while getting thicker at the edges and thicker again towards the crystal in the center.
The crystal of the watch sits prominently proud of this single surface with a significant amount of the side of the crystal being exposed.  
The finishing of the front of the case should be in a brushed starburst finish radiating outward from the center.
De Ville Dynamic 166.145 / 166.0145
The second reference, the De Ville Dynamic case, Ref 166.145 / 166.0145 is the more complex and dress oriented version of the prior Geneve.  This case is most obviously identified by a very prominent, thick and raised bezel surrounding the entire crystal.  This bezel is thick enough that it fills the entire distance between the crystal and the crown, yet it leaves the corners of the square case entirely exposed, making them appear much thinner than on the Geneve.
This bezel partially protects the crystal with part of it sitting proud of the bezel.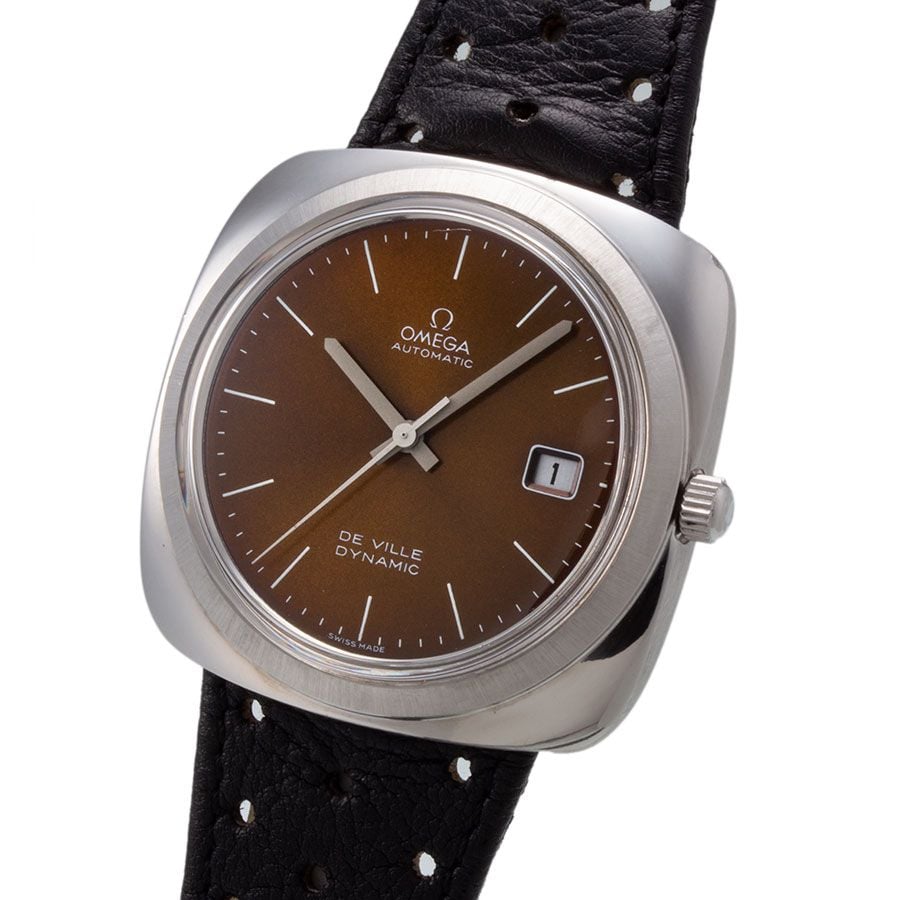 The finishing on the bezel surface itself should be a brushed sunburst pattern radiating outwards from the center, while the flat front surface of the watch outside of the bezel should have a satin finish without a grain to it.
Movement
Both the Geneve & De Ville reference are powered by the Omega Calibre 565 automatic movement, which is superb, accurate and reliable.
Oscillating at 19,800 vph, this movement is not chronometer rated, however it does feature hacking, an efficient bi-directional winding system with 50-hour power reserve, and a quick-set mechanism operated by repeatedly pulling the crown out.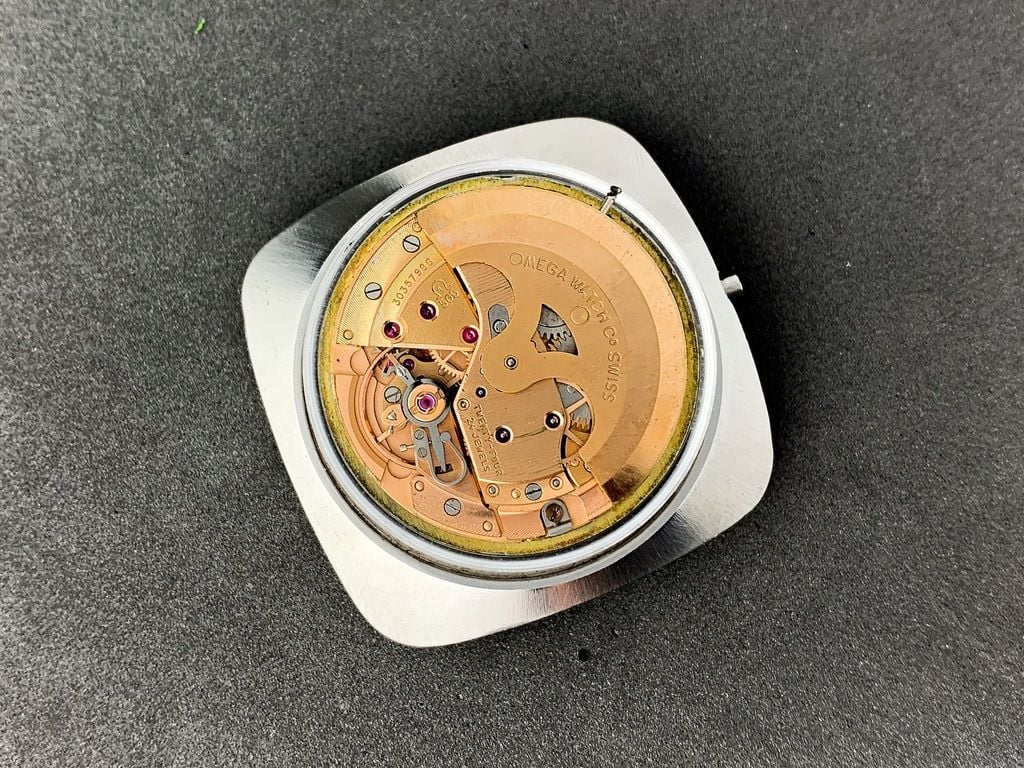 The Calibre 565 came at the very end of the second generation of the 5xx series and incorporates many improvements over earlier versions, representing the best of the breed.  Even though it was a 1960's design, Omega continued using it in limited numbers surprisingly deep into the 1970's on models like these Dynamics.
It should be noted that other calibres including the day-date Calibre 75x family should not be in these references, however because dials and movements are compatible incorrect combinations can often be found.
Because of how robust the Cal 565 movements are, even examples that have not been serviced in many decades are likely to run and even keep decent time without service.  This does not mean you should wear them in this condition as metal-on-metal wear is occurring when lubricating oils have long dried out.  This can lead to much more expensive parts bills down the road when the watch is eventually serviced, especially relating to the automatic winding system.
These movements can be serviced cost effectively by any Omega certified independent watchmaker with access to an Omega parts account for much less than the cost of a factory service.
Dial Variants
Geneve Dynamic
There's a fairly broad variety of Geneve Dynamic dials available for the 166.081 / 166.0081.  It should be noted that these watches are compatible with dials from many other watches, including round Geneve Dynamic dials. These occasionally appear in square cases, but don't seem to be original to these cases although if anyone has evidence to the contrary I would love to see it.
The first pair of dials are the concentric dials.  These come in chocolate brown with white dial text, and silver with black dial text.  Both dials feature applied dial furniture and stick hands with no luminous material.  The concentric rings in the outer part of the dial is actually three dimensional and cut into the dial rather than being painted on and adds quite a bit of depth and individuality to these models.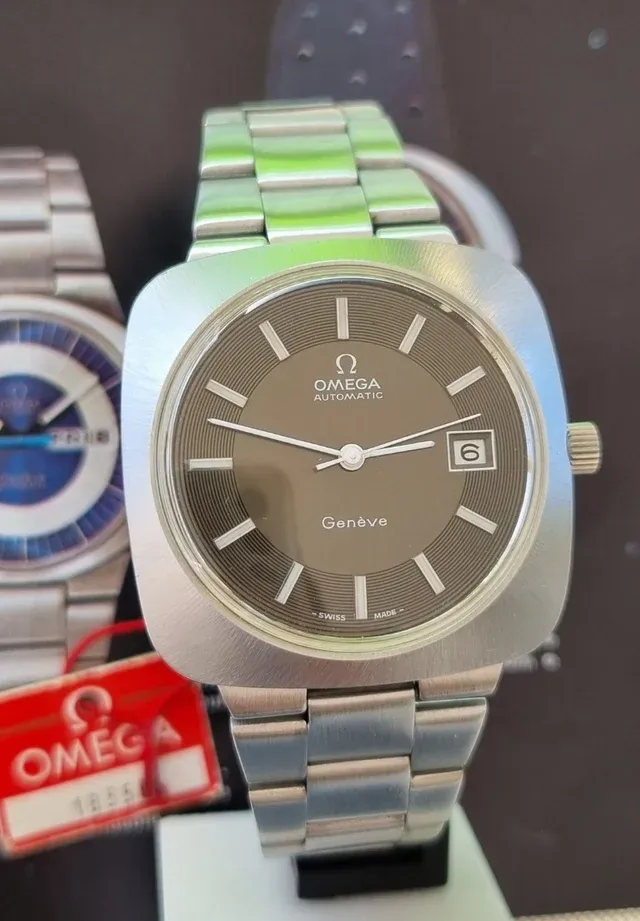 The second group of dials consists of four colors, a jet black and mid blue dial with white dial text, white paint on the dial furniture and white hands, and a cream and grey dial with black dial text, black paint on the dial furniture and black hands.
All four are luminous with tritium dots at 3, 6, 9 & 12, and luminous inserts in the hour and minute hands.  The applied hour markers and date window have a partial crosshair running through them with other hour markers and seconds track absent.  These watches have an orange hand instead of white for better contrast against the lighter dial colors.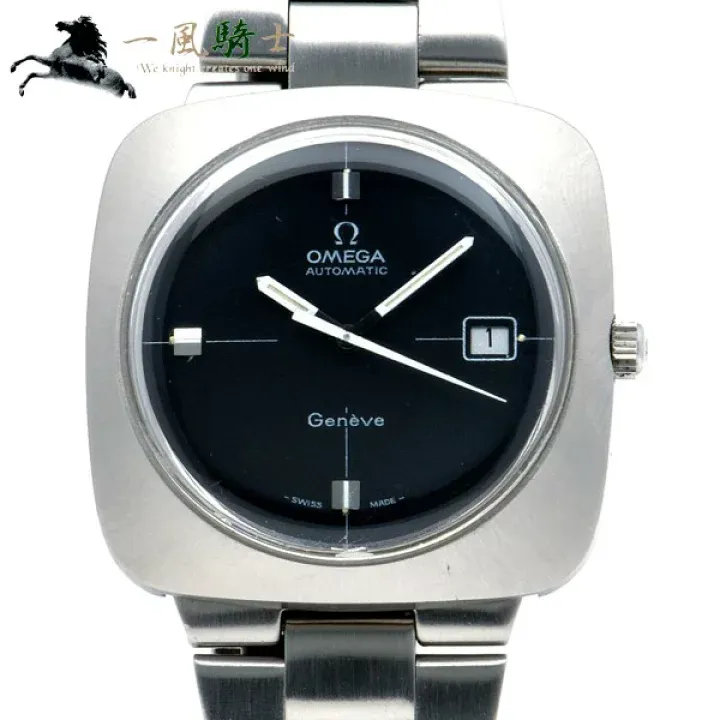 The final pair of dials are the "extras" that don't really fall into a class or category.  Firstly there is a a black and silver tuxedo dial with applied silver hour markers against black around the outer edge and a center section in silver with a radial brushed finish.  These dials feature black paint and black hands to provide contrast against the silver silver center.
The second is a black dial similar to the black dial above with applied hour makers at 3, 6, 9 & 12 o'clock, but with the addition of painted markers at the other hours.  These dials have a noticeably different font weight from the 3, 6, 9 & 12 dials and are relatively uncommon.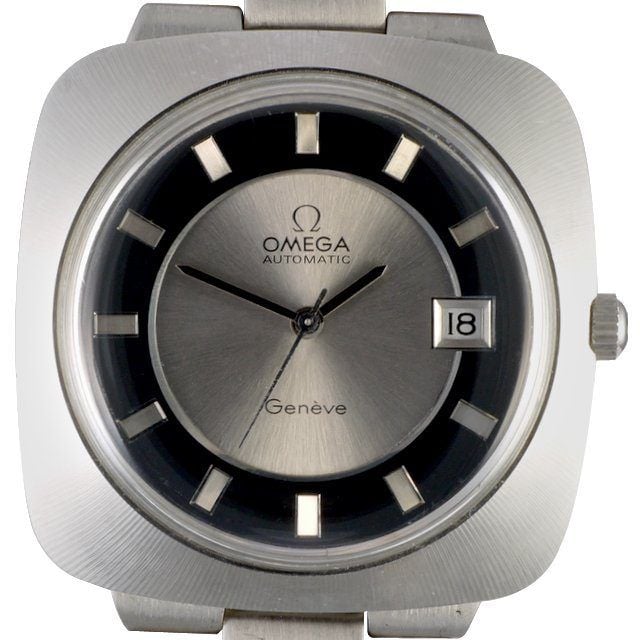 De Ville Dynamic
The De Ville Dynamic 166.145 / 166.0145 also offers a wide and vastly differing range of dial options which not only differ by color and style, but also by dial furniture and even modern or vintage Omega logo.
The first batch of dials worth mentioning are the most straight laced designs.  These come in silver and black, with applied, modern Omega logos and contrasting color dial text.  There is applied dial furniture with black painted tops and an applied metal date window surround.  These dials can be luminous or non-luminous.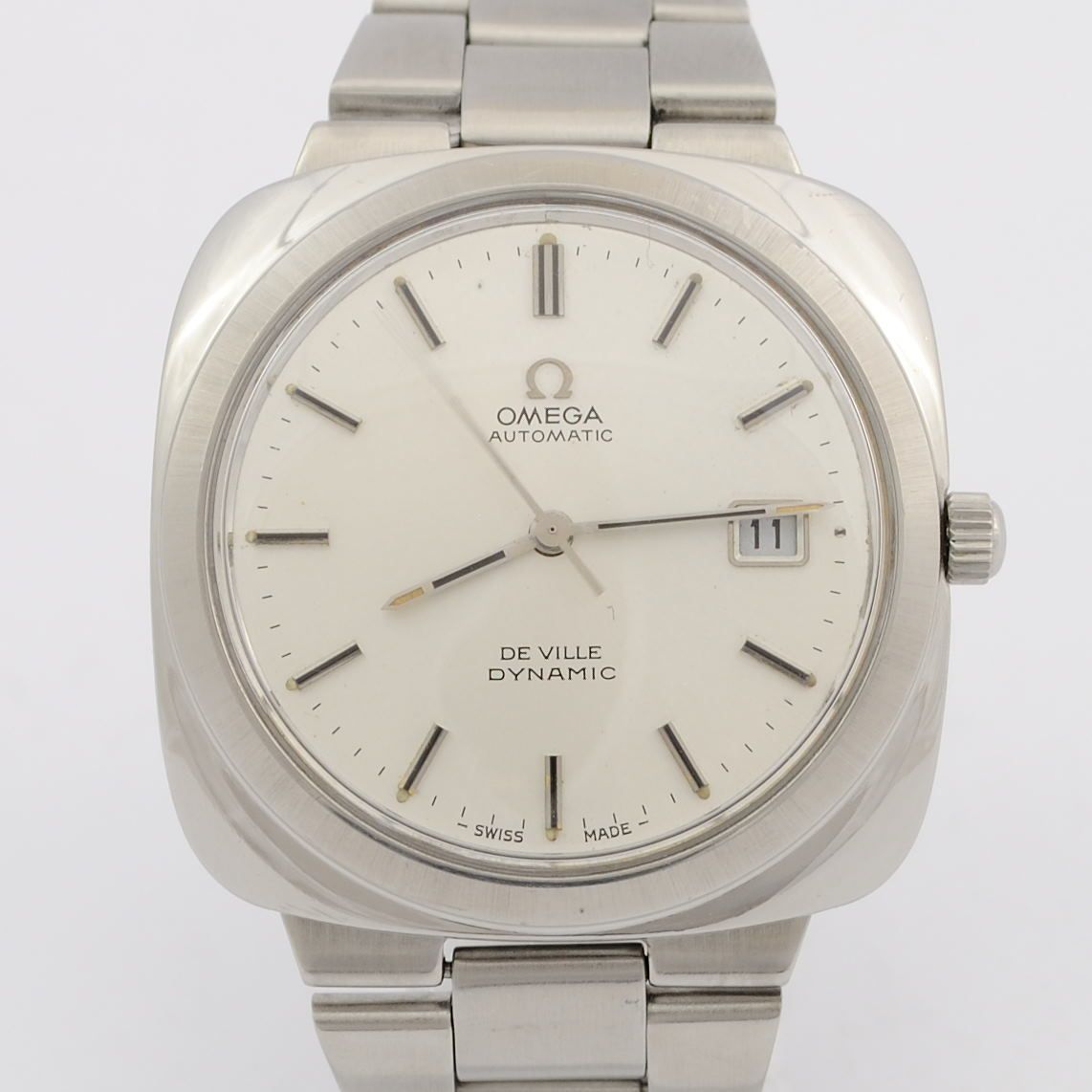 The second pair of dials are quite different from each-other but we're grouping them as they both have colored dials and hour markers.  The blue dial is spectacular and VERY difficult to fully appreciate.  It has a chaotic metallic blue texture similar to a meteorite or the swirling pattern in a bowling ball with a great deal of depth and is unlike any other similar Omega dial I've seen.  These are relatively common too which is great news as it probably is the pick of the De Ville Dynamic collection.  It has applied hour markers, Omega logo and dial furniture with luminous stick hands and tritium dots at the outer edge of the hour markers.
The copper brown colored dial is a metallic starbust pattern with painted hour markers, painted date window and painted Omega logo.  This dial is non-luminous and rather distinctive hands shared with the marker-less dials which are just solid metal stick hands with a white second hand.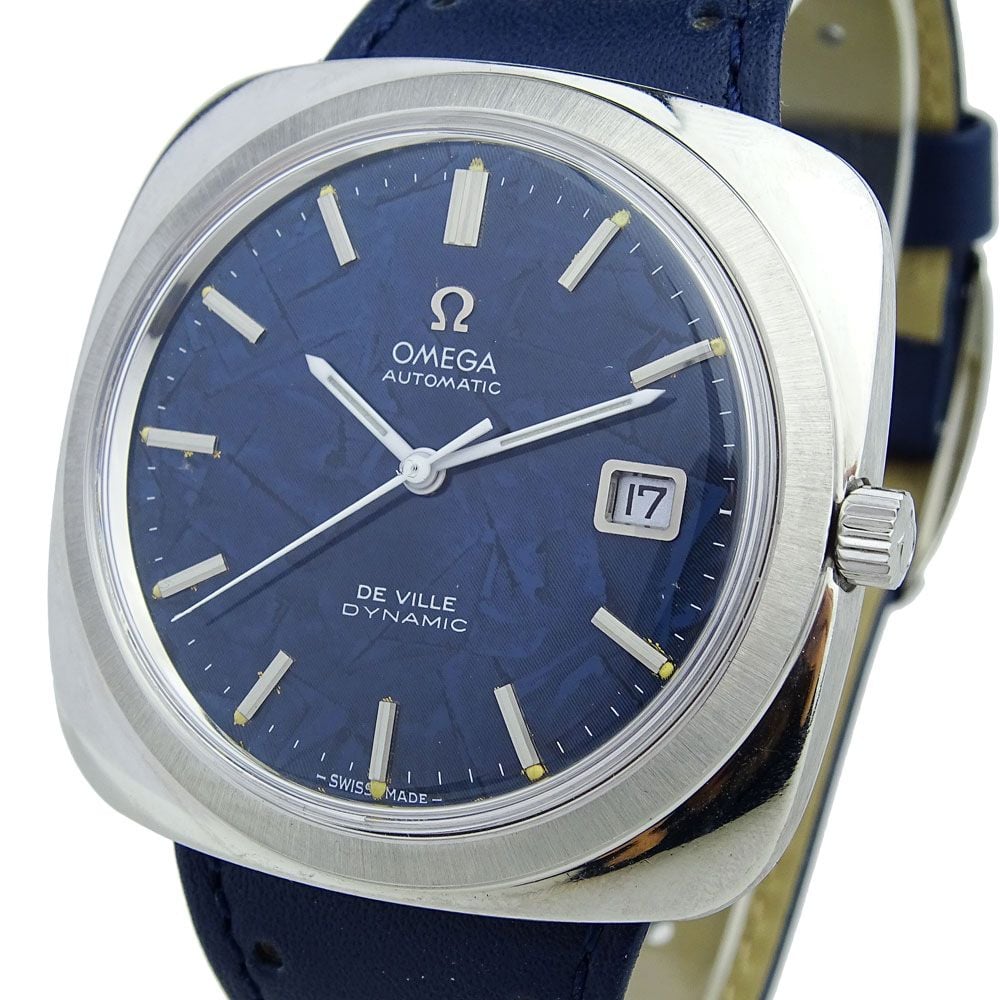 The third set of dials are much more avant-guard and feature no hour markers or minute track around the outside.  The only markings on the dial are a painted date window, the Omega logo at the top, the De Ville Dynamic markings below and Swiss Made at the bottom.  These dials come in a rich solid blue color and a metallic starburst copper brown color.  While not exactly the most practical design for time-telling purposes, these dials really are quite spectacular and have a tremendous presence to them.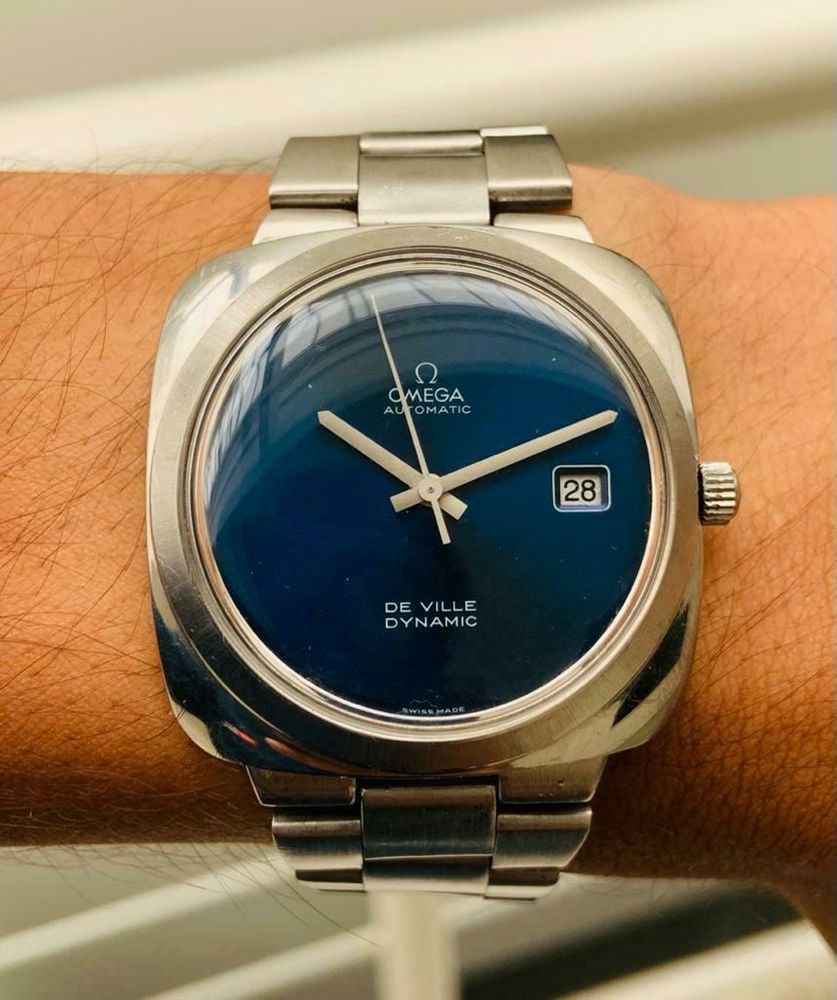 The final dial option is a white painted dial with leaf hands and roman hour markers with black painted text, Omega logo and date window surround.  This dial is unusual in that it has more dress oriented leaf hands to match the roman numerals and omits the seconds track around the outer edge.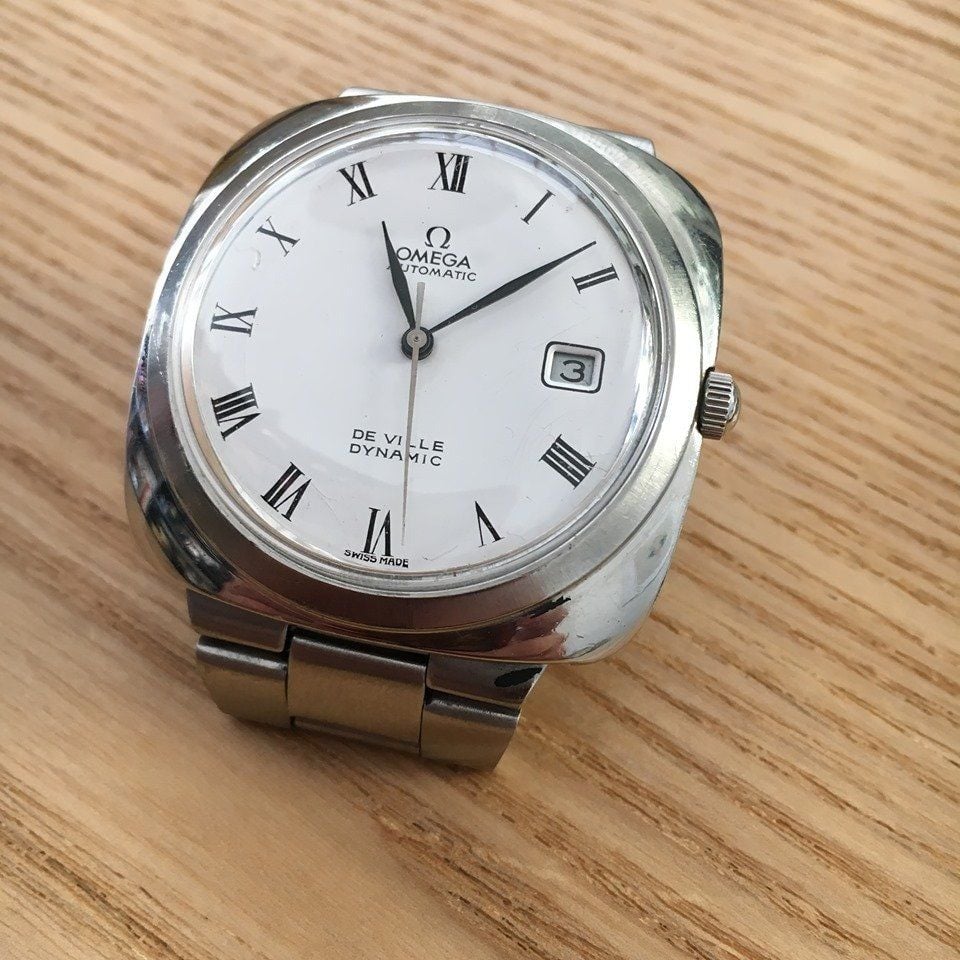 There are some gold-plated cases for the De Ville Dynamic floating around but these seem to utilise the same dials as the stainless steel variants.  The reason for this is that there are no hour markers that need to be changed to gold for the most part.  There may be more dial options out there that are not covered here, and if you find one that you are sure is original, please get in touch with some photographs.  Do also keep in mind that incorrect and re-finished dials are not entirely uncommon among these references.
Buying
There are a lot of very different dials and designs in this family of two references so it is worth spending some time looking at the different dials and choosing the one that appeals to you the most.  These watches were produced over about a decade, and the total number produced is actually quite high so given enough patience you should be able to find any variant you are looking for.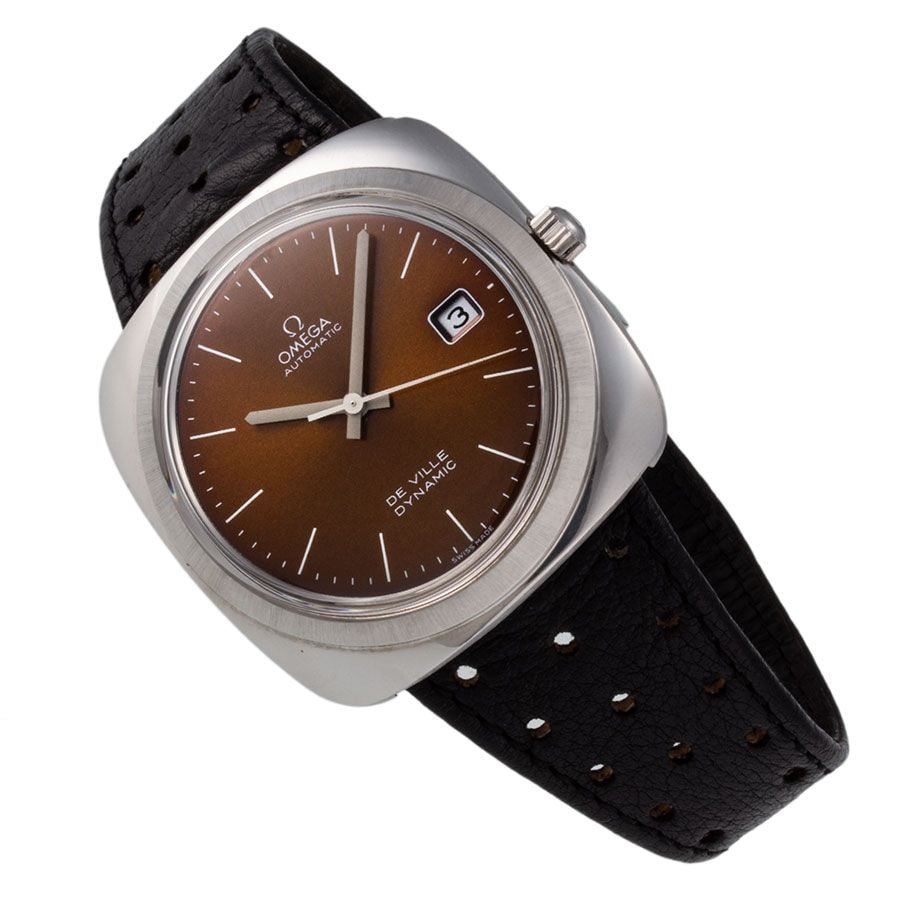 What makes these watches difficult to hunt online is that they are chronically mislabeled, misdescribed and incorrectly described.  More than half of the listings online have either the wrong reference mentioned, or no reference at all.  The reason for this is that as mentioned previously, these cases are extremely difficult to open for anyone who isn't a watchmaker to check the reference, and most people can't recognise them on sight at all.
My suggestion is this, whether on eBay, Google or wherever, start by searching the references first, "166.081", "166.0081", "166.145", "166.0145", then use variations on the phrase "Geneve Dynamic" + "square" or "De Ville Dynamic" + "square".  Then if you still can't find what you want, you need to roll up your sleeves, search for just "Geneve Dynamic" and "De Ville Dynamic" and visually sort the square cases from the round ones.  It is time consuming, frustrating and annoying but this is what you have to do to find the deals that others miss.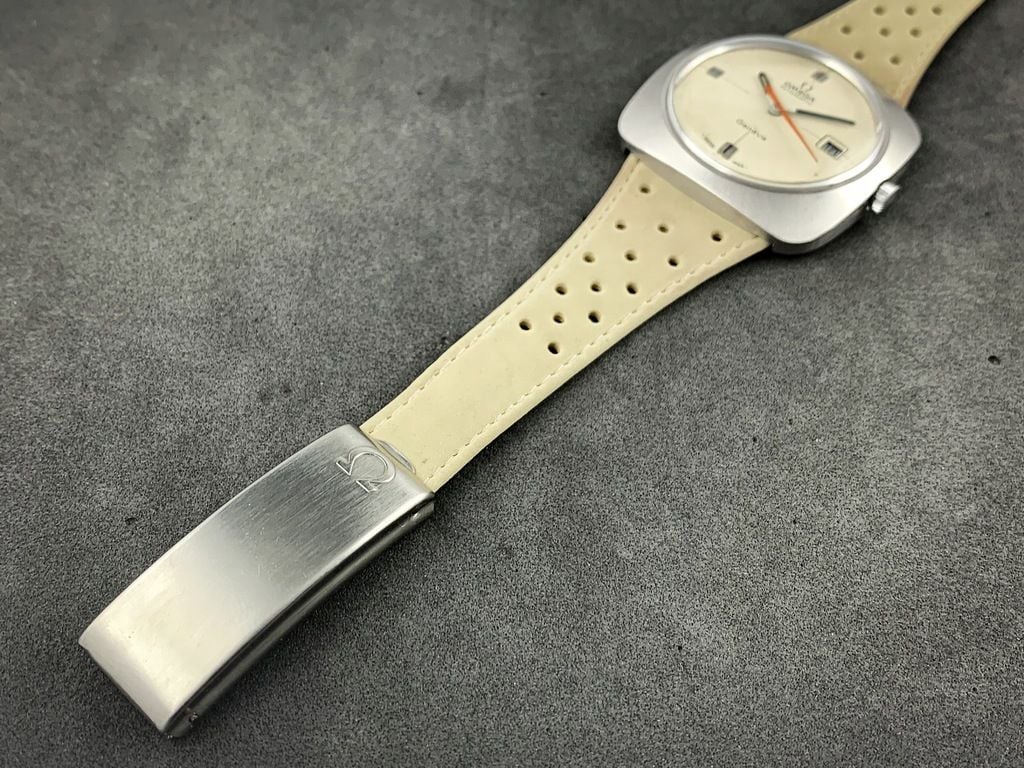 The difference in pricing between professional listing of these watches and "wild" listings going no reserve in as-found condition is vast, with dealer listings often being 4-8 times the price.  The lack of knowledge and awareness of these listings leads to them sitting for a long time and limits the number of bidders at auction.
A nice condition tuxedo dial De Ville Dynamic 166.145 on strap recently sold on eBay in January 2023 for only $293, which is an absolute steal.  It should be noted that as mentioned previously the description contains no mention of the reference or even an accurate description, hence it was almost impossible to find this listing.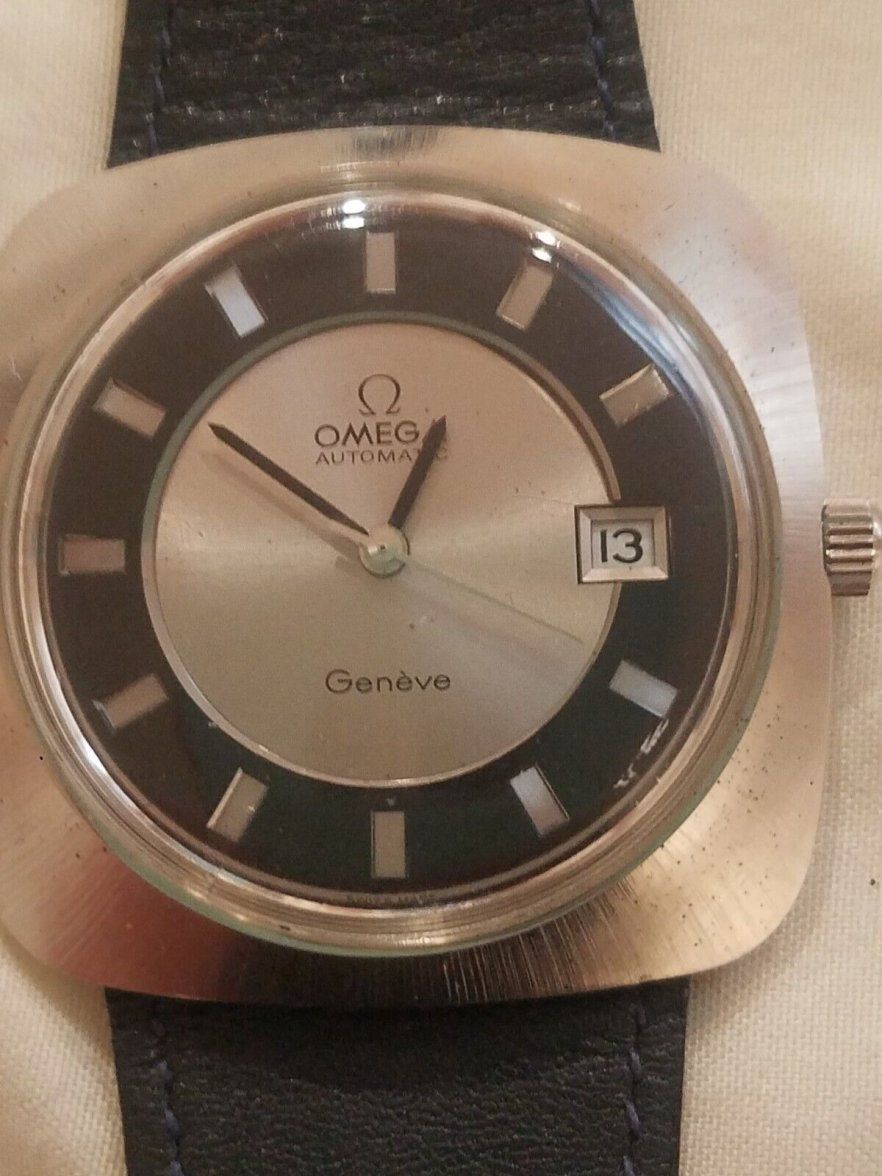 These watches were sold right around the world but there is a definite concentration of nice condition examples in Japan.  To this end it can be worth also searching Yahoo Japan Auctions and other Japanese listing sites but do keep in mind it can often require a freight forwarding service or a friend in Japan to make it work.
Condition wise, the dial should be in very good condition with no damage or scratches. It should be kept in mind that the blue De Ville dial has a marble pattern that can resemble spidering or scratches, which is entirely normal.  Cases should be sharp and as unpolished as possible, the surface finish can be restored if needed but soft edges are harder to remedy.  The De Ville 166.145 models additionally should have sharp edges on their bezels and not be soft or rounded from polishing.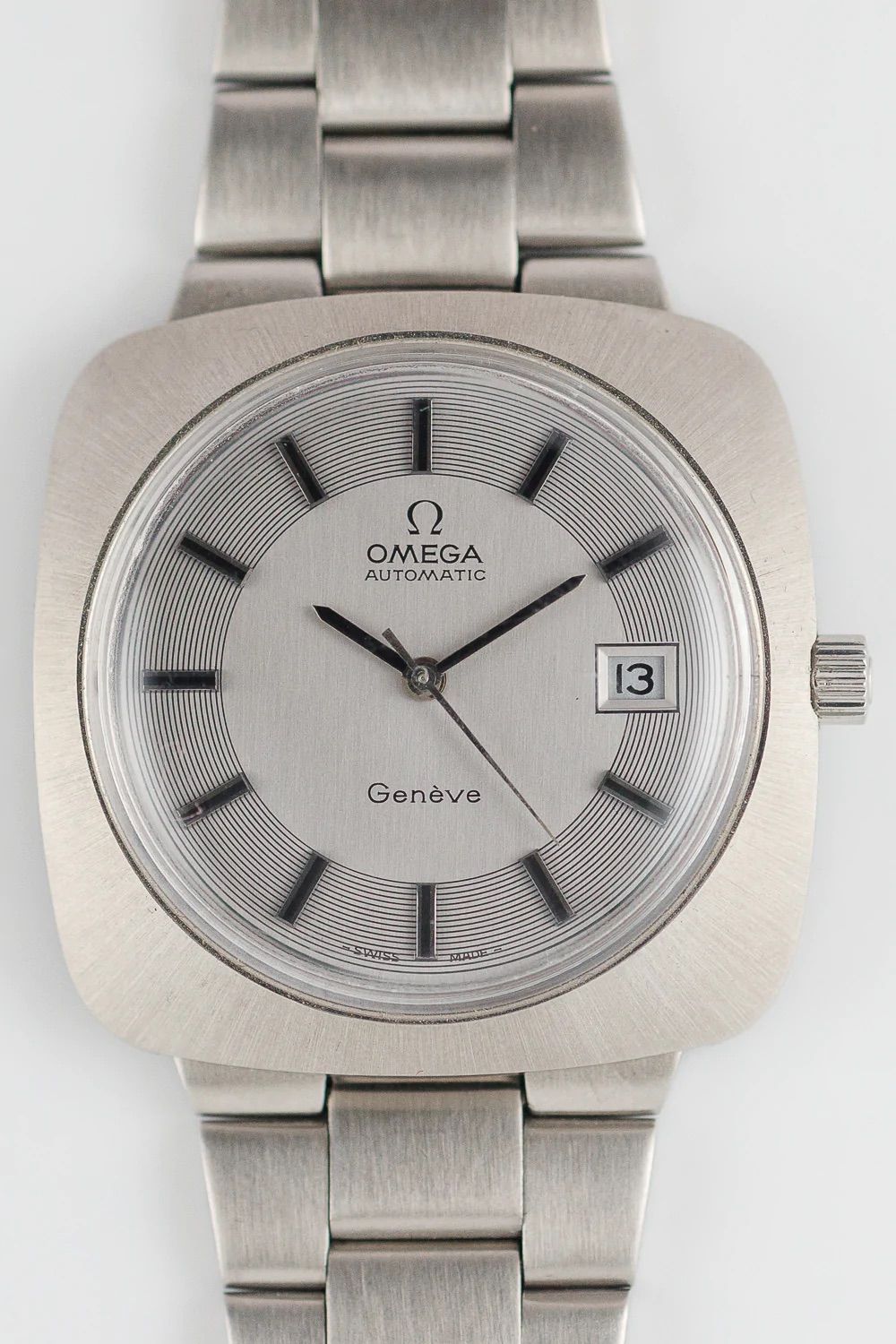 The bracelet on these watches is very nice to have as it costs a couple of hundred dollars to add after the fact, so a watch that comes with one should carry a premium accordingly.  Original Corfam straps for these are not the best to wear although they do look the part and aftermarket options are available and tend to be better.
It is worth also factoring the cost of a service for the Cal 565 into the purchase price as you really don't want to be wearing out vintage parts and costing yourself more money down the track.  A few hundred dollars at an independent should cover this movement as long as it is in decent overall condition.
Omega is a wildly broad church with something for everyone in its enormous back-catalog of models.  These 39 mm diameter square case Geneve and De Ville models offer a spark of 70's playfulness and while they may look literally like a square peg with a round hole, sometimes that's exactly what you're after.
Header image credit: @tdn-dk
Discussion thread on Omegaforums can be found here: