In the 1960s, Omega produced a wide gamut of Geneve models spanning from dress watches, to funky pieces that look like UFOs, to Chronostop models, to divers with turnable bezels.  One common thread among them is that while the big names like Seamaster, Constellation, DeVille, and even lesser ones like Globemaster live on today, the Geneve model name died off and was never used again.  As a result of this, Geneves are among the most overlooked Omegas on the market.
In fairness to collectors, there are some commonly seen Geneve references that don't deserve much of a second look.  Their best feature is often their cheapness, and the references with less desirable movements and austere designs can be best skipped.
There are some true hidden gems however in the Geneve line, and the Japanese market reference 166.721 is definitely one of them.  In a model line that can leave collectors strugging to see what they have going for them, this Japanese Geneve is the polar opposite, a watch with everything going for it, with relative scarcity being its only drawback.
The Rule of Cool
It's easy to be caught up in following the popular Omega models that appear to get all the likes on Instagram.  Pie-pans, Speedmaster Pros, Seamaster 300s are all superb, brilliant watches that deserve every bit of the praise they get.  Some less famous models really do stand out however in a sea of sameness, and the 166.721 is  definitely one that qualifies.  
At a distance, there really is an understated elegance to it. At 37.5mm it is large for a vintage watch but still smaller than the popular sports watches.  The bezel and case serve only to draw attention to the dial within, and that dial, with its minimal text and subtle elegance hides within it a wealth of detail.  I remember the first time I held one of these in a restaurant and how impressed I was with it in the metal.  I kept rotating the watch as if panning for gold under the dim downlights, watching the light and shadows dance on the polished, cheese wedge shaped hour markers as the brushed dial changed tone and texture in the background.  It was a watch that was both a treat and a nightmare to photograph, with a wealth of expression in every angle but requiring a more deft hand than I to extract it.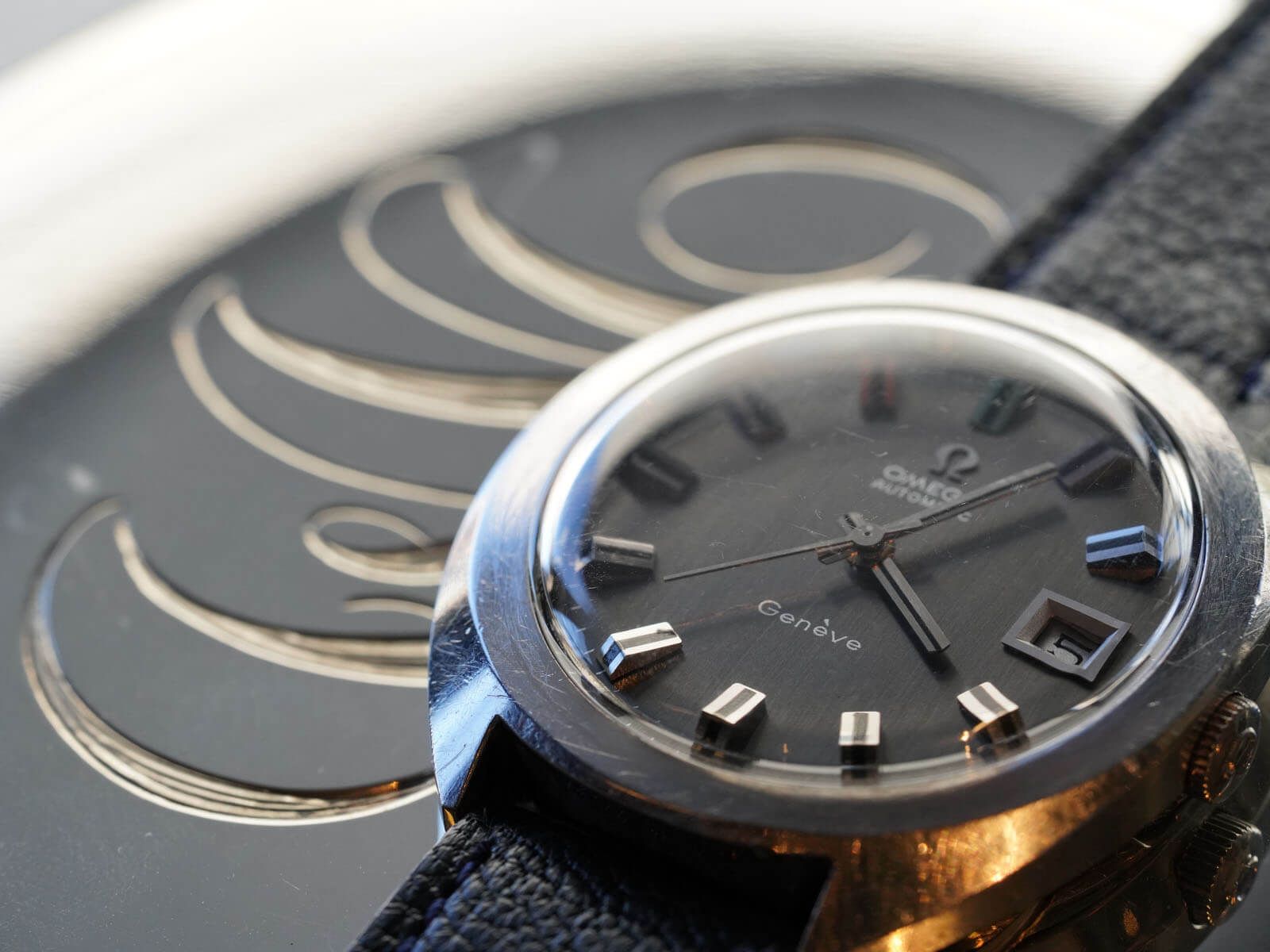 The reason I speak so highly of the watch is that if it had Seamaster or Constellation written on it instead of Geneve, and if it were more widely known in western markets, I genuinely believe it would be extremely popular, selling for upwards of $2,000.  This watch has a great case, decent water resistance and durability, a great movement, a stunning dial and hands, a pair of bracelet options that match it perfectly, and is genuinely uncommon in any country outside of Japan.  If that doesn't make it one of the coolest references of the era, I'm not sure what more you could want.
Movement, Case & Bracelet
There is only one valid movement for the 166.721 Geneve and that is the venerable Omega Calibre 565 automatic movement.  This is excellent news, as the Calibre 565 is the final iteration of Omega's best series of vintage automatic movements.  It has a 50 hour power reserve, an efficient full rotor automatic winding system, and a quickset mechanism operated by pushing and pulling the crown.  These movements are highly accurate and dependable as long as properly serviced by a quality watchmaker.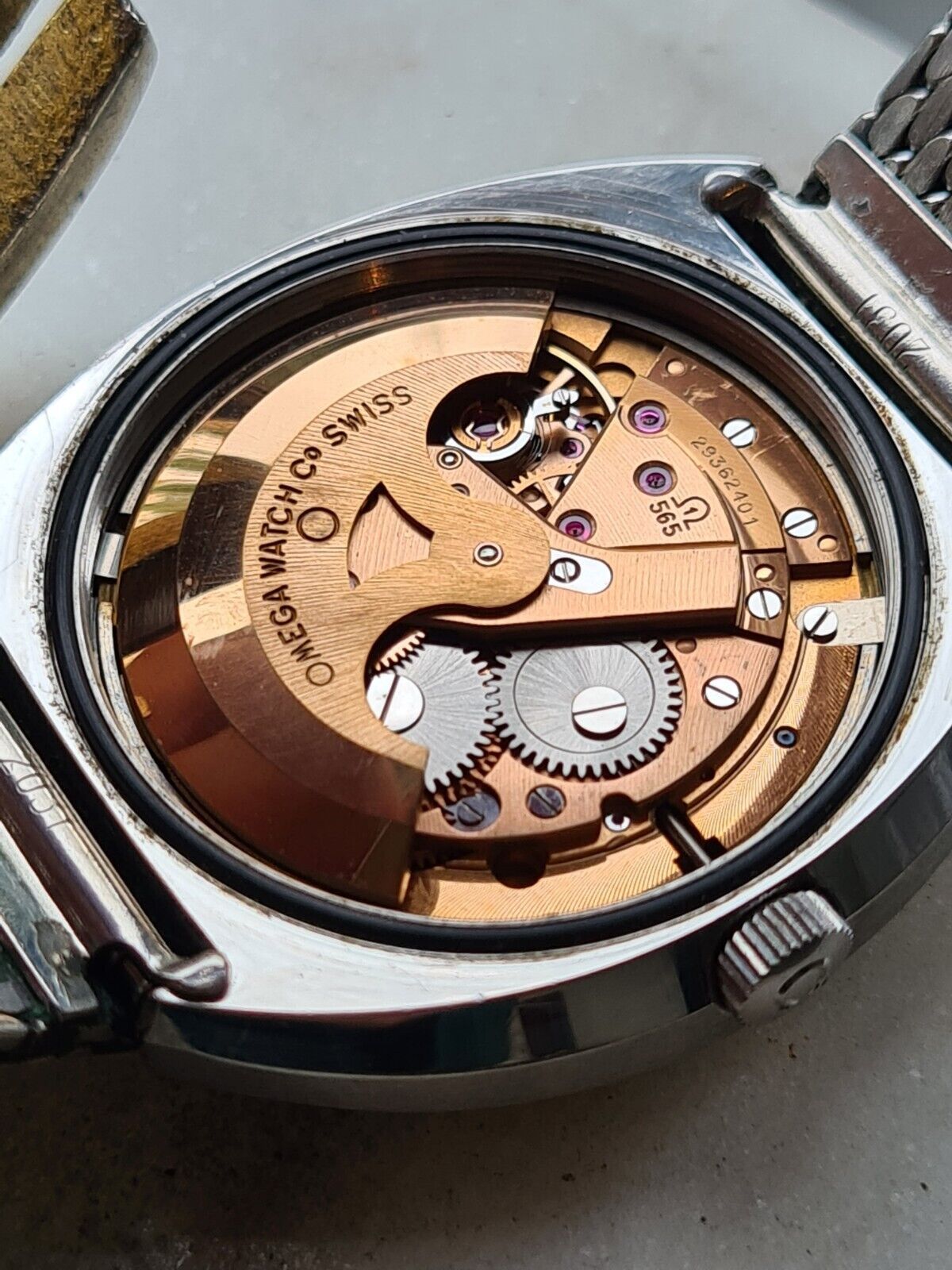 The case is quite substantial, especially for the era in which it was produced at 37.5mm wide, although the height is still a very reasonable 11.8mm thanks to the low profile Cal 565 movement.  The shape is vaguely similar in some ways to the C-Case Constellation but with a lot more futuristic style, size, and mass behind it.  The case is a screw-back design that seems to do a quite good job in terms of water resistance.  The lug width of this Geneve is 18mm, and while you can see them fitted with straps here and there, the vast majority of watches come with one of two OEM bracelets, both of which really set the watch apart and look spectacular.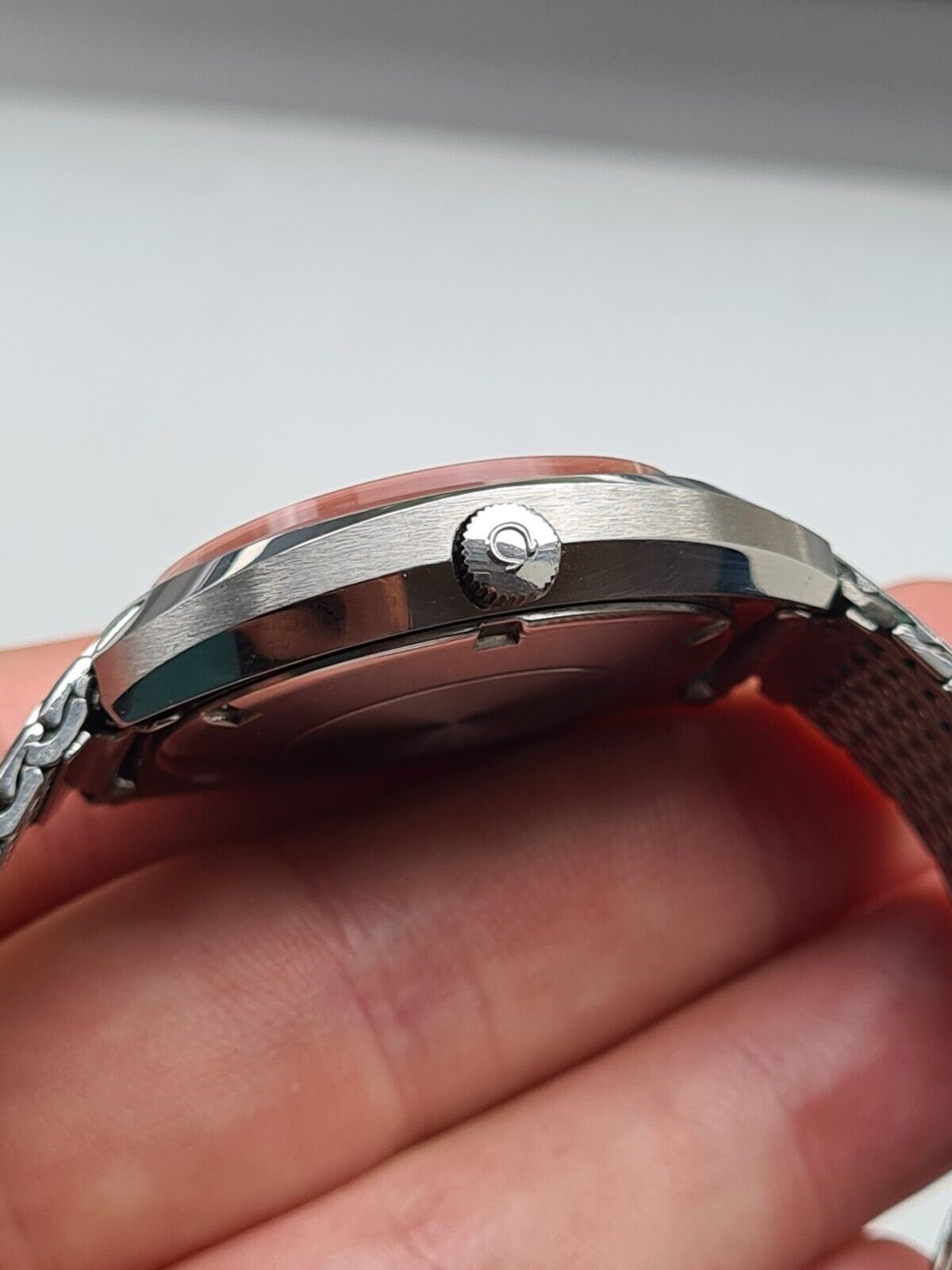 The first bracelet is the same style of steel brick link bracelet available on the C-Case Constellation and several DeVille models, the reference 1040 and 3011.  This brick bracelet does look great and seems to be the less common of the two but may suit people with larger wrists better than the other.  The second bracelet is the Omega steel milanese mesh bracelet with deployant clasp marked 2031 at the lugs.  This bracelet appears to be the most common and looks nothing short of spectacular, however you may face a size limitation as it was intended for an Asian market and does have an upper limit.
This model of Geneve was only ever offered in stainless steel, no gold plated, solid gold or other finish styles were ever produced.  
Dial Variants
There are three main dial variants of the 166.721 Geneve, silver with black text, a dark grey with white text, and lastly a mid-blue tone with white text.  All three dials or otherwise identical aside from the colorway.  The dials all have a subtle vertical brushed texture to them which catches the light very differently depending on the angle.  
It should also be noted that the grey dials with white text in particular can often create an optical illusion where it appears that the dial is blank.  This is simply due to the fact that at certain angles the dial takes on the same color as the text, rendering it invisible, so if you find one of these that appears "washed" ask for photos at a different angle.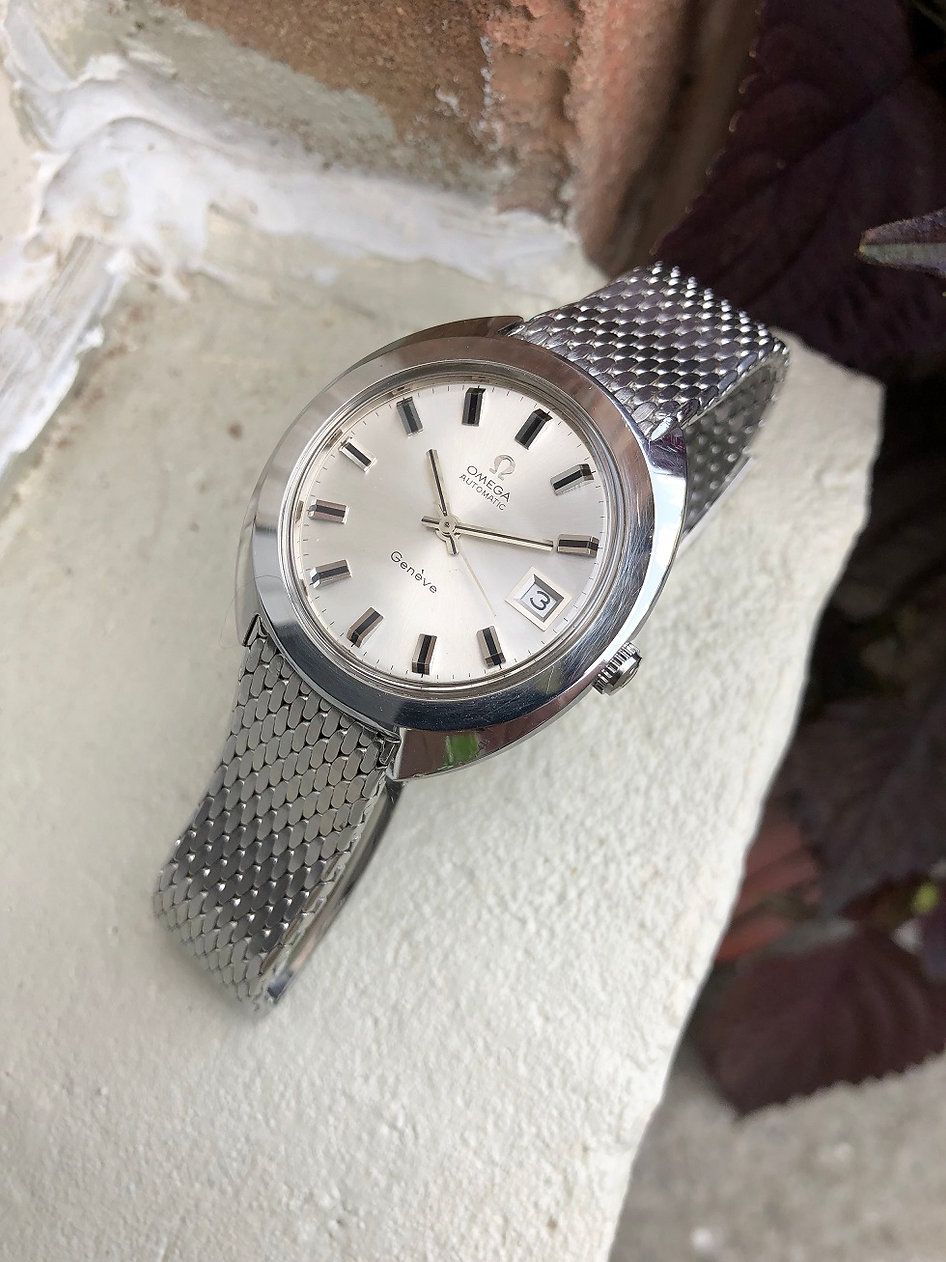 The dial furniture on all watches is a very unique three dimensional cheese-wedge, that starts low towards the center and rises up to a peak near the outer edge before falling off.  All 11 markers are identical and have a black insert through the center, without any luminous material.  The matching hands are rather interesting in that they match the cheese wedge hour markers perfectly, with the same black inserts in the center.  The hands are also very short relative to the dial, which is necessary to prevent them from fouling against the hour markets given their substantial height, which actually exceeds that of the minute hand.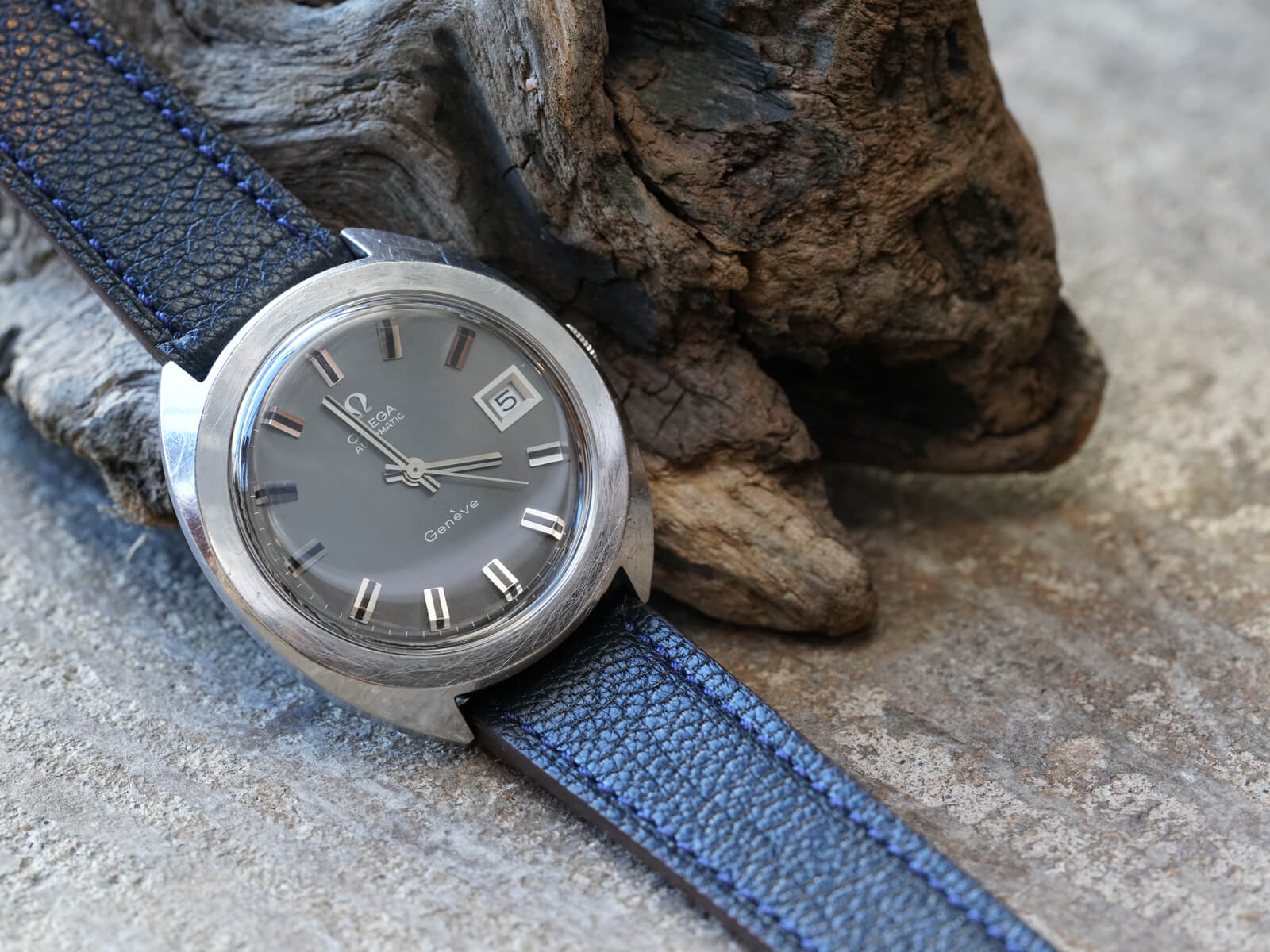 Finishing the dials off is a vintage style applied Omega logo, not a painted one as is seen on many of the budget oriented later Geneve models, and an applied date aperature frame.
Taking it in as a whole, the Geneve 166.721 dial and hands really are quite an elegant and beautifully thought out design.  This definitely was a watch that was created carefully and deliberately, not a parts bin special, and the attention to detail is very apparent.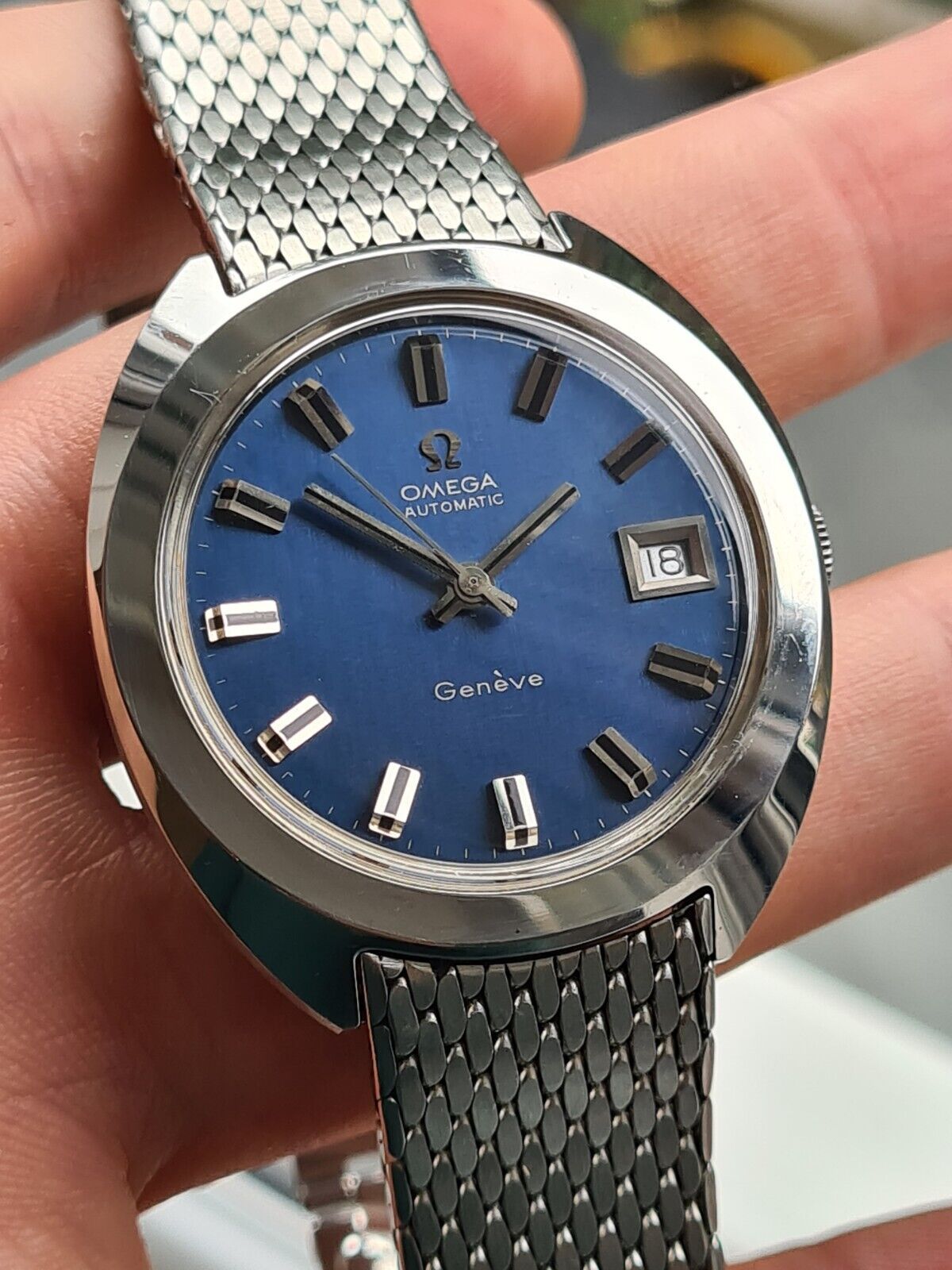 Buying
These Geneves really do seem to be mostly in Japan.  There are some that appear from time to time on eBay, or Chrono24 from sellers in Europe or elsewhere but they are relatively few and far between.
When they do list on the open market, the owners, or dealers representing them set quite high prices, sometimes $2,000 or more, on the basis that these are really superb watches that can justify it.  They just don't tend to move however and tend to change hands at $1,000 or less when tested at auction or sold by a motivated seller.  An excellent blue dialed example on mesh bracelet sold on eBay in the UK recently for 699 GBP, which all things considered, is an absolute steal for the quality of watch that this represents.  It may be a very long time before another example does come up though given the lack of supply in western countries.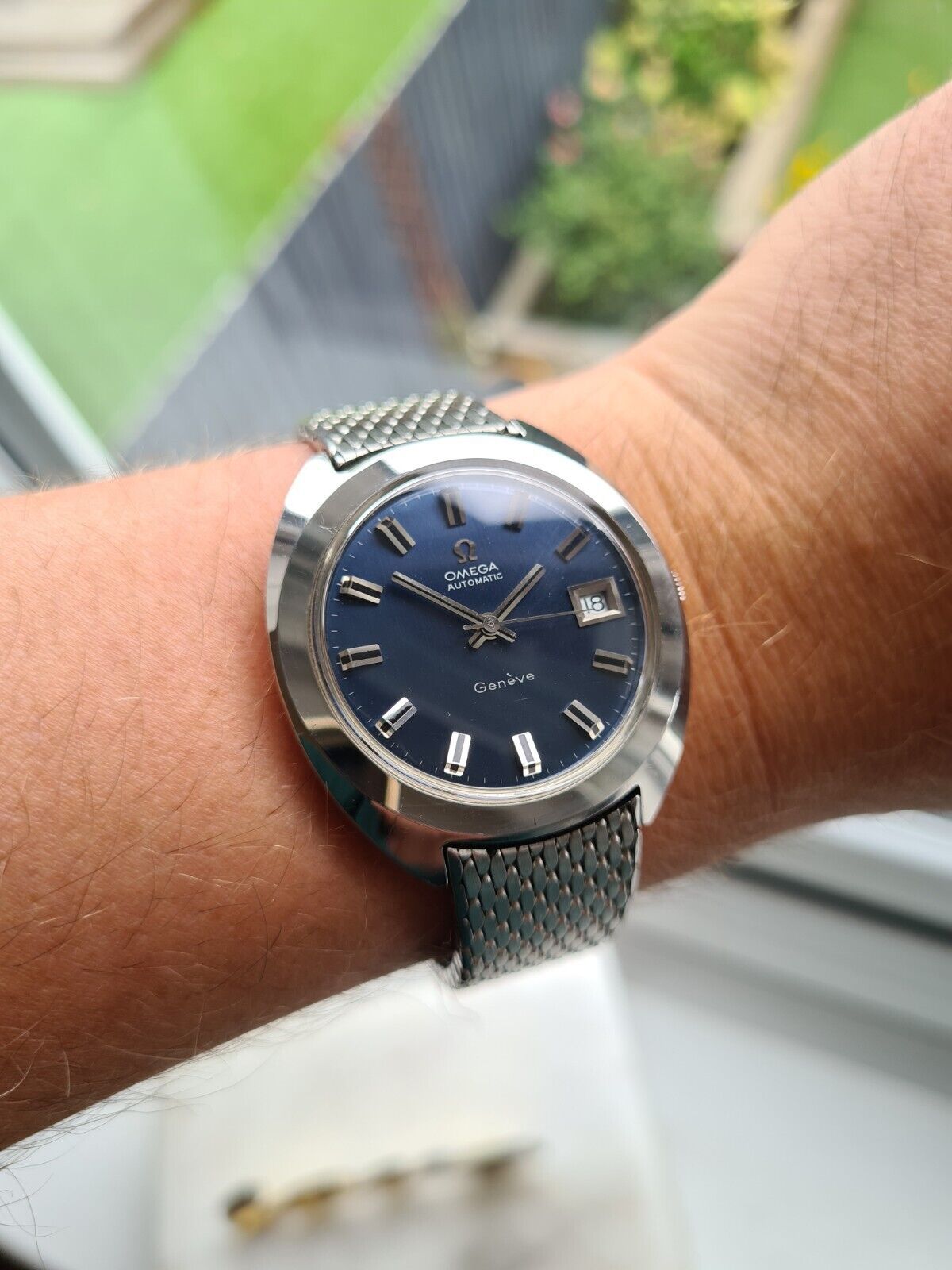 The better option for sourcing a 166.721 Geneve is probably to put the effort in, and either enlist the help of a Japanese speaker, or google translate to trawl through Japanese auction and listing sites.  Because they were sold there in decent numbers there are a lot of them still to be purchased in yen, and some great condition finds may be had if you're patient.
Condition wise, there is no reason not to be picky.  These watches have very good water resistance and redials are very rare, to the point that I've been unable to even find a single example so far.  If a watch has water damage, or a marked or damaged dial or hands, it really is best to leave it and find a better one.  Case condition is a bit more flexible, these cases have a lot of metal and are prone to scratches and dings, but also have a relatively simple design that can be cleaned up by a watchmaker relatively easily.
Whether you source one through western channels, or learn some Hiragana and snag one from its homeland, the ST166.721 Geneve really is a worthwhile investment.  It quite possibly is the best Omega to ever bear the name Geneve.
Discussion thread on Omegaforums can be found here: