There are a select group of Omegas that I recommend constantly to young men and women wanting their first Swiss watch at a reasonable price.  Aside from price, there are a number of requirements for a first watch, it has to be somewhat water resistant, it has to have a good, reliable movement, it has to be wearable, and it has to be substantially available.  The 136.0049 is a funky and unusual shaped 1970s model that ticks all of these boxes, and wears somewhat larger than other Geneves as a bonus.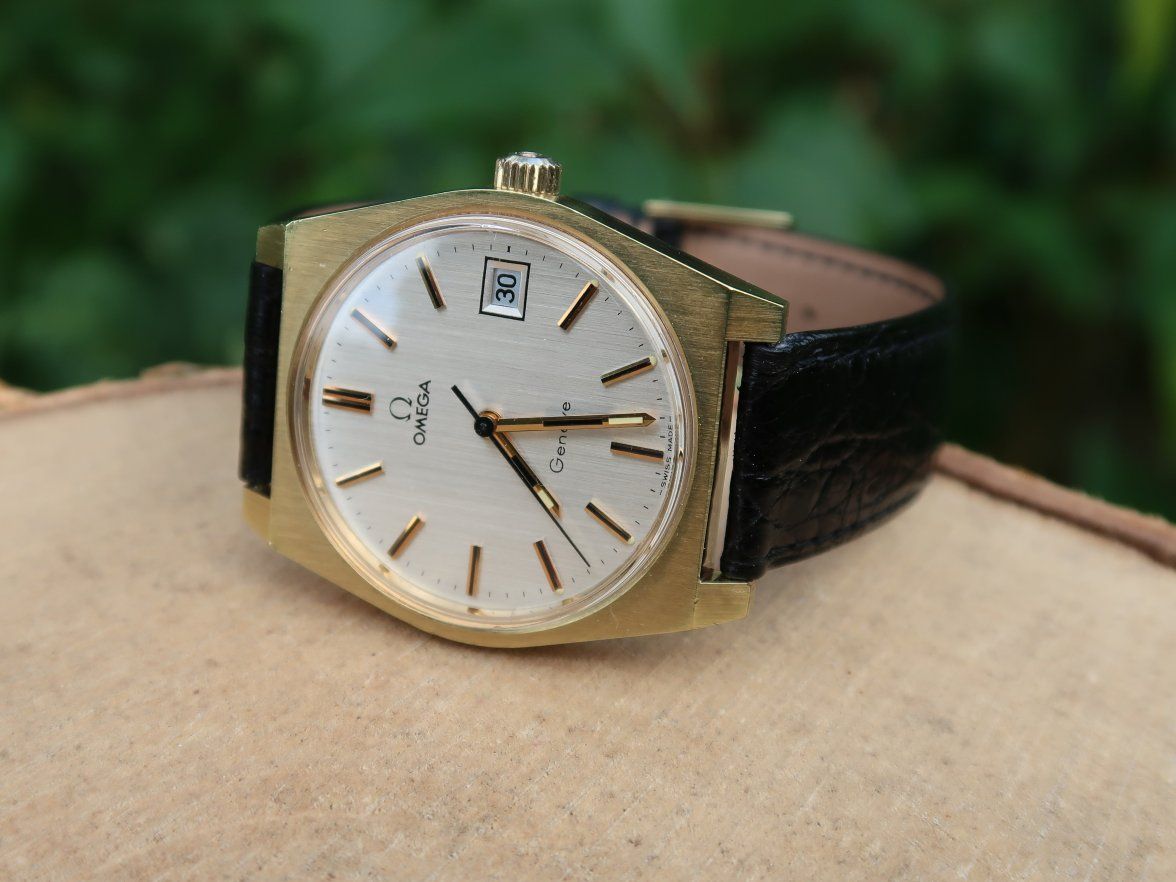 This case style, which is also occasionally referred to as the 136.049, also had significant longevity, being used re-used in a Calibre 752 as an automatic and re-appearing later in the 1970s powered by several other movements under different references.  
It represented one of the early steps in a trend towards more simplistic, austere case designs and features the "modernized" Omega logo, presented in paint rather than applied on the dial. In spite of this, there's still an awful lot to like and a tremendous amount of value to be had.
Case & Bracelet
The 136.0049 Geneve was only made available in two materials, stainless steel and 20 micron gold-plate with steel case-back.  Of the two, stainless steel is clearly preferable due to the risk of wear-through of the plating, which is a particularly high risk due to the sharp edges of this case.
The case is somewhat more substantial than most Omega dress watches of the era at 35mm, and wears larger than that size would suggest due to the shape of its lugs.  This Geneve fits quite well under a dress shirt sleeve and is only 10mm thick thanks to its Calibre 613 manual wind movement.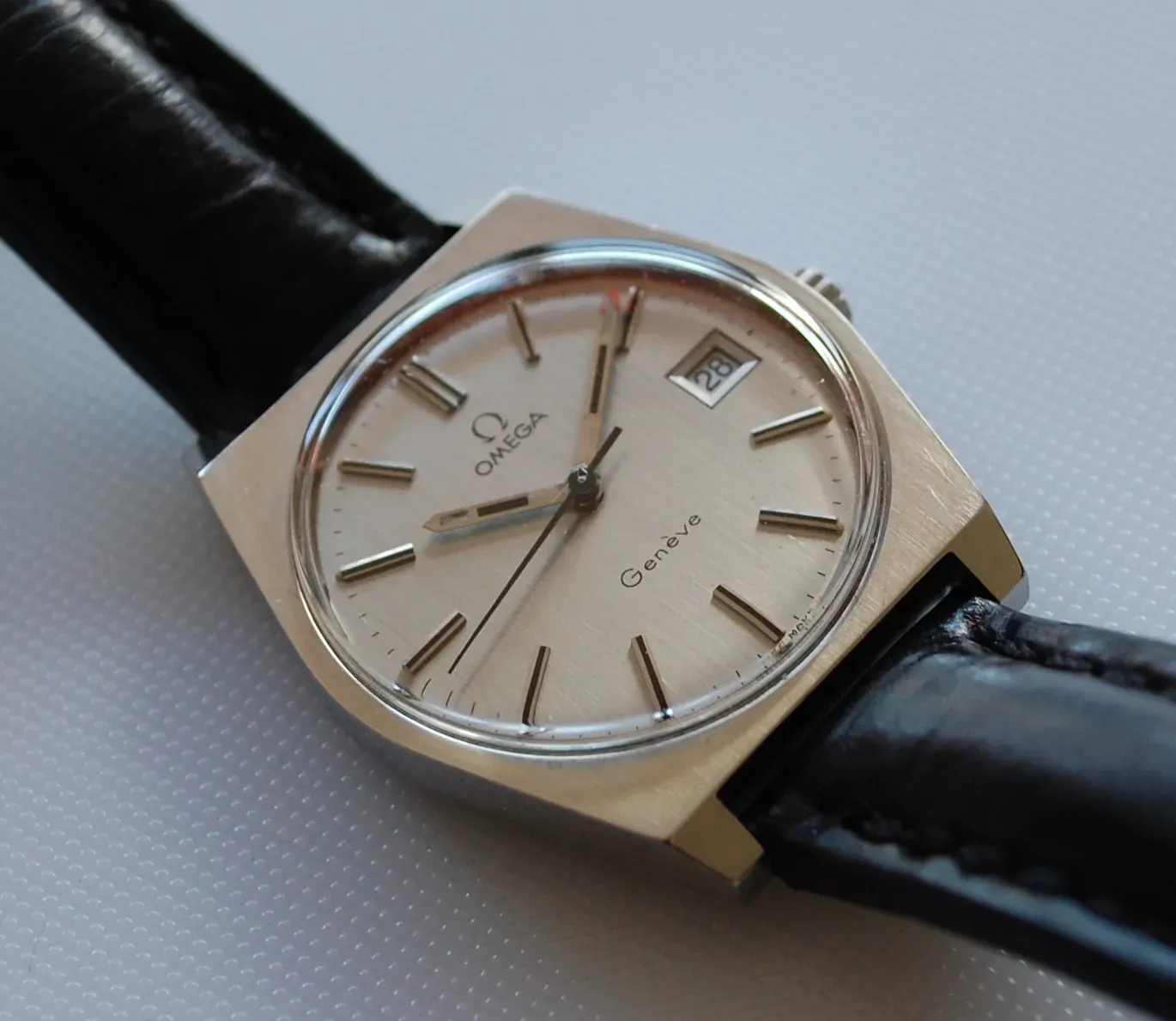 The entire bezel of the watch is finished in a vertical brushed texture, both on steel and gold-plated versions, with that vertical brushing extending over the edge onto the lugs.  The sides are a polished finish, with the crown sitting completely proud of the case, making it quite easy and convenient to both wind and set.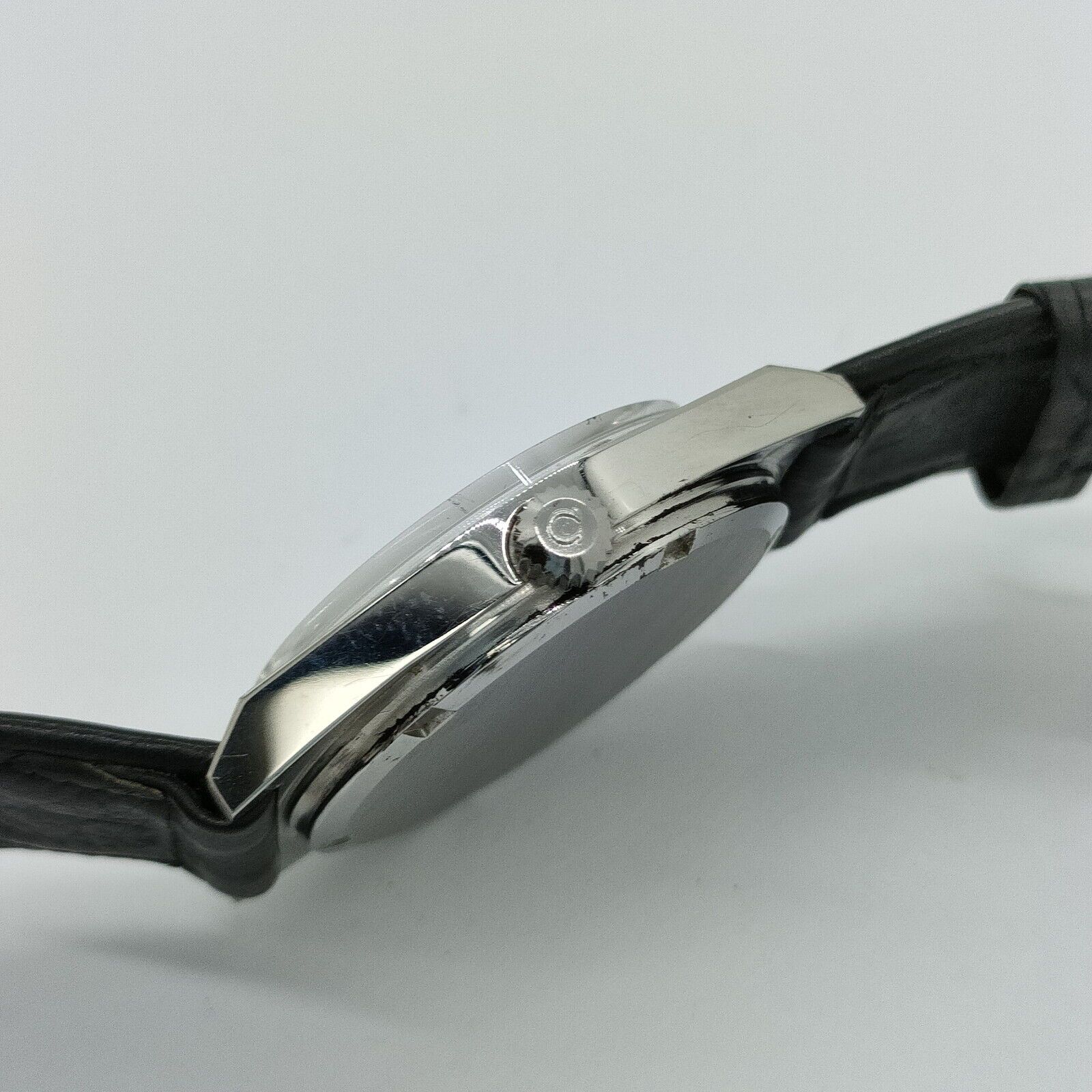 The lugs are 18mm wide and while watches were typically sold and found on leather straps, there are some bracelet options available that perfectly fit the straight cut lugs of this case.
The first bracelet option is the traditional beads of rice bracelet, specifically the later 7-row variant, reference 1037 with 661 end-links & reference 1068 with 199 end-links for this case.  The beads of rice tends to look good on everything, but the juxtaposition of such an angular case and more rounded edges on this bracelet might not be for everyone.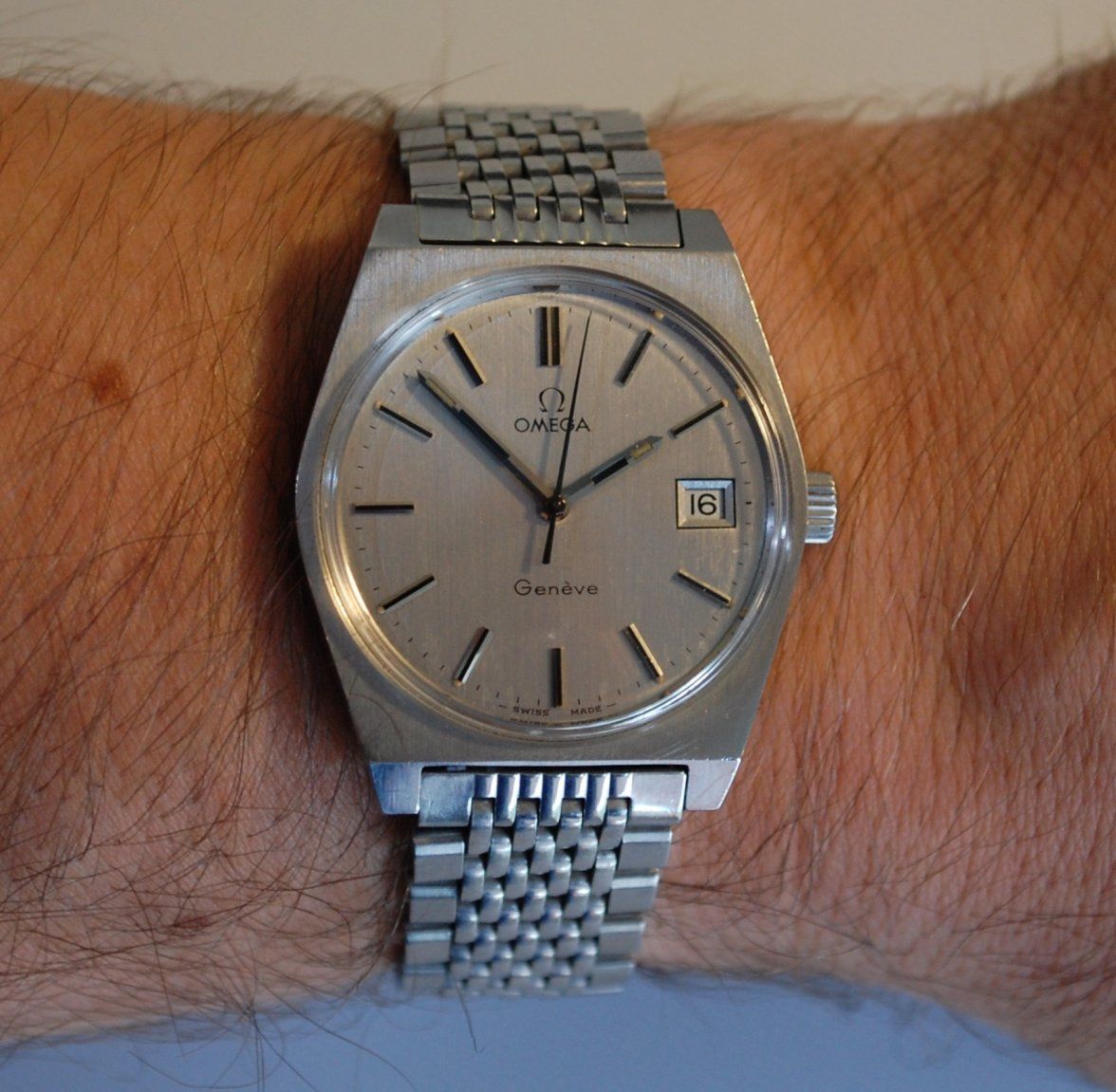 The second option is the more 1970s choice, the single piece link construction reference 1206 with 673 end-links.  This is definitely less common but fits perfectly and gives a look more in keeping with the overall aesthetic of the watch case.  
Both of these bracelet options are still able to be found at reasonable prices in both gold and steel, so if you're patient the right one will definitely come along.
Movement
The Calibre 613 is a lot like a toilet.  It is a simple yet extremely well designed piece of engineering, that can take a mountain of shit yet just keeps working, day in, day out.
The Calibre 613 is the manual wind version of the very highly regarded Calibre 565 automatic movement.  As such it has the same feature set as its parent calibre,  a 19,800 vph beat rate, with quickset date operated by repeatedly pulling outward on the crown.  Reliability is very high with these Calibre 6xx series movements.  The lack of an automatic winding system makes them immune to issues relating to that system, and the fact that they're manual wind tends to result in them seeing less use and mileage than similar watches with an automatic on average.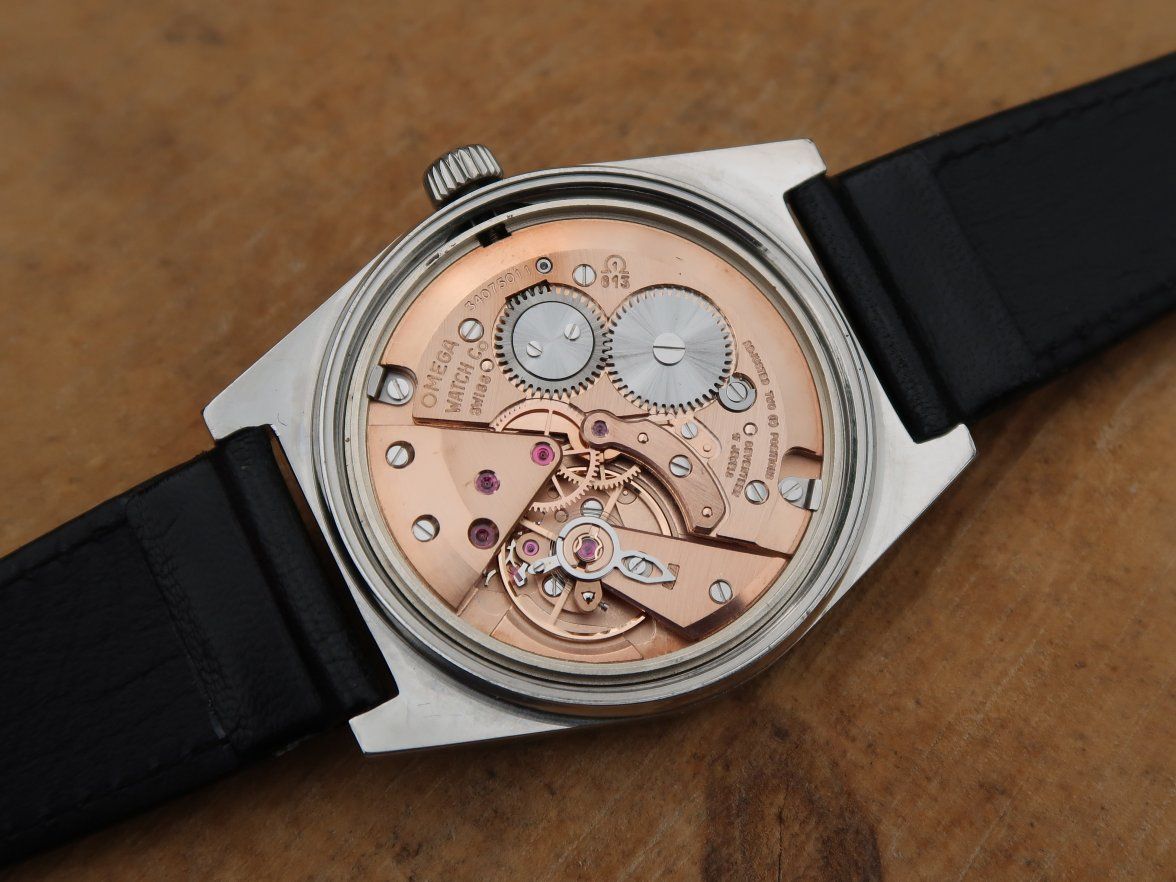 The exposed, knurled crown on these models makes winding very easy so while there are some who would prefer an automatic, there certainly isn't anything wrong with using the Calibre 613 daily.
It should be noted that all 136.0049s should be fitted with the quickset variant Calibre 613 and not the earlier Calibre 611 or anything else.  As the Calibre 613 was already a 17-jewel movement there was no special variant of the Calibre 6xx series for US markets with lower jewel count like the Calibre 563.
Given the water resistance of these cases, movements should be clean and free of damage or corrosion, there is no reason to settle for a poor example given how many good ones are out there.
It is important to also keep in mind that just because the Calibre 613 and its family are very reliable and tend to run well ever after decades of neglect, this does not mean that they do not require servicing.  Running a watch that has not been serviced in decades will result in metal wearing against metal without lubrication, so a service should be factored in as soon as possible to any new purchase in order to protect your watch.  If properly serviced and cared for, even a 50-year-old Calibre 613 will easily outlive even its new owner.
Dial Variants
Stainless Steel
Dial variants of the 136.0041 Geneve are somewhat limited, with only 5 different types being seen across the two metals.  In stainless steel, the most common by far is the silver dial, which is vertically brushed with painted Omega logo, and applied dial markers doubled at the top.  All dials appear to be luminous, with matching luminous stick hands.  The second and somewhat less common dial is a dark blue which can sometimes appear black depending on the angle.  This blue dial has a metallic starburst pattern to it and catches the light quite beautifully.  While the dial furniture on the silver dial has black paint for contrast on top, the blue dial has white paint instead.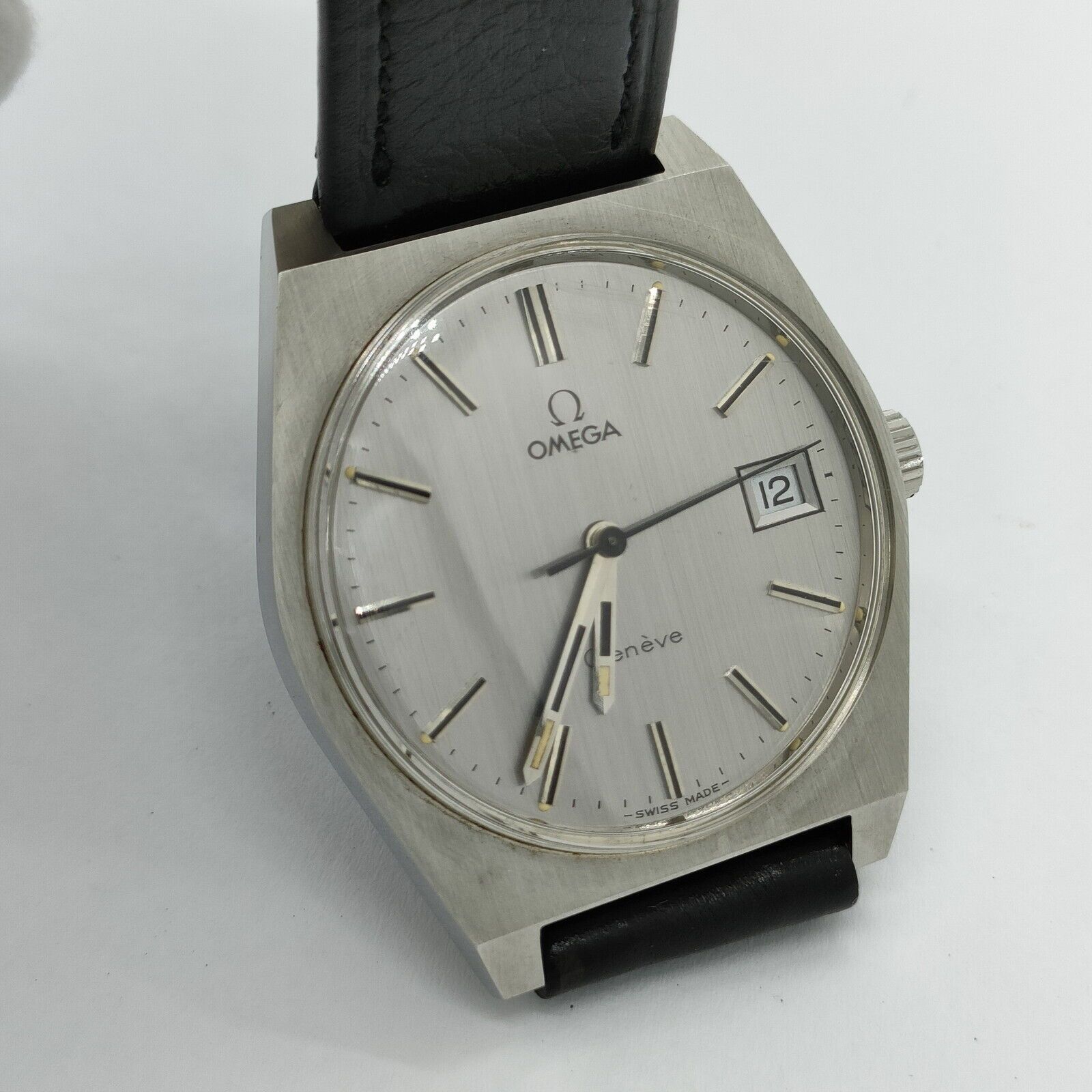 Gold-Plated
The gold-plated dials are extremely similar to the silver dial available in stainless steel models.  There is a silver dial with gold dial furniture and matching hands with black paint on top of the hour markers, and a gold dial with black paint on top of the hour markers.  The gold dial has a gold toned date wheel to match it.  Both dials feature vertical brushing and are always luminous with tritium dots placed just outside the dial furniture and luminous hands.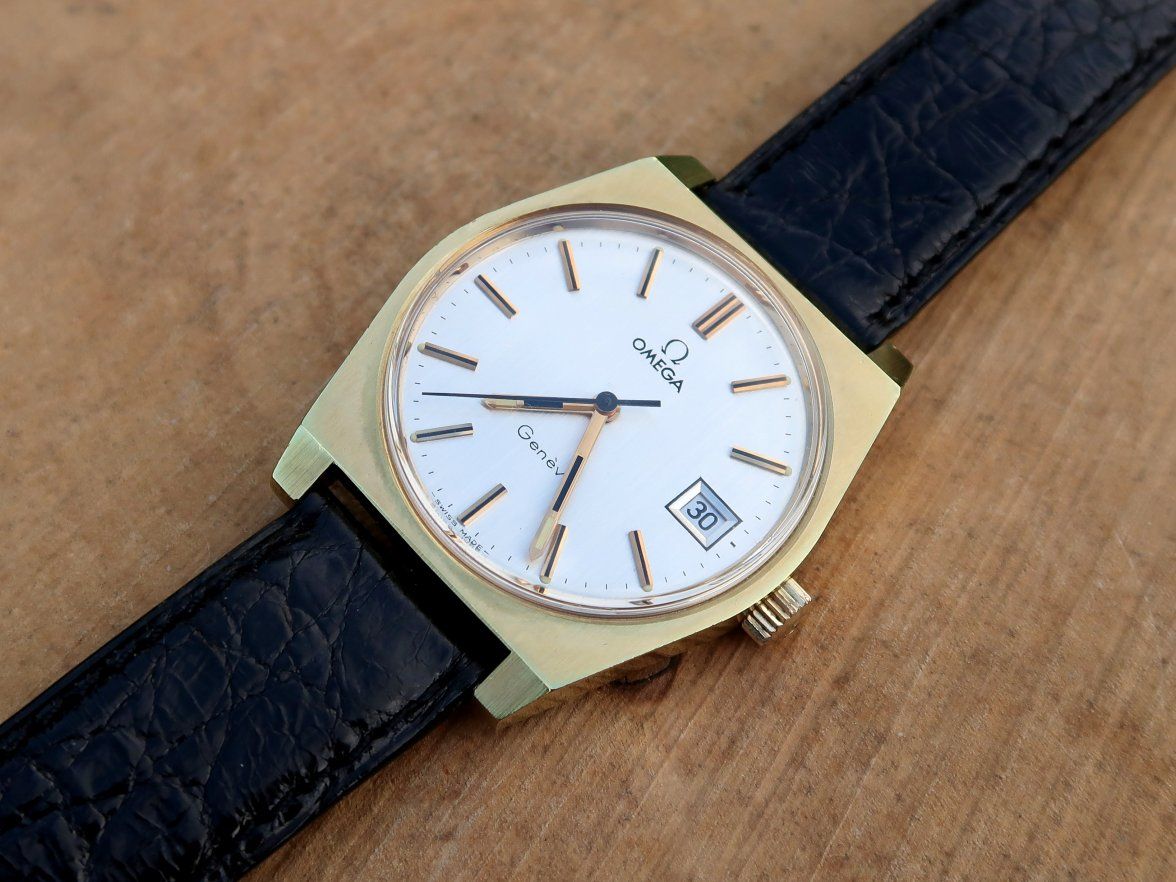 The Wildcard
The last dial variant is quite an unusual one.  It is only found in stainless steel, and does not have any applied dial furniture at all.  Instead, it has Breguet numerals for hour markers, without luminous material, and a matching set of black non-luminous leaf hands.  It's worth noting that this dial also has several other differences from the other four dials.  The painted line surrounding the date window is actually rounded in the corners rather than a sharp square in the others, and the Omega symbol on the dial is closer to the vintage shape than the modern one, with slight differences in font also being present.  These Breguet dials are certainly not common, but similar designs have been seen on other Geneve references from this period.
Buying
Unless you desperately want a specific example of this reference that is rare like the Breguet dial or the metallic blue, your best bet is to avoid buying these from dealers.  These watches are plentiful, overlooked and can be purchased for a song on eBay, Gumtree and other local auction sites, as well as online forums.
In terms of quality, you can afford to be quite particular and wait for a nice example as even nice ones will still go cheap, typically under $300.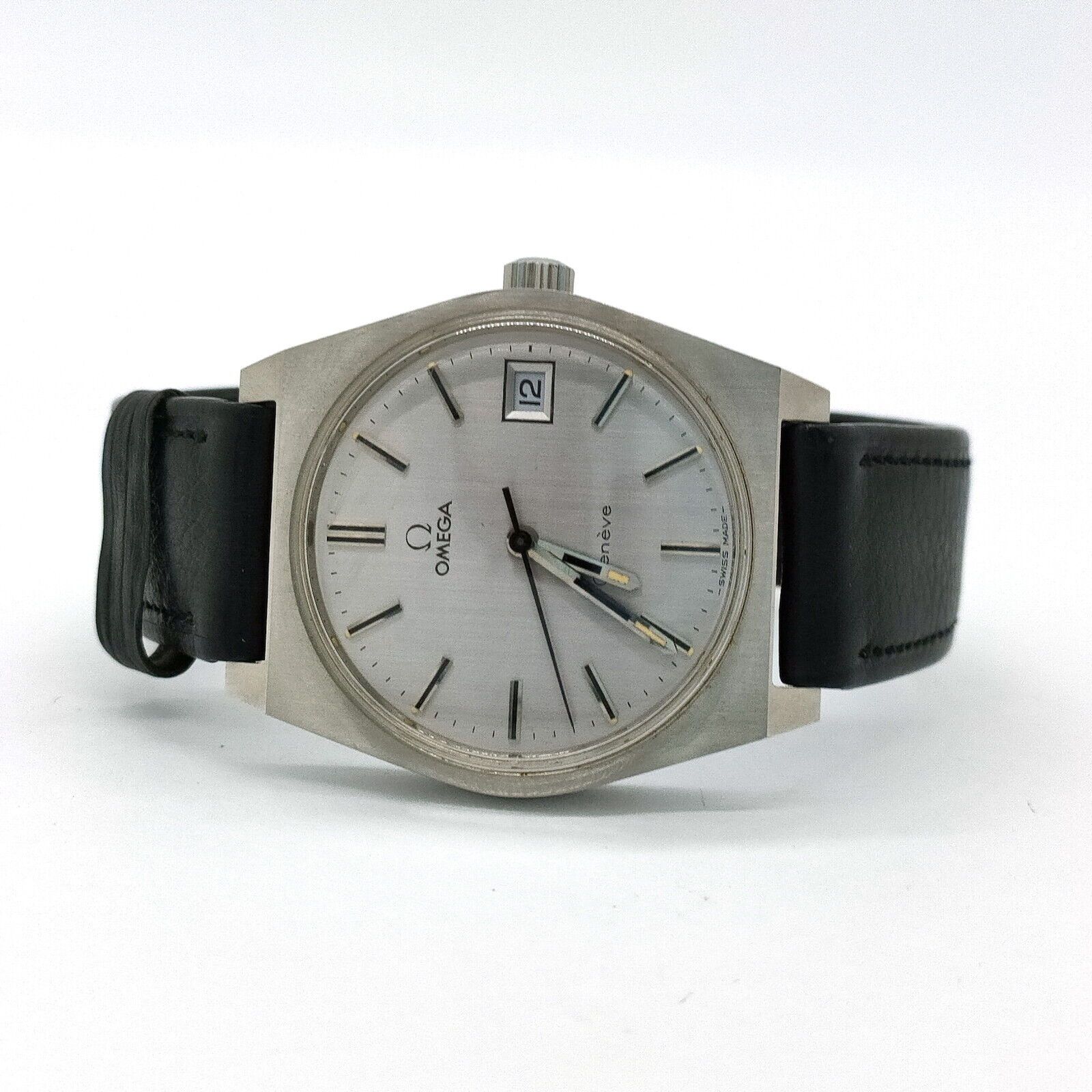 This example sold just a few days ago as of time of writing in September 2022 for $294 with free shipping from Japan on eBay.  The condition, finish and dial were all excellent, and this is what you should expect for this kind of money.
Things to strictly avoid are any gold-plated cases that show any signs of wear-through of the plating, any cases in general that have rounded or over-polished edges, damaged dials or movements, and definitely any redials should not be accepted.  Bonuses that are well worth looking for are blue and Breguet dials which are quite attractive and desirable as well as any bracelet.  The bracelets in particular can sometimes be worth more than the watch itself, so be willing to pay extra if you find one with a bracelet included.
Many new buyers get excited by seeing boxes, papers and full sets so much so that they're willing to pay significantly more for these.  On rare or highly valuable watches like vintage Speedmasters these are great things to have but on a watch like the 136.0041 Geneve, which is mostly useful for wearing rather than collecting, there isn't much point or value.  If you get them consider it a bonus but focus your spending on condition, a bracelet if included, and put the rest towards a service rather than junk to accumulate in your closet.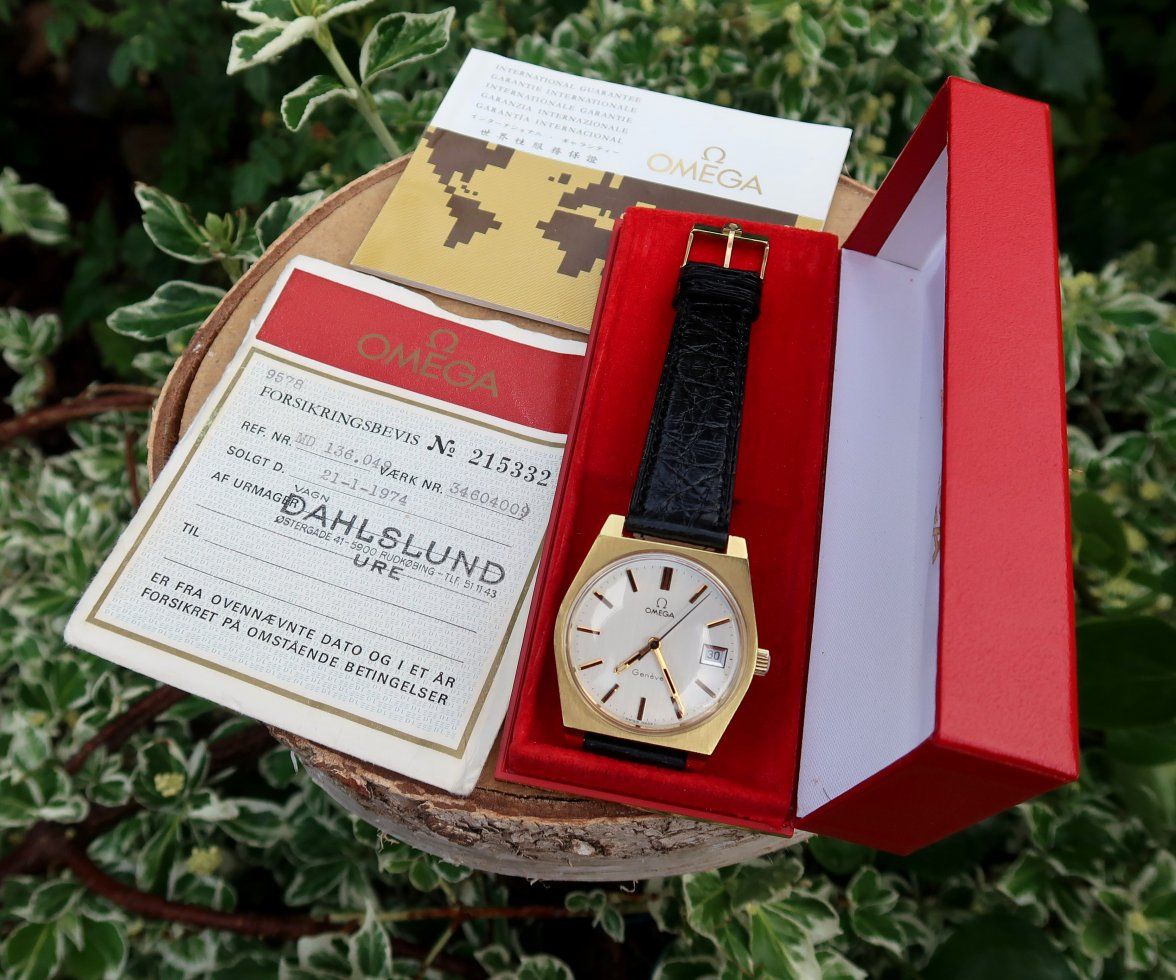 With patience and some effort, these watches really are a great starting point in anyone's vintage watch collection.  They're a 50-year-old watch that can be daily worn without worry, with an excellent movement and a dash of 70s style.  For similar money to a MoonSwatch or a bottom of the range Apple Watch Series 3, it really represents one of the best entry level deals you can get.
Discussion thread can be found on Omegaforums here: