When I posted a De Ville X2 Big Date recently as a recommended watch, it didn't get the warmest reaction. A polarizing watch from new, these vintage inspired De Villes contain a lot of history and a unique style, at a remarkably price point.
Context is Key to Appreciation
In the very early 2000's Omega released the second Museum Collection watch, the 1951 Cosmic limited edition which featured a vintage inspired square case design, the 3944.  This watch received such appreciation that it was re-released in a silver dial and a white dial after the initial production run, but being 18K gold and limited edition, it would always be out of reach for many people.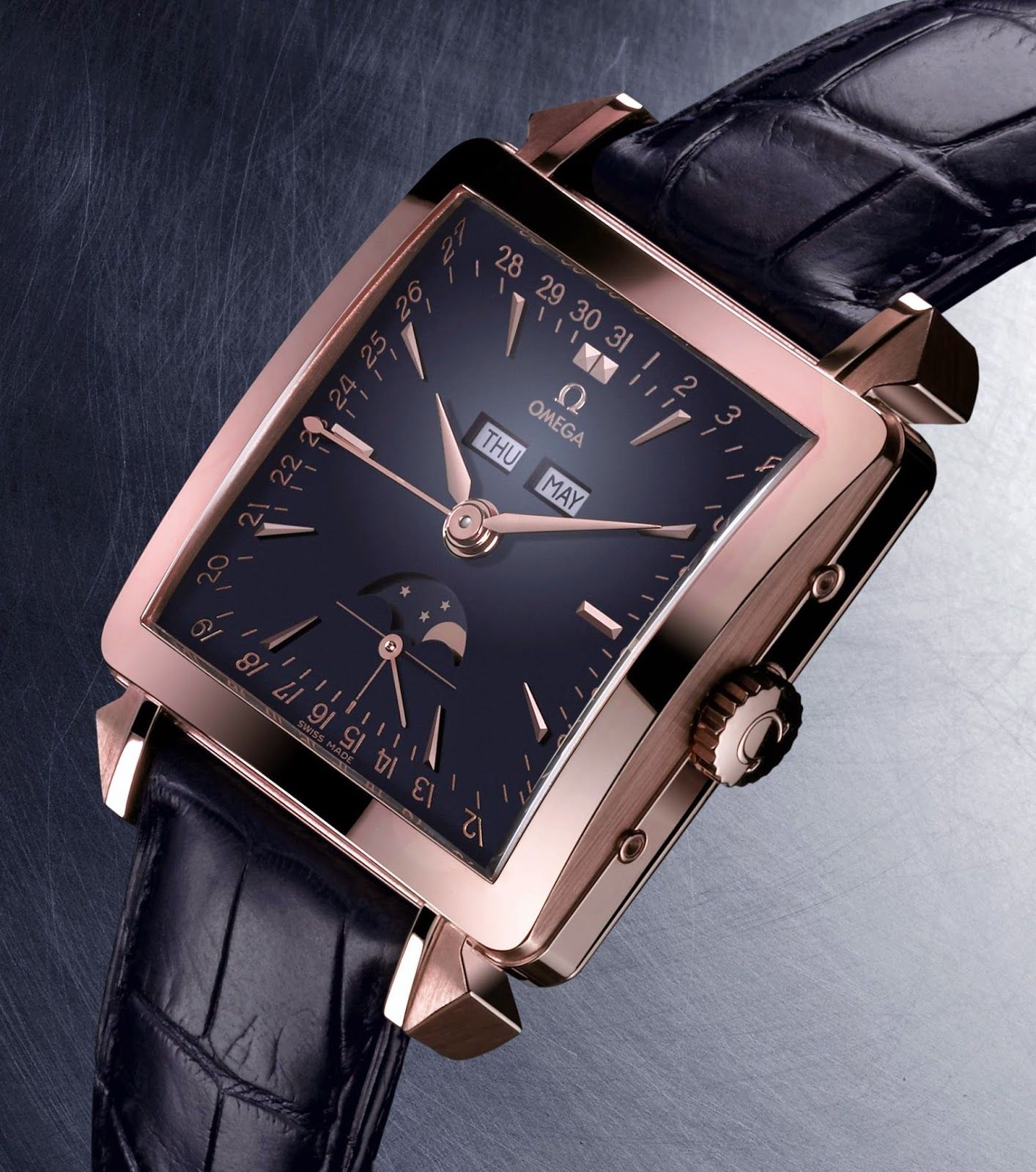 The De Ville X2 came a few years later as a less complicated, yet still interesting big-date watch is a near identical stainless steel case at a much lower price point.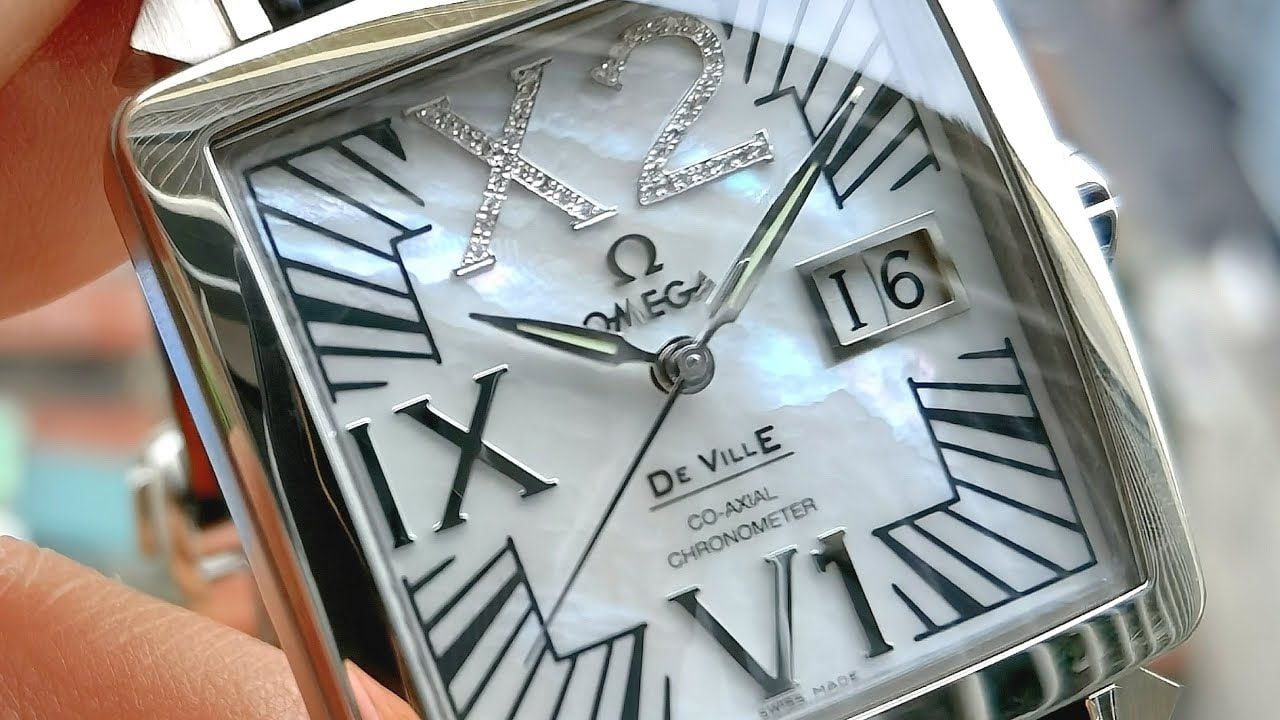 Powered by a modern Co-Axial automatic movement and featuring the same combination of modern water resistance and tech with art-deco inspired design, the De Ville X2 leaned into the era and design aesthetic of the original square case vintage models and extrapolated.
The resulting watch even in its most simple form is a bit extra, and as you get into the mother of pearl and diamond versions, that becomes a lot extra.  But that is more than ok.  
The De Ville X2 is a watch akin to a French cuff shirt with some over the top cufflinks.  It might not be for every day but it's an undeniably fun change of pace.  When I look at it, it reminds me of The Phantom, my grandfather's favorite comic and a movie I enjoyed watching with him because of how much he loved that setting and era.  The flourishes in the buildings, the gauges in the cars and the elevator floor indicators all come to mind from the De Ville X2.
Case & Straps
As mentioned above, the case of the De Ville X2 is one of the most special aspects of this watch and comes from the well-received Museum Edition Cosmic 1951 Moonphase Limited Edition.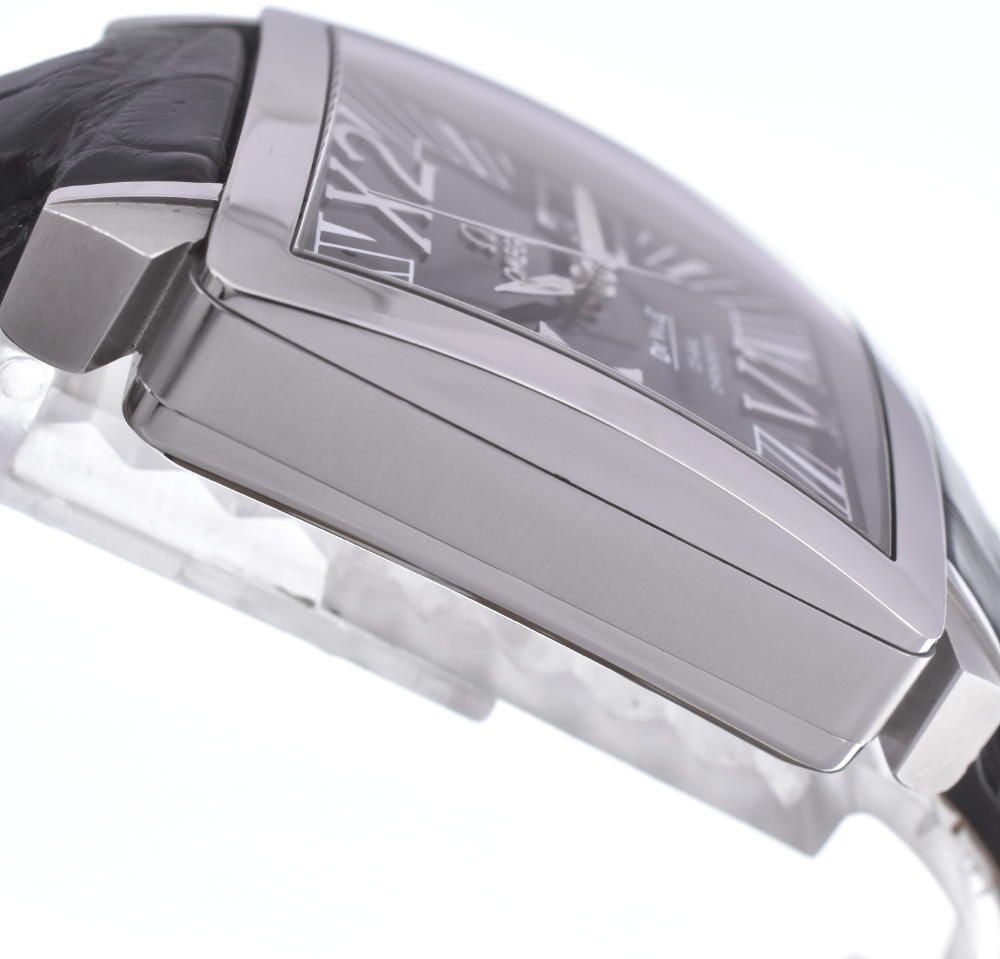 The original vintage Omega that can be said to have inspired this design is the CK 3903, an early bumper automatic watch with small seconds and a radial dial furniture.  As with the vintage Cosmic models, these square cased bumpers offered effectively nil water resistance. Most are damaged or refinished, with nice examples having been kept away from daily wear and water.
The De Ville X2 offers a decent 50 meters of water resistance in a case design where that is no easy feat to accomplish.  To appreciate how the case comes apart and goes together, it is well worth watching this Youtube video below:
Effectively you have a mid-case with attached lugs as the meat in the De Ville sandwich, with a compound curve sapphire crystal placed atop that.  The front bezel and case-back then form the burger buns, and the entire thing is tensioned together by four screws which run from the case-back into the bezel through the mid-case.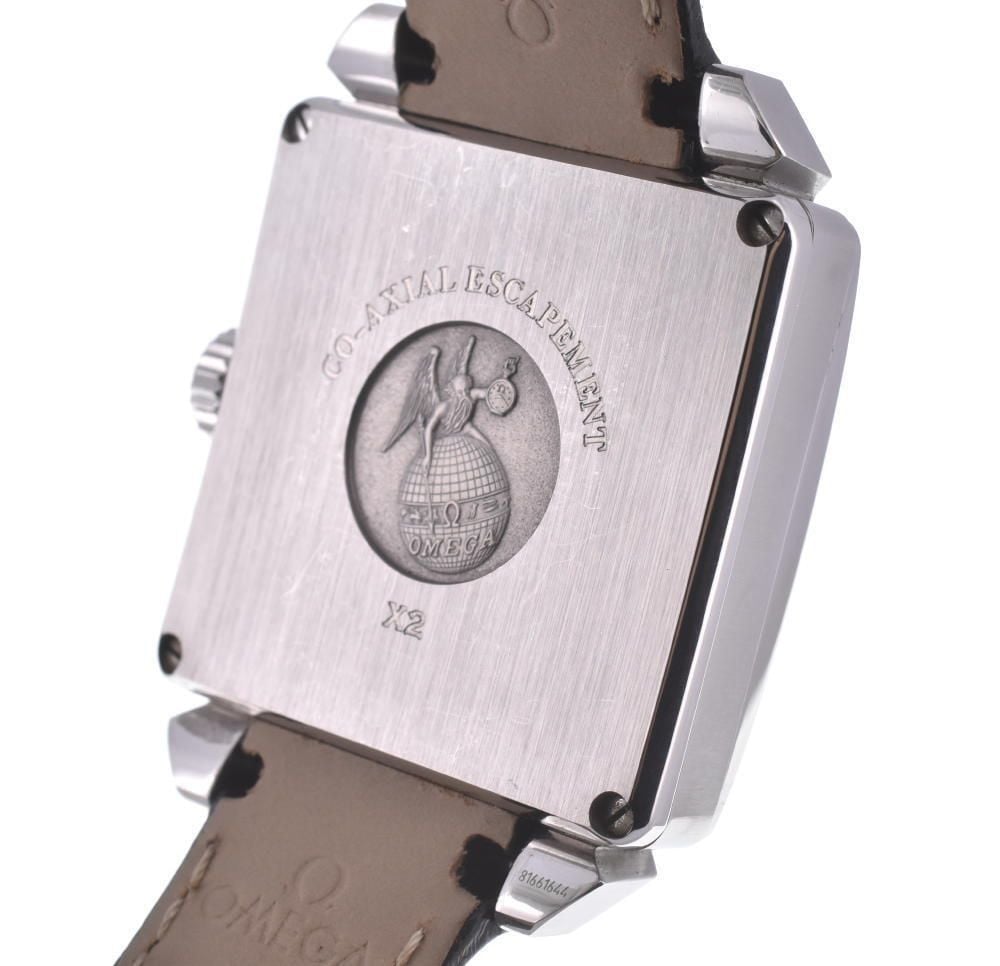 The traditional stylised lugs are beautiful and suit a watch such as this on a crocodile strap perfectly.  The knurled crown is exposed for easy access.
The size of these watches is substantial, they are 35 mm wide and 35 mm tall excluding crown and lugs, with a thickness of 12.5 mm due to the curved crystal.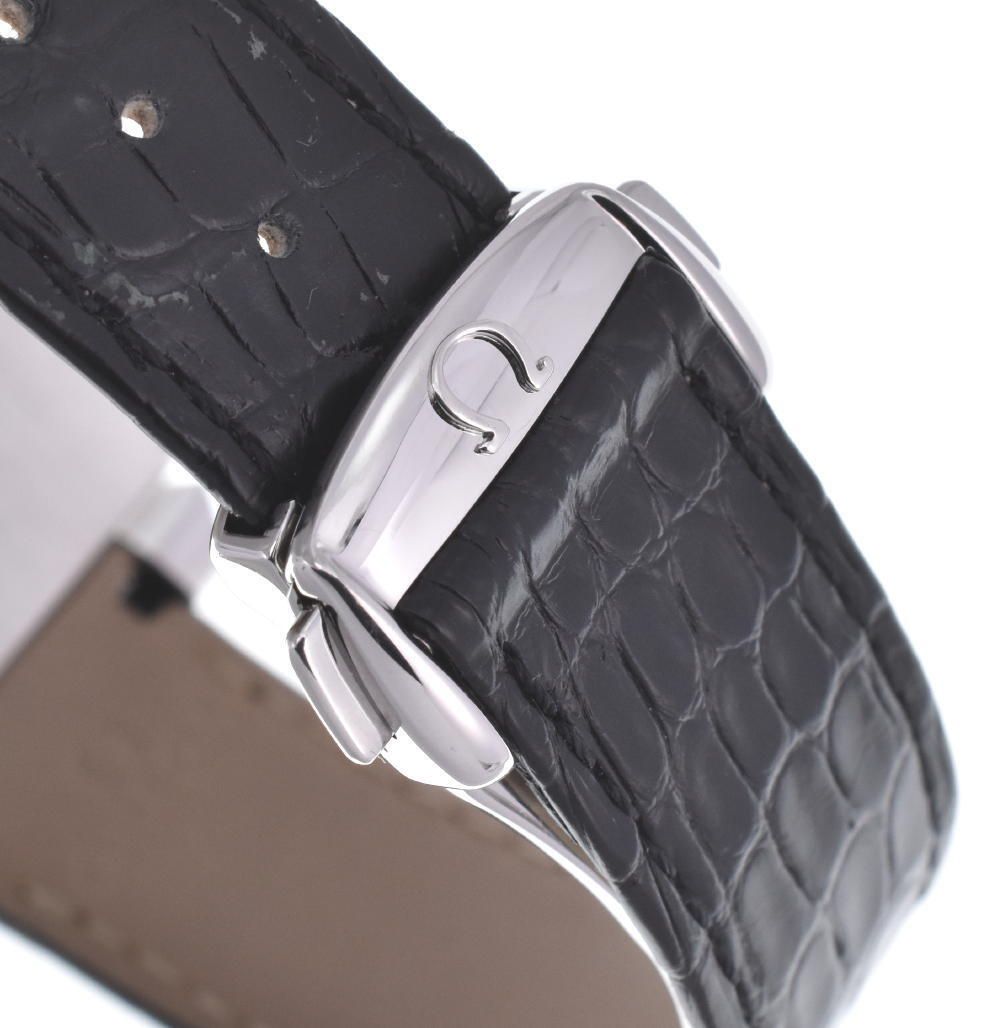 The lug width is 20 mm, making the watch compatible with an extremely broad range of OEM Omega and aftermarket strap options.  The standard clasp fitted to the De Ville X2 is a single fold deployant in a matching metal to the case.  
Movements
The movement powering the De Ville X2 is the Co-Axial Calibre 2610 automatic big date movement.  This movement is similar to the regular Calibre 2500 but based on the ETA 2896 big date movement rather than the ETA 2892.
The "big date" complication is a relatively useful addition that can greatly aid those with trouble reading small dates.  Instead of having a single date wheel with 31 individual numbers written on it, there are two date wheels.  The outer wheel has the numbers 0-9 written in Arabic, and as there are fewer of them, they are noticeably larger than those of a regular date wheel.  The second inner date wheel contains a blank, as well as I, II, and III in roman numerals, a stylistic choice specific to this model of watch.
While there are fewer of each date numbers on this big-date configuration than a normal watch, there are more than you may expect.  The outer ring of dates repeats itself once, while the inner ring repeats twice.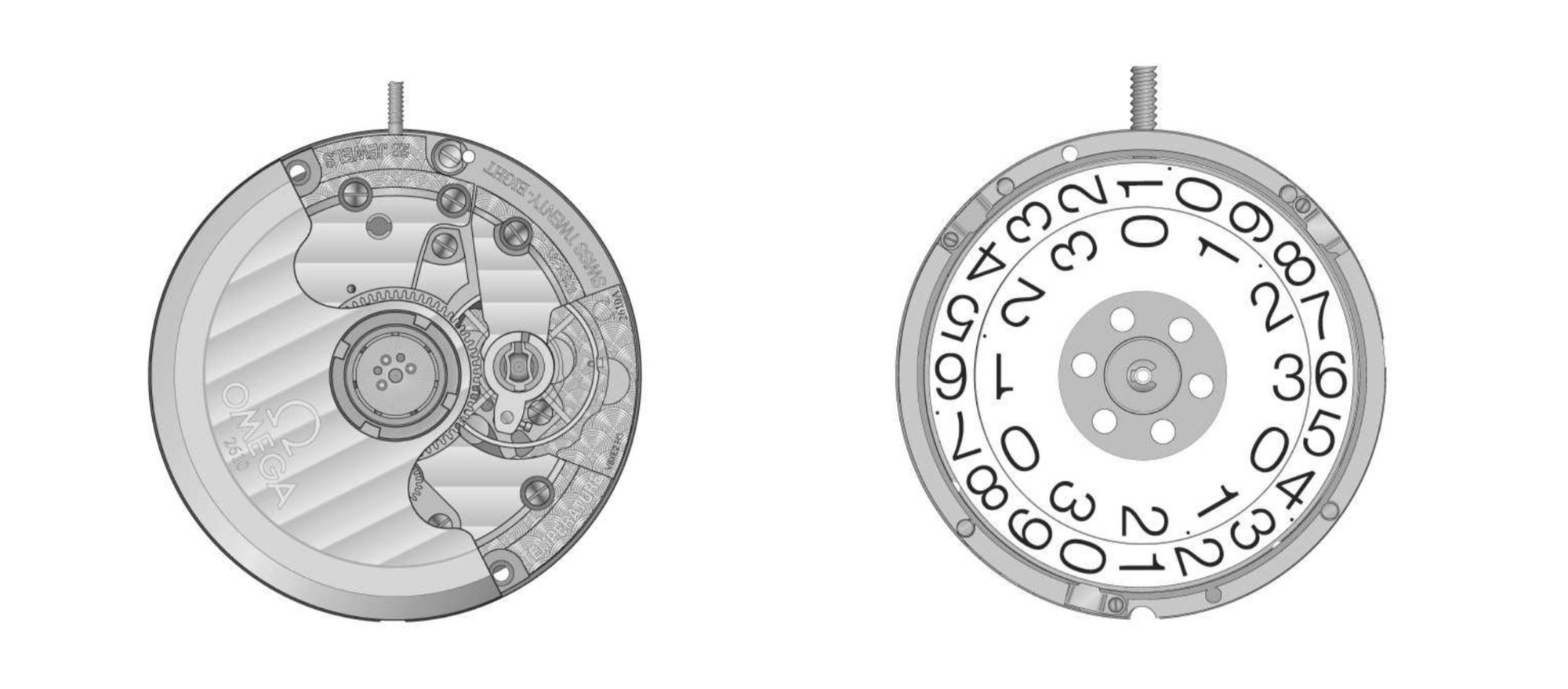 As the date changes, when the outer date wheel goes past 9, the inner wheel will roll from blank to I, while the outer will return to 0.  The synchronisation of these two wheels is a non-trivial process handled by the watch where they rotate in opposite directions.
The Calibre 2610 oscillates at 25,200 vph and features hacking, quick-set date, and has a power reserve of 48 hours.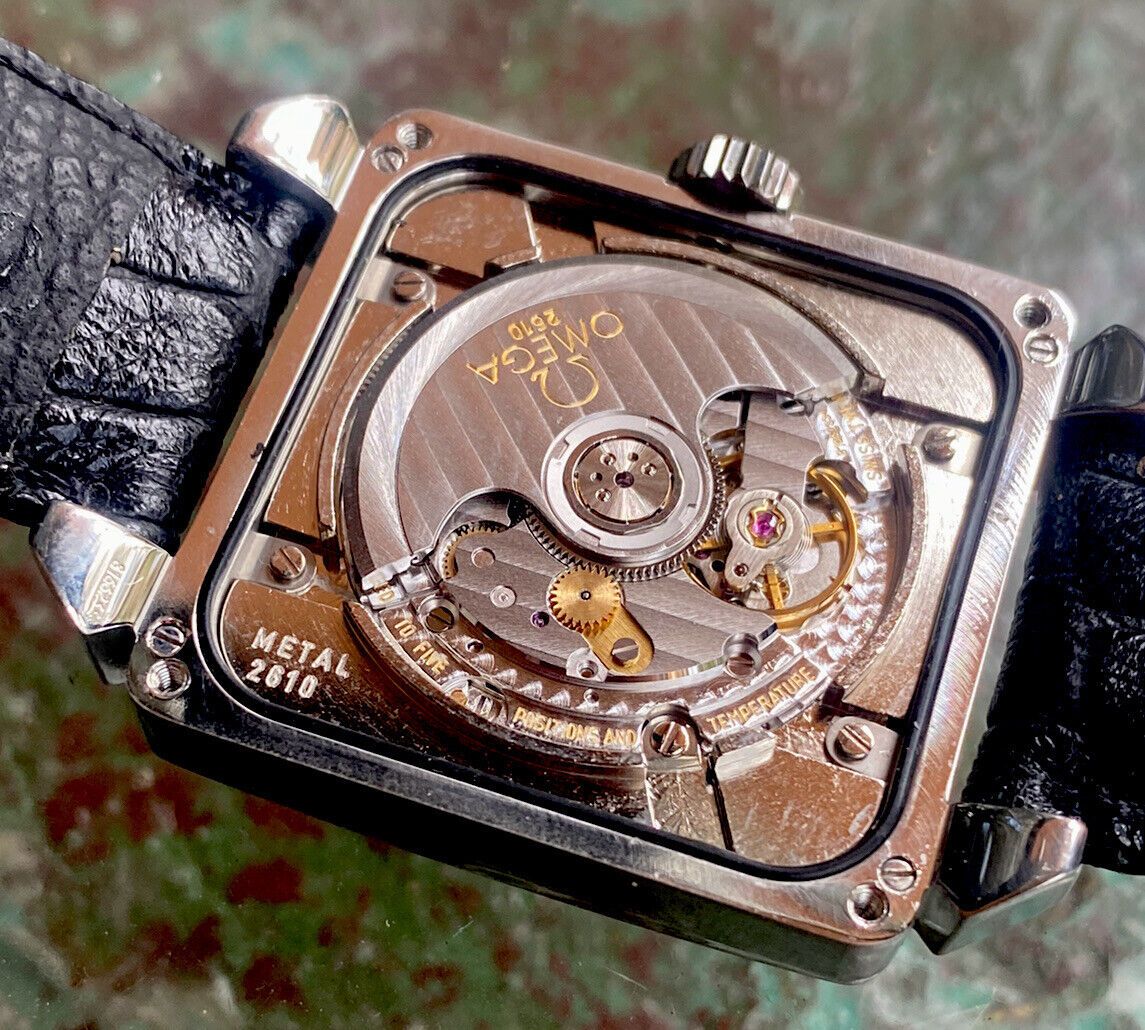 The type of Co-Axial escapement used in the Calibre 2610A found in the De Ville X2 is the earlier two-level, rather than the later three-level found in the Calibre 2500D onwards.  These movements had some early issues but being a later generation somewhat equal to a Calibre 2500C, these movements will still run reliably if properly serviced and maintained.
These watches can be serviced by any qualified independent watchmaker with access to an Omega parts account for a great deal less than the cost of a factory service.  Given the current low market value of these watches, this is definitely the recommended servicing route.
Variants & Dials
Stainless Steel
The two stainless steel models, the black dial Ref 7813.50.31 and the white dial Ref 7813.30.39, make up the vast majority of models in circulation as the only entry level models.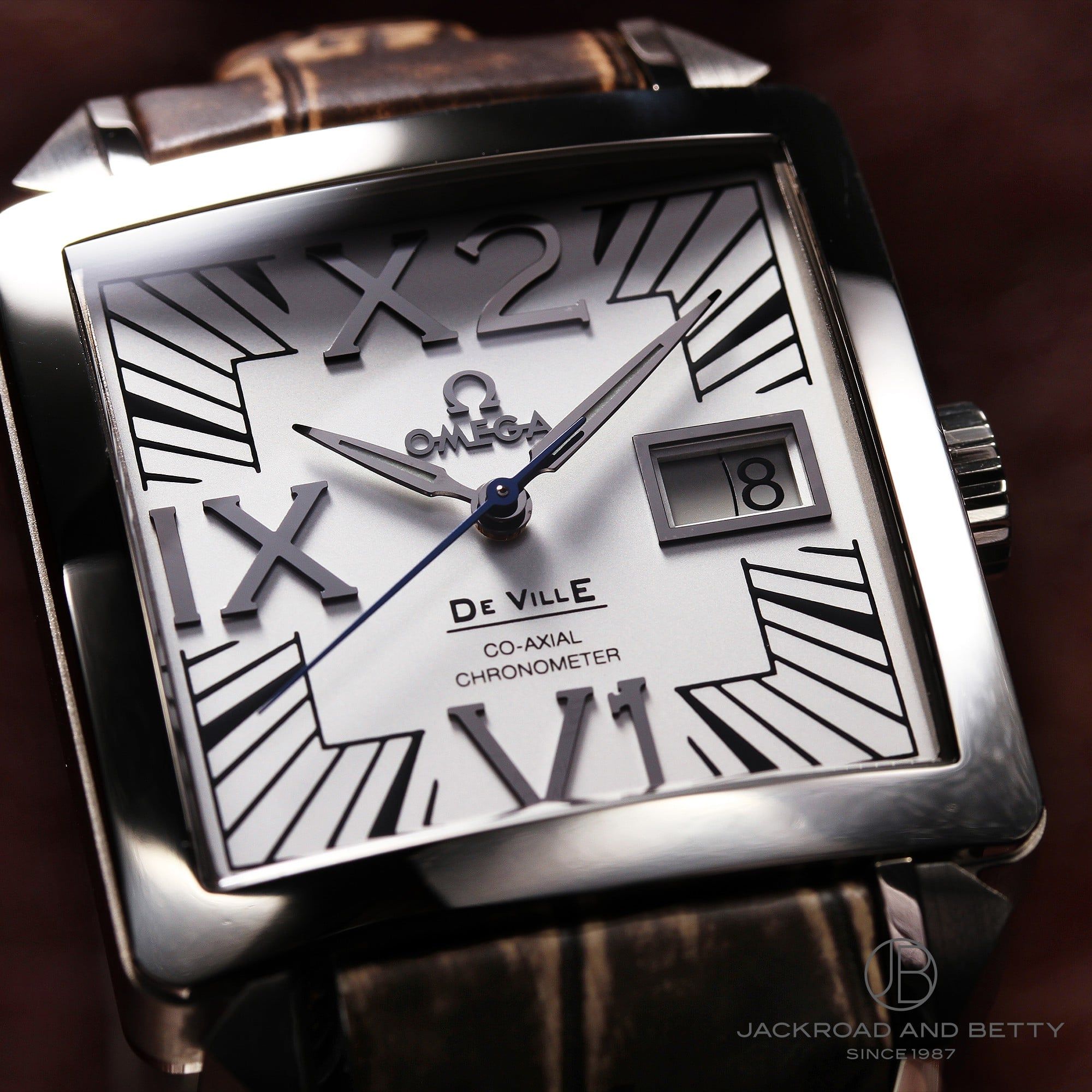 Both models feature very similar designs with the black and white scheme inverted from one to the other and the only significant differences being the blue second hand on the white dial version.  While it may appear that the applied date window and dial furniture are different this is only lighting, both are rhodium plated white gold as are the hands.
The black comes with a matching black strap while the white dial comes with a distressed brown alligator strap for a bit more flavor.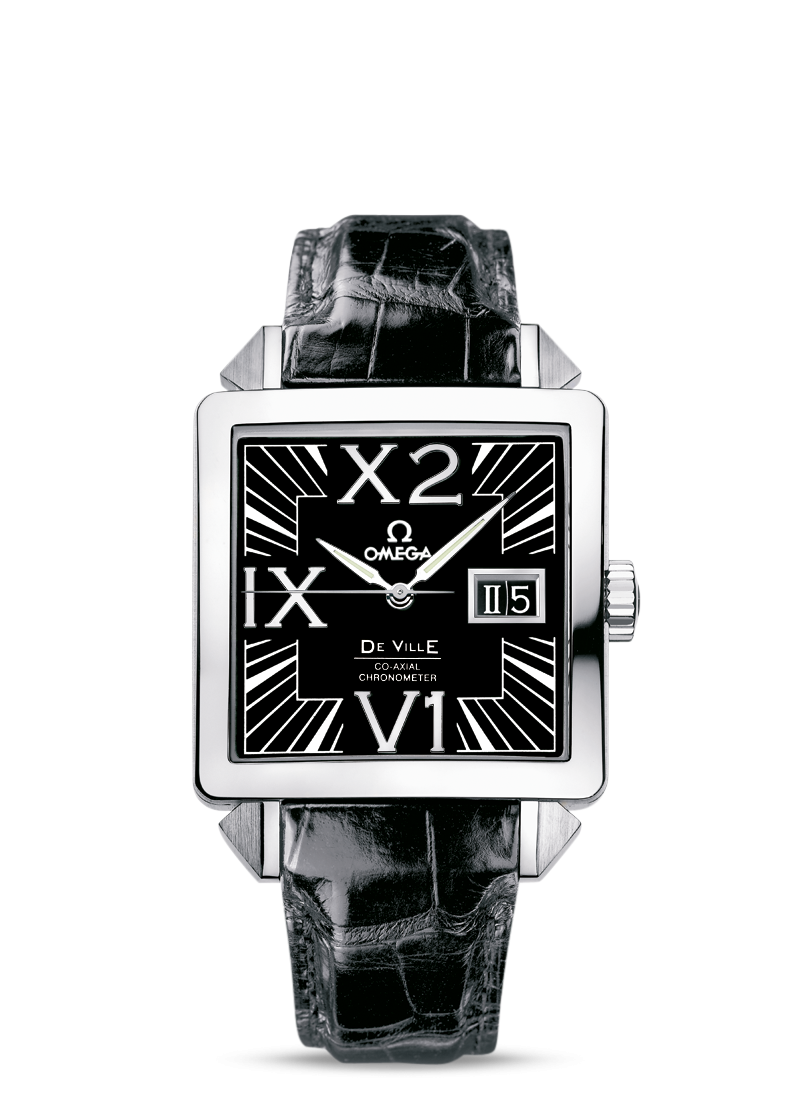 18K Gold
The standard 18K gold versions are still quite common and not hard to find in the De Ville X2 Big Date.  They largely follow the designs of the steel models above with the black dial, Ref 7713.50.31 featuring a red gold case with matching dial furniture for a nice contrast. The white gold, Ref 7711.30.39 is almost exactly the same as the steel white dial version with the only real difference being the weight and hallmarks on the case-back.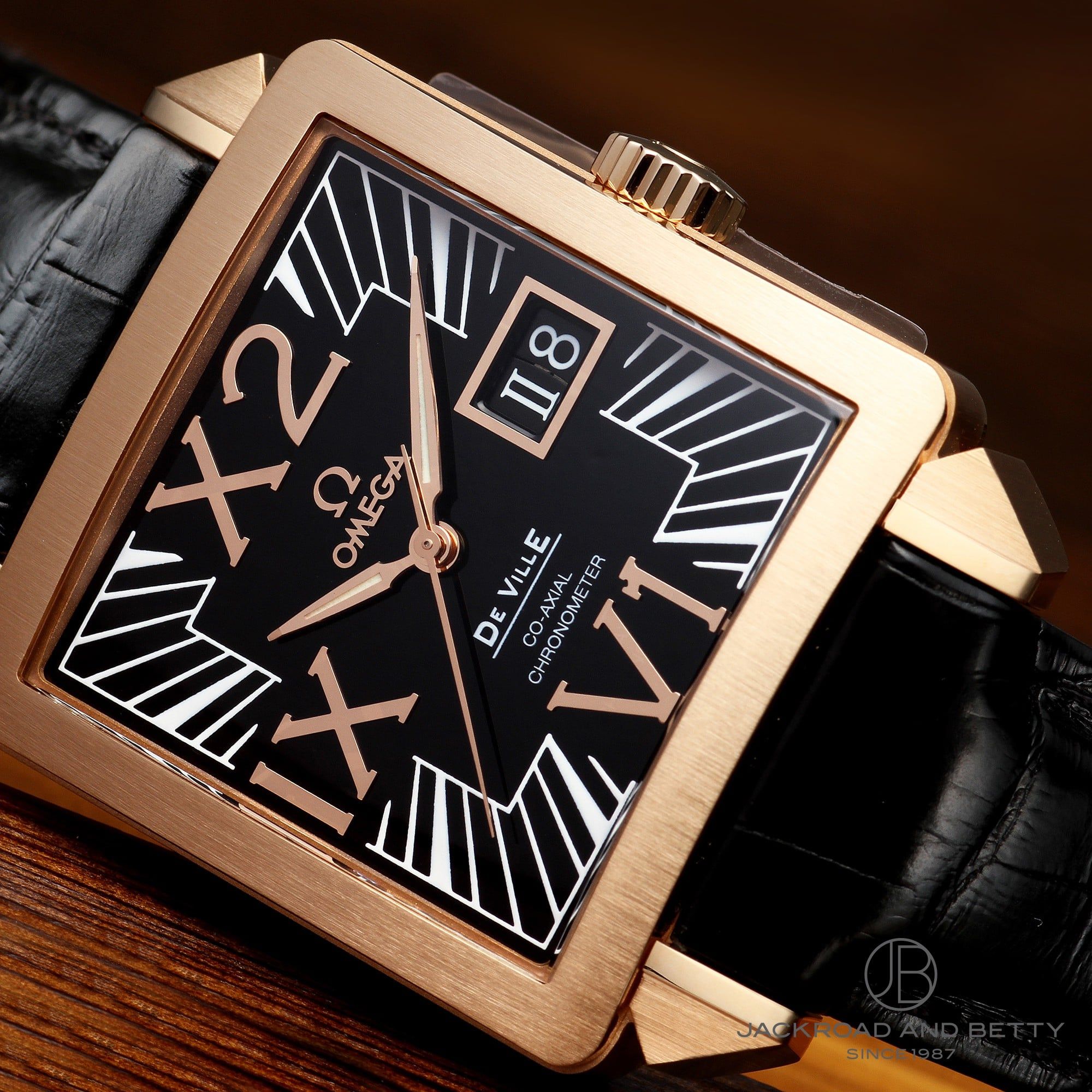 The red gold black dial comes with a black strap while the white dial again features a distressed brown strap.  Both watches come with 18K gold single fold deployant clasps in their respective metals.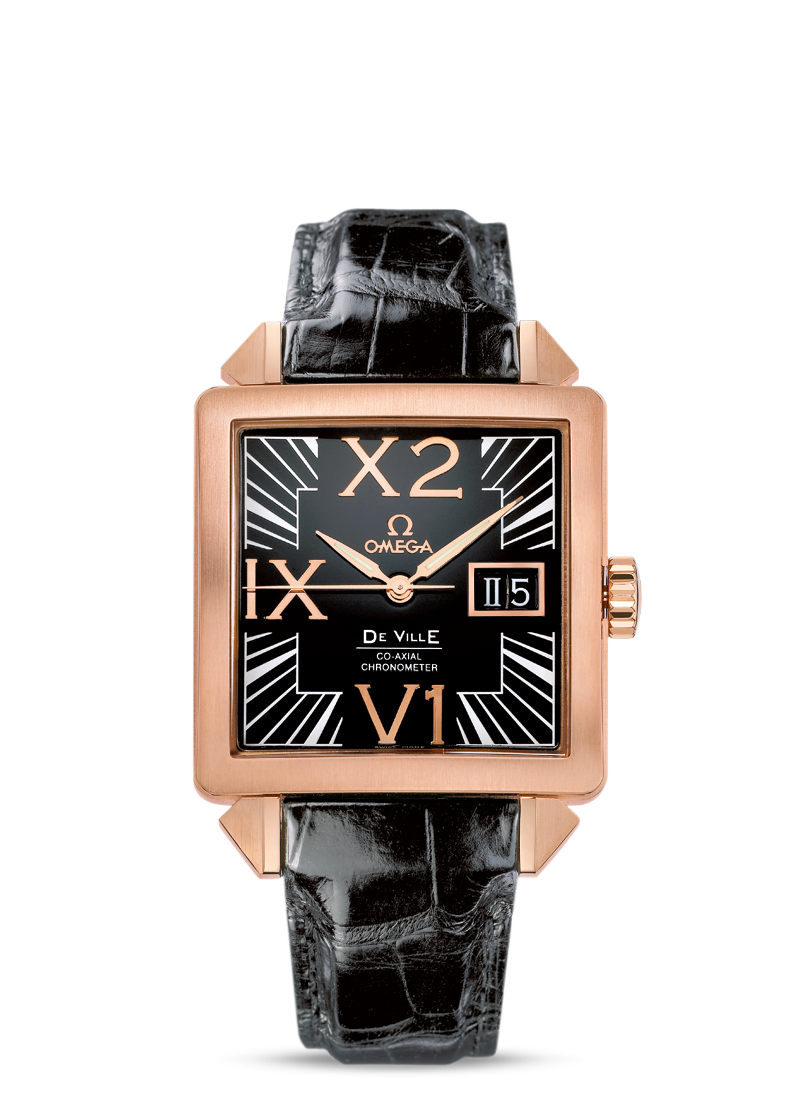 18K Gold With Mother of Pearl & Diamonds
These two fall firmly into the jewelry category and definitely make quite an impact even among the rest of the X2 Big Date range.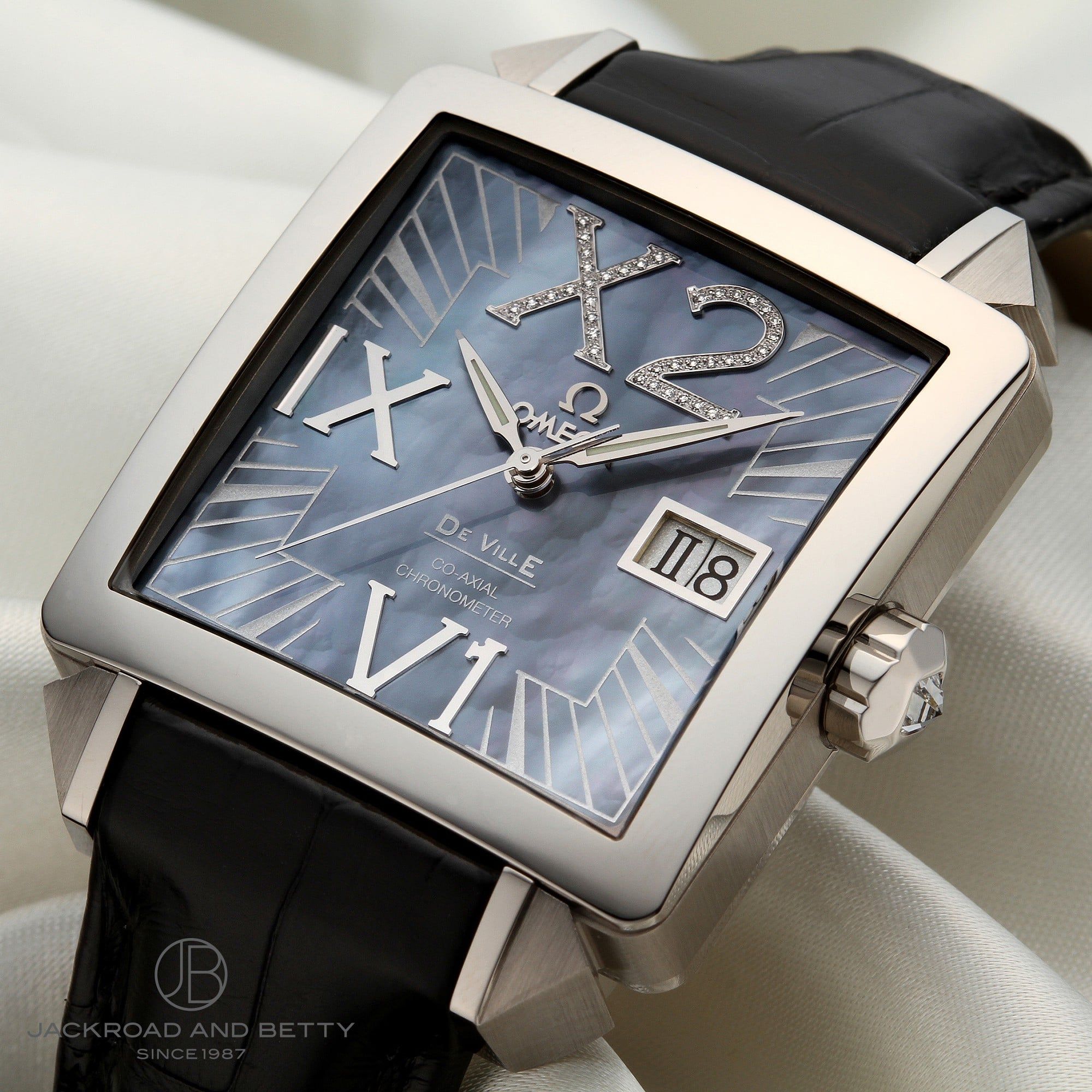 Both the dark blue, Ref 7718.72.31 and white, Ref 7719.75.36 mother of pearl dials have a great deal of variation in both color and pattern thanks to it being a natural material, so be aware that even if a watch dial looks a bit pink or purple or green that's entirely normal.  Both dials feature an enlarged X2 at the top of the dial in applied diamonds which sets these apart from other models.  
The other interesting element of these 18K white gold jewelry models is the crown, which has a square set diamond in the center of it.
The dark blue dial comes with a black strap while the white dial comes with a matching white strap.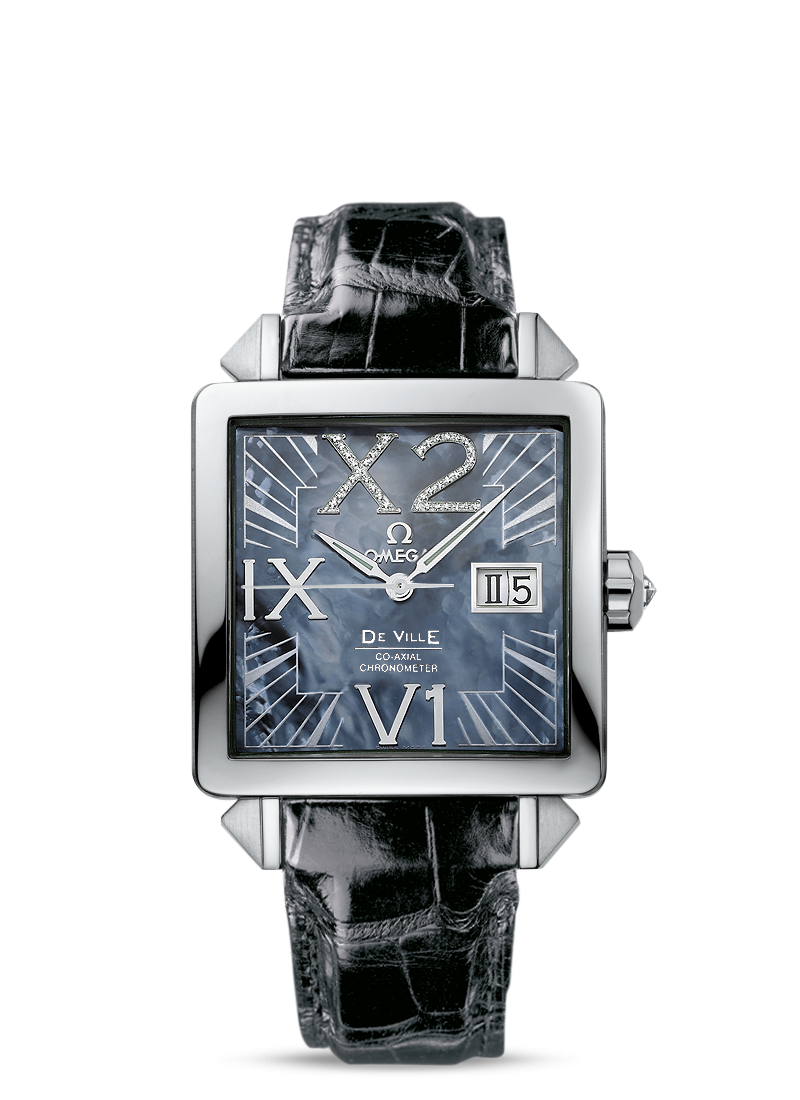 Small Seconds
The De Ville X2 Small Seconds is effectively a separate watch, but is often enough lumped in with the Big Date that it makes sense to mention here.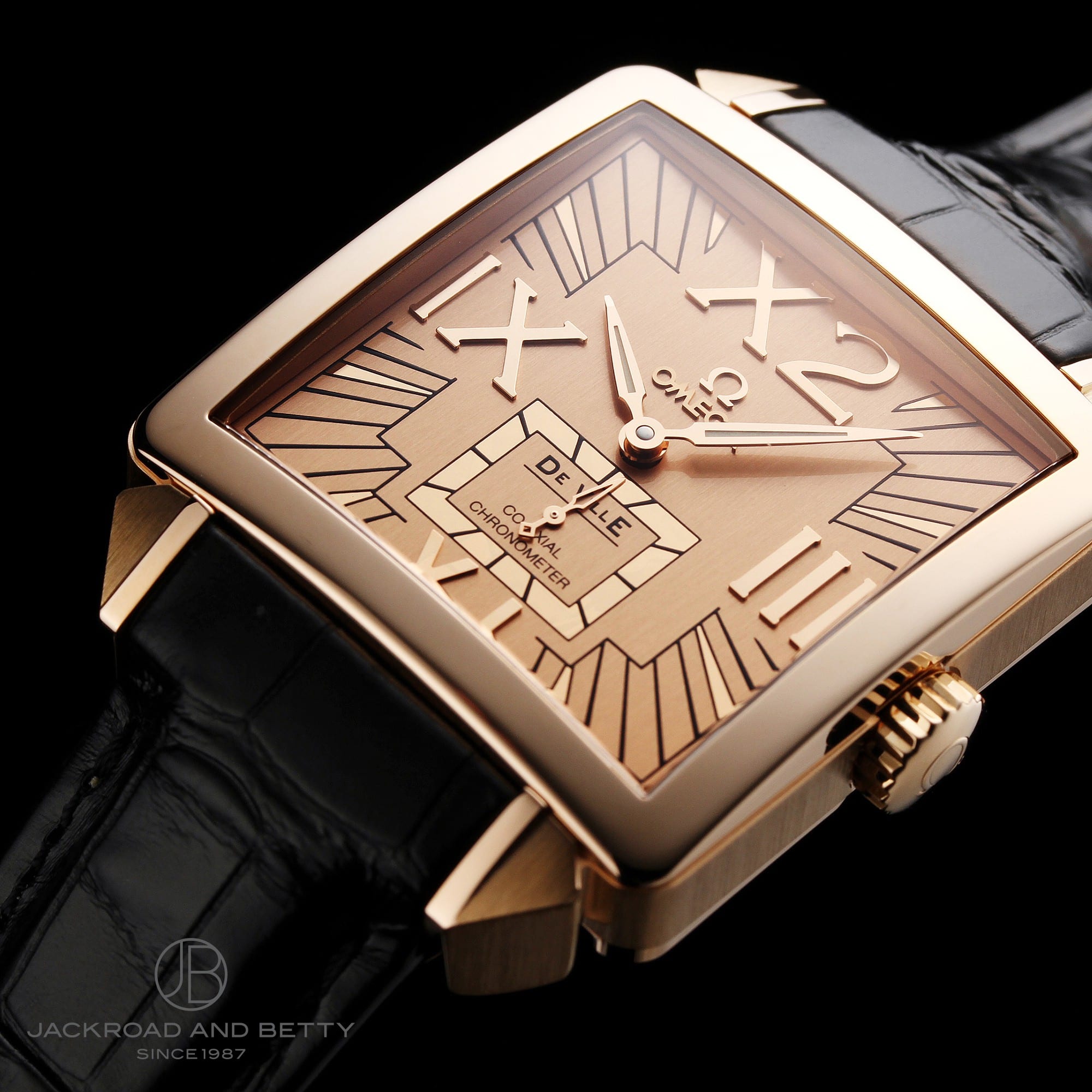 The most common version by far, while still very rare is the white gold with white dial, Ref 7710.30.39.  This model has a dial very similar to the steel X2 Big Date variant in white except for the obvious difference in layout.
Something to mention here is that these watches are often incorrectly labelled as having Calibre 2610 movements due to their similarity to the Big Date.  The actual movement fitted to this watch is the Co-Axial Calibre 2202, a very similar movement with an ETA 2895 base.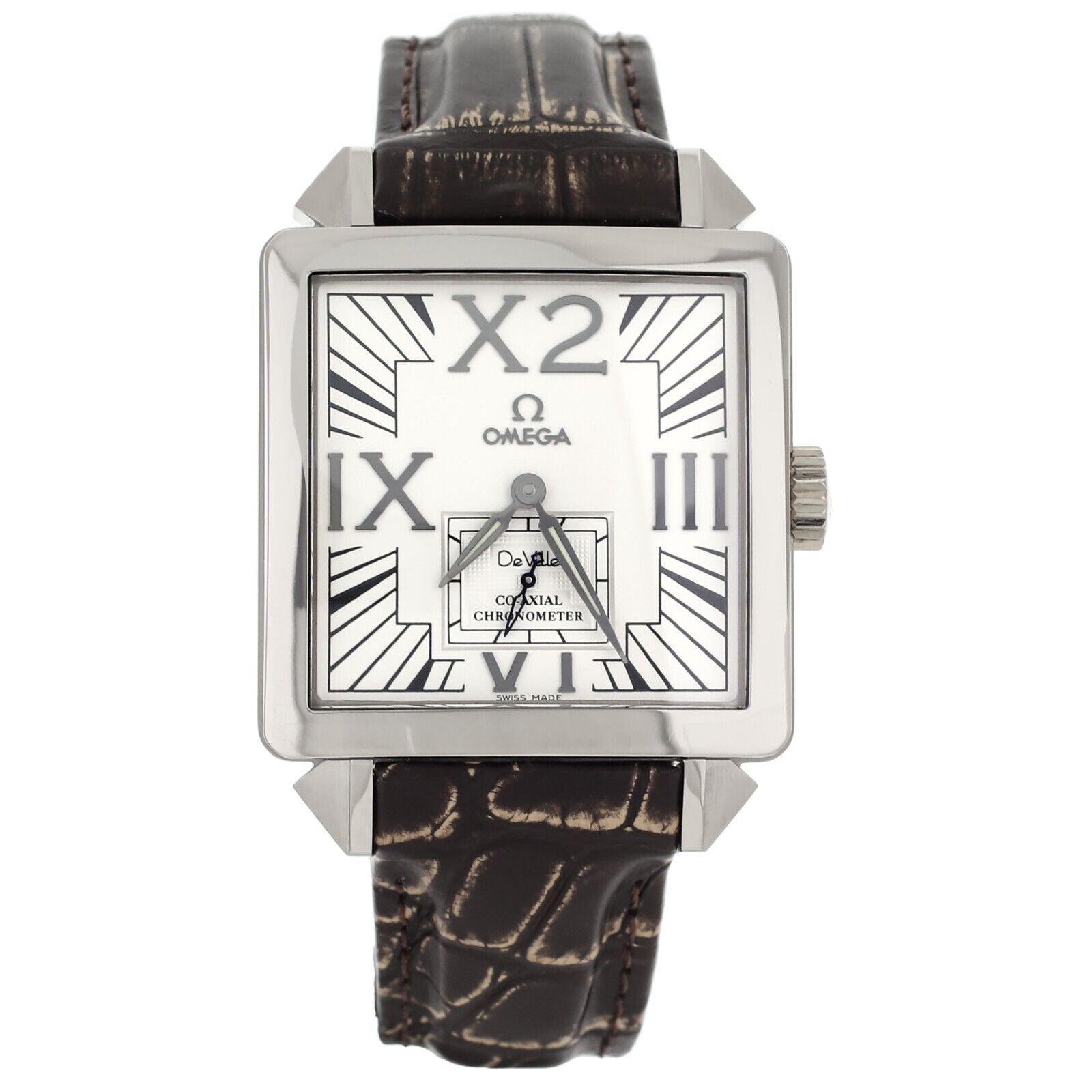 The second variant of the De Ville X2 Small Seconds, which is almost impossible to find at all, is a limited edition in 18K red gold with a brushed rose gold dial, Ref 7716.61.31.  This watch was released to commemorate the opening of the Russian Omega Boutique in Red Square, so numbers are extremely small.  Like the white gold, this too is powered by the Co-Axial Calibre 2202 rather than the Calibre 2610.
This limited edition has 99 units of total production, and the number is indicated by an engraving on the case-back.  These watches for some reason appear to have mostly ended up in China and Japan rather than Russia.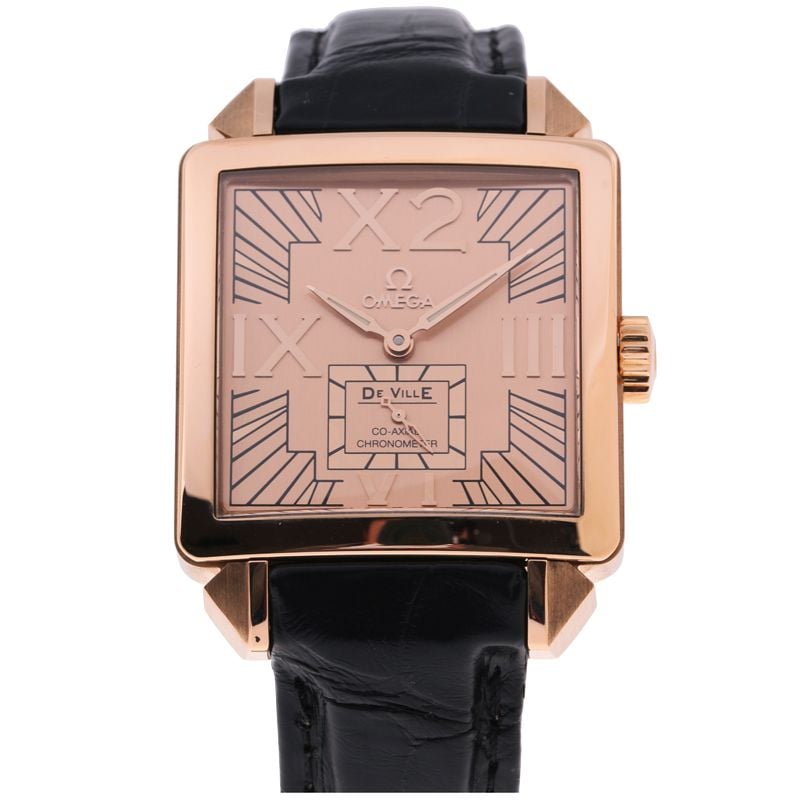 Buying
The De Ville X2 Big Date models are incredible value but highly polarising.  They are a fundamentally good and interesting watch with a lot going for them, a great movement, an interesting complication, and a unique design with legitimate vintage history, but they're not for everyone.
When new, the De Ville X2 was not a particularly cheap watch.  The complexity of the design, construction and movement priced it well above many of the more popular models.  This, combined with the love it or hate it styling lead to many sitting in display cases for a long time or getting eventually discounted for sale online.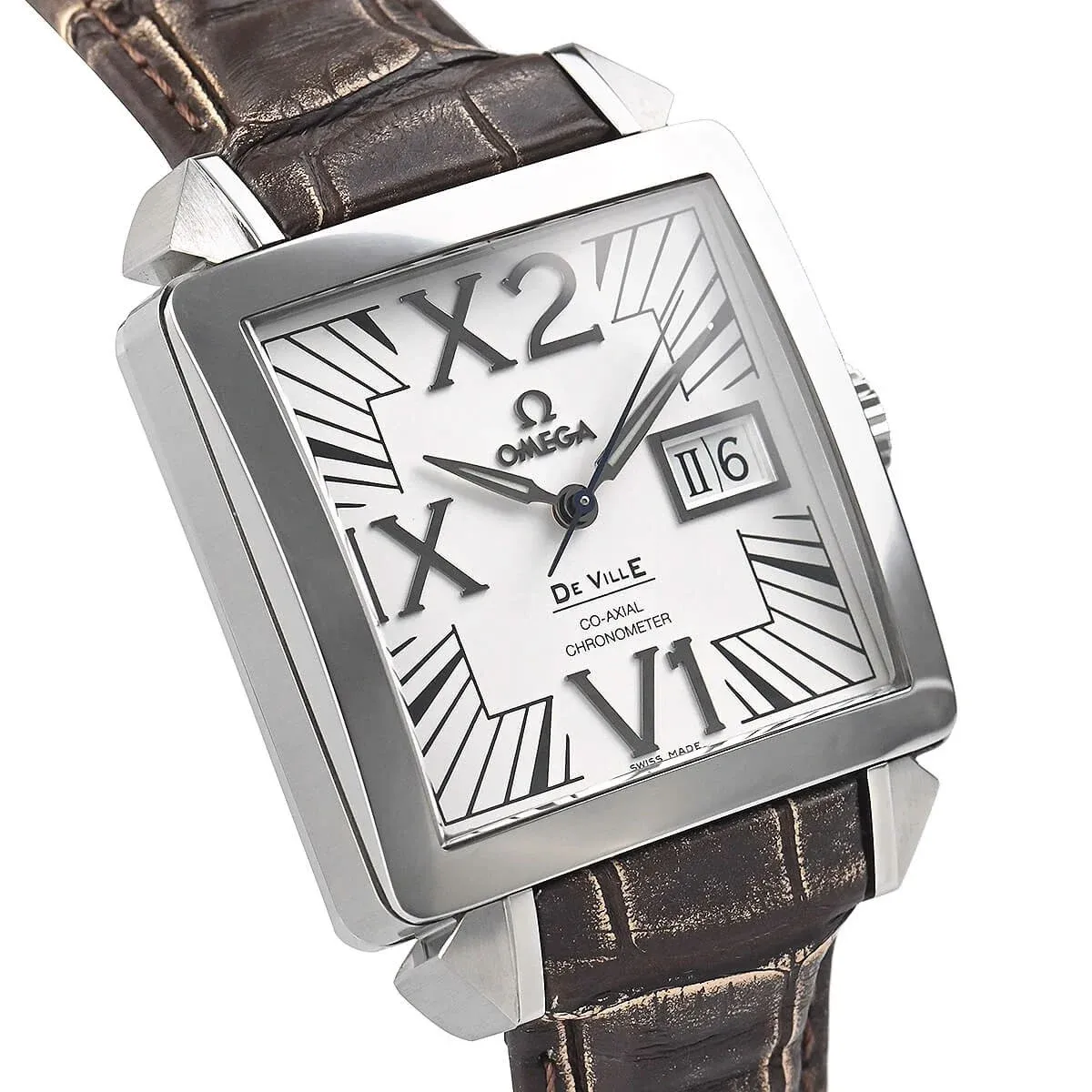 When posted in forums and social media, they didn't get the love or appreciation that more typical Omega designs did and as a result most people don't know about them and demand is very weak.  When looking at the market for these, it is much the same now as it was back when they were new, many high asking prices for excellent condition examples that sit for a long time.  
When these watches do change hands, they go cheap.  Really cheap.
On eBay, steel De Ville X2 models have sold for under $2,000 USD frequently, for excellent condition ready to wear watches.  Unlike many older Omegas around that price range, the De Ville X2 doesn't look old or dated, due to its vintage styling.  It is a watch design that hasn't and will not age or ever look dated.  Yet you can pick one up for an absolute song.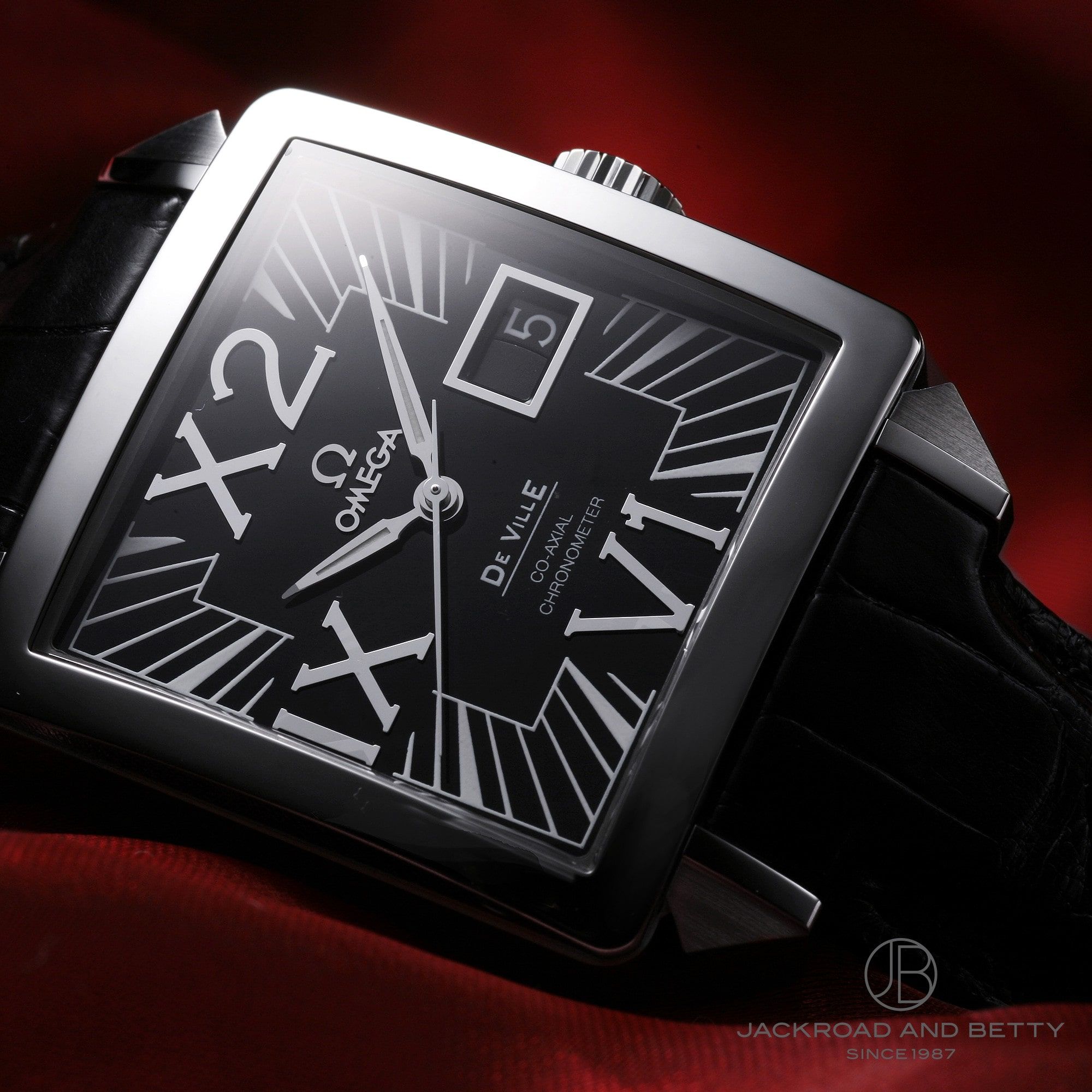 The 18K gold and jewelry versions as well as the small seconds fall into much the same category.  There are heaps of them on the market at a broad range of prices, and nobody is buying them.  Then every once in a while, someone needs to move one quickly and lists it on eBay or elsewhere at no reserve.  Incredible deals happen this way, with gold models going as low as $3,500-$5,000, which is pretty incredible for a solid gold Omega.
It is important to be factoring in the service cost which will be a few hundred dollars through a quality independent watchmaker for the Co-Axial movement.  
You should also consider that while the De Ville X2 is a buyer's market ripe with great deals, the same thing will happen to you if you want to let it go one day.  For this reason, make sure the De Ville X2 Big Date is a watch you are entirely happy keeping forever or passing on to a relative as like luggage, once its yours its often yours for life.
Discussion thread on Omegaforums can be found here: